I prefer the matte nude coffin nails due to how elegant they look, but the most popular coffin nails are glossy or ombre coffin nails with glitters, crystals, diamonds, or rhinestones.
Acrylic coffin nails are popular in most nail salons, and nail patrons continuously go in search of unique coffin nail ideas to try out. Here are the best unique coffin nail ideas I've come across for your next manicure.
80+ Coffin Nails For Inspiration
1. Nude and White Coffin Nails
These are white ballerina nails with 2 accent nails of nude and white separated by gold foil. This nail design is great for an engagement party. You can pair it with a pretty monochrome gown for an look elegant.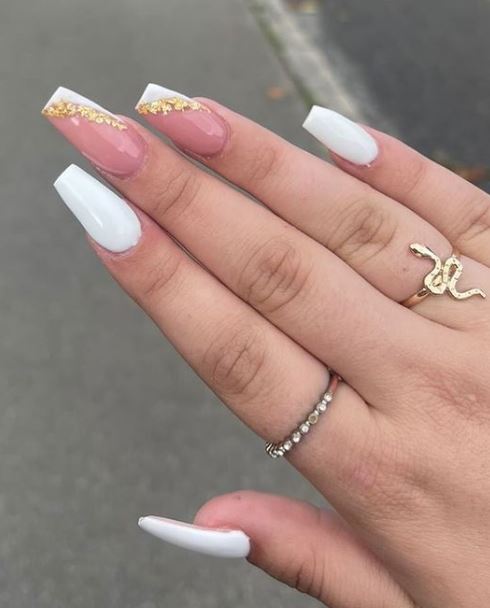 Image by @naiilsbydiellza via Instagram
2. Pink and Black Sunset Coffin Nails ideas
The light pink base and darker pink coffin-shaped nails blend perfectly to create a stunning ombre nail effect. The black used in the creative design of palm trees and birds makes me think of a beautiful sunse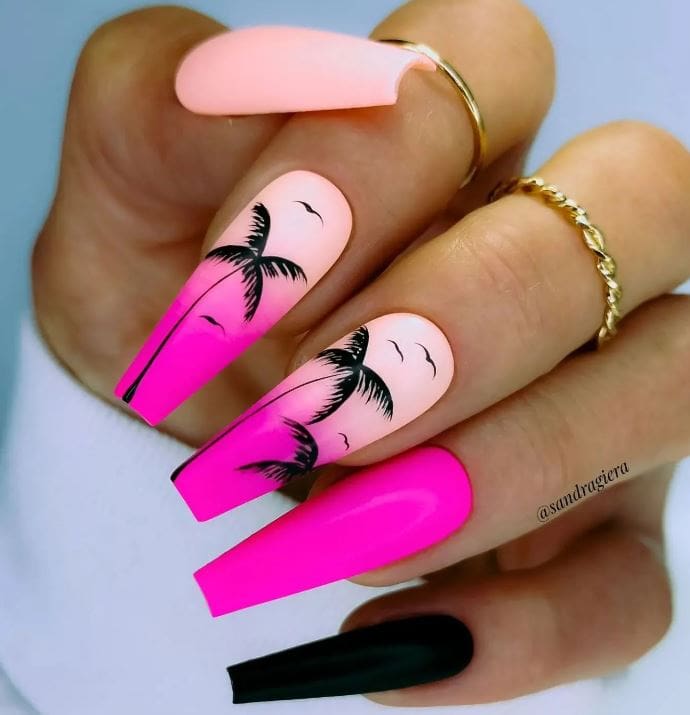 Image by @thenailsvibe via Instagram
3. Nude and Orange Coffin Nails
With just the right length, these stunning coffin shape acrylic nails with soft swirls of orange on nude stand out in the most gorgeous way. They create a nail look that is sure to turn heads.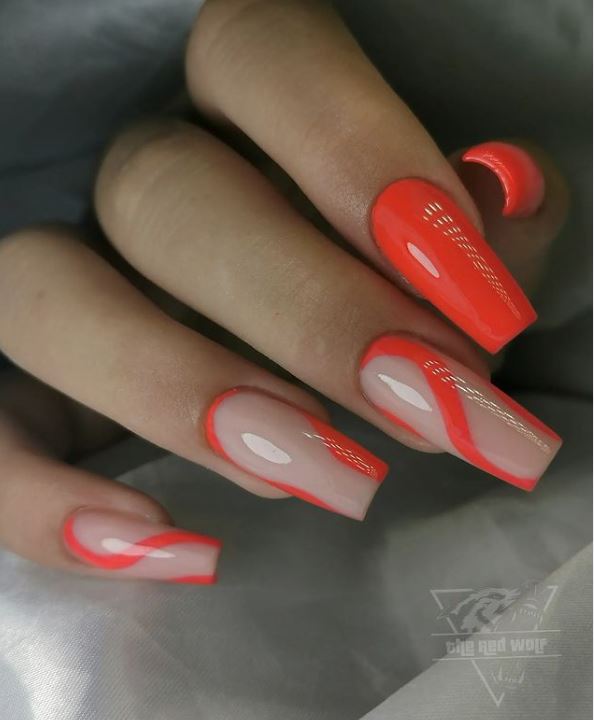 Image by @the_red_wolf_cub via Instagram
4. Iridescent Coffin Nail Art
This medium-length sparkly transparent nail art with iridescent glitter is just the nail design if you want to spruce up any outfit.
The simple glitter coffin shape nails will automatically give your outfit a sparkling aura.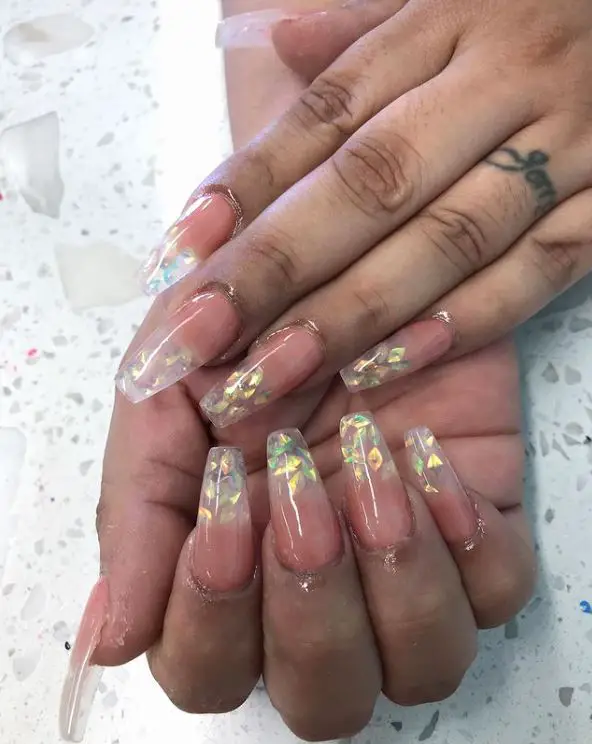 Image by @blinnailscovina via Instagram
5. Pastel Waves Coffin Shaped Nails
With a nude base, and swirls of pastel purple, blue, and lemon, this nail art has a softness that makes it look great with outfits of different color combinations.
This nail design is perfect for a small informal gathering like a friend's baby shower or wedding rehearsal.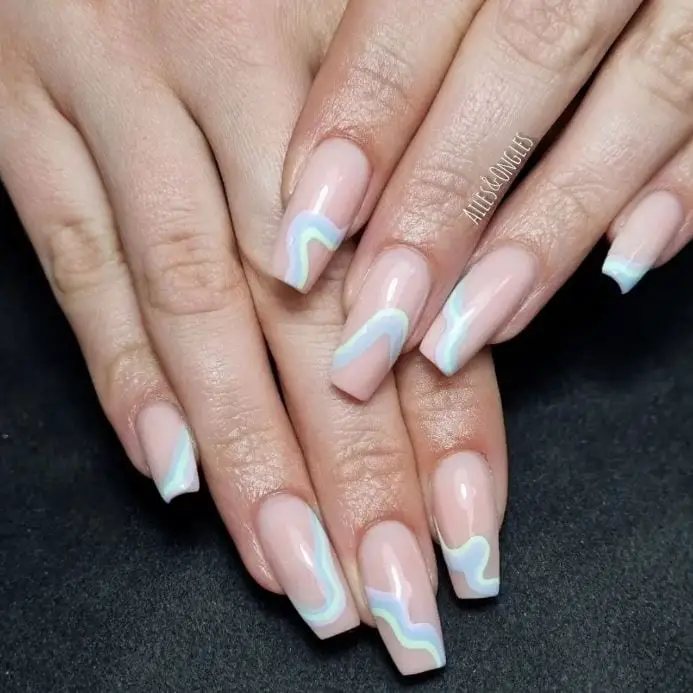 Image by @ailesetongles via Instagram
6. Nude and Pink Coffin Nails
Where are the boss babes? These long coffin nails have a lovely play of soft colors with light pink tips and little white petals that look glamorous and super pretty.
I prefer this with lavender at the tips since I have some nice lavender heels, but this shade is stunning too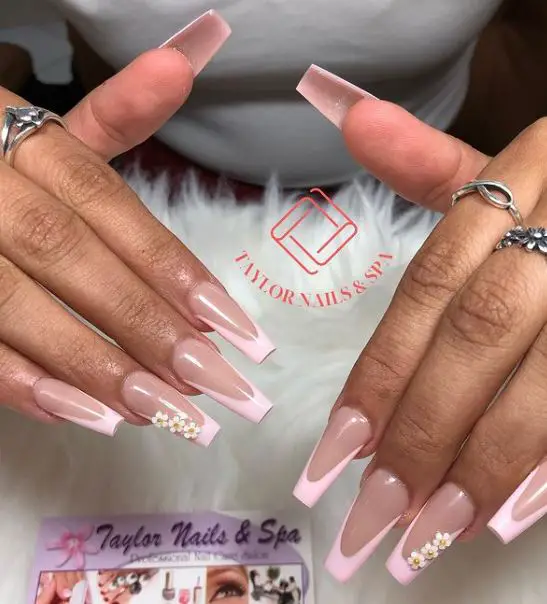 Image by @taylornailsspakaty via Instagram
7. Taffy and Purple Coffin Nails with Gold Foil
This nail art is a bold and beautiful manicure with a blend of taffy and a little half-part purple on each fingernail.
You can spice things up a bit by adding accessories like gold foil around the purple tip to express your bold personality.
You can rock this comfortably to a work party or a casual work day.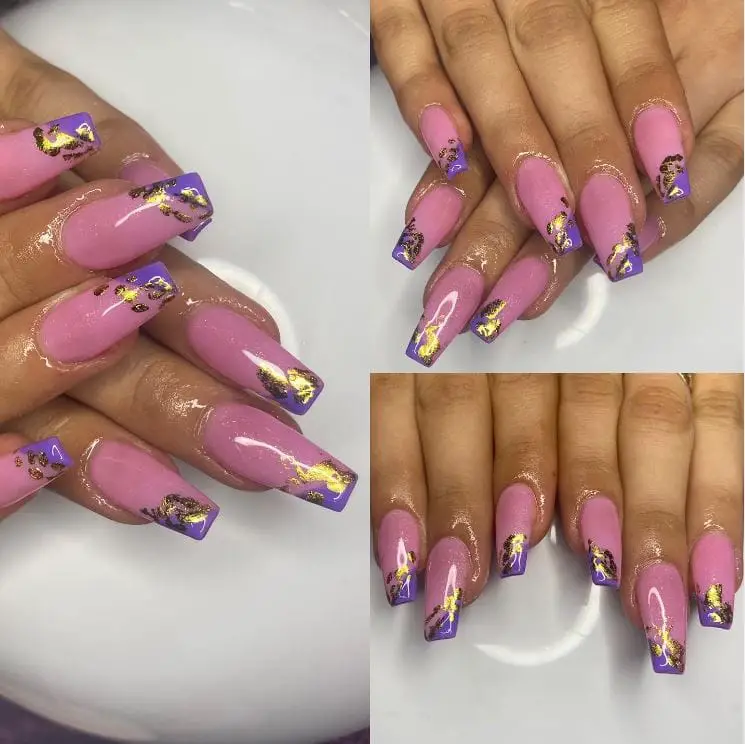 Image by @lashcure_nails_lashes_ via Instagram
8. Glossy Black Coffin Nails Ideas
If you want to create a look that exudes pure class, black nails should be your go-to nail color.
Here, these long coffin nails are glossy black with a transparent accent nail art with shiny silver butterflies.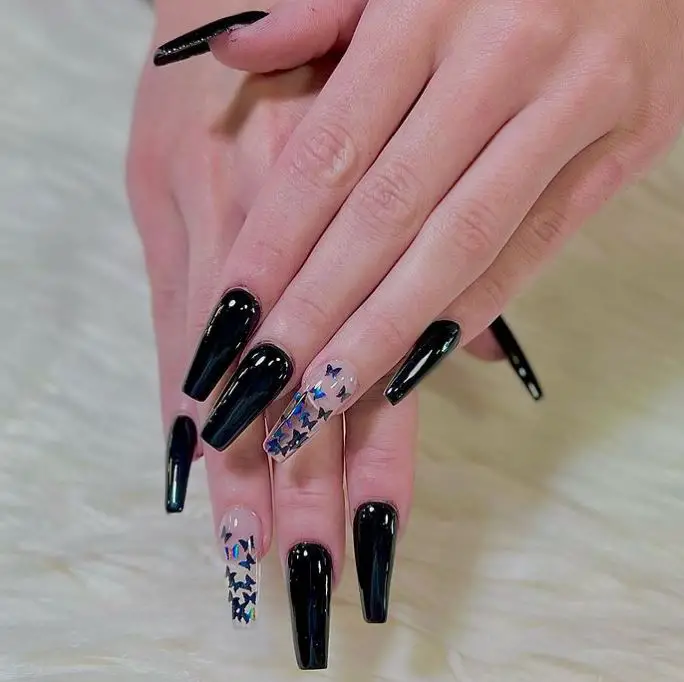 Image by @lynn_do__ via Instagram
9. Short Coffin Nails With Slanty French Tips
Don't feel like getting acrylic nails done? No problem, not everyone likes acrylic nails.
You can try this short coffin nail design with slanting french tips using your natural nails. You'll need nude and white gel polish to get the look.
The subtle nail design will look good on acrylic nails too if you are a fan of that.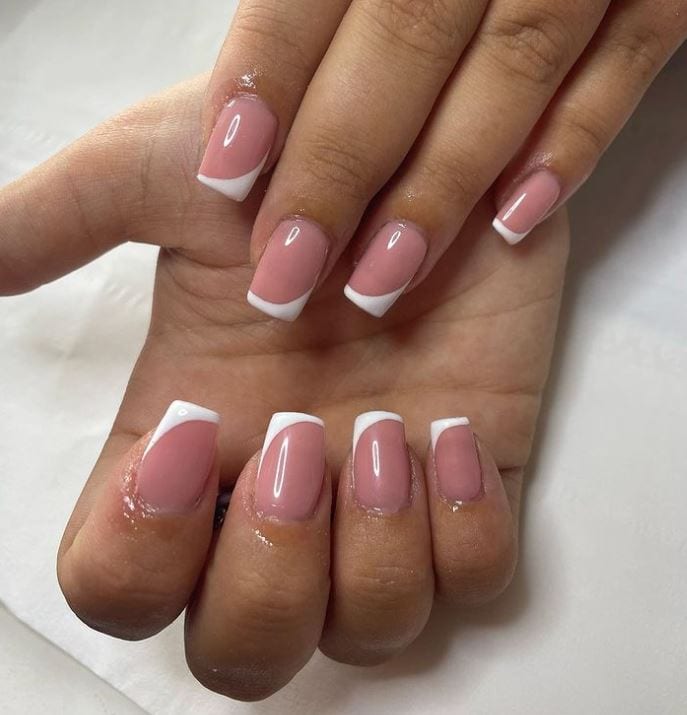 Image by @nailsbymorgan_x via Instagram
10. Multicolor Pastel Coffin Nails
Isn't this gorgeous? These pastel coffin-shaped nails feature V-tip Frenchies of purple, pink, yellow, and blue.
It's a great nail option for a picnic, meet-up, or a casual date with your significant other.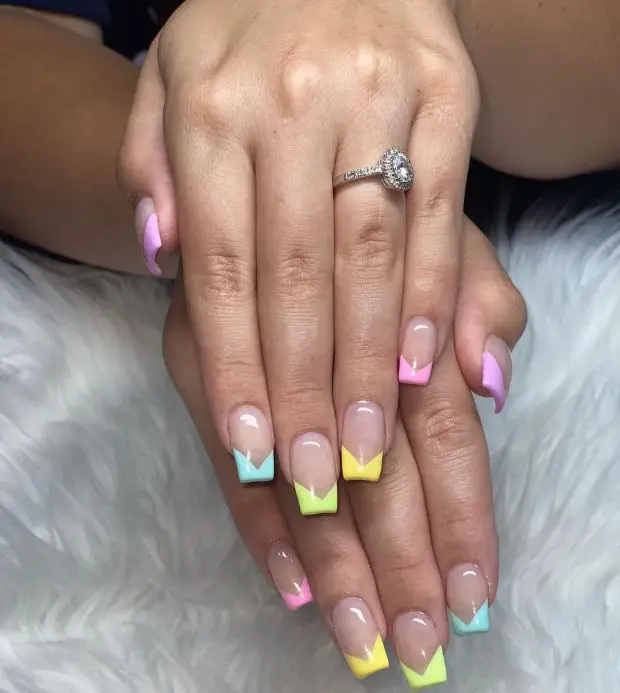 Image by @gottinail via Instagram
11. Colorful Coffin Nails
These nails look like a work of art with the perfect blend of pink, red and yellow gel polish creating a magical blend of colors that is both intense and charming.
There is no occasion that this nail art will not be appropriate for.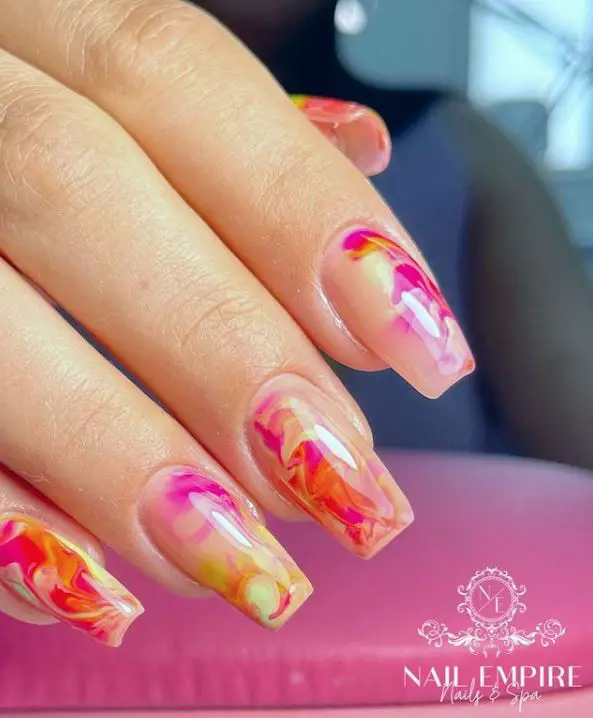 Image by @nailempire_spa via Instagram
12. Fairy Acrylic Powder Coffin Nails
With just the right length, these flattery nails are dreamy with silver glitter and 3D flowers with a small stone on each ring finger. It create a breathtaking fairy-inspired look.
This one is for the princesses and lovers of extra glitz and a shiny finish.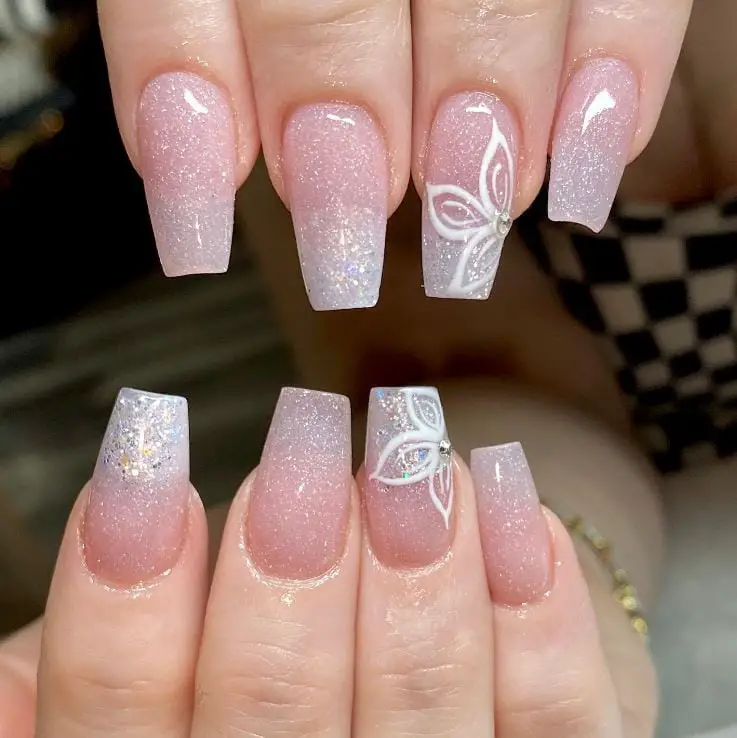 Image by @_beautybydior via Instagram
13. Pink and Green Ballerina Nails
These ballerina nails are unique and pretty. Dark pink is used on one hand and mint green is used on the other to create deep french tips that complement the otherwise nude coffin shape nails.
The coffin nails idea is awesome for someone who likes dressing casually with jeans or sweatpants.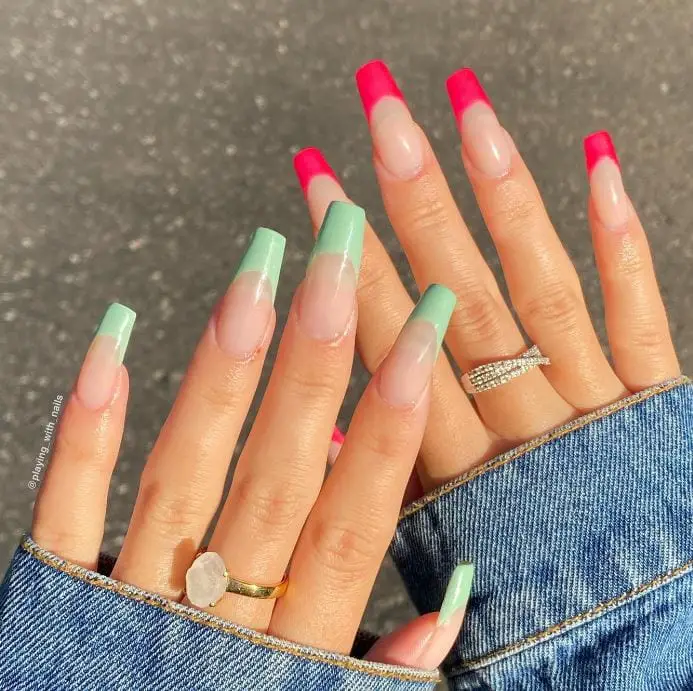 Image by @playing_with_nails via Instagram
14. Lavender and Mint Green Coffin Nails
If you want to go all out or have an occasion where you want to turn a few heads, these gorgeous coffin nails with a little bit of every nail accessory is what you need.
It has 3D flowers, jewel rhinestone studs, glitter, and gold foil on the nail set.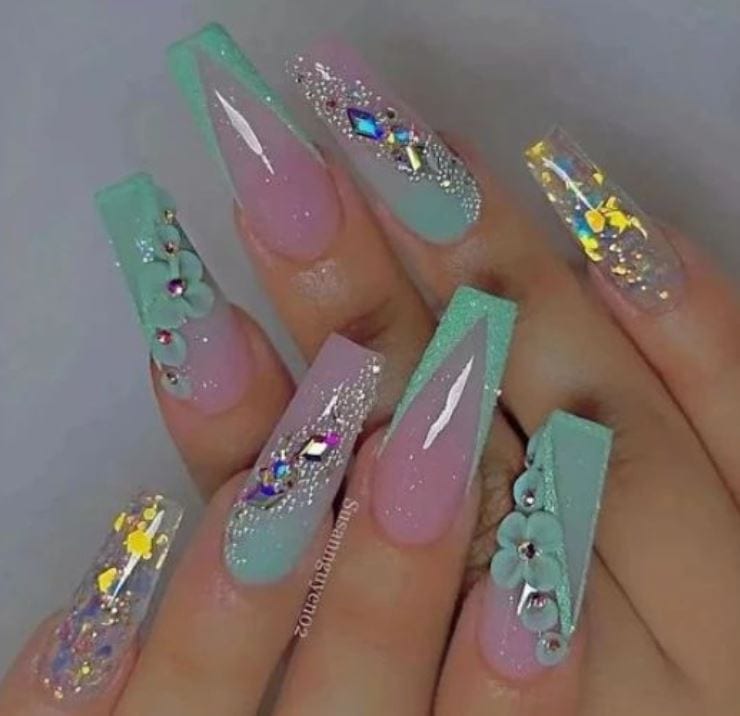 Image by @amazingviber12 via Instagram
15. Ombre Purple and Black Coffin Nails
The play of colors here can only be achieved by a professional. These feature nude and black ombre coffin nails with purple glitters on all hands.
A large moon and stars are added to one nail and it reminds me of a beautiful night with all the stars out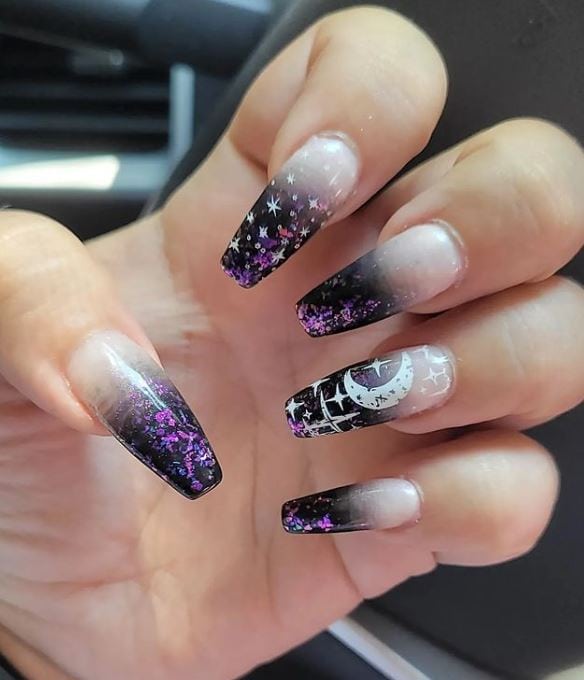 Image by @peaches4uwu via Instagram
16. Nude and Baby Blue Coffin Nails
Need to indulge in some bling? Well, here you go. These elegant coffin nails feature a creative blend of nude and blue in the most magnificent way.
Tiny stones are added to the base of each nail, and gold butterflies and glitter are attached to give an extra magical touch to the already amazing look.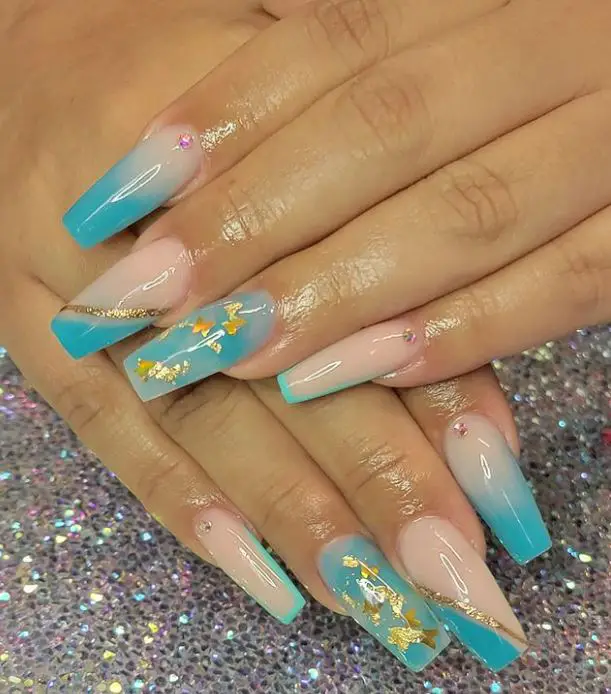 Image by @lupitavencesnails via Instagram
17. Flame Coffin Nails
The nail shape here is a nice coffin shape that is hot and daring. The green, purple, orange and pink flames are created to perfection on the nude nails with black french tips.
This is a great look for a hot date to display your fiery personality.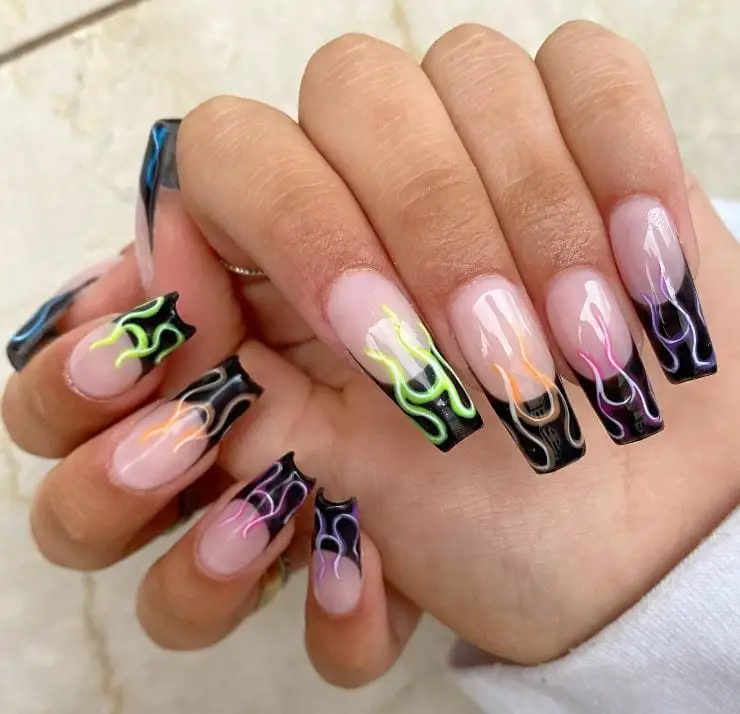 Image by @get_nailed321 via Instagram
18. Spring Coffin Nails
Be spring-ready with these amazing nude coffin nails with two flowery accent nails on each finger.
The flowers have cool and calm colors that give the spring look an elegant finish.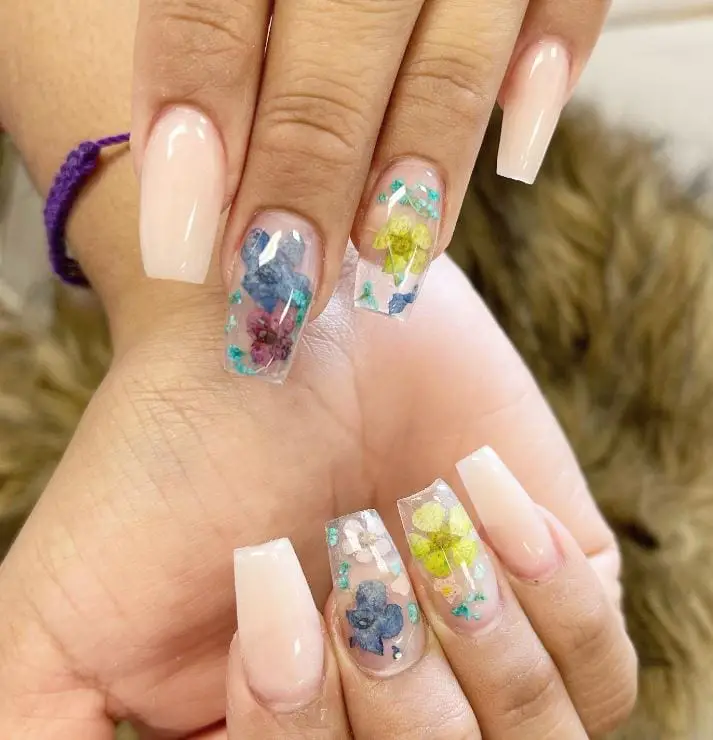 Image by @xpo.trish via Instagram
19. Red Coffin Nails
Red nails are fierce and regal, and these have a way of making you look bold and confident.
With just the desired length, the red nails are glossy and the index nail is completely covered with gold glitter, giving off an Egyptian princess vibe. This will look great on natural nails.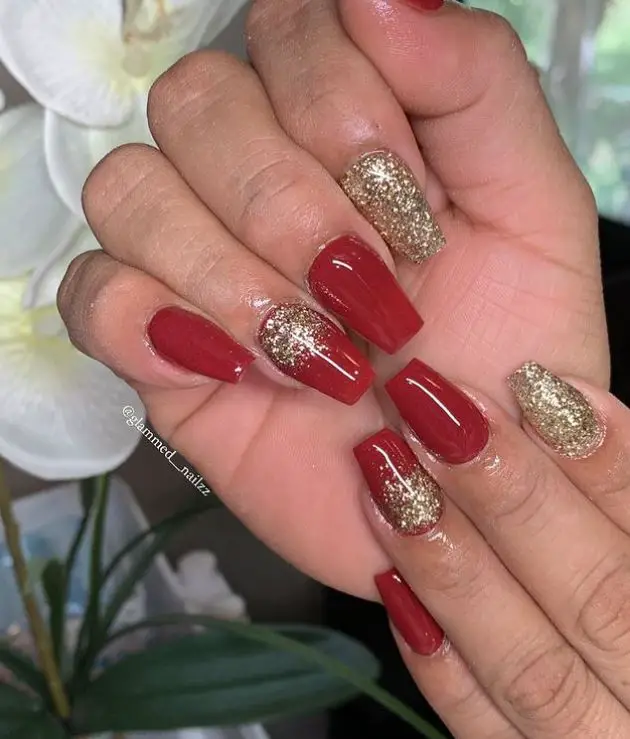 Image by @glammed__nailzz via Instagram
20. Nude and Blue Coffin Nails
The tips and flowers on this nail are cute and have a feminine shade of baby blue. It will make you feel serene just by looking at it.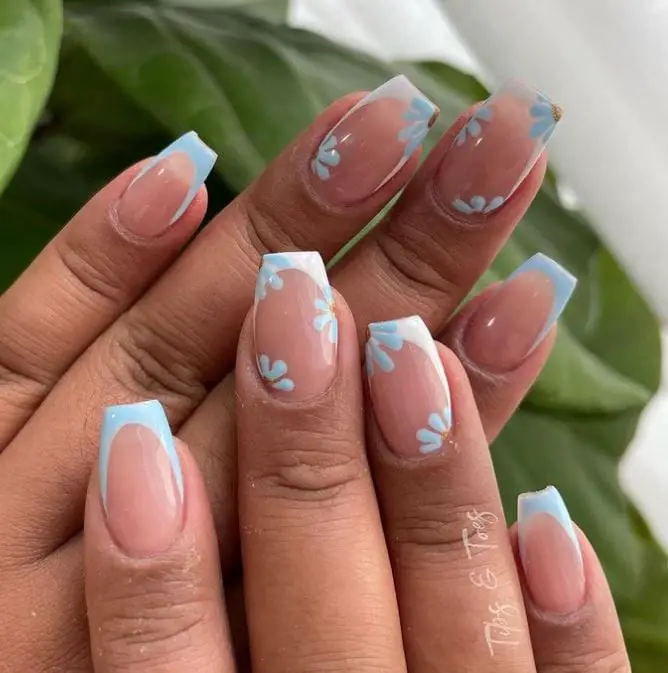 Image by @tipsandtoesoc via Instagram
21. Emerald Green Coffin Nail Design
These off-white coffin nails are coated with emerald green nail polish to achieve an elegant cool finish.
This is a moderate nail if you have a birthday party to attend and don't want to seem too loud or too plain.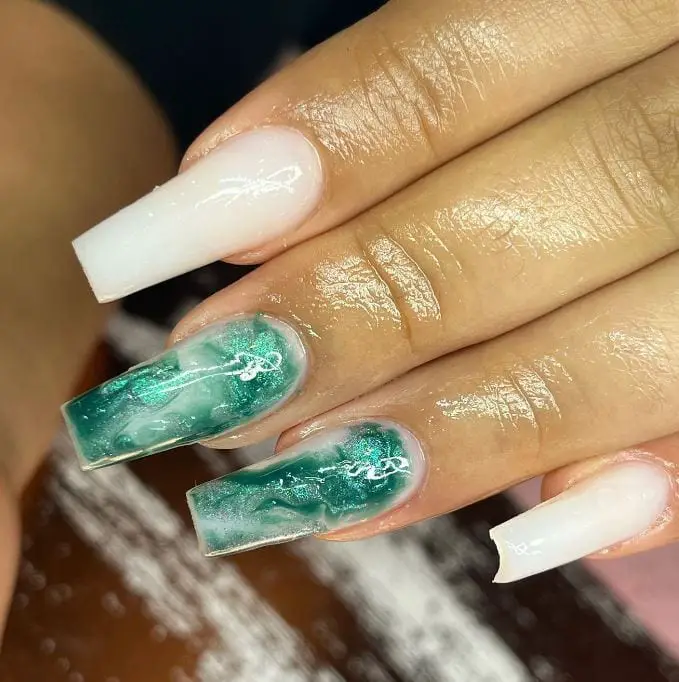 Image by @nailgypsystudio via Instagram
22. Nude and White Coffin Nails With Lines
This pretty pattern goes well with our go-to nail shape (coffin nails).
Nude and white are a perfect blend. They display their perfection here with this simple linear design and a half french tip of white.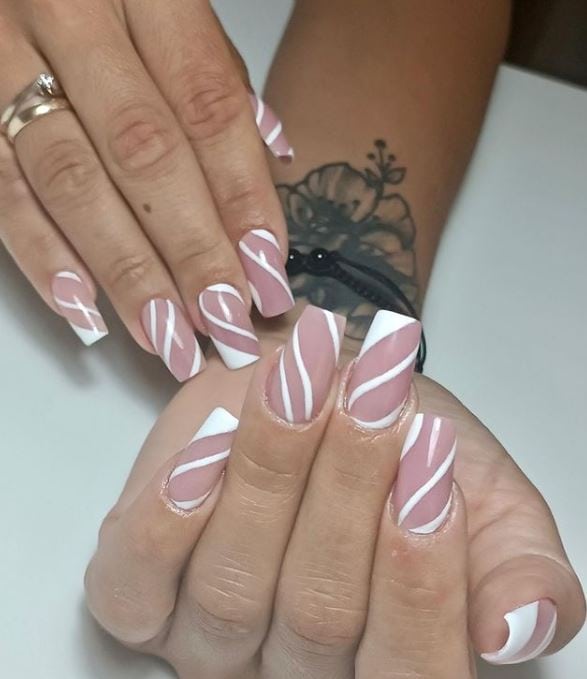 Image by @beauty_queens_ek_ via Instagram
23. Lavender Ombre Coffin Nails With Butterflies
Ombre nails seamlessly blend two colors to create an interesting and dreamy finish as seen here with these ombre nails.
A fun twist is the addition of an accent nail art with pink butterflies on it.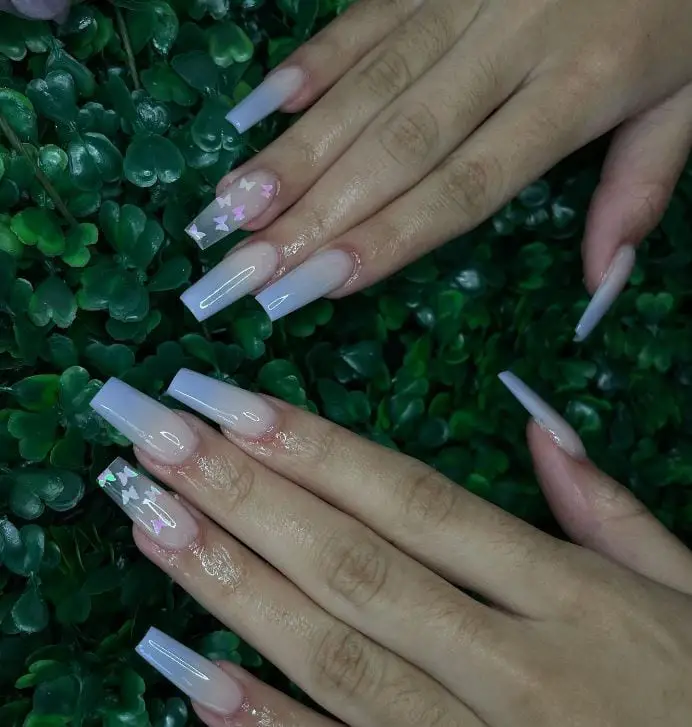 Image by @nailsby.angela via Instagram
24. Orange Peach Coffin Nails Design
Get these eye-catching nails for your next manicure. They can be worn to formal events for a chic look. It uses just one color that blends seamlessly with any outfit.
The sugaring effect and small stones added make it suitable for special occasions but it might be considered too glamorous for work.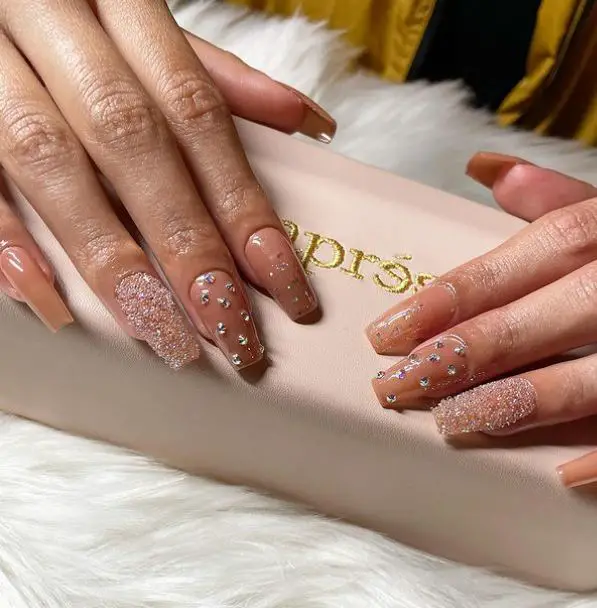 Image by @i.d.a_beauty_lounge via Instagram
25. Nude Coffin Nails For Spring
Due to the availability of various shades of nude color, using 2 shades of nude on a single nail design tends to be fun and cute.
Dark and bright nude colors are used here to create a cute french tip manicure. The white flowers added on the ring finger will make you think about spring.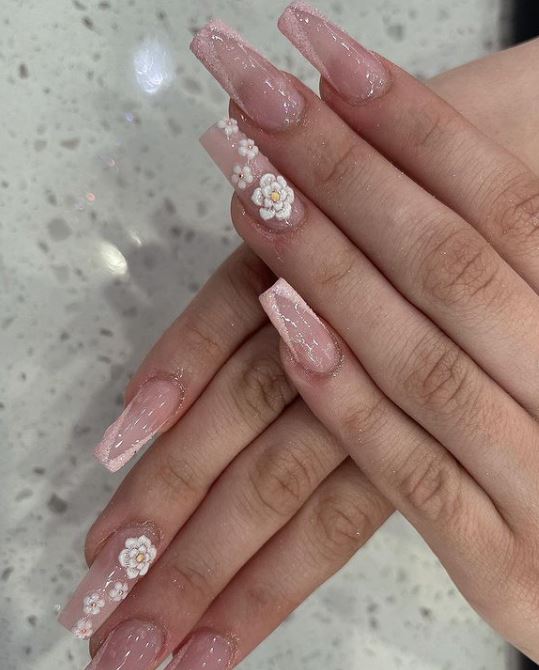 Image by @jayden_nails_art via Instagram
26. White and Honey Brown Coffin Nails
Nude nails are taking over our timelines and I'm not even surprised because of how gorgeous they look on coffin nails.
These cute, long nails have a great design with marble, ombre, and glitter. It is suitable for a glamorous event like prom, graduation, or a wedding.
Image by @x_nailsbyemma_x via Instagram
27. Pink Coffin Nails
This one is for the barbies that want to stand out.
Simple, dark pink coffin nails with cute rhinestones on a single nail are great for everyday wear. This can also be worn with darker monochrome outfits.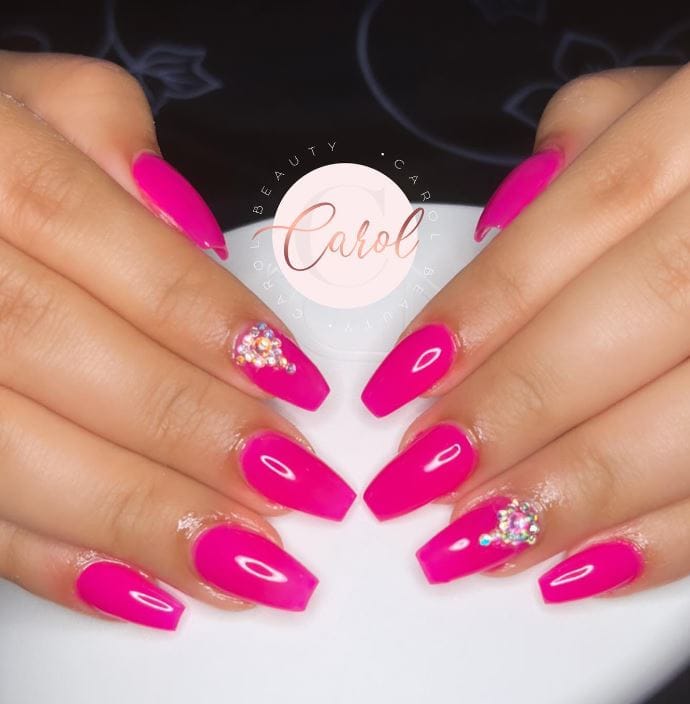 Image by @carolbeautynyc via Instagram
28. Black and Green Coffin Nails
Who knew green flames could be this hot? This features nude coffin nails with black french tips on some nails while others are ombre.
Black stones are added to the look to give it a pirate-like appearance. Get this done if you want to try something new and unique.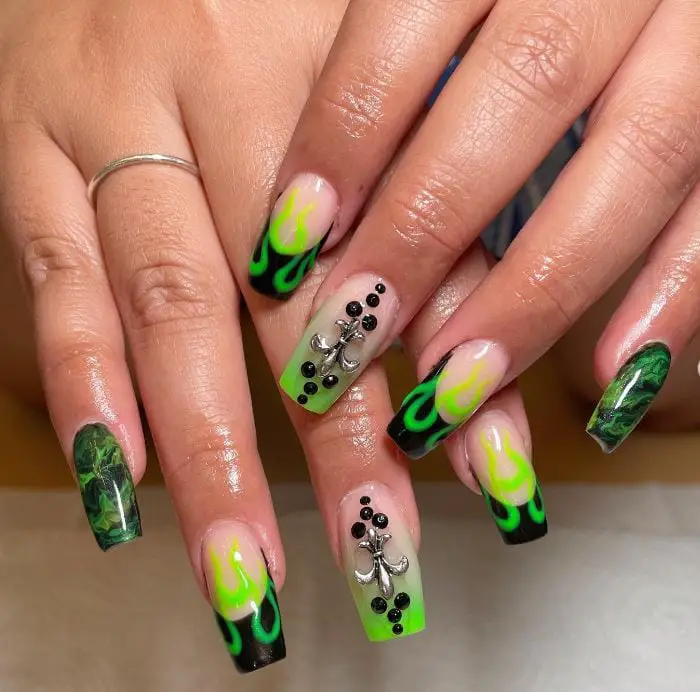 Image by @_nailsbylilypad via Instagram
29. White Coffin Nails
White coffin nails are a timeless classic and these cute coffin nails are proof of that. This is an easy nail look adorned with black smiley faces.
If you want to add a little fun to your normal plain look, this baby right here is the nail for you.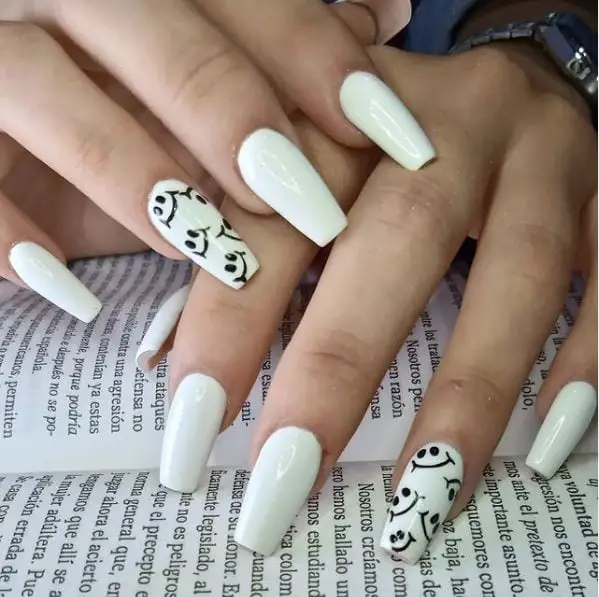 Image by @kim_artnails via Instagram
30. Dark and Baby Pink Coffin Nails
The hot pink wraps around the baby pink nail polish at the base of this coffin nail, forming a cute oval shape.
The dark pink french tip is wide and almost reaches the base but looks amazing nonetheless.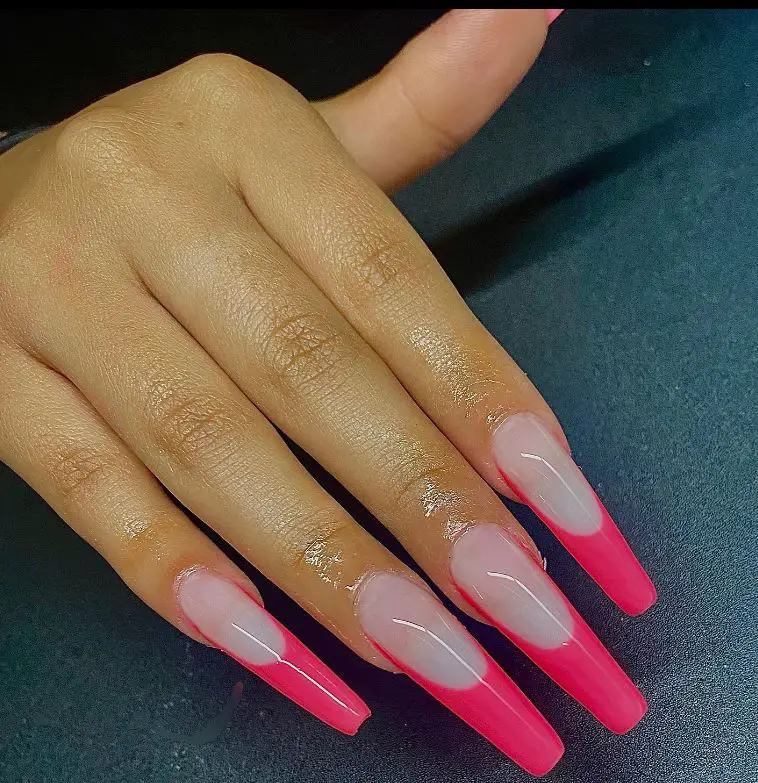 Image by @nailedby.lauren via Instagram
31. Blue and Purple Coffin Nails
The style of this coffin nail is perfect. A blue and off-white blend and lavender and purple mix is an amazing way to create a feminine look that is set off by the softness of tone.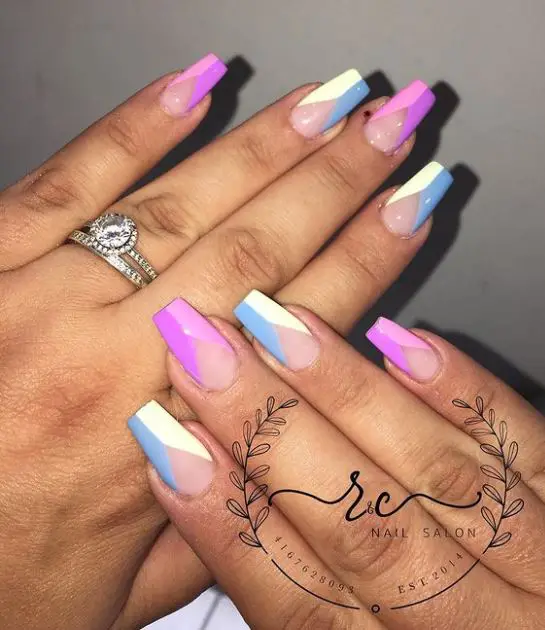 Image by @rncnailsalon via Instagram
32. Pink and Orange Coffin Nails
Ever seen nails with random colors that mingle in such an amazing way?
This features orange coffin nails with two accent nail designs. One accent nail is plain pink with gold glitter and the other is a mixture of orange and pink with lines of black and a little white flower.
Image by @lilybelle_crewkerne via Instagram
33. Neon and White Coffin Nails
This coffin nail design is done by an artist who has an eye for blending colors. The neon pigments are hand-painted and look magnificent. Get this done to add a delightful touch to your nails.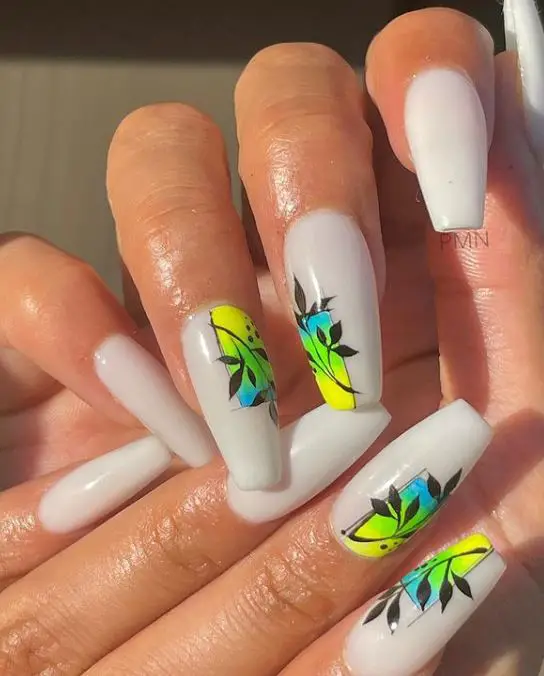 Image by @polishmahnails via Instagram
34. Ombre and Yellow Coffin Nails
Step out looking bright as a daisy with these faint coffin nails. With white flowers added in the right places, these will make you wish it were springtime.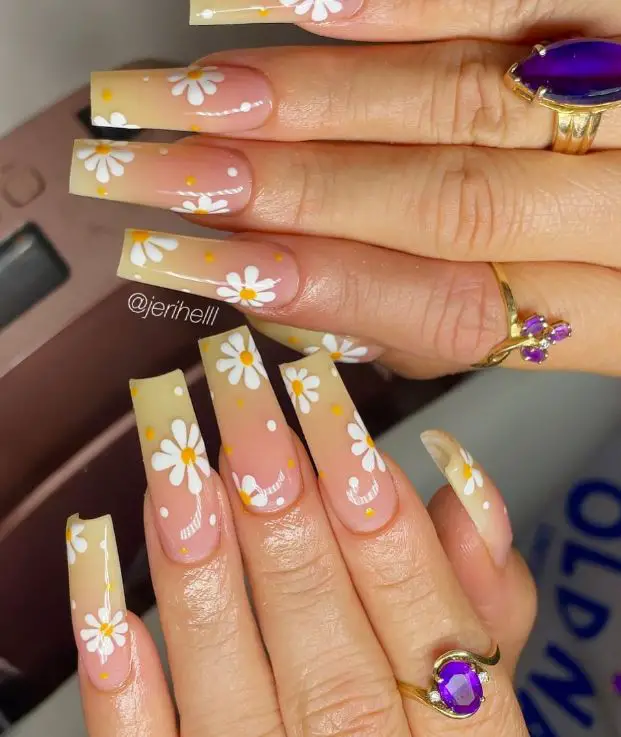 Image by @jerihelll via Instagram
35. Nude and White Coffin Nails
V-shape french tip coffin nails are a trendy nail art. It's switched up a bit here with the gold glitter added on half of the V to spruce up the nail look.
This nude and white coffin nail design will look amazing with long nails.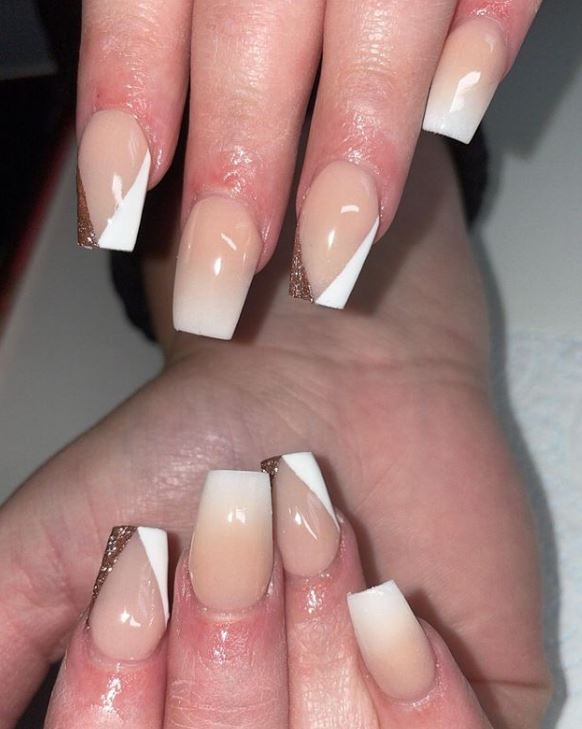 Image by @naild_bymegxo via Instagram
36. Long Purple Coffin Nails
One word for this nail shape, wow. This nail art looks magical.
The extra length of the acrylic nails leaves room for creative designs, like the white nails with purple florals on the little and middle fingers. This is set off by the purple glitter-filled index fingernails, and the plain purple coffin nail with a diamond attached.
Image by @nailedaf via Instagram
37. Baby Blue Coffin Nails
This cute coffin nail art has a soft blue tone with silver glitter and butterfly decals on the ring fingers. The muted tone of this nail design is a pure pleasure to look at.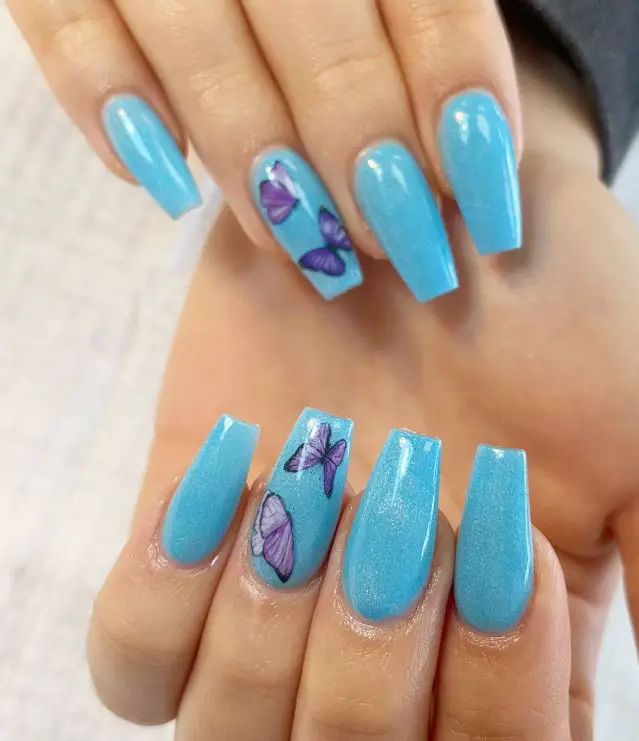 Image by @emmajane.nails via Instagram
38. Blue Coffin Shaped Nails
Blue lover? Try these different shades of blue for your next manicure. It features navy blue, royal blue, and a coffin nail with silver and blue decals.
These blue coffin nails are perfect for a cute winter look.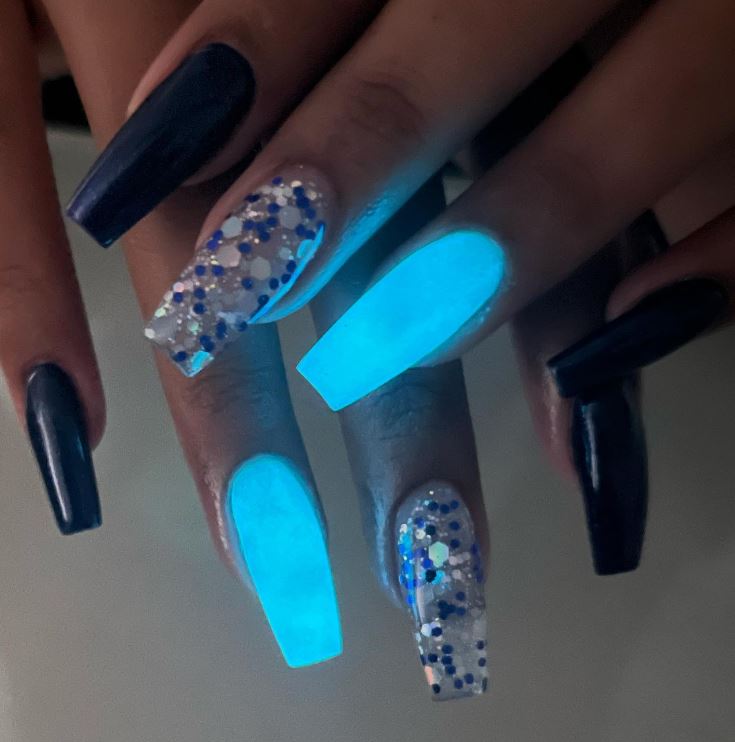 Image by @nailz_xpressions via Instagram
39. Nude and Pink Coffin Nails
If you're into simple and classy, this is ideal for you. It features a nude base coating and a V-shaped tip of white and pink from top to bottom.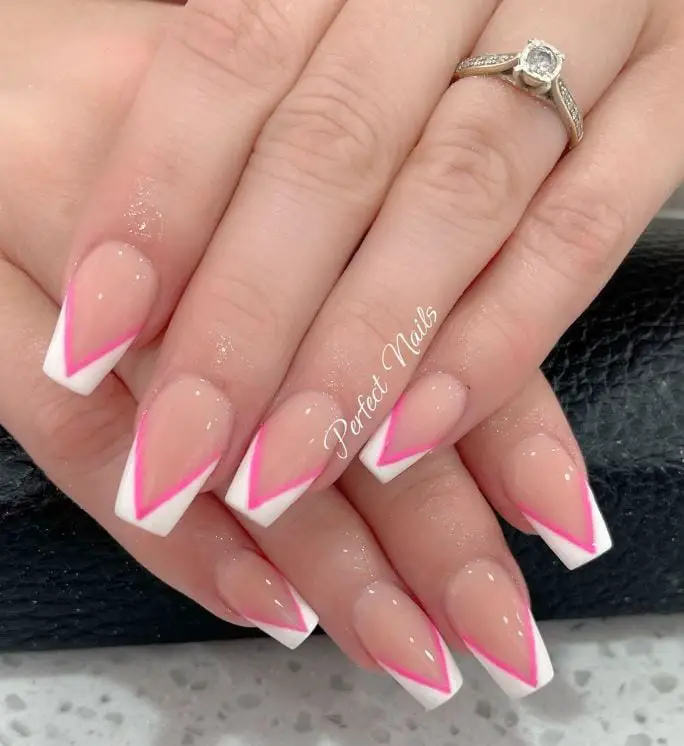 Image by @perfect_nai1s via Instagram
40. Nude and Silver Glitter Coffin Nails
It doesn't get any cuter than this gorgeous glitter coffin nail. They are the perfect summer coffin nail designs, with their neutral colors ombre nails and silver glitter.
The silver hearts added to the middle fingernails gives it a chic appearance.
Image by @nails_by_jarii via Instagram
41. Nude Coffin-Shaped Nails
These plain nude coffin nails are cute and feminine. The nail design is subtle and can be worn for a formal occasion or to work.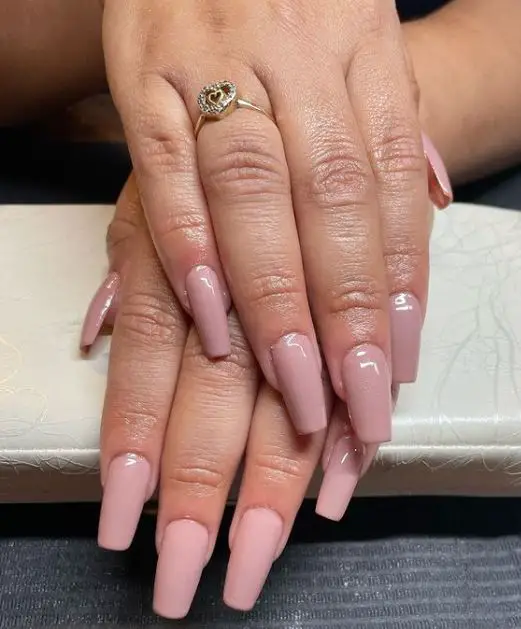 Image by @sandys.nailss via Instagram
42. Nude and Mint Green Coffin Nails
Iridescent glitter create an extraordinary look in this nail design with a nude base coat and mint green tips above and transparent glitter-filled acrylic nails.
These coffin nails are perfect for a baby shower or bachelorette party. Just pair them with nude heels and you're good to go.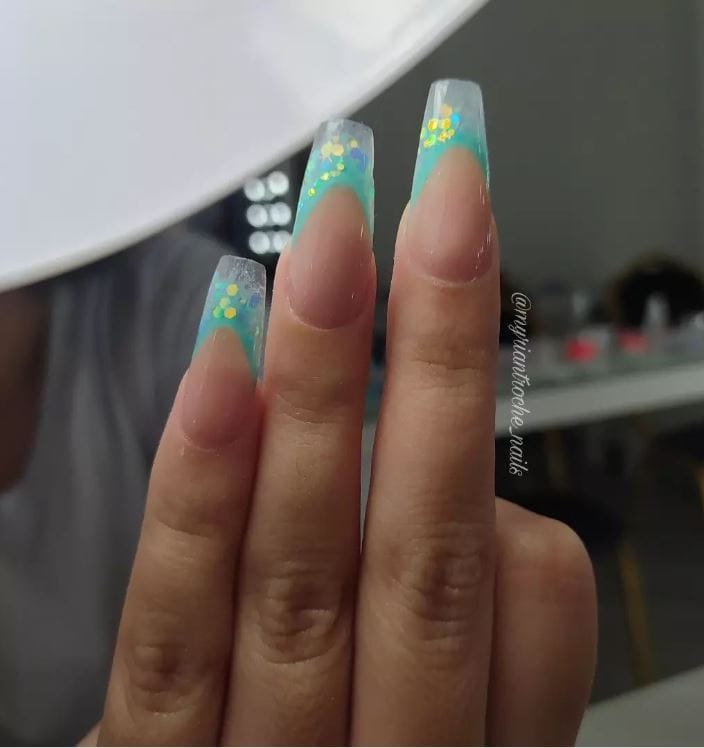 Image by @myriantroche_nails via Instagram
43. Pink and Yellow Coffin Nails
One look at this and you know that you're going to have fun with these nails. It has both curves and swirls of hot pink and yellow to express that friendly, fun personality.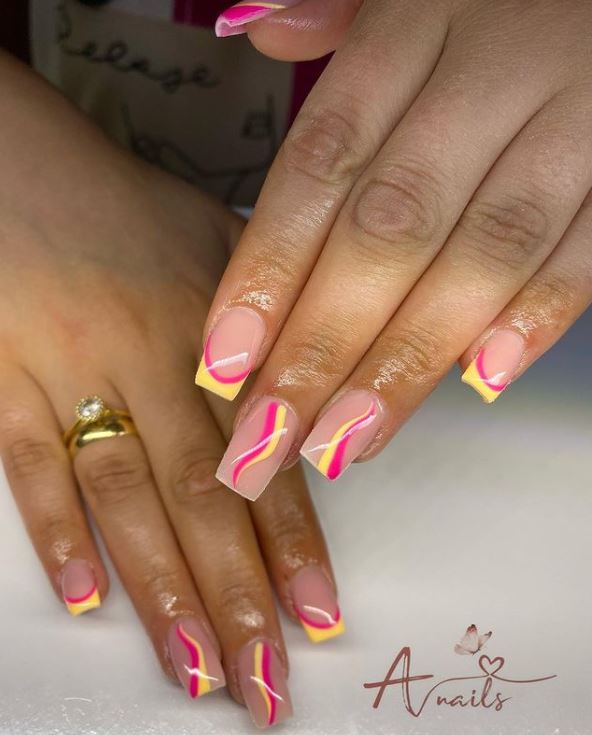 Image by @anails_gjilan via Instagram
44. Ombre White and Brown Coffin Nails
The faintest hint of coffee brown ends on white is used in this ombre mix. It has nice sugaring and small rhinestones added. This is a charming look that will blend well with a host of colors, especially black, to keep you looking classy on that hot date.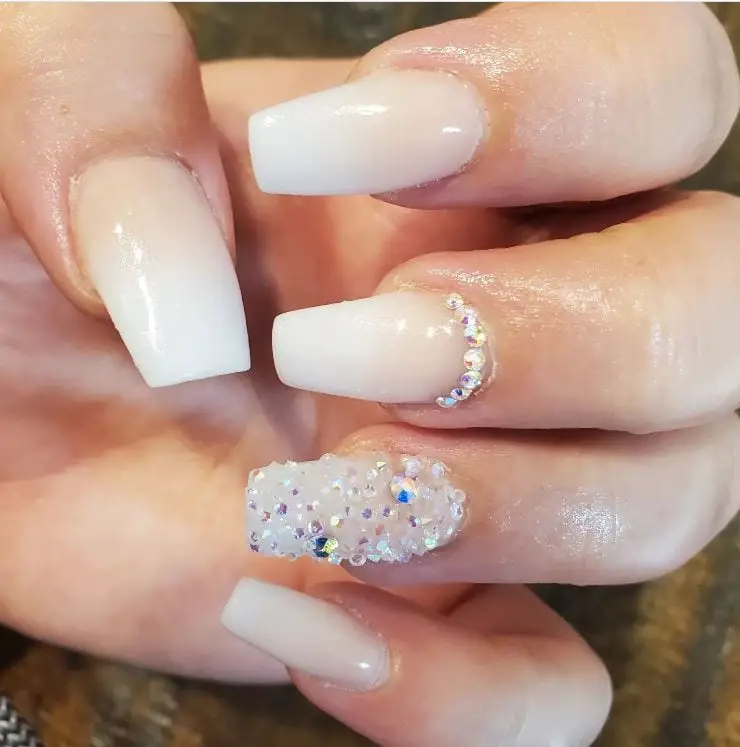 Image by @thomps_jr via Instagram
45. Coffin Nails With Pink Frenchies
If you always get short coffin nails, try this nail length out. The nails will look great in short or long lengths with the baby pink color tips and nude base coat.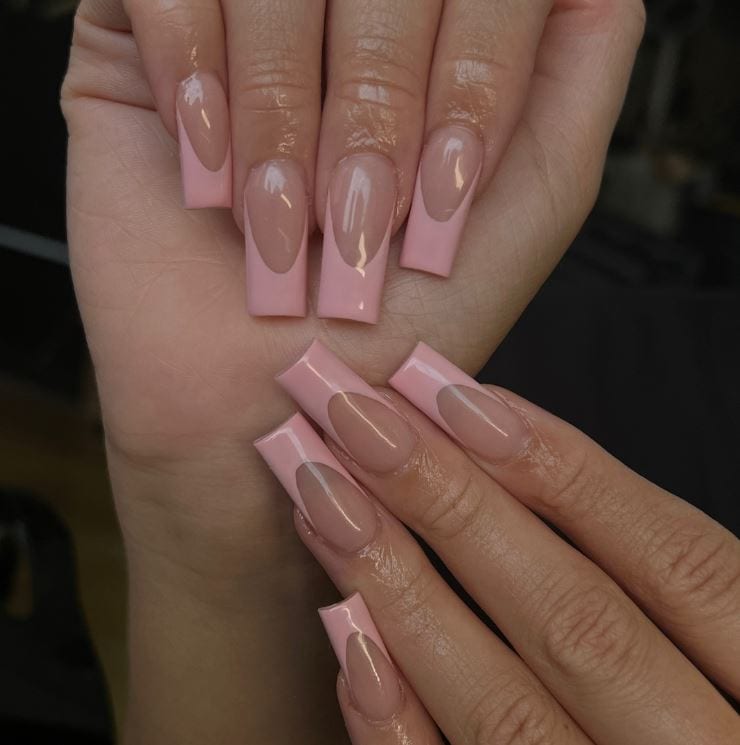 Image by @kissedandklawed via Instagram
46. Baby Pink Coffin Nails
With this much glitter, it's no wonder that these fake nails look so cute. Light pink has a classy yet subtle look that's great for any event.
Pair this nail with a classy outfit to look chic and high-class.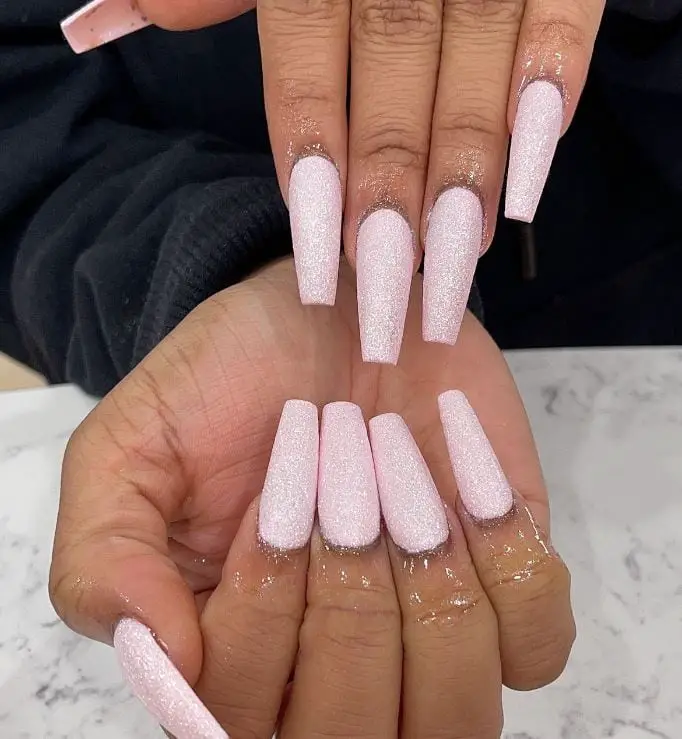 Image by @allurenailspa_southfield via Instagram
47. Dragon Fruit Red Coffin Nails
Ombre and marble poly gel with silver decals: a nail design combination made in heaven.
The middle nail has diagonal marbles separated from the nude base by silver decals making the nail look more noticeable.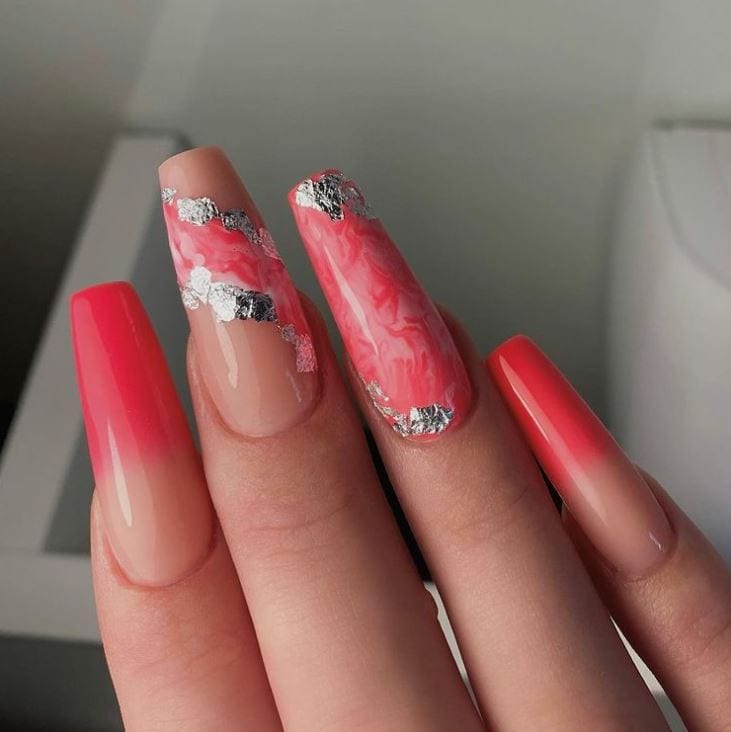 Image by @nail_harmony_by_inga_waterford via Instagram
48. Nude Rhinestones Coffin Nails
These long coffin-shaped nails will blend well with both fair and dark skin tones. The jewel rhinestones create a seductive high-fashion look.
Add glitter to the nail design to create a smart and glam appearance.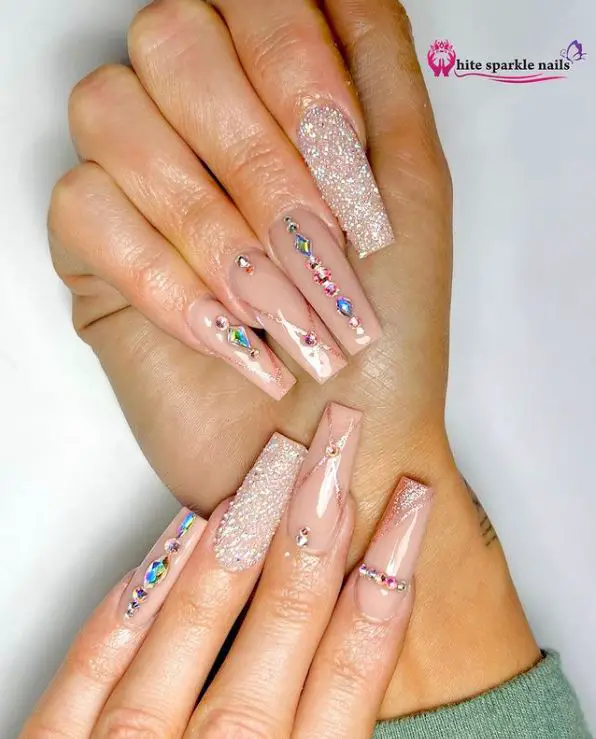 Image by @whitesparkle_nails via Instagram
49. Yellow Coffin Nails With Lines
Step out of the door looking fresh as a daisy with these yellow matte coffin nails. Two nude nails give the nail a sophisticated and stylish look.
The shapes of the nail are perfect but this design will also look great with stiletto nails if you need an edgy appearance.
Image by @tonya5745 via Pinterest
50. Matte Red Coffin Nails
Want long nails for Valentine's day? These matte coffin nails are the perfect choice. It has a bold look with the matte red coffin nails, and the black accent nail style added gives the nails an edgy appearance.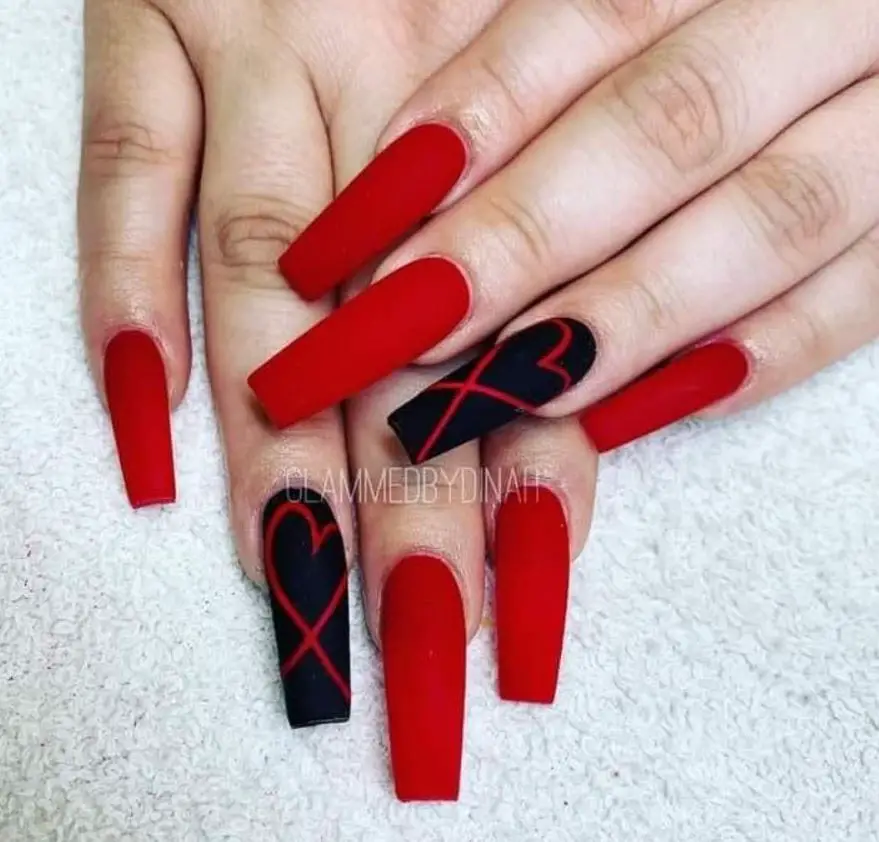 Image by @glammedbydinah via Instagram
51. Light Purple Coffin Nails
Welcome the fall season in style with these cute coffin nails. The subtle nail look is girly and cute with purple and white marble, purple matte coffin nails with rhinestones, and silver glitter on the index and ring fingernails.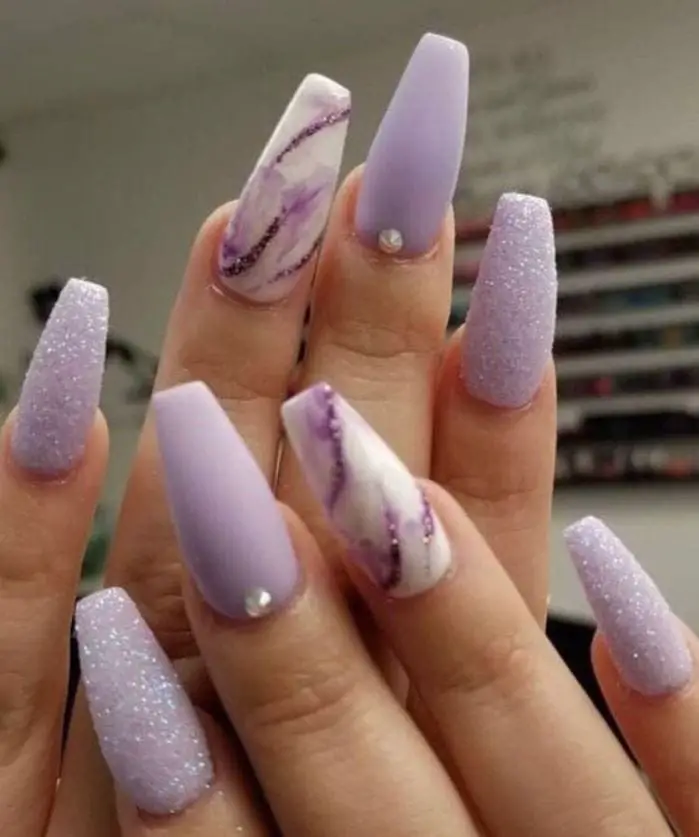 Image by @AnjaVerse via Pinterest
52. Bling Gray Coffin Nails
Throwing a party and need nails that will have all the guests complimenting you? Then you should get these gray coffin nails.
The gray coffin nails are glitter-filled, and the ring finger has a touch of nude to make the slightly dull color attractive, with rhinestones to make a statement.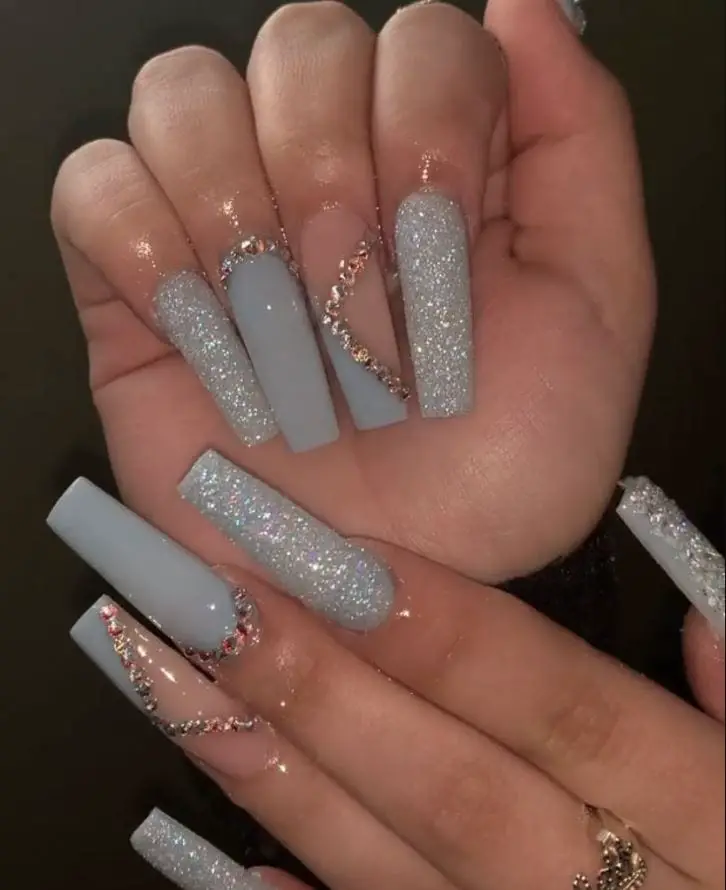 Image by @Trill6lackgirl via Pinterest
53. Burgundy Coffin Nails
Step out looking stunning with these glossy, seductive nails. The monochrome coffin nail designs are perfect for any formal occasion and will look chic and high-class if worn with a corporate outfit.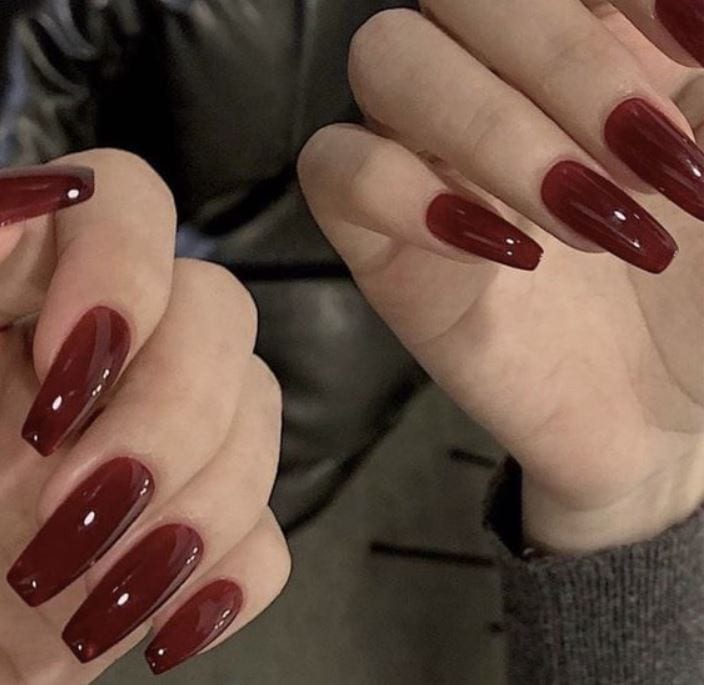 Image by @carmenleedelrio via Pinterest
54. Maroon and Orange Coffin Nails
Get ready for a fun-filled summer with these different-colored coffin nails.
One hand has orange coffin nail shapes with white flowers and small rhinestones while the other has maroon coffin nails with flowers and rhinestones.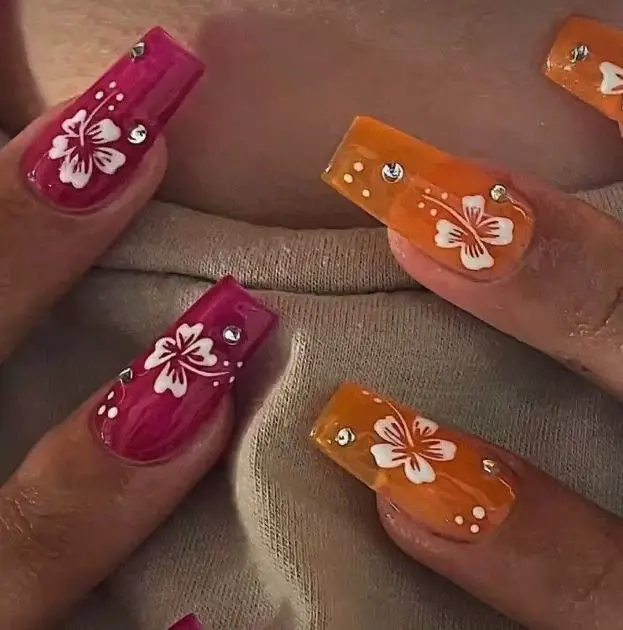 Image by @Kirby_Krissss via Pinterest
55. Crystals Coffin Nails
With this crystal jelly nail polish, you're sure to create an unforgettable appearance. Each coffin nail is painted in different shades with a marbled appearance that looks like large crystals.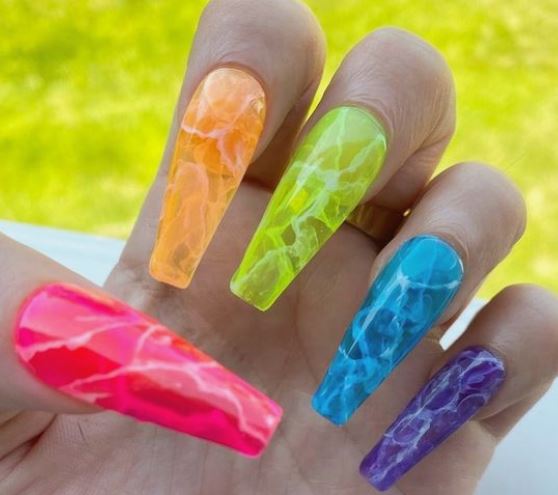 Image by @makarttofficial via Pinterest
56. Pink Matte Coffin Nails
This delicate nail art is gorgeous and is perfect for Valentine's Day. The index and ring fingers have a stunning gradient of diagonal pinks.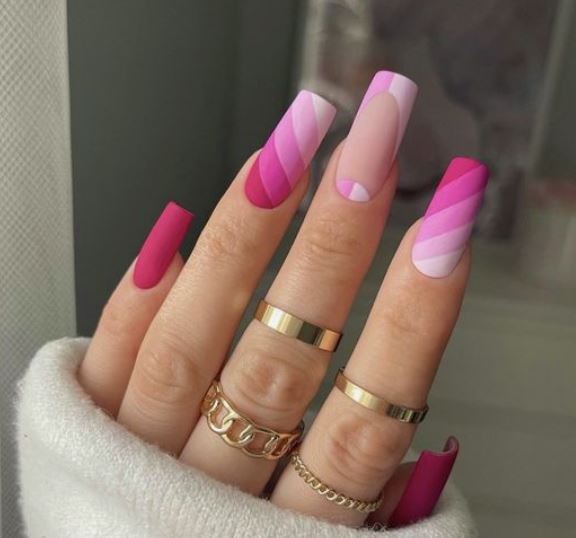 Image by @teaganmarie01 via Pinterest
57. Glossy Brown Coffin Nails
Solid color nails are seductive in a low-key way. Here, this glossy brown nail art is subtle yet sophisticated and willexpress your bold personality with style.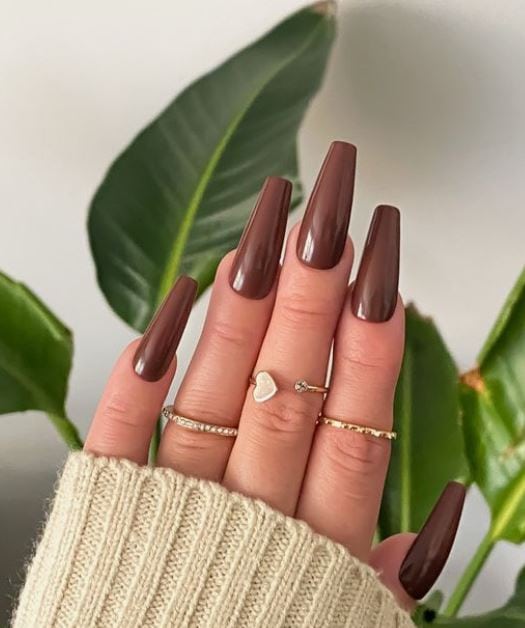 Image by @nailssbylys via Pinterest
58. Lemon Green Coffin Nails
Are these lemon green nails a vibe or what? The vibrant color will be perfect for summer and the accent nail art with the fruit motif gives the nail art an eye-catching appearance.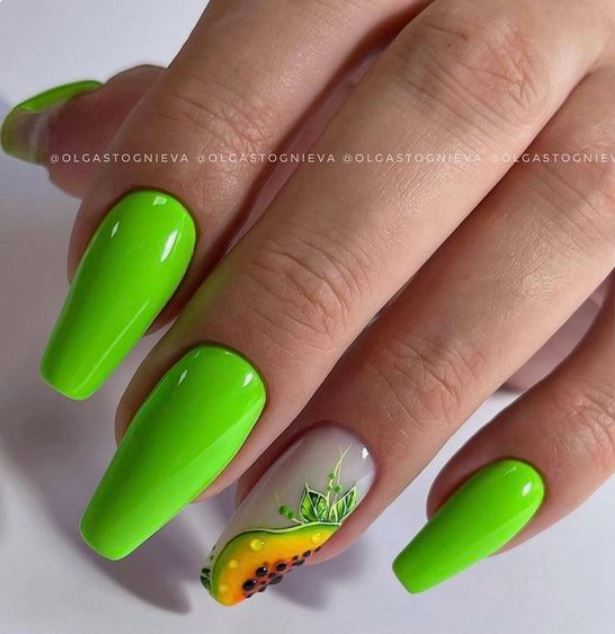 Image by @sandycorinne via Pinterest
59. Coffin-Shaped Gold Glitter Nails
Dazzle everyone with a classy glow with these wonderful gold glitter nails. It features nude base colors with a gold tip for the ombre nails, a nude base and gold french tip nails, and gold glitter-filled nails on the thumb and middle fingers.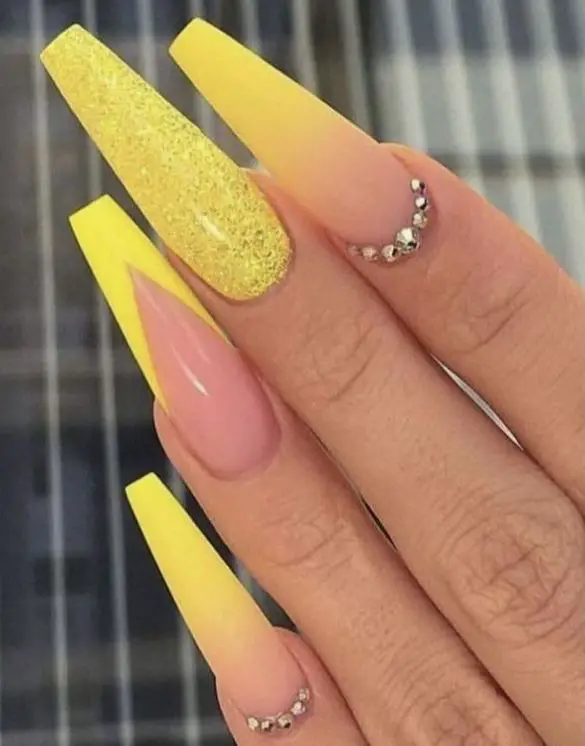 Image by @stephhgrubiak12 via Pinterest
60. Burgundy Long Coffin Nails
Slay all winter with this gorgeous coffin nail idea. The otherwise dark nail art has a shiny finish due to the nude accent nail added with burgundy and white lines.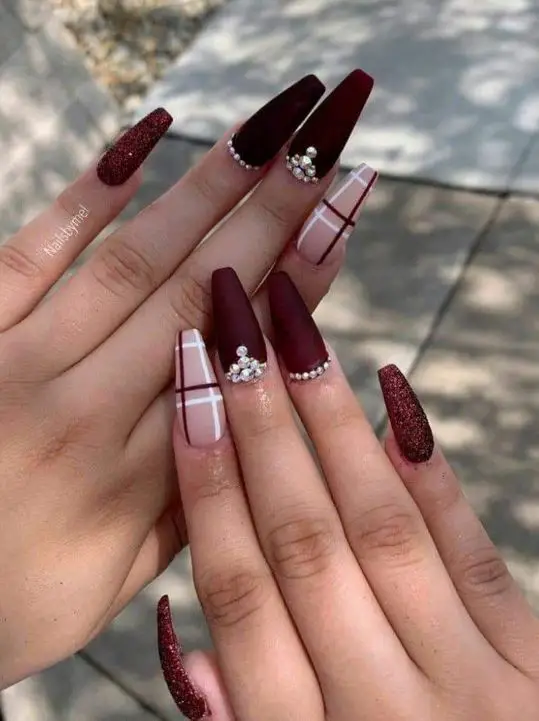 Image by @donnamfalcon via Pinterest
61. Cute Purple Coffin Nails
Snowflake nails are great for people with a fun unique personality. They are the perfect nails to give you a blast of color during winter.
The fun level of the nail designs is increased by the penguin and dark purple glitter on the little nail.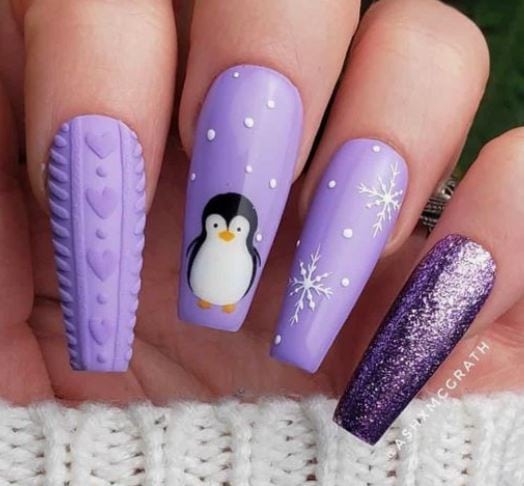 Image by @ashxmcgrath via Instagram
62. Olive Green Coffin Nails
This olive green manicure gives baddie energy. It features olive and gold paint on two fingers, one green glitter-filled nail, and a solid olive green color.
You can wear this with a dark outfit for a gloomy appearance for Halloween or with bright colors to create a striking chic style.
Image by @SaraSlater4943 via Pinterest
63. Coffin Leopard Print Nails
Take a journey to the wild side with this cute leopard print manicure that is both chic and bold. The pink matte coffin nails on two fingers make the look a little fun and stylish.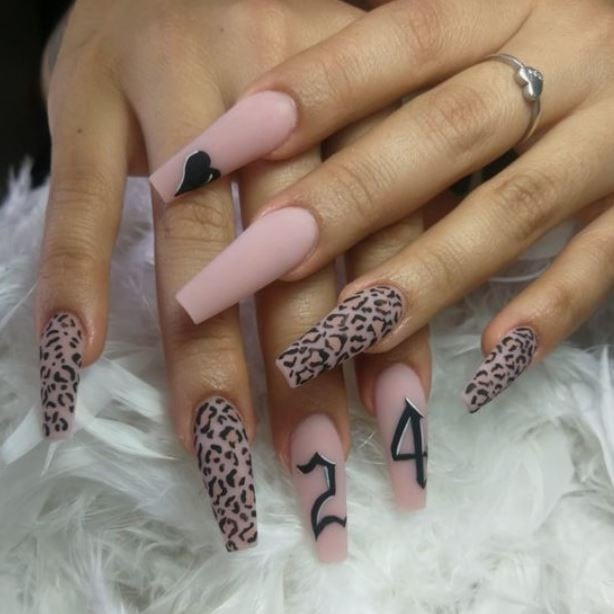 Image by @bosslady1324 via Pinterest
64. Black and Red Coffin Nails
If you want to make a dramatic statement, take this nail design to your next nail appointment for inspiration.
The long coffin nails are a mixture of reds and blacks, with black flames and smokey black designs on the red base.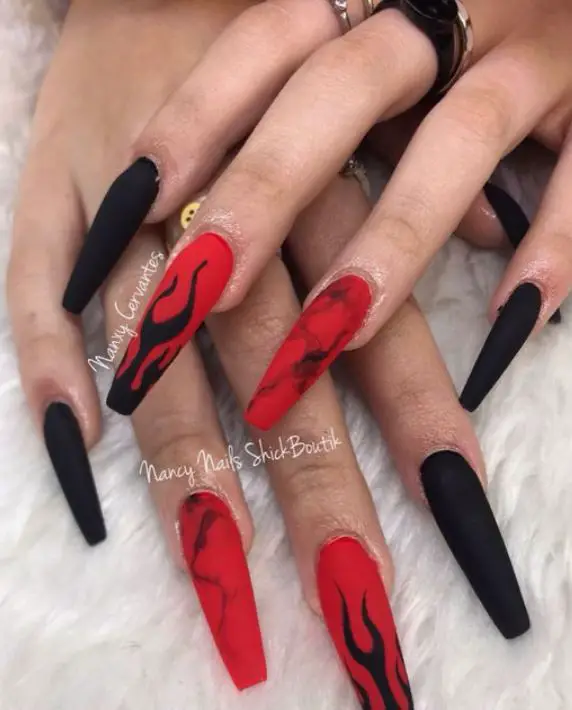 Image by @shickboutik via Pinterest
65. Bright Pink Coffin Nails
Summer is around the corner and it's time to get those bright and bold nails on board. These bright coffin nails have a cute black and white zebra pattern with pink, orange, and nude designs.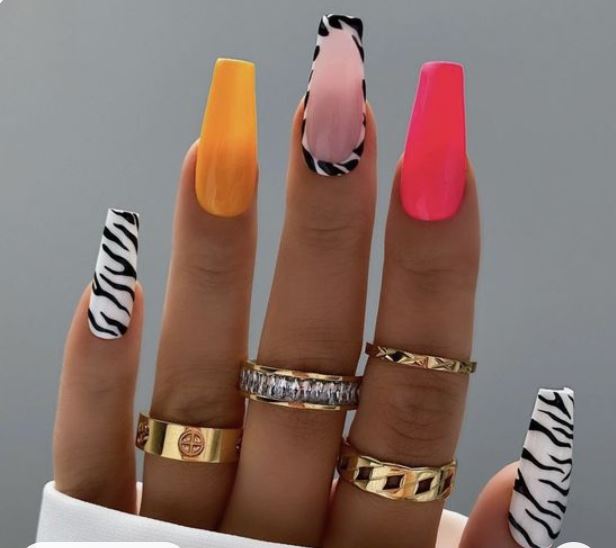 Image by @akeishagratts via Pinterest
66. Plain Purple Coffin Nails
These purple coffin nails exude pure class. It is elegant to wear and dark enough to make a bold statement.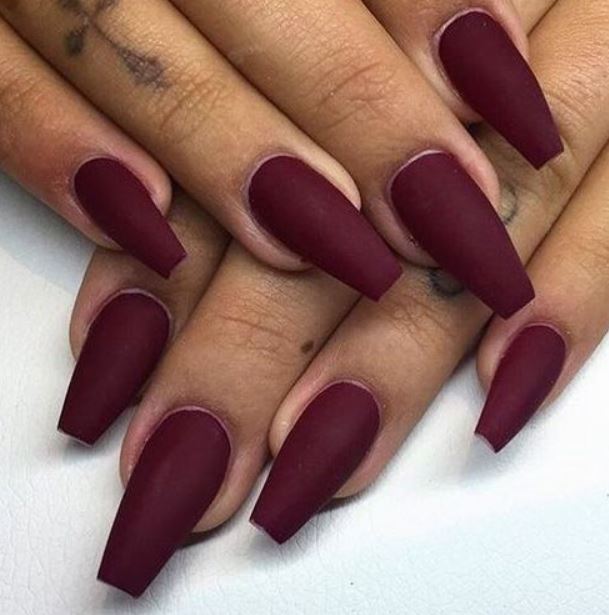 Image by @Aubpeacha via Pinterest
67. Halloween Coffin Nails
It's going to be Halloween season soon. Get this spooky Halloween-themed coffin nails idea with pumpkins and crazy gold glitter.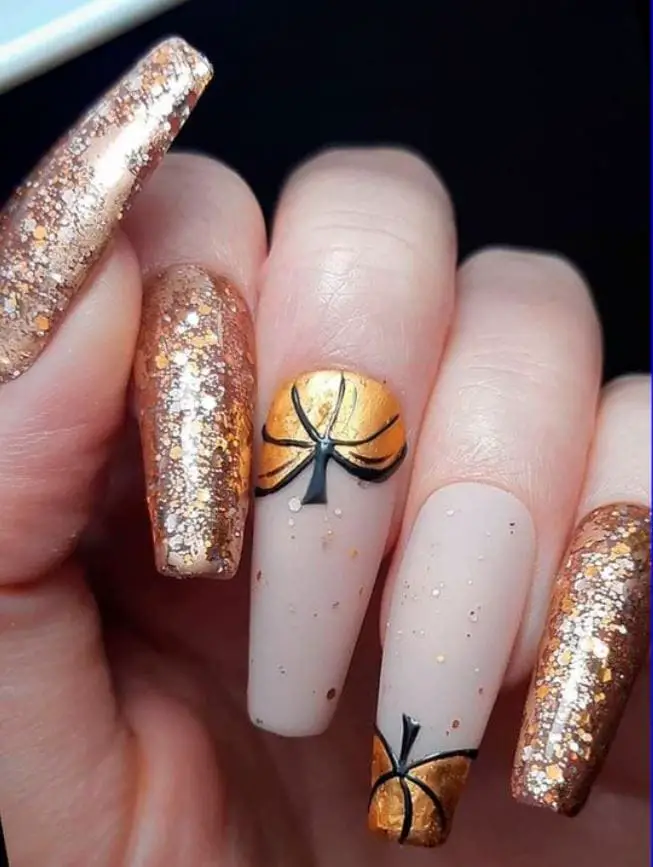 Image by @PandaBear0807 via Pinterest
68. Neon Yellow Coffin Nails
Add a delightful touch to your travels with these neon yellow ombre nails with a nude base. These coffin nails are perfect for a summer vacation on an island.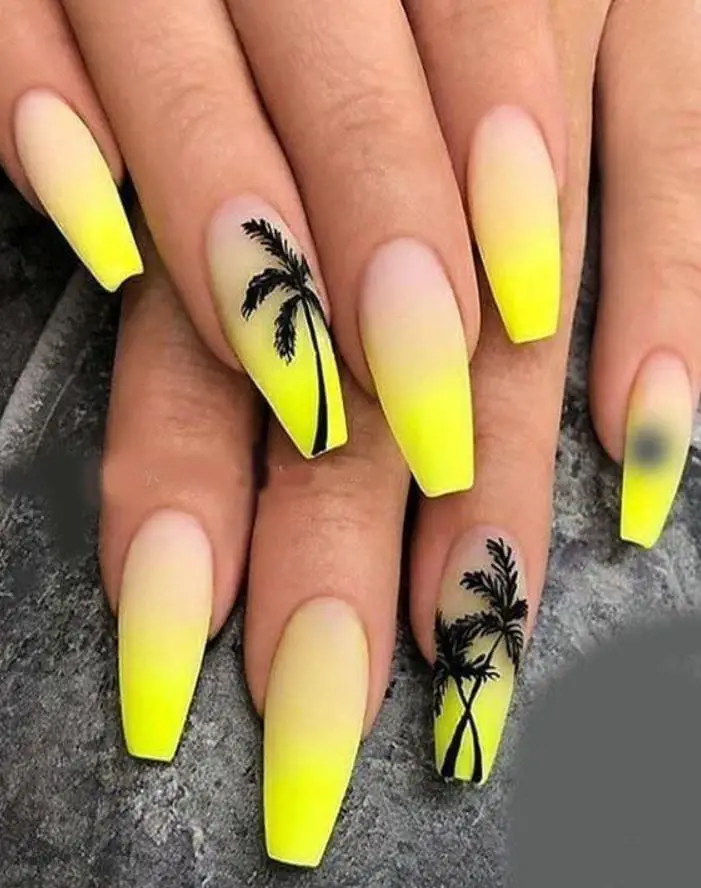 Image by @sunvaz64 via Pinterest
69. Royal Blue Coffin Nails
Long, dreamy royal blue coffin-shaped nails: this is just beautiful on a whole different level. It features ombre nude nails, with a nude base and blue V-tip nails, and an attractive nude nail with gold decals and small rhinestones.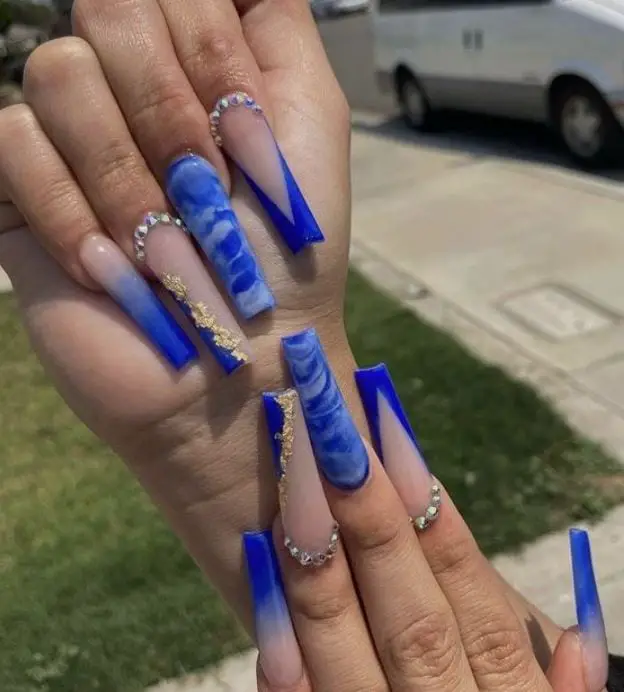 Image by @romeradiance·she via Pinterest
70. Black Coffin Nails
You can't go wrong with black coffin nails because black exudes sophistication and a stylish aura.
These glossy black coffin nails will make you look high-class in any outfit you choose or feel like wearing.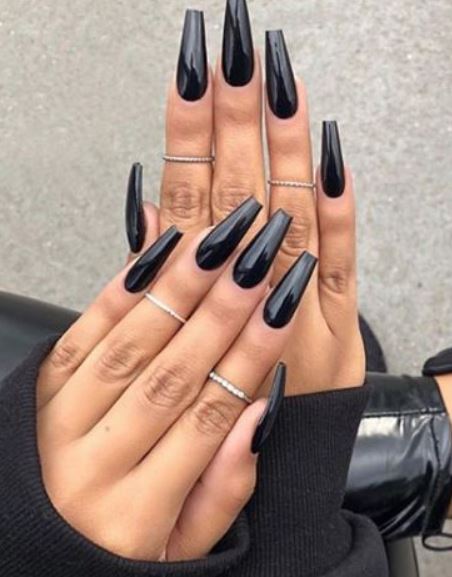 Image by @Sosorella via Pinterest
71. Snowflake Blue Coffin Nails
Snowflake matte coffin nails are becoming a trendy winter nail. With frosty coffin nail designs of a gradient of blue from navy blue coffin nails to white coffin nails, this is amazing for winter.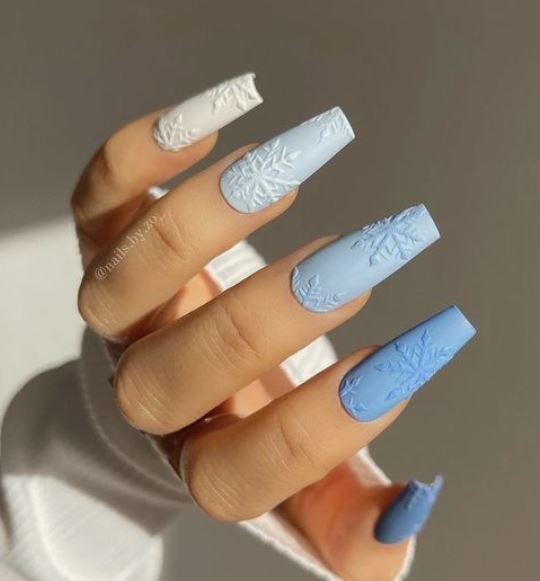 Image by @lunarrmoons via Pinterest
72. Grey and Silver Coffin Nails
Grey manicures with silver glitter are so popular and for good reason. This is a simple manicure of glossy grey nails with a glitter-filled accent nail to uplift the appearance of the look of the coffin nails.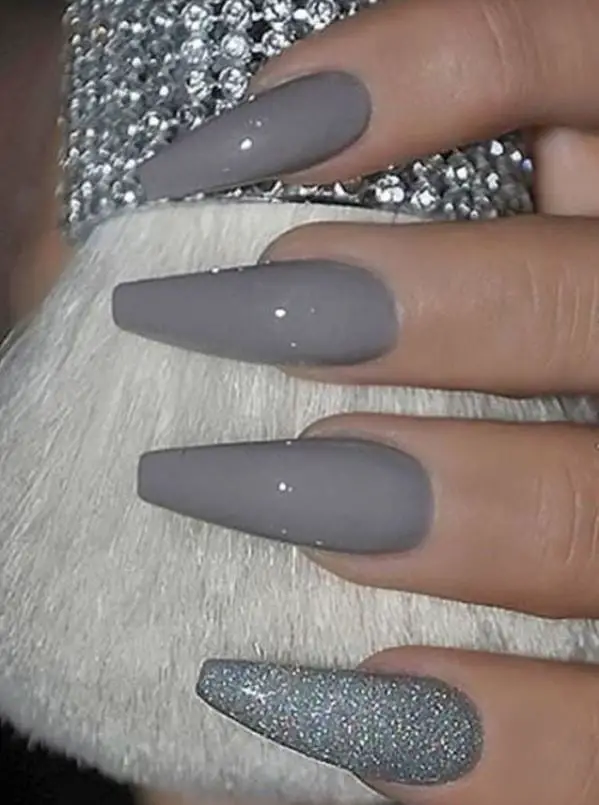 Image by @ebraratay via Pinterest
73. Swirls Matte Coffin Nails
This is another gorgeous nail set for summer because it features many bright colors, to keep you looking cute and fun.
The lavender and purple look nice but you can substitute them for pink coffin nails if you prefer pink.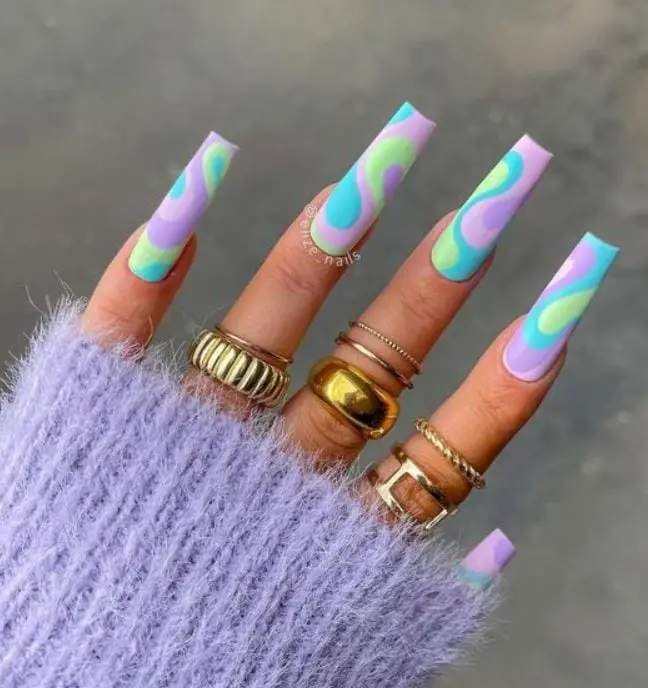 Image by @elize_nails via Instagram
74. Medium Length Matte Brown Coffin Nails
Matte coffin nails are usually subtle yet utterly stylish just like these brown matte coffin nails. They are very cute and versatile, and cannot be passed up as you walk into any room.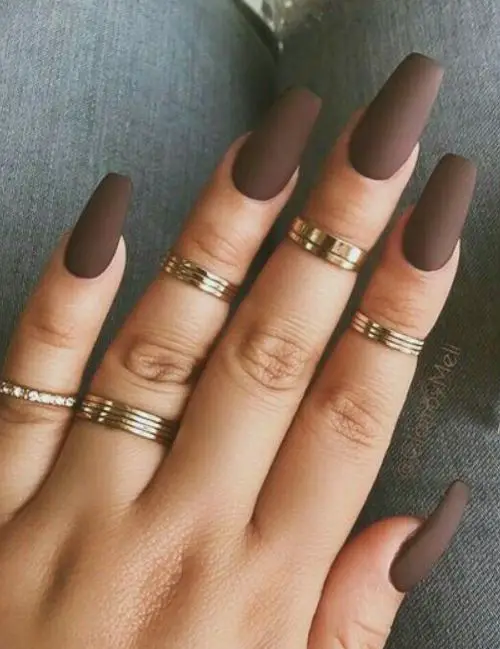 Image by @GlamByMeli via Instagram
75. Orange Halloween Coffin Nails
For stylish Halloween nails, try these bright spooky nail designs that feature ghosty pumpkins, orange coffin nails with glitters, and a calm nude nail.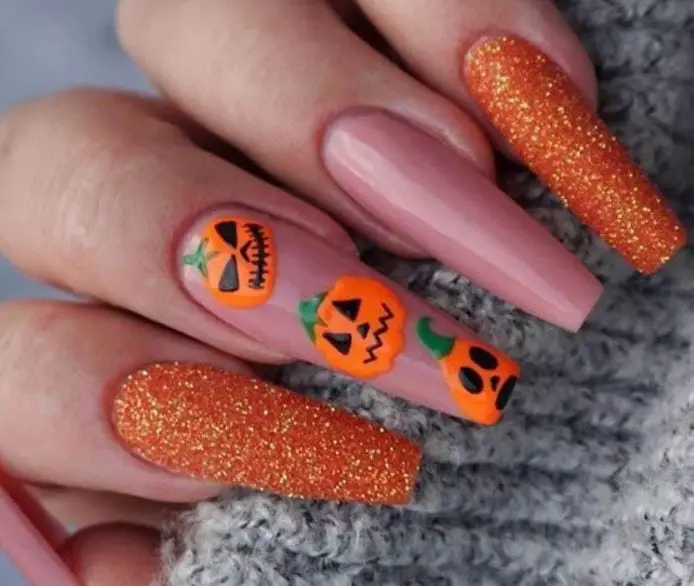 Image by @inspireupliftdotcom via Pinterest
76. Burgundy Coffin Nails With Diamonds
The diamonds on these burgundy coffin nails are giving Arabian princess vibes. It is the perfect nail for you if you want to touch the waters of Dubai, have a date with the billionaires, or if you just want to feel special.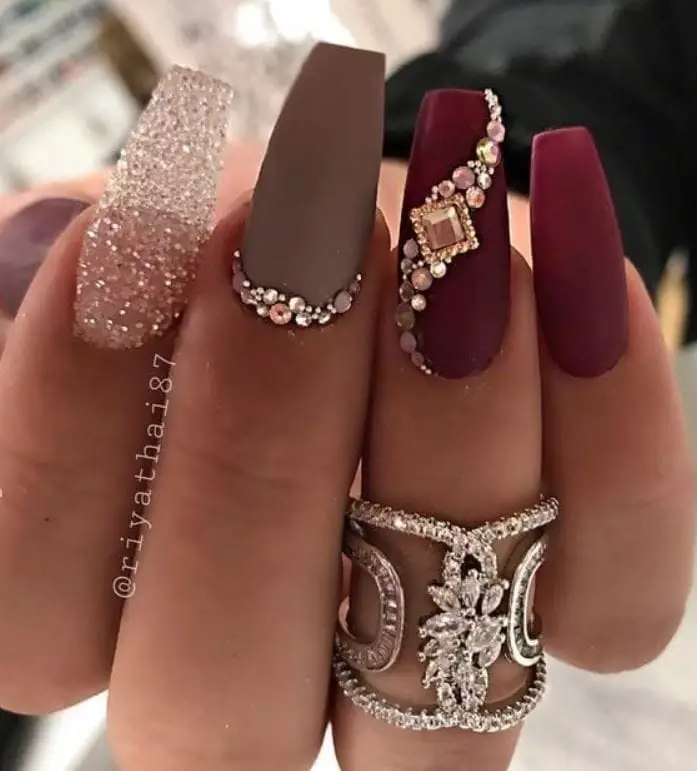 Image by @riyathai87 via Instagram
77. Matte Black Coffin Nails
Black coffin nails are trendy all season that is why I'm a big fan of them. The matte coffin nails feature solid black matte nails with a nude nail and a cute little heart on them.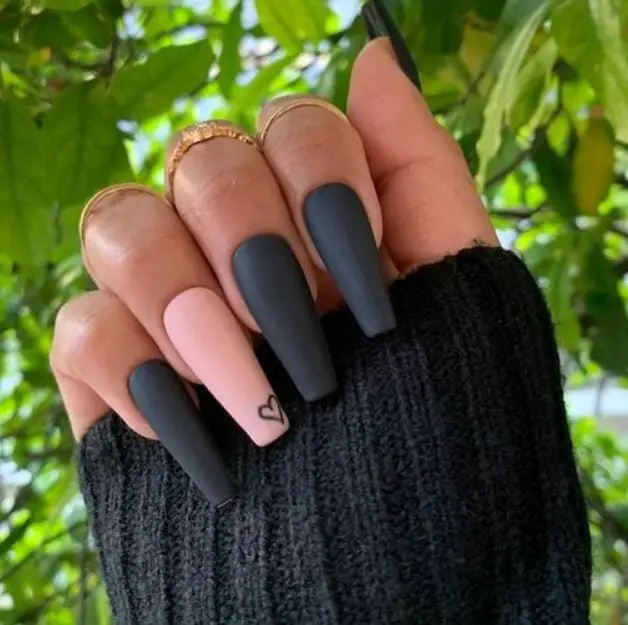 Image by @JessiClawsShop via Pinterest
78. White Ombre Coffin Nails
Step out looking like a queen in this white ombre coffin nails. The acrylic nails are designed with gold decals that spruce up the whole look.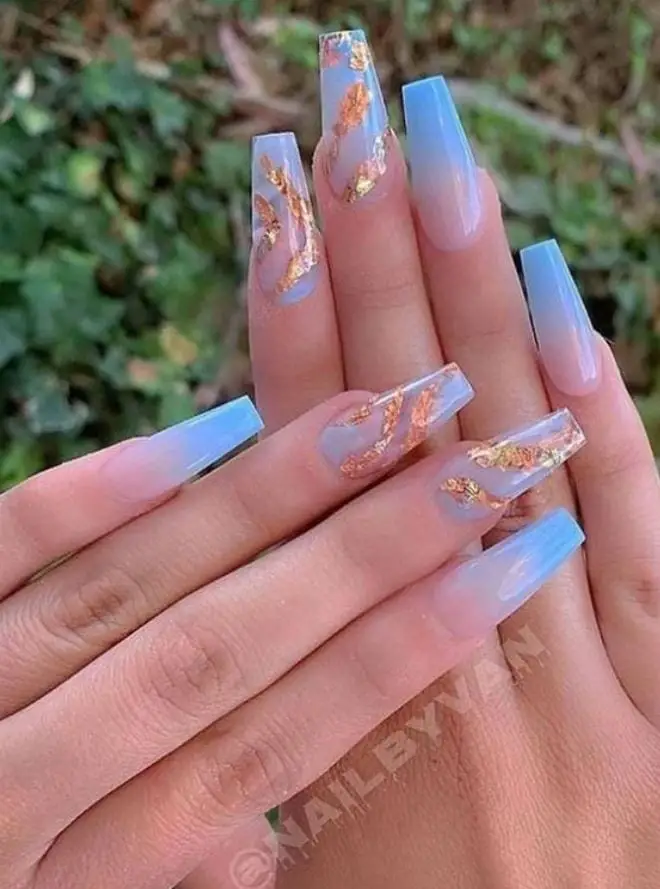 Image by @nailbyvan via Instagram
79. White and Baby Blue Coffin Nails
These blue flaming nails are hot because the hottest flames burn blue. The flames are outlined by white nail polish, with a blue accent nail and with a smiley face making the look fun.
The fun color combination is suitable for summer.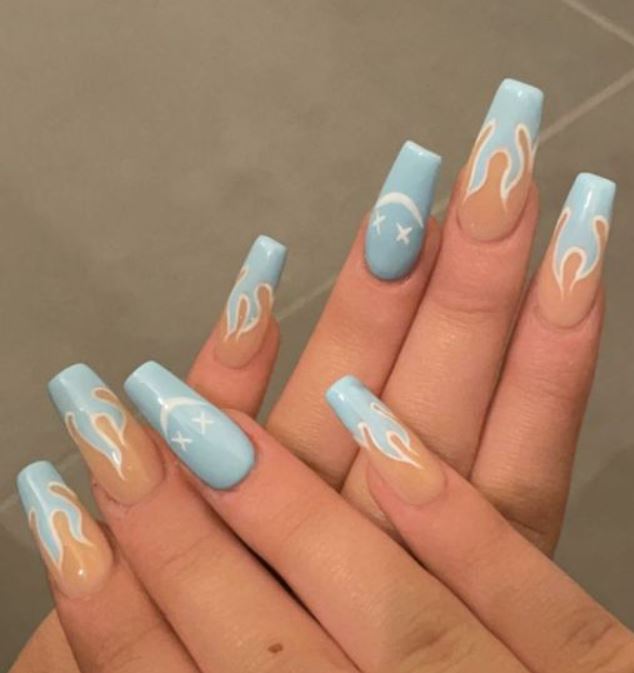 Image by @qiqisaw via Pinterest
80. Nude and White Ombre Coffin Nails
French tip coffin nails elevate one's look from basic to brilliant and elegant that is why I am a big fan.
The nude and white ombre coffin nails have a nice ombre effect that blends seamlessly. This look is a pretty minimal look to rock to a classy wedding occasion.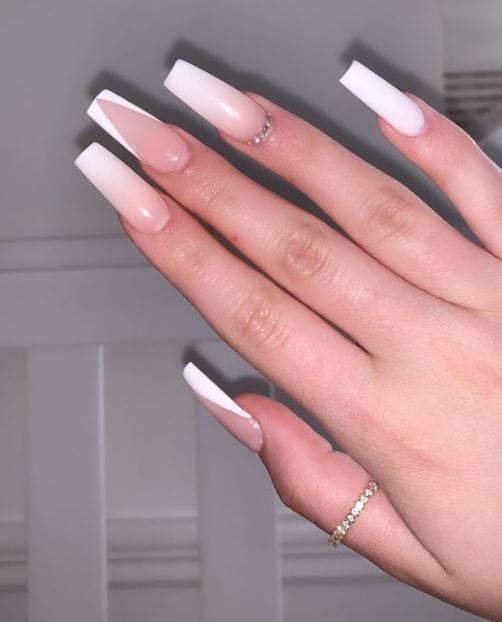 Image by @helinarslan03 via Pinterest
81. Nude and Red Coffin Nails
With perfect acrylic nails, this nail idea features a nude base and a glossy red nail polish at the tips forming V-shape french tip coffin nails.
These acrylic nails will go perfectly with most casual outfits like jeans or monochrome sweatpants.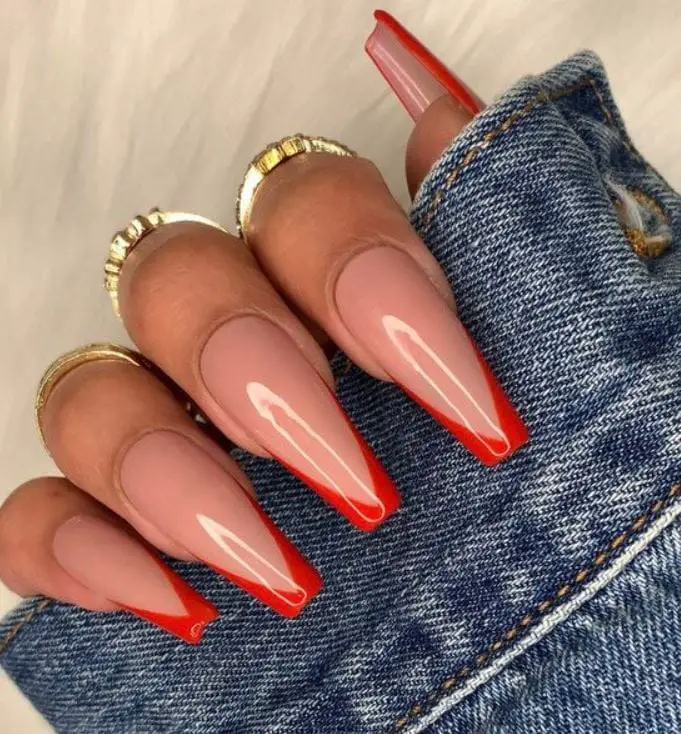 Image by @JessiClawsShop via Pinterest
If there was a competition, coffin nails will pull the most crowd because it is the most loved and popular. Pick several coffin nail ideas, you can save them in your gallery and get them done for subsequent nail appointments.