Emerald green is an incredible color that screams elegance. The dark tone makes it versatile when it comes to pairing with several outfits.
After trying out several designs to add glitz to my green nails (because I'm extra), I've found that emerald green nail designs with rhinestones look exquisite. If you're not a fan of the extra glitz and glamour of rhinestones, adding swirls of pastel colors to your emerald green nail will also make it look better.
There are a lot of options when it comes to emerald green nails, ranging from plain to stylish. Keep scrolling for nail designs that will resonate with your personality.
Best Emerald Green Nails
1. Accessorized Stony Emerald Green Nail
Emerald green nail designs with white and green rhinestones is suitable for events like prom.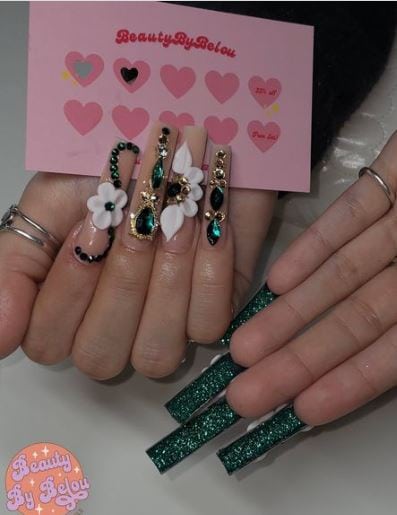 Image by @beautybybelou via Instagram
2. Crystal Emerald Green Nail
This crystal nail is so stylish. If you're in need of an attention-grabbing look, this is it.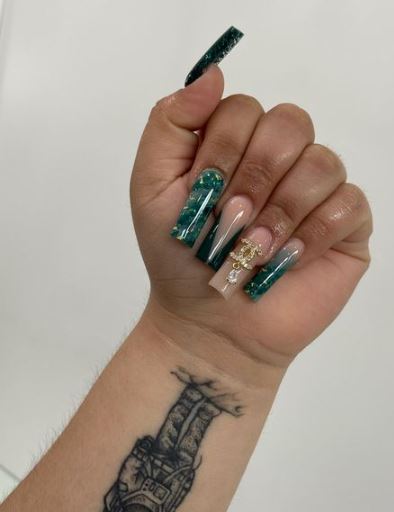 Image by @nailsbymarissaa via Instagram
3. Matte Emerald Green Nail
Matte emerald green nails with sugaring accent nails. This looks amazing.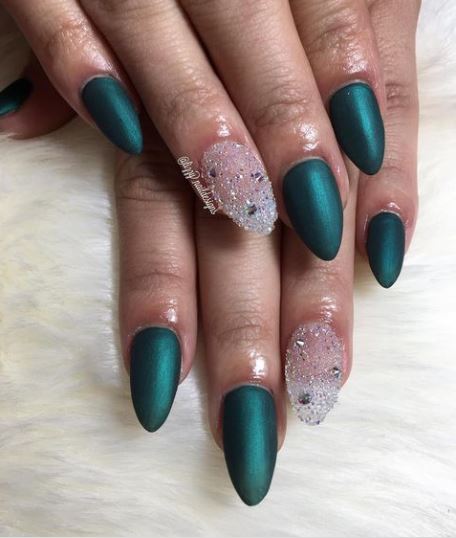 Image by @lizzy_naildesigns via Instagram
4. Nude And Emerald Green Nails
This classy emerald green and nude color nail is decorated with rhinestones. It's super stunning and suitable for high-profile events.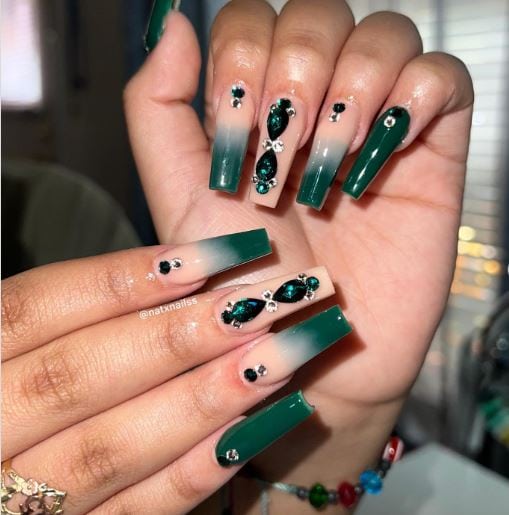 Image by @natxnailss via Instagram
5. Golden Glitters Emerald Green Nail
Shiny green and golden nail designs for a trendy look. It's great for autumn and winter.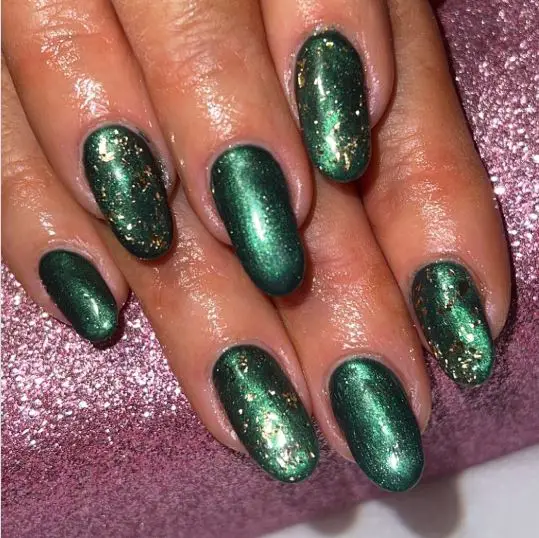 Image by @nail_candy_by_aisling via Instagram
6. Crystal Emerald Green Nail
Ever seen a picture of broken emerald crystals? This nail has a glow similar to it. The iridescent nail is one of a kind and will keep you looking gorgeous.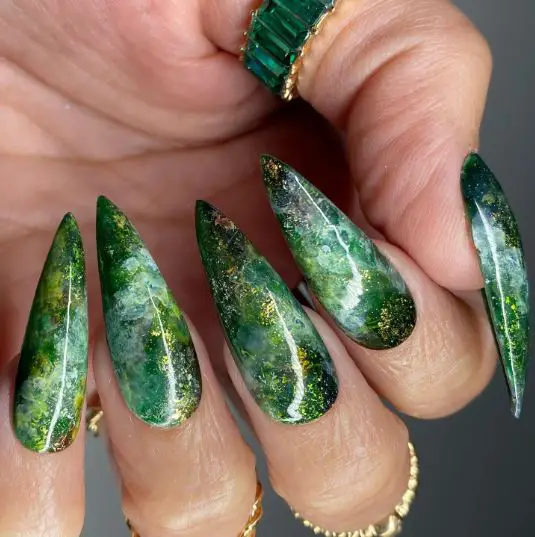 Image by @dymenails via Instagram
7. Floral Nude Emerald Green Nails
These floral, nude emerald green nails designed with silver glitter are perfect for everyday wear.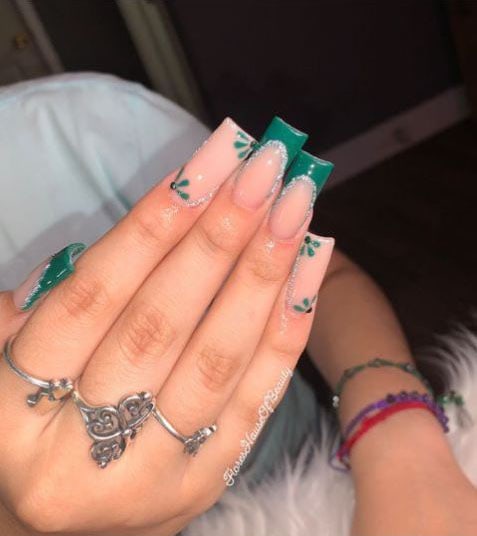 Image by @floreshauseofbeauty via Instagram
8. Classy Emerald Green Nail
If you want to look unique, these emerald green and nude nails with accessorized silver glitter and green crystalline are a good match for you.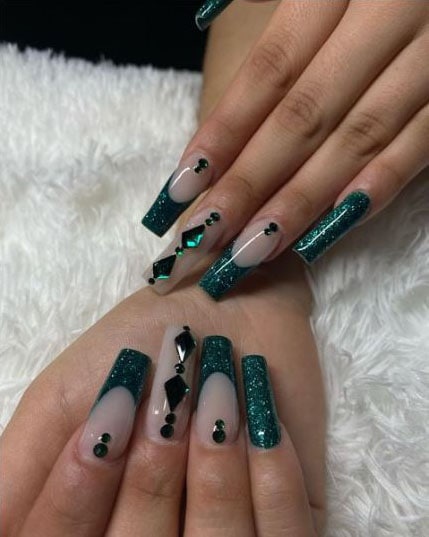 Image by @stormynailed.it via Instagram
9. Square Emerald Green Nails
These amazing olive emerald green nails look ravishing and go well with most outfits.
Image by @smokeynailz via Instagram
10. Emerald Green And Black Nails
Are you looking for simple nail designs for dinner? This design is perfect for you.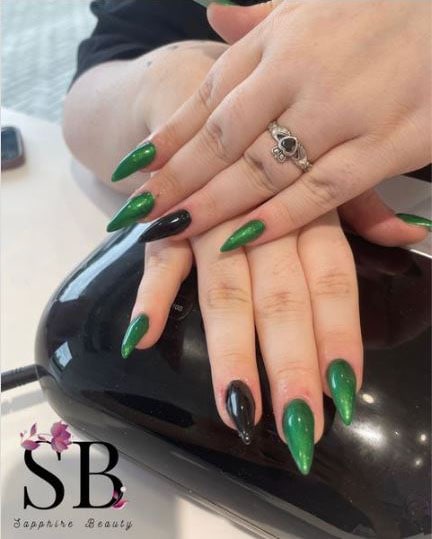 Image by @sapphire_beauty_ via Instagram
11. Love Emerald Green Nails
Do you want to stand out? This beautiful and unique piece of art with heart decorations and touches of gold is all you need.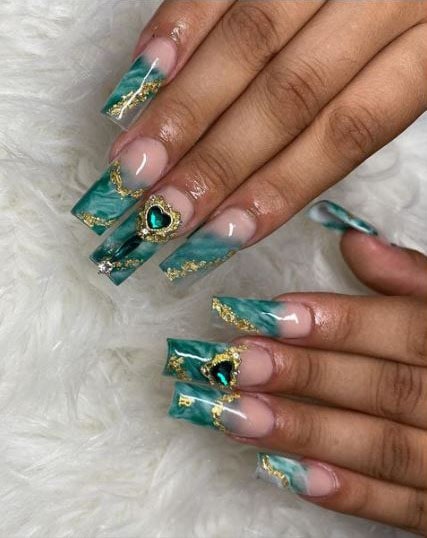 Image by @nailedbydestinee via Instagram
12. Stiletto Glitter Emerald Green Nails
Boost your confidence with this long stiletto glittery emerald green nail. You can get press-on nails of this design.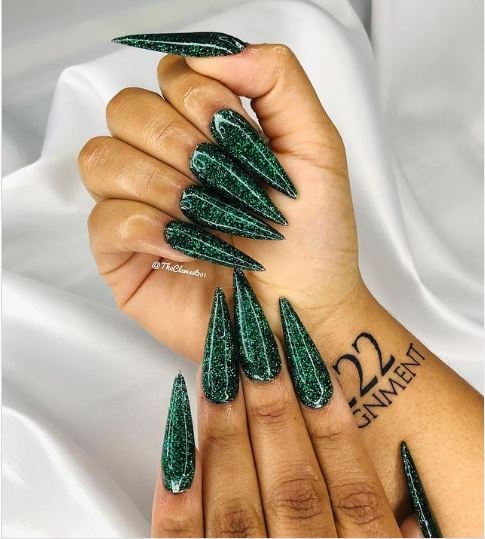 Image by @theclawset101 via Instagram
13. Glowy Emerald Green Nail
Shiny ombre nude and emerald green nails with green rhinestones and glitter on the thumb. This will make you the center of attention at any event you attend.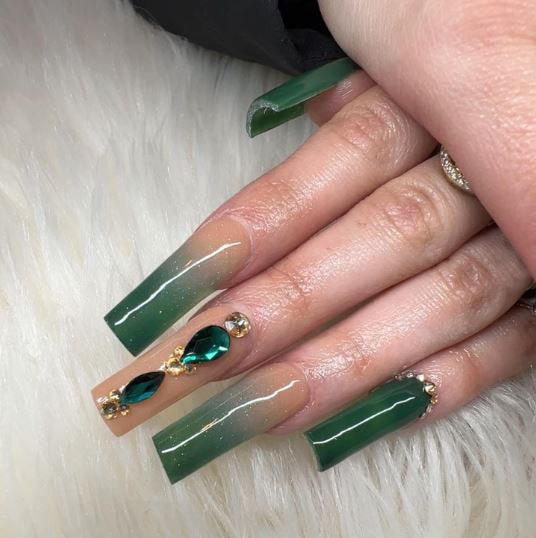 Image by @jennyfernailz_wax via Instagram
14. Light Green And Emerald Green Nails
These moderate-length nails with two adorable colors can bring warmth to your day.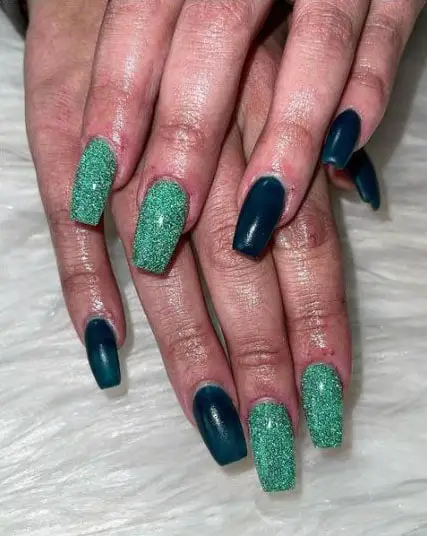 Image by @mysticnailz via Instagram
15. Pattern Emerald Green Nail
This gorgeous emerald green nail decorated with light green and black patterns will put you in a festive mood.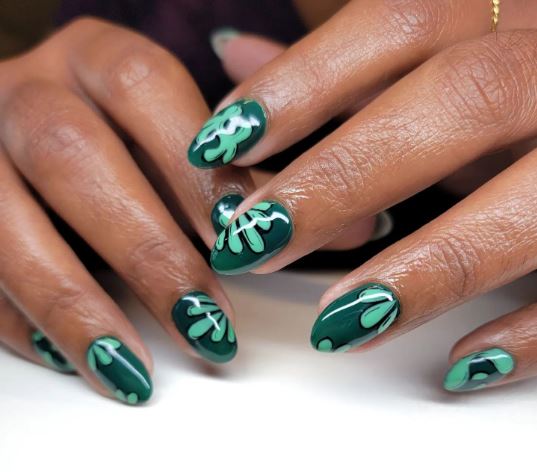 Image by @moonlit.nail.artistry via Instagram
16. Simple Short Emerald Green Nails
These short, glamorous nails with a cute pattern on each finger are all you need to look chic.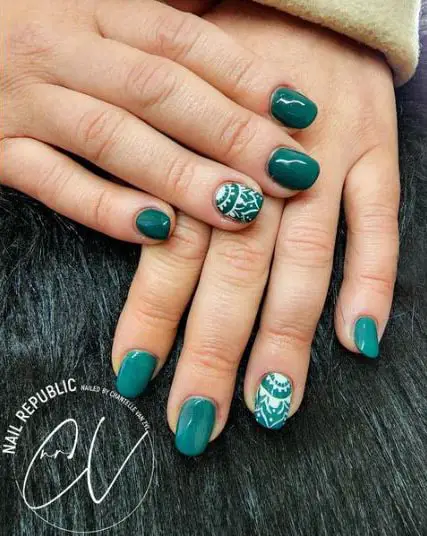 Image by @nailrepublic_ladybrand via Instagram
17. Stunning Emerald Green Nails
Stun with this elegant nail nude and green Frenchies.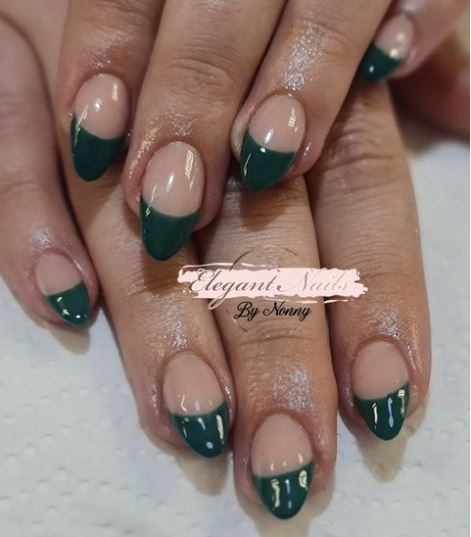 Image by @elegantnails_nailbar via Instagram
18. Pure Emerald Green With Floral Nail Design
If you've got an artistic side, you can DIY this using nail polish and a lighter shade of green polish for the flowers.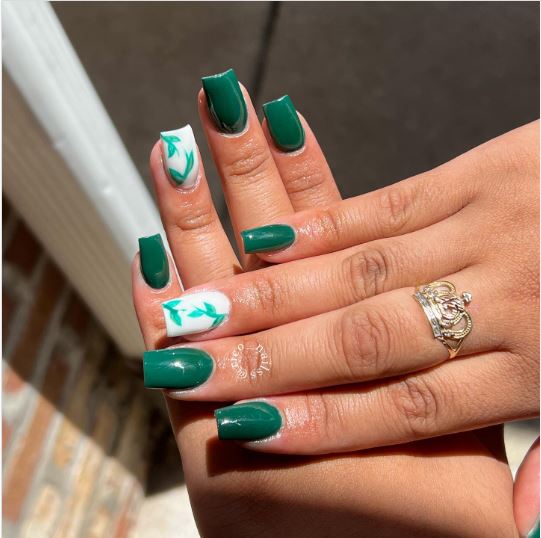 Image by @rico_nailss via Instagram
19. Plain Emerald Green With Gold Color Nail Design
A stunning design of emerald green nails with a gold stripe.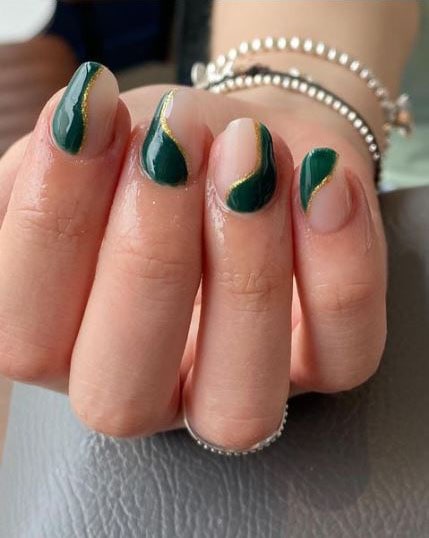 Image by @beautybyavagxx via Instagram
20. Bold Nude And Emerald Color Nails
Achieve a flawless look with these long nude and emerald green nails for your next manicure.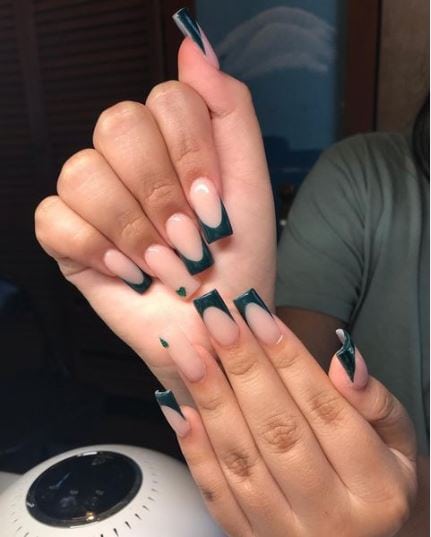 Image by @ariianamx via Instagram
21. Classic Combo With Emerald Green Nails
For those who like to combine different colors, this emerald green, white, and light green mix is a perfect combo.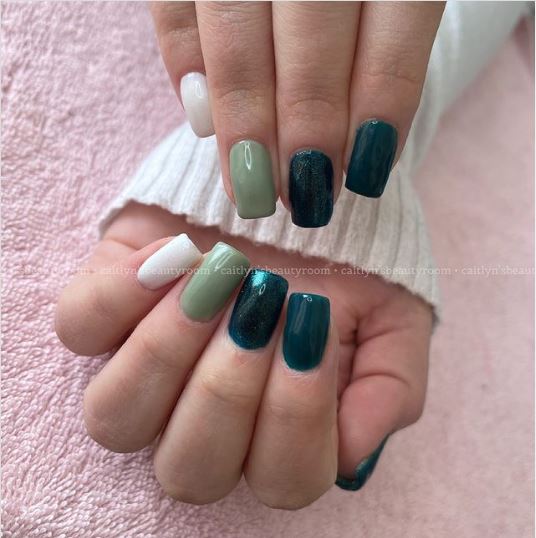 Image by @caitlynsbeautyroom via Instagram
22. Sparkling Nude With Emerald Green Color Nail
Glittering white nude and emerald green shades. You can wear this to stun at any event.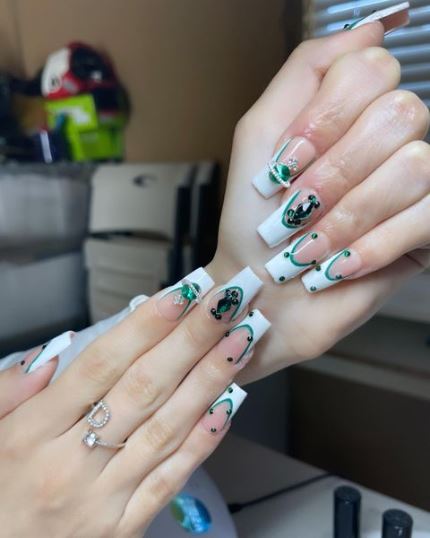 Image by @blushnailscln via Instagram
23. Vibrant Nails In Multiple Shades
If you want a nail design that looks vibrant, this nail idea that features white, nude and emerald green rhinestones which is perfect for the winter holidays.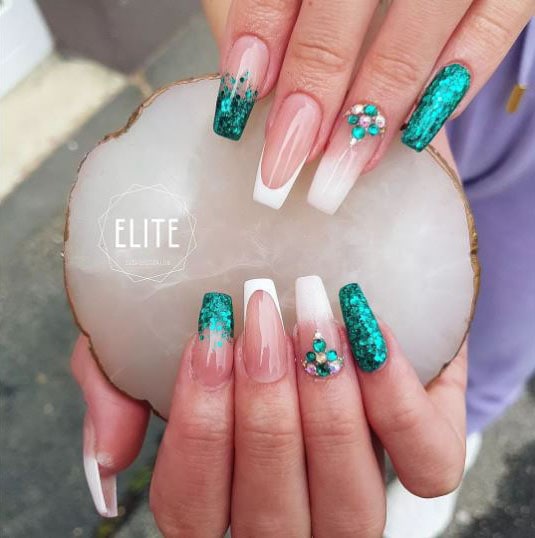 Image by @elite.szepsegszalon via Instagram
24. Lovely Nude Flower With Emerald Green Nails
Need subtle nail ideas? Here you go. Nude with emerald accent and cute flowers. Press-on nails with this design always looks stunning.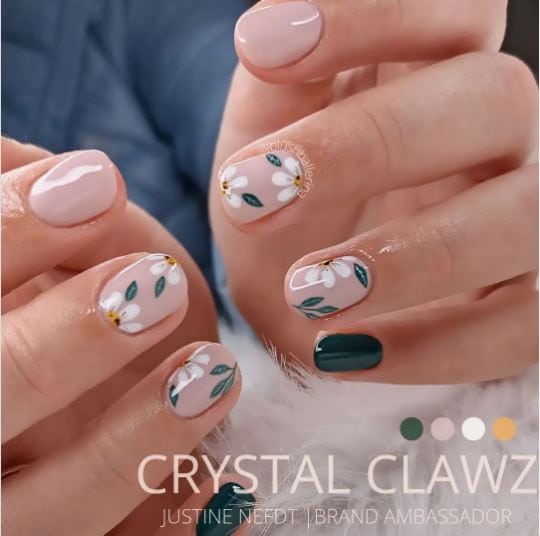 Image by @blushballerina via Instagram
25. Natural Emerald Green Nails
Achieve a hassle-free look with these eye-catching cuties with green and yellow at the tips.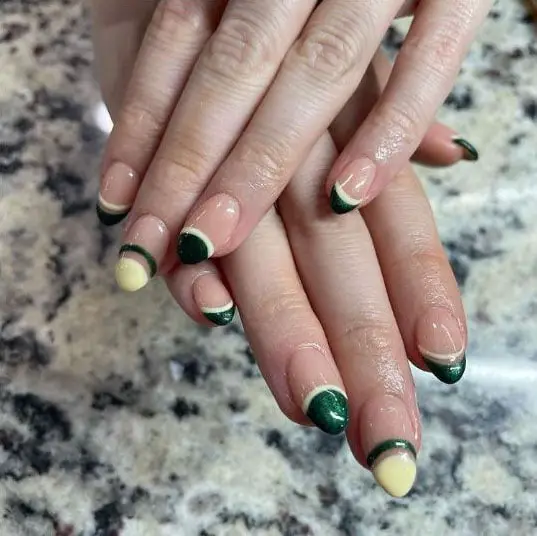 Image by @marys_nailart92 via Instagram
26. Fancy Emerald Green Nails
Love flashy nails? This emerald green nail art with glitter is all you need to achieve a charming look.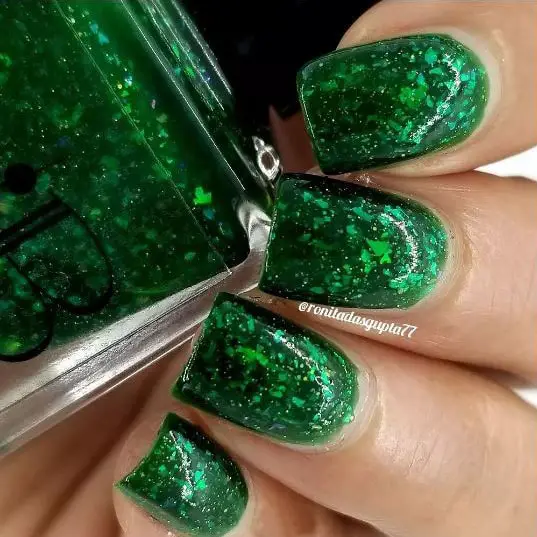 Image by @ronitadasgupta77 via Instagram
27. Beauty And Glam
These glamorous green nails combined with rhinestones and glitter will give you an impressive look.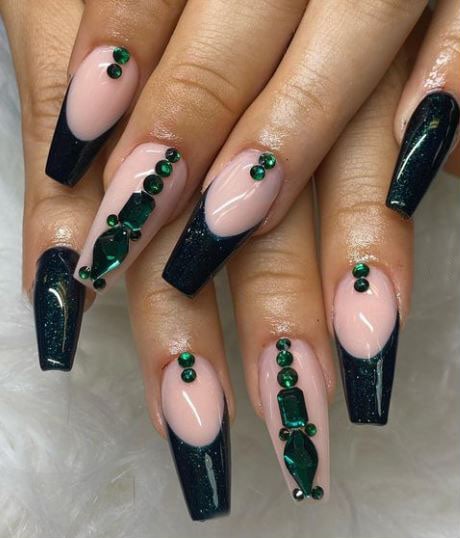 Image by @yarisnails_beauty via Instagram
28. Colorful Emerald Green Nails With Feather Accent
The feather accent on this manicure makes it one of the best emerald green nails. You can get press-on nails with similar patterns.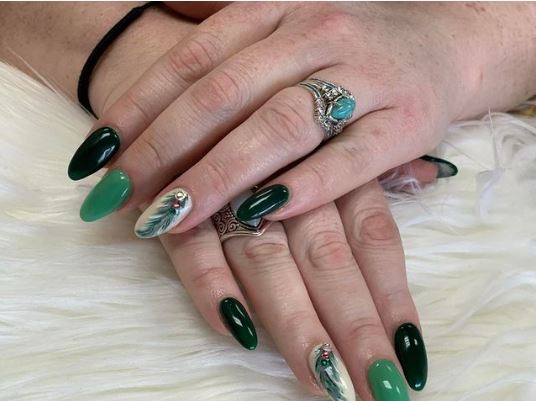 Image by @usnailsrenton via Instagram
29. Precious Marbled Emerald Green Nails
You can never go wrong with marble nails. This charmer is proof of that.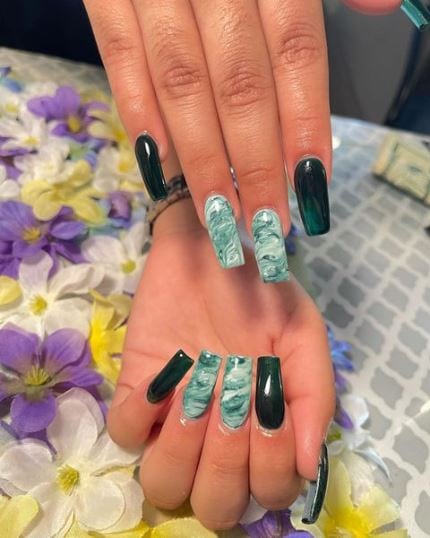 Image by @nailsbymaggie8 via Instagram
30. Pure Emerald Green Color And Glitters Nails
If you want a simple and classy look, get this nail design.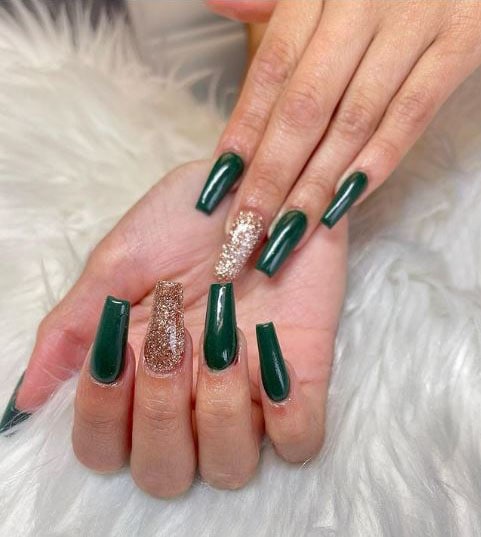 Image by @slayedby.emvee via Instagram
31. Extra Long Emeralds
Fan of long nails? This is perfect for you.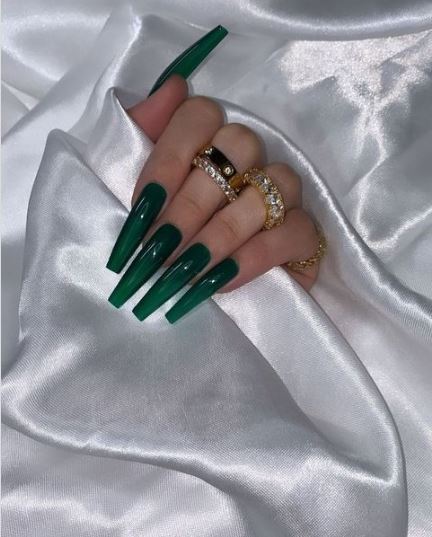 Image by @lush_nail__bar via Instagram
32. Plain Emerald Green Nail
If you want a simple look, consider getting this done.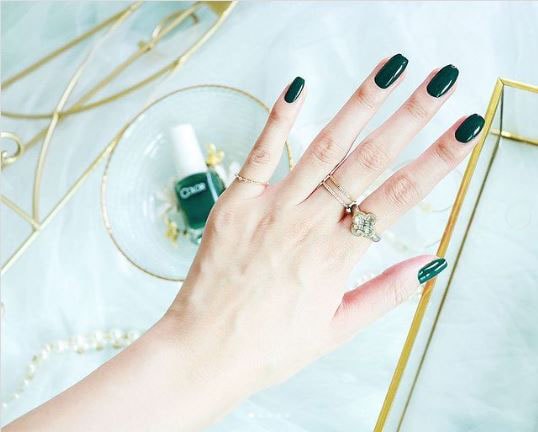 Image by @tamaki.tsuneoka via Instagram
Emerald green nail designs are unique, and you probably haven't given much thought to them before. I'm sure these stunning nails have changed your mind.