A two lines tattoo can have multiple meanings - this includes pain, strength, and even recovery.
I was an artist in the early 2000s when these tattoos were all the rage. Due to this, I was able to talk to multiple clients and do my own research to discover the true 2 lines tattoo meaning. What I found most fascinating is how varied the interpretation can be.
In this post I am going to show what this tattoo design can mean as well as outline all the different types of body art you can get.
What Does 2 Solid Black Line Tattoos Mean?
Here are the various meanings behind the tattoos:
The Two Lines Tattoo and Grief
The two lines tattoo is a more modern version of the initial solid armband tattoo. In turn, this arm tattoo is a permanent representation of an old tradition.
As you are aware, the color black is the color of mourning for many parts of the world. This is why the middle and upper classes of society would wear black clothing for at least a year to indicate that they had lost a loved one.
For the working class, however, an entire wardrobe made of black wasn't feasible as it was quite expensive. To overcome this, they began to wear a black armband to mark the passing of a loved one.
This tradition was carried on for many years until people eventually began a single, thick line tattooed on their arms. Some people would also get this tattoo on their calves as well. As the reminder was permanently tattooed into the inner skin layers, it was seen as a more powerful symbol.
The Evolution Into the Two Lines Tattoo
Eventually, this began to evolve into a 2 lines tattoo. However, this two lines tattoo is different to the original tattoo design.
In many cases, the two lines are meant to signify two separate tragedies. The space between the lines is meant to symbolize the passing of time between these two events.
In some instances, each line was identical to each other. In others, the lines were of varying thickness. This could be for aesthetic purposes. Or, it could indicate how severe each loss was. The thicker line will represent the deeper loss.
Keep in mind that modern two line tattoos aren't just about grieving a loved one who has passed. This could represent any tragedy. The two black lines are meant to be permanent reminders of your loss.
Of course, tattoo designs are always evolving and changing and this goes for the meaning as well.
So:
What Does 2 Black Armband Tattoo Mean Now?
Well, some people use the two line tattoo to symbolize strength. This is especially true when the 2 lines go across the bicep. The solid black lines emphasize the muscles in the upper arm.
So, if you are someone who works out, the stripes tattoo can make you look even stronger and more powerful as a result.
However, strength doesn't just have to be physical. It could also signify mental and emotional endurance as well. If you have gone through a number of trials and continue to face obstacles, these two stripes tattoo ideas can be a good option for you.
Speaking of evolution, keep in mind that many 2 lines tattoo concepts have taken a lot of artistic license. Due to this, you may find other patterns or designs in between the 2 lines tattoo or on either side of it.
These designs can alter the overall meaning of the 2 lines tattoo.
What Do 3 Line Tattoos Mean?
While we are talking about line tattoos, I would also like to discuss the three line tattoo with you. The interpretation of the three lines tattoos is even more open to interpretation.
While this can also symbolize multiple losses in your life or strength, the three lines concept tend to be a bit more creative. So, this three lines stripes tattoo is done more for aesthetic purposes.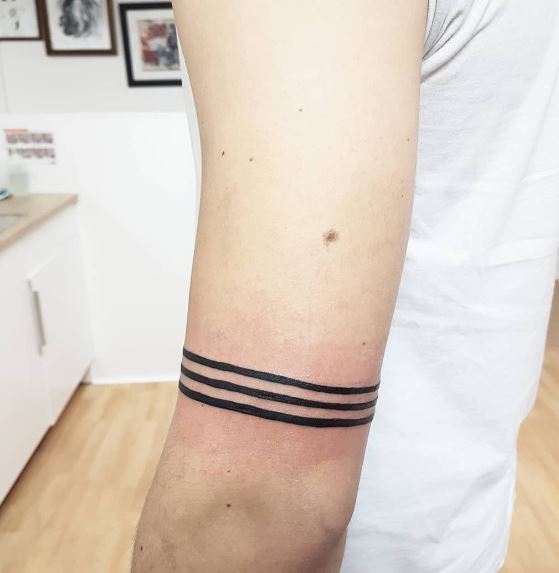 Image by @jurcis_tattoo_too via Instagram
The Top Two Lines Tattoo Designs
Here are the two stripes tattoo ideas that you can draw inspiration from:
Minimalistic Two Line Tattoos
A lot of people associate armband tattoos with this concept. However, this doesn't have to be the case at all. You can get a two line tattoo practically anywhere - your ear, finger, etc.
Of course, when you're getting two lines in such an area, you don't have as much space to work with. In this case, you can get a slight, minimalistic stripe tattoos instead.
Here is what this could look like: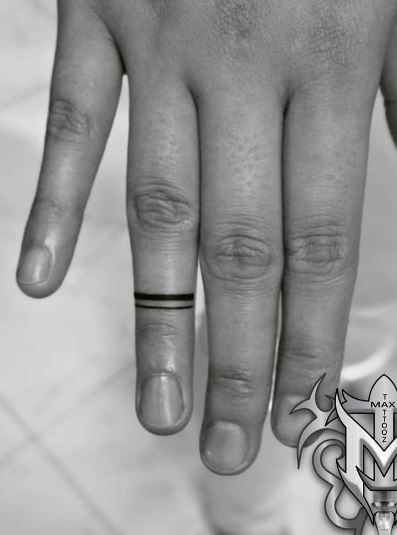 Image by @maxtattoosurat via Instagram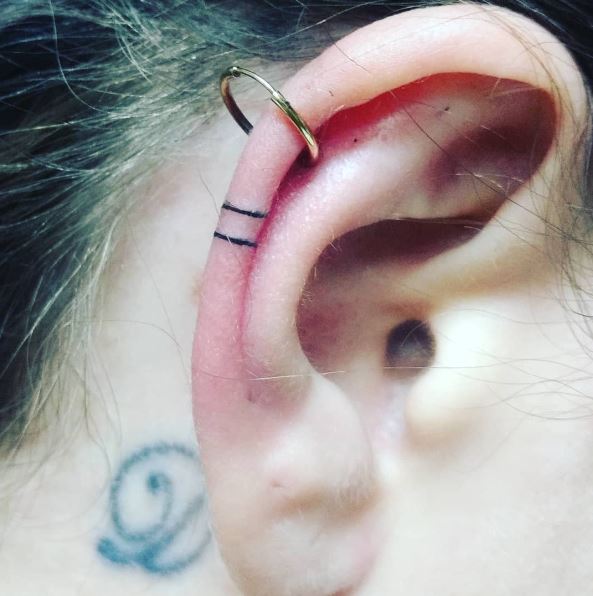 Image by @acaciotattoo_ via Instagram
Thin Two Line Tattoos
If you like armband tattoo designs or leg designs but don't want to go overboard with your ink, you are going to want to go with a thinner line for both stripes.
Not only is this a more simple or subtle tattoo design, it also works for smaller hurts. Many tribal tattoos also borrow from this concept. This kind of tattoo could also have additional meaning to you.
While it does mark the loss or pain you have experienced, it doesn't take up that much space on your body. So, it could also be a reminder to move on from what you have gone through.
While the pain of your trials and tribulations will always be with you, it doesn't have to define your life or who you are.
Here are the thin line two line tattoo design ideas you can choose from: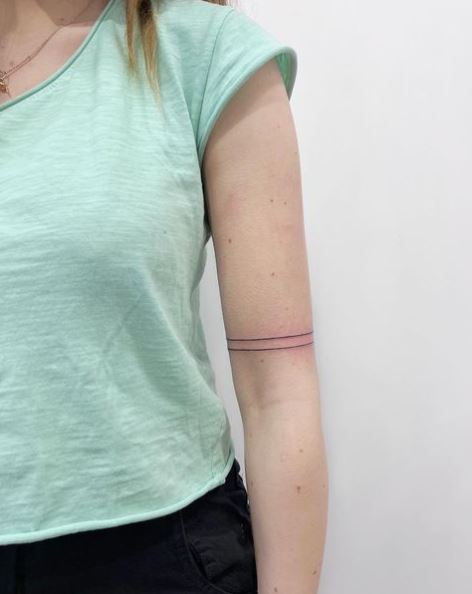 Image by @jo_mi_tattoo via Instagram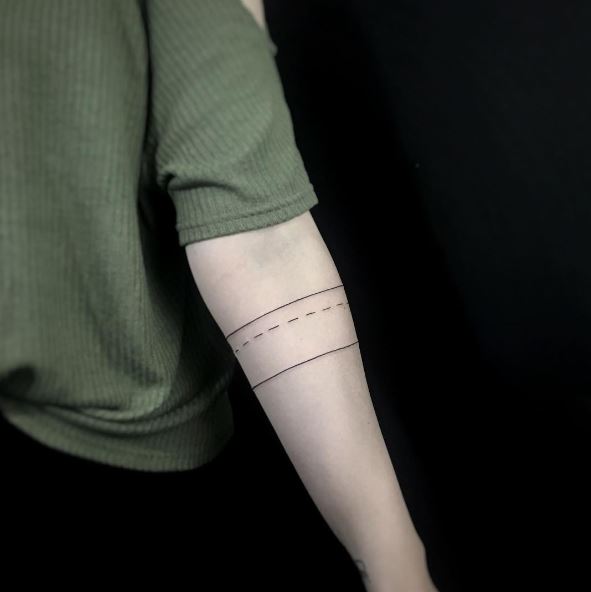 Image by @naleak_tattoo via Instagram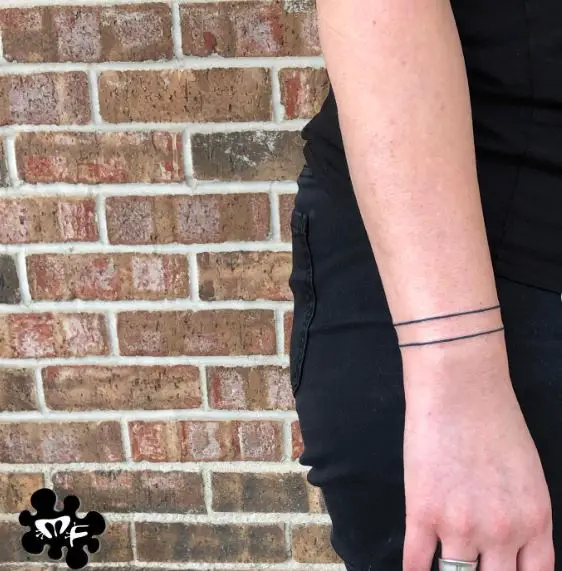 Image by @alien_snot via Instagram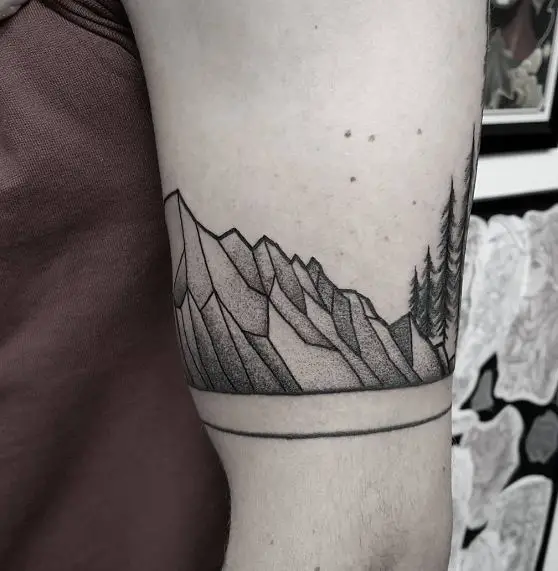 Image by @tacodoodnuchter via Instagram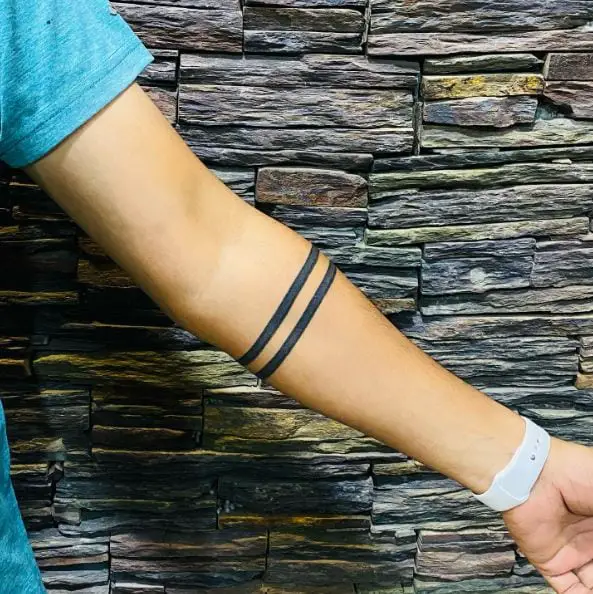 Image by @stylishtattoostudio via Instagram
Thick Two Line Tattoos
If you want your body art to represent intense pain, the thick solid design is the best option.
The exact thickness of the the two lines tattoo is entirely up to you. That being said, you may want to avoid sections that are just too thick.
It can be difficult for your tattoo artist to get the same depth and shade for each section. As such, these tattoos have a tendency to fade a bit faster than others. So, they will require touch ups quite quickly.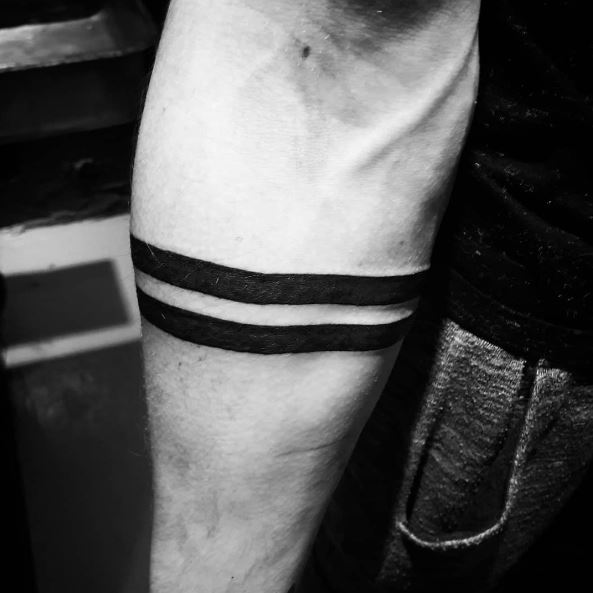 Image by @mustaamo_maria via Instagram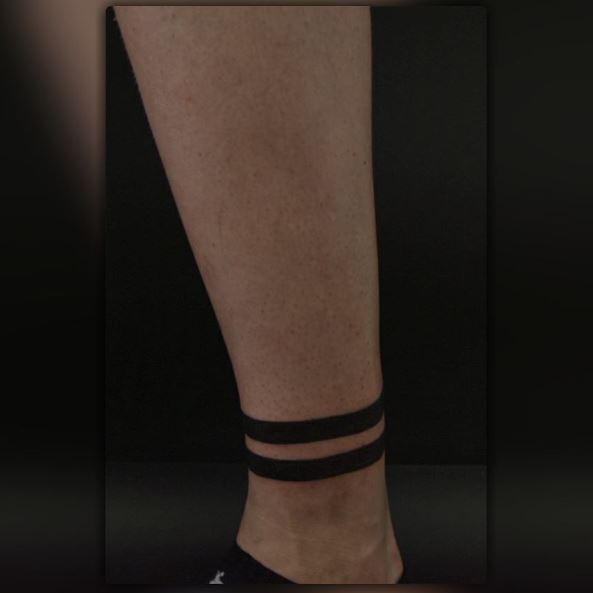 Image by @ninitattoo_mariborink via Instagram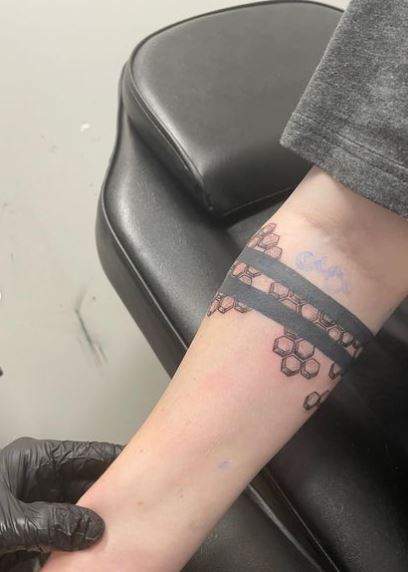 Image by @ember.ink via Instagram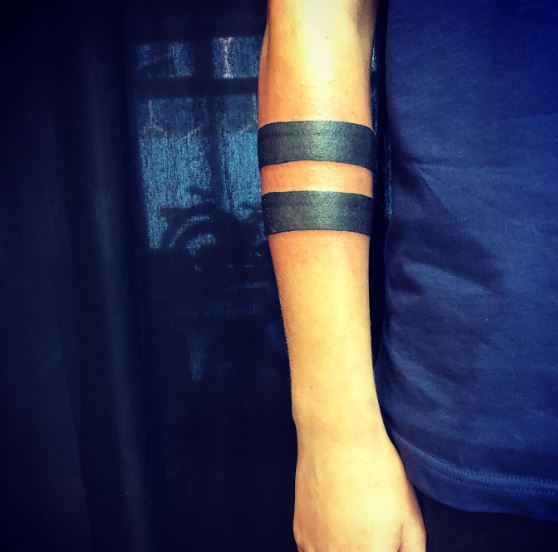 Image by @rofs_tatts via Instagram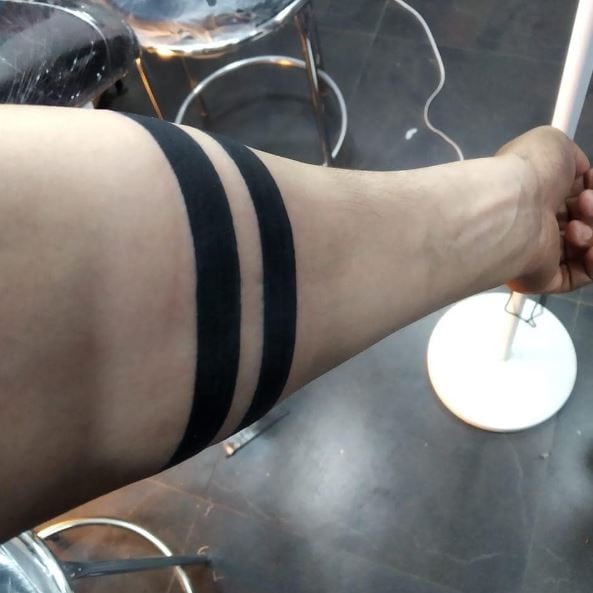 Image by @verma_tattoo via Instagram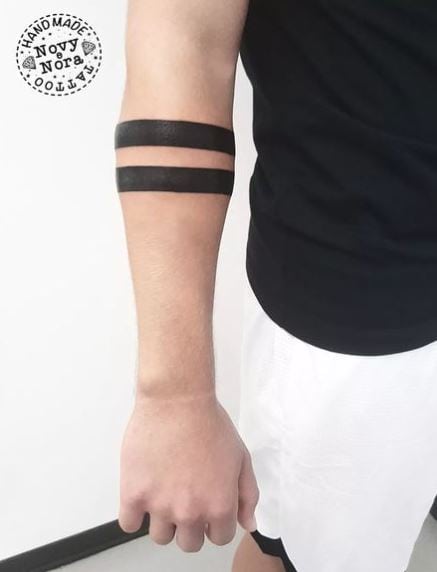 Image by @novytattoo_handmade_studio via Instagram
Different Thickness Two Line Tattoos
If you want to represent heavy and light facts, this kind of tattoo design is a good way to do it. While this tattoo can indicate a greater and a smaller loss, there can also be another meaning.
It could mean that the passing of time can take away the hurt from a greater loss. So, with time, it becomes easier to bear.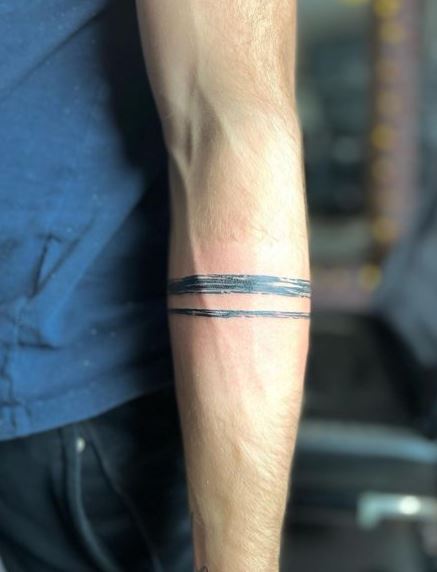 Image by @caro_karacho_tattoo via Instagram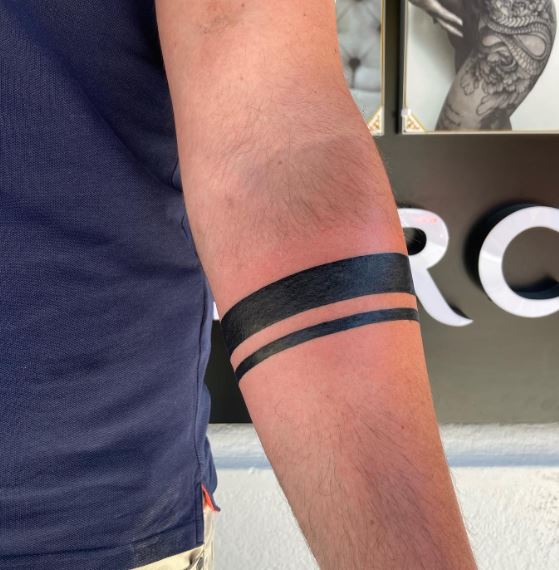 Image by @dronytattooer via Instagram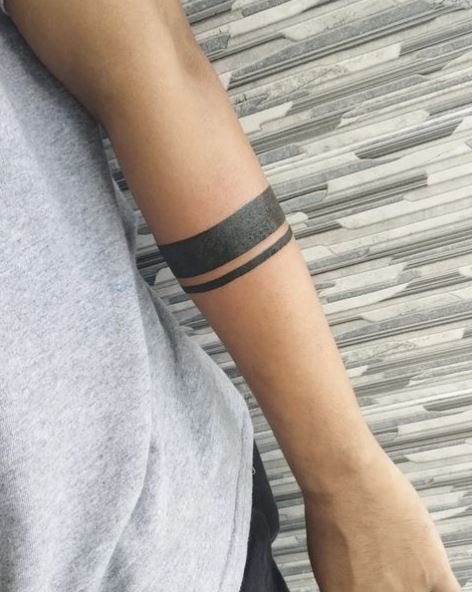 Image by @dyah.tattoo via Instagram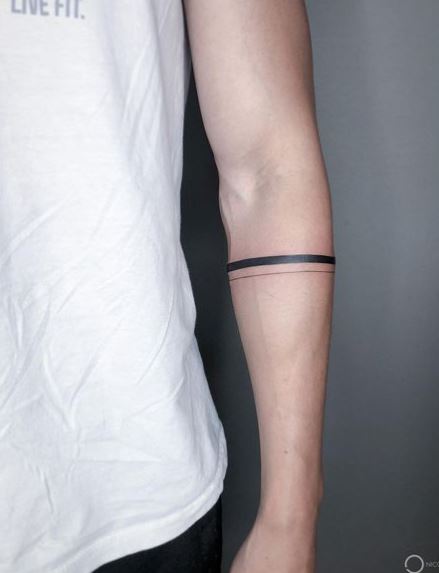 Image by @nicole_inkart via Instagram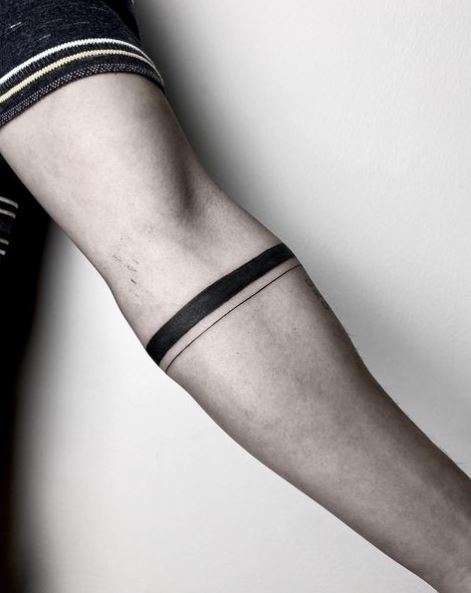 Image by @vicentetattooartist via Instagram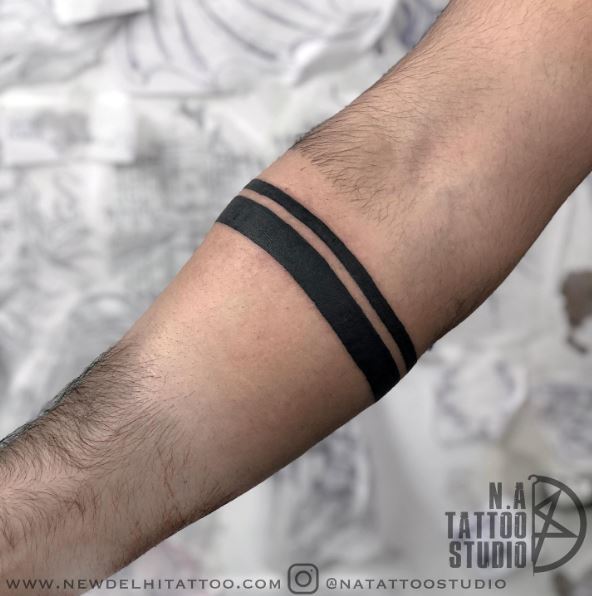 Image by @natattoostudio via Instagram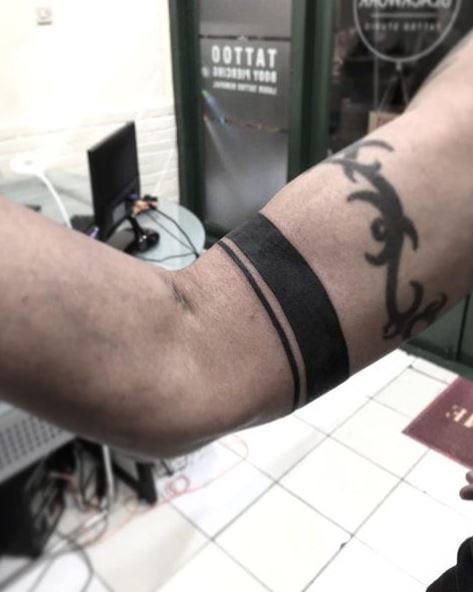 Image by @jakartablackwork via Instagram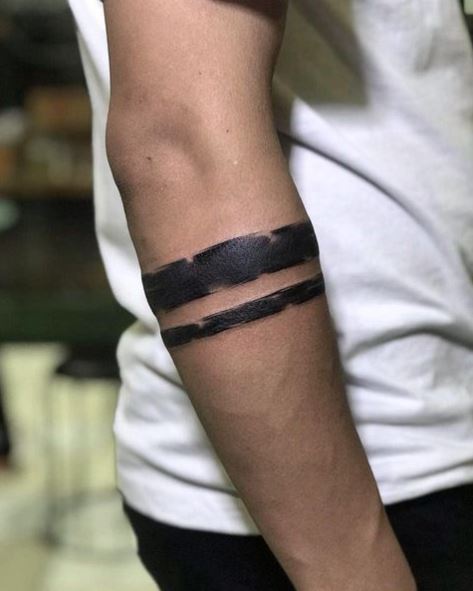 Image by @jakartablackwork via Instagram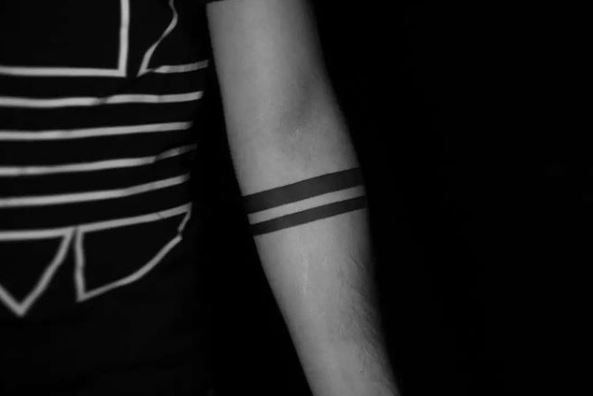 Image by @silverinkzg via Instagram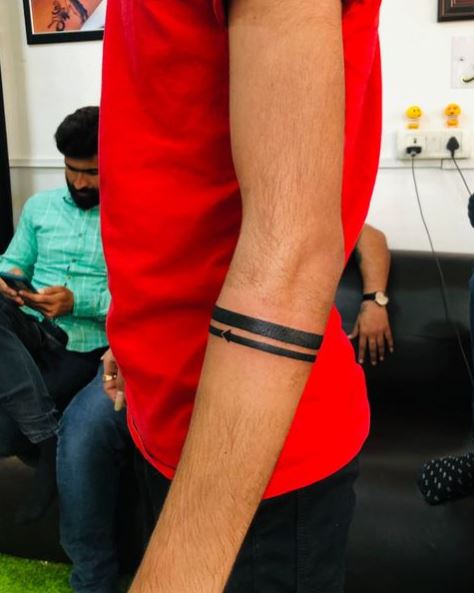 Image by @kv.ahir.tattoo_artist via Instagram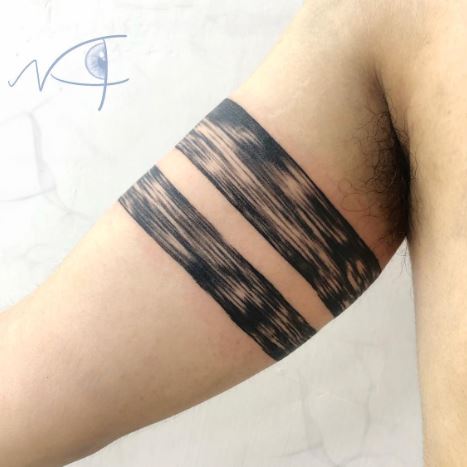 Image by @navyart_tattoo via Instagram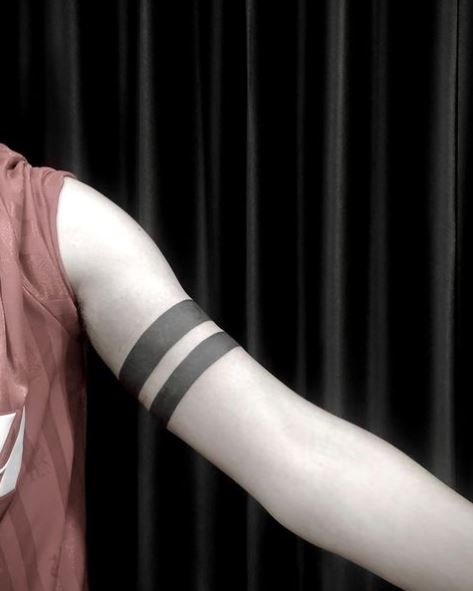 Image by @karntattooer via Instagram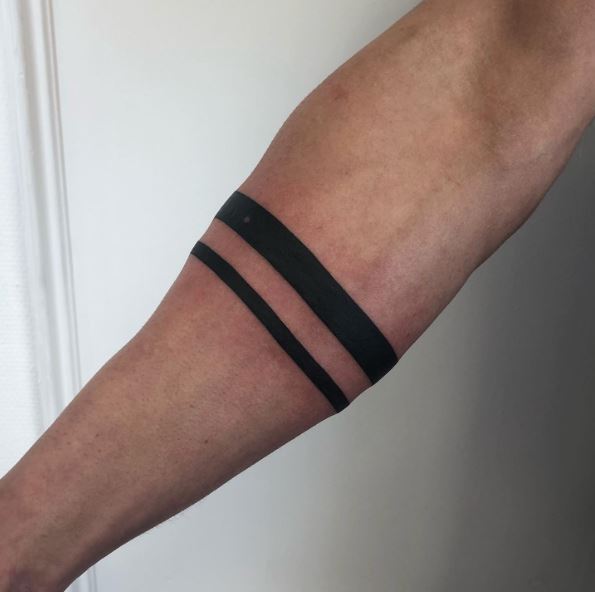 Image by @catscratch_tattoo via Instagram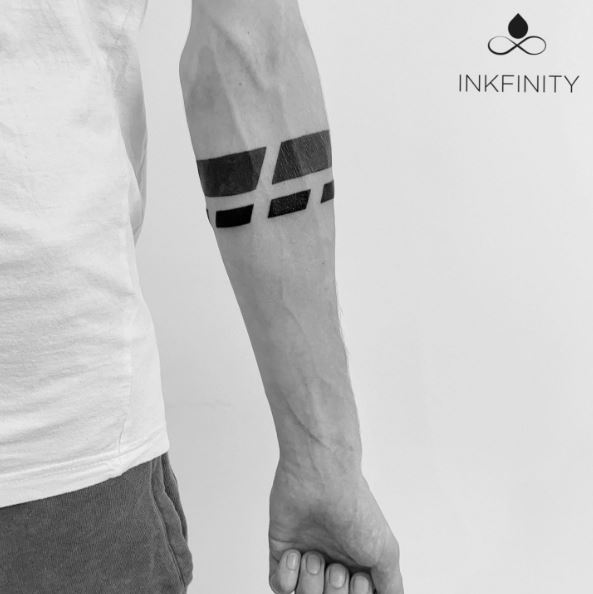 Image by @inkfinity8 via Instagram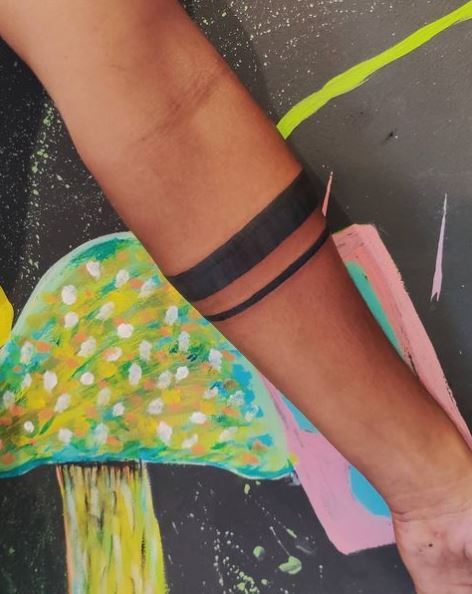 Image by @psy_too via Instagram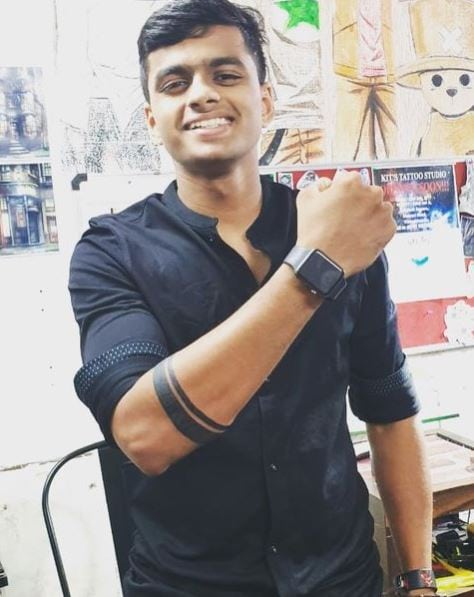 Image by @aman_paulwalker_2314_ via Instagram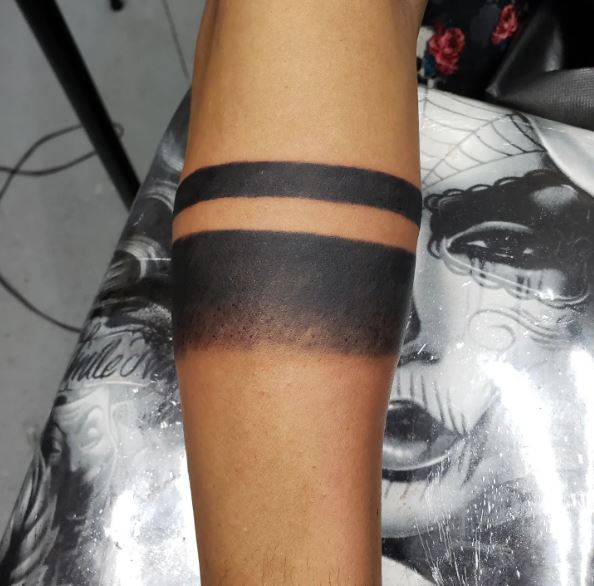 Image by @jessejamestatoo via Instagram
Different Colored Two Line Tattoos
If you want a more modern update on this tattoo trend, get each line a different color. While the black or darker color can symbolize hard times. The different or lighter color can represent luck.
This can show you that there is always hope at the end of a tragedy.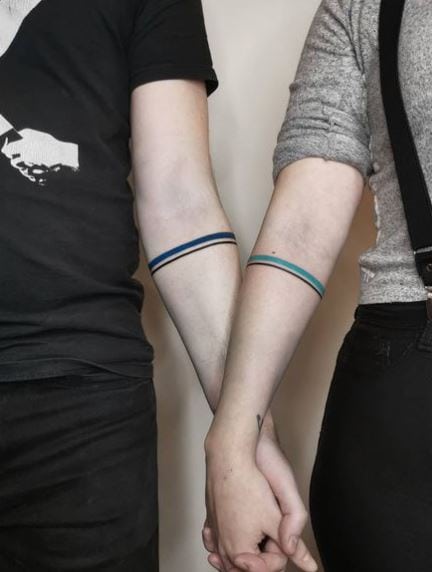 Image by @irene_illusia via Instagram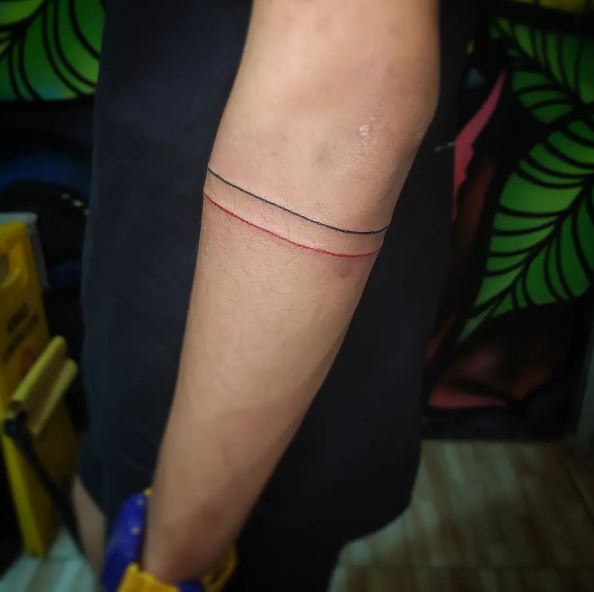 Image by @demonzinktattooparlour via Instagram
Despite the seemingly simple design of this tattoo, there is a great deal of meaning and significance behind it. So, if you were planning on getting this tattoo, you now know just how important such a design can be. What's more, you can now discover which concept is just right for you.