I have been an anime fan forever. Dragon ball is my all-time favorite series, because why not? Imagine having Dragon Ball Goku's ability to instantly learn the technique of other fighters after seeing it just once.
I recommend sailor moon tattoo designs for those who want colorful tattoo art that will contrast nicely with their skin tone. Naruto tattoo designs are also a great option if you need a stunning and eye-catching tattoo that is sure to keep compliments coming.
There are a lot of options when it comes to anime tattoos. Here are the most amazing anime tattoo ideas that you can't help but love.
Anime Tattoo Ideas For Inspiration
Dragon Ball Anime Tattoos
1. Son Goku
Son Goku is a Super Saiyan and the main character in the Dragon Ball series. Goku is the God of the dragons and at one point in my life I adored the character.
Get this tattoo to remind yourself of how strong you are and that all hope is not lost, no matter the situation you're going through.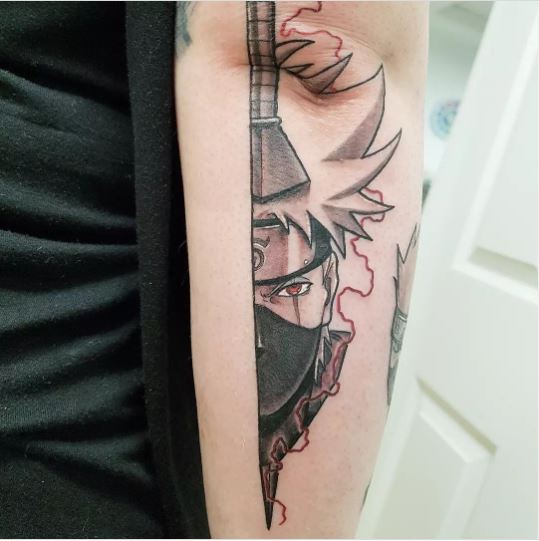 Image by @senitattoos via Instagram
2. Dragon Ball Z
This amazing leg tattoo perfectly captures the Dragon Ball Z universe. Tattooing your favorite anime fight scene is always a great idea to generate fun memories. This tattoo design is perfect if you need inspiration.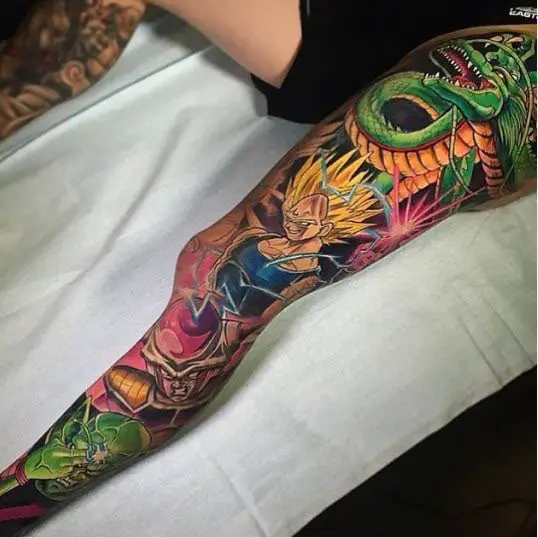 Image by @jack_shutt_tattoo via Instagram
Sailor Moon Anime Tattoos
3. Mamoru Chiba and Usagi Tsukino's Tattoo Designs
If you're a sucker for romance, this is the ideal tattoo for you. Mamoru Chiba and Usagi Tsukino are characters from Sailor Moon, one of the most popular anime series ever.
You can get this with your partner or even have each character on both arms.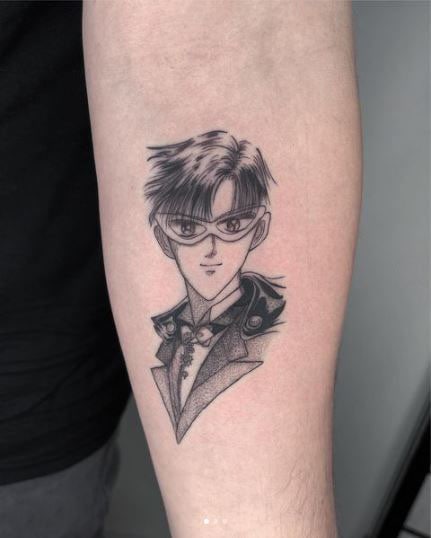 Image by @pinzy.tattoos via Instagram
4. Femme Tattoo
This sailor moon design is perfect for any sailor moon fandom. It holds a deeper meaning as Sailor Moon explores feminist characters.
You can choose to have this anime tattoo on your forearm or anywhere else.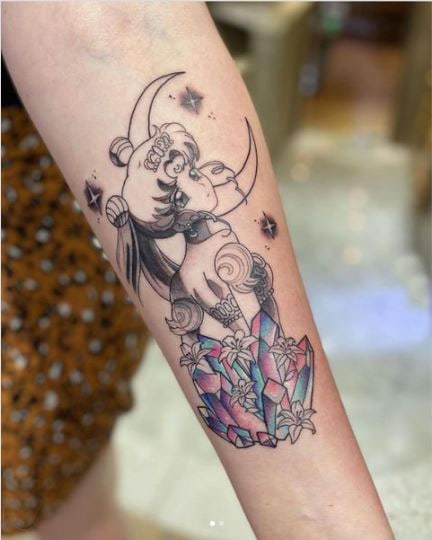 Image by @ledstattoo via Instagram
5. Usagi Tattoo
Usagi Tsukino is the protagonist of the Japanese manga series, Sailor Moon.
This tattoo is simply beautiful and feminine. It shows people that you're not weaker than your male counterparts and are even capable of leading them.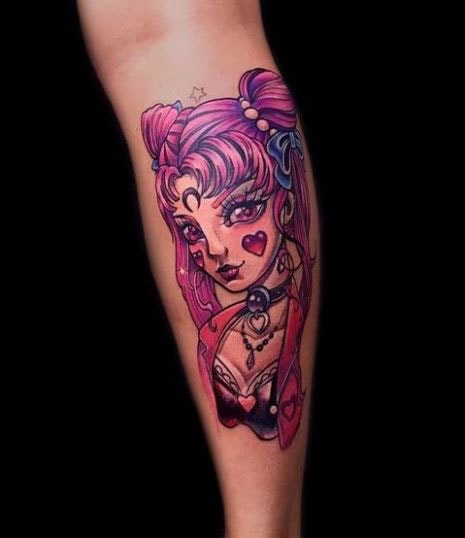 Image by @vintagetattoo.koenigswinte via Instagram
6. Luna and Artemis
Luna and Artemis are my favorite characters from Sailor Moon. This tattoo is great if you are a cat lover and a fan of Sailor Moon. It's a great matching tattoo for couples, best friends, and even siblings.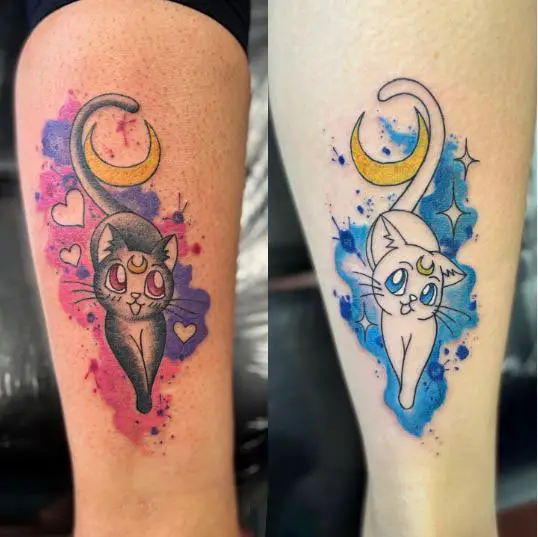 Image by @uhhhhtaco via Instagram
Demon Slayer Anime Tattoo Ideas
7. Fierce Tanjiro Hand Tattoo
This Japanese animation of Tanjiro hand is a personal favorite.
You will love this anime tattoo of Tanjiro if you are a fan of Demon Slayer, which happens to be one of my favorite anime series at the moment. 
Image by @inkd4life1 via Instagram
8. Big Kimetsu
With this anime colorful tattoo, you get to carry a cute image of your favorite characters wherever you go.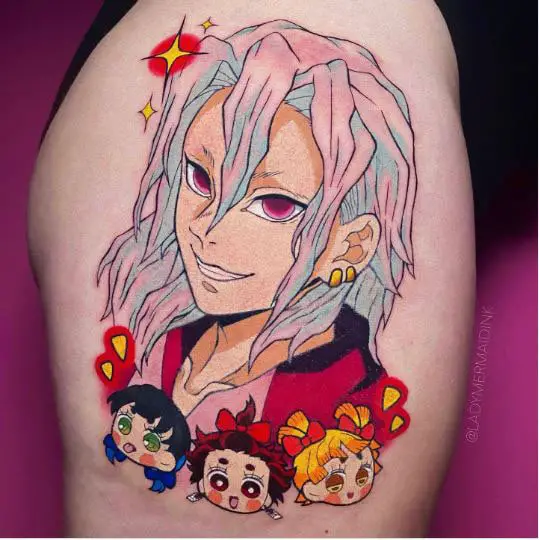 Image by @ladymermaidink via Instagram
9. Iguro Obanai
Known for his strong persona, Iguro Obanai is a character admired by many anime fans. This tattoo is a great choice if Iguro is your favorite character. You can get this cool anime tattoo of him or other anime tattoo designs of him.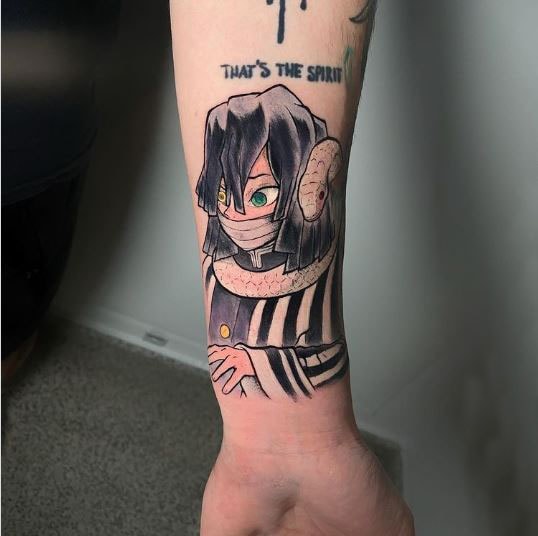 Image by @adrimon.ink via Instagram
Pokemon Tattoo Ideas
10. Gastly and His Evolutions
If you are a big fan of Pokémon, there's no way you won't love this tattoo, done with vibrant colors. Gastly has amazing powers such as levitation. Body art like this is cute, colorful, and shows you have a fun persona.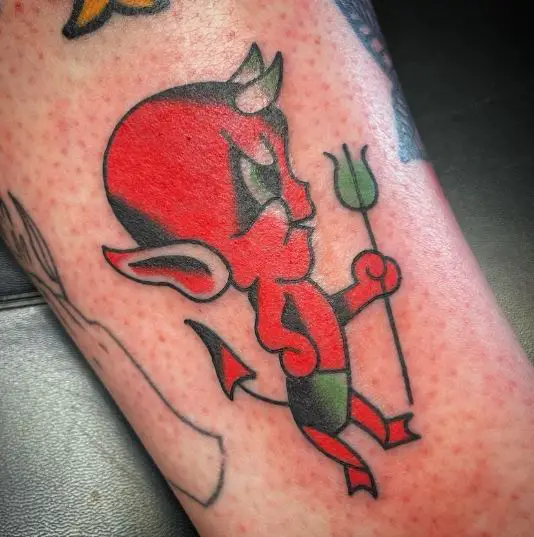 Image by @dillonhild via Instagram
11. Tornupto
Get this anime tattoo of Pokemon Tornupto that is cute and creative.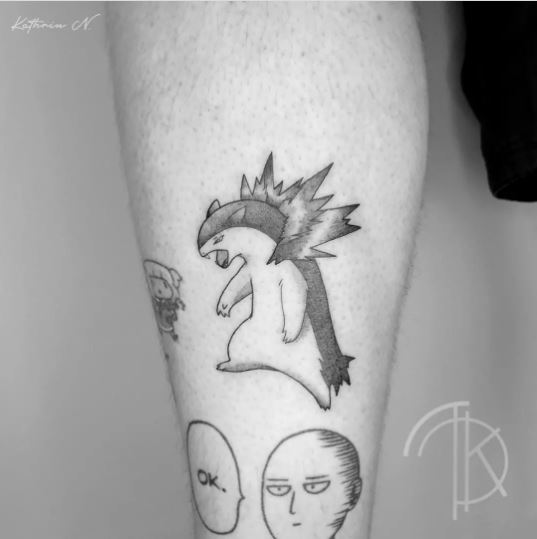 Image by @tintenkult.vienna via Instagram
12. Cute Squirtle Gang Tattoo
We can't help but love Squirtle Pokemon. Don't you just love how it draws its limbs inside its shell and sprays water from its mouth when it feels threatened? The tattoo artist gets the image of the Squirtle perfectly. You will need an experienced anime tattoo artist to get yours to look as nice as this.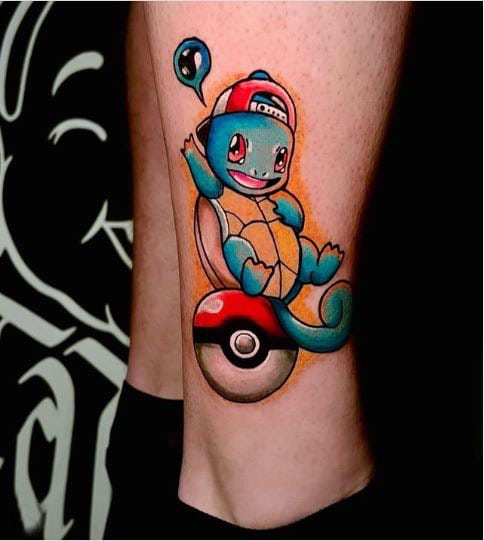 Image by @jey_jey_tattoo via Instagram
13. Plusle and Minun
Want to get cute matching tattoos with your best friend or significant other? This tattoo of Plusle and Minun from Pokémon is a great way to express your bond. I love how colorful and cute the anime tattoo is. It's an anime design that can evoke positive feelings just by looking at it.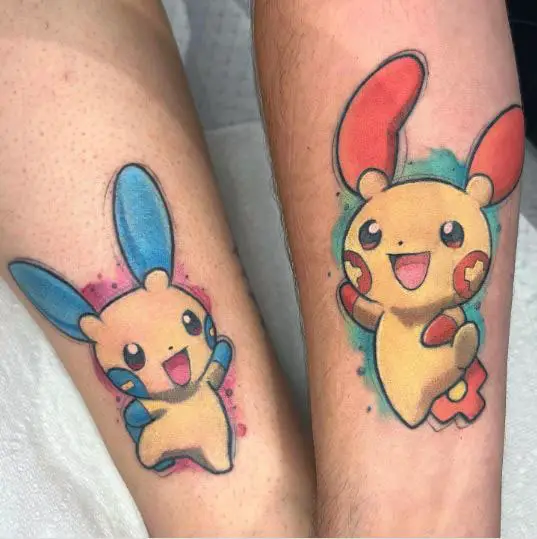 Image by @elfxblade via Instagram
14. Kakashi x Pikachu
This anime tattoo design of Kakashi Pikachu is nice, but I prefer mine with the yellow and white colors. The white on the hair is an indication that Pikachu is ready to engage in powerful combat.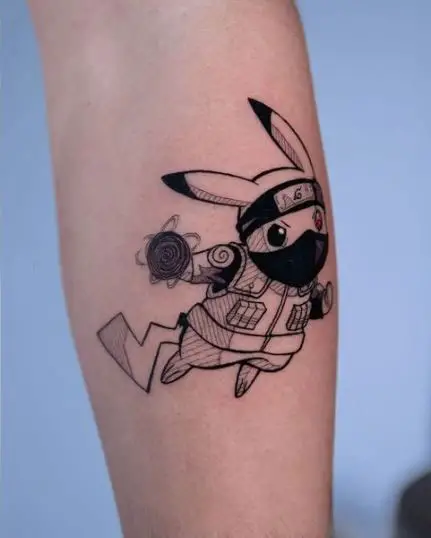 Image by @animeiink via Instagram
15. Snorlax
This anime tattoo of Snorlax can only be described in one word: adorable. If you want a simple, cute tattoo, this is perfect for you.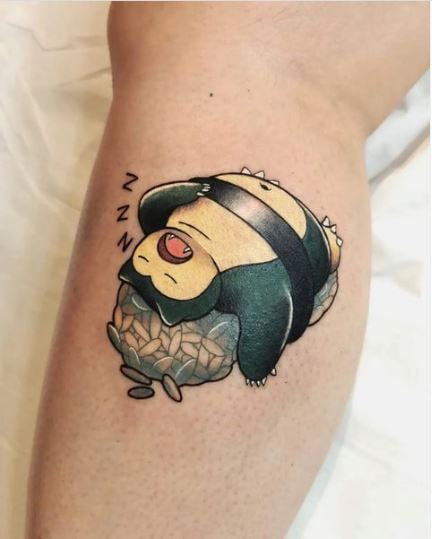 Image by @mathieu.tiedrez.tattoo via Instagram
16. Gyarados Tattoo
This tattoo of Blue Gyarados depicts its fierce temper and reputation for causing destruction. Only a glam anime artist can get the expression of Gyarados and this artist is definitely one. It is a unique anime tattoo image for tattoo lovers.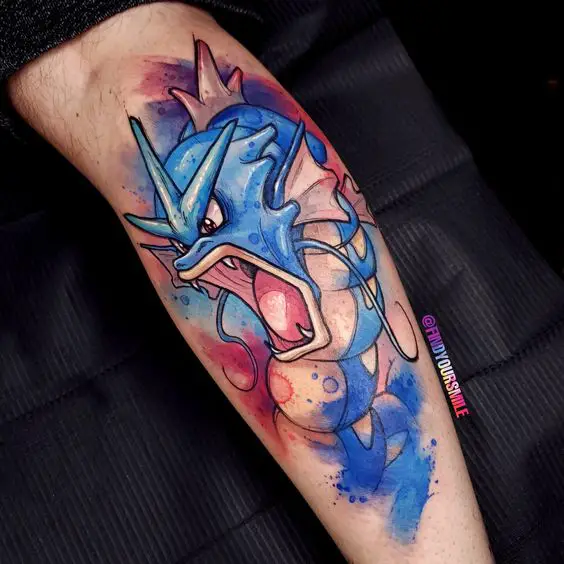 Image by @arliatattoo via Pinterest
Naruto Tattoo Ideas
17. Nagato Uzumaki
This tattoo captures Nagato Uzumaki perfectly. We all have villains we love to hate, and he is no doubt one of them.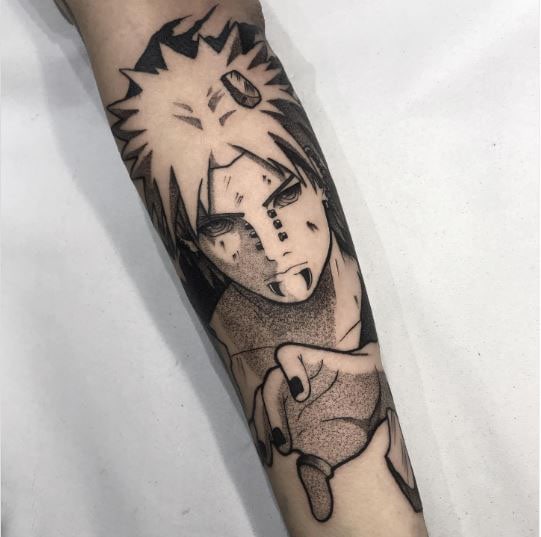 Image by @ideka.luminus via Instagram
18. Naruto Uzumaki
I can't imagine my childhood with Naruto. That's how much I loved the series. It made me look forward to school because I could discuss the latest episodes with my friends. You can get this tattoo of Naruto because, why not?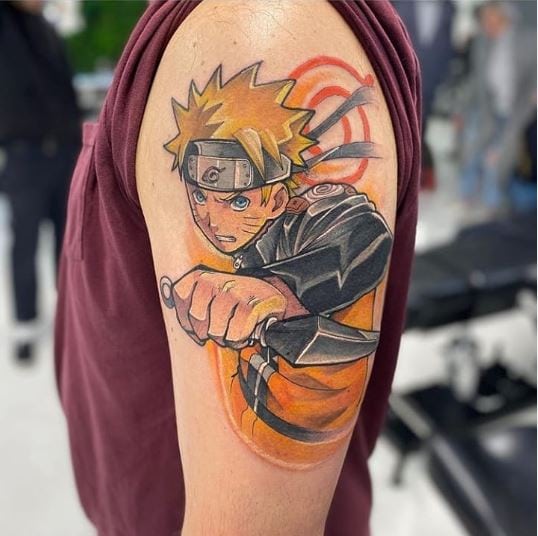 Image by @senitattoos via Instagram
One Piece Anime Tattoo Ideas
19. One Piece
If you're a fan of small tattoos, his tattoo is a great fit for you. It's simple, yet gorgeous without being too extra. If you're a fan of One Piece, you will be grateful that you came across the tattoo design.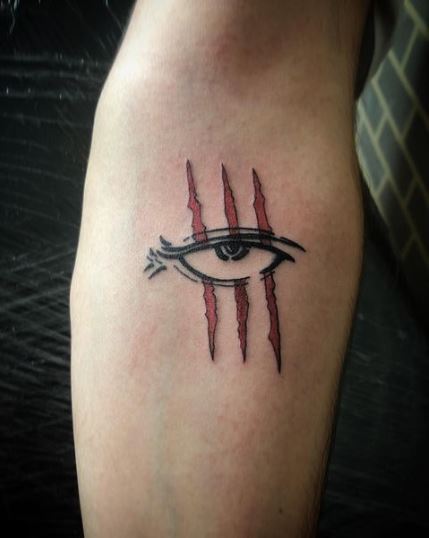 Image by @4stattos via Instagram
20. Brook
This anime tattoo of Brook is to die for. Brook is captured perfectly here, in this astonishing tattoo. It looks very expressive and has, a nice comic vibe.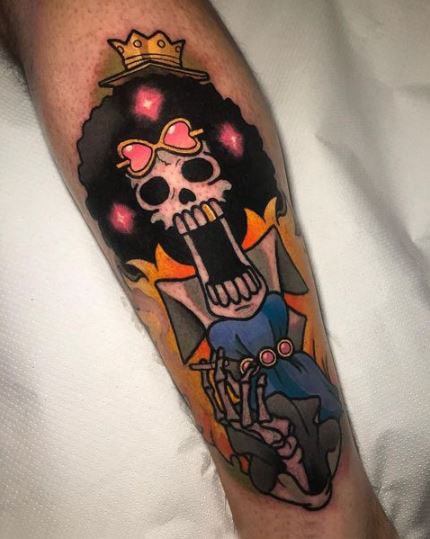 Image by @ahri.tattoo via Instagram
Other Anime Tattoo Ideas
21. Eren Jaeger Tattoo
The leader of Yeagerists is depicted with precision in this stunning tattoo. Don't be deceived by his stoic expression in the tattoo design. He is a strong fighter who harbors plans to avenge his mother's death by slaughtering all the titans and freeing Paradis from the pure titans.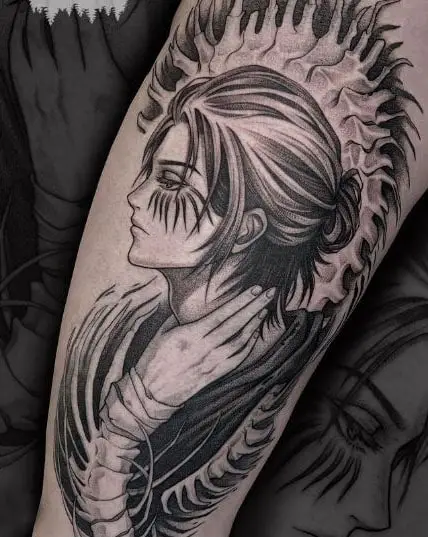 Image by @blackwood_tattoo via Instagram
22. Black and Grey Tattoo
Body art done with grey and black ink is anything but boring. One thing that drew me to this tattoo is how unique and creative it is. It may have a dark theme, but having this tattoo on your arm is an amazing idea. A good tattoo artist will help bring it to life.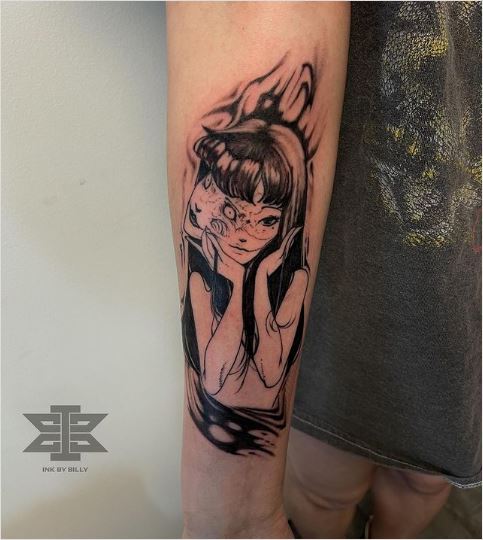 Image by @billclint.gu via Instagram
23. Death Note
Death Note is up there on my list of favorite anime series. You can get an anime tattoo of Light Yagami from Death Note if you love his amazing personality.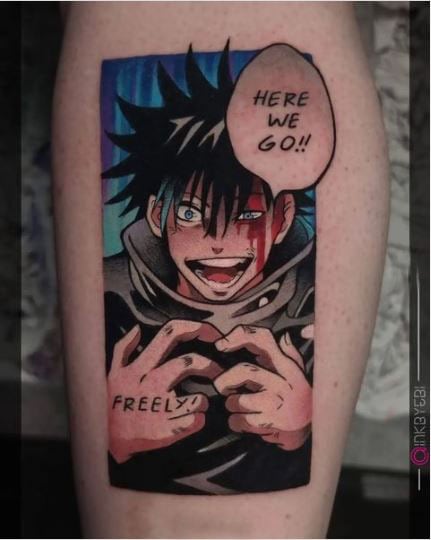 Image by @animemasterink via Instagram
24. Princess Mononoke Mask
Need a unique, attention-grabbing tattoo? This portrait of Princess Mononoke's mask is not only beautiful but mysterious and just the ideal tattoo for you. After surfing the internet for hours (don't judge), I stumbled upon this amazing tattoo design of Mononoke's mask.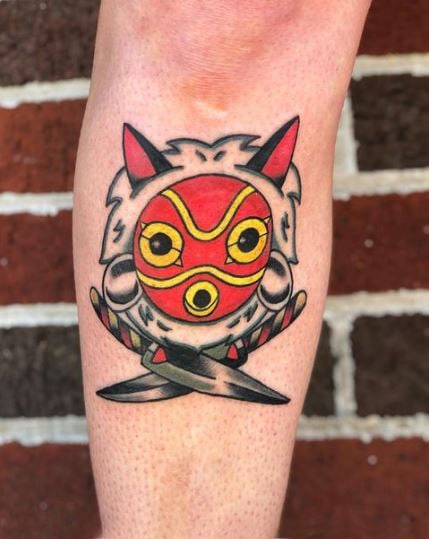 Image by @2leda via Instagram
25. Soul Eater
This is a great sleeve tattoo that is done in an illustrative anime tattoo style. Why I love this is because it tells a story and captures why most young people love anime so much. Get this if you are looking for something phenomenal to show your love for Japanese culture.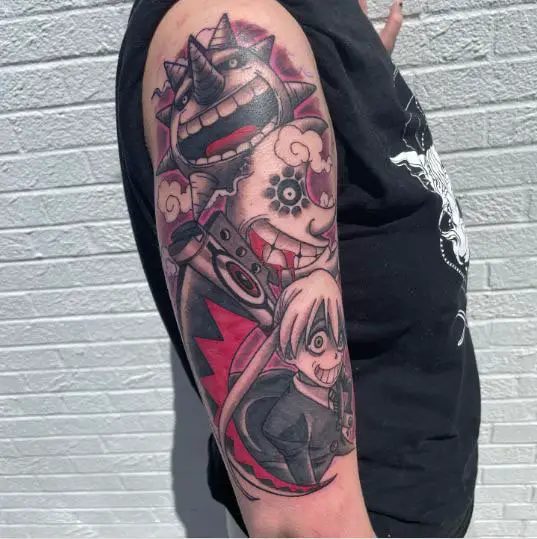 Image by @djdirkart via Instagram
26. Anime Tattoo Sleeve
This sleeve tattoo features a fantastic color palette. The brilliant colors were the first thing that caught my attention. The yellow reminds me of a sunny day. If you're a fan of the illustrative tattoo style, this is perfect for you.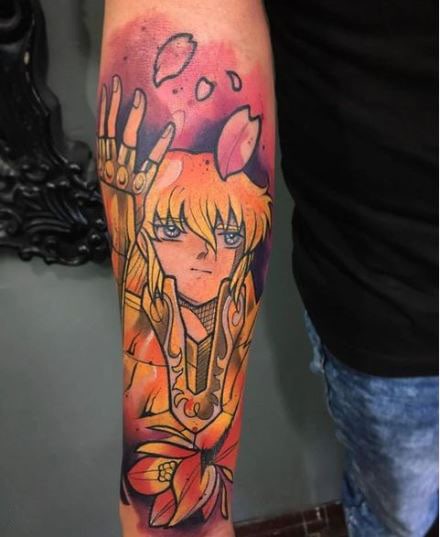 Image by @chapatattoo.estudio via Instagram
27. Manga Ferocious Beast Tattoo Designs
If you want something a bit daring and scary, you will love this tattoo of a manga beast. Life can be tough, and this tattoo can remind you to stay strong despite the odds.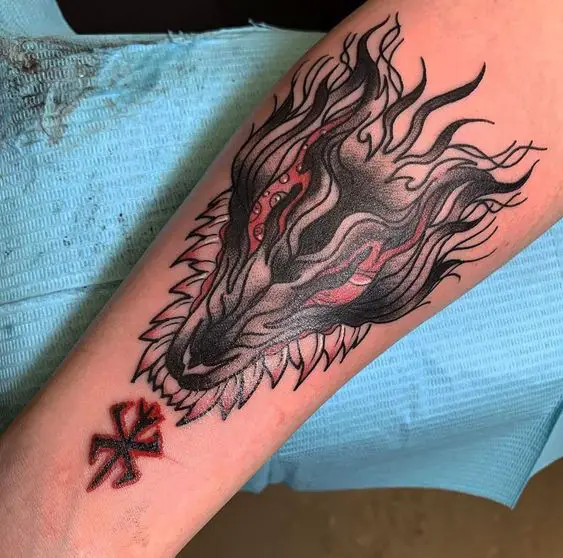 Image by @reddit.com via Pinterest
28. Anime Character Eyes
Prefer anime tattoos that are a bit edgy? Well, you should try out this anime image. Eyes can express a lot. So, getting tattoo designs of the eyes of anime characters or mythological characters from the anime world can express your fandom.
All things considered, it could mean fierceness, sorrow, anger, or pain. These particular eyes make me think of an angry warrior.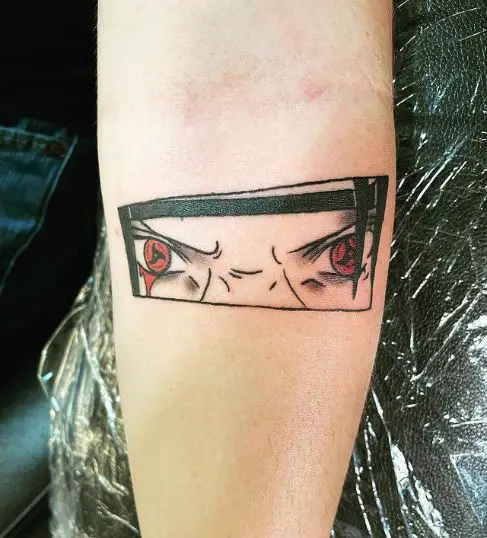 Image by @tjlovesink via Instagram
29. Minis Ghibli
If you have a thing for small anime tattoos, your search for the perfect anime tattoo should come to an end. This is a reminder that you don't have to get an anime tattoo with bright colors to have an amazing design.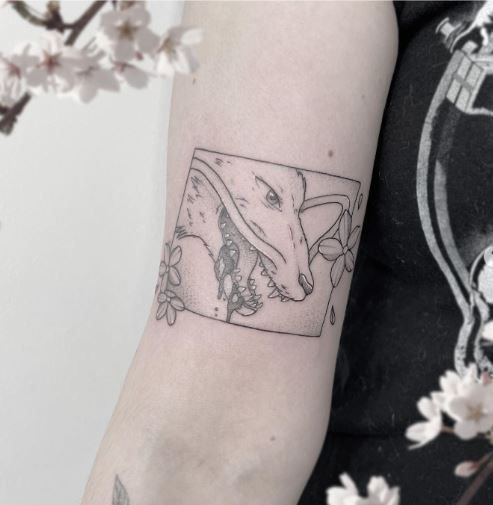 Image by @lapetite_encrenoire via Instagram
30. Lum
The vibrant colors of this tattoo have to be one of the best things about this design. This tattoo is colorful and perfect if you're looking for something soft and feminine. If you are a big fan of the Lum Invader, you will love this tattoo.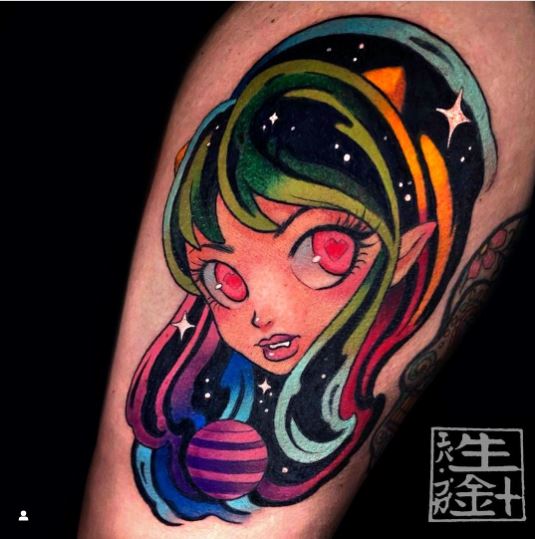 Image by @solbaer.tattoo via Instagram
31. Howl and Sophie
This anime tattoo features Howl and Sophie. Howl and Sophie's love story has to be among my favorite love stories of all time. This tattoo is sweet and romantic. You and your partner can get this on your arm to show how much you care for each other.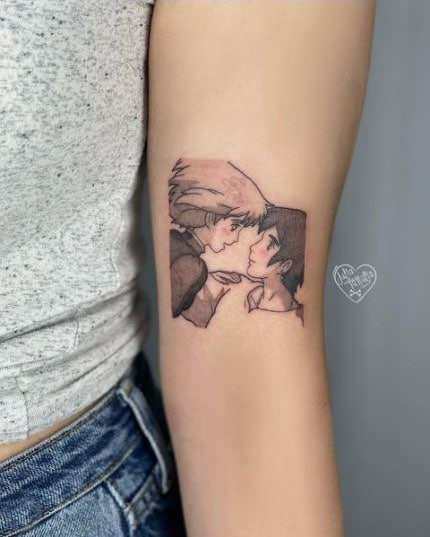 Image by @onitattoo via Instagram
32. Vibrant Purple Eye Tattoo
Don't you just love the large, round colorful eyes of most anime characters? As a devout anime fan, you may have wished at some point that you had a similar eye shape. I know I did. Since we can't, the least we can do is get anime tattoo designs of them.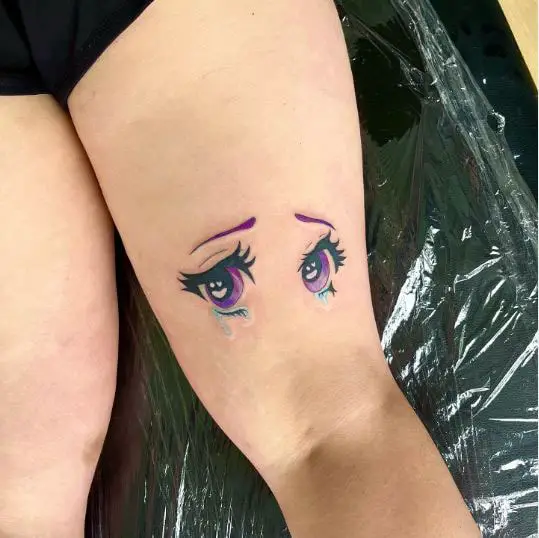 Image by @lelatudziara via Instagram
33. Aries Shion
This vibrant anime tattoo design of Aries Shion is a great idea that you should consider if you love bright colors and Aries Shion. Known for his loyalty and intelligence, he is an anime character whose tattoo image would look great on your skin.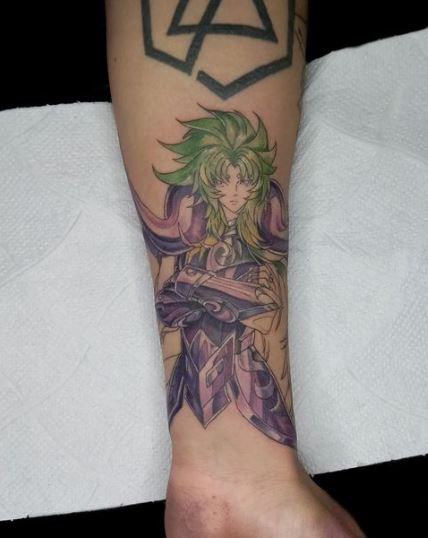 Image by @thomasdarko.tattoo via Instagram
34. Solid Snake
This realistic tattoo of Solid Snake is among the best anime tattoo ideas I found. I love how sneaky he is on his solo missions. If you are also a fan, you should get this tattoo that will look great on your forearm or thigh.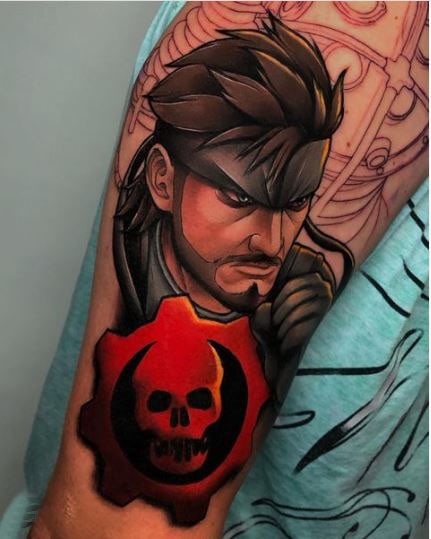 Image by @zarallosink via Instagram
35. Gon and Killua
The Hunter x Hunter fandom will agree with me when I say Gon and Killua have the best bromance depicted in anime. You and your bestie can get it to remind you both to stay strong when things get tough.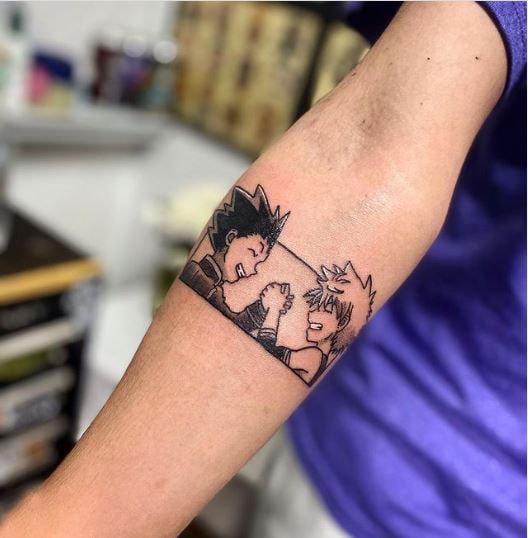 Image by @hardliquor_and_hexes via Instagram
36. The Diablo Tattoo
This anime tattoo design is perfect if you like the idea of a female Diablo. If you see yourself as a strong person, this anime tattoo can reflect your character.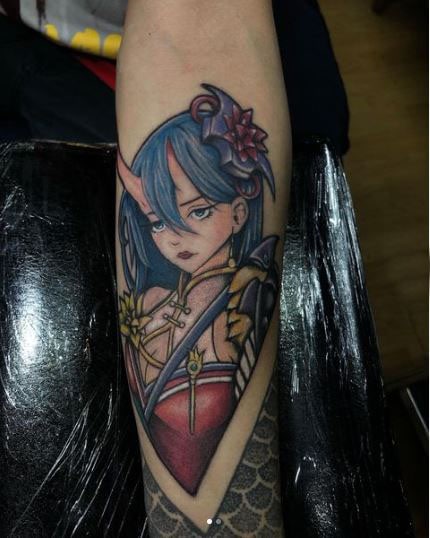 Image by @mauricio_alcala_tattoo via Instagram
37. Sakura
This amazing anime tattoo design of Sakura is perfect if you can relate to her personality traits. She's a kind, brave, and intelligent character. I can't think of a better heroine to tattoo on my thigh.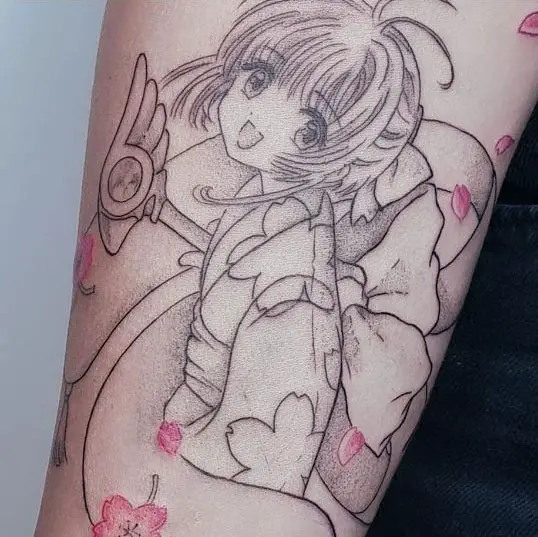 Image by @katyaleshu via Instagram
38. Hisoka
Who says you can get tattoos only of heroes or heroines? Hisoka might be a villain, but he's one of the most interesting characters in the Hunter x Hunter series. This new school tattoo of him is super stunning and interesting.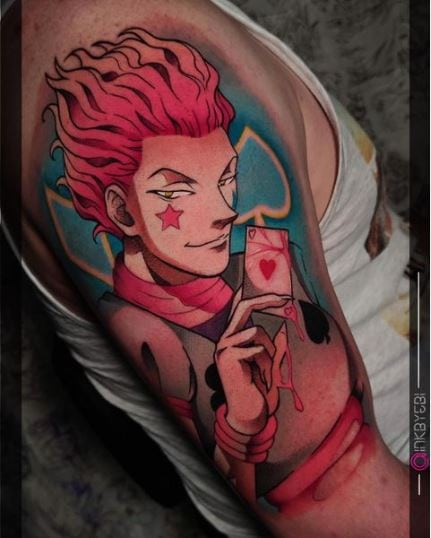 Image by @inkbyebi via Instagram
39. Yami Sukehiro
This traditional twist anime tattoo depicts Yami in all his baddie glory. The do-gooder and captain of 'Black Bulls' is shown holding a cigarette with an effortless swagger that one can't help but love.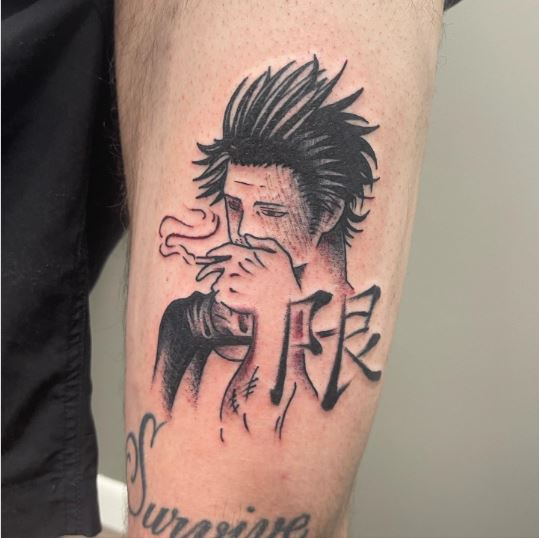 Image by @spencergarrontattoos via Instagram
40. Haruko Akagi
Need a charming anime tattoo? Haruko, from the Japanese manga series Slam Dunk is a great character. Most fans can't help but love her because of her charming and sweet personality.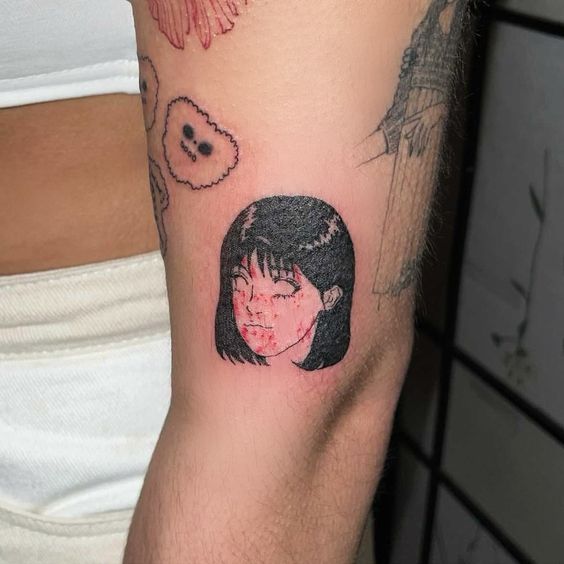 Image by @notjujubean via Pinterest
41. Chihiro
This anime tattoo of Chihiro from Spirited Away is done with beautiful colors and is so gorgeous that you will probably get a few compliments.
You can get this inspiring tattoo to remind yourself that growth is possible and to keep going even when things get tough.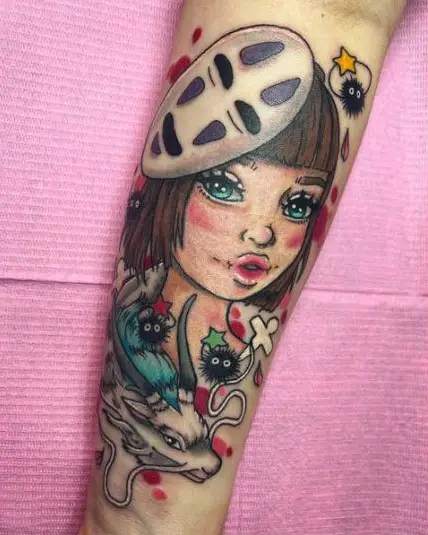 Image by @maddierobertstattoo via Instagram
42. Chi
If you're looking for feminine tattoo designs, this one is perfect. This visually appealing anime tattoo of Chi from Chobits will turn heads wherever you go.
Image by @tatsforall via Instagram
43. Mikasa
Attack on Titans has to be one of the best anime series ever created. There is no shortage of amazing characters and the action will keep you glued to your screen.
If Mikasa is one of your fave characters, you should get this stunning tattoo design of her.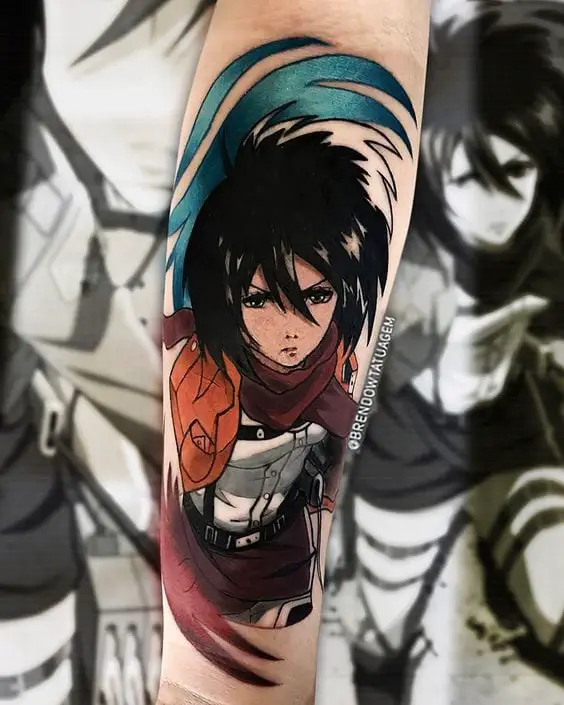 Image by @brendownanytattoo via Pinterest
44. My Hero Academia
This amazing tattoo design of Izuku Midoriya and Katsuki Bakugo is the ideal design for Hero Academia TV series fans.
This anime show is highly addictive and can make you feel a range of emotions. Get this on your forearm so you can be reminded of your love for the show.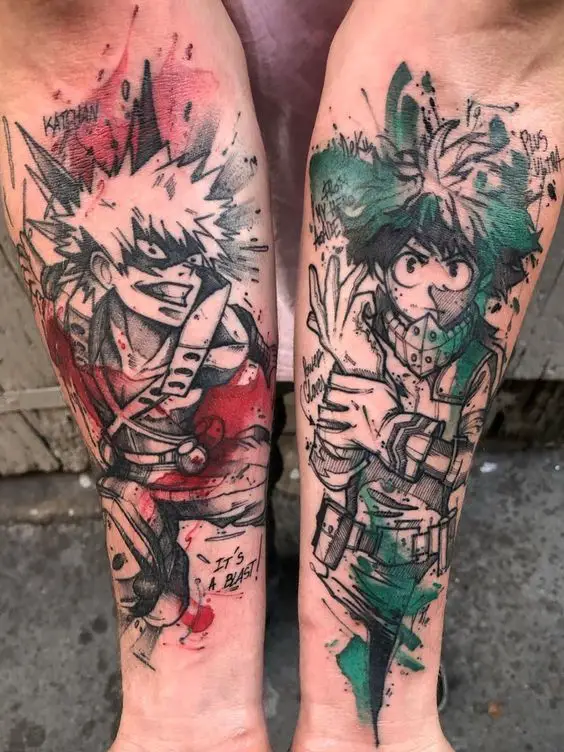 Image by @shirlero via Pinterest
45. Himura Kenshin
Are you a devout anime fan of Himura Kenshi from Rurouni Kenshin: Meiji Swordsman Romantic Story? Then you'll love this.
What I like most about this TV series is how it shows that atonement is always possible. You can be reminded of that anytime you're down with this tattoo design.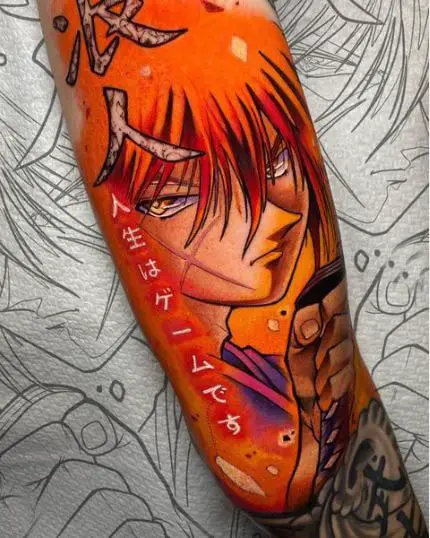 Image by @carlospovartattoo via Instagram
46. Gyarados Tattoo
This tattoo of Blue Gyarados depicts its fierce temper and reputation for causing destruction.
Only a glam anime artist can get the expression of Gyarados and this artist is definitely one. It is a unique anime tattoo image for tattoo lovers.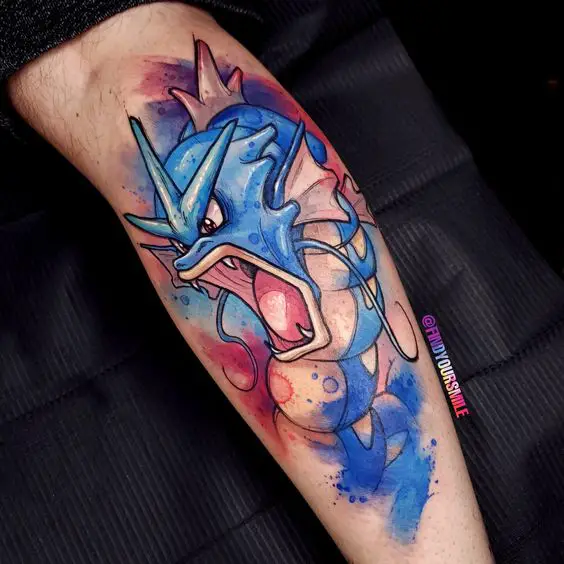 Image by @arliatattoo via Pinterest
47. Avatar Toph
Even though Aang is the main character in Avatar, my favorite character is Toph. I admire how brave she is. Despite being blind, she went on to become the greatest earth bender ever.
Spoiler alert: in Avatar legend of Korra, she even became a metal bender. This colorful tattoo depicts her in stunning earth-bending tribal gear.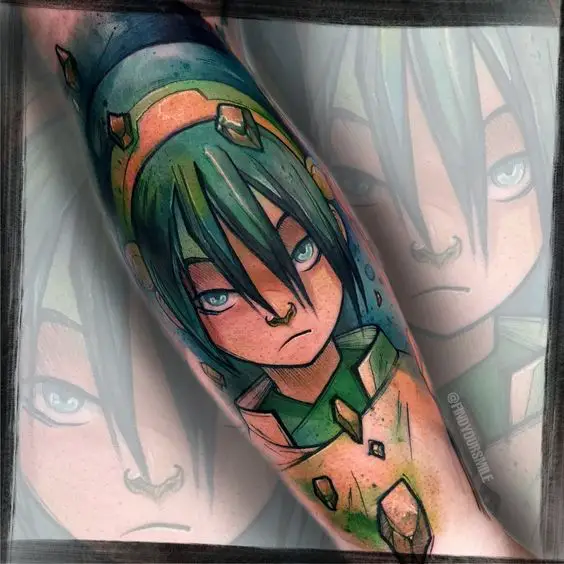 Image by @arliatattoo via Pinterest
48. Legend Of Zelda Tattoo
Legend of Zelda is among my favorite anime video games. This is a tattoo of Link ready to get into combat to protect the magical land of Hyrule from the demon king Ganon.
Link is always associated with green, just like in this anime tattoo with the hint of green behind his yellow hair. You could get a Princess Zelda tattoo if you want a feminine character from the legend of Zelda.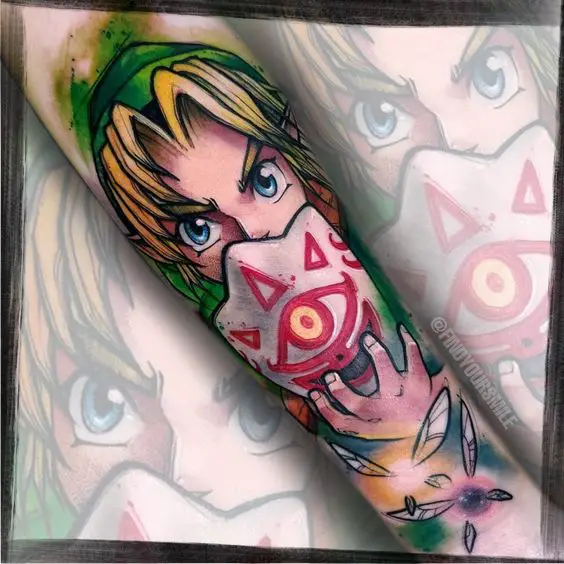 Image by @arliatattoo via Pinterest
49. Full Metal Alchemist's Roy Mustang
Colonel Roy Mustang is depicted here with a sly smile. The flame in the colorful tattoo depicts his power to create fire with alchemy as a flame alchemist.
I love his personality and adventures as he strives to become the next leader of Amestris.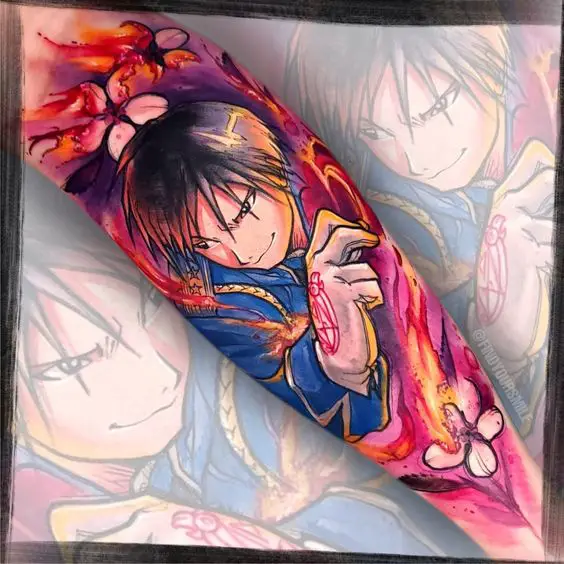 Image by @arliatattoo via Instagram
50. Chrollo Lucifer
Chrollo is an antagonist, but there are parts of his personality that you may be able to relate to, such as his fierceness.
This tattoo is done with black ink and can show that you are bold, brave, and not afraid of a challenge.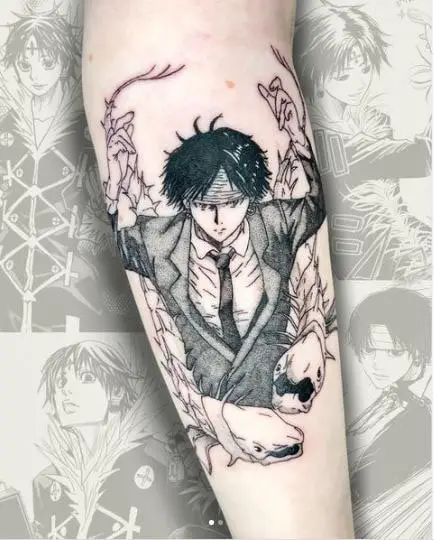 Image by @tattooputz via Instagram
51. Anime Kitten
If you are a cat lover like me, you will love this kitten tattoo. Not all tattoos need to have deep meanings, and this is a prime example of that. This tattoo will also look great on your upper arm or chest.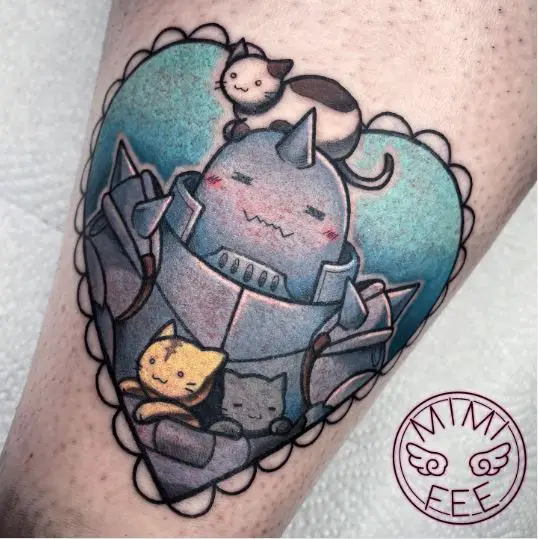 Image by @ via Instagram
52. The Kakashi Portrait
Fans will agree with me when I say that not only is Naruto a classic, it is one of the most loved and popular series. This design of Kakashi, a beloved Naruto character, is an awesome tattoo to get.
If you are inspired by Kakashi's personality as much as I am, you'll be glad you came across this anime theme.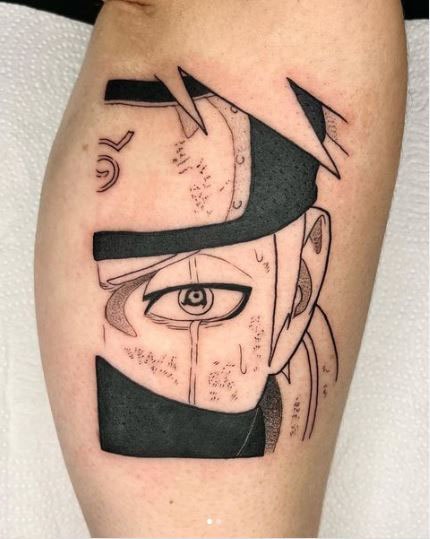 Image by @keni.tattoo via Instagram
53. Luffy
This tattoo of the one-piece character Luffy is a perfect design to get if you're fun and free-spirited.
Though this tattoo is done completely in black ink, it's still fun and cool. His facial expression will resonate with you and show your free-spirited personality.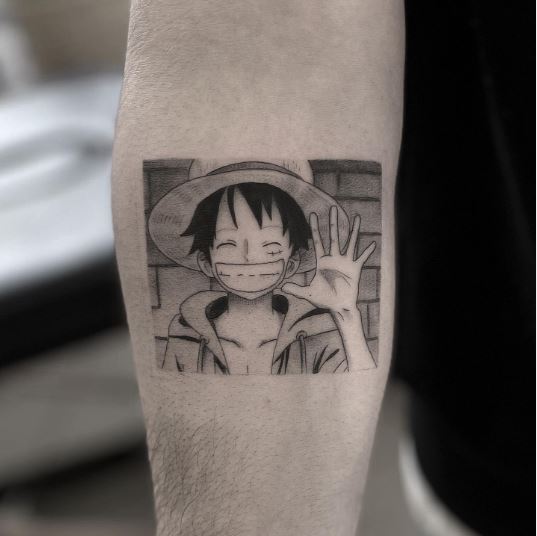 Image by @owbonez via Instagram
54. The Demon Tattoo
This anime tattoo may be a bit dark, but it can make you look like a badass. The amazing artist's interpretation of this Jorogumo demon tattoo is highly accurate, with the demons long snake-like tongue and fangs on display.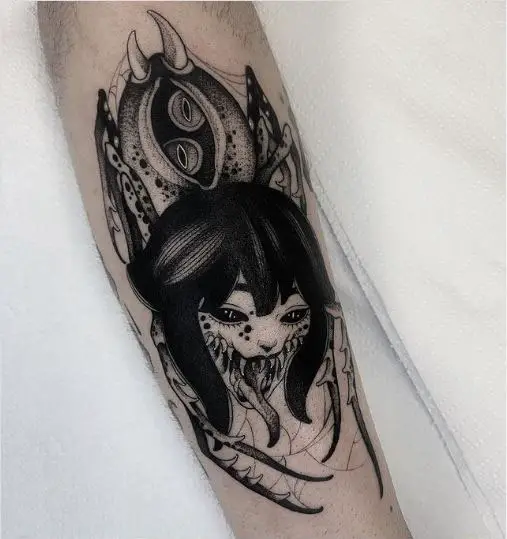 Image by @gato___xx via Instagram
Frequently Asked Questions
1. Is Getting An Anime Tattoo A Strange Thing To Do?
Getting anime body art can seem a little weird, but it makes you stand out and shows that you have a unique personality.
2. How Do You Select The Ideal Anime Tattoo For Yourself?
If you want a cool anime tattoo, you might not know how to pick one, as there is no shortage of amazing anime tattoo designs and styles.
The best way to select the ideal anime tattoo is by focusing on a character that resonates with your personality and what you stand for.
3. What Do Anime Tattoos Symbolize?
An anime tattoo symbolizes love for Japanese culture and anime. So getting one can be a great way to express your free-spirited nature in the coolest way possible.
4. Which Part Of Your Body Is Best For Anime Tattoos?
The arms, back, legs, and feet are the most popular spots for anime tattoos. You could also freestyle and get tattoos on your shoulder, forearm, or even hands.