The double triangle tattoo can define gender roles, represent balance, depict opposing forces, religious faith, and more!
Geometric patterns have become increasingly popular among clients and while most of them don't have a meaning, a few clients informed me that the double triangle tattoo does. So, I did a deep dive to discover more.
In this post, I will explain each double triangle tattoo meaning and introduce you to designs you can choose from. Let's begin.
What is Double Triangle Tattoo Meaning?
There are a few different meanings to the double triangle tattoo. For the most part, this does depend on the orientation of each triangle as well as how they are placed in relation to one another.
The Double Triangle and Femininity and Masculinity
The upward pointing triangle tends to be a symbol for women. So, upward triangles can also symbolize elements typically associated with women. This includes femininity, nurturing, and motherhood.
This triangle is also considered a symbol for both the moon as well as the Earth.
In contrast, the downward facing triangles are associated with men. As such, they are linked to masculinity and strength.
This triangle represents the sun and fire.
When you combine these triangles, either as opposite triangles, downward double triangle, or upward double triangle, you are creating a contrast between the feminine and the masculine.
However, it isn't always about comparing the masculine and feminine. It also shows that you need a balance of both in your life.
In certain instances, this kind of double triangle tattoo may refer to two people in your relationship – you and your partner. You can even get matching tattoos to show how you balance out one another.
At the same time, you may also want to depict the feminine and masculine energies within you. After all, for most people, one aspect of their personality isn't necessarily stronger than the other. Instead, you likely enjoy a balance between these two energies.
This double triangle pointing downward or upward could also serve as a reminder of how you should seek this balance. It may be a good way to remind yourself that you need to unleash each of these energies at the appropriate time to create a more well rounded version of yourself.
The Double Triangles and Connectedness
If you get a double triangle tattoo with both triangles facing upward or downward, this can be a sign of connectivity. It could be a symbol that you are linked to someone or something in a specific way.
Now, this is a popular couple tattoo to get. Each triangle could represent a person in the relationship.
At the same time, a double triangle pointing upwards or downwards that is linked doesn't have to be related to a romantic relationship. It could help you identify your place in this world – that you are connected to a great many things in your life.
It could even be a signifier of how you are connected to a particular place or time. The options are endless with these double triangle tattoo designs.
The Double Triangle Tattoo and Opposing Forces
In alchemy, the triangles pointing upward are associated with fire and air, while the triangle pointing downward is associated with water and earth.
So, they are opposing forces. This kind of double triangle tattoo may be about identifying the opposing forces within you. For instance, you could be both loving and caring but also quite hot headed.
Or, there may be a person in your life who is the exact opposite of you but is still quite important.
These kinds of double triangle tattoo concepts may also help to remind you of the opposing forces you encounter every day. In some cases, these forces counteract one another and result in balance.
At the same time, these double triangle designs may be about the forces that are constantly pulling you in opposing directions. Sooner or later, you will need to decide which direction to take. Your double triangle tattoo may be a reminder of this.
The Double Triangle Design and Religious Beliefs
As you may know, a single triangle is sometimes used to represent the Holy Trinity. This is the Father, Son, and Holy Spirit.
A triangle is a sign of your belief in your faith. In some instances, it is also used to remind people of what is important in their life and that you should always make God a priority.
In this case, two triangles may signify an even stronger faith. You may have faced trials and tribulations and come out on top with your faith intact. Or, you may have even questioned your faith at one point but after reflection has found that your beliefs have strengthened.
In any case, the double triangle is a great way of showcasing your faith but in a subtle way. After all, most people don't like to get obvious religious tattoos. Two triangles, however, will be hardly noticeable and is unlikely to raise many questions.
Two Triangles: Double the Power
The number three has been significant throughout history. Many people see it as being the perfect number. It is meant to represent wisdom, harmony, and understanding.
Some people also associate it with divination or divine entities. It's also seen as a representation of the past, present, and future. It can be a symbol of the beginning, the middle, and the end or birth, life, and death.
In any case, the triangle and the number 3 are powerful. Some people consider them to be good luck or simplifying comforting symbols or numbers to have around.
So, imagine if you were to double this luck. This is where the double triangle or the two triangles come in.
The double triangle is an amplification of it all. You don't have to believe in luck to make use of this number of shapes. Instead, getting a double triangle tattoo can be a way of putting out positive energy into the world.
The Top Double Triangle Tattoo Concepts
Here are the double triangle tattoos you can check out for your own tattoo design:
Opposite Triangles Tattoo
If you want to depict opposing forces or elements, this tattoo with one upward and one downward triangle is the way to go.
This double triangle tattoo can also be a symbol of the past and present.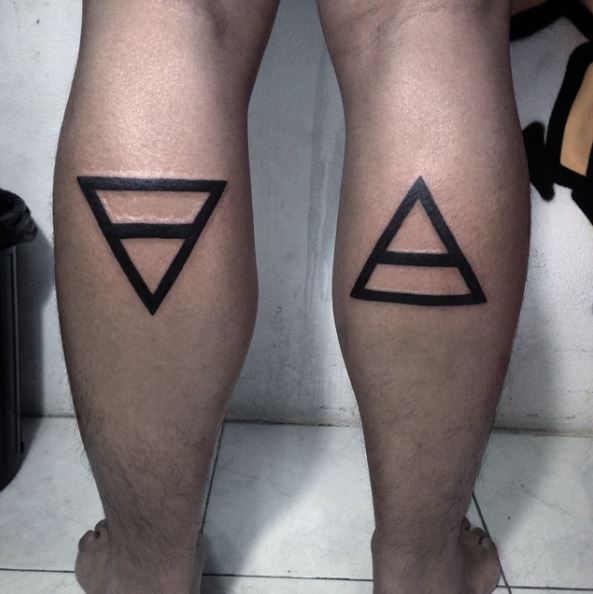 Image by @ballin842 via Instagram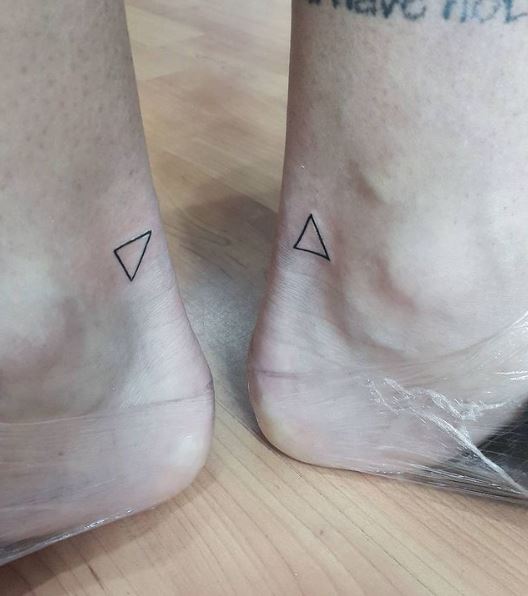 Image by @minervatattooart via Instagram
Intertwined Double Triangles Tattoos
Here are the different orientations you can find with this double triangle tattoo design. You can have triangles pointed downward, pointed upwards, or triangles overlapping side by side.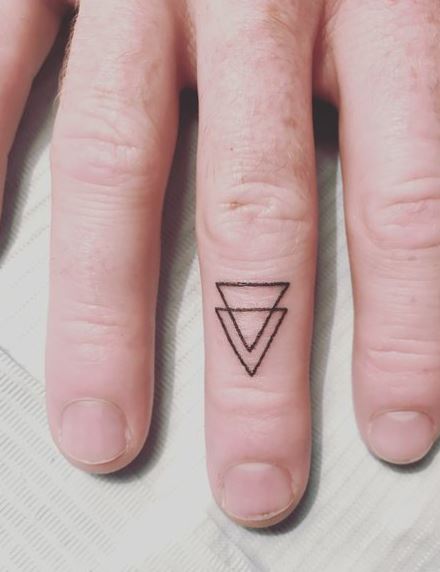 Image by @sticks.not.stones via Instagram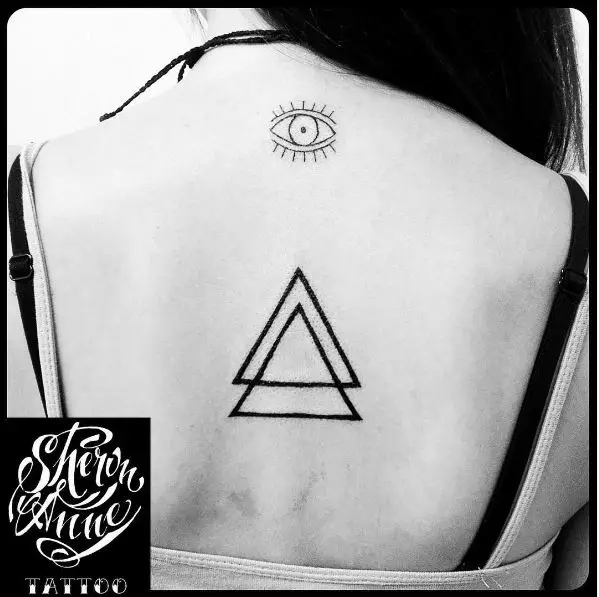 Image by @sheron_anne via Instagram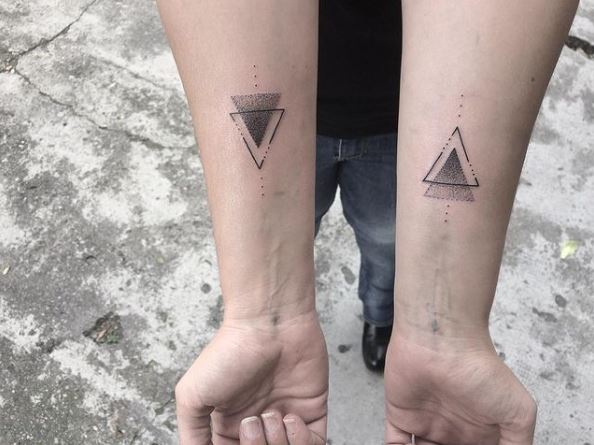 Image by @uappins via Instagram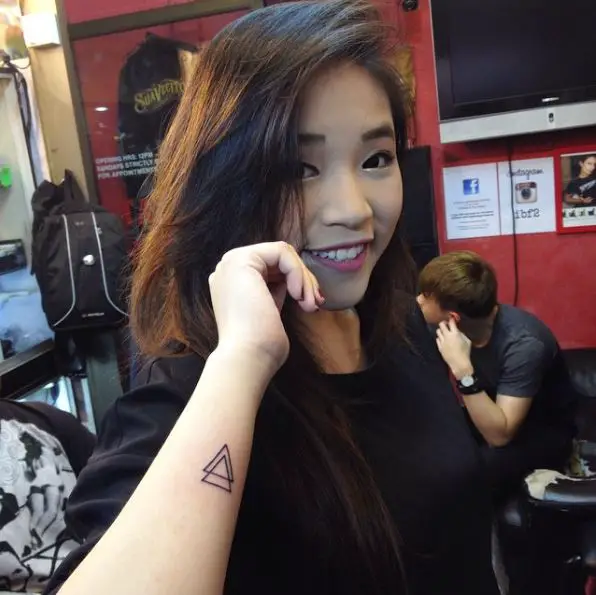 Image by @ibf2 via Instagram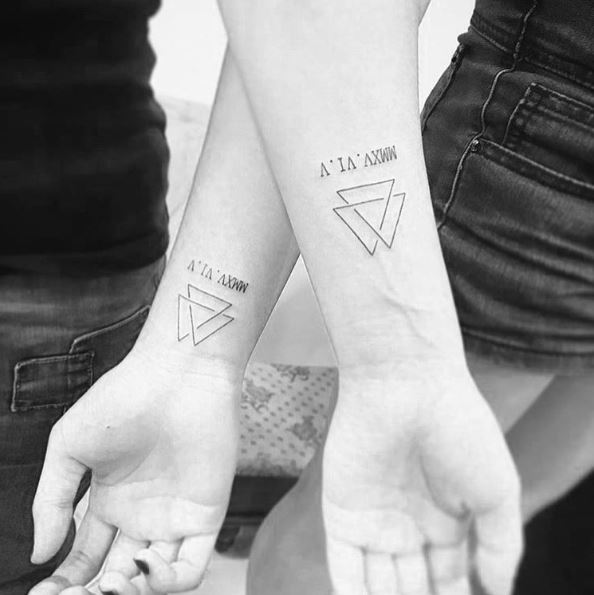 Image by @wheretheyfineline via Instagram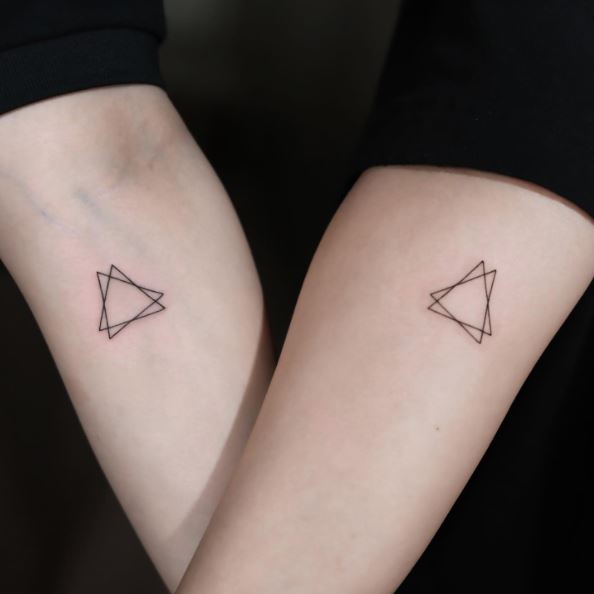 Image by @yooni.tattoo via Instagram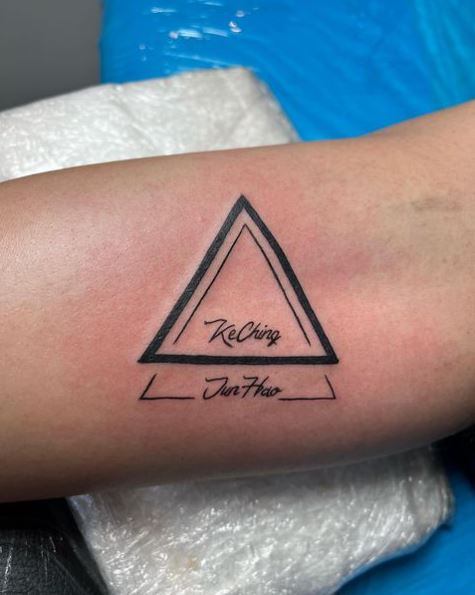 Image by @kim_wan_zen via Instagram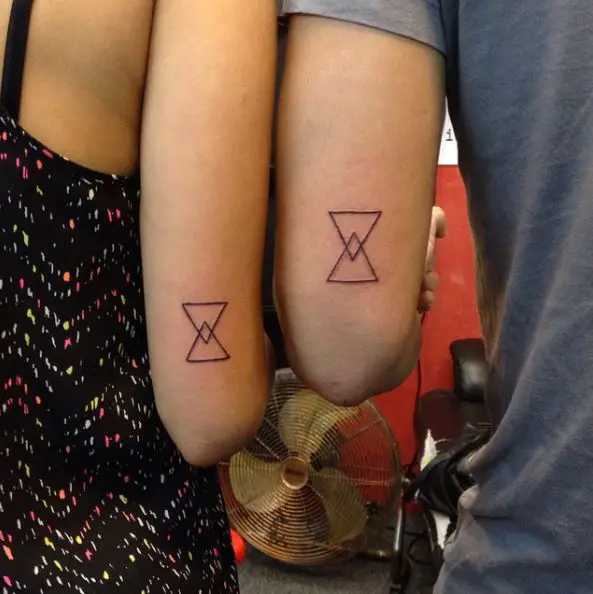 Image by @ibf2 via Instagram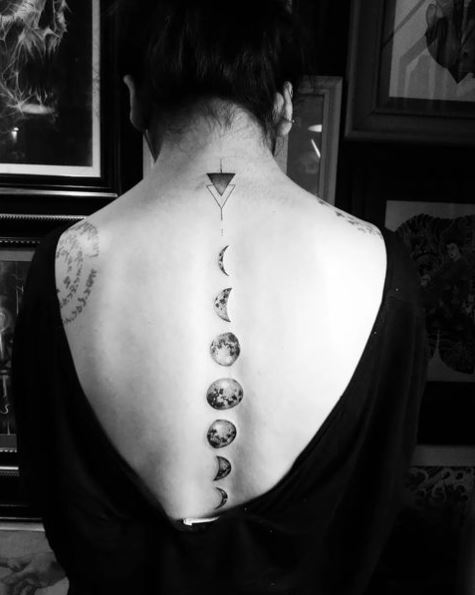 Image by @atrayeedc via Instagram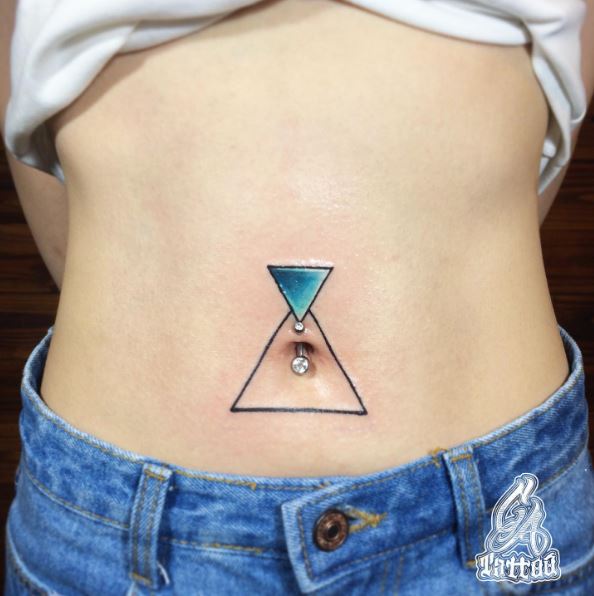 Image by @ca.tattoohk via Instagram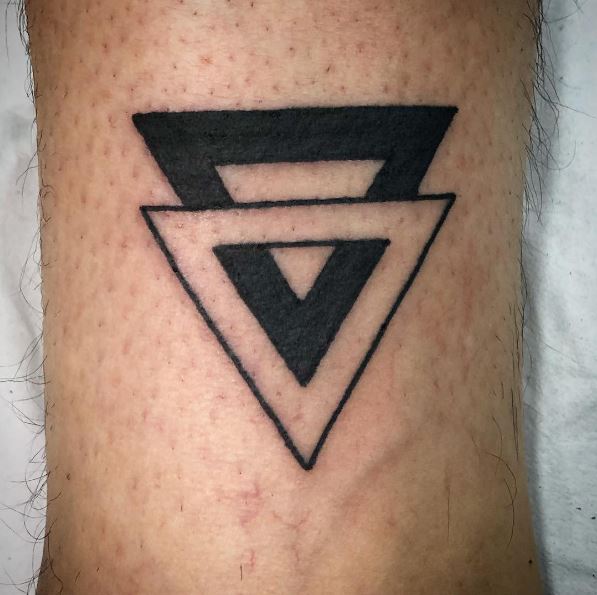 Image by @badtime_tattoo via Instagram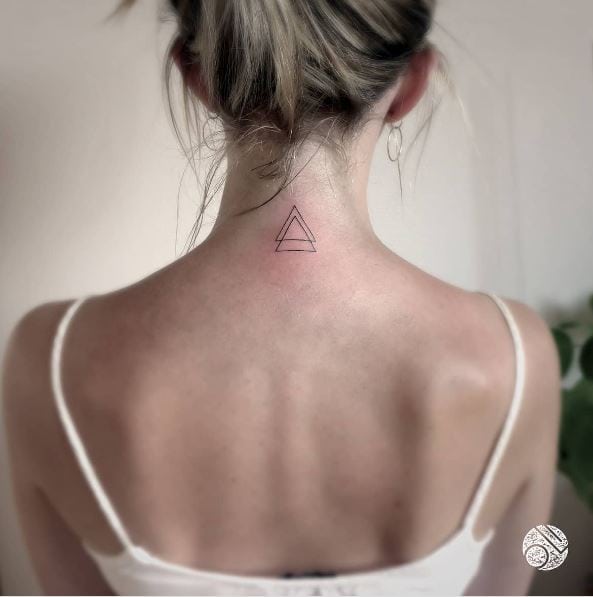 Image by @monsieurolitattoo via Instagram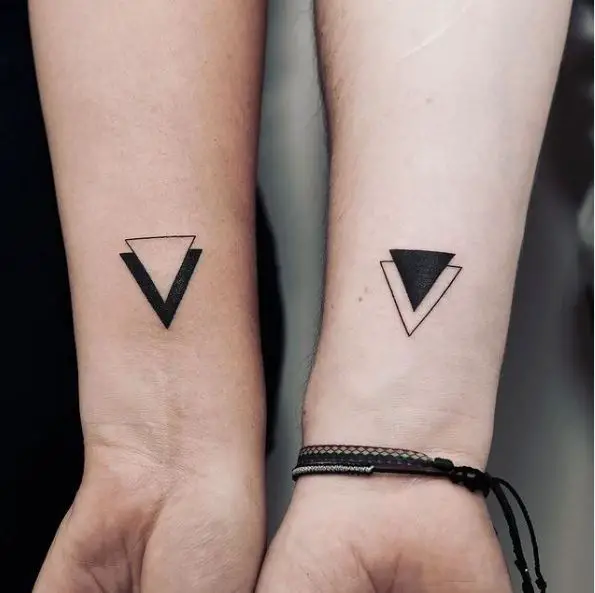 Image by @tattooartist_frozanbeauty via Instagram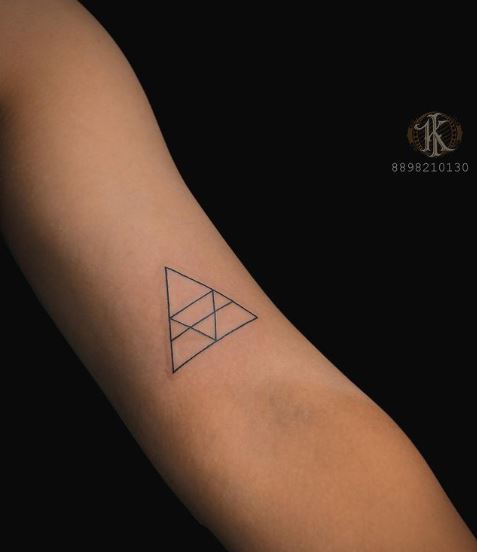 Image by @krossinks_tattoos via Instagram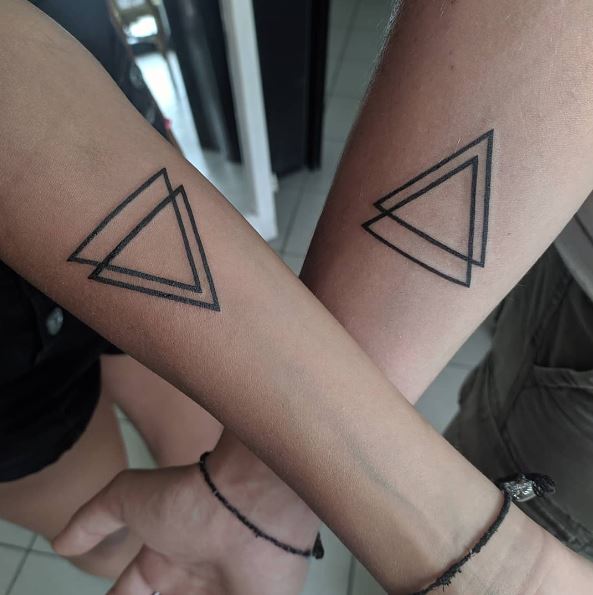 Image by @morenatattoo via Instagram
Creative Double Triangles Tattoos
Now, most double triangle tattoos are quite minimalistic. If you want a more creative double triangle tattoo, there are a few options available.
You can use the basic double triangle tattoo as a backdrop for landscapes, other geometric shapes, and various artistic elements.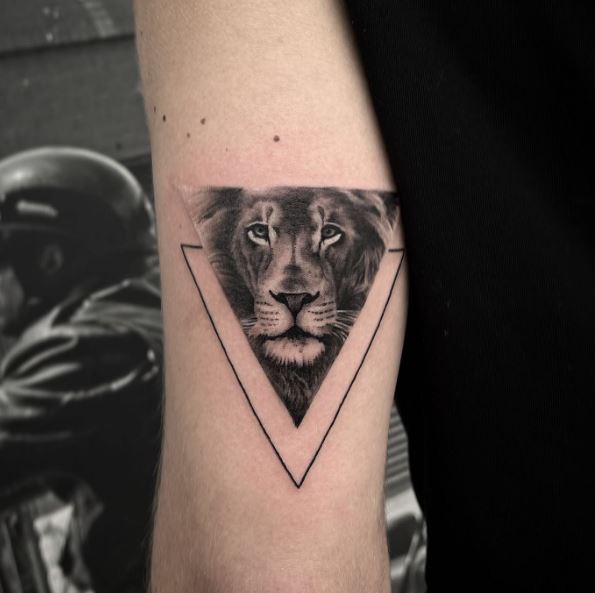 Image by @bluedragontattoos345 via Instagram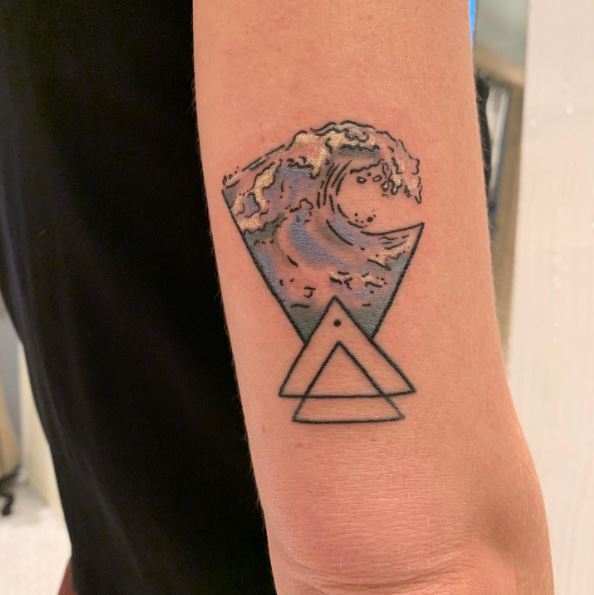 Image by @benjamin_tattoos via Instagram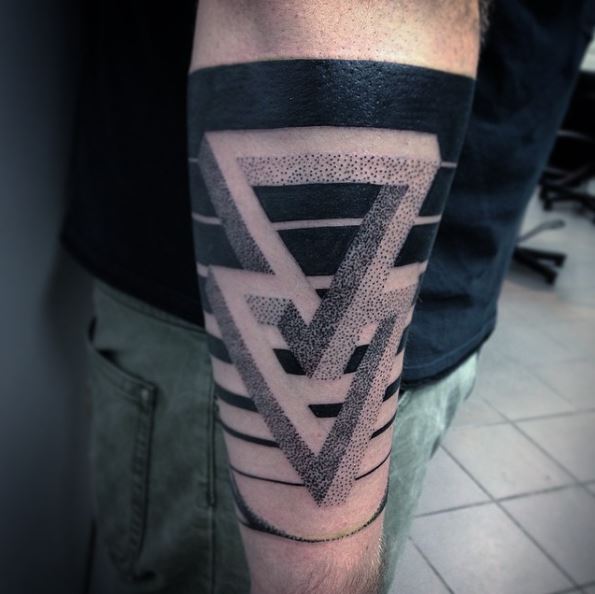 Image by @oli_verboden_tattoo via Instagram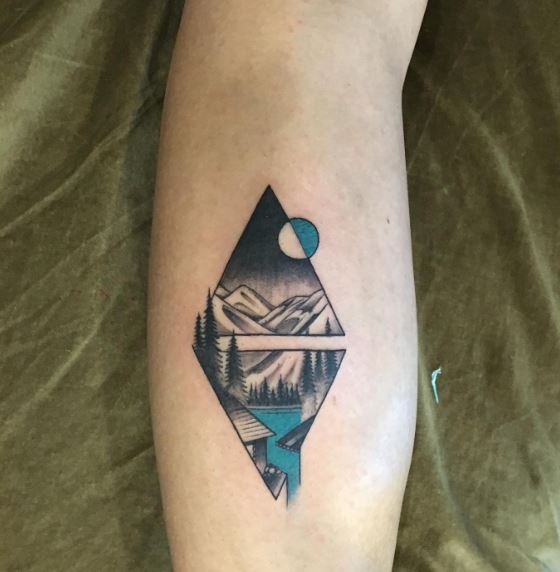 Image by @royal_tattoostudio via Instagram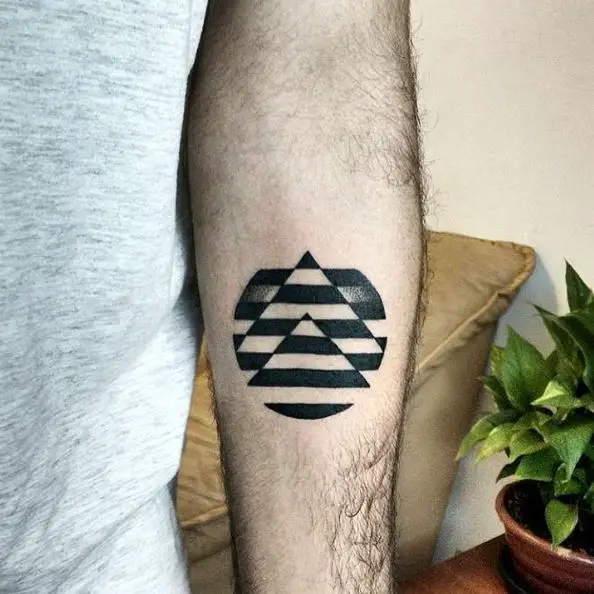 Image by @chrisxtadle via Instagram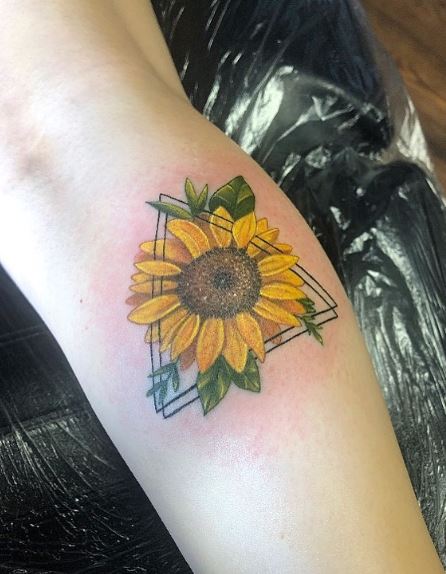 Image by @ilesha.mia.tattoo via Instagram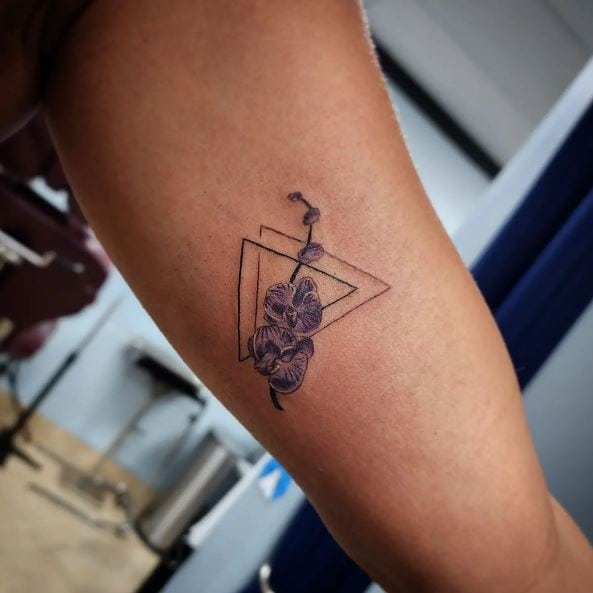 Image by @rupintart_com via Instagram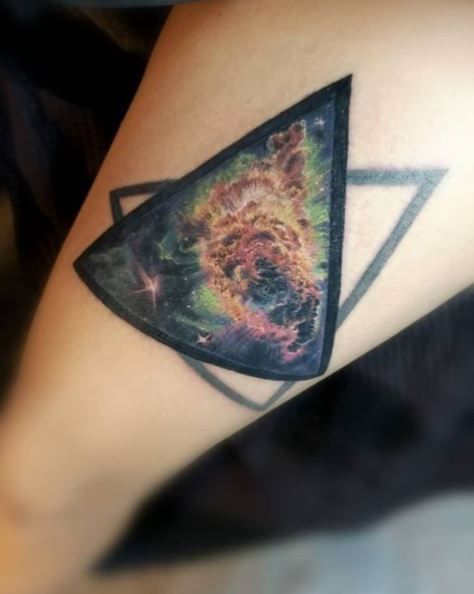 Image by @tattoo_studio_brod via Instagram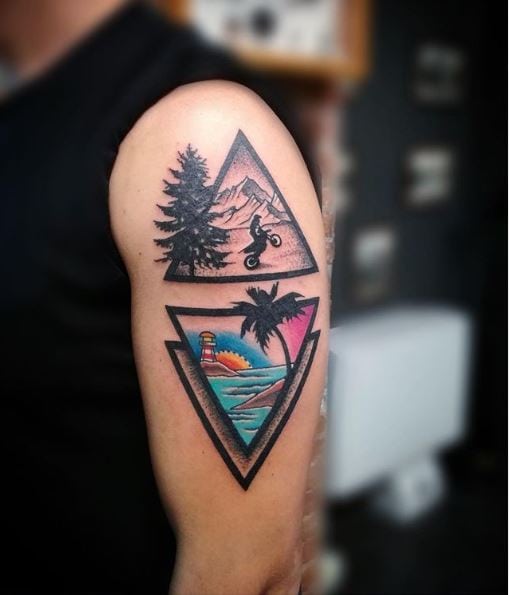 Image by @davideterli via Instagram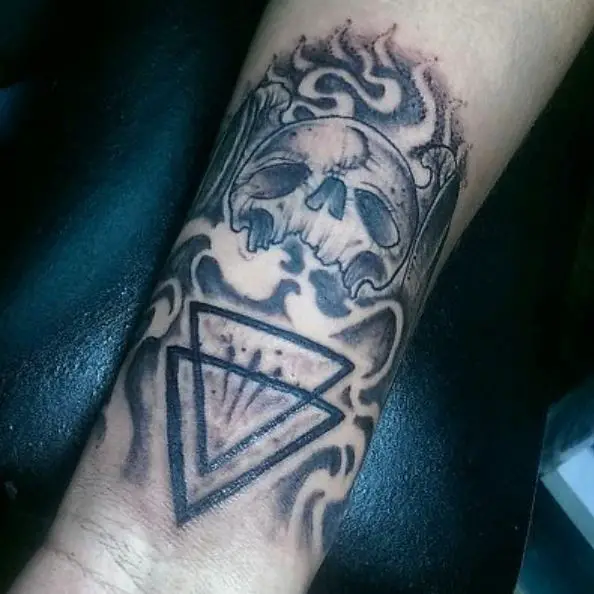 Image by @emmet_mo via Instagram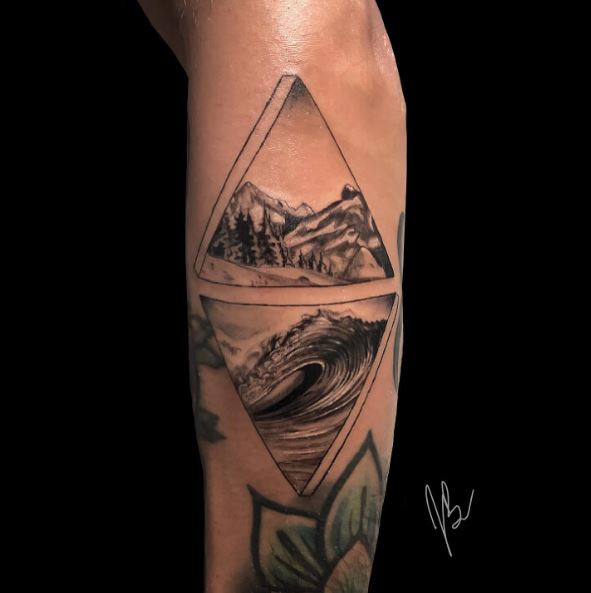 Image by @snafutattoo via Instagram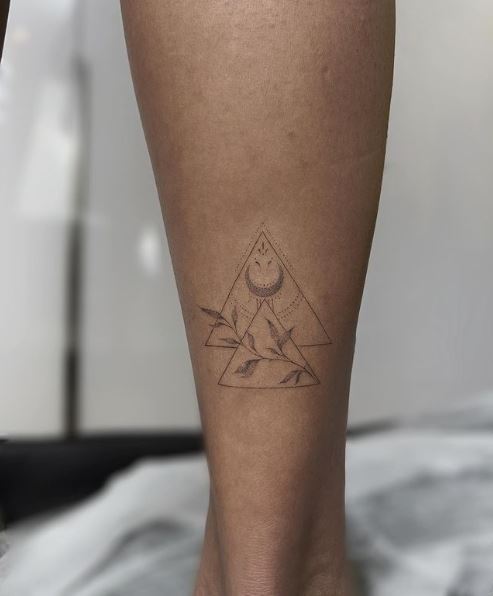 Image by @eevee_ptc via Instagram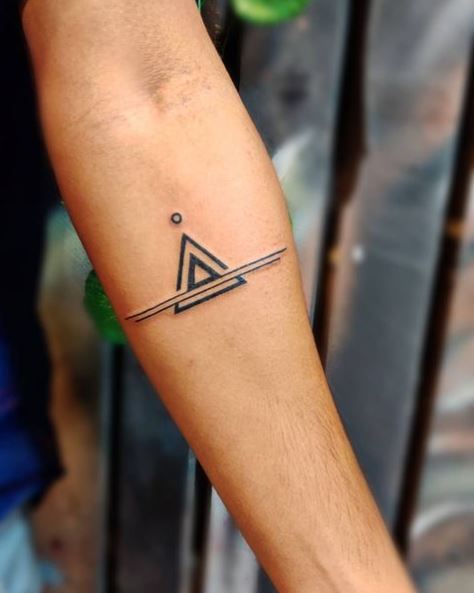 Image by @kalanyasa_tattoo_studio via Instagram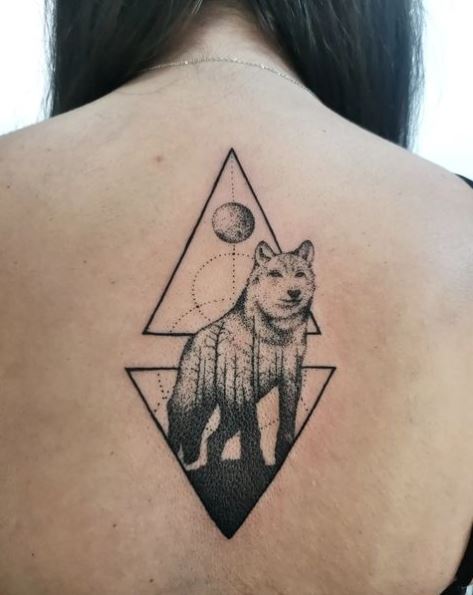 Image by @tease_84 via Instagram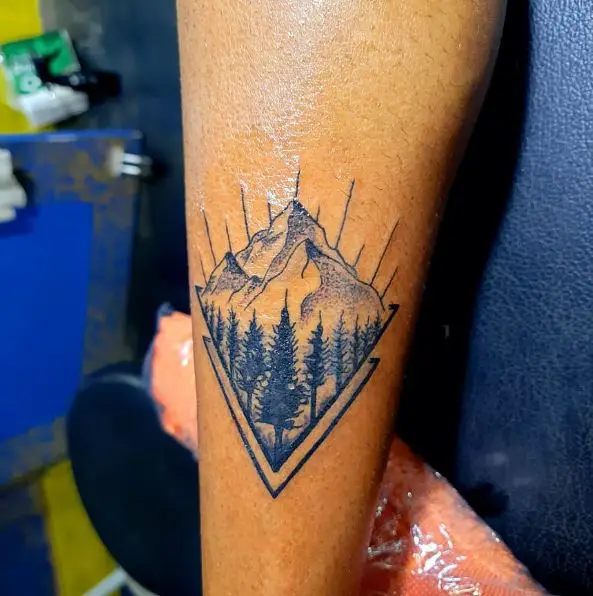 Image by @s_u_n_i_l_tattoo via Instagram
Well, there you go. These two simple shapes hold a lot of meaning. Once you have decided which one is right for you, simply choose a design that resonates with you.