The koi fish tattoo symbolizes perseverance, strength, and success.
As an artist, I always like to have an in-depth understanding of the work I create. So, when koi tattoos started getting popular, I did my research, and gained a greater appreciation and respect for this design. I was able to transfer this to my work as well.
Here are the koi fish tattoos and their meanings that you should be aware of.
The Top Koi Fish Tattoo Designs with Meaning
It doesn't matter what koi fish tattoo meaning you would like to depict, these tattoo designs will help you figure it out.
Single Koi Fish Tattoo
Many Japanese koi fish tattoos feature only one fish. This is largely due to a personal decision.
In some cases, a single fish represents the original meaning of koi fish - perseverance. Therefore, if this is what the fish means, there is no better way to depict this than with a single fish.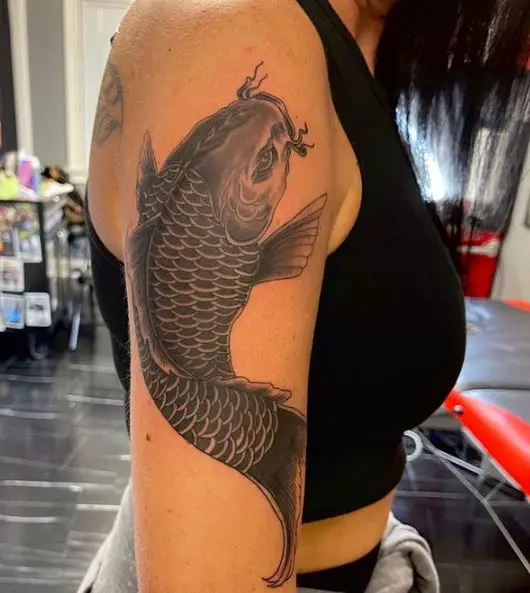 Image by @tattooedthompson via Instagram
People can also choose just one fish for their koi tattoos due to simplicity. If you want to keep your tattoo basic or minimalistic, having body art featuring just one fish is a great way to do this.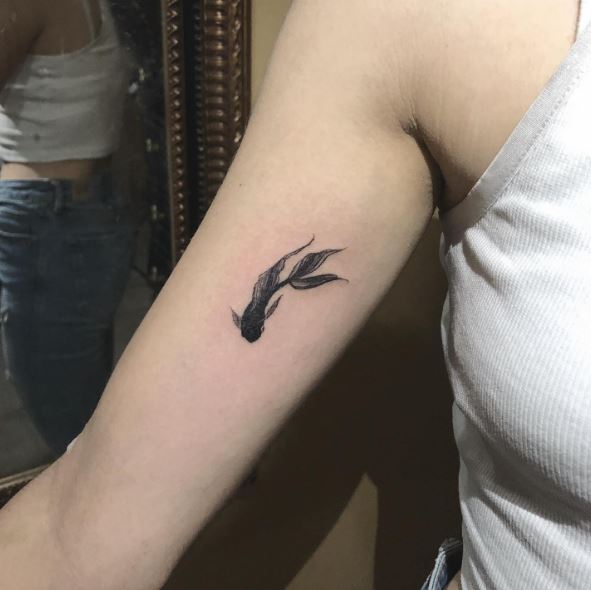 Image by @owenpapimaster_kushh via Instagram
This is especially true if you want to keep your tattoo small and subtle. Of course, this doesn't mean that your single koi fish tattoo has to be small. It is just as possible to get a large piece of ink here.
A single koi fish can also be great if you want a meaningful tattoo, but also want the focus placed on the tattoo design.
Take these koi fish tattoos, for instance. If you love Japanese culture and want to depict your fish as specifically being a Japanese koi fish tattoo, these are the tattoo designs to consider: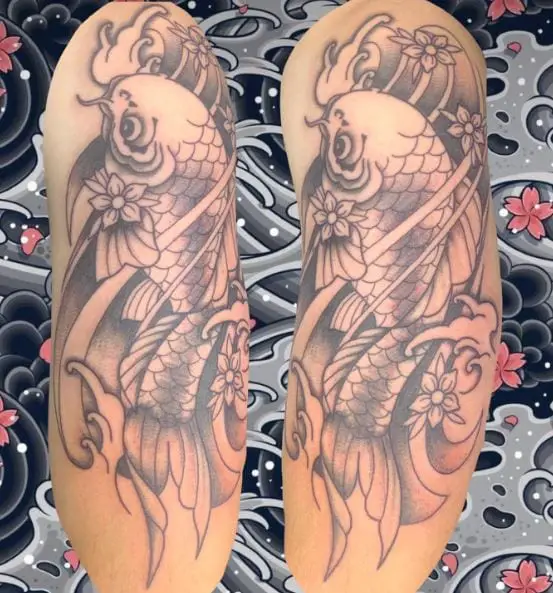 Image by @openeyes.artisto via Instagram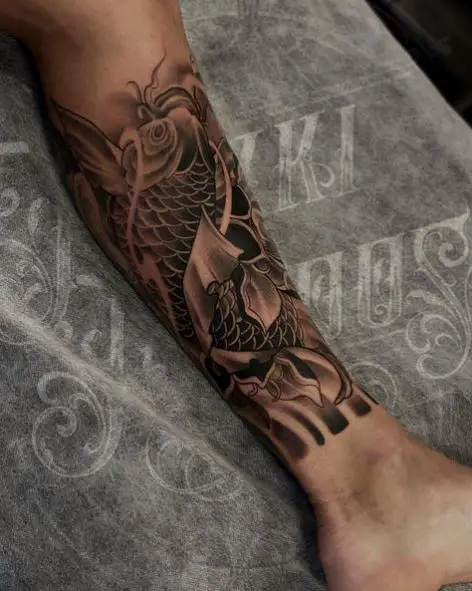 Image by @totzkitattoos via Instagram
These Japanese koi fish tattoo designs have borrowed from the Japanese art forms. This helps the tattoo to feel a lot more like traditional Asian tattoos while also lending them a certain aesthetic.
There is more than one way to keep things traditional. Although you might be an admirer of Japanese and Chinese culture, you may not necessarily want a conventional tattoo.
If this is the case, check out the koi fish tattoo that features a traditional American tattooing format. The stark black lines and the vibrant colors mark this as a koi fish while still giving it a different feel.
Despite having a lot of meaning, this kind of tattoo works well for anyone trying to buck the norm.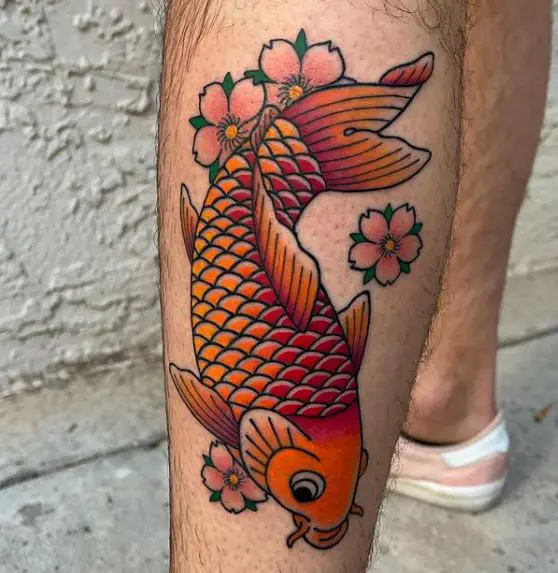 Image by @hawkinscollectivellc via Instagram
Blue Koi Fish Tattoo
Blue koi may not be the most common species around, but they certainly make for popular koi fish tattoos.
This largely does have to do with the meaning behind the blue koi tattoo design. This colourful fish is typically associated with masculinity and is symbolic of a son.
In some cases, it is also used to indicate fertility.
Now, despite being a masculine symbol, it is quite peaceful. It is associated with calmness and tranquility.
Due to this, having a blue koi tattooed on your body could be representative of your own calm demeanor. Or, it may be that you are aspiring to be a calmer person and the tattoo is a way of reminding yourself of this.
If family is important to you or your want to portray your status in your family, then a blue and white koi tattoo will be quite fitting.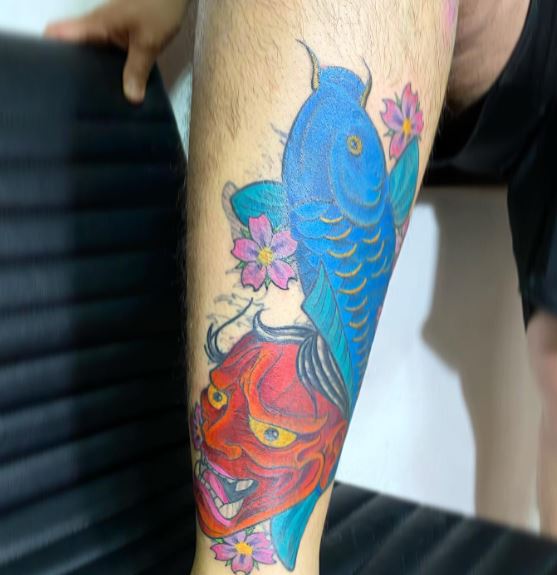 Image by @puntoyartec.o via Instagram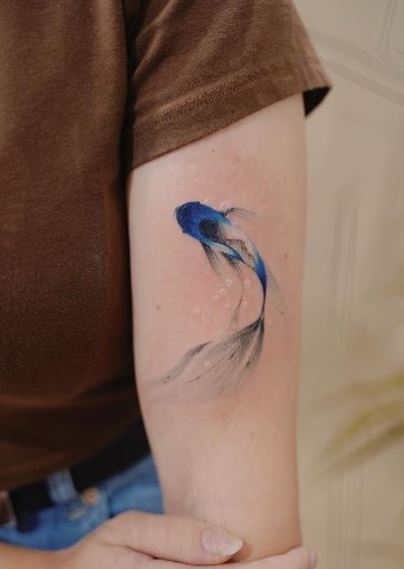 Image by @koizhou_tattooist via Instagram
Image by @therootstattooart_okinawa via Instagram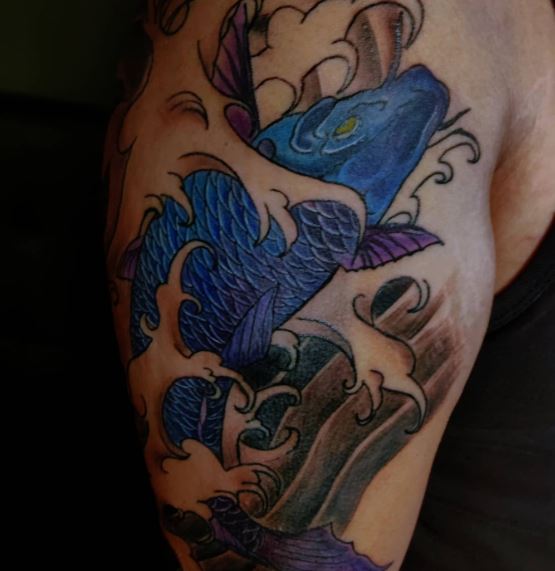 Image by @el_gato_inks via Instagram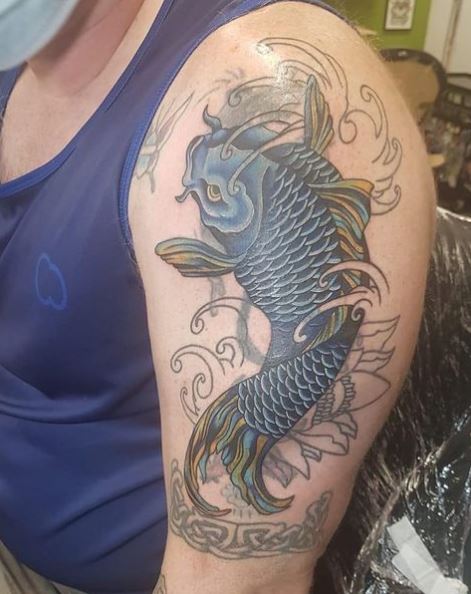 Image by @rabbitholetattoo via Instagram
Image by @morningstar.studio via Instagram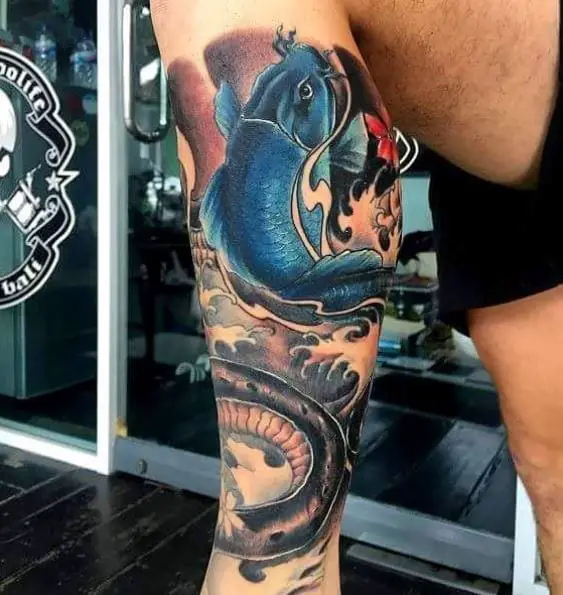 Image by @inos_lembayung via Instagram
Black Koi Fish Tattoo
When it comes to the black koi, the primary meaning is success in your career. So, if you are very passionate about their job or path in life, a black koi is suitable.
This tattoo design can also work as a symbol of encouragement if you are still trying to pave your own path in the industry. It can be a reminder to never give up.
In fact, black koi are usually associated with overcoming struggles and obstacles in life. It is a sign that you have taken all that life has thrown at you and still managed to come out on top.
Of course, you don't only have to get this tattoo if you have succeeded in your goals. These koi fish tattoo designs can be a great boost if you feel like you need an emblem to cheer you on.
If the idea of a fully black koi fish doesn't appeal to you, you can achieve the same meaning with a koi with black spots.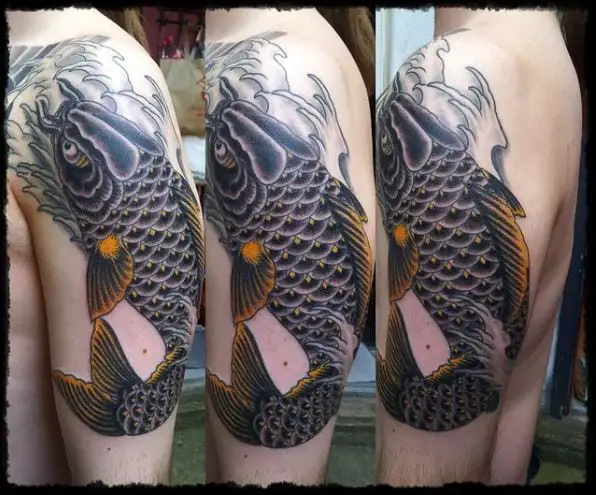 Image by @prettyininktattoos_mic via Instagram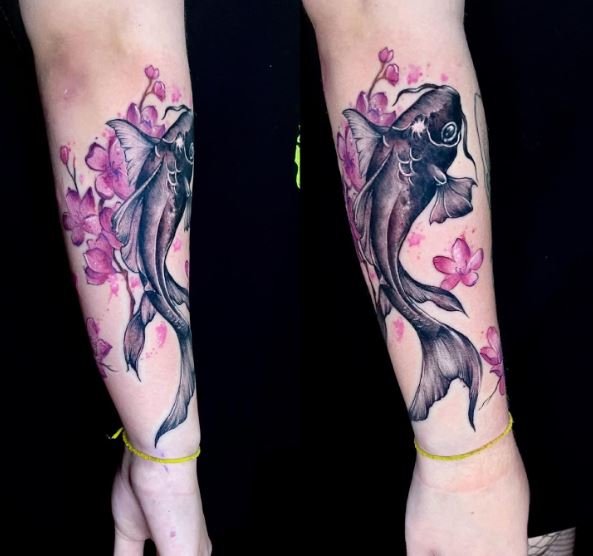 Image by @sara_rock_tattoo via Instagram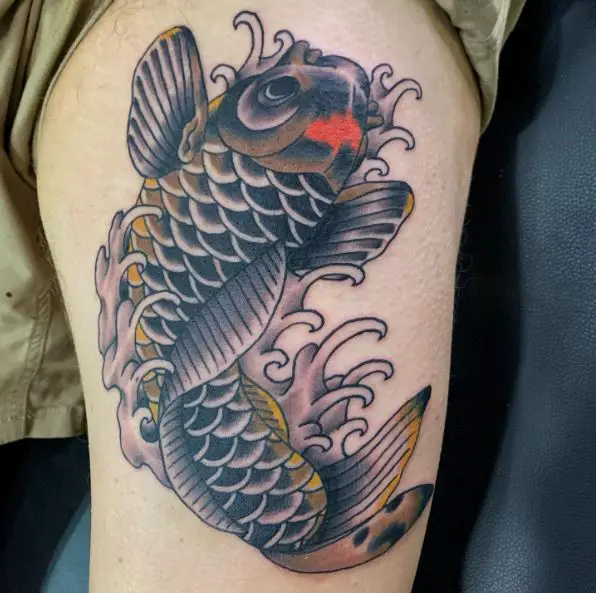 Image by @blueloutattoo via Instagram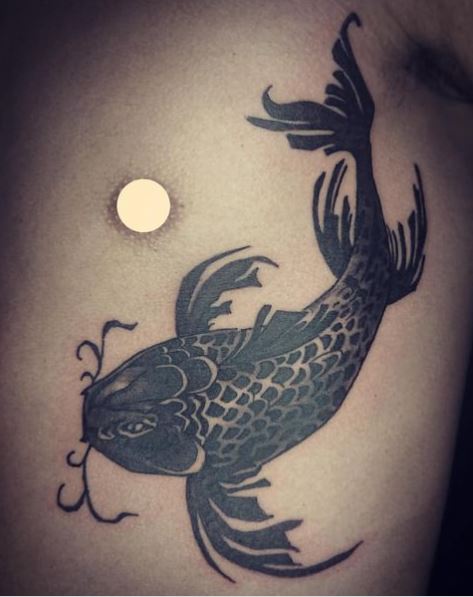 Image by @seb.la_goutte_d_encre via Instagram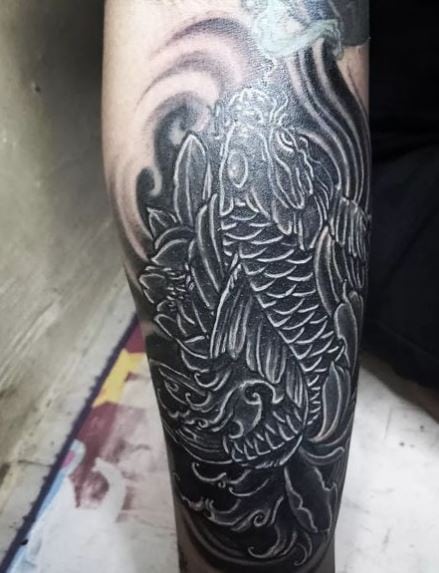 Image by @rufftattoos via Instagram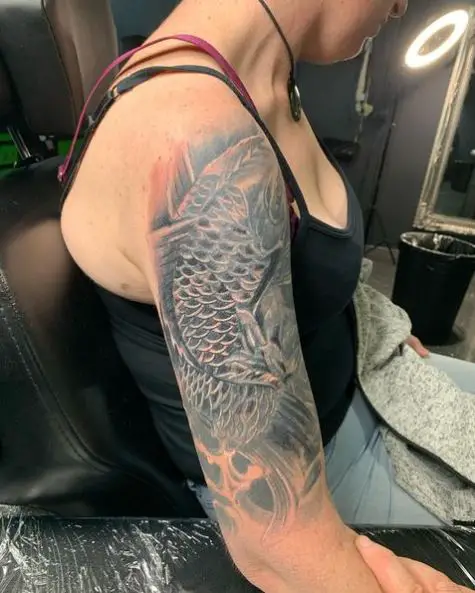 Image by @neilkaostattoos via Instagram
Image by @blueloutattoo via Instagram
Red Koi Fish Tattoo
The red koi fish tattoo can be seen as the opposite of the black one. The red koi symbolizes femininity, or a female figure.
At the same time, a red koi tattoo will represent strength and courage. This is a balance between softness and firmness.
Some also see it as a symbol of deep passion.
An orange koi or an reddish orange koi fish tattoo is a symbol of motherhood. Therefore, if you are a mother or embody the traits associated with mothers, this can be a great tattoo to get.
Pink koi aren't all that common but they do crop up in koi mythology. Here, the pink koi represents daughters. However, some people believe that the pink fish can represent the same meaning as the red one.
In general, though, red is considered to be an auspicious color in both Chinese and Japanese myth. So, if you feel like you could do with some luck, get a koi tattoo in this hue.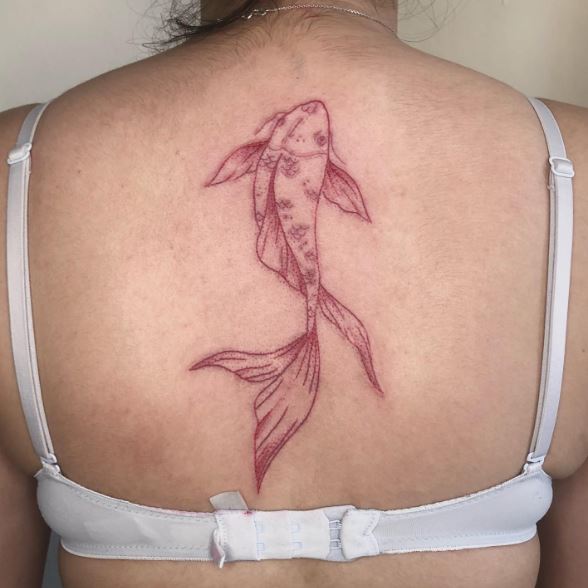 Image by @gizzystattoos via Instagram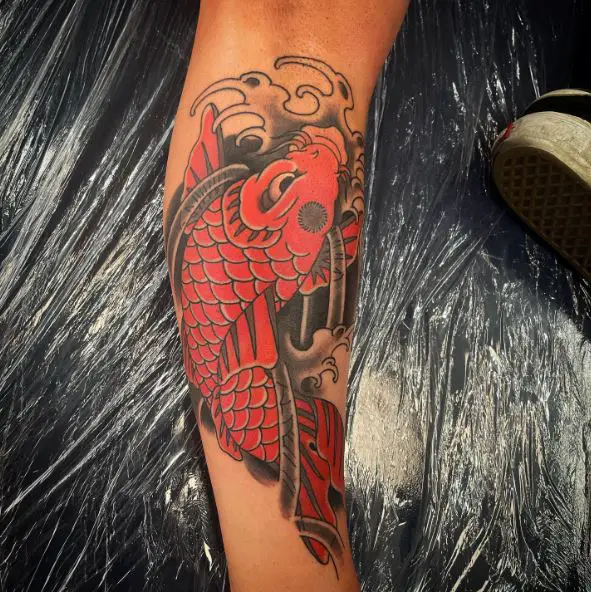 Image by @kyewolff via Instagram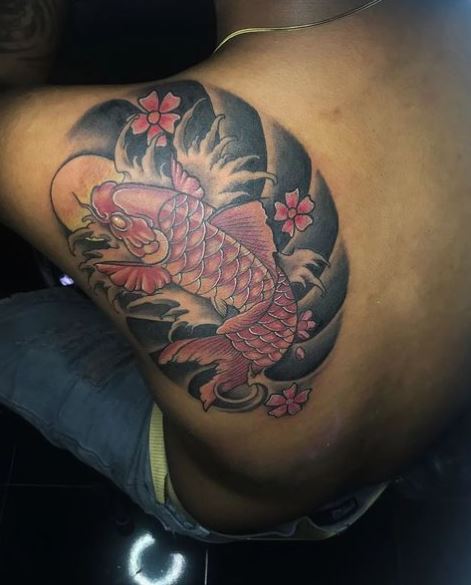 Image by @jovisolog via Instagram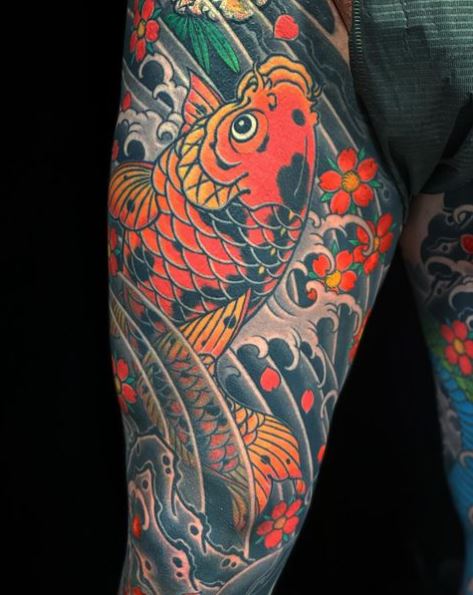 Image by @jakoh_kurikaratattoo via Instagram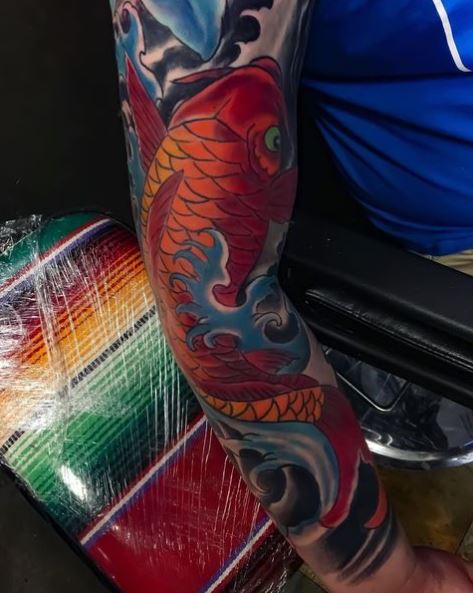 Image by @read_em_and_weep513_ricky_e via Instagram
Image by @7traintattoo via Instagram
Image by @memento.mori.tattoo via Instagram
White Koi Fish Tattoo
You may also see these koi fish tattoos referred to as silver. In any case, it is the same thing - a white koi tattoo!
This tattoo has a really cool meaning - it signifies luck in business. It can also be an excellent symbol for bringing wealth and financial success.
However, despite the meaning behind this koi fish, you aren't going to see many such koi fish tattoos around.
This is because white tattoos are pretty tricky to do. Tattoo artists often have to go over one section over and over so it can be difficult to get a clean look. What's more, these tattoos tend to have a more raised, scarred look and a lot of people don't like that.
Last, but not least, white tattoos tend to blur and fade faster than others. So, you may need to get touchups more often.
In case you are still determined to go ahead and get this koi fish tattoo design, here is some inspiration for you: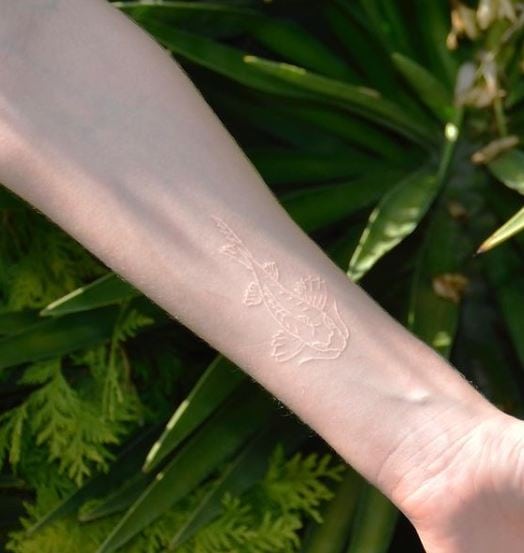 Image by @didebergit via Instagram
Golden Koi
There is no difference between the yellow and golden koi - they are one and the same.
However, people will refer to these koi as gold koi due to the golden dragon myth. There is an ancient legend about how a koi swam upstream, up a waterfall, until the Gods rewarded it for its perseverance by turning it into a golden dragon.
This isn't the only reason that you will find this koi fish tattoo so often. This koi is believed to be linked to wealth and prosperity.
So, if this is something you want in your own life, this is a great tattoo idea for you.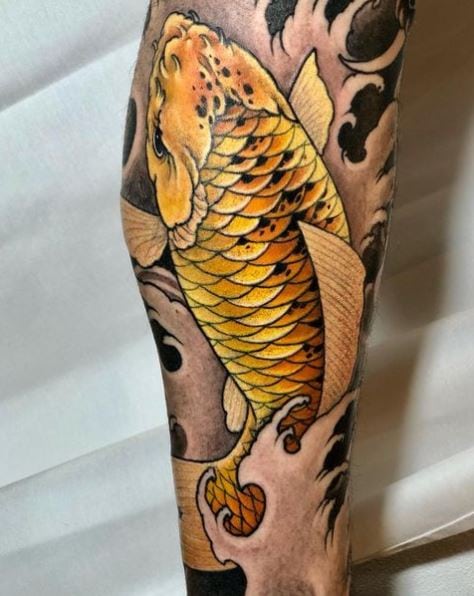 Image by @adrianodallalpi via Instagram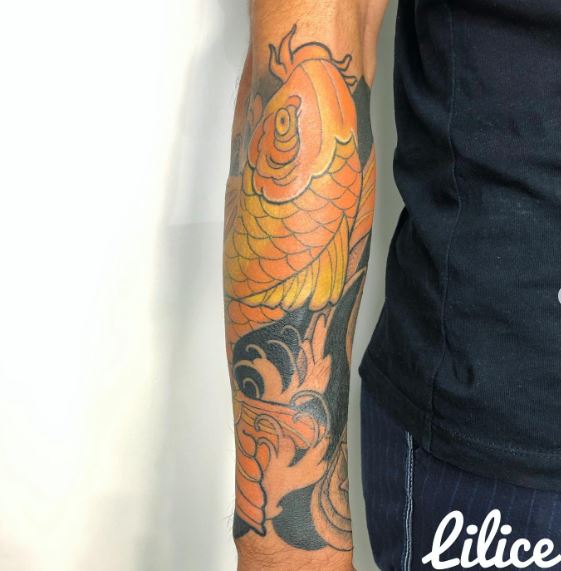 Image by @lilice.tattoo via Instagram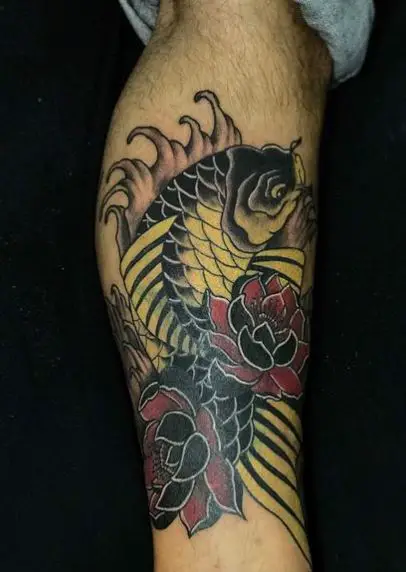 Image by @andreepain via Instagram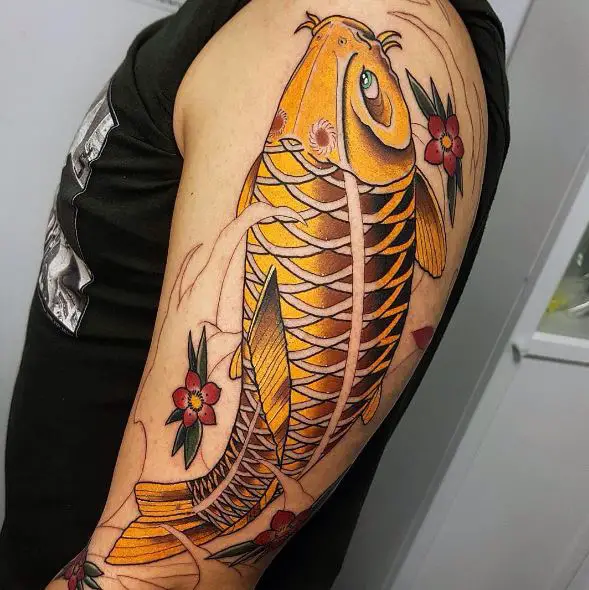 Image by @proarts_bcn via Instagram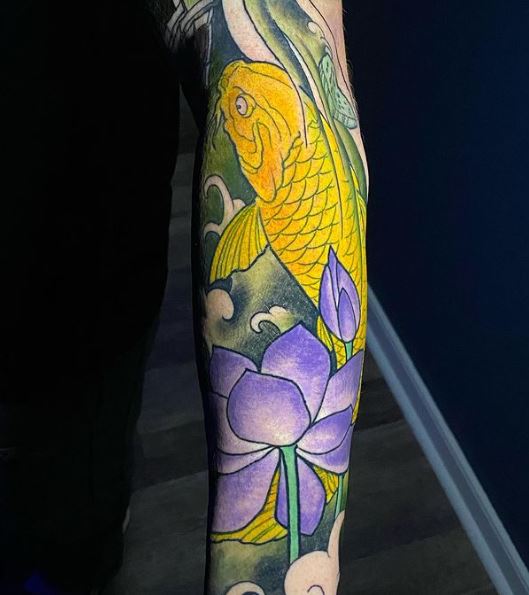 Image by @darktidetattoostudio via Instagram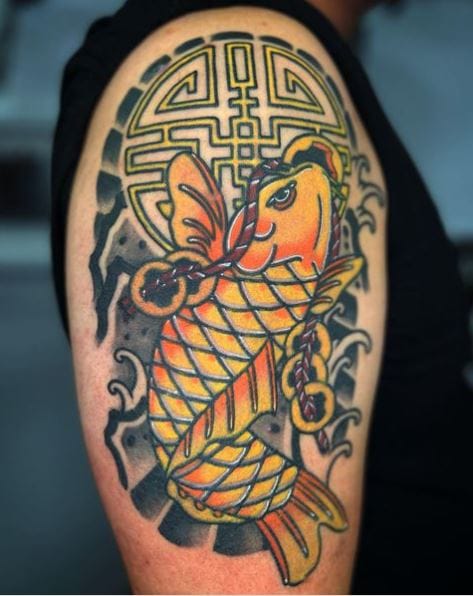 Image by @muybien_tattoos via Instagram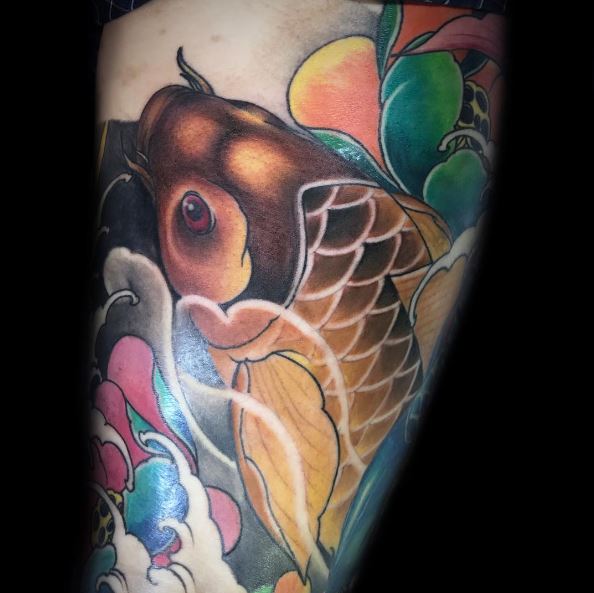 Image by @sam.risingsuntattoos via Instagram
Yin Yang Koi Fish Tattoo
Did you know that koi are sometimes referred to as the yin yang koi fish? They have been used to represent this symbol for quite some time.
This is often depicted as the two koi fish tattoo, with two koi circling each other. Sometimes, these koi may be identical, with only their positioning giving away their true meaning.
In other yin yang koi fish tattoos, each fish is made up of an opposing color - black and white, black and red, etc.
You can also get a yin yang koi fish tattoo with the yin and yang symbol included if you want the meaning to be very apparent.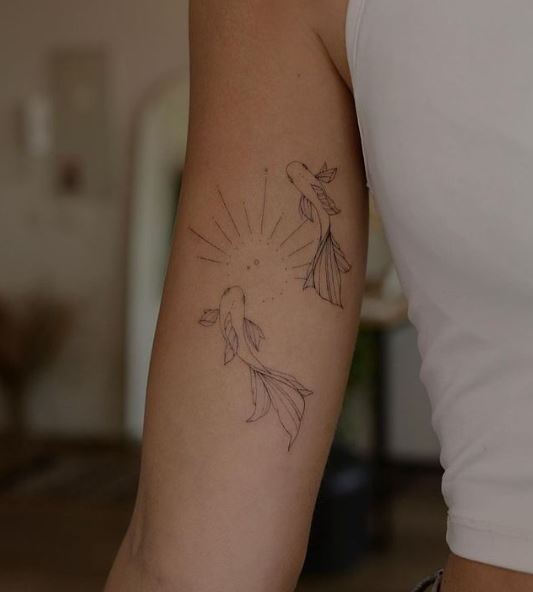 Image by @simple_tattoo_ideas via Instagram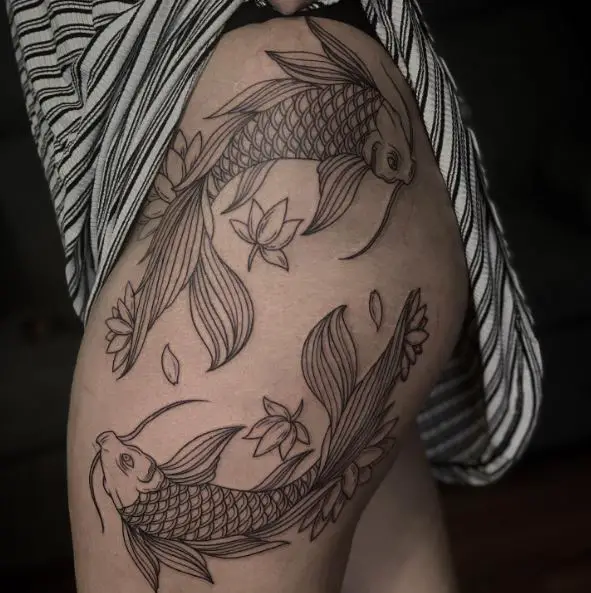 Image by @fresh_native via Instagram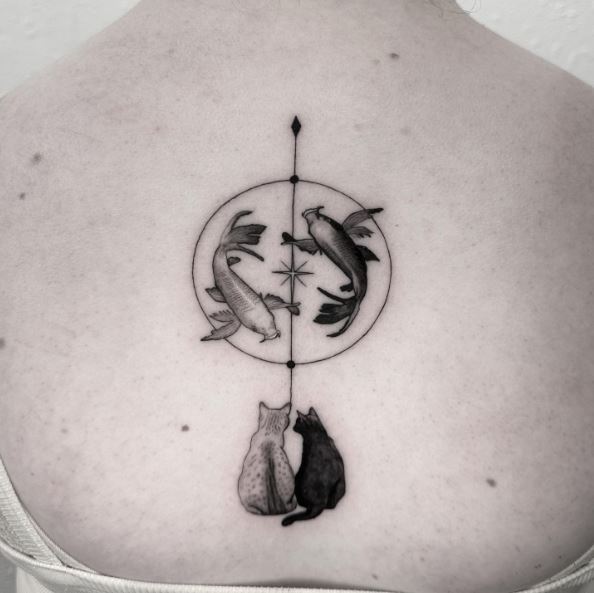 Image by @ashleylorrainelimon via Instagram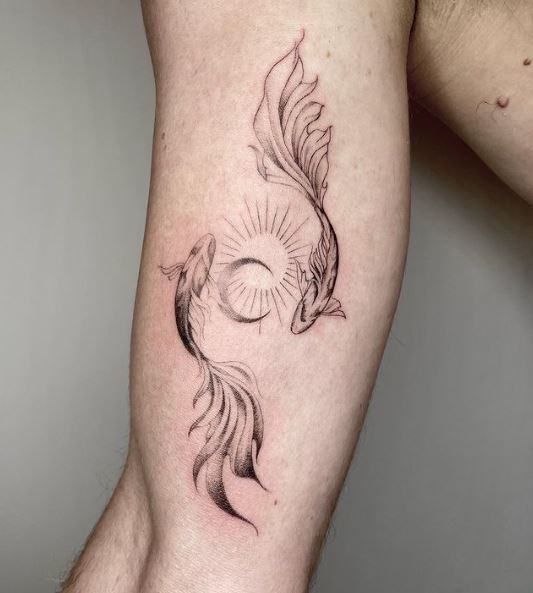 Image by @lila_satori via Instagram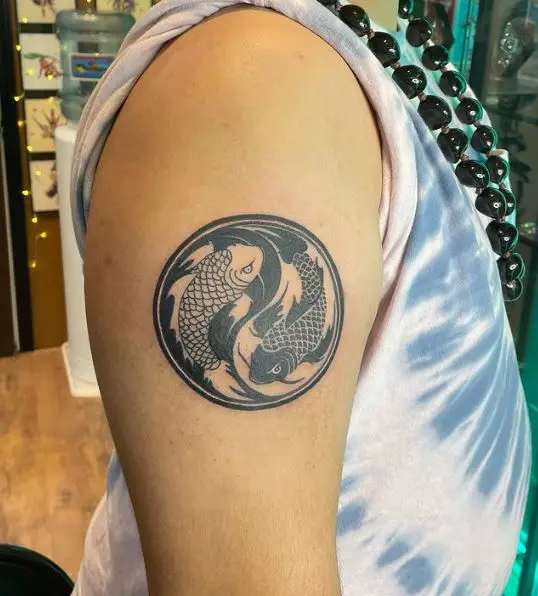 Image by @ian.cognito.tattoo via Instagram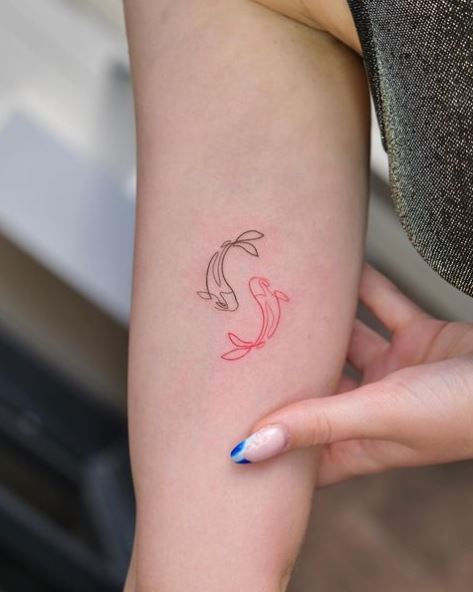 Image by @berkayerkul via Instagram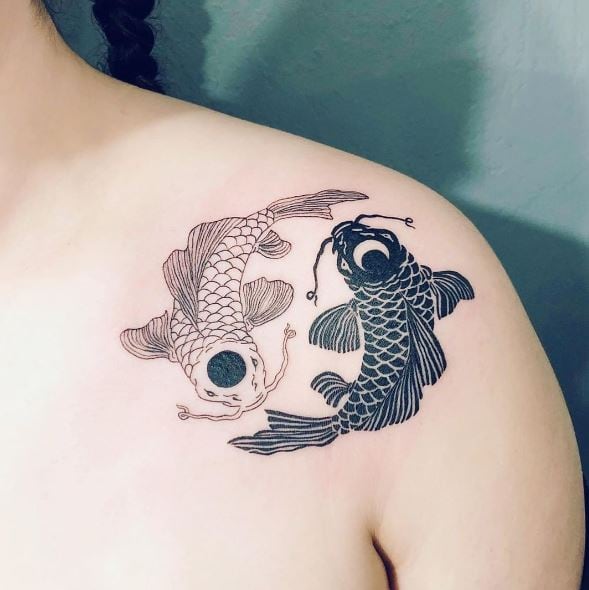 Image by @honeybeetattoo_airu via Instagram
Dragon Koi Fish Tattoo
Dragon koi tattoos are quite a popular choice. Once you hear the legend regarding this koi, you will understand why.
I touched on this topic with the gold koi, but let me go into greater detail here.
According to a Chinese myth, hundreds of gold koi fish were swimming upstream through the Yellow river. They reached a waterfall and many koi fish turned away as they couldn't handle swimming up the waterfall and were swept back into the Yellow river.
The koi that remained spent each day trying to jump up this waterfall without any success. However, they did catch the attention of nearby demons who made the waterfall even higher, out of spite.
The waterfall then became too high for any fish to conquer but some koi kept trying. Eventually, one koi made it to the top of the waterfall and was rewarded by the Gods by being turned into a golden dragon.
In some cases, this legend translates into a dragon koi tattoo. In other instances, people choose to go all out - they get an entire sleeve tattoo depicting how the legendary koi transforms into the dragon.
In any case, you have plenty of options to choose from with your dragon koi tattoo!
Image by @matthewhalltattoo via Instagram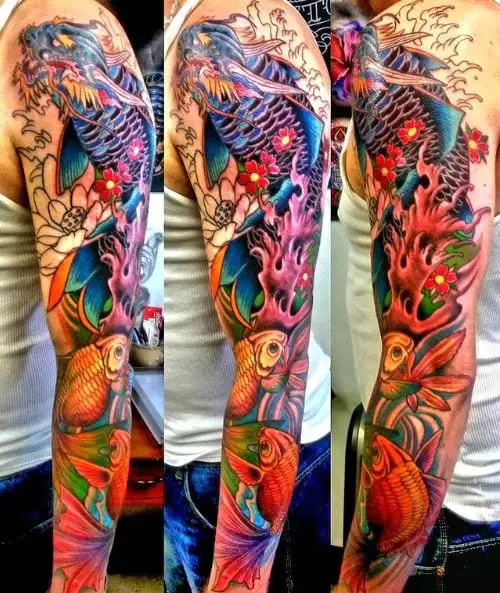 Image by @diamondtattoocustomink via Instagram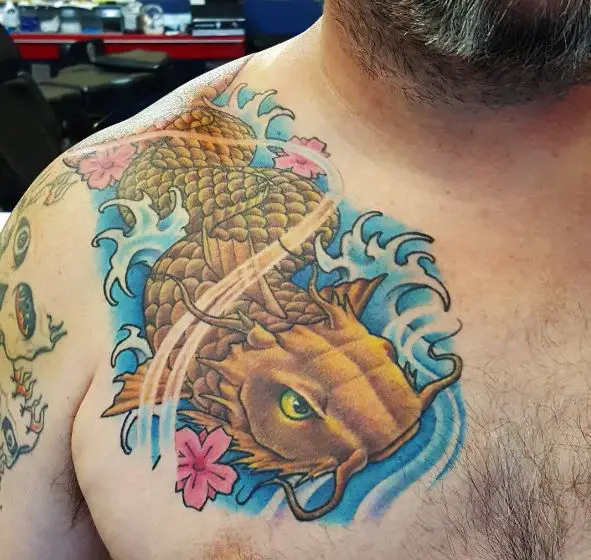 Image by @ripley_tattoo via Instagram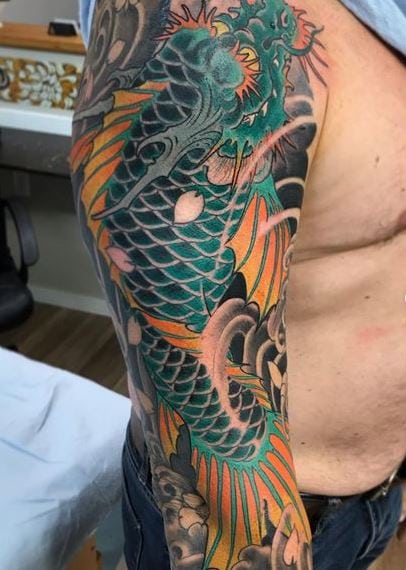 Image by @tattoo_remi via Instagram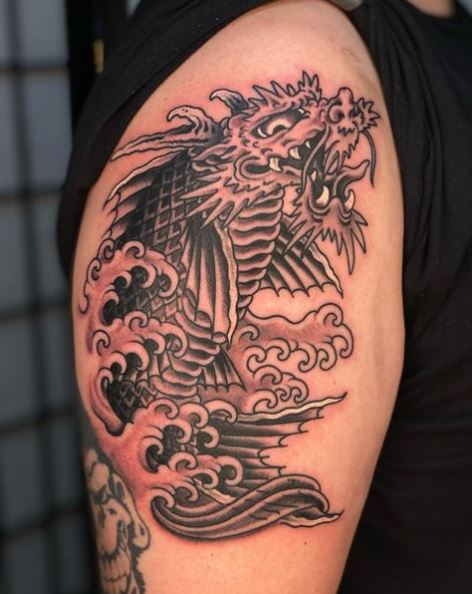 Image by @jiomorfintattoos via Instagram
Koi Fish and Lotus Flower Tattoo
Did you know that lotus flowers and lotus tattoos have a deep meaning? A lotus flower can symbolize strength and be associated with perseverance.
The lotus grows in murky waters. Despite this, it blooms into a beautiful flower with pure, clean, white petals.
There is also a spiritual meaning to the lotus - it is seen as transcending the boundaries of the physical realm and entering the spiritual one.
So, when you combine two symbols of the koi fish and the flower, you get a pretty powerful tattoo.
It is also a great option if you have deep respect for Asian beliefs or have a spiritual outlook on life.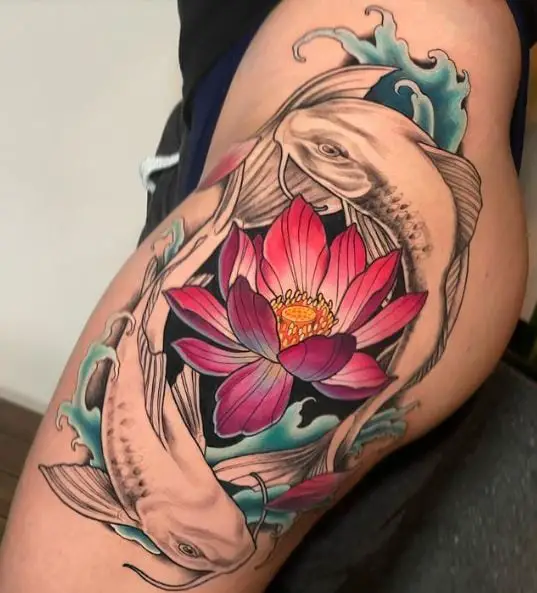 Image by @savsky_tattoo via Instagram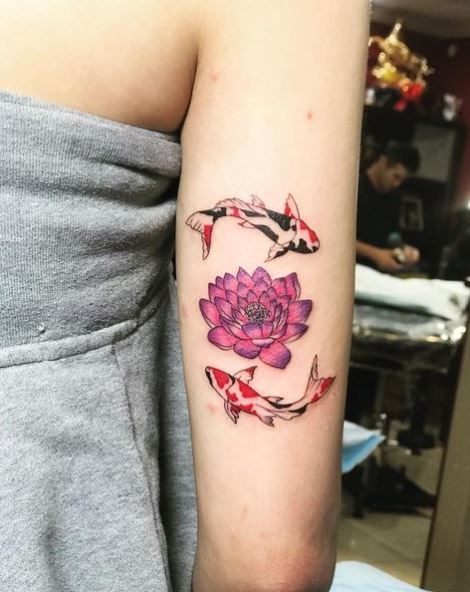 Image by @dii_9dragons via Instagram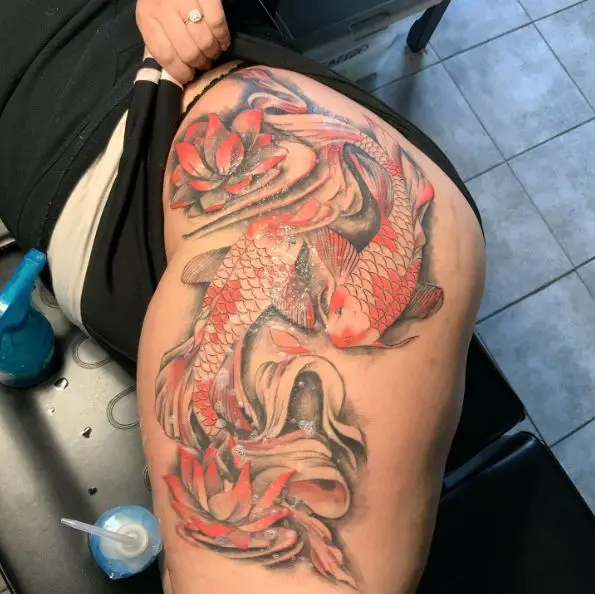 Image by @tattoosbykm via Instagram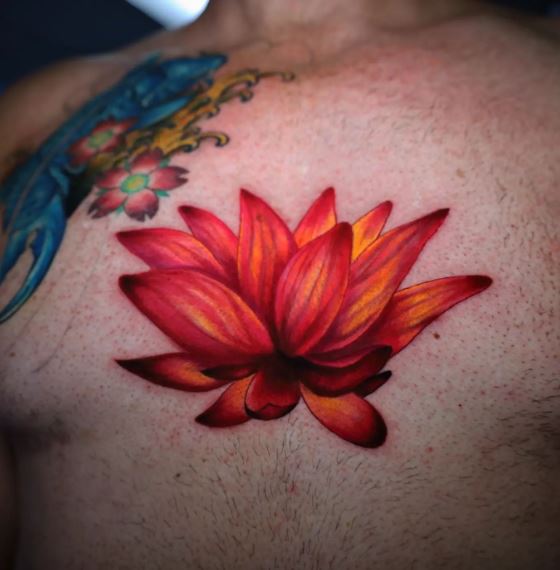 Image by @johnmykill_tattoos via Instagram
What Does Koi Fish Symbolize?
The traditional Japanese koi fish tattoo symbolizes perseverance. In addition to this, the koi fish tattoo is also associated with strength, ambition, struggle, and success.
This all has to do with how Japanese koi fish move through the water. See, koi fish swim upstream. Fish that swim upstream, against the flow of water, often have to work much harder.
However, the koi fish will eventually reach their destination.
Due to this, they are living proof that with hard work and struggle, you can achieve your goals in life.
Interestingly enough, the color variations of the Japanese koi fish can alter the meaning of both the koi as well as your koi fish tattoos.
Here is a breakdown of the koi fish tattoo colors and what they mean:
Red Koi Fish Tattoo: strength, love, motherhood, and bravery
Red and White Koi Fish Tattoo: life changes and transformation
Black Koi Fish Tattoo: career success
Blue Koi Fish Tattoo: associated with masculinity and fertility
Silver or White Koi Fish Tattoo: luck in business and wealth
Gold Koi Fish Tattoo: wealth and prosperity
The koi fish tattoo meaning can also be linked to the myths associated with the koi fish. For instance, there is a very popular legend associated with the koi.
What Does 2 Koi Fish Tattoo Mean?
Well, this does depend on the culture you are referencing.
In Japanese culture, a Japanese koi fish represents passionate love or platonic love. This is why two koi fish, particularly in a koi tattoo, are depicted together.
In Chinese culture, however, the meaning is a little different. Here, the two fish swimming together symbolize balance, often among two opposing forces.
This is why a two koi fish tattoo is synonymous with the yin yang symbol. One koi fish symbolizes light and masculinity while the other represents femininity and darkness. However, each fish contains a bit of their partner's essence to achieve true balance.
Therefore, koi tattoos with two fish will often indicate a search for balance in life. Or, it could indicate that you have found it - either within yourself or alongside a loved one.
Should Koi Fish Tattoo Face Up or Down?
Well, this all depends on what you want your koi tattoo to depict. If you like the traditional meaning of koi fish swimming upstream and facing obstacles head on, you can have the koi fish facing up.
A Japanese koi fish tattoo with the fish facing downwards could mean that you are building up the courage or strength to take on the challenges in your life. At the same time, it could indicate that you have already overcome obstacles and are leading a carefree life.
Is Koi Fish Tattoo Lucky?
In Chinese and Japanese culture, people used to bring koi fish into their homes to invoke all the positive elements associated with these fish.
In the same way, when you get a koi tattoo, you may be consciously welcoming love, prosperity, balance, wealth, and good fortune into your life.
At the very least, it could be a reminder to actively change your life so that you are more likely to succeed.
The symbolism associated with koi fish can be altered by color, other elements, and more. Now that you are aware of what this design means, you can get a tattoo that is perfectly suited to your preferences and current or desired status in life.