Leaf tattoos are one of the most requested tattoos by older adults. It is done to represent the stages of life one has to go through and how you can overcome anything if you persevere. It is also done as a symbol of rebirth and new beginnings.
There are more than a million leaf tattoo ideas you can get done due to the versatility of leaves. My favorite is the single maple leaf tattoo which represents balance, love, and longevity.
From popular leaf tattoo designs to rare leaves like that of the calathea plant, here are 53 leaf tattoo ideas to recreate.
All About Leaf Tattoos
Rebirth and New beginnings
Leaves wither with changing seasons and new leaves sprout from the dried trees when the conditions are much more favorable. This is one of the reasons why leaf tattoos are done as a symbol of rebirth and new beginnings. People who get leaf tattoos as a symbol of rebirth are those who have gone through a hard time in life but were able to overcome it all and even came out stronger.
Different Stages of Life
In spring, most trees start to grow new leaves. In summer, the leaves get big and fully grown. During fall, the leaves start to get dark with several yellow spots found on the leaf. At the end of fall, the leaves become yellow, orange, or red and this represents the decaying and dying leaves. The circle of life that leaves undergo is associated with the different stages of our lives from birth till when we become senile. This is why some people get leaf tattoos to serve as a reminder that life is not permanent. It also serves to remind them to live life to the fullest because withering is assured with time.
Death/end of an Era
Leaves generally wither and die in the fall. This is related to life by some people and they get the single-leaf tattoos to serve as a reminder to them that some days, they will be no more. Life continues even after a leaf dies, this thought related to leaves helps people to stay humble because just like leaves if one dies, life goes on.
Leaf Tattoo Designs With Their Meanings
1. Leaf Wrap Tattoo
Very dark tattoos have a way of standing out and making a statement. This dark leaf tattoo is a relatively simple forearm tattoo with simple lines and dots attached to the vine. Leaf tattoos attached to their vines are known to represent growth and progress.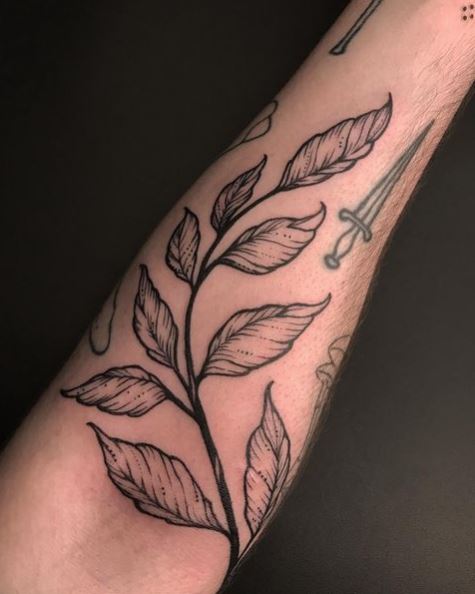 Image by @molly.stark.art via Instagram
2. Fine Line Valentine Leaf Tattoo
A minimalistic leaf tattoo design to recreate if you prefer simple designs. You can add more colors or get yours done using colorful lines to make the design pop.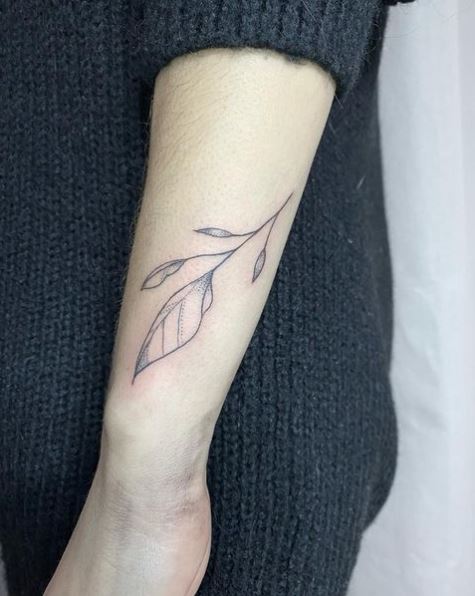 Image by @leptitateliervendee via Instagram
3. Simple Chinese Ink Leaf Tattoo Design
Chinese ink tattoos are becoming popular due to their unique appearance. I suggest getting yours bigger to make it stand out better.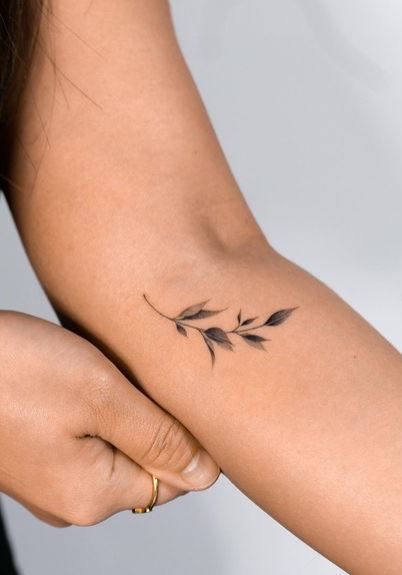 Image by @tattooist_kam4 via Instagram
4. Dark and Faint Leaves Tattoo
The faint leaves drawn here works well to compliment the darker shaded leaves. Dark and faint leaves are said to represent peace and purity.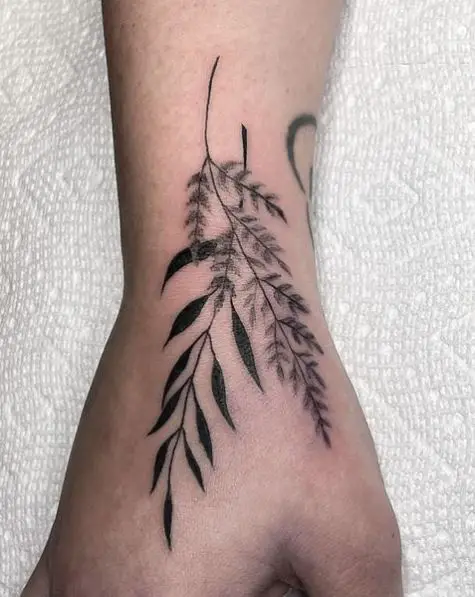 Image by @awall_art_ via Instagram
5. Thin Bay Leaf Tattoo
The symbolic meaning of bay is healing and care. Here, a very thin bay leaf tattoo is done to spread from the shoulder to the arm region. This is a classy tattoo design to have on, but you can add other elements like butterflies or flowers to make the tattoo stand out.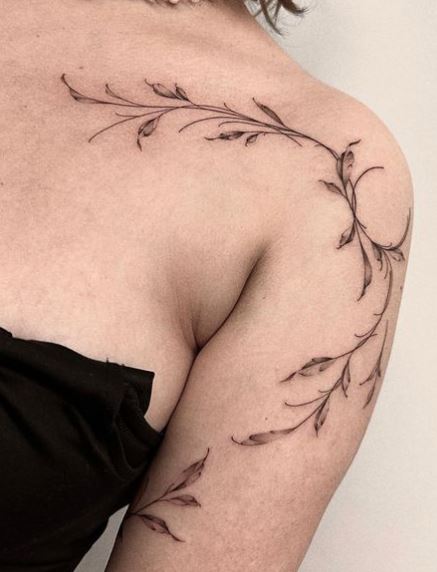 Image by @g__tattooer and aucklandtattoo via Instagram
6. Dogwood Leaf Tattoo
Dogwood tattoo represents faith and hope. This is a nice tattoo idea to keep you going when you feel lost or face challenges.
Image by @baeckha_ via Instagram
7. Leaf With Branches to the Sunlight
A creative tattoo that features a simple leaf extending up to the sunlight. You can get this done to serve as a reminder of how far you'd like to go in life.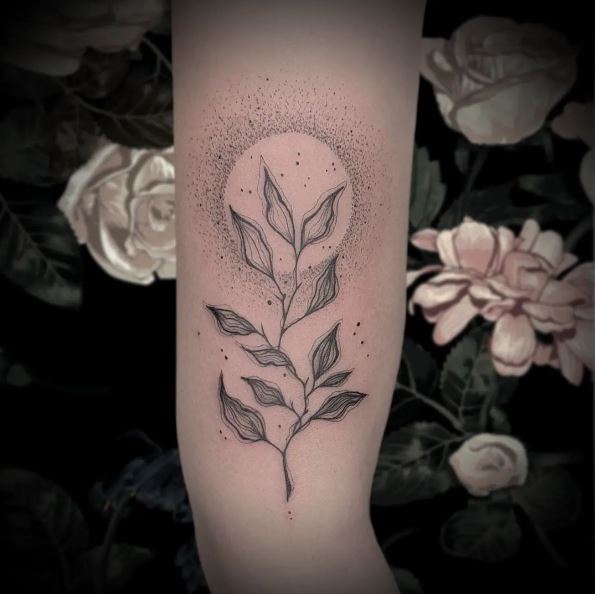 Image by @mimosas.malerei via Instagram
8. Oak Tree and Oak Leaf Tattoo
Oak trees have an ancient symbolic meaning attached to them. The oak leaf and tree are said to represent perseverance and courage.
Image by @bentlace via Instagram
9. Small Leaf Design
Simple leaf tattoos with no extra beautification factors are said to represent wisdom and growth.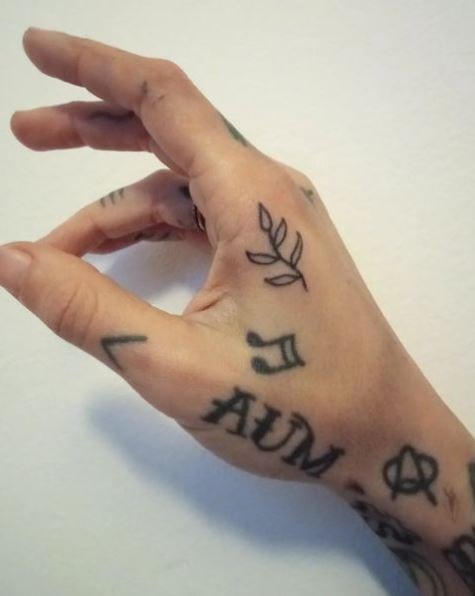 Image by @squarepegyoga via Instagram
10. Mixed Floral Leaf Tattoo
Leaf tattoos are popular happiness tattoos to get done. You can get creative with your tattoo by mixing other happiness tattoos symbol to your tattoo as done here with the lines and dots to make the meaning very obvious.
Image by @ratqueenink via Instagram
11. Traditional Leaf Tattoo
The trio of nature leaves represents your strong connection with the earth and earthly energy.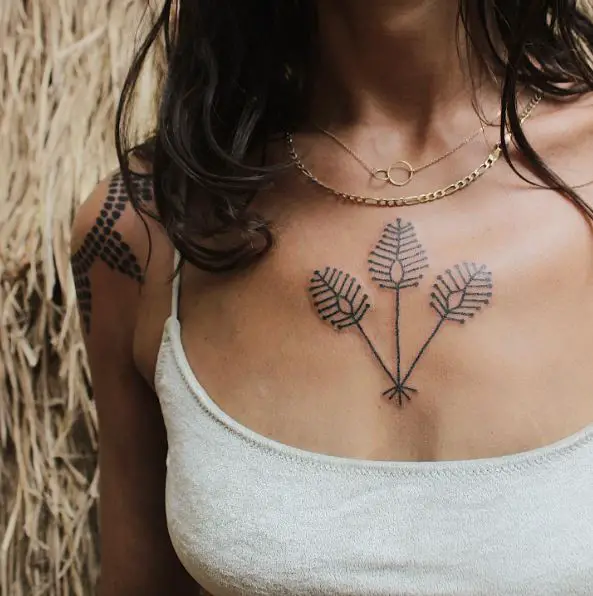 Image by @corrieforeman via Instagram
12. Pretty Broad Leaf Tattoo
The size of this tattoo makes it stand out. Unsurprisingly, a broad thigh tattoo gives you that magical feel to help boost your confidence.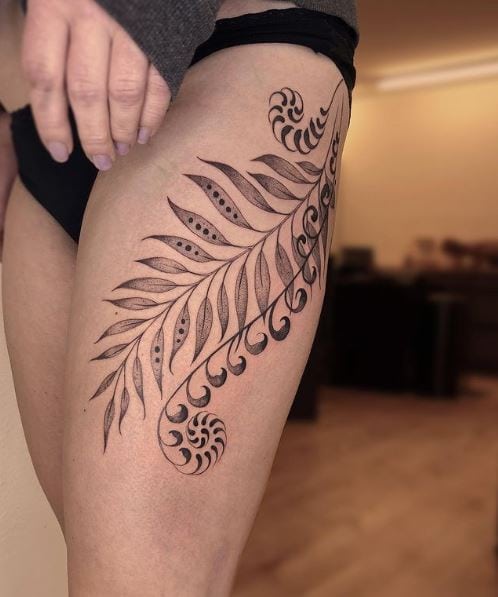 Image by @sarah.maria.tattoos via Instagram
13. Leaf Tattoo With Label
This is a creative arm tattoo design that features a leaf in a box with some labels.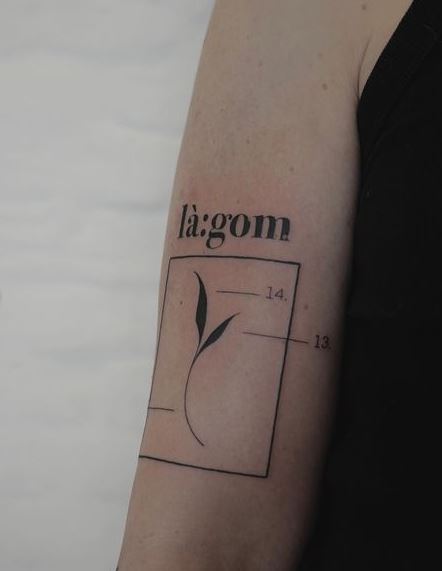 Image by @majorie.tattoo via Instagram
14. Neck Leaf Tattoo
Fan of neck tattoos? Here is a lovely leaf tattoo to recreate.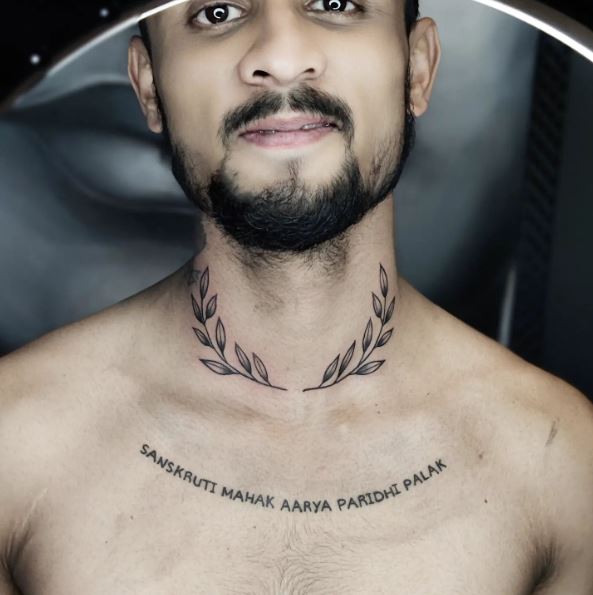 Image by @monsan_tattoo_and_artandchhindwara_monsan__tattoo via Instagram
15. Colorful Death Dogwood Leaf Tattoo
The varying colors used in this death dogwood tattoo pair perfectly together.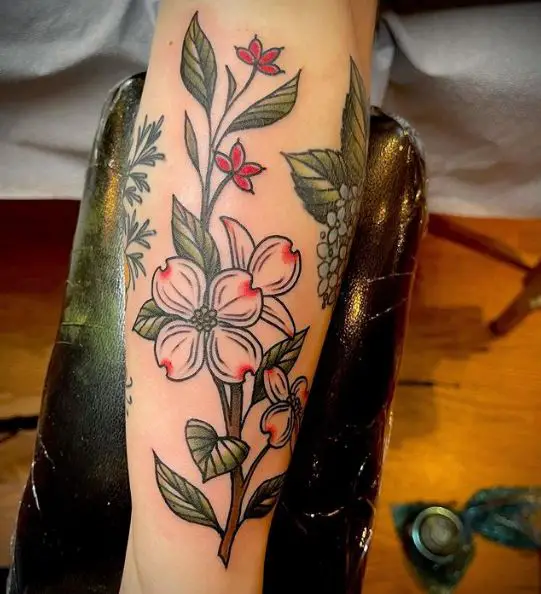 Image by @dani.c.tattoo via Instagram
16. Maple Single Leaf Tattoo With Lines
A single-leaf tattoo of maple is an ancient heraldic symbol that is said to represent courage and healing.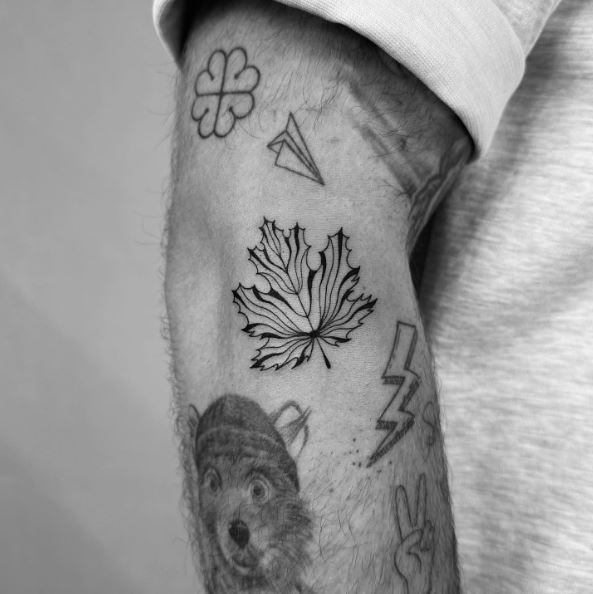 Image by @memor.inks via Instagram
17. Cute Fern Tattoo
Ferns are complex tattoos that represent the complexity of the life cycle.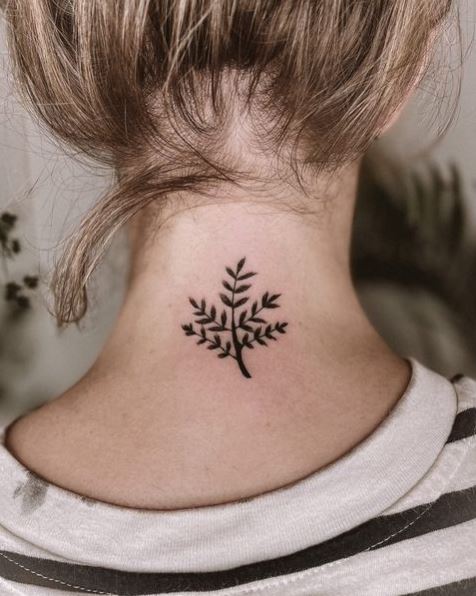 Image by @phoebetattoos via Instagram
18. Tarot Card and Leaves Tattoo
You'll need an experienced tattoo artist to recreate this design of a tarot card hosting several leaves.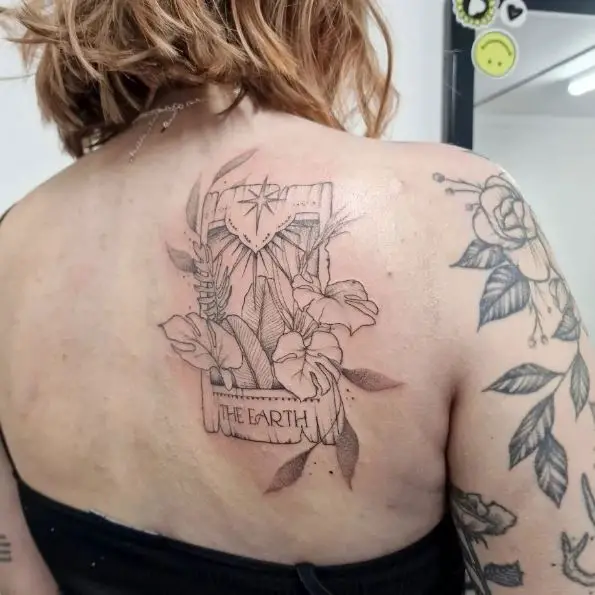 Image by @c.knight_tattoo via Instagram
19. Leg Plant Tattoo
The slightly crooked leaves of this tattoo represent how you should keep going despite the storms you might encounter in life.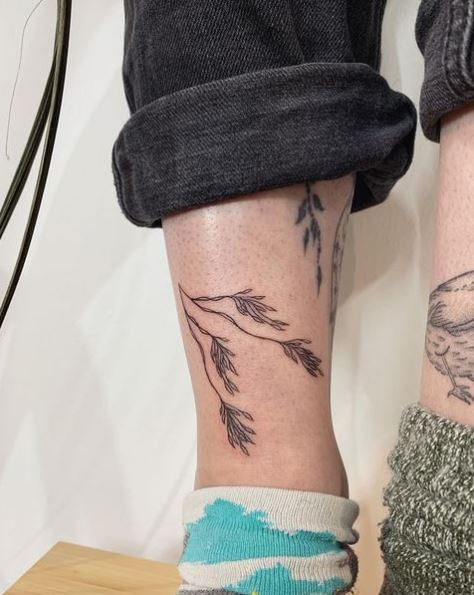 Image by @skyxfyre via Instagram
20. Old and Growing Dandelion Tattoo
The dark black ink used to bring this tattoo to life is simply amazing.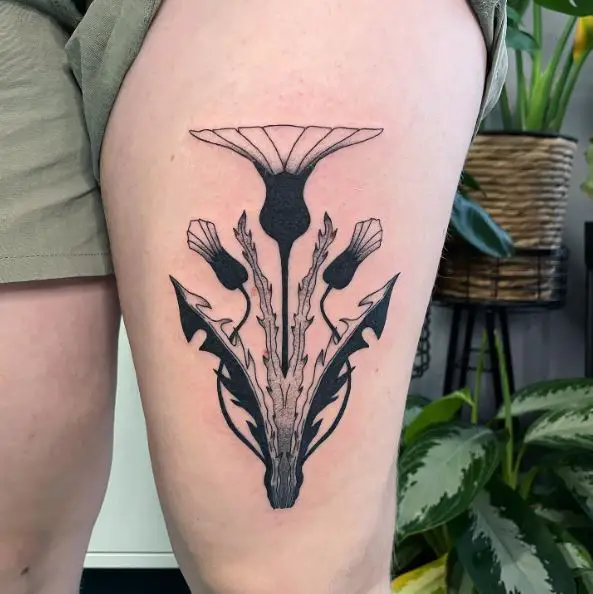 Image by @ratqueenink via Instagram
21. Cute Flower Tattoo
You should get this done if spring is your best season, since one look at this tattoo and you're reminded of spring.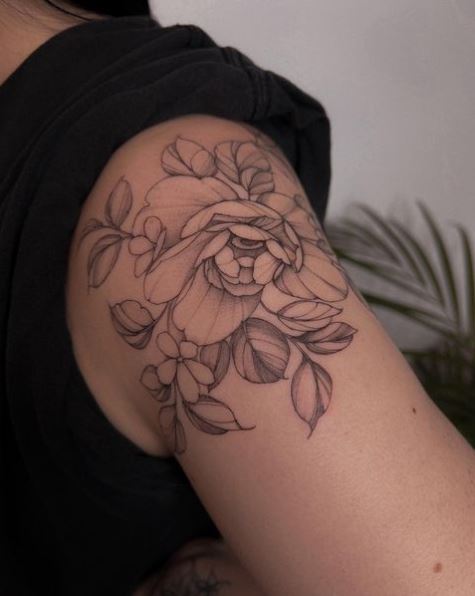 Image by @aldoshyna_t via Instagram
22. Extended Thigh Tattoo
Thigh tattoos always look sensual and eye-catching. Not a fan of thigh tattoos? You can switch the placements and get this done on any part of your body.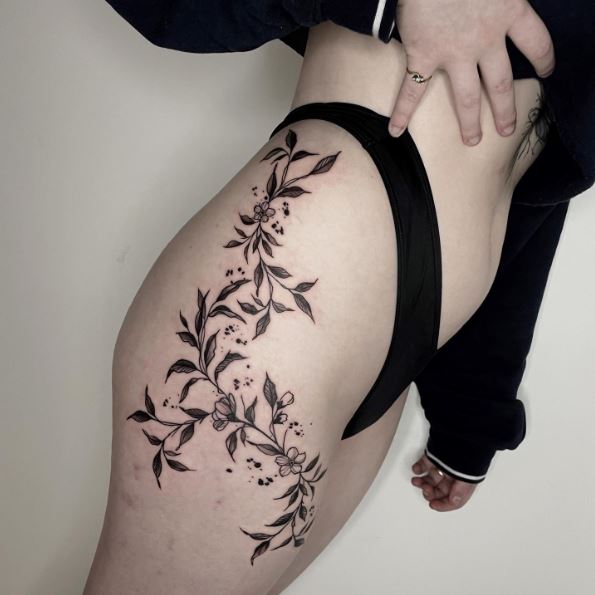 Image by @nsmactattoos via Instagram
23. Leafy Vine Leaf Tattoos
Leaf tattoos look really great on the shoulder. What do you think?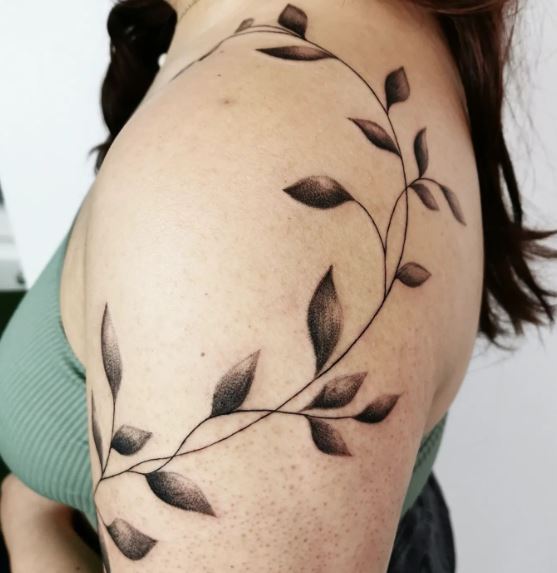 Image by @tattoo.ate.9 via Instagram
24. Fine Lined Pencil Shading Tattoo
This is a classy leaf tattoo that will do well to complement your wide-backed clothes.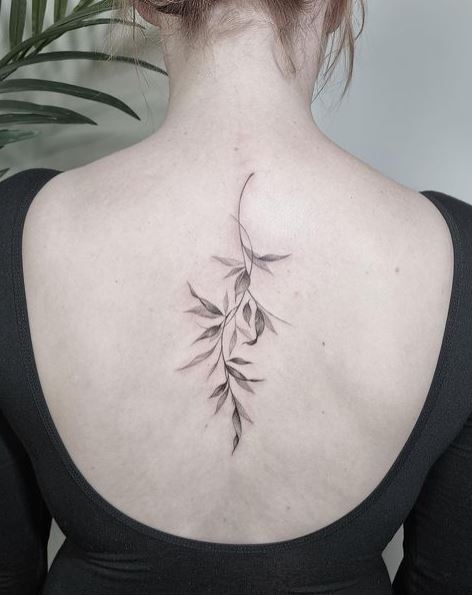 Image by @aviosa_tattoo via Instagram
25. Collarbone Leaf Tattoos
Regardless of the placement, your leaf tattoo will turn out to look extra cool and stunning.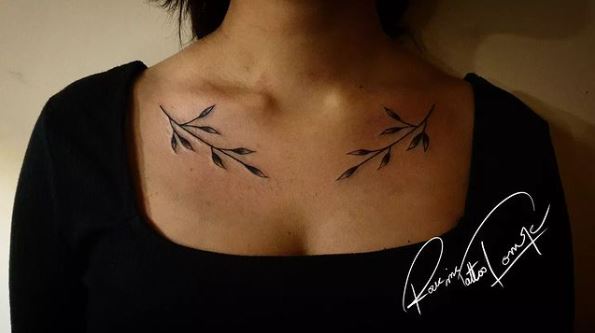 Image by @rockinktattoolounge via Instagram
26. Huge Leaf Tattoo Designs
The green colorful look of this tattoo gives it a realistic appearance.
Image by @almondbee__ via Instagram
27. Mountain and Leaf Tattoo
The creativity displayed by the tattoo artist is just out of this world.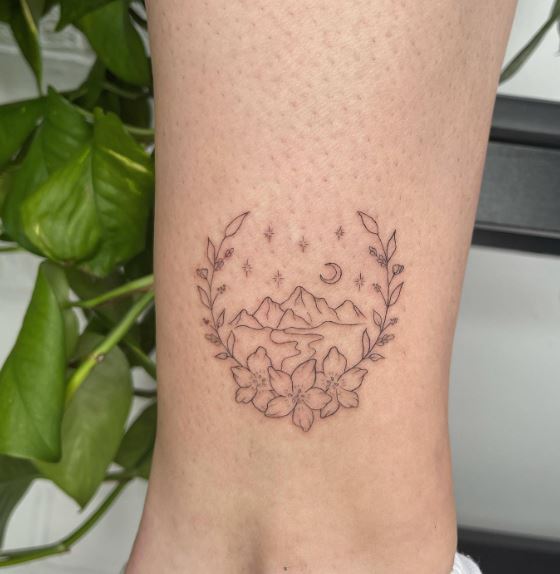 Image by @lucyvalentinatattoo via Instagram
28. Attractive Leaf Tattoo
Another image proving less is more. You can get this done in different colors or add other symbols of your choice to express your personality.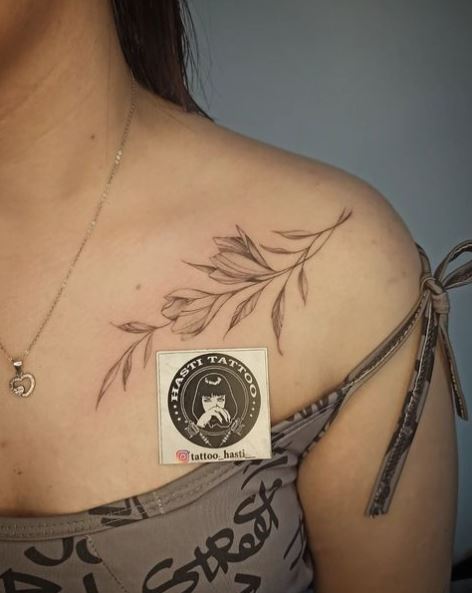 Image by @tattoo_hasti__ via Instagram
29. Large Tattoo Design of Ferns
Large fern tattoos are said to represent strength and endurance. It can be done as a reminder of the challenges you've overcome and how they gave you strength.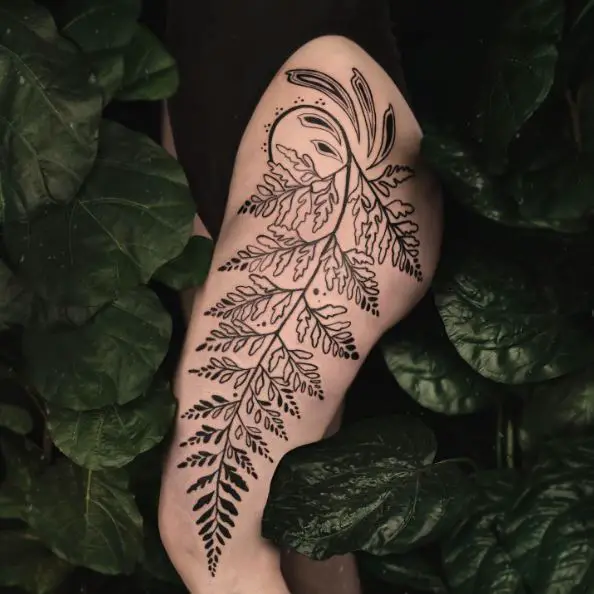 Image by @madame._.medusa via Instagram
30. Leaf and Petal Bracelet Tattoo
Another twist to the bracelet leaf tattoo with added petals to beautify the image.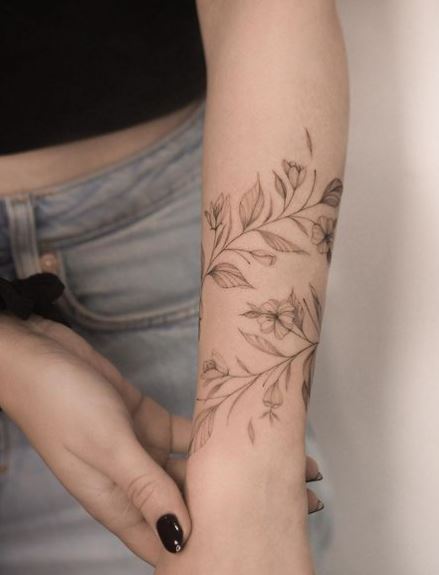 Image by @selintufekcink via Instagram
31. Intertwining Leaf Tattoo
The meaning attached to this intertwining faint and dark tattoo is change and progress.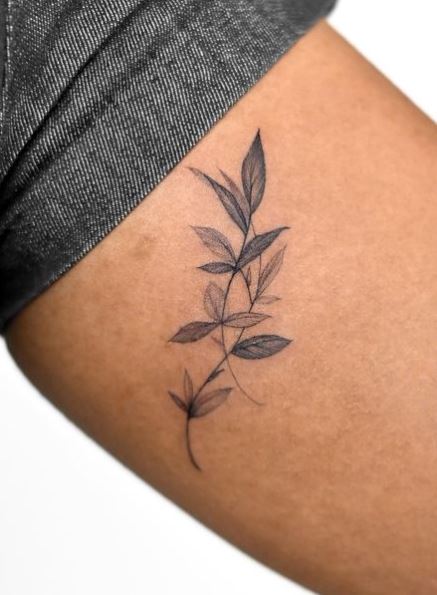 Image by @vanya.ink via Instagram
32. Dark Palm Leaf Tattoo
Palm leaves have a unique look and are sometimes said to represent mystery and healing.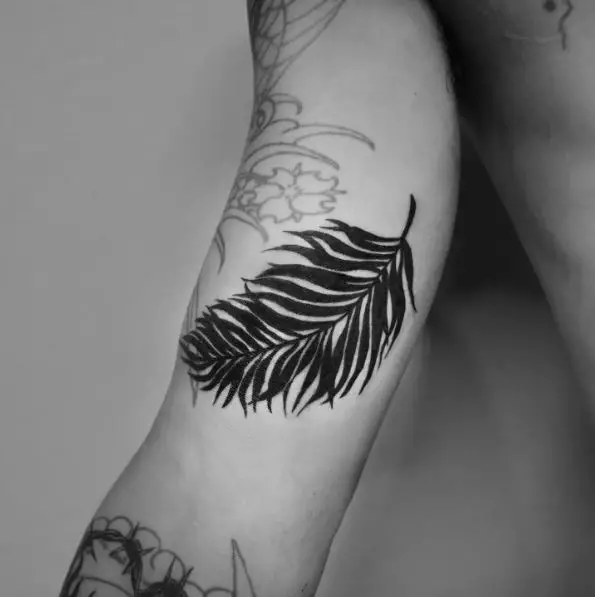 Image by @zerokid_tattoo via Instagram
33. Encroaching Leaf Tattoo
This leaf tattoo is drawn growing towards the heart of the wearer. It symbolizes strength and willingness to love.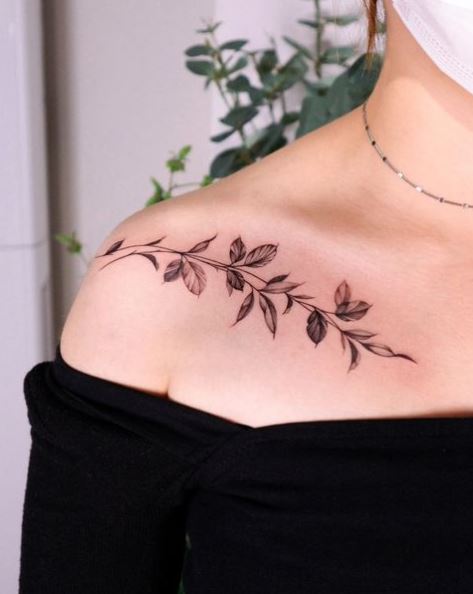 Image by @yunsu_tt via Instagram
34. Forearm Leaf Tattoos
All tattoo enthusiasts know how cool forearm tattoo designs are. The leaves tattoo done here is a versatile one that will look good on men and women. If you would like to add a feminine touch to it, you can add colors to make the tattoo look vibrant.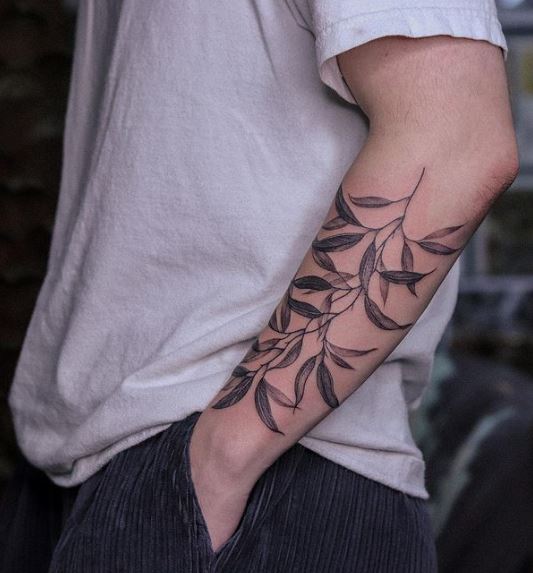 Image by @seolin_tattoos via Instagram
35. Simple Lines Leaf Tattoo
This perfect line tattoo is a classic that will have you appearing subtle yet attention-grabbing.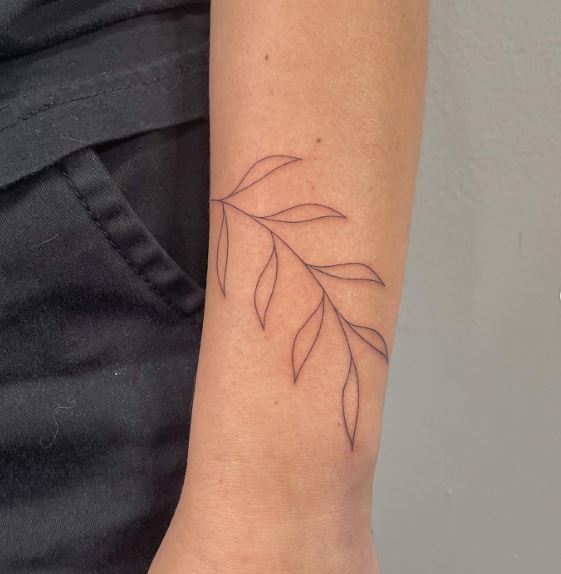 Image by @oatmilktattoo via Instagram
36. Leaf Tattoos With Sparkles
You can incorporate symbols like celestial drawings or sparkles into your leaf tattoo to take the beauty up a notch.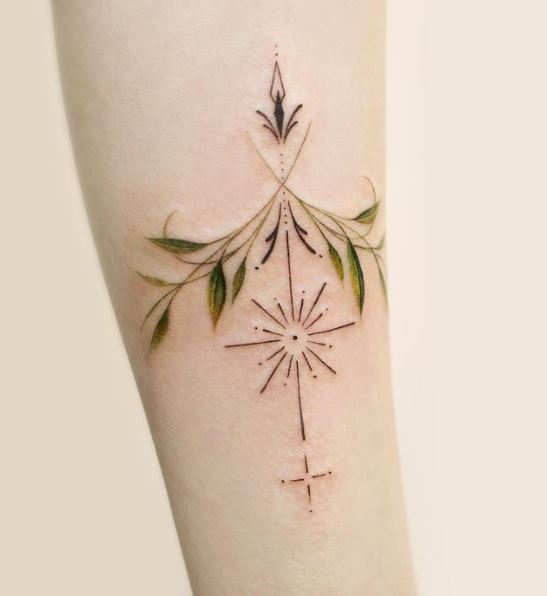 Image by @ch.tattoo.ahn via Instagram
37. Leaf with Fluid Line Faces
The faces blend seamlessly with the leaves drawn in this tattoo.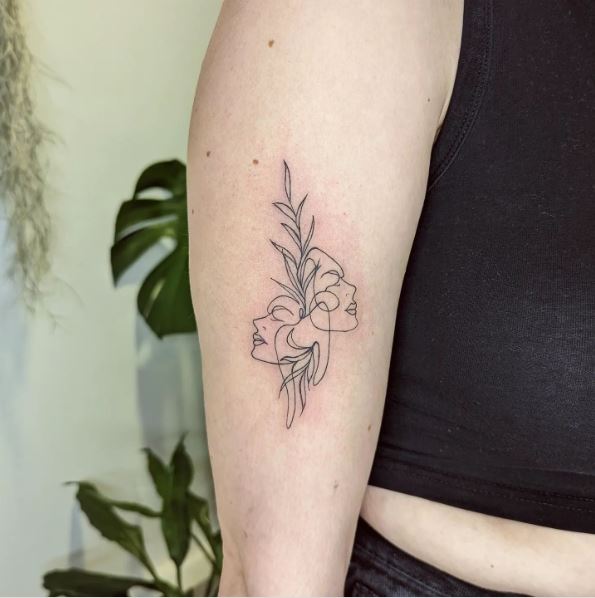 Image by @takeme2atlantis via Instagram
38. Vibrant Leaf Tattoo Ideas
This hyper-realistic tattoo features a maple leaf falling from a tree in the autumn season. The autumn leaves are done in a beautiful way with some optical illusion of lights around the maple leaf.
Image by @shooby_tattoo via Instagram
39. Geometric Maple Leaf Tattoo
A simple maple tattoo with bold lines and sharp angles. This is a design loved by many men since it is said to exude masculinity.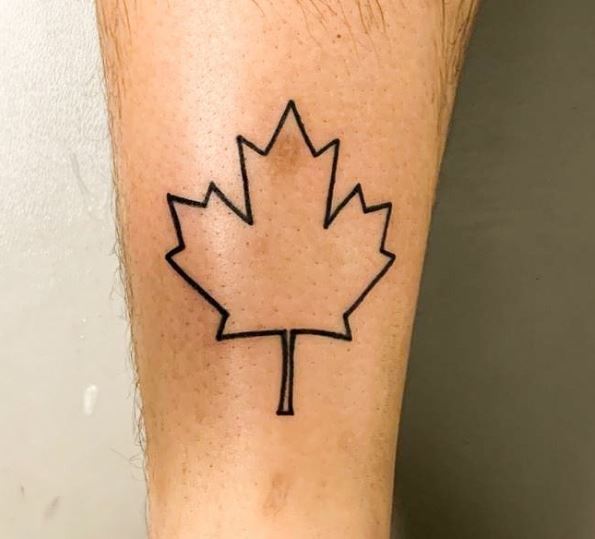 Image by @darcastudio via Instagram
40. Single Maple Leaf Tattoo
A Maple leaf is a specific leaf that speaks thousands. When drawn in autumn colors, they are said to represent the last phase of the cycle of life, where they die and are reborn.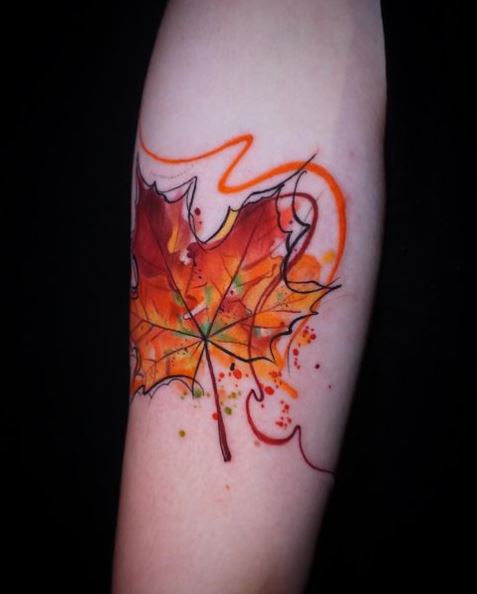 Image by @aygultattoo via Instagram
41. Simple Line Work Leaf Tattoo
Another simple leaf tattoo for people that prefer minimalistic and simple tattoo designs.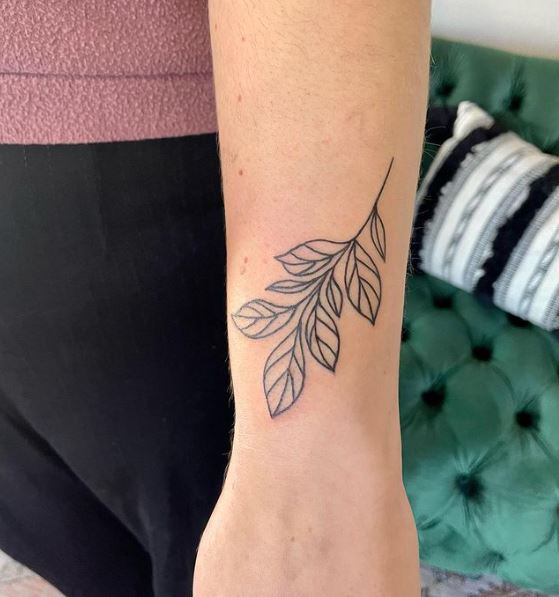 Image by @art.by.emmieee via Instagram
42. Branch and Leaf Tattoo on Rib Cage
This is a lovely tattoo on the rib cage for nature lovers. Want to make things way cooler? add images of butterflies or any other tattoo that reflects nature.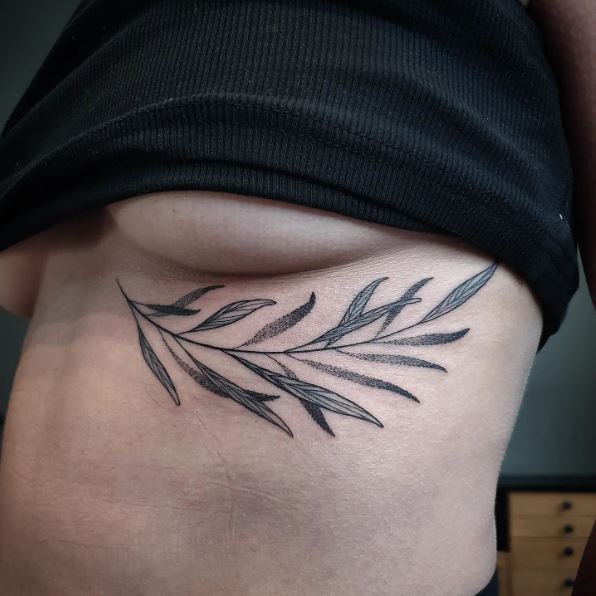 Image by @hnr_tattoo via Instagram
43. Faint Hummingbird and Leaf Tattoo
Nature's greatest pollinators(hummingbirds) are added to this lovely leaf tattoo and I haven't seen anything more gorgeous.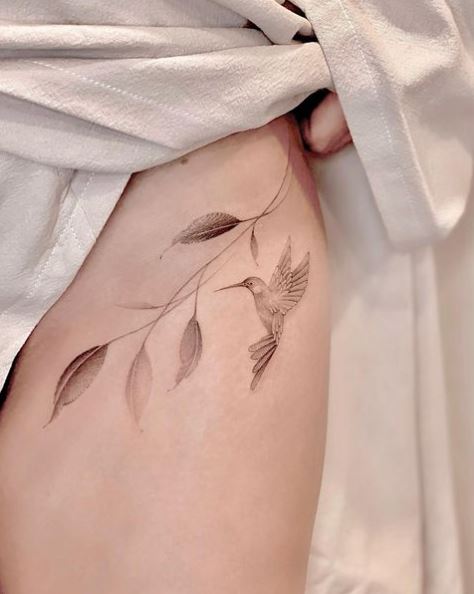 Image by @dudutattooist via Instagram
44. Black and Grey Maple Leaf Tattoo
The maple leaf tattoo here looks a lot like ivy and is done with the stippling technique (use of small dots to form patterns, images, shapes, and shading). This is a versatile tattoo technique that looks great on men and women.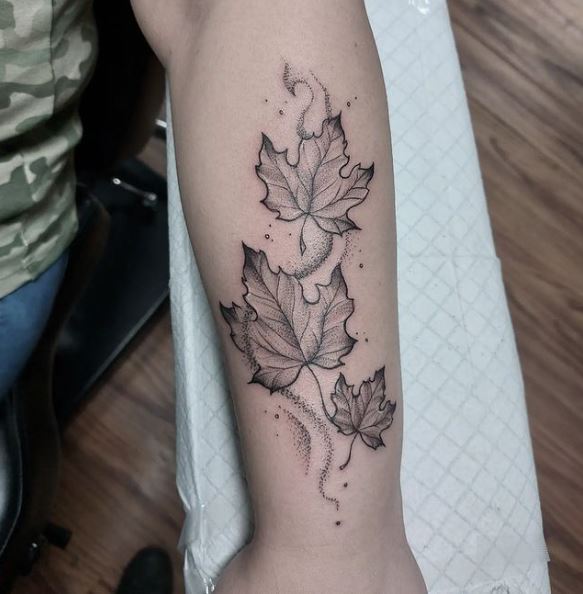 Image by @kelseytattooss via Instagram
45. Knee Leaf Tattoo Designs
There's literally no part of your body where you can't get a leaf tattoo done.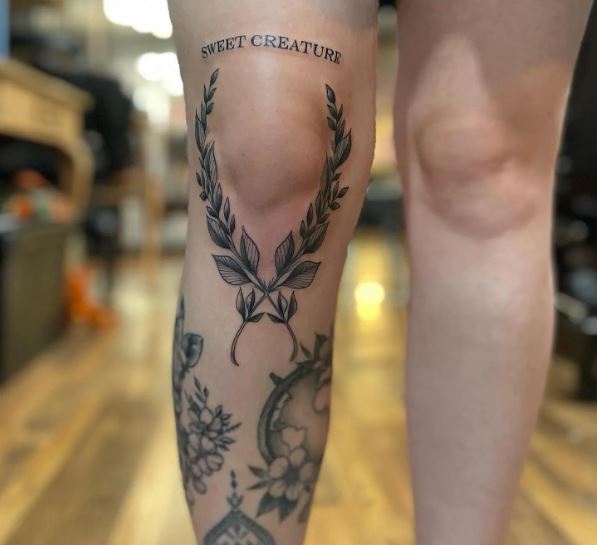 Image by @dpetattoolounge via Instagram
46. Blue Plant Tattoo Designs
Most leaves are green, but there's no rule against getting a plant tattoo in your favorite color. Take this blue plant tattoo for instance.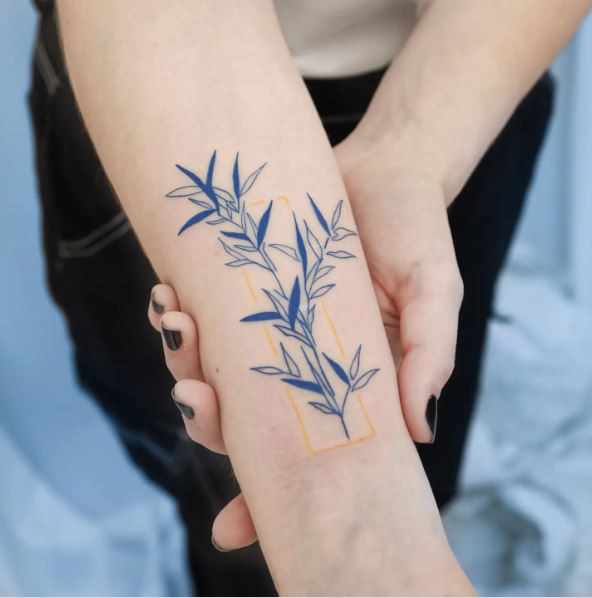 Image by @yoy__tattoo via Instagram
47. Detailed Fern Leaf Tattoo
Most religious people get fern leaf tattoos as a symbol of honesty and truth.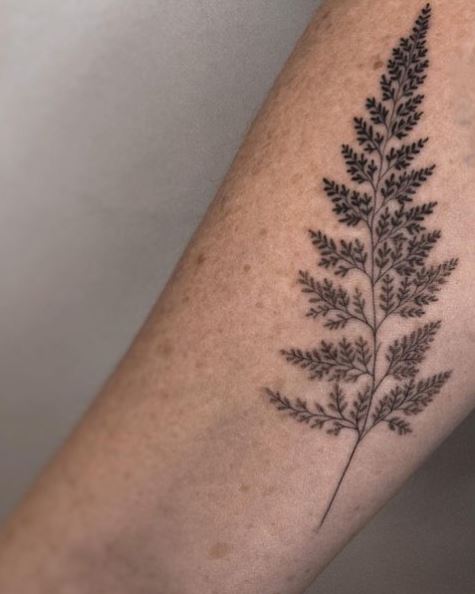 Image by @alina.tattoo.ink and studioholloway via Instagram
48. Withered Leaf Tattoo
Long slender withering leaves tattoo, a perfect design for autumn season lovers.
Image by @tattooist_myoa via Instagram
49. Monstera Leaf Tattoo
In ancient times, monstera leaves were seen as a symbol of need and ambition. This meaning was gotten from how monstera leaves divide with the slightest dehydration.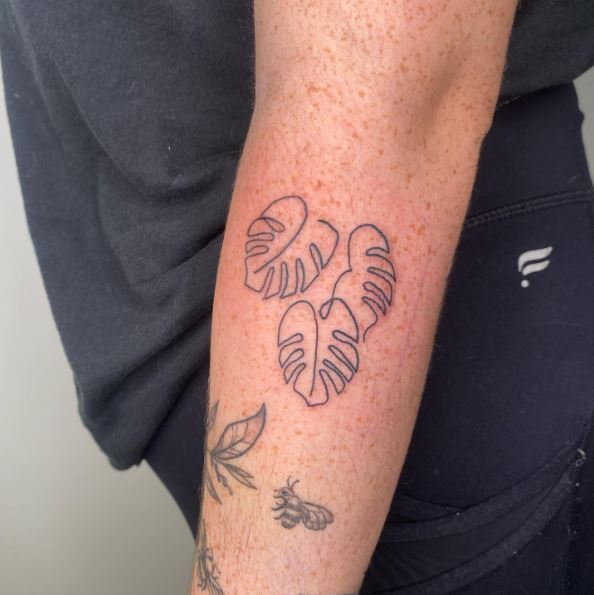 Image by @samanthadeirtattoo via Instagram
50. Sagittarius Leaf Tattoo
The perfect leaf tattoo design for Sagittarius.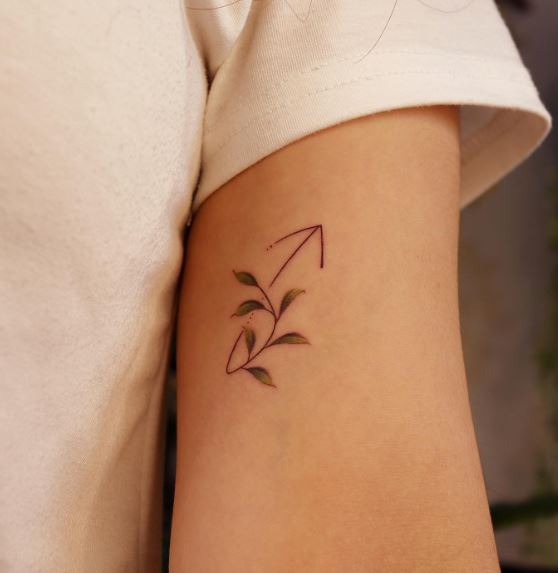 Image by @noul_tattoo via Instagram
51. Long Back Leaf Tattoo
I love how the leaves of this tattoo extend throughout the expense of the back.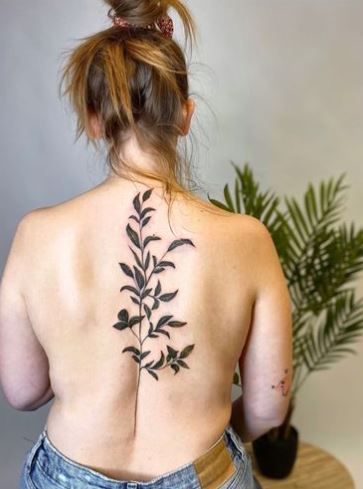 Image by @almondbee__ via Instagram
52. Blue Vine and Leaves Tattoo
Blue leaf tattoos look otherworldly and have a magical feel. You can get yours done in your favorite color to express your own personality.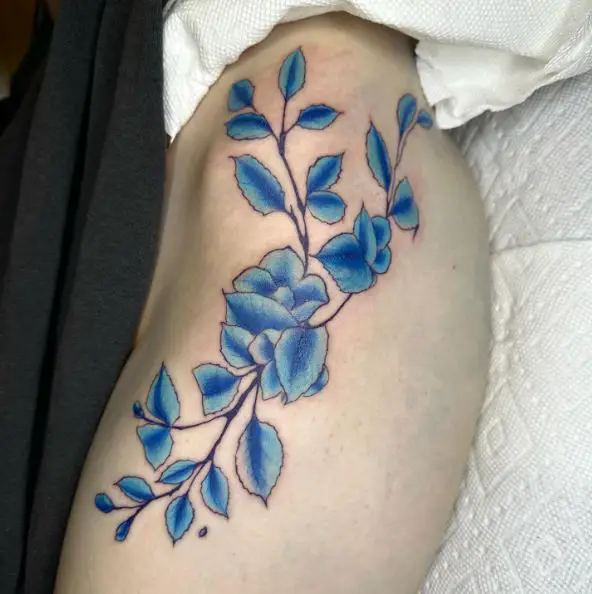 Image by @jakitatu via Instagram
53. Pink and Green Leaf Tattoo
The soft pastel mix of green and pink of this tattoo design is enough to help you relax after a stressful day.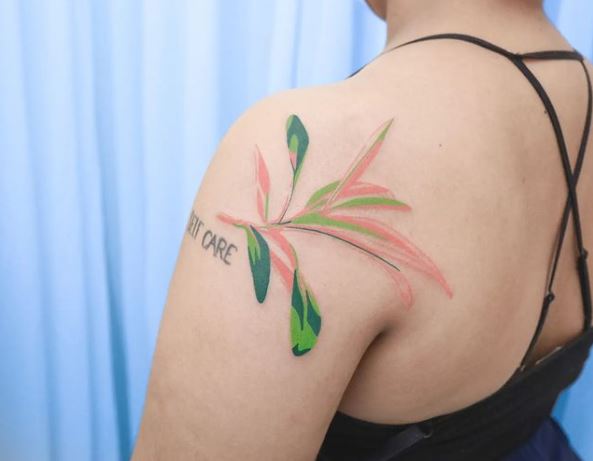 Image by @yoy__tattoo via Instagram
Leaf tattoos are one of those tattoo designs that look good on both men and women. Leaves represent happiness, courage, and endurance. There are numerous choices when it comes to selecting a leaf tattoo. So pick your favorite and have fun recreating it.