Medusa tattoo is seen as a symbol of female power, strength, and survival. It is usually popular among survivors of sexual assault, especially women. Men who request the tattoo have family/friends who have been assaulted before.
I once had a conversation with a lady who came for a medusa statue tattoo. For her, the decision to get the tattoo was a big step to moving on from the traumatic incident she encountered. She told me about how Medusa's story made her feel seen, and why she decided to get the tattoo as a source of strength and inspiration.
Keep reading to learn about the story of Medusa, with the top 55+ tattoo designs you can recreate.
Mystery of the Gorgon Medusa
Medusa was one of the three gorgon sisters alongside Stheno and Euryale. Her sisters had already manifested as hideous creatures with snake hair and a gaze that could turn one into stone. She was human, with the gorgon genes.
According to ancient Greek mythology, the innocent maiden caught the eye of Poseidon (the God of the sea). Poseidon decided that he could have anyone he wanted as he was a god. He made advances at Medusa that were rejected and decided to rape her to teach her a lesson.
Poseidon raped Medusa in Athena's temple. Despite being the victim, she was blamed for defying the temple. According to history, she was one of the first women to undergo victim blaming in the world. Not only was she blamed for the sexual assault, but Athena also cursed her to become a horrible snake-haired monster (like her sisters), with a gaze that could turn a person to stone.
You'll expect anyone to fall apart or become lost when doomed with faith like Medusa's, but she didn't let herself get victimized. She became one with her venomous snakes and used them, together with her ability to turn people into statues to ensure she didn't become vulnerable ever again.
Since Medusa was bestowed with the ability to turn whoever she looked at into stone, she became a threat to the entire world, because she was angry at everyone.
She wreaked havoc and killed many people, both the deserving and the undeserving. King Polydectus had to do something to stop the killing and sent Perseus to find and eliminate Medusa.
Perseus knew he wouldn't find it easy to kill her due to how strong she had become. So he had to get help from the gods who provided him with divine and powerful tools.
Perseus got a polished shield from the goddess Athena which he used to protect himself from Medusa's gaze. He got a harpe and adamantine sword from Hephaestus which he used to behead Medusa.
After the beheading, Perseus used her head to fight many battles and changed his enemies to stone.
What Does a Medusa Tattoo Mean?
Female Strength
Medusa did not allow her faith to define her, she accepted her faith and used it as a source of strength. This is why she is seen as a major inspiration of strength for women.
Sexual Assault
Most women who have experienced sexual assault get the Medusa tattoo to show the world that they're strong and confident, despite what they have gone through. It's a way of declaring that survivors of sexual assault are not afraid to take on the world and become the best versions of themselves.
Protection
Medusa was always called a snake-haired monster in Greek mythology. She had several poisonous snakes on her head that were capable of attacking those that stood in her way.
This is why people get the Medusa tattoo as a powerful symbol of protection against evil. Medusa was very dangerous, so her tattoo was also said to serve as an apotropaic symbol of female power used to ward off the evil eye. (The evil eye is a curse in Greek culture that is still believed to exist by some).
Special Placement of the Medusa Tattoos
Medusa Chest Tattoo
Want to go all out on your medusa tattoo? Then it would be best if you get the ancient Greek design on your chest. Here, your tattoo artist has enough space to flex with the tattoo design.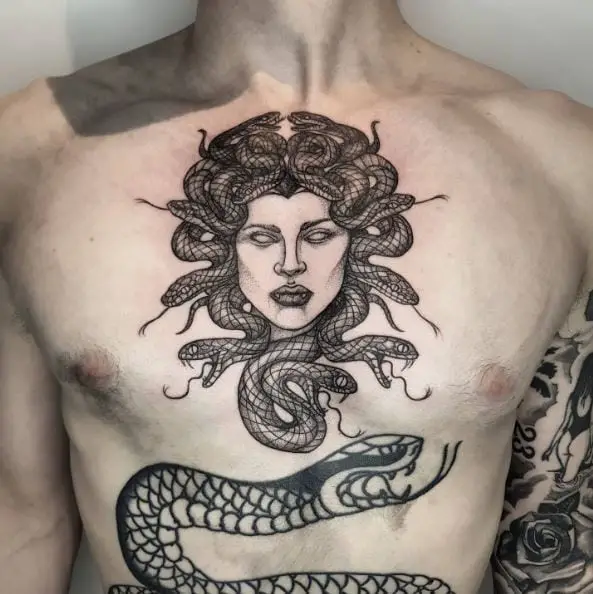 Image by @mokomedublin via Instagram
Medusa Thigh Tattoo
The Medusa thigh tattoo looks incredible on females. It is used to express female power and expresses Medusa's image in a confident way.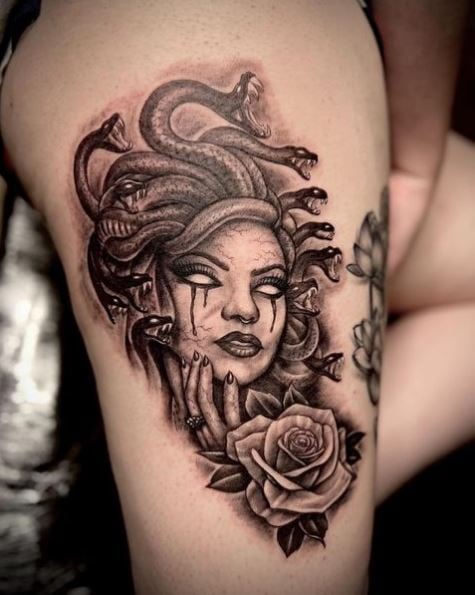 Image by @xtremeinkgeelong via Instagram
Medusa Sleeve Tattoo
Medusa tattoos on the sleeve are popular among guys. Some men get tattoos in support and solidarity with the fight against sexual assault.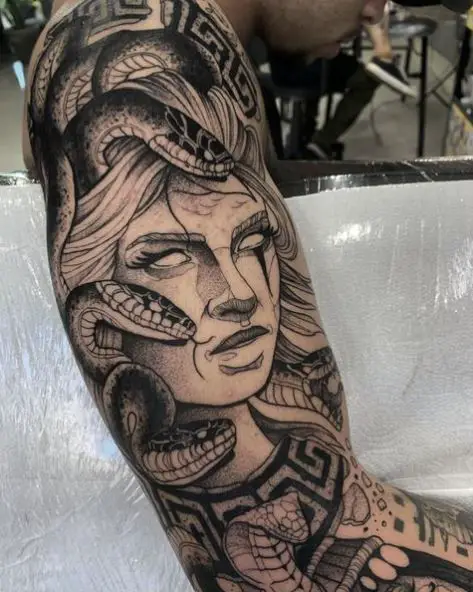 Image by @phelipesilva.tattoo and deep.ink_ via Instagram
These 3 locations are said to work best with the tattoo but notwithstanding. You can get your art in any location you are most comfortable with.
55+ Medusa Tattoo Designs For You
Evil Medusa Tattoo
The beautiful maiden Medusa was brutally raped in Athena's temple and also punished by the goddess Athena, who changed her into a snake-haired figure. This is enough to make even the kindest people turn wicked.
Here, Medusa is depicted as evil and ready to conquer the world. The beautiful tattoo stands out and might be misinterpreted by those who are unfamiliar with Medusa. The most common interpretation of the tattoo is usually 'unwarranted evil' by people who don't know the story.
The evil Medusa tattoo can be done as a protective symbol or as a way to repel evil. It is also popular among rape victims as an outlet for their pain, or to show the world that they are not weak, regardless of their terrible experience.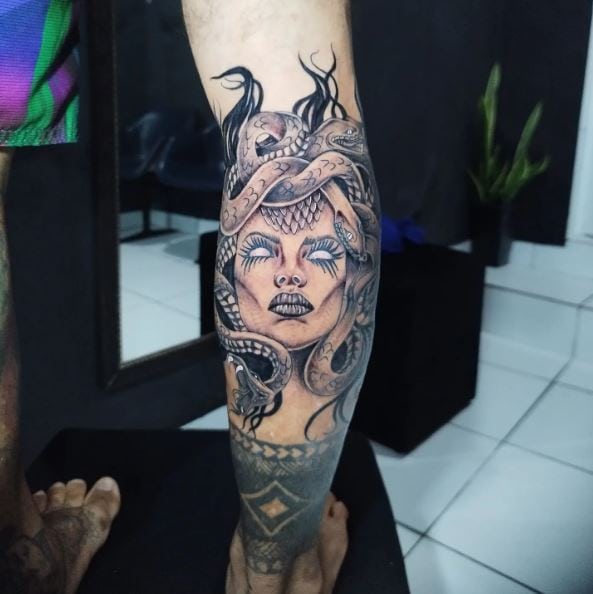 Image by @adellson_tattoo via Instagram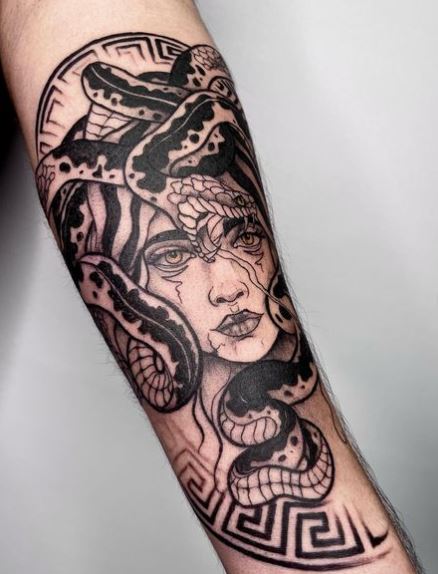 Image by @alexneshevart via Instagram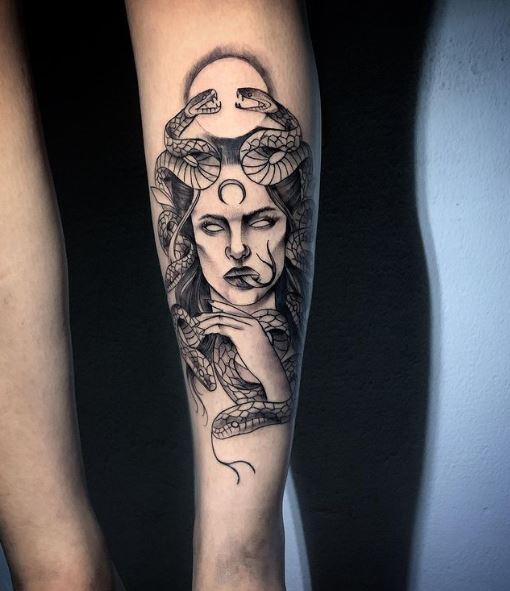 Image by @vinnylk_tattoo via Instagram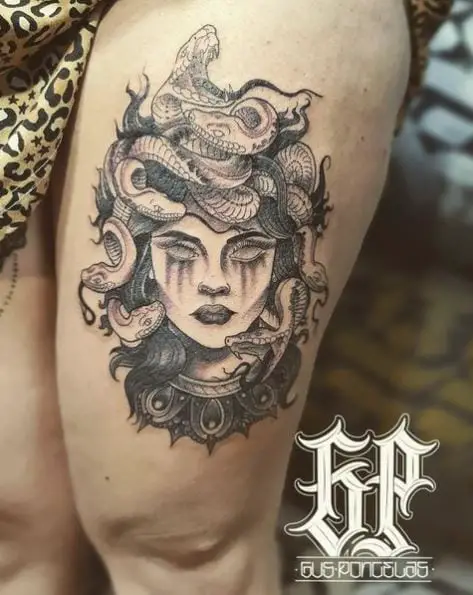 Image by @poncelas_gus via Instagram
Image by @joemeyertattoos via Instagram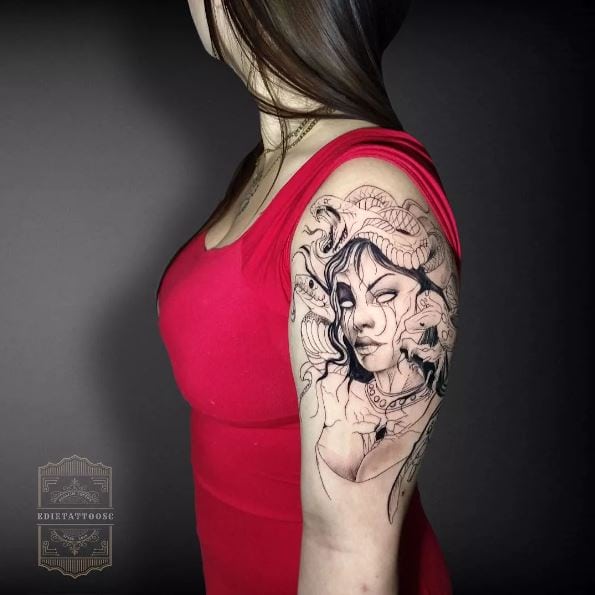 Image by @edietattoosc via Instagram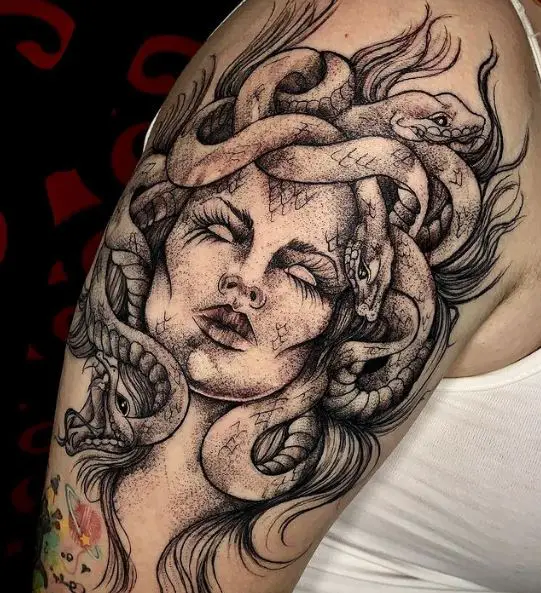 Image by @pierrytattooink via Instagram
Image by @ideias_tatto0 via Instagram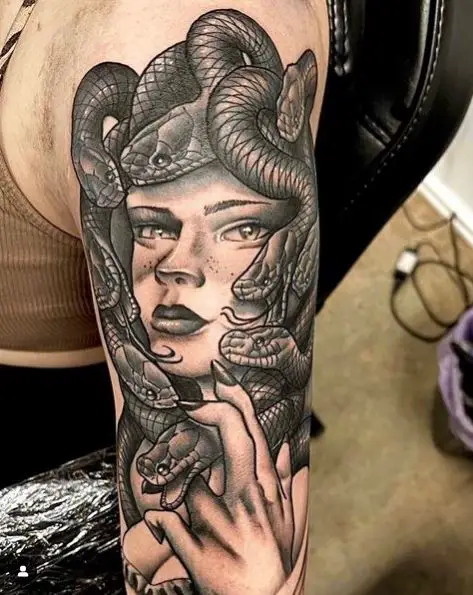 Image by @madcatztattoo via Instagram
Medusa Statue Tattoo
Medusa is commonly known as a snake-headed monster who was capable of turning people into stone with a single stare. This is why the Medusa tattoos sometimes feature her or the gorgons transformed or portrayed as statues.
The tattoo is symbolic of many things including abuse, Medusa's power, stigma, femininity, or transformation.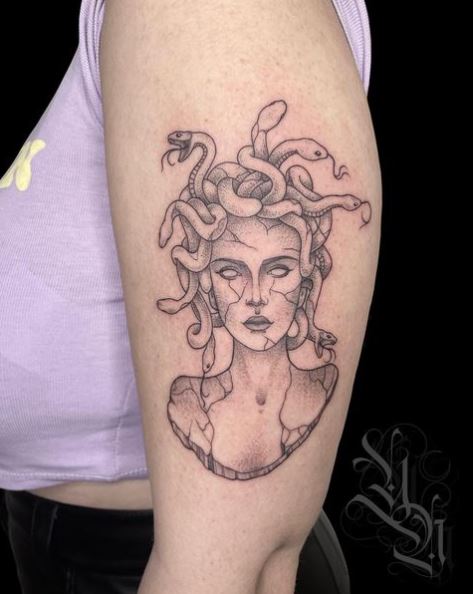 Image by @yvonne_nikita_tattoos via Instagram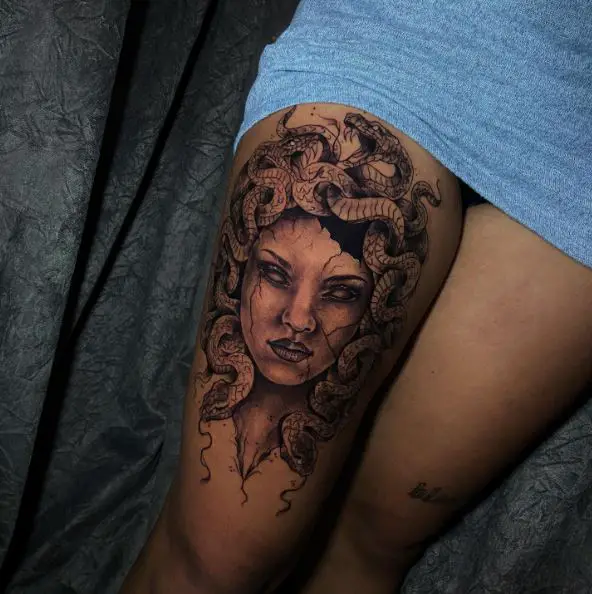 Image by @tal_preto.tattoo via Instagram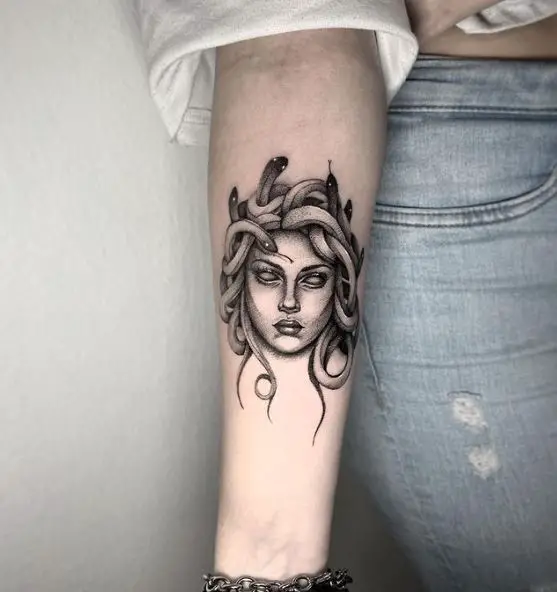 Image by @asta_simone_tattoo via Instagram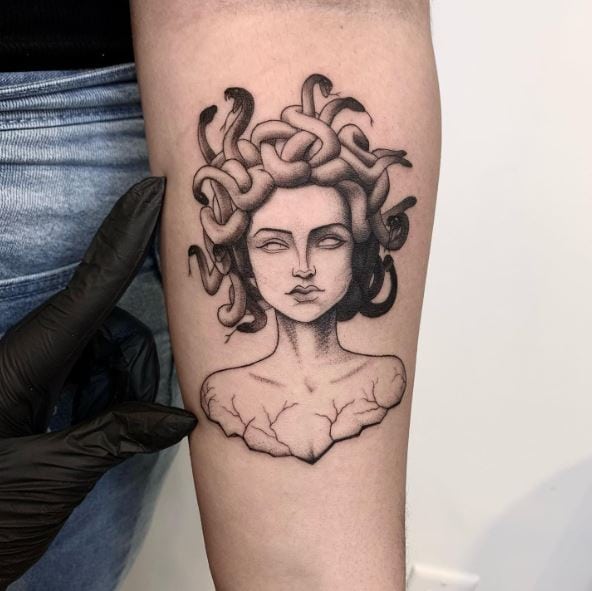 Image by @ohmydarlingtattoos via Instagram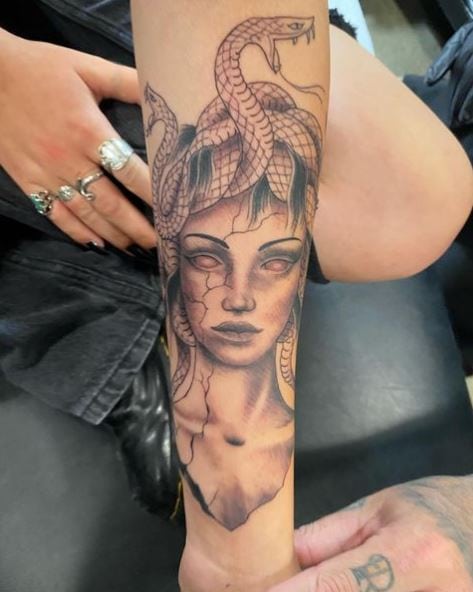 Image by @angelinamaitea via Instagram
Image by @meowzen via Instagram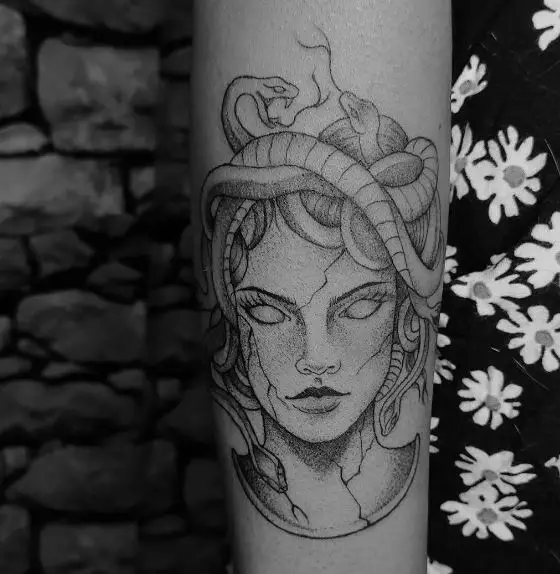 Image by @kishi_tattoo_ via Instagram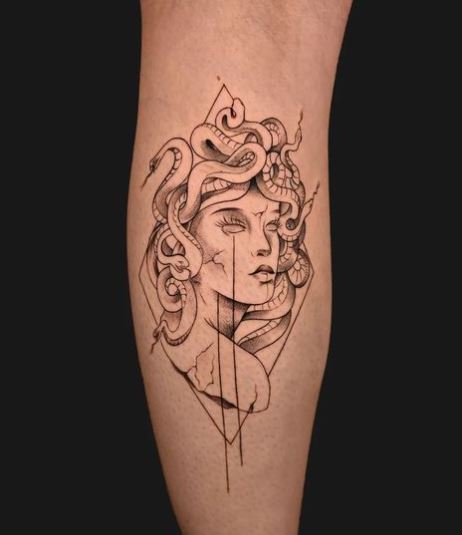 Image by @samtattooindia and harryy_samtattooindia via Instagram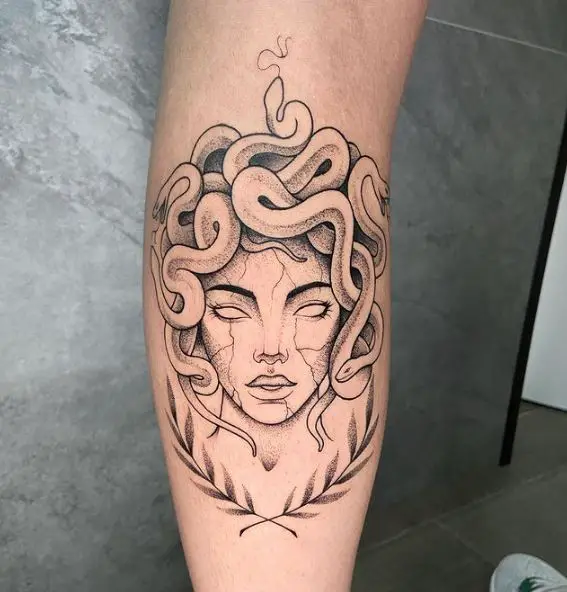 Image by @frenk_tattoos via Instagram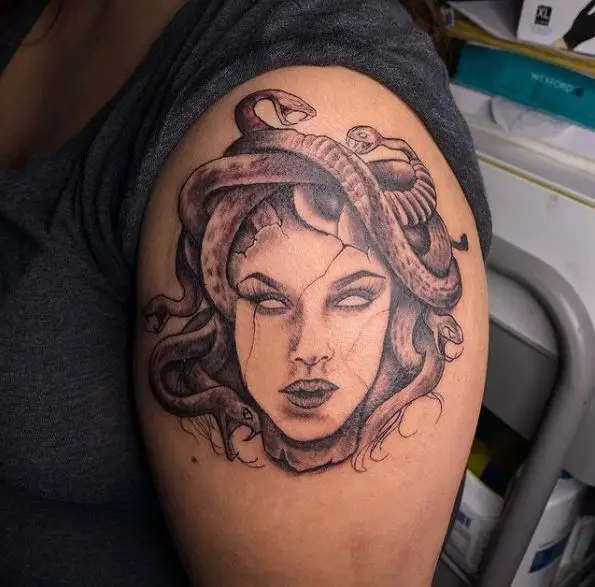 Image by @royalfleshtattoo via Instagram
Alien Medusa Tattoos
Medusa is described differently in various accounts relating to Greek mythology. Some idolized her, while others maligned her, depicting her as a monstrous, alien-looking creature with reptilian skin.
The grotesque tattoo of the gorgon is a great choice for people who like cartoonish images. This design is usually popular among guys to express their support for people that have been victims of sexual assault.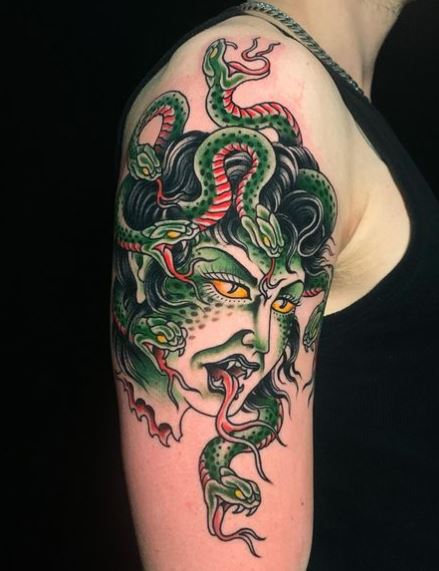 Image by @giacomopompei.bht via Instagram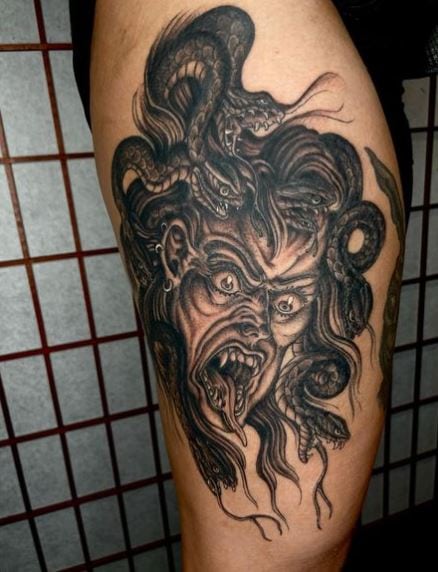 Image by @edacrossthestreet via Instagram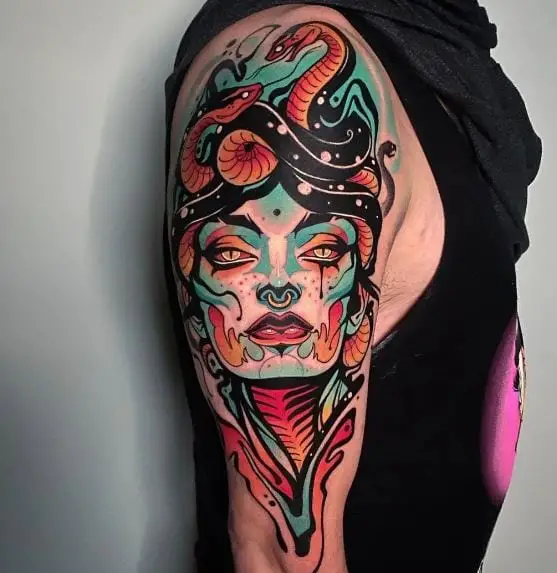 Image by @twinfreaks.tattoo via Instagram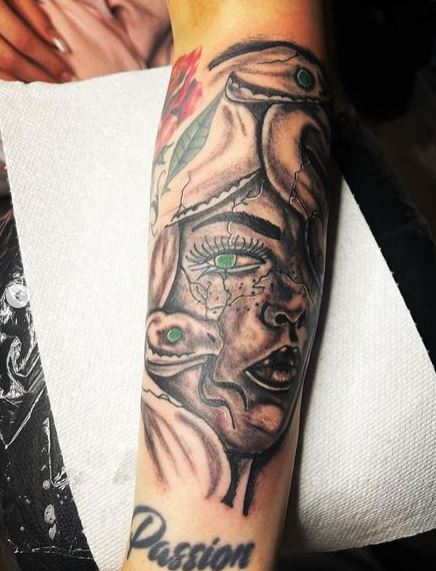 Image by @jaytattoos95 via Instagram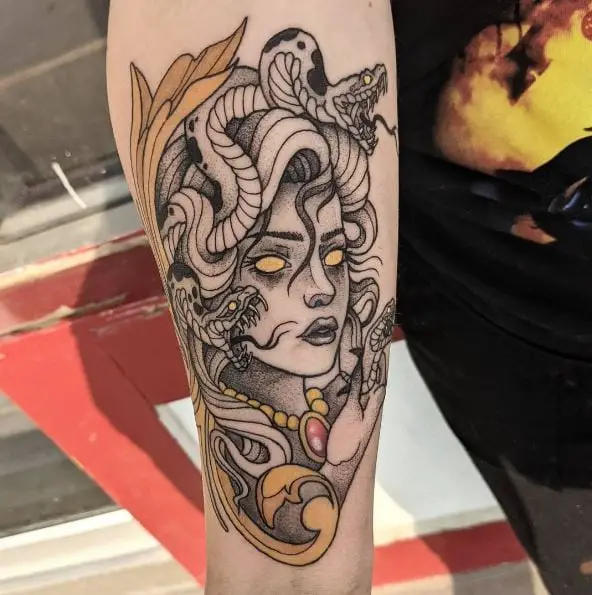 Image by @deathorglorycb via Instagram
Half Face Medusa Tattoos
Another trendy tattoo style features only half of the Medusa's head. The body art can be done with a caption under the tattoo to get a powerful message across.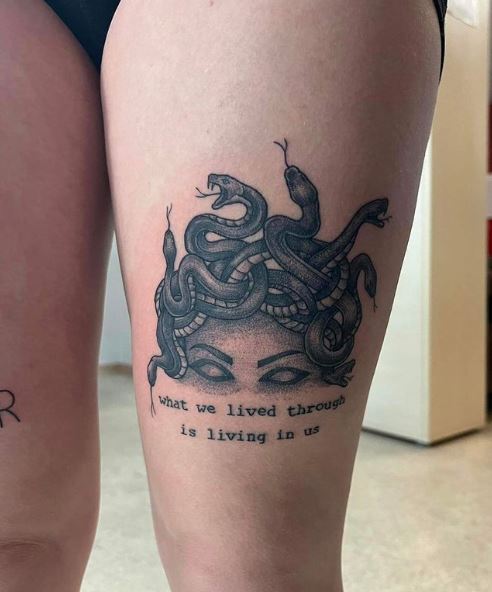 Image by @rallyart1975 via Instagram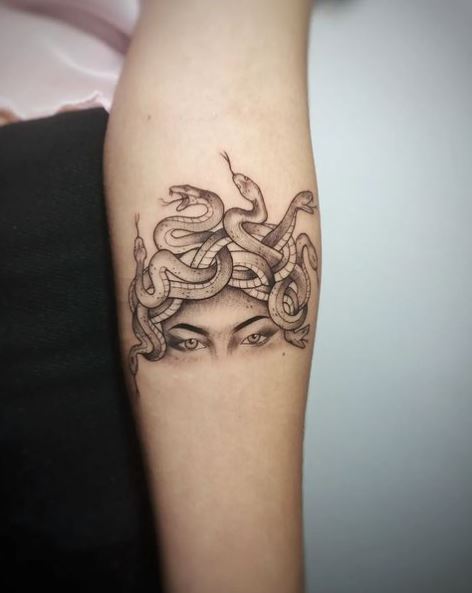 Image by @lacaletatattooestudio via Instagram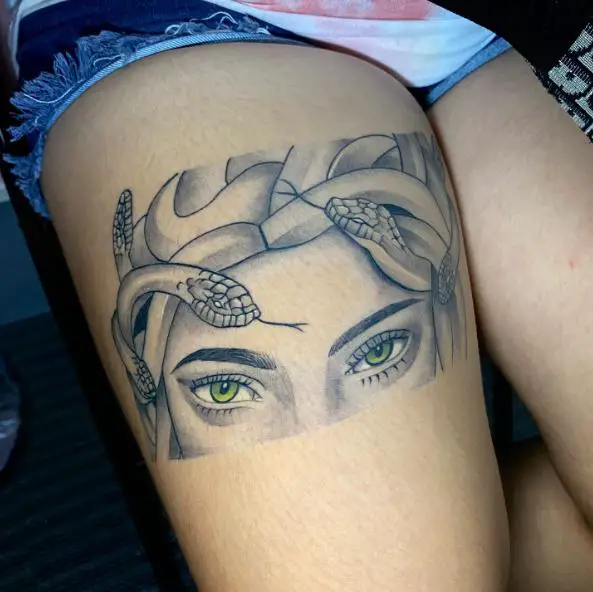 Image by @y_a_m_t_a_t_t_o_o via Instagram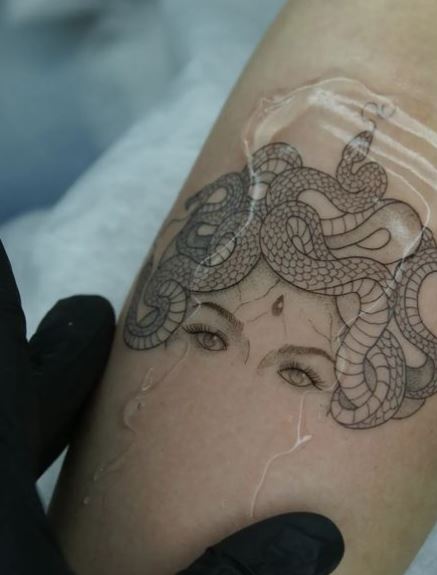 Image by @parmetleragostinatattoo via Instagram
Blindfolded Medusa Tattoo
Blindfolded tattoos are said to represent justice. After learning about Medusa's story, you would agree that she deserved justice. The blindfolded Medusa image is usually tattooed to create awareness about assault and to ward off evil energy.
It is an impressive feminine tattoo that can mean different things like anger, resilience, freedom, and control.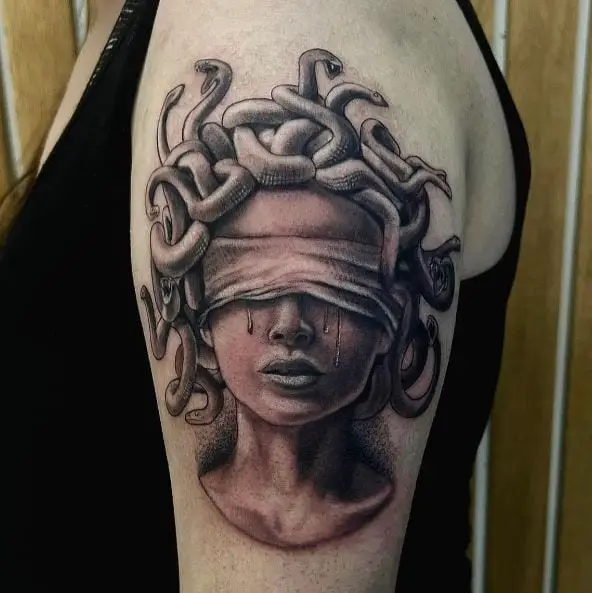 Image by @newimagetattoostudio via Instagram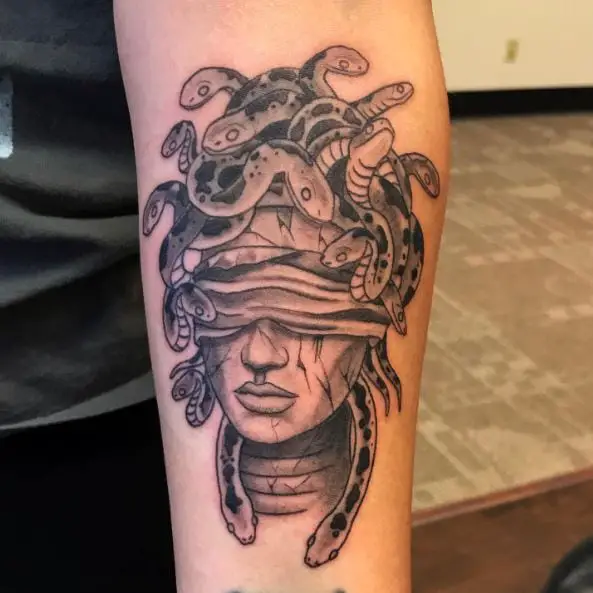 Image by @ace4627 via Instagram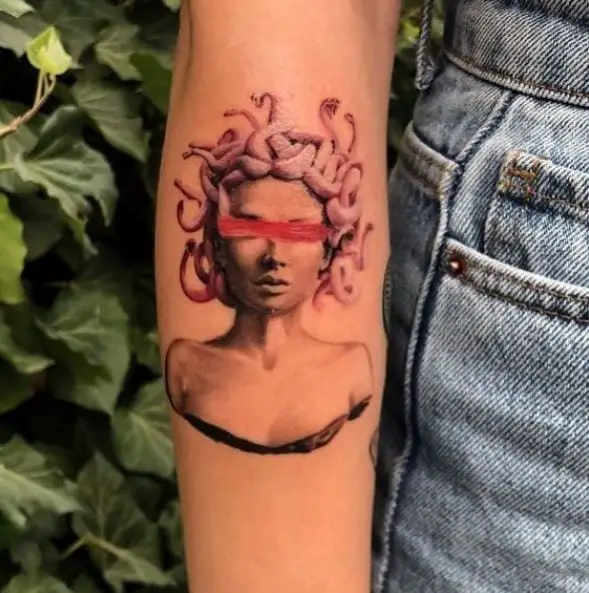 Image by @feministfinds_ via Instagram
Bold Line Medusa Tattoos
A simple way of getting the image of the gorgon tattooed is by requesting a bold line tattoo. Bold line tattoos don't take as much time as other tattoo designs. It is inexpensive and less painful, which makes this a great body art option for first-timers.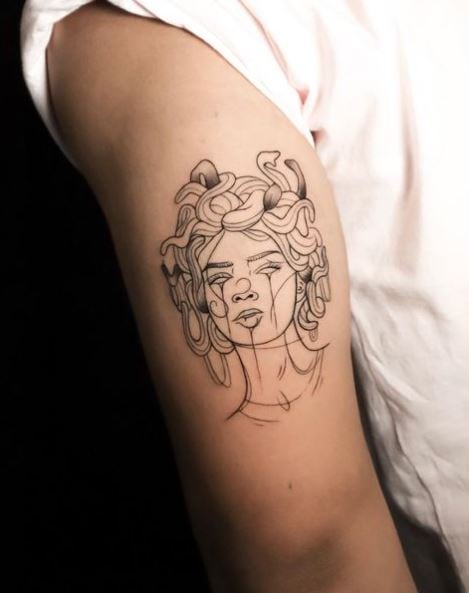 Image by @hanspinto.tattoo via Instagram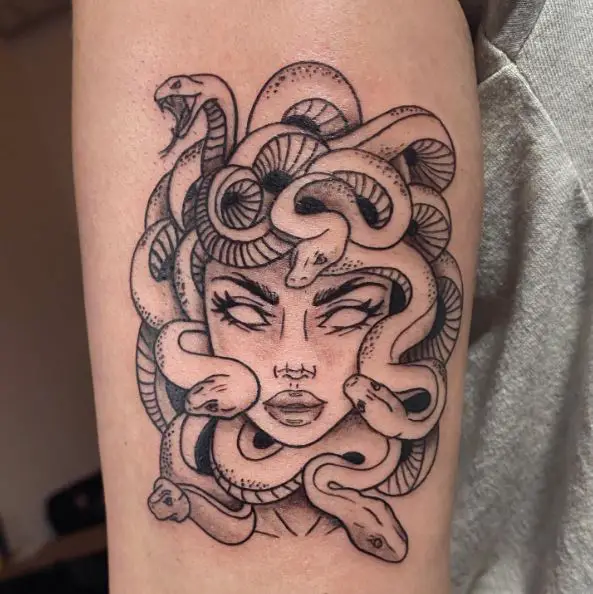 Image by @beks_ink via Instagram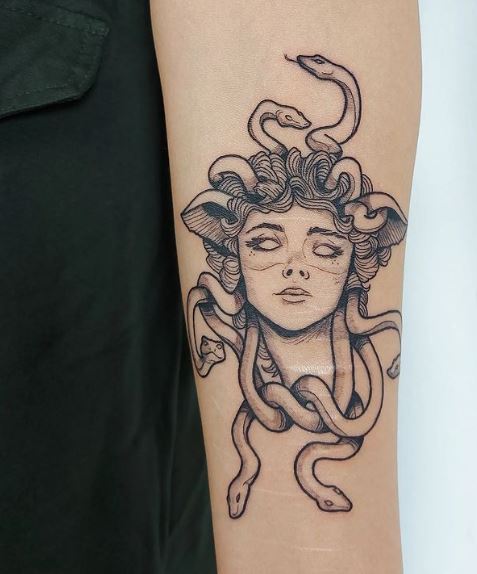 Image by @daniel.nabil_ink via Instagram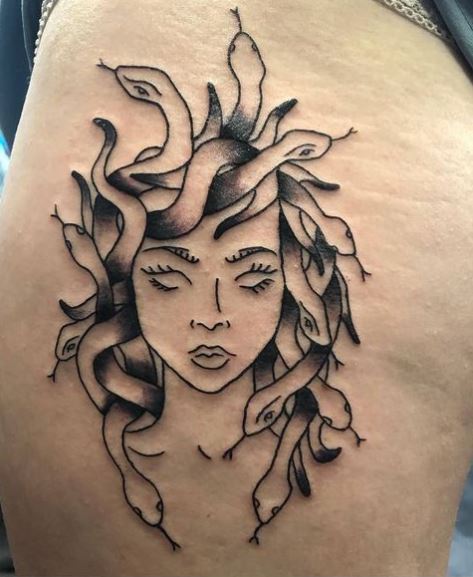 Image by @mypridetattoo via Instagram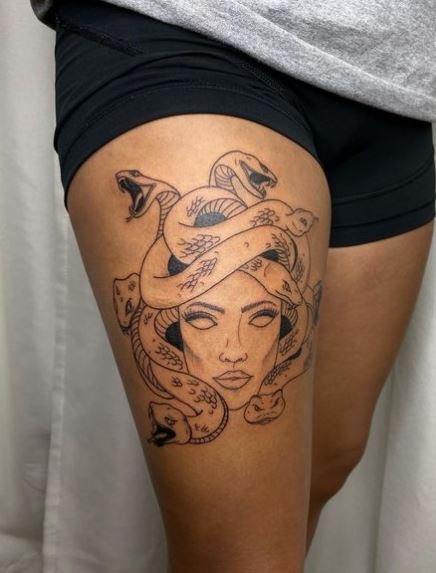 Image by @tatsby.tas via Instagram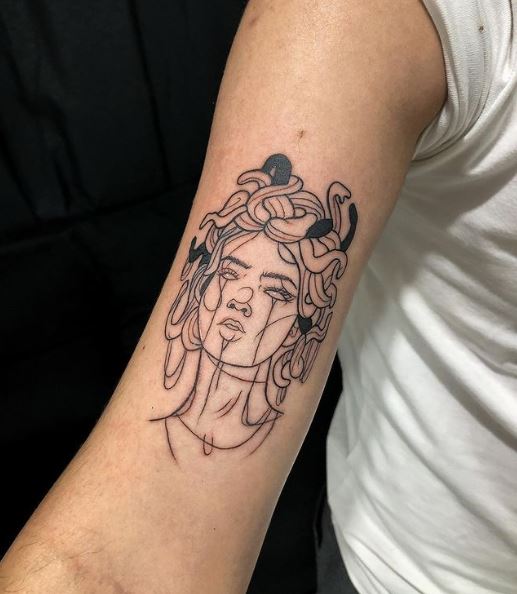 Image by @_jeffdantas.tattoo via Instagram
Medusa Tattoo With Moon On The Head
The moon tattoo on the head of Medusa suggests that, after the cruel events that led to her being cursed by the goddess Athena, she underwent rebirth and transformation. According to the myth, it is believed that she became cruel and evil due to the pain she went through.
Image by @nathanchubbsink via Instagram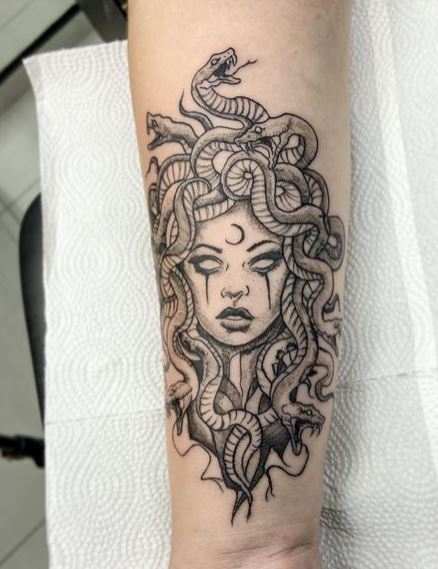 Image by @xavier_tatt00 via Instagram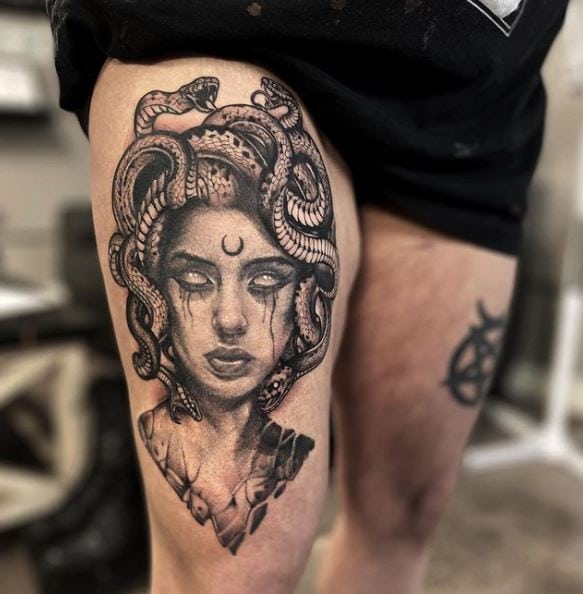 Image by @dcinkstudio via Instagram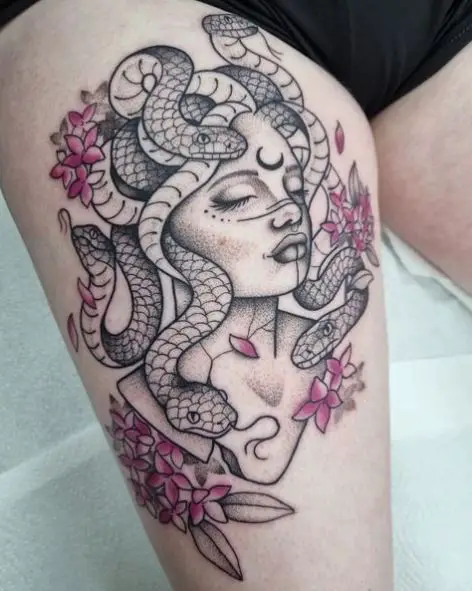 Image by @shelbyrosetattoo via Instagram
Image by @blvckmoon_tattoo via Instagram
Realistic Medusa Tattoo
Realistic tattoos can't be done by just anyone. This is why an experienced and well-versed tattoo artist is required if you want to recreate any of the tattoo designs featured here.
Although all the images featured here are inked in black, I suggest recreating yours with colors for a more real tattoo feel.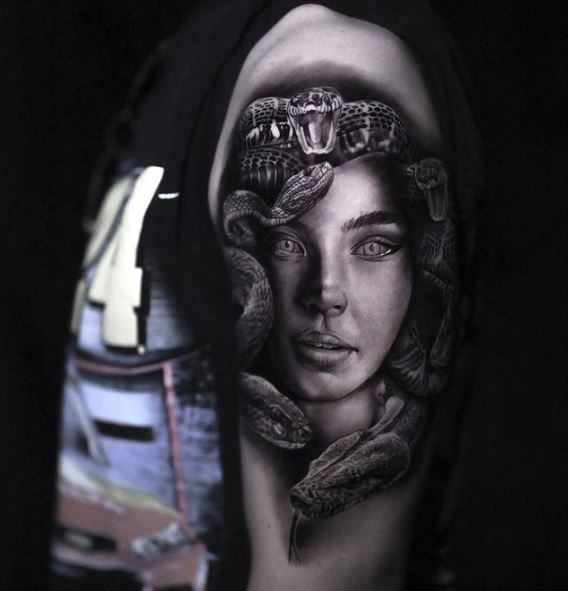 Image by @personaink and personainkstudio via Instagram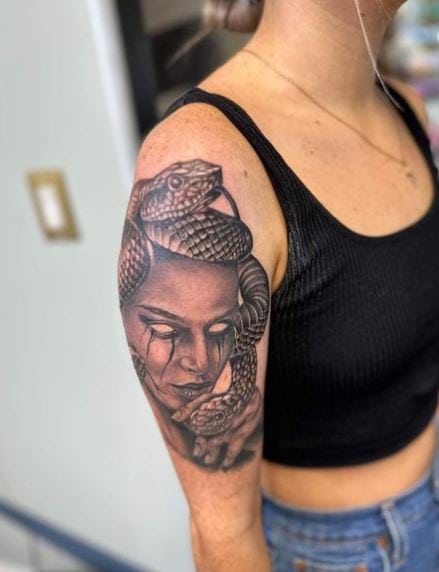 Image by @lokoink via Instagram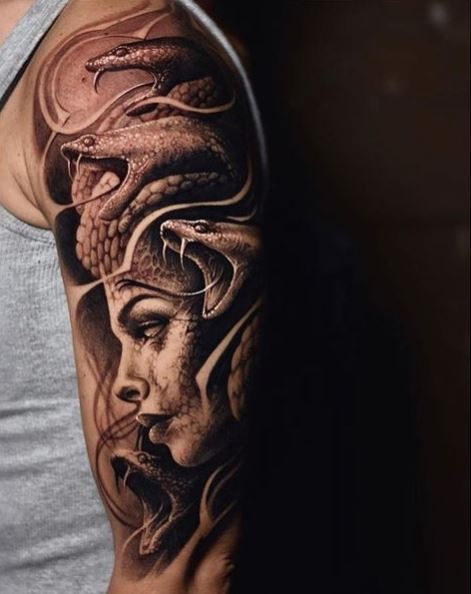 Image by @westcoastarttribe via Instagram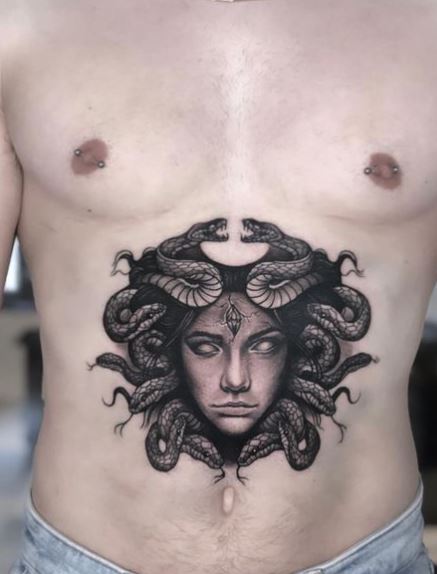 Image by @lionti_tattoo via Instagram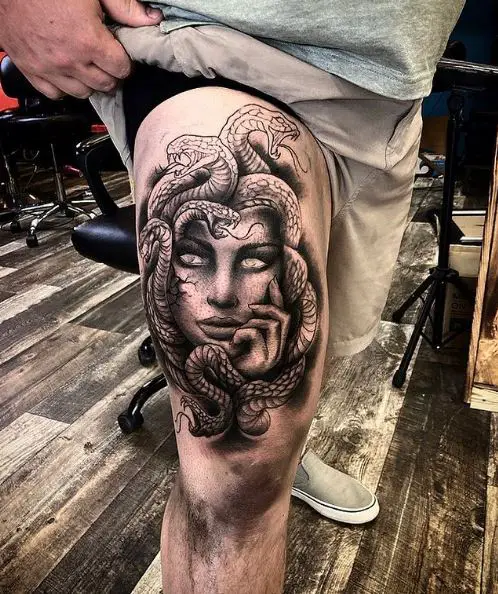 Image by @codyaustinmontgomery via Instagram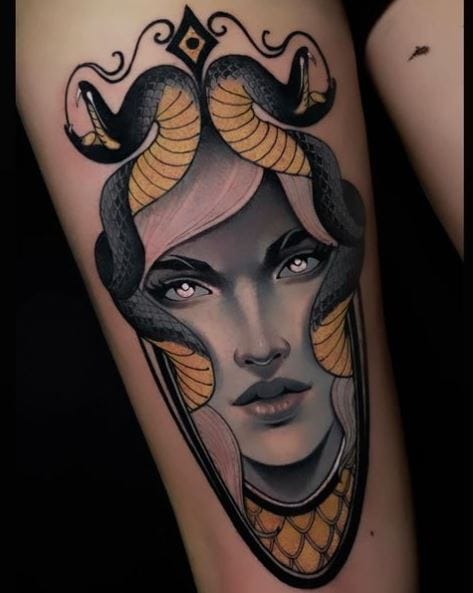 Image by @lea_ht2 via Instagram
Medusa Tattoo In a Triangle
A triangle tattoo represents wisdom and growth. Medusa had to become strong to survive the injustice she faced. This is why it's a great idea to draw the tattoo in a triangle, to represent her growth and rebirth.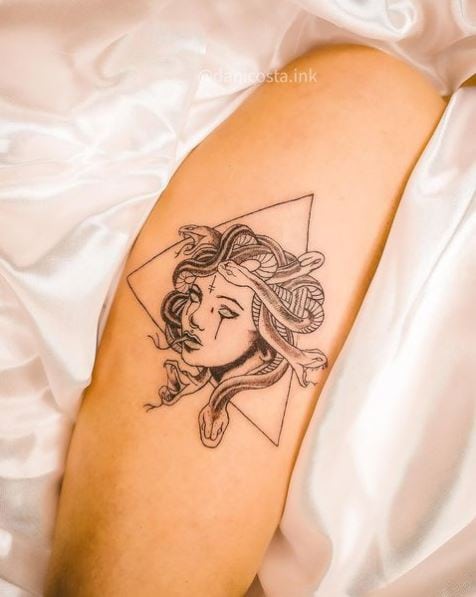 Image by @danicosta.ink via Instagram
Medusa Hand Tattoo
This Medusa tattoo on the hand shows that the tattoo of the gorgon works well on just about any body part.
Image by @one_million._tattoos via Instagram
Medusa Tattoo With 3 Hearts
This tattoo of the gorgon and her snakes gives off a great mythical vibe. The image features an angry-looking medusa with three human hearts drawn below her snake hair and face.
The image is a representation of the brutal nature she developed after her rape. The hearts are joined with a rope, suggesting that Medusa wears the hearts of her victims without remorse. It can also be a way to show that became cold and heartless towards humanity.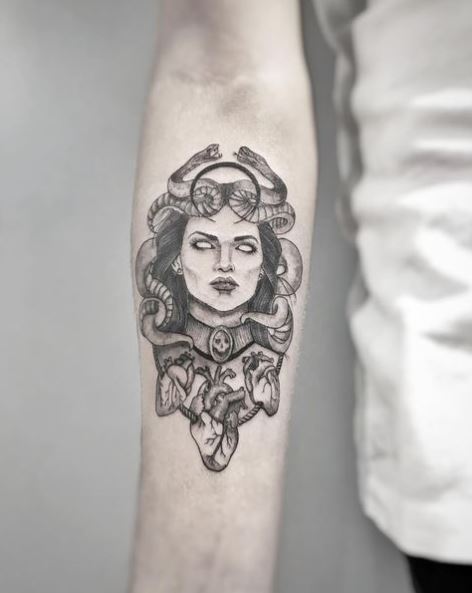 Image by @nur_tattoo_art via Instagram
Split Face Medusa Tattoo Design
This is a great way to express how broken Medusa must have felt inside after what happened to her. The tattoo is one that'll require a highly skilled artist to recreate.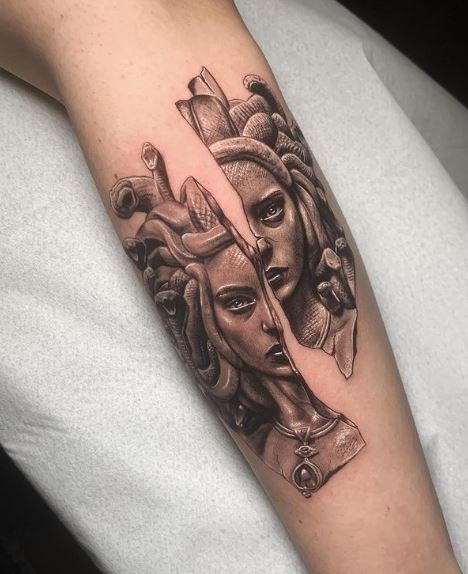 Image by @zanonetattoo via Instagram
Frustrated Medusa Tattoo
The fate Medusa was doomed to be enough to make anyone feel angry and hopeless in life. So, the tattoo image featuring the gorgon looks ragged and defeated.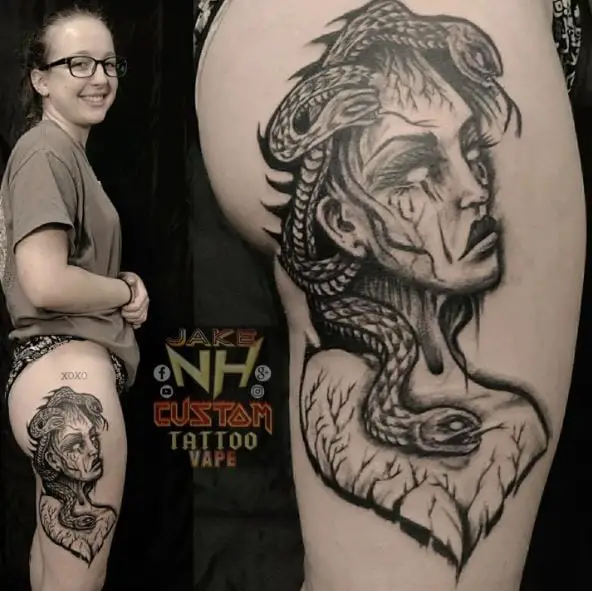 Image by @nh_custom_tattoo via Instagram
Medusa's tattoo from the Greek myth is becoming increasingly popular due to its symbolism and significance. Now that you've satisfied your curiosity and learned about the tattoo meanings, would you be willing to recreate it?