When it comes to getting a tattoo design that speaks volumes with just a few strokes, minimalist tattoos should be your go-to.
My favorite minimalist tattoo designs are tattoos of flowers (usually roses and dandelions to express love and freedom), meaningful words or phrases, and numbers. I've noticed that minimalist tattoo design of pets is becoming increasingly popular among pet owners because having an image of your furry buddy on you is an amazing feeling.
Keep reading for 85 minimalist tattoo ideas and their meanings to help you select the best.
Minimalist Tattoos For Inspiration
Plant/Flower Minimalist Tattoos
There's so much calm that comes with natural elements like plants and flowers. If you are someone who resonates with the voice of the wind and finds peace in watching the dance of plants and flowers, then you should opt for a flower tattoo. The most popular flower tattoos are roses, daisies, or dandelions. These tattoo ideas are so popular because they look amazing on both women and men, although they're more common on women.
A stunning olive branch tattoo.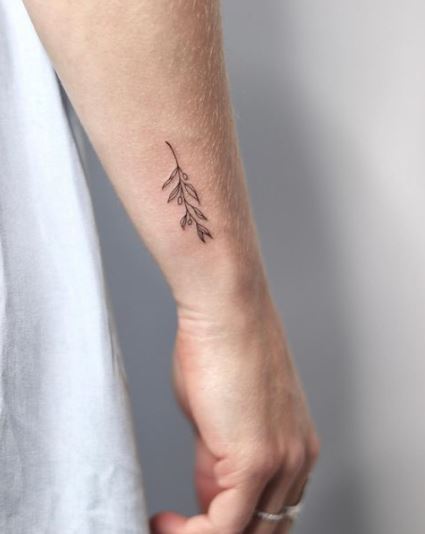 Image by @audreyanne_art via Instagram
Roses signify love and courage. A good placement for this minimalist style will be at the shoulder, close to your wrist, or on your chest.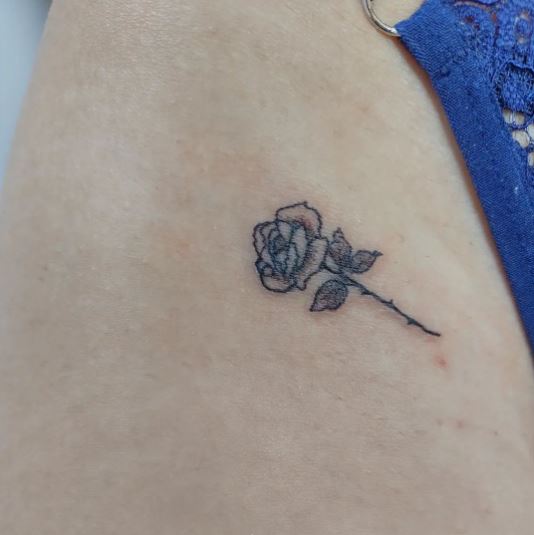 Image by @simone_lineart via Instagram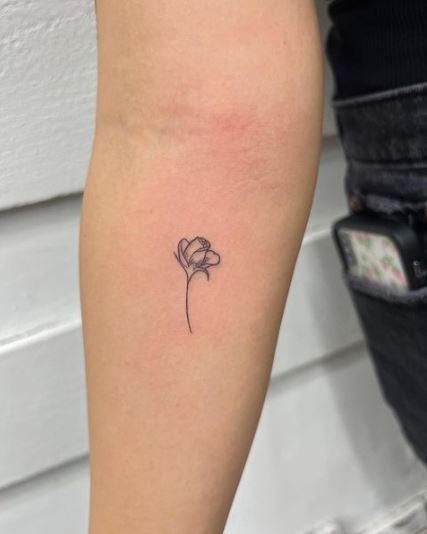 Image by @antstattoo_morris via Instagram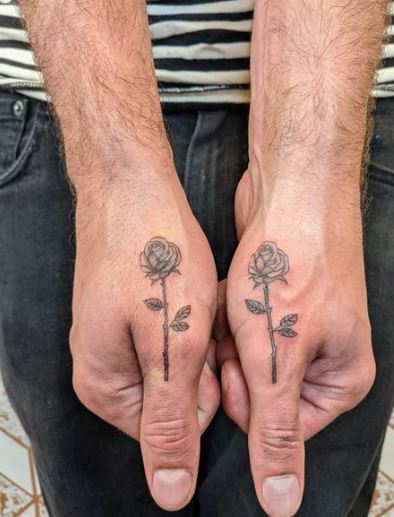 Image by @kattystrophic via Instagram
Minimalist tattoo artists who are professionals know this clean floral tattoo trick. To get a clean tattoo design like this, you need to use a slim needle to bring the tattoo art to life. This is a perfect design, but you can reduce or increase the number of flowers to your preference.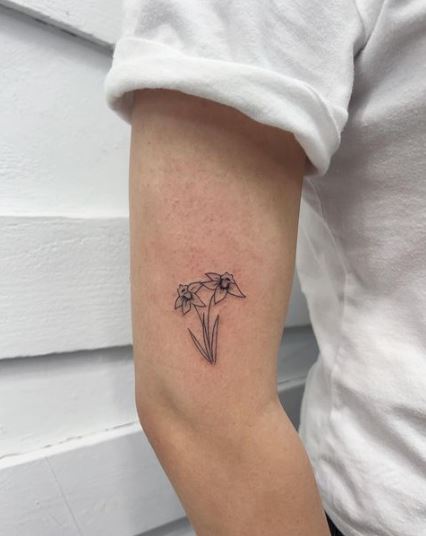 Image by @antstattoo_morris via Instagram
This dainty vine minimalist tattoo is done with fine lines that make it look simple and pretty.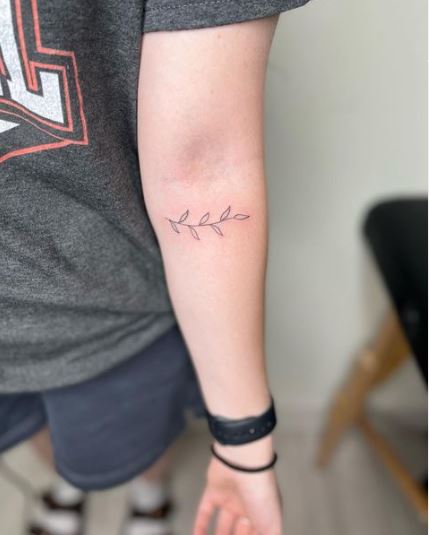 Image by @alternativeartistry via Instagram
The tattoo artist brings this four-clover leaf tattoo to life with care and dexterity. Each clover has a darker and lighter part, just as there is to everyone.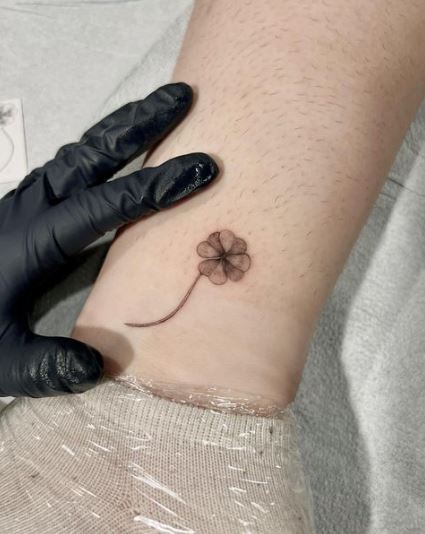 Image by @letsdoodles via Instagram
These realistic flower tattoos are gorgeous. The minimal tattoos have blooming flowers and leave that pair delicately to form a stunning image. The shoulder, arm, and wrist are great spots for rocking a tattoo design like this.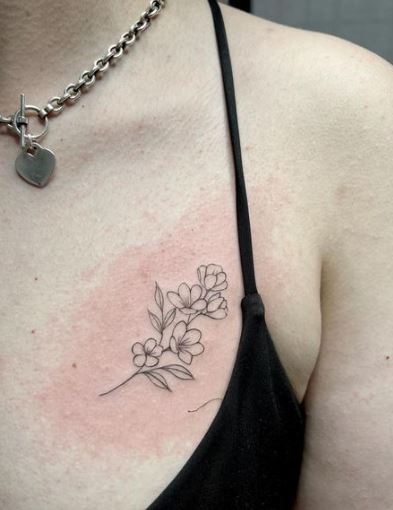 Image by @247_inkstudio via Instagram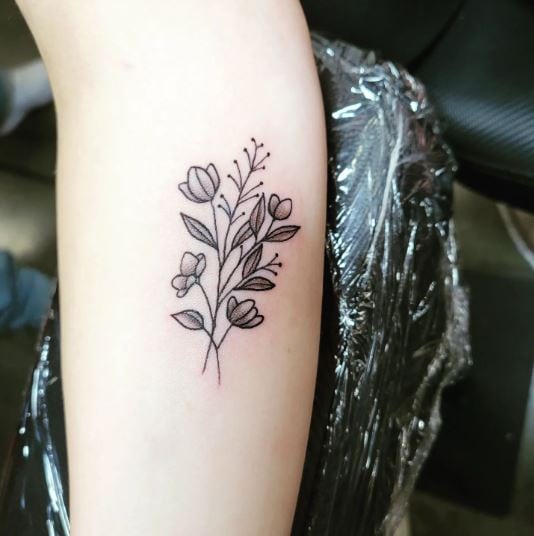 Image by @amyrosstattoos via Instagram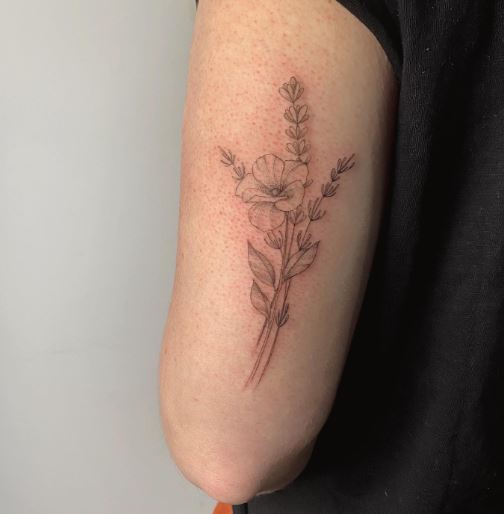 Image by @cristinaferrertattoo via Instagram
Don't you just love the unique twist of these rose flower tattoos? The roses here have a natural beauty and are drawn using thin lines that end in a name. Roses signify love and romance, so getting a rose tattoo with the name of your significant other at the end is a charming way of making them feel special and loved.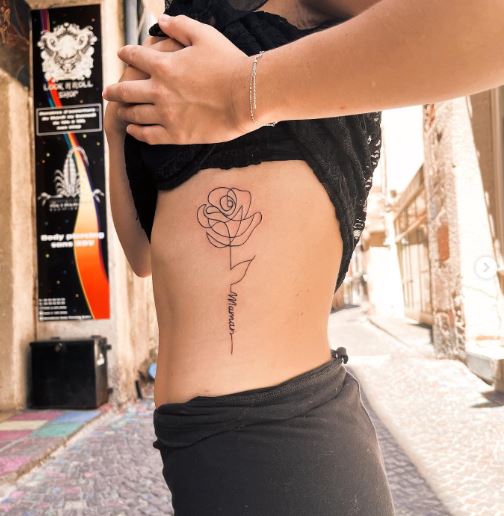 Image by @socle__ via Instagram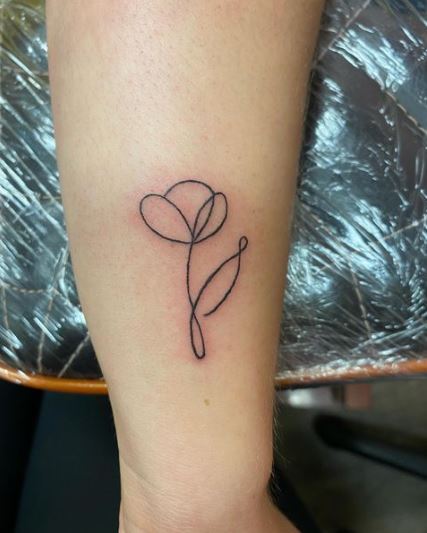 Image by @kristiana_yager_tattoo via Instagram
A daisy flower tattoo is a pretty and symbolic tattoo option. Daisies are associated with good fortune, purity, and innocence. It is a minimalist tattoo design that can be worn by both men and women but is usually done by women.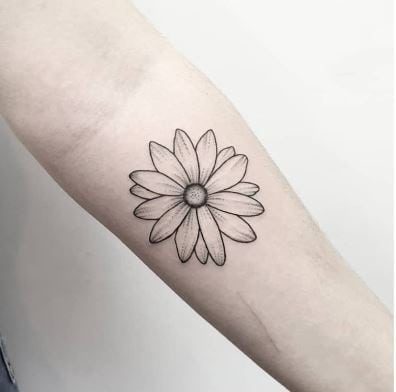 Image by @martistattoo via Instagram
You can't run out of minimalist tattoo ideas when it comes to leaves or flower tattoos. The leaves tattoo here is done around the forearm in form of a bracelet.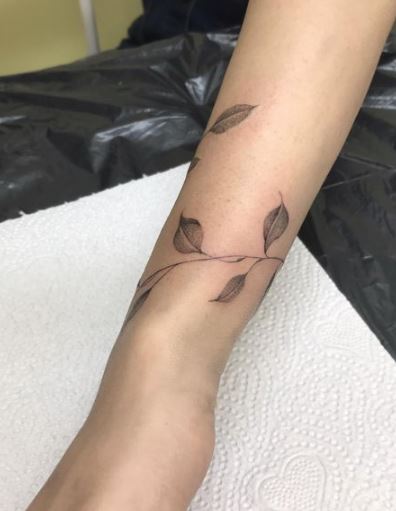 Image by @janicka_tetuje via Instagram
Hand poked tattoo minimalist tattoo ideas have an authenticity, as seen here in this lily minimalist style tattoo. Lilies are a symbol of good fortune and purity. Most people who get lily flower tattoos do them in bright colors to show their delicate and charming nature.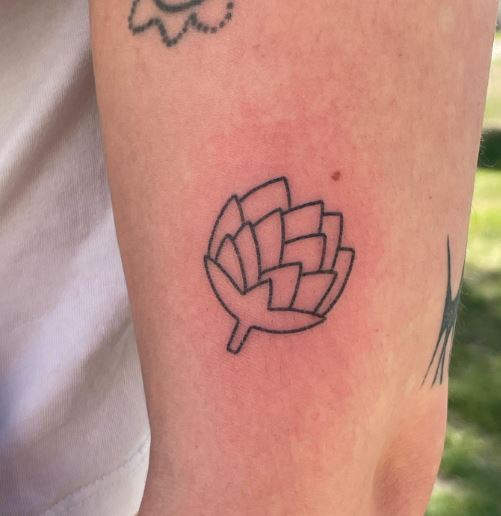 Image by @loukoum_tattoo via Instagram
Dandelion tattoos are a symbol of strength, rebirth, and adventure. They are usually done by people who love to travel. So if you're big on adventures, you should consider getting a dandelion tattoo.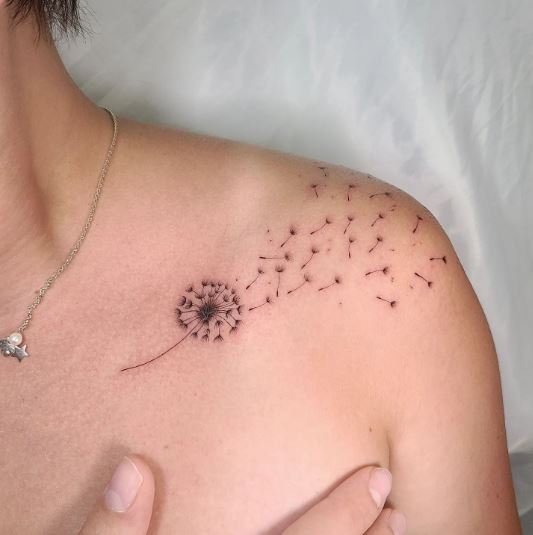 Image by @evild4n via Instagram
Alphabet/Words Minimalist Tattoo Ideas
Body art looks stunning when done with skill. The rare minimalist tattoo is drawn to perfection and will help you keep in mind how rare and special you are.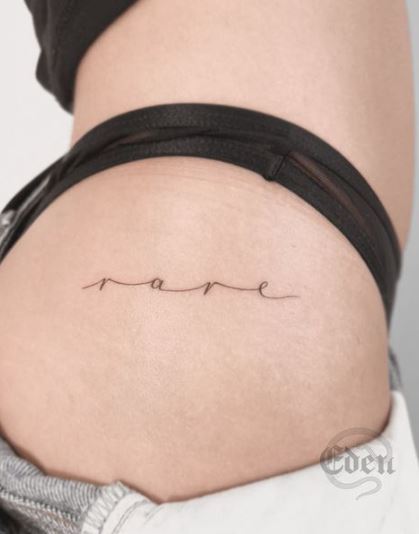 Image by @eden_tattoos via Instagram
Being authentic is something that people lack. So getting this tattoo is a way of making a bold statement and passing a message to everyone you come across.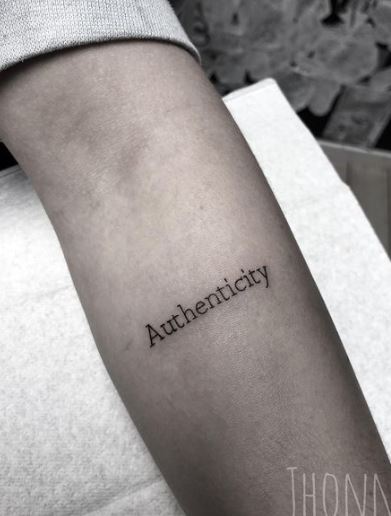 Image by @jhonnymtattoo via Instagram
'Why not' is a cool phrase to get inked on your body. If you're someone who finds it hard to take risks or go on wild adventures, getting this tattoo done will serve as a push to help you make those bold decisions.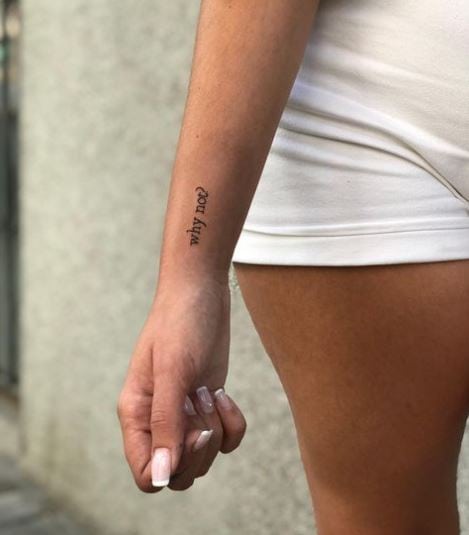 Image by @lichi.tat via Instagram
This is a cute example of word tattoo ideas. Hope is spelled using different colors here just above the forearm. Hope is an astounding attribute to have. It is the only reason to keep going even when it seems like everything is falling apart.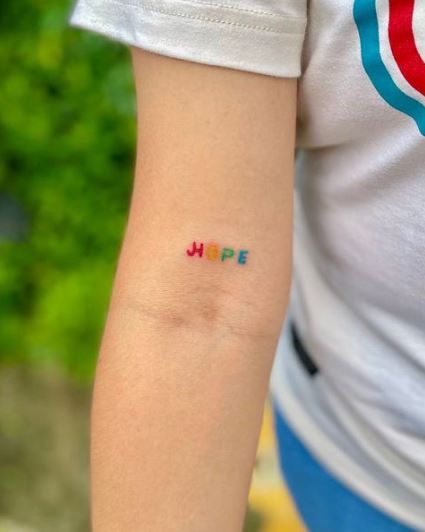 Image by @meliora_tattoo via Instagram
Most name tattoos have deeper meanings. When it comes to getting name tattoos, the most important factor to consider is the font style used to write the name. If you choose a lovely font style, your tattoo is sure to turn out to look stunning.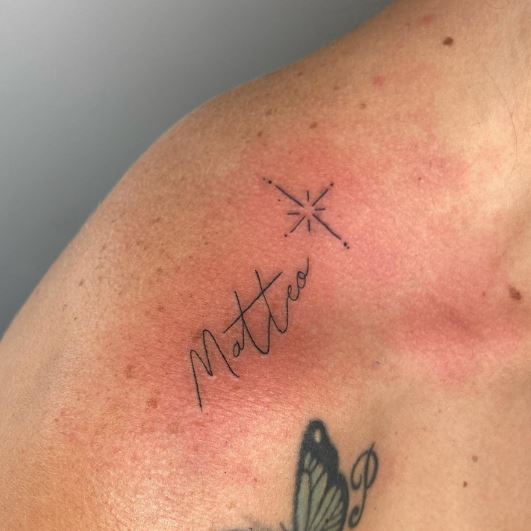 Image by @boscatattoo via Instagram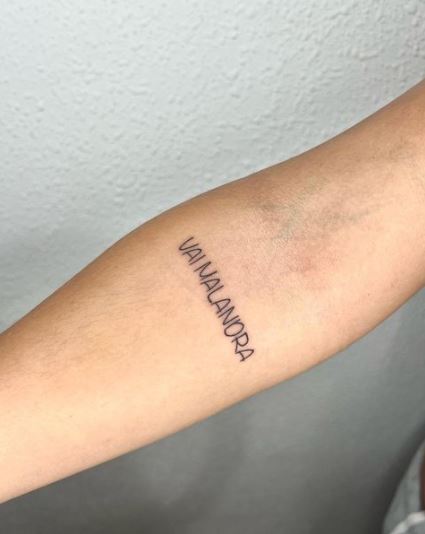 Image by @cchaaooss via Instagram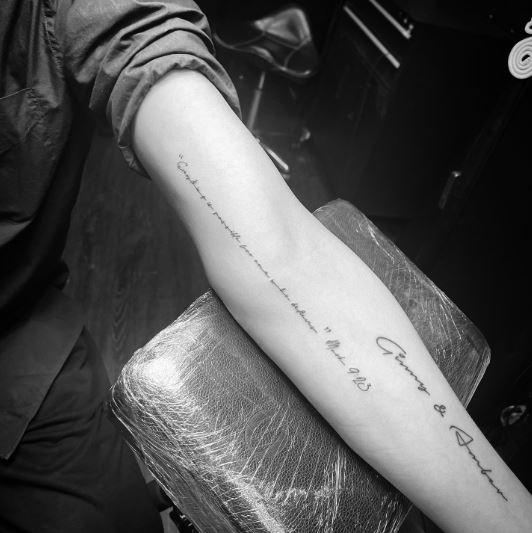 Image by @gang2tattwo_haylie via Instagram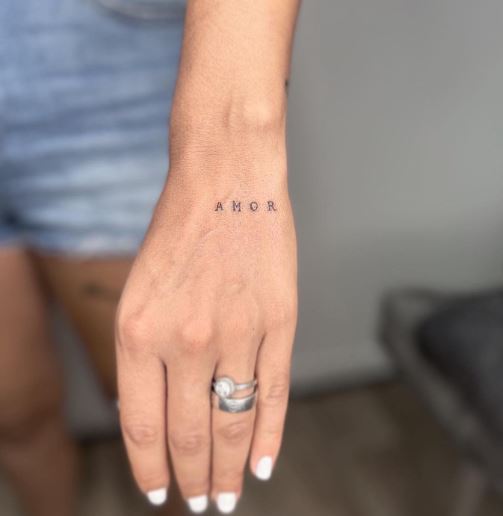 Image by @lamadrebcn via Instagram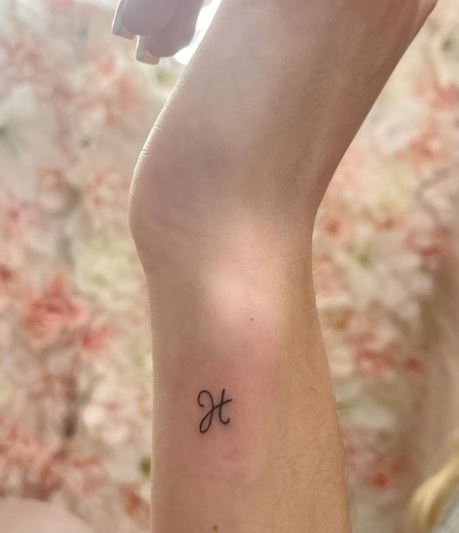 Image by @sinfularches via Instagram
This tenacious minimal tattoo is the perfect body art you need to express your tenacity.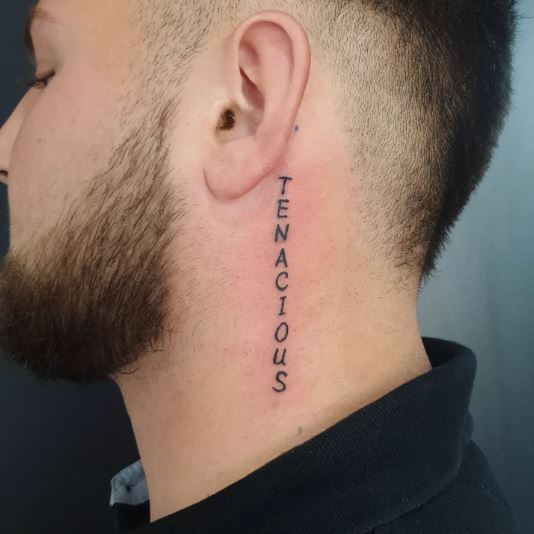 Image by @belle_tattooist via Instagram
The interesting balance of art and meaning in this unique "she is art" body art is simply astonishing.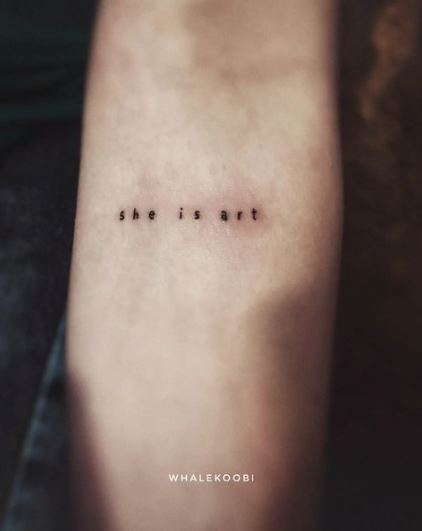 Image by @whalekoobi via Instagram
Need a small colorful piece of body art? try this out. The spring day tattoo is done with several colors, but will also look good if done with just a single color.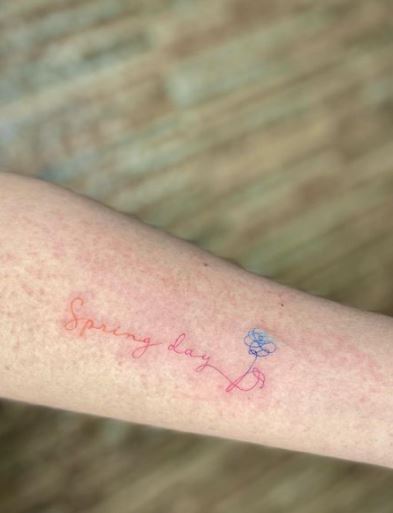 Image by @pintadon_tattoo via Instagram
Heart/Love Minimalist Tattoo Ideas
These triple hearts minimalist tattoo represents "me, myself and I". This tattoo is done in the perfect spot on the shoulder to keep reminding you whenever you look in the mirror to love every version of you, no matter what.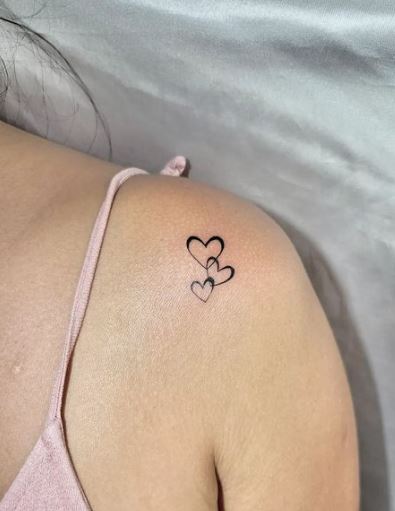 Image by @remolachotattoo via Instagram
The journey to self-discovery looks different for everyone. Getting cute tattoos like these can serve as a way to help keep you on track as you learn to love yourself to the fullest.
Image by @simikosart via Instagram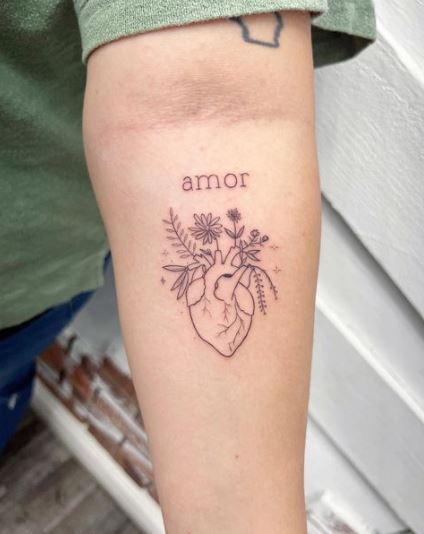 Image by @antstattoo_morris via Instagram
This heart tattoo has 2 faces incorporated into it. The flawless and beautiful design is a fantastic option to keep the everlasting love between you and your significant other in your mind always.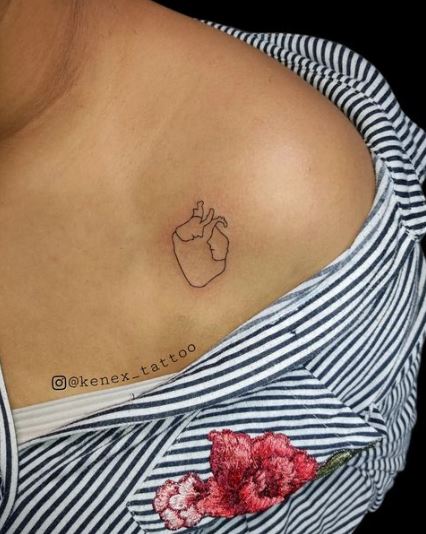 Image by @kenex_tattoo via Instagram
A minimal tattoo of a beating heart close to the shoulder is done here using black ink. The beauty of this minimal tattoo is aesthetically pleasing and proves that less ink is capable of speaking volumes.
Image by @luceromarkvey via Instagram
Number Minimalist Tattoo Ideas
Number minimalist tattoos are usually done to serve as a reminder of a memory. There are different types of number tattoo ideas to get inked. Some people choose to get a tattoo of a single digit, others get inked with multiple digits, while others get coordinates tattooed on their bodies. Regardless of the tattoo you choose to go for, number tattoos always look cool and mysterious.
Different things have different meanings to everyone. If there is a day you want to be reminded of for the rest of your life, or you have a lifelong goal you want to fulfill, getting a tattoo of the number can serve as a reminder. It can help you remember the bigger picture when things get difficult.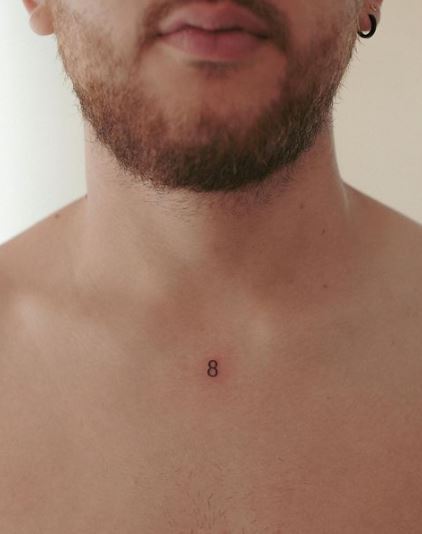 Image by @maff.ll via Instagram
Some people believe the multiple digit tattoos to be a form of protection, while others get it done just because it looks cool, with no hidden meaning behind to it.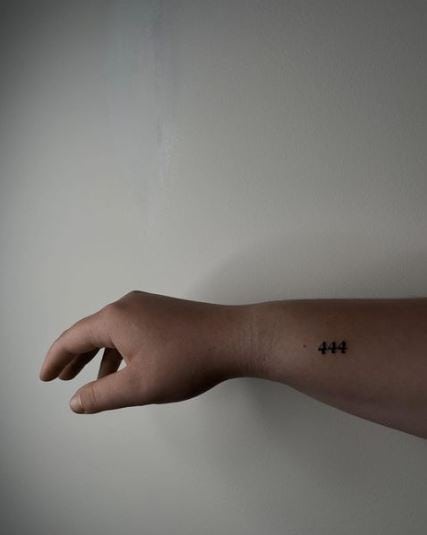 Image by @_sauvaje via Instagram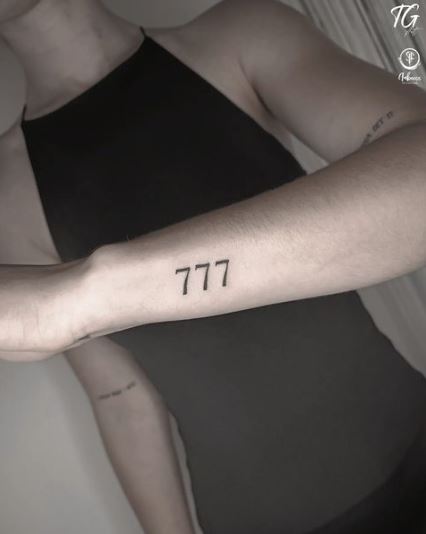 Image by @tgart_tattoo via Instagram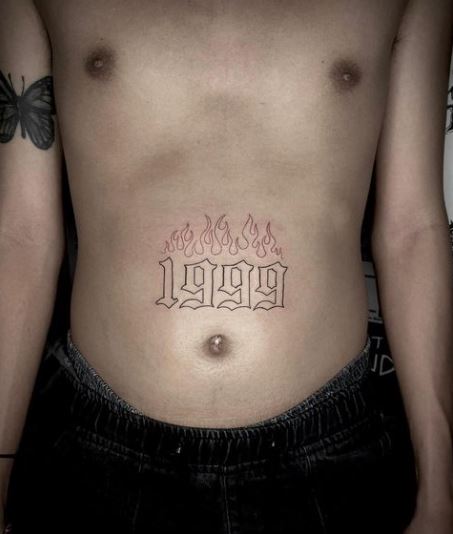 Image by @drupadi_ink_bali via Instagram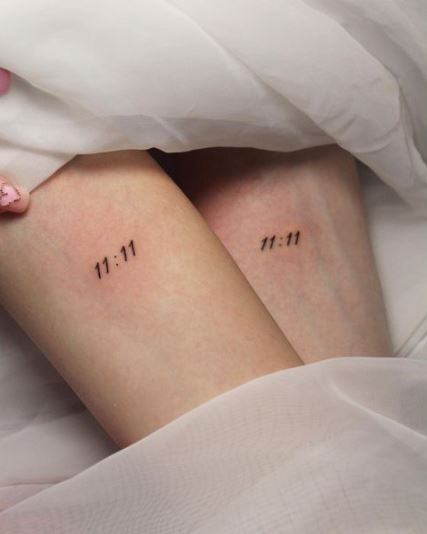 Image by @ana4art_ via Instagram
We all have a place we'd love to visit some day. Getting the coordinates of this place imprinted on your skin is a way to serve as a reminder, and to keep you working towards surpassing the obstacles that stand between you and your dream location.
Image by @laetitiachmrd via Instagram
Star Minimalist Tattoo Ideas
The hexagram tattoo is popular among Jews since it represents the star of David. Regardless, you can get it inked if you're like me and you like the mystery of the triangles.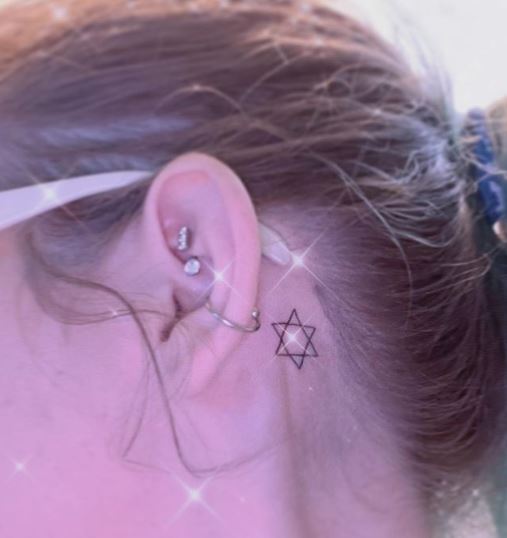 Image by @megan_nison via Instagram
These twinkle stars minimalist tattoos done behind the ear are so chic and interesting since they can be hidden easily with your hair if you're not in the mood to flaunt your cute tats.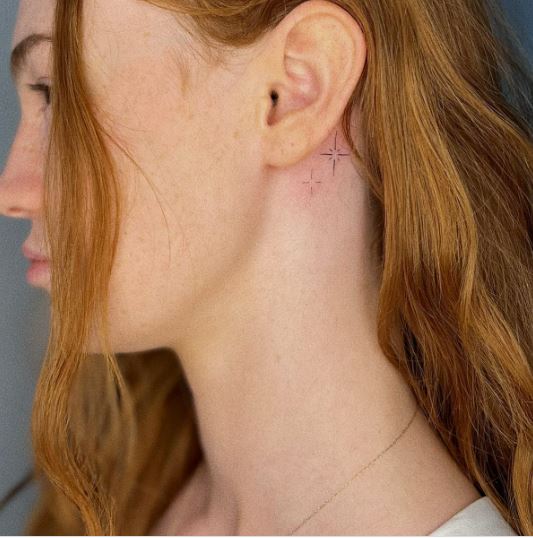 Image by @samaraxtattoo via Instagram
Perfect stars are hard to achieve, but minimalism creates a way to draw the perfect star tattoo easily. All you need is an outline of your star, a trace with dotted lines and you've successfully created a minimalist star tattoo.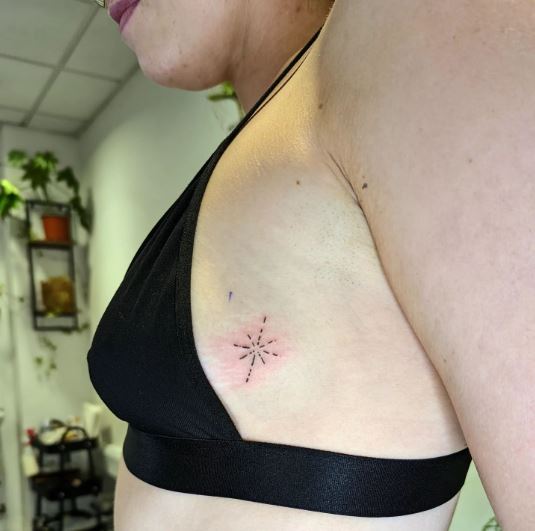 Image by @opa.ink via Instagram
Sparkle Tattoo Ideas
A sparkle tattoo is a lovely design that looks like it shines. It looks especially good on the arm and forearm. Sparkle tattoos have a simplicity that is just amazing to have on your skin.
This is done using bold lines to display the sparkle in all its glory.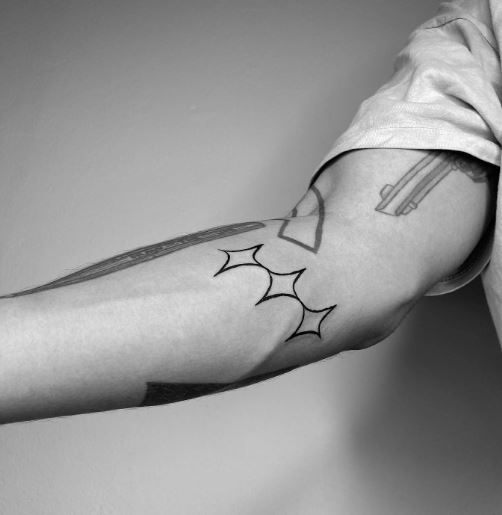 Image by @irrealis.tattoo via Instagram
This is a more subtle take on sparkle tattoos. The sparkles are tiny and done with thin little lines.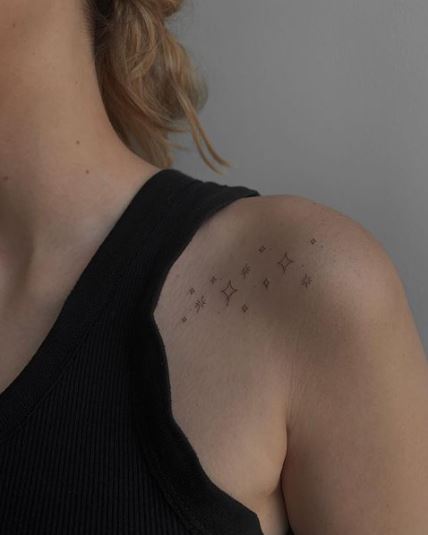 Image by @nat1nk via Instagram
Minimalist Cat Tattoo
Cats are lovely pets to have around, especially on those days when you feel down and have no one to talk to. They are capable of uplifting your mood simply by meowing or serving as cuddle buddies. So it makes complete sense to get a tattoo of your fury buddy done.
This is a lovely cat tattoo that shows just an outline of a beloved cat with an outline of the owner's face and a heart in between them, showing the love they share.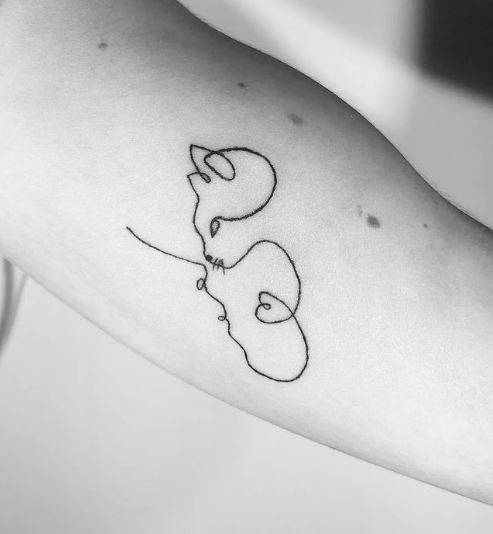 Image by @ink.magnus via Instagram
Don't you just love the cute depiction of the furry pet in this minimalist tattoo style? The cute little creature is formed using bold lines with a charming heart between its whiskers that represents its nose. This is a charming minimal tattoo idea that will be a pure delight to have on your skin.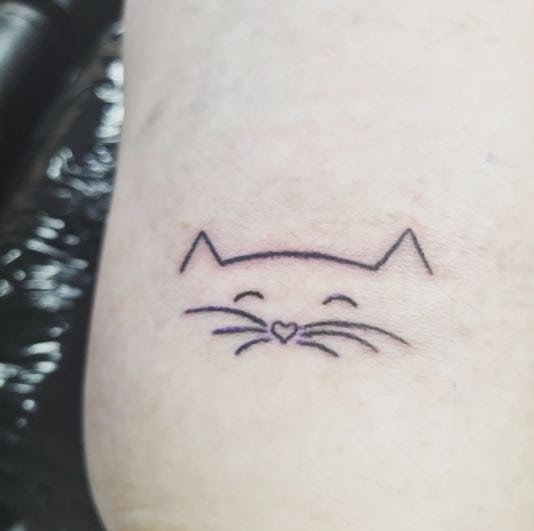 Image by @spacecadetink via Instagram
Insect Minimalist Tattoo Ideas
Bees are loyal creatures. They are loyal to one another and to the queen of the beehive, which is why most people believe that a bee tattoo is a symbol of this very quality. Also, since bees help in the pollination of flowers, most people believe that the bee tattoo is a symbol of fertility, health and vitality, and prosperity.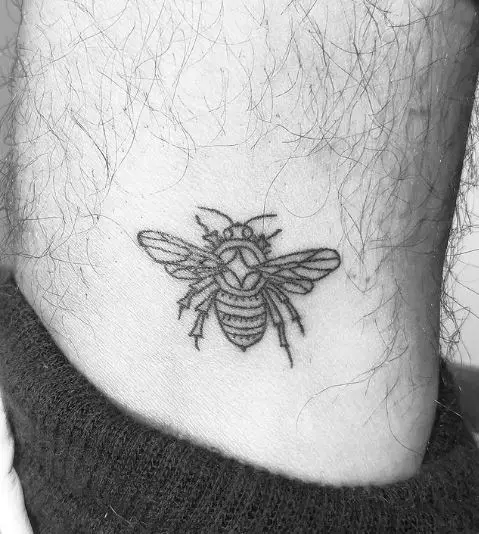 Image by @ink.magnus via Instagram
There are many different species of ants. This is the prettiest of them all. If you're an entomologist that has a baddie side to you, then you should give this ant minimal tattoo a try.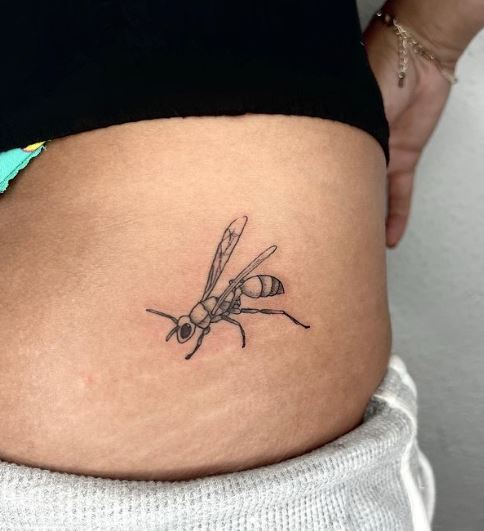 Image by @cchaaooss via Instagram
Minimalist Moon Tattoo Ideas
The moon is a beautiful thing that provides light in the darkest of nights. Moon tattoo ideas are done to serve as a reminder that there is always light even in the darkest days, we just have to find the light and hold on to it till the darkness passes.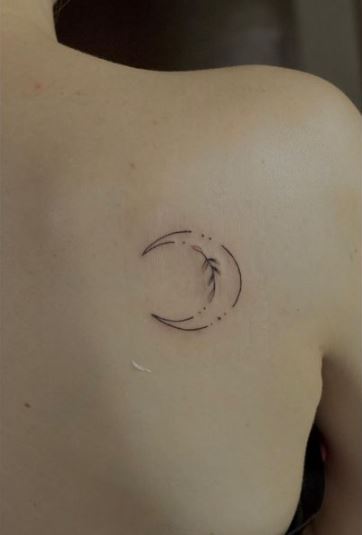 Image by @malasztukaa via Instagram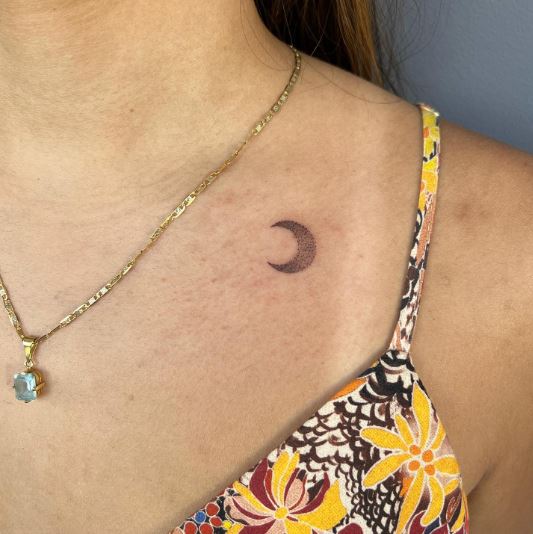 Image by @rodrigotatuagem1 via Instagram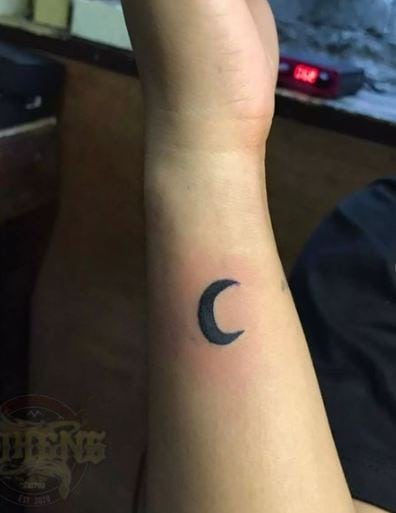 Image by @yokens.tattoo via Instagram
Minimalist Sun Tattoo Ideas
Minimalist sun tattoos are another meaningful tattoo idea. In most cultures, the sun signifies light and rebirth. This is because, without the sun, no organism would be able to live and thrive on earth.
Minimalist sun tattoos are usually done using negative space and fine, neat lines. Most designs are enhanced with stippling and twinkles, making them a pure pleasure to have on one's skin. Sun tattoos are a suitable design that looks great on both men and women.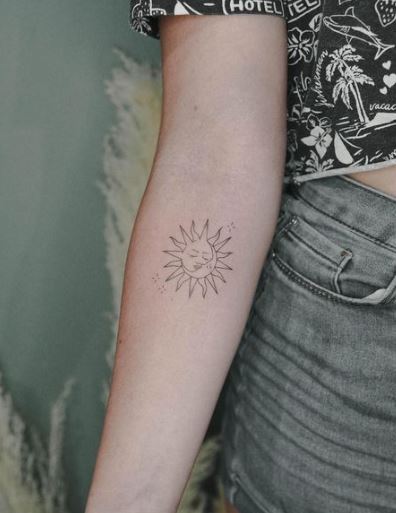 Image by @crissguerreirotattoo via Instagram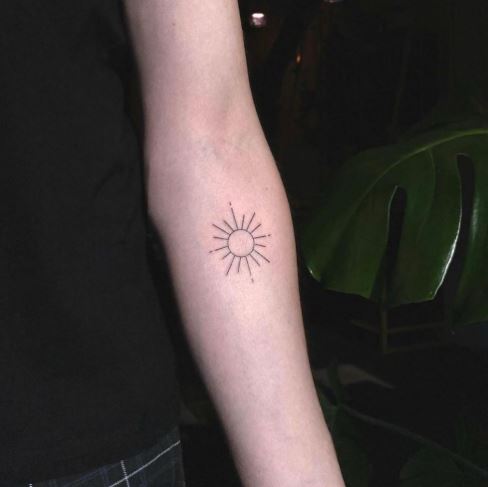 Image by @handpokepolska via Instagram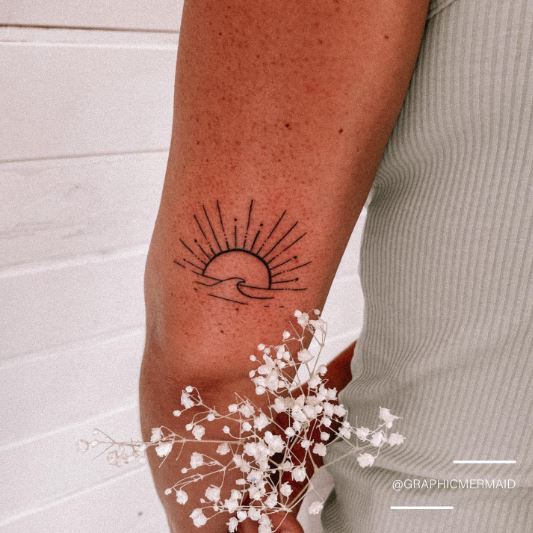 Image by @graphicmermaid via Instagram
Zodiac Sign Minimalist Tattoo Ideas
Getting a tattoo of your zodiac sign is a way of preparing people you meet about what to expect when it comes to you.
Geminis are intelligent and extroverted, but you have to deal with their impulsive and inquisitive nature too.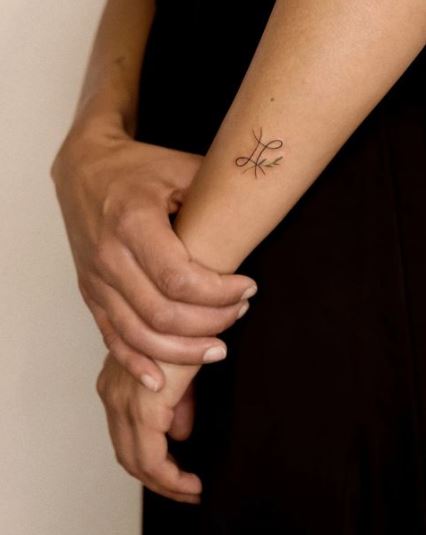 Image by @zana.ink.studio via Instagram
This is a cool and lovely Aries tattoo to get. Aries are ambitious but honest individuals that are excellent organizers.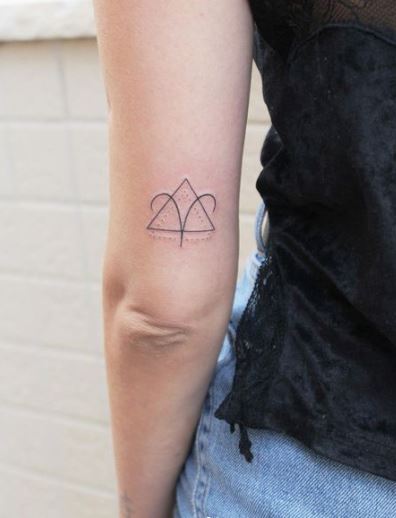 Image by @sapiryahell via Instagram
Birds Minimalist Tatoo Design
Birds are symbolic creatures that represent freedom. Getting a bird minimalist tattoo expresses the desire and eagerness to live a free and liberated life. If you're someone that is working on trying to be more outgoing and adventurous, a bird tattoo idea is just what you need to get started on your journey to freedom.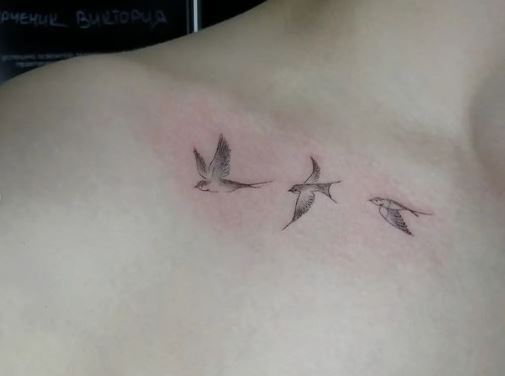 Image by @tori_tattookrakow via Instagram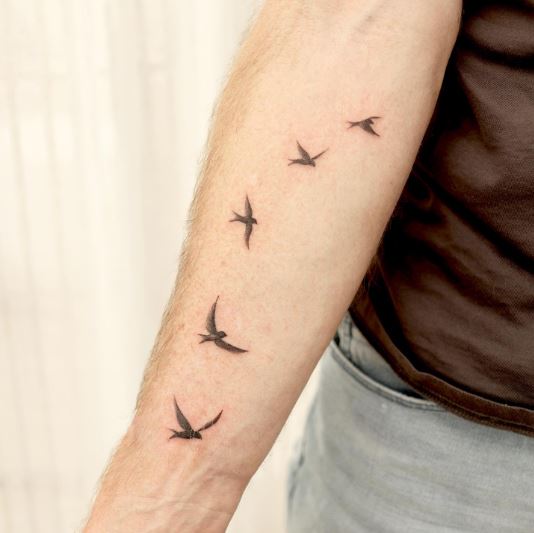 Image by @haree_tattoo_studio via Instagram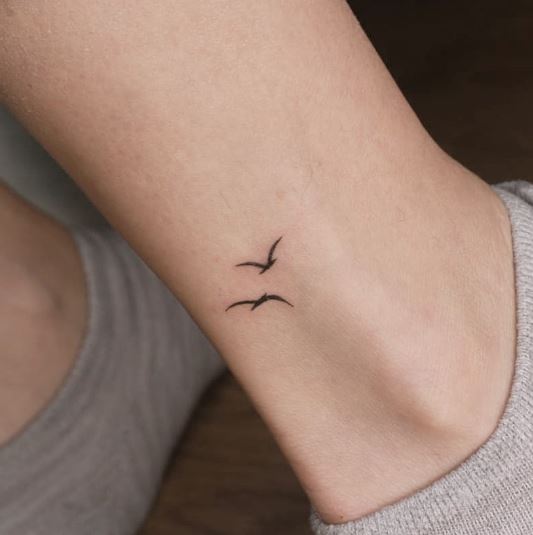 Image by @jakegomz via Instagram
Butterfly Minimal Tattoo Ideas
Butterfly minimalist tattoos symbolize beauty and femininity in the most delicate and purest form. Butterfly tattoo ideas are cute minimalist tattoos for both men and women. They also look amazing regardless of the part of your body you decide to draw them on.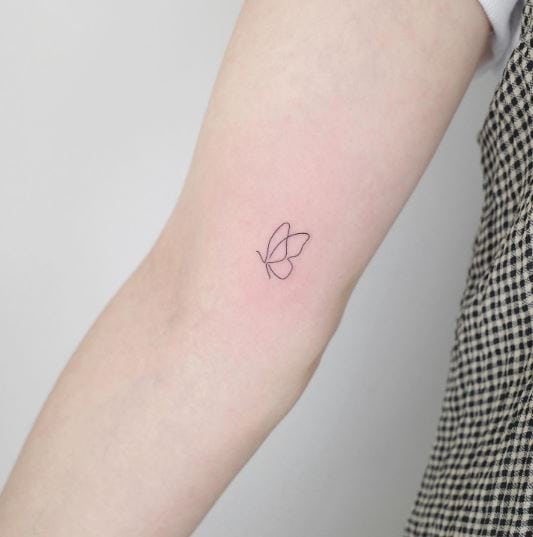 Image by @zoeylinink via Instagram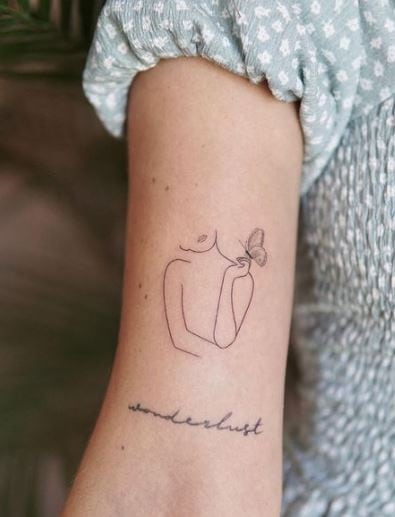 Image by @pracownia_tattelier via Instagram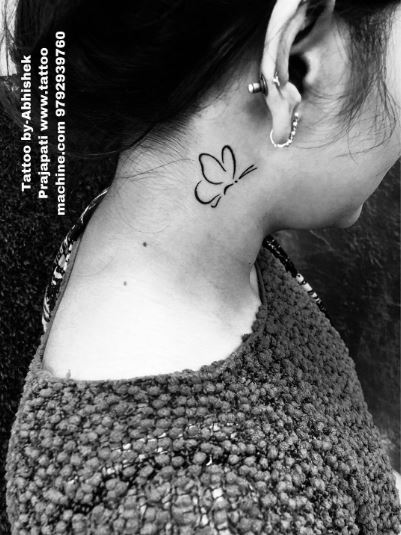 Image by @ink_art_abhishek_prajapati via Instagram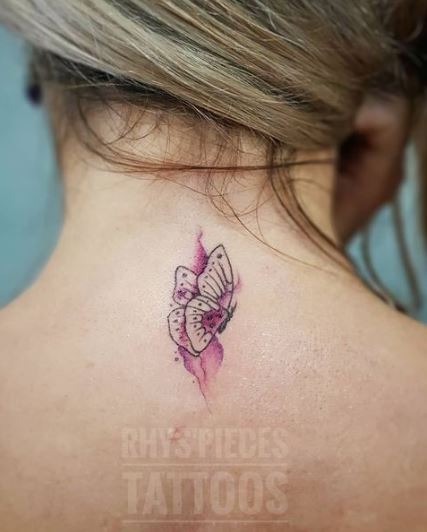 Image by @rhyspiecestattoos via Instagram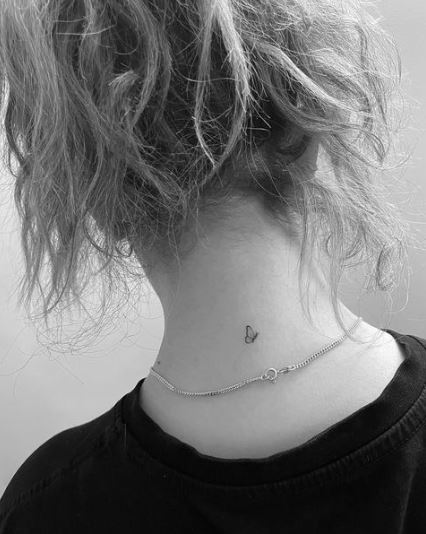 Image by @conzthomastattoo via Instagram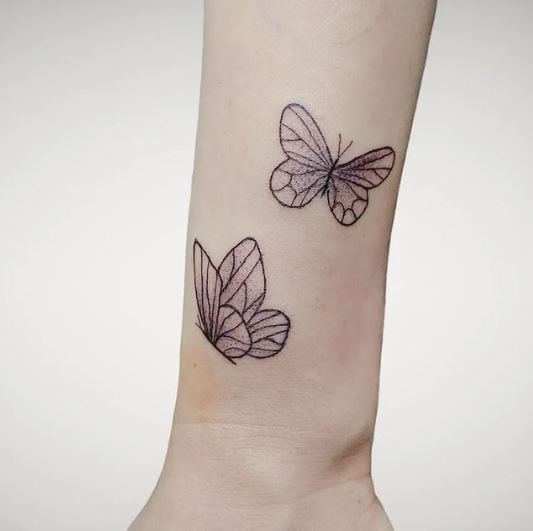 Image by @gogh.tattoostudio via Instagram
At a first glance, you might confuse this minimalist butterfly tattoo for a moth tattoo. This tattoo design is that of a delicate caterpillar that blooms into a strong butterfly. The blooming butterfly tattoo is a symbol of good fortune.
Image by @lacroixjanie via Instagram
Disco Ball Tattoo Ideas
You've probably never given much thought to the disco balls in clubs but this person sure has. Disco balls reflect light throughout the space it's in. They have the same energy you give off back to you, but better.
So if you're the kind of person who doesn't force things and gives the same energy and vibe you get, this minimalist tattoo is a great choice.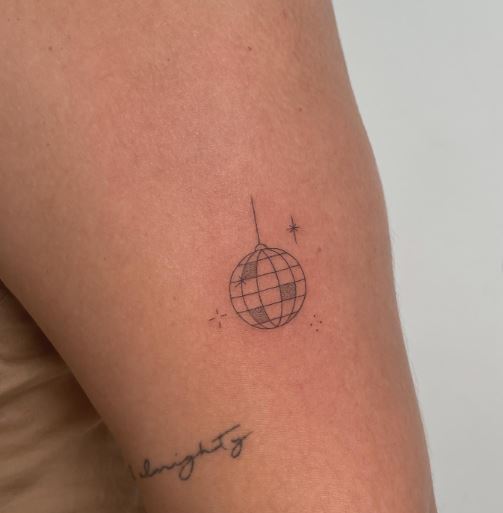 Image by @oatmilktattoo via Instagram
Delicate Jug Minimalist Tattoos
This coffee jug tattoo is brought to life by fine and bold lines. If you're like me and can't function without having at least a cup of coffee first, you can relate to why getting a coffee jug tattoo is important.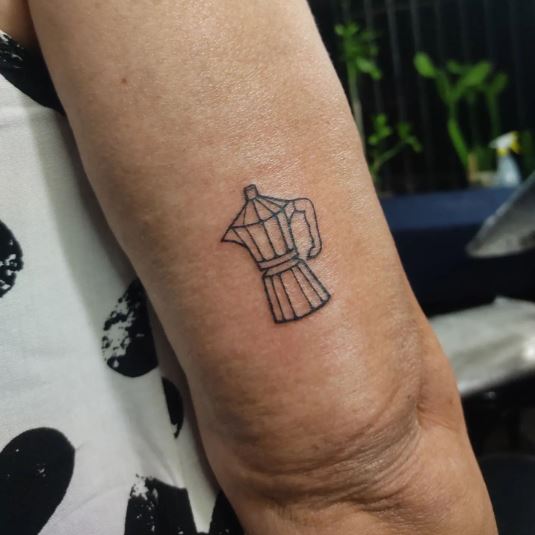 Image by @ein96_ink and studiokasero via Instagram
Black Ink Flames Minimalist Tattoo
The perfect flames are drawn here with only black lines. I love the position it is drawn in. Wearing an anklet with this tattoo will look really stunning and chic.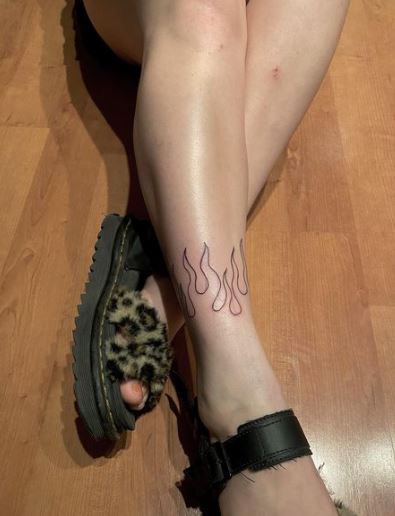 Image by @flemmingtattoo via Instagram
Among-Us Minimalist Tattoo
The teamwork spirit of the among us characters is one worth admiring. The minimalist approach of this tattoo design shows only the basic elements of the among us characters and it looks cute, to say the least.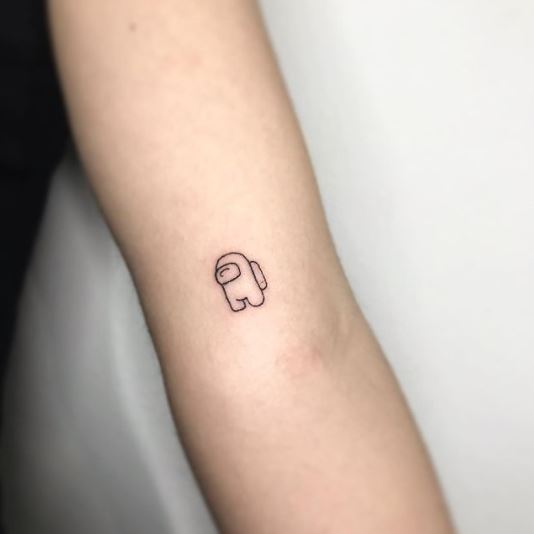 Image by @senart.ink via Instagram
Ballerina Minimalist Tattoo Idea
If you're a fan of ballet dancing, or you have a loved one who is a ballerina, this cute ballerina minimalist tattoo is a great option for you.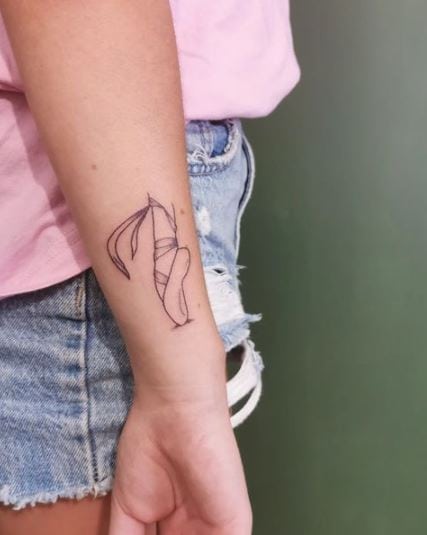 Image by @lekactusse.ttt via Instagram
Geometric Shapes Minimalist Tattoo
This 'Agenda aberta' tattoo is a unique and gorgeous tattoo design. It is done using interesting geometric shapes that pair seamlessly to create the Portuguese phrase which means 'open agenda'.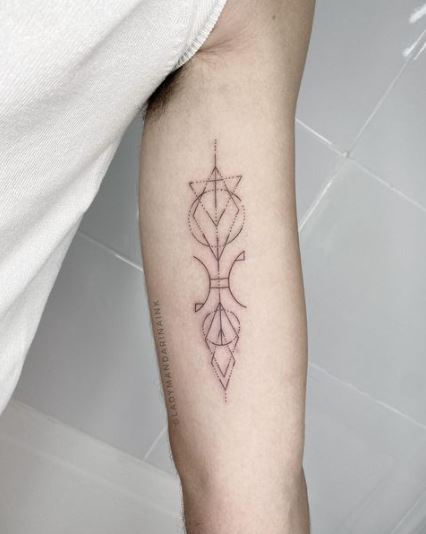 Image by @ladymandarinaink via Instagram
Serotonin Minimalist Tattoo
Not only is this a beautiful tattoo, but it is also one of the best minimalist tattoos for science nerds. Serotonin and cholesterol chemical structures are probably the most forgotten diagrams in the history of science. So getting a tattoo design like this of serotonin or cholesterol will serve as a reminder to you whenever you forget them.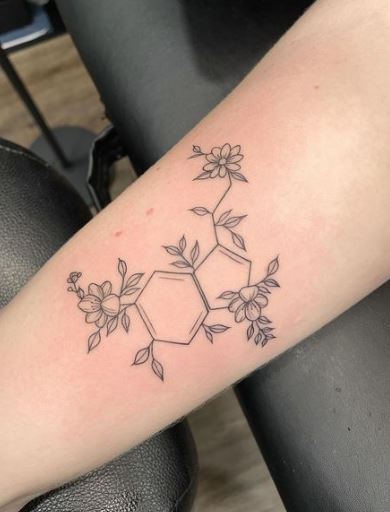 Image by @inkbyhb via Instagram
Cursor Minimal Tattoo
Simple and small tattoos like these are the most basic form of minimal tattoo ideas. This cursor tattoo is done with two lines and three dots. This is a unique tattoo design that looks bold and can serve as a way of representing female energy.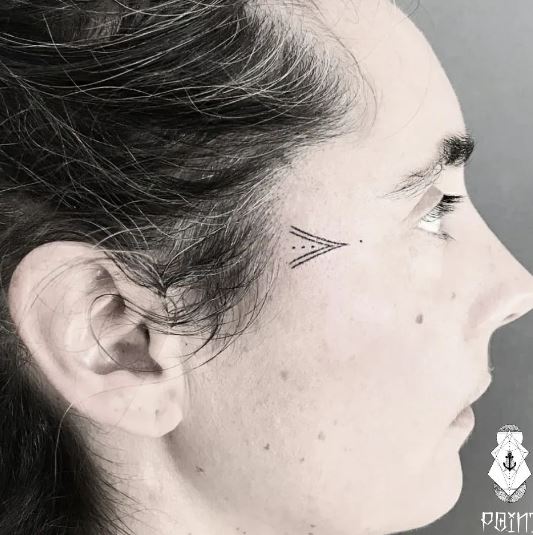 Image by @tony_da_rocha via Instagram
Third Eye Minimalist Tattoo
Eye tattoo designs have a range of meanings. The third eye is commonly associated with protection, guidance, knowledge, and clarity. Regardless of the meaning behind your third eye tattoo, you're sure to garner stares as you go about your day.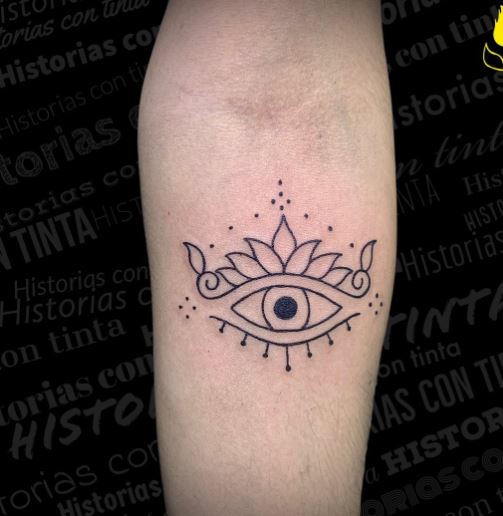 Image by @la_tatueria via Instagram
Head In The Cloud Minimal Tattoo Ideas
Being careful is a good attribute, but when you are too careful, you might end up living a life that is completely uneventful. Most decisions made with your head in the cloud turned out to be adventurous and memorable.
Image by @ninnisink via Instagram
Smoke Glass Minimal Tattoo Ideas
Fan of the peaky blinders movie? If you are, you should get this iconic body art. This is a unique and badass minimal tattoo that is fearless. This looks great on the shoulder but will look better if done on the chest with a little shading added.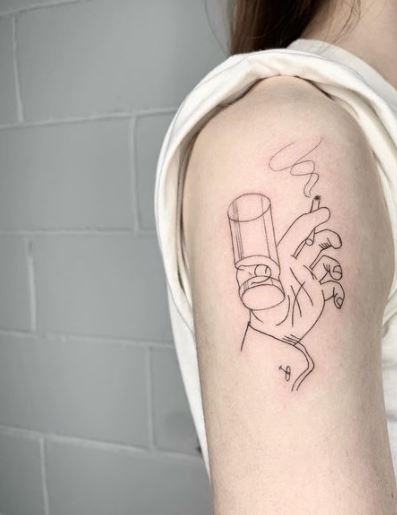 Image by @sara.commodi via Instagram
Unicorn Minimalist Tattoos
Unicorns represent magic and purity. So if you are a fan of the magic la la la lands and fairytales, this rainbow color minimalist unicorn tattoo is a great choice of body art for you.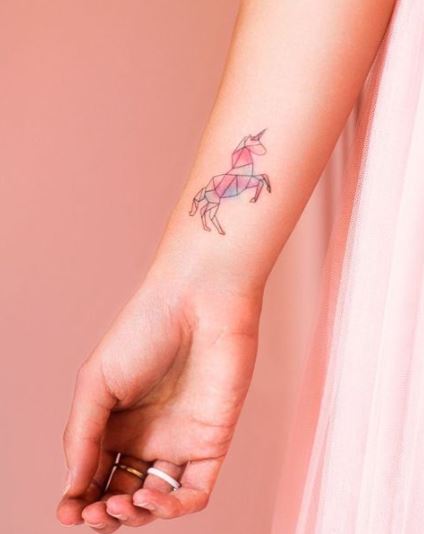 Image by @tattoo_vesna_prague via Instagram
Friends Vow Minimalist Tattoo Ideas
This is an excellent choice of body art to do with your significant other. The tattoo is done using the basic elements which are enhanced by the placement of the tattoo.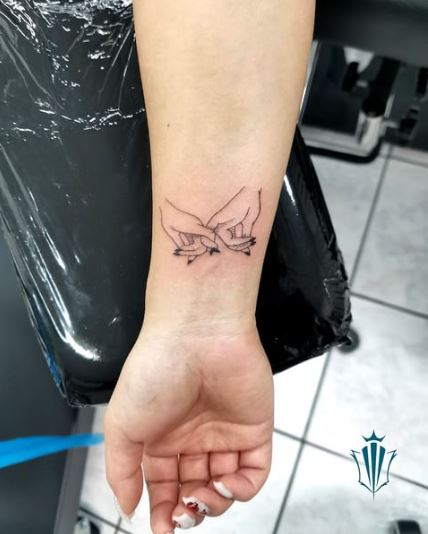 Image by @needlekingdom via Instagram
Girl Minimalist Tattoo Ideas
With leaves and stems that form the outline of a female face, this minimalist tattoo is a flawless yet beautiful design. This is a feminine tattoo that can be done as a way to express your femininity, passion, and fierceness.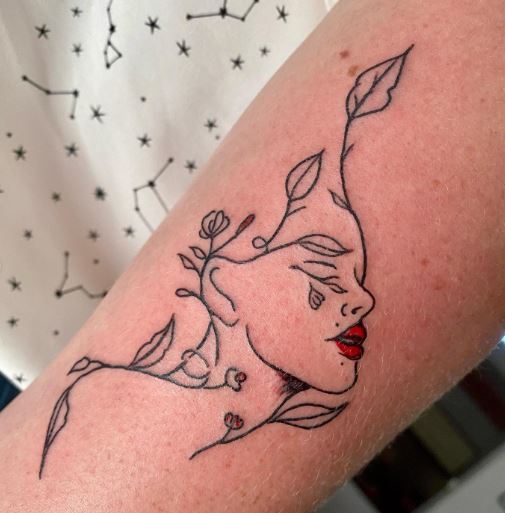 Image by @bluearttattoo via Instagram
Shark Minimalist Tattoos
Sharks are fierce creatures that are not easily intimidated. Their ability to stay calm as they hunt down prey is a characteristic worth admiring. So if you're a fan of underwater life, a shark minimalist tattoo is the best to get done to help you express your strong feelings toward marine life.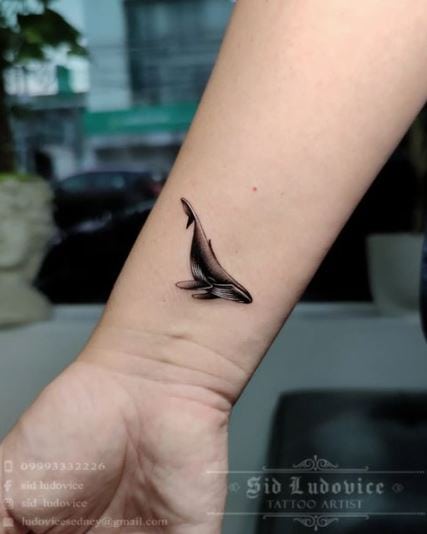 Image by @sid_ludovice via Instagram
Line Man Minimalist Tattoo Ideas
If this isn't creativity at its peak, I don't know what is. The complicated drawing of the male statue's head is tattooed to perfection with nothing but lines. The angles and dimensions of this tattoo are superb and would have taken an experienced tattoo artist to recreate.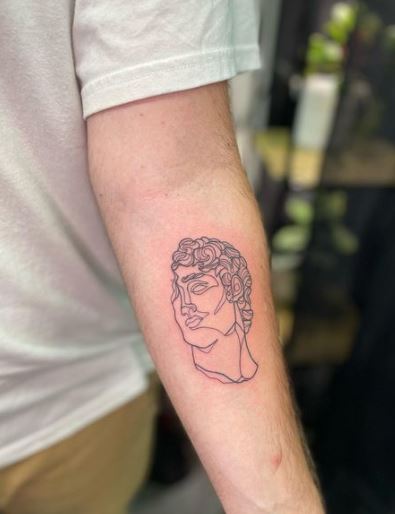 Image by @velvet_corpse via Instagram
Ghost and A Puppy Minimalist Tattoo Ideas
This minimalist dog tattoo is a simple design that brings back childhood memories. It is a fun minimalist tattoo that is doodled using lines and negative space. It would look really great if done with red ink or a little color added.
Image by @tatto_minimalist via Instagram
Angel Wings Minimal Color Tattoo
Angel wing tattoo is a fierce tattoo done by strong-willed and intense people. It signifies freedom, strength, and protection. Some say the angel wings tattoo is a form of protection against bad luck since angels are considered to be pure and perfect.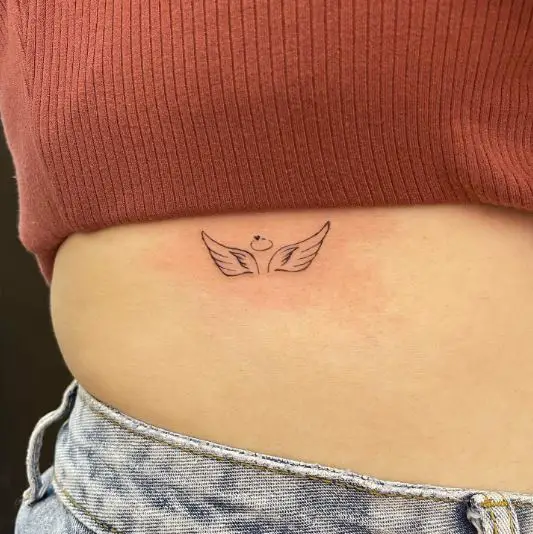 Image by @glowup_ink via Instagram
Anchor Minimal Tattoo
Anchor minimal tattoo refers to the life of the sea. If you're like me and you derive pleasure in watching and re-watching pirate movies, getting an anchor tattoo will make sense to you.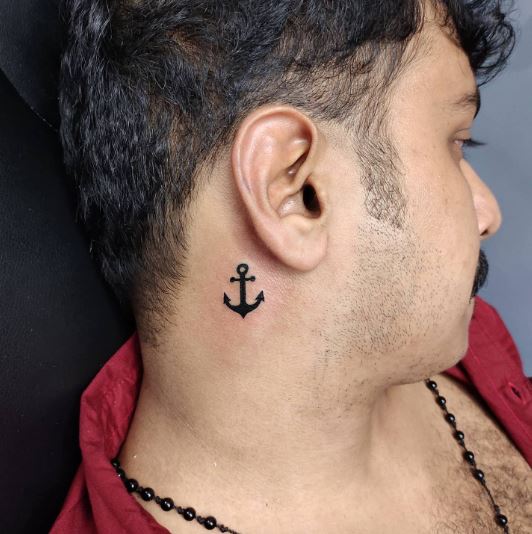 Image by @venom_tattooz via Instagram
Frequently Asked Questions
What Does a Minimalist Tattoo Mean
A minimalist tattoo focuses on the basic elements of a design. Minimalist tattoo design proves that less is more. Most of these tattoo ideas speak volumes with just a few strokes of your tattoo pen.
What Is The Size Of Minimalist Tattoos
Minimalist tattoo size ranges from 5 – 6 inches. However, this depends on the tattoo style you choose. Some tattoo designs have parts that spread wider, while others have just a single part. The most important thing is to make sure that the tattoo is done in fine lines and with as little shading as possible since this is what makes up a minimalist tattoo.