From simple hearts to birds flying away, there are many different tattoos that can help you to express the grief of losing a baby.
Working as an artist for so many years, I've had to design far too many miscarriage tattoos. However, I would always draw comfort from the fact that my clients seemed to gain strength and acceptance from these tattoo designs. So, I thought I would share some designs that may help you do the same.
In this post, I will show you the different miscarriage tattoo ideas you can borrow from. I have also included some of the meanings behind them.
The Most Beautiful Miscarriage Tattoo Ideas
The following miscarriage tattoo ideas should offer you all the miscarriage tattoo inspiration you need:
Heart Miscarriage Tattoos
As David Platt once said:
"There's a unique pain that comes from preparing a place in your heart for a child that never comes."
How true this is! You start loving your baby from the moment you're aware of their existence. It doesn't matter how far along you are or whether you are showing or not – you love your baby.
So, you begin making room in your heart for them. You do so with the belief that your love for them will continue to grow and evolve over the next few months and then for a lifetime.
When you experience pregnancy loss, you aren't losing that love. Instead, you are simply taking on more pain than others can imagine. The love, though, is always there in your heart. In many cases, this love will continue to be there, even if you are blessed with a rainbow baby after.
Due to this, heart based miscarriage tattoo ideas can be a great way to express your pain and loss, while also remembering them and keeping them in your heart.
Heart Miscarriage Tattoos
Here are some of the beautiful and heartfelt tattoo ideas that you can consider:
If you're looking for a small or minimalistic tattoo, this is a miscarriage tattoo that you may want to consider. Although it may be simple, such a tattoo holds a great deal of meaning.
This combination heart tattoo is a lovely reminder that you will always carry your baby's memory with you.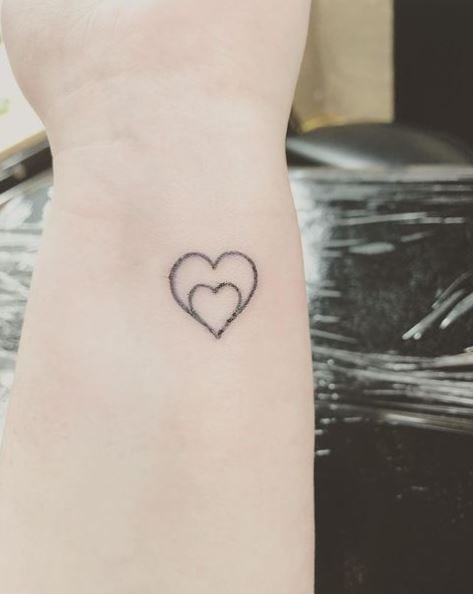 Image by @jennylindquistmomlife via Instagram
If you want to include more detail in your body art, this is a tattoo you may want to draw inspiration from. As a bonus, you can ask your tattoo artist to add the signature colors for miscarriages.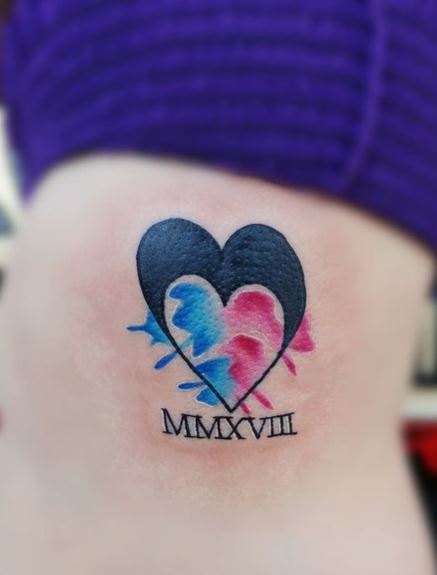 Image by @bri_55555 via Instagram
This is such a gorgeous tattoo that captures the emotional pain that many parents, mothers in particular, will experience after learning of their baby's death. At the same time, the tattoo depicts love, hope, and connection. This can be a good tattoo to get started on your healing journey.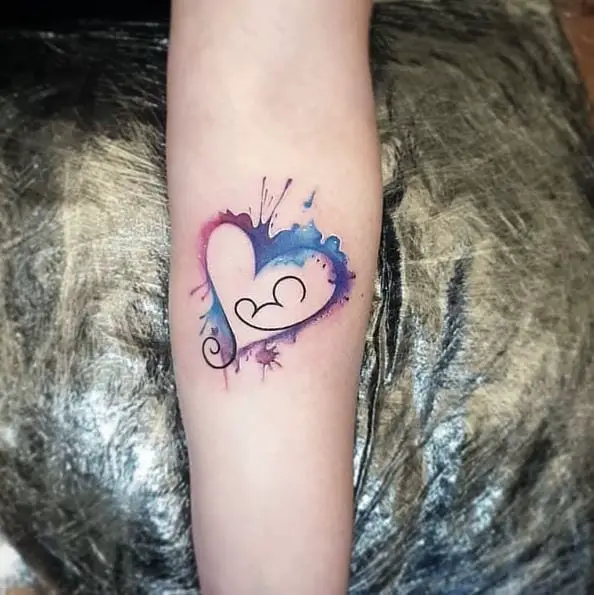 Image by @tura_satana83 via Instagram
If you would like to get a more intricate and intimate miscarriage tattoo, this is a lovely tattoo to consider. The heart is done up in delicate flowers and there is an umbilical cord attached to the infant in utero – a stunning piece of work!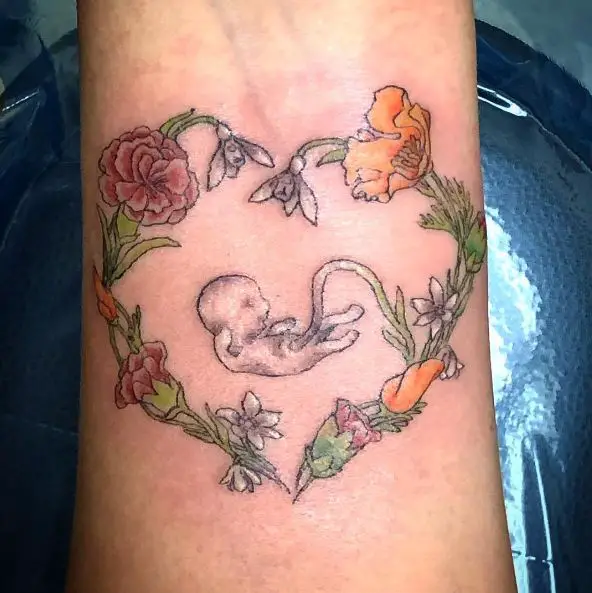 Image by @heatherpilapil via Instagram
This is a miscarriage tattoo that depicts both the past and the present. Here, the small hearts represent the lost babies while the larger hearts are for the rainbow babies they were able to conceive.
This is a good way of reconciling loss and luck, sadness and hope.
Image by @courtney.novak via Instagram
Mother and Child Tattoos
You will notice that most miscarriage tattoos are requested by mothers who were expecting – and there is a reason for this.
Fathers and non-expecting partners may feel sad or even devastated when a fetus or baby died. However, this doesn't really compare to an actual pregnancy loss.
After all, you carried that baby inside you – they were a part of you. As a result, you already felt like a mom. So, getting a miscarriage tattoo that reflects this is the way to go.
While you may want reminders of your loss to help you with your healing process, you may not necessarily want others to know about your experience or to ask any uncomfortable questions. So, this is a lovely miscarriage tattoo that you may want to consider.
The tattoo design is rather abstract but if you look closely, the meaning is clear. The placement of the hearts shows the unbreakable bond between mother and child even if the baby is no more.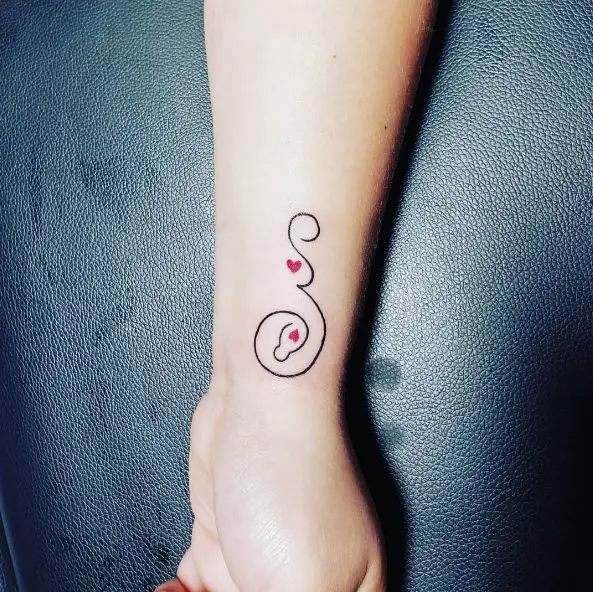 Image by @tattoosbytoppy via Instagram
If you like this idea but would like your tattoo to have more distinct features, then check these miscarriage tattoo ideas. While these miscarriage tattoos have a similar concept, you can more readily tell what you are looking at: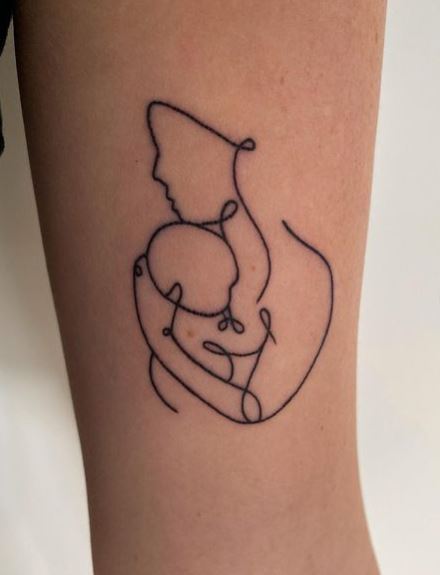 Image by @rachel_searchfield_ via Instagram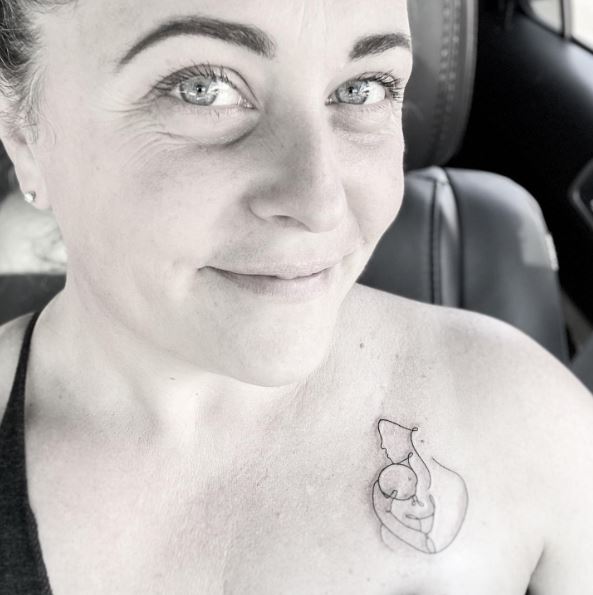 Image by @annaliseree via Instagram
I love this miscarriage tattoo due to the beautiful meaning behind it as well as the creativity involved. Here, the mother isn't explicitly shown – rather the moon which is a symbol of motherhood and femininity is used instead. To add that final beautiful touch, forget me nots – a sign that you will never forget who you have lost.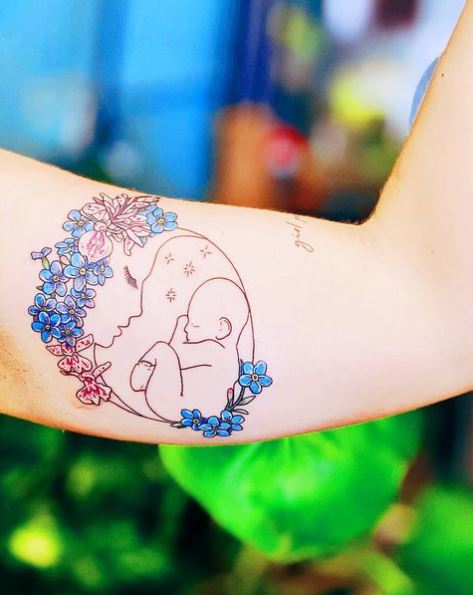 Image by @heidrunbrazil via Instagram
Of course, there is more than one way of portraying the bond between a mother and a child. This tattoo does so with the simple joining of hands.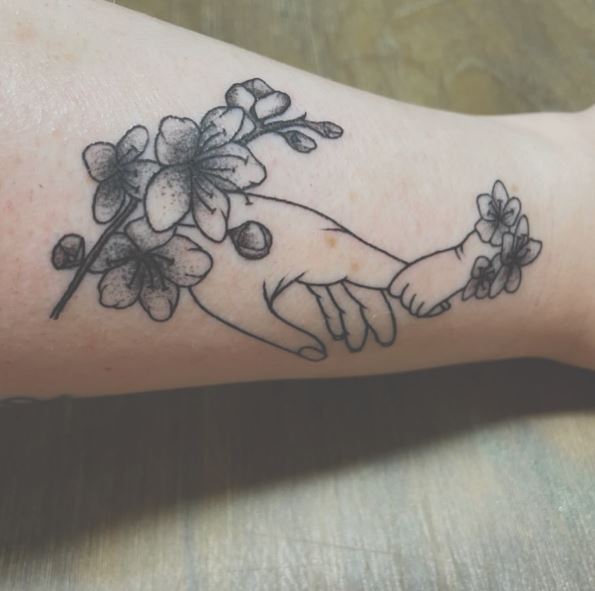 Image by @sarah_loves via Instagram
Angel Baby Tattoos
As you probably know, when you lose a baby during or shortly after your pregnancy, this child is referred to as an angel baby. Thinking of your lost baby as an angel baby can be quite helpful.
If you don't get to spend much or any time with your baby, it is easy to constantly consider the what ifs. Their first breath, their first smile, their first steps. All this can be quite distressing.
Thinking of your miscarriage as an angel baby may allow you to cope. Your little one may not be with you, but they are in the arms of the angels. They are safe, protected, and loved. They are always in your thoughts.
As such, getting an angel baby tattoo to pay tribute to the dear one that you have lost is only fitting.
So, what kind of miscarriage tattoo does this involve? Well, there are a few options available.
Miscarriage Tattoos With Halos and Angel Wings
If you want to stick with the angel theme, halos, and angel wings will be a beautiful addition to your tattoo.
This is such a lovely miscarriage tattoo – a tiny baby with angel wings resting on a moon. Not only is this incredibly meaningful, but the design is unusual and simple – it's excellent if you would like a more minimalistic approach to your tattoo.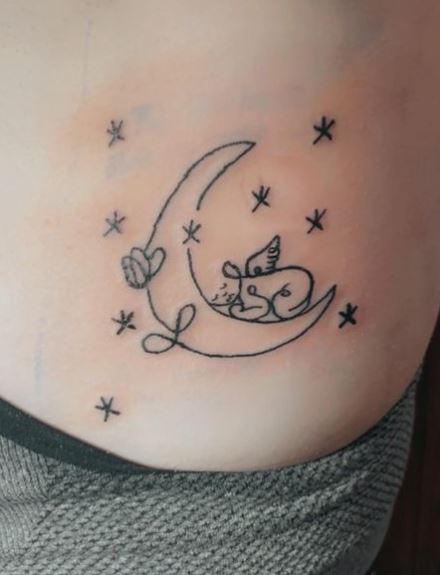 Image by @lettybishhhhxoxoxo via Instagram
If you like the idea of an outline tattoo, here is a lovely design. It's an outline of a mother holding an angel baby. This is a reminder that you will be a mother forever, even if you never got to see your baby or spend much time with them. Your love is enduring.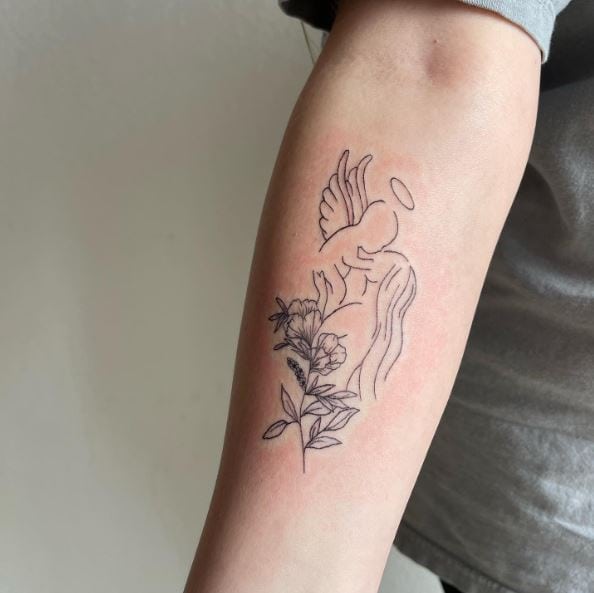 Image by @kb.artistryllc via Instagram
Here is a beautiful footprint tattoo where baby feet are topped off by tiny angels. If your angel baby was born, it could be extra meaningful to use their baby footprints. In case this isn't possible, any tiny footprints will do.
As you can see, this design works really well for matching tattoos.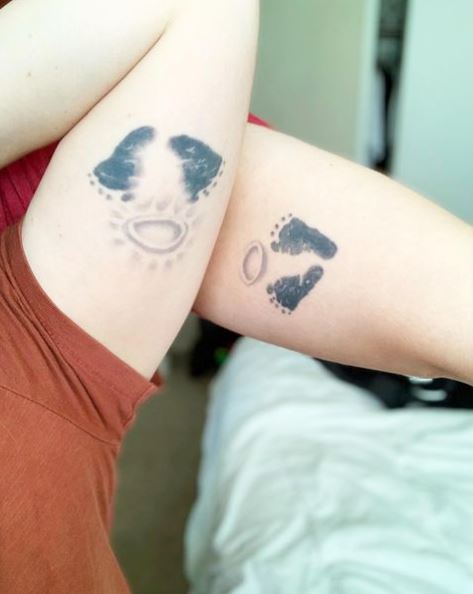 Image by @skivertribeandme via Instagram
Did you have a name picked out for the baby that you never got to meet? If so, this is a miscarriage tattoo that you should consider. Their initials guarded by angel wings are a touching tribute.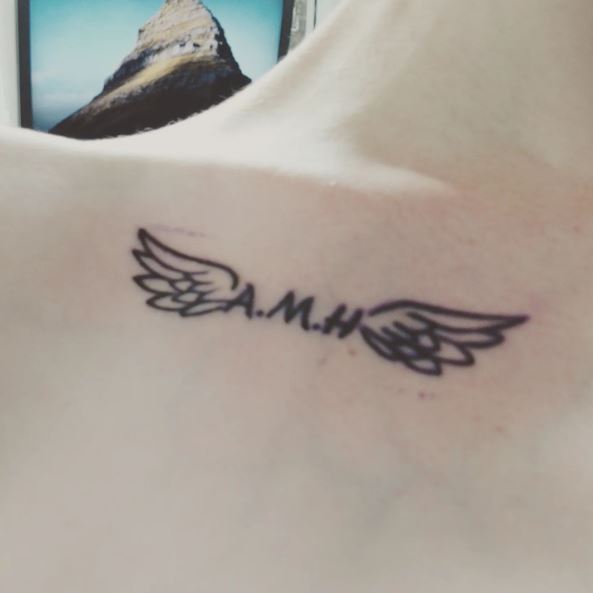 Image by @momoftwo_420 via Instagram
The unfortunate reality is that you have likely experienced recurrent pregnancy loss. This means that you may have two or more angel babies to mourn and remember. This miscarriage tattoo may be quite fitting for you.
It is a beautiful piece of tattoo art – not only it is realistic but it also depicts the babies in your womb. At the same time, the color added to the angel wings also provides you with a sense of comfort and hope for the future.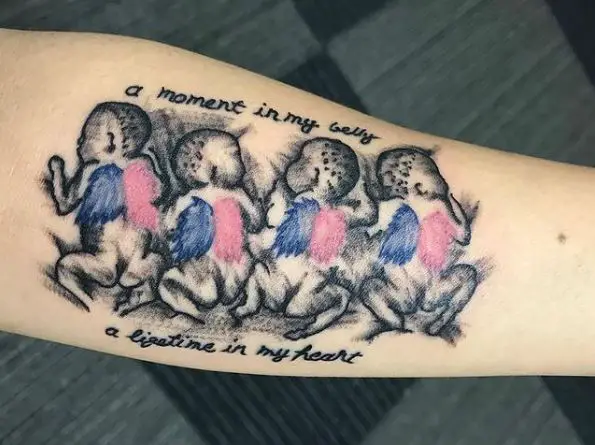 Image by @katekath87 via Instagram
Miscarriage Ribbon Tattoos
Miscarriage tattoos aren't just about grief and loss, they also spread awareness. A lot of couples have had to deal with miscarriage and it is often a burden that they suffer silently.
This shouldn't be the case – there should be more awareness about what parents and people who have experienced loss have to contend with.
A lot of parents who went through this, agree which is why there is no miscarriage awareness ribbon design. Rather than simply pinning it to your clothes, you can get this ribbon tattooed on your body.
The great thing about a miscarriage ribbon tattoo is that it allows you to identify with other people who have also gone through such a loss. By doing so, you can build a community for you and your partner to share the healing journey with others who know what you are going through.
The two colors – pink and blue – are what depict this ribbon as being for miscarriage awareness.
While you can just get a tattoo of the ribbon, there are plenty of creative ways to approach this kind of tattoo.
Take these miscarriage tattoos, for instance. It is drawn so that it forms one half of a heart.
If you like, you can add other elements such as footprints, wings, halos, etc.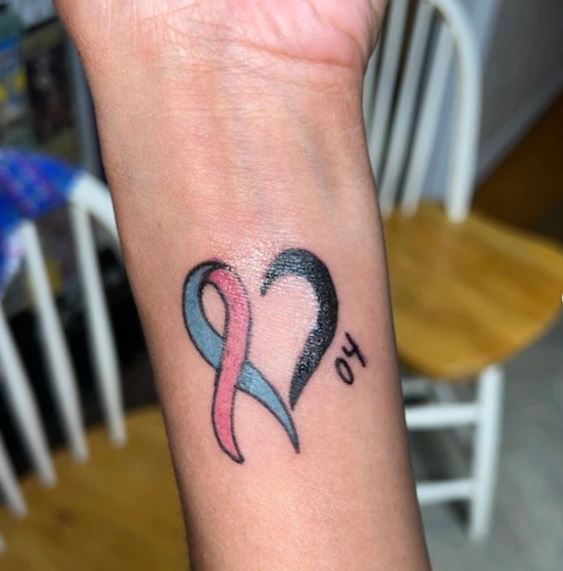 Image by @stephanie.0781 via Instagram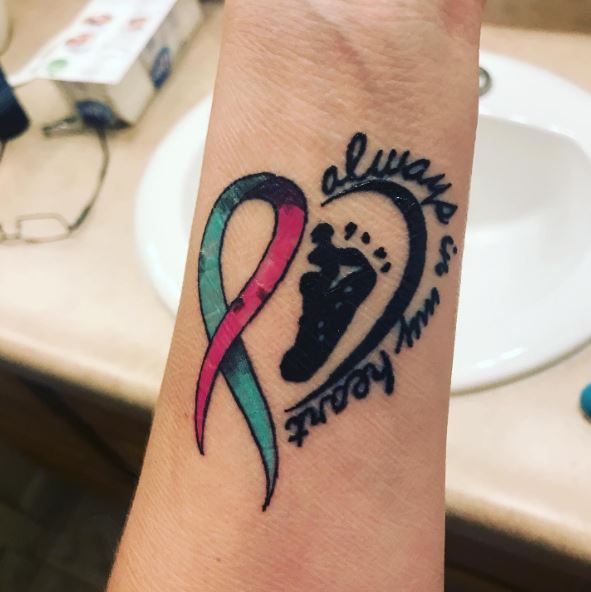 Image by @_tiffany.pence via Instagram
This is also a beautiful tattoo concept to consider. This works well if you knew the gender of your baby and would like to showcase this in your tattoo.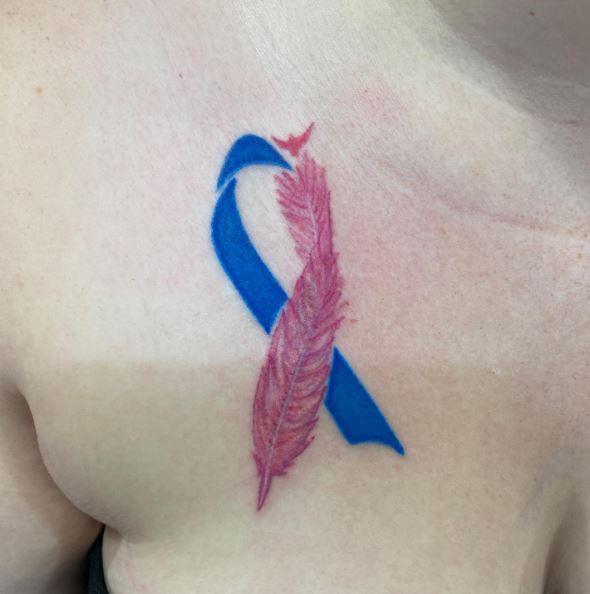 Image by @beneaththeskintattoo via Instagram
If you want to do something completely different, this is a beautiful idea.
Here, the ribbon is made up entirely of forget me not flowers but the colors used are in line with those that make up the awareness ribbon.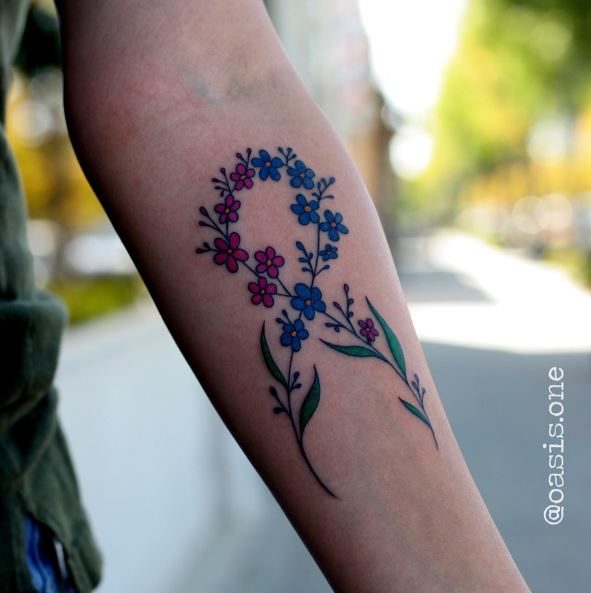 Image by @oasis.one via Instagram
Would you prefer a slightly more subtle design? If so, check out this one. A dove carrying the ribbon its beak is a beautiful sentiment.
This tattoo idea also works well if you are religious. They are considered to be symbols of love and peace. They may also be seen as a sign of new beginnings.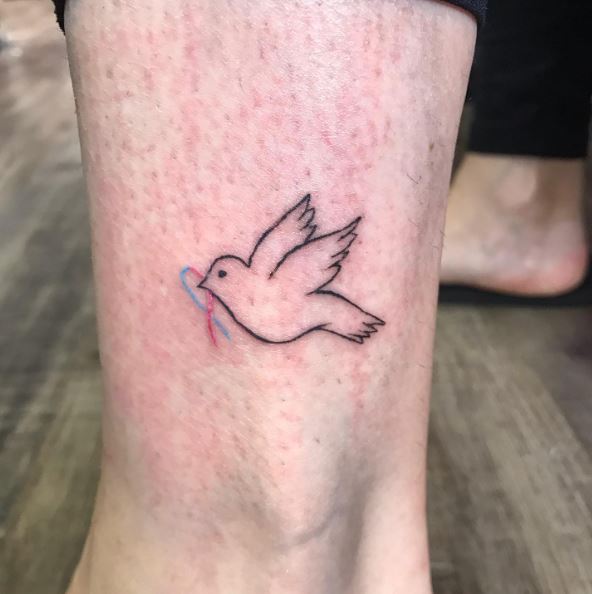 Image by @miki.peach_ via Instagram
In case you want a tattoo that's beautiful and heartwarming, check out this idea – the ribbon here acts as both a halo and as a part of the angel baby's wings.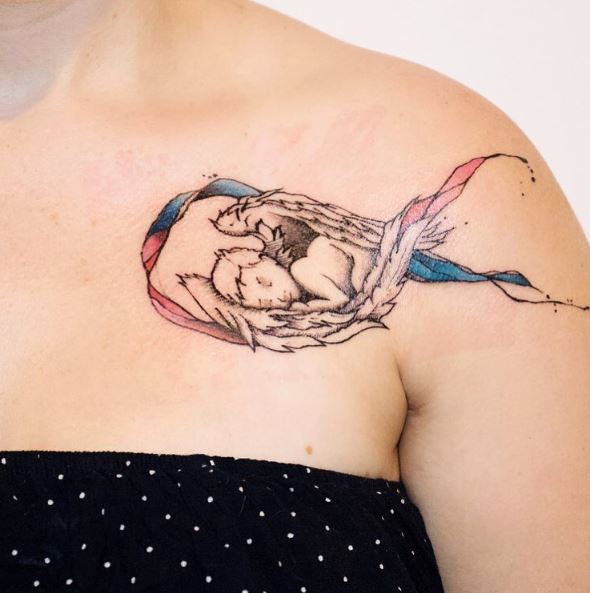 Image by @with.love.we.grew via Instagram
Memorial Tattoos
You may be a little confused by this category. After all, can't all the above miscarriage tattoos be considered memorials? Yes, you would be right – these miscarriage tattoos can be memorial tattoos as well.
The difference between the following memorial tattoo designs is that they contain dates or times as well. They may also contain the name or the nickname of the baby that you lost.
These miscarriage tattoos may be better suited to people who lost their babies in late-term pregnancies. It also works for mothers who had to go through the heartbreaking process of giving birth to stillborn babies or who spent a few hours or days with their little ones.
In this case, the loss and grief can feel so powerful. You may have been so close to meeting your little one or maybe you had the opportunity to hold them in your arms.
As a result, the day you lost them could be so significant. So, memorial miscarriage tattoos can seem like the right choice for you.
Here are some ideas you can draw inspiration from: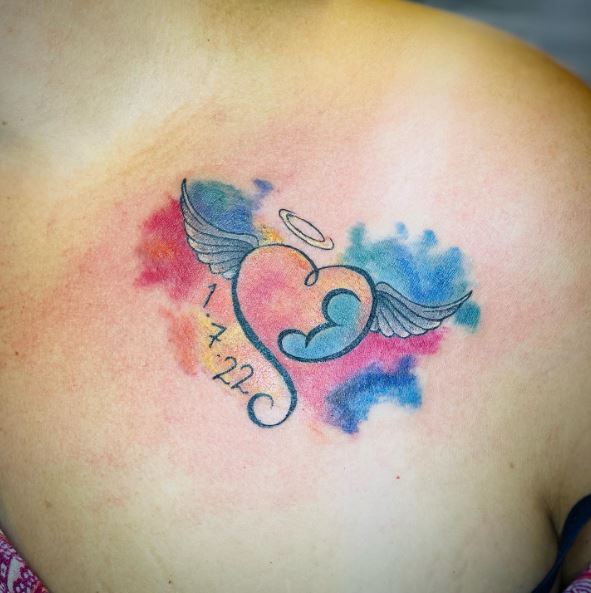 Image by @deadlysinsink via Instagram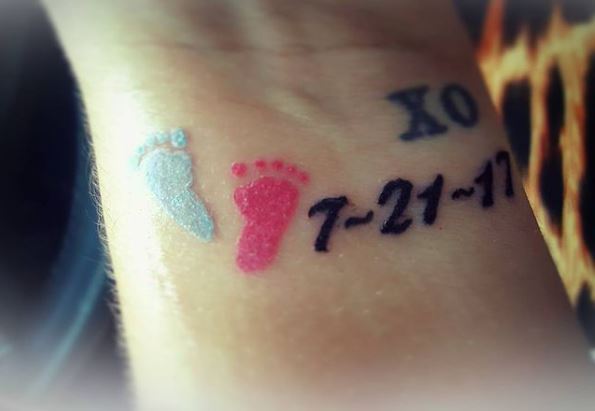 Image by @countryloverforlyfe19 via Instagram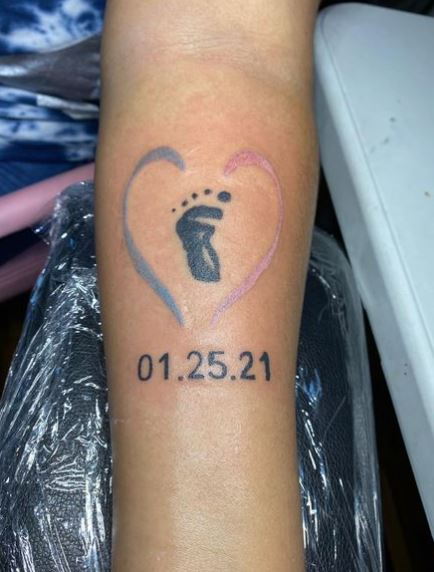 Image by @cynn.ink via Instagram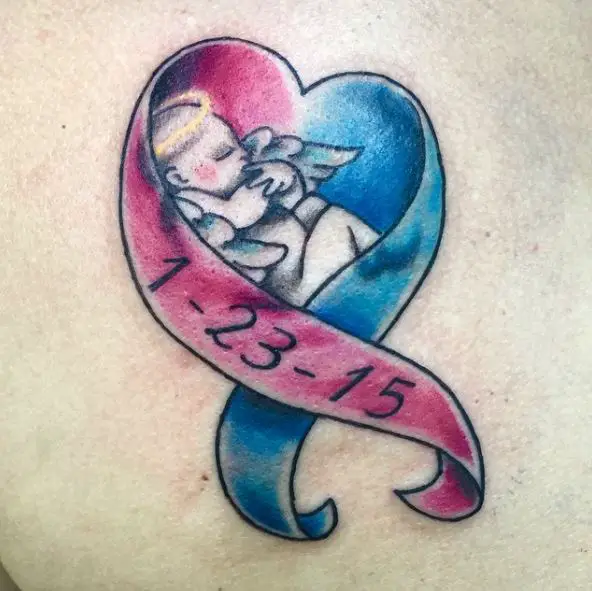 Image by @jen_ink via Instagram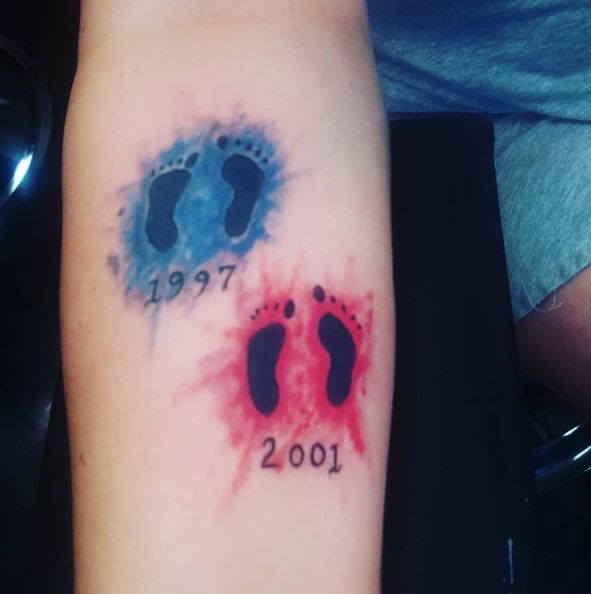 Image by @mastermindstattoo via Instagram
Dearly Departed Tattoos
I found these miscarriage tattoos to be especially beautiful. Here, the miscarriage tattoos show your baby leaving you or your family.
These miscarriage tattoos can also be a sign that you're finally ready to let go of the baby you have lost. This can be important if you want to try for another baby.
At the same time, getting this tattoo means that while you are moving forward, you are not leaving your lost baby behind. Rather, you are making room for a more hopeful future.
Here are some of the tattoos you should check out for this concept: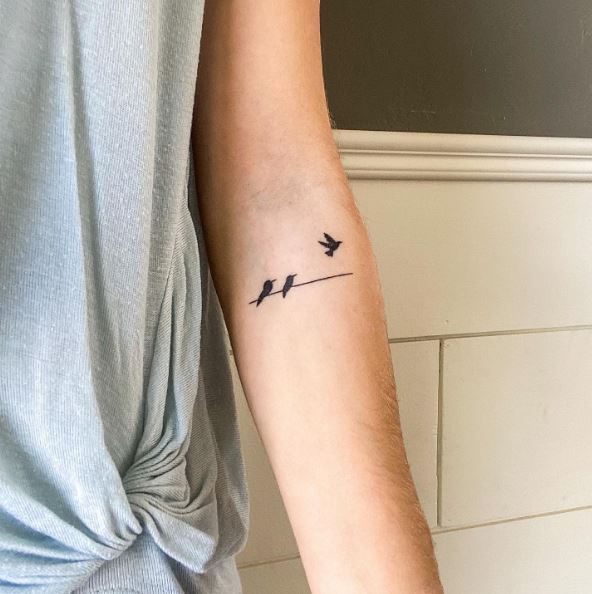 Image by @wundrow87 via Instagram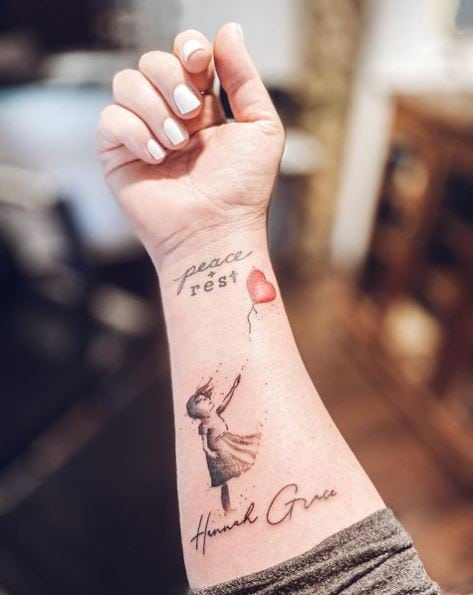 Image by @annaliseree via Instagram
If you want to combine your miscarriage tattoo with your rainbow tattoo, here are some ideas that you may want to get instead: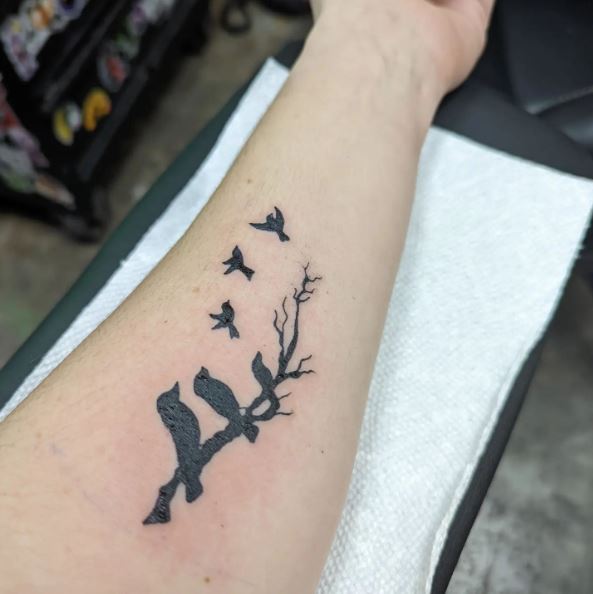 Image by @abs.and.a.baby via Instagram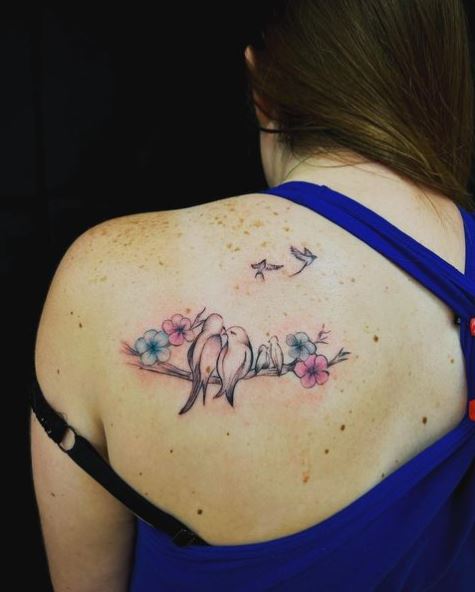 Image by @twistedinktattoostudio via Instagram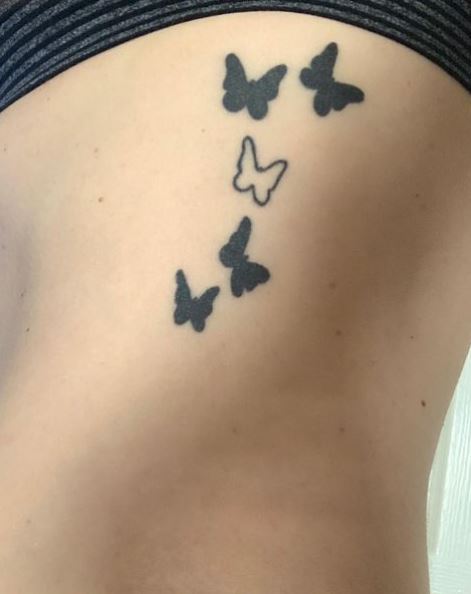 Image by @the_mother_of_all_guilt_trips via Instagram
While birds – and balloons – are popular options, you can feel free to get as creative as you like with the concepts. Think of the animals or symbols that have the most meaning to you and incorporate these in your tattoo for greater significance.
Script Tattoos
A picture may be worth a thousand words but sometimes, you need to be able to put your feelings into words. This is the only way you can deal with what you are going through.
Or, there may be some words you wished you could have said to your little one. Getting these words tattooed on your body could help you carry these thoughts around with you wherever you go.
Check out these amazing ideas: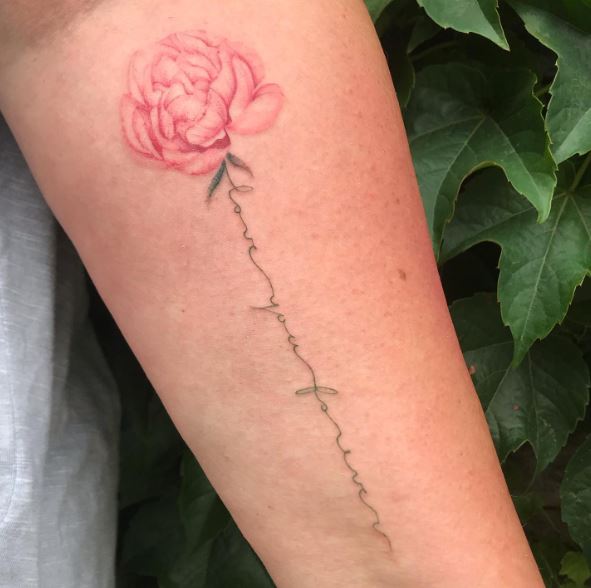 Image by @lizalvarezart via Instagram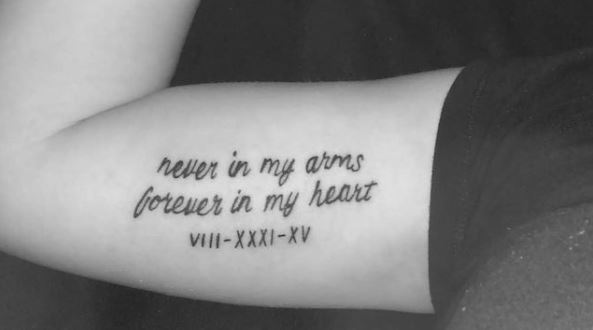 Image by @highimtjay via Instagram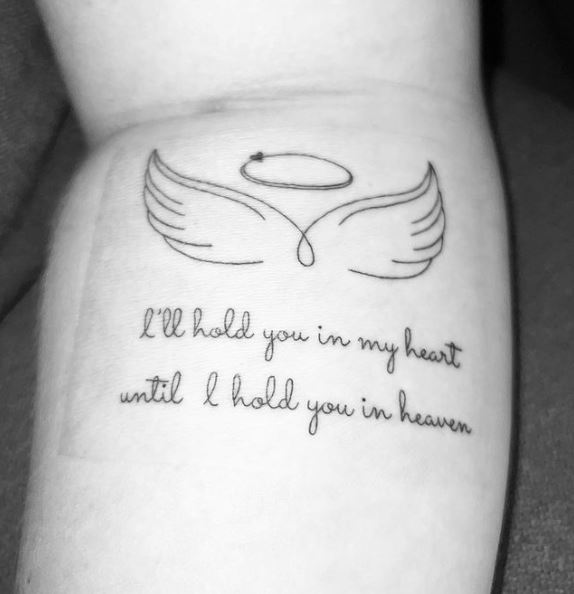 Image by @ashlyn_stratton via Instagram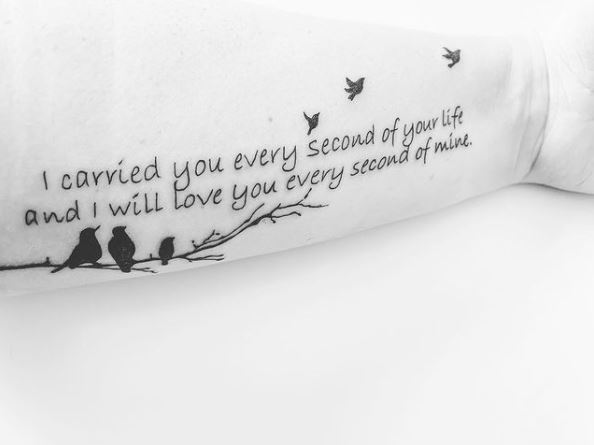 Image by @dawn.laura_ via Instagram
Time is the only thing that can help you overcome the grief you feel when you lose a baby. When you're ready to begin your healing journey or to take a new step forward, these are the tattoo designs you can consider.