A nautical star tattoo is a good luck symbol. It is also a symbol of protection and guidance.
It's a really popular tattoo design among members of the marine corps. Most marine corps who get the nautical star tattoos opt for the minimalistic tattoo because it doesn't draw much attention. Those who love the spotlight go for bold star designs like the red or blue nautical star tattoo on the arm or forearm.
Regardless of your preference, there is a tattoo design here to inspire you. Let's look at the meanings of the nautical star tattoo before exploring the 40+ best tattoo designs to get.
What Do Tattoos of Nautical Stars Stand for?
A nautical star is a five-pointed star usually done in black shading. Nautical star tattoo meanings are drawn from the north star known as Polaris. There are many different meanings associated with the nautical star based on the perception of the north star in different cultures around the world.
Sea Navigation Tool
Polaris is a star of great importance, especially to early sailors who used it to navigate the seas in the northern hemisphere.
The five-pointed star is less than a degree off the north pole. As such, its position in the sky at any point in time is fairly constant. This status makes it useful for navigation, and is called the guiding star.
In the early origins of seafaring, there were no sophisticated navigation tools to guide ships in dangerous open seas. The northern star safely guided many people in very dangerous situations at sea home safely.
Sailors get the nautical star tattoos to establish a strong connection to the north star which they believe ensures safety at sea.
Military Armed Forces
The nautical star symbol has been unofficially adopted by the sea services, marine corps, and navy, alongside the tattoo culture. Men and women in military service and other armed services incorporate nautical star tattoos with compasses for guidance and good fortune.
Most individuals who have survived dangerous sea activities while in military service get the two-stars tattoo as a symbol of their encounter or achievement. Soldiers also have a close connection with nautical stars and wear them in times of war as a symbol of protection.
Traveling
The nautical star tattoo is a seafaring motif that is believed to safely guide a person across the seas.
People with a superstitious nature believe that wearing a nautical star tattoo is crucial for safe travel. So if you are someone who travels often, having a nautical star tattooed on your body is a great idea.
Lesbianism
A nautical star symbol was commonly worn as tattoos by lesbians in the 50s. A lesbian typically wears a blue and black nautical star tattoo on her wrists. This placement is selected on purpose since the wrists can be easily covered by a watch. For lesbians, this symbol recalls the history of lesbianism.
Other Meanings
The nautical star tattoo is also said to represent hope, power, and guidance. You can add other images like that of a dolphin, anchor, or compass to the tattoo to give it a slightly different meaning. Some meanings depend also on the location of the tattoo design. Getting the star tattoo on your left wrist aligned to your thumb represents positive directions while on the journey of life.
40+ Inspiring Nautical Star Tattoos
Nautical star symbols can be diverse in design and color. The simple image of the nautical star makes it easy to incorporate into other tattoos. You can get one or two nautical stars and give them your own meaning based on your preference. Here are some nautical star tattoo ideas to choose from.
Minimalistic Nautical Star Tattoo Ideas
A minimalistic nautical star tattoo design symbolizes guidance, especially in situations where you feel lost. It can also symbolize finding one's way in life when life gets tough and direction is required. Every design in this collection is simple and minimalistic and they're designed to fit any part of the body.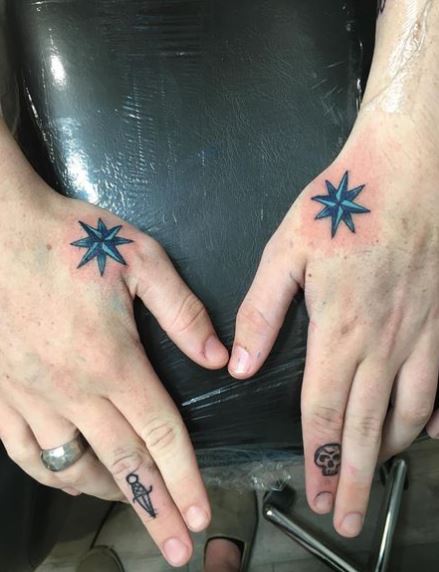 Image by @don_tito_the_original via Instagram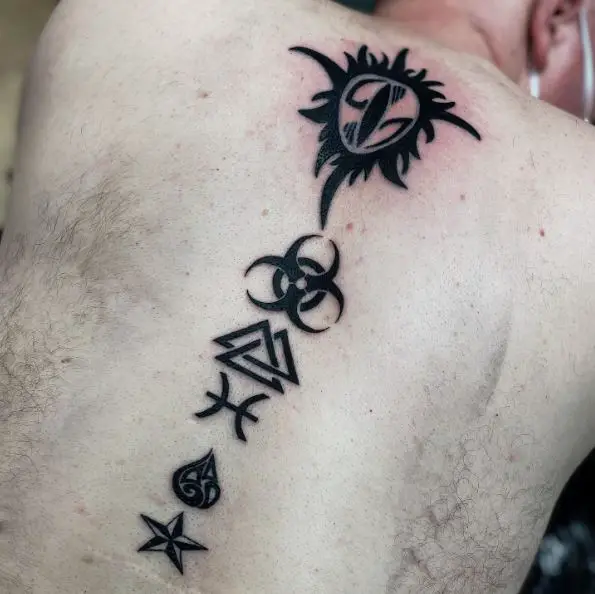 Image by @elchambo_tattoo via Instagram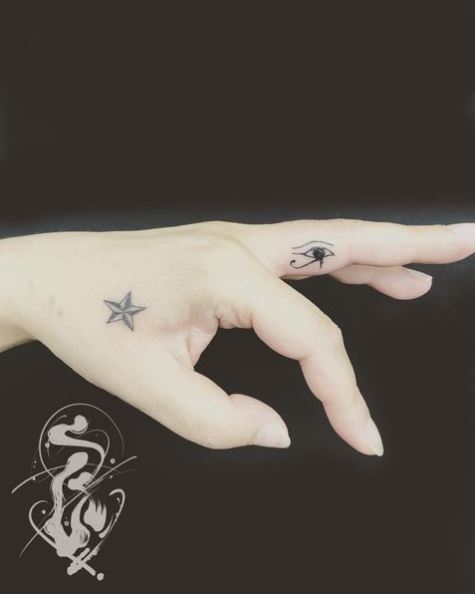 Image by @kokoro.ink_tattoo via Instagram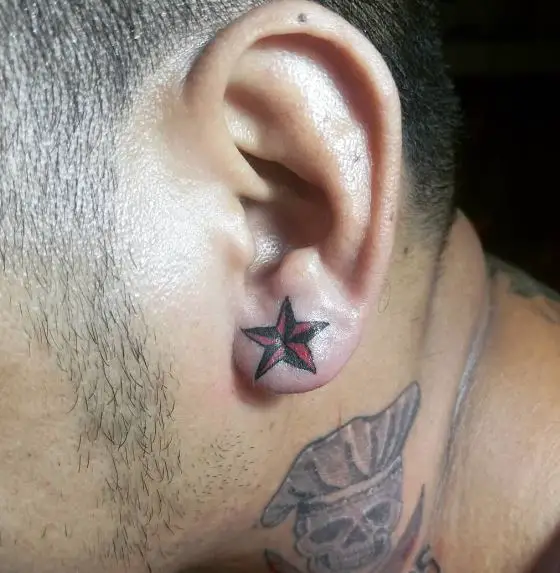 Image by @jorencuratattoo via Instagram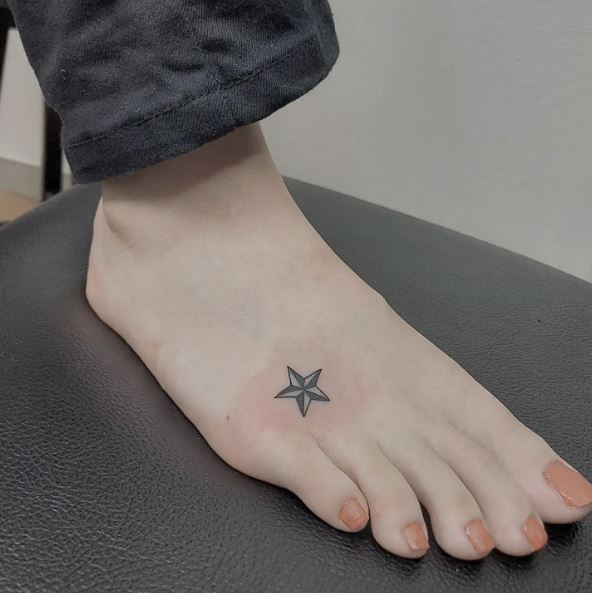 Image by @kobayashitattoo via Instagram
Chest Nautical Star Tattoo Ideas
Nautical star tattoos on the chest are an extremely popular choice for most people who go for the star design.
Getting a nautical star sign near the heart will make you feel protected and safe as you encounter dangerous situations in the open sea.
I suggest adding an anchor symbol to your nautical star tattoo on your pecs. This creates new variations to the existing design, adds more meaning, and allows your tattoo to stand out from other regular star designs.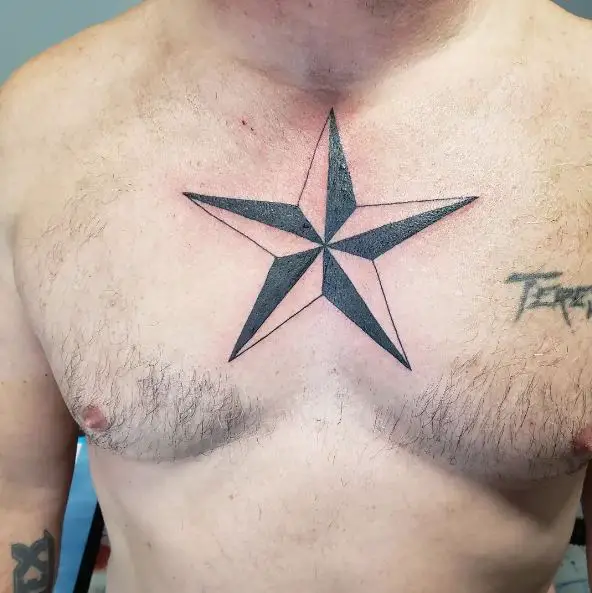 Image by @neonothingstudios via Instagram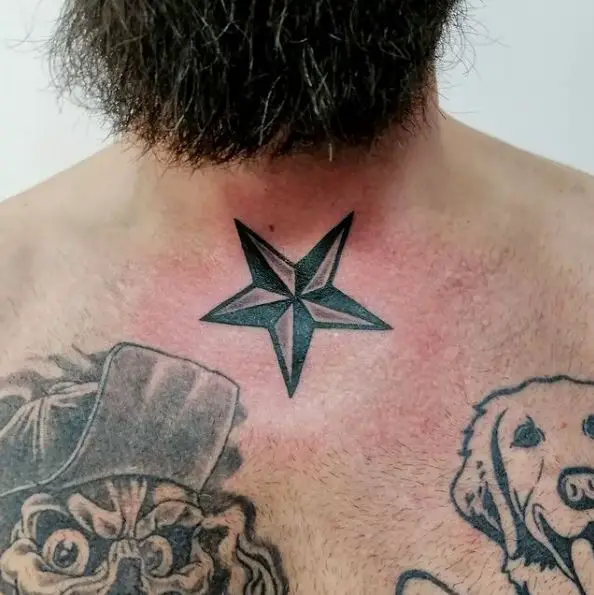 Image by @jean_se_vincent and powerderm_ink_tattoo via Instagram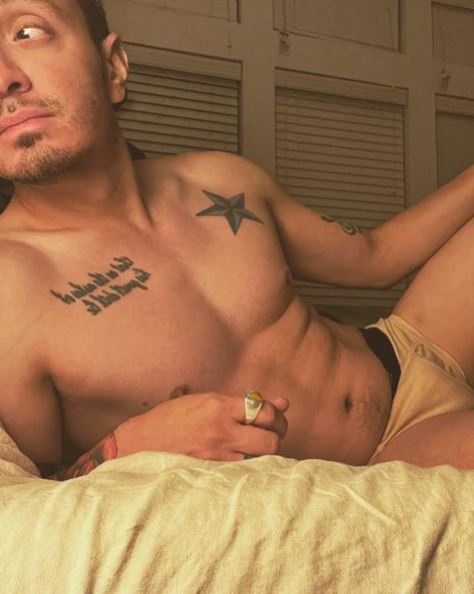 Image by @tolstoyhotstuff via Instagram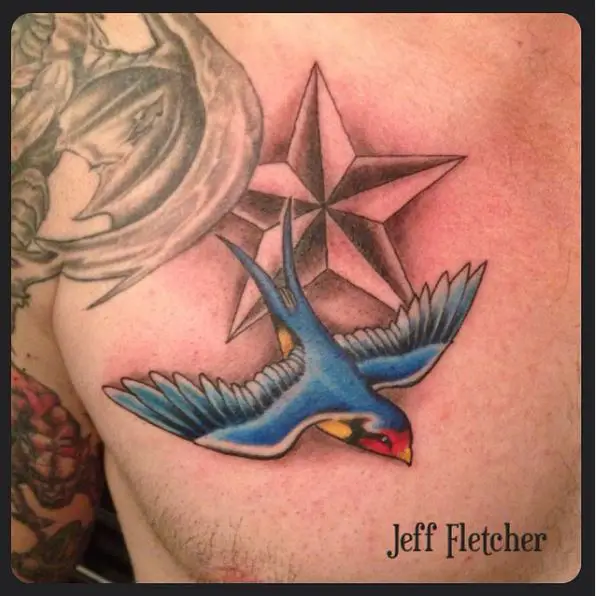 Image by @inzaneartworks via Instagram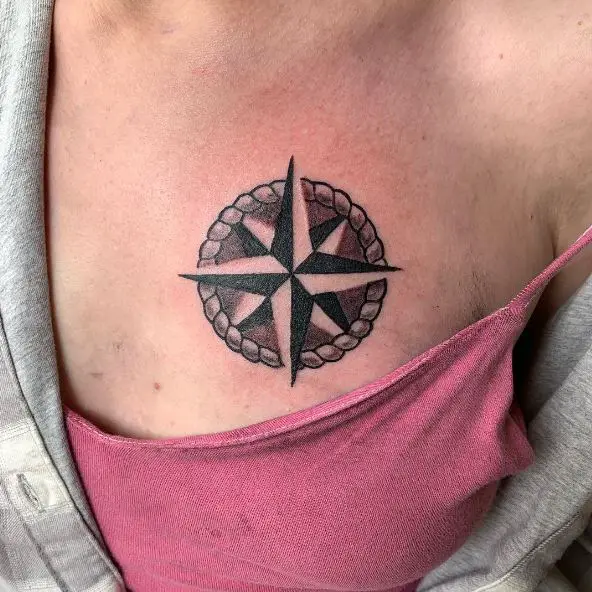 Image by @jm9tattoos via Instagram
Blue Nautical Star Tattoo Ideas
The blue star tattoo has been a strong symbol for lesbians since the late 50s. They use it as a symbolism of self-acceptance and a means of identification.
This symbolism is still relevant today. You can place your blue nautical star tattoo on your right or left wrist as it was done in the past due to discrimination. You can also have them on other parts of your body if you don't mind the attention the design attracts.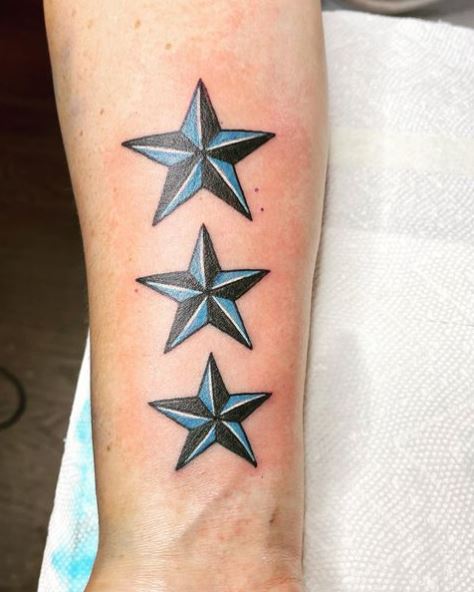 Image by @joemelito via Instagram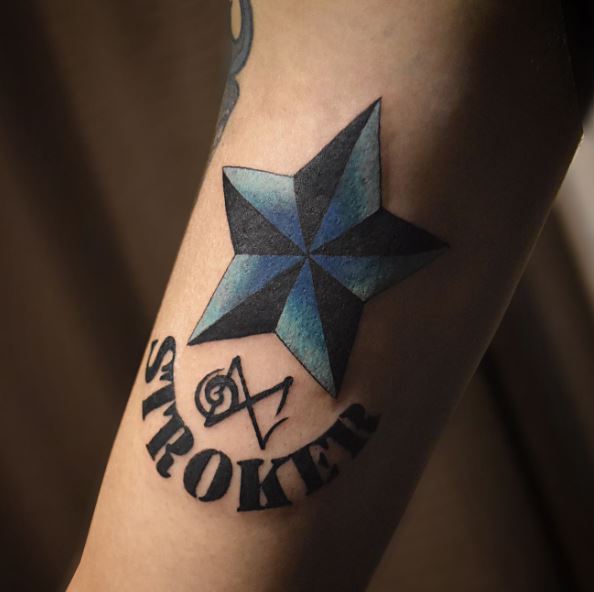 Image by @ayaka.tattoo via Instagram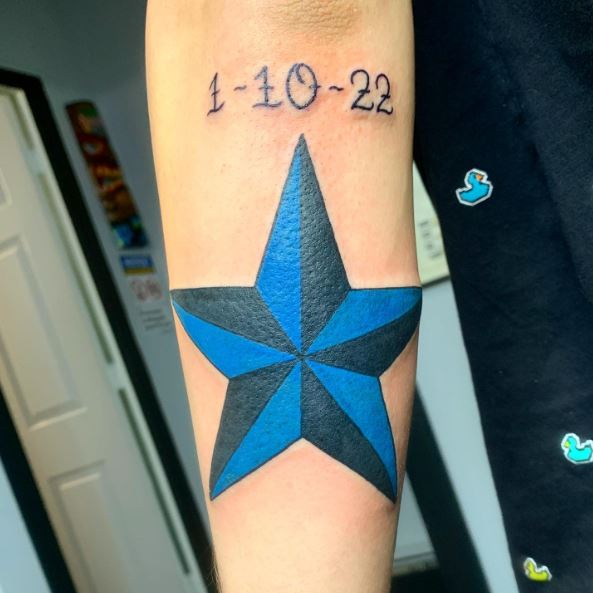 Image by @mikey_vee_11 via Instagram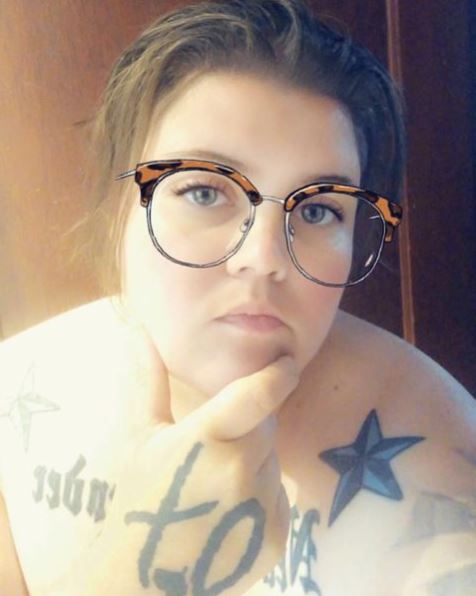 Image by @djbeast333 via Instagram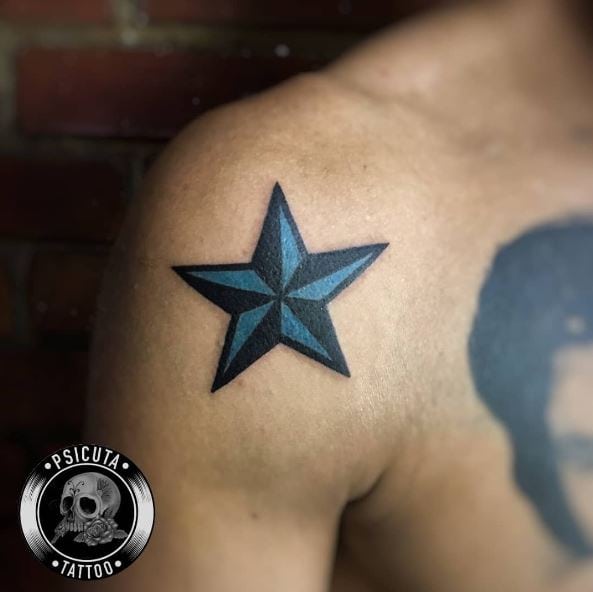 Image by @psicutatattoo via Instagram
Red Nautical Star Tattoo Ideas
The red nautical star is another vibrant nautical tattoo which carries the symbolism of survival in challenging situations at sea.
The red coloring on the tattoo of a sailor tells the story of the dangers he has faced at sea. It also pays tribute to the north star that protected his ship and crew.
A common practice for those who survived dangerous events at sea is to get two-star tattoos on their body; a red on the right back shoulder and a green on the left.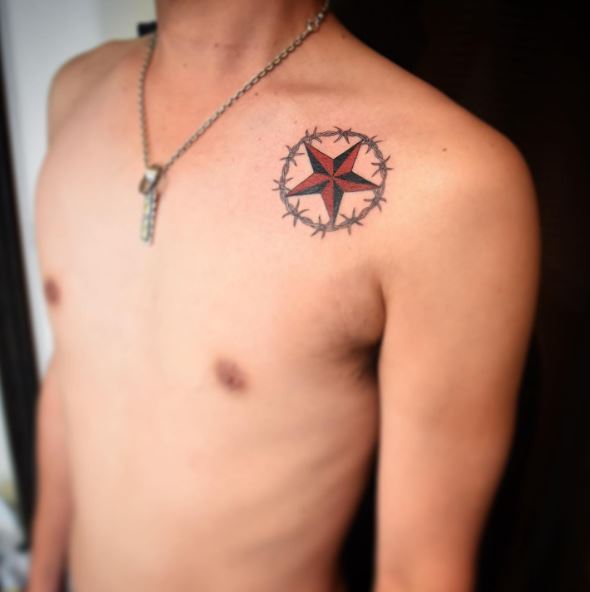 Image by @strokertattoo via Instagram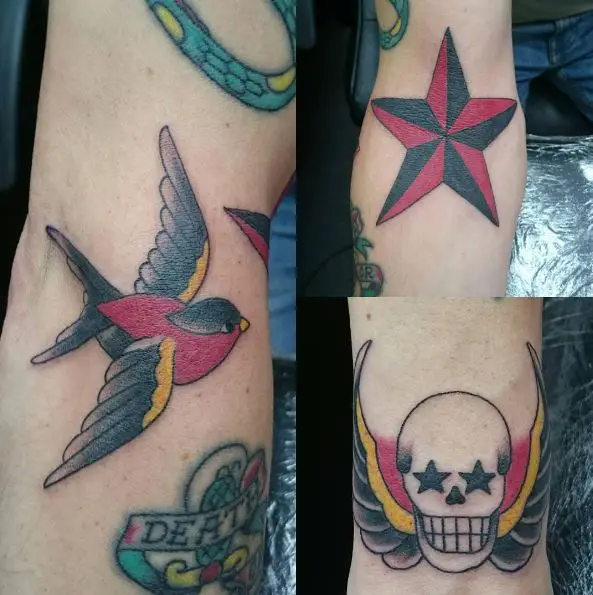 Image by @helen_tinc_etherington via Instagram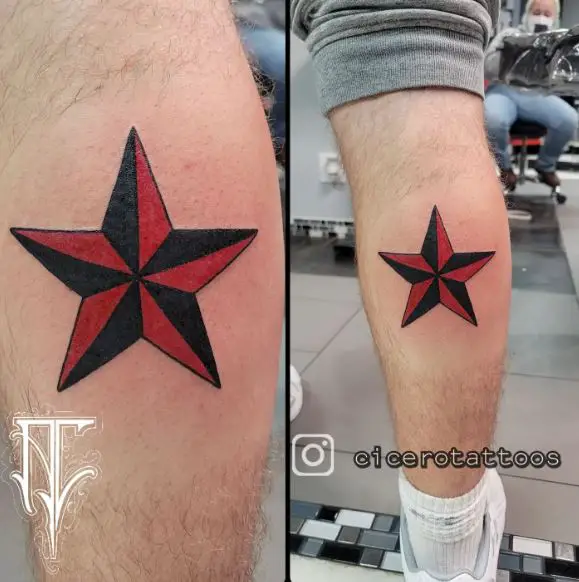 Image by @cicerotattoos via Instagram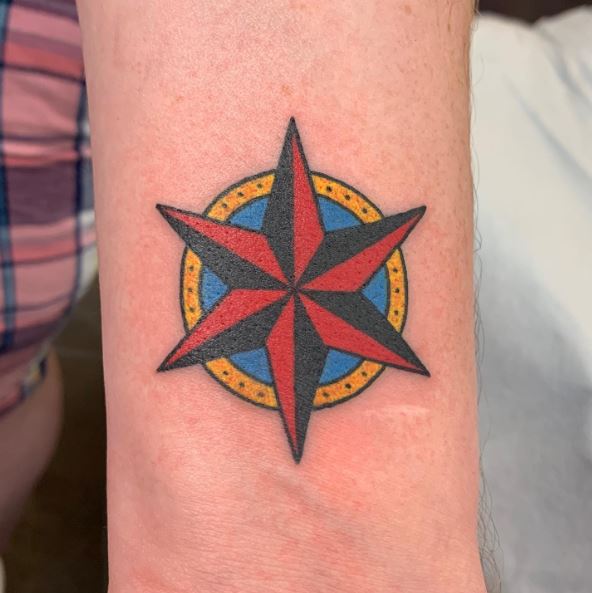 Image by @jameseastwood via Instagram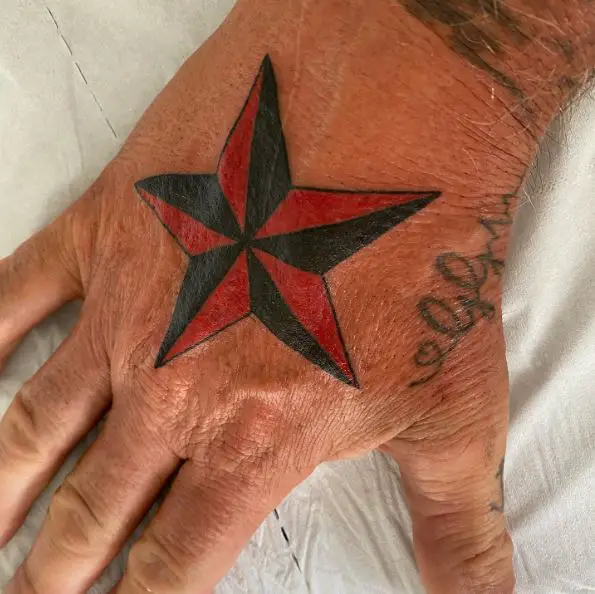 Image by @esmeralda_of_sark_lepopee via Instagram
Realistic Nautical Star Tattoo Ideas
Not everyone likes it simple. This collection provides some of the most intricate nautical star tattoo ideas. These nautical tattoos are created by highly experienced tattoo artists, so you will need a good tattoo artist to recreate them.
I personally like the fiery star tattoo on the left shoulder. However, getting it as a right-back shoulder tattoo is also a great idea. The star tattoo ideas in this collection look badass, making them great choices for adventurers and punk rockers. The tattoos also symbolize protection.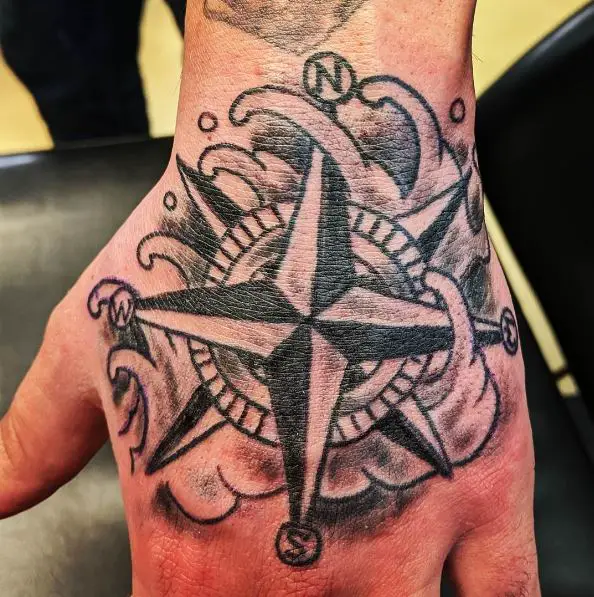 Image by @ukiahtattooco via Instagram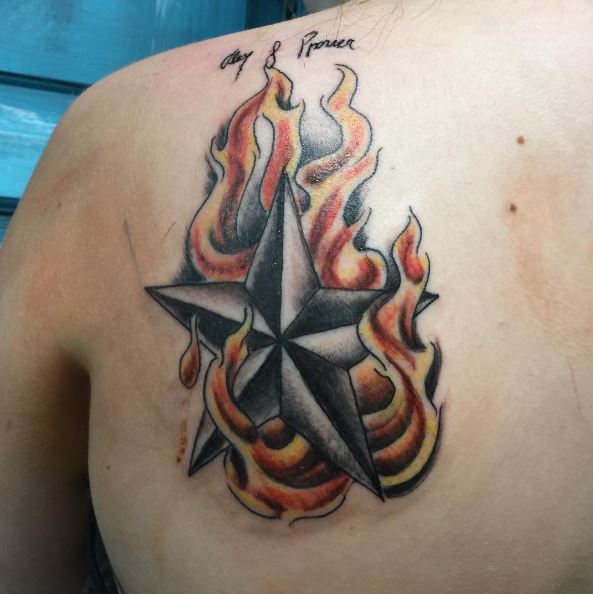 Image by @brickhouse_tattoos via Instagram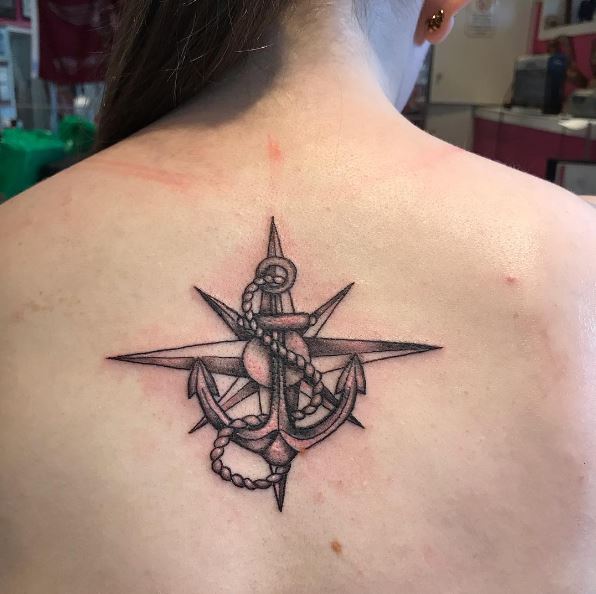 Image by @mermaidsrestart via Instagram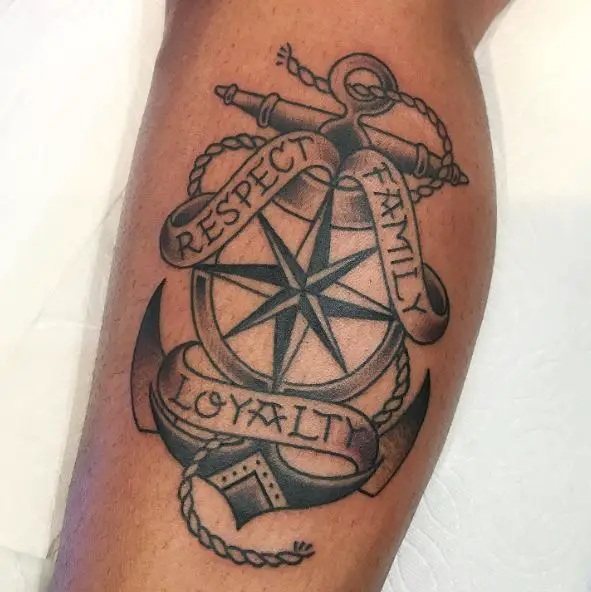 Image by @harringtontattoo via Instagram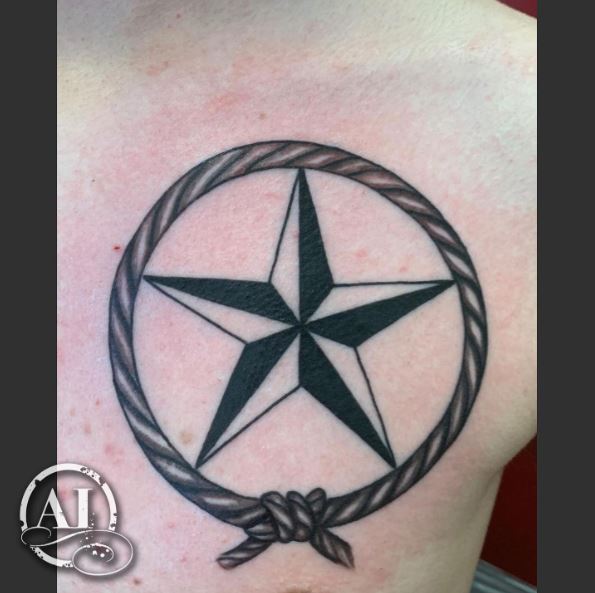 Image by @aitattoo via Instagram
Back Nautical Star Tattoo Ideas
The back provides the perfect platform for your nautical star tattoo.
You can try a single-star design or make multiple. Either way, you will end up with a design that most people find attractive. Whether large or small, you can always use a nautical star back tattoo to express your love for nature. You can spice things up by trying multiple colors for your nautical star tattoo for a cool finish.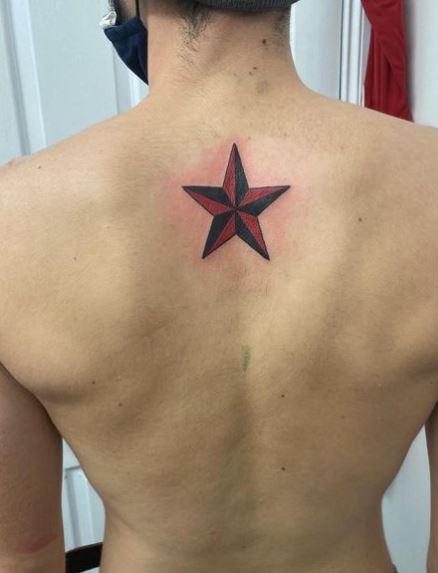 Image by @rachelritchietattoo via Instagram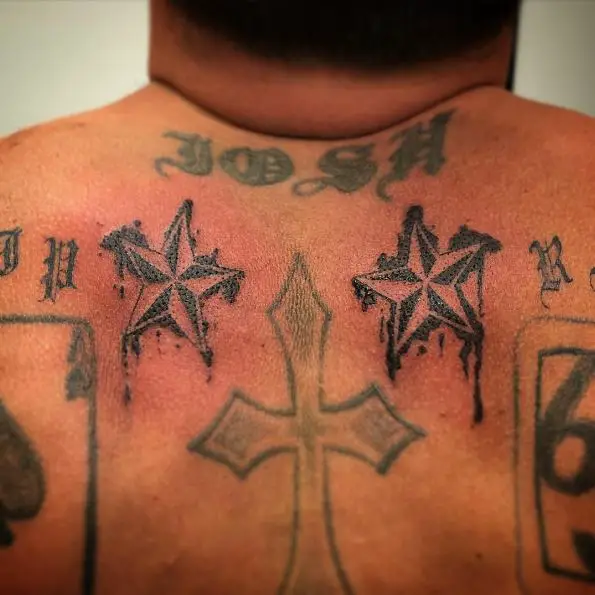 Image by @toontownink via Instagram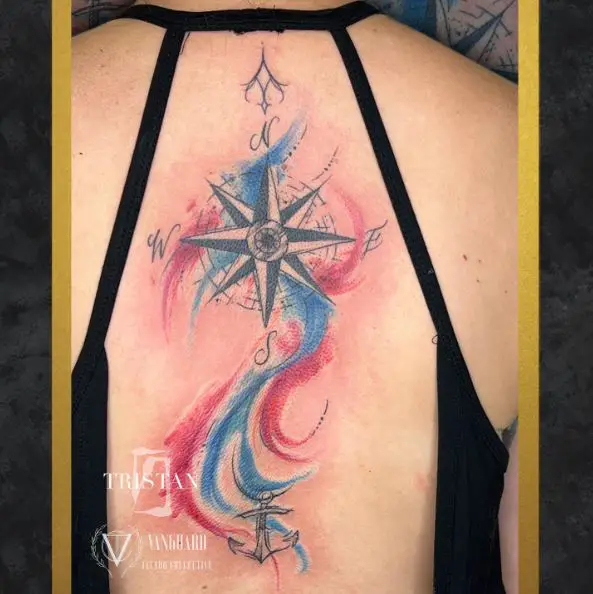 Image by @vanguard_tattoo_collective via Instagram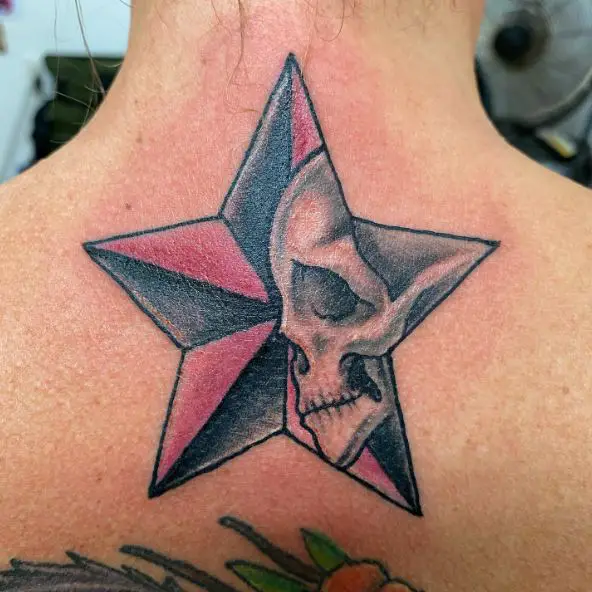 Image by @inkbyjosh via Instagram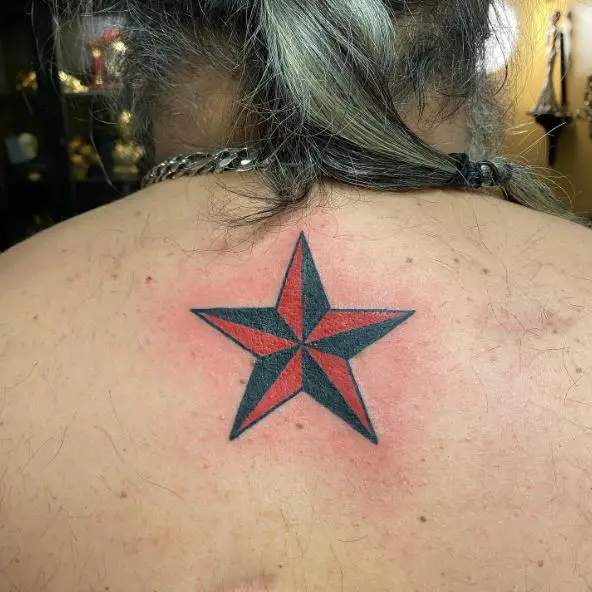 Image by @untoldpaintattoo via Instagram
Nautical Star and Compass Rose Tattoo Ideas
The compass rose pattern is found on many nautical charts, cementing the connection between the rose and nautical star. The tattoo is reminiscent of nautical charts, and people will see you as someone with a passion for seafaring.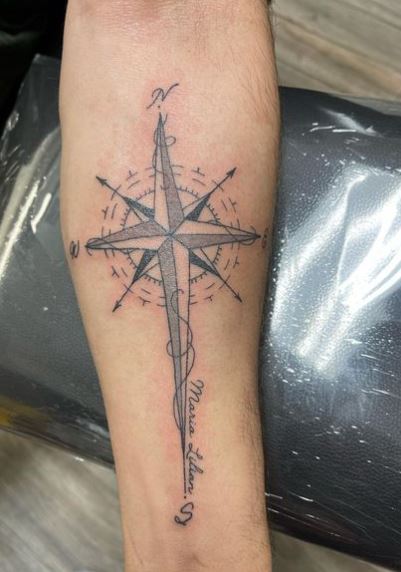 Image by @condorink via Instagram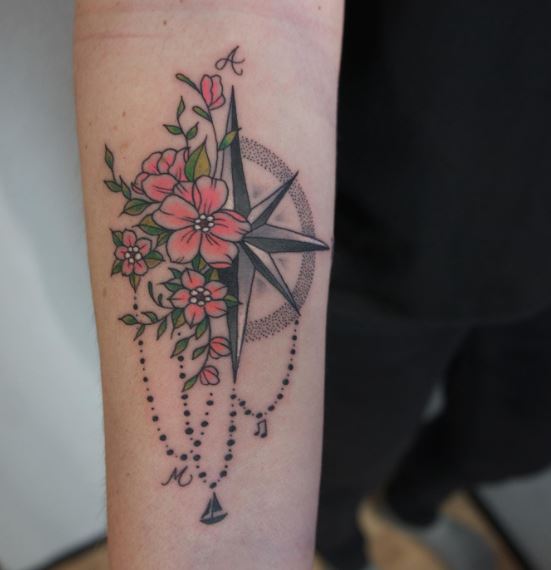 Image by @manulondono85 and mettelo via Instagram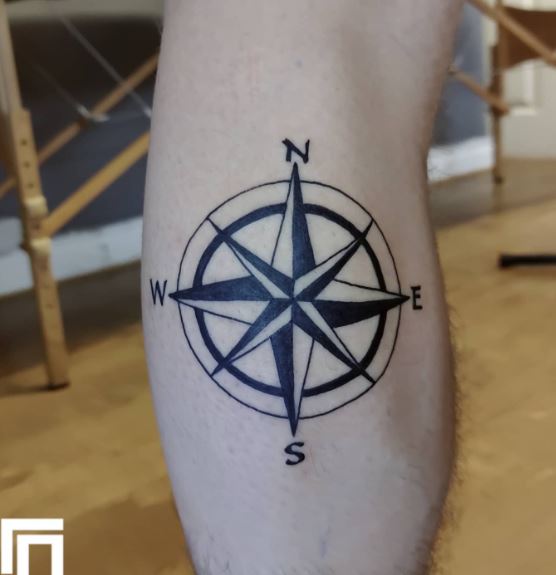 Image by @gmdh0 via Instagram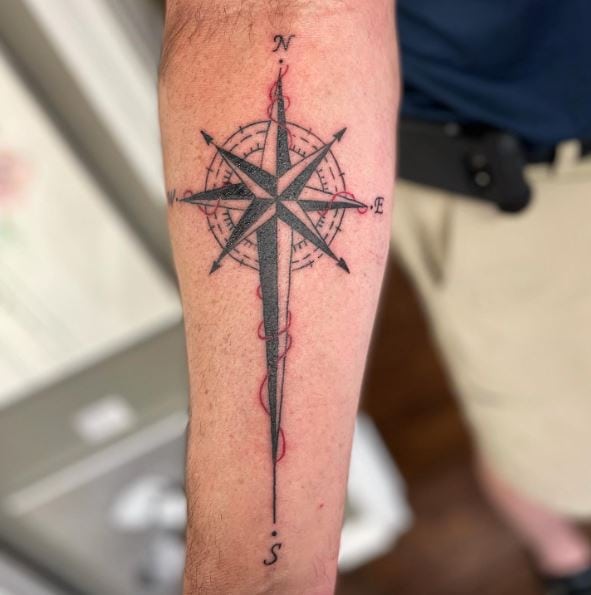 Image by @mortricia_tattoos via Instagram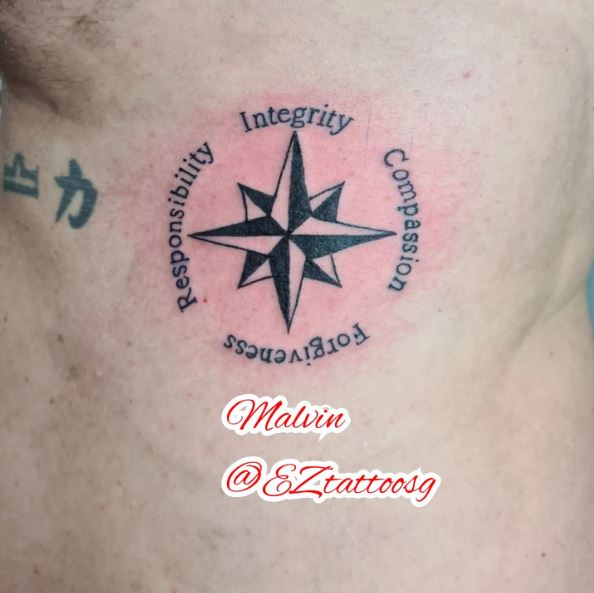 Image by @mal_tat2 via Instagram
Two Nautical Stars Tattoo Ideas
Two nautical star tattoos are very common. They are usually done on the chest, arms, forearms, and other areas of the body that are bilaterally symmetrical. Wearing them gives you a sense of connection to the universe. Whether you work on a small boat or a large ship, rocking these tattoo designs can symbolize guidance.
You can get the two stars tattoo, and add more stars or designs like a starfish or dolphin, to show the number of times you've been saved and made it home safely while exploring the open seas.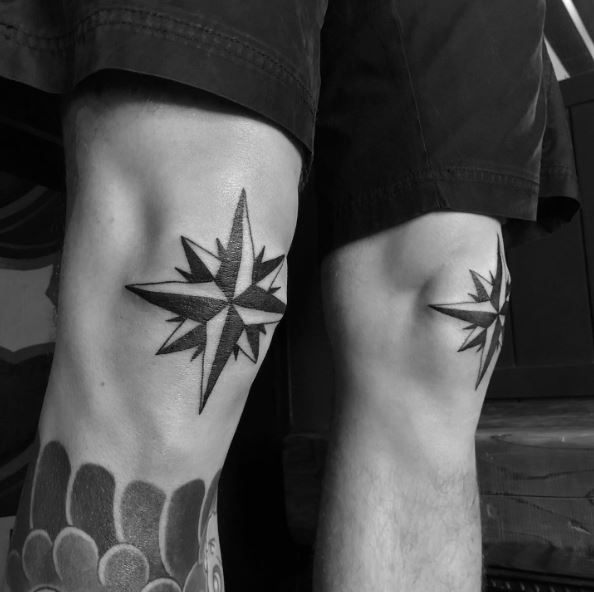 Image by @bunnysta2 via Instagram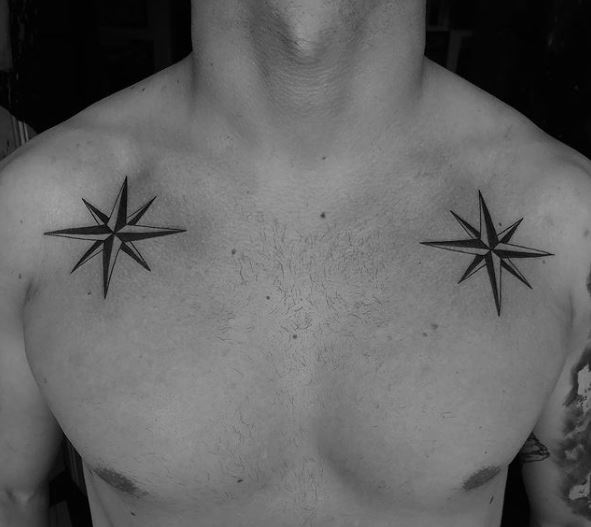 Image by @the.dishy via Instagram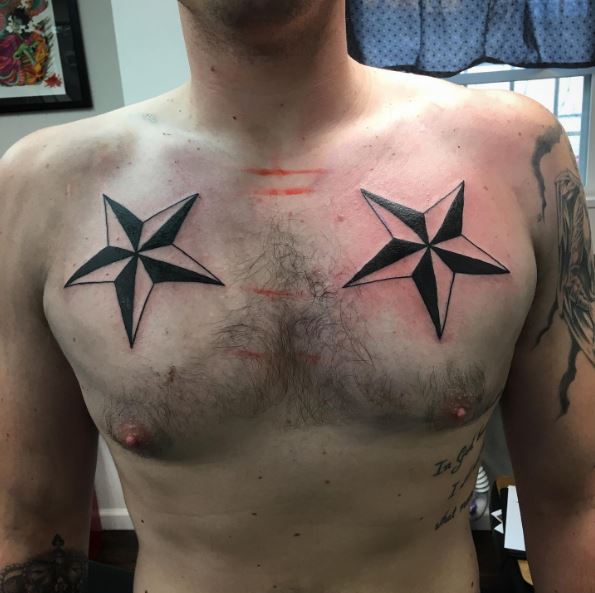 Image by @johnredcorn_tattoos via Instagram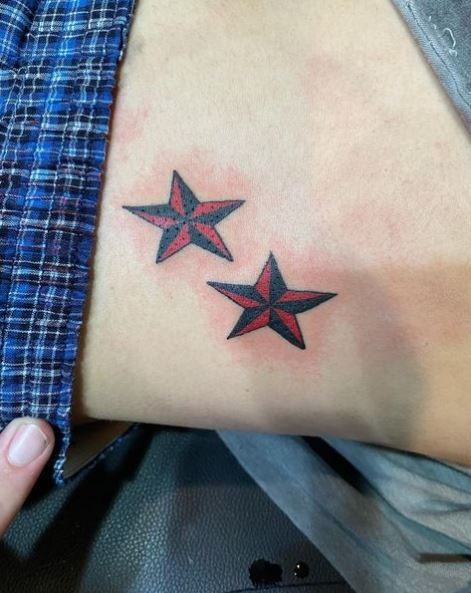 Image by @curlys_tattoos via Instagram
Image by @matyo_matev_tattooartist via Instagram
Multiple Nautical Star Tattoos
You can get multiple five-pointed star tattoo designs to serve as a symbol of good luck, especially for those in the navy.
The placement of your tattoo design plays a major role in determining if it will look great or not. You can place them in a straight line or arrange them in circles. If you're not too sure about what pattern to go with, ask your tattoo artist to draw several patterns on paper. Then, you can select your favorite design.
Image by @luckycrown_2nd via Instagram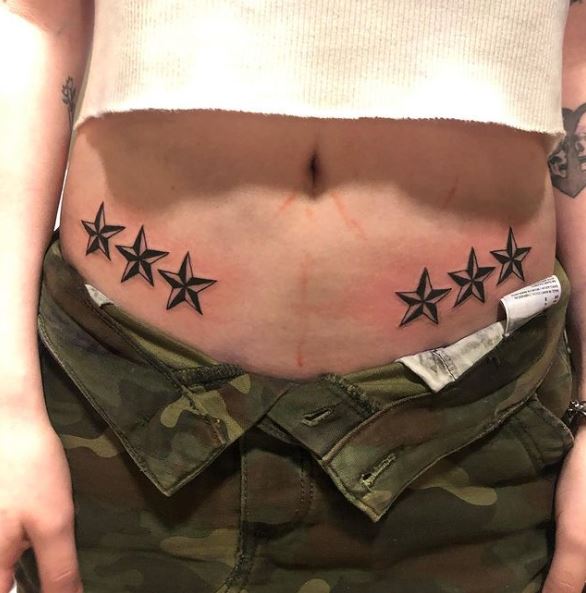 Image by @lw_ink via Instagram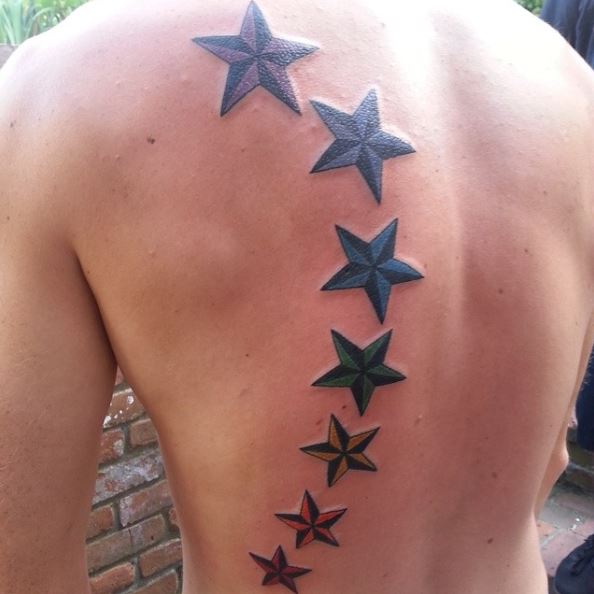 Image by @coastlinetattoo via Instagram
Innovative Nautical Star Tattoo
Most innovative tattoos like these are inspired by sailor Jerry, a creative tattoo artist. His tattoos are making a comeback and there's evidence of that in the designs featured here. They are unique and cool and are a tattoo of choice among punk rock fans.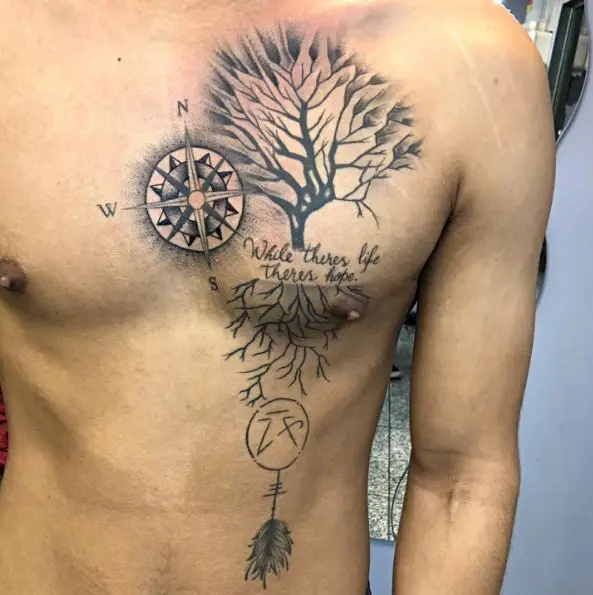 Image by @cltattoos via Instagram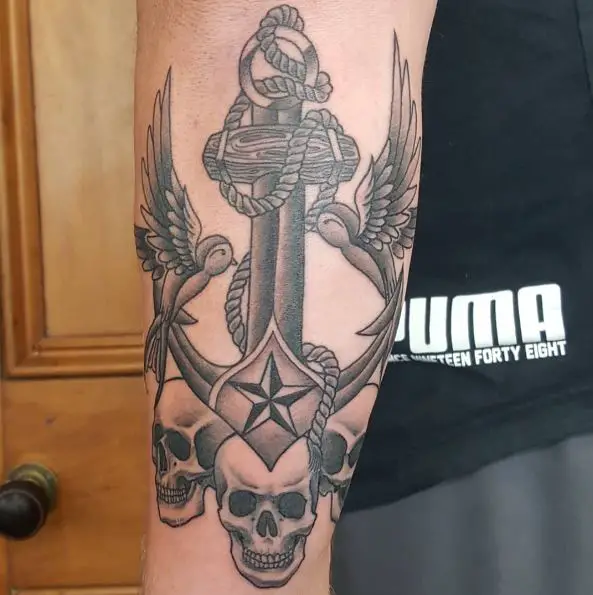 Image by @mikesladetattooist via Instagram
Frequently Asked Questions
What is the Sailors Star?
The sailors' star is another name for the nautical star.
What is the Meaning of a Northern Star Tattoo?
The northern star tattoo, just like the northern star, is seen as a symbol of guidance and direction.