The ouroboros tattoo features the image of a snake, dragon, or lizard eating its tail and is a symbol of eternity.
I get really excited whenever I get a request for the ouroboros tattoo because the complicated design is a challenge that requires lots of creativity. For people who prefer straightforward designs but also want to get an ouroboros tattoo, I usually recommend getting the snake ouroboros. However, if you prefer unique and somewhat complex designs, I recommend getting dragon ouroboros tattoos.
The ouroboros tattoo is unique and has stood the test of time due to its popularity. Here, you'll find the most amazing ouroboros tattoos with their meaning to help you select the best tattoo to do.
What Does Ouroboros Symbolize?
To get a better understanding of the ouroboros tattoo, let's start by looking at the origin of the ouroboros.
Origin of Ouroboros
Ouroboros is derived from the Greek word 'oura' which translates to tail and 'Boros' which means eating in the Greek language. The symbol was first discovered in the tomb of Tutankhamun in Egypt. The symbol of ouroboros depicts the infinite cycle of life and the cyclical nature of the universe.
Life, Death, and Rebirth
The ouroboros tattoo forms an unending circle, usually with a serpent seen chasing or eating its tail. This translates to the eternal and continuous nature of the world. It implies that death does not signify the end but serves as an opportunity for rebirth and new beginnings.
Fertility or Afterlife
In Gnosticism (a religion that combines the Jewish belief with that of early Christianity), ouroboros images represented the afterlife and fertility. For those who believed in life after death, the symbol was used as a sign to express their spirituality and acceptance of the unseen (existence after death).
Is the Ouroboros Tattoo Common?
The ouroboros tattoo is an unusual and unique tattoo. It is not very common at the moment but with more videos and articles published on ouroboros and the tattoo, it's safe to say that the ouroboros tattoo will become more common than its been.
Ouroboros Tattoo Ideas For You
Ouroboros Tattoos With Eye
By now, you know that the ouroboros symbol represents the circular pattern of life, death, and rebirth. Adding an eye tattoo which is a popular tattoo symbol used to represent protection, adds a protective meaning to the ouroboros design.
The Ouroboros symbol with an eye represents protection throughout your life and endeavors until the inevitable end (death) comes your way.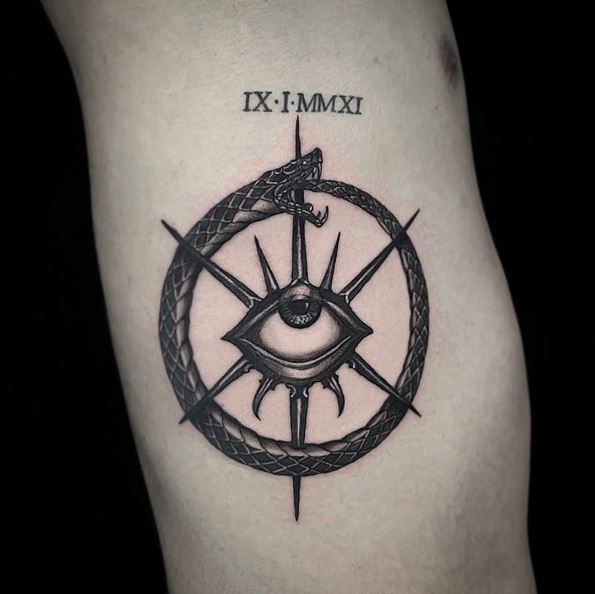 Image by @oyabuntattoo via Instagram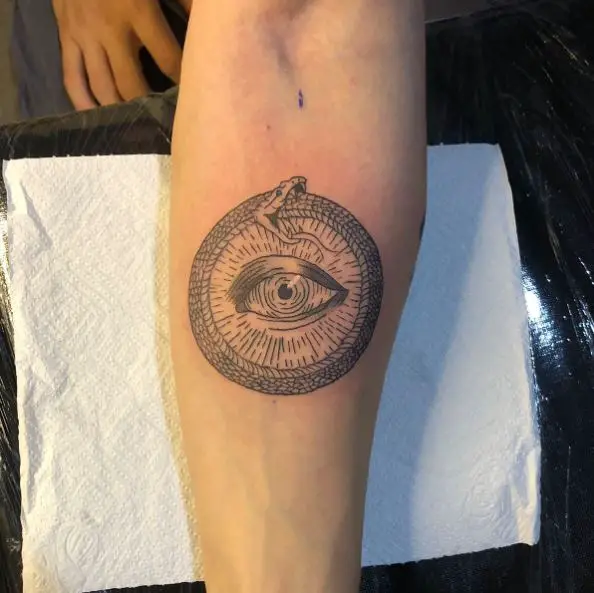 Image by @vernontattoo via Instagram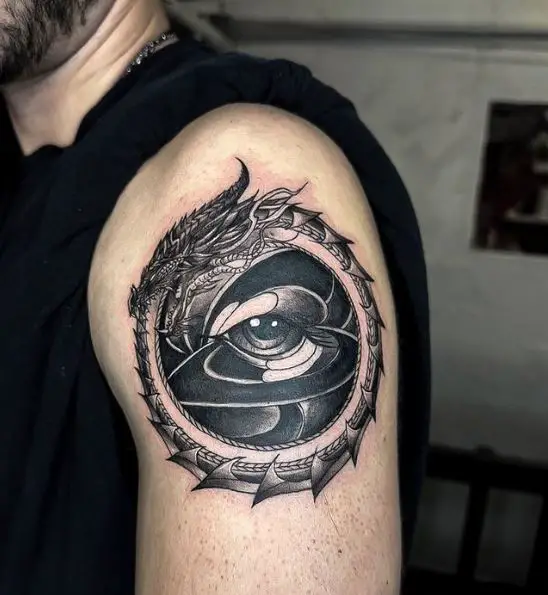 Image by @yun_luv_in via Instagram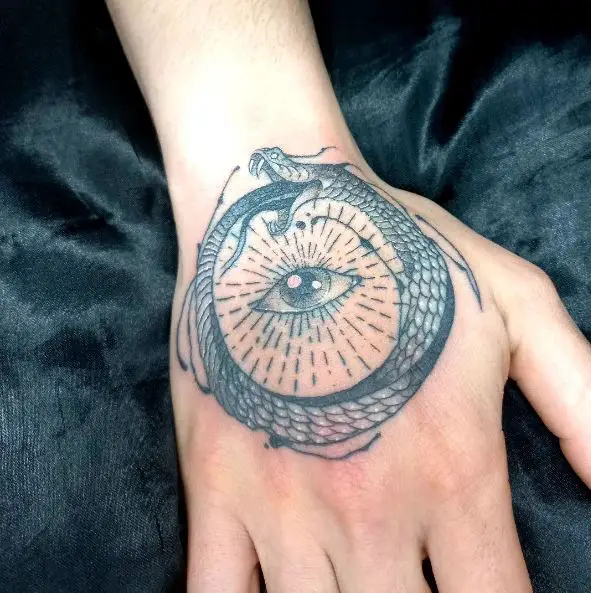 Image by @kelcylangner.tattoo via Instagram
Simple Ouroboros Tattoos
It's no news that the ouroboros tattoo of a snake eating its own tail is a multiplex tattoo design to get. This doesn't mean you can't get a simple ouroboros tattoo.
If your style falls on a simpler spectrum, you can get simple ouroboros tattoos by asking your tattoo artist for a black ink tattoo without designs like this one.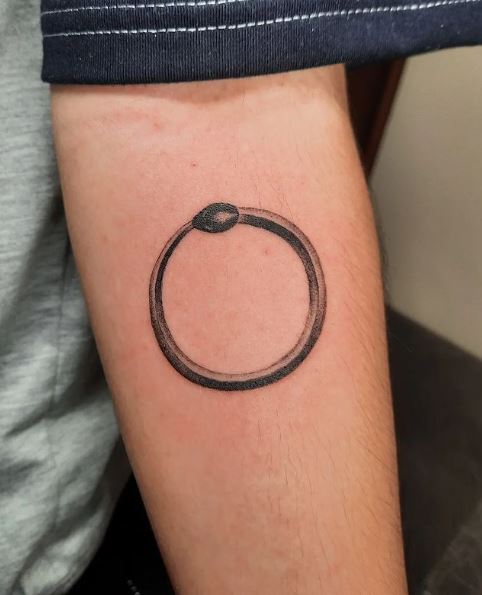 Image by @inkedbyhimig via Instagram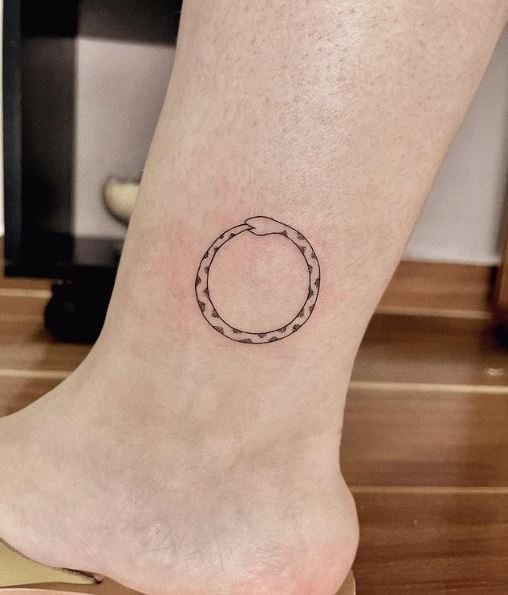 Image by @natalia.tatuadora via Instagram
Dragon Ouroboros Tattoos
If you want to take your ouroboros tattoo to a different level of awesomeness, the best way to go about it is by getting a dragon ouroboros body art. The mythical creatures are more complex and require more detail when compared to the snake ouroboros.
An ouroboros design of a dragon eating its tail is the most requested by Asians. Dragons are a big part of their ancient history and culture.
With dragon ouroboros, you'll be getting a unique ouroboros tattoo.
Since there's no limit to what mythical creatures can be modified to look like, you can bring your imagination to life and create a magical-looking dragon. Better still, you can get dragon inspiration from your favorite movie that features the creatures.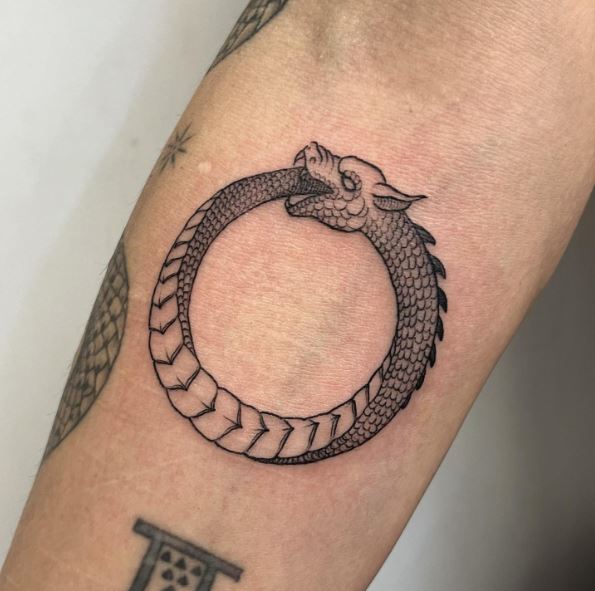 Image by @megseetattoos via Instagram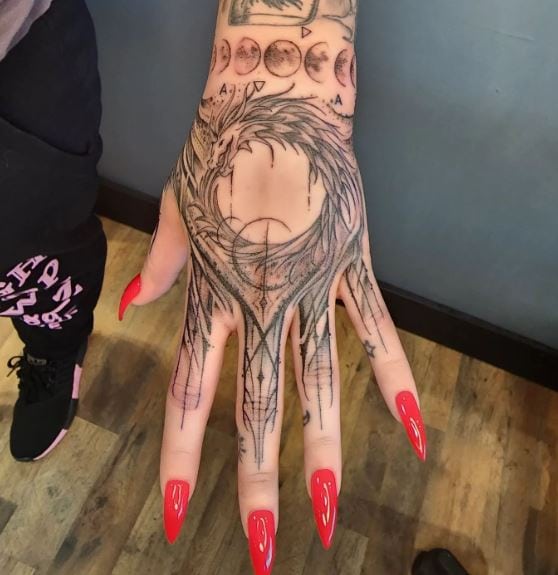 Image by @venomvixenink via Instagram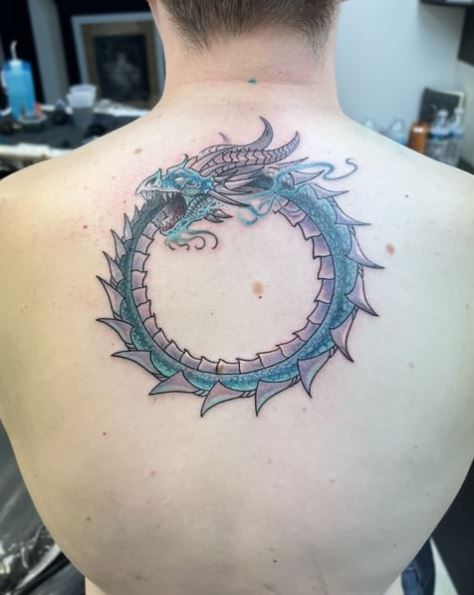 Image by @mpg_art via Instagram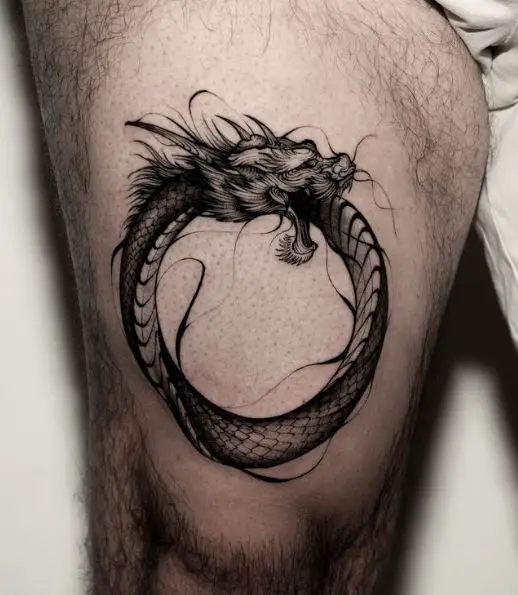 Image by @marni_tattoo via Instagram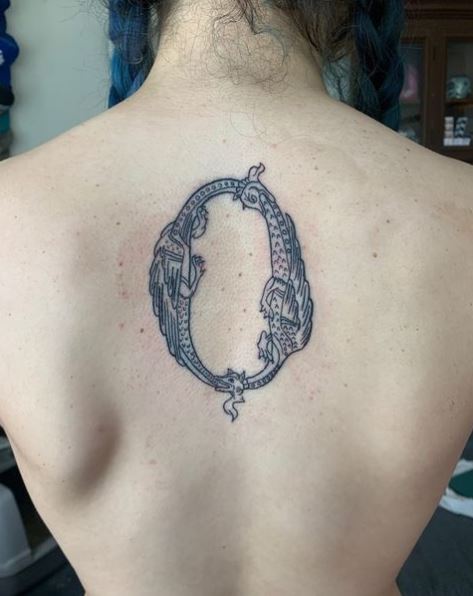 Image by @moses_sux via Instagram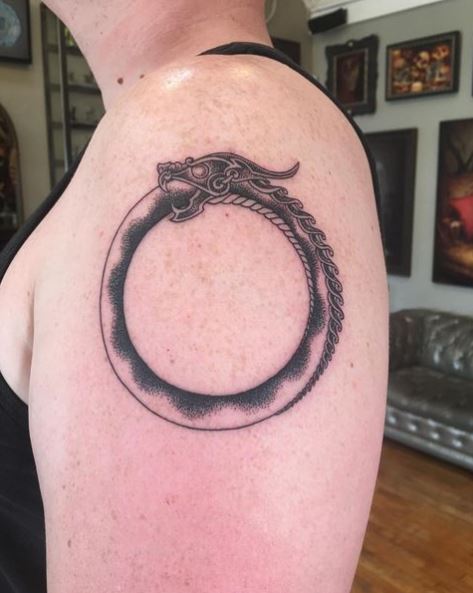 Image by @memoirtattoo via Instagram
Colorful Ouroboros Tattoos
Think the design of a snake eating its tail can't be made to look even better? Then you probably haven't heard about colors.
Colorful ouroboros tattoos look gorgeous. If done by experienced tattoo artists, the tattoo design will look realistic and like something straight out of a mythical book or movie.
If you're a fan of Cartoony tattoos, I suggest creating colorful ouroboros tattoos since colors help create stunning cartoon images.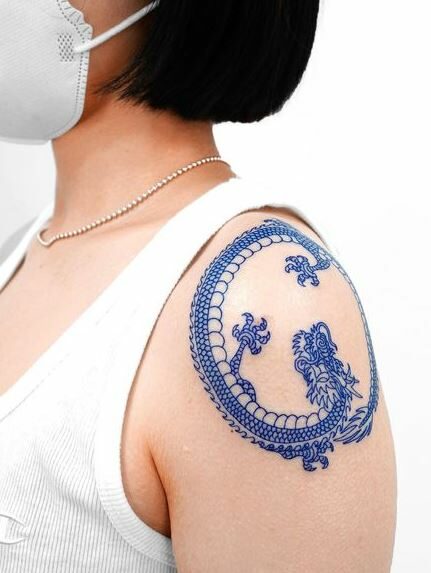 Image by @vismstudio via Instagram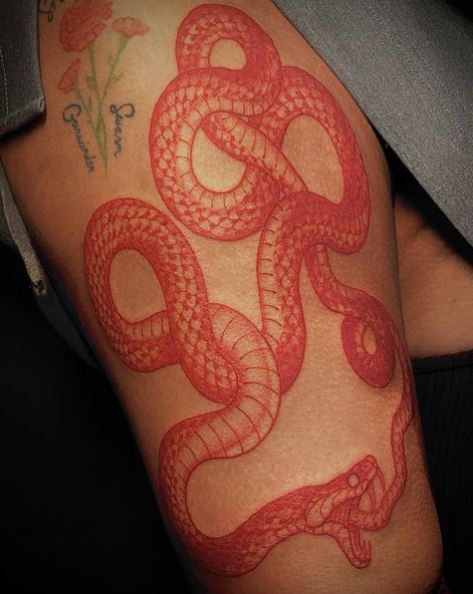 Image by @r.a.z.o.r.l.e.a.f via Instagram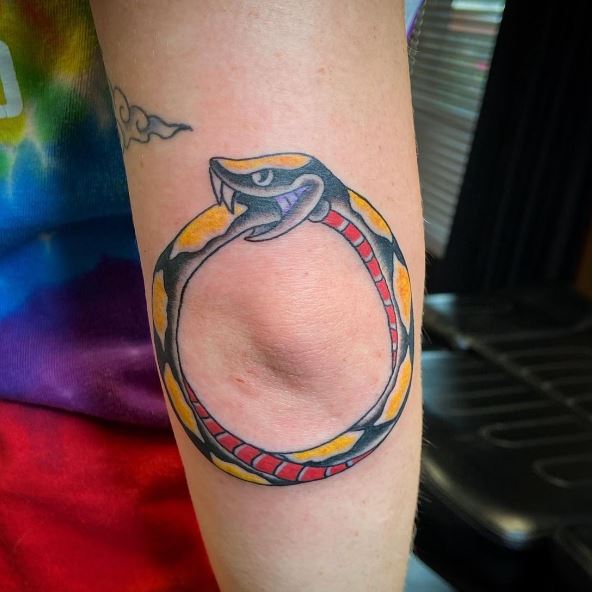 Image by @stonethecrowtattoo via Instagram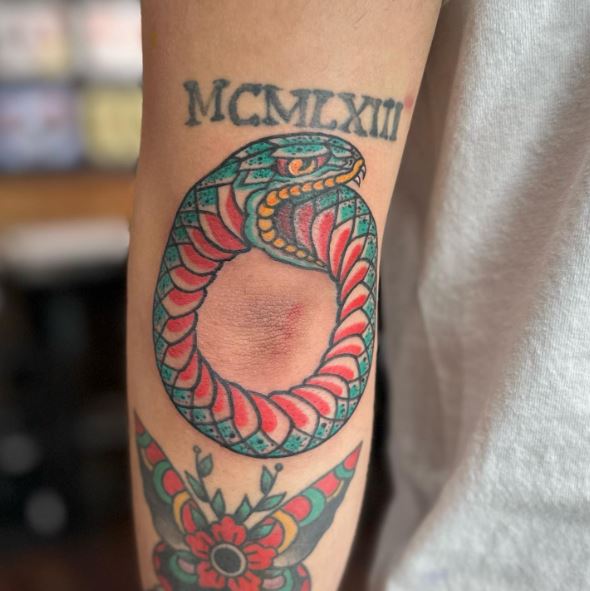 Image by @deansahar via Instagram
Sketch/Pencil Drawing Ouroboros Tattoos
Another popular style of ouroboros tattoo is getting an image done in black ink, making them look like they were drawn using a pencil.
Most ouroboros tattoos in this style are usually simple and straightforward. Keeping designs simple helps to convey the message behind the tattoo. Since the design lacks complexity, people will be focused on the meaning rather than the design.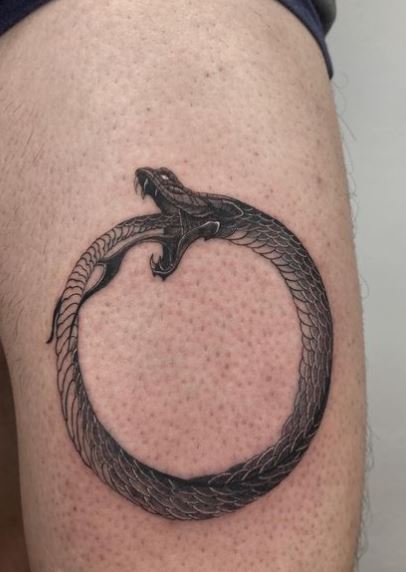 Image by @maflex.ink via Instagram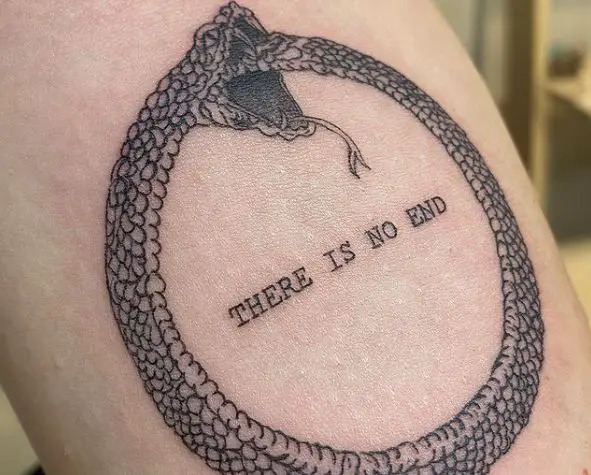 Image by @didemrs via Instagram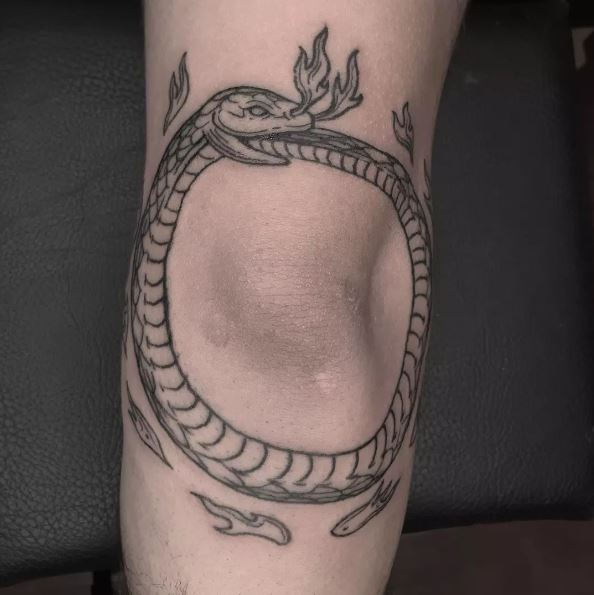 Image by @vvictorbezerra via Instagram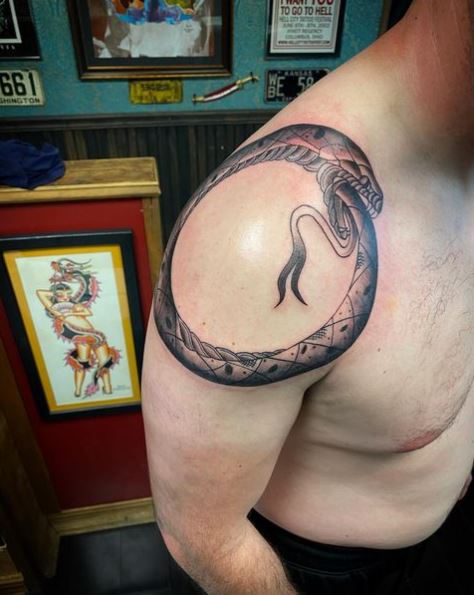 Image by @jen_godfreytattoos via Instagram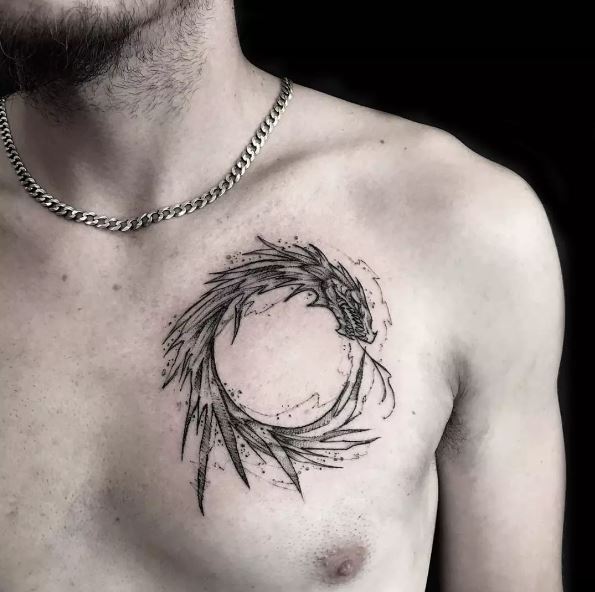 Image by @havoc.trux via Instagram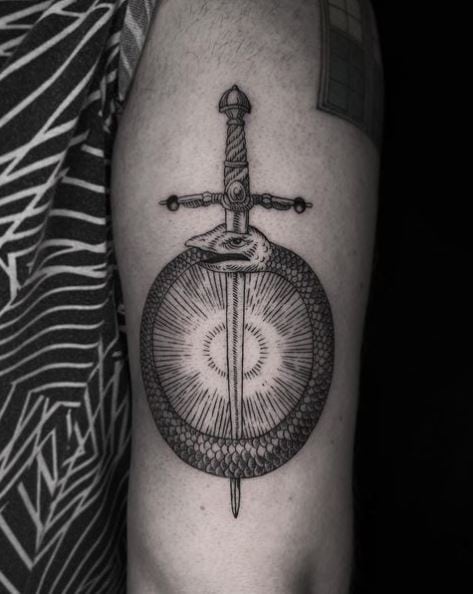 Image by @dr.lucidius via Instagram
Infinity Ouroboros Tattoo
The ouroboros tattoo is commonly done in various forms including the infinity symbol. This makes sense because the ouroboros represents eternal life, which is what the infinity symbol is all about.
The infinity ouroboros tattoo represents the never-ending cycle of life and how life and death play a role in the continuity of this eternal cycle of the universe.
You can get creative with your infinity sign ouroboros tattoos either by combining more than one snake, dragon, serpent, or lizard to form the infinity sign.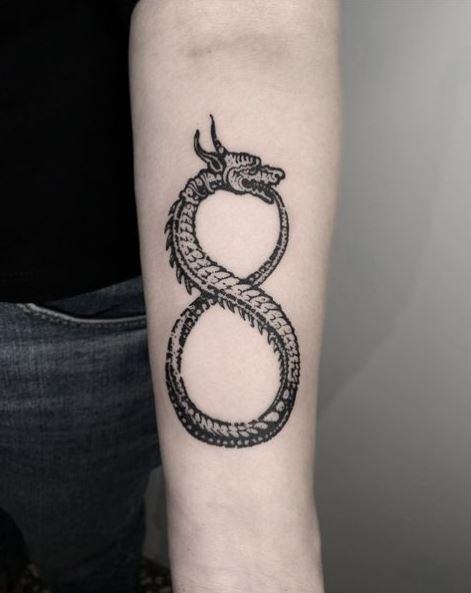 Image by @kajetankarczewski via Instagram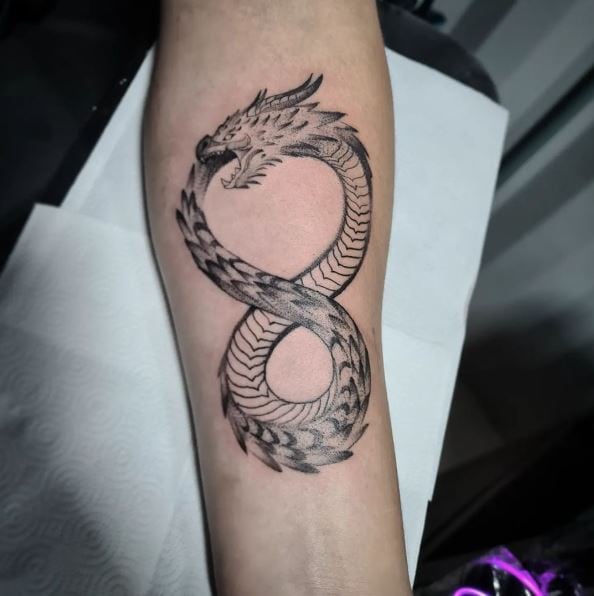 Image by @eduardoleocadioo via Instagram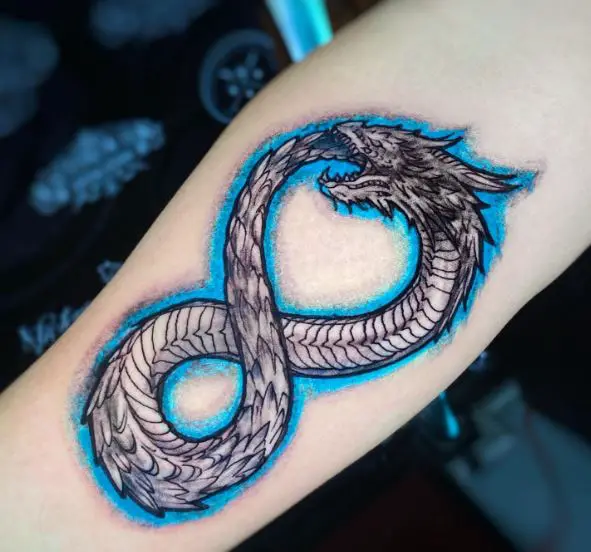 Image by @victoriainktattoo via Instagram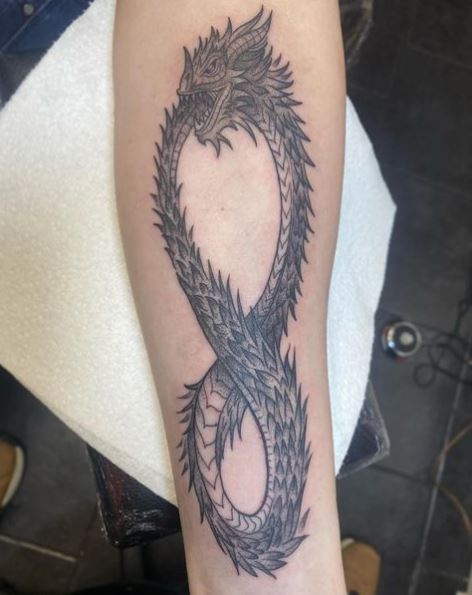 Image by @awoltattoos via Instagram
Flower and Ouroboros Tattoos
Flowers are a great concept to add a positive meaning to your ouroboros tattoo. This is because most flower tattoos represent love, joy, and happiness.
When flowers are added to the ouroboros tattoo, they symbolize an effort to live a good life regardless of the obstacles you will face.
Ouroboros tattoos with flowers are the most frequented by women because the added petals compliment the skin. Ouroboros tattoos with flowers are versatile and look great on any part of the body.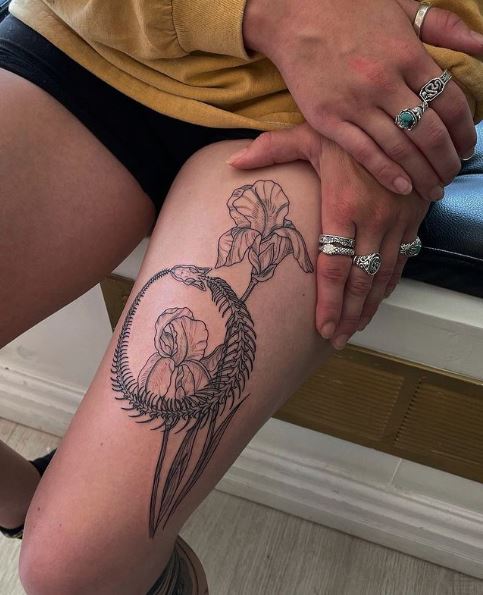 Image by @deleteafterdeathtattoo via Instagram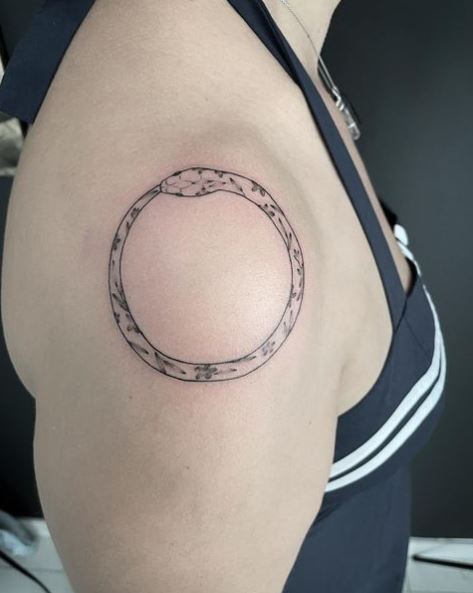 Image by @agathetattoo via Instagram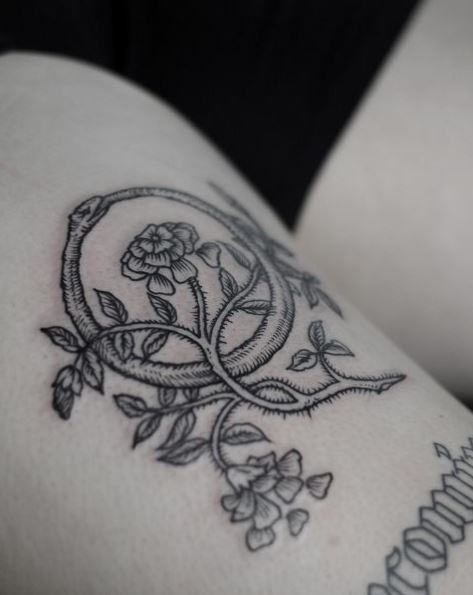 Image by @kristina.kheme via Instagram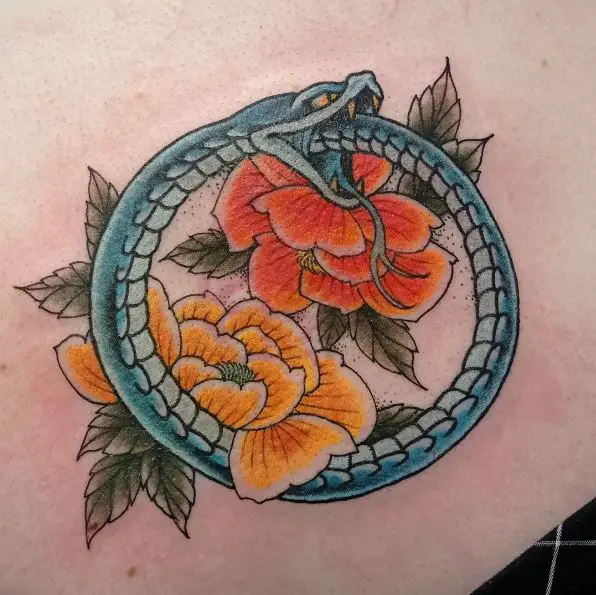 Image by @xpiranhax via Instagram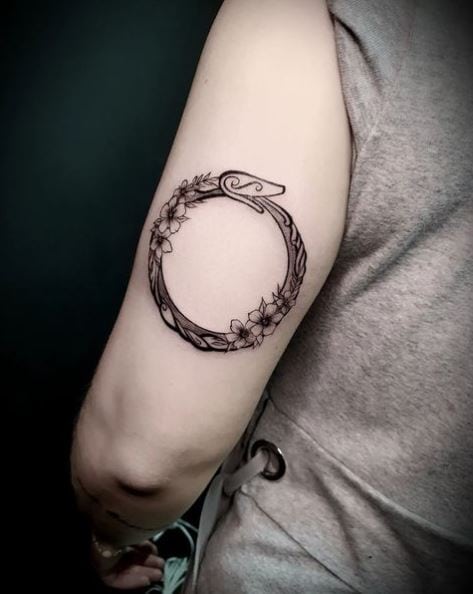 Image by @lobbytattoo via Instagram
Band Ouroboros Tattoos
The circular shape of the ouroboros tattoo makes it the perfect arm, forearm, or wristband tattoo to get. This serpent tattoo may seem a little creepy to some, but the band ouroboros tattoos represent inner strength. The tattoo looks like something a Viking would have.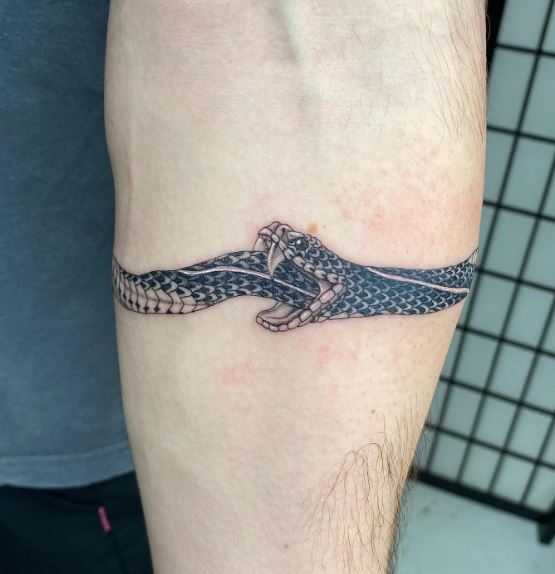 Image by @em_zaps via Instagram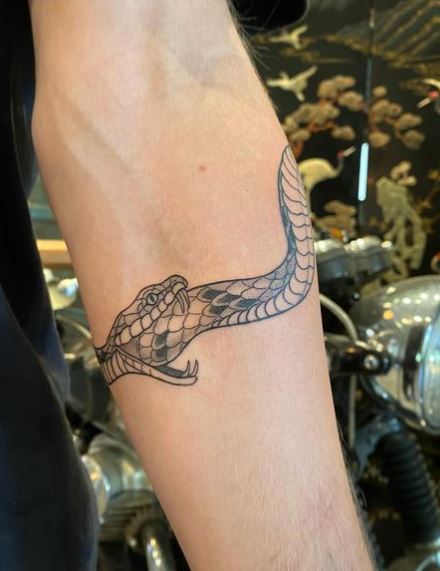 Image by @lauren__tattoo via Instagram
Twisting Ouroboros Tattoos
Not all ouroboros tattoo designs are done in a circular pattern. Some feature a twisted snake in the ouroboros tattoo.
I've found that the twisting of the ouroboros tattoo adds to the mystery and uniqueness of the artwork.
Some believe that the twisted and mysterious ouroboros is magical and serves as a form of protection for the wearer.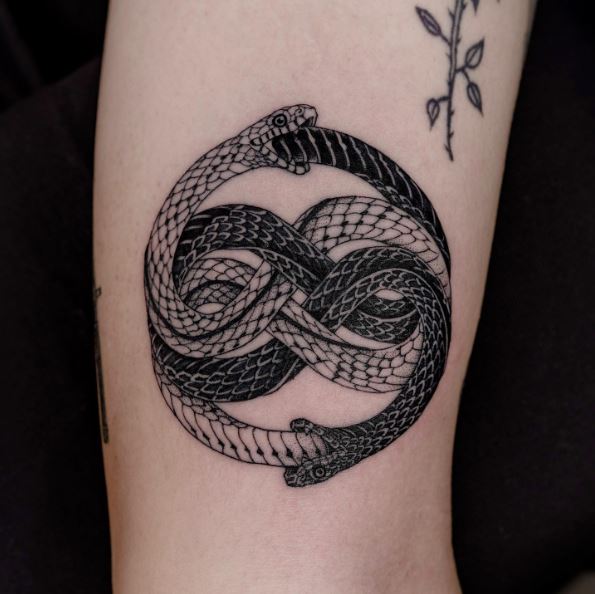 Image by @hanstattooer via Instagram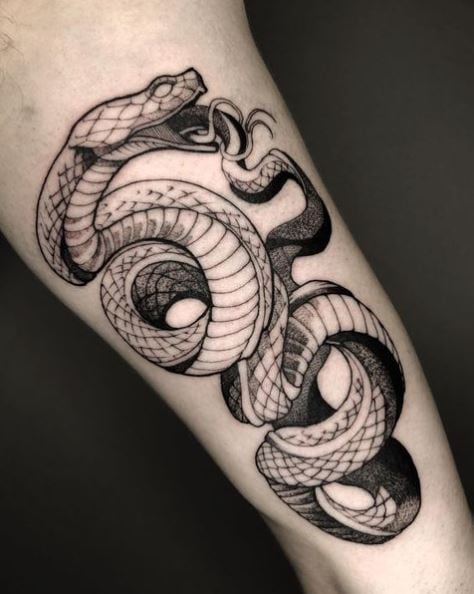 Image by @keanu_illu via Instagram
Aztec Ouroboros Tattoos
You can add Aztec or Celtic symbols like the eagle, lion, or sun to your ouroboros design to represent your culture and heritage as well as that of ancient Egypt.
When a Celtic image is added to the ouroboros tattoo, the symbol represents vitality and strength throughout your life's journey.
An easy way of adding symbols to your ouroboros tattoo is by incorporating other symbols like the head of an eagle or lion, or a Celtic chain symbol to complete the ouroboros cycle in conjunction with the snake or dragon.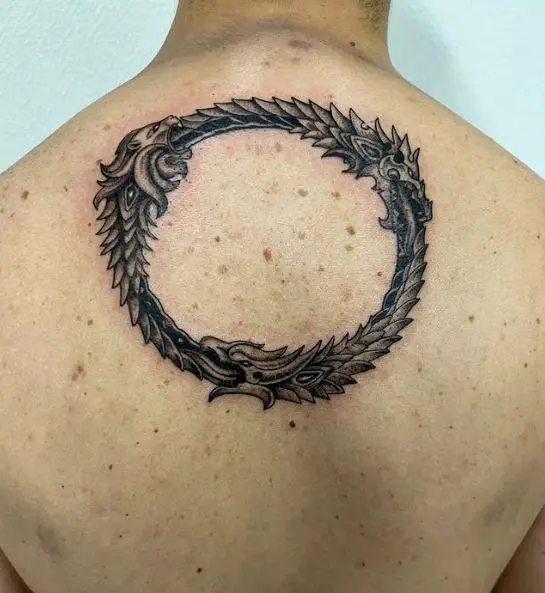 Image by @tattoofactorymaisons via Instagram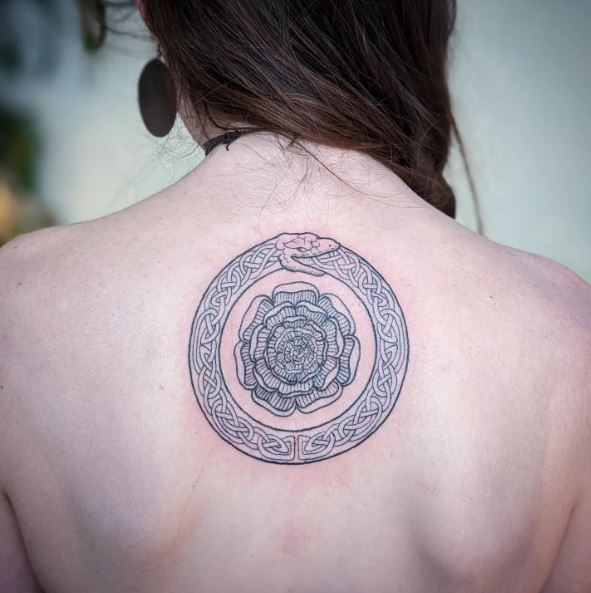 Image by @the.blood.vvitch via Instagram
Norse Ouroboros Tattoos
In Norse mythology, serpents were seen as propagators of chaos and rebellion. This is why the tattoos are frequented by Vikings who engage in war. It is also done by people who perceive the cyclical nature of the world to be too short to live simply.
Most Norse ouroboros tattoos feature the great snake with a Norse symbol within the circular shape formed by the body of the snake.
These tattoos represent several things based on what the Norse character symbolizes. Generally, though, the tattoo is said to represent wholeness, wisdom, or enlightenment.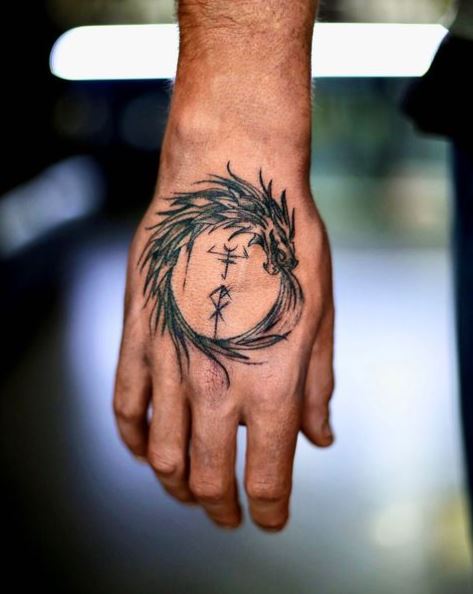 Image by @thegrandtalontattooparlour via Instagram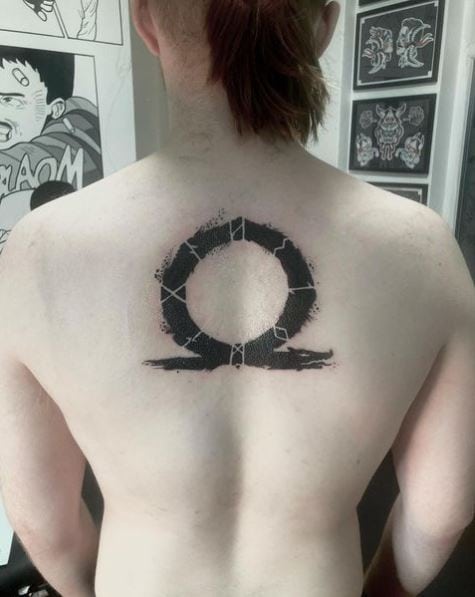 Image by @neeklus via Instagram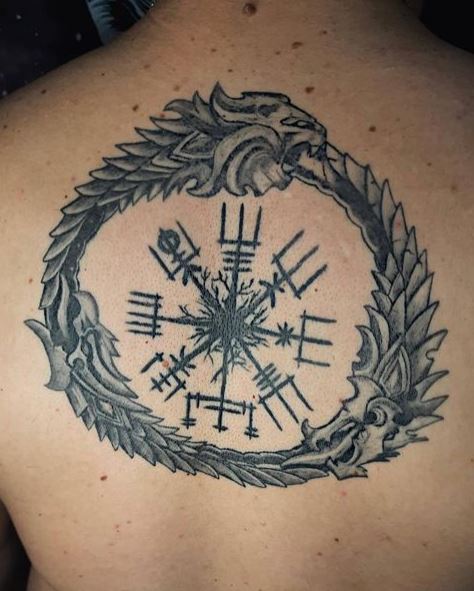 Image by @trindtattoo via Instagram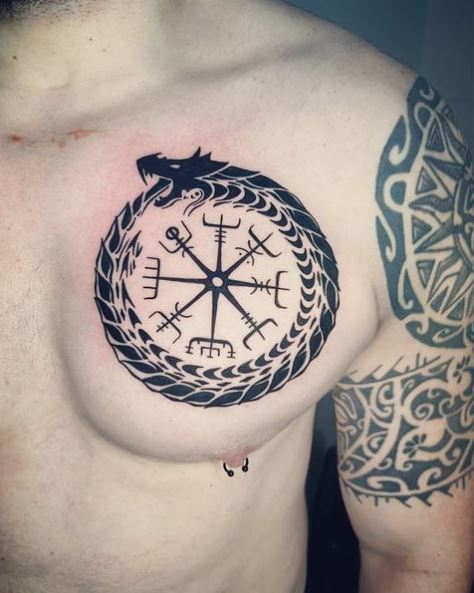 Image by @vallekastattoozone via Instagram
Full Metal Alchemy Ouroboros Tattoos
The Full Metal Alchemist homunculus features an ouroboros tattoo with several triangles in the middle. The homunculi are the main antagonist of the series. They are the source of chaos throughout the series.
The Full Metal Alchemist ouroboros symbol is a great option for fans of the series.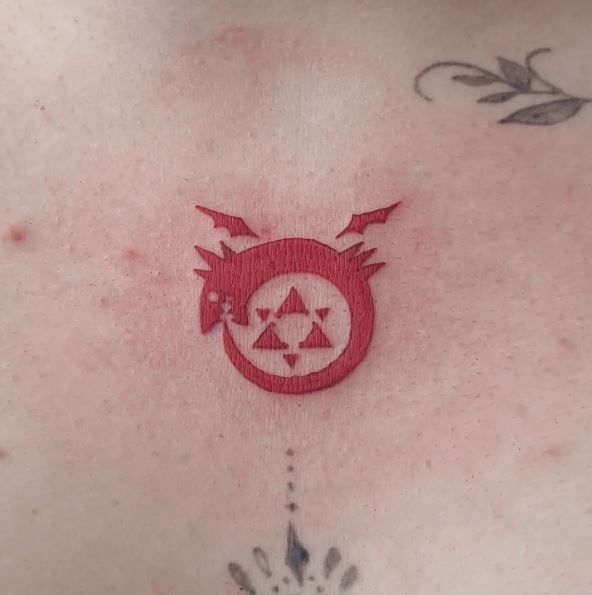 Image by @canoa.ink via Instagram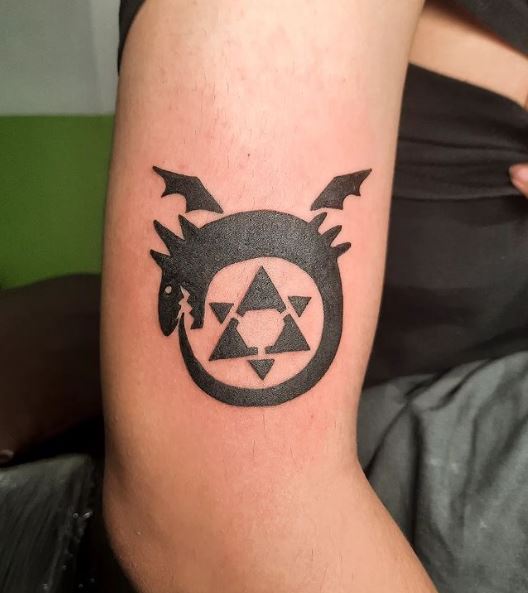 Image by @inkedbyhimig via Instagram
Ouroboros Tattoo Ideas With Text
You can add the name of a loved one, an idea you strongly believe in, or anything close to your heart within your ouroboros tattoo designs. This is a way to say that your life revolves around that particular name or text within the circle.
Got a date that represents an incident you don't want to forget? You can embed that into your ouroboros tattoo to serve as a constant reminder.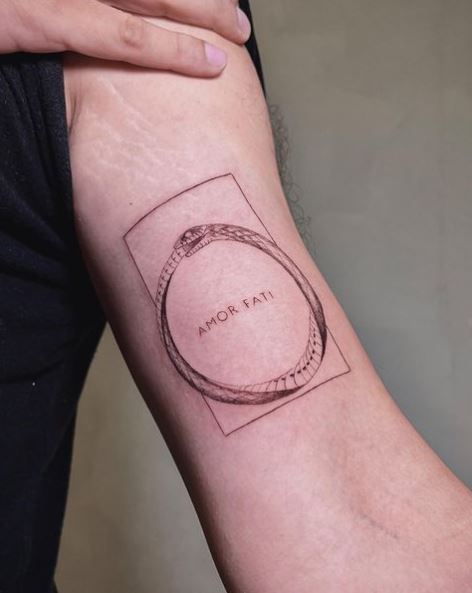 Image by @chiara.guu via Instagram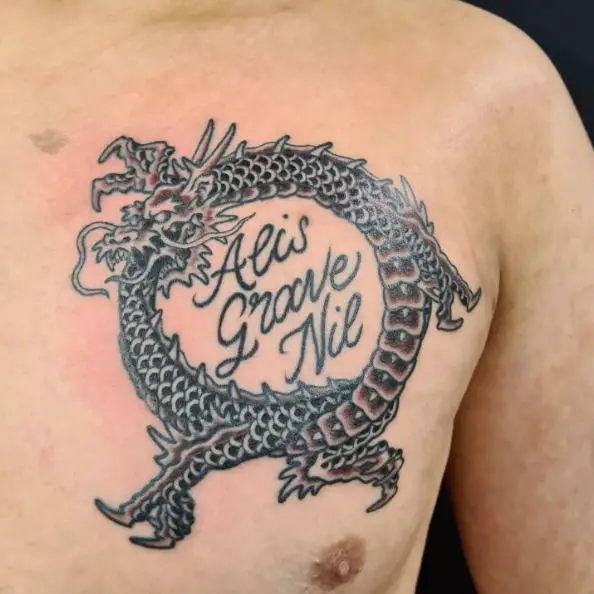 Image by @k_n_tattoos via Instagram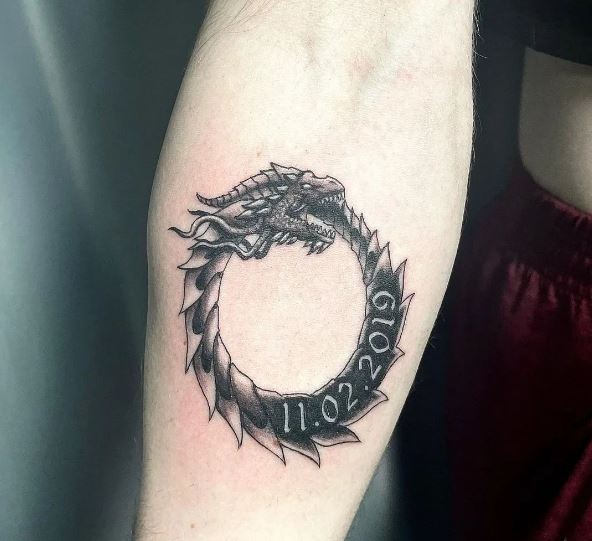 Image by @nolovelost_tattoos via Instagram
Double Ouroboros Tattoos
The duality of life, for example, the sun and moon, male and female, light and dark, yin and yang are often depicted using double ouroboros tattoo creation.
A tattoo artist can create double snake images using linework, or dotwork tattoos to avoid complications of the design which can affect the appearance of the tattoo.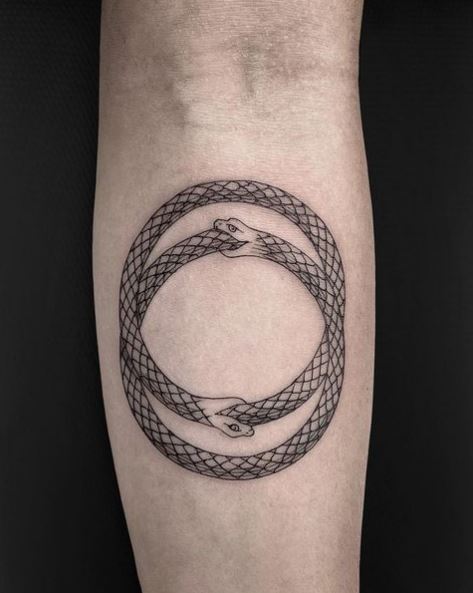 Image by @leonka.art via Instagram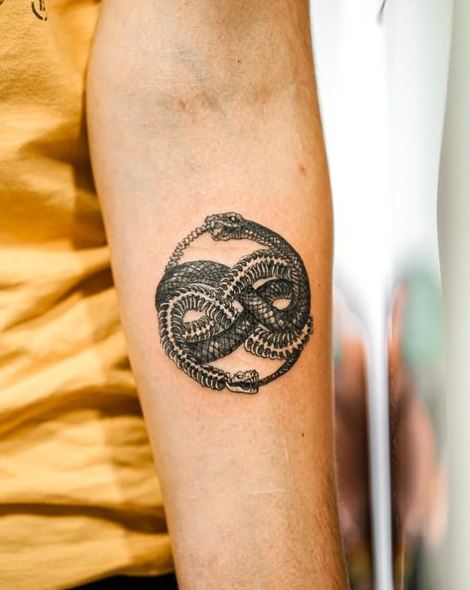 Image by @velicu_tattoos and dragos_spiridon via Instagram
Palm Ouroboros Tattoos
The palm is no doubt an unusual spot to get a tattoo but these ouroboros tattoos are making me consider getting a palm tattoo.
Palm ouroboros tattoos serve as a symbol of protection from any obstacles that might come your way.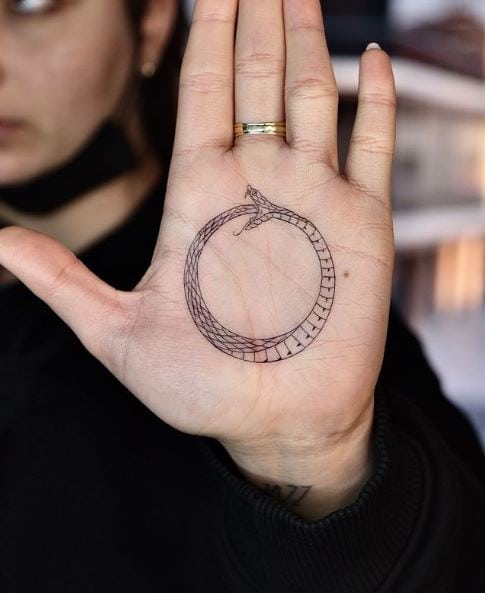 Image by @berkayerkul via Instagram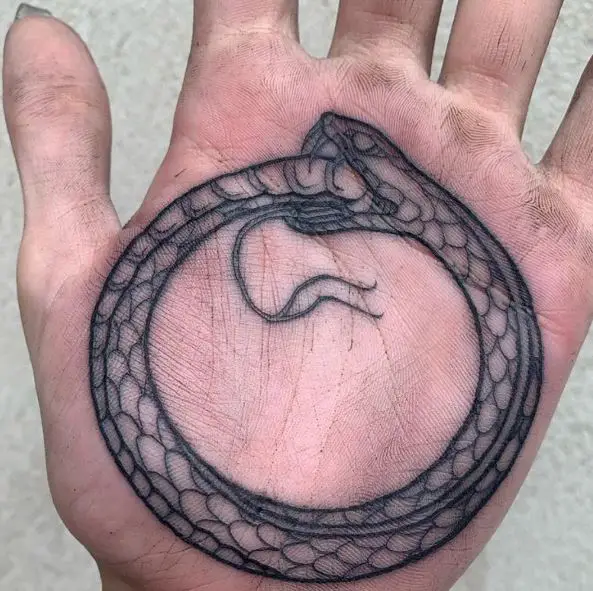 Image by @evolveandascend via Instagram
Tree Of Life Ouroboros Tattoo
The tree of life tattoo can be placed within the ouroboros tattoos circle to represent eternity, immortality, and knowledge.
You can add the whole tree with its root in the circle or opt for just part of the tree and place it within the ouroboros symbol.
This tattoo can be done either in black ink or using vibrant colors depending on your personality.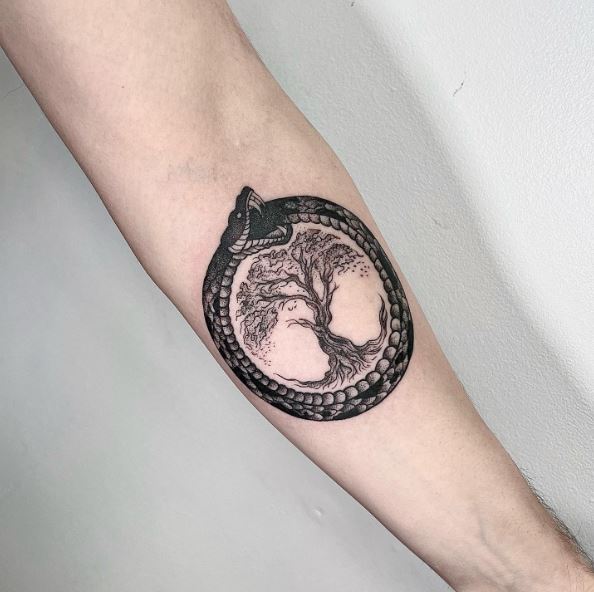 Image by @kerpunx via Instagram
Skeleton Ouroboros Tattoos
The ouroboros tattoo can be brought to life using different elements or styles. Ouroboros tattoos can also be made to look cooler by drawing the skeleton form of the ouroboros snake. This adds a dark symbolism and sense of mystery to the ouroboros tattoo.
Skeleton ouroboros, like regular ouroboros tattoos, represents the cycle of life and death. However, unlike others, the skeleton serves as a reminder that with time, even the unending cycle of life will come to an end.
The symbolic nature of this ouroboros tattoo will help you understand the never-ending cycle and patterns of life, and how best to go about living a good life before time runs out.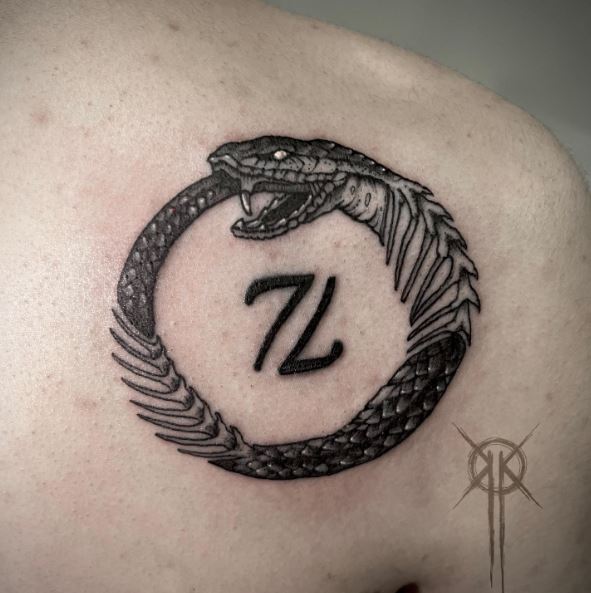 Image by @k.k.tattoo via Instagram
Dog Ouroboros Tattoo
There's no rule on how creative you can get with your ouroboros tattoo. You can use a dog as done here or any animal of your choice in place of the usual snake ouroboros. The only rule is how the tattoo should be created. The animal should be shown eating its own tail to qualify as an ouroboros tattoo.
The dog ouroboros is a more fun take on the otherwise intense and serious ouroboros tattoos of snakes and dragons.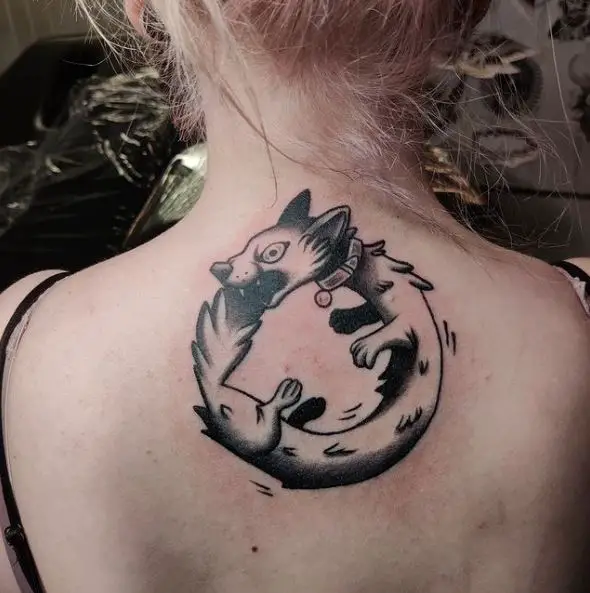 Image by @matthaios.ttt via Instagram
Screaming Hand Ouroboros Tattoo
This is a cool piece featuring a twisted snake tattoo with a screaming hand. This tattoo might have a deep meaning or even multiple meanings depending on the wearer. Usually, the screaming hand tattoo and ouroboros represent an unending pain and lack of freedom.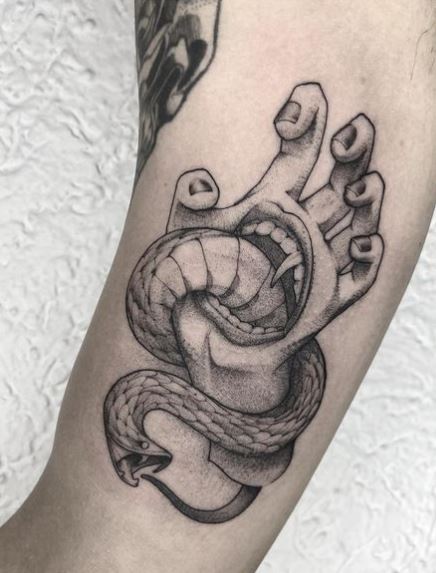 Image by @nauyaca_ttt via Instagram
Sun and Moon Ouroboros Tattoo
You can add the sun and moon to your ouroboros tattoo to give a yin and yang effect to your ouroboros style.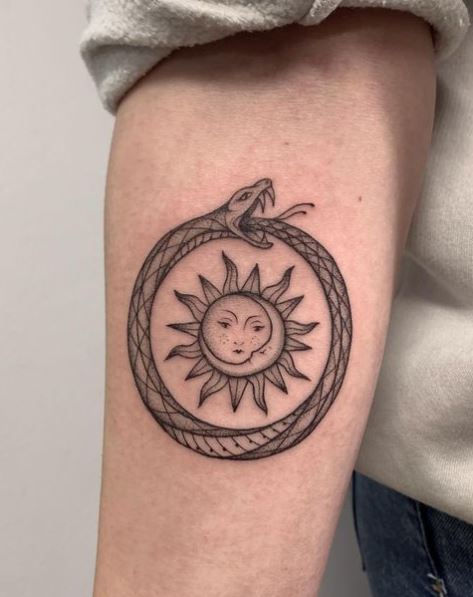 Image by @alle.aliosha via Instagram
The ouroboros symbol is an ancient design that found its way into the tattoo world. This tattoo has lots of deep meanings. Found an ouroboros tattoo you love? Have fun on your next appointment.