From feathers to a bird engulfed in flame, there are a whole host of phoenix tattoos for you to select from!
My love for art history all began with my love of myths and legends. And, growing up, the Legend of the Phoenix was definitely my favorite. It was so beautiful and hopeful - this is the reason that so many of my clients request a phoenix tattoo. To keep hope alive!
In this post, I will guide you through the best phoenix tattoo ideas to help you discover the right one for you!
The Best Phoenix Tattoo Ideas
Here are the top phoenix tattoo designs to choose from:
Phoenix Feather Tattoos
Like the meaning behind a phoenix tattoo but don't want to commit to a phoenix bird tattoo? Well, then go ahead and get a phoenix feather tattoo instead!
What I love about this kind of tattoo idea is that you still get incorporate the beautiful symbolism of the phoenix without having to get a large or complex tattoo.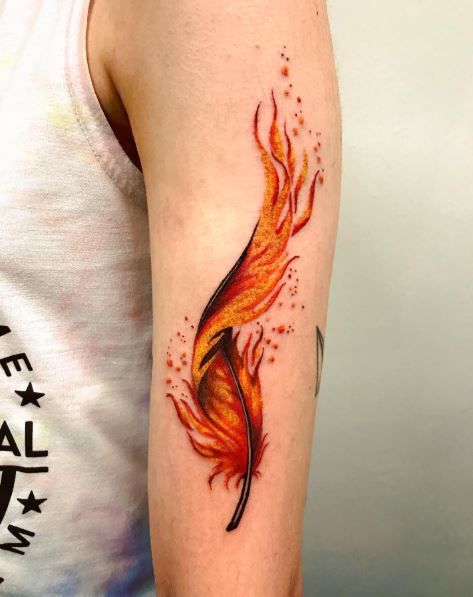 Image by @marta_dinah via Instagram
Of course, this doesn't mean that your feather tattoo can't be complex! There are lots of ways to make such an idea beautiful and intricate!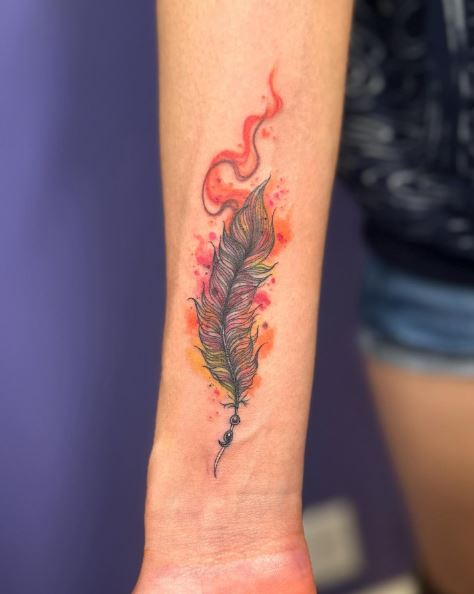 Image by @uhhhhtaco via Instagram
The key to pulling off this kind of tattoo is to get the coloring just right. Here, fiery reds, sunset orange, and golden yellow are the ways to go.
If you would like to do something a little different, then you can also add a little blue into the mix too!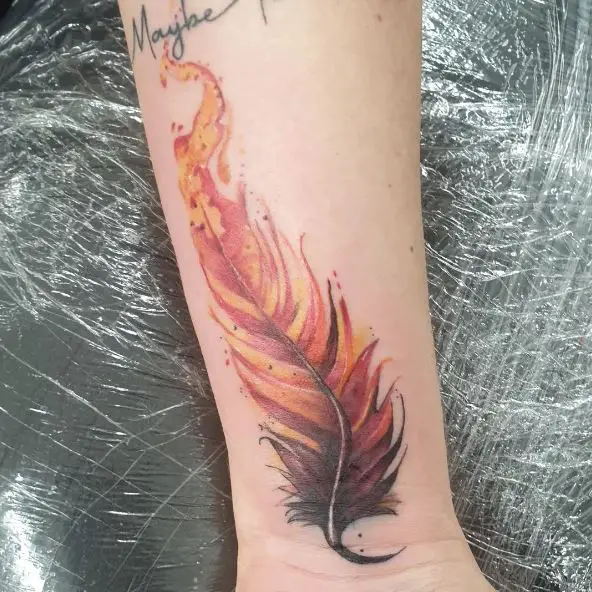 Image by @labsnstuff via Instagram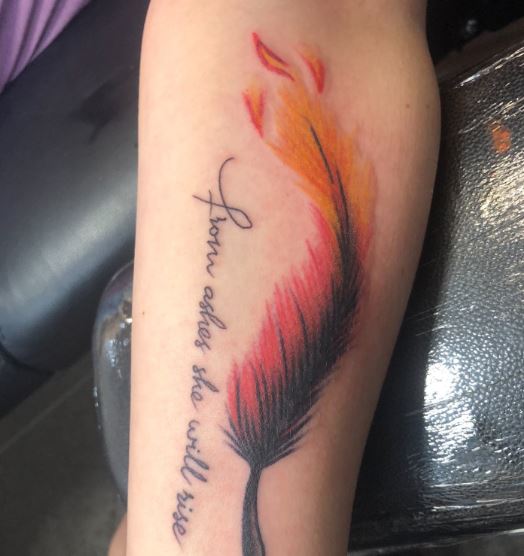 Image by @visibleinktattoos via Instagram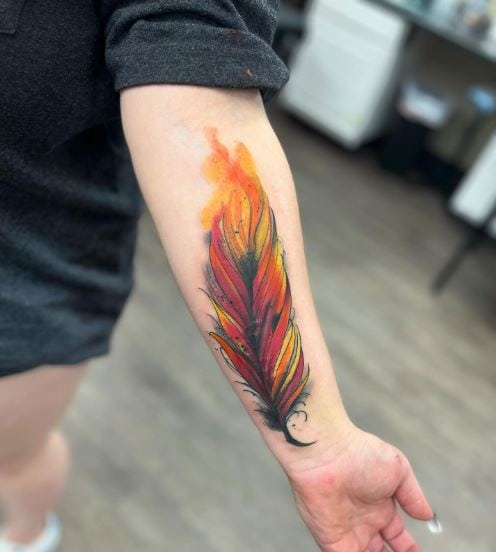 Image by @illustrativeclassic via Instagram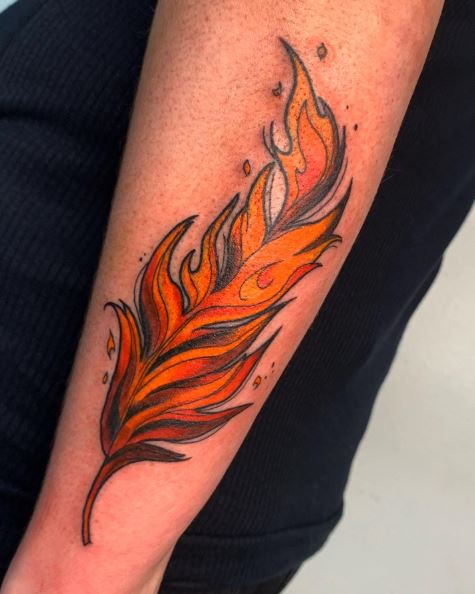 Image by @charlies.ttt via Instagram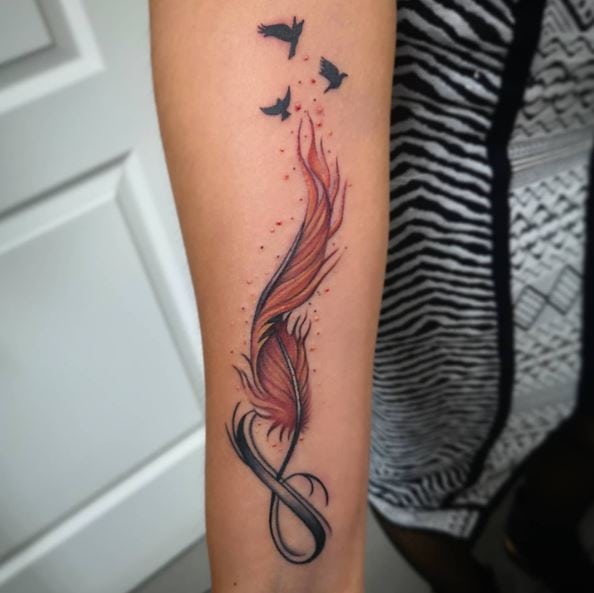 Image by @koszegivivien via Instagram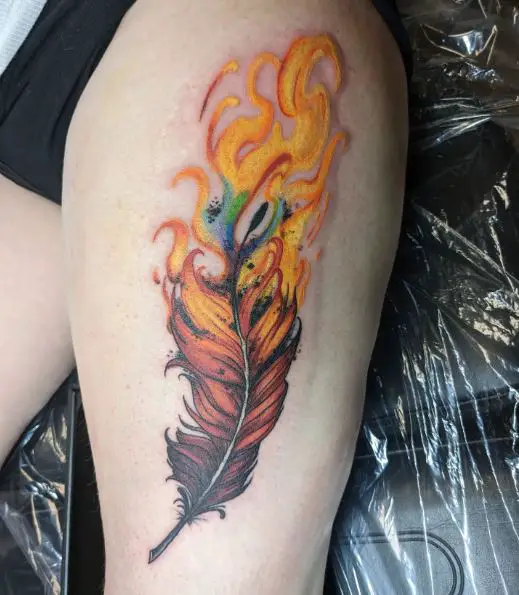 Image by @procyonproductions via Instagram
Minimalistic Phoenix Tattoos
When you think of a phoenix tattoo design, you are likely imagining a detailed and complex concept. While such tattoos can be lovely, this may not be what you are looking for.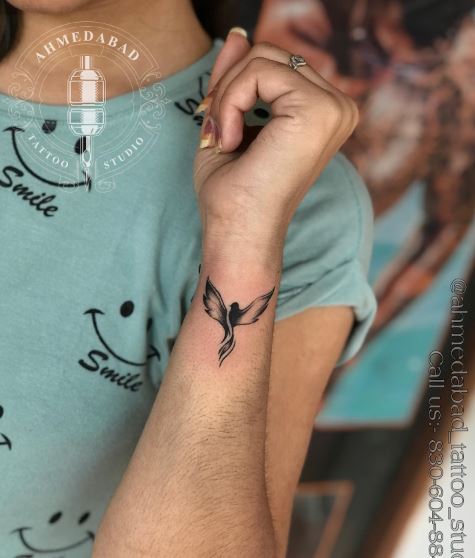 Image by @ahmedabad_tattoo_studio via Instagram
If you want a simple phoenix tattoo, then you are in luck! There are plenty of options for you to choose from here! And, this is a great idea if you are looking for a small phoenix tattoo.
Now, when it comes to this kind of phoenix tattoo, the best way to maintain simplicity is to get an outline of the phoenix. If you want, you can include a few additional details here and there.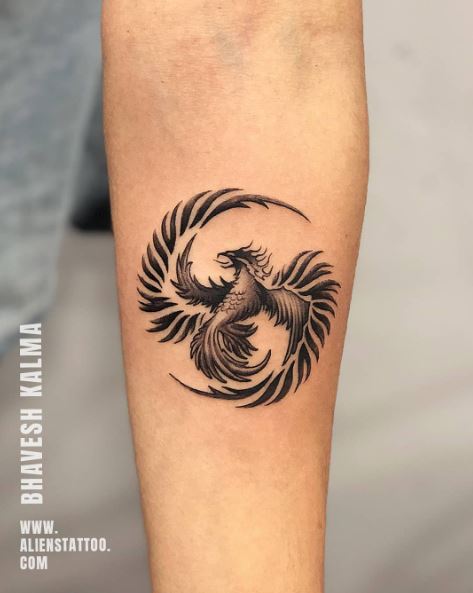 Image by @alienstattoopune via Instagram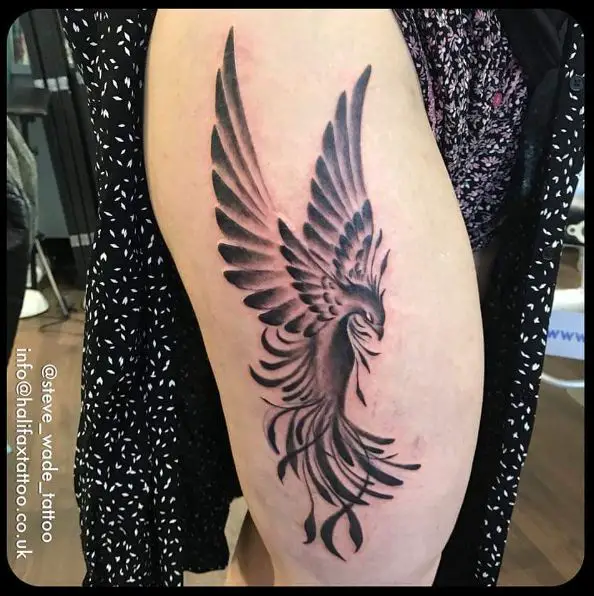 Image by @halifaxtattoo_uk via Instagram
With an outline tattoo, you include just enough detail to know what the design is.
Here are phoenix tattoo ideas that show you how to make such a concept work for you: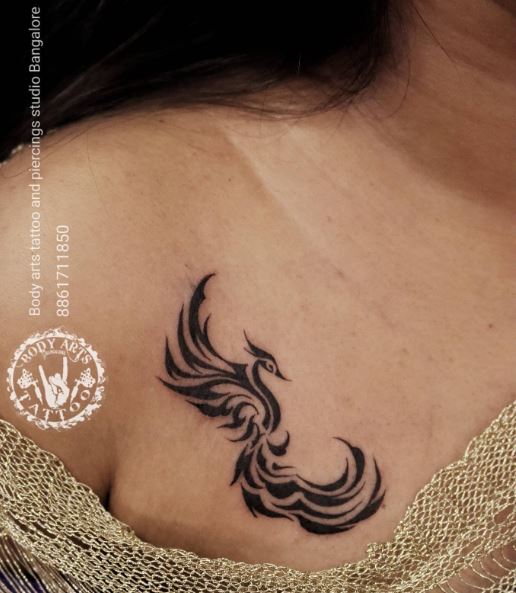 Image by @bodyarts_blr via Instagram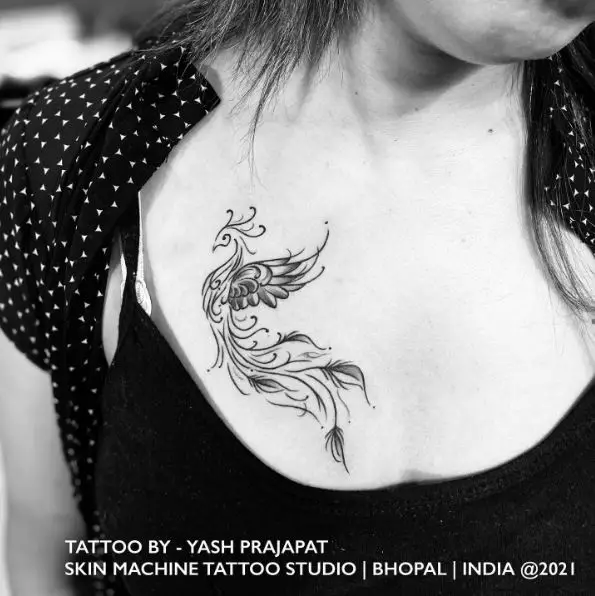 Image by @skinmachinetattoo via Instagram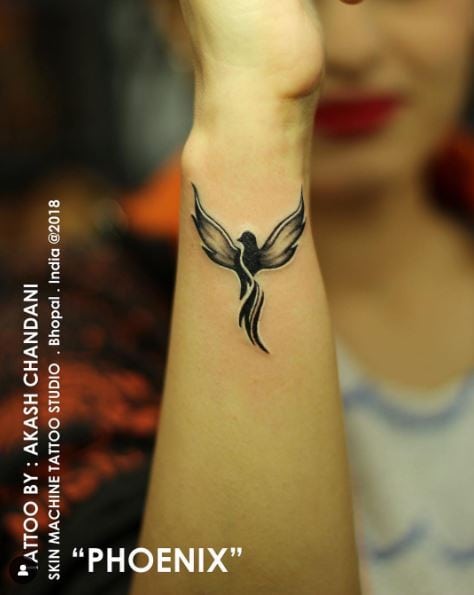 Image by @nains_tattoos via Instagram
Black Phoenix Tattoos
A lot of people automatically assume that their phoenix tattoo has to be a colorful design. This isn't the case at all, though!
You can have a beautiful black phoenix tattoo and still keep the sentiment of the phoenix alive!
For these kinds of phoenix tattoo ideas, focus on detail and beautiful shading. If you get these two elements right, you will find that your tattoo can look as good as one with color in it.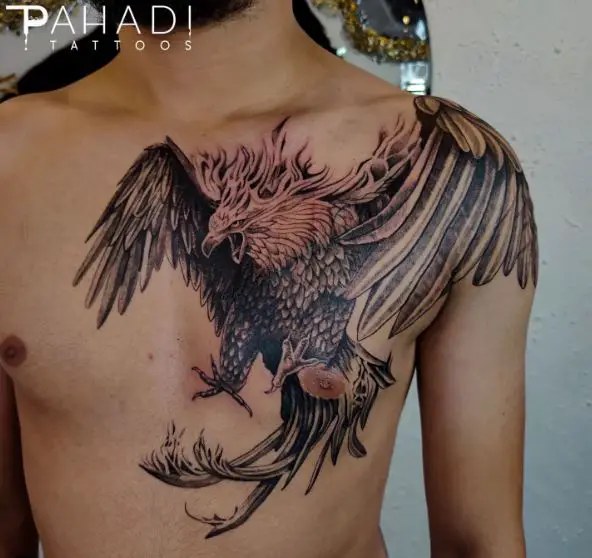 Image by @pahadi_tattoos via Instagram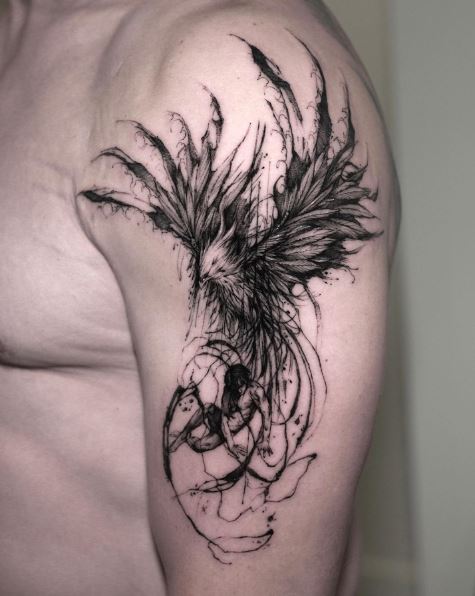 Image by @bk_tattooer via Instagram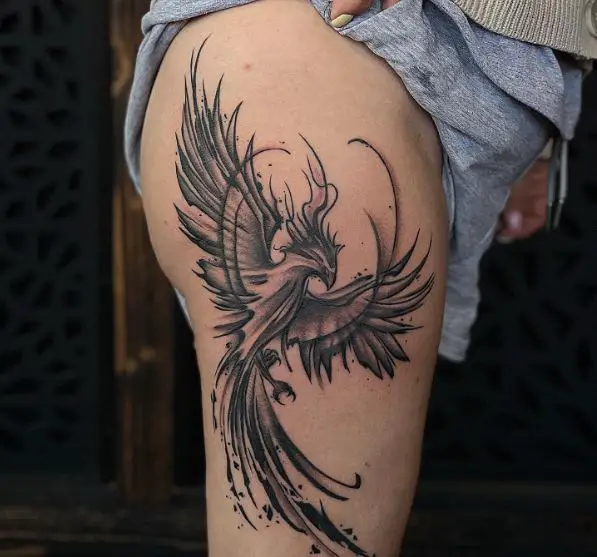 Image by @ap___x via Instagram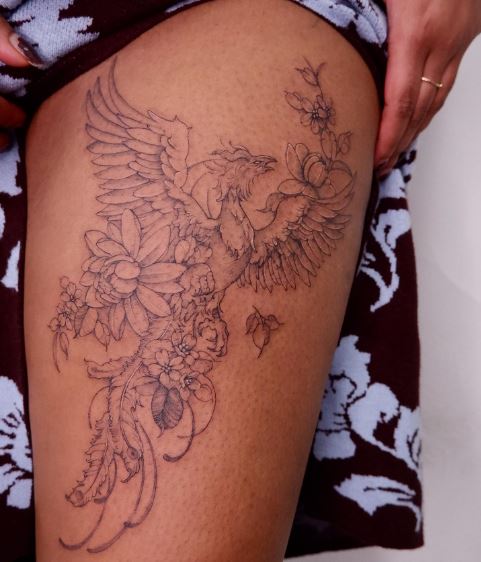 Image by @pineapplecookies via Instagram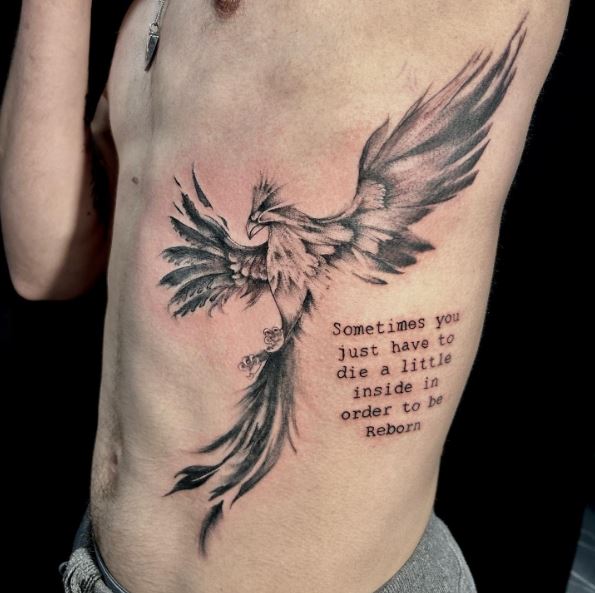 Image by @isabelkae via Instagram
Another cool idea to consider is to keep most of your tattoo black but to add color to certain parts of the design. In particular, adding touches of blue, red, orange, and yellow will work really well.
See, with such a phoenix tattoo design, you create a contrast between the black and colors. In doing so, you are able to direct attention to the most important elements of the tattoo.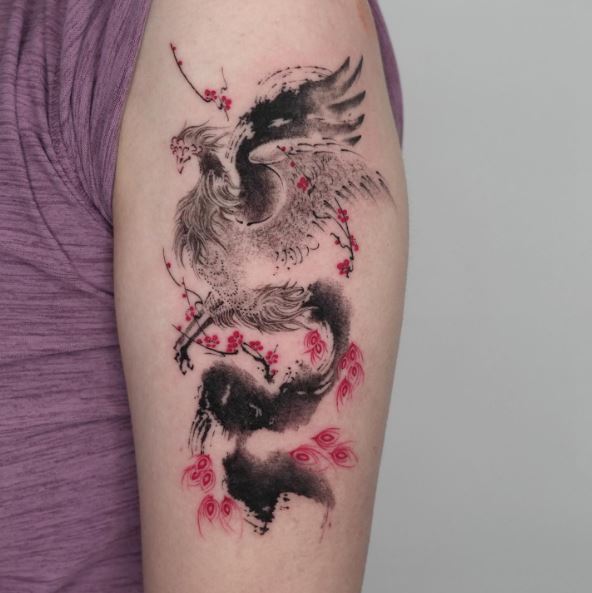 Image by @hanu.classic via Instagram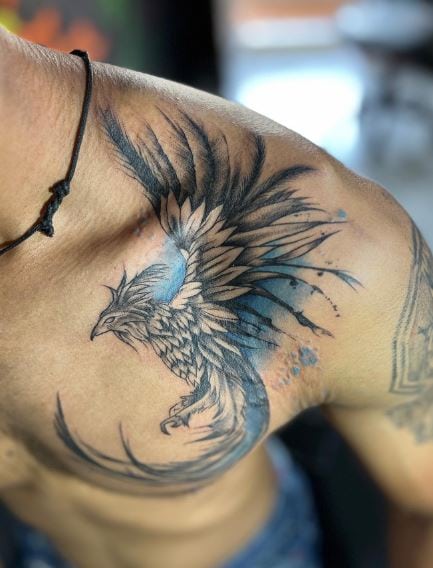 Image by @tattoo_artist_bad via Instagram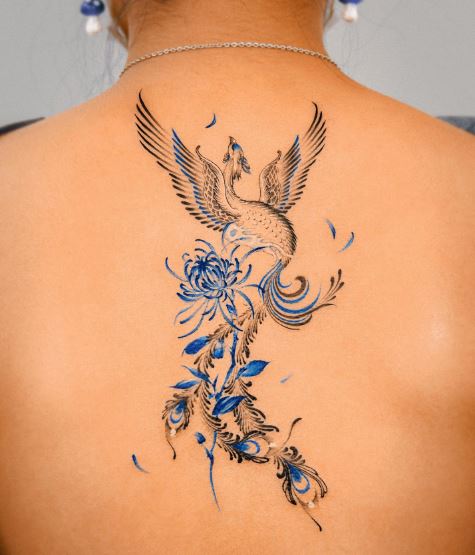 Image by @e.nal.tattoo via Instagram
Geometric Phoenix Tattoos
This is a bit more of an unusual idea but it is a great way to add modern elements to a more classic tattoo design.
For this kind of concept, you add various geometric elements around or in the phoenix design.
Not only does this make your tattoo feel a bit more updated, but I also like the fact that it gives structure to the tattoo design as well.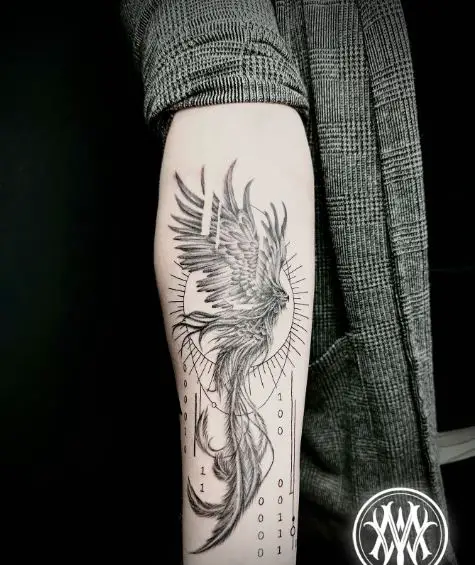 Image by @mostwantedtattooshamburg via Instagram
So, if you want your phoenix tattoo to feel more centered, then this is a great idea to use.
I know that this idea may sound a little confusing. Here are some tattoos that will give you a better idea of what this can look like: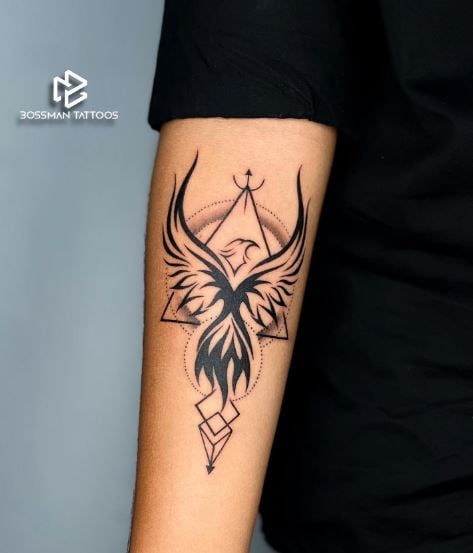 Image by @bossman_tattoos via Instagram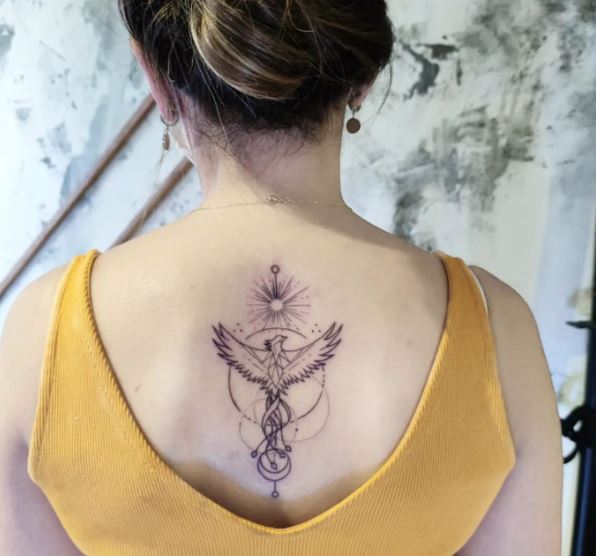 Image by @ceren.tatts via Instagram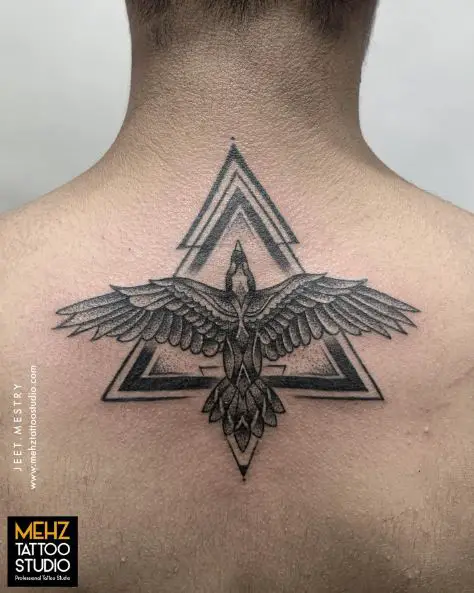 Image by @mehztattoostudioindia via Instagram
Colorful Phoenix Tattoos
Of course, if you want to bring your phoenix tattoo to life, adding color is the way to go. However, what a lot of people don't seem to realize is that there are different ways to add color to your phoenix bird tattoo.
Traditional Phoenix Tattoos
If you want, you can stick to the traditional red, yellow, and orange colors. Keep in mind that there are no hard and fast rules for such tattoo ideas.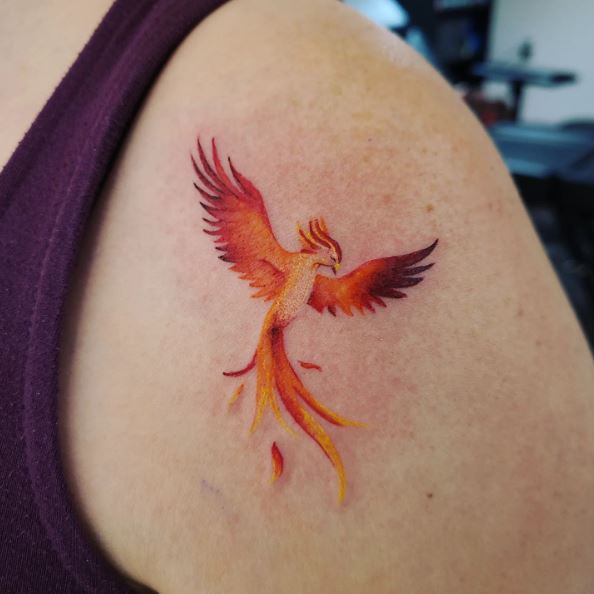 Image by @chaostattoos via Instagram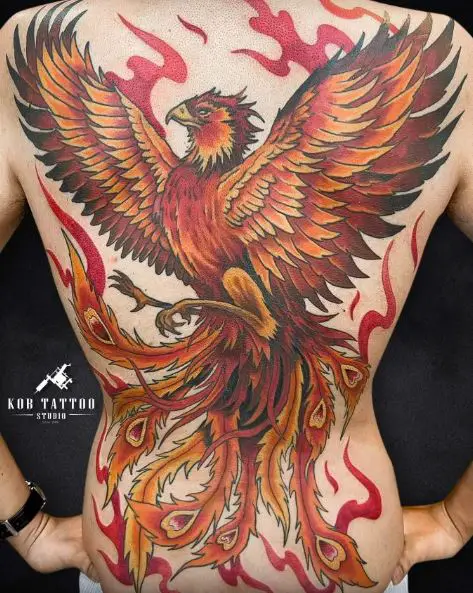 Image by @kobtattoostudio via Instagram
Due to this, it is up to you and your tattoo artist to determine which color takes center stage. It all depends on the kind of effect that you want to create.
Of course, you can also use an equal amount of the three colors to create a more balanced tattoo.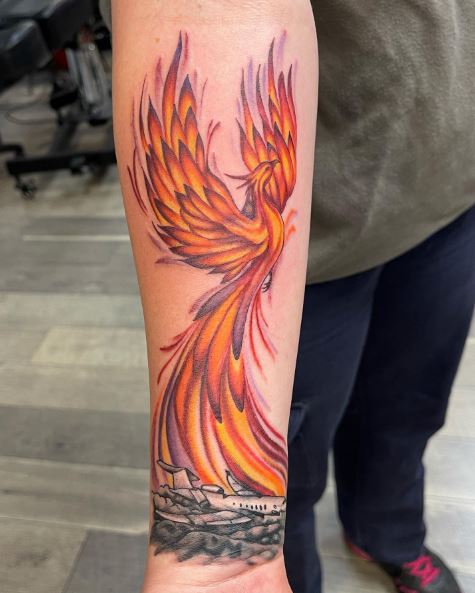 Image by @ericcoopertattoos via Instagram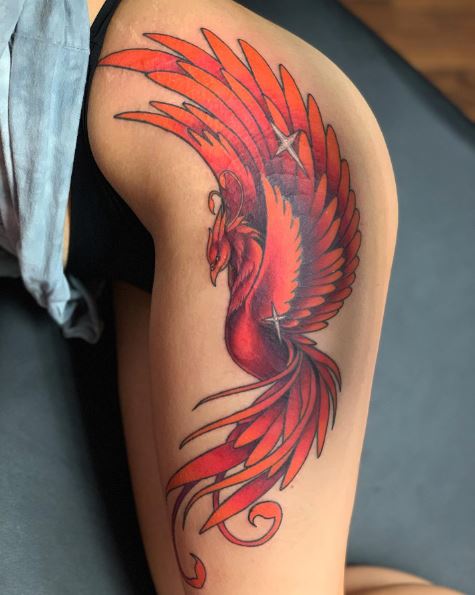 Image by @artattacktattoonc via Instagram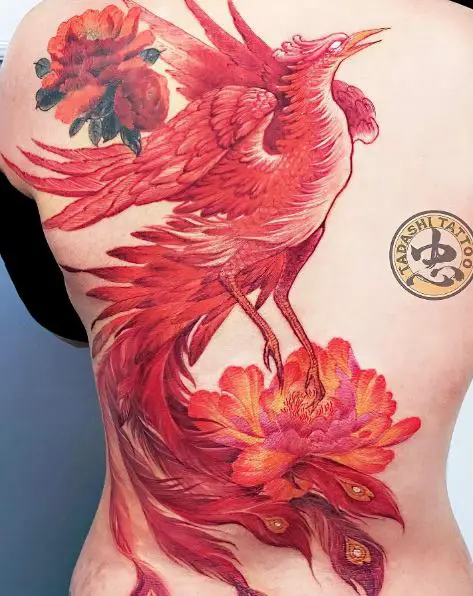 Image by @tadashitattoovn via Instagram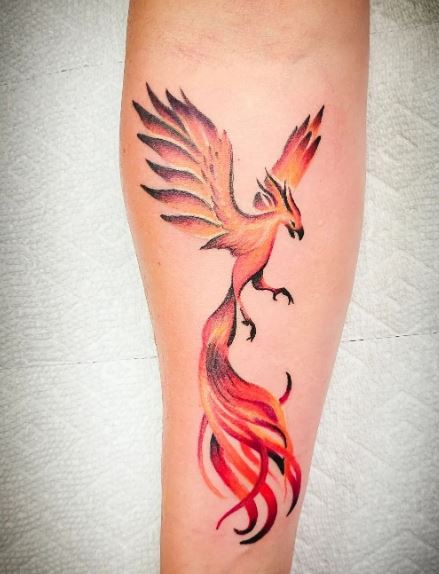 Image by @tatsbyjesse via Instagram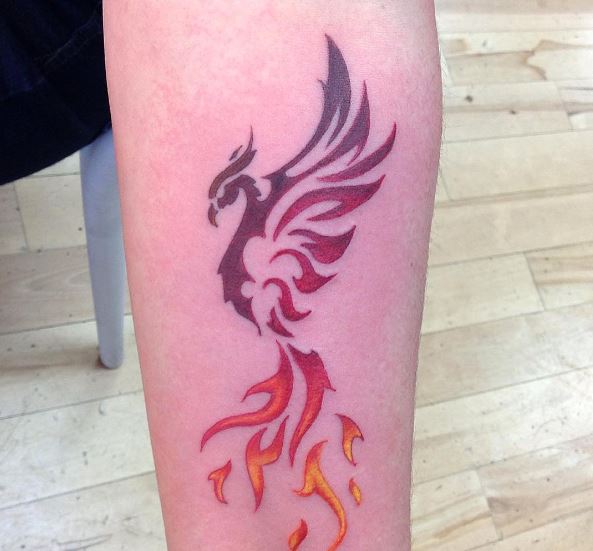 Image by @eastvanweartattooco via Instagram
Watercolor Phoenix Tattoos
Here, the orange, yellow, and red ink are still used. In this case, though, you create a watercolor effect with your tattoo.
A watercolor phoenix tattoo works well if you want to incorporate vibrant colors in your tattoo but still want a softer effect.
It also helps that a watercolor phoenix tattoo also feels a bit more ethereal and elevates your tattoo design.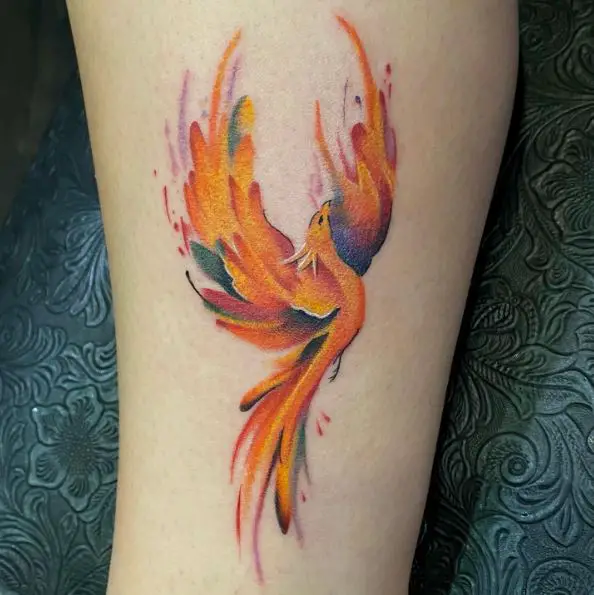 Image by @hellfire_tattoo via Instagram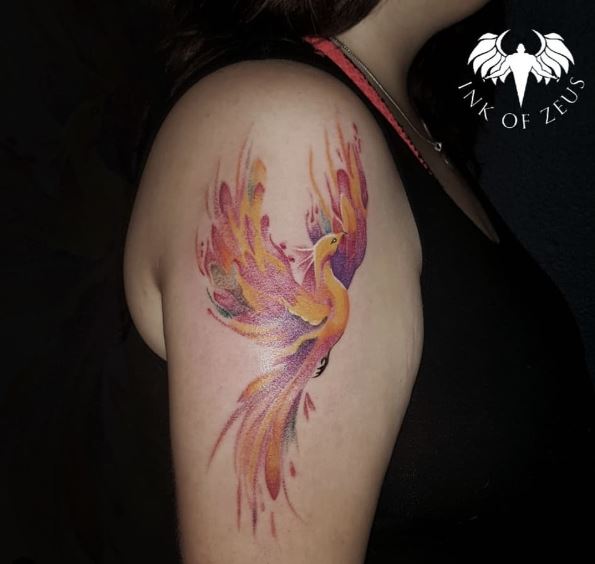 Image by @ecotatpro via Instagram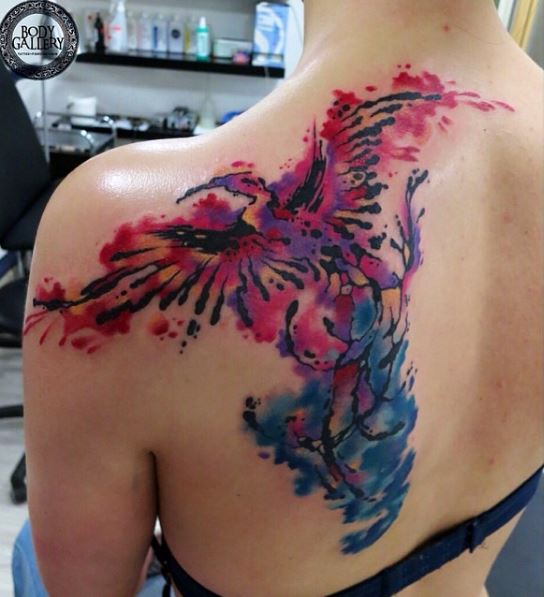 Image by @body_gallery via Instagram
Blue Phoenix Tattoos
A blue phoenix tattoo is different from most other tattoo ideas but I think it is beautiful. As an added bonus, this kind of tattoo can also have its own meaning.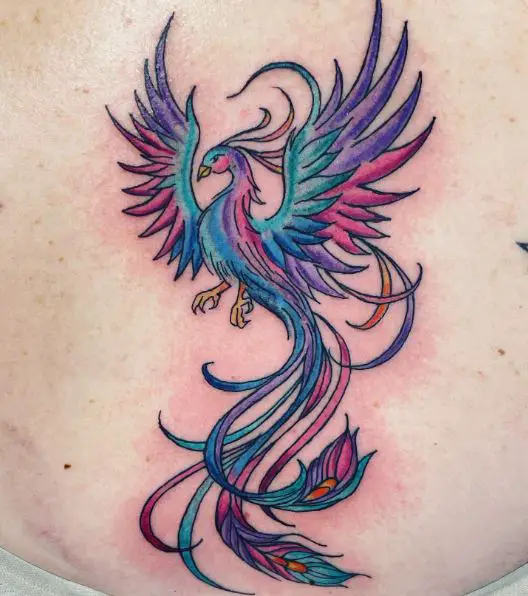 Image by @tabithaconnelly82 via Instagram
See, the traditional colors for a phoenix tattoo are stunning. At the same time, they can feel quite bold and brash. This is not necessarily true for everyone's transformation.
If you are someone who has transitioned into a calmer, quieter, and more thoughtful person, then a blue phoenix design may make better sense for you.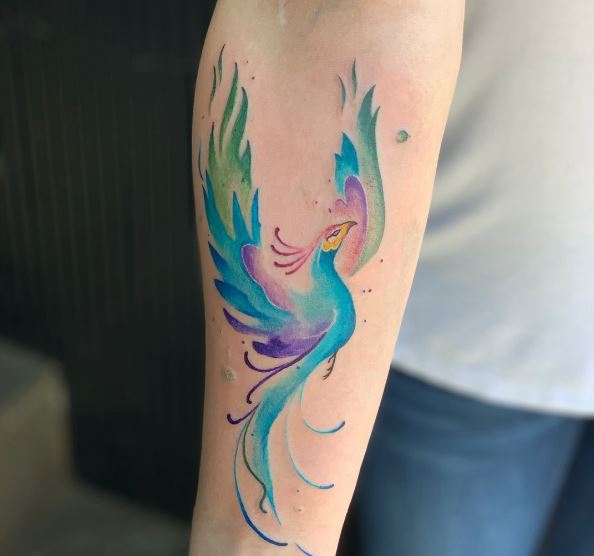 Image by @brittachristiansen via Instagram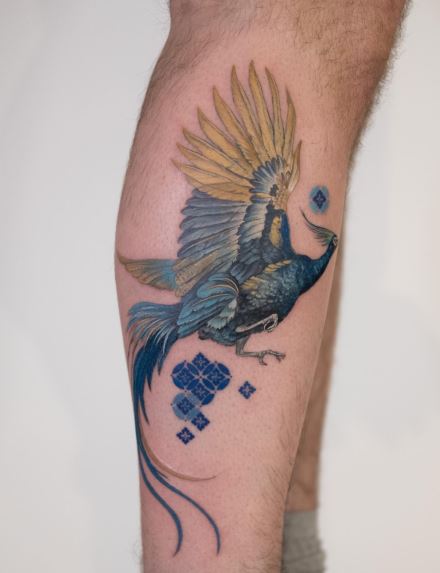 Image by @noa.tattoot via Instagram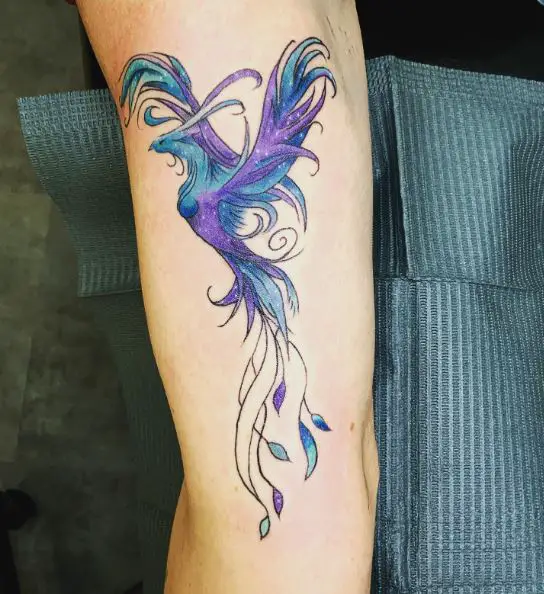 Image by @eleven_11_tattoo via Instagram
Multicolored Phoenix Tattoos
Of course, considering that you are tattooing a mythical bird onto your body, there aren't any rules to follow!
As a result, you have the freedom to get as creative as you want. And, one of the ways that you can do this is to consider multicolored phoenix tattoo designs.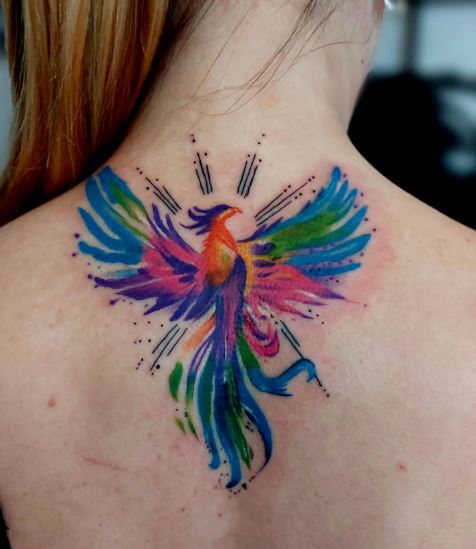 Image by @pleso_tattoo via Instagram
This works well for anyone who wants a truly bold and noticeable tattoo.
When it comes to this kind of tattoo, you have two options. You can choose colors that work well together and complement one another.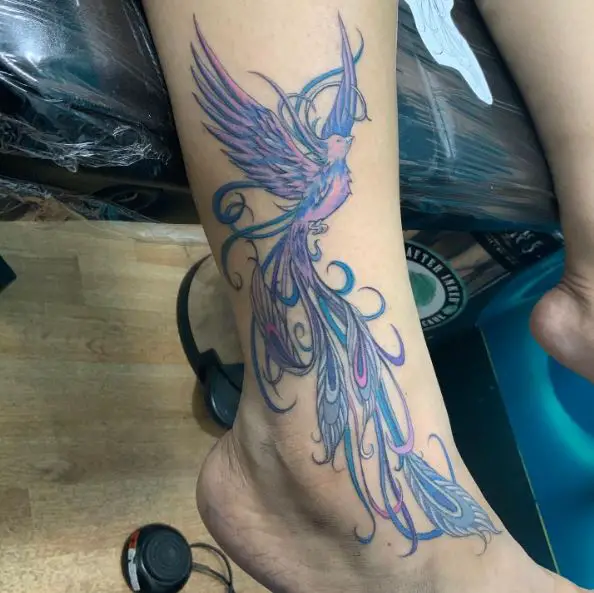 Image by @inkbykg via Instagram
Or, you can go in the opposite direction and choose any combination of shades and hues. It all depends on the finished result that you would like to see.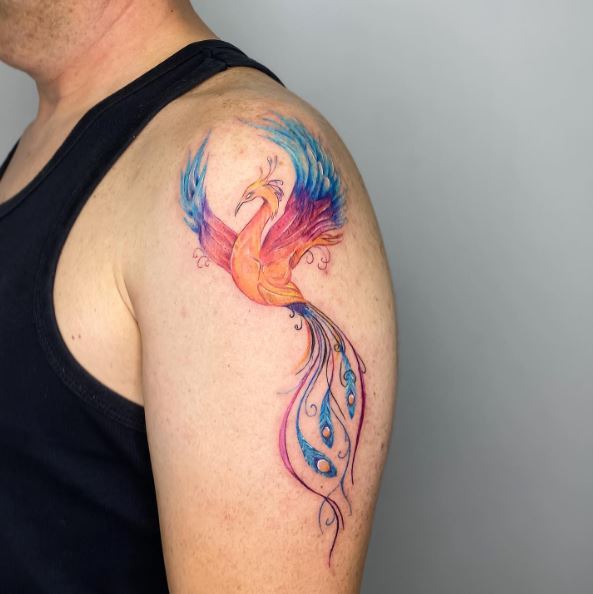 Image by @enginkarahasan_ via Instagram
Fiery Phoenix Tattoos
I absolutely love the idea of a fire phoenix tattoo! After all, it fits in perfectly with the entire concept!
This kind of tattoo can be a good option for anyone who feels like they haven't come out from the other side of their trials.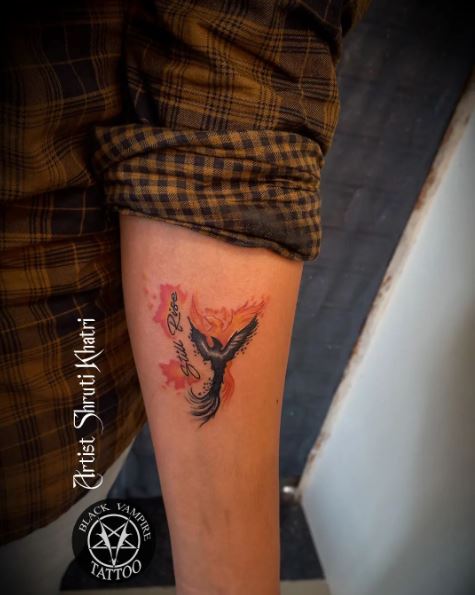 Image by @blackvampiretattoostudio via Instagram
If you are still going through changes or facing obstacles, then you are still in the midst of your troubles. In this case, such a phoenix tattoo may really work for you.
So, what would this kind of tattoo look like?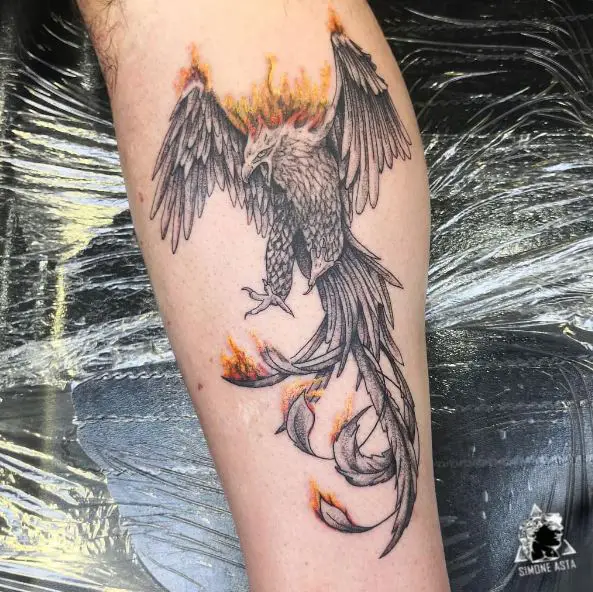 Image by @asta_simone_tattoo via Instagram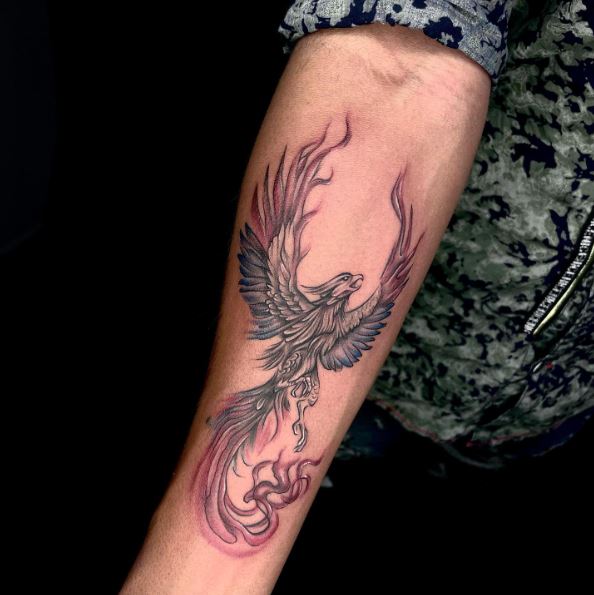 Image by @kaptaan_tattoo via Instagram
Well, this all depends on how much detail you want to add to your tattoo. If you want to keep it simple, then you can have a few flames surrounding the phoenix.
Otherwise, you can make it look like the bird is completely engulfed in flames.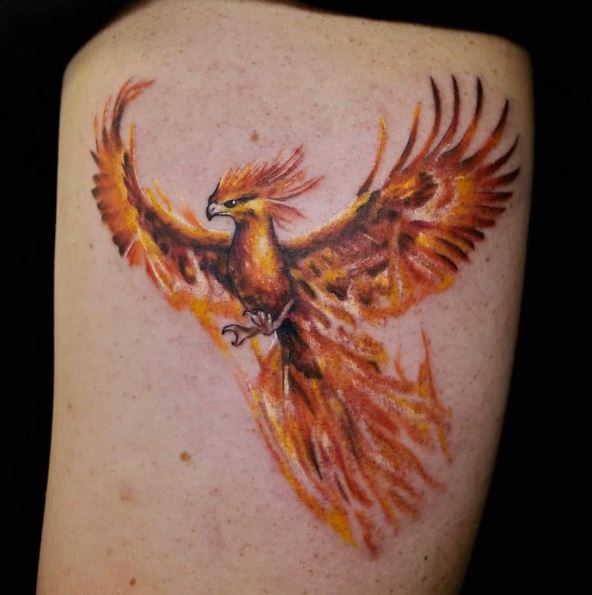 Image by @instinkt.nl via Instagram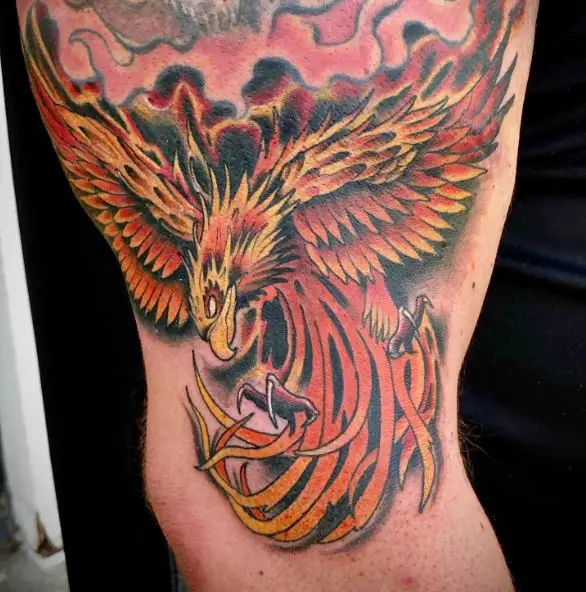 Image by @maximumtattoostudio via Instagram
Image by @chriscosmostattoo via Instagram
Japanese Phoenix Tattoos
Do you love traditional Japanese art? I certainly do! If so, you can combine the elements of Japanese art with the concept of the phoenix to get a Japanese phoenix tattoo.
If you want to stay true to the fundamental elements of Japanese art, then you may want to go with more muted colors for your tattoo. In fact, you will discover that black and red ink is a common option here.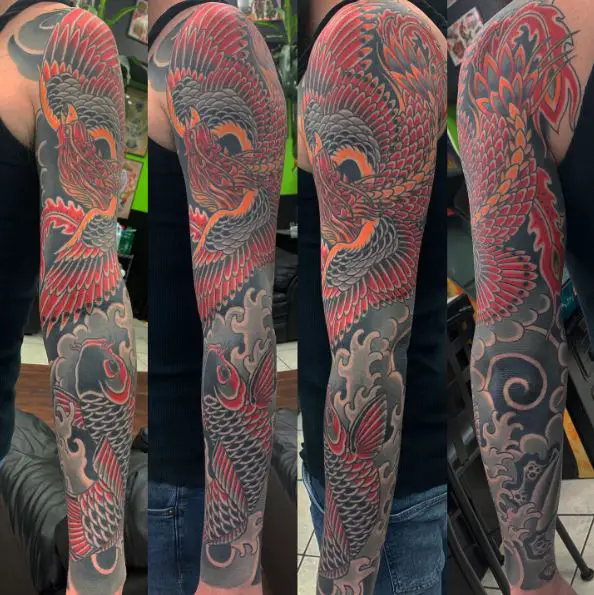 Image by @officialevtvacaville via Instagram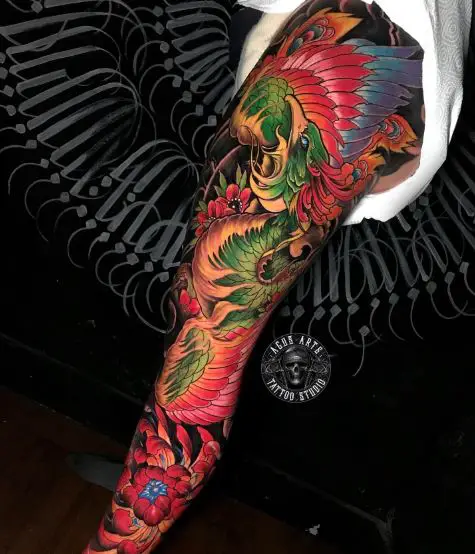 Image by @agusarts via Instagram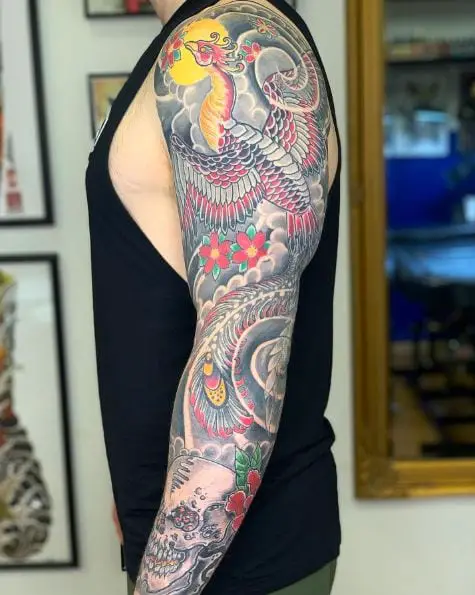 Image by @carltattoos via Instagram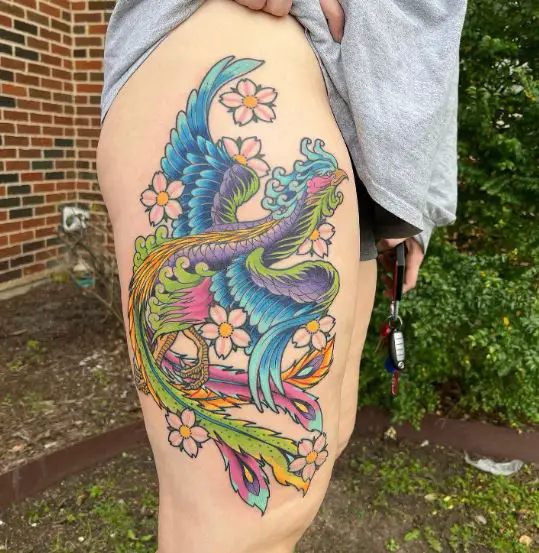 Image by @spellbound.waco via Instagram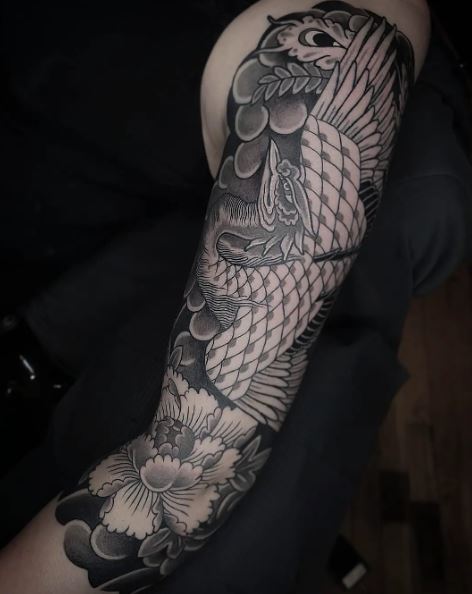 Image by @anholt.tattoo via Instagram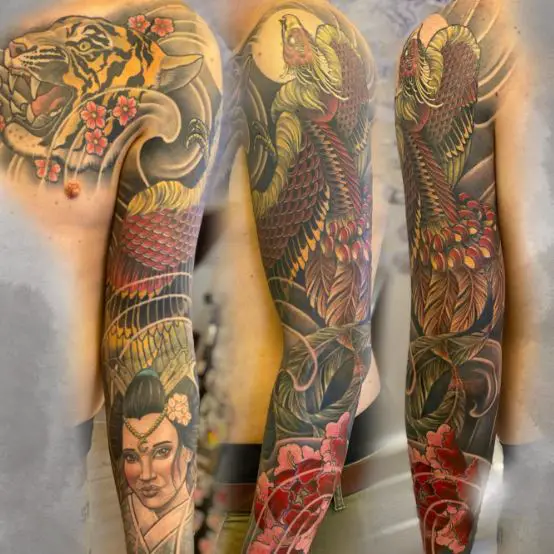 Image by @erikornstrom.tft via Instagram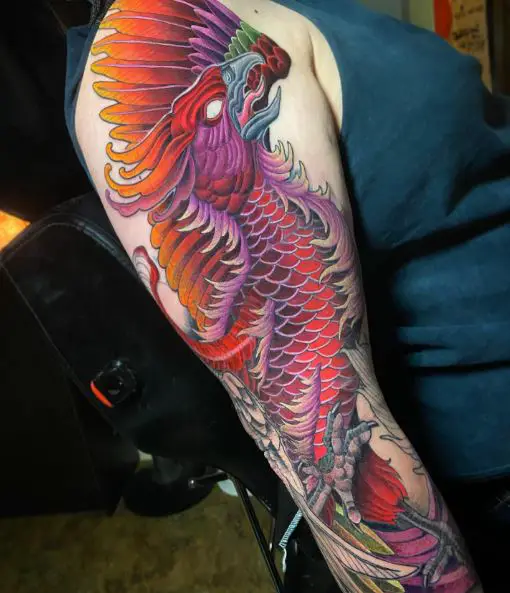 Image by @trevormuzik via Instagram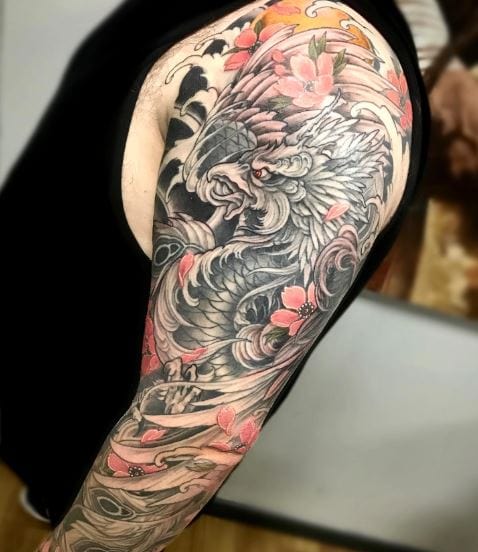 Image by @torrans_tattoos via Instagram
Of course, if you want a good balance between style and staying true to the myth, then you can add as much color into the mix as you want.
These kinds of tattoos can be pretty complex. Due to this, I do suggest that you find an artist that is familiar with this particular art style. It will help you to create a far more authentic tattoo design.
What Does a Phoenix Tattoo Symbolize?
Of course, phoenix tattoo ideas without context won't do you much good. Before you can get a phoenix bird tattoo, you have to first understand the symbolism behind this mythical creature as well as the tattoo design.
the story of the Phoenix
The legend of the phoenix actually has its origins in Egypt. The mythical bird is associated with the worship of the sun and the sun god Re.
As the story goes, a phoenix is as large as an eagle, with scarlet and gold feathers. It is also known for its beautiful call. There is only ever one bird in existence at any given point and the phoenix is said to be able to live up to at least 500 years.
As it comes to the close of its lifespan, the phoenix builds a nest made from aromatic boughs and spices. The nest is set alight and the phoenix is consumed by the fire.
However, from the ashes, a new phoenix rises. This new phoenix embalms the ashes of the old phoenix in an egg of myrrh and then carries the ashes to the city of Heliopolis in Egypt and sets it on the altar of Re.
Now, you will also find a mention of Phoenix in Greek mythology. However, that is a different tale altogether. In those legends, Phoenix is a cursed son of a king who helps to raise the famous Achilles and took part in the battle of Troy.
Another thing to keep in mind is that there is a bird in Japanese and Chinese culture that sounds very similar to the phoenix. This bird is immortal and it is associated with harmony and good tidings.
That being said, this mythical creature doesn't appear to have any ties to fire or ash.
Of course, if you like Chinese or Japanese tattoos and want a Chinese or Japanese phoenix tattoo, then you should certainly get one done in the corresponding tattoo style.
You can incorporate the Chinese or Japanese art style into the rising phoenix concept.
The Symbolism of the Phoenix Tattoo
So, what does a phoenix tattoo mean for you? And, what does a phoenix rising tattoo mean?
Well, one of the most common explanations for the phoenix and phoenix tattoo has to do with resurrection. And, so, most people associate the phoenix with new beginnings.
In reality, though, the phoenix and phoenix tattoo has a much deeper meaning than this.
The phoenix rising from the ashes is easy enough to understand. It is a way for you to shed the old version of yourself and welcome a new you. So, the phoenix tattoo is associated with rebirth.
Phoenix Tattoos and Endings
The more intricate phoenix tattoo meaning involves taking a closer look at the rebirth process. See, the phoenix had to completely get rid of who it was before it could be reborn.
And, destroying itself was a painful process - self-immolation was involved!
So, a phoenix tattoo can be a reminder to yourself that getting rid of the old characteristics or version of you can be a difficult and trying process.
However, if you make the effort, you can be rewarded with something wonderful and new.
A phoenix tattoo is also a good reminder that the end is rarely ever just the end. Rather, it is a way of creating opportunities for new beginnings.
Triumphing Over Tough Times
Now, one of the meanings that make phoenix tattoos popular is to do with triumph. See, for many, a phoenix soaring from the ashes is a symbol of overcoming hardships, trials, and hard times in your life.
Not only have you overcome these trials, but you have also become a stronger and better person for it. You are now an immortal creature.
What Does a Phoenix Tattoo on a Woman Mean?
For the most part, a phoenix tattoo means the same thing to both men and women. That being said, as the phoenix represents femininity in certain cultures, a phoenix tattoo can also be a sign of womanhood and the strength of a woman.
Where Should I Put Phoenix Tattoo?
There is no hard and fast rule for where to get a phoenix tattoo. This is because, for the most part, this design works equally well in any location.
Of course, one of the things that you should think about is visibility. For instance, if your phoenix tattoo has a personal or deep meaning, then you may want to keep your tattoo a bit more hidden. Under these circumstances, thigh tattoos work well.
You should also think of the size and tattoo style of the phoenix tattoo. Small phoenix tattoos can fit almost anywhere, including the upper arm.
A large phoenix tattoo, on the other hand, may not offer as many options. In this case, you may want a back tattoo or even a chest tattoo.
Phoenix tattoos are quickly gaining popularity in the tattoo industry. And, after you see all the tattoo designs to choose from, you will see just why this is the case. After checking out all the options available, you should have no problem finding the right design to show to your tattoo artist!