Saturn's symbolism is often associated with qualities of responsibility, wisdom, and the inevitability of change.
As a tattoo artist, it's always interesting to see the designs that clients bring to the table. One particular tattoo design that has been gaining popularity is the Saturn tattoo, which offers an awesome way of incorporating astrology and spirituality into body art.
In this article, we'll be taking an in-depth look at Saturn tattoos from an artist's perspective, exploring the Saturn symbolism, meanings, and design elements related to the celestial tattoo. So if you're considering getting this tattoo, this article will provide inspiration for you. Let's get right into it.
All About the Planet Saturn
Saturn is one of the seven planets in our solar system. It is the sixth planet from the sun and the second largest planet in our galaxy.
The planet Saturn is easily recognizable due to its 7 rings system. The rings are large but thin. They were supposedly formed by an asteroid that was broken by Saturn's powerful gravity. These huge rings are composed of bits and pieces of rock, ice, and small dust particles.
The planet can be seen as a small star with the naked eye. When viewed through a telescope, planet Saturn and its 7 rings look fantastic.
A very astonishing characteristic of the planet is its extensive gas content which gives it the name 'gas giant'. It is composed of several different gases but has a very high hydrogen content.
The planet's hydrogen gas content increases from outside inwards and gets to metallic hydrogen and a hot core inside.
Saturn has 83 moons in orbit. 60 among them have been named while the remaining 23 are awaiting confirmation of discovery before they are named.
Saturn Tattoo Meaning
Saturn tattoo symbolizes aging, maturity, and stubbornness with lots of other symbolic meanings we'll be seeing in this article. Let's get into it.
Saturn Return
Saturn's return refers to when Saturn goes back to the same position it was in when you were born. This is said to occur every 27 to 32 years, which means you have your first Saturn return within these ages and the second Saturn return in your mid or late 50s. The period of the Saturn return is said to represent one's period of growth and maturity.
In China
In ancient china, Saturn is called the 'earth star' and it is considered the symbol of imperial control, rulership, and governance.
Roman God
In ancient Greek mythology, the planet Saturn was the primary Roman deity said to preside over agriculture and harvest. This period was a representation of wealth and abundance generally known as the " golden age" of Rome ruled by the Greek god Cronus. He taught his people about agriculture and harvest, throughout his reign.
Who knows, getting a Saturn tattoo might just align with growth, wealth, stability, or productivity in certain aspects of your life.
Alchemy
In ancient alchemy, Saturn was often associated with the metal lead and the process of transmutation, as alchemists sought to transform base metals into precious ones like gold.
With this idea in mind, the Saturn tattoo can be gotten as a symbol of a major transformation that you'd like to achieve, or that you've already achieved in your life.
Sailor Saturn Tattoo
Sailor Saturn is a fictional character from the manga series sailor moon. Her spirit resides in a schoolgirl with innocent characteristics like large eyes and short colorful hair. The sailor Saturn tattoo is usually gotten by fans and lovers of the anime series.
Saturn Tattoo Ideas For You
Let's take a look at a list of the various types of Saturn tattoo designs you can get.
Pencil Sketch Saturn Tattoos
Sketch Saturn tattoos are usually simple and feature other tattoos that add meaning to the image. Some popular image additions to the sketch tattoo are the stars, twinkles, and sometimes Jupiter tattoos.
A pencil sketch tattoo is an awesome tattoo option for someone getting a new tattoo, especially first-timers.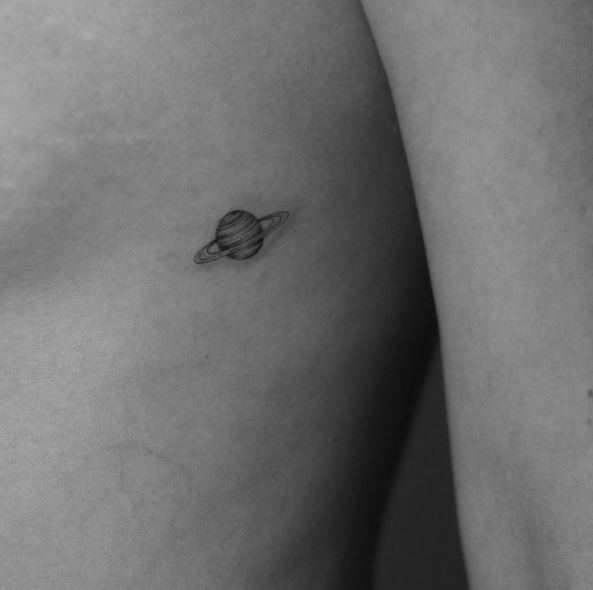 Image by @illutat.ink via Instagram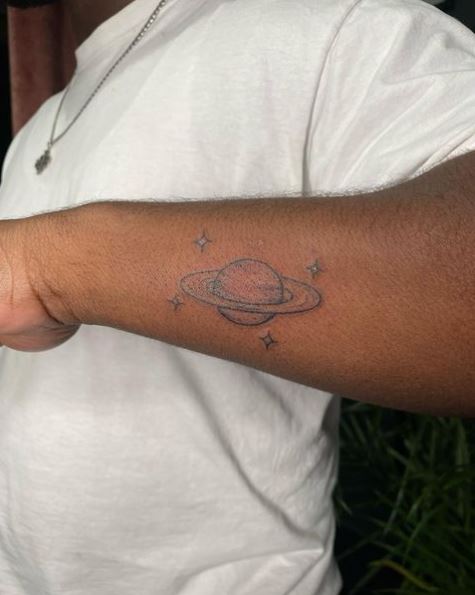 Image by @bbgkeke.inks via Instagram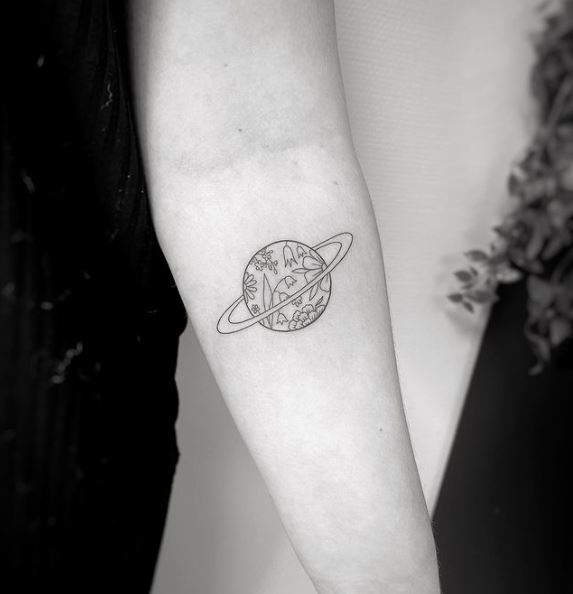 Image by @tattoosbyina via Instagram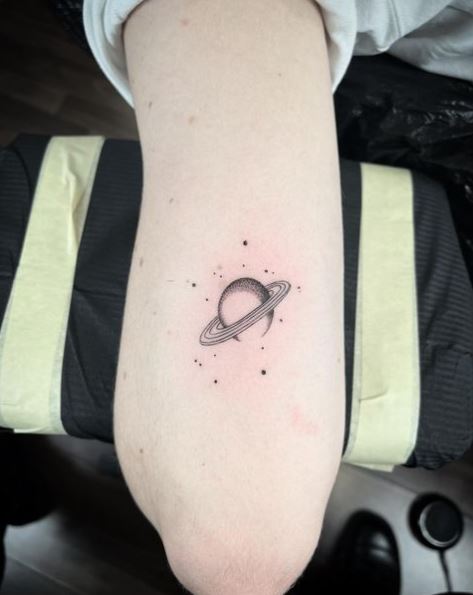 Image by @darkveil_tattoo via Instagram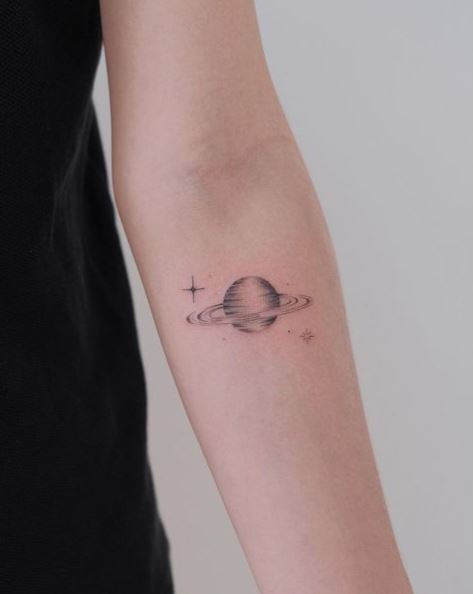 Image by @s.uentt via Instagram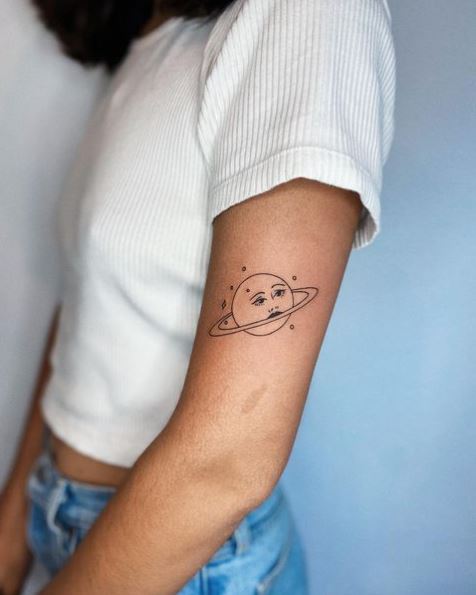 Image by @simonelovegood via Instagram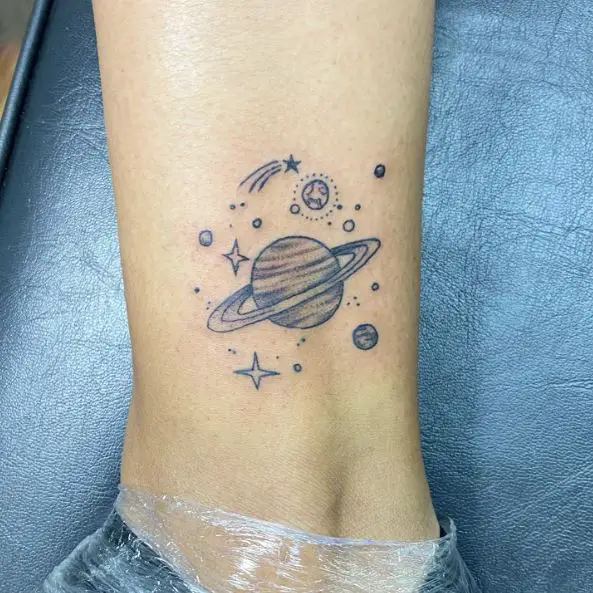 Image by @davidsyronrobles via Instagram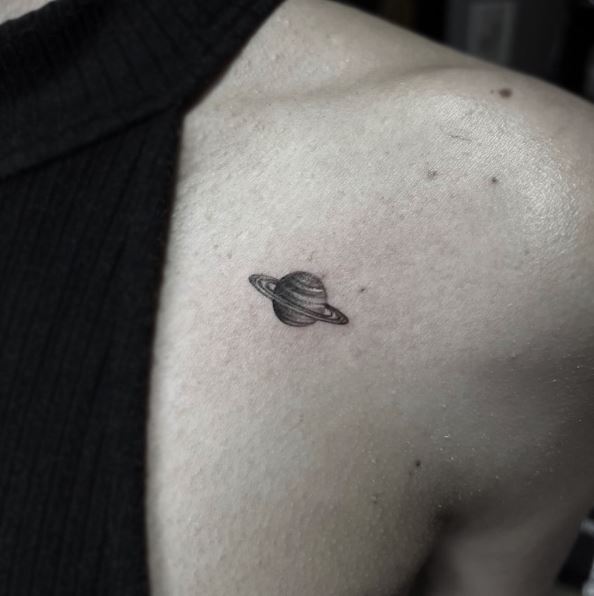 Image by @markteimayer via Instagram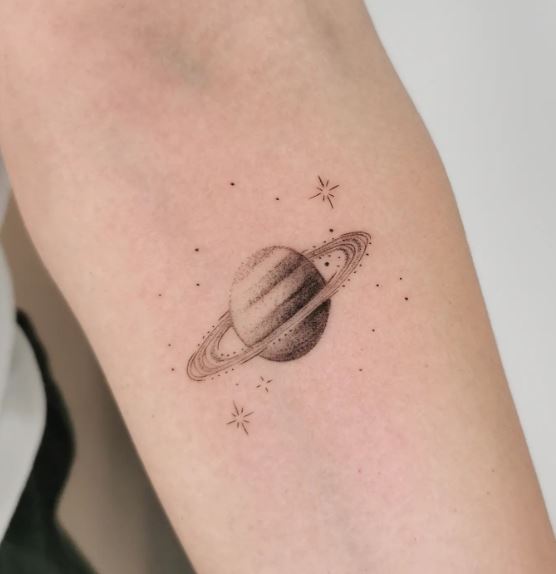 Image by @liah_tattoo via Instagram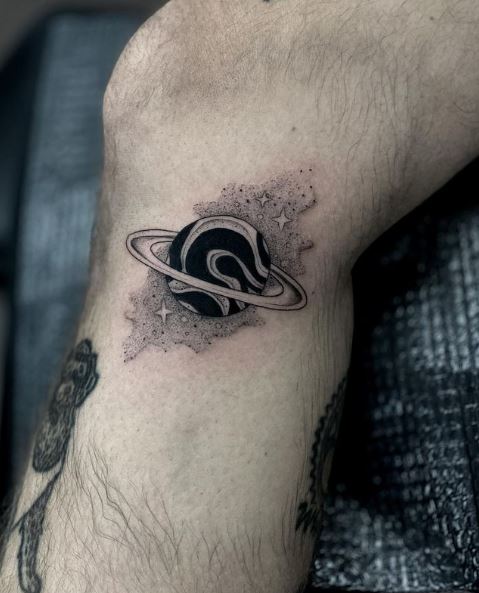 Image by @writhingdirty via Instagram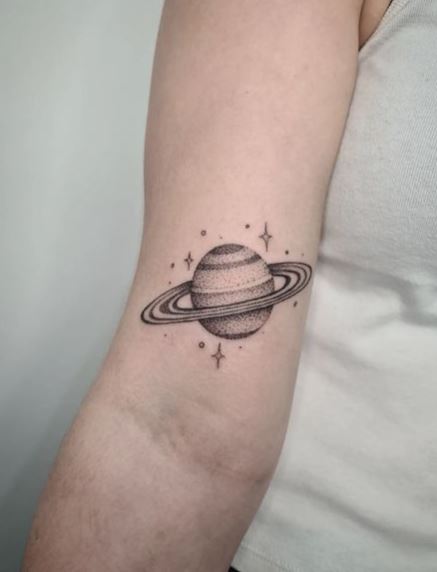 Image by @athenageorgia via Instagram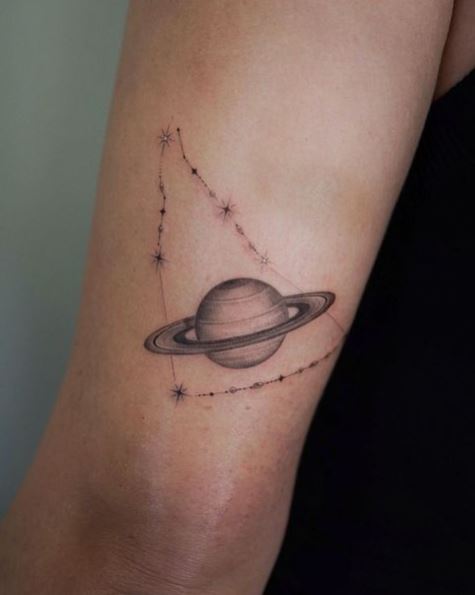 Image by @komi.tt via Instagram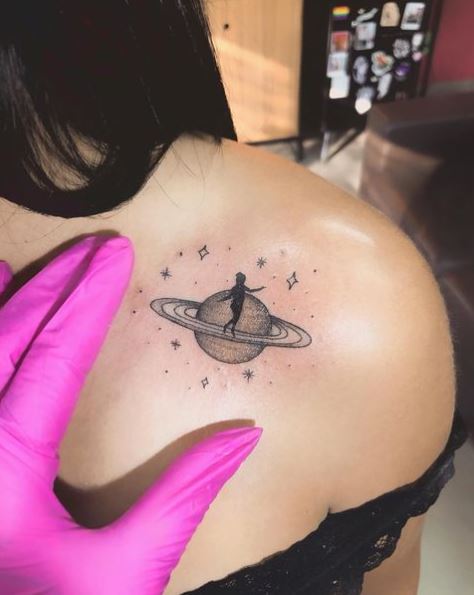 Image by @ana.tattooart via Instagram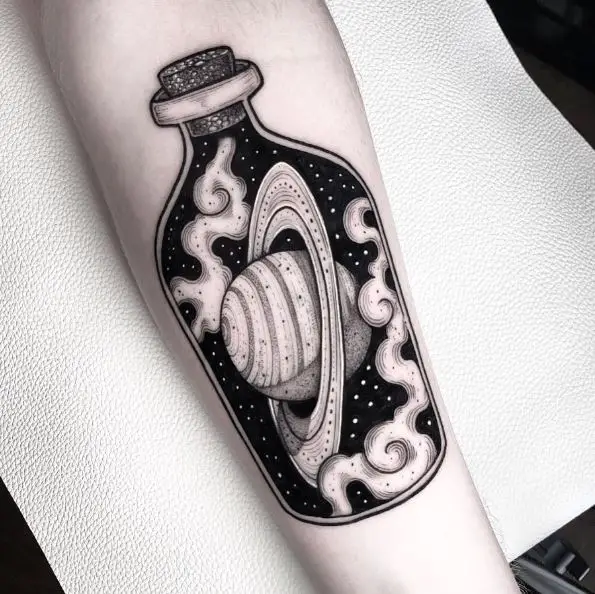 Image by @joshhurrelltattoos via Instagram
Geometric Saturn Tattoo
Another amazing option is to get the planet tattooed in a geometric style for a unique outcome. Here are several tattoo options you can select from.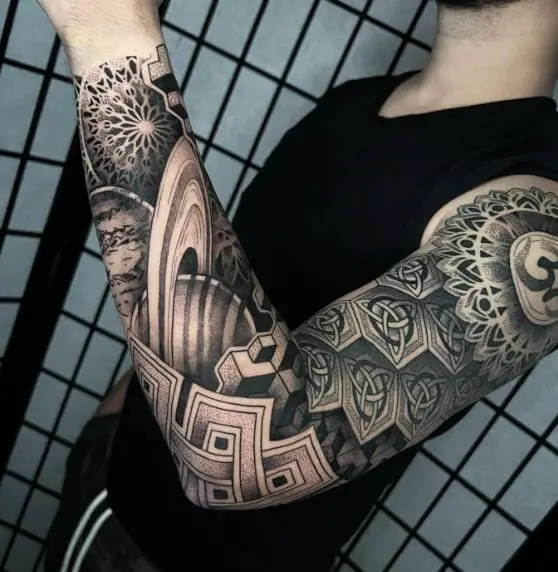 Image by @weschetattoo via Instagram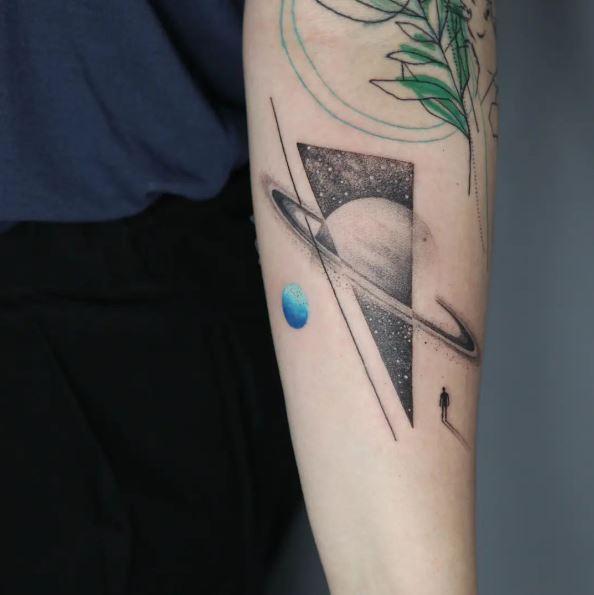 Image by @agakura_tattoo via Instagram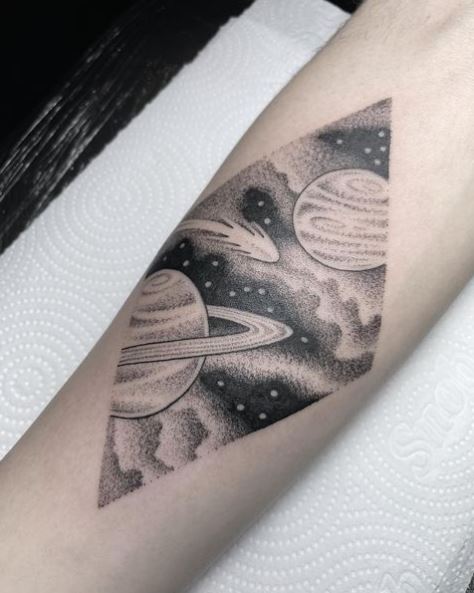 Image by @toneschaefer via Instagram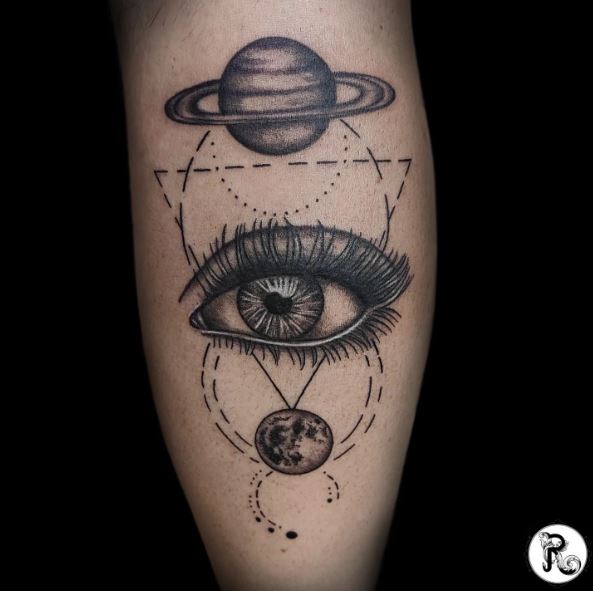 Image by @rosetattooart via Instagram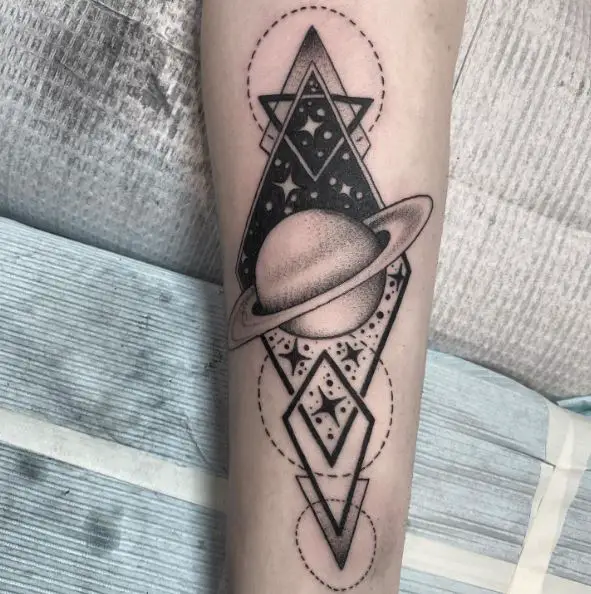 Image by @theartisantattoo via Instagram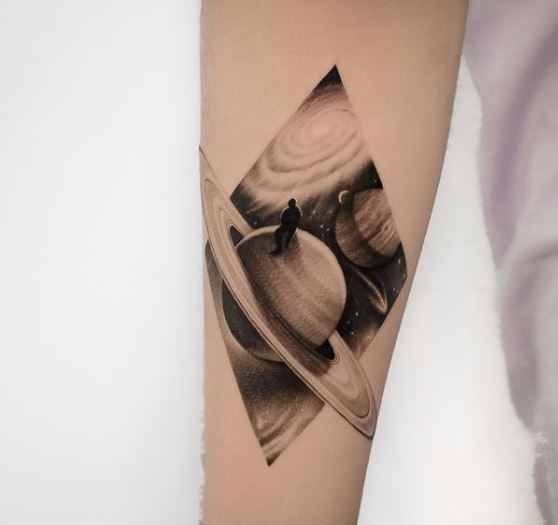 Image by @lineup_tattoo via Instagram
Dot Work Saturn Tattoos
Dot work tattoos are a display of true creativity. Here, tons of dots are used to create the Saturn tattoo image. Even though you might have to break the bank if you choose to get this, it's long-lasting and totally worth it.
The dots used to create the tattoo is perfect to show the orbit of Saturn and its moons around the sun.
Dots also represent the gas particles that Saturn is made of. They closely resemble the ice, rock, and dust particles that create the gas giant.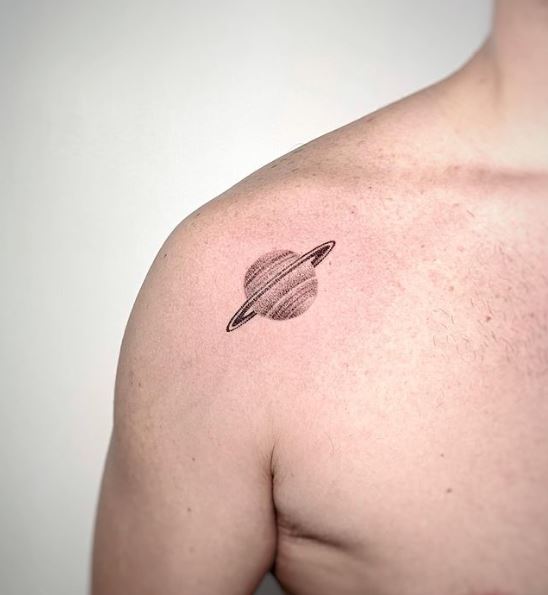 Image by @foxinkx via Instagram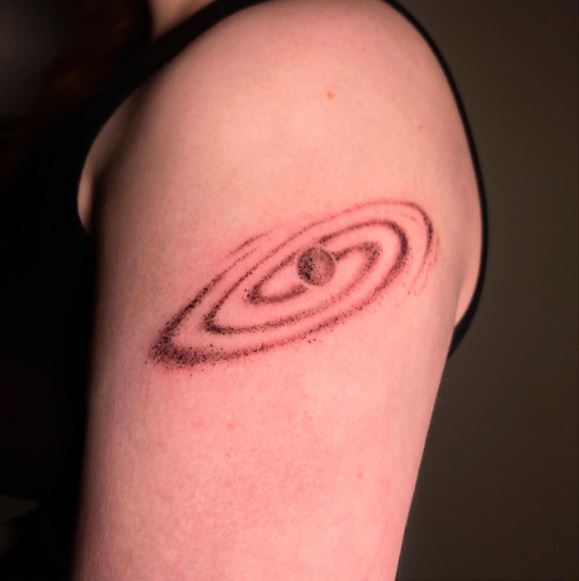 Image by @tattoo.texture via Instagram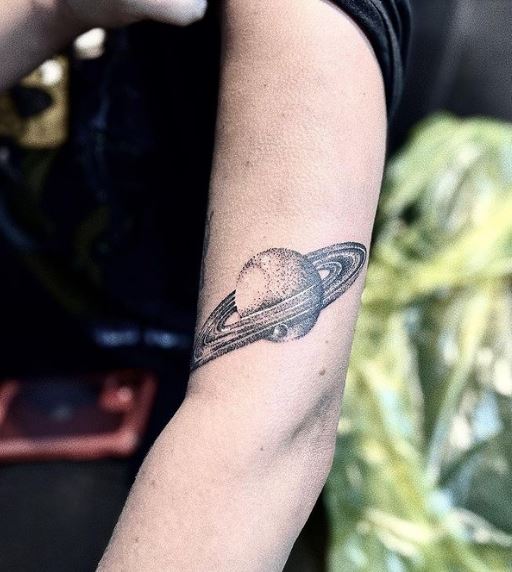 Image by @hellsrosetattoo via Instagram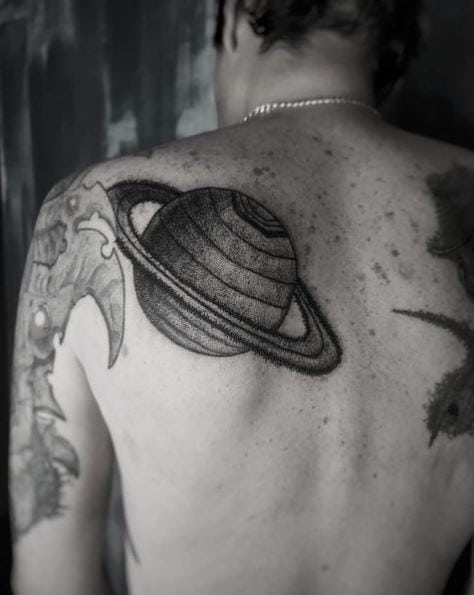 Image by @rigor_art via Instagram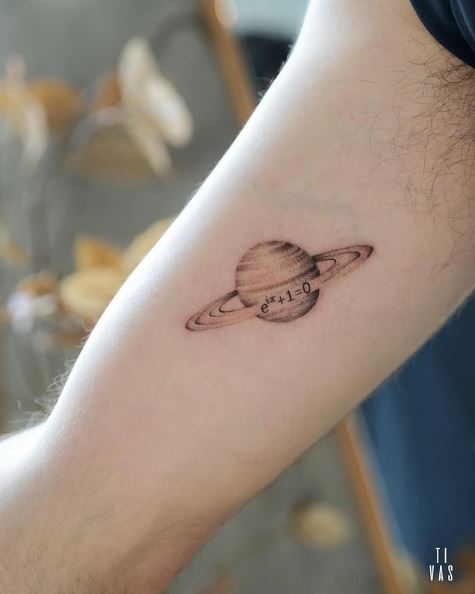 Image by @tivas via Instagram
Minimalistic Saturn Tattoos
Minimalistic Saturn tattoo designs are usually small and hold a personal meaning for the wearer. They can be placed on any part of the body. The size of the minimal tattoo makes it easy to cover the tattoo whenever you feel like it.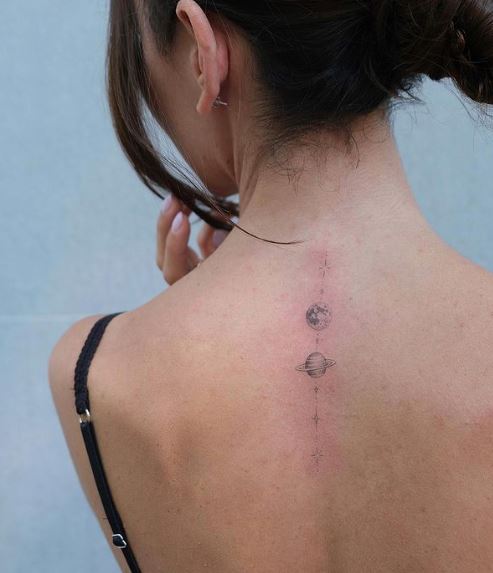 Image by @stefano__mazza via Instagram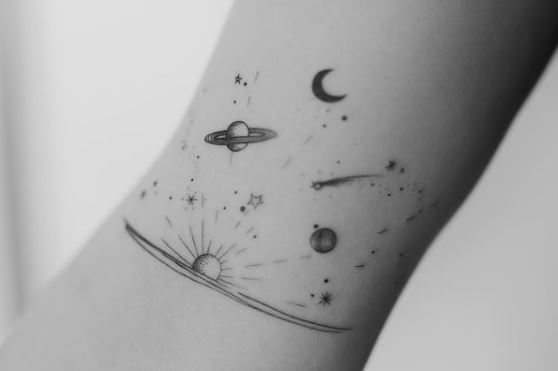 Image by @nadine.mii via Instagram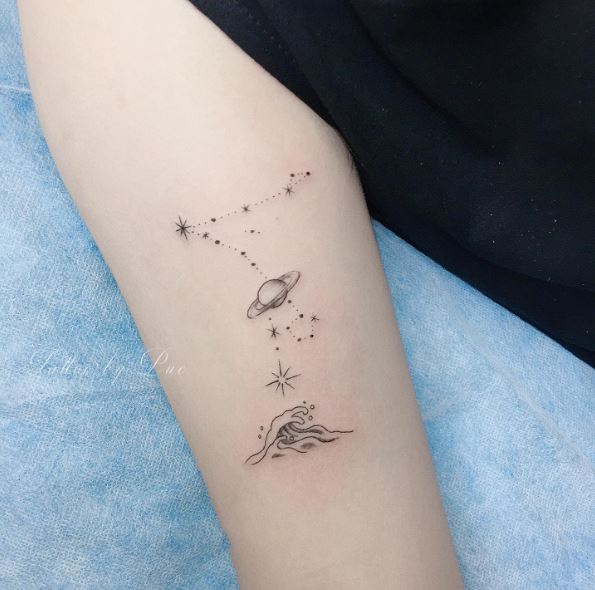 Image by @tattoo_thailand via Instagram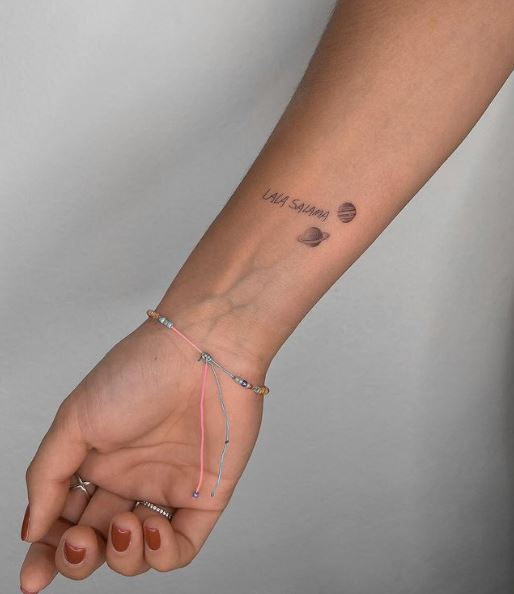 Image by @muroxtattoo via Instagram
Flower and Saturn Tattoos
If you're a person with a combined love for astrology and nature, flowers are the perfect addition to your Saturn tattoo design. The size or type of the flower does not matter, because both large and small flowers look stunning with the Saturn tattoo.
The Saturn and flower tattoo is versatile and would look great on any part of the body.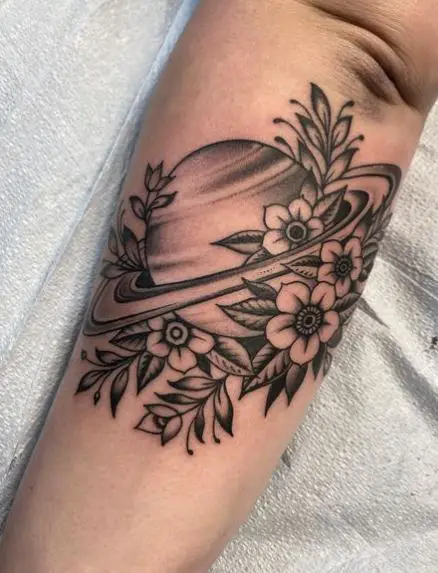 Image by @terrygrow via Instagram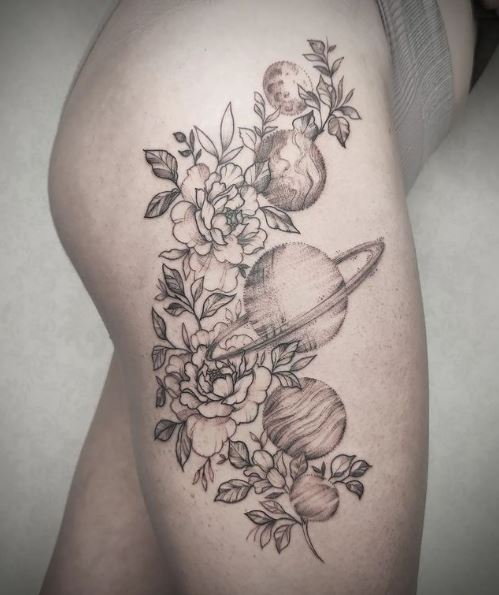 Image by @aravahr via Instagram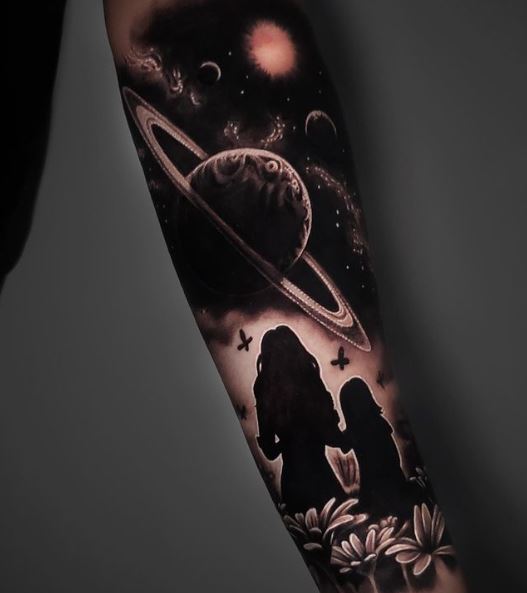 Image by @tattoosbyshiva via Instagram
Dark Saturn Tattoo
You can get an alternative style Saturn tattoo with lots of fine lines and spikes to express your love for dark art or the emo life. If you want to be more creative with the details of your design, you can get the drawing of Saturn with a skeleton body as seen in the second image below.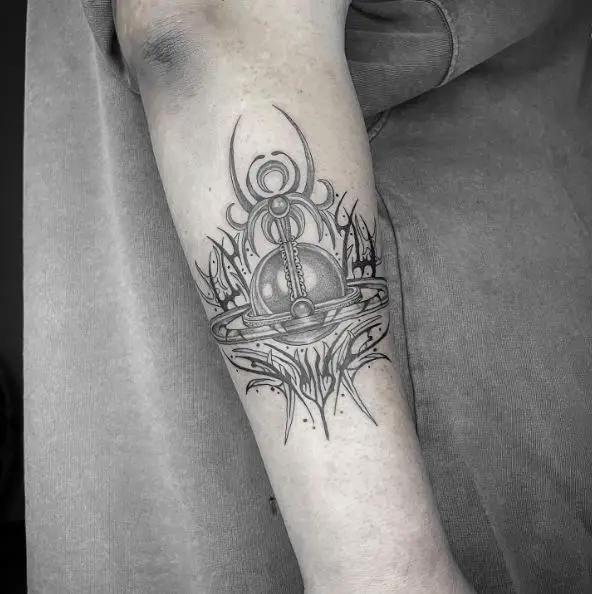 Image by @aa.tattooist via Instagram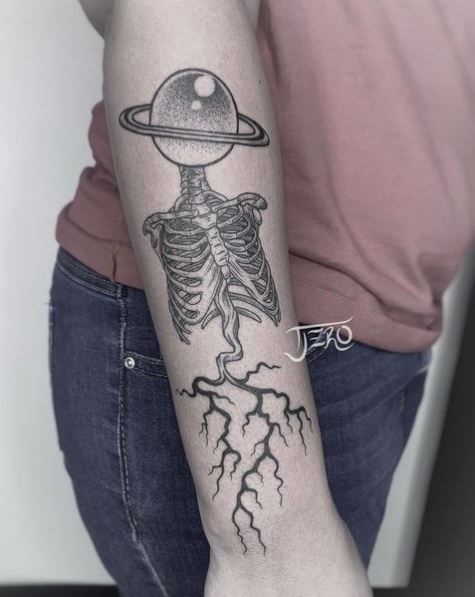 Image by @lunanuovatattoo via Instagram
Colorful and Fun Saturn Tattoo
These images are a sign that your Saturn tattoo will turn out stunning regardless of the colors used to create it. So go all out!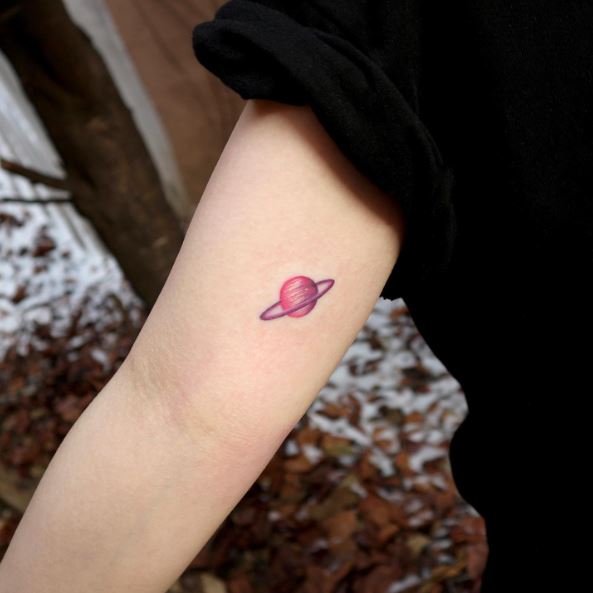 Image by @rolypolyc via Instagram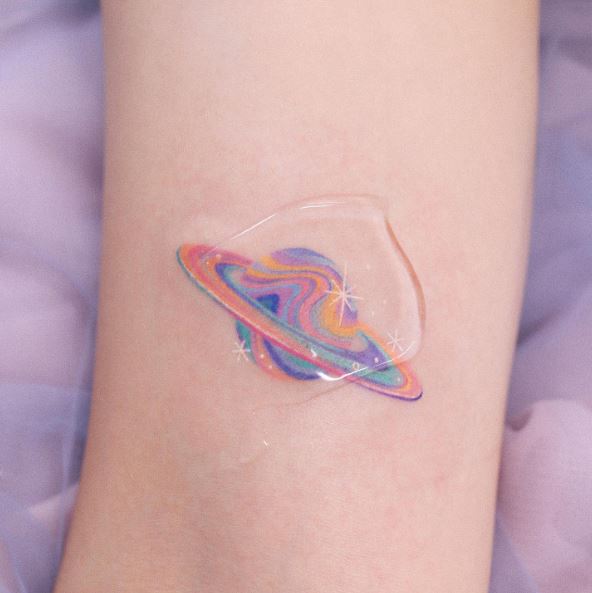 Image by @saegeemtattoo via Instagram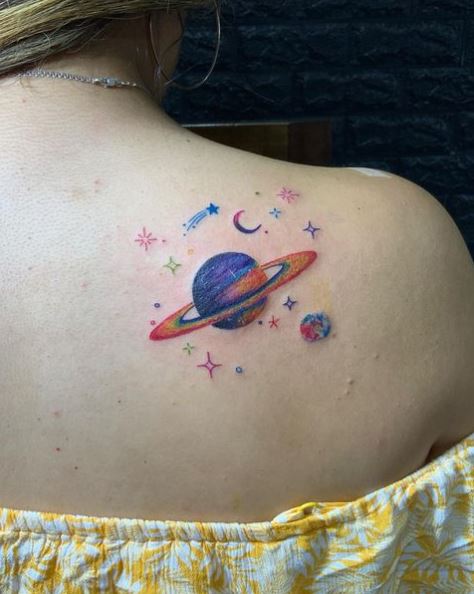 Image by @faculepera_tattoo via Instagram
Saturn Anime Tattoo
For the sailor Saturn anime tattoo, you can either opt for the image of sailor Saturn herself or for the tattoo design of her wand.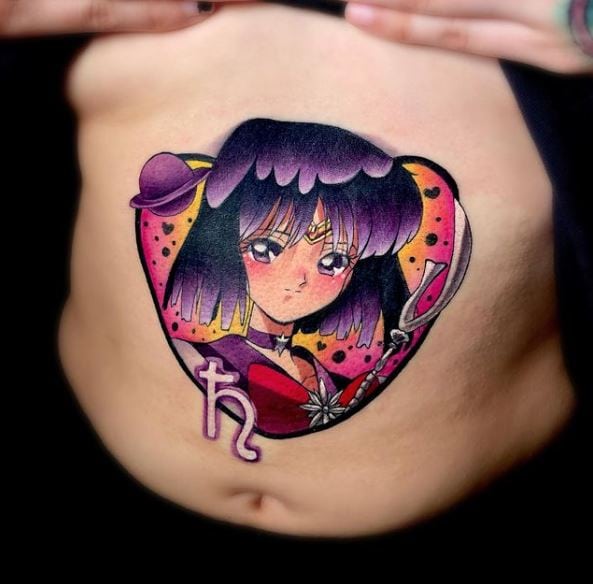 Image by @maytattoos via Instagram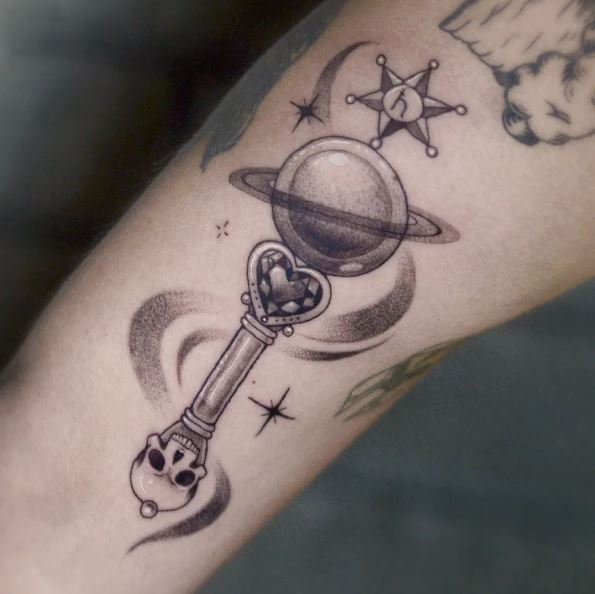 Image by @aria.obsidiana via Instagram
Saturn and Human Body Tattoos
This is another creative Saturn tattoo design that requires hard work and time to complete. Saturn serves as the head of the person in the tattoo.
The first image features a distorted depiction of a body, while the second is a simpler take on the style. You can decide to add colors when getting this piece tattooed for a unique and more fun look.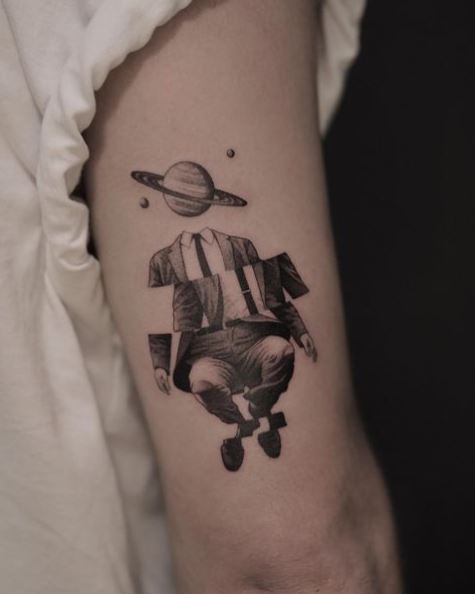 Image by @dinna.tattooer via Instagram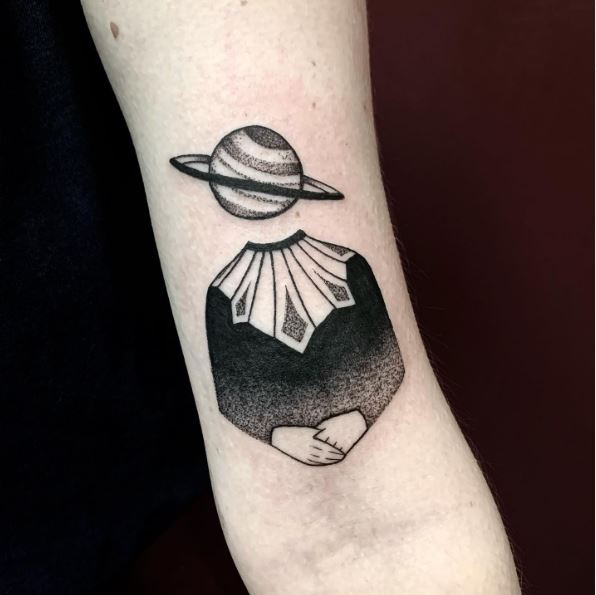 Image by @claim.tattoo via Instagram
Saturn Tattoo with Astronaut
The Saturn tattoo with an image of an astronaut is another creative way to express and share your love for astronomy and Saturn as a whole.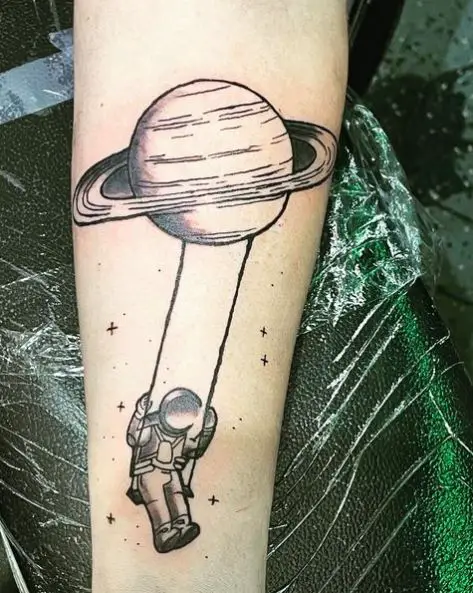 Image by @greg_theartist via Instagram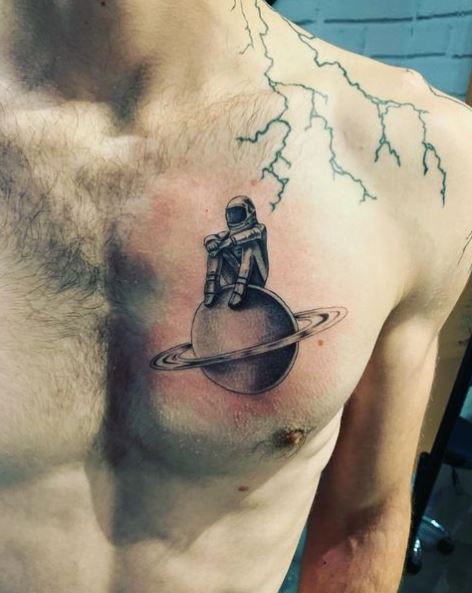 Image by @tchiki95 via Instagram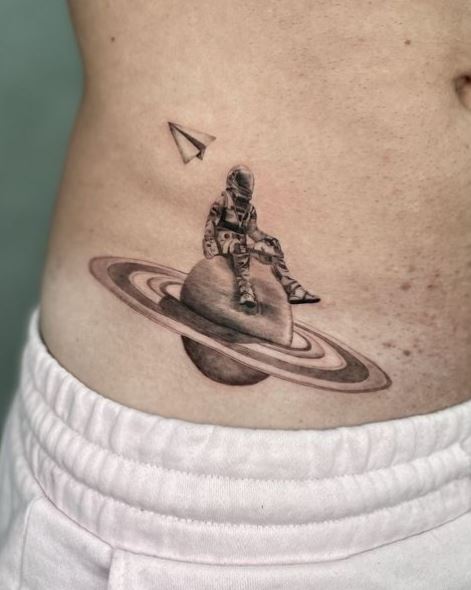 Image by @mar.lisatattoo via Instagram
Saturn and Animal Tattoo
Some people can get their Saturn tattoo done with the image of their favorite animal. You can either do this by adding an image of the animal to the tattoo, or by making the animal look like the planet Saturn. In one image, the globe resembles a cat, with a single circle around it.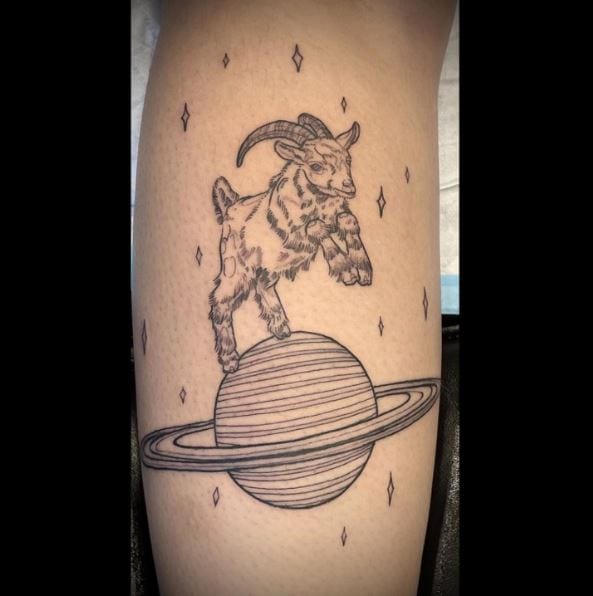 Image by @wildchildtattoo207 via Instagram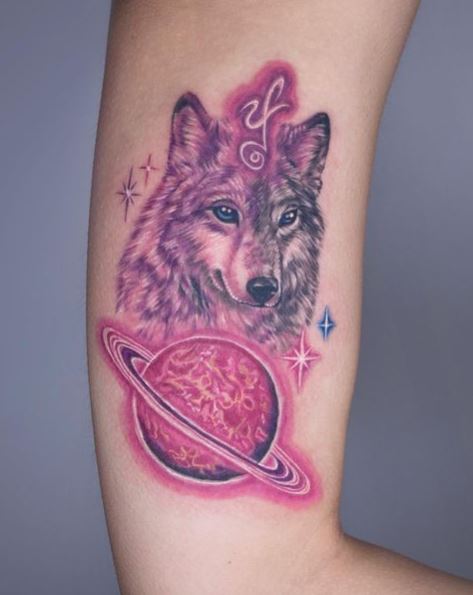 Image by @jilltattoo via Instagram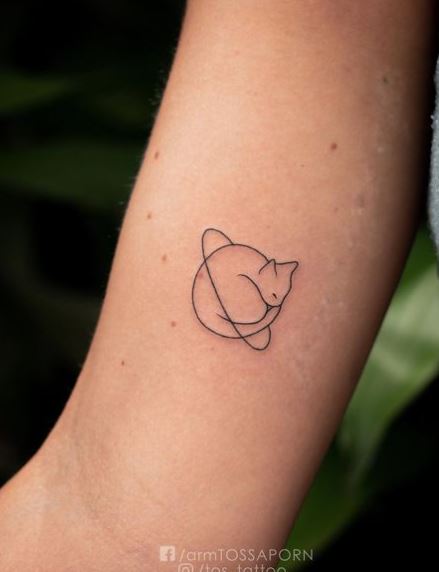 Image by @tos_tattoo via Instagram
Bubble Saturn Tattoo
One good way to add a unique twist to your astrology tattoo is by tattooing Saturn and other planets as bubbles.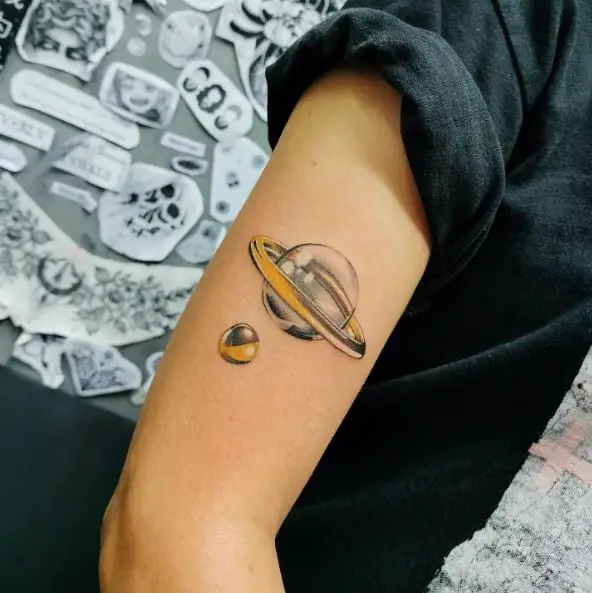 Image by @nick_parnudech via Instagram
Saturn Portal Window
Don't you just love how this tattoo incorporates the night sky, Saturn, and other planets in a small space? Not only is this cute, but one glance at it can transport your imagination right into space.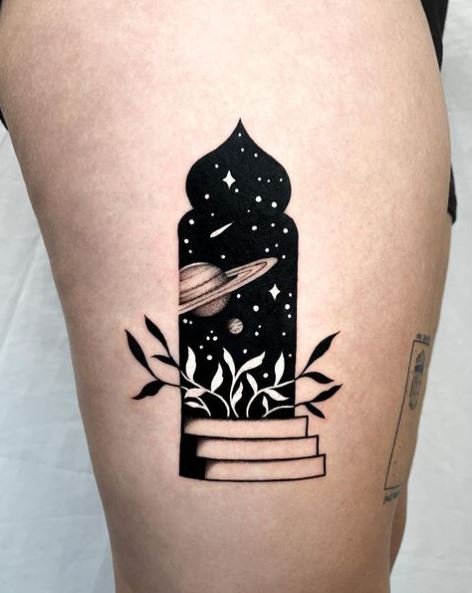 Image by @whiskeyandcreamtattoo via Instagram
Large Back Saturn Tattoo
The back forms the perfect canvas to draw a large tattoo as done here. Add a few colors when recreating yours for an even better looking tattoo.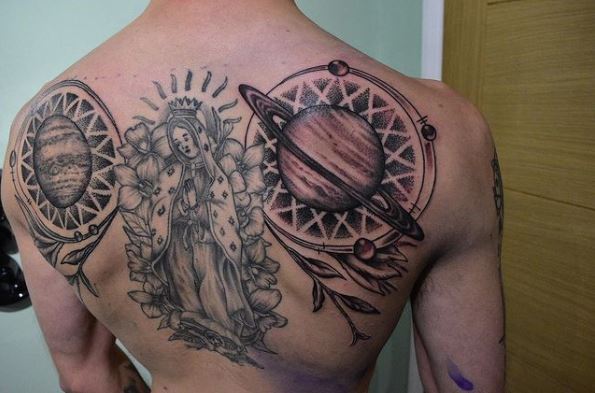 Image by @stubrootaltattoo via Instagram
Blue Galaxy Tattoo Design
Isn't this just magical? Realism is the most striking feature of the tattoo. From the astronaut depicted standing, to the large planets in the blue solar system, the tattoo is truly gorgeous.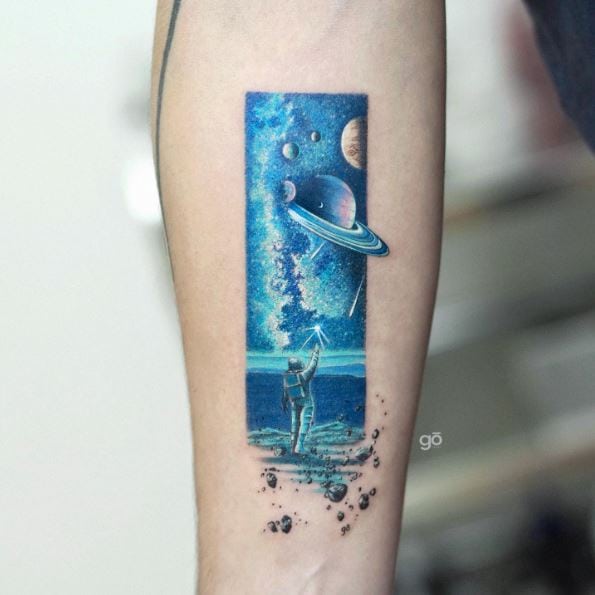 Image by @gokceozaslan via Instagram
Frequently Asked Questions
What Does Adele's Tattoo of Saturn Mean?
Adele's Saturn tattoo is a symbol of her growth. While performing on stage, she wore Saturn earrings that matched her Saturn tattoo. She said the tattoo represented her Saturn return which she experienced at age 30 while creating her album named 30.
Conclusion
Saturn tattoo is the most requested tattoo of all planets in our solar system due to its characteristics and the Saturn return trend. There are different ways you can get your Saturn tattoo, with the sketch tattoo being the most popular choice. Make sure to select the tattoo that speaks to you. Have fun while you're at it.