The attractive yet intimidating design of the scorpion tattoo represents power, strength, and endurance.
As a tattoo enthusiast with lots of tattoos, my emperor scorpion neck tattoo is an all-time favorite. The eye-catching tattoo has even inspired most of my friends to get scorpion tattoos.
If you want to get a scorpion tattoo but are a little skeptical about it, here are 35 scorpion tattoos with their meanings to ensure you select the best.
Scorpion Tattoo Meaning
Scorpion tattoos draw meaning from the perception of actual scorpions. As different cultures attach different meanings to scorpions, the scorpion tattoos also vary from culture to culture and person to person.
Some of the popular meanings associated with scorpion tattoos include intellectual prowess, death and destruction, deadly power, evil and more.
Contrary to most cultural beliefs, in African folklore scorpions don't represent danger or fatality. A scorpion's venom is believed to have healing powers and has been used as medicine in African history. In ancient Egypt, the scorpion represents life and death.
In the transgender and gay community, the scorpion tattoo has a specific meaning. It signifies that the wearer of the tattoo is HIV-positive.
In Mayan culture, the scorpion tattoo is said to symbolize fire. This is justified by the fact that some scorpions numb the site of the sting, while others cause pain synonymous with pain felt when you are burnt by fire, or even worse.
In Russian and Mexican communities, the scorpion tattoo is usually done by a contract killer. So the tattoo is seen as a symbol of brutality.
Scorpio Zodiac Sign and Scorpion Tattoos
Scorpio, which is Latin for scorpion, is the zodiac sign for people born between the 24th of October and the 21 of November. People born on these dates tend to be powerful, assertive, secretive, and strong-willed.
The sign of Scorpio takes inspiration from the tale of Orion the hunter in Greek mythology. Orion planned to kill all animals on earth which made Gaia (the greek goddess of all life, and mother of the earth) furious. The scorpion was successful, after which Zeus cast the dead hunter into the stars. This is why the Scorpio constellation 'chases' the hunter out of the sky every year.
35 Scorpion Tattoo Ideas For Inspiration
1. Black Calf Scorpion Tattoo
This amazing tattoo with open claws sits nicely on the calf of the wearer. Although well-detailed, it still maintains a simplistic design which makes it a great tattoo idea to get. If you are going for this tattoo, you can spice things up a bit by switching the black claws for red.
Image by @blvir_ via Instagram
2. Chest Scorpion Tattoo Meaning
Having a scorpion tattoo is great but when your western zodiac sign is Scorpio, you may want to add bearing symbols to mark your zodiacal Scorpius constellation. The bearing symbols will also keep people wondering about the deep meaning of your tattoo.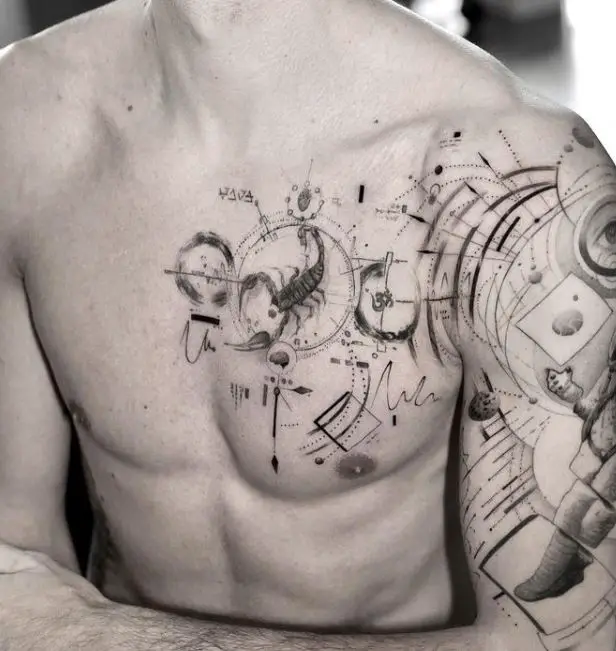 Image by @tiago__dot via Instagram
3. Abdomen Scorpion Tattoo Meaning
For those who love to keep things simple, this belly tattoo is a perfect option. The desire to be confident in oneself can be expressed by having this tattoo. You can also opt into having it on your hands or legs to make them visible to the world.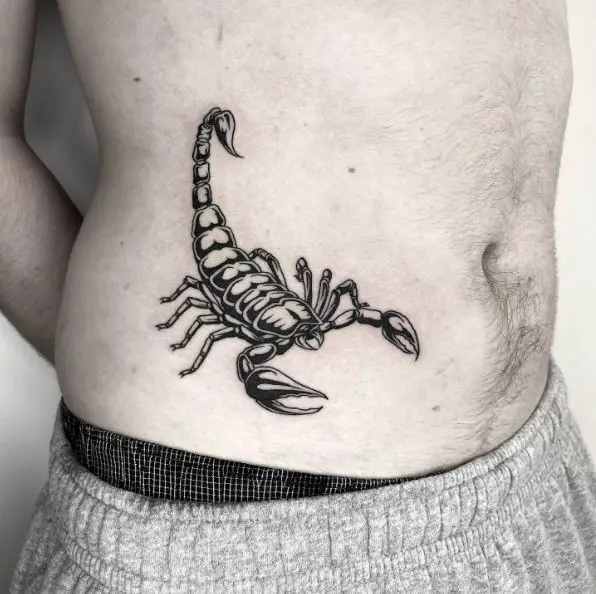 Image by @crimclay via Instagram
4. Scorpion And Butterfly Tattoo On Feet
I have to admit that this is the best tattoo in this collection. The flowers and the scorpion along with the twinkles allow for a limitless perception of the design. Both the butterfly and the flower tattoo on the left foot also greatly maximize the beauty of the tattoo designs.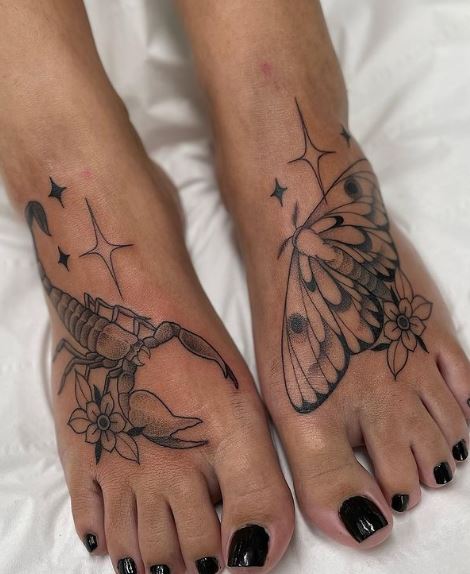 Image by @laurensmithtattoos via Instagram
5. Large Scorpion Tattoo On Torso
The size of this scorpion tattoo will not only express your feminine strength, but it can also be intimidating to look at, striking fear in the heart of your enemy. These types of tattoos are usually done as a symbol of protection.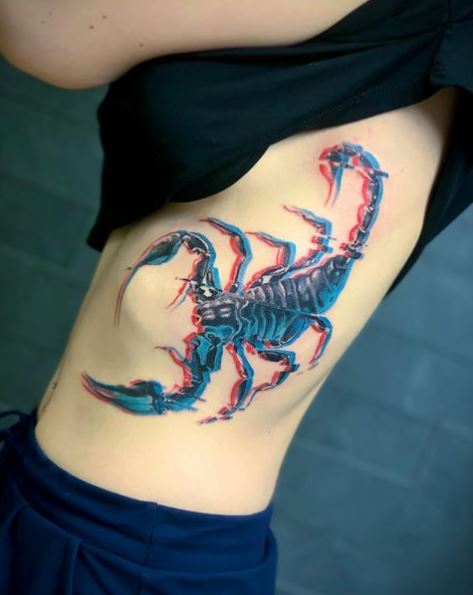 Image by @firebirth via Instagram
6. Scorpion Tattoo Lady
It takes a highly skilled tattoo artist to create such a masterpiece. The scorpion symbolizes toughness and consciousness. While some may find it scary, the protective characteristics of this tattoo cannot be overemphasized. The feminine faces which sit nicely on the arm make it a nice choice for women.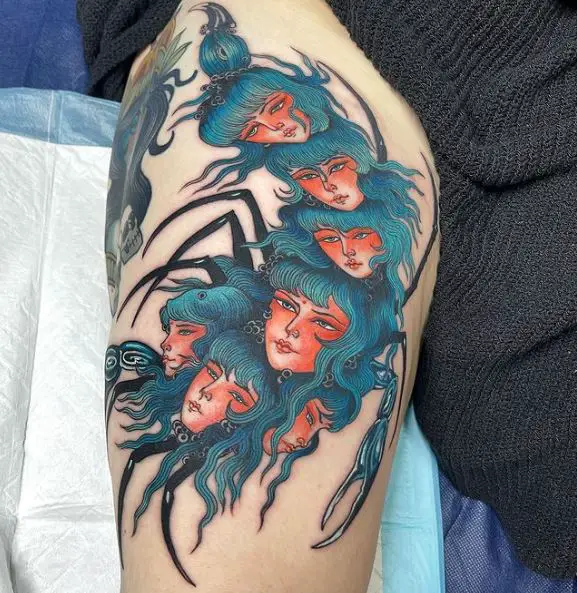 Image by @missorangetattoo via Instagram
7. Scorpion And Rose Head Tattoo
This is a masculine tattoo that expresses boldness, strength, and powerful sexuality. The bright inked rose will make you stand out which can make you increasingly popular if you are someone who loves the spotlights.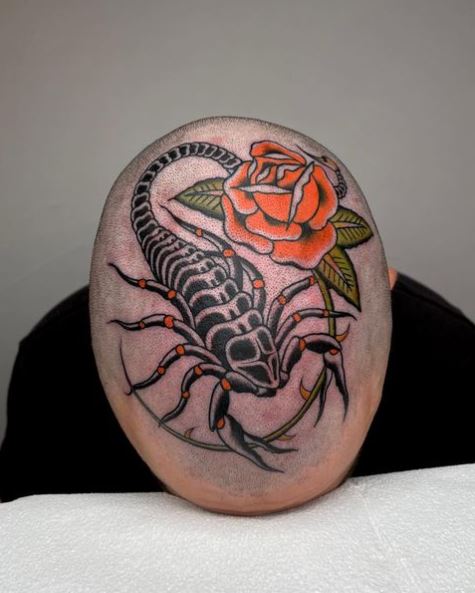 Image by @zachblacktattoos via Instagram
8. Full Back Black Scorpion Tattoo
Tribal scorpion tattoos usually look simple, with bold patterns. The large tattoo can help symbolize strength, courage, and confidence. You can make your own scorpion design a bit more interesting by exploring other colors, to help personalize the tattoo meaning.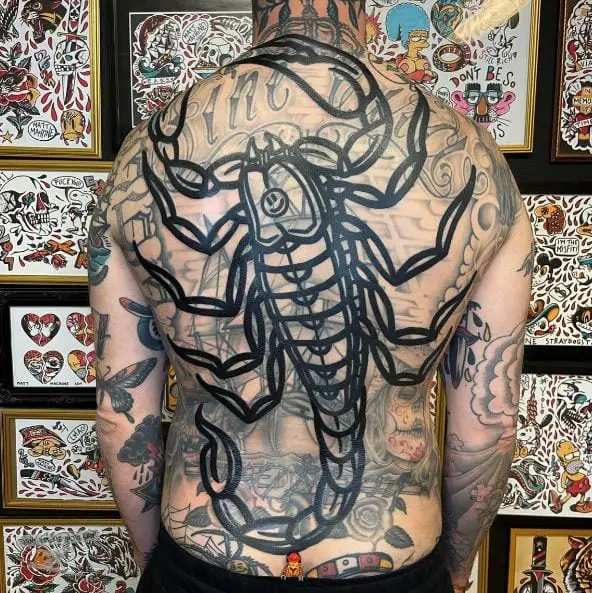 Image by @oldschooltattz via Instagram
9. Black Ink Scorpion Tattoo On Calf
If you want something casual, this calf tattoo will match your energy and help you shine in the tattoo world. This arachnid can symbolize wisdom and will look really cool on most people. If you don't fancy animal tattoos on your calf, you can try it out on other parts of your body.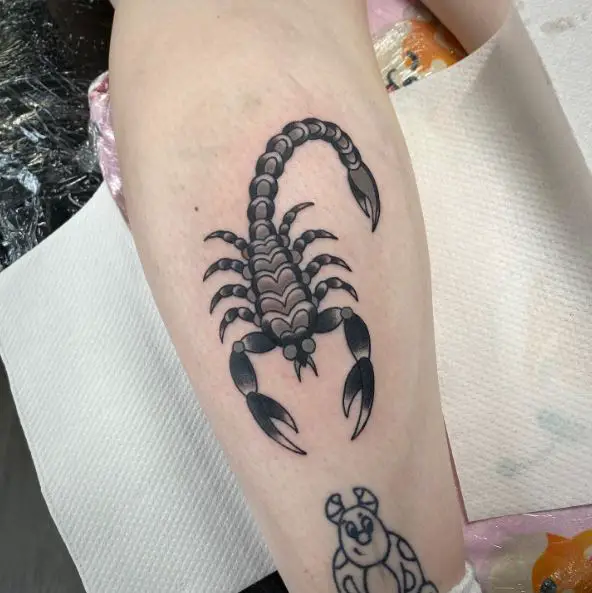 Image by @jazeliztattoo via Instagram
10. Beautiful Black Arm Scorpion Tattoo
For those who don't have large arms, it is a great idea to opt in for a smart arm tattoo like this. One of the reasons I like this scorpion tattoo is because of how realistic it looks while retaining a simplistic design. The poisonous tail of the scorpion ends in flames, reminding you of its sting.
Image by @garotattooboy_ via Instagram
11. Stunning Red Scorpion Tattoo For Women
This is my second favorite scorpion tattoo so far. The entire body of the scorpion contains unique designs. The amazing colors of the tattoo also remind me of the Egyptian goddess Isis, who uses scorpions as protection.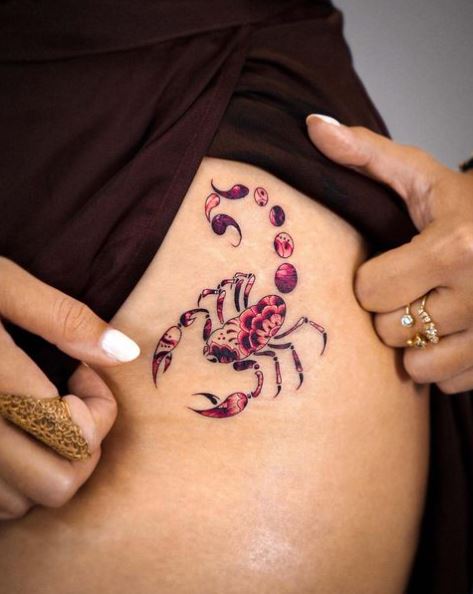 Image by @e.nal.tattoo via Instagram
12. Colorful Scorpion Embedded In Roses
Most scorpion tattoos are done with black ink but whenever you come across one with several colors, you will care less about the scorpion tattoos meaning and become lost in the beauty of the tattoo.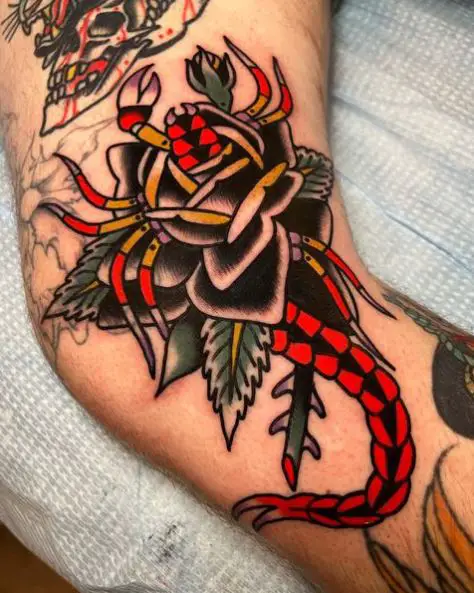 Image by @joemallardtattoos via Instagram
13. A 3D Realistic Scorpion Tattoo
This realistic scorpion tattoo design must have taken enormous time to make. It would look even better when made as a scorpion shoulder tattoo instead.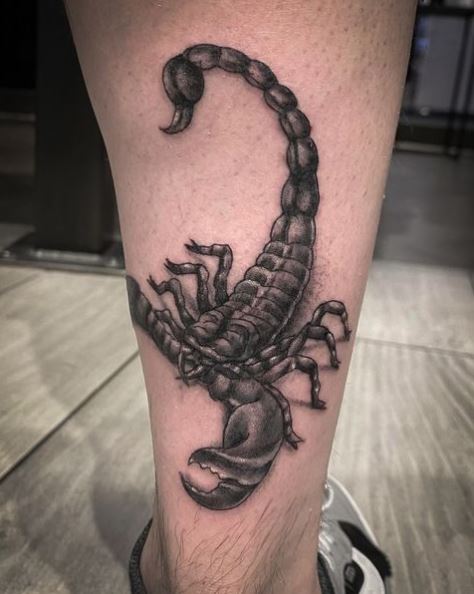 Image by @clubtattoolinq via Instagram
14. Scorpion And Rose Flower Forearm Tattoo
Someone wearing this scorpion tattoo will melt hearts. While you may draw other meanings to this scorpion tattoo, it's a symbol of male sexuality. You can also have this tattoo as a symbol of love for your partner.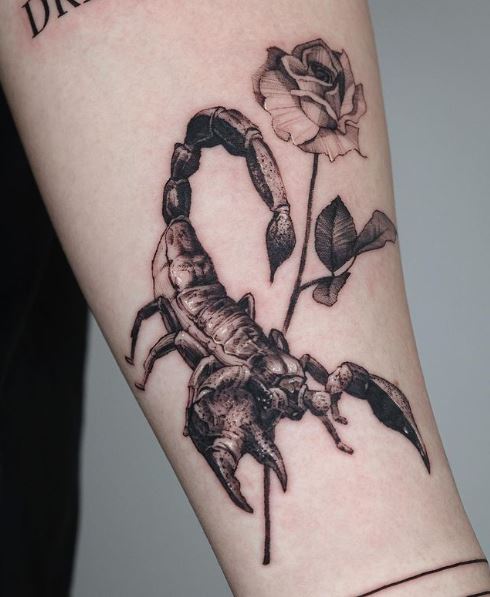 Image by @apso_tattoo via Instagram
15. Scorpion With Cards Tattoo
This scorpion tattoo with a card symbolizes passion, power, and wisdom. It can also be a symbol of positive or negative energy and the ability to protect yourself.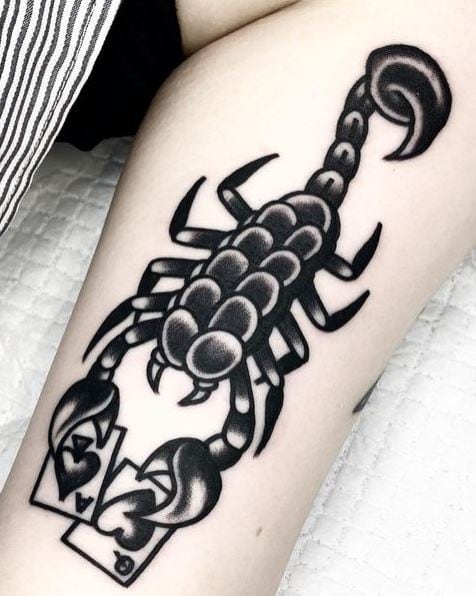 Image by @popo_tattoo via Instagram
16. Bold And Colorful Scorpion Tattoo
Use this bright and bold scorpion tattoo as a symbol of life and inspiration.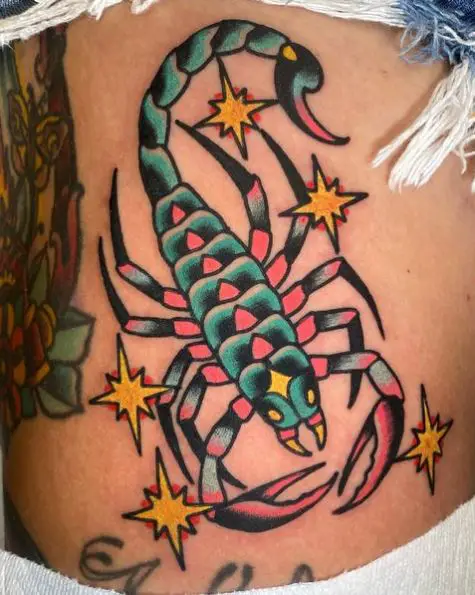 Image by @kylecrowell via Instagram
17. Gothic Scorpion Tattoo
A glance at the designs of this scorpion, and you can see that it depicts fear. It can also serve as a warning to ward off your enemies. You could get this done as a way of silently expressing your no-nonsense personality traits.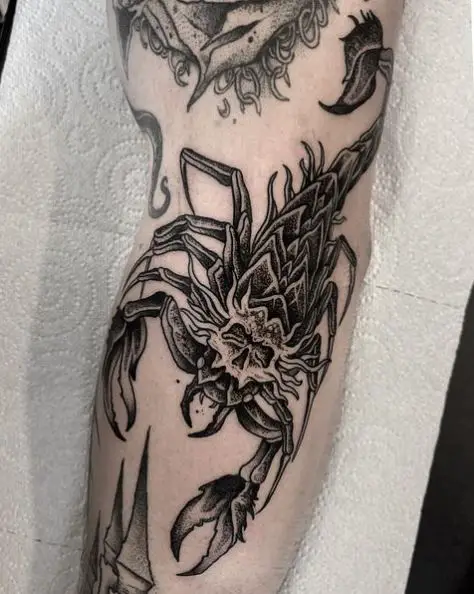 Image by @sieebs via Instagram
18. Simplistic Arm Scorpion Tattoo
If you need a cool yet simple arm tattoo, this scorpion tattoo is a good choice. It may not tell a story or have deep meanings but it stands out aesthetically.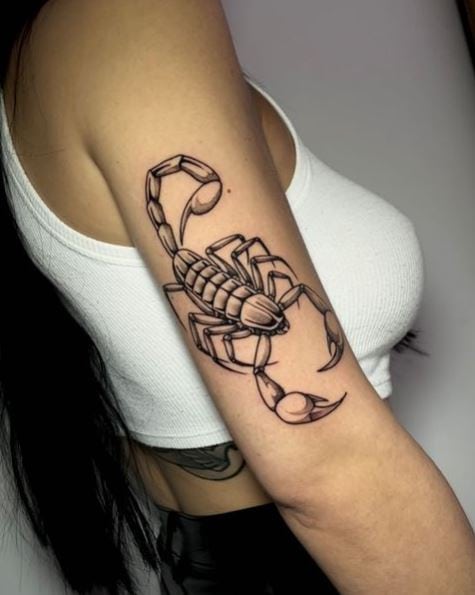 Image by @guidorent via Instagram
19. Scorpion And Dice Shoulder Tattoo
There are many reasons why you should get this tattoo. Apart from being a unique design, it can be a guardian piece that brings good luck to the wearer. The rose tattoo made it more aesthetic, enough to impress tattoo enthusiasts.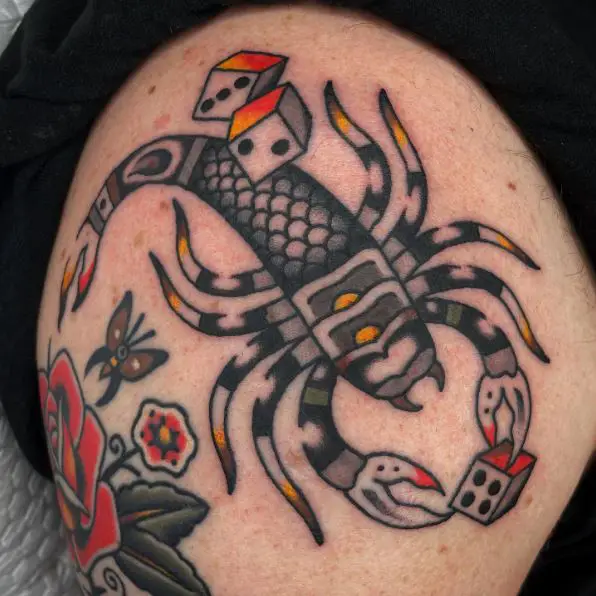 Image by @ciezatattoo via Instagram
20. Beautiful Forearm Scorpion Tattoo
Scorpion tattoos may not seem the best for appreciating loved ones but if your loved ones are Scorpio, they will like this passionate scorpion tattoo design. Having this tattoo on the neck or chest is another variation to try.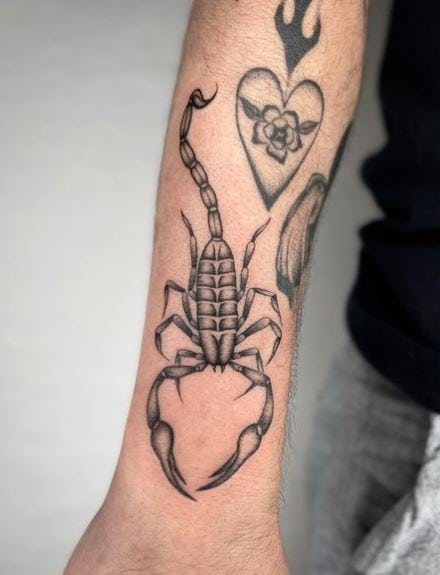 Image by @intothevoid via Instagram
21. Lovely Paired Scorpion Tattoo
An interesting tattoo design of a pair of scorpions shaped into a heart is perfection and will no doubt help you stand out. This design will look amazing on both men and women.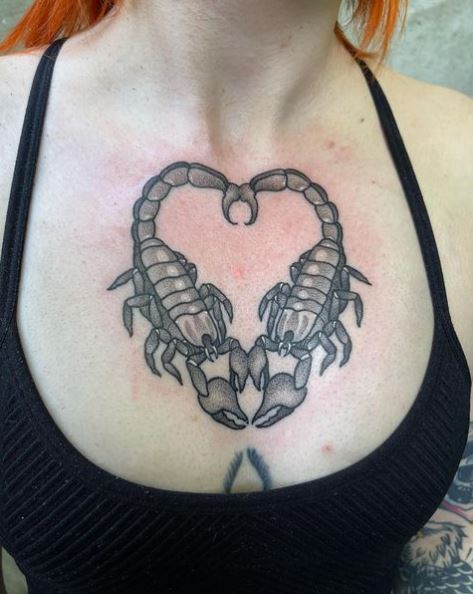 Image by @shawntriple6 via Instagram
22. Realistic Shoulder Scorpion Tattoo
You will be basking in compliments with this realistic scorpion tattoo. I suggest adding other symbols to the design to make it personal and authentic.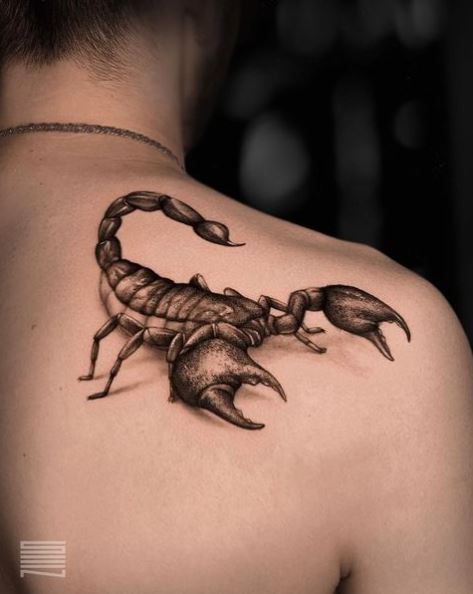 Image by @sen_nika via Instagram
23. Mortal Combat Scorpion
This scorpion may not be an arachnid like the others we've seen so far. But you can get this tattoo of Scorpion from Mortal Kombat if you have prefer.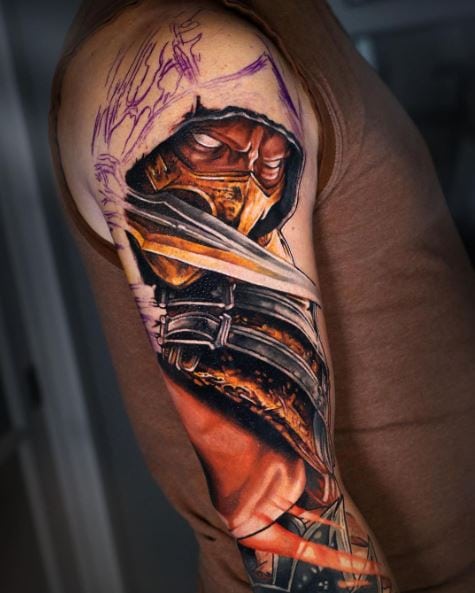 Image by @cloutiermichael via Instagram
24. Scorpion And Cobweb Neck Tattoo
People who love to stand out in crowds will find this scorpion tattoo perfect. Human beings tend to be fascinated by unique things and this design will definitely have tongues wagging.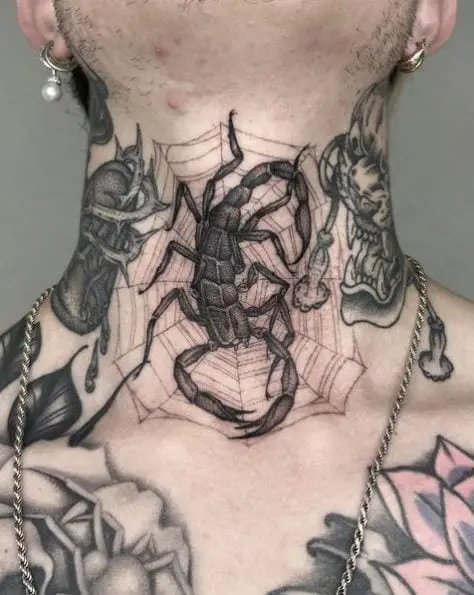 Image by @ayesuavecito via Instagram
25. Rose And Scorpion Hand Tattoo
Freedom, good attitude, power and more can be expressed in this scorpion image. It is a design that looks great on men and women. You can use colored ink to create different versions.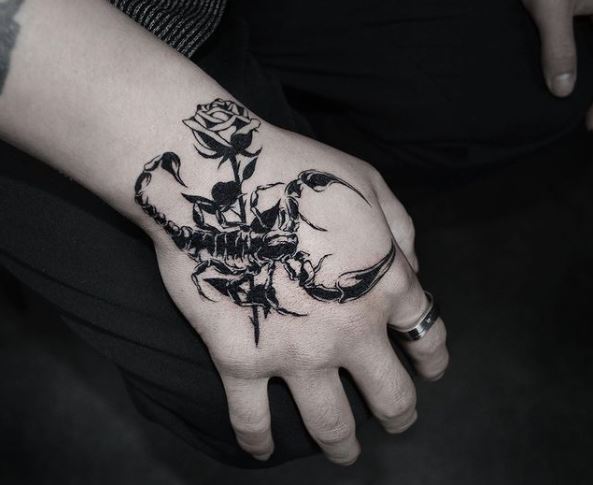 Image by @garotattooboy_ via Instagram
26. Amazing Hand Scorpion
I love this eye-catching tattoo. The attention to detail is amazing. I would recommend it to anybody regardless of their gender or personal beliefs.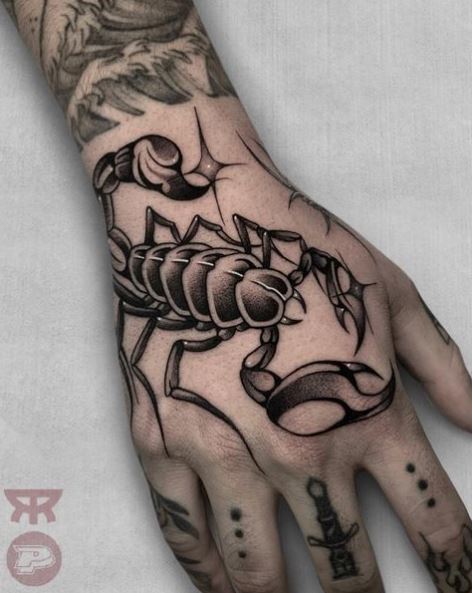 Image by @crayola.tattoo via Instagram
27. Great Scorpion Belly Tattoo
Here is a relatively small scorpion tattoo that may be a great choice for you. I like the touch of flame on every part of the scorpion including the stinger on the tail.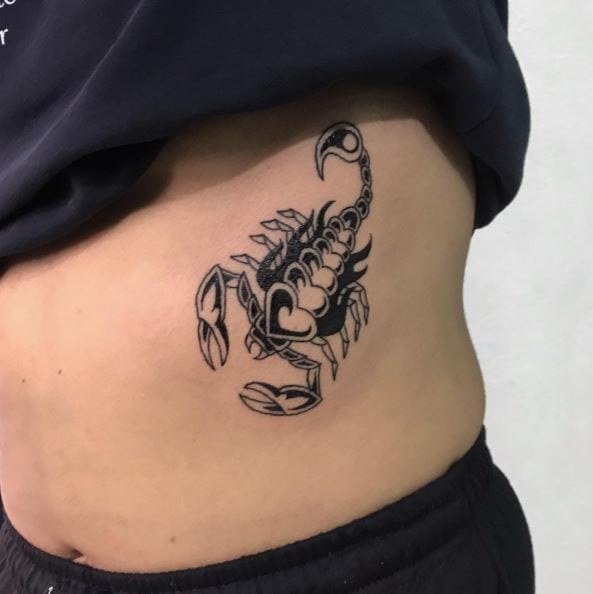 Image by @everardo_sxnchez via Instagram
28. Massive Colorful Tattoo Of A Scorpion With Red Flowers
The shape and size of this tattoo will draw you a lot of attention wherever you go. It may take time to get used to this but when you do, you'll realize your self-confidence has increased.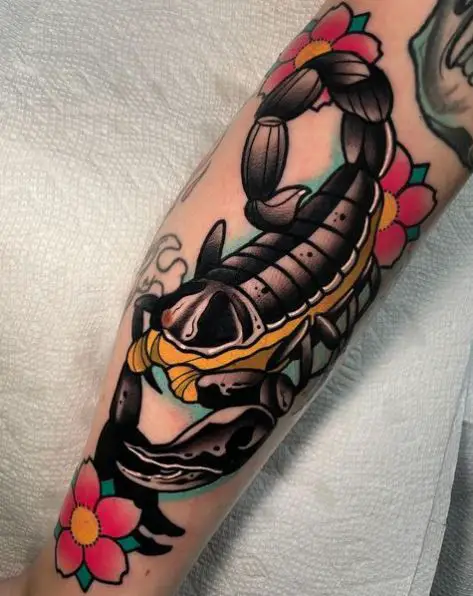 Image by @corycartwright via Instagram
29. Cool Scorpion Back Tattoo
If you want something simple and casual, you can opt for this tattoo on any part of your body or try other colors to create variations.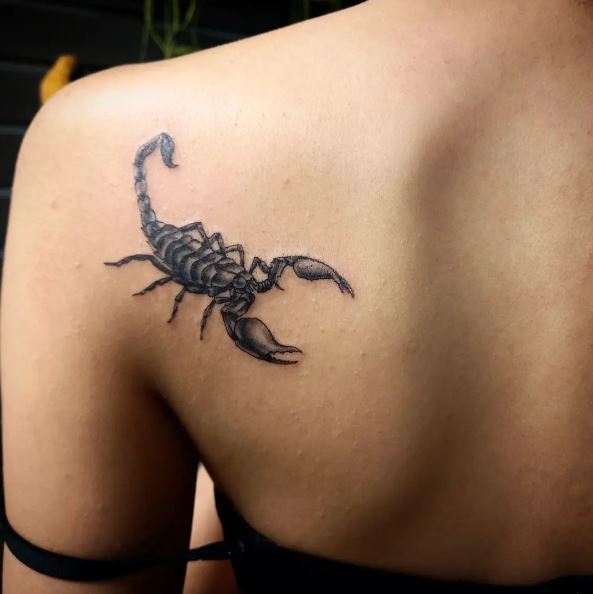 Image by @emineselvigumusay via Instagram
30. Skull And Scorpion Tattooed On The Hip
Scorpions and skulls are two symbols that can strike fear. They also have sensual meanings attached to them. Other meanings can include control, freedom, and courage.
The placement of this tattoo is perfect for women. For men, the chest is a great spot of choice for this design. The cracks on the skull bone are epic and I hope you don't leave it out when recreating your scorpion designs.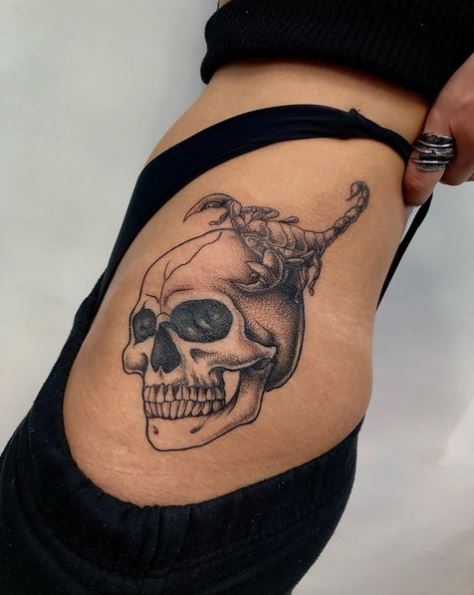 Image by @muchttoomuch via Instagram
31. 3D Thigh Scorpion
There is no denying the perfection exhibited in this tattoo. The lines joining each star serve to remind people of the Scorpio sign of the wearer.
If you are also Scorpio, you can make use of this tattoo to show people what to expect.
While you may want to add a touch of color to your own designs, the knee still seems like the perfect spot for this scorpion tattoo for men and women.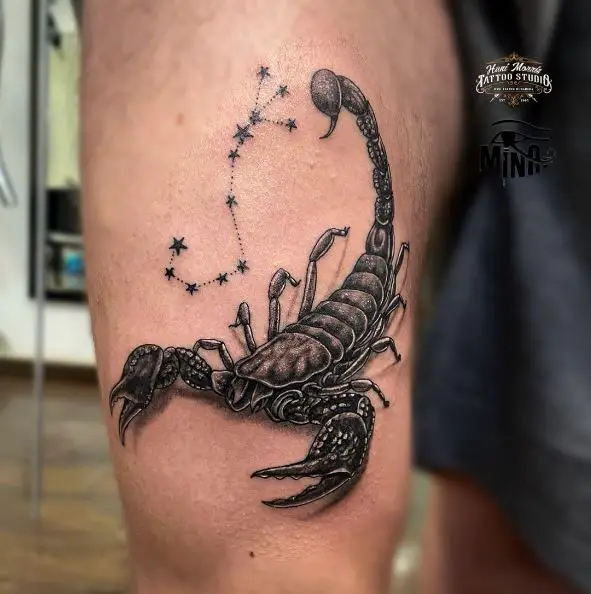 Image by @hani_tattoo_hurghada via Instagram
32. Awesome Chest Tattoo Of A Scorpion
Here is another casual tattoo that fits nicely on most people. The simplistic nature of these scorpion tattoos makes them a popular choice for tat enthusiasts.
You can get this scorpion image on any part of the body, and associate them with your personal beliefs.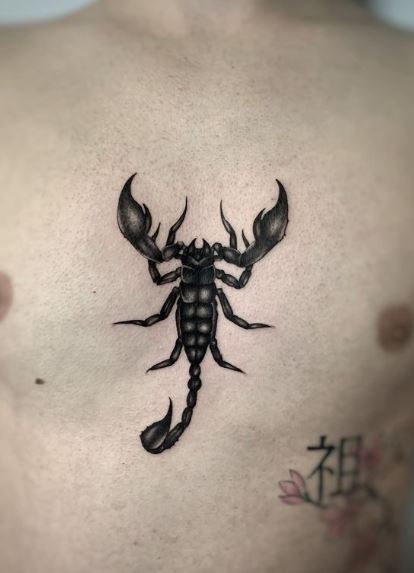 Image by @danila_gold_ via Instagram
33. Bold Scorpion On Elbow Tattoo
Sometimes, all you need to project power is a bold scorpion tattoo. You can almost feel the energy of the wearer here. I really love how the tail ends in a massive venom gland and stinger.
You may not be superstitious but trust me, this crawling beast tattoo can serve as protection because no one will want to trouble the wearer of such a tattoo.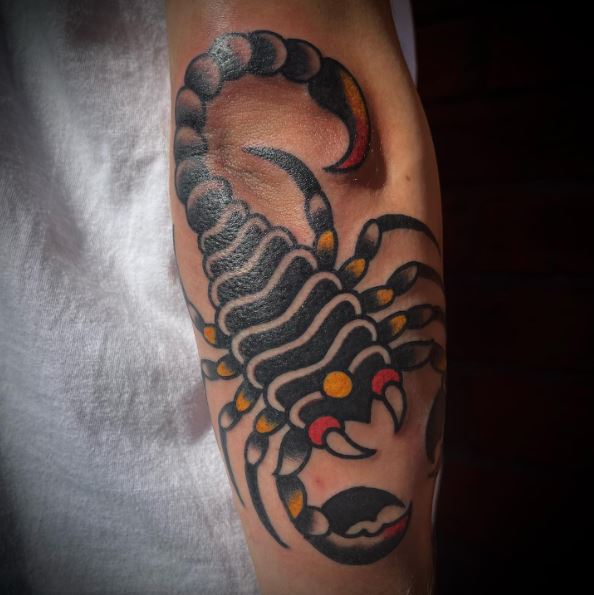 Image by @cormacmcnealy via Instagram
34. Beautiful Belly Scorpion Tattoo
This body art may not have been inked in some of the brightest colors but it stands out for being done in the perfect spot. You can get this done as a symbol of good luck and to ward off evil spirits.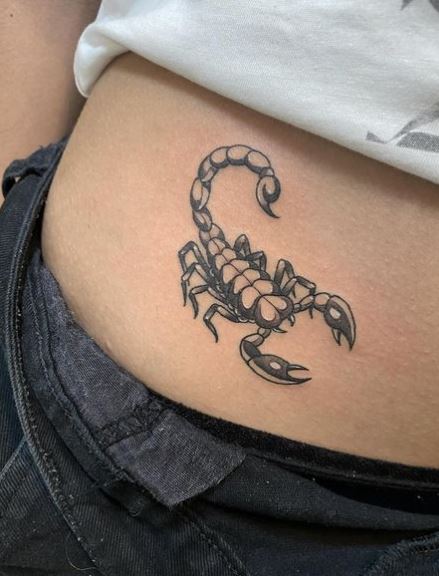 Image by @victor.irvtattoo via Instagram
35. Scorpion With Sun Background Tattoo
A scorpion in a sun background symbolizes power. You can see a mark of a scorpion sting on the sun which signifies combat readiness.
It is also a great way for Scorpios to express their zodiac symbol. However, this tattoo is best for those with large arms as it provides enough area for such an extensive tattoo.
Image by @chikygomeztattoo and bonjourtattooparlour via Instagram