Your shoulder is the perfect spot for a tattoo. From flowers and butterflies to dream-catchers and dragons, the design ideas are endless! If you're looking for some inspiration, here are the choices available to you.
As an artist, I have had the opportunity to design several different tattoos over the years. It has also made me a pro at judging which images really pop on your skin.
Check out this post to determine which tattoo is just right for you:
1. Flower Shoulder Tattoo
Flower tattoos are one of the most common pieces of artwork for women's shoulder and it isn't too difficult to see why!
Flowers are the ultimate symbol of femininity. They represent beauty and delicateness.
There are also so many different options for a floral tattoo. You can get a single flower, a bouquet, a black and grey design, vibrant colors, and more.
Of course, each flower has its own meaning so it is important to understand what each design represents...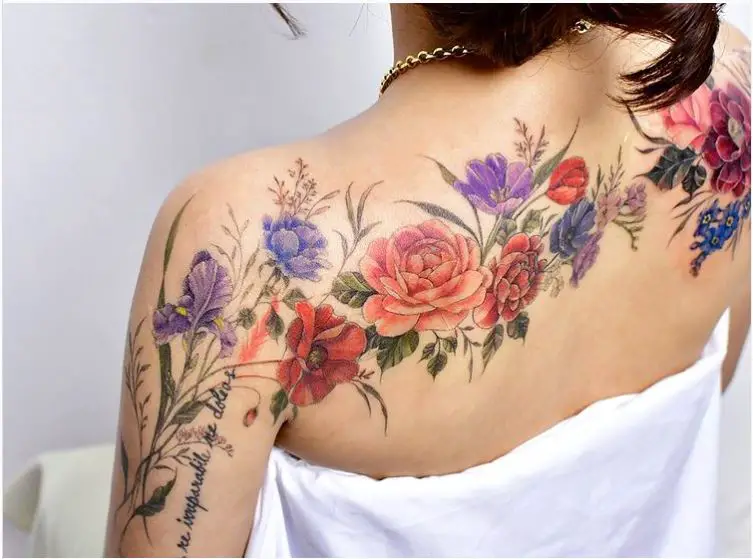 Image by @yerae_tt via Instagram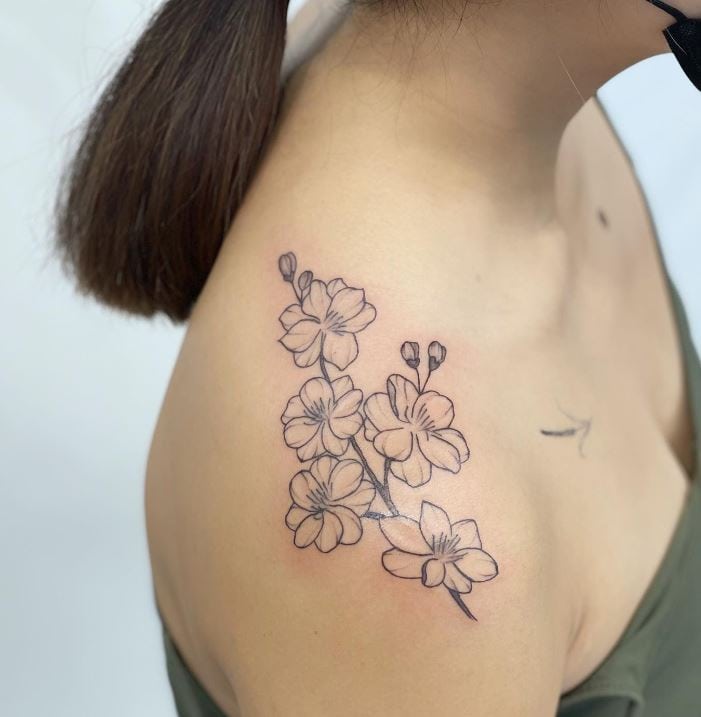 Image by @wayneyslc via Instagram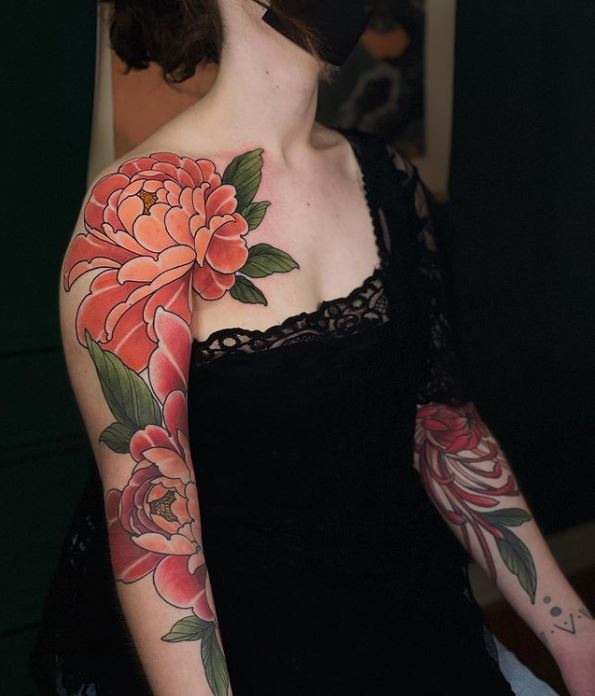 Image by @allthepiercingsandmods via Instagram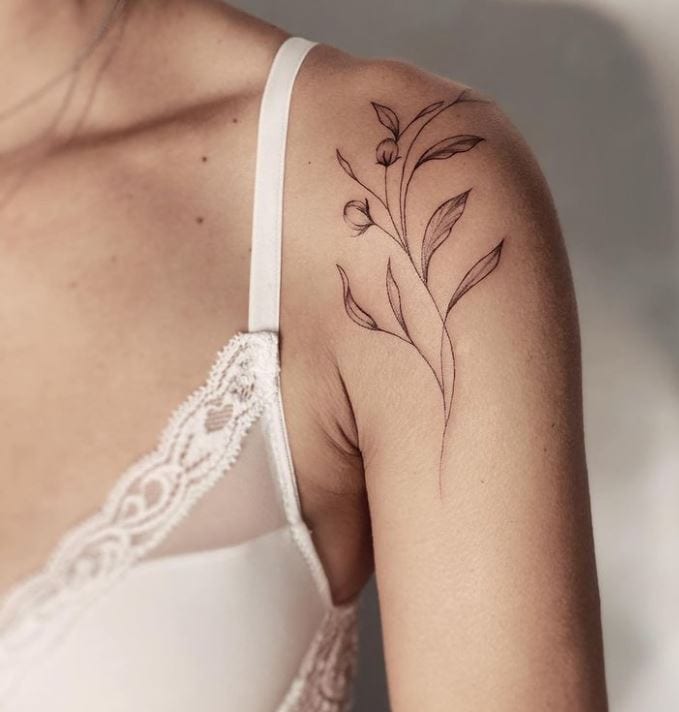 Image by @rotem.neeman.tattoo via Instagram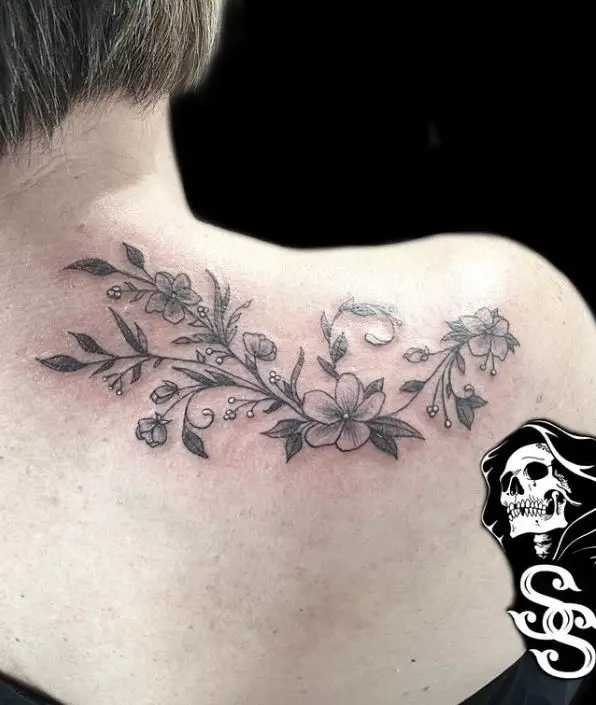 Image by @traci_heaslewood_artist via Instagram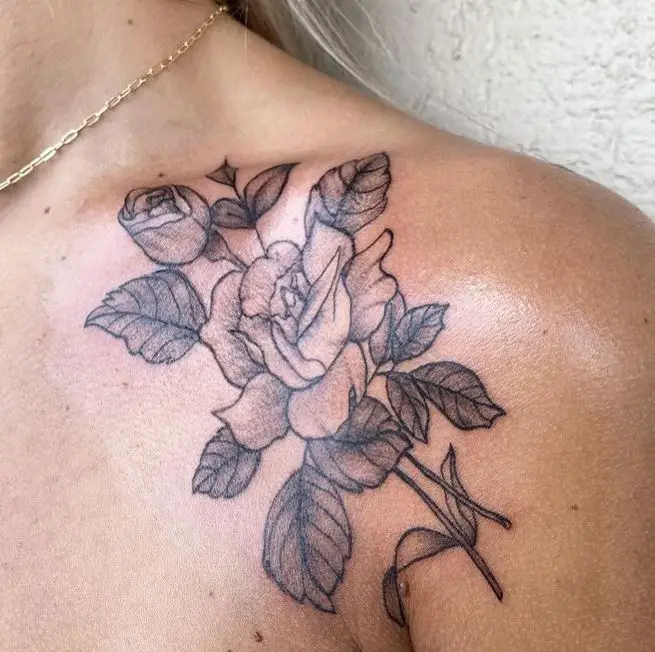 Image by @yamisandwich via Instagram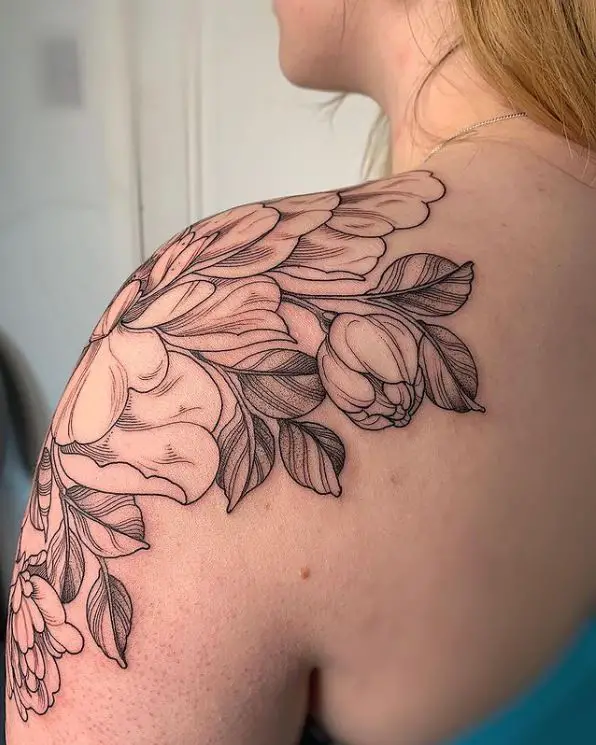 Image by @pip.fox.tattoos via Instagram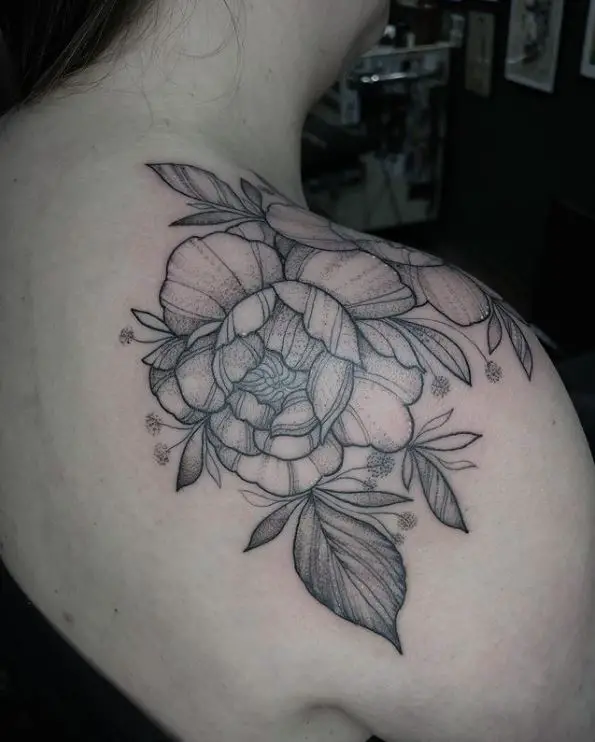 Image by @meganleahtattoo via Instagram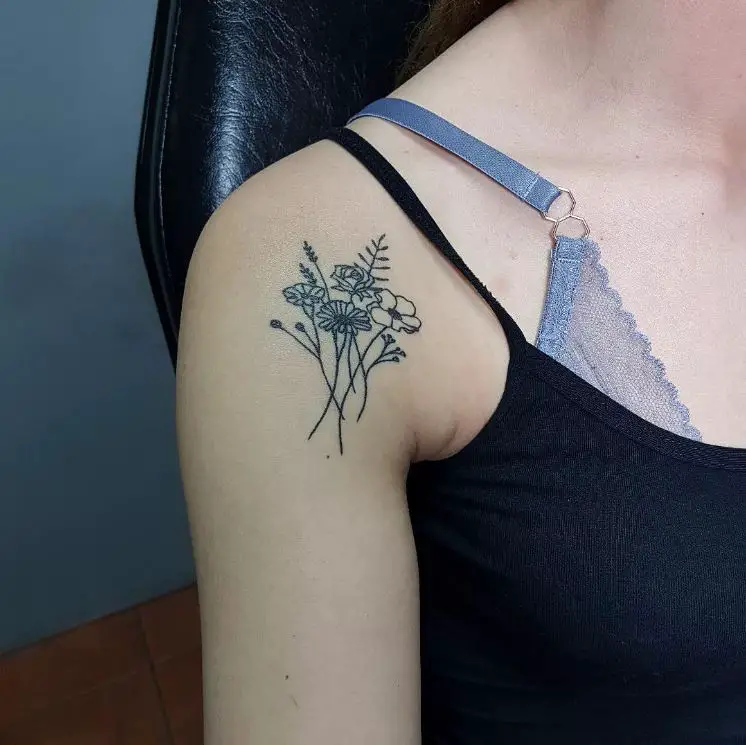 Image by @boris_kusic_tattooist via Instagram
2. Peony Flower Tattoos
The peony floral shoulder tattoo has really taken off in the last few years. Considering the meaning behind this flower, though, it really isn't surprising to learn.
This tattoo is symbolic of love, beauty, happiness, and wealth. It is sometimes used to signify honor and romance as well.
Peonies are traditionally given for special occasions. As such, this shoulder tattoo can be an excellent reminder of a milestone or landmark moment in your life.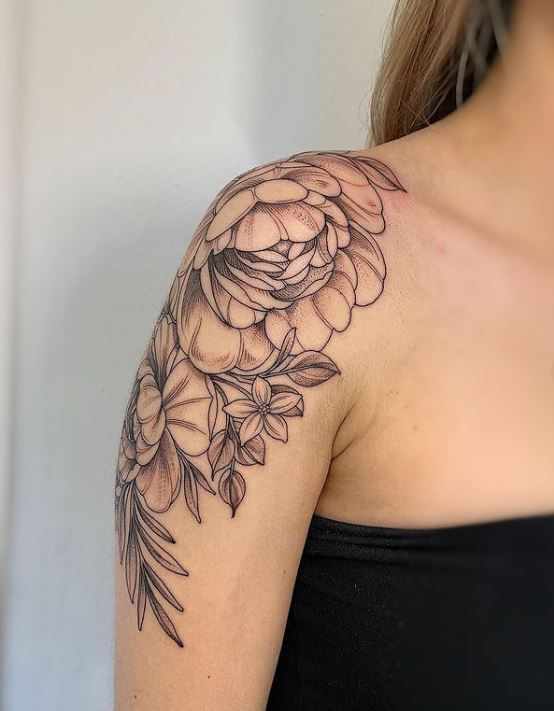 Image by @pip.fox.tattoos via Instagram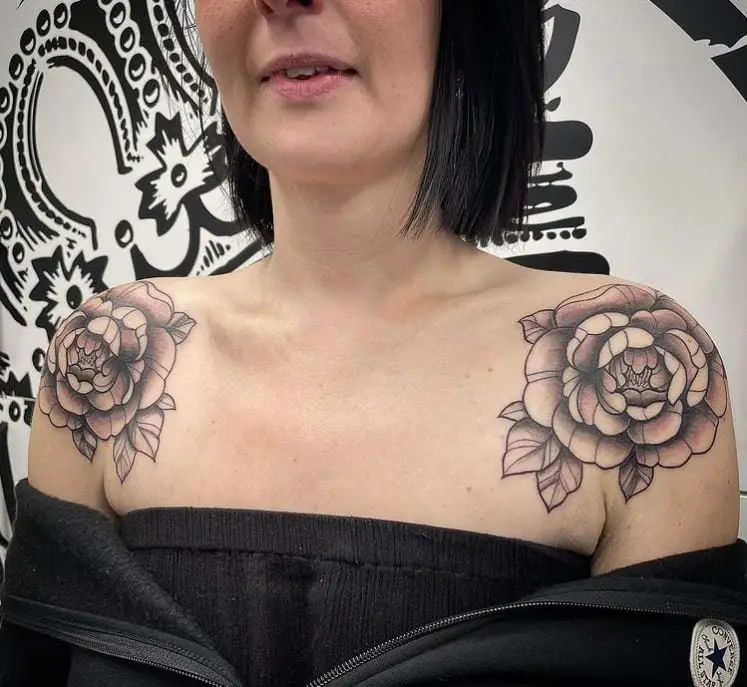 Image by @glamour_tech5000 via Instagram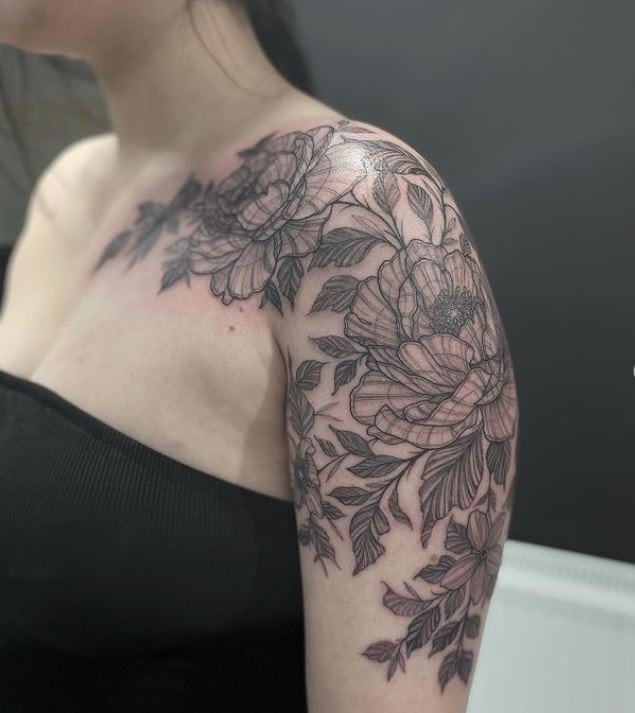 Image by @megtattoo via Instagram
Image by @aaatattoostudio via Instagram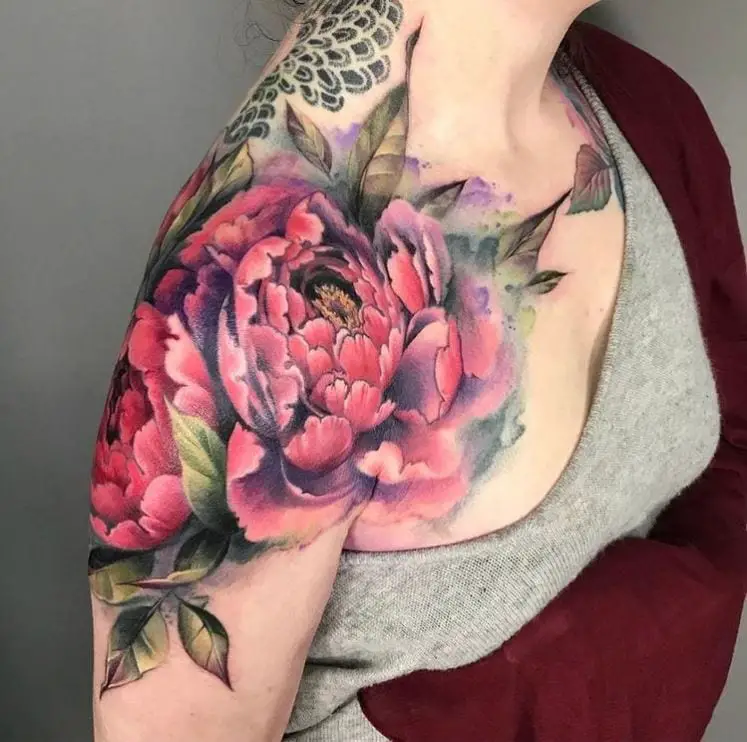 Image by @dermalizepro via Instagram
3. Rose Shoulder Tattoo
Roses are one of the most famous flowers. It is important to pay attention to the color choice of the rose, however, as the symbolism will change with every shade.
Red roses usually depict love, desire, and commitment. Pink roses are an indication of femininity, elegance, grace, and joy. Peach roses showcase gratitude and sincerity, while yellow roses mean warmth and happiness.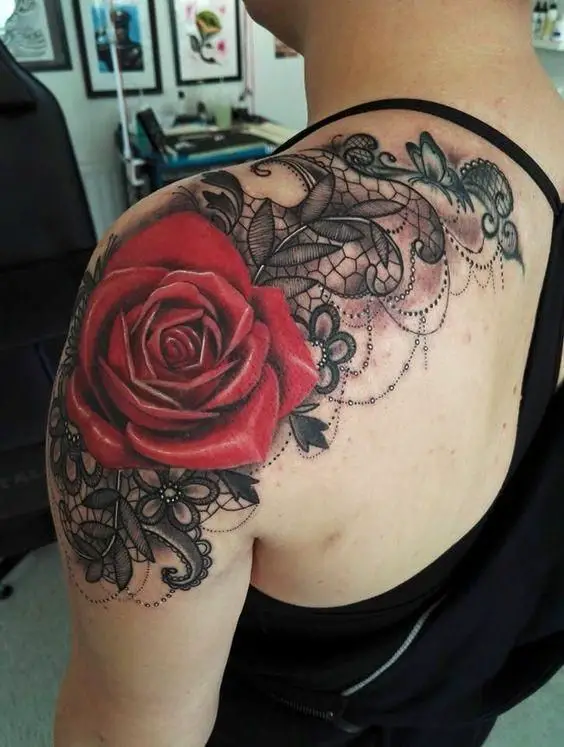 Image by @mybodiartinc via Pinterest
4. Sunflower Shoulder Tattoo
It should come as little surprise to learn that this flower shoulder tattoo is a big hit with women. After all, it is bright, warm, and beautiful!
It doesn't matter which culture you look at, sunflowers have positive connotations across the board. They are always been linked to strength and positivity. They are often used to symbolize good luck and lasting happiness too.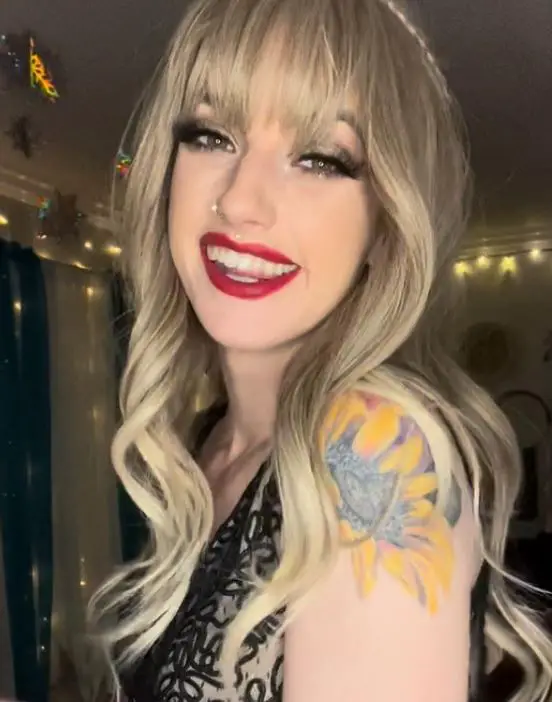 Image by @ha_ley_ via Instagram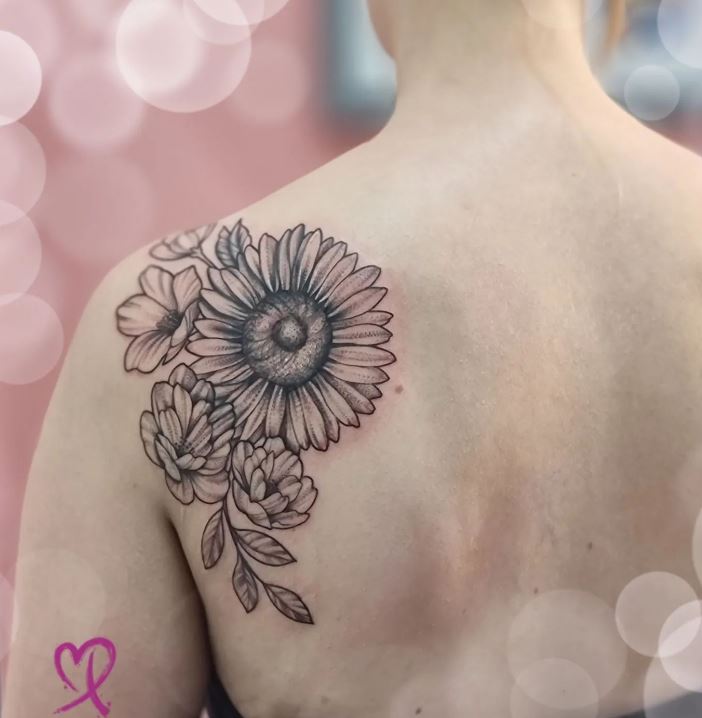 Image by @maddie_ink via Instagram
5. Chrysanthemum Shoulder Tattoo
Chrysanthemums may not be as popular as other flower tattoo designs but they still have meaning. They tend to signify longevity, and in Asia they are seen as the representation of life and rebirth.
As such, these flowers are a great way to depict an important birth, birthday, or a turning point in your life.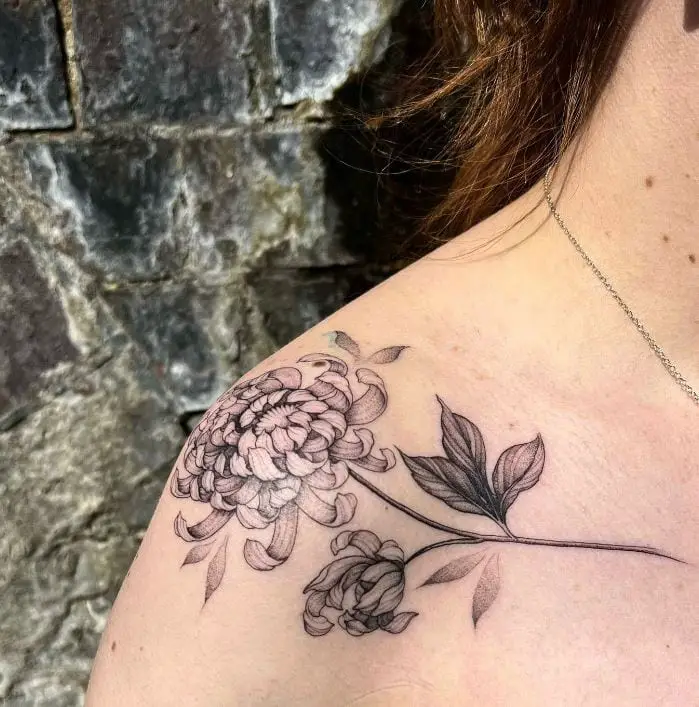 Image by @the.ouroboros.tattoo via Instagram
6. Cultural Flowers Shoulder Tattoos
People are growing increasingly interested in other cultures. In particular, they are showing greater interest to flora from other countries.
This is especially true in the case of the Cherry Blossom shoulder tattoo. Not only are these flowers incredibly gorgeous but they also have a deep meaning. For one thing, they are representative of the female spirit.
They are also a reminder of how fleeting life can be.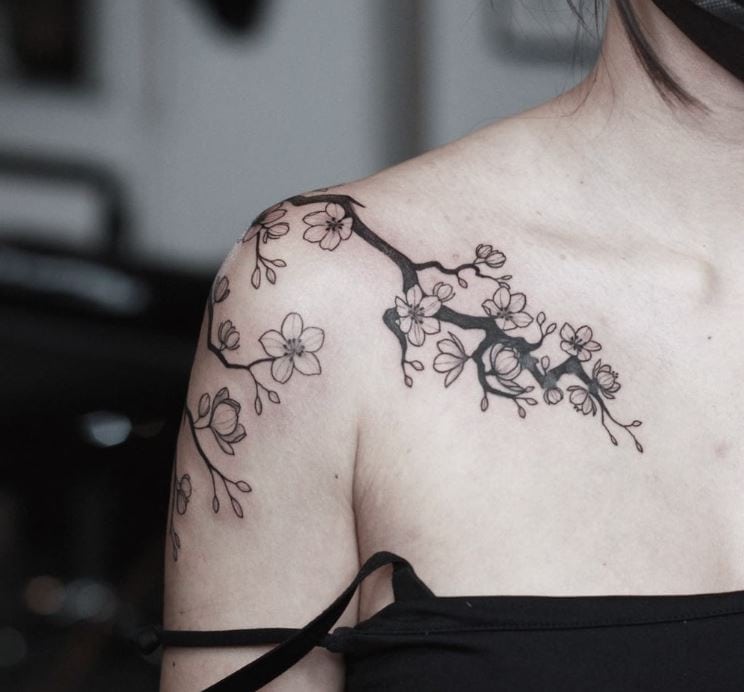 Image by @blackcloudtattoos via Instagram
There is also the Japanese Camellia which symbolizes love and adoration. It can also indicate longing for someone or something - an unfulfilled desire.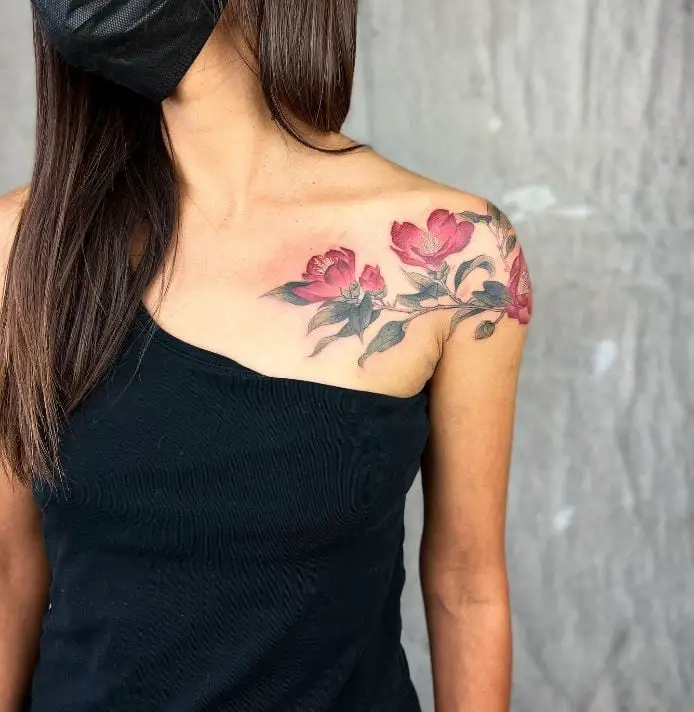 Image by @patch_tattoo_therapy_shop via Instagram
7. Magnolia Shoulder Tattoo
Magnolias as a shoulder tattoo can mean a number of things. It is believed that magnolias have existed for millions of years. As such, this tattoo design is a great symbol of longevity and endurance.
As it is commonly found in Spring in the United States, it can also be an indication of new beginnings or rebirth.
Image by @sashka_kasatka.tattoo via Instagram
8. Twin Shoulder Tattoos
There is a sense on duality with shoulders which makes it only natural to have matching cute shoulder tattoos.
In the case of twin shoulder tattoos for women, each shoulder has the same image as the other. In some instances, however, the tattoo on each shoulder will have a dual meaning or the images may be typically depicted together.
Flowers, leaves, and butterflies tend to be common pieces used in such artwork. However, you may also be able to find tribal tattoos with similar designs.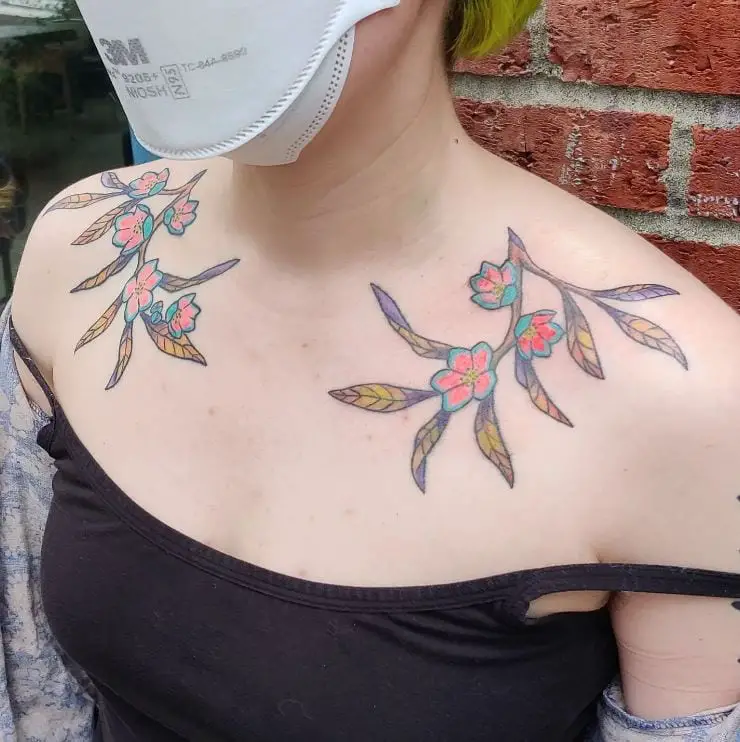 Image by @chloerozo via Instagram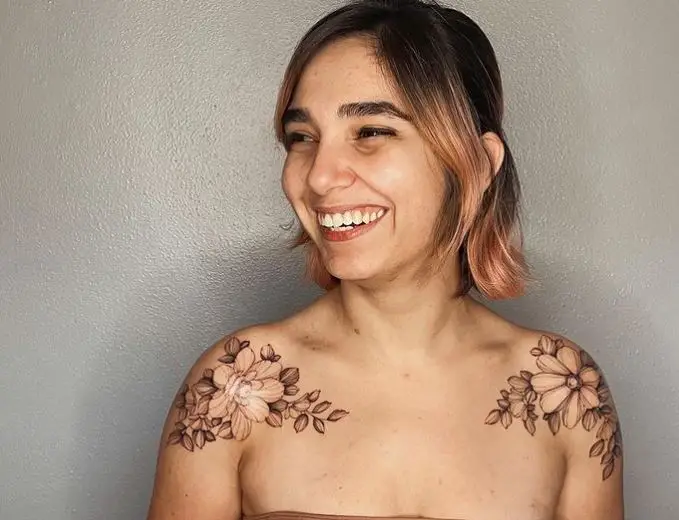 Image by @errcabowza via Instagram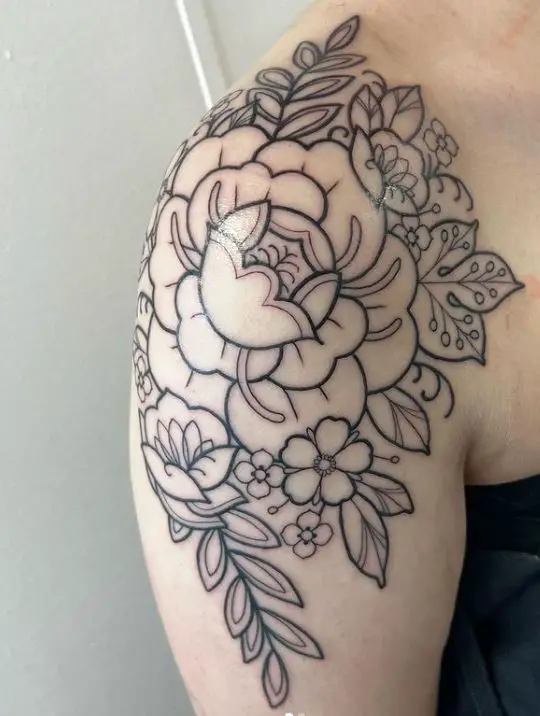 Image by @laceylilactattoos via Instagram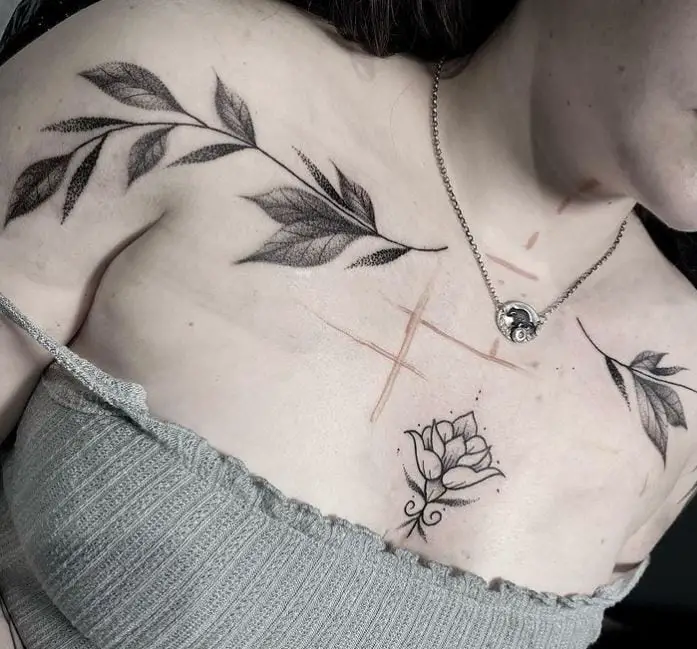 Image by @_heartlesstattoos via Instagram
9. Ornamental Shoulder Tattoos
Sometimes referred to as fine line tattoos, this kind of shoulder tattoo is about being minimalistic, yet intricate. These small shoulder tattoos adopt designs from wood carvings, much like you would find on furniture.
At the same time, many of these tattoos for women will consists of geometric patterns and appear beautiful yet precise.
Due to the nature of this shoulder tattoo, it often begins above where the collarbone ends, trailing down the curve of the shoulder and down the arm.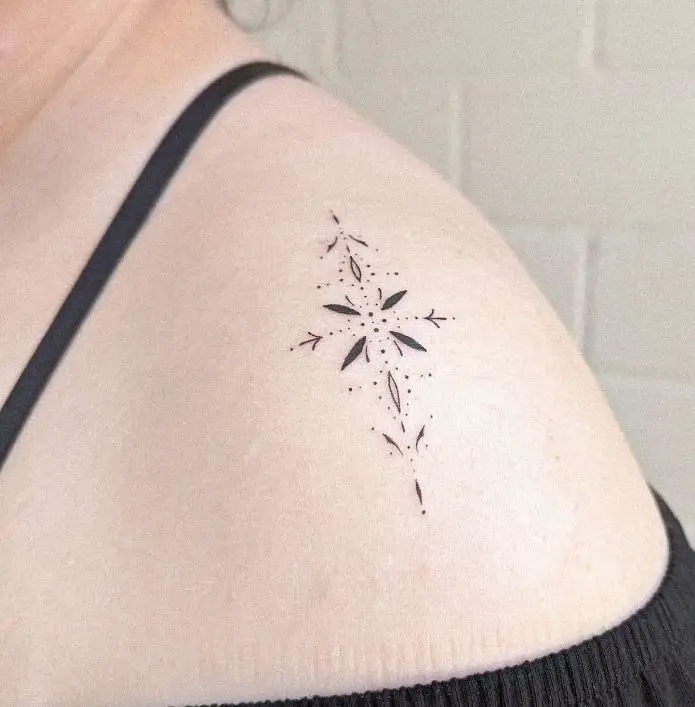 Image by @melitattoo_ via Instagram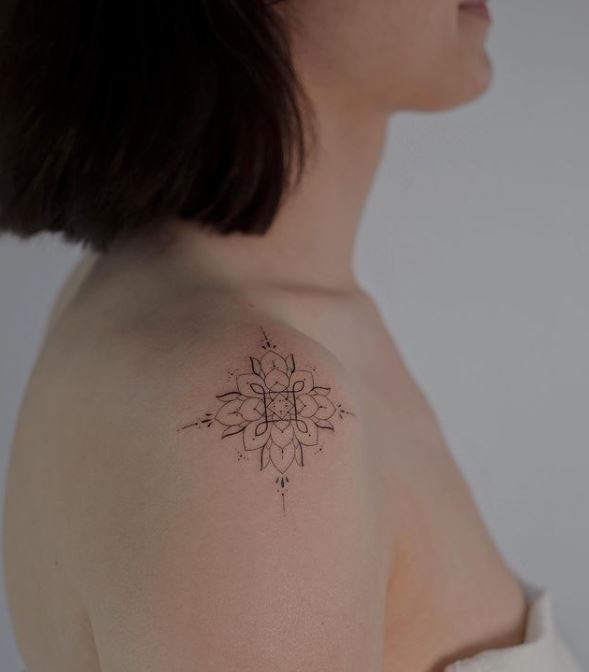 Image by @monochrom.ink via Instagram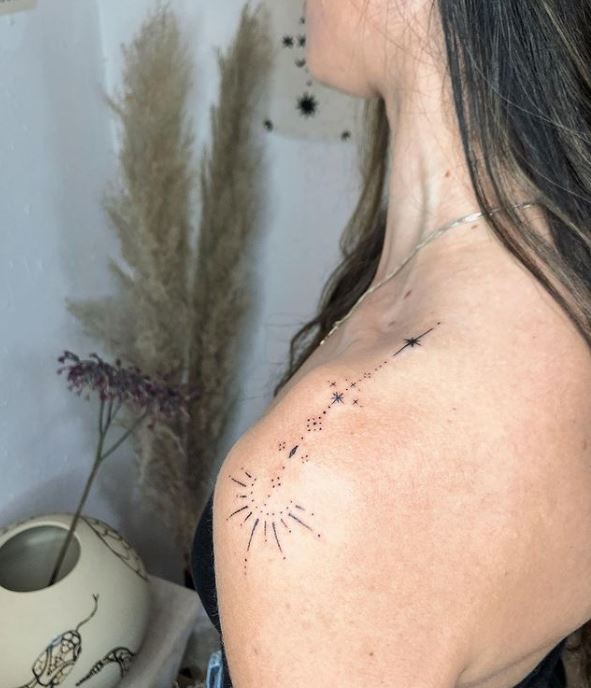 Image by @sun_pokes via Instagram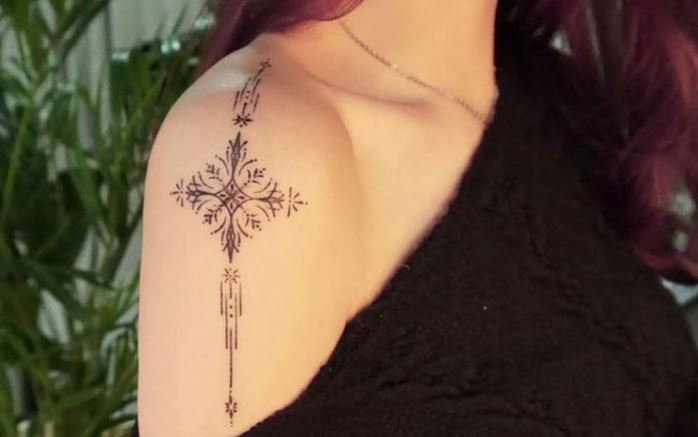 Image by @tattooscenekor via Instagram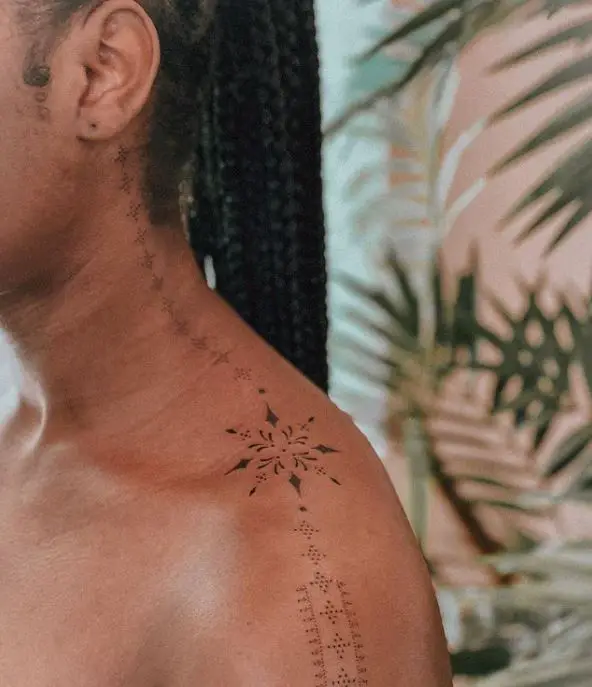 Image by @ghazal_jafari_tattoo_art via Instagram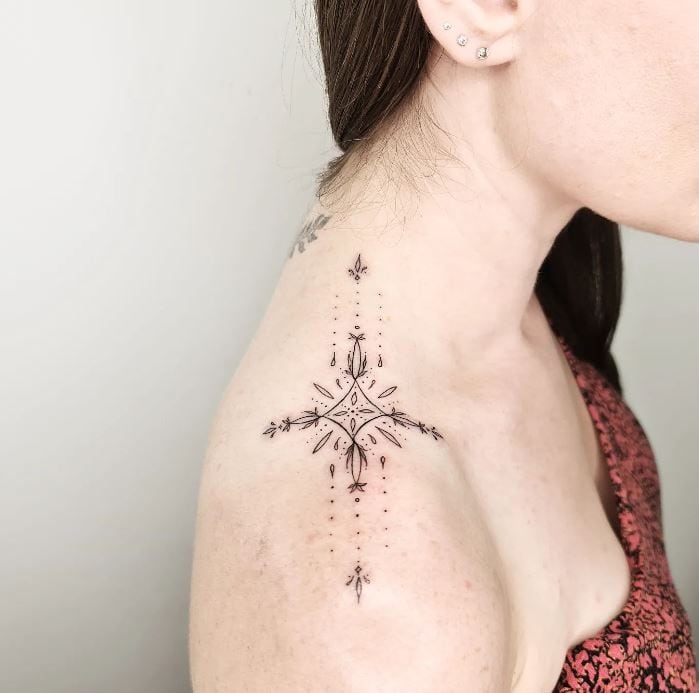 Image by @leehumphs_tattooer via Instagram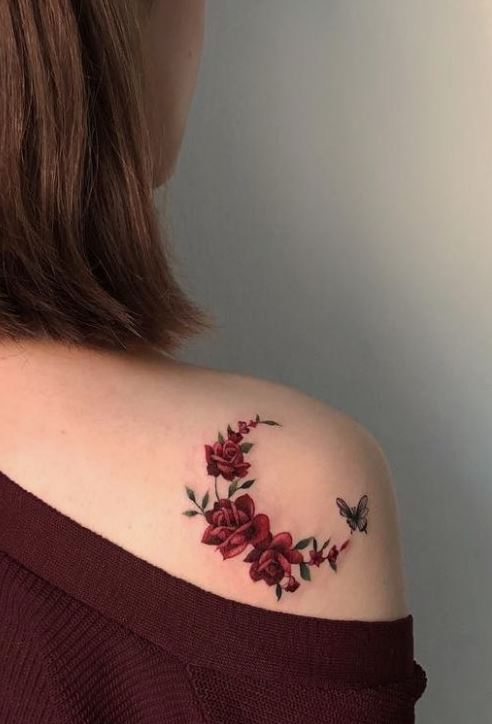 Image by @Tattooing101 via Pinterest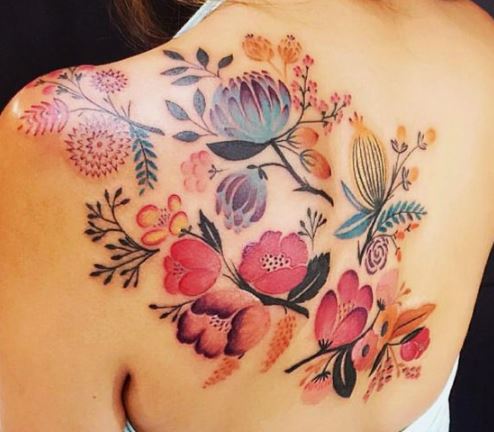 Image by @tattoodo via Pinterest
10. Butterfly Shoulder Tattoo
Butterfly shoulder tattoos are quite common among women. They are delicate, feminine designs but have a powerful meaning all the same.
Due to their association with metamorphosis, these creatures tend to represent transformation, hope, and rebirth. They also make for one sexy shoulder tattoo!
The most typical placement for this small shoulder tattoo is the shoulder blade. At the same time, it will work just as well below the collarbone.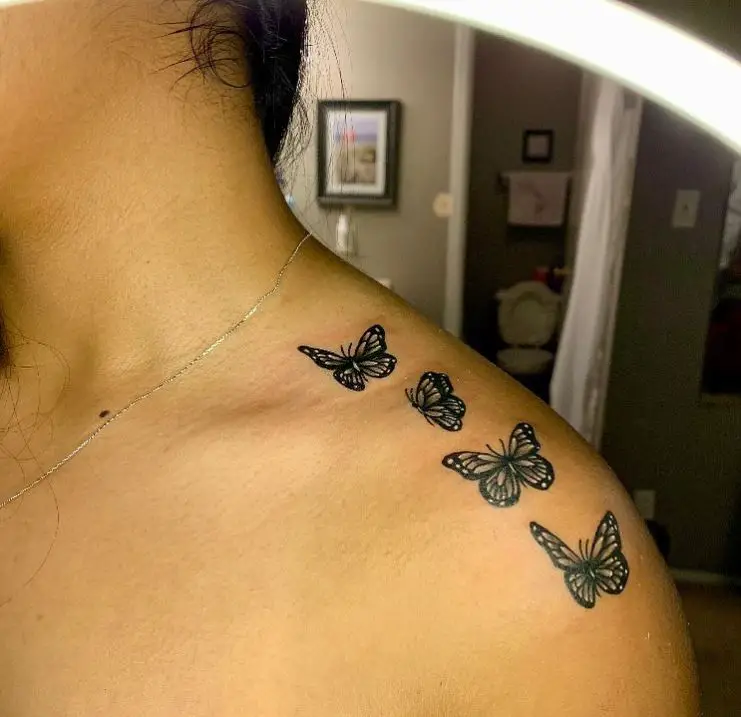 Image by @macyxxs via Instagram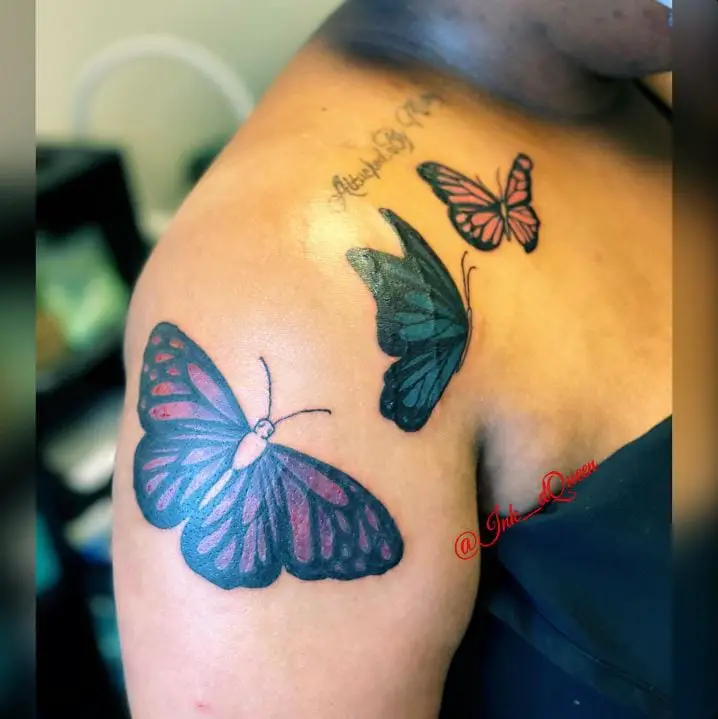 Image by @ink_dqueen via Instagram
11. Abstract Tattoos
Abstract shoulder tattoos, like abstract art, aren't about realistic representation. Instead, these tattoos attempt to capture thoughts or emotions in a fluid and surreal way. This is why you will often find that no two abstract features look alike.
In many instances, these shoulder tattoos aren't just intensely personal, they are likely to be customized too. As such, this involves sitting with a talented tattoo artist and creating a design of your own.
Abstract tattoos may be in the form of black and grey tattoos or have bursts of color at intervals. Nevertheless, black tends to feature quite heavily as it functions as an outline of sorts.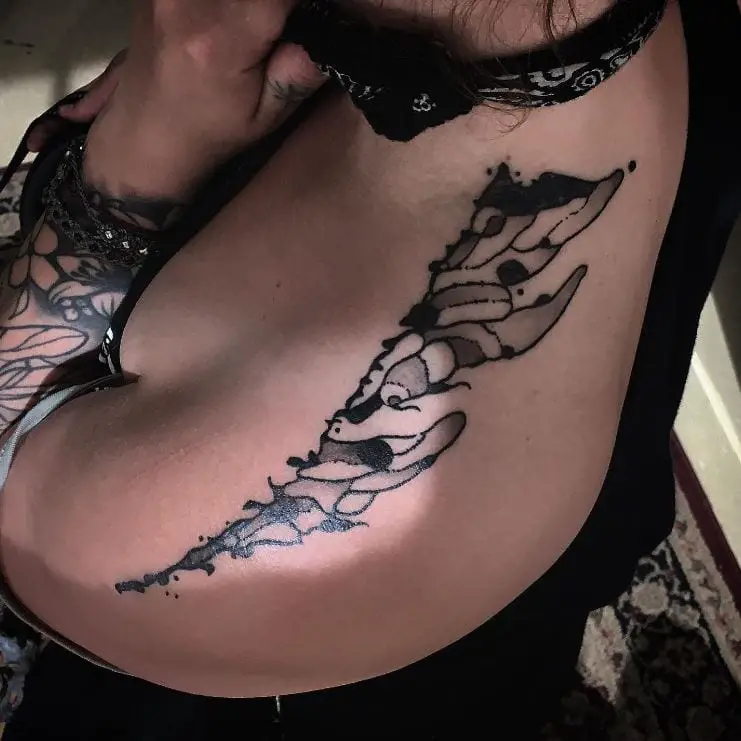 Image by @nikolai.kush.203 via Instagram
12. Sun and Moon Shoulder Tattoo
The sun and the moon may be depicted as a shoulder tattoo independently. However, when it comes to shoulder tattoos, they are often drawn as a pair. They may be represented on each shoulder or just one.
On the surface, the symbols for night and day may seem rather different or even contrary. Nevertheless, they actually give each other meaning. For instance, as there must be a beginning, there too must be an end.
These symbols also balance each other out. The sun is a symbol of strength and firmness. The moon, on the other hand, is depicted as calming and nurturing.
Some cultures also see the sun as a symbol for man and the moon as the symbol for female. Therefore, having both these features on a shoulder tattoo shows a balanced nature. It can also be an indication of an equal partnership.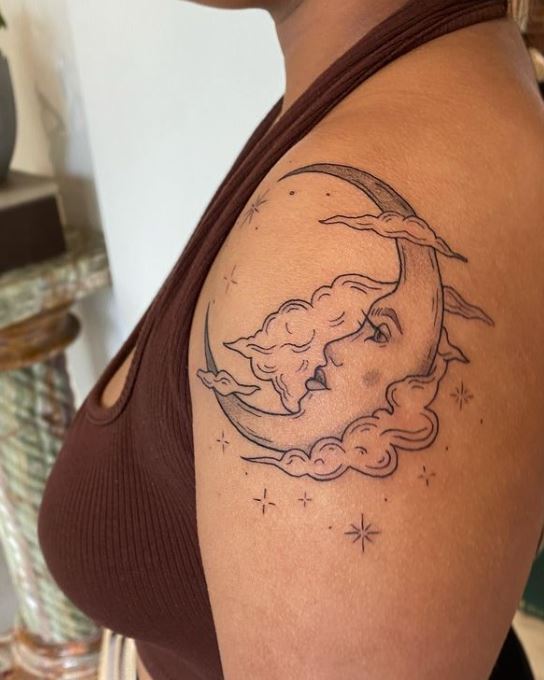 Image by @lauren__tattoo via Instagram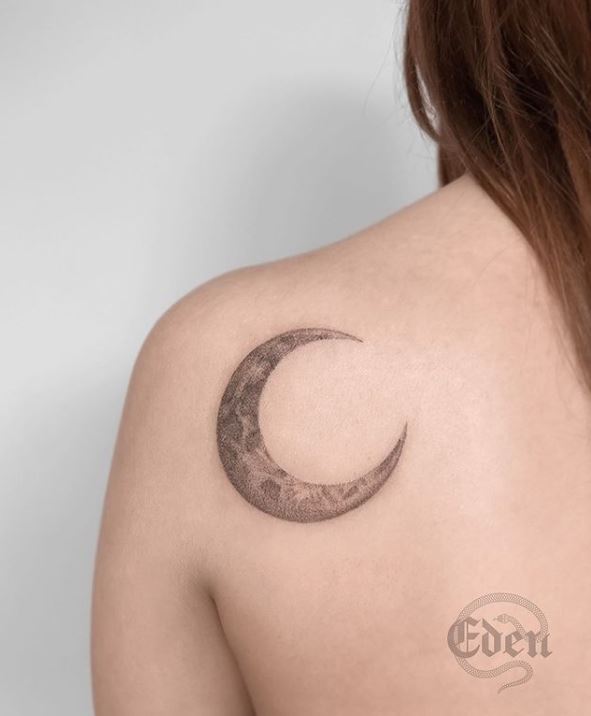 Image by @eden_tattoos via Instagram
13. Storm or Lightning Shoulder Tattoo
This is a rather unusual idea for shoulder tattoos for women, but is a beautiful one nonetheless.
The tattoo may simply feature a bolt or several bolts of lightning. The curve of the shoulder makes this design stand out beautifully.
In other instances, the scene may feature a full storm - clouds, waves, etc. This is typically depicted in shades of black to capture the might and fury of the storm. With larger pieces, the artwork will work its way down, becoming an arm tattoo as well.
This type of shoulder tattoo doesn't necessarily have a meaning. It is a an awe-inspiring scene and this may be the reason for the tattoo. At the same time, it may indicate a period of turmoil in someone's life.
Image by @huntergatherertattoo via Instagram
14. Mandala Shoulder Tattoo
As there has been an uptick in an interest in Asian cultures, there has been an increase in mandala shoulder tattoos for women.
Despite its popularity, few people understand what the mandala actually represents. The mandala is a symbol of the universe in its ideal form. It is often used as an aid in meditation as a way for people to find and come to terms with their perfect self.
As mandalas have a religious and cultural significance in Buddhism and Hinduism, it is worthwhile to get this particular tattoo design.
Some may consider it cultural appropriation, particularly if you are planning on visiting or living in an Asian country. However, if you choose to educate yourself about the meaning behind the tattoo, most people find it an acceptable shoulder tattoo.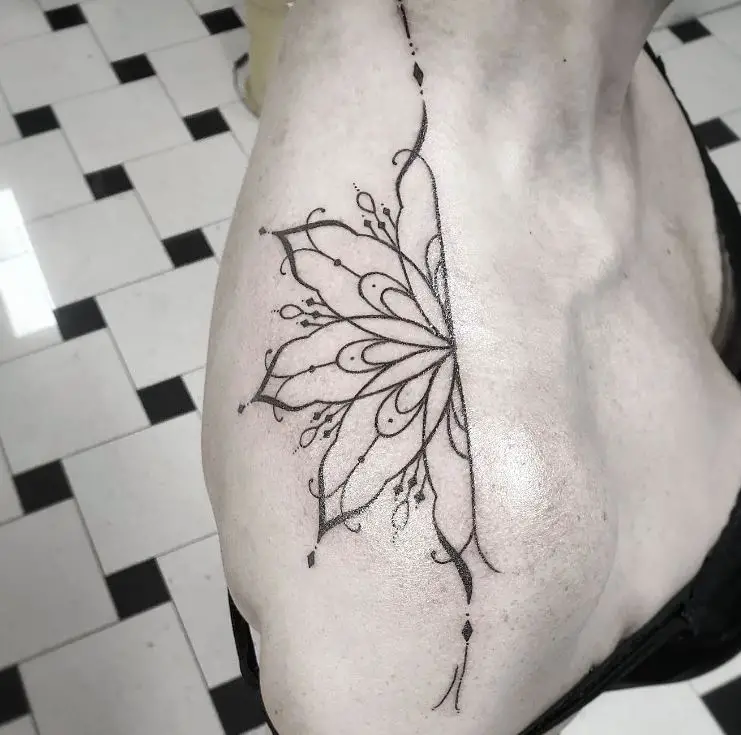 Image by @tattoo_studio_black_diam via Instagram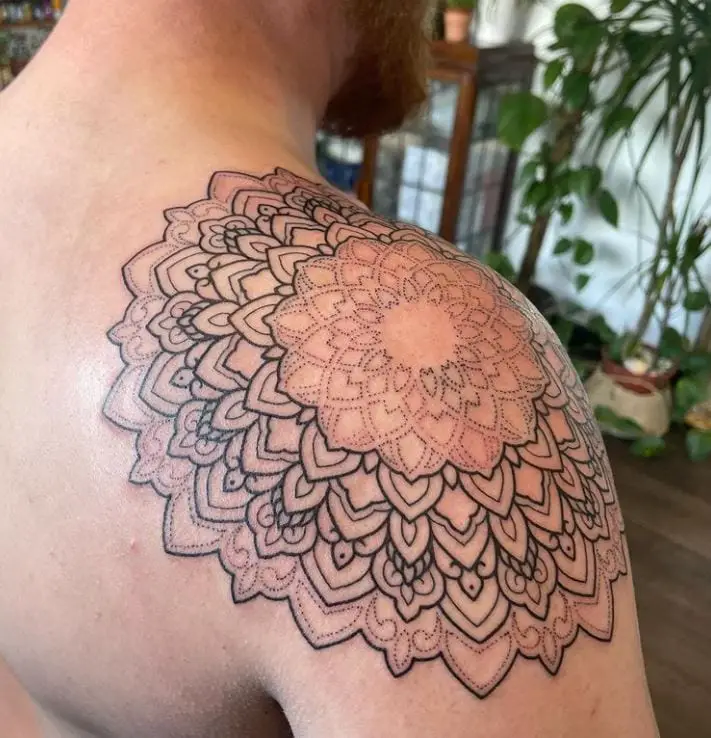 Image by @jadesummertattoos via Instagram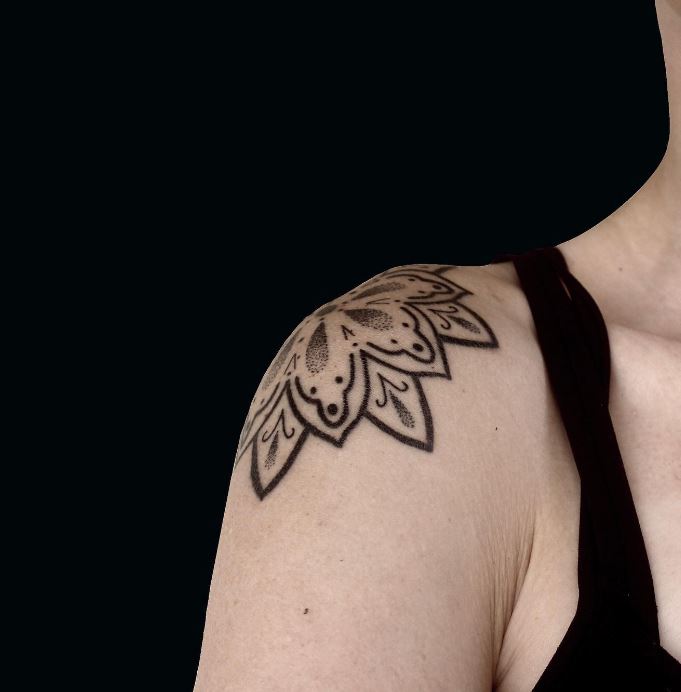 Image by @smartat_ via Instagram
15. Arrow Shoulder Tattoo
Arrow shoulder tattoos have become popular over the last few years.
It is often used to signify struggle - the backward movement of the arrow as it is pulled across a bow - and triumph - the forward movement as it is released. Thus, if you have overcome a hurdle in your life, the arrow can be a good symbol.
As the arrow can also only move in one direction - forward - it is seen as a sign of moving on with your life.
As for the placement, it can be a back shoulder tattoo, just above the shoulder blade or can be a small shoulder tattoo below your collarbone.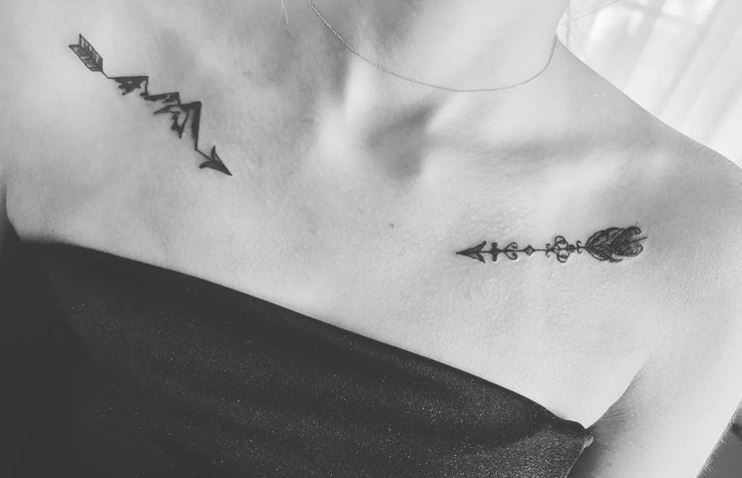 Image by @thepaintedlady__tattoo via Instagram
16. Bird and Feathers Shoulder Tattoos
Bird shoulder tattoos for women are fairly common these days. They may represent any number of things.
The first thing you should consider is the species of bird to get tattooed on on your shoulder. An eagle shoulder tattoo could indicate independence, freedom, strength, wisdom, or pride.
A dove, on the other hand, could be a symbol of peace and calm. Hummingbirds are often a sign of hard work and determination - the constant flapping of their wings is also seen as a sign of perseverance.
Birds in flight may represent freedom or a free-thinking spirit. A caged bird, on the other hand, can represent an unfulfilled desire.
A bird shoulder tattoo needn't always have a meaning, though. They are often aesthetically pleasing, particularly when combined with feather and tree elements. They can also be dramatic pieces of artwork.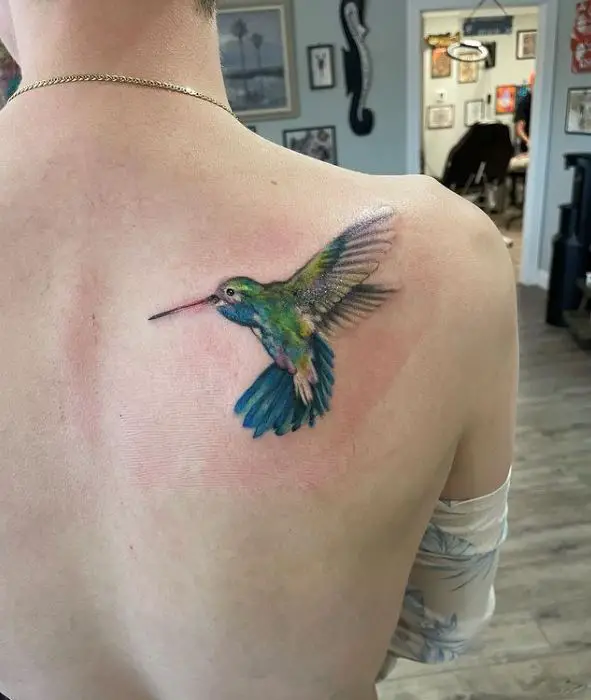 Image by @oceanwavetattoo via Instagram
Image by @nirae.ink via Instagram
Image by @tattooinks_flinsbach via Instagram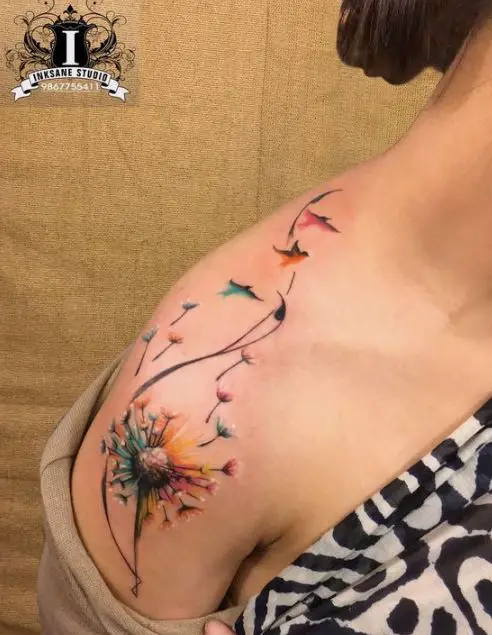 Image by @bibamagazine via Pinterest
17. Combined Tattoos
With both big and small shoulder tattoos, you will often find combined elements. This could be butterflies with flowers, flora with geometric elements, and more.
In some cases, two or more elements are connected in some way. They may have similar meanings or complement each other as symbols. Or, they may simply look good together.
In other instances, the shoulder tattoos may be a contrast. They could have opposite meanings or simply look jarring together.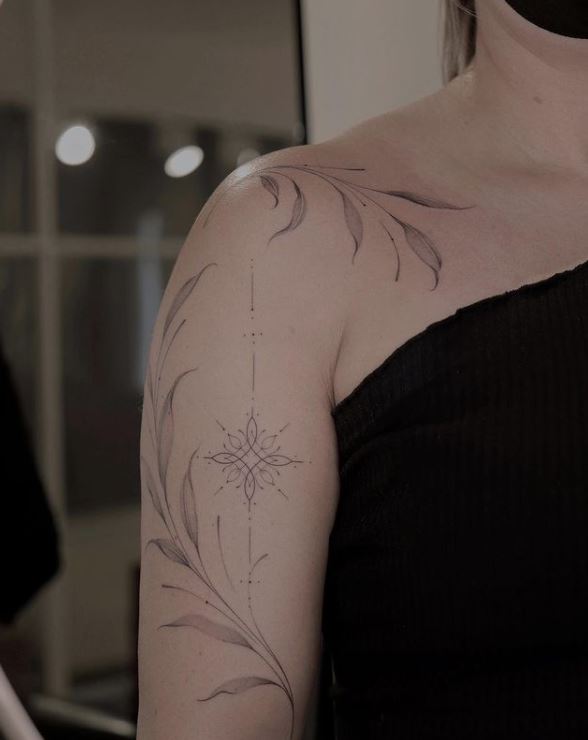 Image by @themonoink via Instagram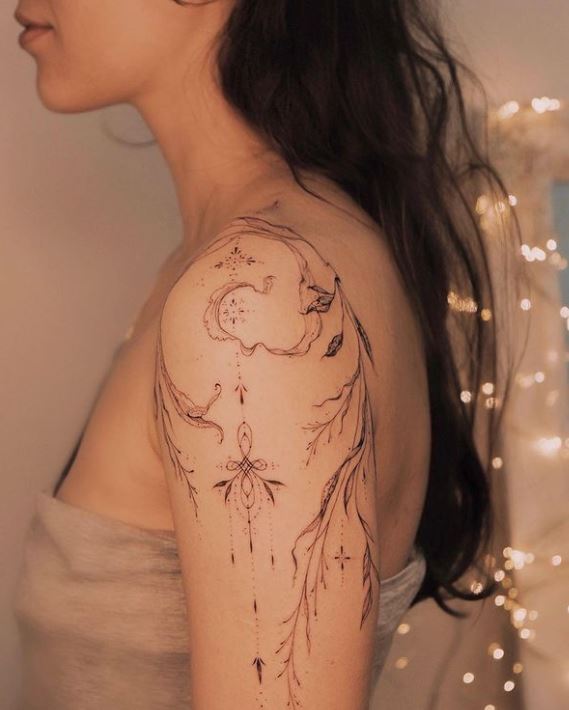 Image by @cathy.artwork via Instagram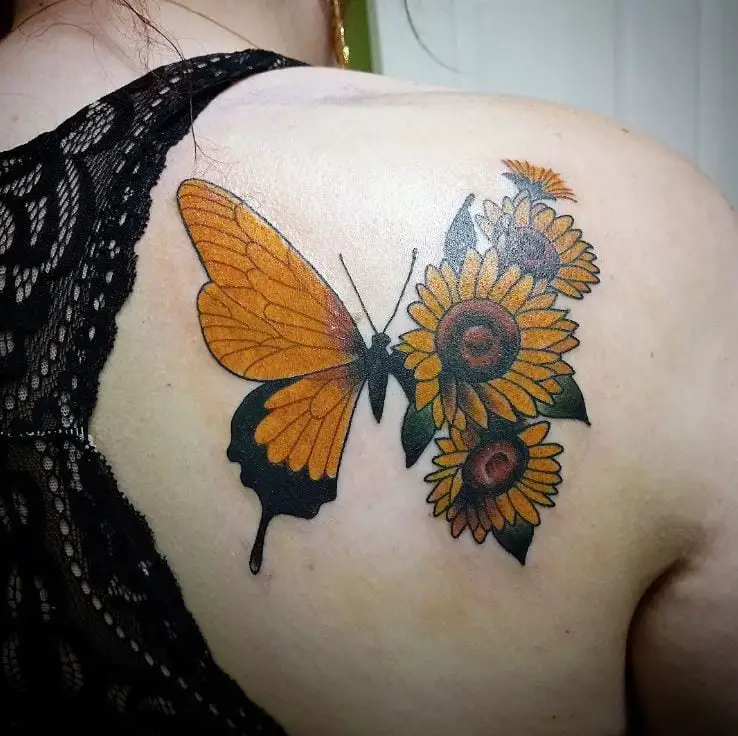 Image by @felixhardytattoos via Instagram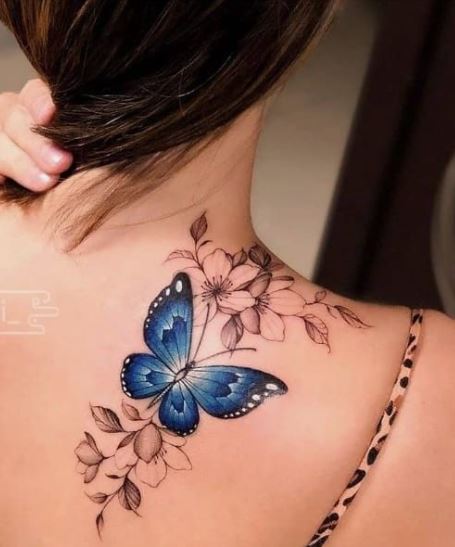 Image by @wildesnik via Pinterest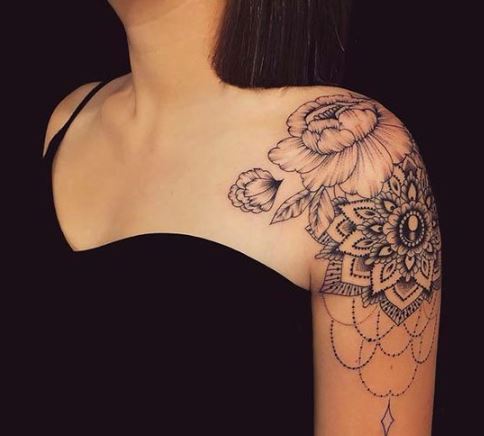 Image by @aregakna1 via Pinterest
18. Birth Flower Shoulder Tattoo
Although you may have heard of birth stones, you may not be quite as familiar with birth flowers. Well, these are flowers that are assigned to each month of the year. You have carnations for January, primroses for February, daffodils for March, and so on.
What's great is that there is a significance to these flowers as well. For example, carnations are a symbol of loyalty, primroses denote a youthful disposition, and daffodils are associated with those who command respect.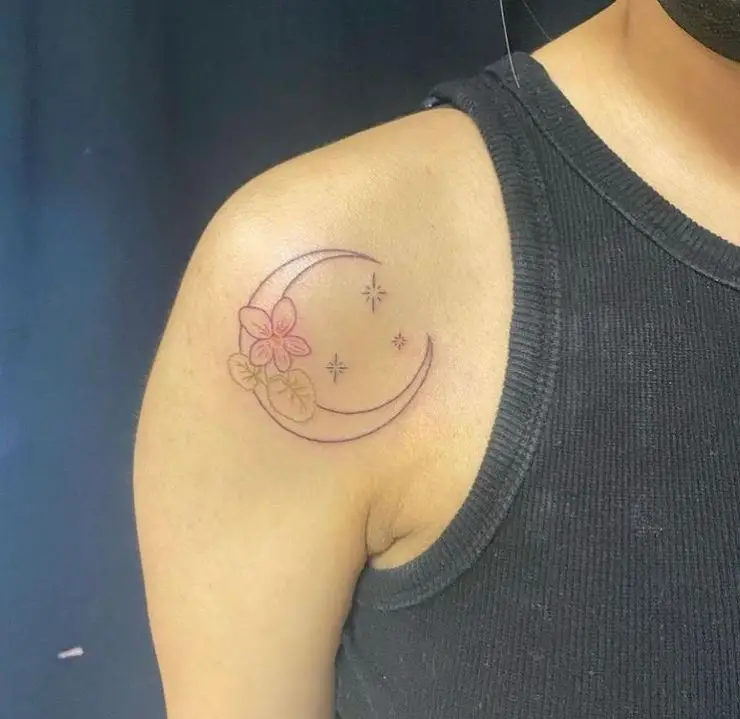 Image by @bodyartsoulpa via Instagram
19. Russian Thieves Star Shoulder Tattoo
As the name suggests, this star tattoo design is given to high-ranking Russian thieves. It is often considered a prison tattoo - given to those who have been incarcerated for stealing.
As you can imagine, you should think long and hard before getting this tattoo as it has negative connotations. This is especially true if you are planning on living in certain parts of Europe.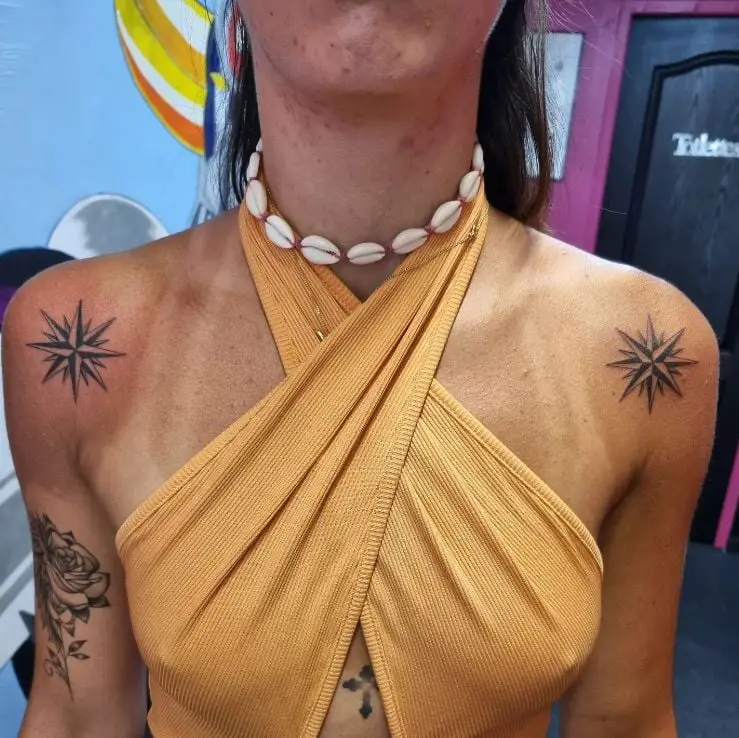 Image by @l_ink_tattoo_ via Instagram
20. Star Shoulder Tattoos
The great thing about star tattoos is that there are so many options to choose from! You can go for a single star, a tiny delicate galaxy, or even choose a geometric design. The choices are endless.
The shoulder tends to be the most common position for this tattoo design as it showcases it beautifully.
Just be mindful of the number of points on the star. A four-pointed star has similarities to a cross while the five-pointed star is often considered a divine symbol.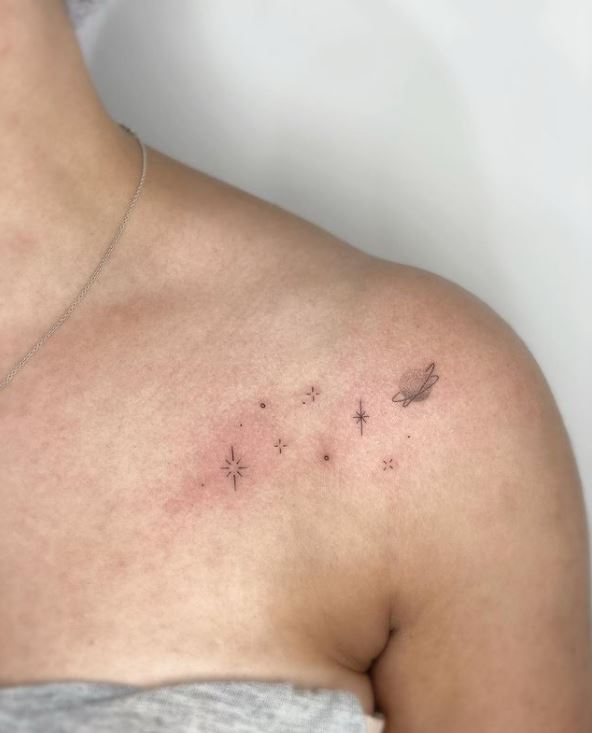 Image by @tesspokes via Instagram
21. Eye Tattoo
An eye tattoo is quite significant as well. Its meaning can usually be distinguished based on the designs or symbols surrounding the eye.
It is usually associated with knowledge or the unlocking of knowledge. The eye can sometimes be used as a way of talking about mystical elements such as the opening of the third eye.
Then there is also the evil eye. Despite its name, the evil eye is meant to ward off harmful spirits or bad luck.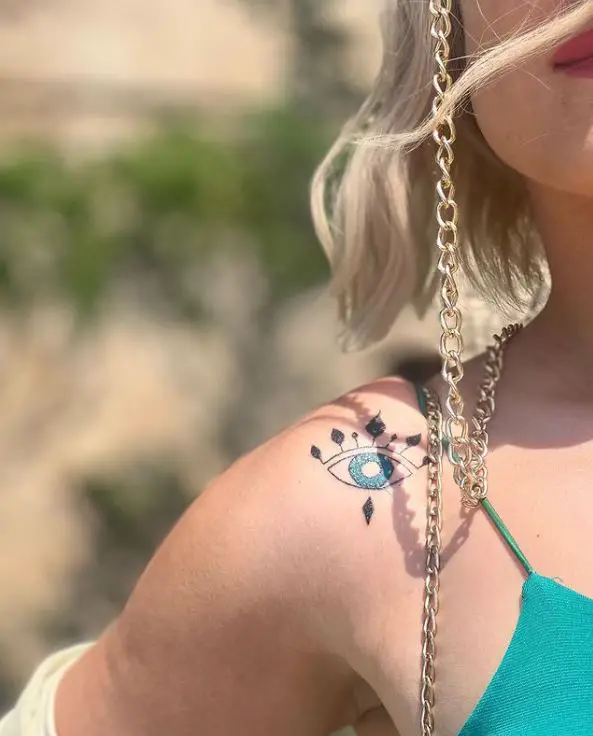 Image by @meryemozcilem_ via Instagram
22. Anime
Anime isn't just a pastime, but a passion! If you are someone who loves anime, there are plenty of tattoo ideas for you to consider. You can get a design of your favorite character, setting, or an emblem of their powers or personalities.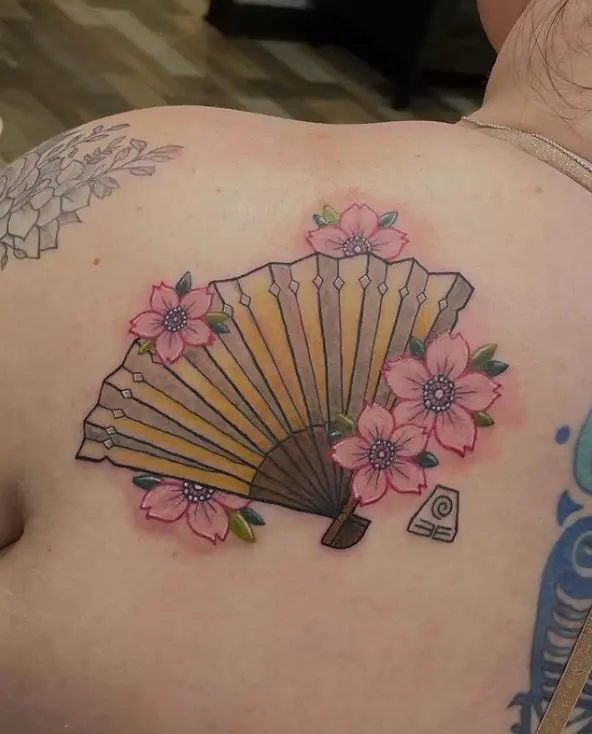 Image by @nicole.ruby.ink via Instagram
23. Northern Lights Shoulder Tattoo
If you imagined that the beauty of the aurora borealis could never be recreated in tattoo form, think again. While there are many ways to depict this beautiful phenomenon, a watercolor representation does it true justice!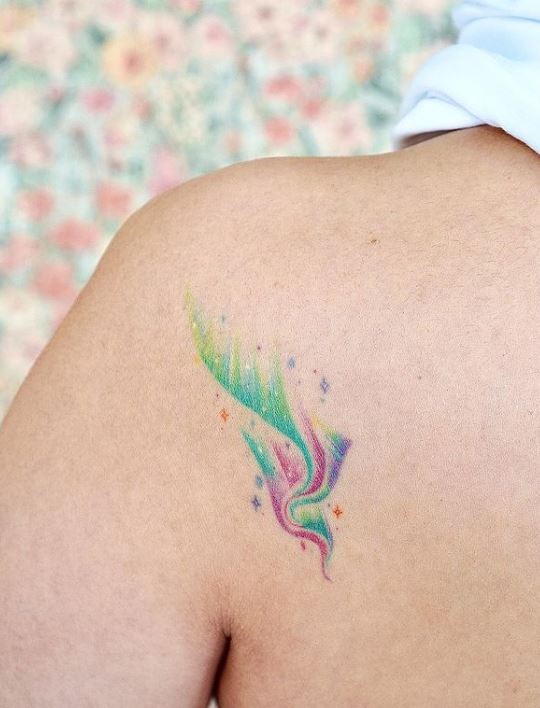 Image by @da.tattooshop via Instagram
24. Hobby Shoulder Tattoos
Hobbies aren't just a pastime. No, they can become a passion that consumes you. They can also be an important aspect of your personality or your being. So, why not get a tattoo to represent this?
Take a look at this tattoo of a girl beside a horse. It is an excellent design for someone who loves riding horses or is a competitor by trade.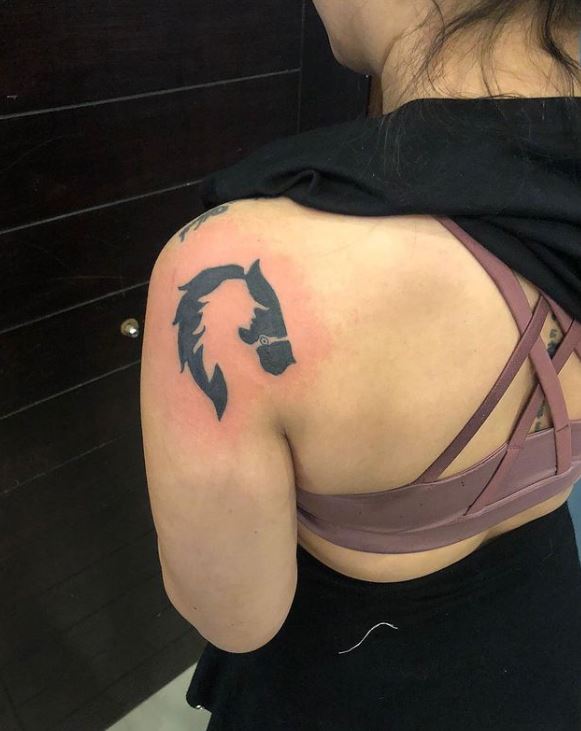 Image by @da.tattooshop via Instagram
25. Animal Shoulder Tattoos
Animal shoulder tattoos for women can take on different forms. Some may get tattoos of their beloved pet - these often tend to be quite realistic and based on a photo.
Others will choose an animal that they feel represents their spirit or personality, such as wolves, tigers, leopards, elephants, etc.
Image by @poem.tattoo via Instagram
26. Spider Shoulder Tattoos
Spider shoulder tattoos for women can seem like an odd choice. After all, arachnophobia is quite common. Dig a little deeper though, and you will discover that they can also be used to depict creativity and personal power. As such, this symbol can be a great way to portray your own power and importance.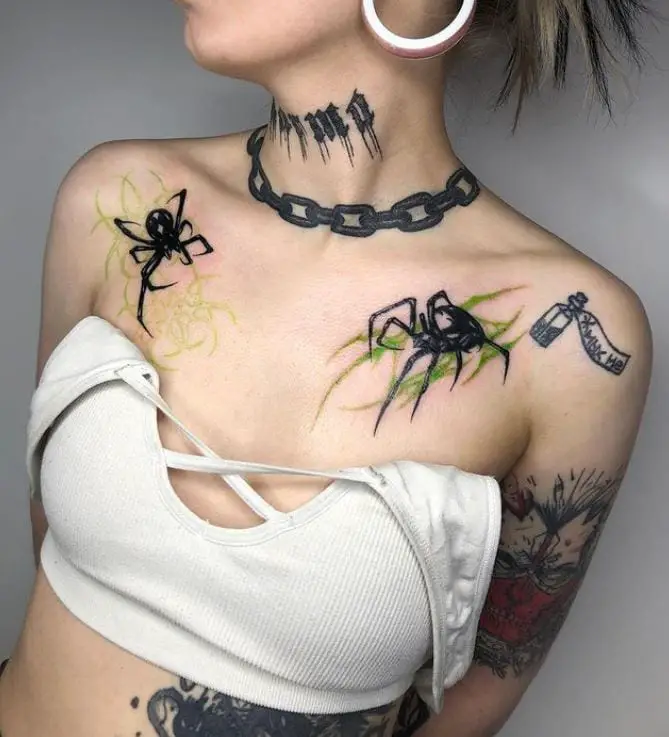 Image by @tattoosfolder via Instagram
27. Dragon Shoulder Tattoo
Though dragons make great shoulder tattoos for women, a lot of people fail to realize just how many different types and designs are out there. For instance, in the East, dragons are considered heroes and a symbol of virtue, while in the West they are seen as the villains to be defeated. As such, you should do your research before setting on a particular design.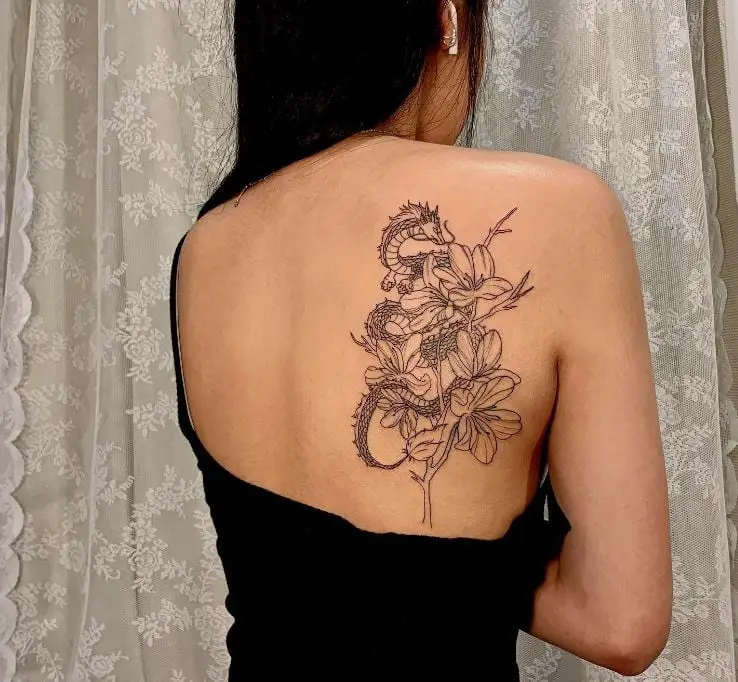 Image by @maryyy_tattoo via Instagram
28. Phoenix Shoulder Tattoo
Phoenixes are best known for rising from the ashes. As such, if you have recently left a troubled situation behind or feel like you have been reborn, this is an excellent tattoo!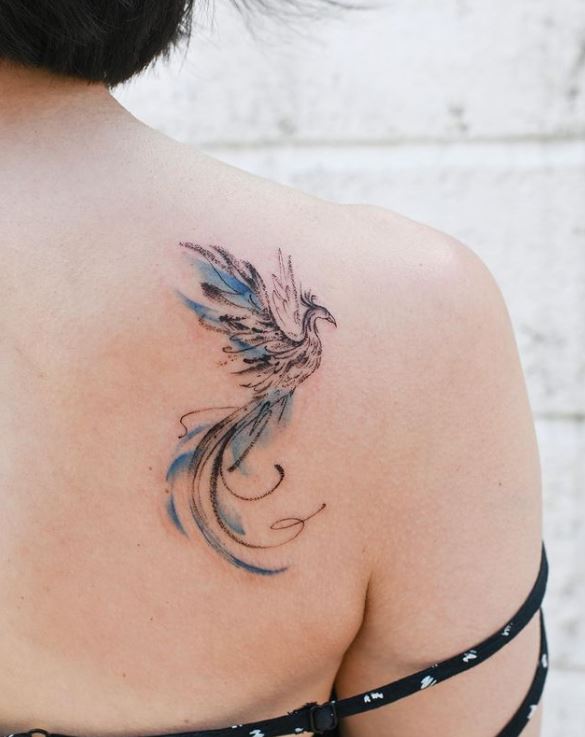 Image by @joytattoo_ via Instagram
29. Cross Shoulder Tattoo
Crosses may be some of the oldest tattoo designs around but this doesn't mean your artwork has to look like everyone else's. This is because there is so much inspiration to draw from.
You can opt for a Croatian-inspired piece like the one below, a Celtic cross, or have it depicted with other religious or holy symbols such as the bible, rosary, praying hands, etc.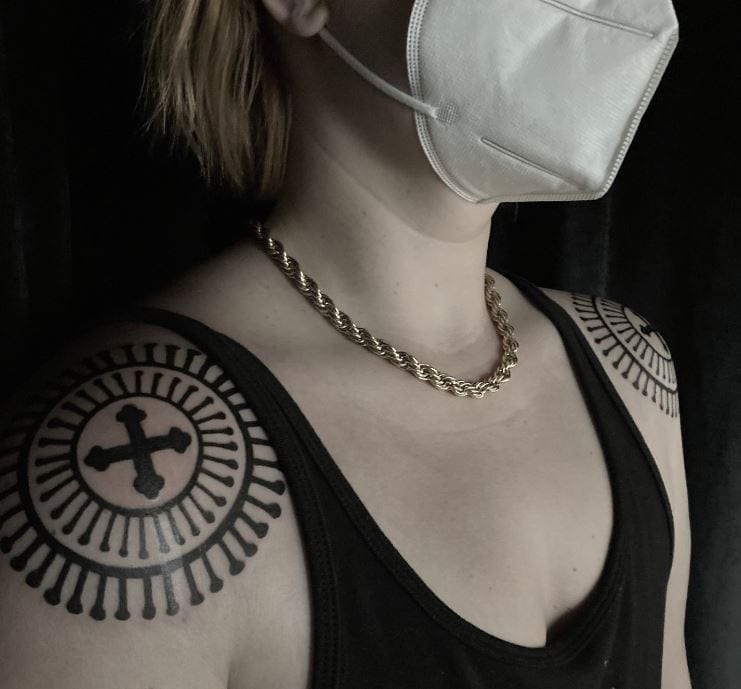 Image by @hauntedhandsstudio via Instagram
30. Angel Shoulder Tattoo
Angels can be depicted in many different styles. You can go with a cherub-like the tattoo below or opt for something more biblical. After all, angels can be messengers, warriors, or even avengers.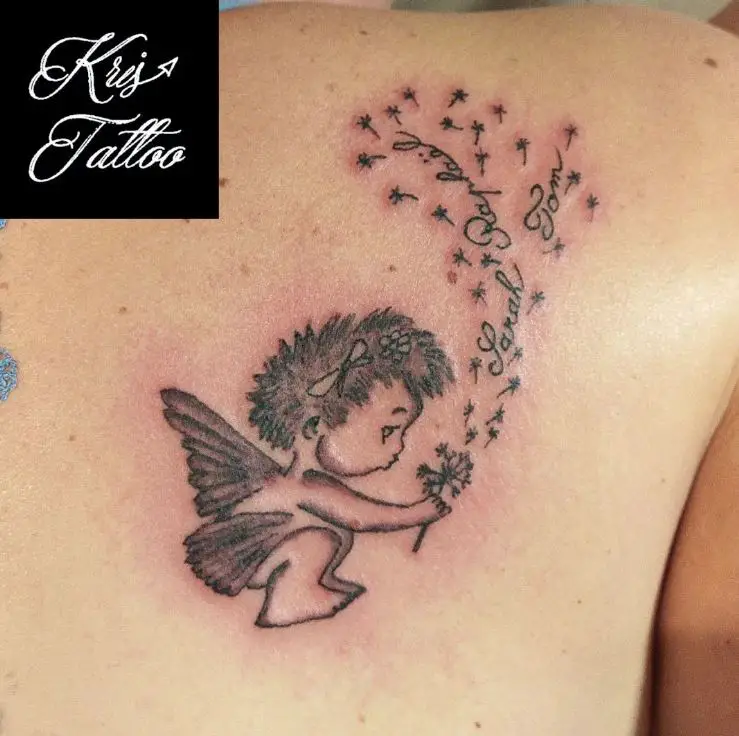 Image by @kristattoo67 via Instagram
31. Rainbow Shoulder Tattoo
Rainbows aren't just pretty shoulder tattoos for women, they also have incredible meaning. Best of all, it is all positive! Rainbows signify hope, luck, equality, peace, and new beginnings. It is also a badge of honor for members of the LGBTQIA+ community.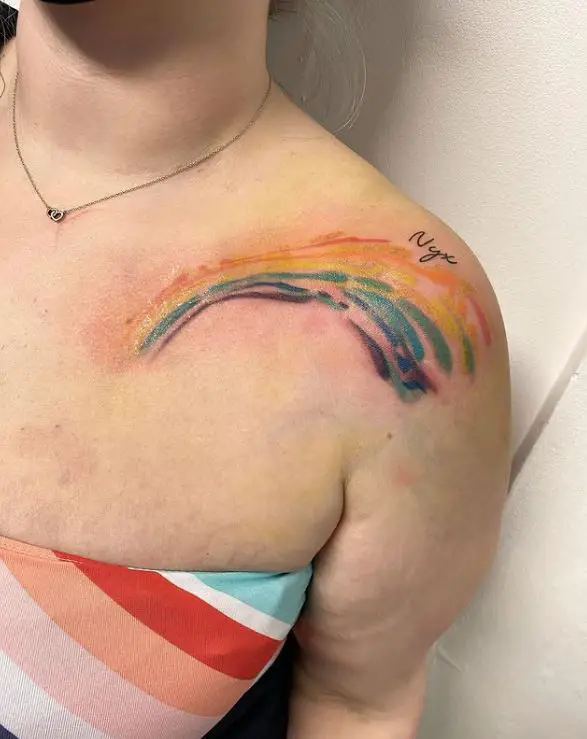 Image by @rebelrosetattooandpierci via Instagram
32. Cartoon Figure Shoulder Tattoo
Cartoon figure tattoos have been around for a long time and it is easy to see why. They are cute, funny, and a great reminder of our childhood. Instead of going with the traditional route, though, you have the option of creating any cartoon figure or scene of your own.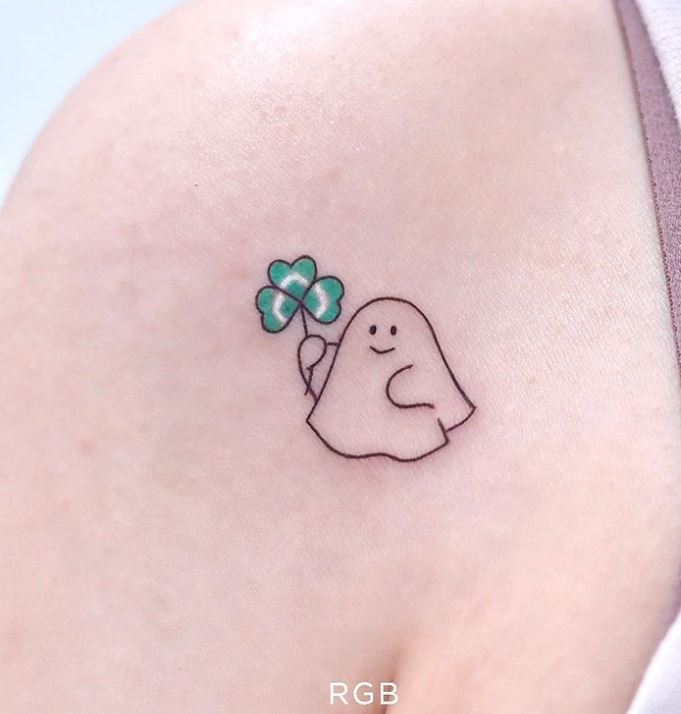 Image by @rgb_tattoo via Instagram
33. Videogame Shoulder Tattoo
If you are a gamer girl, why not show off your gamer pride? This gorgeous and intricate Skyrim tattoo is certainly a great way to keep your passion close to you at all times. Go ahead and find a way to turn your favorite video game into the tattoo of your dreams.
Image by @cattatzz via Instagram
34. Tribal Shoulder Tattoo
The tribal shoulder tattoo is not as popular as it once was. This is because it is increasingly being seen a sign of cultural appropriation. So, does this mean that you can't get one? Not at all!
However, you should be respectful of the process. Understand the importance and significance of the tattoo you are getting.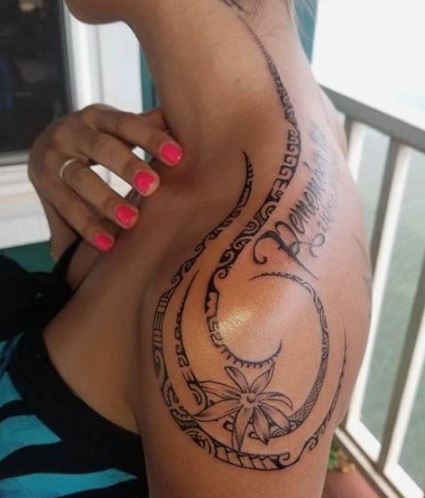 Image by @jeunic via Pinterest
35. Mystical Shoulder Tattoo
From mystical objects to animals and tarot cards, there is no limit to the number of mystical shoulder tattoos for women. All you have to do is to find the appropriate symbol for your spiritual beliefs. Then, it is just a matter of choosing the right artist for the job!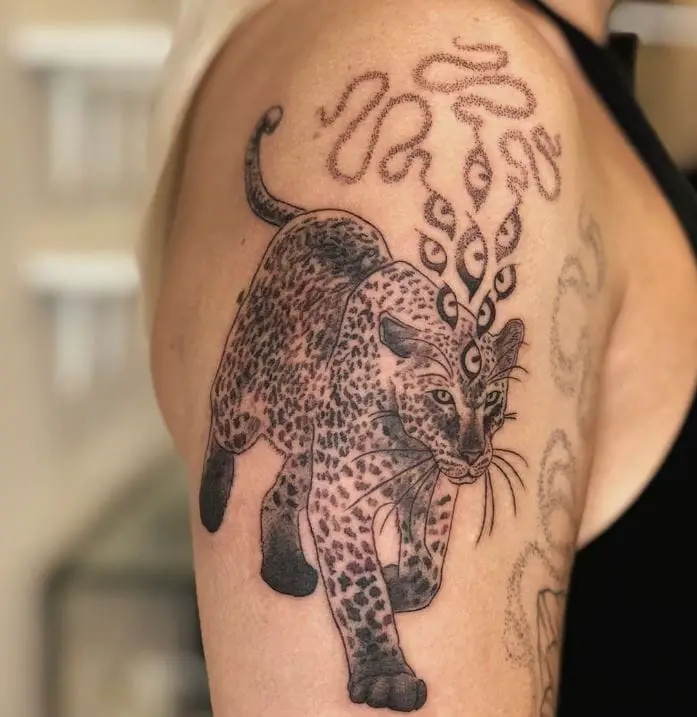 Image by @tinapoe via Instagram
36. Heart Shoulder Tattoo
A heart on the shoulder often indicates someone who is quite open about their feelings. This is also a great tattoo to get if your friend or partner is planning on getting a matching one on their shoulder.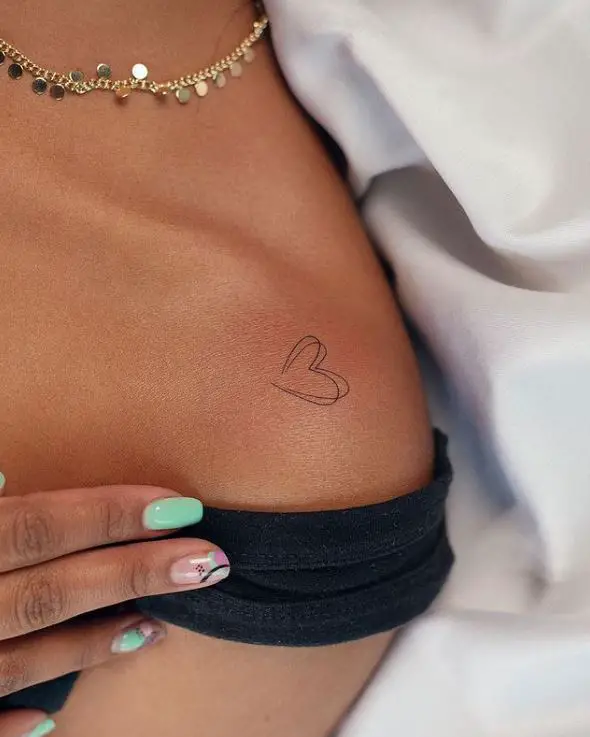 Image by @helloo.tattoo via Instagram
37. Fairy Shoulder Tattoo
Fairies have been popular shoulder tattoos for women for quite some time. These tattoos are often small and delicate. You can find them above the shoulder blade or below the collarbone.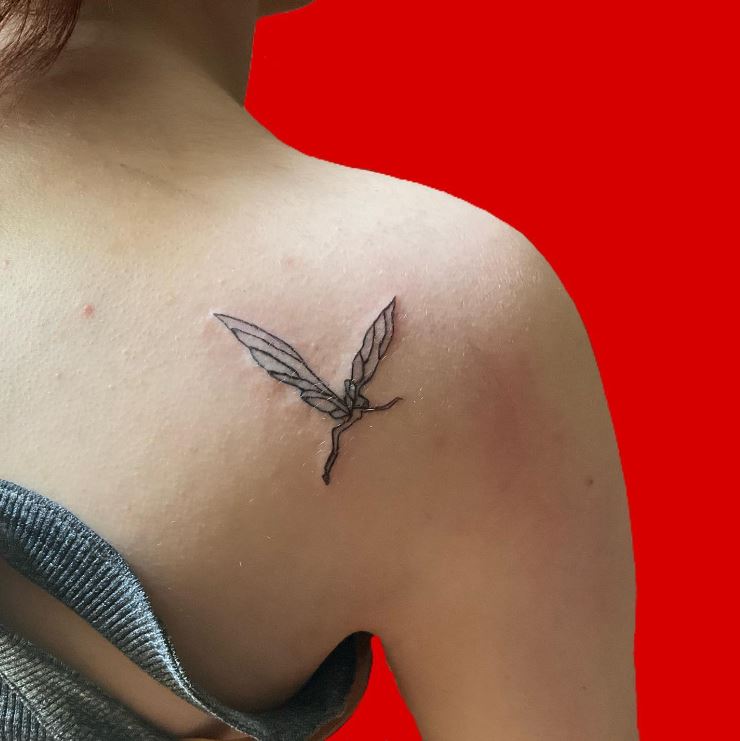 Image by @daiva.tattoo via Instagram
38. Travel Shoulder Tattoo
It doesn't matter if you love to travel or dream of traveling, there are plenty of tattoo options. From planes to maps, the choices are endless!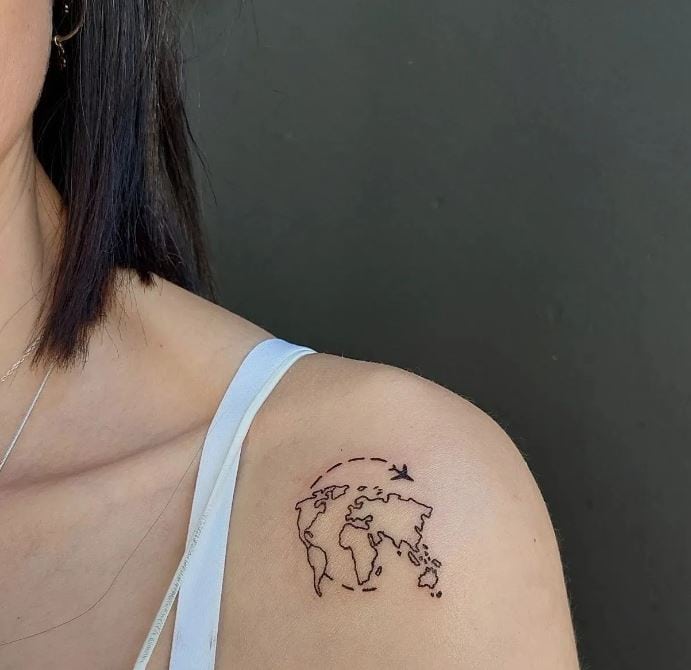 Image by @smthingblue via Instagram
39. Literature Related Shoulder Tattoos
If you love to read, then you're sure to have a favorite book or series. As such, you can get symbols of the book tattooed on your body or even a replica of the book cover.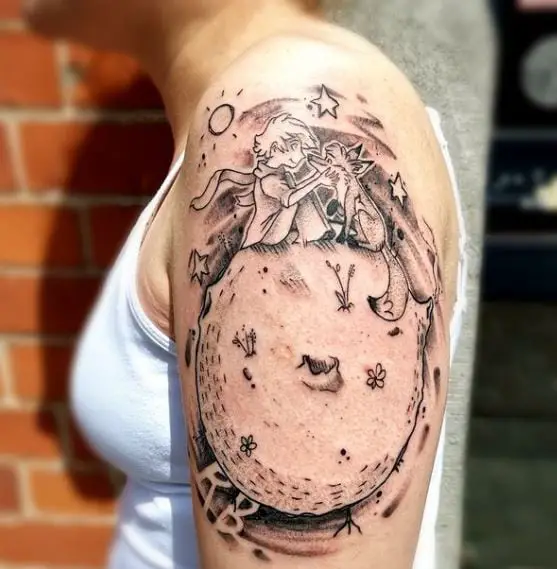 Image by @chalien.universe via Instagram
40. Words and Phrases Shoulder Tattoos
Is there a word, phrase or verse that is important to you? If so, getting it tattooed on your shoulder can be a great way for you to showcase your interests.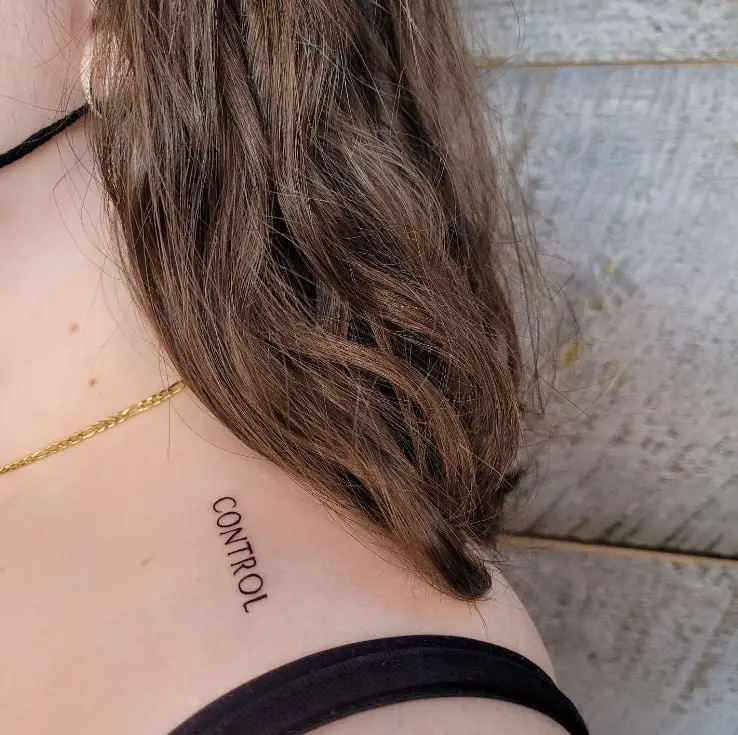 Image by @singlenoodle.ink via Instagram
41. Mental Health Shoulder Tattoo
Mental health tattoos are a great way to be resilient during trying times. From a simple semi-colon to a serotonin molecule, there are plenty of ways to give yourself a boost.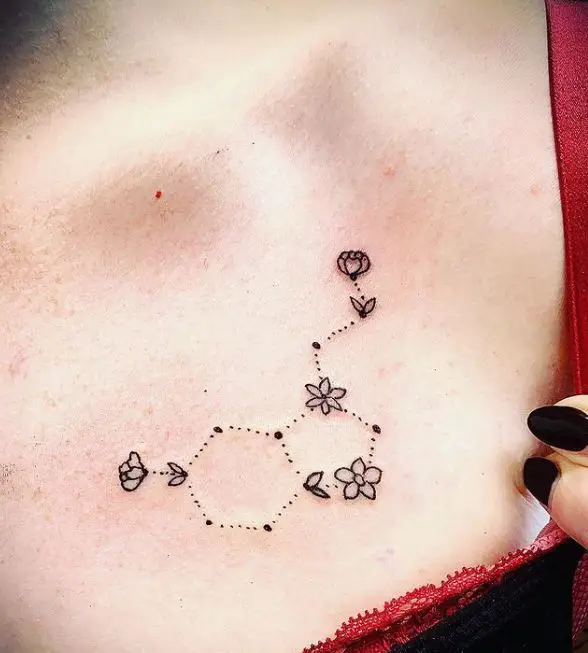 Image by @voodooinktattoos via Instagram
42. Astrology Tattoo
Do you follow astrology closely? If so, it only makes sense to get a tattoo of your zodiac sign. As you can see from this unique Aries tattoo, there is no need for your ink to be boring!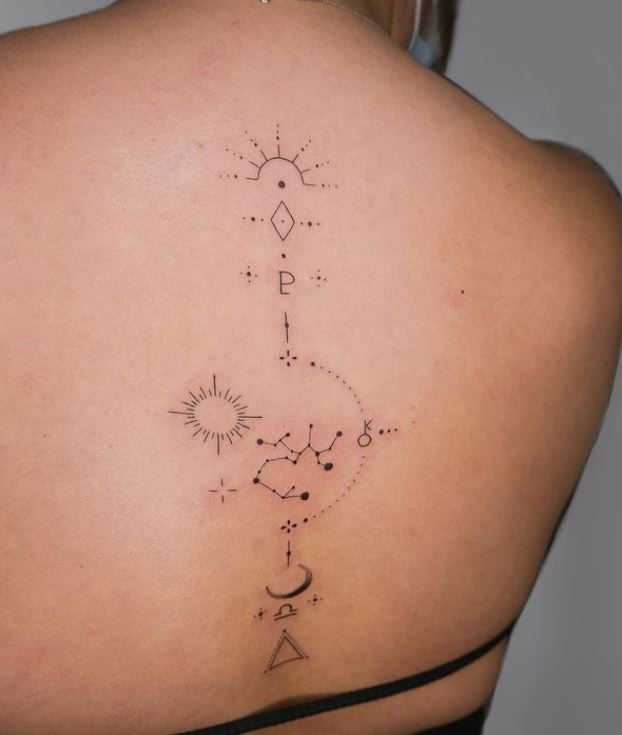 Image by @oihman.tatts via Instagram
43. Space Shoulder Tattoo
Space can be depicted in a wide variety of ways in tattoo form. It may be shown as a simple sketching of the solar system. Or, it may be an in-depth painting of the galaxy. It is all up to you!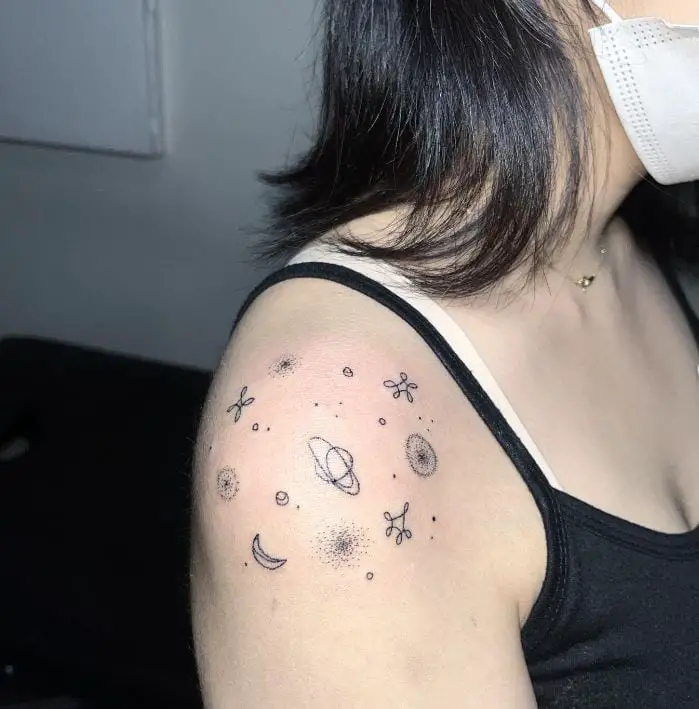 Image by @miantatu via Instagram
44. Feminist Shoulder Tattoo
From a simple and delicate icon for women to GRL POWER tattoos, there are plenty of ways to showcase your feminist leanings. Regardless of what you decide on, you know your message will be seen!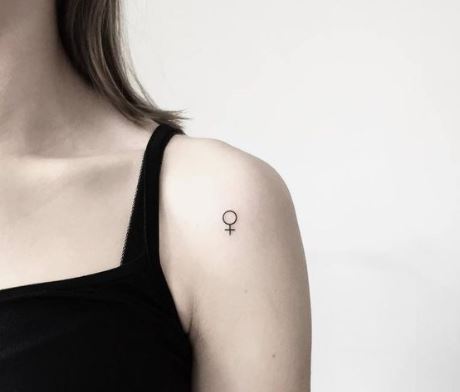 Image by @tattooadore via Pinterest
45. Skull Shoulder Tattoo
Skulls are no longer seen as a gruesome or scary. While thy can be used to inspire fear or respect, they are often depicted beautifully in tattoos. They can serve as a reminder about the fragility of life or of how life doesn't always end at death.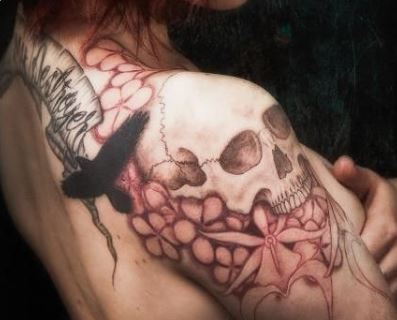 Image by @skullspiration via Pinterest
46. Boat Shoulder Tattoo
These are certainly unusual shoulder tattoos for women but beautiful nonetheless. Boats can signify a journey, adventure, uncertain waters, and more.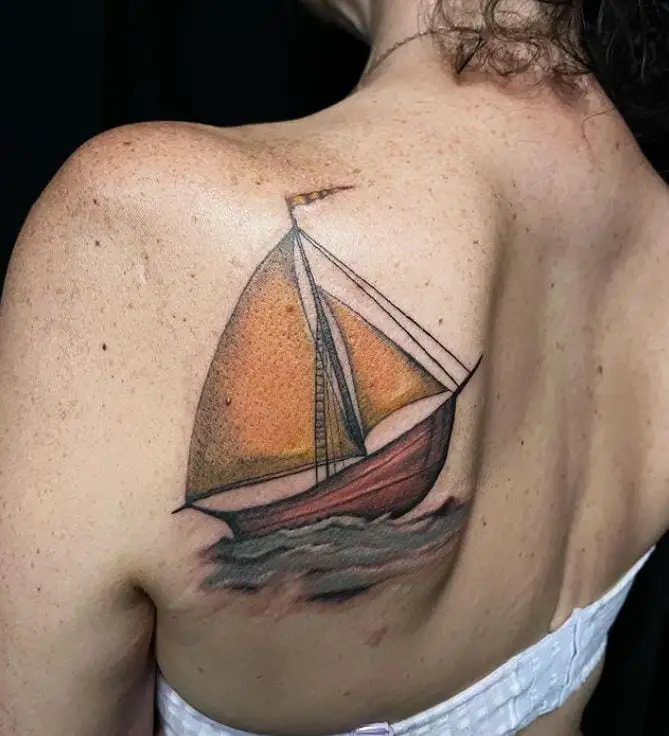 Image by @ink_ritualist via Instagram
47. Music Shoulder Tattoo
Music is one of those things that connects us all. Showcase your love of music with notes tattoos, instrument ink, or even an album cover!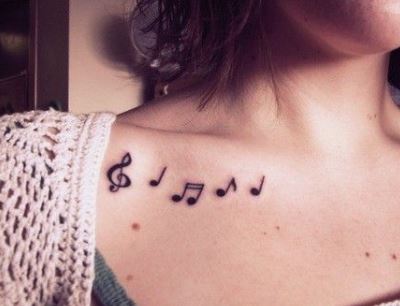 Image by @hattiesmee via Pinterest
48. Movie Shoulder Tattoo
Who isn't a fan of movies? If you have a favorite that is close to your heart, getting it inked on your body is the perfect way to take it wherever you go.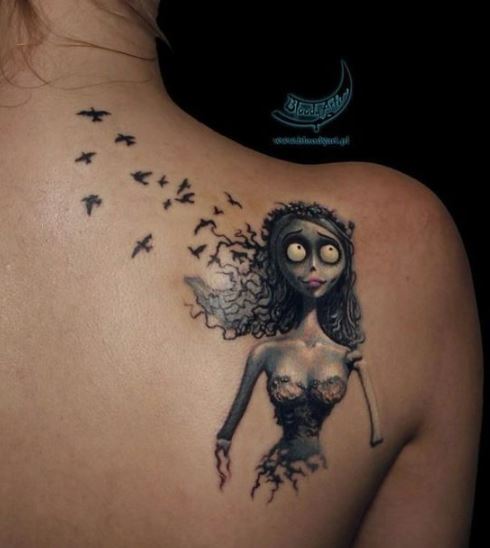 Image by @paulosilvaj via Pinterest
49. Movie Star Shoulder Tattoo
Is there anything more glamorous than an old Hollywood movie star? You can choose from designs depicting Grace Kelly, Audrey Hepburn, Marilyn Monroe and more!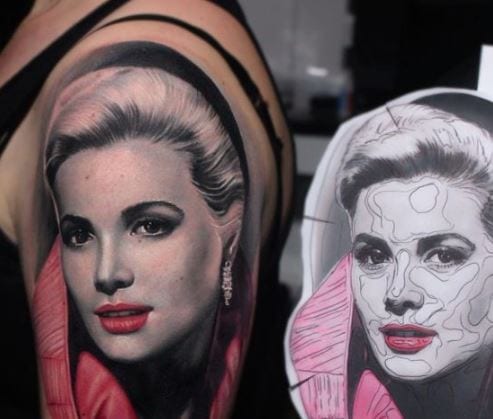 Image by @lynxias via Pinterest
50. Mother and Child Shoulder Tattoo
One of the most beautiful and rewarding jobs on the planet is being a mom. So, why not get a tattoo of you and your little ones - from lionesses and cubs to mama and baby elephants, there are tons of ideas to choose from!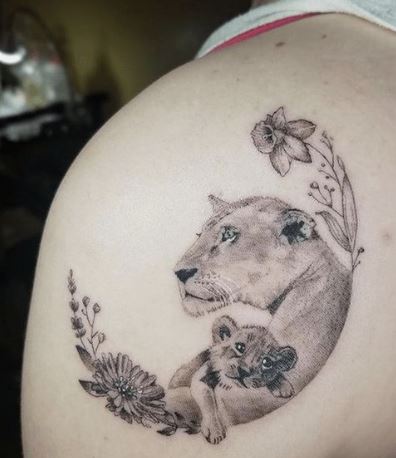 Image by @tattoostylist via Pinterest
51. Lock and Key Shoulder Tattoo
Does someone have the key to your heart? Here is a beautiful tattoo idea to showcase your relationship in ink!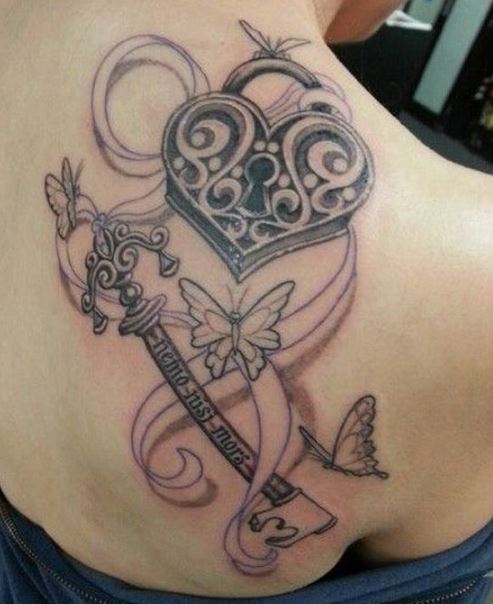 Image by @cuded via Pinterest
52. Adornment Shoulder Tattoos
With these stunning shoulder tattoos for women, you will never have to wear jewelry again. Instead, you will be dripping in jewels and adornments wherever you go.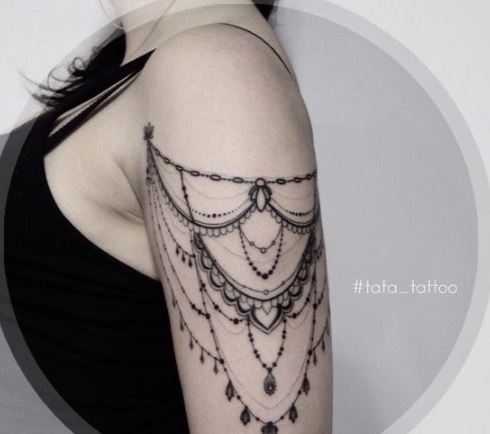 Image by @curtis888 via Pinterest
53. Dreamcatcher Shoulder Tattoos
If you only want sweet dreams, a gorgeous dreamcatcher tattoo can ensure that you only attract the good things in life.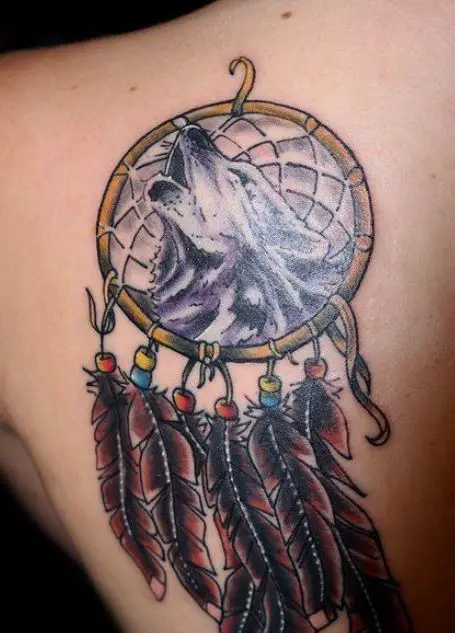 Image by @alawasta via Pinterest
54. Gothic Shoulder Tattoos
Do you enjoy dark and dreary things? Then, take the gloom wherever you go with a lovely gothic shoulder tattoo.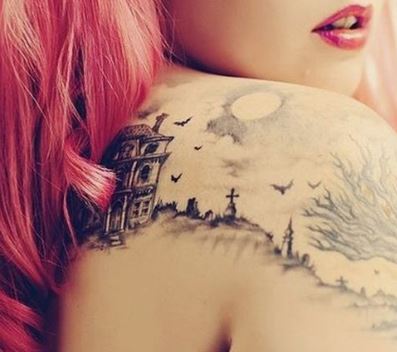 Image by @cuded via Pinterest
There you have it: the most gorgeous shoulder tattoo ideas for women. All you have to do now is pick out your favorite and give it your own twist.