I get a lot of requests for spade tattoos from people in military service and gangs. This made me curious about the spade tattoo meaning.
A spade tattoo usually represents good luck, power, and strength. This is why it is done by people who might engage in battle. Most people get it done with their lucky number placed on the spade. This is to add extra positivity that is believed to help overcome opponents in battle.
Although it's not an extremely popular tattoo design, the spade tattoo has lots of meanings. Stick to the end of this article to learn about them, with several amazing tattoos you can recreate.
Spade Tattoo Meaning
The spade tattoo has a different meaning and this depends on the images inside or around the spade tattoo. Generally, the spade tattoo symbolizes power and good fortune. This is because when ranking suits of cards, the spade is the highest. This is also due to the fact that a spade is a weapon used by the military, thus helping to emphasize the 'power' meaning associated with the tattoo.
The spade symbol has meanings attached to each part. The pike of the spade symbol represents guards in the kingdom, while the spears represent the swords they carry to protect the kingdom. These symbols are seen in German uniforms and are said to have originally come from Latin uniforms.
Although usually done as a symbol of power, strength, and good luck, the spade tattoo can also have a sinister side. This is especially true when the design is seen with occult images.
The tattoo also has a symbol in the transgender community. Transgender people sometimes get a specific card design as a symbol of pride.
On a more simple note, the design can simply be done as a way to show that the owner loves cards and derives pleasure from gambling.
The Best Spade Tattoo Designs To Recreate
Plain Spade Tattoo Meaning
The plain spade tattoos are a unisex symbol with a wide range of meanings. Aside from being a card among the card suits, the spade is also a weapon used to fight battles.
In tarot card reading, the spade is linked with a noble class or second estate. It tarot reading also means that there is a challenge coming in your future.
This is why some people get the plain spade tattoo symbol as a sign of a challenge they've had to overcome, or as a reminder to be strong in the days ahead.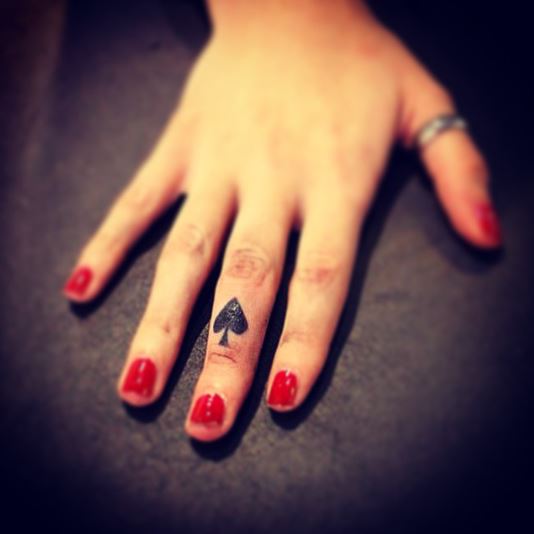 Image by @charliemar_tattoo via Instagram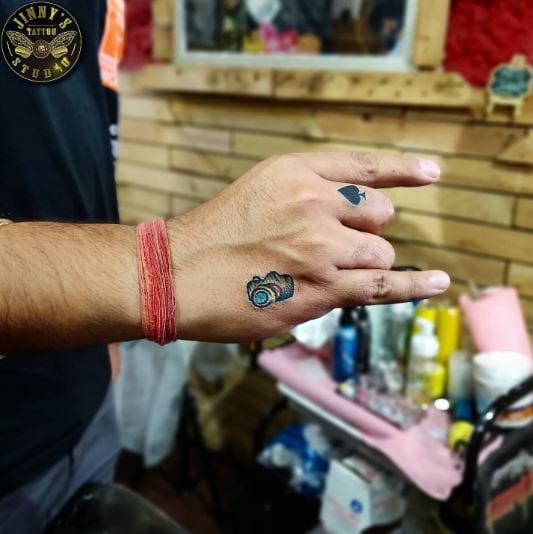 Image by @jinnytattoomechanic via Instagram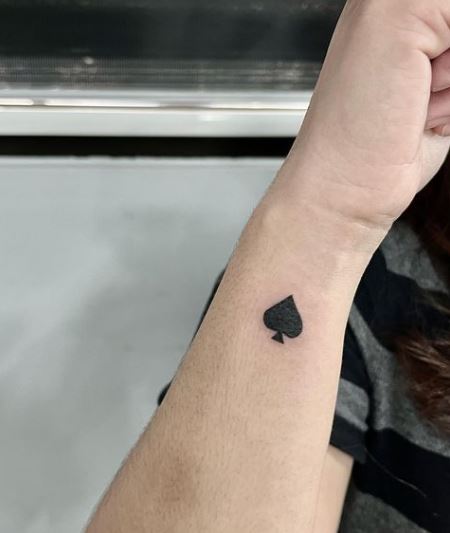 Image by @pintadon_tattoo via Instagram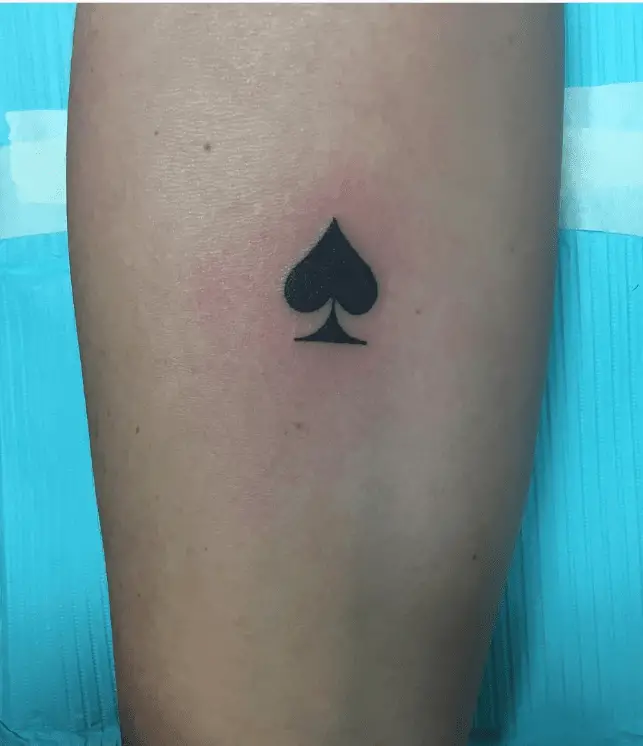 Image by @limitless_ink_tattoo via Instagram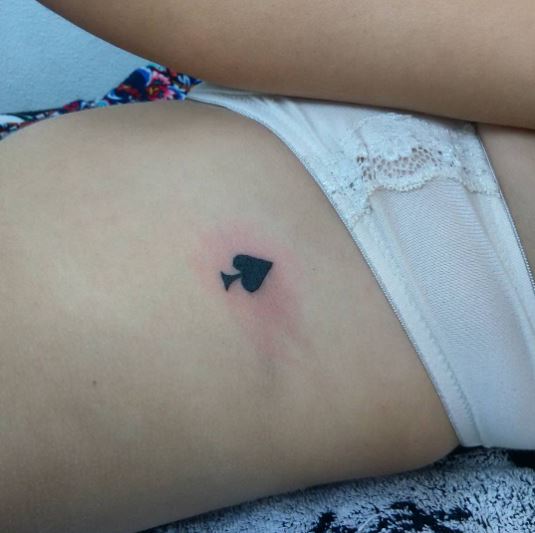 Image by @tattuartmargarida via Instagram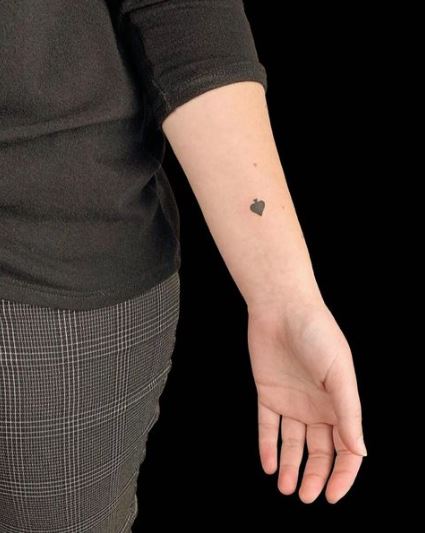 Image by @backggang via Instagram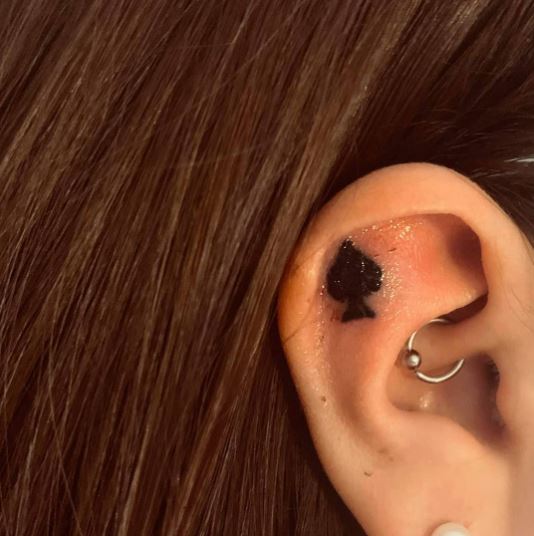 Image by @legalstabber28 via Instagram
Unique Spade Tattoo Meaning
If you would like to get spades tattoos that'll keep the 'wows' coming in, you should definitely select a tattoo from this section.
One way of getting a design that will stand out is getting bohemian designs incorporated into the tattoo. It adds dimension to the otherwise plain black design of the most popular tattoo spade images.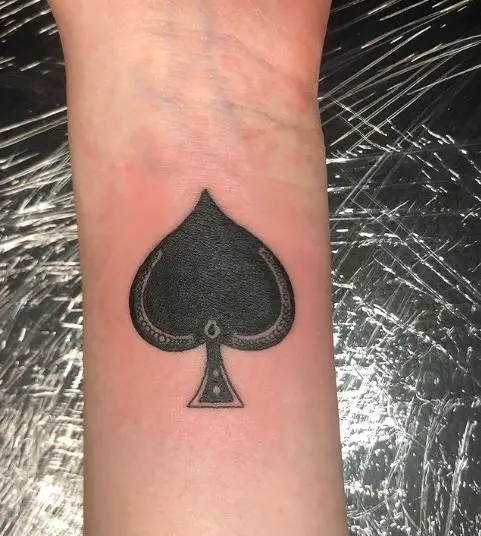 Image by @ianadams420_ink via Instagram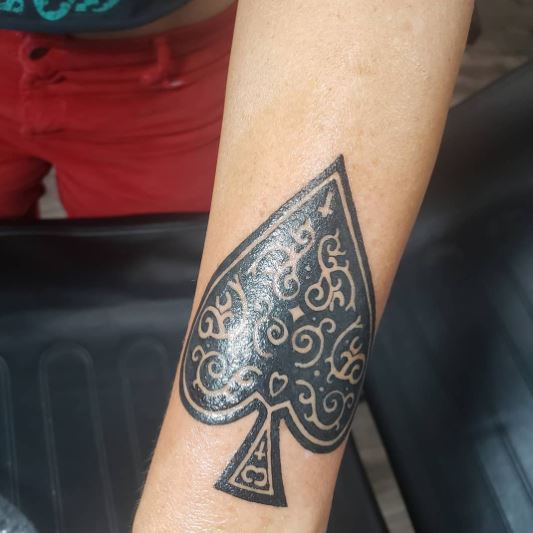 Image by @w.i.t.c.h_t.i.t.s via Instagram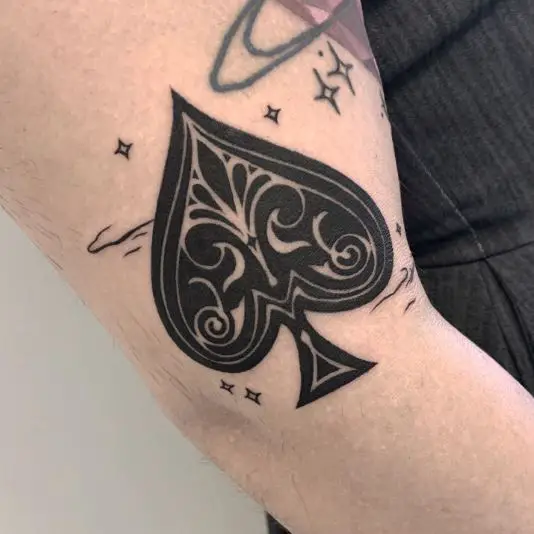 Image by @chobananaclub via Instagram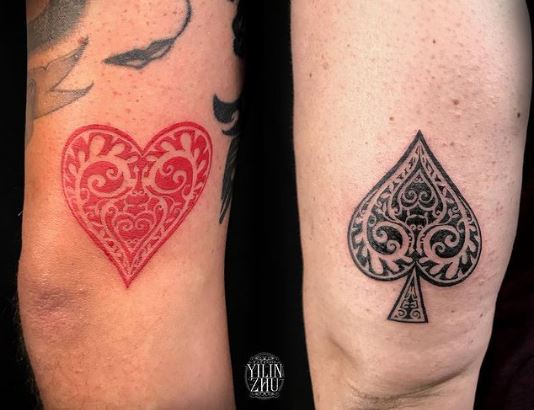 Image by @yilin.zhu via Instagram
This candle spade design has wax dripping from it, despite being surrounded by a symbol of the wind. The specific meaning of this tattoo represents hard workers and how you will continue to shine through the winds of life if you stand strong enough.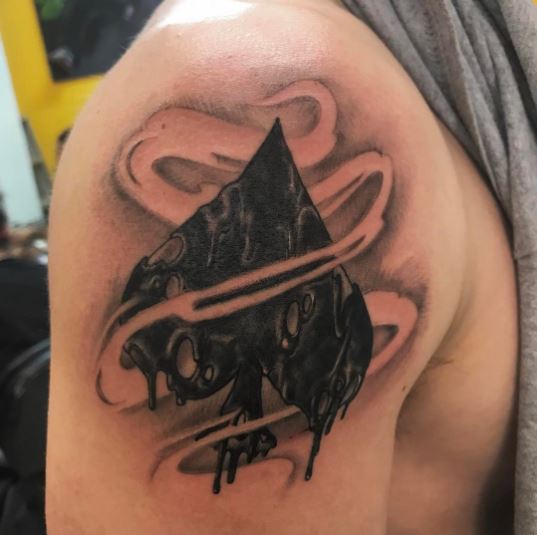 Image by @tigersharktattoos via Instagram
A creative spade design with an alien image inside. This is for the people who believe in the metaphysical world and the existence of aliens.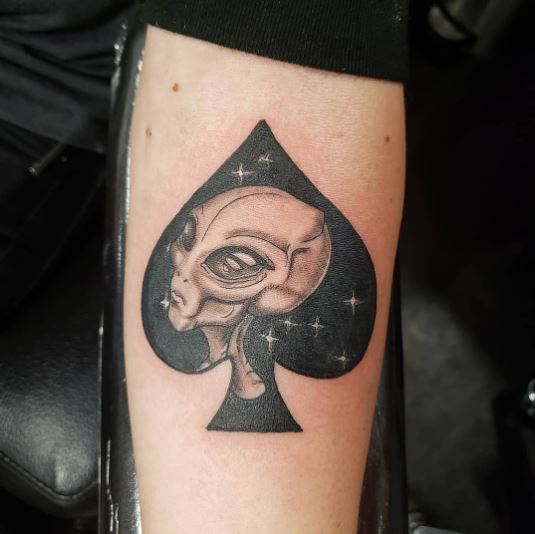 Image by @bartlett_tattoos via Instagram
Spade Tattoo with Alphabet
The specific meanings of a spade tattoo with an alphabet vary depending on the alphabet incorporated.
Common symbols include the letter A, J, K, and Q. These letters represent the Ace, Joker, king, and queen of spades respectively.
The Ace of spades is the most powerful symbol, and the queen of spades represents the highest level of intelligence. The king is a symbol of wisdom and is used to signify status. The joker is an indication of rebellion against the world order.
Some people use unique alphabets to create other designs to express specific meanings related to their personal life.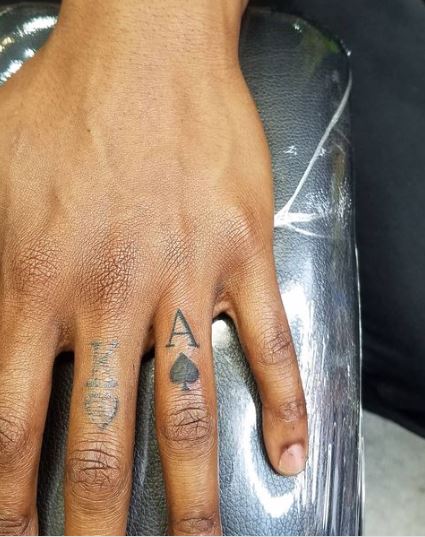 Image by @cooltattoopiercing via Instagram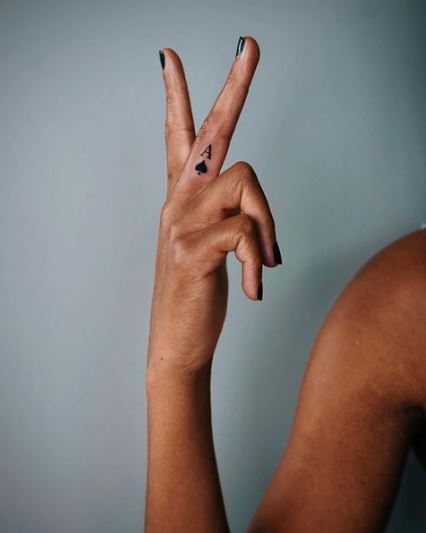 Image by @fvcelesstattoo via Instagram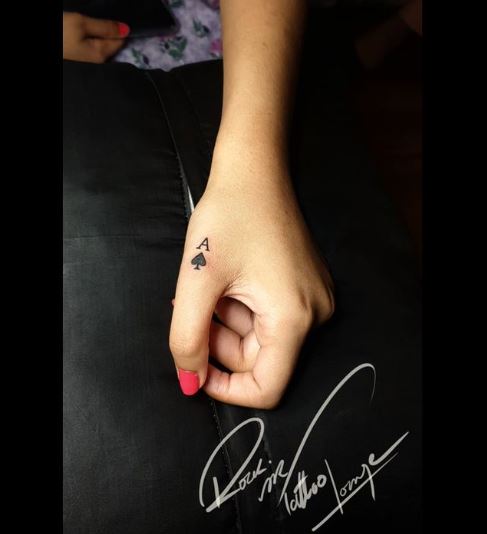 Image by @rockinktattoolounge via Instagram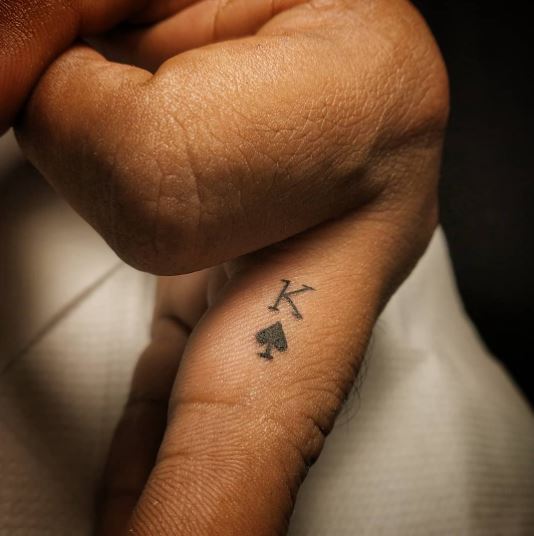 Image by @mickeymelchizedeksantiago via Instagram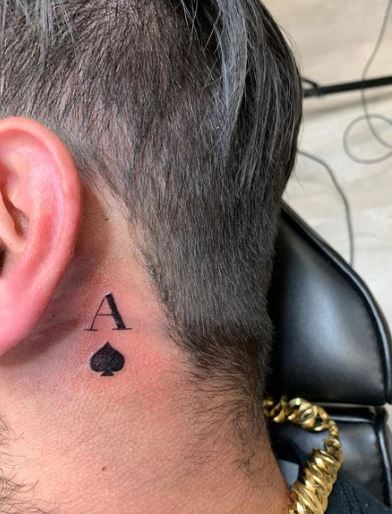 Image by @jxotattoos via Instagram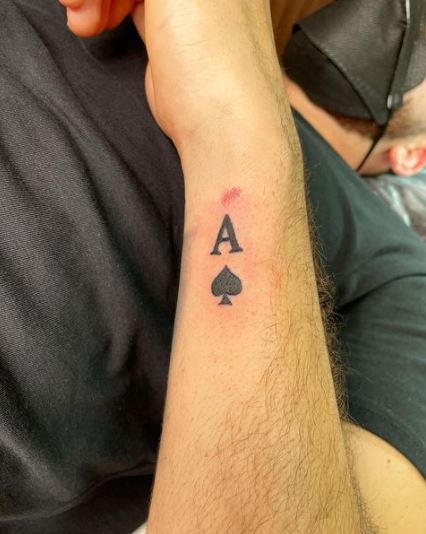 Image by @madmush_outawoods via Instagram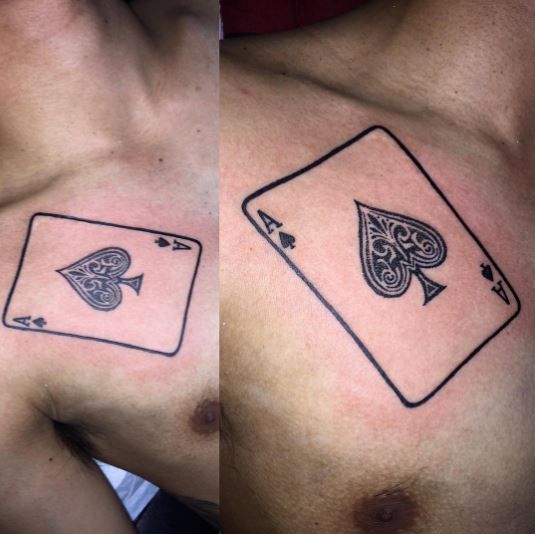 Image by @ozzymax_tattoo via Instagram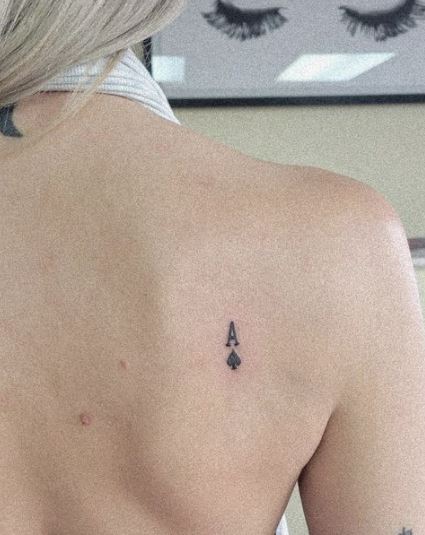 Image by @natasharubydesign via Instagram
A unique take on the spade tattoo with the alphabet. This is a more complex design with a unique shape that you can recreate if the other designs seem too simple.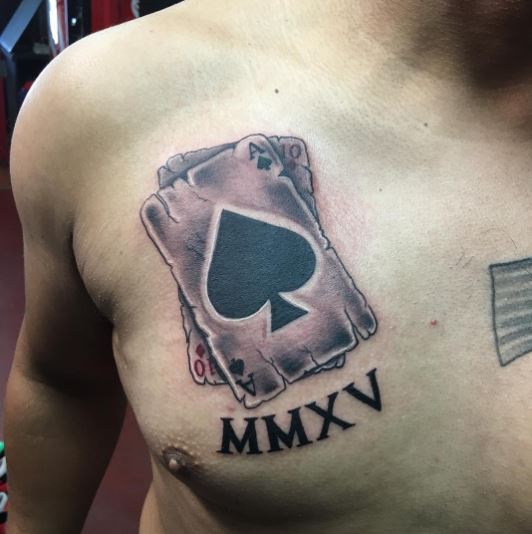 Image by @artalive_inkfiend via Instagram
Spade Tattoo with Numbers
A number spade tattoo means you consider the specific number you add to your design to be a lucky number.
I love how the number spade tattoo can also serve as a conversation starter since most people will be curious to know what your tattoo signifies.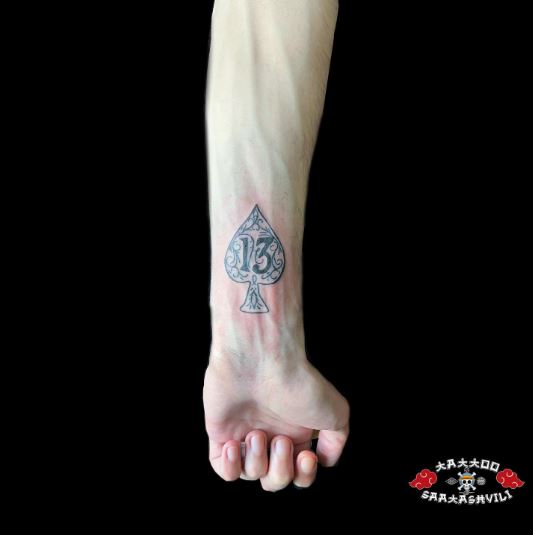 Image by @tattoo.saatashvili via Instagram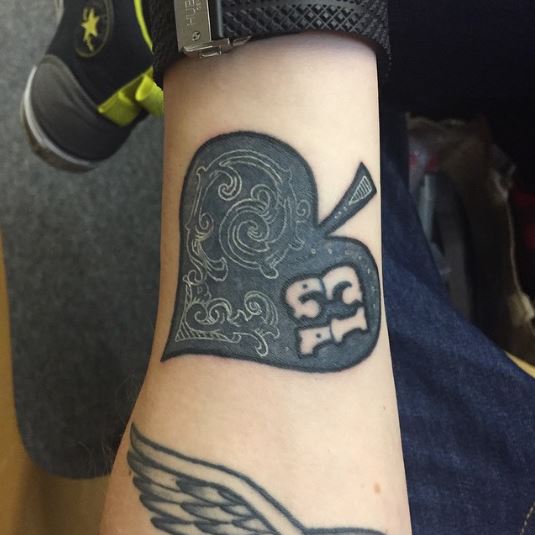 Image by @jackinaboxdj via Instagram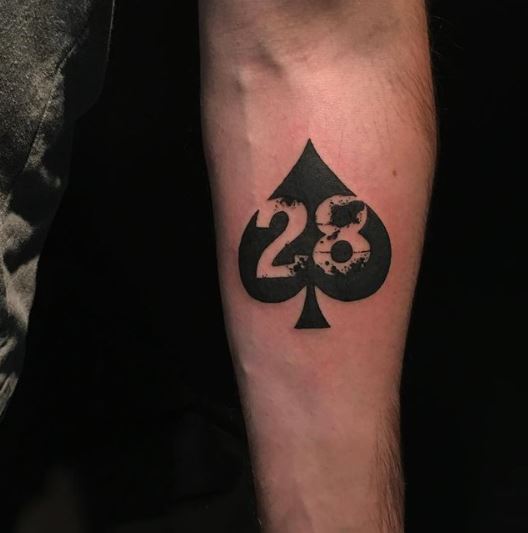 Image by @jrminttattoos via Instagram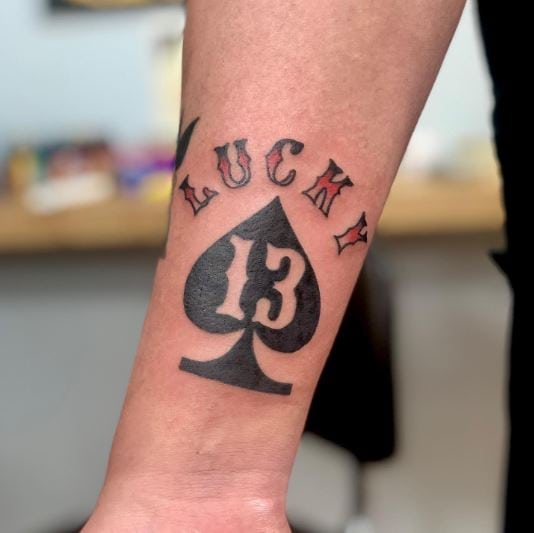 Image by @goodluck_tattoo_seoul via Instagram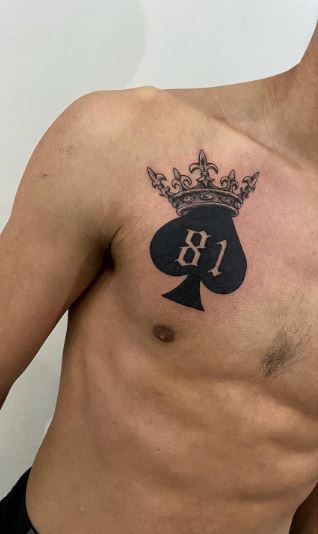 Image by @jay.ze.tattooer via Instagram
Skulls Spade Tattoo Meaning
The skull spade tattoo is a masculine tattoo used to impose power and toughness. Since the tattoos represent death, the military used them to impose fear on the enemy.
The dark tattoo with darker symbolism is one that will definitely put you in the spotlight, especially if it's on a spot like the forearm. You can pair the skull spade with either a grim reaper, blood, or other dark images to increase the mystery element a notch. Ensure that you get an amazing tattoo artist to create a stunning image.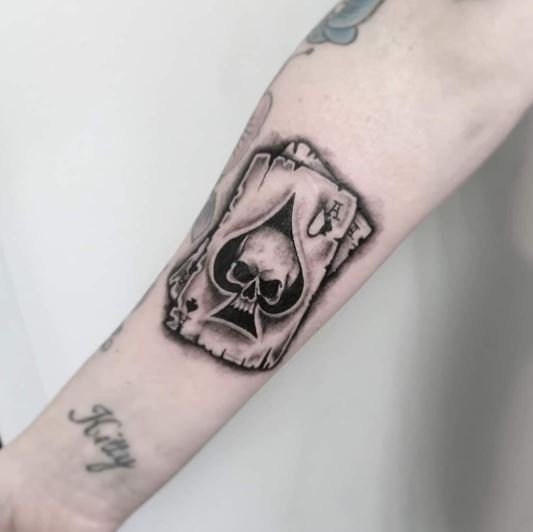 Image by @zombieliquorart via Instagram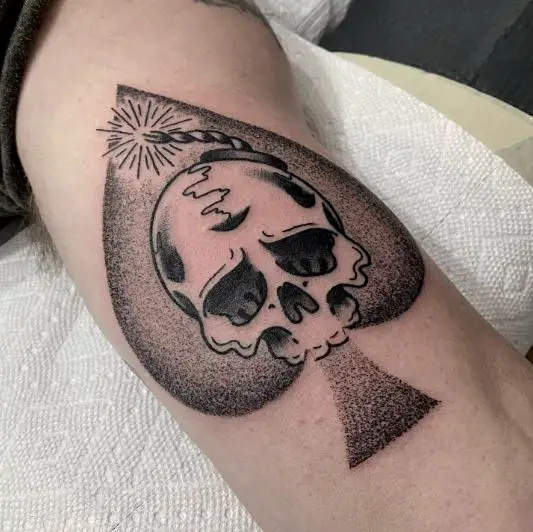 Image by @sideshowbrian via Instagram
Image by @niklashallberg via Instagram
Image by @joey_wstt via Instagram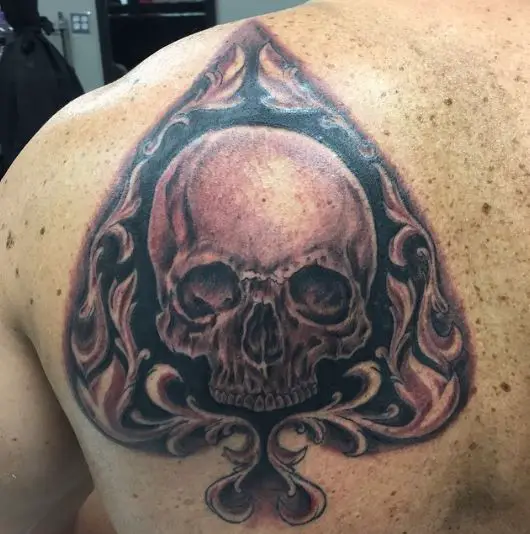 Image by @bobbyosheatattoos via Instagram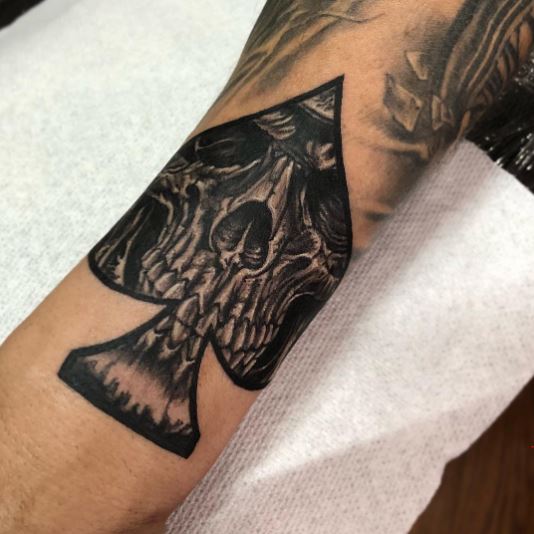 Image by @tattooartbytony via Instagram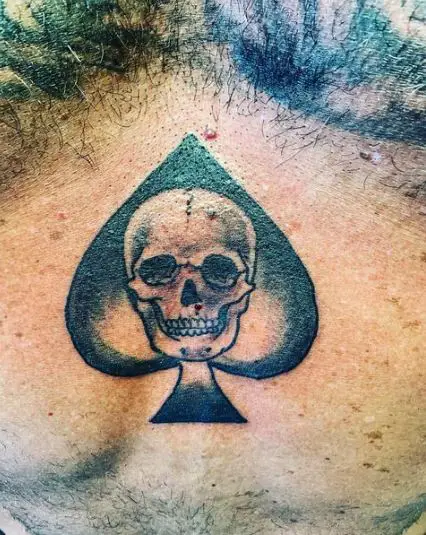 Image by @crowbartat2 via Instagram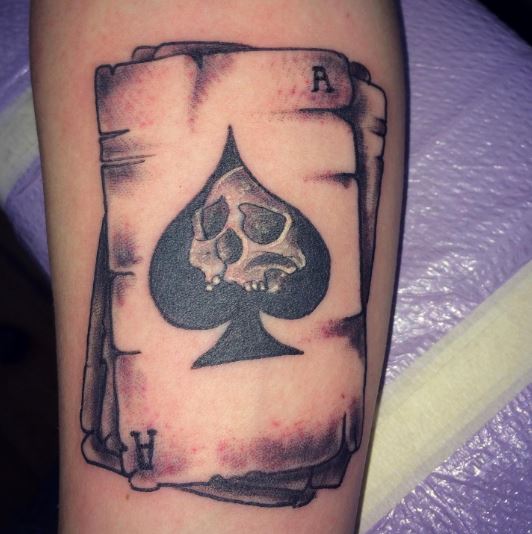 Image by @tattoosbyrogerwyatt via Instagram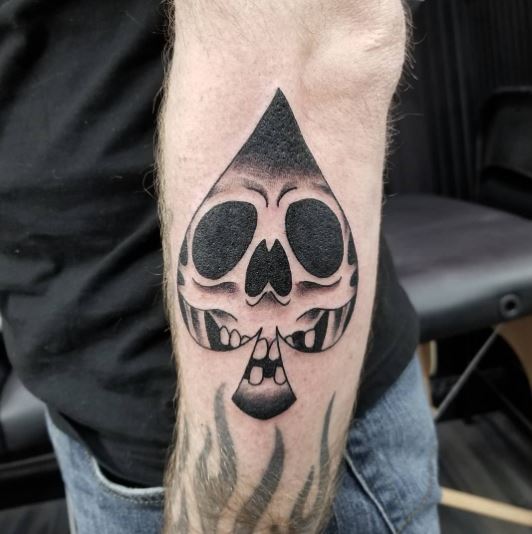 Image by @jenuinerose via Instagram
Text Spade Tattoo Meaning
Adding text to spade tattoo designs is a great idea to personalize the meaning of the tattoo. You can add brilliant phrases or motivational quotes to the digging tools image to give it a powerful meaning.
Text on spade designs help you pass a message that your body art is more than just symbols but also has a deep meaning to you.
Image by @timcochranart via Instagram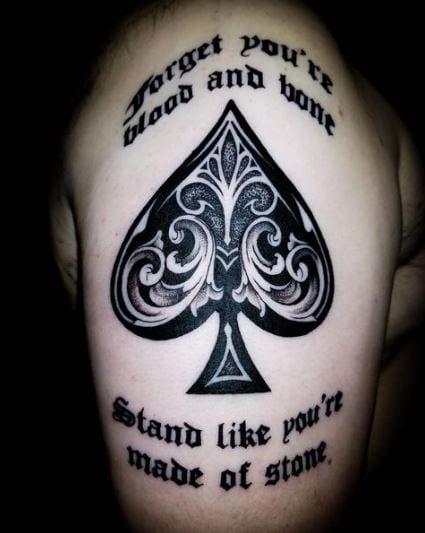 Image by @aces_n_spades_tattoo via Instagram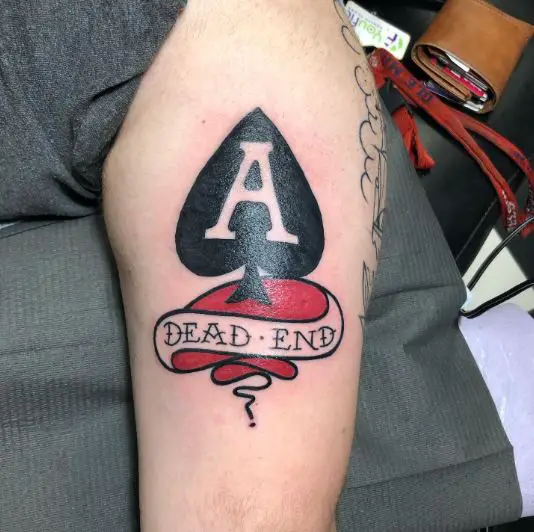 Image by @robordway via Instagram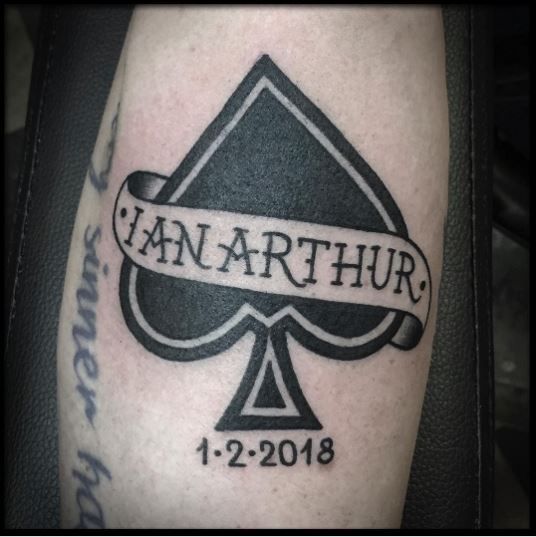 Image by @richiemurry via Instagram
Minimalist Spade Tattoo
Minimalistic spade tattoos usually feature a spade outline done with a single bold line. The minimalist tattoo is great for people who have a low pain tolerance level but would like to get a tattoo with meaning. Let's not forget that minimalist tattoos generally cost less compared to other designs.
The minimal tattoo is the easiest way to convey the many meanings of the tattoo element without much hassle.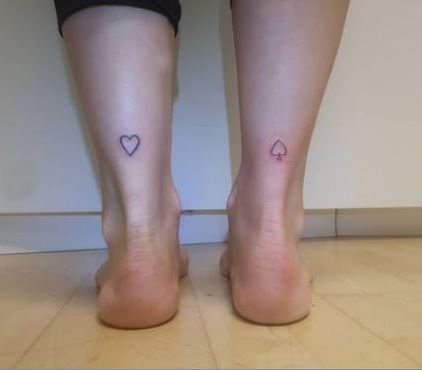 Image by @mia.inks via Instagram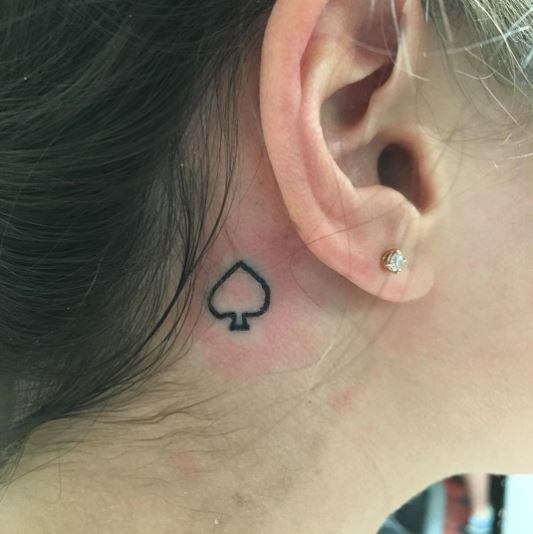 Image by @vintagetattoocompany via Instagram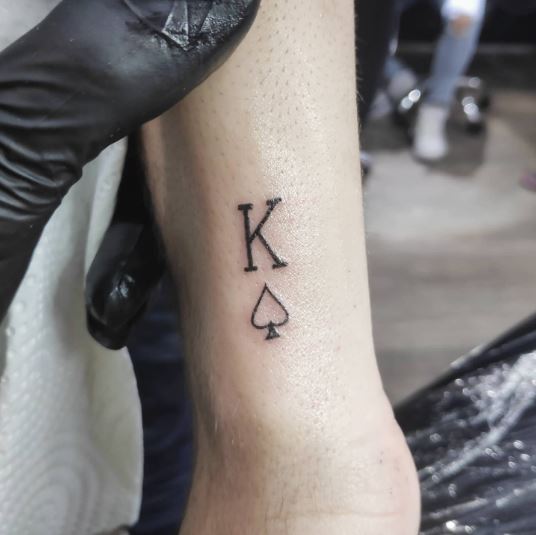 Image by @benon_tattooer via Instagram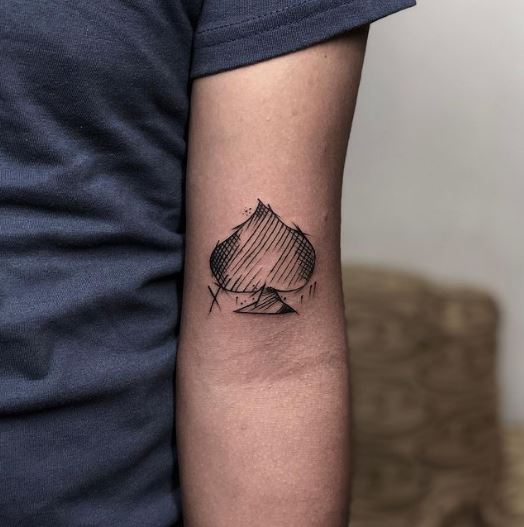 Image by @louie_velasco via Instagram
Matching Spade Tattoo
Matching spade designs are a favorite among women, and are usually done with a best friend. It is a more feminine design that can help you express your bond.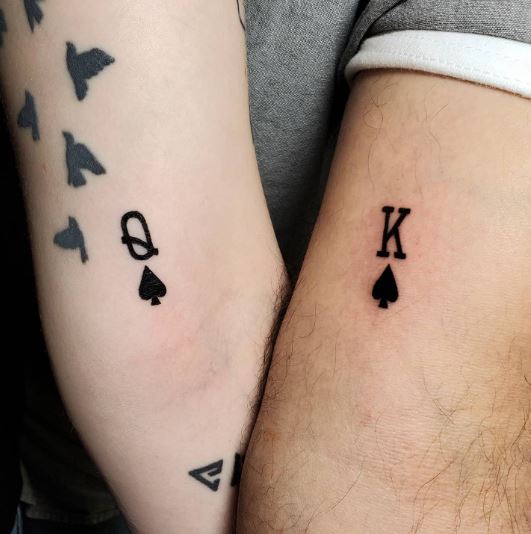 Image by @tatt_by_ajay via Instagram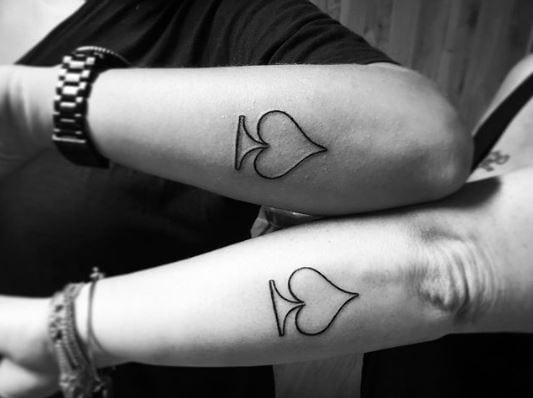 Image by @lajennitattoo via Instagram
Joker of Spade Tattoo Design
The joker of spades is a rebel that lives by his own rules. So if you admire this trait about the joker, you can recreate the tattoo design.
The colors used here make the design look a tad bit scary, so I suggest using a touch of green to add a calming and fun effect to the image.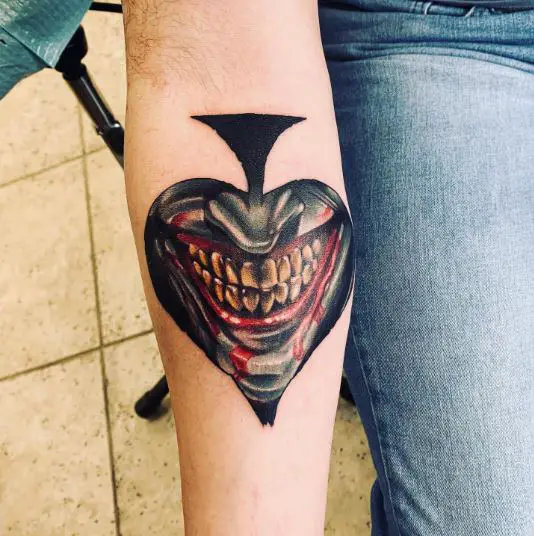 Image by @liberty_tattoo_fairbanks via Instagram
The Flower Spade Tattoo Design
From the flowers to the ace card, this design is nothing short of perfection. The flower spade tattoo meaning has a lot of variation. Some believe that it represents power while others associate the meaning with the tarot cards.
In a tarot reading, the spade means that challenging days lie ahead which makes people believe it to be a sign of bad luck.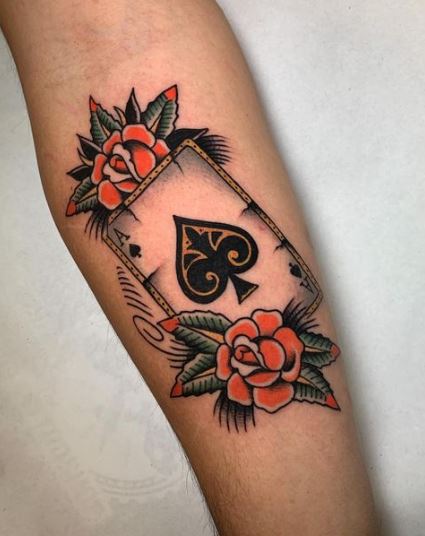 Image by @musatattooshop via Instagram
Flamingo Spade Tatoo
The tattoo design shows a flamingo with the reflection of a spade. You can get this design to show your love for nature and deck card games.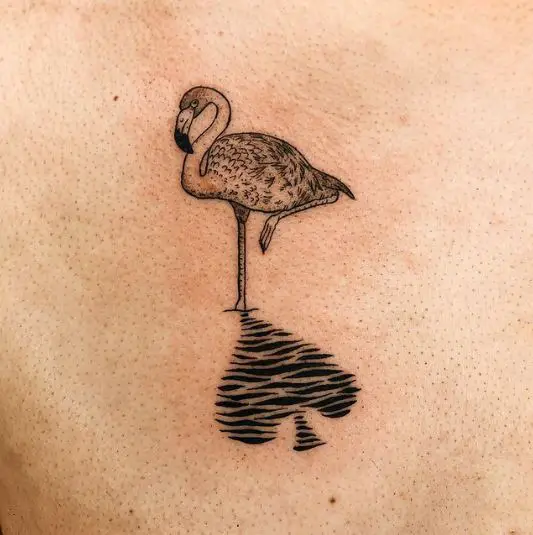 Image by @tiny.toad via Instagram
Ace of Spade Tattoo on The Face
In the playing cards deck game, the ace of spades is considered to be the most perfect and powerful among other cards.
The daring face spade tattoo design can mean that you are someone who doesn't shy away from risks. In other words, you have a good chance of becoming successful.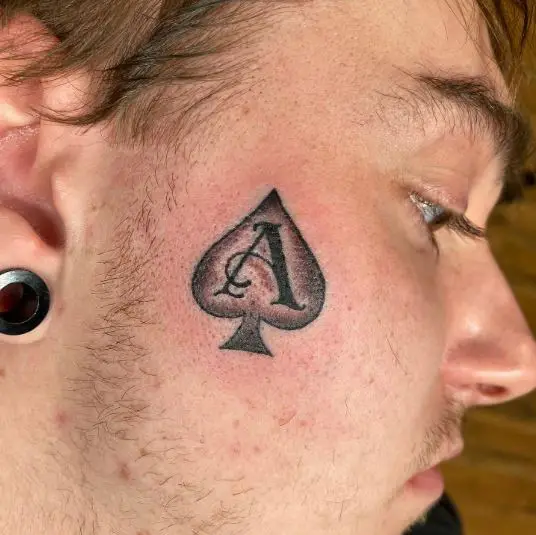 Image by @criticalbill13 via Instagram
Frequently Asked Questions
What is the Meaning of Black Spade?
A black spade is said to be a prisoner's tattoo when it's tattooed underneath the eye. It has been suggested that a white woman sporting a black spade tattoo prefers black men.
What Does a Black Ace of Spade Mean?
The common symbolism behind the black ace of the spades is luck. They are the most valuable card in the deck card game, and most people believe that if you want to attract luck into your life, this is the card to use.
What Does Ace of Spades Tattoo Mean in the Military?
The spade tattoo represents good luck in the military, because of its reputation in a card game. During the Second World War, soldiers of the 506th parachute infantry regiment in the American airborne division had a spade symbol on their helmets to symbolize good luck.