Finding designs for wrist tattoos for men can be tricky as this location is still gaining traction among men. However, from names to important symbols, there is plenty of choice for you.
As an artist, I have had the chance to design my share of male wrist tattoos so I know which designs will work.
Discover the cool and meaningful ink you can get on your wrist.
The Top Wrist Tattoos for Men
Here are the men wrist tattoos that you should check out:
Name Wrist Tattoos
There is a reason that name wrist tattoo designs are fairly common. In this location, you get to see the name of your loved one all day long. This makes for a rather meaningful wrist tattoo as well.
Now, when consider name wrist tattoos for men, you don't just need to have the name of your loved one. Instead of just a name tattoo, you can have mom, dad, or something similar. These can be just as meaningful.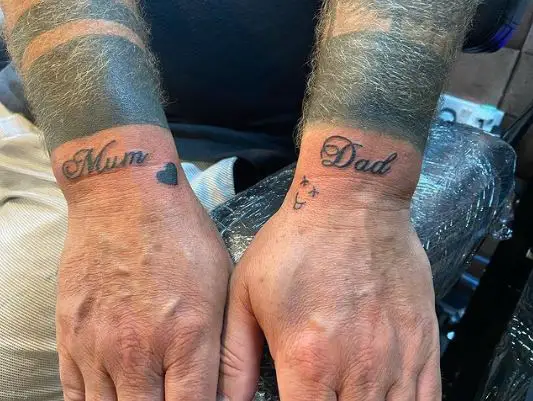 Image by @helennorris81 via Instagram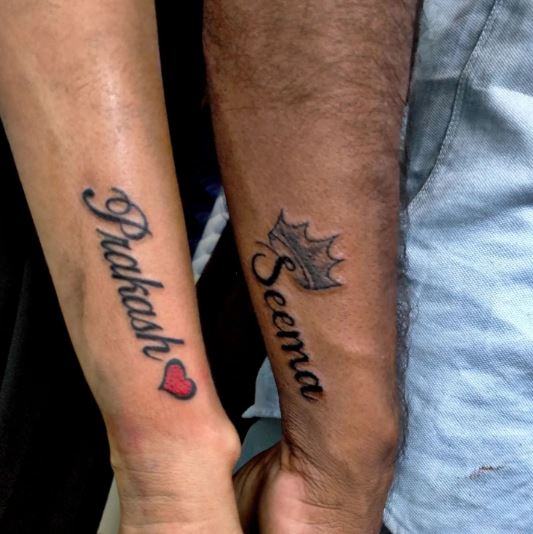 Image by @tattoo_studio_kmodern_art via Instagram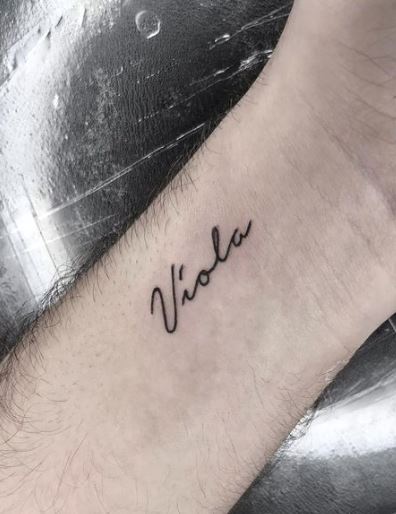 Image by @safe_house_tattoo_studio via Instagram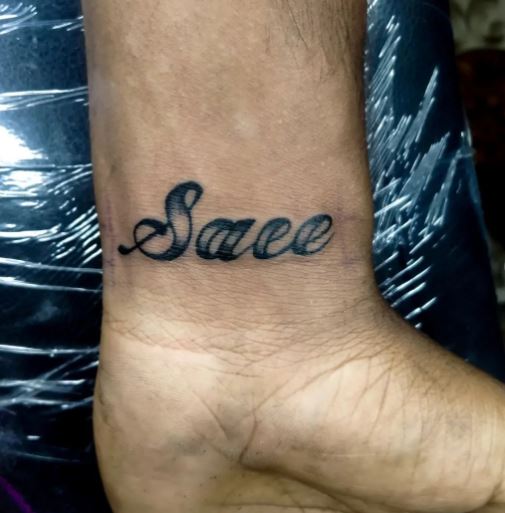 Image by @aniket_sutar_arts via Instagram
While a name tattoo is most common as an inner wrist tattoo, it can also be placed in other areas such as side wrist tattoos.
This tattoo on the wrist puts a different twist on things. It starts from the wrist and extends to the forearm. It is also accompanied by an incredibly realistic wrench.
It goes to show that you don't have to have the same old small wrist tattoo. You can do something more complex or even larger if you like.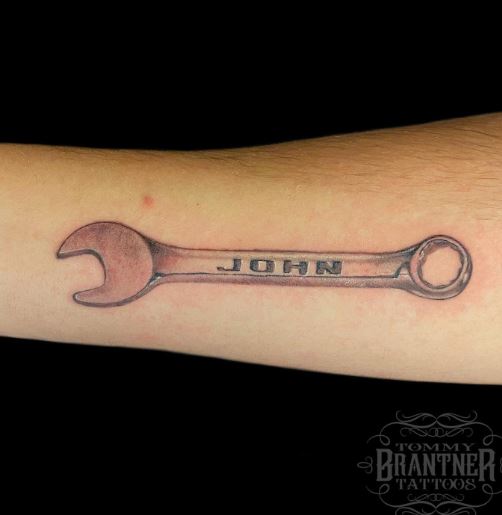 Image by @tommybtattoos via Instagram
Alternatively, you can get someone's signature tattooed on your wrist as well. This can be a great idea for a memorial wrist tattoo.
Word Wrist Tattoos
Another option for a meaningful tattoo is word-based tattoos. These can be anything from quote tattoos to true life philosophy.
All that matters is that the word or phrase in your quote tattoo holds personal meaning and that it will act as a constant reminder.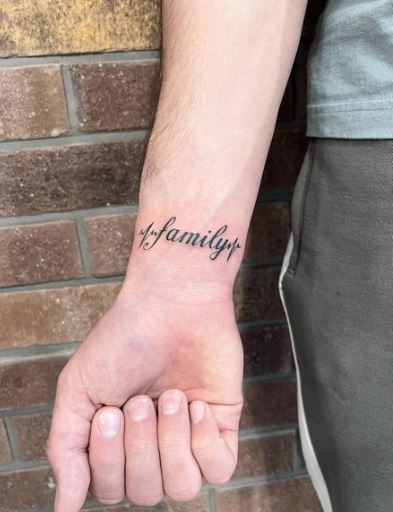 Image by @jo_mi_tattoo via Instagram
In case you prefer words to religious symbols, here is a wrist tattoo for Lord Ram: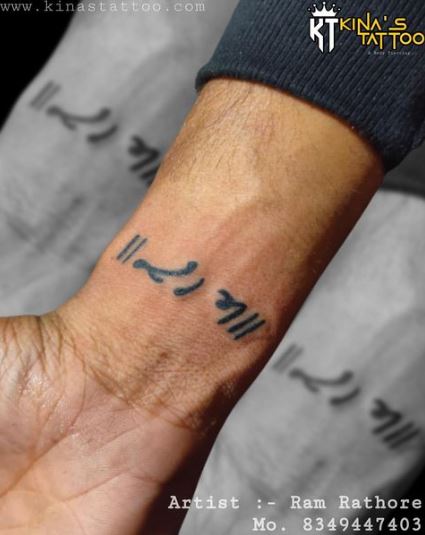 Image by @kinas_tattoo_ via Instagram
If you practice yoga, meditation, or simply like to center yourself from time to time, this ohm design is something you should discuss with your tattoo artist: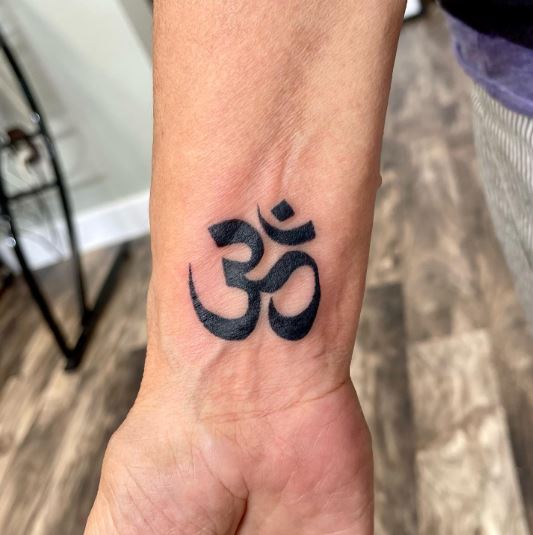 Image by @katielundquistink via Instagram
If you prefer phrases for your wrist tattoos for men, here is some tattoo inspiration: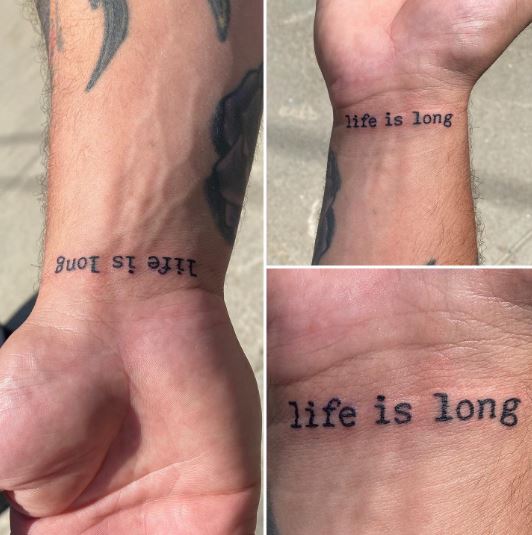 Image by @sebbytattoos via Instagram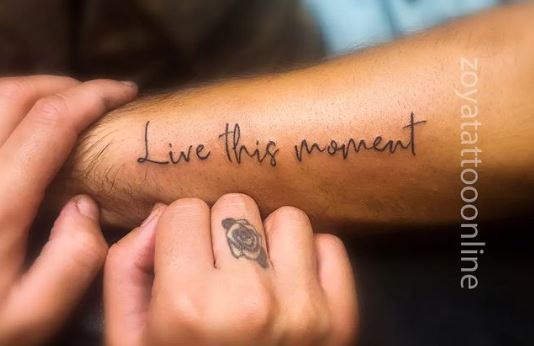 Image by @zoyatattooonline via Instagram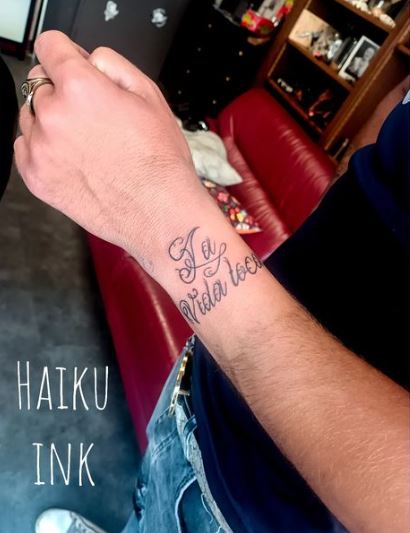 Image by @haiku.ink.tattoo via Instagram
If you wish to get a larger print or a longer phrase, a traditional inner wrist tattoo will not do. In this case, you will likely have to get a side wrist tattoo so that all the words can fit.
Here are some phrase side wrist tattoos that you should consider: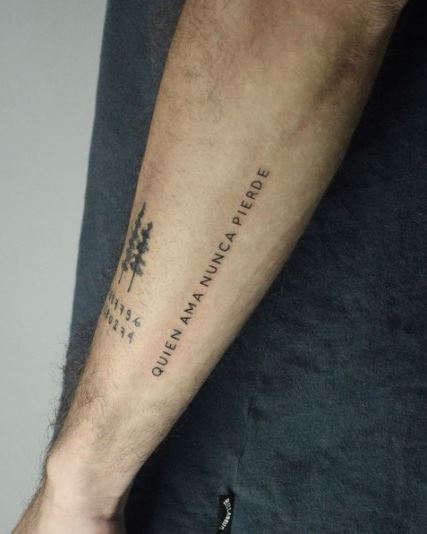 Image by @marianovidor via Instagram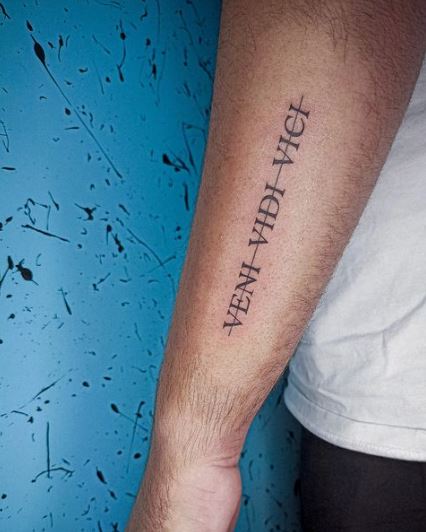 Image by @bluestattoosstudio via Instagram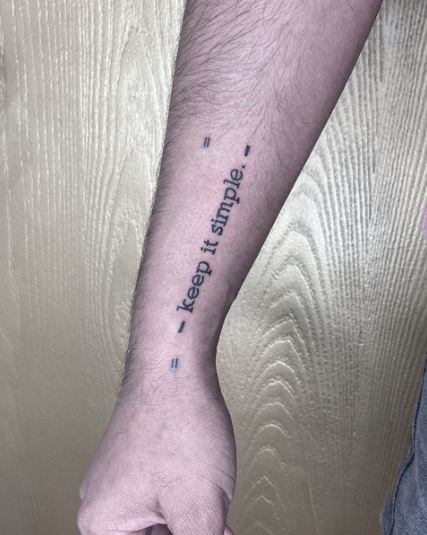 Image by @maybebaby_tattoo via Instagram
Date Wrist Tattoos
Date tattoos for men are also popular wrist tattoo ideas. This isn't too surprising because dates can be just as important as names.
From a loved one's birthday to a wedding to even the day or year of their passing. There is so much you can depict here, making it an incredibly meaningful wrist tattoo.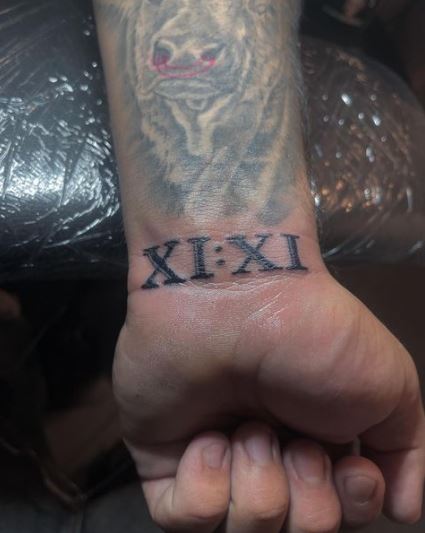 Image by @yondervtattoos via Instagram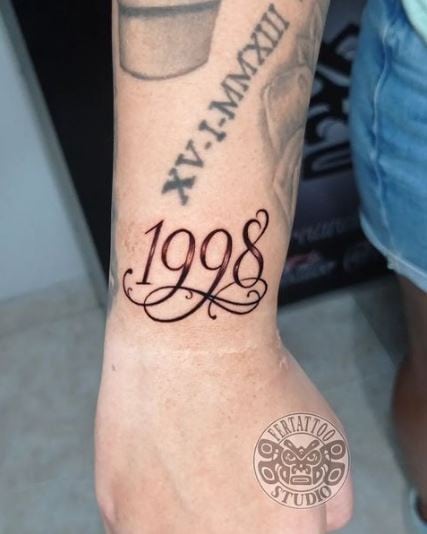 Image by @fertattoo_studio via Instagram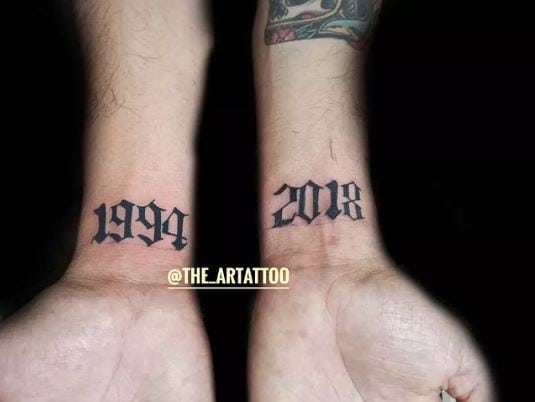 Image by @the_artattoo via Instagram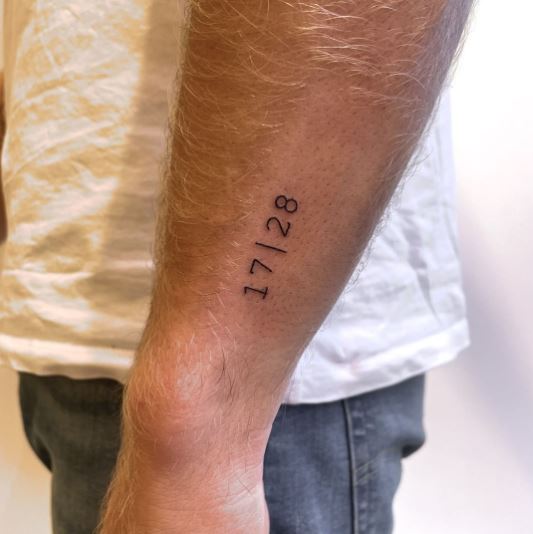 Image by @studio.ipanema via Instagram
Most date designs tend to be rather small wrist tattoos. If you are looking for a simple wrist tattoo as well, this will be right up your alley.
However, don't assume that these are the only wrist tattoos for men available for date tattoos.
This small wrist tattoo is simple but if you take a closer look, you will find that there is a small pacifier and angel wing on either side of the date. This instantly elevates the wrist tattoo while still keeping it small and subtle.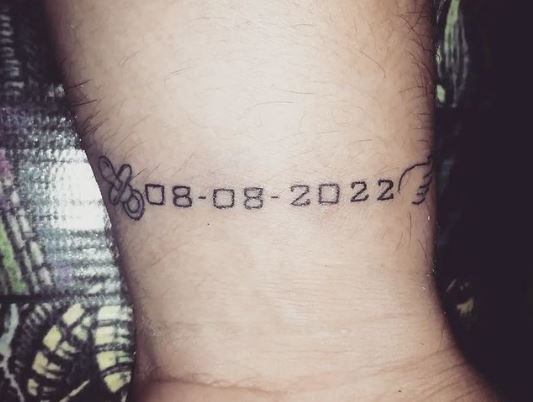 Image by @vanessartattoo via Instagram
Heart Wrist Tattoos
Heart tattoos have traditionally been considered body art for women. However, as tattoo enthusiasts have become increasingly creative with their ink, this is a design that has been adopted as wrist tattoos for men.
When deciding on a heart wrist tattoo you have to decide whether you are going with a Valentine heart tattoo or having your design based on a more biologically accurate drawing.
The other thing to consider with a heart wrist tattoo is whether it is going to be a simple wrist tattoo or part of a larger wrist tattoo.
Here are some tattoo ideas for men that cover all these areas: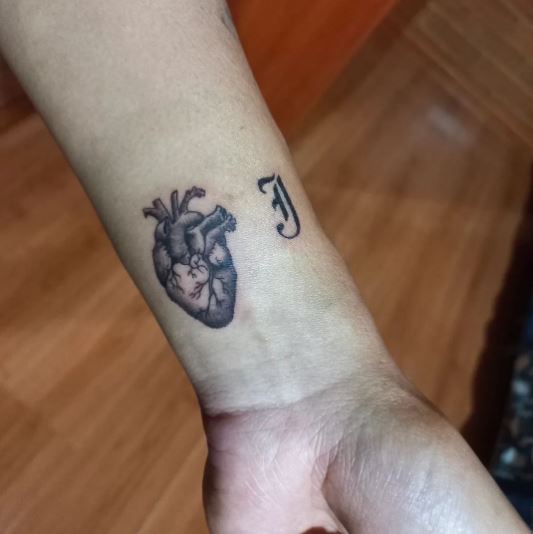 Image by @sebarttattoo via Instagram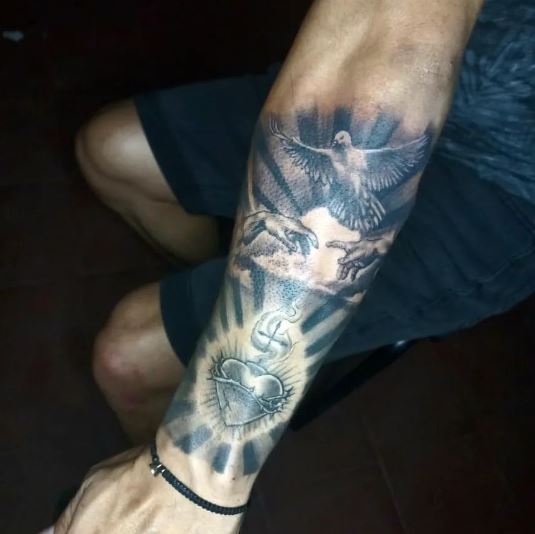 Image by @uzulink_tattoo2001 via Instagram
Want your tattoo be an even great reminder to you? Here is a wrist tattoo that also doubles as a hand tattoo: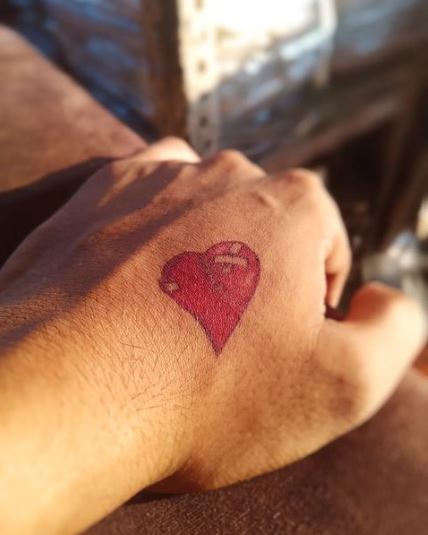 Image by @ashish__state via Instagram
Cross Wrist Tattoo
It shouldn't come as a surprise that a cross wrist tattoo is so common. This is one of the oldest tattoo designs around. It is also a popular wrist tattoo idea.
On the surface, a cross tattoo can seem like a simple wrist tattoo. If you like, it can stay as a simple tattoo. Here is what this kind of tattoo looks like: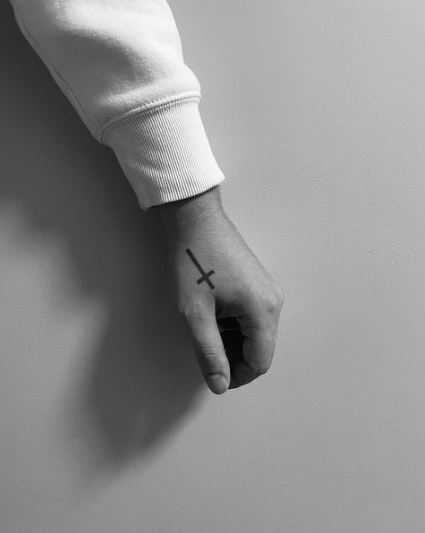 Image by @yentonic_tattoo via Instagram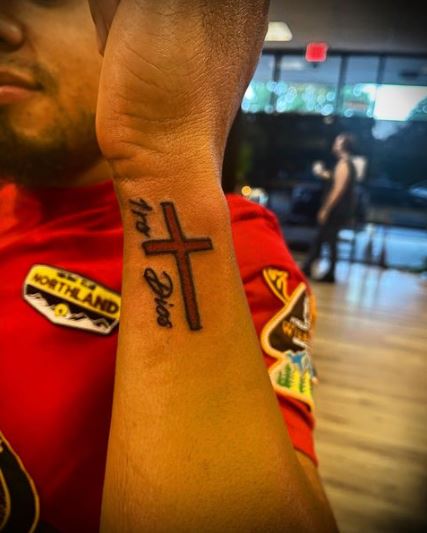 Image by @angietattoo777 via Instagram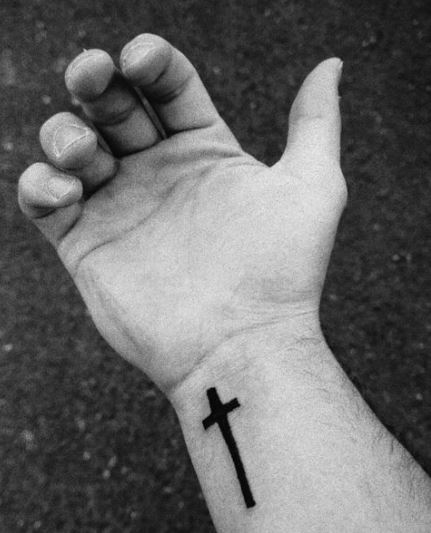 Image by @marcelofaustino_art via Instagram
As you can see, these work really well as inner wrist tattoos, although they are good designs for a side wrist tattoo as well. They are also great if you want a small wrist tattoo that isn't too noticeable.
On the other hand, if you want to add more interest to your cross wrist tattoo, there are plenty of ways to do this. Just take a look at the wrist tattoos for men that you can choose from: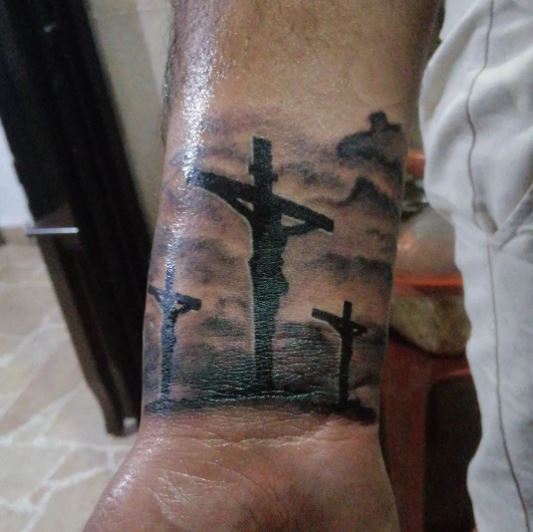 Image by @projectink_2022 via Instagram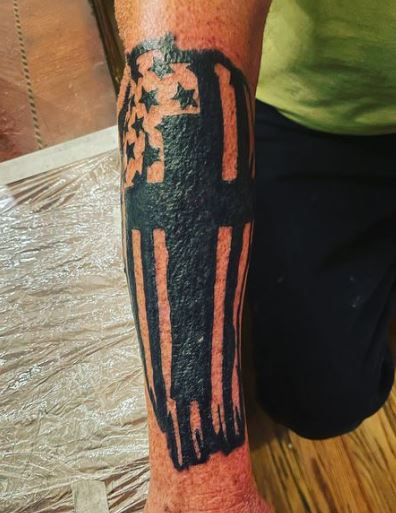 Image by @tattsbyaaron via Instagram
Want to take this concept of a cross tattoo a little further? Perhaps you would like a full wrist tattoo instead. In this case, check out a rosary wrist tattoo. The beads are finished off with a dainty cross.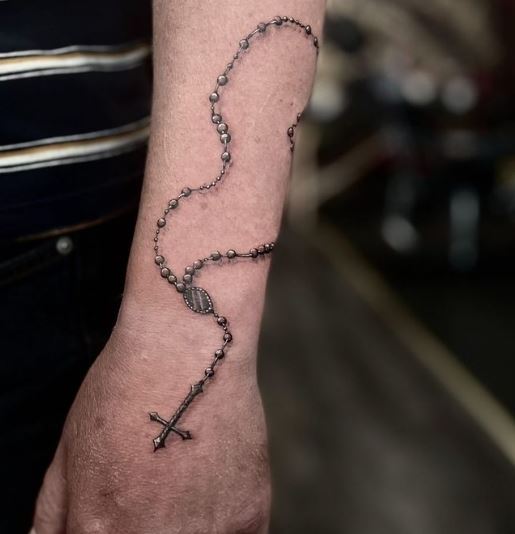 Image by @kahm_tattoo via Instagram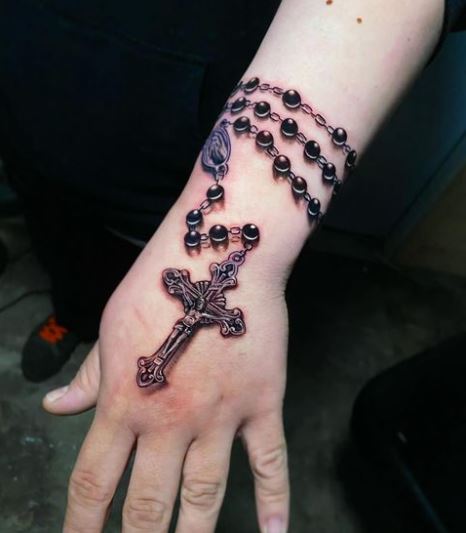 Image by @mikey_tattoos via Instagram
Crown Wrist Tattoos
Crown wrist tattoo designs are pretty popular wrist tattoo ideas. This is because they signify royalty and identify you as a king.
Due to this, crown tattoos are often a symbol of strength or power. They can also be a good reminder to respect and honor yourself.
Do you want a simple crown wrist tattoo? Here is a cute wrist tattoo idea for you. It is a sleek and simple tattoo but still gets the point across.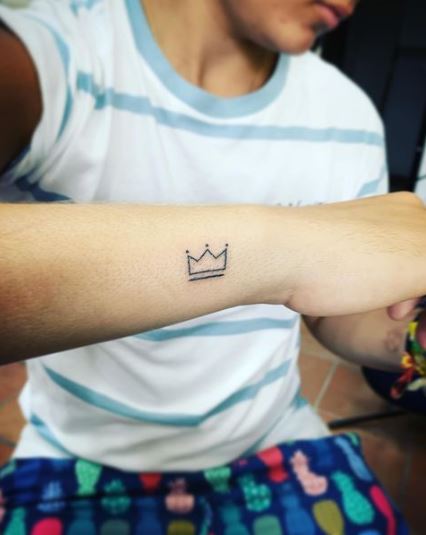 Image by @g7tattoo via Instagram
If you're looking for wrist tattoos for men with a bit more flair, these are the best wrist tattoos to choose from: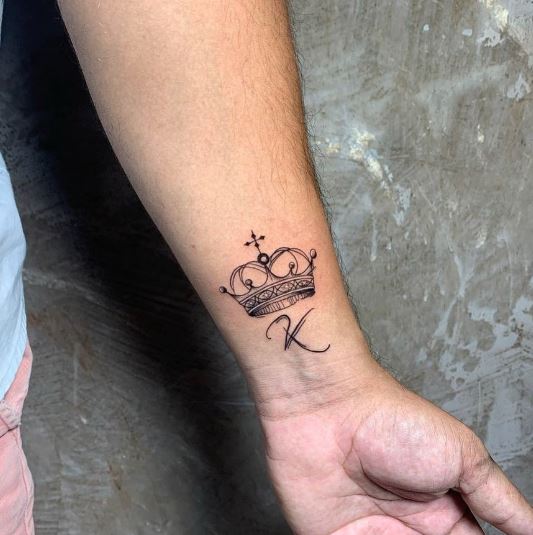 Image by @ntaparadise.ink via Instagram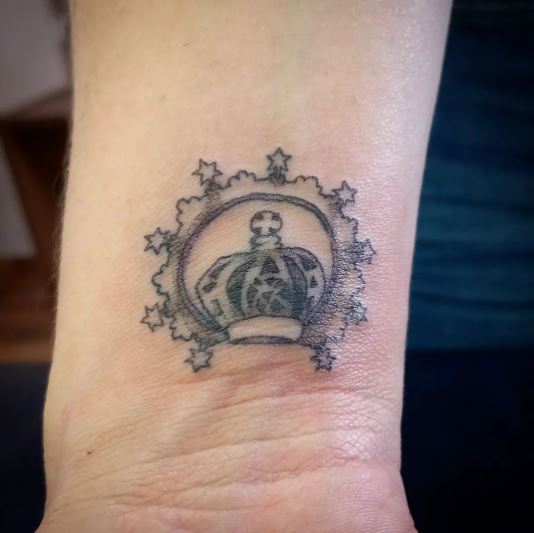 Image by @mariana.oro.tattoo via Instagram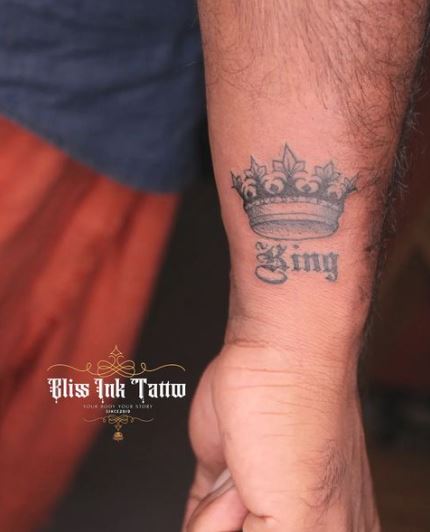 Image by @bliss_ink_tattoo via Instagram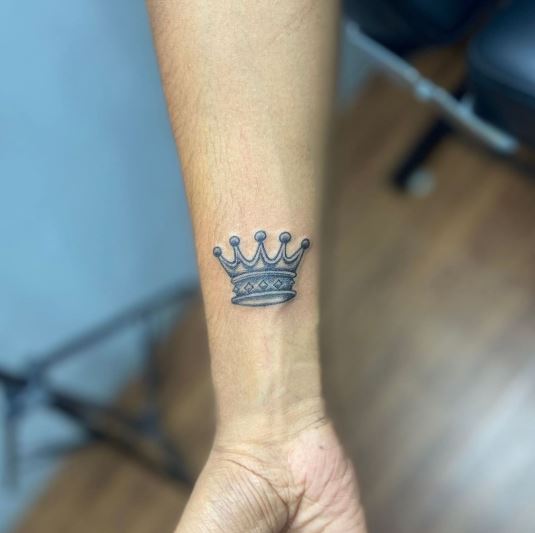 Image by @feather_art_studio_ via Instagram
Anchor Wrist Tattoos
An anchor wrist tattoo holds a great deal of meaning. It is typically used to signify stability or anchoring you to place.
For many, it is seen as a reminder of a place or person that holds them firm when times get rough.
For others, the anchor wrist tattoo can be seen as a reminder of tough times - like something weighing you down. More often than not, it is considered a positive symbol.
When getting an anchor wrist tattoo, you can choose a wrist tattoo design with just the anchor alone. Or, you can include imagery with a similar theme. This could include a compass, map, etc.
The exact design will depend on the effect or vibe that you are going for. For instance, if you want to keep things simple and opt for a cute wrist tattoo, you could get a simple outline of an anchor.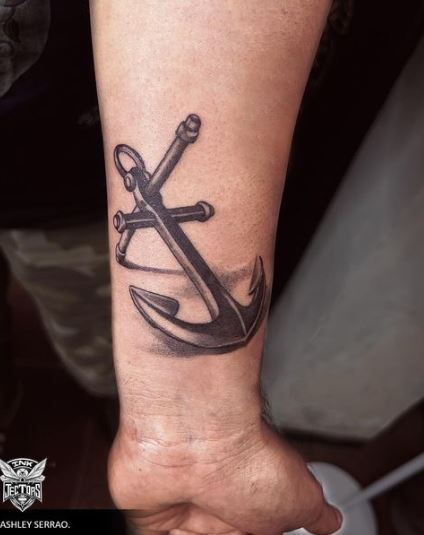 Image by @inkjectors_tattoo via Instagram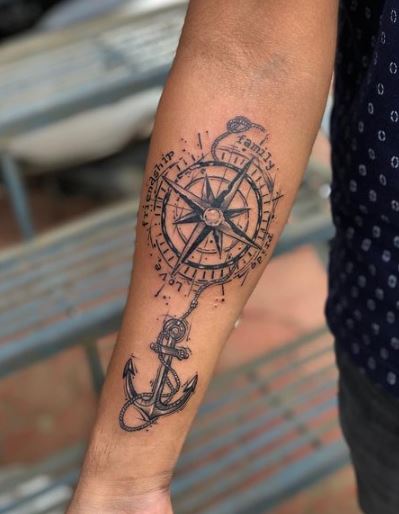 Image by @artline_artist_tattoo via Instagram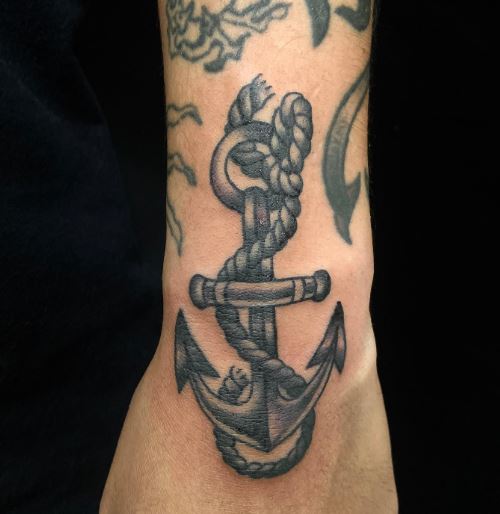 Image by @shihhuatattoo via Instagram
Tribal Wrist Tattoos
If you are planning on getting a tribal wrist tattoo, know that there are lots of different kinds of tribal art and designs.
There are several cultures that have tribal tattoos so your first order of business is to figure out which culture you would like your tribal wrist tattoo to be from.
There are two forms of tribal wrist tattoos. You can get tribal tattoos only on your wrist like this wristband tattoo: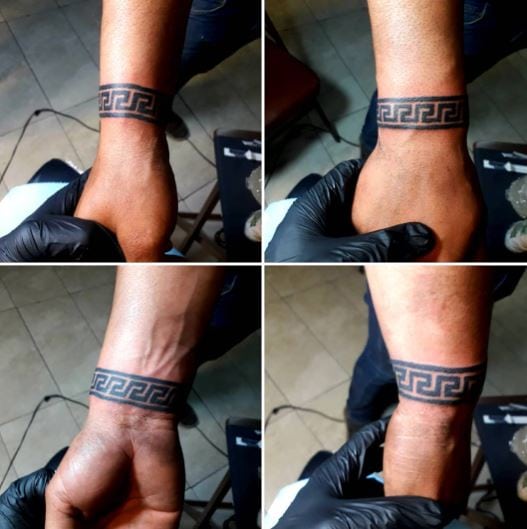 Image by @charlies_art_24 via Instagram
Or, you can get a tattoo sleeve where the wrist design is a part of the rest of the tattoo. This will make for a more striking tattoo choice. This is what it will look like: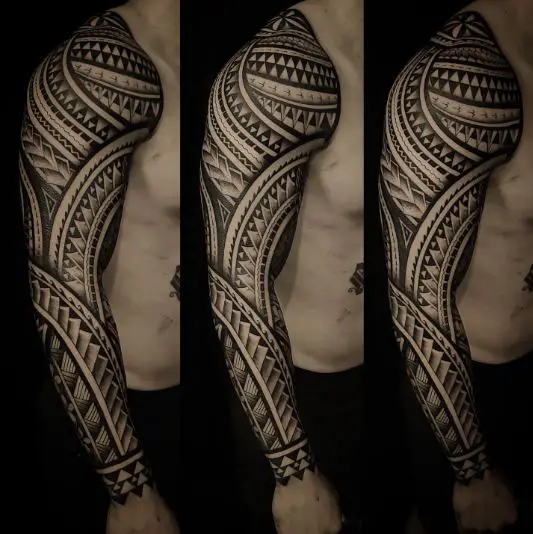 Image by @kiti_ta_tatau via Instagram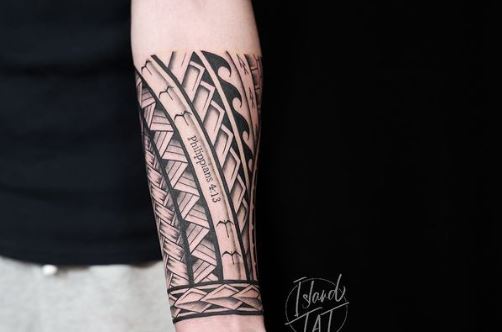 Image by @kendallbitton via Instagram
Bird Wrist Tattoos
A bird tattoo is another kind of wrist tattoo that is becoming more popular among men. Birds are often seen as a symbol of freedom.
The design of a bird tattoo also looks quite cool. Here are some tattoos for men that you can consider: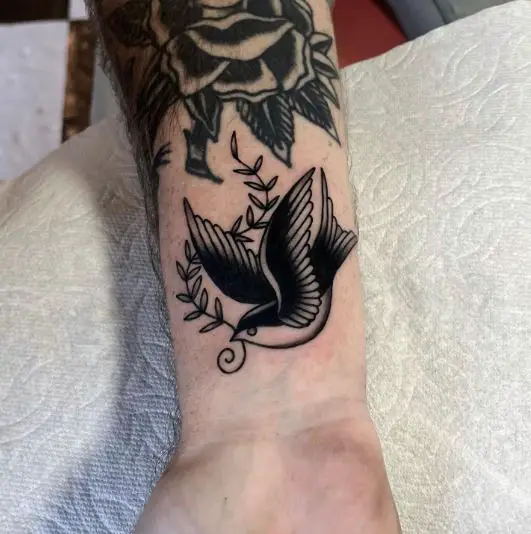 Image by @grahamharrington via Instagram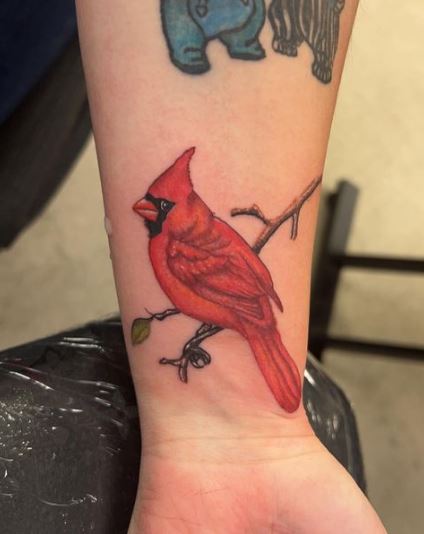 Image by @eddy_no_8 via Instagram
Butterfly Wrist Tattoos
Butterflies may not be the first thing that springs to mind when considering a wrist tattoo for men. This is because they are considered feminine or cute wrist tattoos.
However, they are a great idea for men too. This is because butterflies are symbols of change, transformation, and rebirth. As such, butterfly tattoos are suitable for all genders.
The key to making your butterfly tattoo more masculine is to choose a more accurate depiction of the insect, like with this inner wrist tattoo: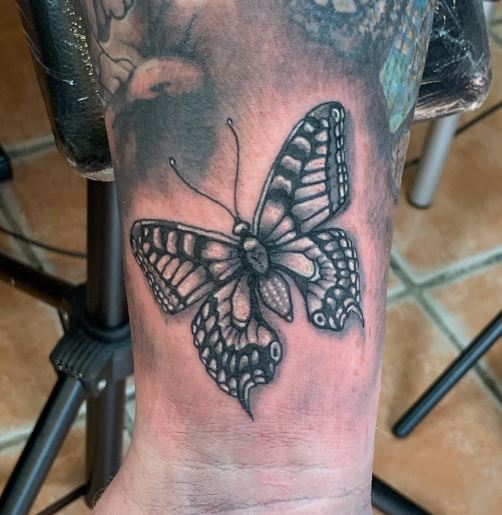 Image by @thetattoosocietyuk via Instagram
Flower Wrist Tattoos
A flower wrist tattoo is another design that is increasingly being adopted by all genders. This is because flowers can be symbols of passion and wildness and beauty.
While a rose tattoo is probably the most popular choice for a flower wrist tattoo, this isn't your only option. A sunflower wrist tattoo or any other floral design can work just as well.
Here are the flower wrist tattoo ideas that you should consider. They work really well as full wrist tattoo designs. Or, you can opt for a small tattoo with a side wrist design.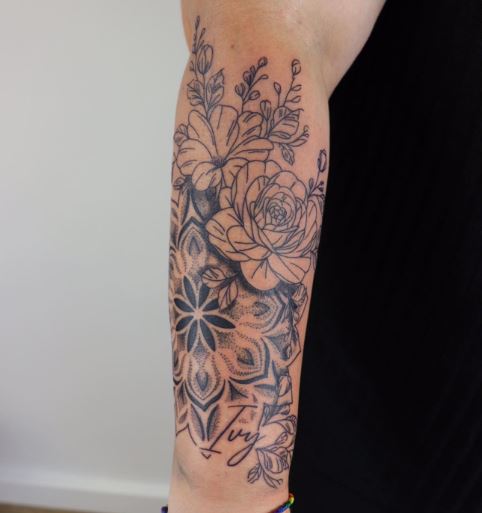 Image by @tatzi_tattooartist via Instagram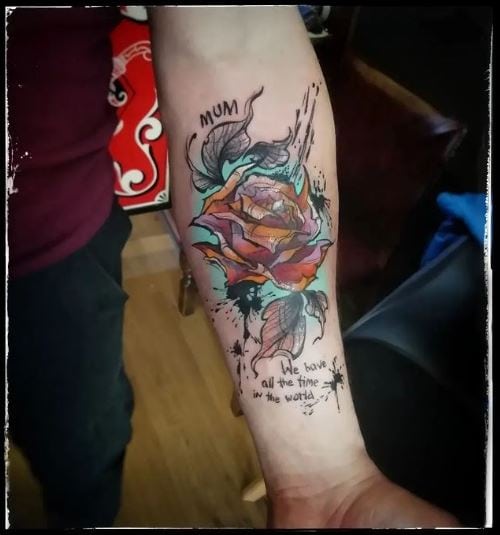 Image by @audreydowlingink via Instagram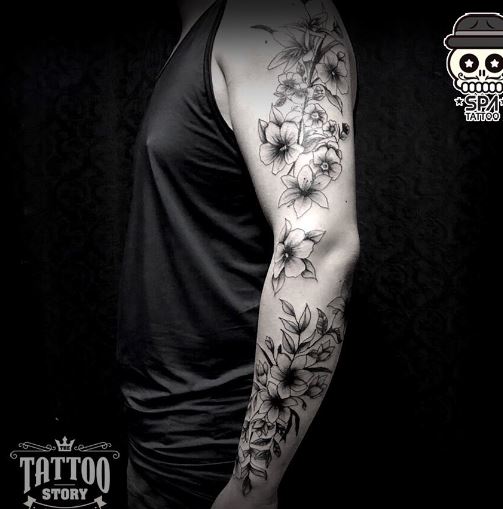 Image by @spaz_ta2 via Instagram
In this case, this floral design works well as a wrist bracelet tattoo thanks to the geometric shapes: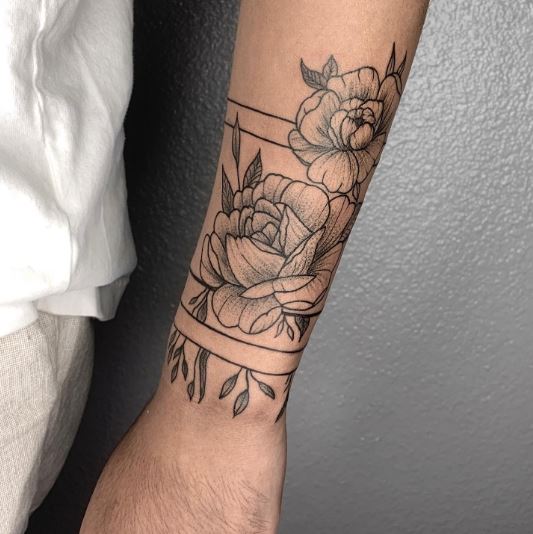 Image by @theblondietattoos via Instagram
Tree Wrist Tattoo
If flowers aren't your thing, you should consider getting a tree wrist tattoo trees can be great if you want to stick with the nature theme for tattoos for men.
Not only does this stylish tattoo have a palm tree in it but it has a gorgeous beach design too! If you prefer a more stormy look, add clouds as well.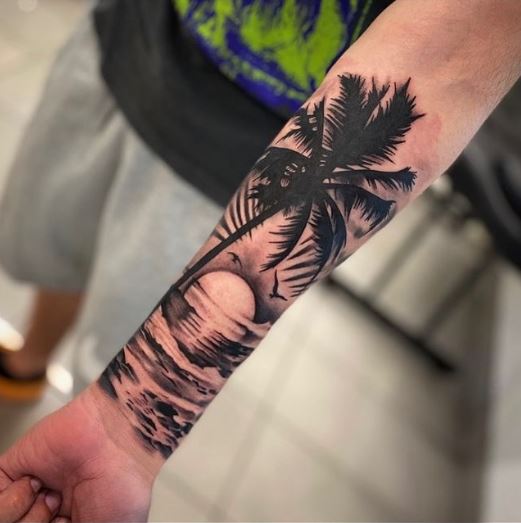 Image by @rose.and.dagger.tattoo via Instagram
Feather Wrist Tattoo
A feather wrist tattoo can have a lot of meaning. It often depicts lightness and can represent freedom. Just check out this cool tattoo: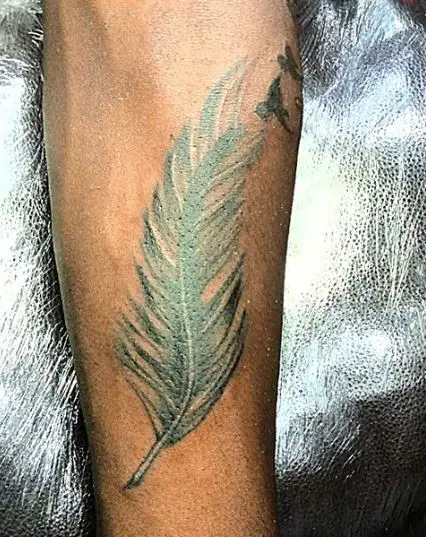 Image by @karshcharloz via Instagram
Infinity Wrist Tattoo
If you're looking for ancient symbols for your wrist tattoo, the infinity symbol is the perfect one to get.
While this design can seem like a rather popular choice, you can make your inner wrist or side wrist tattoo look unique.
Just see what this eye-catching infinity tattoo has to offer: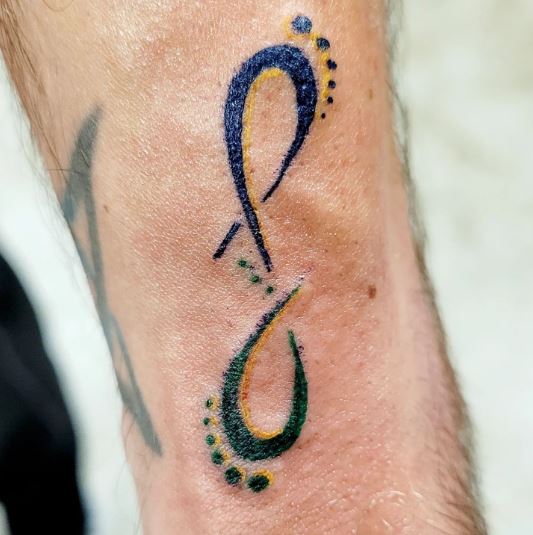 Image by @shopmom802 via Instagram
Matching Wrist Tattoos
Want cute tattoo designs that will match with your partner? Here are the women and men wrist tattoos that you should consider: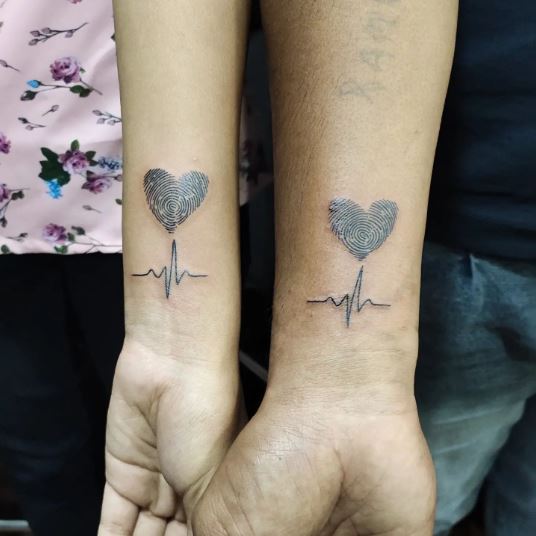 Image by @murugan_tattoo_artist and chandru_tattoo_artist via Instagram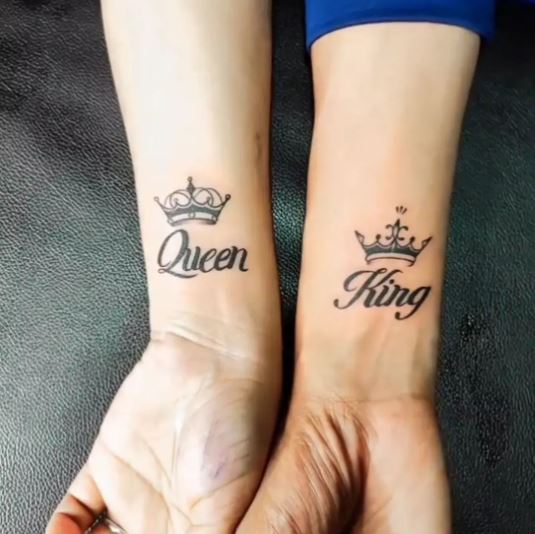 Image by @murugan_tattoo_artistandchandru_tattoo_artist via Instagram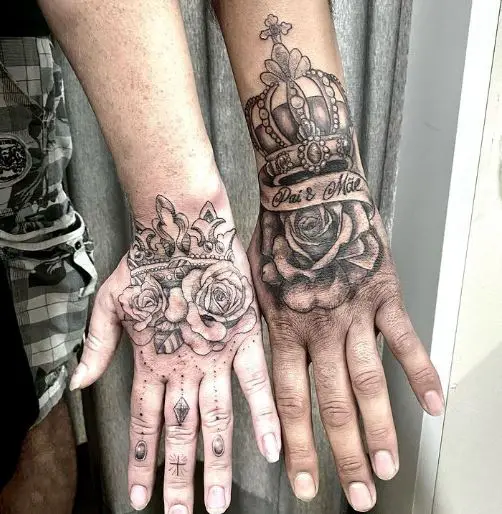 Image by @cabracega_tattoostudio via Instagram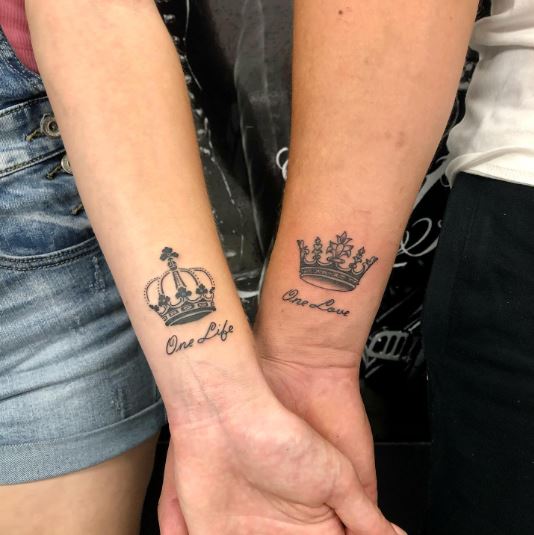 Image by @vasotattoo via Instagram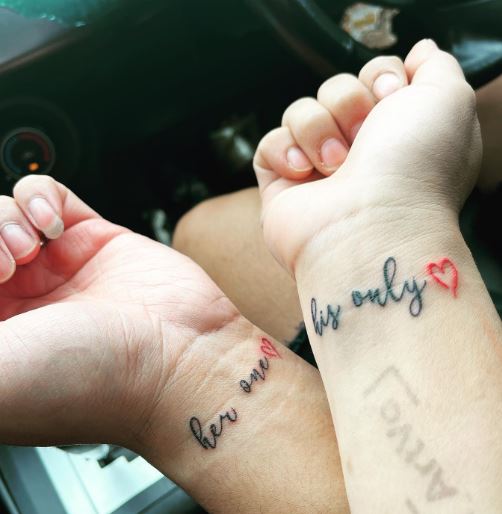 Image by @reinakbartolome via Instagram
Can Men Have Wrist Tattoo?
Yes, men certainly can have wrist tattoos. This may not have always been the most popular location for a tattoo for men but it is becoming increasingly popular.
Are Wrists Good for Tattoos?
Wrists are great for tattoos. Not only does your tattoo look really cool in this spot, there are some tattoos that are meant to be shown off. So, if you want your tattoo to be highly visible, this is a great place to get inked.
At the same time, if you want to hide your tattoo for any period, you can always do so with a watch or a stack of leather bracelets.
What Does a Wrist Tattoo Represent?
A wrist tattoo doesn't have a particular meaning - this is largely down to the tattoo design itself. That being said, the wrist - particularly the inner wrist - is often considered a place of great significance in the body.
Due to this, people tend to place tattoos that are especially meaningful to them here. Also, since the eye is naturally drawn to this area, many people will get tattoos that act as reminders.
Are Wrist Tattoos Painful?
Do wrist tattoos hurt? Unfortunately, the answer is yes.
If you are planning on getting a wrist tattoo, brace yourself. The pain level for this location can be quite high. This is because of the lack of muscle and fatty tissue.
Not to mention, the skin around here is quite thin and there are plenty of veins too. To add to this, the top side of your wrist has bones that can be quite sensitive as well.
Due to this, a wrist tattoo may cause too much pain for first-timers. Therefore, you may want to rethink your decision of getting your first tattoo.
There you have it - the best wrist tattoos for men. From cool and sleek designs to touching ideas, there is plenty for you to choose from.