Snake tattoos are fascinating. Their slippery body can be manipulated to form different tattoo styles. For example, the extensive snake sleeve tattoo which runs from the shoulder to the hand is a definite stand out.
What I love most about snake tattoos is their versatility. There are over 3000 species of snakes each with its own colors and characteristics. This makes it impossible to run out of unique tattoo suggestions for clients who request the design.
There are tons of snake tattoo ideas you can explore, from simple to colorful and coiled snake tattoos, here are 75 designs and their meanings curated just for you.
Top 75 Glamorous Snake Tattoo Ideas
Small Snake Tattoo
Small and simple snake tattoos are pretty cool, especially for lovers of minimal designs.
Apart from their aesthetically astounding looks, they can be used to make a statement about one's experiences in life. People who survived critical illnesses can incorporate a small snake tattoo to their collarbone as a symbol of healing.
Small snake tattoos are also a smart choice of tattoo as one can incorporate them on any part of the body and still maintain their great looks.
The snake tattoos in this collection are tattooed in black ink with few details. Their bodies are usually left plain with no design or with little patterns like tiny flowers to fill the negative space.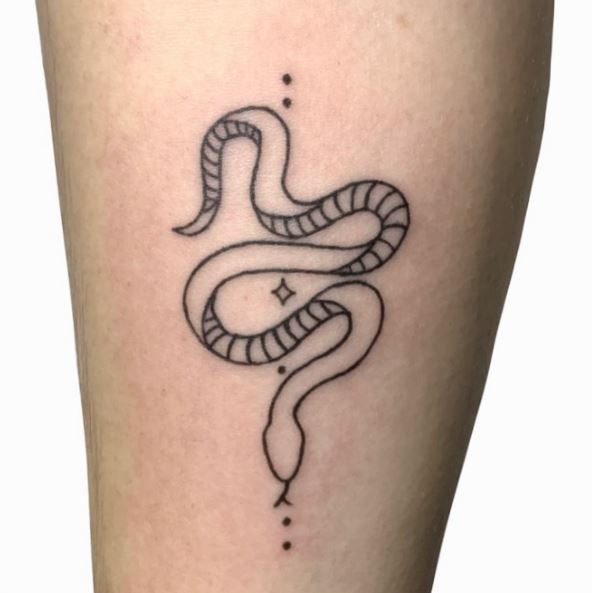 Image by @ibanoski_tattoo via Instagram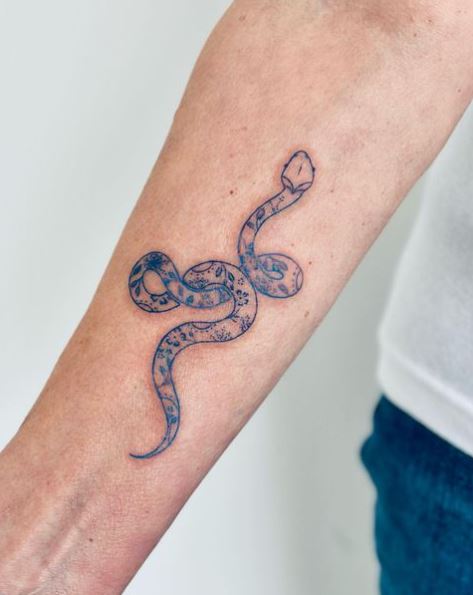 Image by @suzles.ttt via Instagram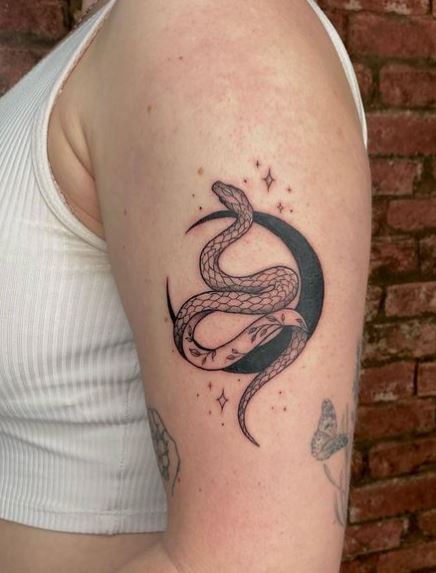 Image by @jessicatattoos_ via Instagram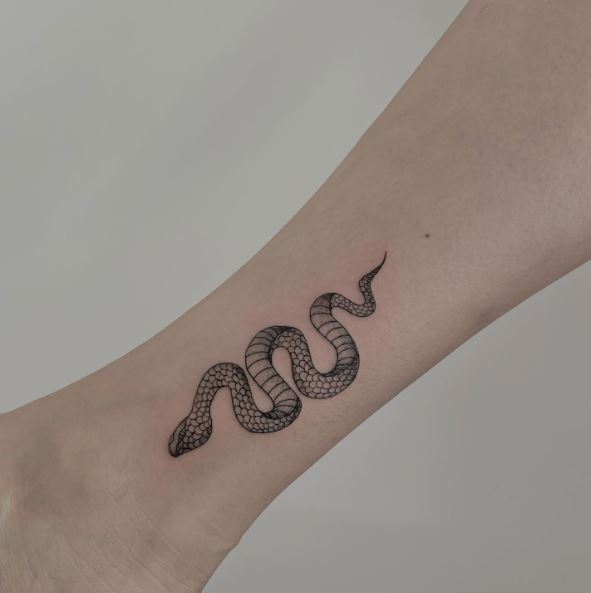 Image by @valmark.ink via Instagram
Traditional Snake Tattoo
If you're looking for a well-detailed snake tattoo to help express your femininity or masculinity, the images in this section are a good option to select from. Traditional snake tattoo designs are usually done in black, red, or green. Most tattoos tell a story or pass a message, but there are some people who get them just for aesthetics.
The snake tattoo designs featured here can be used as a symbol of strength and protection. A traditional snake tattoo can also represent courage, wisdom, and transformation.
Most of the tattoos in this section are bold and attractive in design. Lots of creativity surely went into tattooing them. This is why you need experienced tattoo artists if you'll like to recreate any tattoo design from this section.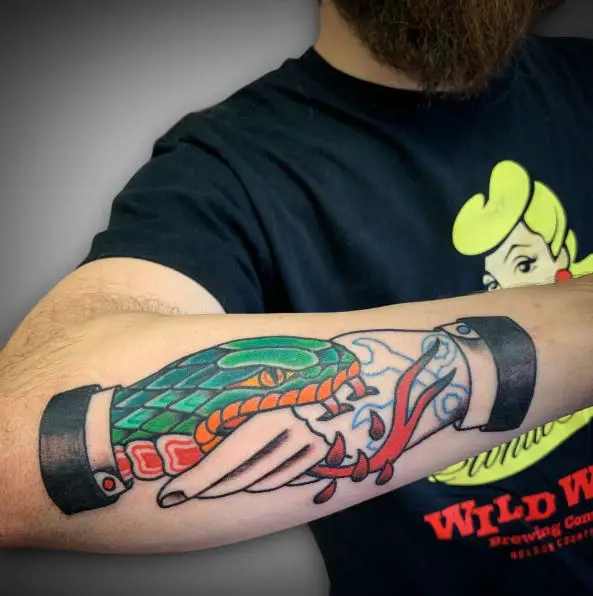 Image by @butchworks via Instagram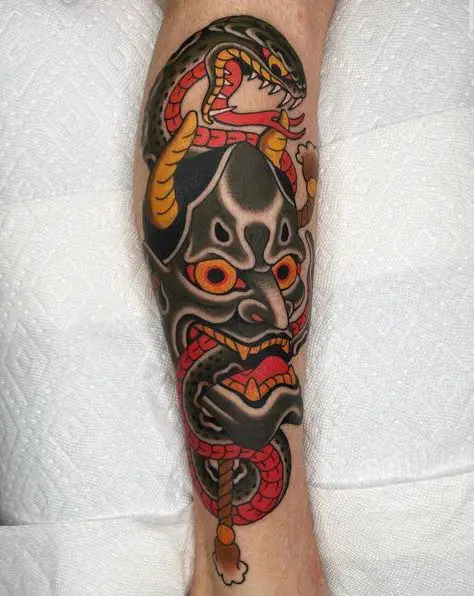 Image by @rainbowdemondenver via Instagram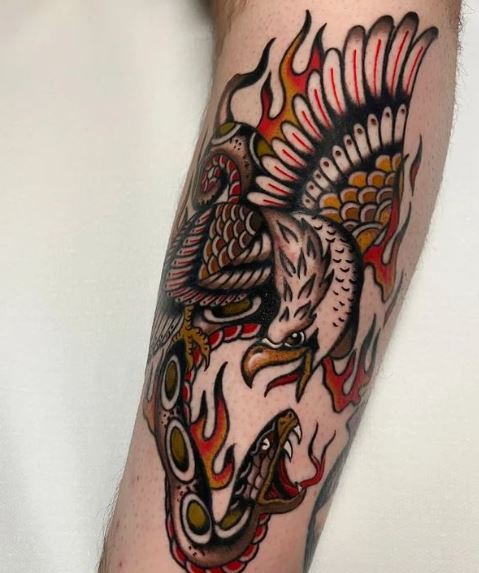 Image by @pamela_vecera via Instagram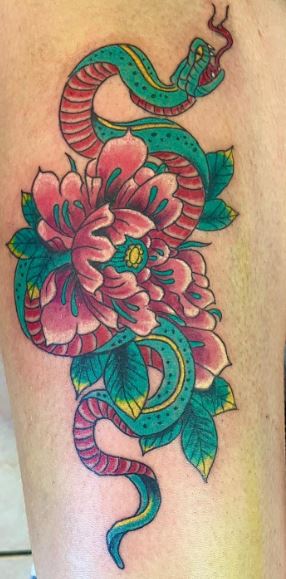 Image by @kinger121 via Instagram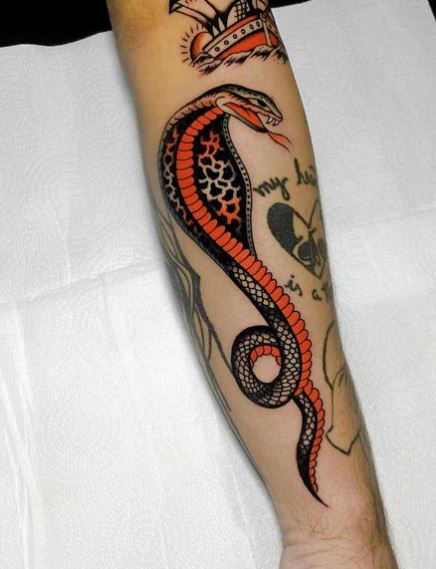 Image by @antrax163 via Instagram
Medusa Snake Tattoo
Medusa is a monstrous gorgon who has venomous snakes in place of hair. She is known to have been bestowed with the ability to turn people who look at her face into stone, which is why her tattoo is seen as a sign of protection.
A Medusa snake tattoo can be in the form of a snake chest tattoo, a snake forearm tattoo, or a snake shoulder tattoo depending on your preference.
Image by @tyla_tasmin via Instagram
Image by @noam.eisenstein.tattoos and bright_rose_tattoo via Instagram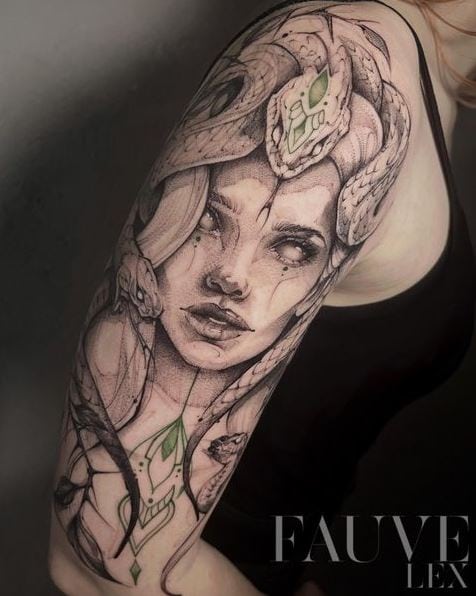 Image by @fauve_lex and the_black_tattoostudio via Instagram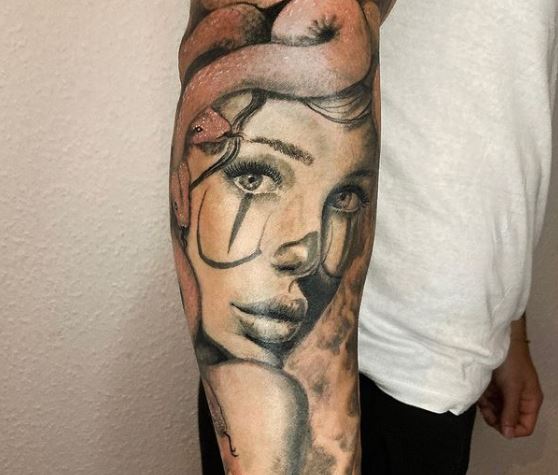 Image by @rian_inkworks via Instagram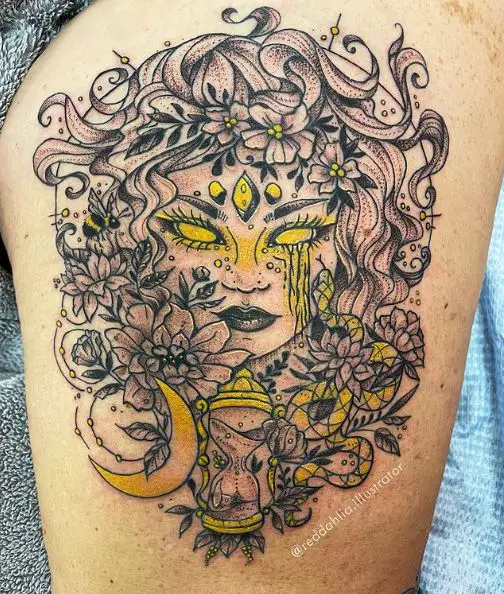 Image by @reddahlia.illustrator via Instagram
Realistic Snake Tattoo
When it comes to a badass tattoo that can strike emotional reactions from people, a realistic snake tattoo is one of the best tattoos to go for.
The snake tattoo requires lots of creativity and attention to detail. This tattoo looks like an actual snake which makes it captivating.
Most realistic snake tattoos cannot be done as discreet tattoos which is not a surprise due to their bold and intricate design. So, they are usually inked as a snake chest tattoo or a snake back tattoo. A realistic snake tattoo may come as a snake forearm tattoo where the forearm acts like a tree branch with a black snake slithering over it.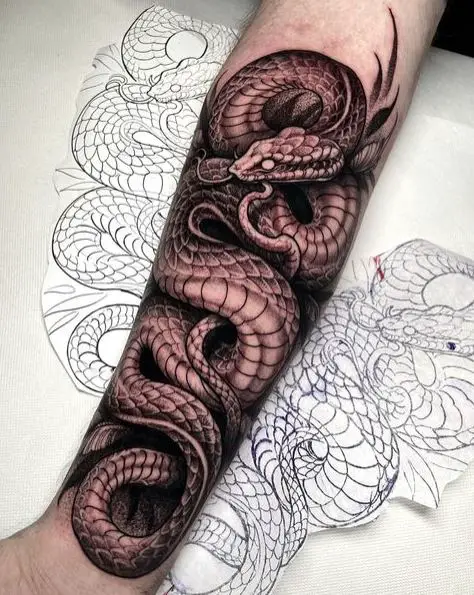 Image by @fantinitattoo via Instagram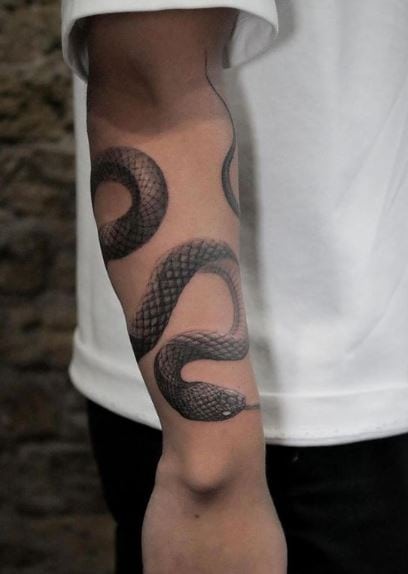 Image by @auraninetyfour via Instagram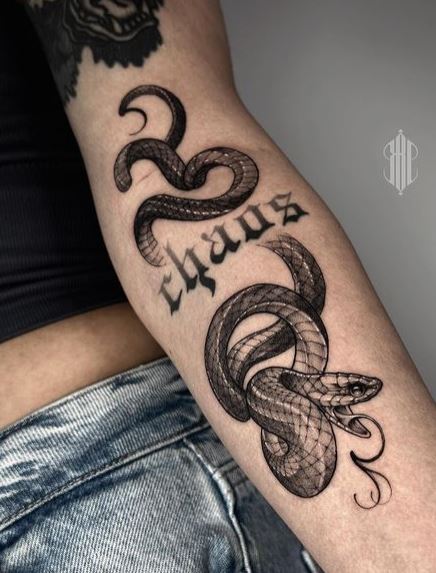 Image by @mau_tattooer via Instagram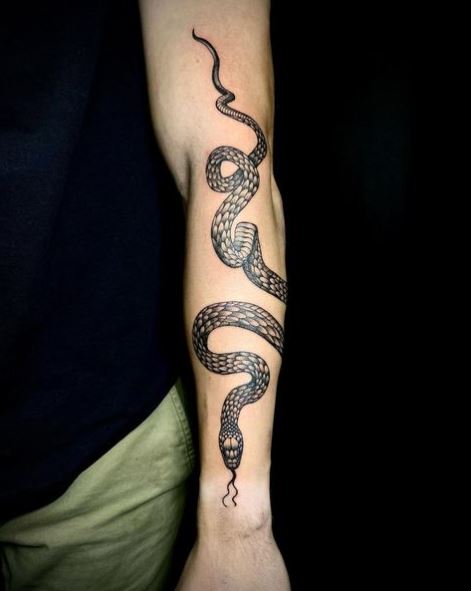 Image by @ksmith.tattoo via Instagram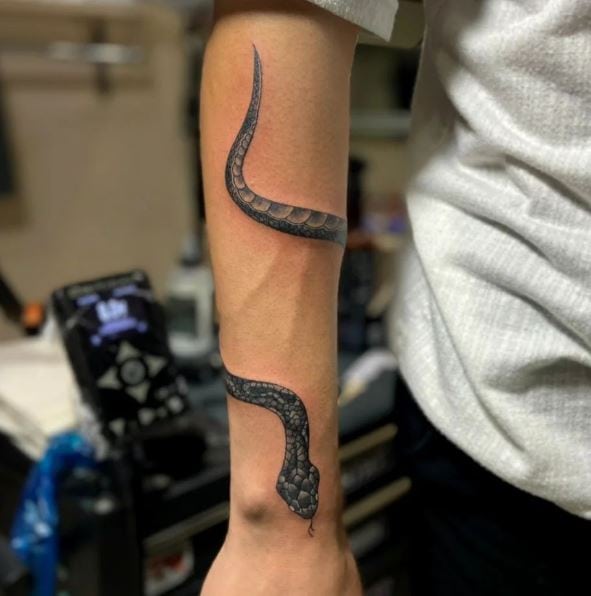 Image by @tattoobygabriel via Instagram
Cobra Snake Tattoo
Cobras are one of the most popular snakes on the planet. Although they possess powerful venom, they are not aggressive and they only attack in self-defense.
A cobra tattoo is a sign of deadly power that is only unleashed when necessary. Longevity and positive and negative life force are other elements associated with the cobra tattoo.
The ideal placement of a cobra tattoo is the shoulder muscles. The chest is also a great spot for your cobra tattoo.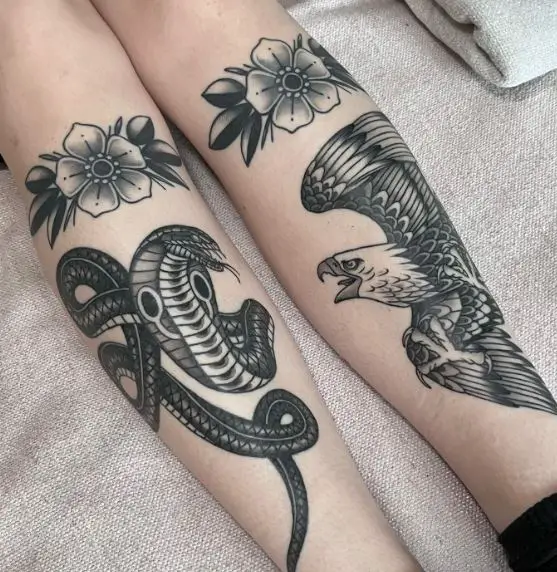 Image by @dennisbaars via Instagram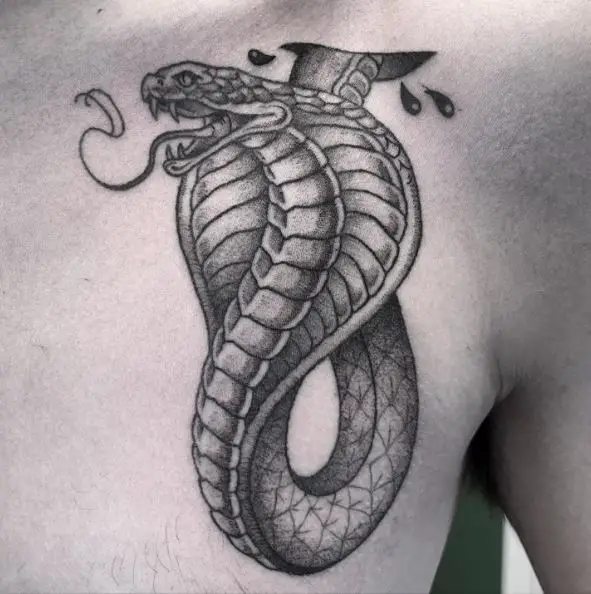 Image by @elesca1969 via Instagram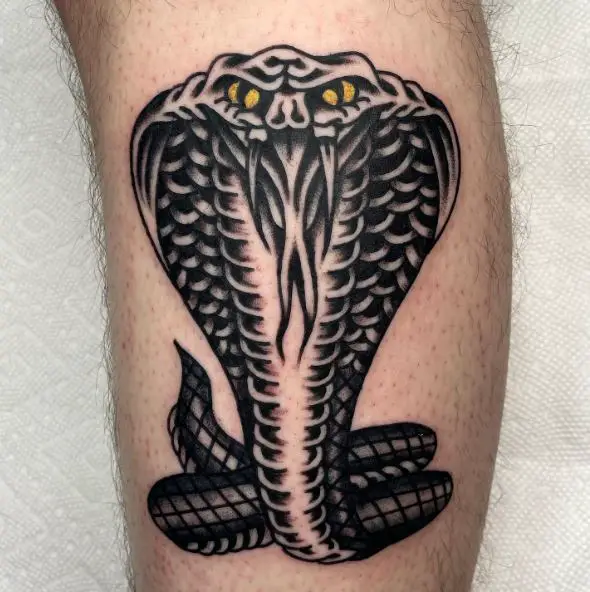 Image by @bensloth via Instagram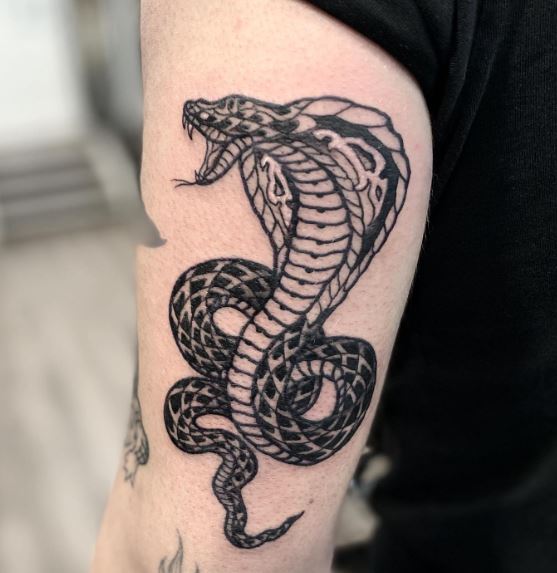 Image by @phillygtattoos via Instagram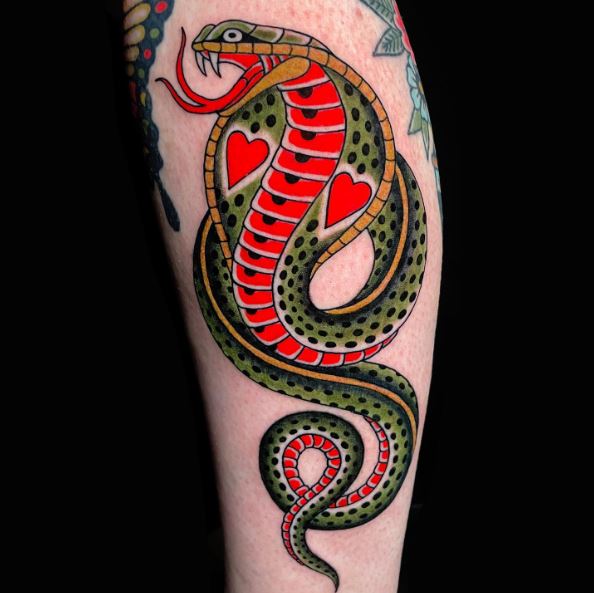 Image by @marksomething via Instagram
Flowers and Snake Tattoo
This is one of the coolest snake tattoo ideas for women is the snake and rose tattoo design.
Generally, flowers add a gorgeous contrast to a snake's design, amplifying its beauty. A snake and rose tattoo combination are unique and astonishing due to the contrast between a black snake and a red rose.
You can ink your snake and rose tattoo as a back tattoo. Another nice placement is the shoulder. They can also pass well as a forearm tattoo.
A snake and flower tattoo represents feminine strength and fertility but they are not exclusive to women.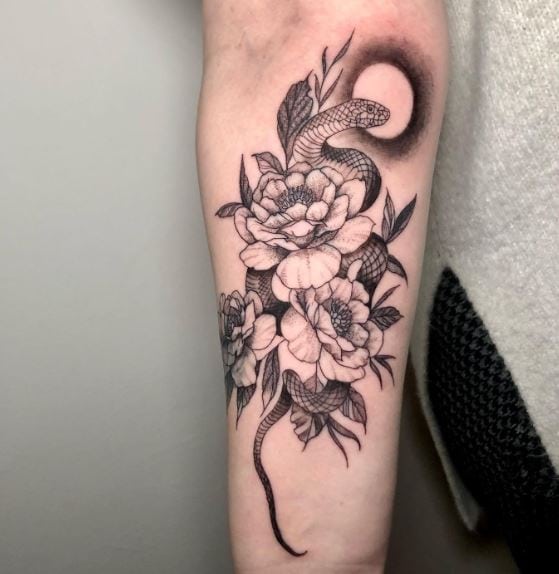 Image by @mr.blacktattoo via Instagram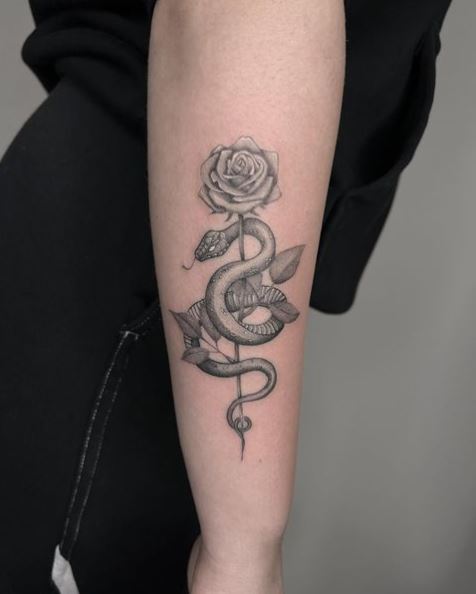 Image by @briotattooink via Instagram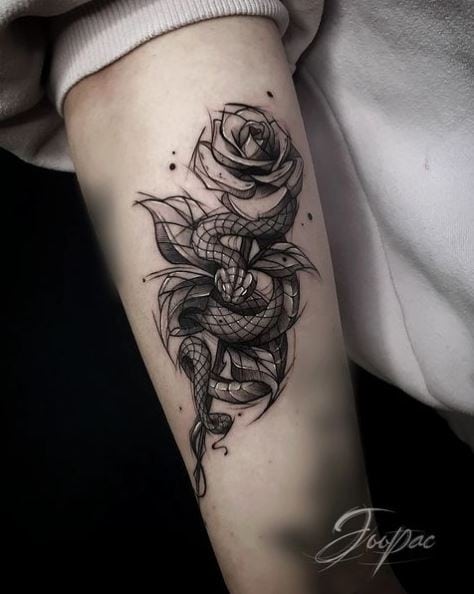 Image by @joopac_tattoo via Instagram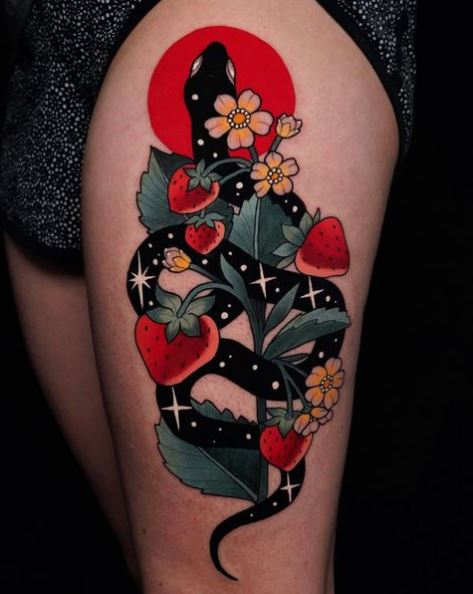 Image by @sketchbrooke_ via Instagram
Colorful Snake Tattoo
If you want to create a captivating snake design, all you have to do is add lots of vibrant colors.
Colorful snake tattoos have a complex look that can amplify the beauty of a wearer's skin tone. The colorful nature of the tattoo can sometimes make the snakes look magical, earning a wearer lots of attention.
The arm, thigh, and chest are some of the coolest parts of the body to have a colorful snake tattoo. You can take things a bit further by recreating a skull tattoo if you like to stand out and look different.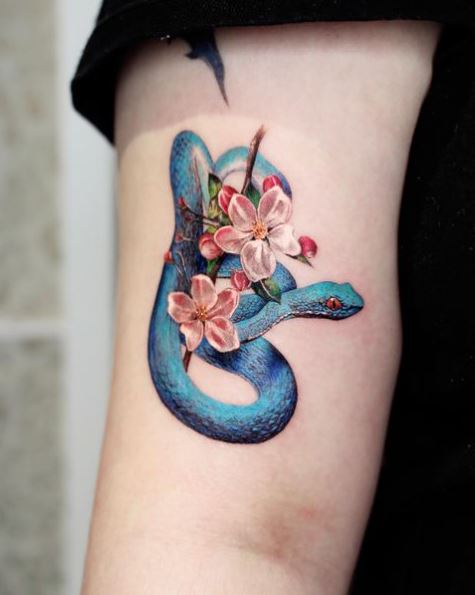 Image by @mj_tattooer via Instagram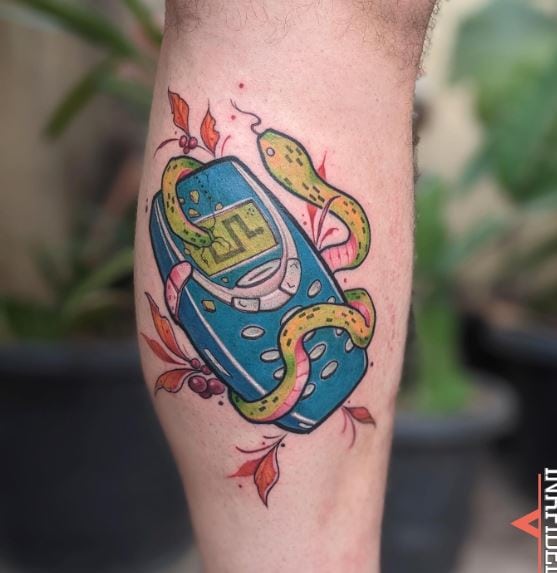 Image by @duncan_viegas and inkfideltattoo via Instagram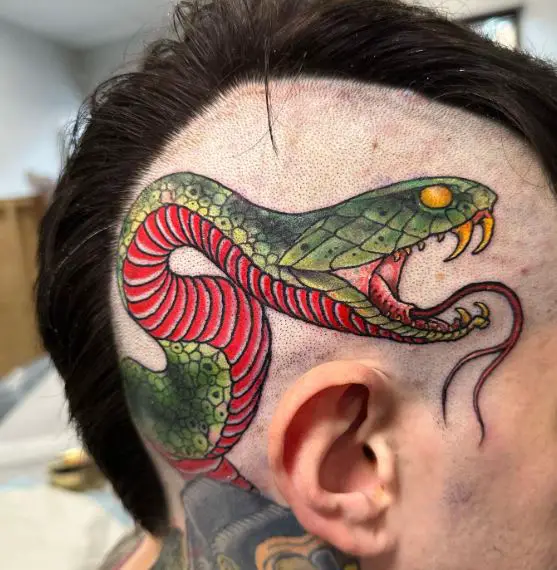 Image by @william_yoneyama via Instagram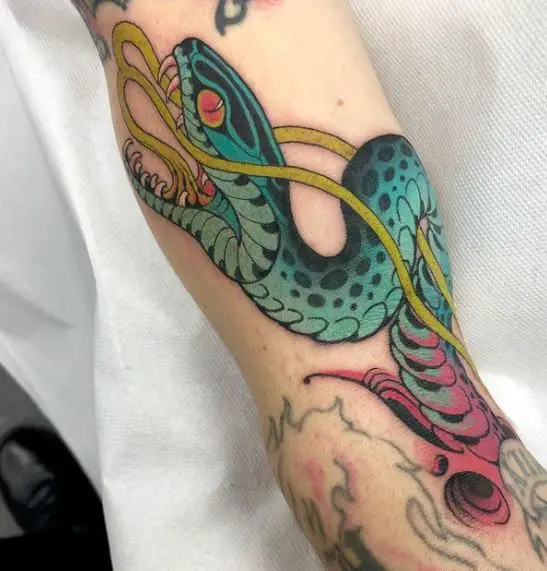 Image by @the_sepp_tattoo via Instagram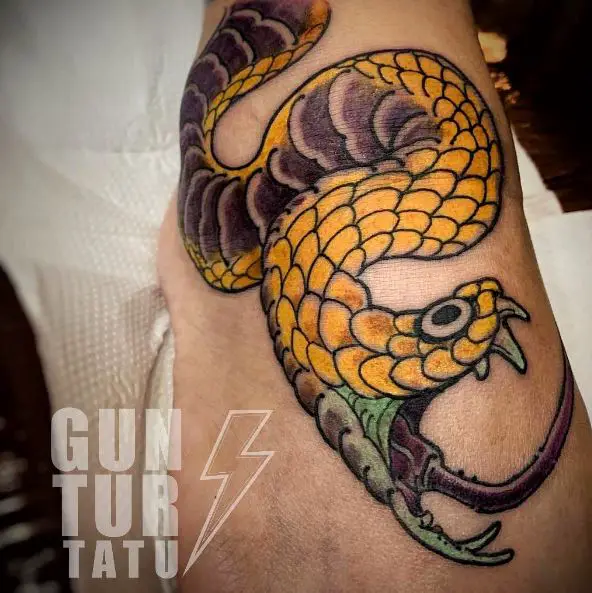 Image by @gunturtatu via Instagram
Extensive Snake Tattoo
Extensive snake tattoo designs extend from one part of the body to another.
They are far from being simple or hidden and their size is life-like. Some people tattoo them to scale with a regular snake to reinforce the realistic looks of their tattoos.
When it comes to placements, they can be made to wrap around the arm and forearm. Another cool placement option is to make yours extend from the hip to the thigh, or even further down.
Extensive tattoos of snakes can be very intimidating. Some people get tattoos of nonvenomous snakes like the scarlet king as a symbol of innocence.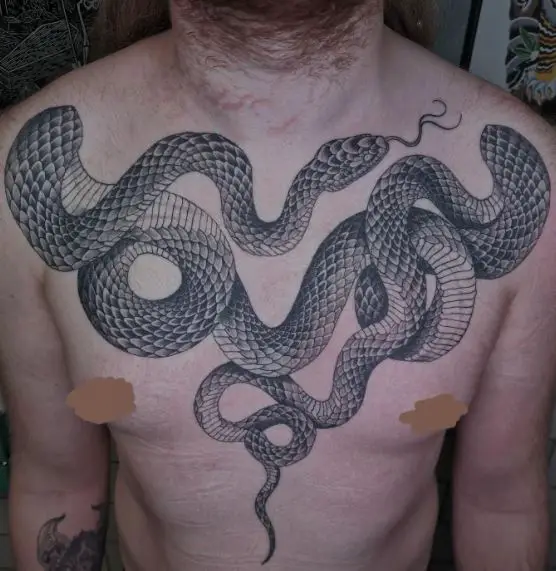 Image by @luciferandleviathans via Instagram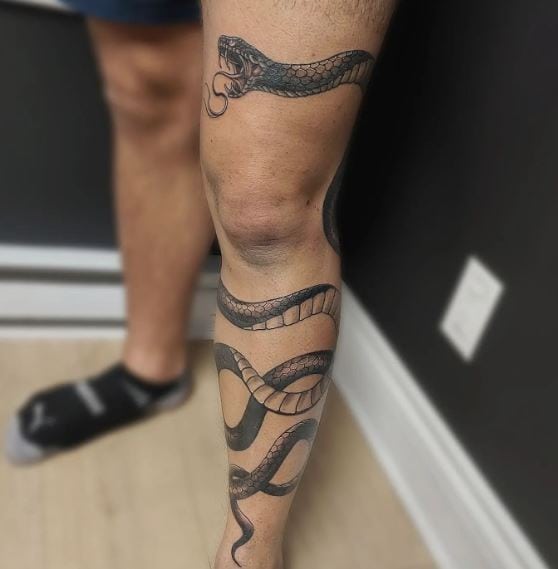 Image by @fredroy_tattoos via Instagram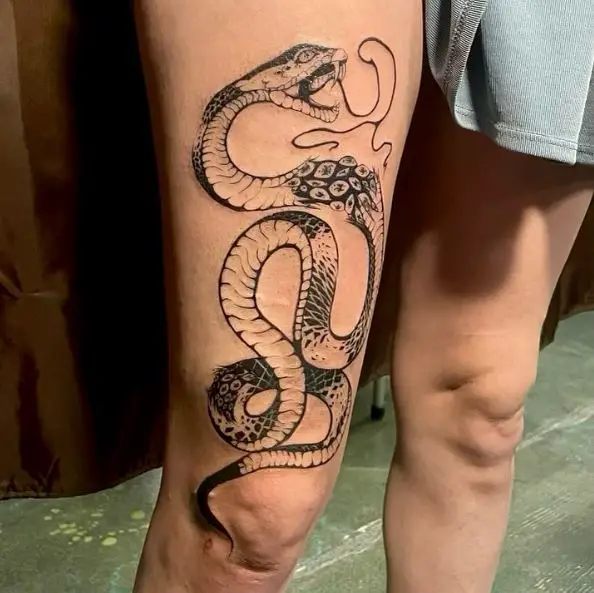 Image by @blckteeth via Instagram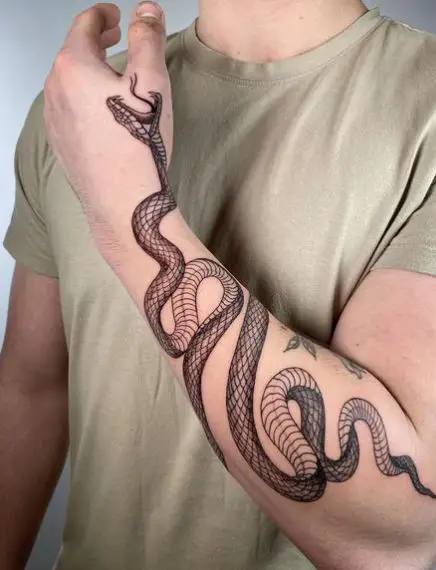 Image by @lauren__tattoo via Instagram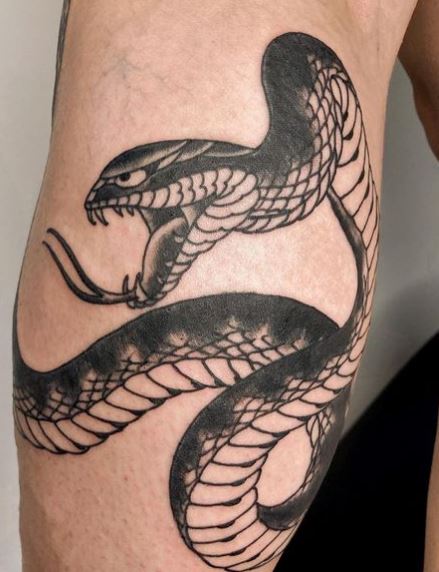 Image by @sacredlinestattoo via Instagram
Snake Head Tattoo
Snakehead tattoos have lots of elements that bestow a badass look on their wearer. They can make people feel like they're looking directly at a snake.
They are interpreted as a sign of versatility and great power. They are also considered to be masculine tattoos as they are popular with men.
They fit well on the bicep and can give you a sense of protection.
Alternatively, you can get a two-headed snake tattoo to double the effectiveness of its meaning as a snake head tattoo.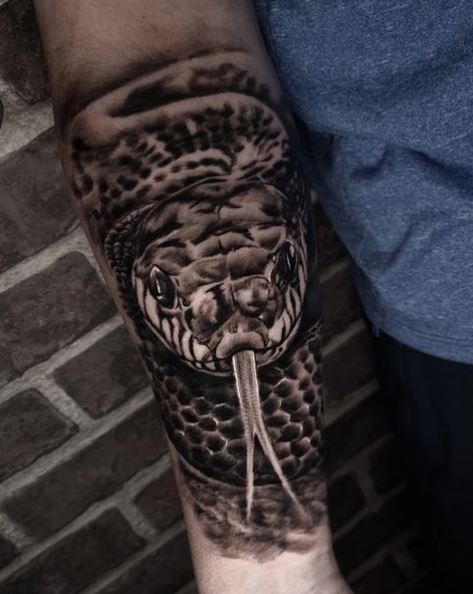 Image by @jose_andres_monzon_ via Instagram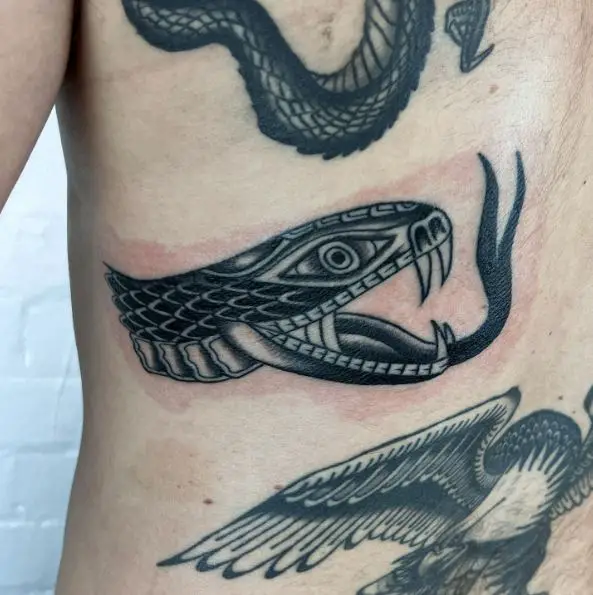 Image by @xdavidetcx via Instagram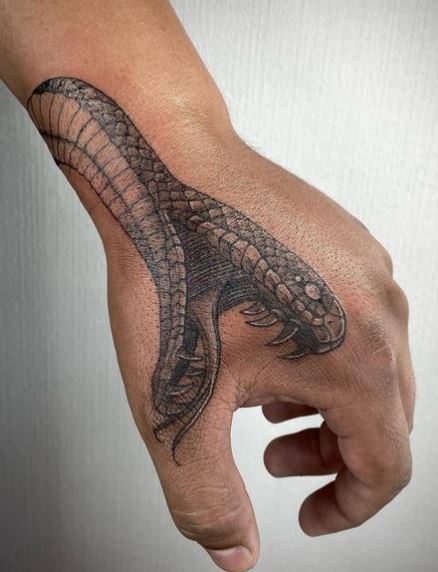 Image by @krn.blvck via Instagram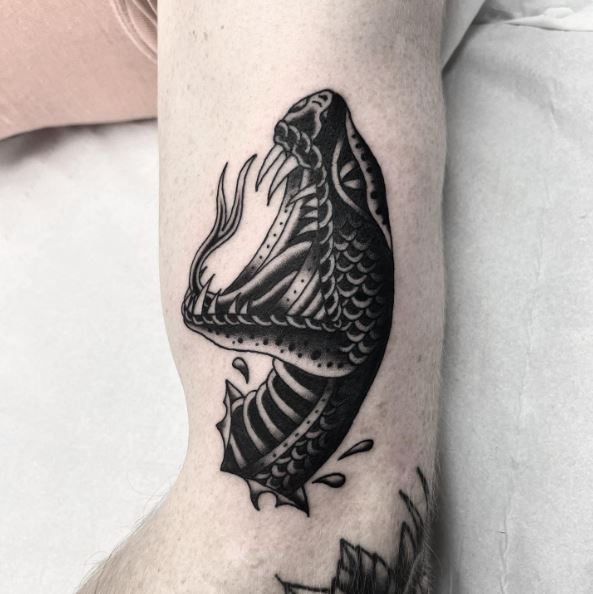 Image by @lewis_davies_tattooer via Instagram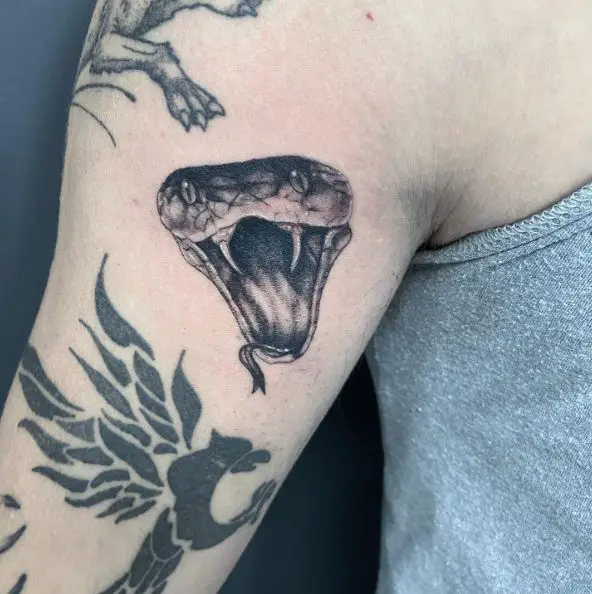 Image by @stabbed_by_envy via Instagram
Snake Skull Tattoo
Tattoos of snake skulls are not very common, and they represent a deadly force.
In risky situations, they can project you as a great force to be reckoned with.
A snake skull tattoo can be subtle and small. They can also be placed behind the ear or on the ankle bone.
You can also get creative by making your snake design in geometric lines. Having one on your chest is a great idea.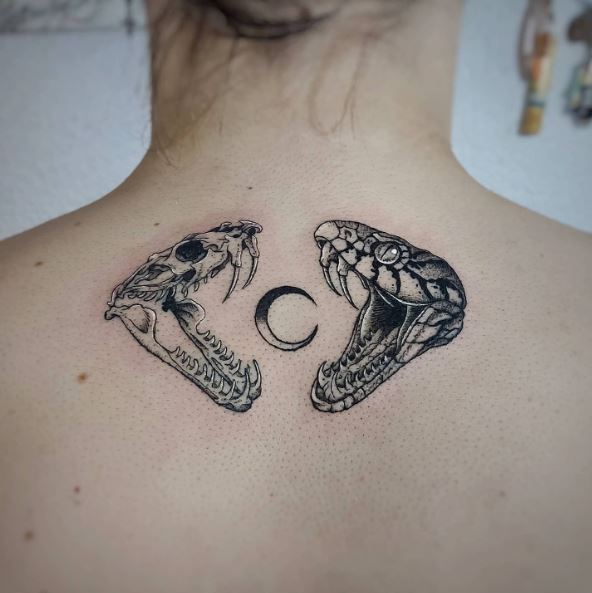 Image by @teddykilder via Instagram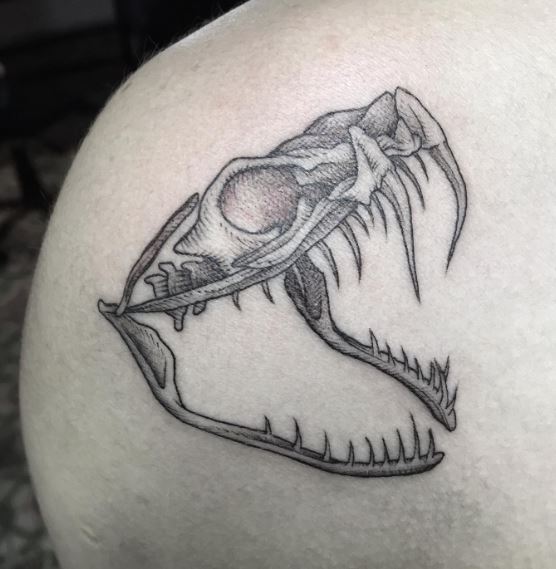 Image by @p_sanguijuela via Instagram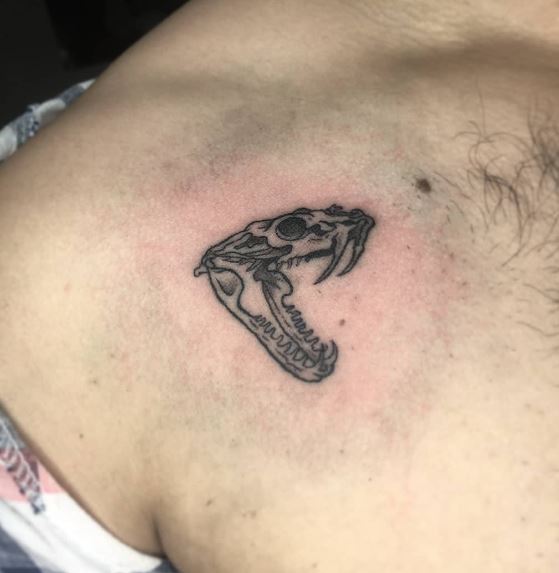 Image by @ostertattoo via Instagram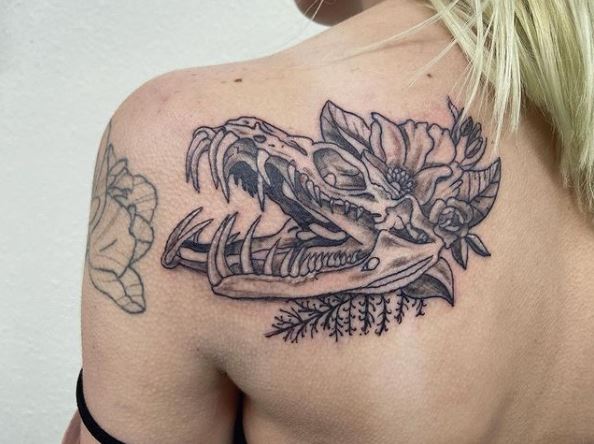 Image by @stellalunaink via Instagram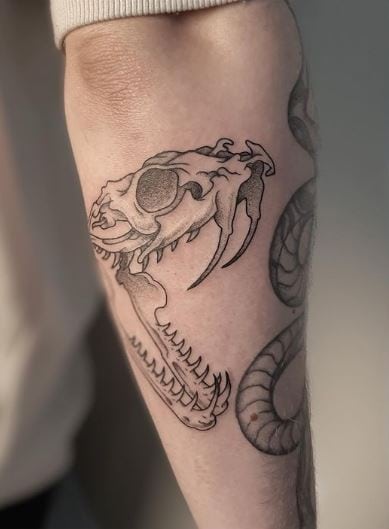 Image by @weltschmerz_tatowierungen via Instagram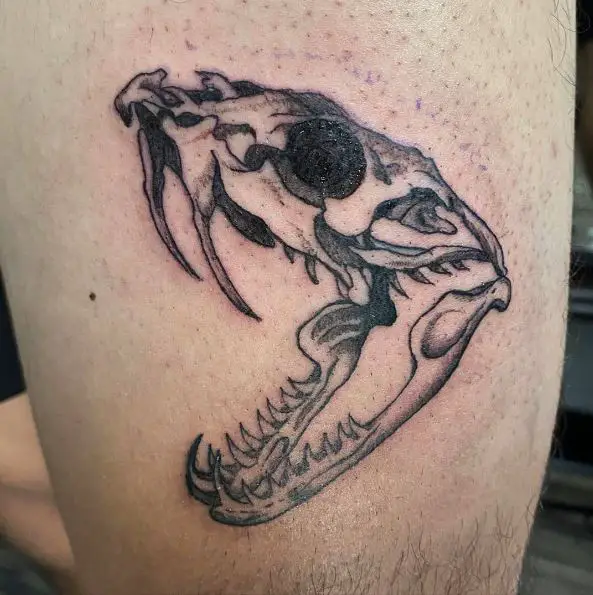 Image by @fictiontattoo via Instagram
Human Skull and Snake Tattoo
If you want a special snake tattoo, this section is for you. A snake and human skull tattoo can make you look intimidating.
They come in large, detailed designs which usually feature a human skull at the center, with a coiled snake around it.
Some variations include designs that feature the snake and skull surrounded or covered over by flowers to give them a final aesthetic touch.
These bold tattoos of serpents look dangerous and deadly. They are best inked on the chest, back, and thigh to reinforce those characteristics.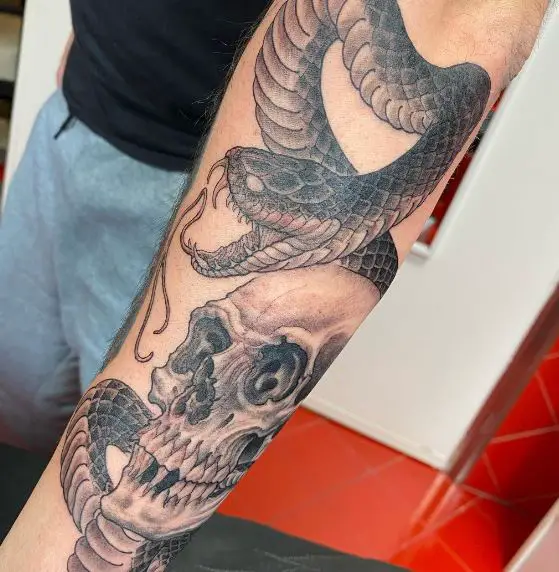 Image by @hesu_tattooing via Instagram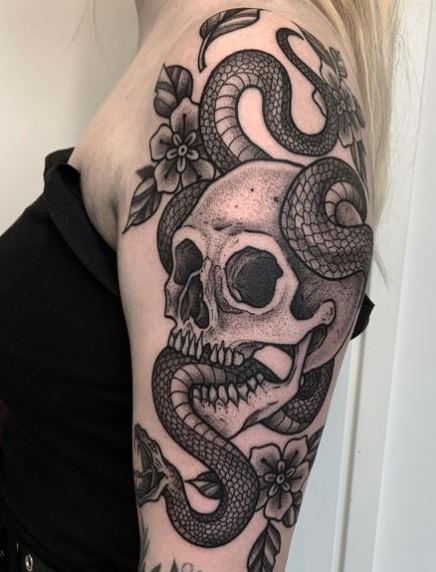 Image by @mariasalonentattoo via Instagram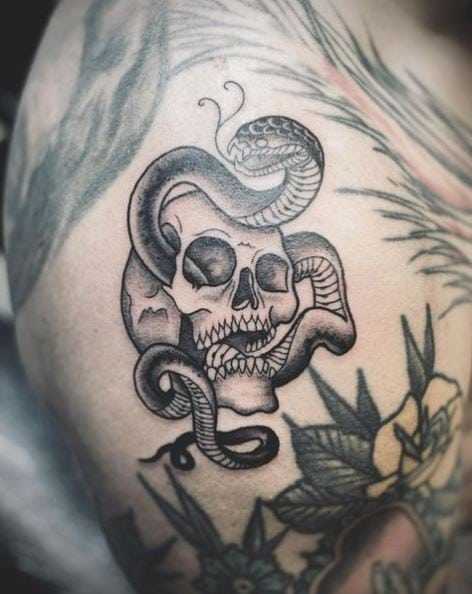 Image by @travstattoos via Instagram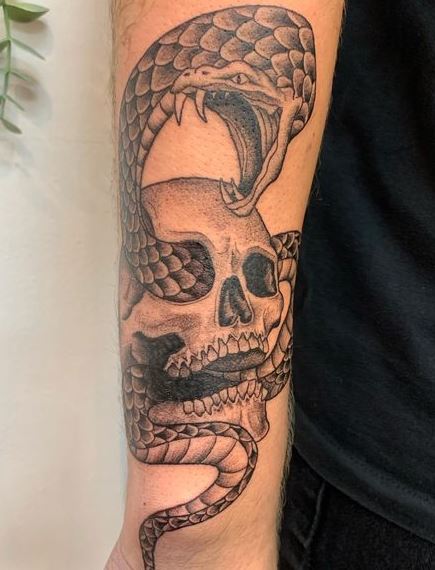 Image by @laurenreedtattoos via Instagram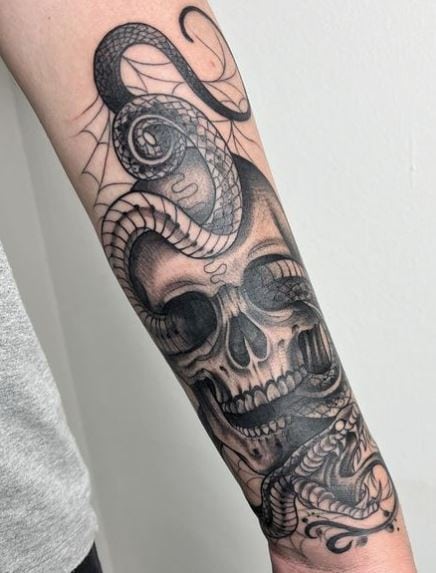 Image by @lucifernandarotten via Instagram
Aggressive Snake Tattoo
These tattoos of snakes look fierce. They are a great way to keep your enemies at bay.
You can do yours as a two-headed snake tattoo to make it more intimidating or get two snakes on different body parts.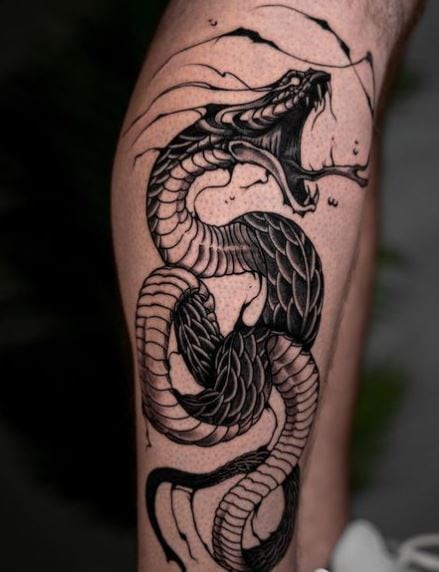 Image by @williammeyertattoo via Instagram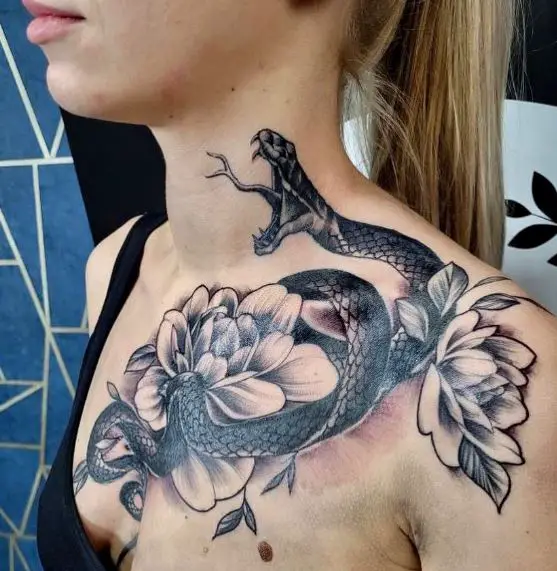 Image by @sylwester_tattoo via Instagram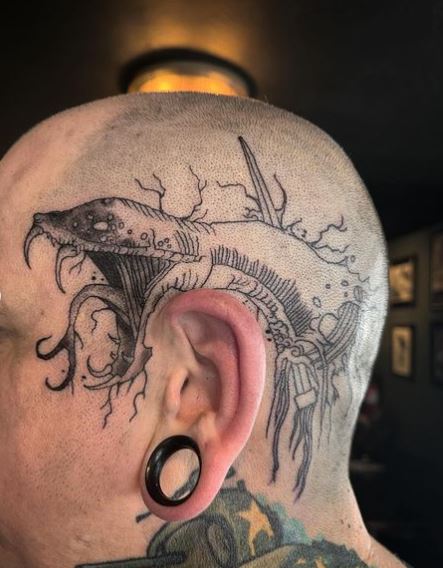 Image by @black_elk_tattoo via Instagram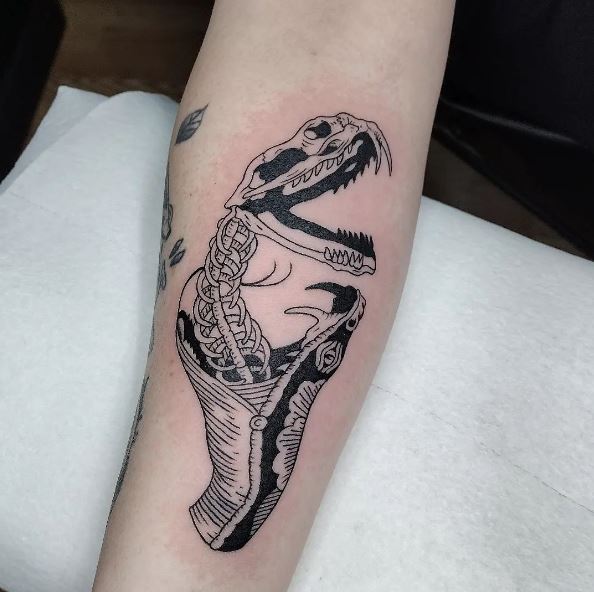 Image by @gogogadgetsteve via Instagram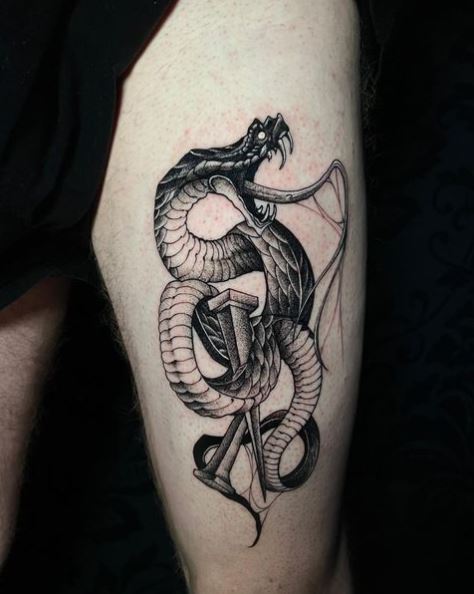 Image by @l_e_t_t_e_r_i_n_k via Instagram
Ouroboros Snake Tattoo
Ouroboros is a depiction of a snake eating its tail. It can be done as a simple snake tattoo or designed intricately, based on your preference.
This style of snake tattoo has several meanings like wholesomeness, life cycle, and eternity.
The Ouroboros snake tattoo is a source of inspiration. They can earn you lots of respect from people who admire people with knowledge of ancient signs and symbols.
An ouroboros snake tattoo sometimes has placements that extend beyond a single region of the body. However, you can make yours a simple snake wrist tattoo to stand out.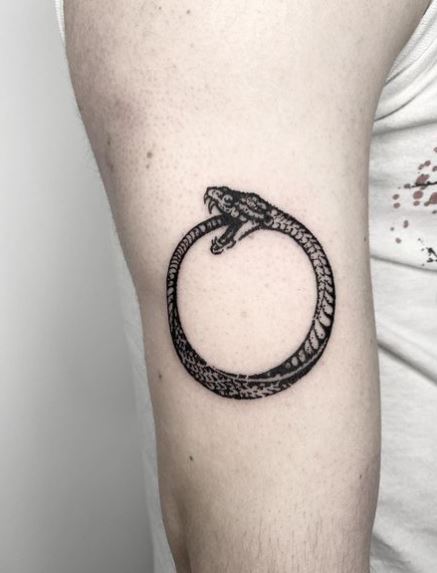 Image by @kajetankarczewski via Instagram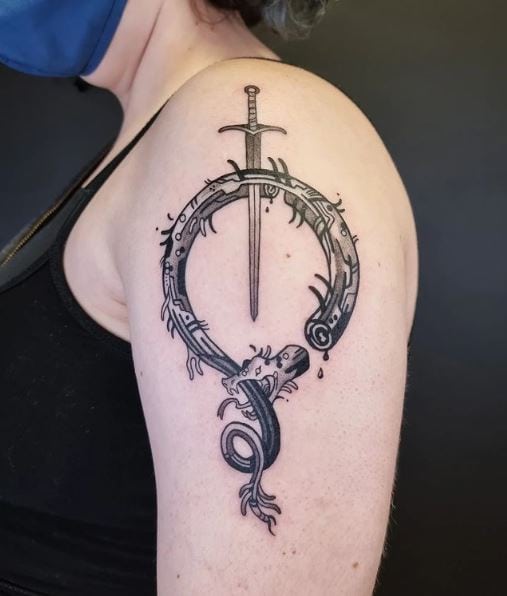 Image by @60jams via Instagram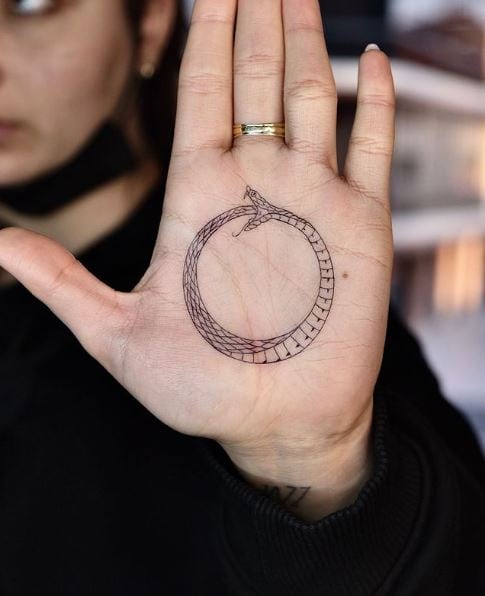 Image by @berkayerkul via Instagram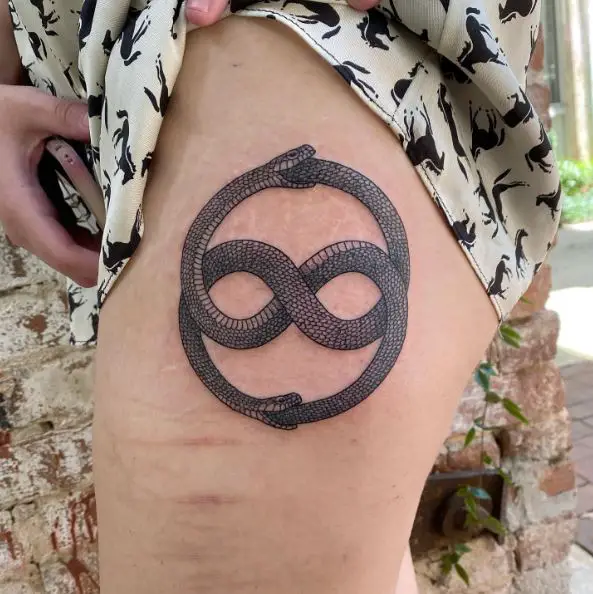 Image by @raitattoos via Instagram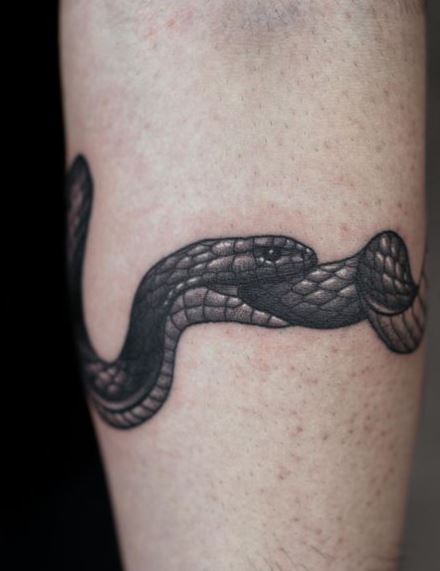 Image by @lonnertattoos via Instagram
Dagger and Snake Tattoo
A dagger and snake tattoo are associated with Mercury, the Roman god of luck and the guide to the underworld.
The Rod of Asclepius is similar to a dagger and snake tattoo. Some people replace the dagger with a rod to switch the meaning of their own snake design, especially when they're going through a process of healing.
If you are ready to overturn your hard luck or you want to recoup a loss, you should pick a snake tattoo idea from this section.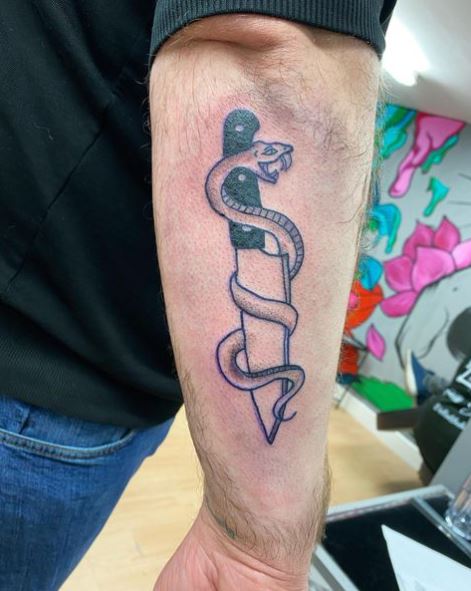 Image by @hollytattoos22 via Instagram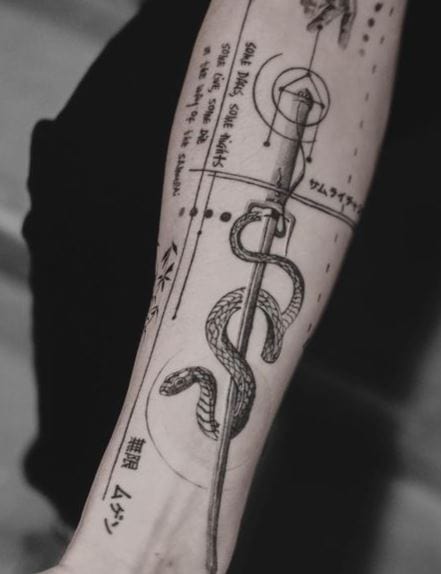 Image by @fiistattoo via Instagram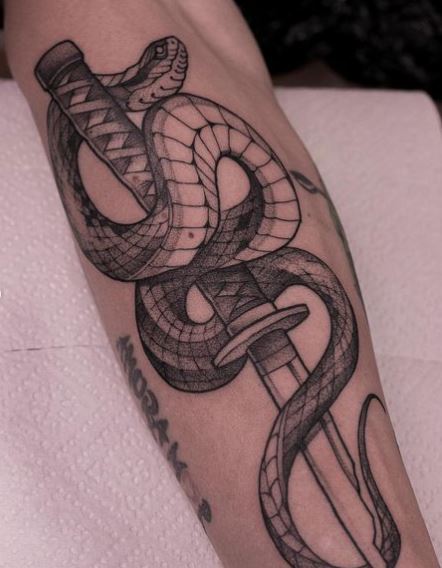 Image by @osterdamtattoo via Instagram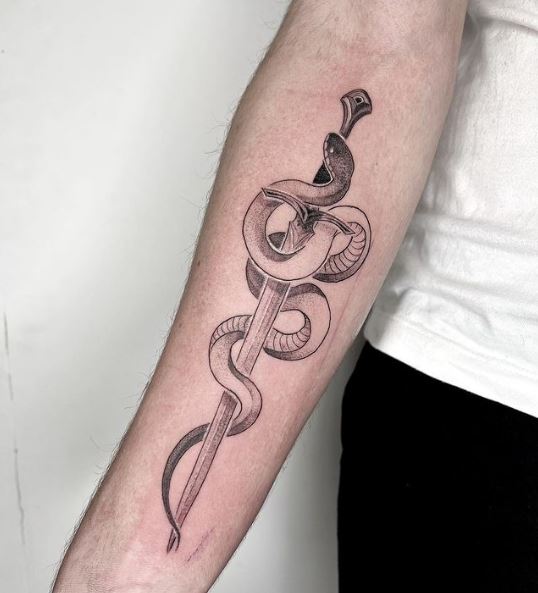 Image by @holy_unk via Instagram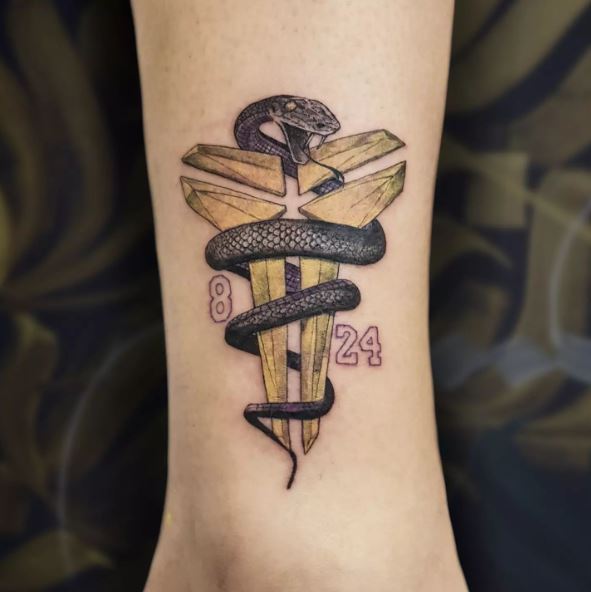 Image by @joseolayotattoo via Instagram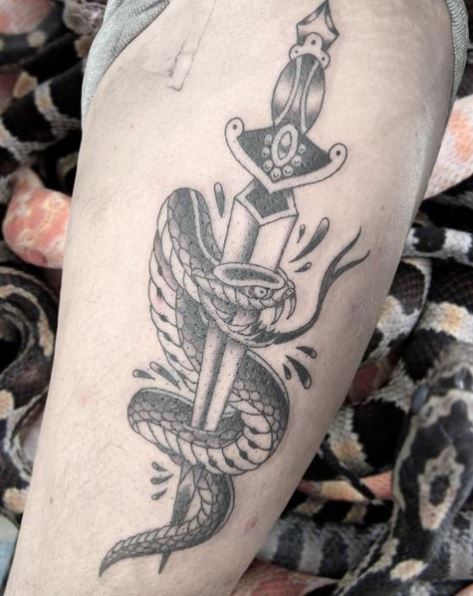 Image by @lefeverish via Instagram
Unique Snake Tattoo
In this section, some tattoos are extensive while others are highly detailed, even depicting the snake's scales.
You can create a Gucci snake tattoo by simply drawing inspiration from some of these designs or giving it your own twist before going to your tattoo artist.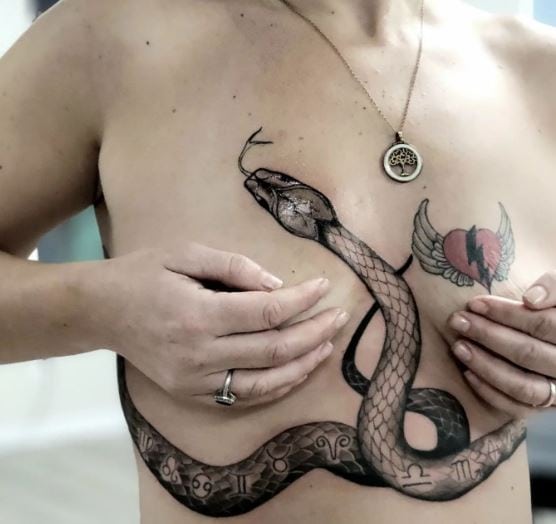 Image by @newgrowthtattoo via Instagram
Image by @im_yeonhee_ via Instagram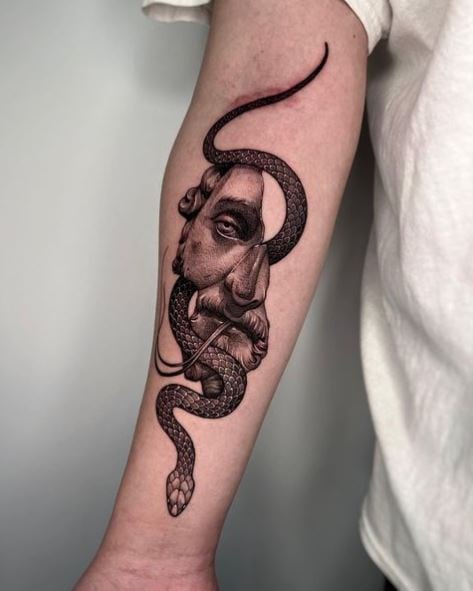 Image by @sudal_blk via Instagram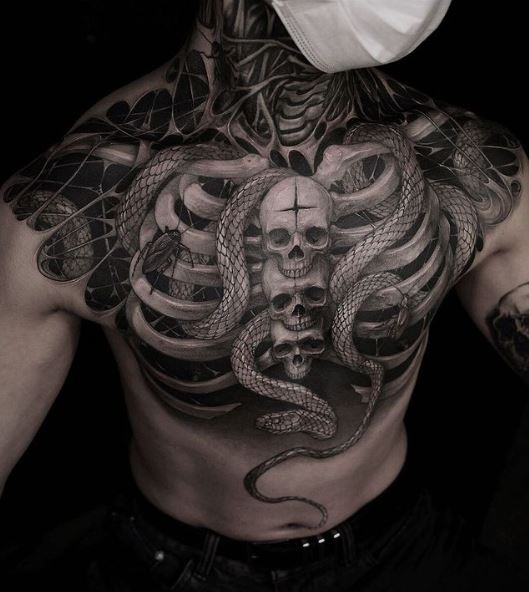 Image by @tattoodo via Instagram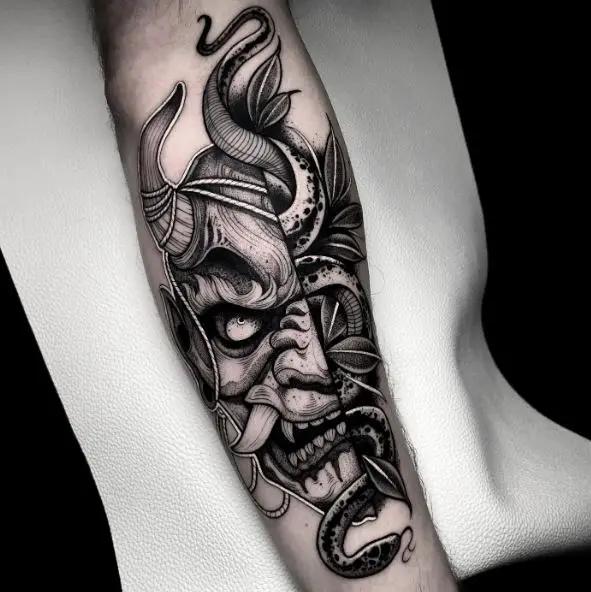 Image by @joshhurrelltattoos via Instagram
What Do Snakes Symbolize as a Tattoo?
In this section, we will look at the meanings of snake tattoo designs in different cultures and religions around the world.
Snake Tattoo and Christianity
In the story of the creation of Adam and Eve in the bible, the devil is believed to have undergone a transformation into a serpent. The disguise made him unrecognizable and helped him succeed in his mission of convincing eve to eat the forbidden fruit. For this reason, snakes represent temptation and deception.
Another connection of snakes to Christianity is their significance in healing, seen during the time of Moses. Moses was ordered to carve a snake on a pole and whoever had a poisonous bite from a snake could look up to the pole and be healed. This is why some Christians get the snake tattoo to represent healing.
Snake Tattoo and Ancient Egypt
The snake is an ancient symbol associated with the pharaohs of Egypt. Cobras, especially, are seen as a symbol of royalty and divinity. Pharaohs wear a cobra symbol or Uraeus as a part of their crowns to serve as a symbol of their ultimate might.
Snakes are also seen and worshiped as a symbol of protection by ancient Egyptians. They are depicted in tombs of pharaohs and ancient kings and queens of Egypt for protection against grave robbers.
They were also seen as a symbol of the underworld and immortality. The Ouroboros, a common depiction of a snake eating its own tail in Egyptian hieroglyphs, represents the cycle of life denoting life, death, and rebirth or reincarnation.
Snake Tattoo in Chinese Cultures
In ancient China, snakes were thought to have the power to prolong life. They were also seen as a symbol of reproduction, good luck, and good harvest.
There are several myths and legends when it comes to the perception of snakes in Chinese Cultures. One of the stories that stand out is that of the white snake, a love story between a human and a snake spirit who were married after many trials. Here, snake tattoos can be considered a symbol of love and passion.
Japanese Snake Tattoo Meaning
In Japan, snakes are seen as messengers of Gods. This is why it's believed that killing a snake can bring a divine curse against the killer. Snake tattoo in Japan are done as a symbol of the presence of the gods, and protection against evil.
Snake Tattoo and African Cultures
Like most other cultures, snakes are seen as a dual symbol of good and evil in Africa.
The potency of their venom in causing death in most healthy people is one of the major reasons they are considered a force of evil. On the other hand, snakes shed their own skin, an ability Africans associate with rebirth.
Snake Tattoo And Medicine
The Caduceus and the rod of Asclepius are the two symbols in medicine that have snakes depicted on them. The rod of Asclepius is associated with Asclepius, the god of healing and medicine in Greek mythology.
Frequently Asked Questions
What Goes Well With Snake Tattoo?
Flowers are some of the best tattoo designs to pair with a snake tattoo. The most popular is the rose flower tattoo. Roses add more meaning to a snake tattoo converting them into a symbol of passion and romance.
What is a Good Tattoo Symbol For Strength?
A snake tattoo represents strength, but the most popular tattoo that's a symbol of strength, bravery, and power is the lion tattoo.
Other animal tattoos that symbolize strength include scorpion and spider tattoos.