My family is extra, so holy communion is a big deal for them. My mom was freaking out about making me and my sister look perfect for our big day. From the gowns to the tiara and veils, everything had to be perfect.
It almost became a disaster though, since mama bear forgot about the perfect first holy communion hairstyles. It was until the last minute that she realized our wild curls needed to be tamed. Then the search for the perfect holy communion hair began.
Although we turned out looking great, here are 55 new unique and trendy holy communion hairstyles that I wish we had known about.
First Holy Communion Hairstyles Ideas
1. Glorious Curls
Curly hair looks super charming on kids. A white bow is placed on the crown of the thick curls and it works well to add that extra charm as your little girl walks into the church for her first holy communion.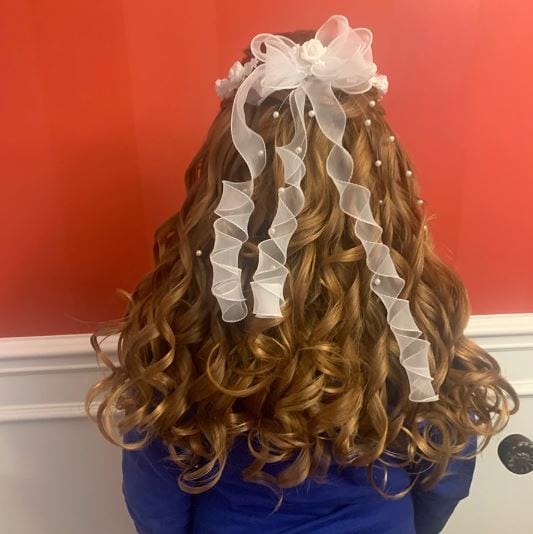 Image by @ewabaczekmakeup via Instagram
2. Ombre Hair With Braids
The ombre gradient of this holy communion hairstyle is just awesome.
Image by @blownawaystl via Instagram
3. First Holy Communion Hair With Flower Headband
Your little girl deserves to look like a princess on her first holy communion day. This lovely hair with a flower headband will make sure of that.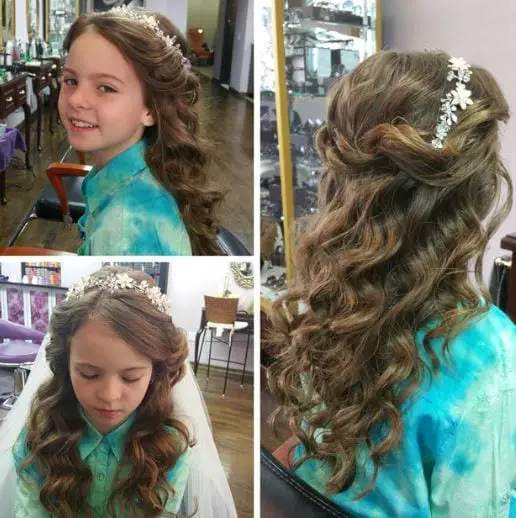 Image by @janeteshairstudio via Instagram
4. First Communion Updo
This is a pretty first communion hairstyle with the hair placed in a complex braided bun with a cute metal headband placed on it.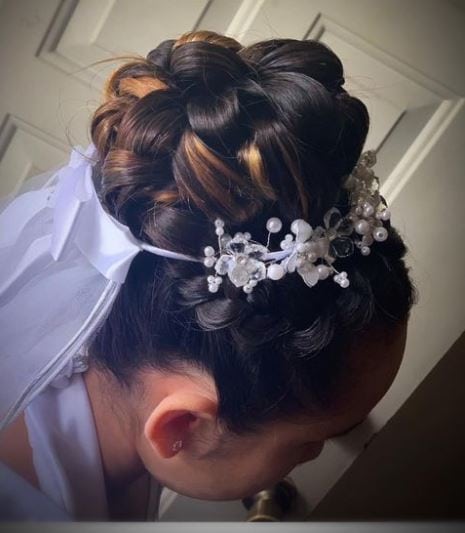 Image by @styledbynancy_s via Instagram
5. Half Up Braid First Communion Hairstyles
Flowers and ribbons are a graceful addition to communion hairstyles. The ribbon is placed on the pony part of the hair while the flower headband is placed just above the braid.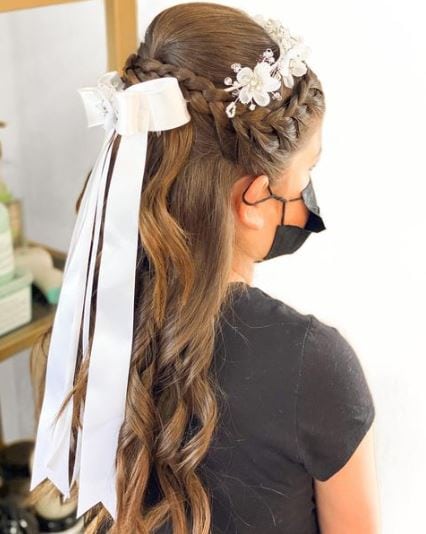 Image by @manebydaisy via Instagram
6. Straight Hair With Braid
If your child has straight, long hair, you can let it flow down to her pretty white dress. She'll look like a little princess as she goes for her first holy communion.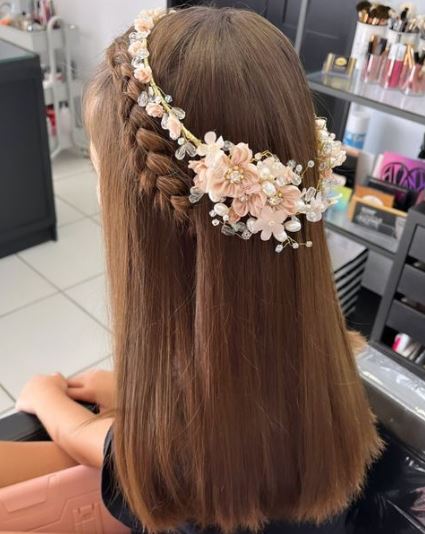 Image by @looksbyvictoriazann via Instagram
7. First Communion Hairstyles In a Bun
This is a mature take on first communion hairstyles. The hair is placed in a pretty, swirly bun with a braid at the side and colorful flowers to make things even better.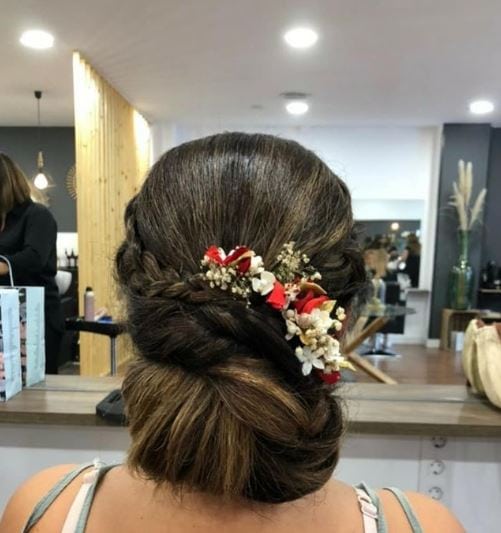 Image by @el_jardin_de_valentyna via Instagram
8. Braided Low Bun
This is an easy first communion hairstyle that you can do at home. Just take a large part of the hair, and don't forget to leave a tiny piece to flow at the front while at it. Then add a lovely accessory to finish it off.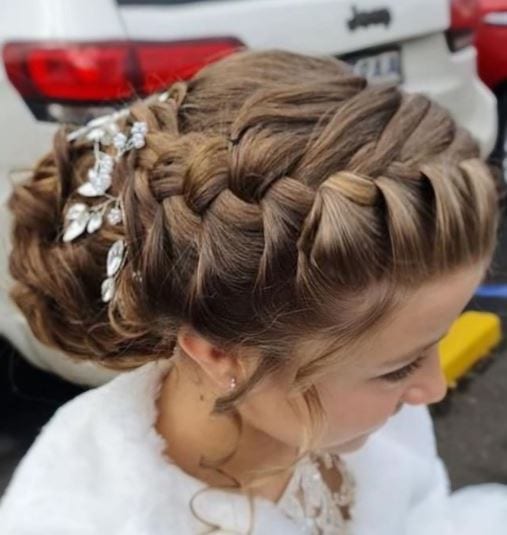 Image by @tarahairbeauty via Instagram
9. Half Waves First Communion Hairstyles
Letting your daughter's hair flow in slight waves like this is a great way to enhance any accessories she puts on.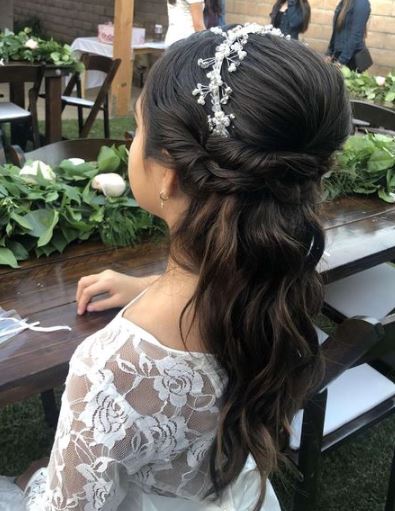 Image by @hairbylilyyy via Instagram
10. Beautiful First Communion Hairstyle
The flower crowns on this first communion hairstyle are everything. The shoulder-length dark hair looks stunning with it.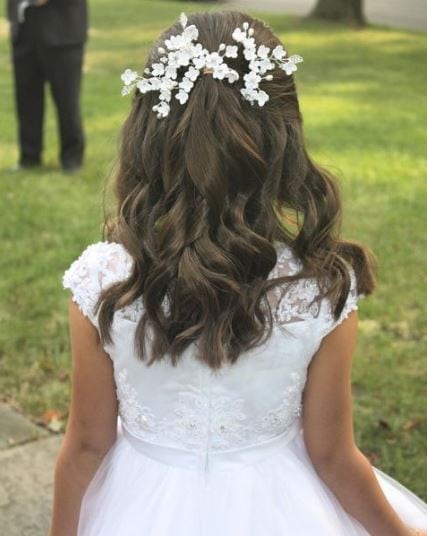 Image by @juliassalonandco via Instagram
11. Messy Curly First Holy Communion Hair
If your girl has medium hair, you should get this hairstyle done on her first communion. It is a stress-free hairstyle with a cute pearl-filled headband placed at the front.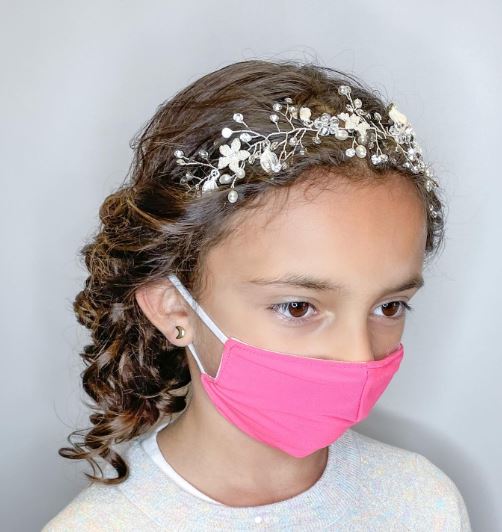 Image by @salonpatrick via Instagram
12. High Bun First Holy Communion Hairstyle
Not a stylist? You might find this sophisticated high bun hard to achieve. Your best bet will be getting a hairstylist to help you achieve this look.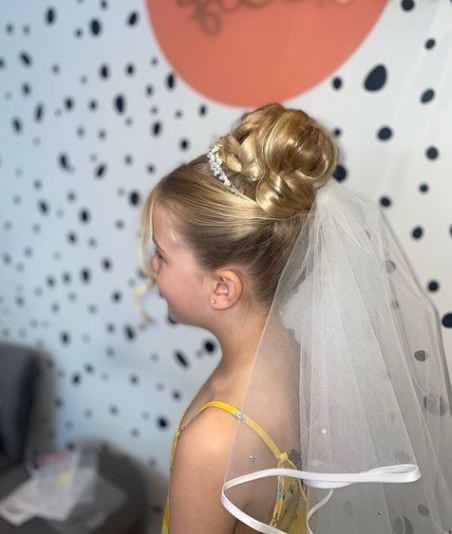 Image by @andreastewarthairstylist via Instagram
13. Half Down Half Braids First Holy Communion Hair
Don't you just love the simple veil added to this holy communion hairdo? The shoulder-length hair is made all elegant by the veil and pearly headpiece.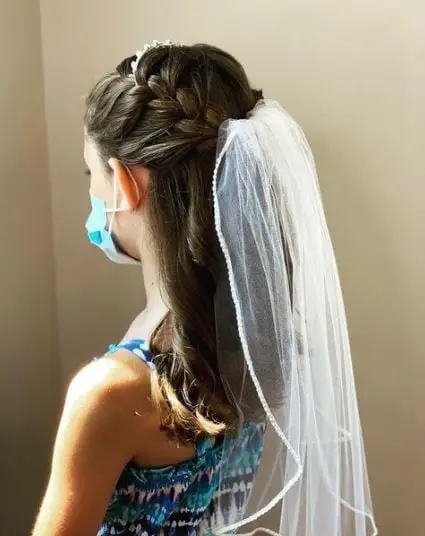 Image by @kristinkincaid_salon via Instagram
14. Pretty Curly Holy Communion Hair
Curly hair and holy communion hair are relative. This is because curls will make your kid feel all fun and bubbly.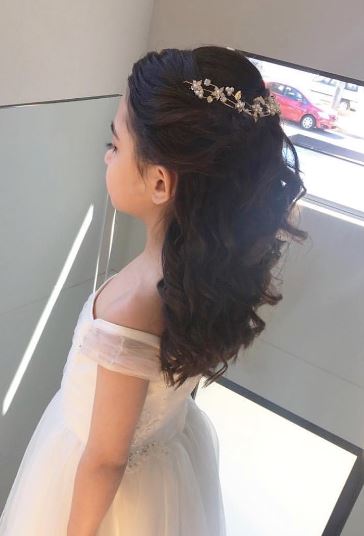 Image by @hairbychristiner via Instagram
15. Double French Braids First Communion Hairstyles
If you want a unique holy communion look for your little girl, opt for a pink or off-white gown as done here. Pair with a similar colored headpiece for a magical look.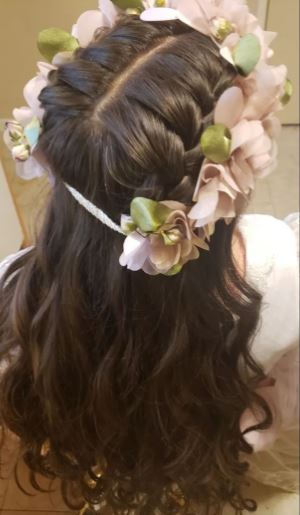 Image by @alebstyles via Instagram
16. Pretty Half Updo With Waves
First communion hairstyles can be made to look classic without too much fuss. Get a simple hairstyle done and add a tiara on top to achieve that.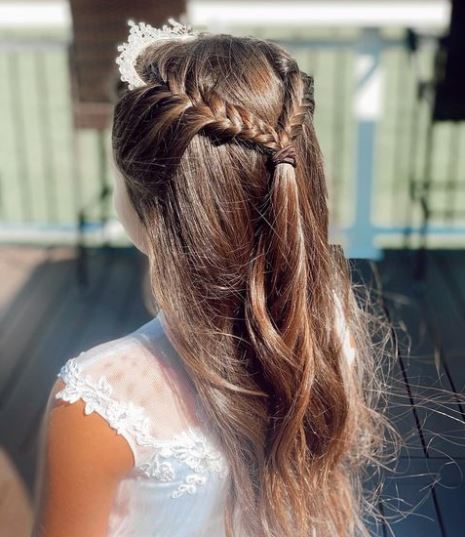 Image by @styledbygracevictoria via Instagram
17. First Communion Hairstyles With Highlight
Brunette hair looks extra gorgeous with a blonde highlighted part.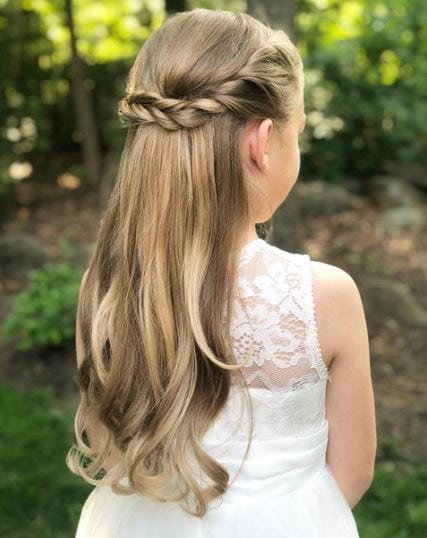 Image by @kidhairstyles via Instagram
18. Communion Hairstyles Half Curls
The long, blonde hairstyle is placed in a slight wave with a flower crown that looks amazing with her necklace.
Image by @itsinthehair_ via Instagram
19. Complex Bun For Holy Communions Day
This little girl's dress and haircuff-filled mane work well together to complete her communion look.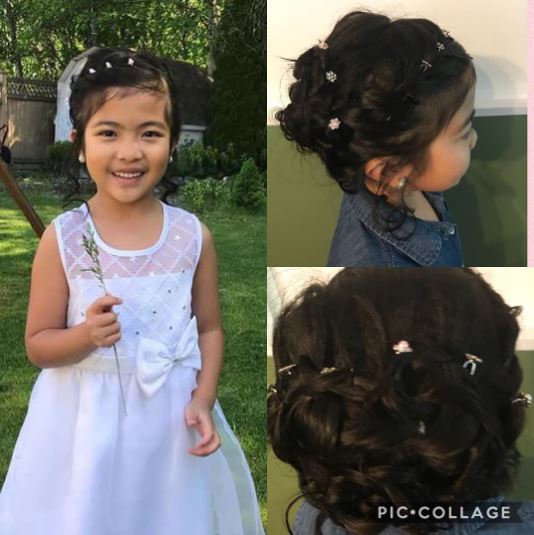 Image by @vanessatrendzhairstudio via Instagram
20. Curls and Braids
It doesn't get any better than this hairstyle with curls, braids, tiara, and a veil for a perfect holy communion look.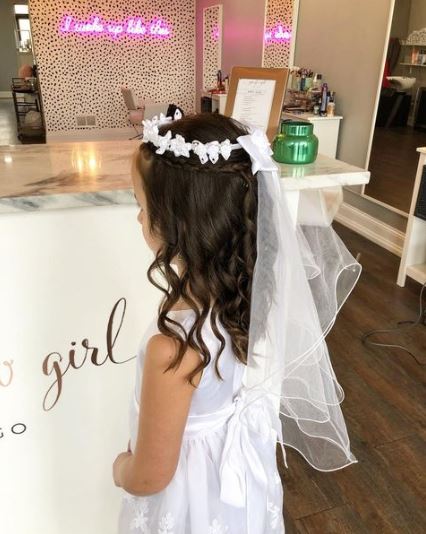 Image by @cellie.styles via Instagram
21. First Communion Hairstyles For Thick Hair
Is your girl's hair thick? Be happy, because you will be able to recreate this pretty and fun look for her first communion. Adding fabric flowers will make the hairstyle pop.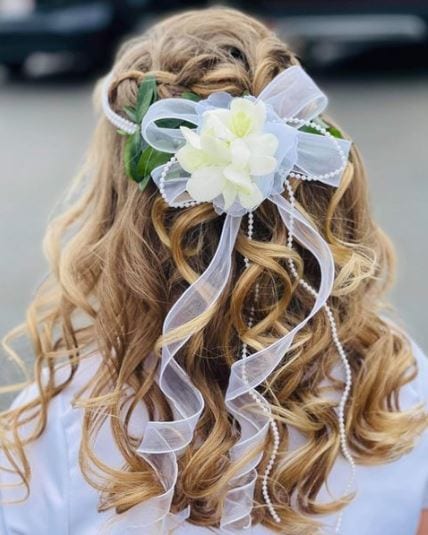 Image by @ewabaczekmakeup via Instagram
22. Cute First Communion Hairstyles
This holy communion hair might look hard to recreate but it's actually not. All you need is some hair gel for the swoop part of the hairstyle, and a flat iron for the slightly wavy portion of the hair. Add a silver headband to the style and you've created a magical look.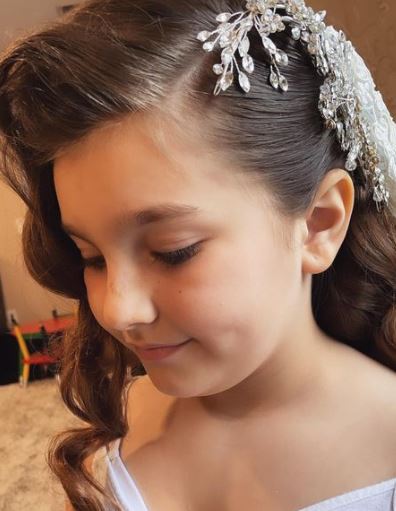 Image by @beyoutiful.salon via Instagram
23. Waterfall Braid With Messy Bun
I love the uniqueness of this first holy communion style. The front of the hairstyle features wavy bangs, while the messy bun has a light blue-colored hair portion. This is a perfect style for girls receiving their first communion at an older age.
Image by @myras_beauty via Instagram
24. All Back First Communion Hairstyles
The versatility of this simple first holy communion hair is amazing. This hairdo will look great on both long and short hair.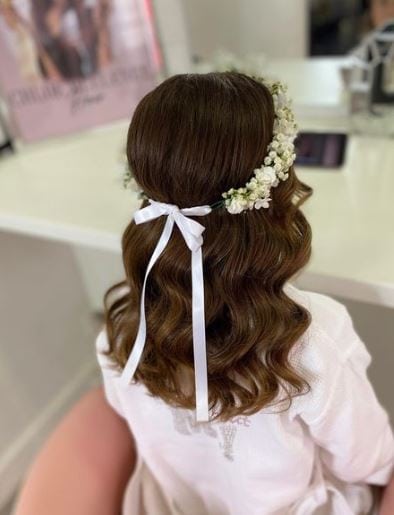 Image by @chloemceleneyhair.code via Instagram
25. Half Up First Holy Communion Hairstyle With Tiara
This little girl's first communion look makes her appear like she just stepped out of a Disney princess movie. One part of the hairstyle is in a bun that holds the tiara and the other part is left loose.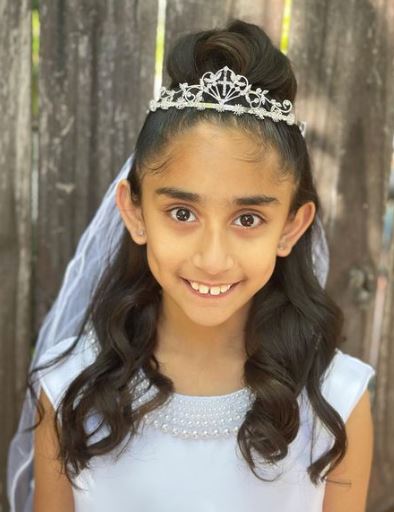 Image by @monicaaaflores_ via Instagram
26. Center Part With Loose Curls
Gowns with a wide neck look better if you sweep the hair to the front to cover a portion, as done here.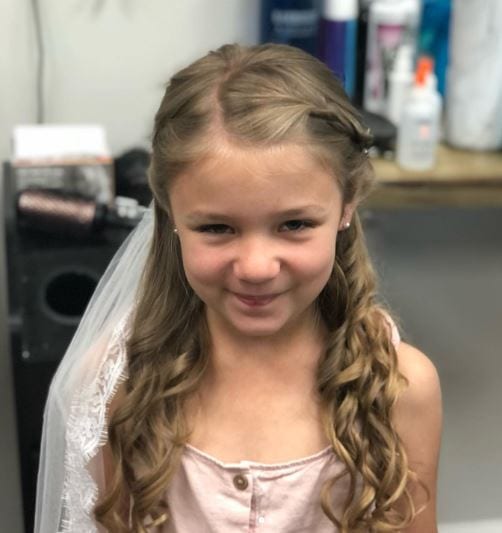 Image by @capellisalon280 via Instagram
27. Satin Bow With Flower Crowns
The flower crown and satin bow used on this black hair is the perfect contrast and I'm loving it.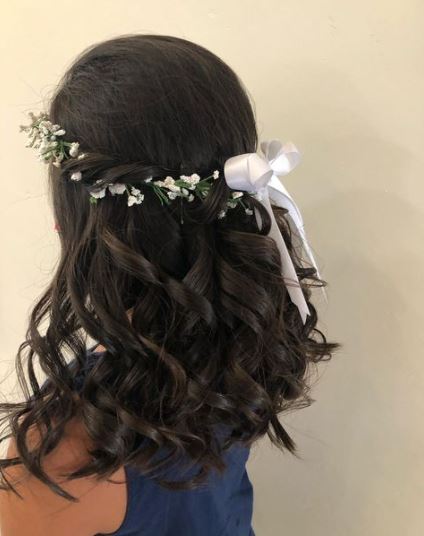 Image by @hair_by_susy_ via Instagram
28. Slight Wedge First Holy Communion Hair
Wedge styles look fun and cute on kids. The long hair is placed in a low wedge with slim bangs flowing at the front.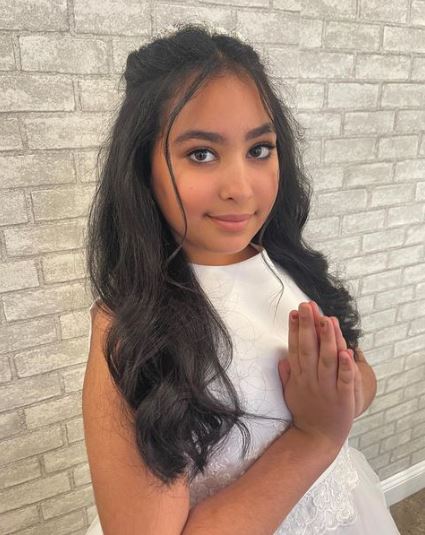 Image by @luminez.salon via Instagram
29. Crafty Haircut For Holy Communion
Let your little boy show up looking stylish with this creatively styled first communion haircut.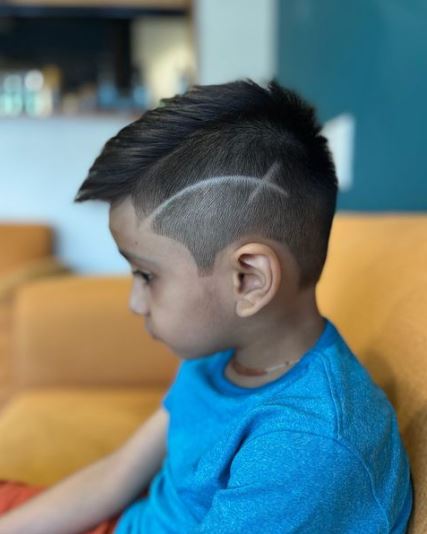 Image by @melangethesalonbopal via Instagram
30. First Communion Hairstyles For Natural Hair
Need hairstyle inspiration for your baby girl's natural mane? Here is a gorgeous one. The natural hair is placed in bold curls with braids at the side. Wanna know what completes the whole look? The fabric flower is placed on the hairdo.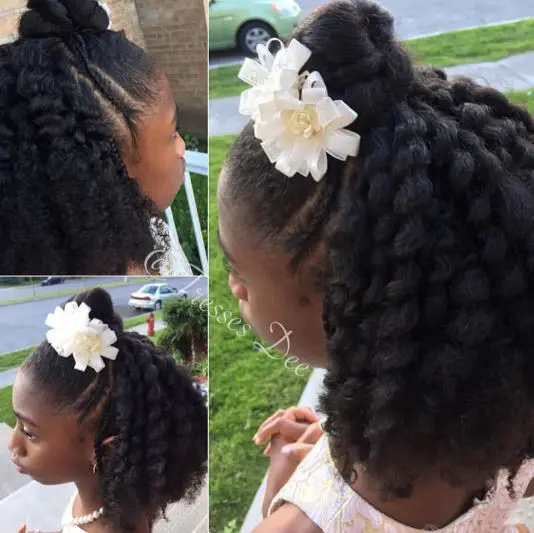 Image by @tresses_dee via Instagram
31. Fancy Holy Communion Hair
Simplicity is elegant and this hairdo proves it.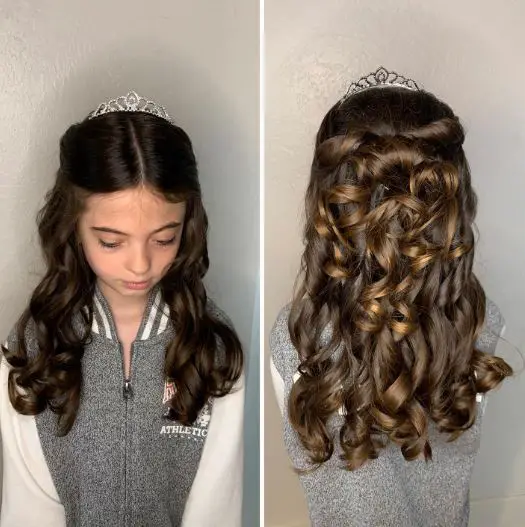 Image by @salongaboa via Instagram
32. Sophisticated Communion Hair
Does your girlie have very long hair? If she does, since you'll be able to get this flower bun hairstyle done on her big day.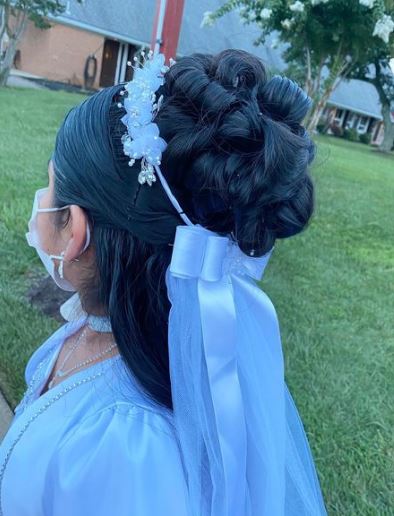 Image by @danisbeautyyy via Instagram
33. Pinned Curls
If your girl has wild curly hair, your best bet for simple communion hair is to neatly pin the curls down for a pretty look.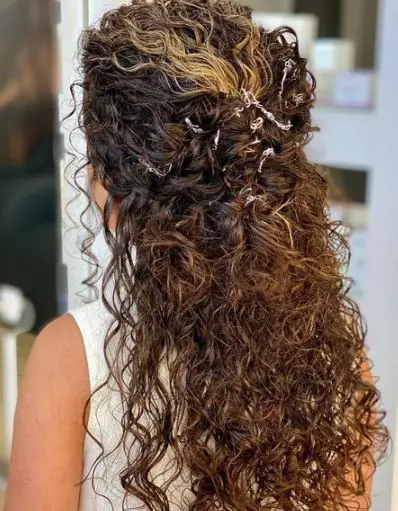 Image by @celiasilvacabeleireiros via Instagram
34. Pearls Headband
The details and sleekness of this first holy communion hairdo are too good for words. Those large pearls will make her dazzle.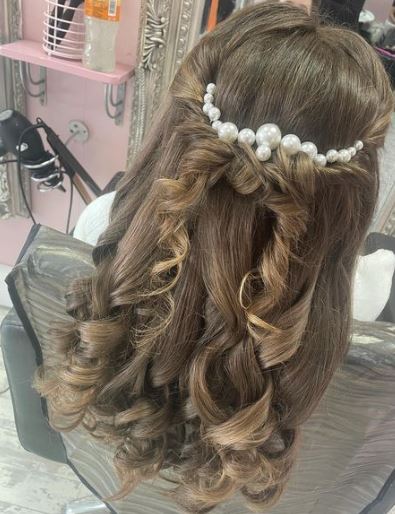 Image by @wigsandwags_ via Instagram
35. High Bun With Flowers
The upper part of this updo is sleek, with a flower crown attached just in front of the bun. This is a lovely style for little girls between the ages of 2-4 years.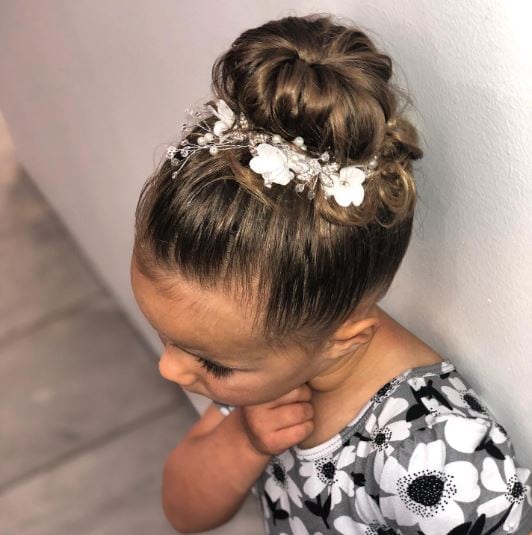 Image by @lcrjsalon via Instagram
36. Elegant and High Fashion
If you want your daughter to step out looking gracious and elegant on her first communion, this is the perfect haircut for her.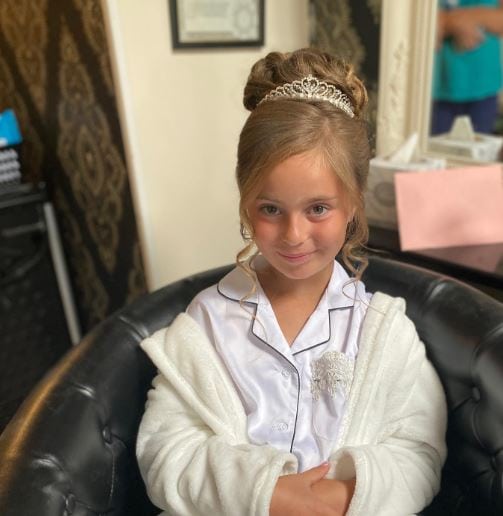 Image by @thehairboutique5 via Instagram
37. Simple Boy First Communion Hairdo
With a simple haircut like this, your little boy will be all set for his holy communion.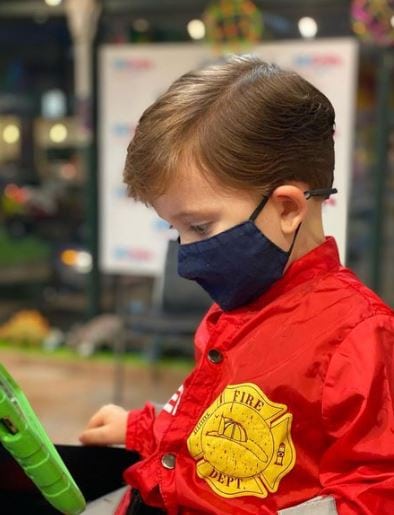 Image by @kidsnips via Instagram
38. Snow White Hair
The simplicity of this hairstyle reminds me of snow whites hairstyle, but a bit longer.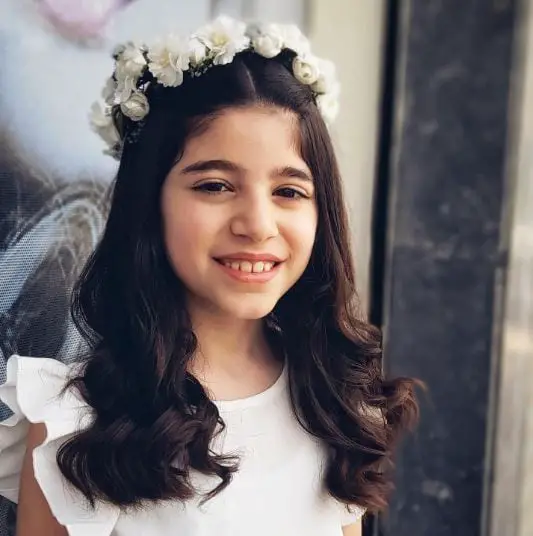 Image by @chadywheibehairstylist via Instagram
39. High Bun With Tiara
This sleek look will definitely garner attention and admiration as your daughter walks across the aisle for her first communion.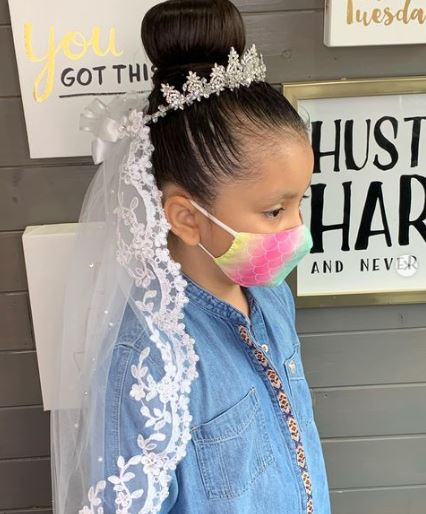 Image by @colourbarsalonnj via Instagram
40. Side Swept Hairstyle
A side-swept hairstyle always looks adorable on little boys. It looks even better on blonde hair.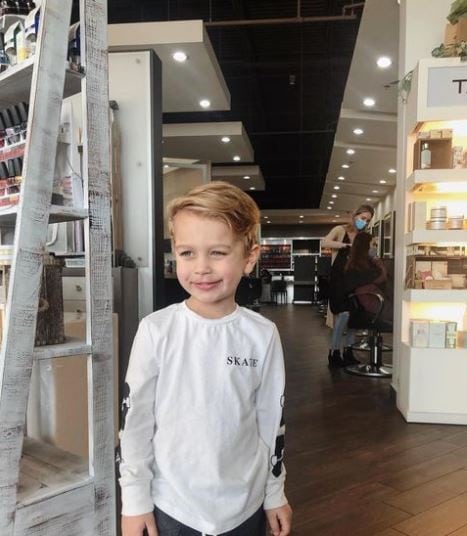 Image by @annalisestyleshair via Instagram
41. Blonde Detailed Hairstyles
I love the well-defined curls of this hairstyle and the straight potion in front.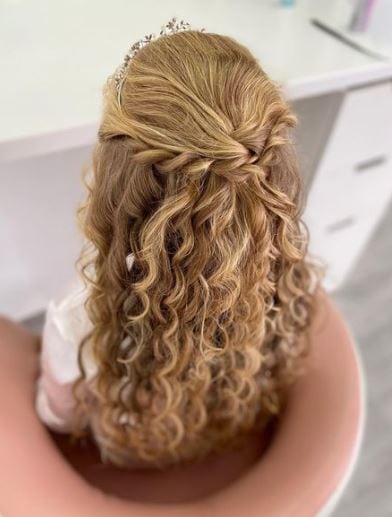 Image by @chloemceleneyhair.code via Instagram
42. Curly Bangs Hairstyle
There's no better time than now to rock curly bangs. It looks especially great with this swoop bun hair.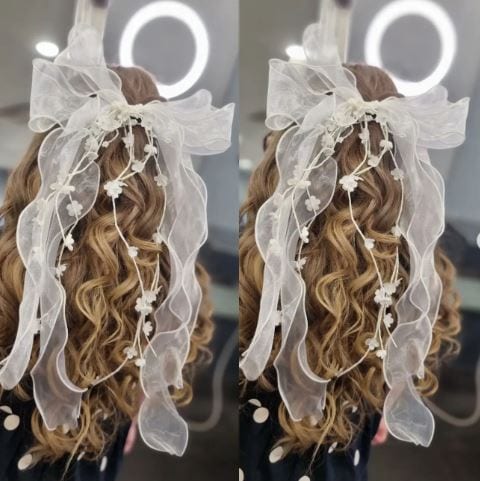 Image by @cutabove17 via Instagram
43. Blow Wave Hairstyle
Blow waves give a fresh and happy vibe.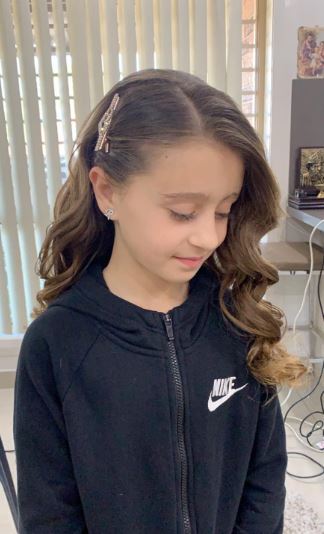 Image by @hairbychristiner via Instagram
44. Short Straight Hair
Does your daughter prefer short hair? Just straighten her hair and she's good to go. I suggest adding flowers to the hair for a more glam look.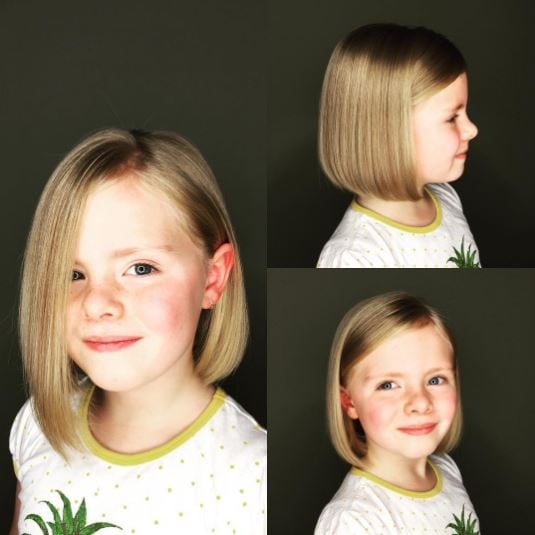 Image by @arthursfriseure via Instagram
45. Blooming Flowers
Not sure if it's the bright smile or fresh florals, but this look is giving me chills.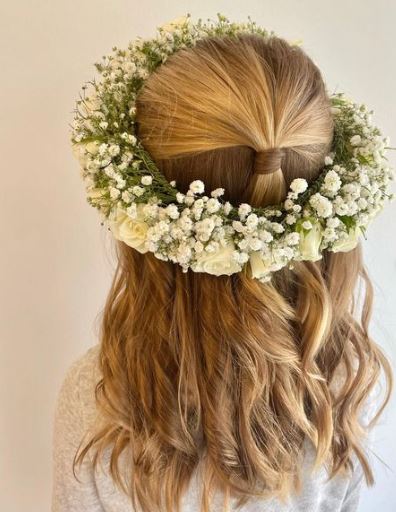 Image by @idesignsalonhinsdale via Instagram
46. Sleek Boy Style
Comb your boy's hair to the side and apply a little gel to achieve this flawless style.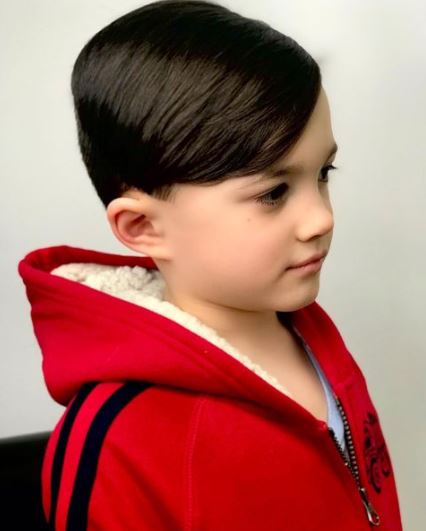 Image by @hair_designs_by_kb via Instagram
47. Blunt Bangs
If your daughter has a round face, you should definitely go for blunt bangs for holy communion.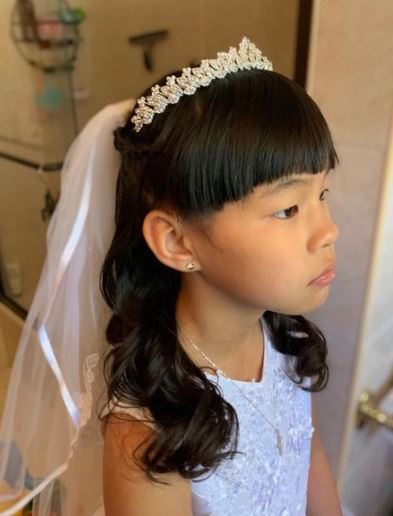 Image by @beautybylexxaa via Instagram
48. Platinum Blonde
Is your daughter's favorite character Elsa? If yes, you should consider this hairstyle.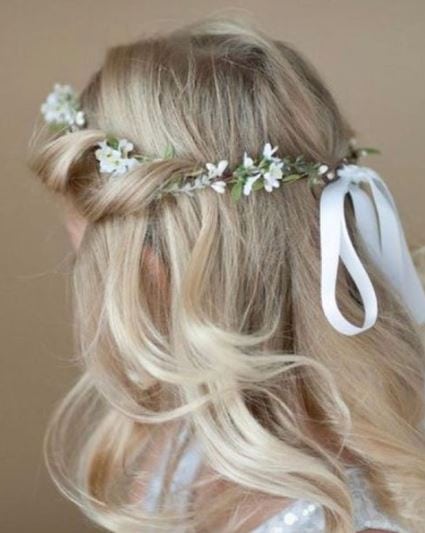 Image by @thewe.company via Instagram
49. Elegant Twist
The innocence of this look is heartwarming. Just take a look.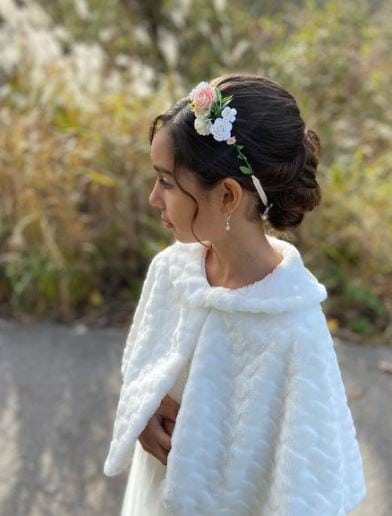 Image by @hairglambysara via Instagram
50. Half Up Ponytail
Getting a trim for holy communion is not a bad idea. You can trim your hair and add highlights for a casual look.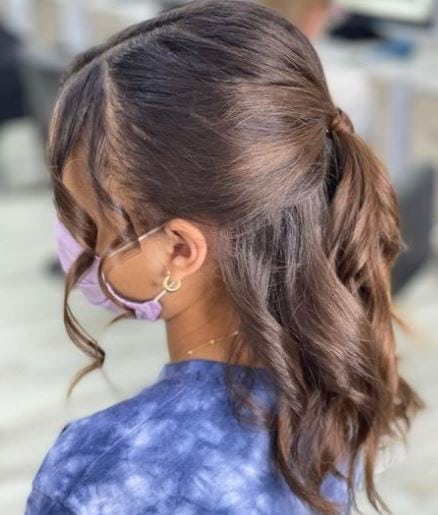 Image by @brenda_d_creations via Instagram
51. Beach Waves
The beauty of this chin-length hair is amazing. I'm obsessed with the tiny petals placed on the hairstyle.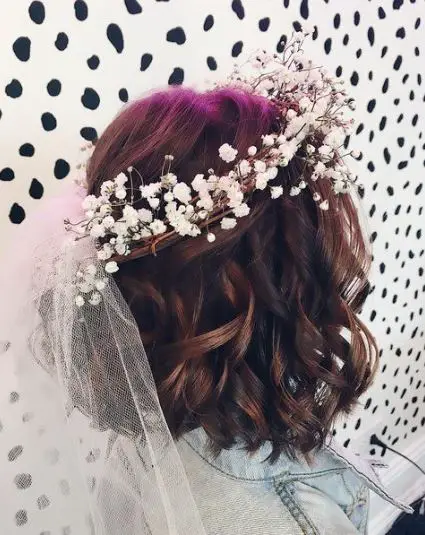 Image by @cellie.styles via Instagram
52. Stylish Bun
If you're not a hairdresser, you might want to take your daughter to one for a stylish look like this.
Image by @erinhairdesign via Instagram
53. Cinderella
Cinderella probably didn't look this adorable. The hair waves and gown match in a spectacular way.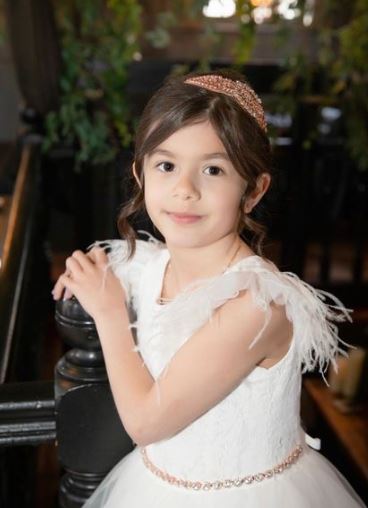 Image by @hairglambysara via Instagram
54. Silver Hairband
A silver hairband like this is all you need to transform your daughter's look from good to great.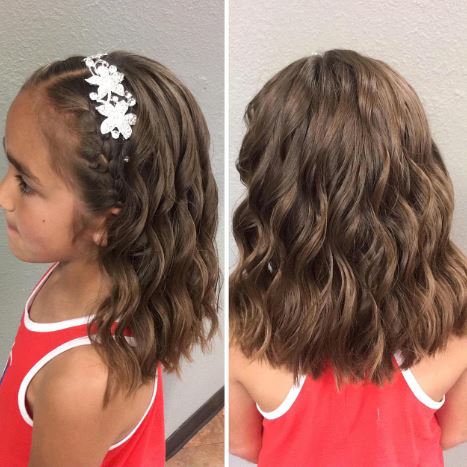 Image by @denisebakerr via Instagram
55. Half Shaved
If your boy is between the ages of 5-10, this is a nice first communion style for him.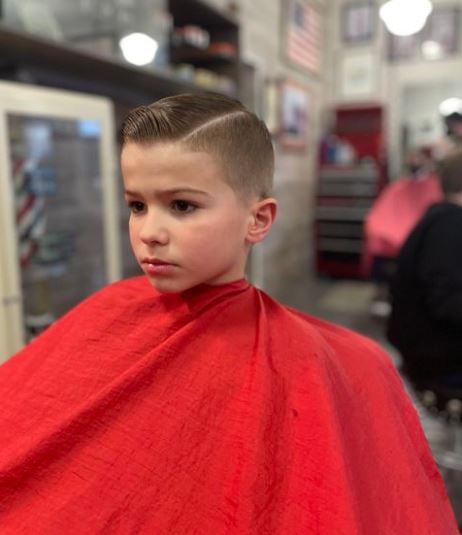 Image by @detroit_dzikus via Instagram
Have you decided on your kid's first holy communion hairstyle yet? These ideas should give you the inspiration you needed. Now sit back and get ready to capture lots of amazing pictures.