Stepping into a room looking like you own it requires more than just self-confidence. That confidence has to be backed up by a sassy haircut.
The best haircut to match that confident persona is short hair with slight waves. Short hair has a way of adding an edgy aura to your look to give just the right amount of sass. If you've got a longer hair, then dyeing or adding highlights to your hair, accompanied with long bangs is your best bet at achieving a sassy look.
If you need a sassy hairstyle that will have heads turning, here are some stunning sassy haircut ideas for inspiration.
Sassy Haircut Ideas To Try
1. Short Sassy Style With Slight Highlight
Jet black short curly hair with the slightest highlight in front is the perfect sassy hair for younger ladies. The highlights in front add some spice to the fine hair. Pair with neutral makeup or no makeup at all for that effortless and stylish appearance.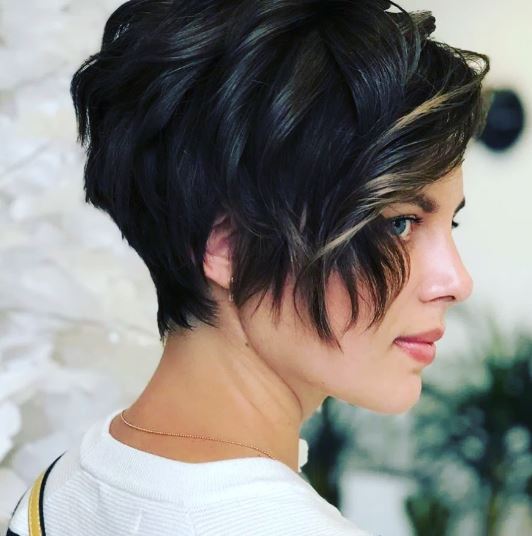 Image by @minxhairstudio via Instagram
2. Grey Blending Short Sassy Haircuts
Most haircuts for women are short because it expresses that no-nonsense vibe effortlessly. Here, the short hair is placed in layers and it forms a slight wedge at the back of the head.
The front of the hair is also sectioned with one side having more volume than the other, forming a side-swept bang.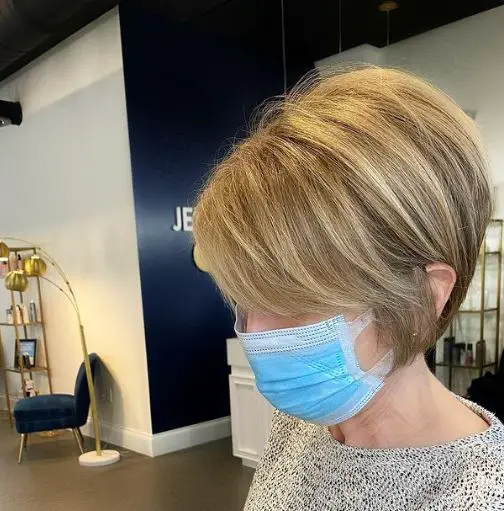 Image by @jennassalon via Instagram
3. Classy Sassy Mohawk
This one is for more adventurous ladies. The ginger hair features a shaved part with curls at the top. The curls can be easily achieved using your curling iron. All you have to do is roll your hair twice around the iron to get similar waves.
The Mohawk style looks really awesome on people with v-shaped faces and should be avoided by people with the round face shape.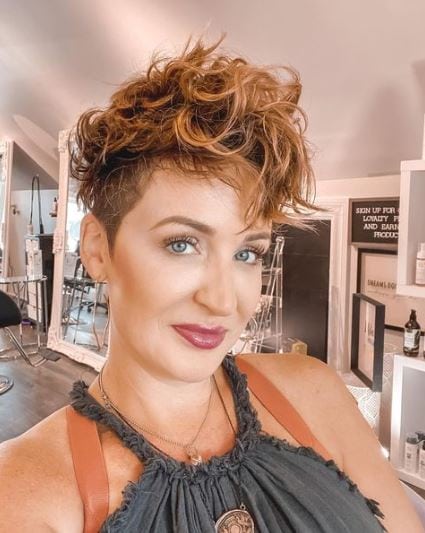 Image by @curlologybymarilyn via Instagram
4. Orange and Blonde Sassy Haircuts For Women
Orange and blonde hair fall on the daring side of the hair gradient. So if you feel like you're up to it, this hair will look lovely on you. Especially if you have a darker skin tone.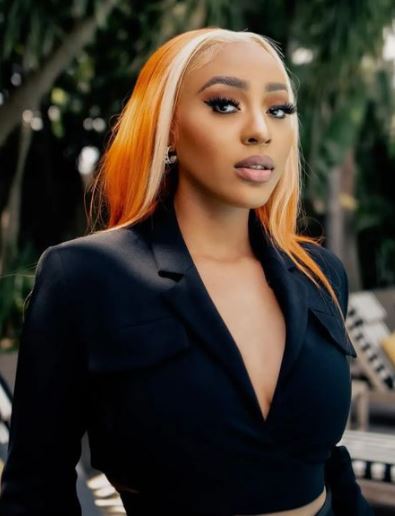 Image by @stylerave_ via Instagram
5. Asymmetrical Bob Sassy Short Haircuts
This is your sign to rock your silver hair like the crown that it is. The lovely silver hair is straightened out to form a short wedge at the back. The length of the hair increases progressively from front to back, ending with chin-length hair at the front portion.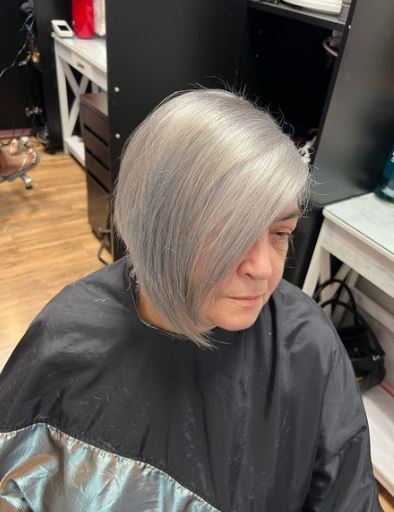 Image by @hairpalacebycesar via Instagram
6. Layers Bob Haircut
The shoulder-length bob haircut has that bold effortless aura even though it takes a lot of effort to achieve. To recreate this, after curling your hair, pass your hands through it to give the hair that tousled and effortless look.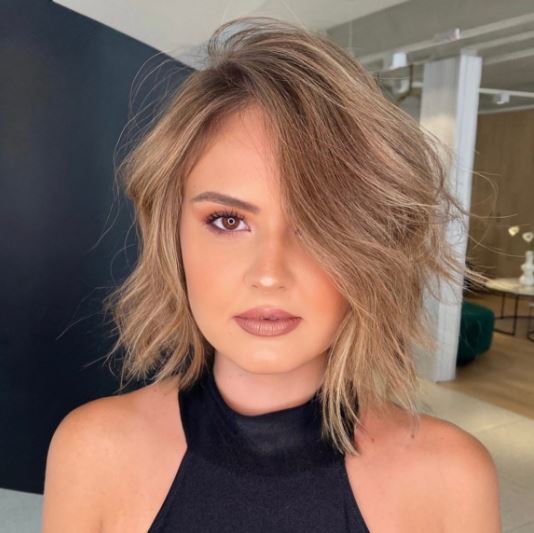 Image by @rodrigocintra via Instagram
7. Asymmetrical Pixie Haircut
It's no news that pixie haircuts are for baddies. This features layered hair with the longest part of the hair at the front and swept to the side. The fine hair shortens progressively from the front, with the shorter layers at the back, which ends in a neat undercut.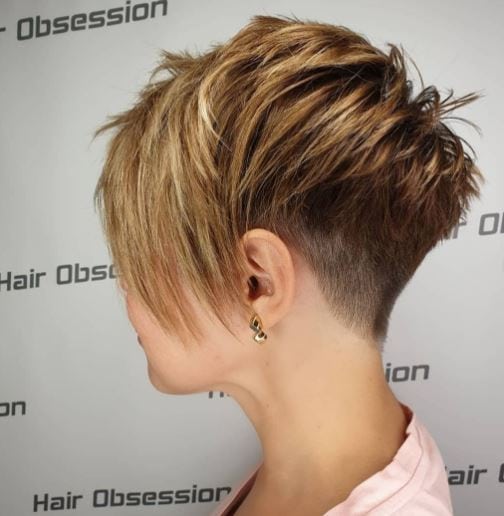 Image by @hairfinder via Instagram
8. Sassy Haircuts For Naturally Curly Hair
Got curly hair? All you have to do to achieve a similar look is illuminate your hair a bit to match better with your skin tone. Pair with a dark outfit for an extra confident and chic look.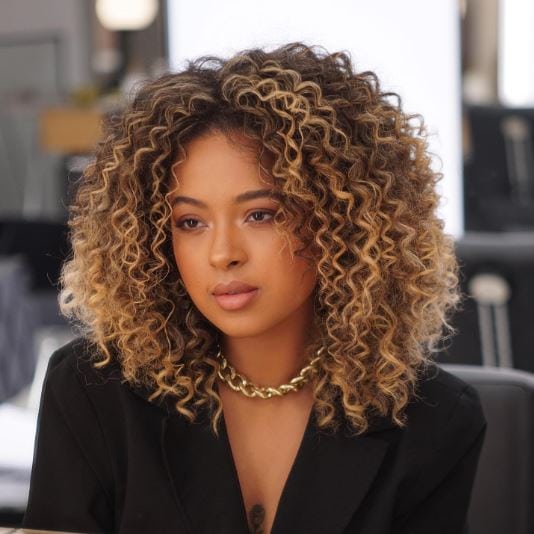 Image by @rodrigocintra via Instagram
9. Blonde and Burgundy Hair
Colored hair is a way of telling the world you will do what you like with zero regard for other people's opinions. Sassiness does not get any better than that.
You can add color to your hair by dyeing a part of your hair as done in this platinum blonde and burgundy hair or by dyeing all your hair.
Image by @kpbeauty.nh via Instagram
10. Layered Bowl Cut
This short sassy haircut has a nerd vibe. The thin hair is straightened and cut to perfection with short, straight bangs that increase in length as the hair goes from front to back.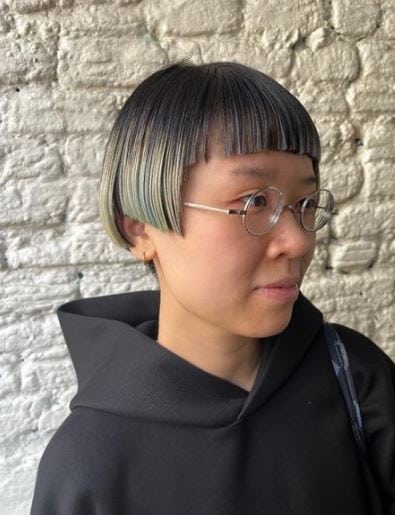 Image by @mysnugroom via Instagram
11. Platinum and Orange Sassy Haircut
Need a hairstyle that expresses class and style? You should get this done. The layers and color of the hair is giving sass. Add a silver eye liner with a neutral lip for a slightly edgy look that will have heads turning as you pass.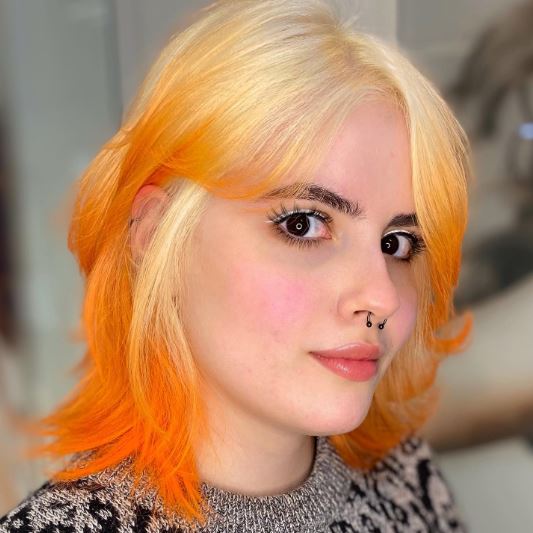 Image by @amandalemos_beleza via Instagram
12. Disconnected Cut and Bangs
Have a thing for vintage styles? Here is a bold look inspired by the 90s to try. Volume and texture help gives the sassy style its amazing look. So if your hair is on the thicker side and you want a vintage look, you should recreate this.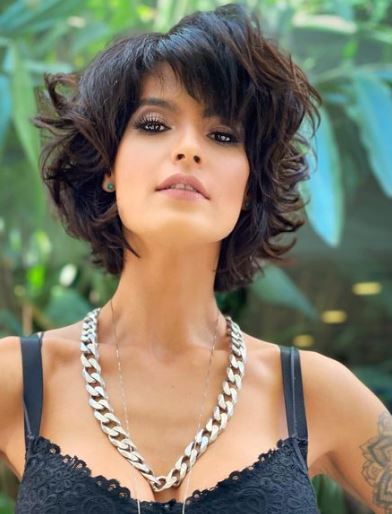 Image by @diegomarcsant via Instagram
13. Blonde and Black Sassy haircut
Not a fan of the short sassy haircut? Here is a charming longer sassy haircut that features different colors on each sides of the head for you to recreate. You can also get a cute short style with a similar pattern. It all depends on your preference.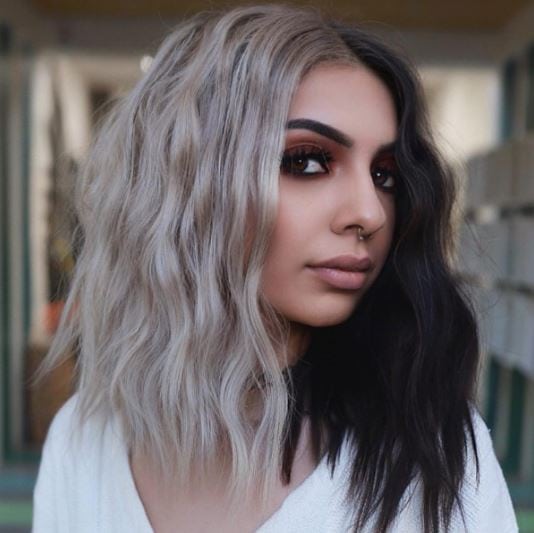 Image by @beautifinder via Instagram
14. Spicy Short Sassy Haircuts
Darker roots and asymmetrical, long-side swept bangs are all you need to give your thin hair texture and depth.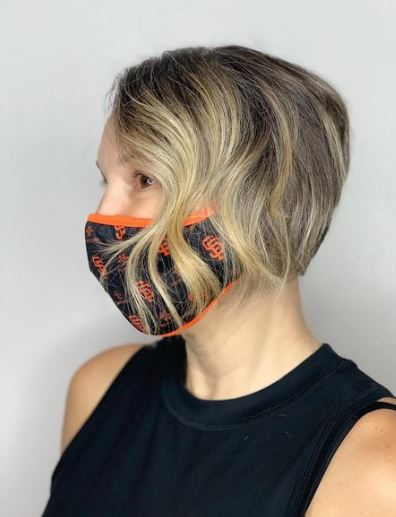 Image by @ivonnegarcia__ via Instagram
15. French Bob Haircut
Perfect chin-length straight hair with scanty bangs; all you need to create that 'Jeune' bold look. I suggest getting this style done with your natural hair to enhance the movement and sophistication of the look.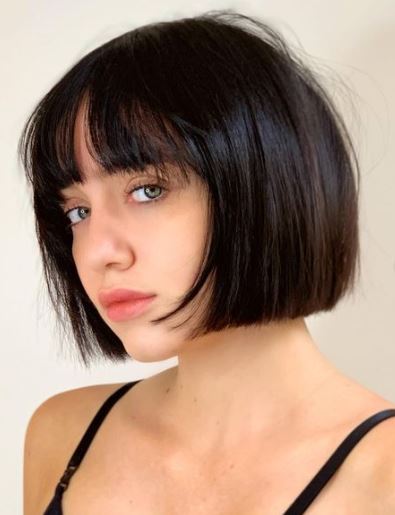 Image by @diegomarcsant via Instagram
16. Black Sleek Asymmetrical Sassy Mane
The noticeable difference between the short and long bangs of this hairstyle makes it unique.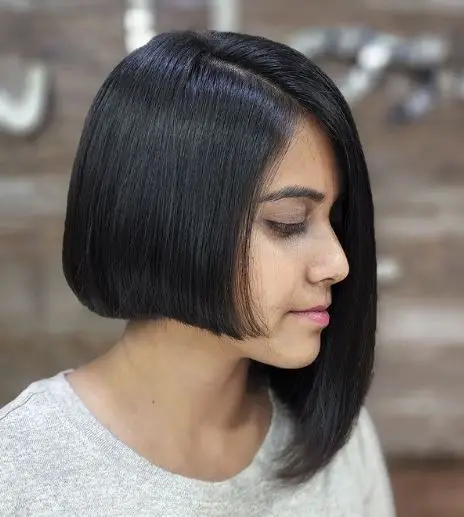 Image by @jollychandasatinrose via Instagram
17. Short Sassy Shag Pixie Haircut
Platinum blonde hair color is attention-grabbing and beautiful. So if you would like to get a sassy shag, you should try this out.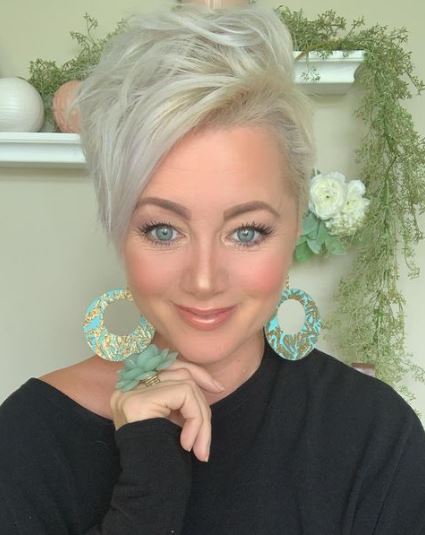 Image by @cleanbeautyreveal via Instagram
18. Fringe Pixie Haircut
This fringe pixie cut is full of attitude and swag. The front of the bangs has a little v-shaped window, giving a mysterious and lethal appearance.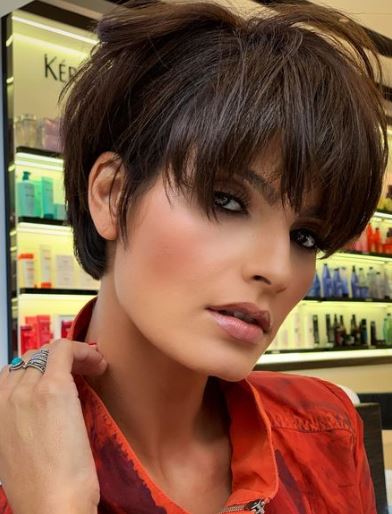 Image by @diegomarcsant via Instagram
19. Blue, Orange, and Green Sassy Cut
Don't you just love the contrast between the different portions of this hairstyle? It starts with a blue color in front which becomes orange and blends into the green.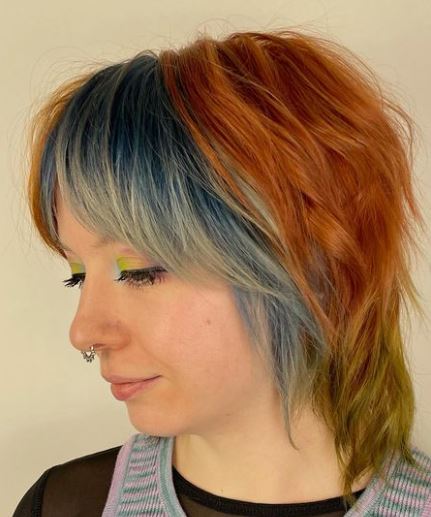 Image by @rendoeshair and enjoyco.collective via Instagram
20. Blonde Short Sassy Haircuts For Women
Want to get a pixie cut? I suggest easing into it by cutting your tresses shorter and shorter. You can start by getting shoulder-length hair like this. After a while, you can completely transition into a short pixie haircut.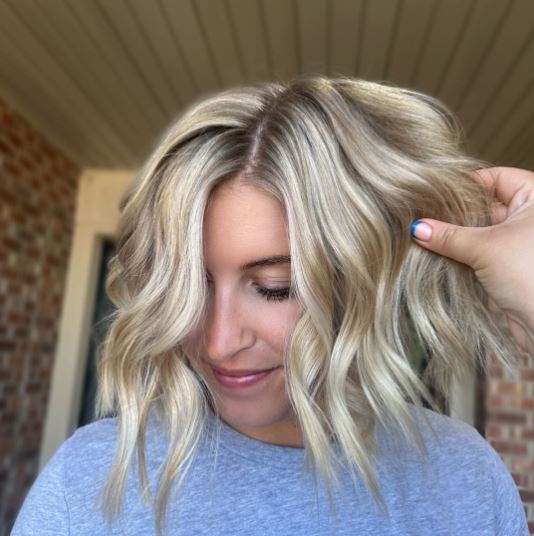 Image by @ohbabysalon via Instagram
21. Creamy Blonde Textured Pixie Cut
The natural texture and subtle layers of this mane are just what you need to enhance your facial features.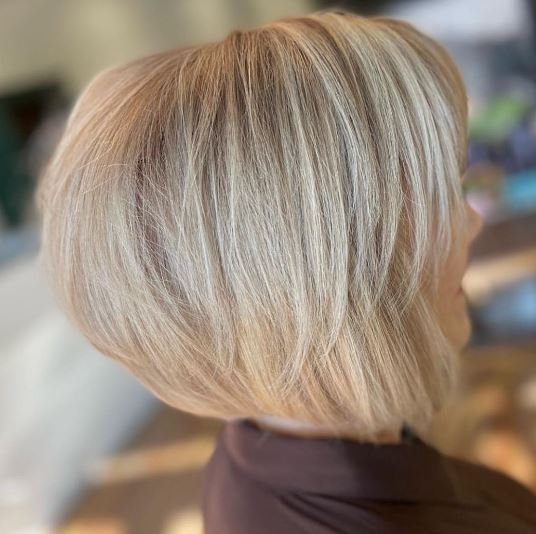 Image by @salon_thirty_one via Instagram
22. Inverted Bob With Feathered Layers
Not a fan of the edgy style of most short sassy haircuts? You can get this trendy style with fine tresses for a simple yet confident look.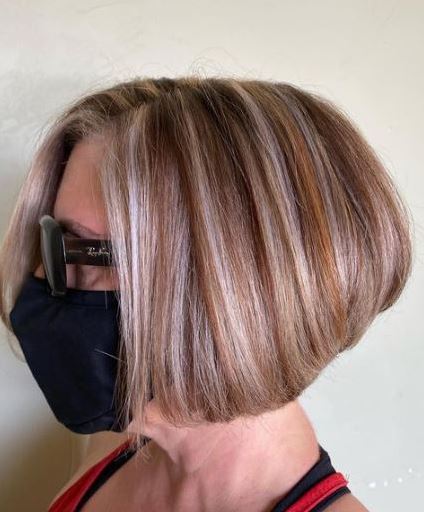 Image by @thepueblohairartist via Instagram
23. Brunette Short Hairstyle With Copper Blonde Highlights
The contrast between the two sections of the this hair looks charming . This hairdo has a sassy feel and looks great on both heart and round face shapes.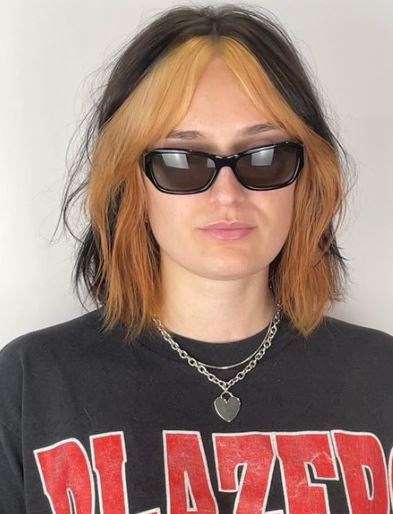 Image by @rendoeshair and enjoyco.collective via Instagram
24. Sassy Side Swept Bangs Haircut
A bold section is used to part the two portions of this mane. One side is gelled down, while the other side is straightened using a flat iron and swept to the side.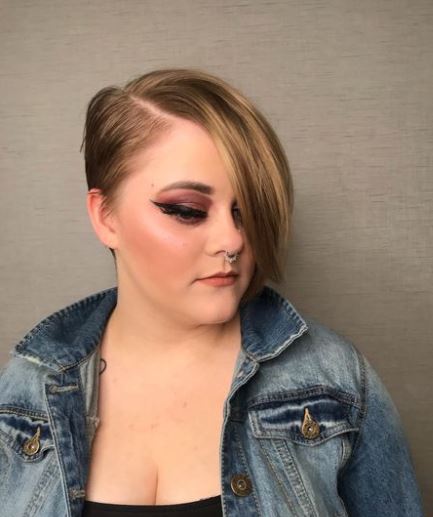 Image by @kendrajanelle via Instagram
25. Platinum Blonde Wavy Hair
This is a classic hairstyle that will place you in the spotlight. The bright color is sure to take years from your age, making you look younger.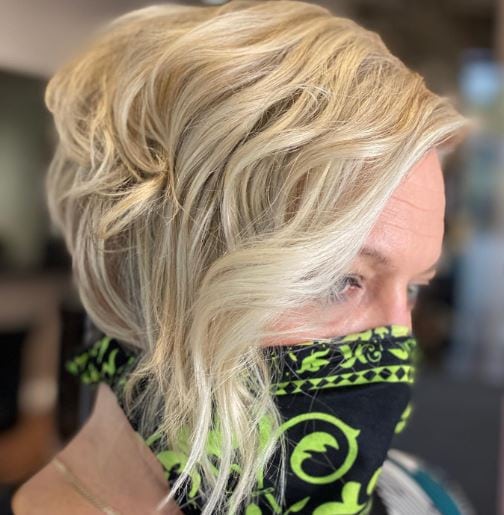 Image by @remix_hair_studio via Instagram
26. Strawberry Blonde Short Hair
Another classy way to wear your natural hair is by getting a bob fringe haircut. This hairstyle will look great on both thick and thin hair.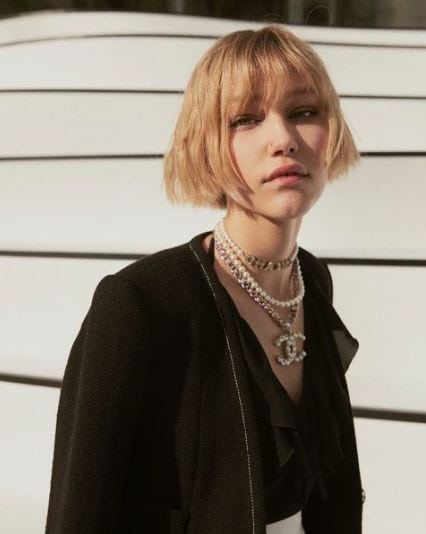 Image by @ethoscollectiveseattle via Instagram
27. Shoulder Sassy Short Haircuts
Looking for a low-maintenance hairdo? Then you should try this sassy short cut. All you have to do is wash, brush using a round brush and let it air dry as you get ready to go about your day.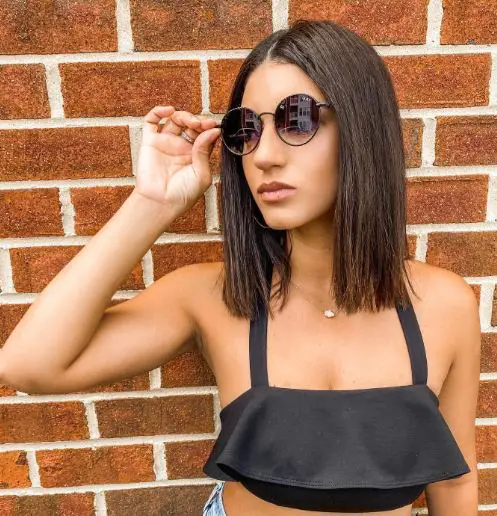 Image by @kendyl.teague via Instagram
28. Classy Lob Haircut
The lob hairstyle is a chic and stylish cut that will never go out of style. So if you were looking for a sassy cut that'll give you that bossy look, you should get this.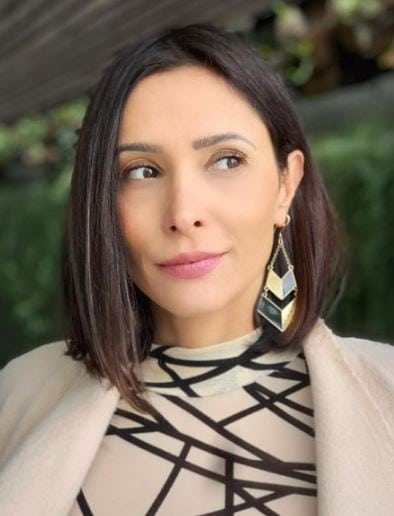 Image by @diegomarcsant via Instagram
29. Sweet Short Sassy Cut
The black and purple hair color combination is not only vibrant, but it can also give you a super-sassy look with the right styling. Pair this with a darker outfit for a cute and fun sassy look.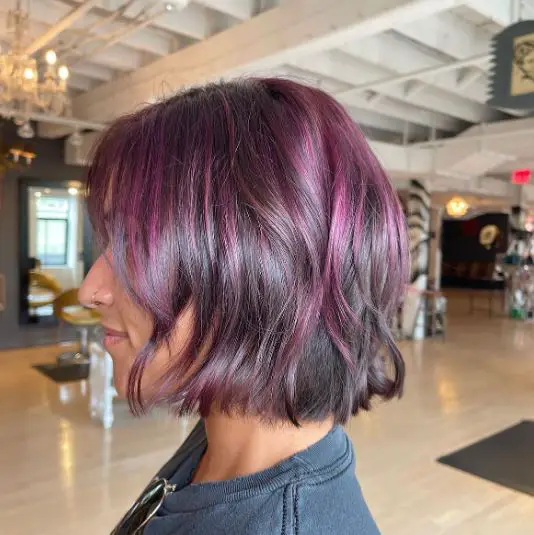 Image by @lambsandwolves via Instagram
30. Thick Hair Sassy Haircuts For Women
Sometimes, all you need to look sassy is the bare minimum. Just style your hair to your preference, wear simple makeup and let your self confidence do the talking.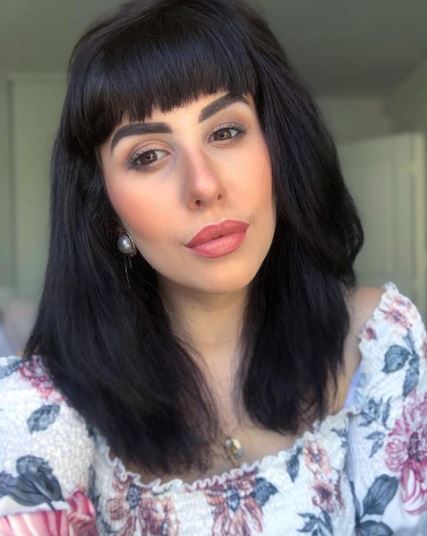 Image by @jbeautyin via Instagram
31. Lob Sassy Cut With Braid
Emma Stone totally killed this short sassy lob. The fine hair has dark roots with lighter tips. The larger part of the hair is made into a simple braid to avoid obstruction of the eye.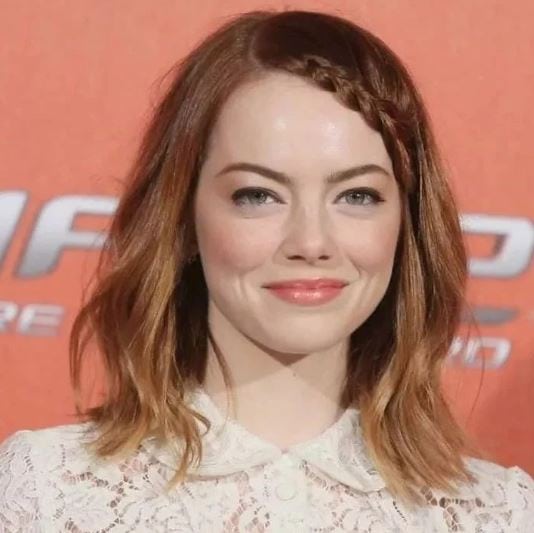 Image by @800casting via Instagram
32. Mango Color Vibe Sassy Haircut
I recommend stealing this hairdo inspo for those with heart shaped faces. The fine hair with has a mango color blend with short bangs that become long bangs at the sides.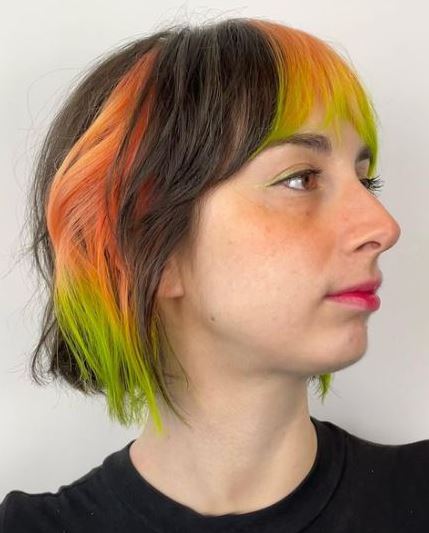 Image by @rendoeshair and enjoyco.collective via Instagram
33. Wavy Bob Haircut
This slightly wavy hair has lowlights that add depth to the fine tresses. The light brunette has some darker parts that just work well to enhance here facial features.
Image by @evandrolimacoiffeur via Instagram
34. Platinum Stacked Bob Haircut
Matching your dress and hair is always a great option. Here, the white thick hair works perfectly with the gown to enhance her looks. Pair with a bold accessory like the earrings featured here.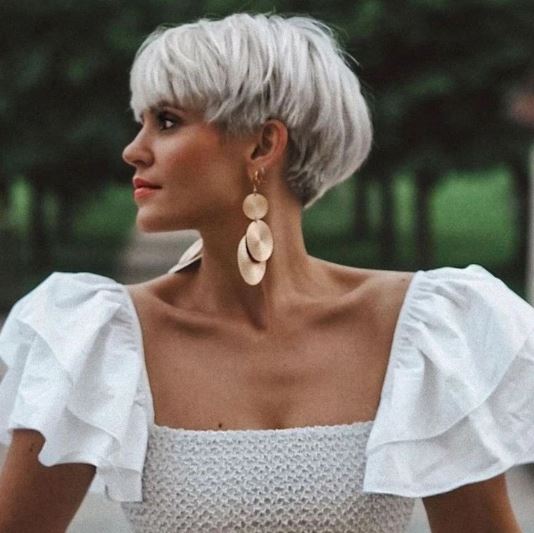 Image by @barbarianstyle_net via Instagram
35. Grey Short Sassy Cut
This super-stylish mane can be rocked by people with both thick and thin hair. Got a round face? All the better, since this cut will do well to enhance your face.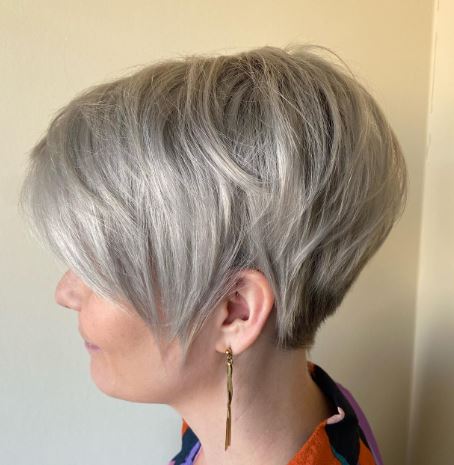 Image by @avi_ange via Instagram
36. Blonde Short Sassy Cut
A short pixie cut for those with thick tresses. The low-maintenance hair just requires you to blow dry, and you're good to go.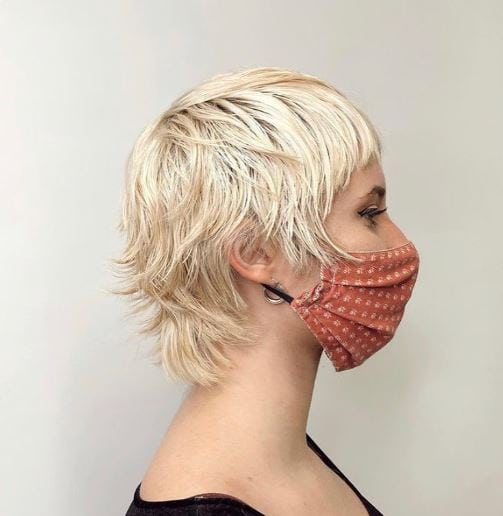 Image by @enjoyco.collective via Instagram
37. Super Short Hair With Undercut
Undercuts have a way of adding a youthful elegance to your appearance. So if you're still a child at heart, you can rock this, regardless of age.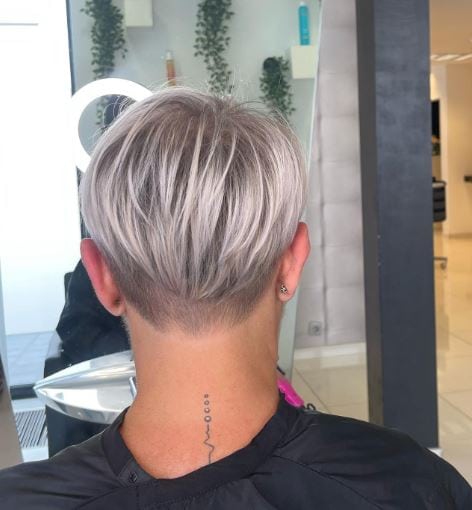 Image by @different_hairsalon via Instagram
38. Super Sleek Sassy Haircut
Gelled to perfection, this super sleek hairdo is just what you need to command respect and attention. The hair is swept to the back, which works well to accentuate the cheekbones.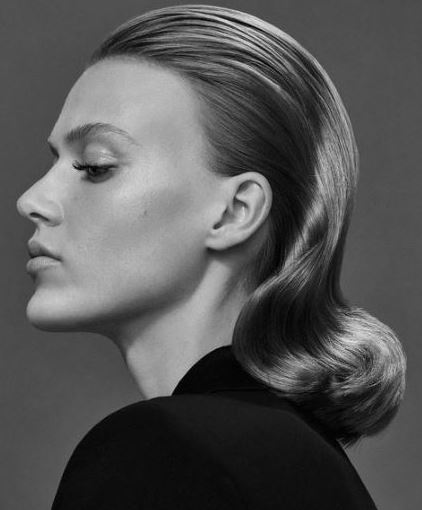 Image by @ballsaal_artist_mgmt via Instagram
39. Choppy Pixie Tresses
This is the ideal mane for a soft and cool sassy look. The brown pixie hair has several lighter highlights done to perfection by the hairstylist. I suggest using a brighter highlight if you like your hair to stand out better.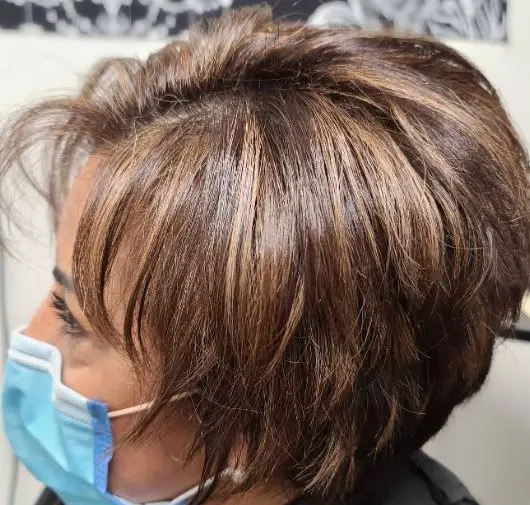 Image by @hairbyjorge_ via Instagram
40. Chopped Mob Tresses With Blonde Tips
Another hair inspiration to help you embrace your short hair. The styling of the haircut features a gelled part and a tousled part with blonde tips that gives the locks life.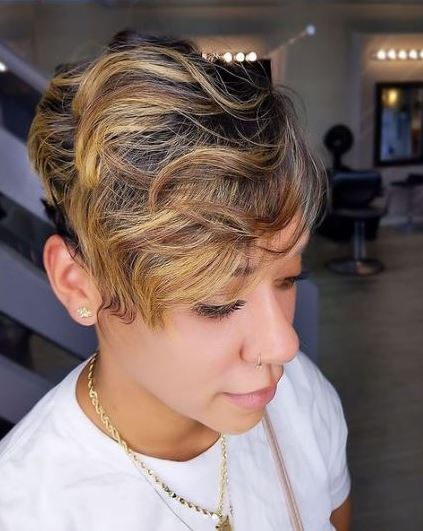 Image by @kbbsalon via Instagram
41. Highlighted Short Haircut
The choppy layers work well to add volume to this brunette hair. So, if your hair is on the thin side, I suggest going heavy on the layering.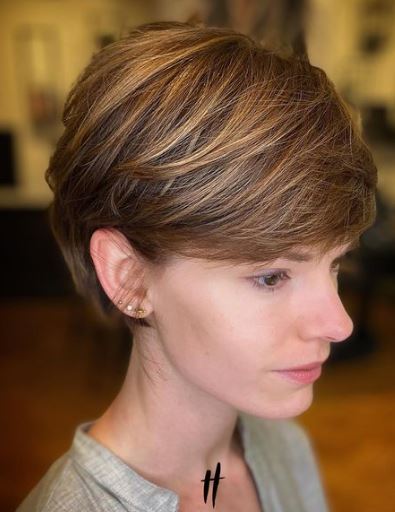 Image by @hairplaza via Instagram
42. Sassy Short Pixie
Pixie short haircuts are perfect for adding fullness to thin hair. All you have to do is choose your preferred style, sweep to the side and run your hand over it to give it that messy yet elegant look.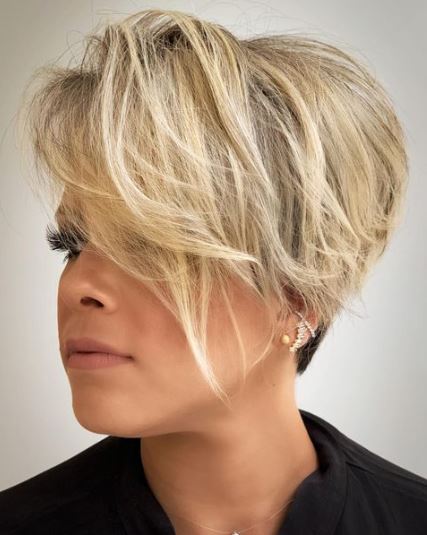 Image by @diegomarcsant via Instagram
43. Brown and Gold Sassy Haircuts For Women
The color gradient of this mane works well. The dark roots add fullness to the cut that adds that cute sassy vibe to the style.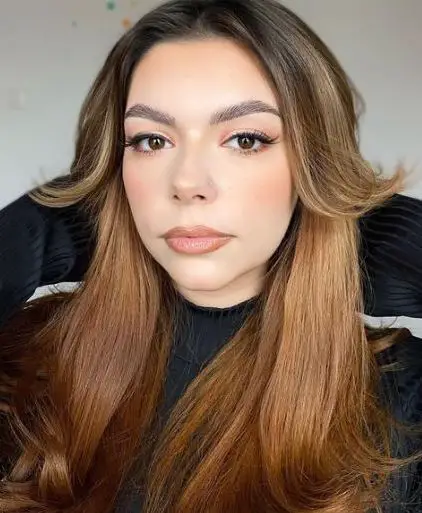 Image by @roxanne_roxx via Instagram
44. Straight Shoulder Length Balayage
A straight face-framing haircut gives a classy and youthful appearance. It also has that extra boldness needed for you to stand out.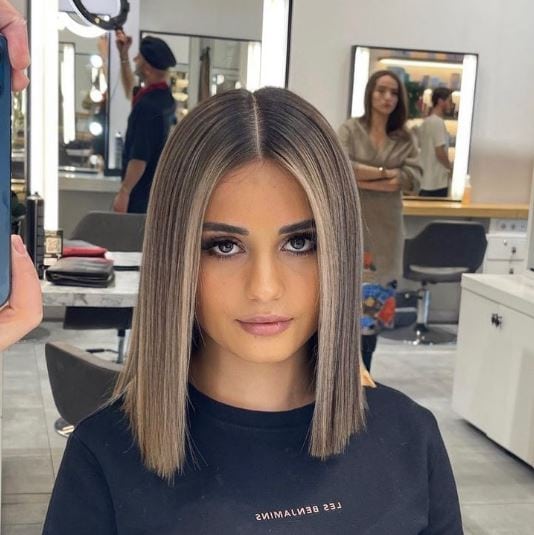 Image by @byemirturanli via Instagram
45. Lilac Hair With Stylish Undercut
This is a cut for those who are big on edgy styles. The lilac tresses sit in messy waves, giving an effortlessly stylish vibe.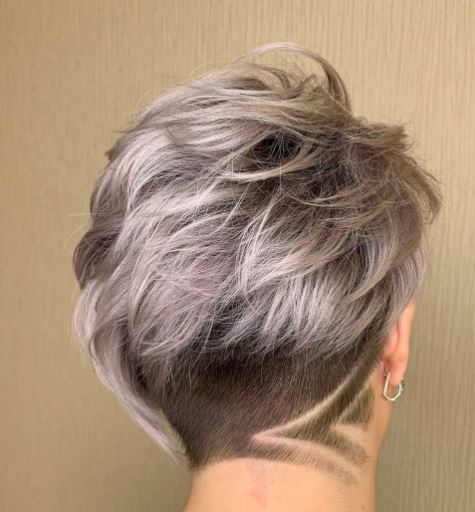 Image by @kratkovlasky.cz via Instagram
46. Short Natural Waves
Short hairstyles are all the rage, and adding slight waves and bangs will make them look even better.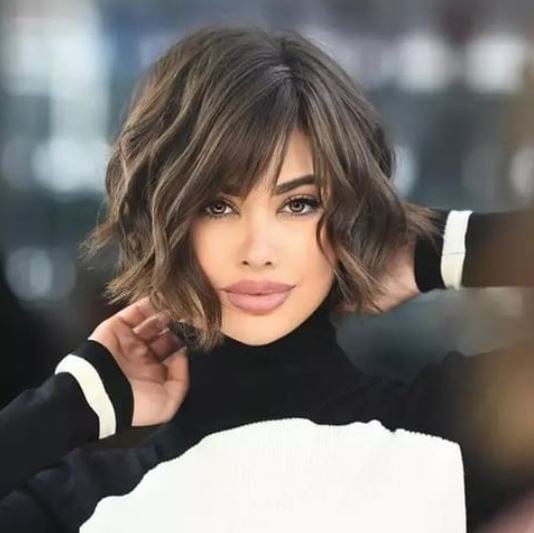 Image by @ via Instagram
Sassy haircuts are versatile and will help you look stylish, and boost your confidence. To ensure that you get a sassy cut done, your style must have one or more of the following: layers, asymmetry, hues, varied lengths, or a feathered finish.