To get the best results from a toner, you should leave it in for 10-45 minutes, depending on your hair type.
I let my toner sit in my hair for a maximum of 15 minutes since I've got light blonde hair. But if you've got darker hair, you should let your toner sit in for 30 to 45 minutes, depending on how dark it is.
Deciding on the perfect time to leave toner in your hair can be tricky. So, if you'd like to learn how long to leave toner in hair for the perfect result, regardless of your hair type, you're in the right place. Keep reading to find out more about applying a hair toner.
How Long to Leave Toner in Hair?
For Brassy Hair
Brassiness refers to unwanted warm pigments that appear on bleached or colored hair. There are three types of brassiness - yellow, red, and orange. For brassy hair, it is best to keep the toner for 15 to35 minutes to let the toner get in there and get rid of those brassy tones. The amount of time spent on toning brassy hair usually depends on the present state of your hair, the level of brassiness, and the result you want to achieve.
It is advisable to not go beyond this time range o avoid your hair turning into blue or violet. This might make your hair overfilled with pigment thus shedding color for weeks.
If you would like to confirm if the toner has done a good job of removing those brassy tones, I suggest rinsing the most highlighted or brassy part of your hair. If it has a look or tone you like, take that as a queue to wash your hair toner off.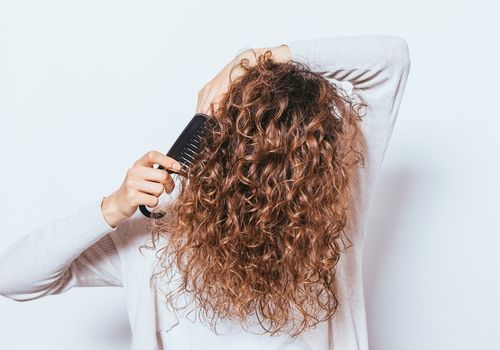 For Blonde Hair
If you've got blonde hair, leave toner in your hair for 5 to 20 minutes. If you would like to achieve ashy or dark blonde hair, a blue toner is your best bet at achieving that. But if you have light blonde hair and want to cancel out brassiness, opt for the purple or blue shampoo instead.
For Bleached or Hair Color Treated Hair
It's no doubt that rocking colored hair is cool, but the chemicals in hair bleach can damage your hair. This is why it is essential to apply toner on bleached or color-treated hair regularly. To get the best result from using toners on bleached hair, it is advisable to leave hair toner in for 30 to 45 minutes.
When it comes to toning bleached hair, it's recommended to leave it to the professionals. If, for one reason or another you have no access to professionals or professional toners, you can DIY at home. Just ensure that you do not exceed forty-five minutes to avoid getting an unpleasant result.
What Exactly is Hair Toner?
Hair toner is any product that improves the shade of your hair. It usually has some tint that serves to enhance, brighten and tone your hair color after it is dyed. Toning can also be a method of removing brassy tones from your natural or bleached hair.
How Does A Hair Toner Work?
Hair toner helps you to correct the color of your hair. It is used to add natural or more visible colors to your strands after coloring or bleaching your mane. In a nutshell, it improves the tint of your hair. It is mostly used on blonde hair, but it can be applied to all hair types to achieve a natural brightness and shine.
Benefits of Toner For Hair
It helps to boost our hair color and make it glow. Also, they are great at removing discoloration.
A good toner helps to strengthen and protect your strands. If you want a healthy-looking hair strand, then using a toner is a must.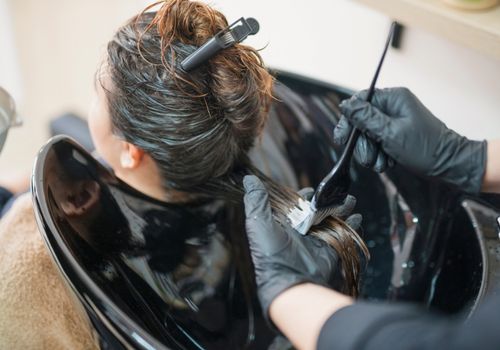 When Should You Use A Toner?
Now that you know about hair toners, their benefits, and how long to leave hair toner in your mane, let's look at the side-effects of using a hair toner.
If you've noticed that your hair is developing unwanted tones, you should start using toners to prevent the brassiness from getting out of hand. Whether you've got brassy hair, bleached hair, or lighter hair color, using the right toner color will help prevent or remove those unwanted undertones and give you gorgeous natural-looking hair color.
What Causes These Unwanted Tones on Hair?
Yellow tones show up on hair when you try to go blonde or light brown. Orange tones arise when you want to switch to a dark blonde or light brown. While red tones are caused by dying your hair to a dark brown color. Some people might attempt to remove these pigments by using different dyes. This is an unhealthy option because the dye can cause damage to your hair shaft and follicles.
Toners are a healthier option that can be applied immediately after your mane is colored. After coloring your hair, the toner with the right tint should be used to get rid of brassiness and maximize the effect of the hair color. When you go to a professional salon to change your hair color, you will notice the colorist applying toner to your strands. This is done to make them look glossy and glowy.
After applying a potent bleaching substance to your mane, it is important to use toner to restore your hair color and strength.
It is best to apply toners all over your mane, from the root to the ends, to ensure that your hair is uniformly toned and has a complete gloss and shine.
Type of Hair Toners
Understanding the types of toners will help you choose the kind of toner you might need, and how long to leave toner in your hair to achieve a particular shade.
Toners can be divided into three categories, permanent toners, semi-permanent toners, and demi-permanent colors.
Permanent Toners
Permanent toners are ideal for people seeking a complete transformation from one hair color to another. They are ammonia-based toners which makes them potent enough to open up and penetrate the hair cuticle. They are also mixed with a hair developer which helps to lighten your hair and assists in opening the cuticles more.
Permanent toners are also said to have a long-lasting effect when compared to the other two types of toners discussed below.
Demi Permanent Toners
Demi-permanent toners are not ammonia-based toners. They are the ideal toner to use for a quick gloss that will last for a while, but not as much as permanent toners. It has a quick application time and shows an almost immediate color refresh.
Since they are not as potent as permanent toners, they can be used frequently ( every 6-7 weeks) without causing any damage to your hair.
The toner is able to last for 4-6 weeks and for about 20 to 24 washes.
Semi Permanent Toners
A semi-permanent toner is a very gentle toner that can be used to gloss up your hair for a short period. It can last up to 12 washes.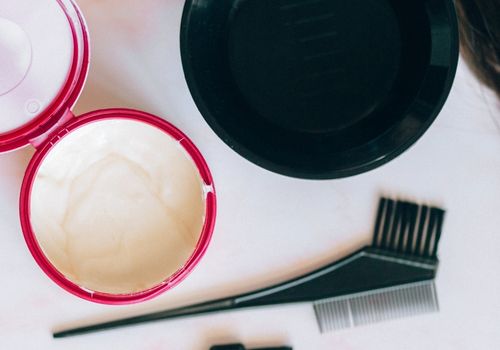 Can A Toner Damage My Hair?
Toners are generally known not to damage the hair. But this might change based on the type of toner and how frequently you use a toner in your hair. I suggest limiting the use of permanent toners to when you want to undergo a complete hair transition. This is because permanent toners contain little ammonia.
When used too frequently, this ammonia will accumulate and cause the destruction of the hair cuticles. When this happens, the cuticles lose their ability to hold in moisture and your hair becomes brittle, frizzy, and dry. Regardless of how frequently you choose to use a permanent toner, it is advisable to go to a professional stylist to ensure that you do not damage your hair shaft in the process.
Also, deposit-only toners that do not require the use of developers for lightening the hair are less damaging. Most hair developers are made of hydrogen peroxide and this too like ammonia can damage your cuticles, leading to hair breakage.
How to Use a Toner Safely?
Although toners are generally considered safe, using them the wrong way can lead to damaged hair. Most toners come with a developer recommendation by the manufacturers.
In most cases, you will be asked to use a 10 or 20-volume developer, depending on the color result you'd like to get from using your toner. A 10-volume developer put colors without lightening the hair. It doesn't open your hair cuticles as much as a higher developer. So the possibility of it damaging your hair is low. The outcome from a toner with a 1o volume developer will not be as long-lasting as that from a 20-volume developer.
A 20-volume is more suitable for extremely brassy hair because it opens the cuticle to allow more toner pigments in. But be gentle, as 20-volume developers can damage your hair especially if your hair is already over-processed.
How to Maintain Toned Hair?
To ensure that your recently toned hair keeps its glow for a long time, you must devote a little time to maintaining your toned hair.
Use hair care products that do not contain harmful ingredients like sulfate. Although sulfate works well in deep cleansing the hair, it can make your hair color fade.
Avoid staying in the sun for too long. If you want to stay in the sunlight for an extended period, it is advisable to get a hat to serve as a protective barrier between your hair and the sunlight.
Avoid staying in chlorinated water for too long.
Minimize the usage of hot styling tools as this can make the color fade fast.
Try To Avoid Cheap Toners
Finally, if you're buying a toner, go for the best. Cheap toners are usually less effective or may cause damage to your strands. While you don't have to spend too much on your toner, you shouldn't choose your toner based on its low price. Look for quality products with good reviews on platforms like amazon before getting your toner.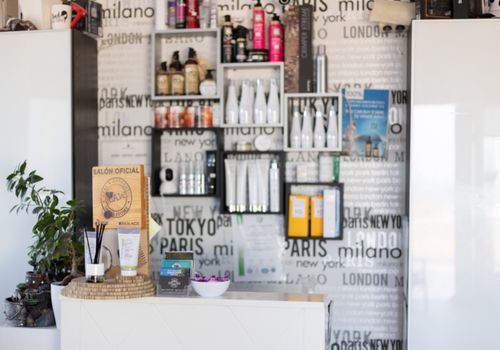 Frequently Asked Questions
Can You Leave a Toner in Your Hair for Too Long?
It is not advisable to leave toner in your hair for too long. You might end up with damage that only hair cut can fix. Aside from getting a haircut to fix this, you might end up with no option but to dye your hair a shade you do not really like.
What Happens if You Leave Toner in for More Than 30 Minutes?
If you leave a toner on your strands for more than 30 minutes it can darken your hair. However, this depends on the type of hair you have. For example, brassy hair takes 15 to 35 minutes to tone.
How Do You Know When Your Toner is Done?
If you want to ensure that your hair is toned to your liking, wash a few strands and confirm before washing it completely.
Toning is an important part of the dying process, and not all toners are made the same. Some cheap toners contain products that you won't find in an expensive product.