Black cherry hair color is created with a blend of burgundy, magenta, violet, and black. Its tone can be adjusted to be intense or subtle, light or dark, depending on your skin tone.
In a YouTube video by hair color specialist Brad Mondo, he explained the difference between warm and cool skin tones. He stated that people with cool skin tones look better with darker hair colors, and those with warm skin tones stun better with lighter hair colors.
This means that if you have a cool skin tone, a black cherry hair color with more black than cherry highlights will look better on you. If you have a warm skin tone, a black cherry hair color with less black and more bright red and purple will enhance your facial features.
Whatever tone you decide to go for, you are sure to look stunning with your black cherry hair. So here are 35 stunning black cherry hair color ideas to try out on your next appointment.
Black Cherry Hair Color Ideas
Vibrant Black Cherry Ombre
Black hair blends seamlessly into the black cherry color here, creating a nice ombre. If you want to spice up your daily look or want to add a little color to your hair to keep you in a good mood, try these black cherry tones.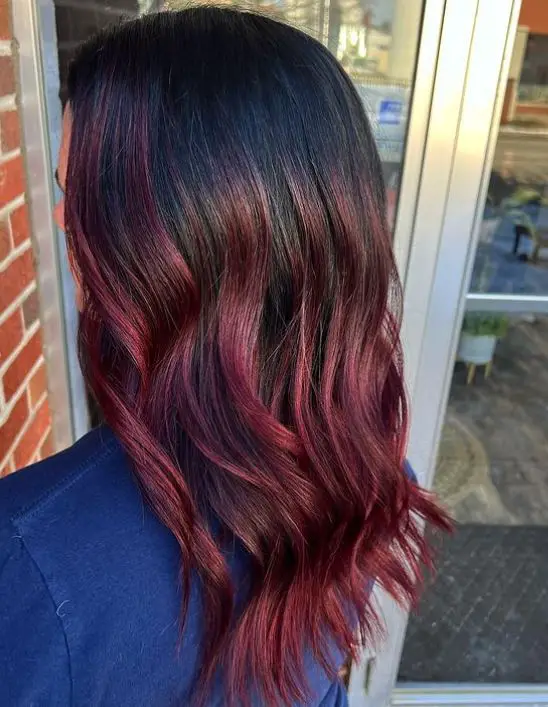 Image by @kim_pope_stylist via Instagram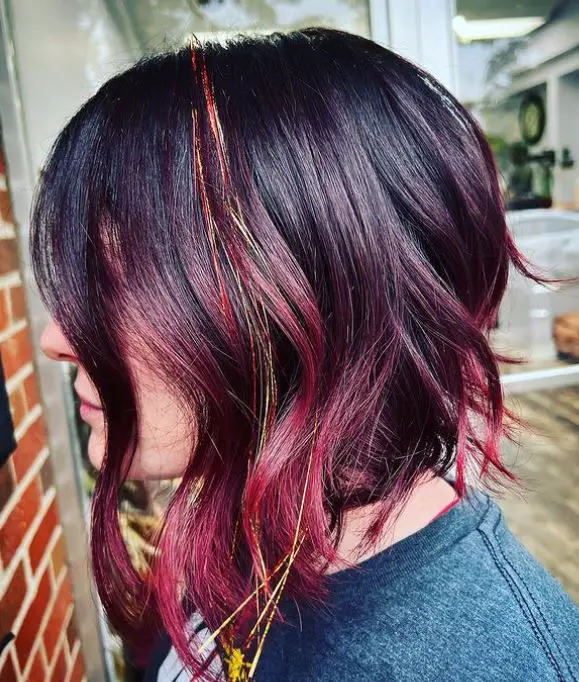 Image by @kim_pope_stylist via Instagram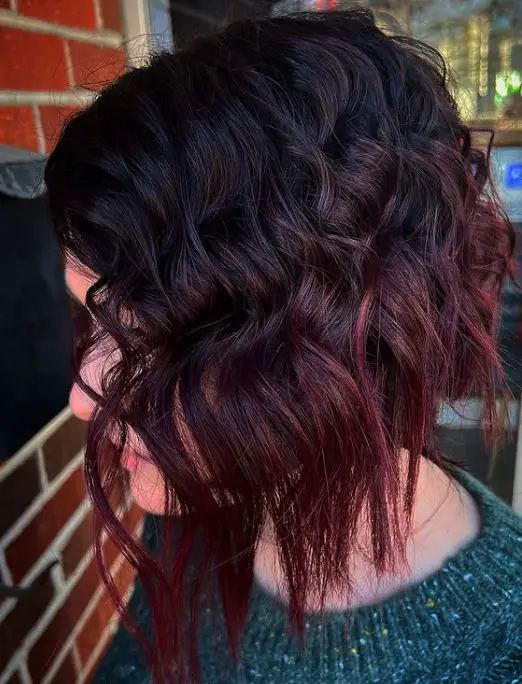 Image by @kim_pope_stylist via Instagram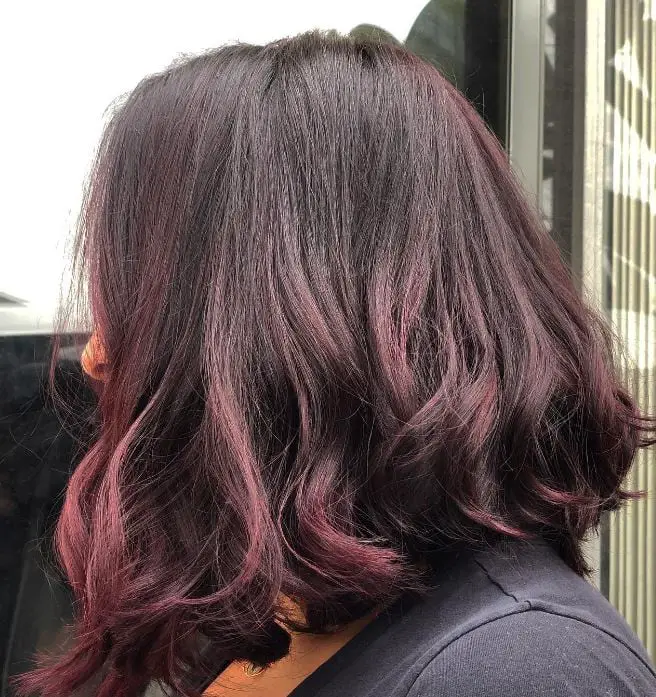 Image by @aureticala via Instagram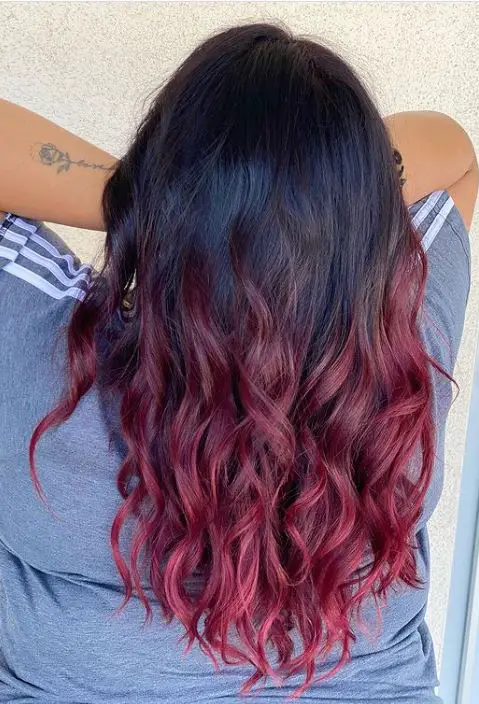 Image by @hair_by_kesley via Instagram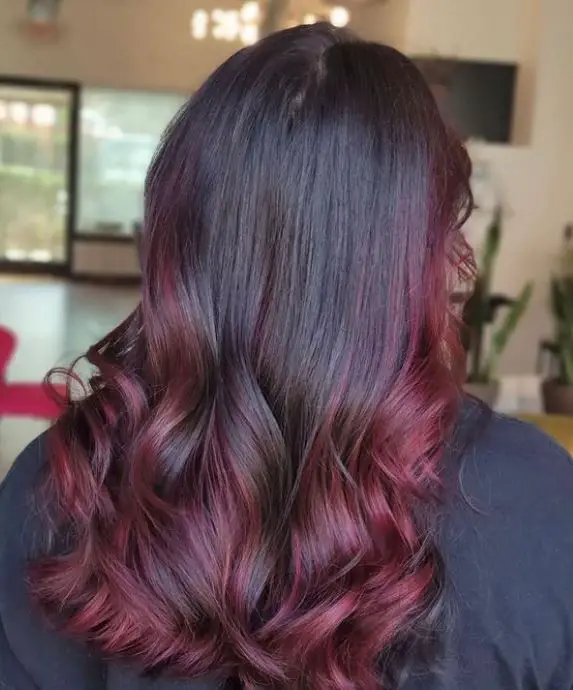 Image by @thefoilery via Instagram
Long Black Cherry Hair
These long hairdos have a black base that gradually fades into a light brown shade which later becomes bright burgundy tips. I can see myself changing my natural hair color to one of these amazing shades of black cherry.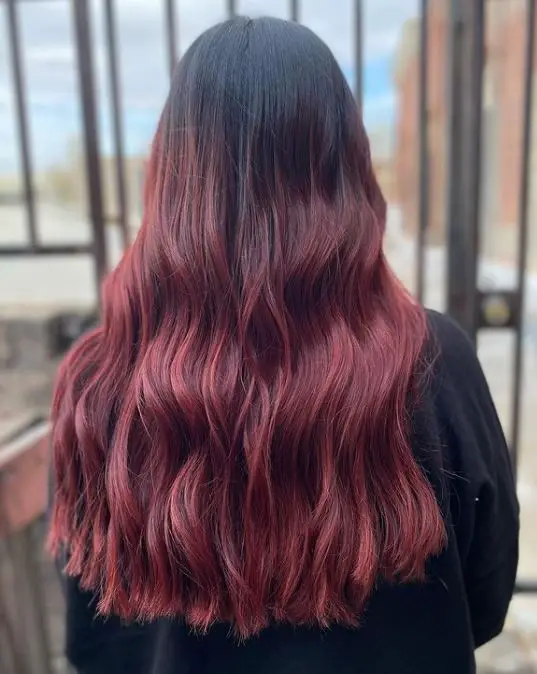 Image by @glammedbymariss via Instagram
Image by @katharina_dahmen_friseure via Instagram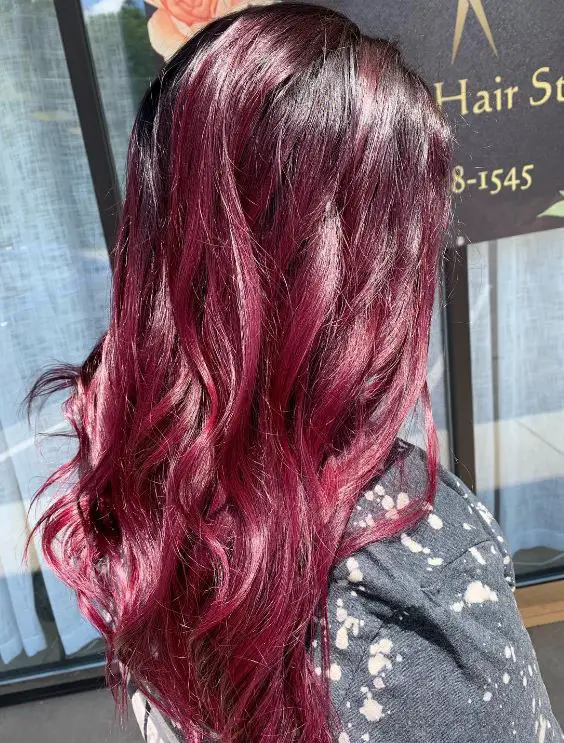 Image by @haircolorcreations_ via Instagram
Chocolate Cherry Hair Color
These brown mahogany cherry hairstyles are lovely. You can wear them straight back or with soft curls on a light-colored dress to let the hair color shine in an elegant way.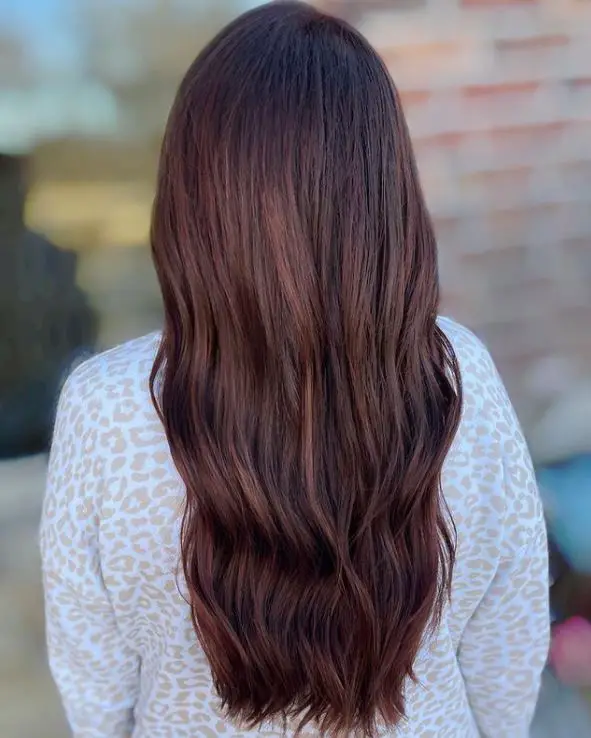 Image by @hairrr.by.elizabethhh via Instagram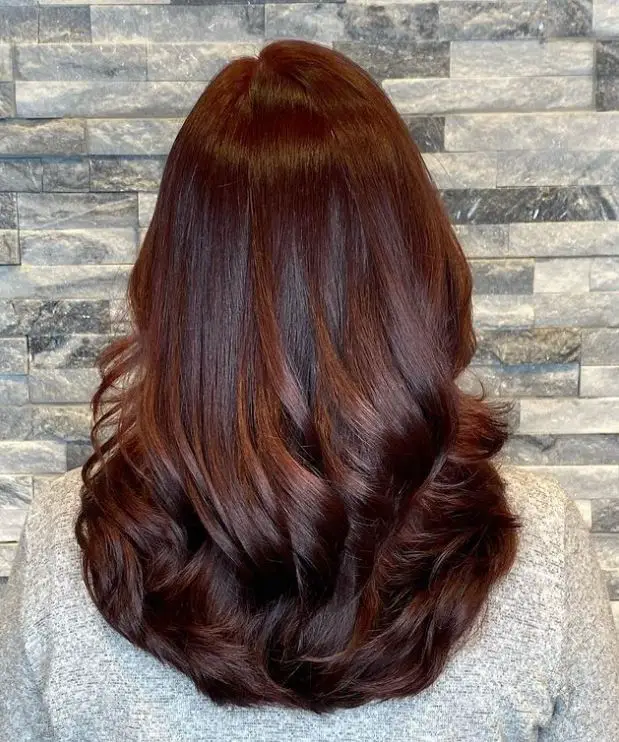 Image by @images_salon1006 via Instagram
Shoulder Length Hair with Magenta Highlights
The black cherry highlights on this hair are a nice blend of magenta on one side and bright burgundy highlights on another. The soft waves of the hair make the different colors stand out in an attractive manner.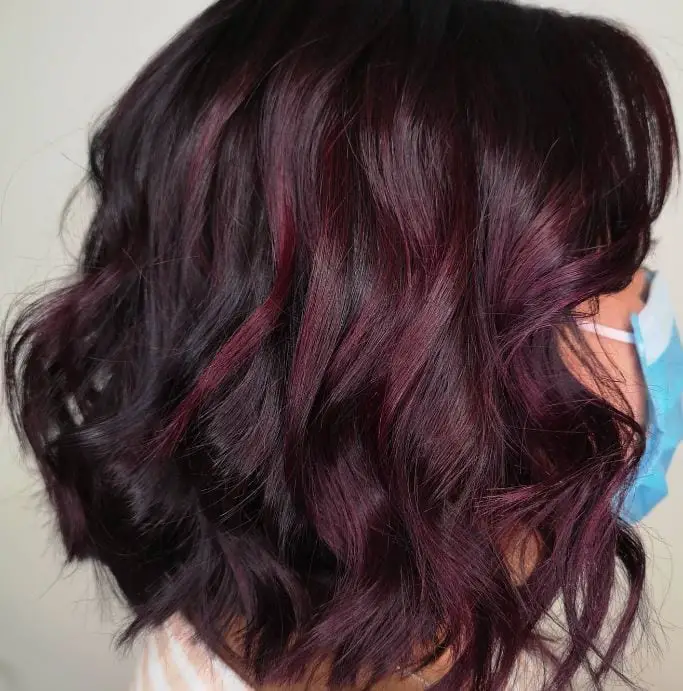 Image by @terrahairlounge via Instagram
Long Magenta Hair
I love the gradient of burgundy on this hair. The base color is deep burgundy and it becomes a brighter shade of burgundy as it goes done with the slight curly ends being the brightest.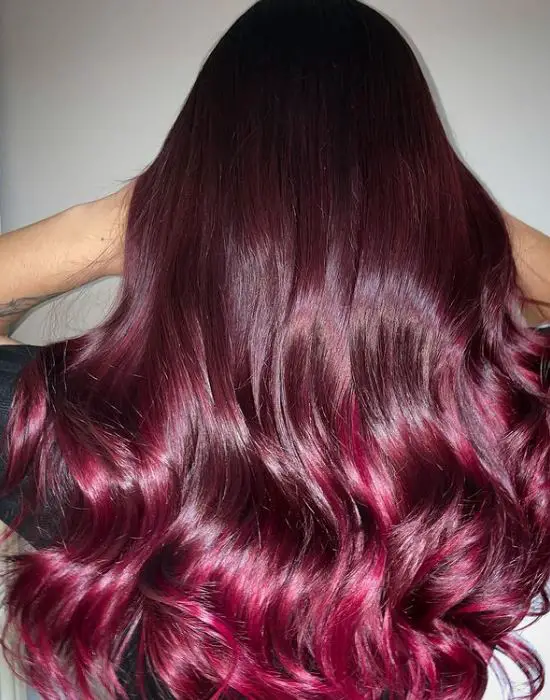 Image by @jh_chop_it_like_its_hot.1 via Instagram
Black Cherry Balayage
This black cherry hairstyle is charming with a nice length that ends just below the shoulder. The pop of color is just what you need to brighten up your appearance in a subtle manner.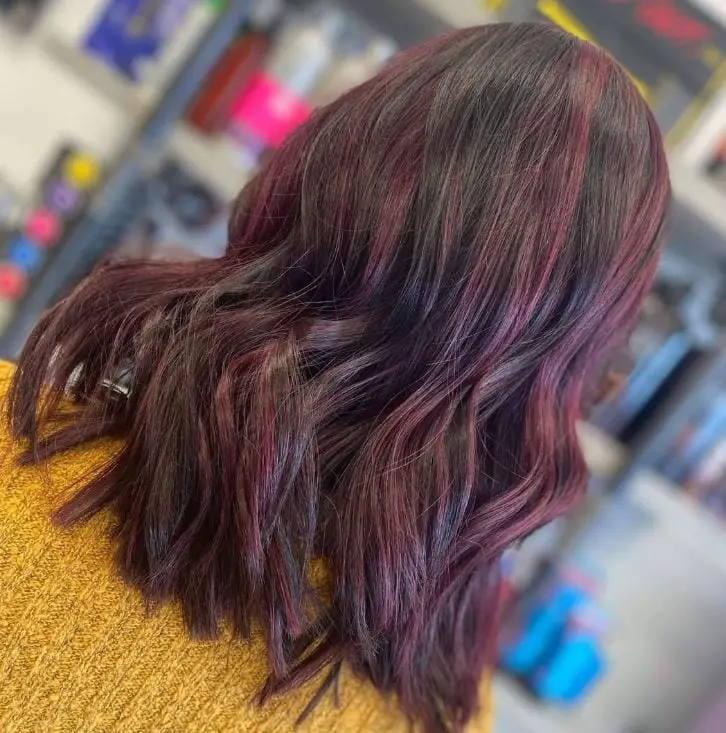 Image by @tlredsalon via Instagram
Wine Red With Black Streaks
You can break down all limits by getting this black cherry hair done. The black cherry hair dye is composed mainly of wine red with little streaks of black that go almost unnoticeable in between. As shown in the image, this color will look amazing in both curly and straight hair.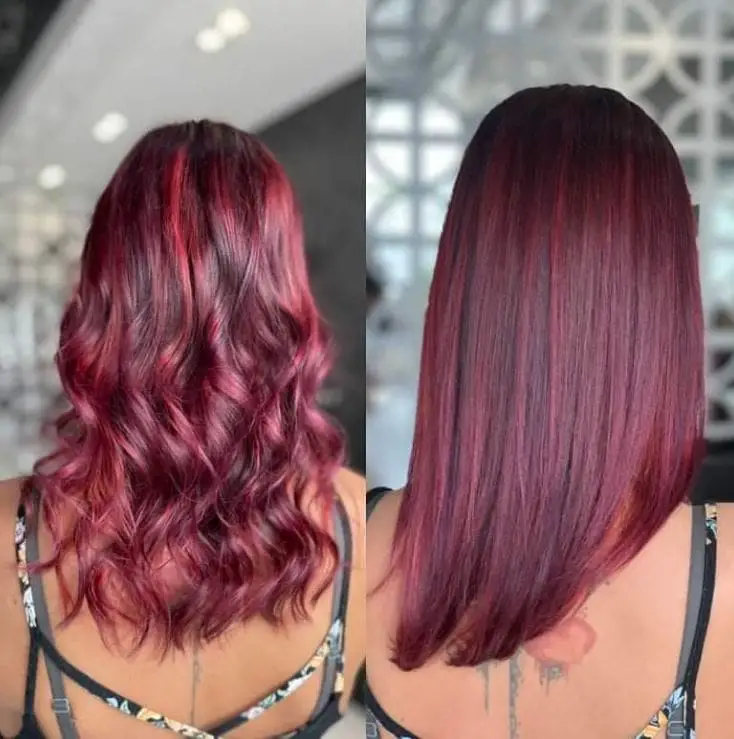 Image by @coda.lina via Instagram
Magenta Magic
Nothing screams 'I'm a new person like changing your hair color. This transformation from pale blonde to a stunning bright magenta looks astonishing and I'm all for it. The hair is straightened to achieve this nice look.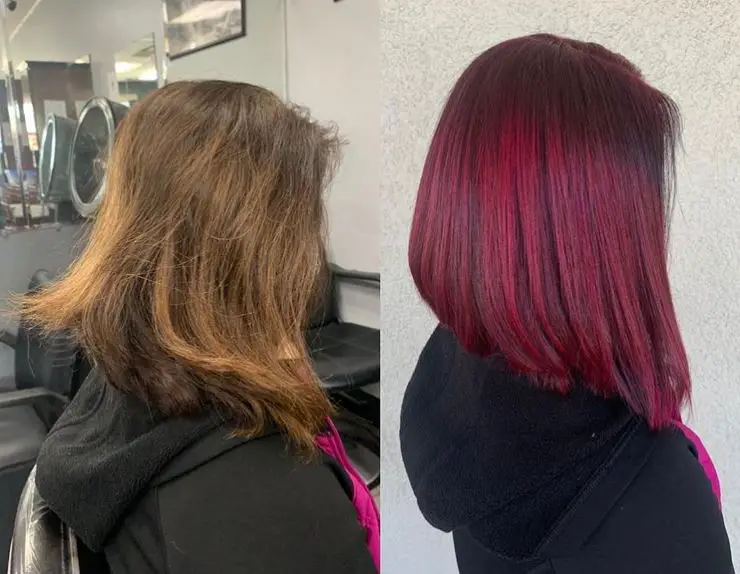 Image by @stylecuts.riverside via Instagram
Curly Black Cherry Hair
This black cherry hair color looks so good. The color is distributed evenly on the hair for an elegant look. You can adjust the hair tone to either intense or subtle to your liking, or you can get the exact shade done.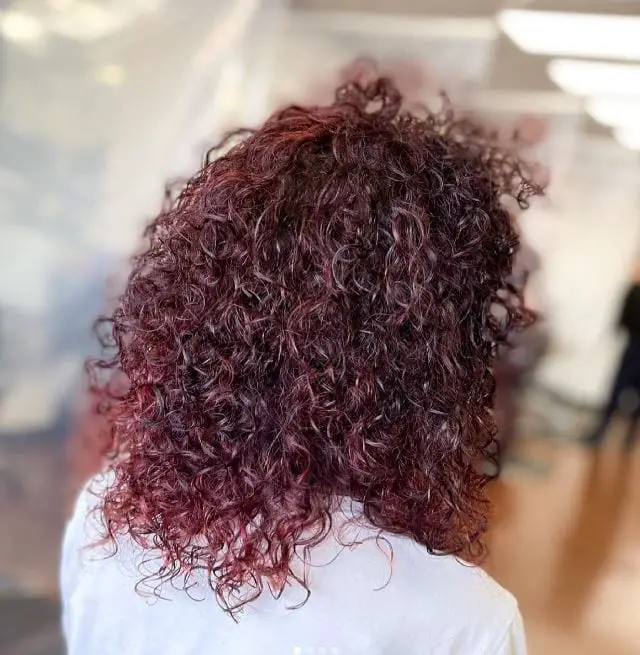 Image by @hazelthesalon via Instagram
Deep Violets Black Cherry Hair
The base color of this lovely hairdo is made with a very dark cherry. The dark hair gradually lightens to a stunning shade of purple giving the hairstyle an interesting and dreamy finish.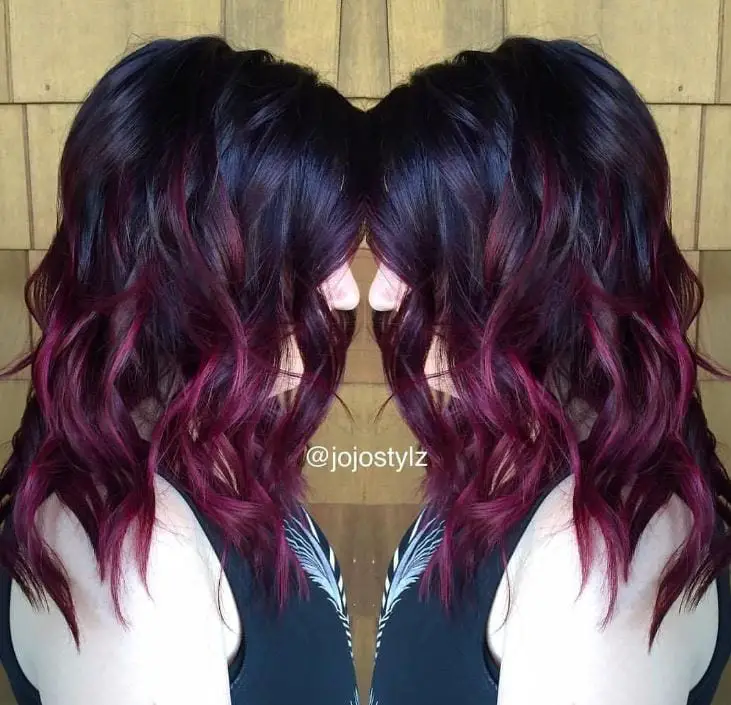 Image by @jojostylz via Instagram
Cherry Cola Vibes
Enhance your appearance by getting this vibrant dark brown color. The versatile black cherry hair color can be paired with all outfits.
You can let it loose if you're dressed casually, place it in a simple low ponytail if you want to run a small errand, or even tie in a cute loose bun for work.
Image by @__aeastmanhair via Instagram
Chocolate Black Cherry with Soft Waves
The black cherry color job here is spectacular. The hair color is mainly chocolate cherry hair color with some specks of black in between to help the chocolate cherry hair color pigments stand out in an amazing way.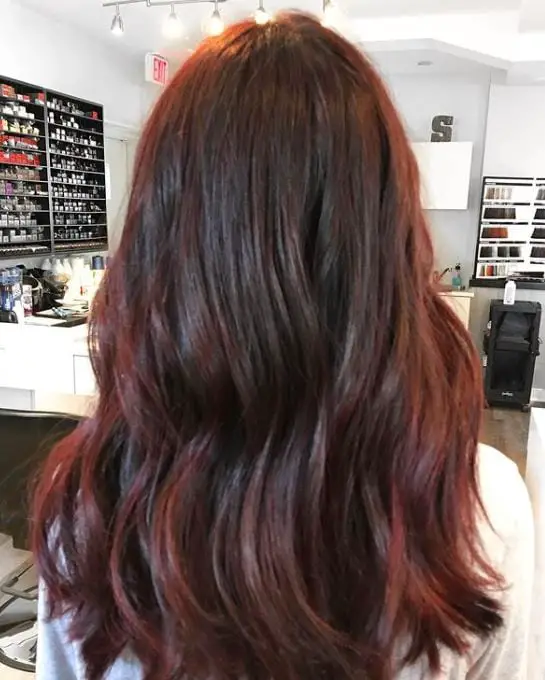 Image by @soniasmillburnnjsalon via Instagram
Black Cherry Red
I love the beautiful contrast of black and red in this pretty black cherry color hairdo. The vibrant shades can be achieved using a semi-permanent hair dye if you're just testing the waters of black cherry hair.
The hairdo can be made darker or brightened to your desired level for a stunning look.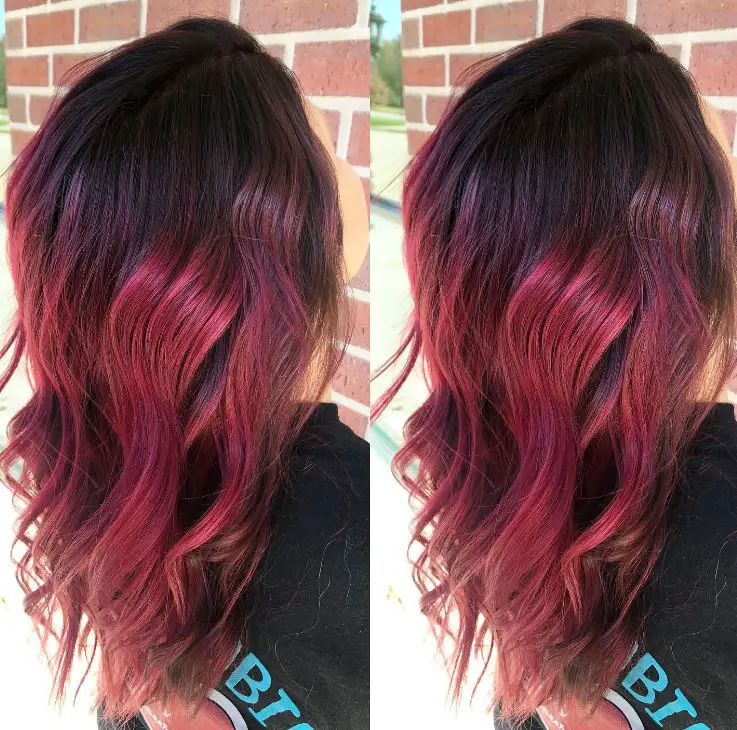 Image by @kim_pope_stylist via Instagram
Pale Brown Cherry Hair Color
Add hues of pale brown cherry color to your black hair to keep you basking in complement wherever you go. It's quite easy to lose a dyed hue like this.
It is advisable to use color-safe shampoo and conditioner to maintain your hair and ensure it lasts until you're ready to go back to your natural hair color.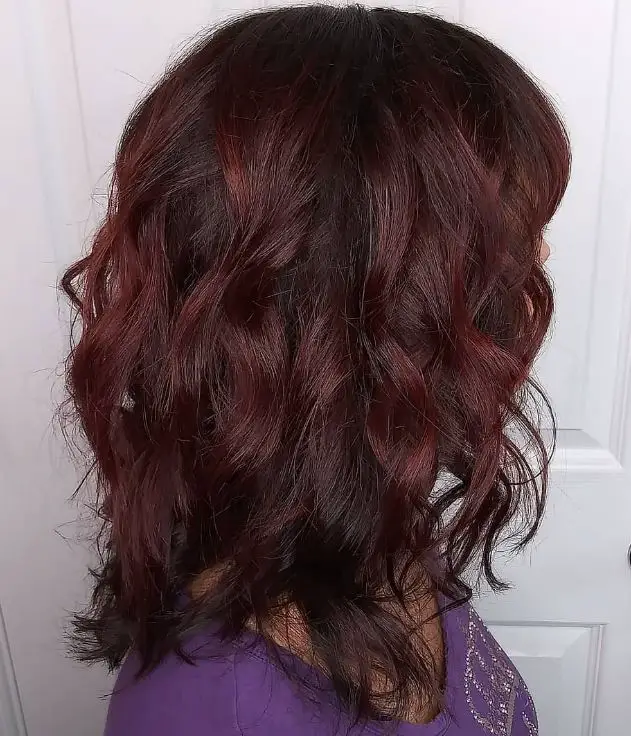 Image by @doordyesalon_pa via Instagram
Black Cherry Plum Hair
Pop-out looking like a knockout with these flattering shades of black and purple plum hair color. If you have a cool skin, you should consider taking this picture to the salon for inspiration on your next hair appointment.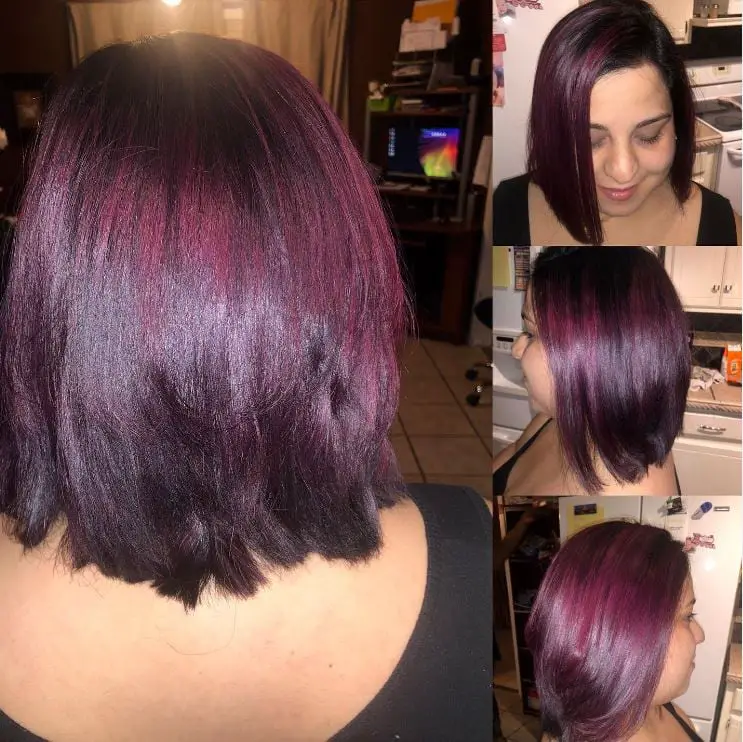 Image by @miss_rasta18 via Instagram
Black Cherry Bob Hair
You're sure to show up looking like a star with whatever hairstyle you choose, as long as your hair has a black cherry hair color.
The bob cut here helps the black cherry shades look astonishing with nice darker tips.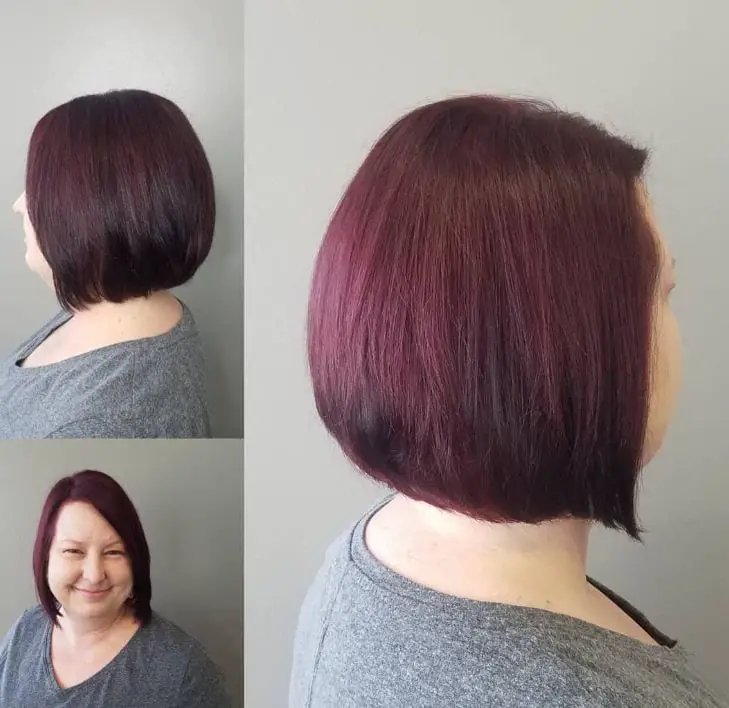 Image by @fairmaven via Instagram
Black Cherry Merlot
Enjoy a lovely summer by choosing this perfect black cherry color blend for your next salon appointment. The base color has a lovely black that will help mask the regrowth of your natural colored hair.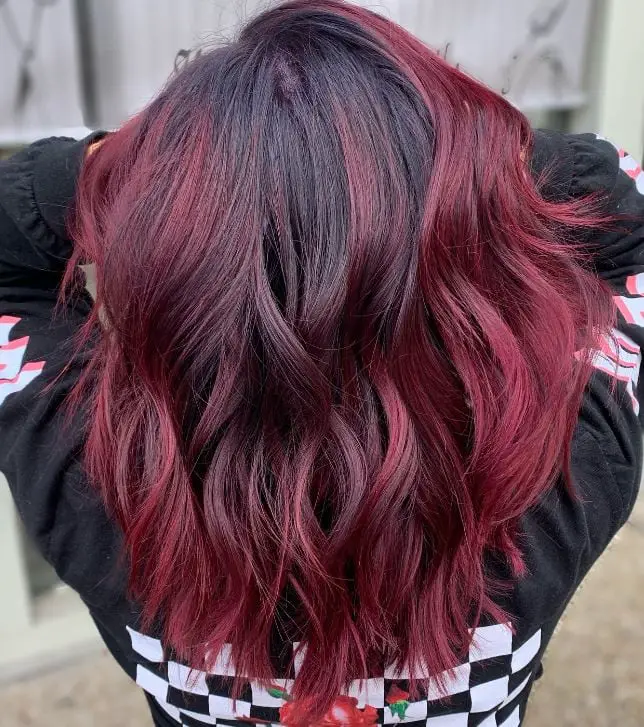 Image by @renatadegrange via Instagram
Dark Violet
The vibrancy of this perfect black cherry color is on another level. Women with cool skin tones look awesome in darker shades like this. This would look good wavy as it is here or you can use your flat iron to straighten it out for a more serious look.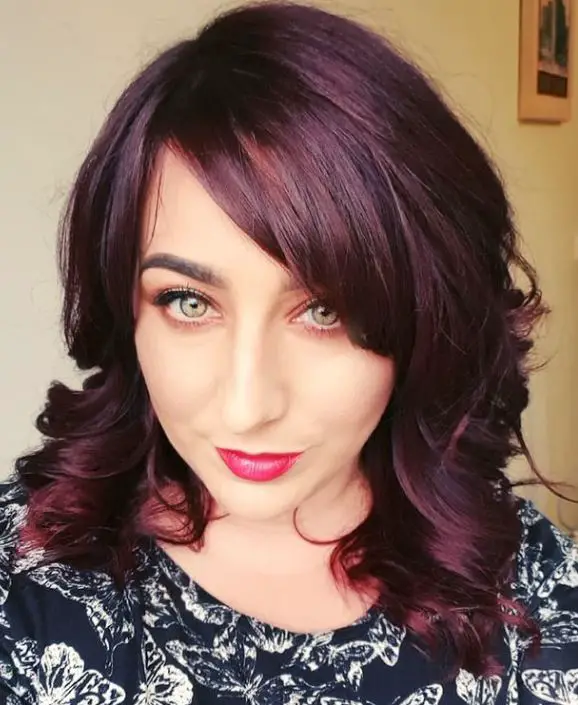 Image by @amaryllis5514 via Instagram
Burgundy Base
If you're a baddie, you should consider getting this black cherry color. A rich shade of wine is used to create a sultry shade of black cherry hair color. For a more daring look, you can use a bright red color at the tips of the hair.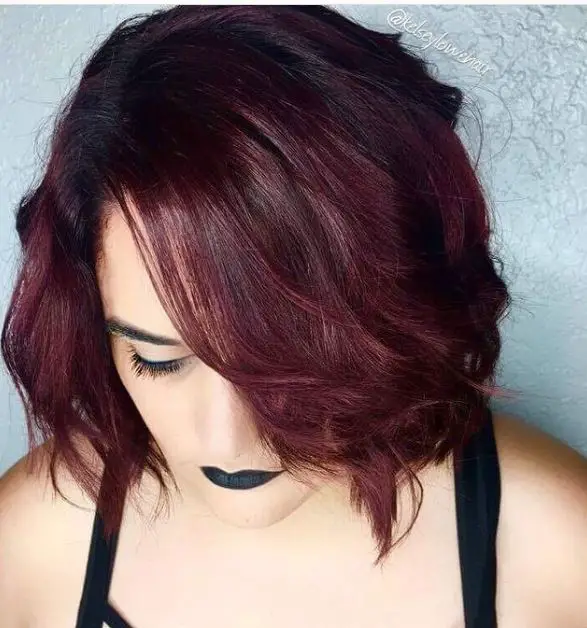 Image by @kelseyrocksmylocks via Instagram
Hints of Cherry Color
Not sure about black cherry hair colors? Test the waters by adding hints of black cherry color to the tips of your hair. With how astonishing this looks, you are sure to fall in love with the black cherry hair color.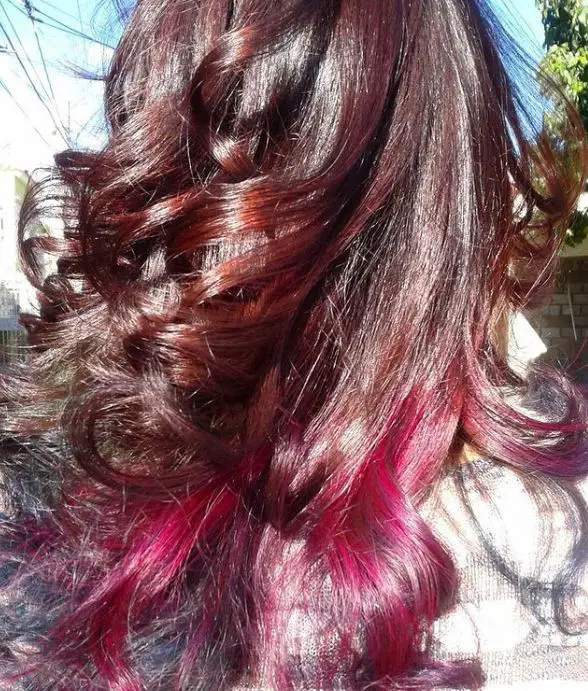 Image by @changecosmetics via Instagram
Black Cherry Balayage with Violet Tones
Go all out with your black cherry hair color by getting a hairstyle with rich shades of violet, burgundy, and magenta. This color combination will look great in both long straight hair and curly hair.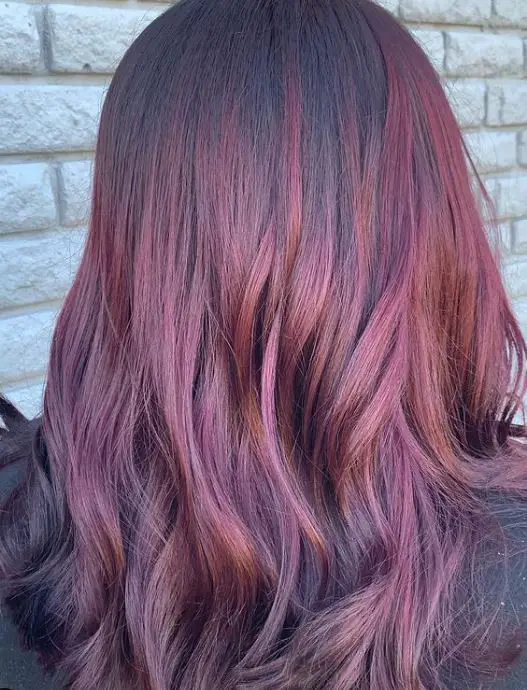 Image by @styles_by_kayyy via Instagram
Inverted Bob
If you want to grab attention and turn heads while giving off that carefree woman vibe as you go about your daily adventures, there's no better color blend to try than this.
It has a nice ombre of black and wine red at the top which blends completely with the red as it goes down.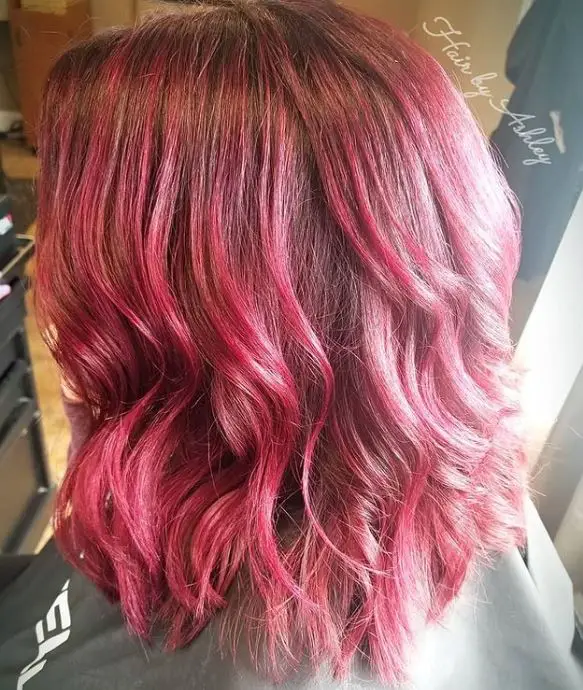 Image by @hairbyashleycbean via Instagram
Black Cherry Pixie Hair
Fan of pixie cuts? Don't sleep on this hairdo. The black cherry hair color looks like the natural color since just a hint of purple is used to make the black hair shiny and glowy.
This black cherry pixie hair will keep you slaying if it is paired with a jean jacket or any monochrome outfit.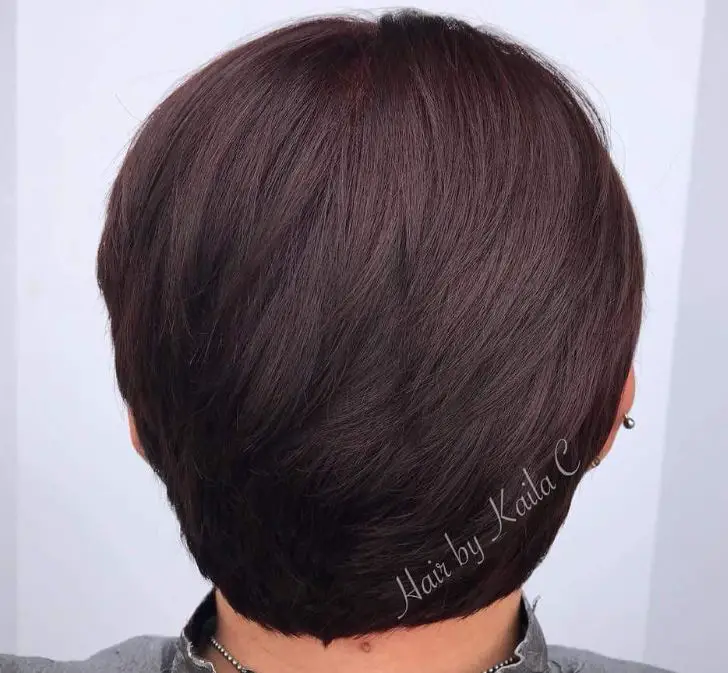 Image by @mysouthernglam via Instagram
Deep Red Black Cherry
This deep red hairdo is gorgeous. It has a uniform deep red hair color that falls in light waves below the shoulder. The hair dye used to achieve the majestic color here will look great on people with warm skin tones.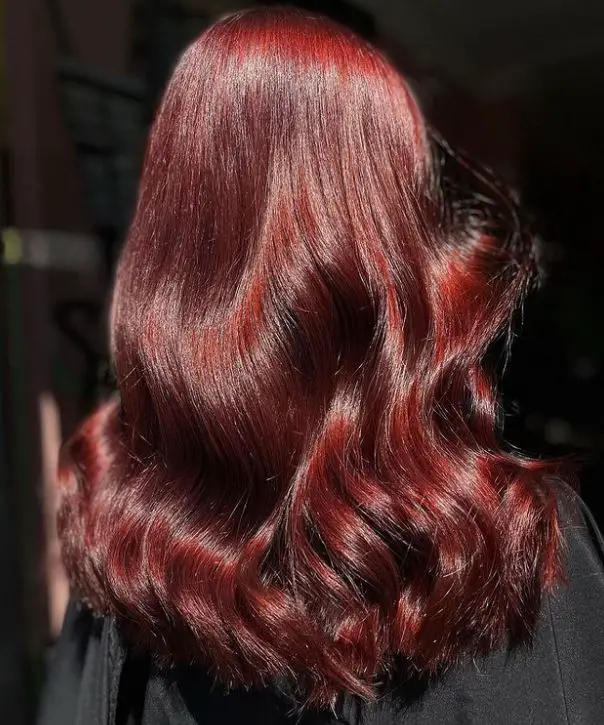 Image by @sistersofchaossouthsea via Instagram
Cherry Glaze Pixie Cut
Transition from a boring to vibrant black cherry pixie girly hairstyle by dyeing some strands of your hair a nice cherry color. The touch of cherry highlights on the hair gives the hairdo a baddie vibe as intended.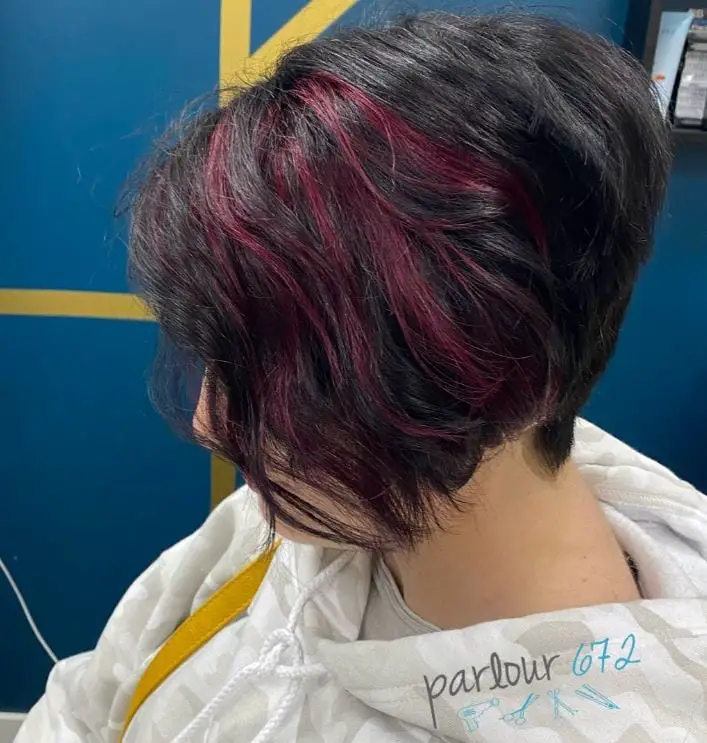 Image by @robyn.parlour672 via Instagram
Cola Highlights
This beautiful shade of black cherry will help you make a statement wherever you go. The black cherry hairstyle has streaks of brown cola at the top that gives an amazing shine.
The dark hairdo will be perfect for fall and shine if it is paired with light monochrome outfits.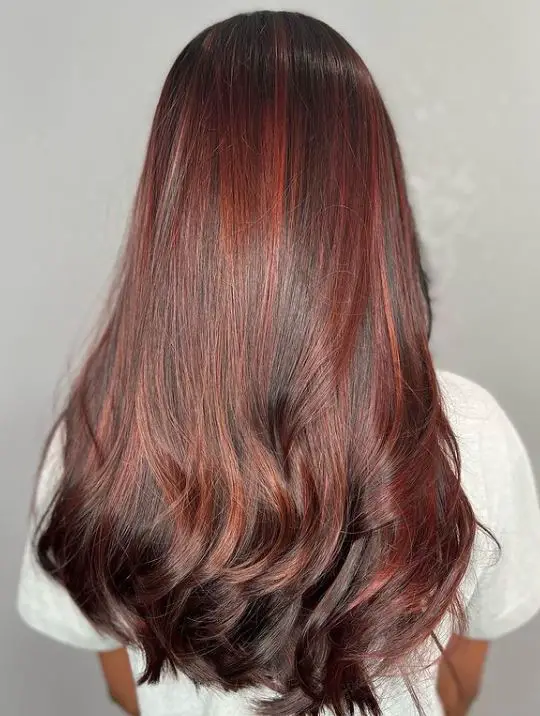 Image by @tinibeauty17 via Instagram
Violet Undertones
Break all limits with this charming violet black cherry hairstyle. The hair has a subtle undertone of violet and a rich pigment that delivers a magical appearance that I can't seem to get enough of.
Get this done for a daily look. That is enough to make you feel amazing whenever you see your reflection in a mirror.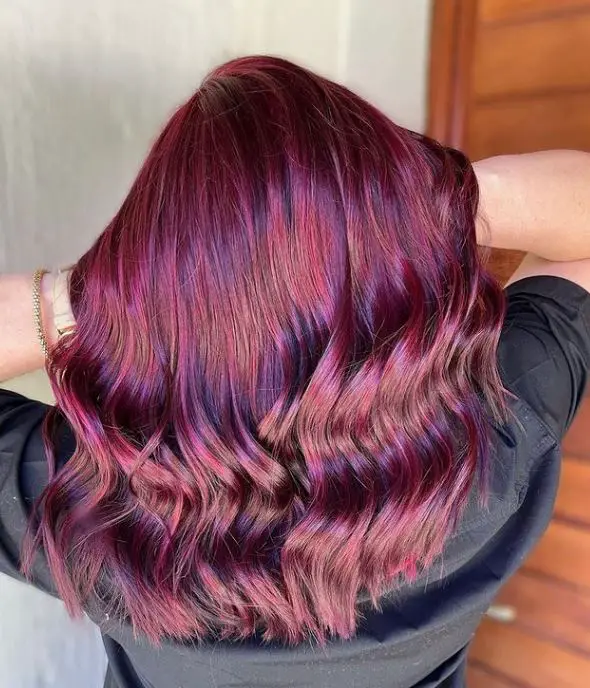 Image by @wellaprofessionals_sa via Instagram
Violet and Magenta Goodness
Isn't this just gorgeous? The hair color starts off with black at the roots, and gradually becomes magenta at the middle part of the hair, and ends with vibrant tips of shiny violet color.
You can wear this hair in a ponytail to look smart and ready to take on whatever the world throws at you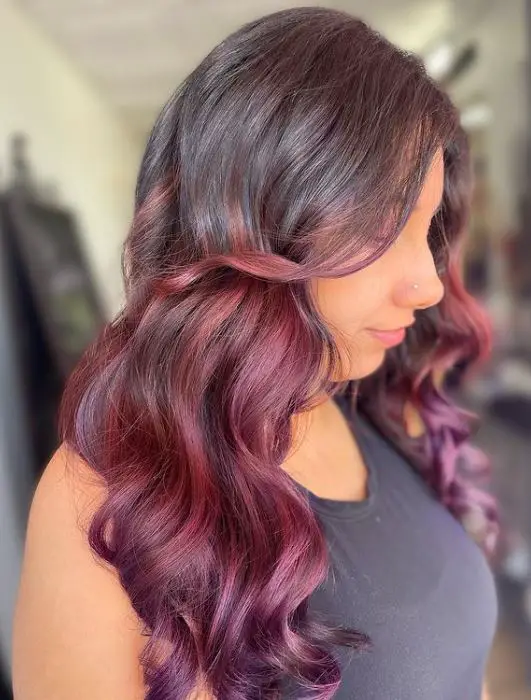 Image by @ericas_hair_designs via Instagram
Rich Dark Purple Cherry Hair Color
Completely switch up your hair game by getting this rich dark black cherry hair dye to make your skin glow against the dark color. You can change the tone to be darker or lighter, depending on your preference.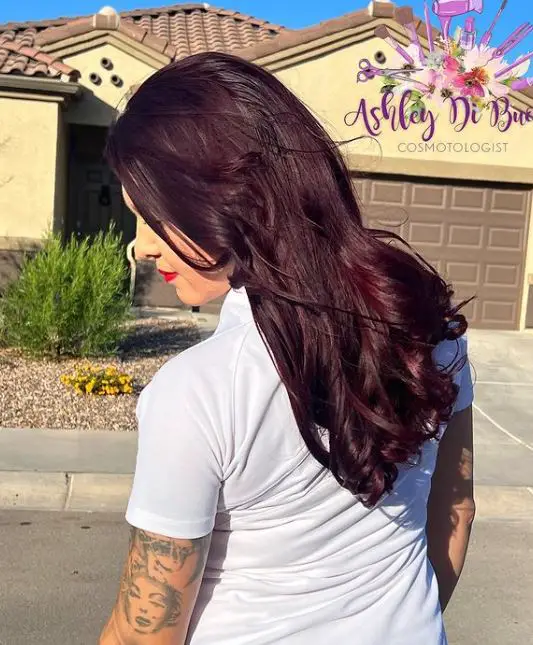 Image by @ashley_di_buono via Instagram
Plum Cherry Highlights
This black cherry hair has an undergrowth that blends seamlessly into whatever cherry-colored hair dye you use. Here, black hair at the base blends into the cherry highlights, and the hairdo ends with vibrant violet at the tips.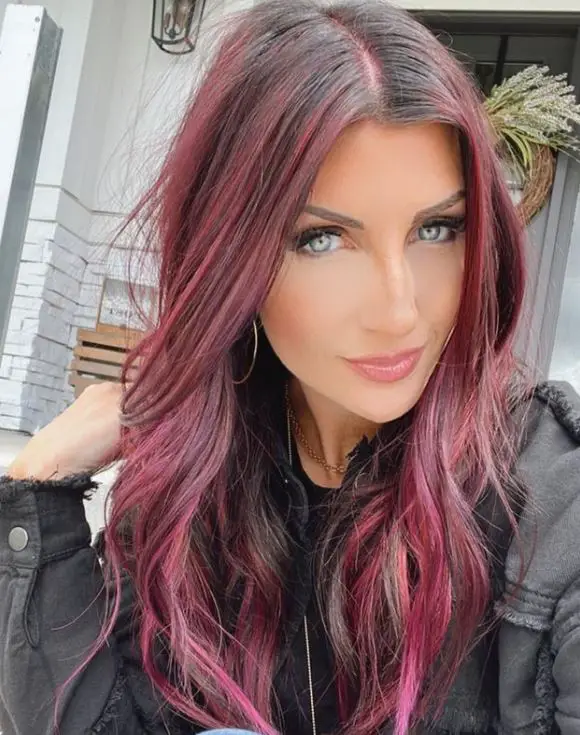 Image by @thebarnwoodfarmhouse via Instagram
Pop Of Black Cherry
This proves that you can slay with black cherry hair, regardless of your hair type. The charming afro features a black base that immediately pops into a pretty shade of magenta.
With this amazing hairstyle, you don't need much makeup since this is enough to keep you stunning. Adding a matching colored lip gloss is a great way to step out looking like a queen.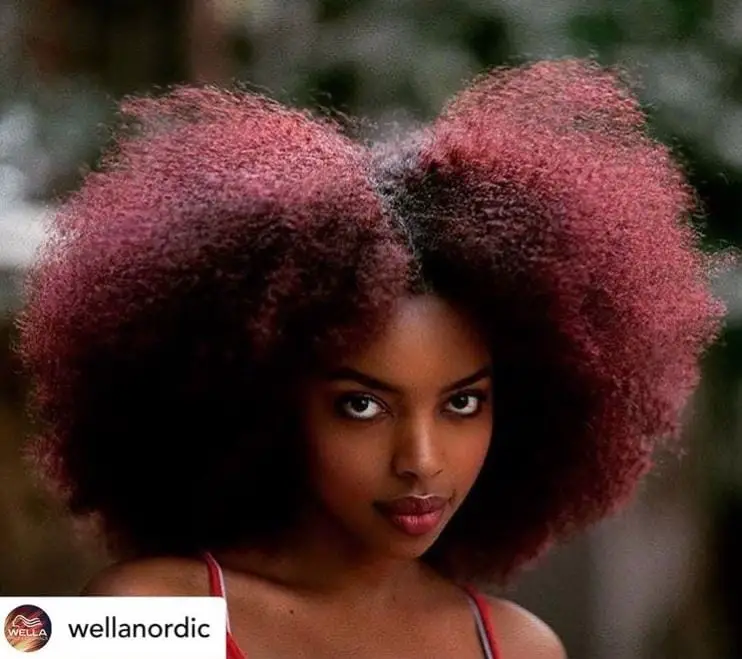 Image by @alliewella via Instagram
Frequently Ask Questions
What Are Cool Skin Tones?
As the word implies, it is safe to think of the color blue. The sky, stormy weather, winter. If you have the characteristics listed below, you have a cool skin tone.
Blue or purple veins: If your veins look bluish through your skin, then you probably have a cool tone.
Silver jewelry looks great compared to gold.
If you hold a piece of white paper next to your face, your face looks pink, rosy, or bluish next to it.
You find it hard to get a uniform tan or get sunburned easily.
You have blue, gray, or green eyes.
You have blonde, brown, or black hair with silver, violet, and ash undertone.
What Are Warm Skin Tones?
Warm tones reminds you of summer and bright glowy colors. If you have a warm skin tone, you have:
Green or olive veins.
Gold jewelry looks better on you than silver.
If you hold a piece of white paper to your face, your face looks somewhat yellow compared to it.
You get tanned easily.
You have brown, hazel, or honey-colored eyes.
You have strawberry blonde, red, brown, or black hair.
What Is Black Cherry Hair Color?
Black cherry hair color is a charming blend of magenta, burgundy, violet tones, and black to create a perfect shade that suits anyone, regardless of your skin color or tone. The composite colors can be blended equally to form a nice black cherry color, or one color can be mixed with black to get a more subtle result.
Is Black Cherry Red or Purple?
Black cherry hair color is a perfect mix of reds and purples. You can personalize your black cherry hair by adding more red than purple for a brighter result or more purple tones for a darker and glowy appearance.
What Color Goes With Black Cherry?
Black cherry is a deep and rich shade that demands attention. This makes it pair well with black, white, and purple outfits. It's always nice to try out different colors with your black cherry hair to see which looks best on you.