Blonde box braid is trendy, not just because it is a protective hairstyle, but also because there are several shades of blonde to choose from. These include platinum, honey and caramel, making it almost impossible to run out of hairstyles.
The battle of hair maintenance is one that most people are familiar with since excess wind can lead to dehydration and breakage, and too much sun is no better.
That's when I found out about blonde box braids, the protective hairstyle that has saved my hair from damage while keeping it looking good regardless of the time of year.
Since I care so much about you (fellow baddies), I'll be sharing 32 amazing blonde box braid hairstyles you can get to protect your hair and keep you looking great.
33 Blonde Box Braids To Get You Ready For The New Season
1. Average Length Box braids
These honey blonde box braids tied in a high, loose bun are a cute and fun style that's perfect for any casual occasion. Complete it with a simple black dress and you've achieved that effortless and classy look.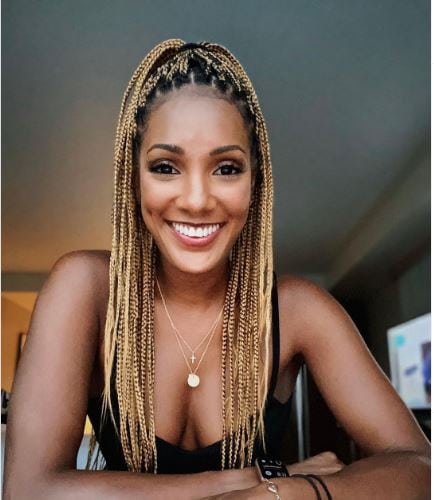 Image by @washnews via Instagram
2. Knotless blonde box braids
Knotless braids are a personal favorite due to their protective nature and because they don't cause a lot of tension. This is a relief to my easily stressed scalp.
The ombre brown and blonde box braids are a must if you're itching for something different. The brown at the top of the braid is sure to complement your skin tone.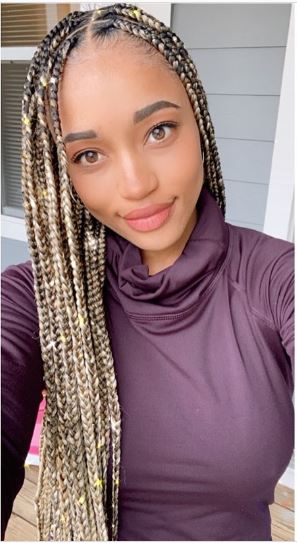 Image by @marahhh_rose via Instagram
3. Afro-Caribbean vibe
Elegance and grace are all I see when I look at this style. It's going to be well worth the time to recreate it. The seamless blend of platinum and brown extensions work well to create a unique look that's suitable for relaxing or strolling on the beach.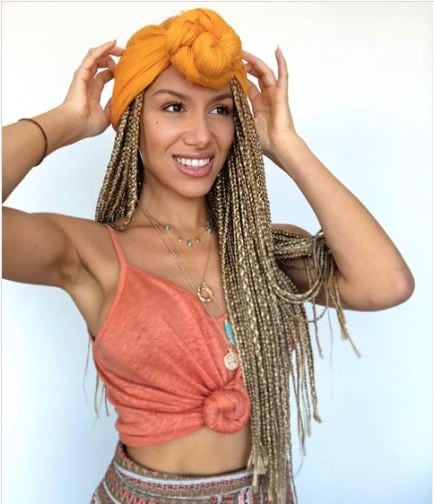 Image by @kinoshy via Instagram
4. Platinum blonde box braids
Want to have fun while slaying in the process? Then, this long platinum blonde box braid is perfect for you. The combo of loose and braided extensions are a reassurance of the fun experience you're sure to have with these chic braids.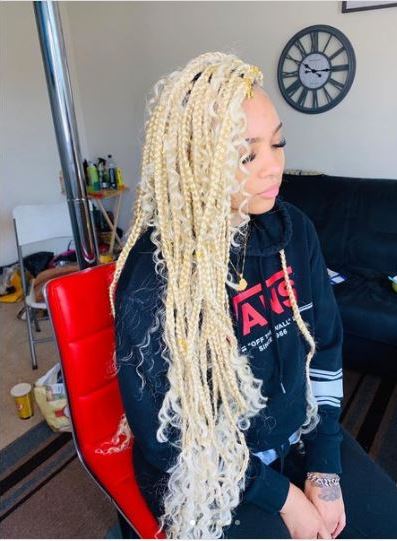 Image by @braidsasyoulikeit via Instagram
5. Ombre blonde box braids
Don't you just love how versatile blonde ombre box braids are? The dark roots of the hair extension allow you to make use of this in several ways, tie in a bun and the darker blonde of the root will make it suitable for the office or you can let it free whenever you want to chill and hang out with your friends.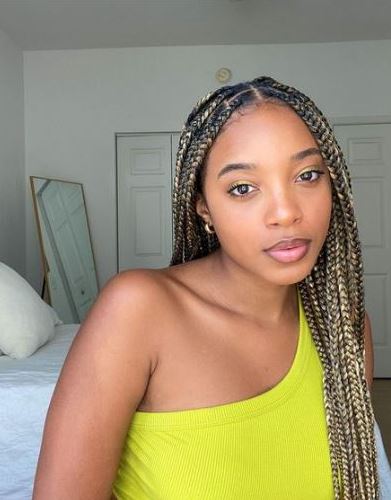 Image by @diamondalicia_ via Instagram
6. 2 shades
Look closely and you'll see the mixture of light and darker blonde that automatically gives you more options to use this style. Tie your hair in a loose ponytail if you want to go chill on a boat, or pull in a tight bun to get a look that turns heads as you proceed.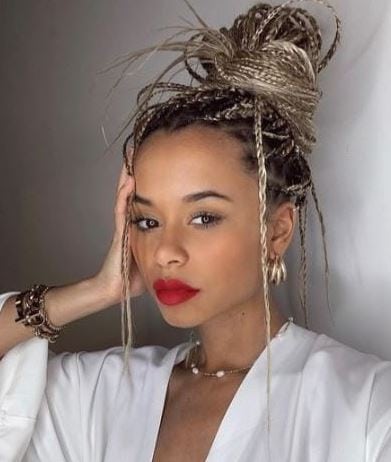 Image by @iamzoefoster via Instagram
7. Medium blonde braids
I'm not even surprised at how gorgeous these box braids are and how neat the scalp looks. The double strand of honey blonde and the remaining bright blonde braids provide a stunning contrast. It's held in a high bun that gives a bold and classy look.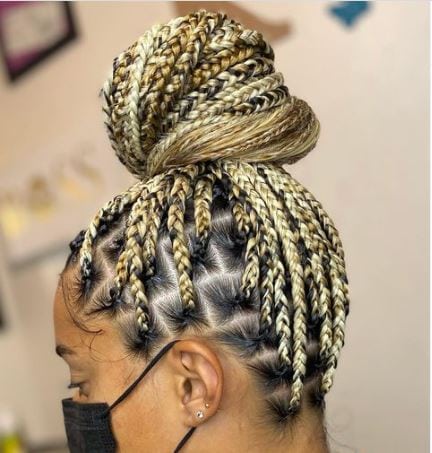 Image by @kyearahsbeauty via Instagram
8. Sparkles
Am I the only one feeling the sparkle of these blonde box braids? There is no such thing as too light to be blonde. That's why this blonde box braid style is soft, shiny, and blends perfectly with her skin tone.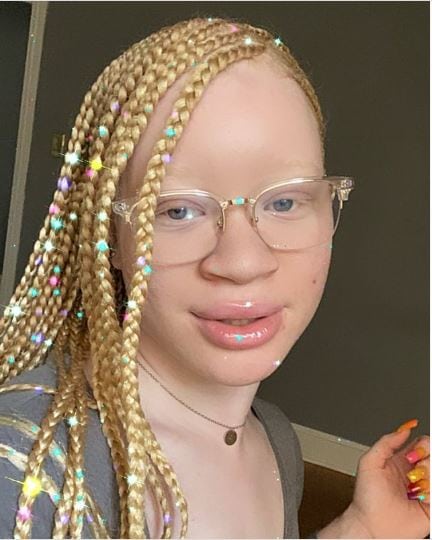 Image by @heysaba_ via Instagram
9. Trendy and Pretty
These ombre blonde box braids make a statement with how bomb they look. You can shift the pretty hairdo to the side to show off the details or leave it to flow freely.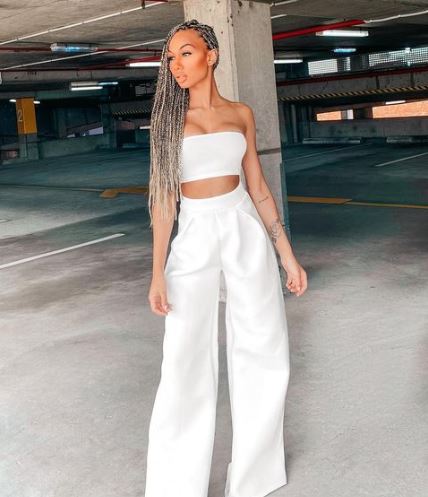 Image by @phoebe_egwunye via Instagram
10. Simple blonde box braids
If you want a new look that isn't too edgy, this is the one for you. The dark hair helps create a nice ombre at the root of the hair that is really pretty. Can be styled in several ways depending on the mood you're in.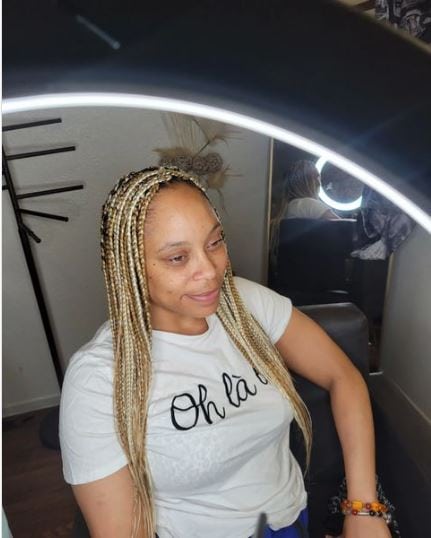 Image by @whodatcosmo via Instagram
11. Cornrows blonde braids
The creative pattern 0f these cornrows is so complex yet neat, that you can only achieve this style by going to a salon with true professionals. I'm in no doubt that her stylist is one. The caramel edge and the color of the light blond tip create a cool look that is comfortable yet stylish.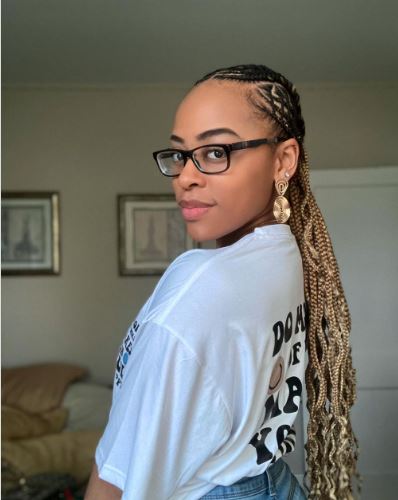 Image by @itsmayanic0le via Instagram
12. Long blonde box braids
These are big light blonde box braids that highlight your scalp and face, making you look sharp and ready to take on the world. Don't you just love the details of the braids and the few strands of caramel blonde featured in between? You can secure it in a bun or