Twist hair is no doubt the simplest and most convenient protective hairstyle you can get done. You might be familiar with getting twists on box braids, but flat twists have allowed the luxury of making cornrows using twists.
Flat twists have saved me more times than I can count. It is my go-to hairstyle when I have an occasion to attend but don't have enough time to prepare for it. I use it when I dye my hair and want to give it time to relax. This also protects it before I go for a more demanding style.
Despite being a quick and easy style to do, I like looking stunning and classy with my twist hairstyles, thus the search for pretty twists. While on the quest for stylish hairstyles, here are the most elegant and convenient looks I came across.
Flat Twist Hairstyles For A Stunning Look
1. Double Twist With High Bun
We all had at least one elementary school teacher that rocked this hairdo. The large twist hair placed in a high bun has a formal look to it. This is a nice hairstyle you can recreate with your natural hair.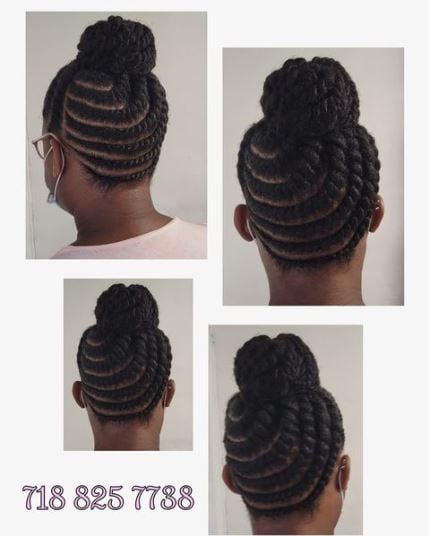 Image by @aboveallhaircare via Instagram
2. All Back Flat Twist Styles
This is my go-to hairstyle for when I want my hair to relax and strengthen before I get a major hair transition. This has helped me maintain healthy hair despite changing hairstyles frequently.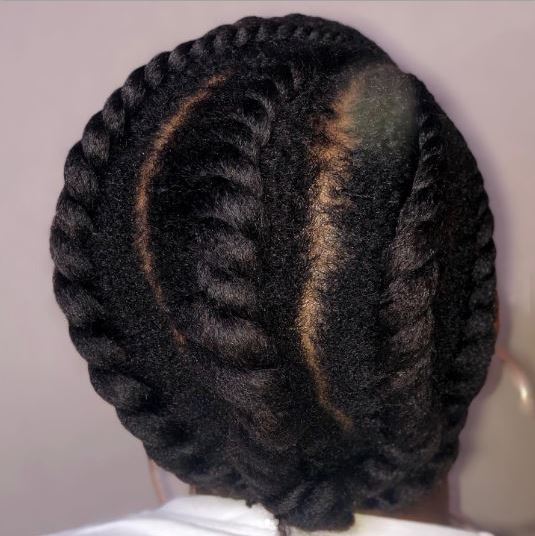 Image by @theee_amanda via Instagram
3. Mohawk Flat Twists
If you've got scanty hair, this hairstyle will be a great option for you. The hair has medium twists that are placed in a neat mohawk at the top of the head. If your hair is not long enough for the style, you can add hair extensions.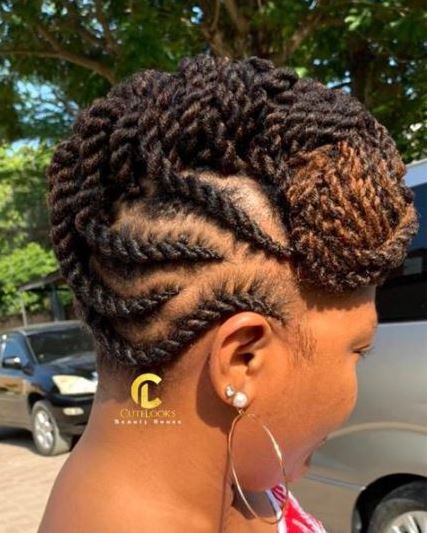 Image by @cutelooksdar via Instagram
4. Flat Twists With Loose Strands
Flat twisted hair does not favor a particular hair type. You can slay with your flat twists hairstyle regardless of your own hair length, type or texture. This is a nice style to try on short hair.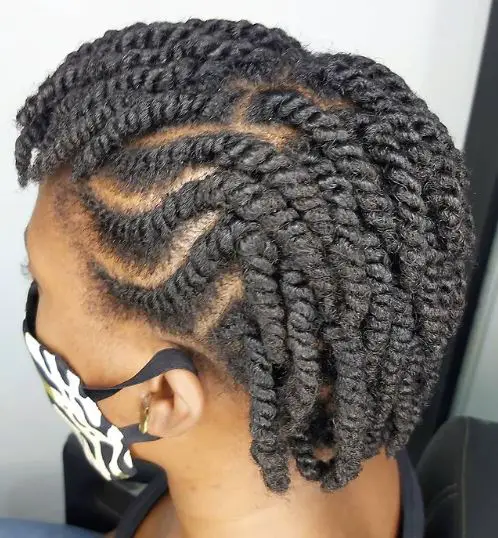 Image by @mic_marciannaturals via Instagram
5. Slanty Flat Twists Hairstyle
I love the subtle yet creative look of this flat twists style. The hair is divided into slants and the ends of the hair are allowed to flow freely.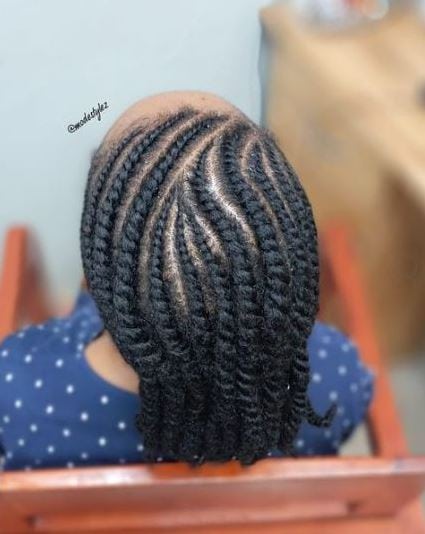 Image by @naturaltexturez via Instagram
6. Straight Back Flat Twists
Can't decide on your next hairstyle? Get this large all-back twists hair to protect your hair and by your time while you decide on the next hairstyle to slay with.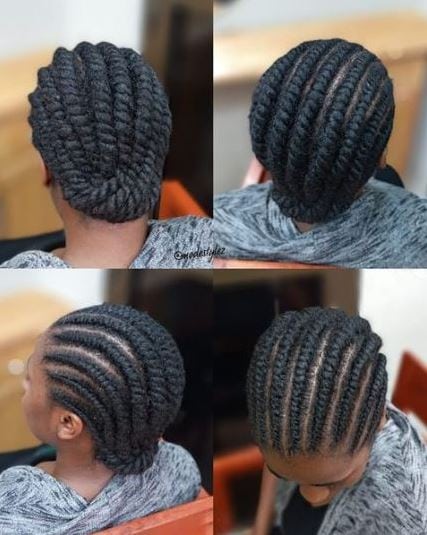 Image by @naturaltexturez via Instagram
7. Flat Twists With Low Bun
This classy hairstyle exudes class. You can quickly get this done with your natural hair regardless of the length. The hairstyle is such that you can pair it with several outfits and rock to both casual and formal occasions.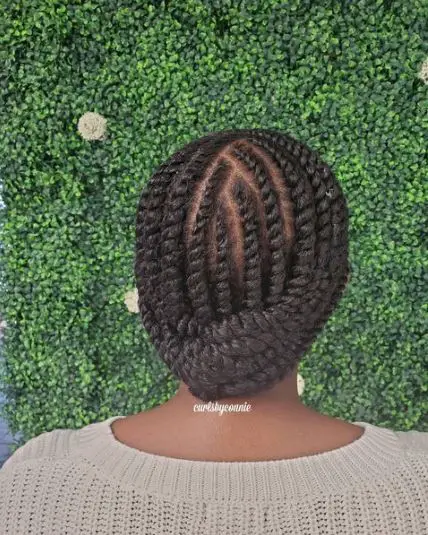 Image by @curlsbyconnie via Instagram
8. Flat Twist Hair With Braided Ends
The twisted hair has beautiful partings that are the perfect slant pattern. The ends of the hair are brought together and plaited to form a lovely high flat braid. This hairstyle is convenient and lovely to rock all seasons.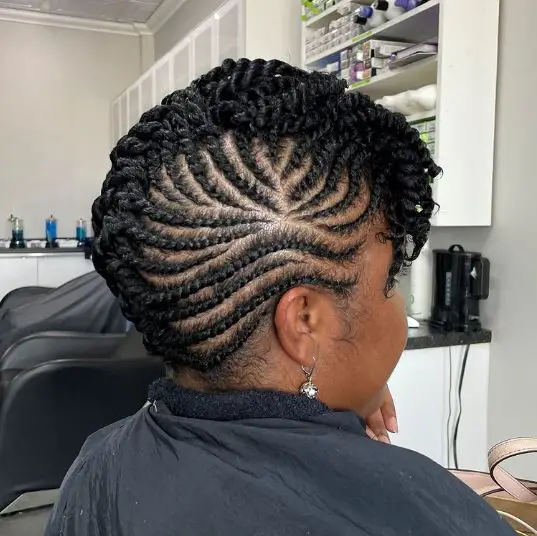 Image by @epichairstudio via Instagram
9. Flat Twist With White Thread
Got very dark hair and want to make your flat twists hair stand out? I suggest using a white thread to make the twisted hair brighten up the look a bit.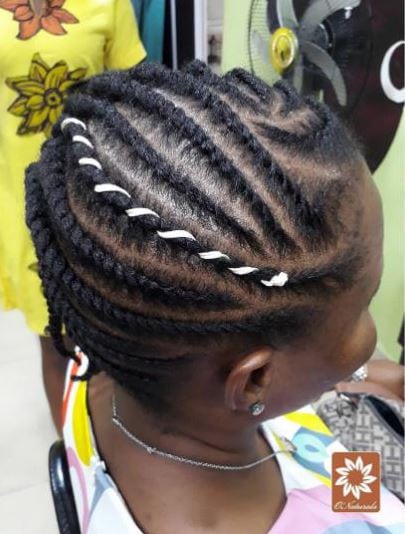 Image by @onaturalsbeauty via Instagram
10. Box Twist With Curls
Box braids are my favorite protective hairstyles. Here, the box style is given a pretty look by adding brown curly extensions to different parts of the hair.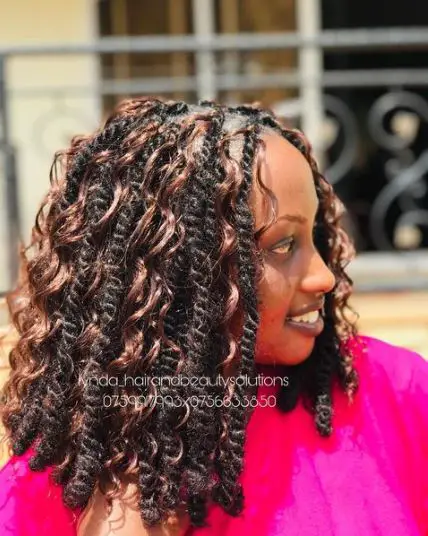 Image by @lynda_hairandbeautysolutions via Instagram
11. Ombre All Back Flat Twists
Mixing colors in a single style is a nice way to improve the versatility and impression of your hairdo. Here, brown extensions are used together with black hair twists to create a charming look. I suggest using a brighter shade of blonde for a more pronounced look.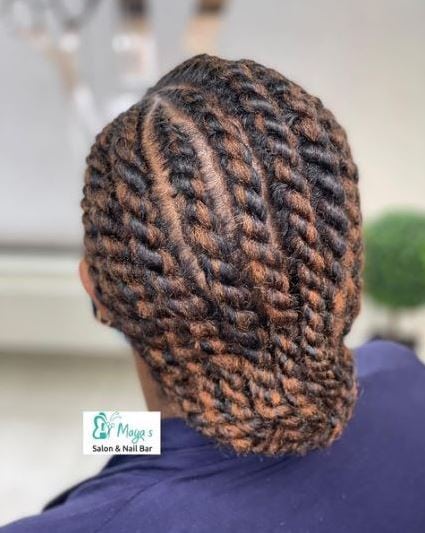 Image by @mayassalonkenya via Instagram
12. Flat Twists With Ponytail Bun
If you've got an urgent impromptu journey you can't escape, flat twists have got your back. You can arrive at your destination looking bold and confident to take on your task.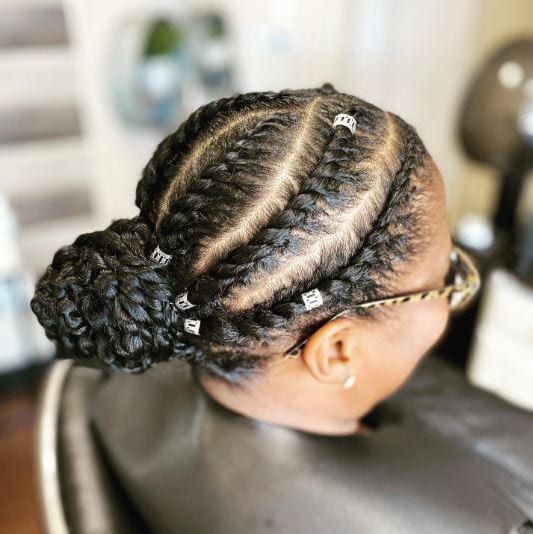 Image by @iiesalon via Instagram
13. Flat Twists Updo With Free Strands
Here, some twists hang loose and are swept to the side of the hair. Adding highlights or even a different color to the loose strands of your hair will make it look better.
Image by @meg_hairxtensions via Instagram
14. Twist Styles With Curly Ends
Curly hair at the front, just lovely. The twisted hair is braided from the back to the front where the front and remaining ends of the hair are left as loose curls. Use curl-defining cream to keep this looking shiny.
Image by @meg_hairxtensions via Instagram
15. Long Flat Twists With Hair Cuffs
Flat twists are done at the front of these two strands hair and single box braids are done below it. The long hair is beautified by lovely gold cuffs that sit on a few strands of the twists.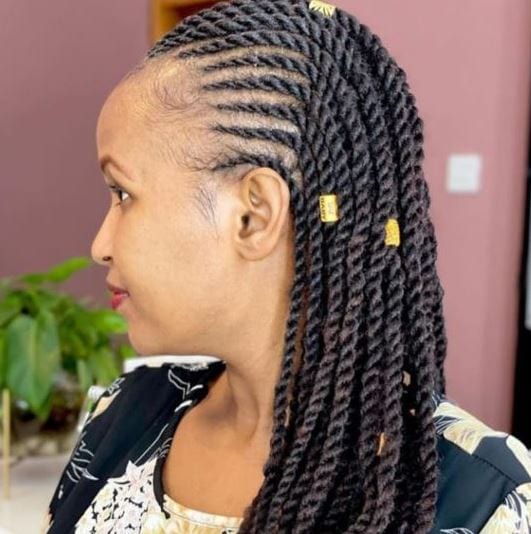 Image by @meg_hairxtensions via Instagram
16. Twists Bob Hairstyles
This hair is styled with flat twists at one side of the hairdo while the other sections are single and allowed to flow freely.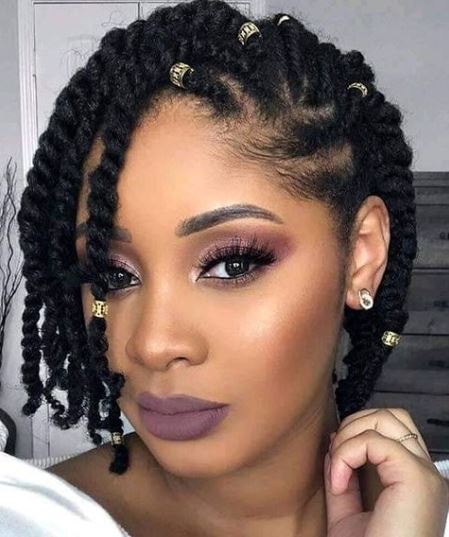 Image by @meg_hairxtensions via Instagram
17. Large Flat Twists With Complex Bun
The bun on this hair is everything. The larger hair is given an illusion of smaller twists by the hairstylist. To recreate this, you need a stylist with tons of experience with flat twists.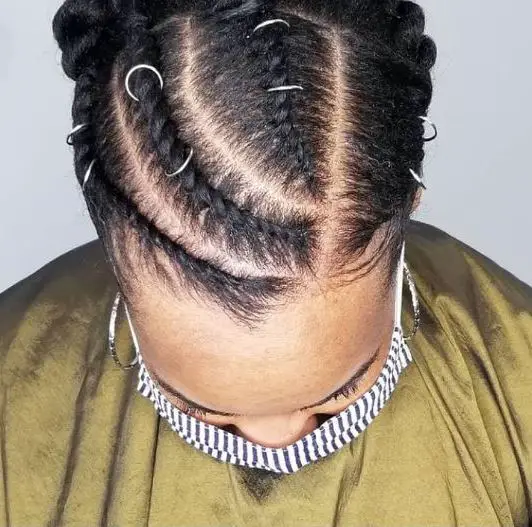 Image by @meg_hairxtensions via Instagram
18. Stylish Flat Twists
Kids are not left out when it comes to flat twists. Adding many accessories to your kiddies' hair is a great way to make it more fun.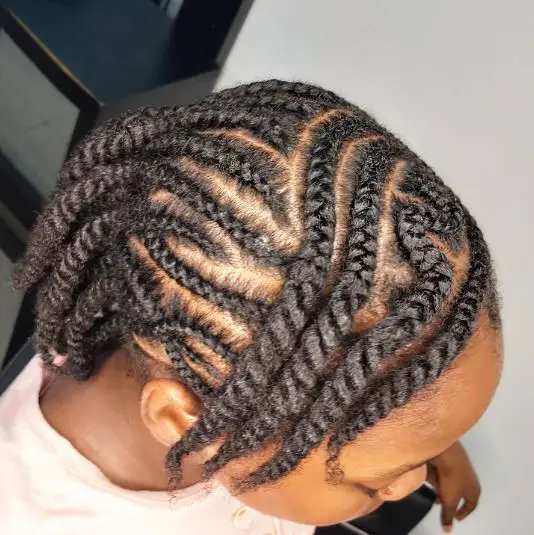 Image by @mic_marciannaturals via Instagram
19. Flat Twist Ponytail With Curly Bun
The curls in the bun section are unique and astonishing. The simple hair is braided with ends that flow into a ponytail held in a lovely bun.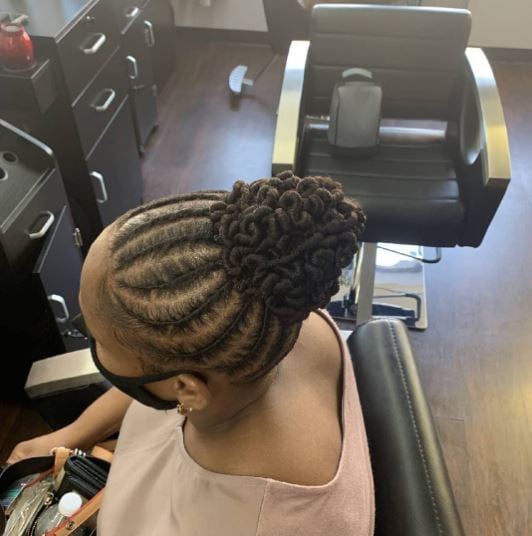 Image by @stylesbyalthea via Instagram
20. Flat Twists Updo
The protective hairstyle takes a slight twist here. The hair is cut with a rat tail comb in large sections. Large two-strand twists are done at the top of the hair forming a pretty wedge.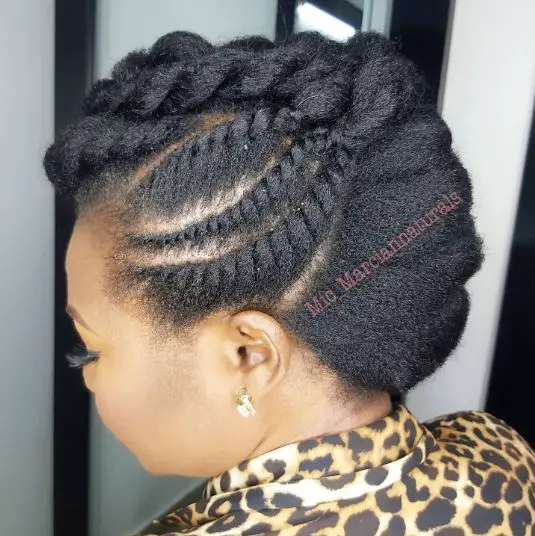 Image by @mic_marciannaturals via Instagram
21. Flat Twists With Beads
Express your fun personality by adding beads to your flat twist hair. Beads have a way of adding personality to your appearance.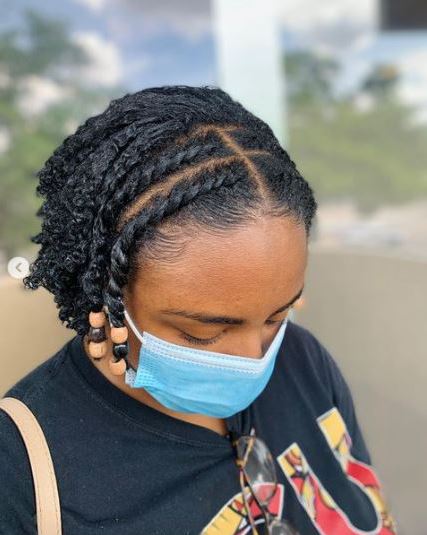 Image by @primadonnacurlz via Instagram
22. Flat Twists Midrib
This hair parting looks like that of the midrib of a leaf. The ends of the flat twist hair are twisted to form a slanty wedge.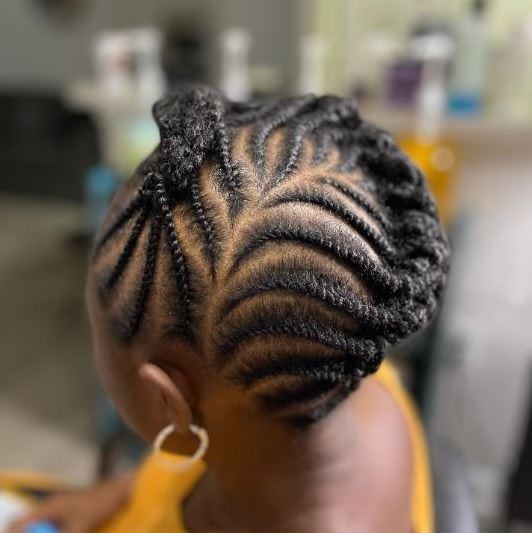 Image by @justdani215_ via Instagram
23. Flat Twists With Middle Bun
Perfection, yes? The hair has sections that display the neat scalp in all its glory. You can recreate this with your natural hair or add colored extensions to the hair to spice things up a bit.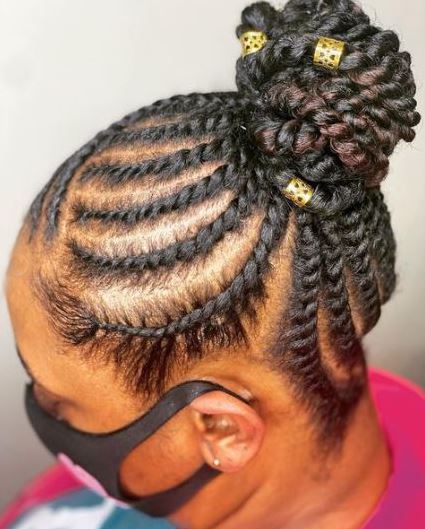 Image by @misha__mills__ via Instagram
24. Extra Large Flat Twists
If you have natural hair, you know how damaging it can be to park your hair without plaiting. To avoid damage to your hair, you can get this large flat twists hair done. I suggest braiding it on slightly wet hair to avoid hair breakage.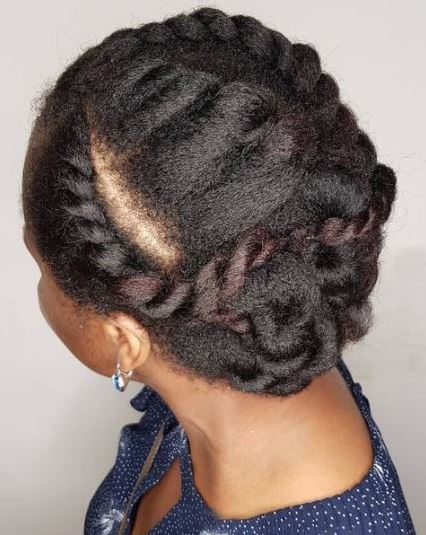 Image by @devinerootz via Instagram
25. Feed In Flat Twists Updo
This flat twisted hair is done in a delightful way with the hair extensions flowing from the ponytail.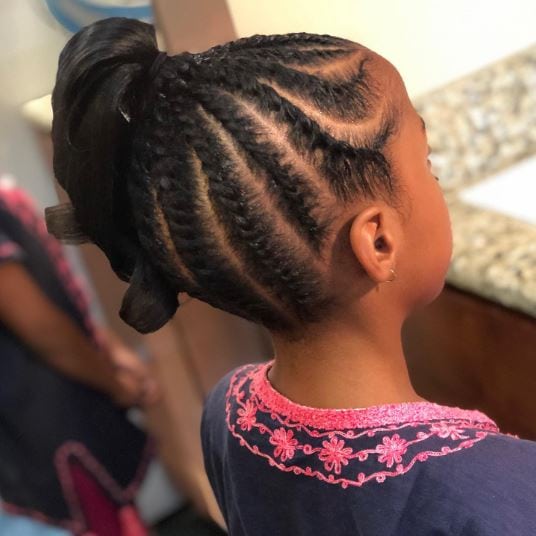 Image by @naturallykulturedhair via Instagram
26. Flat Twists With Twisted Bun
Have your hair protected as you take a fun road trip where you are free of stress. The rope-like braid is twisted at the low end to form a cute low bun.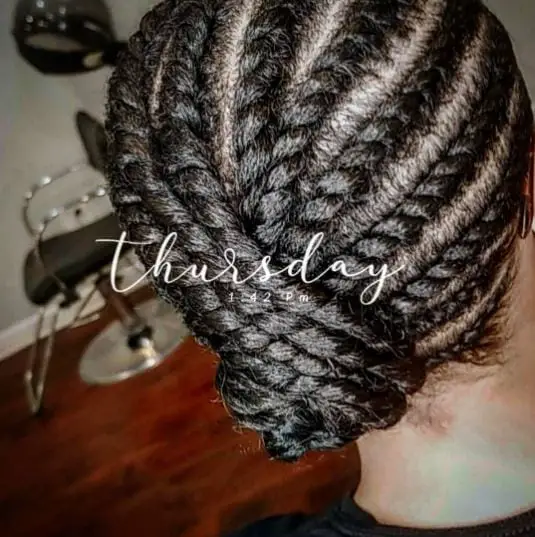 Image by @v.v.s.haircare via Instagram
27. Big and Small Flat Twists
Don't you just love the neatness of this hair? To get a neat hairstyle like this, I suggest applying a leave-in conditioner to help you soften the hair and make it shine prior to your appointment.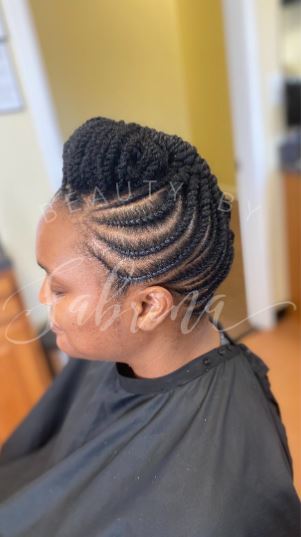 Image by @_beautybysabrina via Instagram
28. Big Flat Twist Updo With Free Front
This style is a good option for summer to keep your hair ends protected while you swim and bask in the sunlight.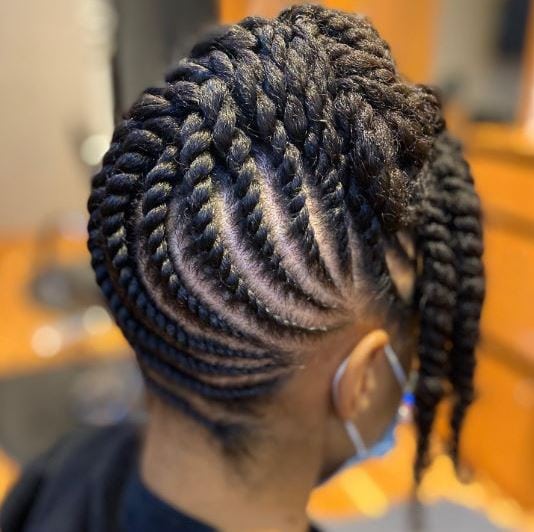 Image by @yonous_hair via Instagram
29. Two Strand Twists Style
This perfectly twisted style should be reserved for special occasions. The simple hairstyle looks elegant and is sure to leave your hair tangle free as you lose it.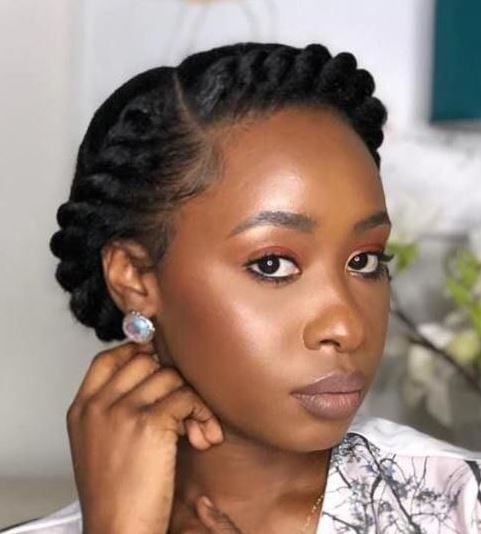 Image by @angelique_beauty_salon via Instagram
30. Flat Twists With Spiral Twists
Don't wear your hair long? No problem. You can get this gorgeous hair made in small sections. The ends of the twists are rolled and curled without combing out the curls.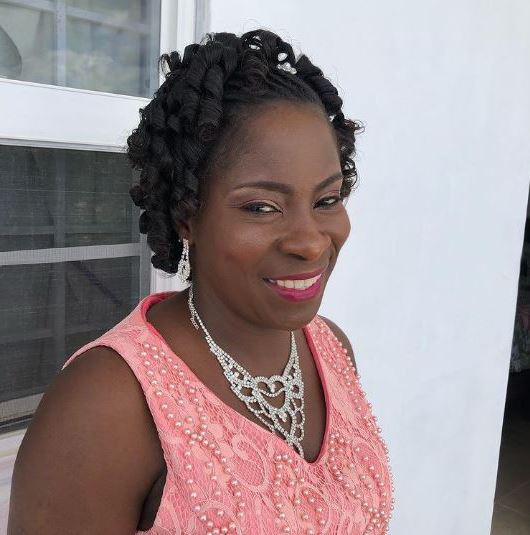 Image by @karibeautyhub via Instagram
31. Medium Flat Twists
Think large flat twists are splendid? You should see medium and thin flat twists. The small section of the hair gives the hair an illusion of being full.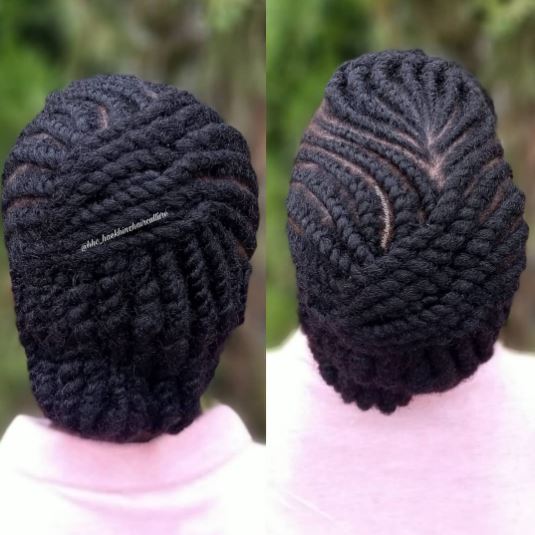 Image by @hhc_haekhinzhairculture via Instagram
32. Flat Twist Updo With Large High Bun
The two-strand twists are so precisely done that you'd need to have a second look to discover it's a flat twist.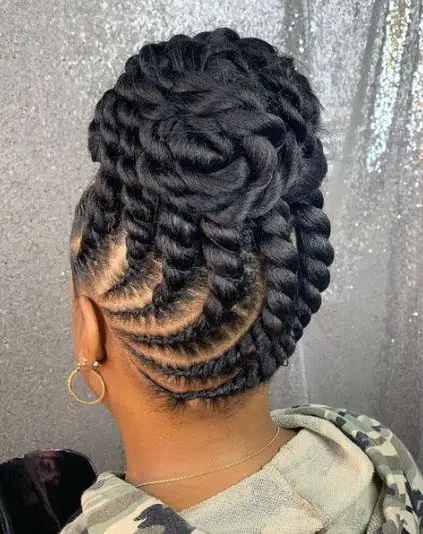 Image by @hairbylarose via Instagram
33. Twist and Braids
Not a fan of longer attached hair extensions? You can roll the extensions into a charming low bun as done here, allowing the beauty of your twist and braid to be more pronounced.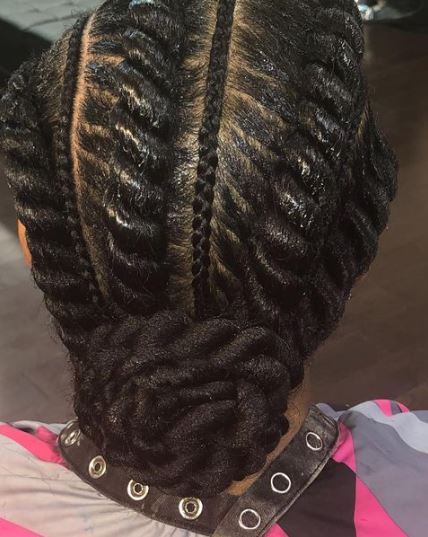 Image by @hairlinkssalon via Instagram
34. Large Side Flat Twist
Have short hair but want to rock this? No worries. You can add extensions to help you. The twists will look great if done on dry hair especially if you have natural hair.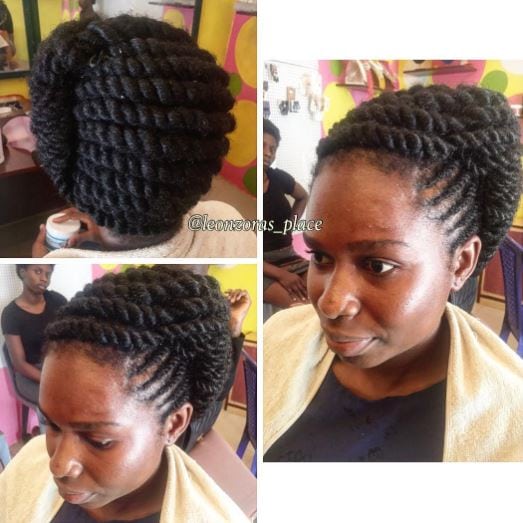 Image by @leonzoras.place via Instagram
35. Extra Long Flat Twist
I've found that flat twisting your hair into long chunky braids looks great when paired with bright makeup or outfits. Take a look at this.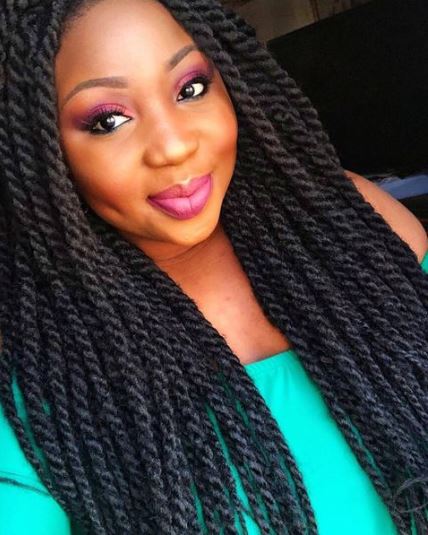 Image by @braidlancers via Instagram
36. Twists With Blonde Highlights
I used to think dyeing my natural hair wouldn't look as great as relaxed hair. It looks just as good. Adding highlights to your natural hair will help you achieve this stunning hairstyle.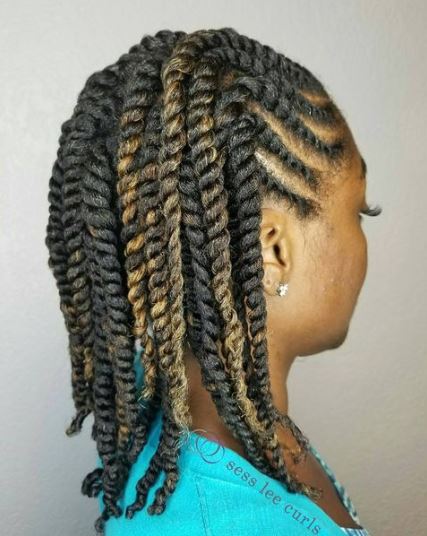 Image by @blessedwithkurls via Instagram
37. Simple Twisted Hairdo
Want to lay your wig? You can get this since it spreads over the whole head. It will allow for easy laying of your wig.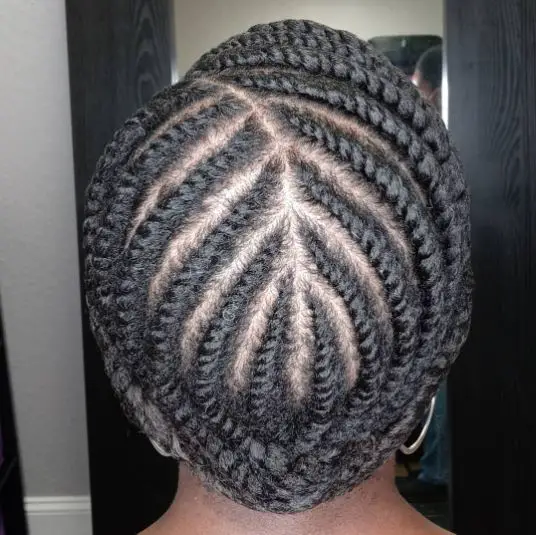 Image by @herstylez15 via Instagram
38. Double Strand Twists
Get this beautiful flat twist design with a double-strand twist-up top for your little girl.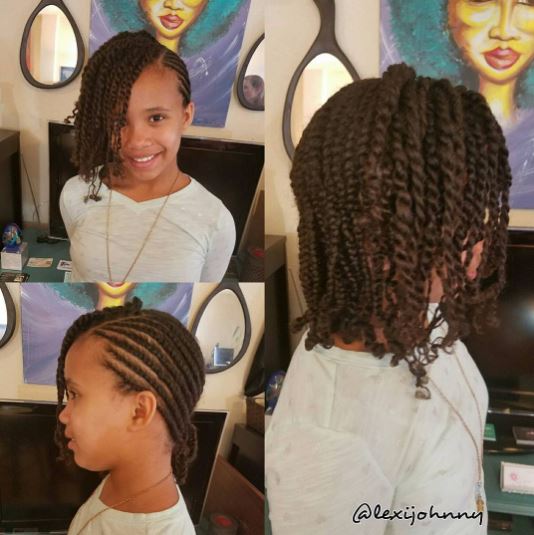 Image by @lexijohnnyhair via Instagram
39. Senegalese Twisting
Long Senegalese twisting is one style you can never go wrong with. You can style the hair into a bun or leave it to flow, depending on the occasion.
Image by @thefrizzydeity via Instagram
40. Subtle Mohawk Flat Twists
To achieve the creativity of this subtle mohawk, gently incorporate hair ends as you braid the hair into the top mohawk.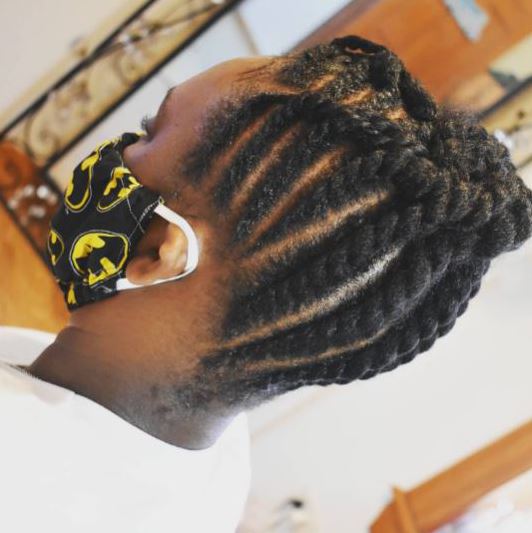 Image by @thefrizzydeity via Instagram
41. Ginger Flat Twists Updo
Just dyed your hair? Get this single flat twisted protective hairstyle to your hair follicles to relax and protect your hair from damage.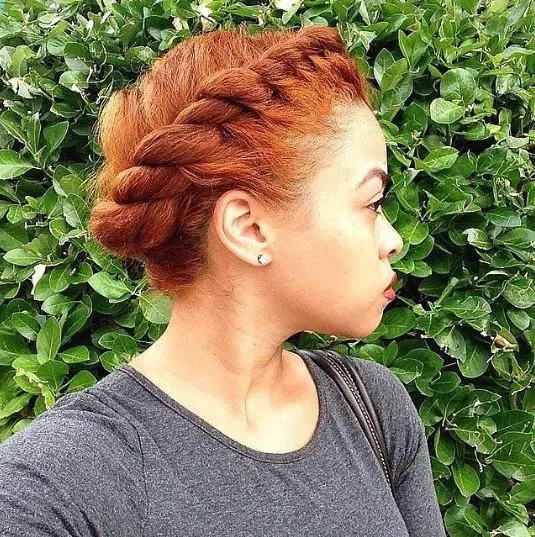 Image by @blackhalobeauty via Instagram
42. Mohawk Flat Twists With Edgy Front
We keep bottling in our slightly fun and crazy personalities to fit in society. With a style like this, you can let that part of you show slightly without appearing too extra.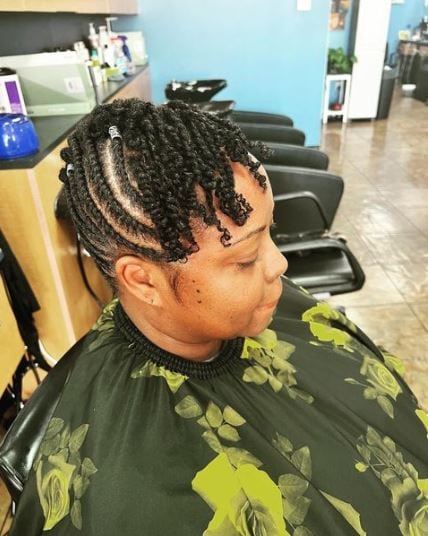 Image by @beauti_by_lana via Instagram
43. Natural Twist Out
The natural twists of this hairdo are to die for. This style is a favorite for when I want to go on a fun trip since the hair itself adds an element of fun to your life.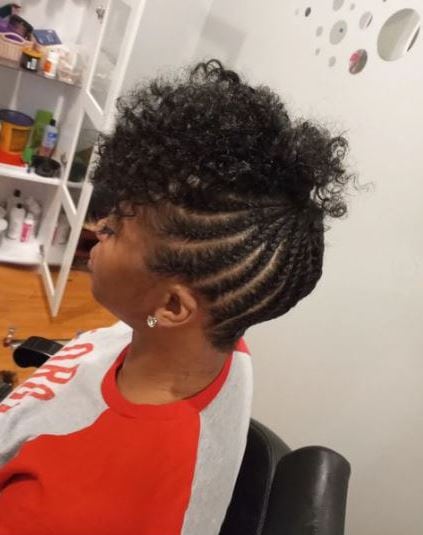 Image by @hairbybwills87 via Instagram
44. Cute and Simple Flat Twisting Styles
Don't you just love the shine and smoothness of this hair? Apply your leave-in conditioner prior to your appointment to help you get a smooth hairdo like this.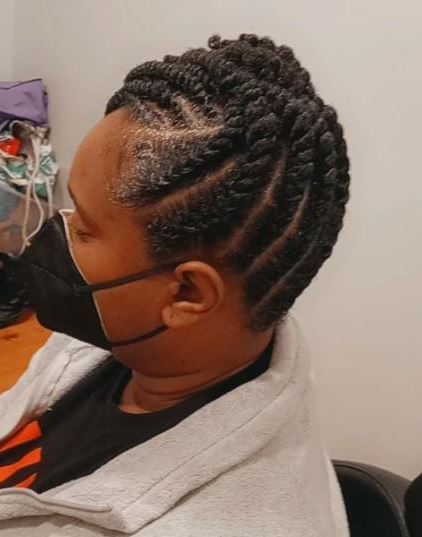 Image by @hairbybwills87 via Instagram
45. Slanty Updos
Pulling your twist hairstyles in a simple hairdo like this is a nice casual way to rock flat twist hairstyles.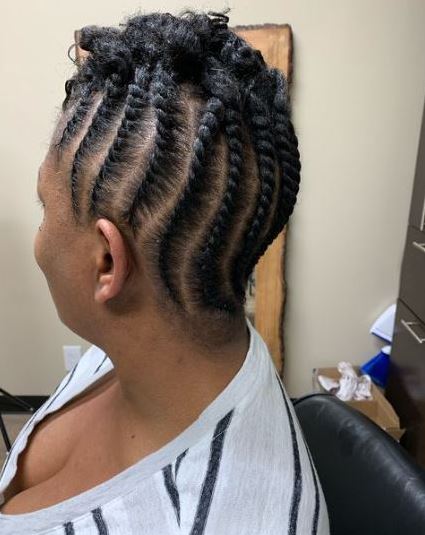 Image by @thebeautyentrepreneur via Instagram
46. Thicker Two Sections Hairstyles
Did you just wash or treat your natural hair? If yes, then this hairstyle is a great option after washing your hair to prevent breakage before your next appointment.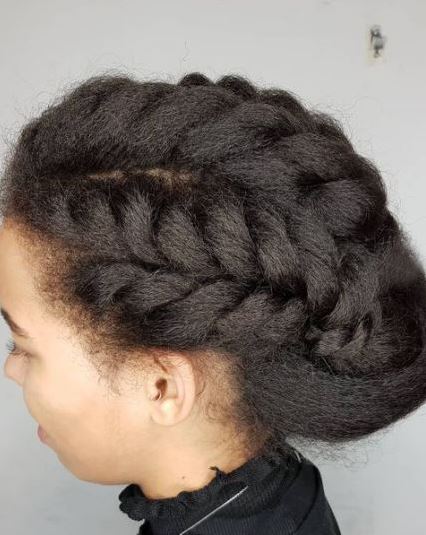 Image by @devinerootz via Instagram
47. Half Twisted Half Curls
This short freestyle hair looks so fun. I suggest you use a curl-defining cream to make your hair curlier.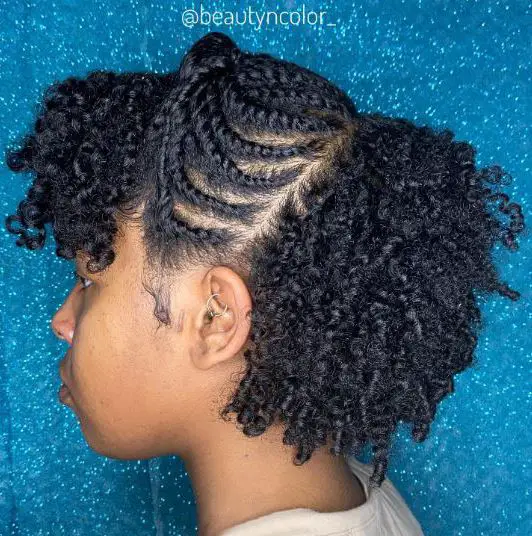 Image by @beautyncolor_ via Instagram
48. Single Twisted Hair
A single twisted hair is made at the front of this parked natural hair to create a stylish and formal look.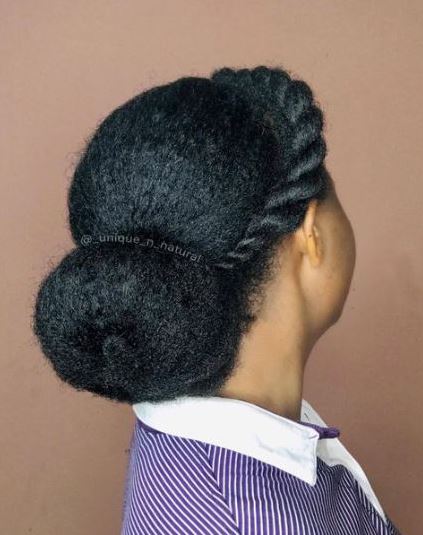 Image by @_unique_n_natural via Instagram
49. Flat Twist For Guys
Flat twists help guys create a stylish and rugged look.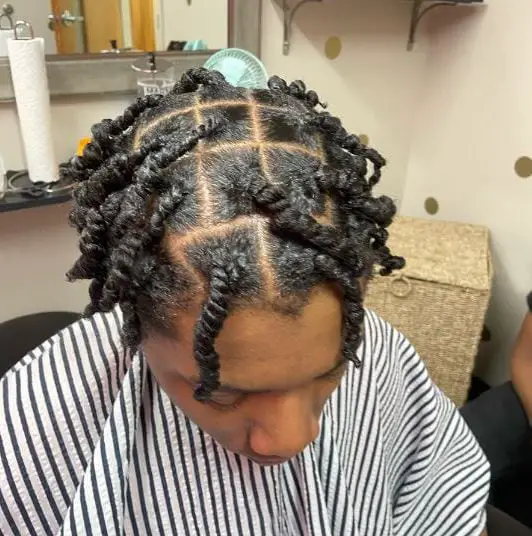 Image by @nettebraidsandlocs_ via Instagram
50. Single Twisted Hair With High Bun
This hairstyle will look great if you've got a presentation and don't need stress or have no desire to strain your head.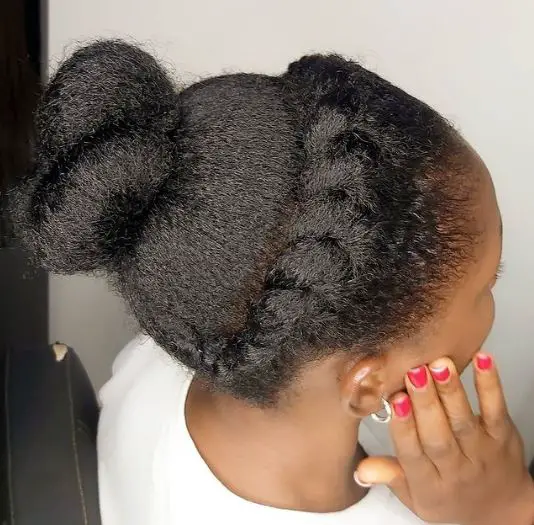 Image by @mic_marciannaturals via Instagram
Flat twists are a fun, easy, and convenient style. You can select one that resonates best with your personality for your next appointment. Or you could choose a style you like, and modify it a bit to personalize the appearance.