It's safe to say that jumbo knotless braids are here to stay due to how they are swiftly becoming the staple protective style for most women. The most popular jumbo knotless braids are those with curly ends. They add a classy feel to the style that completely changes your look.
Jumbo knotless braids with beads are also becoming increasingly popular. I like the braids with beads because they have a way of adding a fun vibe.
Regardless of your preference, scroll down for 30 jumbo knotless braids you need to try out to up your hair game.
Jumbo Knotless Braids
1. Long Jumbo Knotless Box Braids
Stun like Zendaya with these large jumbo knotless triangle braids.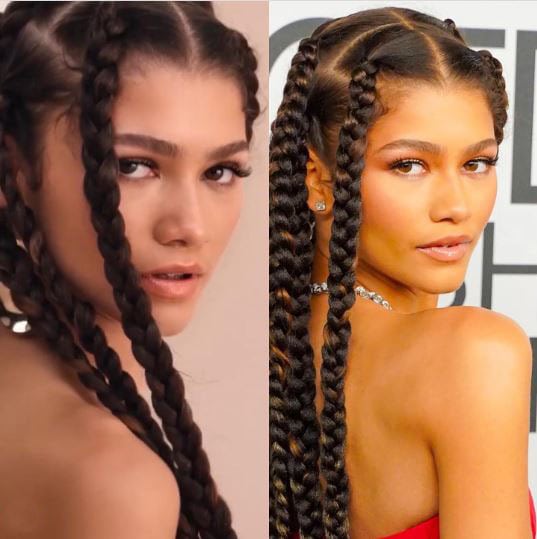 Image by @zendayaglamour via Instagram
2. Yellow Jumbo Knotless Braids
Step out looking as bright as a daisy with these yellow braids.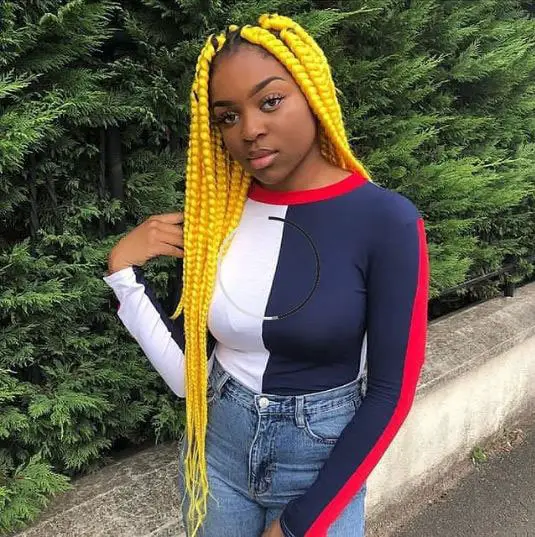 Image by @nigerianbraids via Instagram
3. Black Medium Size Jumbo Knotless Braids
Get a medium-size jumbo braid style like this if you want them to last longer.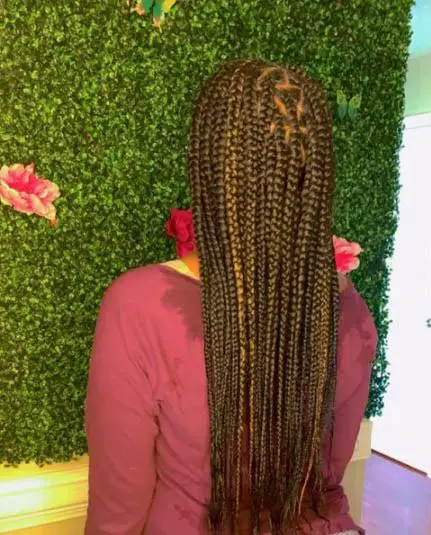 Image by @atlbraids via Instagram
4. Blue Jumbo Knotless Braids
The blue extensions used here are glamorous and stunning.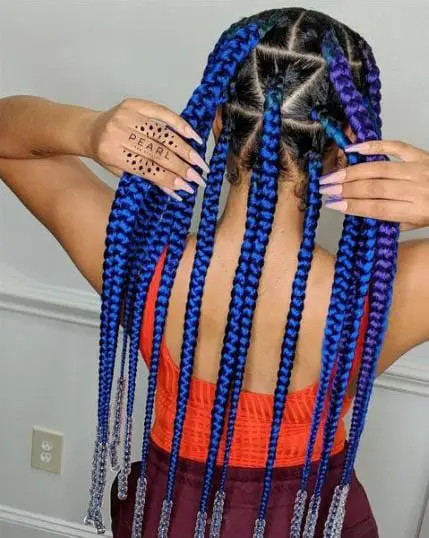 Image by @ghanaianhairstyles via Instagram
5. Purple Jumbo Braids
The hairdo is cut in boxes that show a neat scalp in this fun hairdo.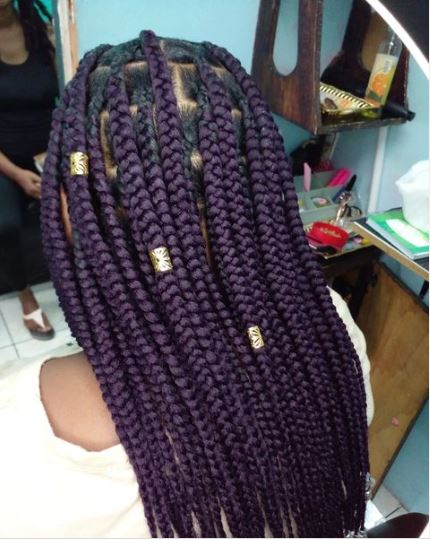 Image by @touch.of_perfection via Instagram
6. Long Jumbo Knotless Braids
A few strands of honey blonde are added to the tips of some strands in this hairdo and I'm all for it.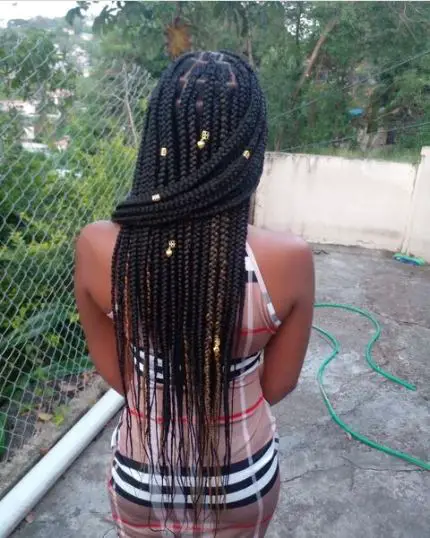 Image by @touch.of_perfection via Instagram
7. High Bun Jumbo Knotless Braids
The hairdo is placed in a high bun, making it suitable for work. You can get this done with your natural hair.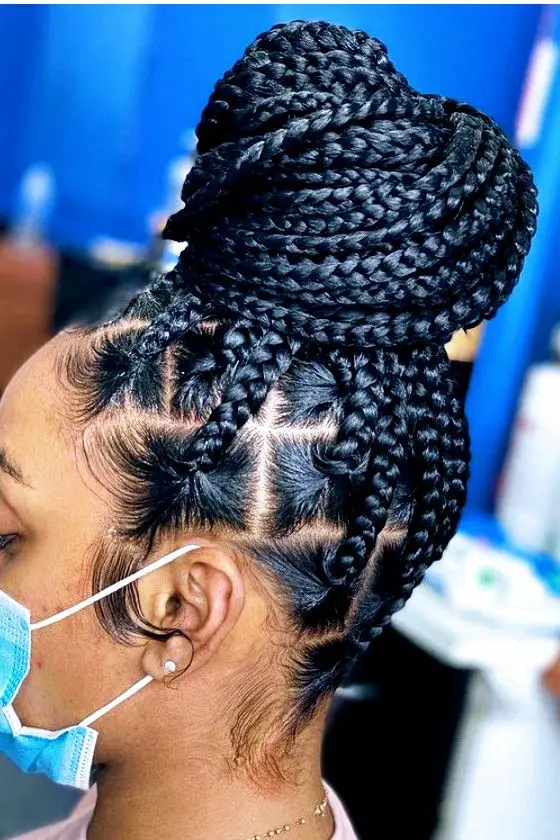 Image by @Arielskecher_ via Pinterest
8. Dark Brown Knotless Braids
If you would like to switch from your regular black braids but don't want to try a 'bright color', this is perfect for you.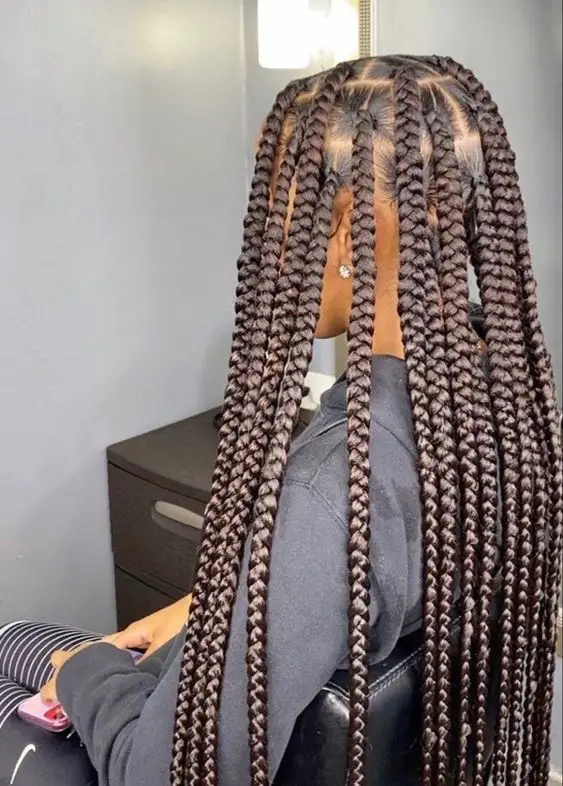 Image by @ValenciaMariee via Pinterest
9. Black Braids With Accessories
The gold accessories added to this hairdo look amazing.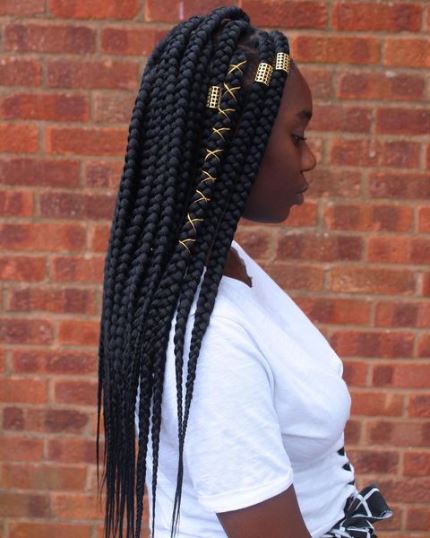 Image by @allbraided via Instagram
10. Jumbo Short Braids
These short braids look classy and elegant.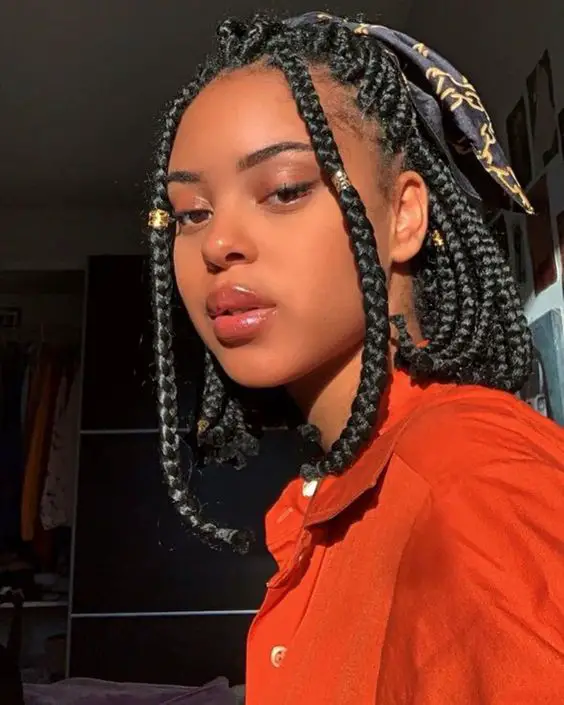 Image by @jade_joyy via Pinterest
11. Cornrows With Jumbo Knotless Braids
Adding cornrows to your jumbo knotless braid gives it a great twist.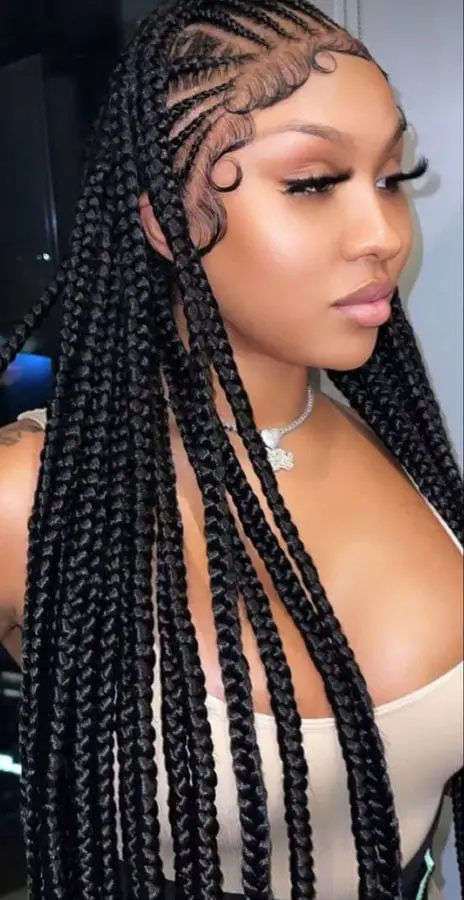 Image by @ctrlmolax via Pinterest
12. Large Knotless Braids
Get this easy hair to look charming as you go about your day.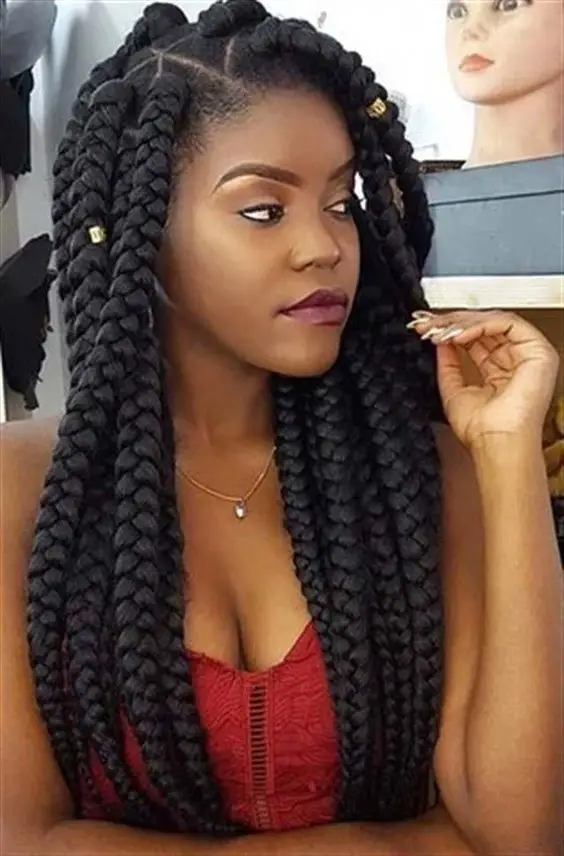 Image by @pursaklargundem via Pinterest
13. Gold Blonde Jumbo Knotless Braids
Get this pretty hairdo to stay in a fun mood wherever you go.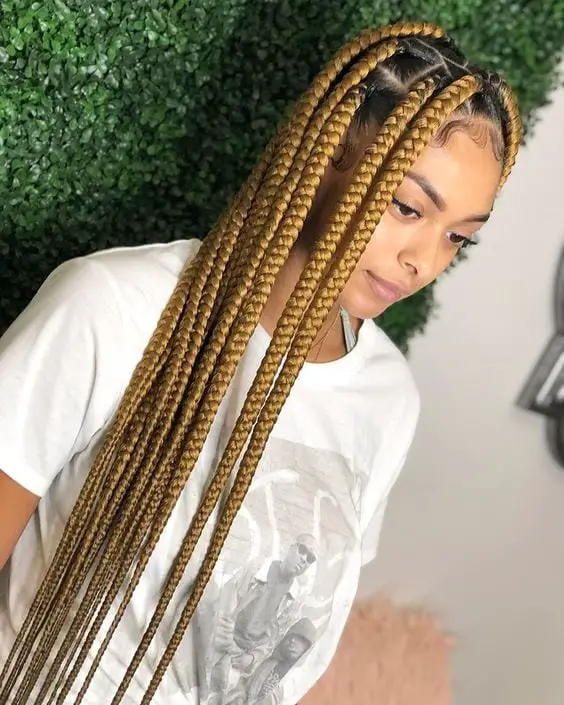 Image by @Halibeautie via Instagram
14. Black With Purple Streaks Jumbo Knotless Braids
A pop of color always makes things better, just like the 2 purple extensions added here.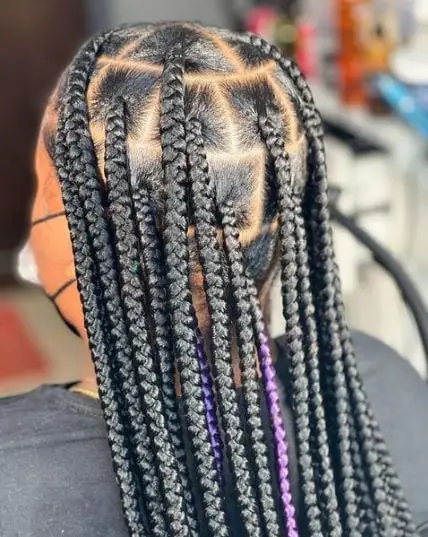 Image by @braidedbynatts via Instagram
15. Large Box Braids With Extra Length
These braids are cut into large sections that show the neat scalp in all its glory.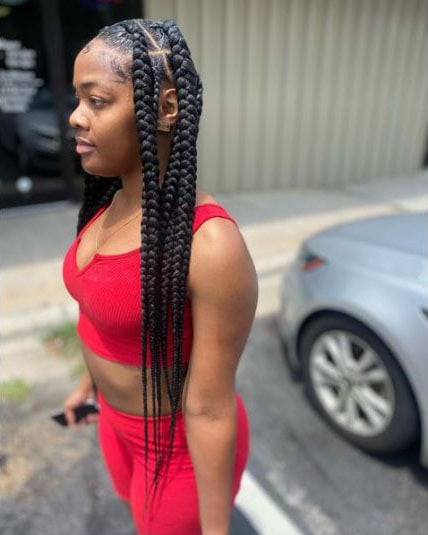 Image by @braidzbyki_ via Instagram
16. Caramel Jumbo Knotless Box Braids
Protect your hair with these lovely caramel box braids. It has a nice length that will allow you to style it.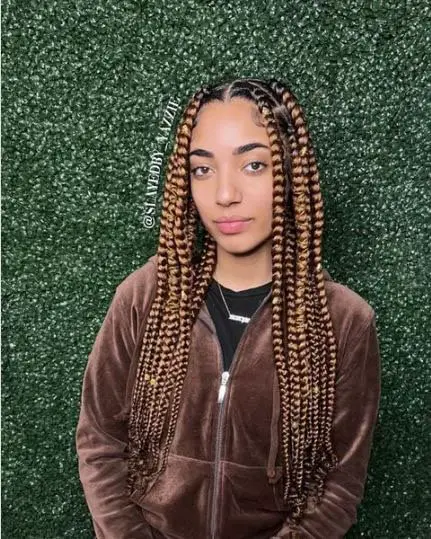 Image by @slayedby_yazzie via Instagram
17. Ombre Pink Braids
With a nice extra length, pink is added to the tips of this hairdo to create a great design.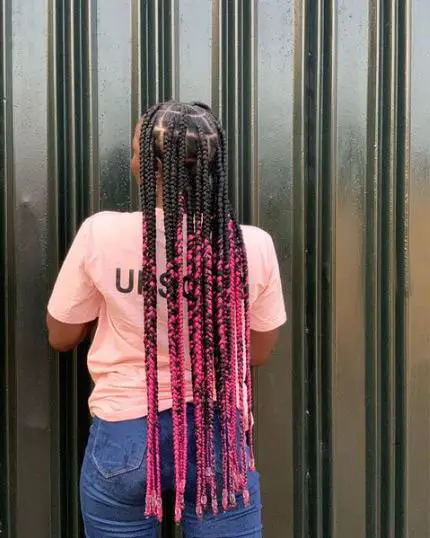 Image by @_.justbraids via Instagram
18. Colorful Jumbo Knotless Braids With Bead
This pretty style is perfect for a kid.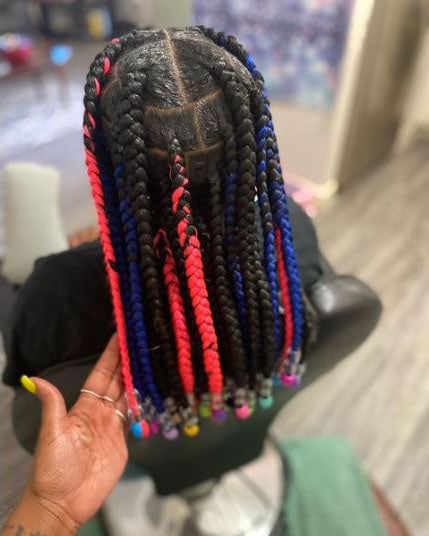 Image by @stylesbyshay26 via Instagram
19. Hearts Jumbo Knotless Braids
Jumbo braids hairstyles with hearts look charming. You can wear this style with your natural.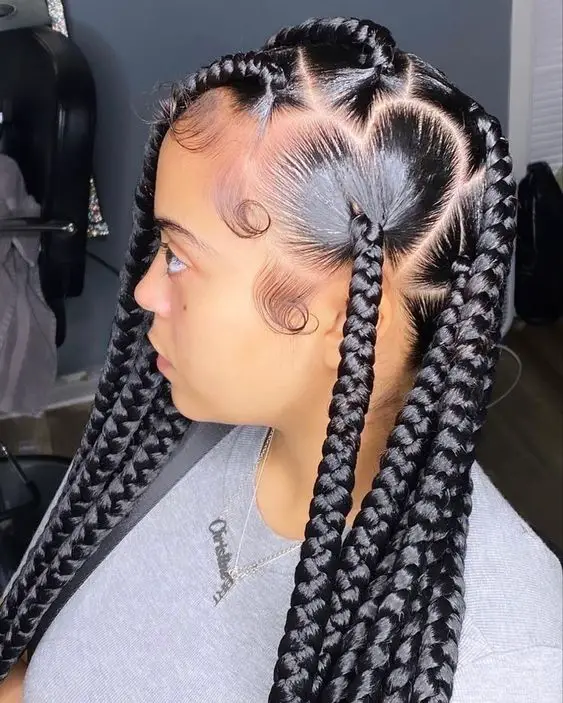 Image by @urbanbrattie via Instagram
20. Twist Jumbo Knotless Braids
Take a break from your flat iron by getting this hairdo that's a great option for work.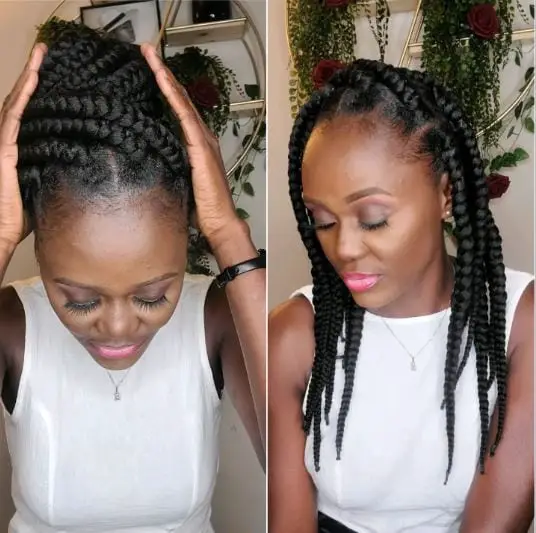 Image by @ashakeoge via Instagram
21. Red Jumbo Knotless Braids
End your search for baddie jumbo knotless braids by getting this red hairdo done.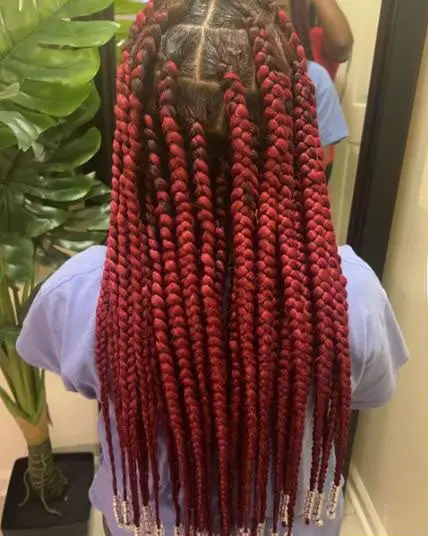 Image by @braidsby_cay via Instagram
22. Ombre Jumbo Knotless Box Braids
This is your sign to get those ombre braids. You can watch videos to learn how to perfectly get this protective style.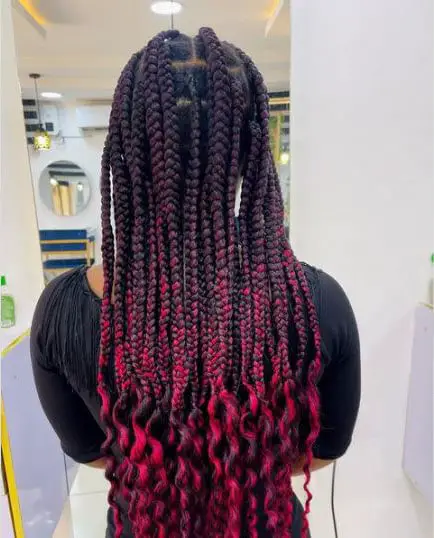 Image by @arbeautyhub via Instagram
23. Platinum Blonde Jumbo Knotless Box Braids
Braiding hair with platinum blonde mixed with black always looks stunning.
Image by @_slayedbyfaith._ via Instagram
24. Curly Triangle Hair
You can rock this cool style at any party with how curly and bubbly it is. It will also look nice on natural hair.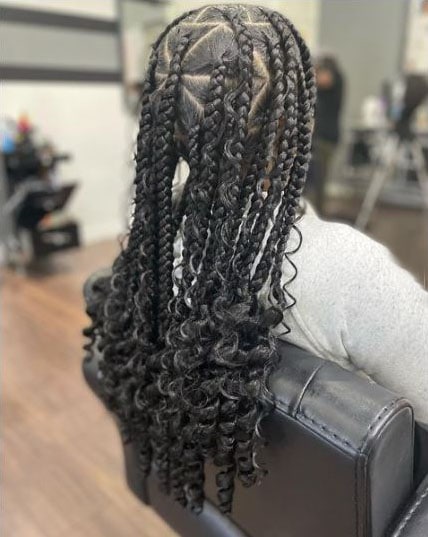 Image by @braidsxreese via Instagram
25. Short Knotless Braids With Curls
The beauty of this low-tension hair with curly tips is attractive.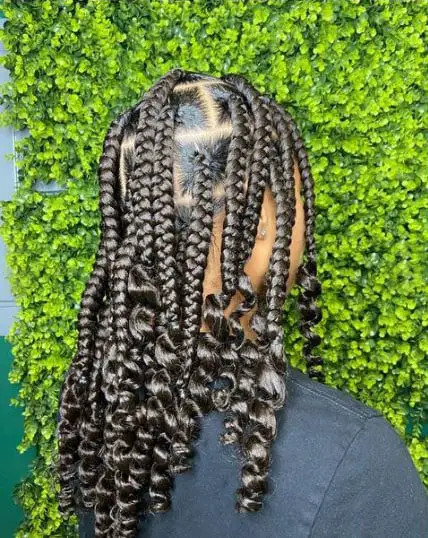 Image by @stylesbycoriii via Instagram
26. Curly Jumbo Hairstyles
You can choose to curl the tips of your hair to make it look better.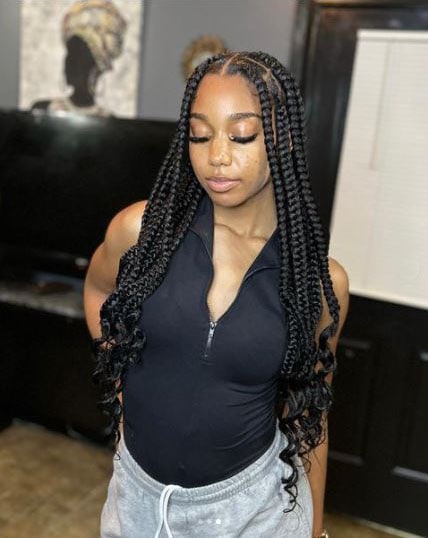 Image by @weaveittotee_ via Instagram
27. Equal Jumbo Knotless Box Braids
Braiding equal hair has been a regular on my Pinterest timeline.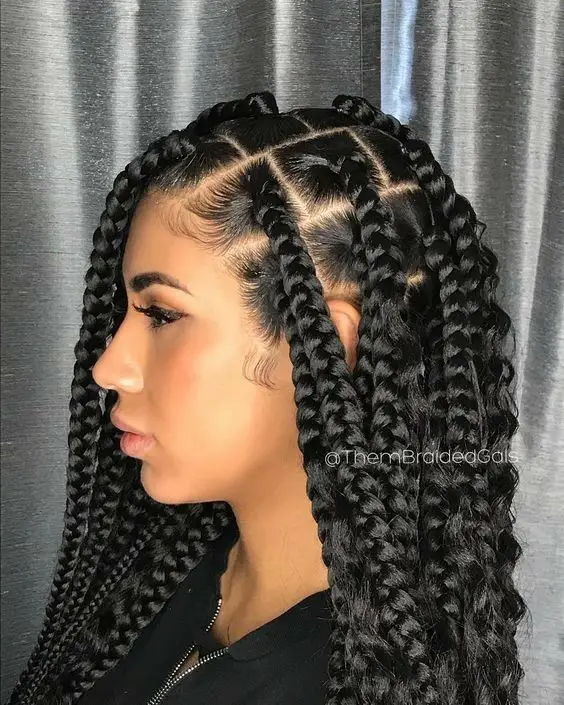 Image by @pinvxyz via Pinterest
28. Blue and Black Braids
The pretty color combo of this hairstyle makes it look super casual and fun.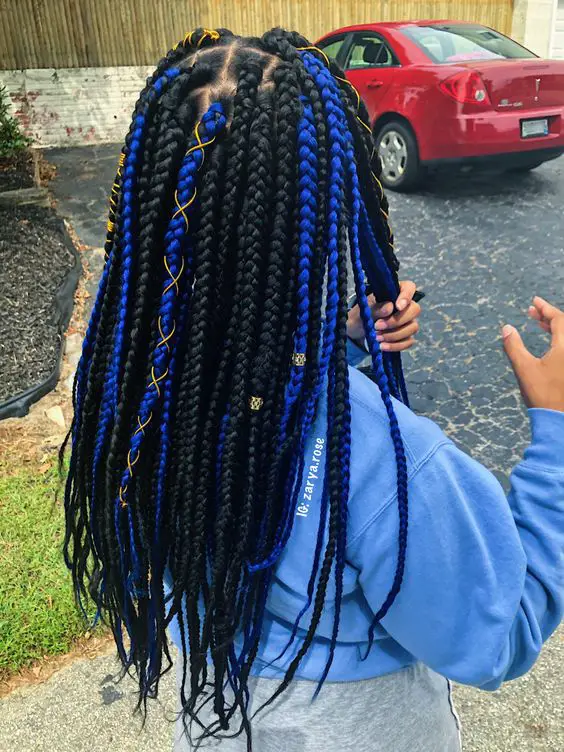 Image by @zaryarose via Pinterest
29. Half Jumbo Hairstyles
This has feed-in braids in the upper part and knotless braids below.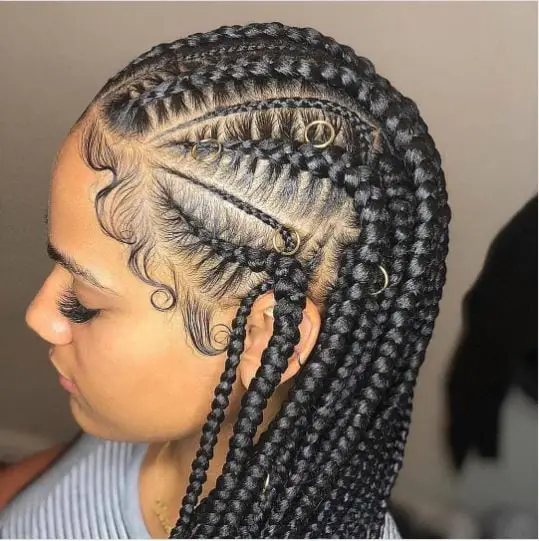 Image by @curlyhairmag via Instagram
30. Orange Jumbo
For lovers of orange.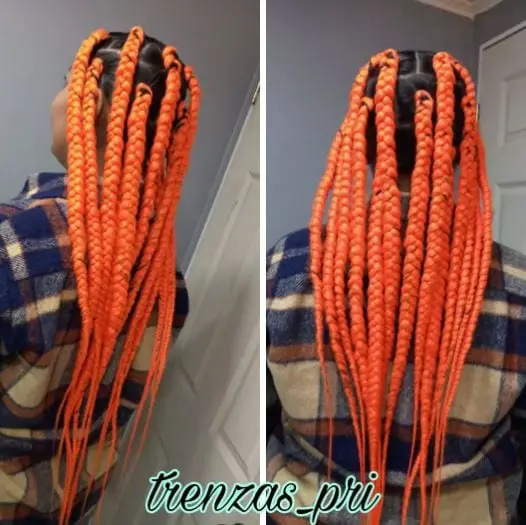 Image by @trenzas_pri via Instagram
Frequently Asked Questions
How To Do Jumbo Knotless Braids?
The most important step when making jumbo knotless braids is ensuring that your scalp is clean by washing your hair. This is to achieve that glowy braided look after you're done.
You will also need a nice hair gel to make your hair sleep and blend properly with the extensions when feeding it into the braid. Watch the video below for a step-by-step guide on how to make braids.
How Long Does Jumbo Knotless Braids Last?
Depending on your maintenance routine, your braids can last for up to 2 months.
Are Jumbo Knotless Braids Heavy?
They are not heavy. This is because jumbo hair is made by cutting large pieces of hair sections. This means that you don't need to add a lot of hair extensions to get it done.