The transition to pastel blue hair can be a bit tricky - should you go with baby blue or sky blue? Should you get highlights or balayage? Can you pull off pastel blue with dark hair?
There's no need to worry as I will be your pastel hair guide! I have been a colorist for many years and have dyed a fair amount of locks in this shade.
In this post, I will show you the top pastel blue looks and break down how to get and maintain this dainty shade. Let's begin!
The Top Pastel Blue Hair Color Ideas
Here are some of the best pastel blue hair ideas to consider for you:
Black Hair with Pastel Blue Balayage
There are two benefits for this particular look. First off, pastel blue hair is best suited to those with light skin tones or cool undertones. If you don't have this complexion, then it is likely that the baby blue hair will wash you out.
Having darker roots, though, solves this problem for you. The black hair will offset the lighter strands, ensuring that you still have warmth in your skin.
If you have a darker skin tone or warm undertones, consider having the balayage from below your chin or the base of your neck. This way, it doesn't show up as much against your skin tone.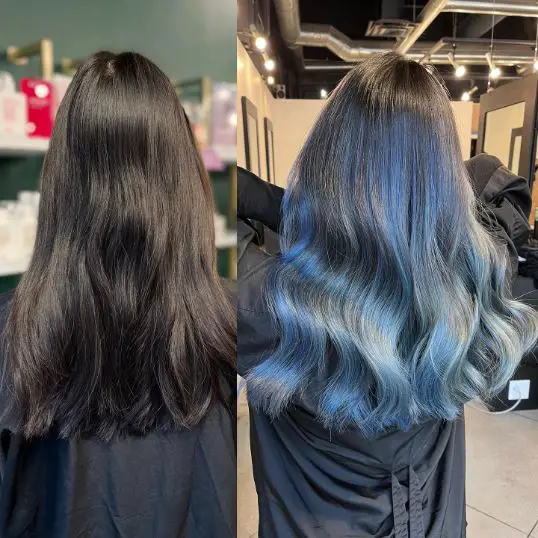 Image by @yunisu.hair via Instagram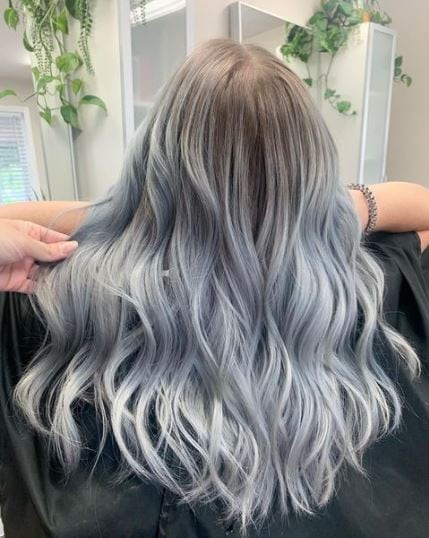 Image by @hairandmakeupbyjj via Instagram
The other benefit of this look is that if you naturally have darker shades, you will not need to lighten all of your hair, just the ends. This can save you both money and time. Not to mention, it doesn't require as much touch-ups as your hair continues to grow.
If you have black hair and cool undertones, don't be afraid to take a chance. Check out this look right here. The pastel blue hair color starts much closer to the roots. As you may can tell, there are even lighter icy blue strands throughout the soft waves.
This helps the pastel blue to stand out yet look more natural against the darker natural color.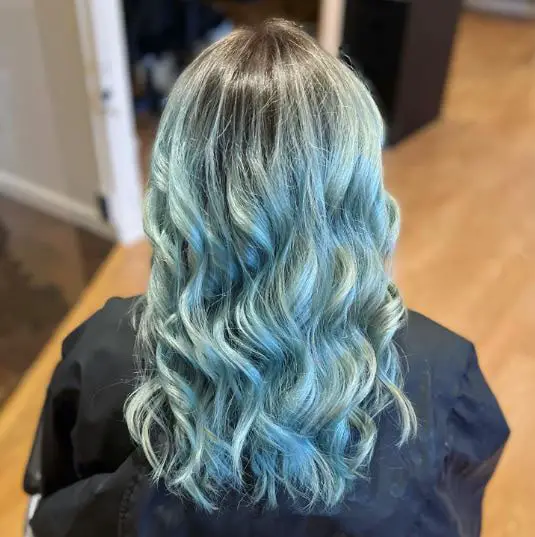 Image by @alicia_vidovich via Instagram
Black Hair with Pastel Blue Underlights
This is one of the latest trends for temporary hair color. This is where only the bottom-most sections of your hair are lightened and dyed.
In some cases, it is just the middle section at the bottom. In others, the entire bottom section is colored.
Not only is this a chic look, but it's also a great option for anyone who doesn't want the colored portion of their hair to be visible at all times.
If you're only dyeing a small section of your hair, you also have the option of going a bit bolder with your pastel colors.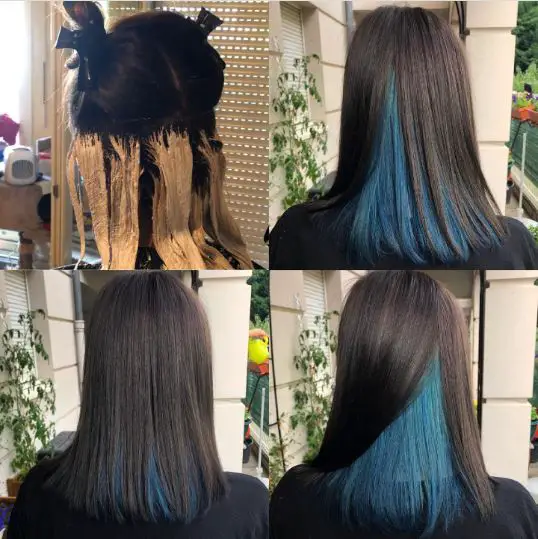 Image by @haar_world via Instagram
Image by @tiffgalvan0701 via Instagram
Brown Hair with Pastel Blue Balayage
A pastel blue shade on brown hair is a pretty unique look. As you will see, however, you can pull it off beautifully.
If you prefer something bold, check out this powdery blue hair dye color. While it certainly stands out, you won't feel like it's over the top as the sky blue color is perfectly in line with that shade of brown.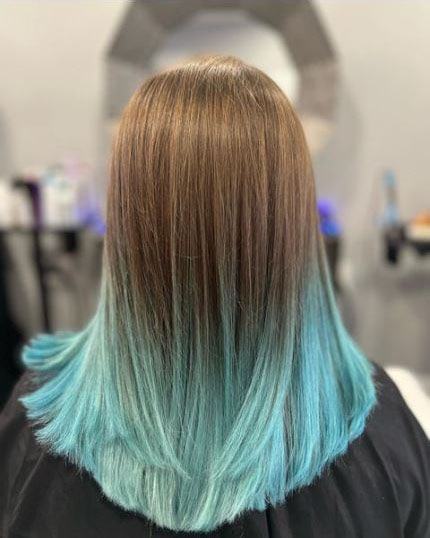 Image by @lexborino via Instagram
If you want something more subtle, these are the looks to go for. This is a silvery grey blue that works with the lighter brown shade. As you will see, the stylist has painted narrower strands of hair to create a softer look.
The highlights also start at different points along the hair shaft, creating a more natural look.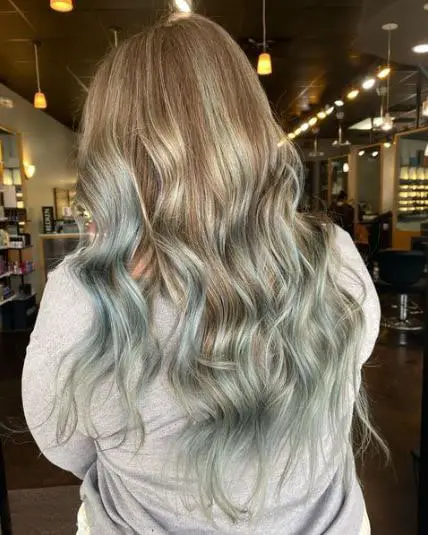 Image by @creative_colorist via Instagram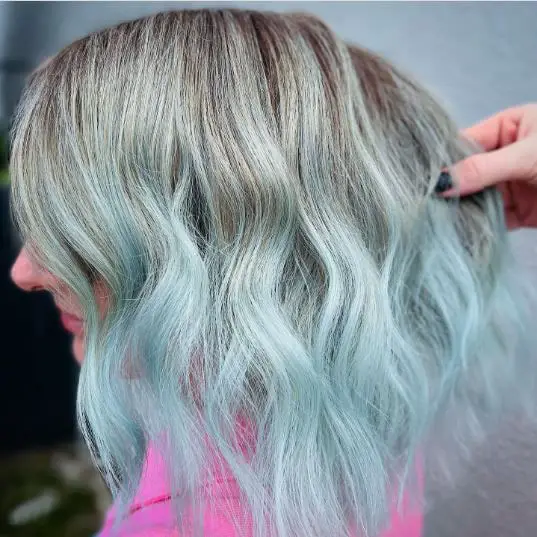 Image by @hair.sorcerer via Instagram
Dark Blonde Hair with Pastel Blue
If you have darker, ash blonde hair, this is such a perfect look for you! The natural silvery tones in this hair color help to balance out the pale blue. If you want an even softer look, make sure to ask your stylist to paint narrower highlights into your hair.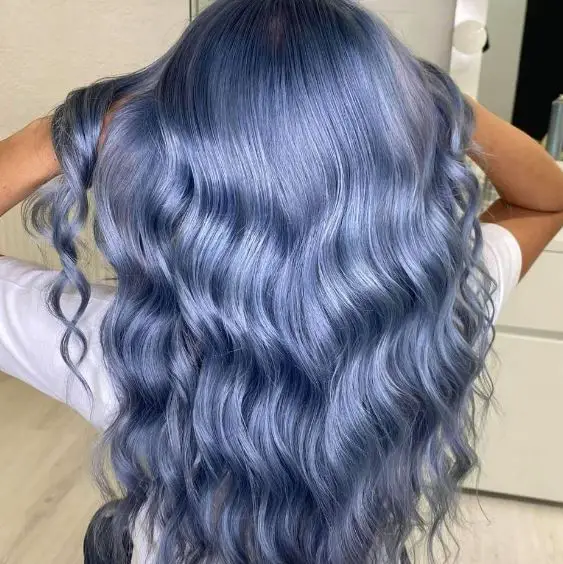 Image by @mindy.wella via Instagram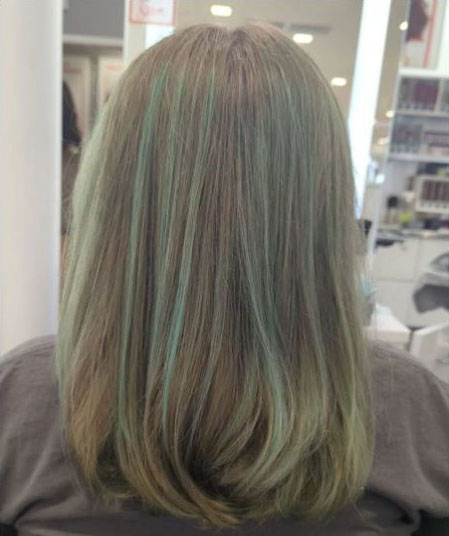 Image by @vivid_hair_kayla via Instagram
Of course, if you want to go all out, you should! Here is how you can get the balayage look with dark blonde hair. The trick is to include some powdery blue sections so that the hair doesn't look like it is bleached.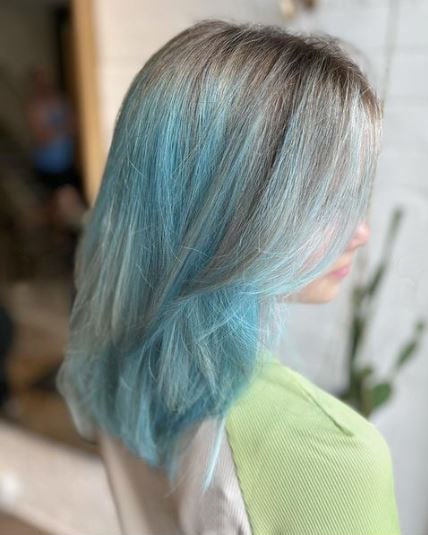 Image by @hairbystaceyj via Instagram
This is a really inspired look. It works well if you have natural lighter blonde highlights in your hair. Otherwise, you can get them painted in. In any case, by lightly dabbing on the pastel shade onto these lighter sections, you create a natural and glowy look.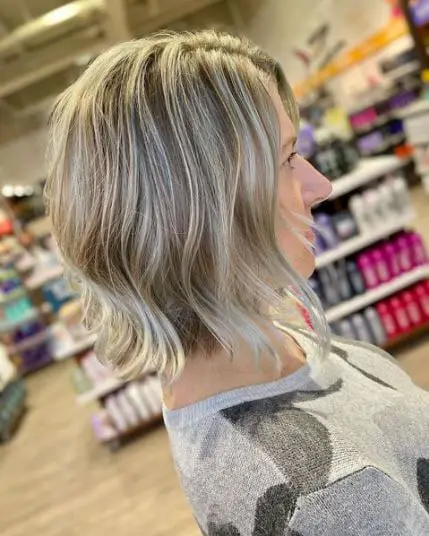 Image by @hairbysarahjanebrown via Instagram
Light Blonde Hair with Pastel Blue Hair
As you can imagine, you are most likely to see pastel blue with light blonde hair. This is because people with this shade get to skip the lightening process or else don't have to lighten their hair all that much.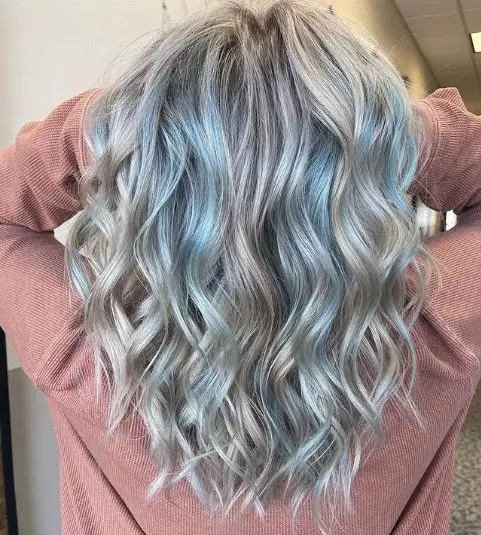 Image by @kristen_marie_hair via Instagram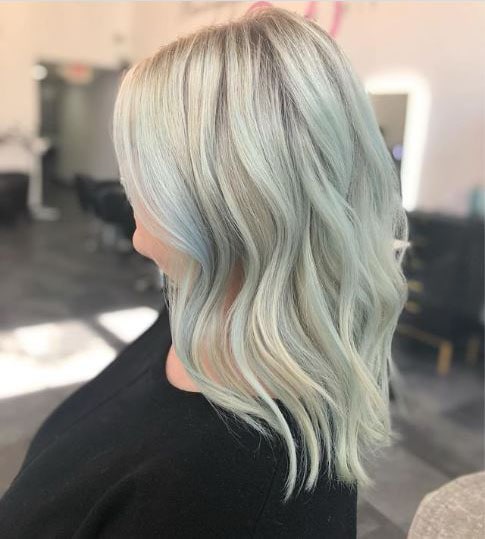 Image by @balayagebarboutique via Instagram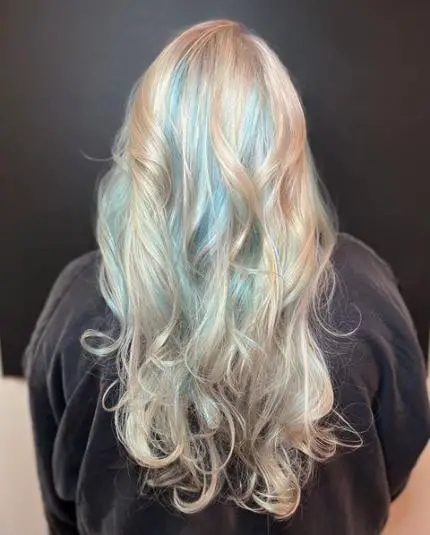 Image by @vervethehairgallery via Instagram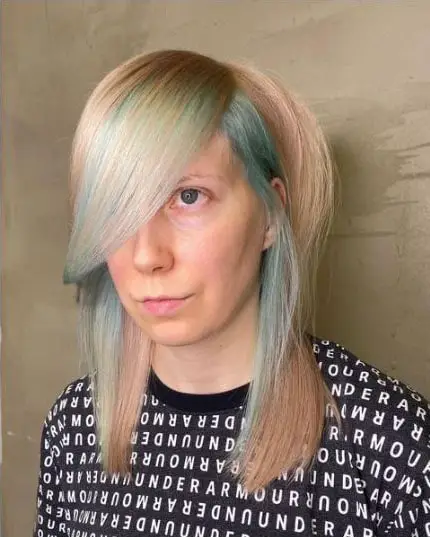 Image by @wellanordic via Instagram
Do you have or want a white hair color? Then check out what your pastel shade of blue will look like with it: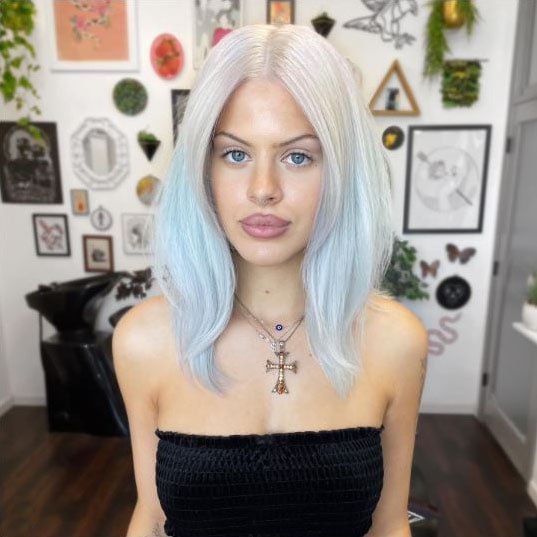 Image by @pinkdagger via Instagram
Reverse Blonde Hair Pastel Blue Hair Balayage
This is such a fun and unique pastel blue hair color idea! It completely flips the script on what most people do with their own look. So, if you really want to stand out, this is a great way to go.
Now, since you are going with a reverse balayage, it is important to choose a pastel blue shade that is well-suited to your skin tone. This way, you don't have to worry about the hair color clashing with your complexion.
If you also like to add more depth to the look, you can go for slightly darker roots. This can prevent the pastel shade from appearing too contrasting.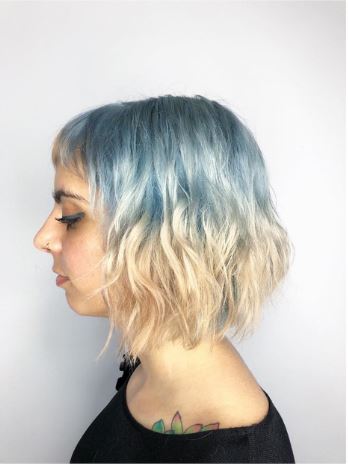 Image by @nomobosalon via Instagram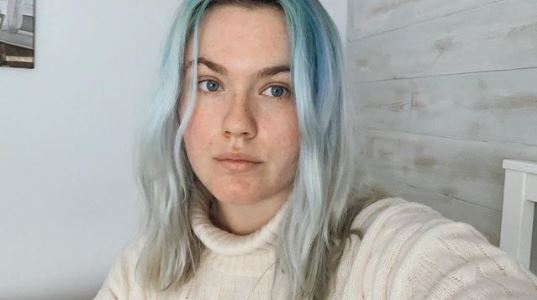 Image by @0moonchaser0 via Instagram
Pastel Blue Moneypiece
This is another great option for when you don't want to make a drastic change but you do want your pale blue highlights to stand out.
As these are face framing highlights, you have to be careful about choosing a shade that is perfectly suited to your complexion.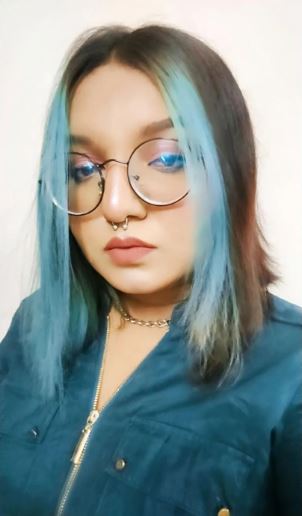 Image by @hairshedoes via Instagram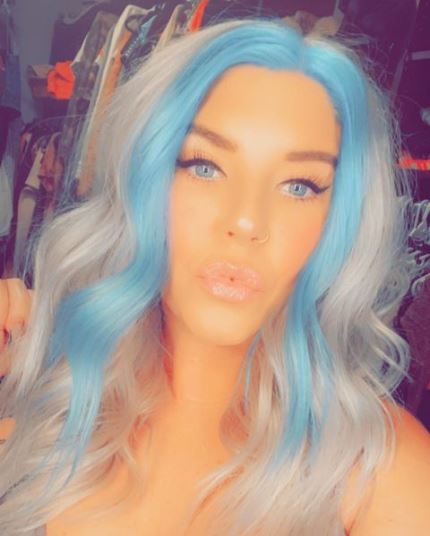 Image by @geribleach via Instagram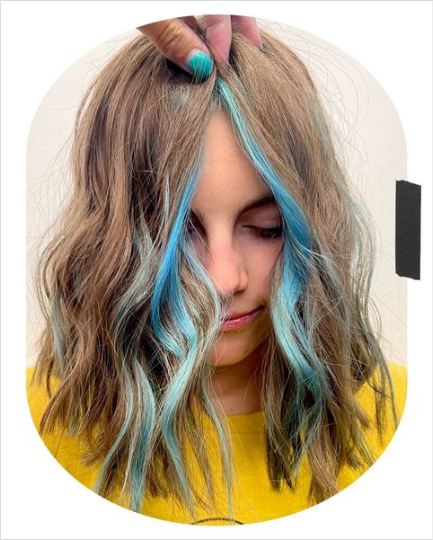 Image by @_the_shortcut_ via Instagram
If you want more a pastel hair color, you may want to consider matching underlights as well.
All Over Pastel Blue Hair
Want your whole head done up in pastel blue? Then here is some inspiration you can consider: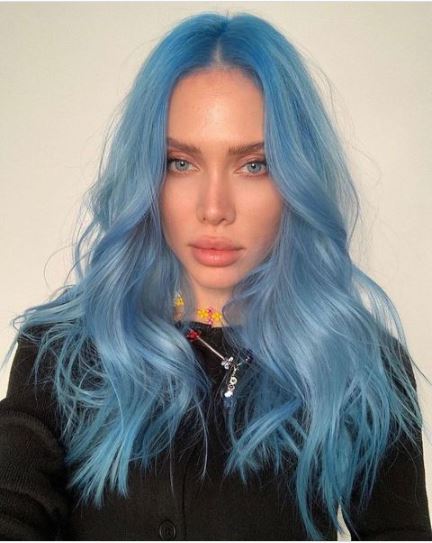 Image by @davinesindia via Instagram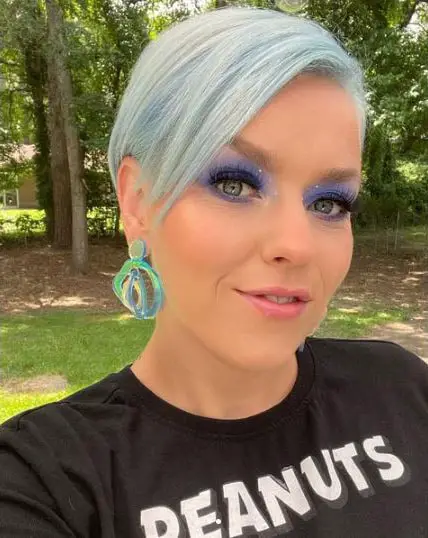 Image by @amybytheton via Instagram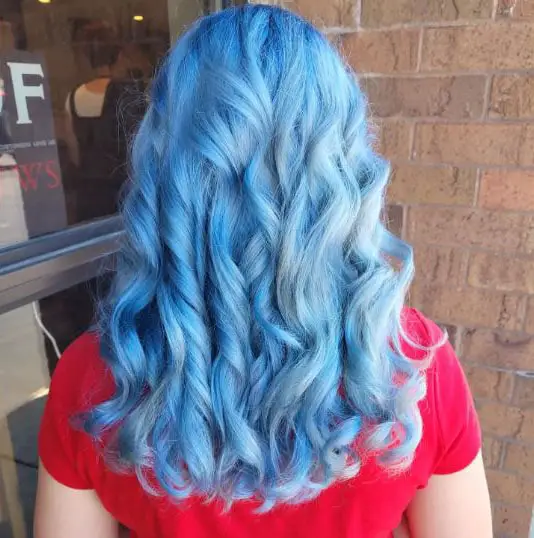 Image by @abby_at_cos via Instagram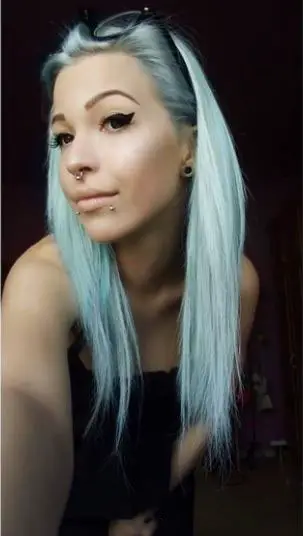 Image by @littlepinkpentagram via Instagram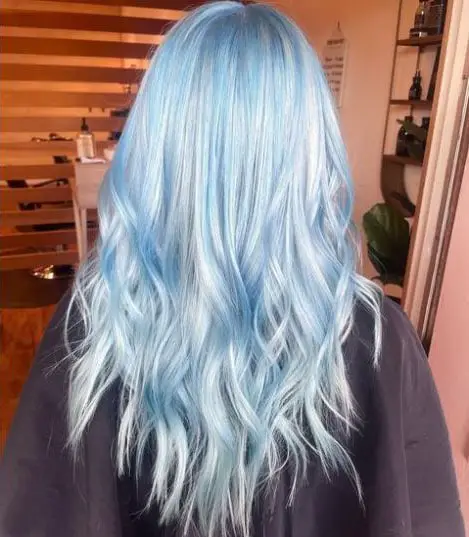 Image by @crystallinecolorss via Instagram
Semi Pastel Blue Hair
This is certainly not a look for the faint of heart. However, if you want something bold and different to what everyone else is doing, this is the style to go for.
There are a few different ways to execute this look. You can leave half of your hair in its natural color and only have the other side in blue. Or, you can do both sides in completely different shades.
There are some people who choose to have more than two colors - including pastel blue - for each side of their head.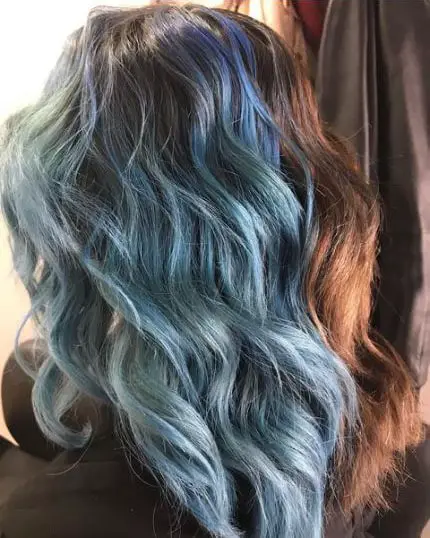 Image by @stylistbobbi via Instagram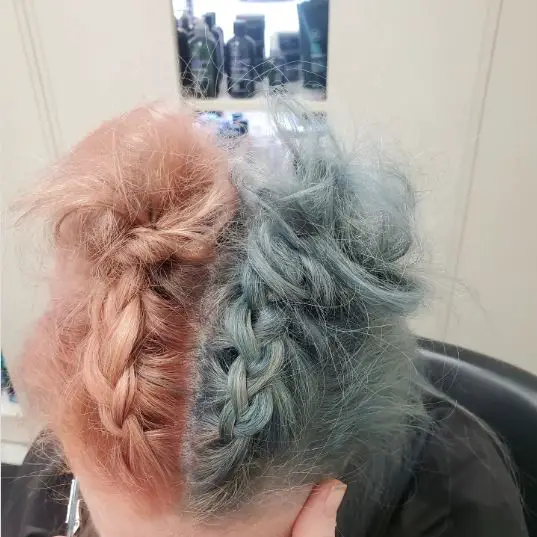 Image by @aa2beauty via Instagram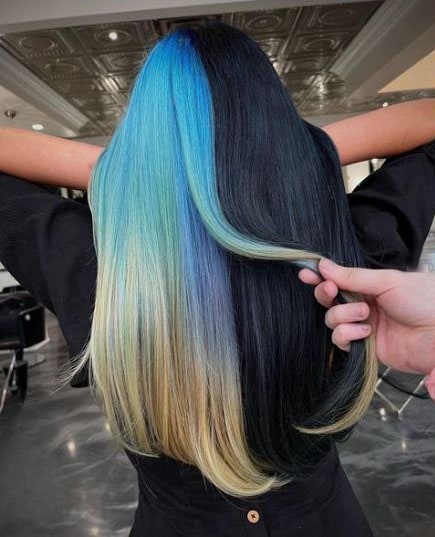 Image by @artistic.aestheticss via Instagram
Dark Blue Hair with Pastel Blue
If you want more depth and dimension in your hair, a dark shade of blue mixed in with a light shade is one way to achieve this. It is also the ideal option to bring out your inner mermaid.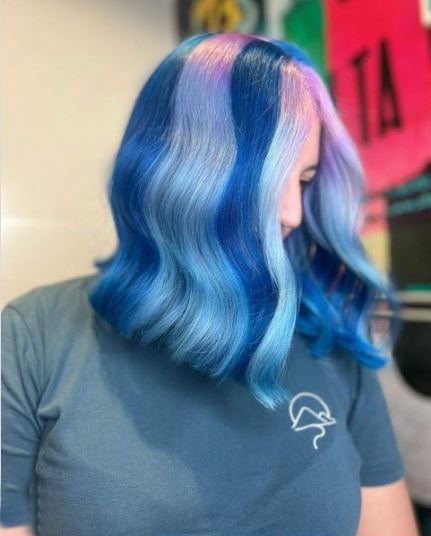 Image by @slunks via Instagram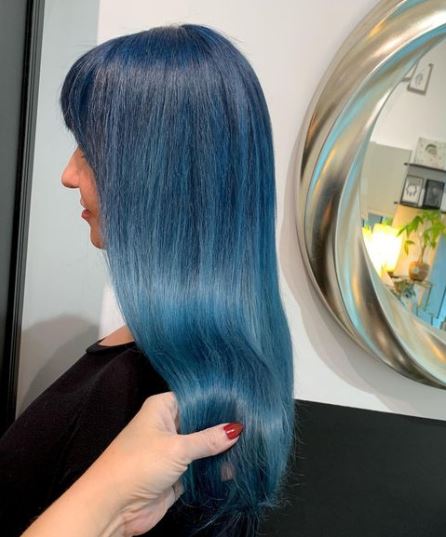 Image by @untamedinstinct via Instagram
What is Pastel Blue Hair?
The first thing that I would like you to know about pastel blue hair is that there isn't one shade to choose from.
The definition of the pastel blue is a pale blue that has been washed out with white. As you can see, this is a pretty broad description.
This is why it's important to understand just how many shades there are and which one you are likely to get.
There is some confusion about what pastel blue is. You will find people referring to light purple or lavender as a baby blue shade too.
How Do You Get Pastel Blue Hair?
As mentioned above, there are different shades of pastel blue. So, your first step is to decide which shade you're going to get.
Some shades are a little brighter while others are a pale, icy blue.
The shade you have chosen will determine how much you need to bleach your hair.
Even if you are a natural blonde, there is a good chance that you may need to lighten your hair a little to get the pastel blue hair colors to stand out.
If you have naturally light hair, lightening it further should be fairly easy. Your stylist will be able to lift your hair color and paint in the blue on the same day.
Your stylist will often do a strand test before deciding how to proceed.
In case you have very dark hair, your stylist might want to lift the color step by step. This will help reduce the amount of damage done to your hair.
Depending on the exact shade, it may take a few visits to the salon before you get the right shade. Then, your stylist will paint in the blue.
Does Pastel Blue Suit Everyone?
As mentioned, there are a few different shades to choose from. As a result, you should be able to find a hue that's perfectly suited to you.
That being said, this light blue shade is better-suited to fairer skin tones with cool undertones. The color has a tendency to wash out people with darker skin or warm undertones.
Of course, you shouldn't let this stop you from dyeing your hair in any color you want. If you're unsure about whether this shade will suit you, just do a few strands close to your face. This will give you an idea of whether you should go further.
If your hair type is curly and you have naturally darker hair, know that the bleaching process can damage your locks quite a bit.
What Does Pastel Blue Hair Fade To?
Well, this does depend on the particular shade of semi permanent hair dye that you decide to get. In most instances, though, pastel blue will fade to a light or pastel green or even turquoise.
To avoid this, you will either need to keep touching up your hair or embrace the new green hue. In some cases the faded color can be quite pretty as well.
Does Pastel Blue Hair Fade Easily?
One of the downsides of having a pastel hair color is that it's quite high maintenance. In just a few weeks, you may find your blue hair turning into green or a paler shade.
There are various factors that can impact how quickly the color will fade. This includes the semi-permanent dyes used, as well as how often you wash your hair.
Is Pastel Blue Hard to Get Out of Hair?
As mentioned, with pastel blue, there is a fading period. This means that your hair will go from pale blue to green to yellow tones. Due to this, it can be tricky to get the blue out of your hair.
The good news is that there are color removers that can help strip the color from your hair all at once.
How to Maintain Your Pastel Blue Hair
If you want your pastel blue to last for as long as possible, it's important to care for it properly. First of all, try to cut down on how much you wash your hair - use dry shampoo in between washes so that your hair doesn't look greasy or weighed down.
When you wash your hair, skip the hot water and use cold water instead. It is also a good idea to use a shampoo that is color-safe or meant to lengthen the lifespan of your pastel shade.
Whether you want to go subtle or bold, these are the best looks you can borrow from. Now that you know the best shades out there, all that's left to do is to find the right one.