The great thing about pink and purple hair is that the result can run the gamut from cute to downright mystical.
As a colorist, I have had a lot of experience - and fun - combining these two shades. So, I am here to show you all the ways you can blend the two for an amazing effect.
Here is all the hair inspo you need for this trend.
Just a Hint of Tint
Sometimes, you want just a hint of pink and purple in your hair. Maybe you want to minimize hair damage or are worried about fading hair color. Or, maybe you work or go to school where major hair changes aren't tolerated.
Regardless, here is a great pink and purple hair idea to consider. Only a few strands have been done up in pink and purple. Best of all, these shades complement the natural hair color perfectly, with the purple being dark enough to be disguised by the rest of the hair.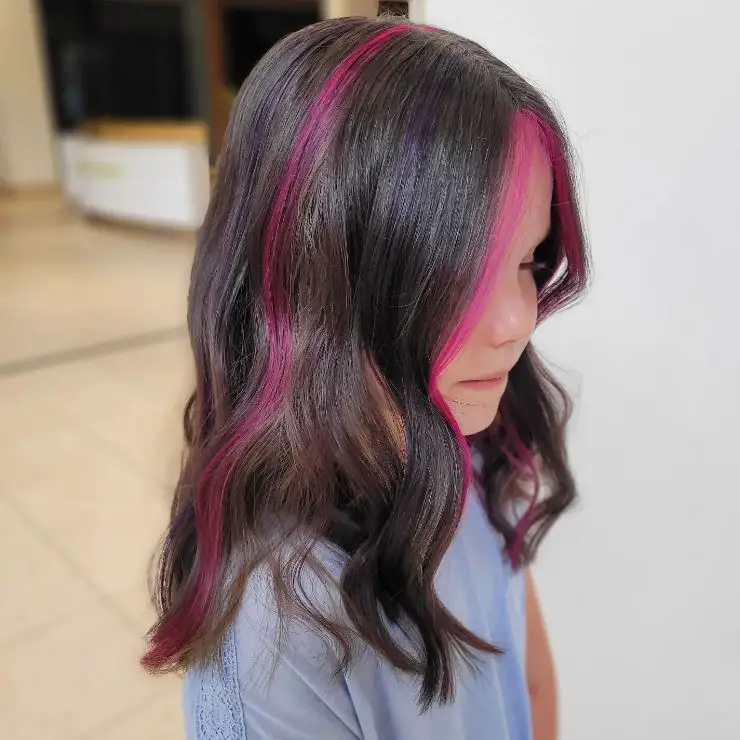 Image by @ashleighs_hair_artistry via Instagram
Pink and Purple Highlights
Pink and purple highlights are one of the most common ways to wear these colors in your hair. It is certainly less fuss-free than dyeing your entire head and cheaper too. Not to mention, highlights don't require as much maintenance.
With blonde hair, the highlights tend to be in softer shades. It is also more typical for the highlights to be narrower and less chunky.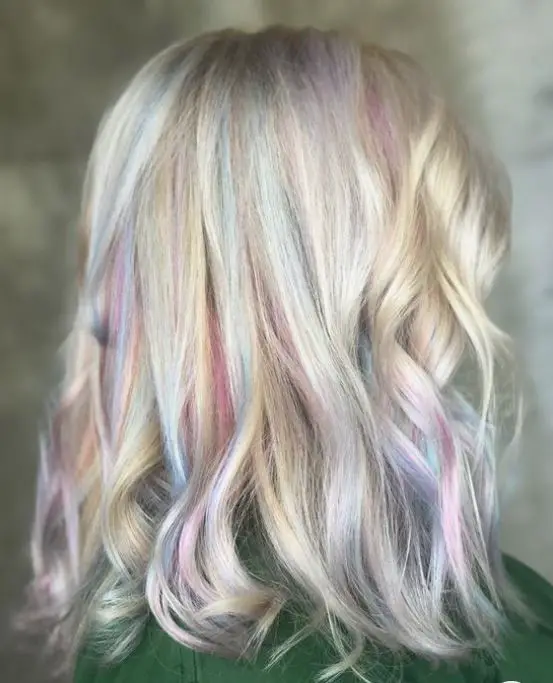 Image by @livilmoore via Pinterest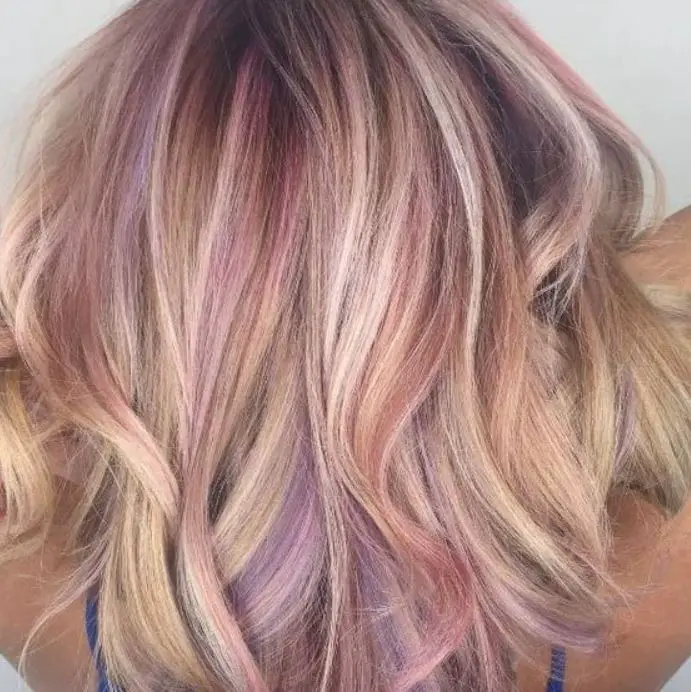 Image by @danilovesyou via Pinterest
Of course, this doesn't mean you have to play it safe with the pink and purple hair color idea. If you want to go bolder, you can definitely choose darker shades and have the pink and purple highlights featured more prominently.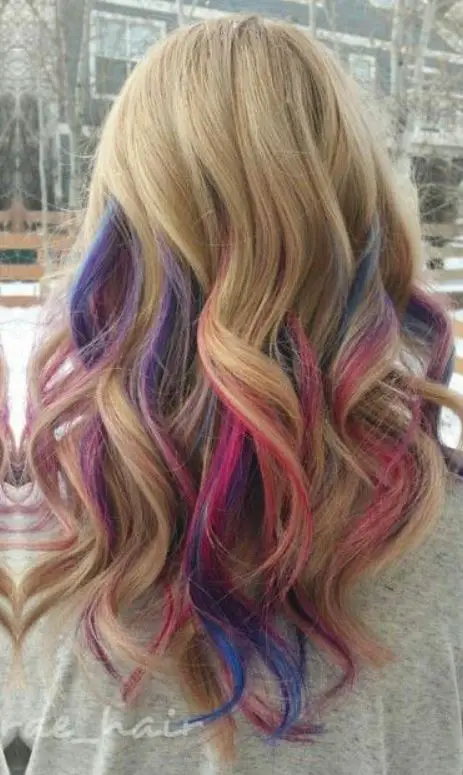 Image by @fashionthisstylethat via Pinterest
With dark brown or black hair, pink and purple hair shades works best when they are darker. These blend in better with your natural hair color, while still being noticeable.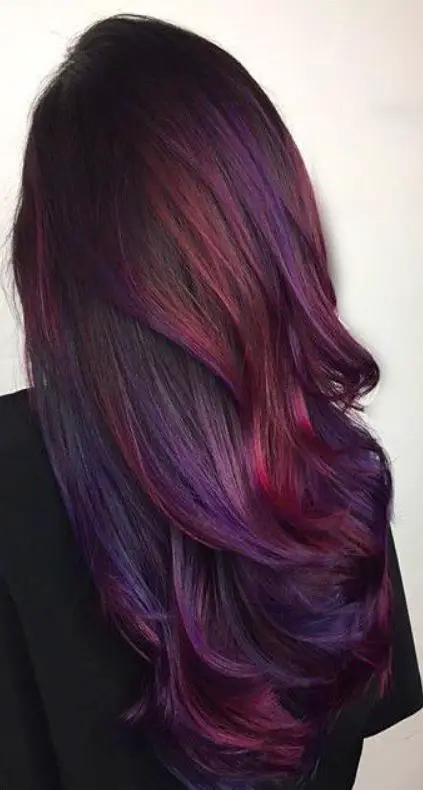 Image by @wattpad via Pinterest
With black hair, electric shades of pink and purple are a great idea. Black acts as a natural canvas, making hues like hot pink and vibrant purple really stand out. If you want to make a statement, this is the way to go: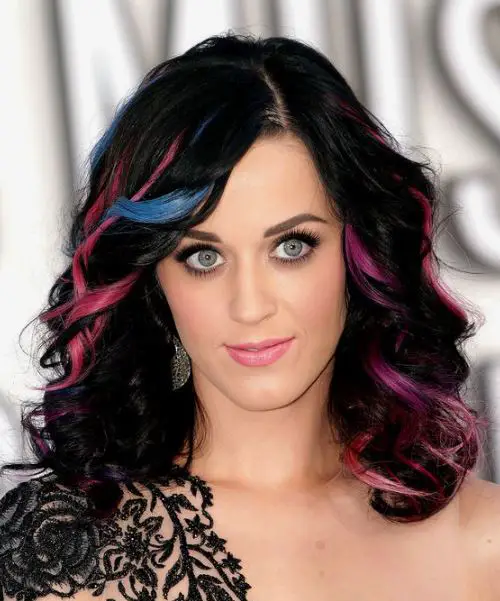 Image by @andyolive5 via Pinterest
There are different ways to arrange the pink and purple colors in your hair as well.
You can have them side by side so that the pink and purple hair can entwine when curled. This is one of the most popular pink and purple styles: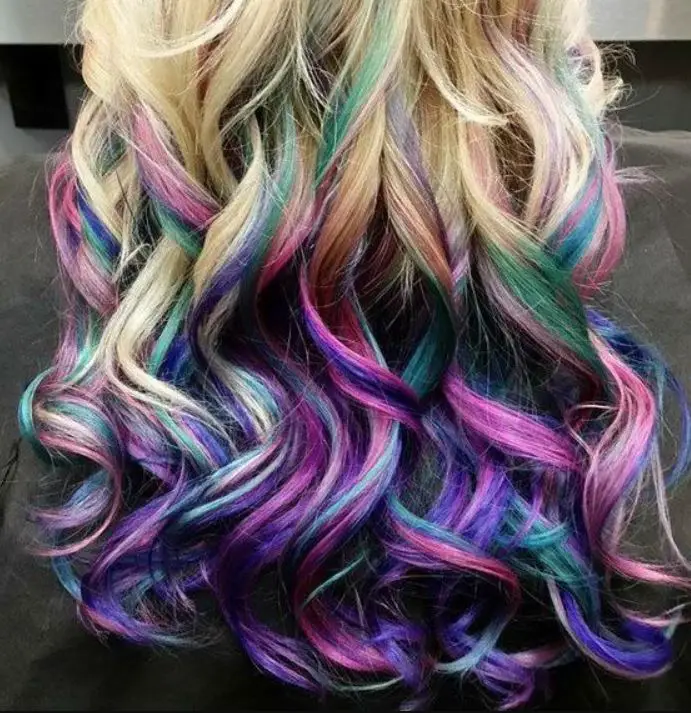 Image by @settsiisoph via Pinterest
You can also have the highlights start out as purple hair and give way to a lighter pink. This borrows from the ombre hair coloring method.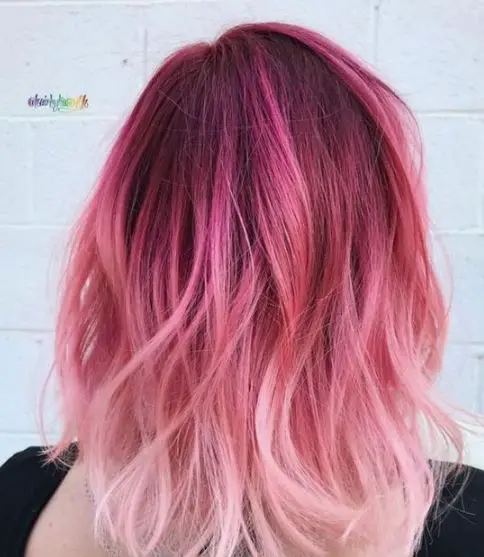 Image by @jasminewilka via Pinterest
Here is a more nuanced way of executing the purple and pink highlights idea. The pink is practically a rose gold which blends in more naturally with the brown hair. The purple complements this shade while adding a bright pop of color.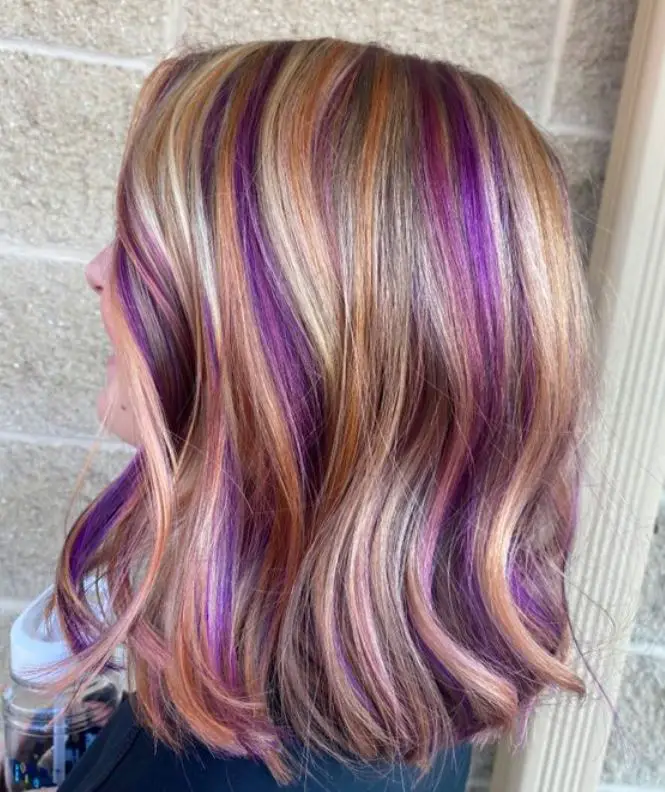 Image by @irmachapman via Pinterest
Pink and Purple Ombre Hair Color
This is a gorgeous way to utilize the pink and purple hair trend. Best of all, if you don't want to keep going to the salon for touchups you dont have to!
As the color is focused on the ends of the hair, the roots of your hair can grow out without having an impact on the overall style.
Here the ombre is in gradient form, with the purple hair giving way to the bright pink hue. This looks works especially well on dark hair as the dark to light contrast is maintained throughout.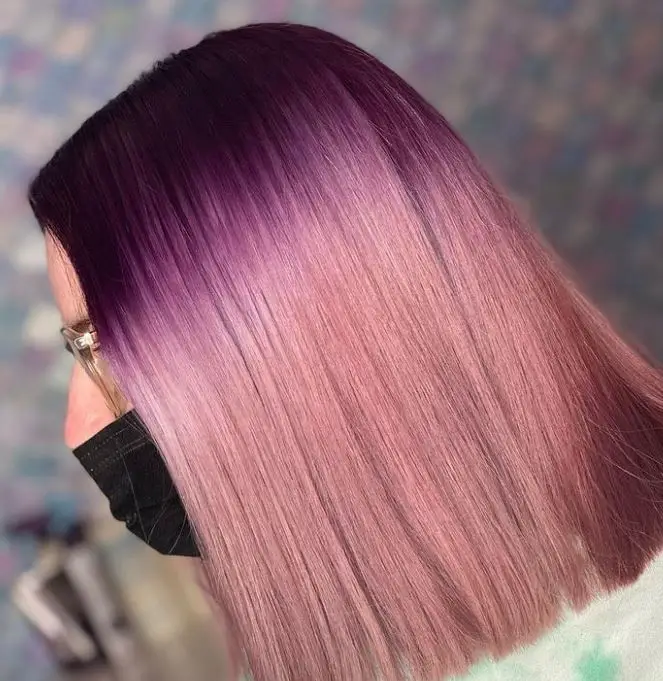 Image by @the.little.hairmaid via Instagram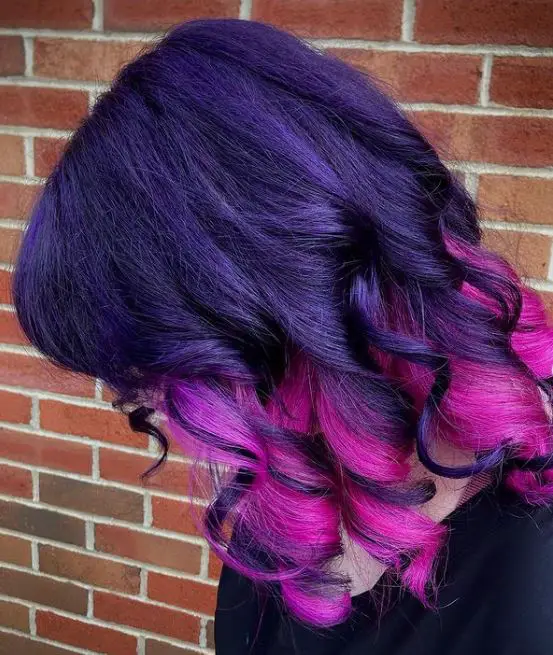 Image by @cynthia.curls via Instagram
As far as pink and purple hair ideas is concerned, this look is inspired. Different shades of purple and pink hair are layered over each other. This gives it a softer, more natural look as there is no distinction between the sections of colored hair.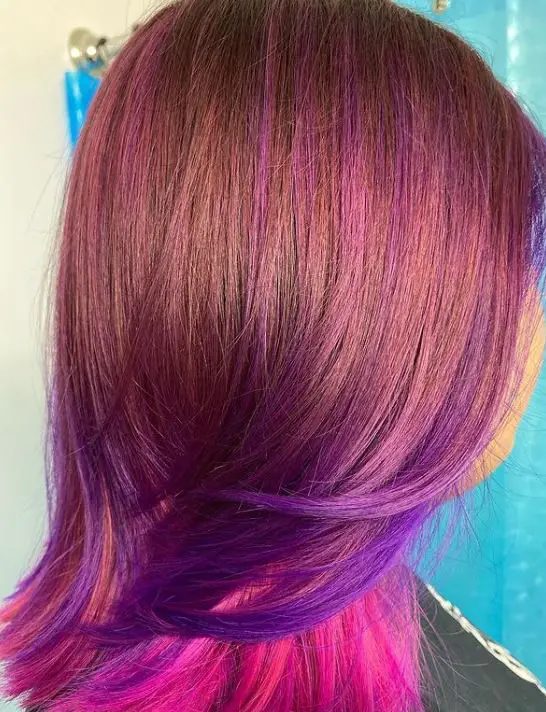 Image by @roseclippins via Instagram
What's great about the pink and purple combination is that the shades are chosen to work perfectly with the natural hair color. Thus, the brown giving way to pink and purple creates a seamless look.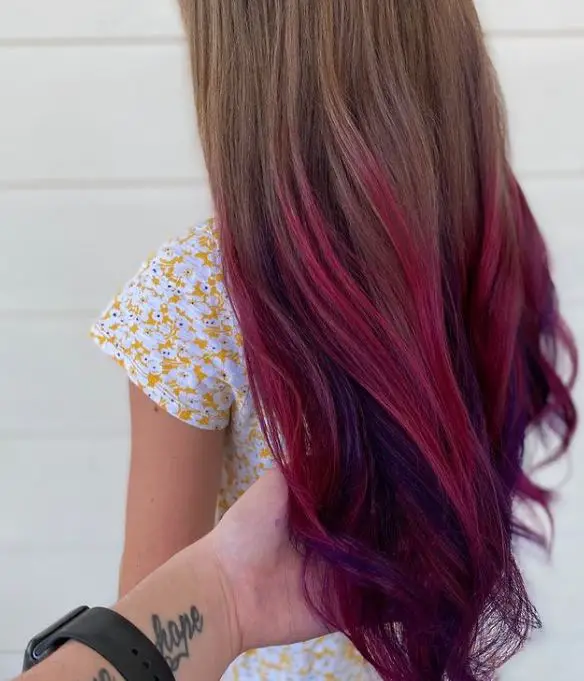 Image by @looking_glass_salon_covington via Instagram
Pink and Purple Face Framing Highlights
This is a 90s trend that has recently come back in style. It's a great way to incorporate purple and pink hair color without making too much of a change.
It is important to be mindful of your skin tone with this look, though, especially if you are turning your hair pink. Choose shades of pink and purple that complement your complexion. Otherwise, you risk making the colors look washed out.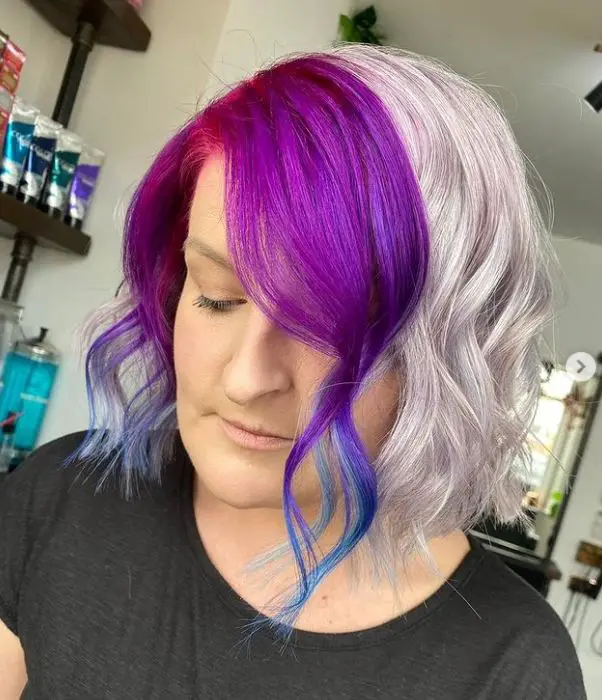 Image by @copper.wild via Instagram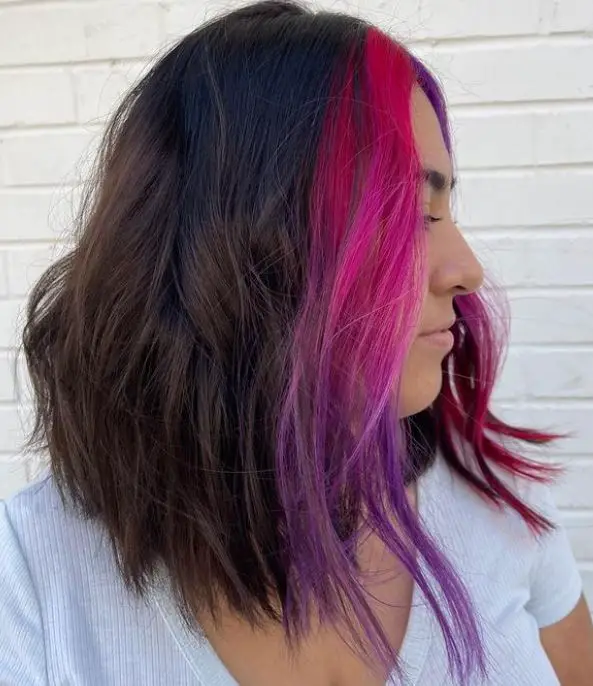 Image by @bishops.charlottemidtown via Instagram
Pastel Pink and Purple
If you're looking for lighter pink and lighter purple or pastel pink and pastel purple hair ideas you certainly aren't alone. These shades have skyrocketed in popularity in the last few years.
Now, when considering these lighter shades, it is important to think about your skin color as well as your undertones.
If you have fair skin with cool undertones then a peachy pink coupled with a light lilac is the way to go. For warm undertones, a rose gold paired with lavender will help to brighten your face.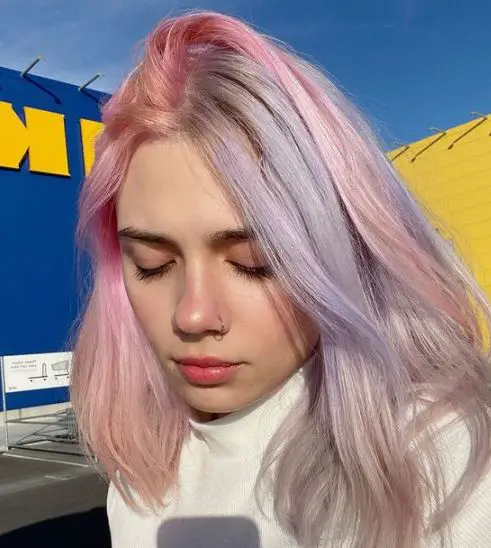 Image by @LunarTidesHair via Pinterest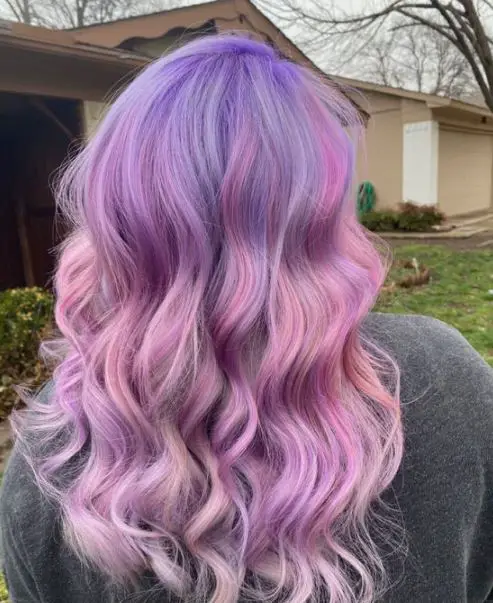 Image by @jovana5685 via Pinterest
If you have medium to dark skin with cool undertones, look for a bright lavender and a light champagne gold. In case you have warm undertones, warm lilac and rose gold will do the trick.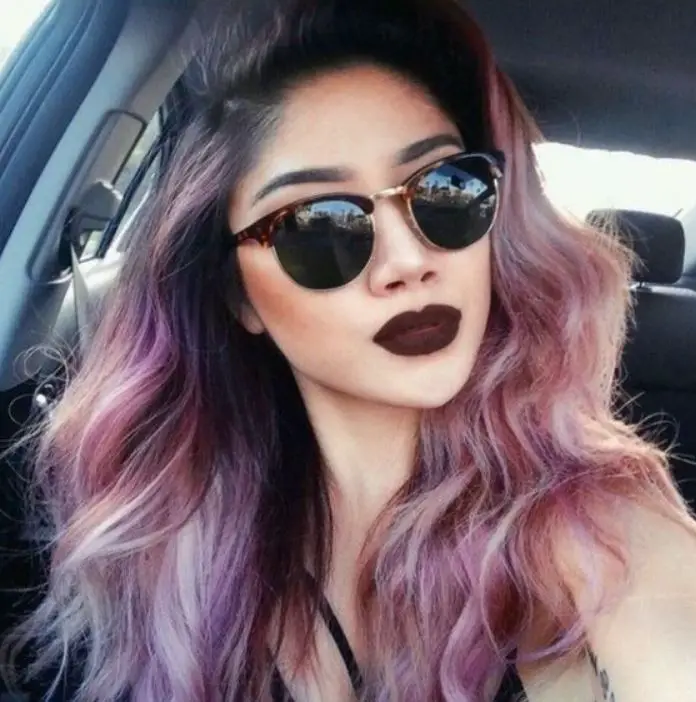 Image by @allwomenstalk via Pinterest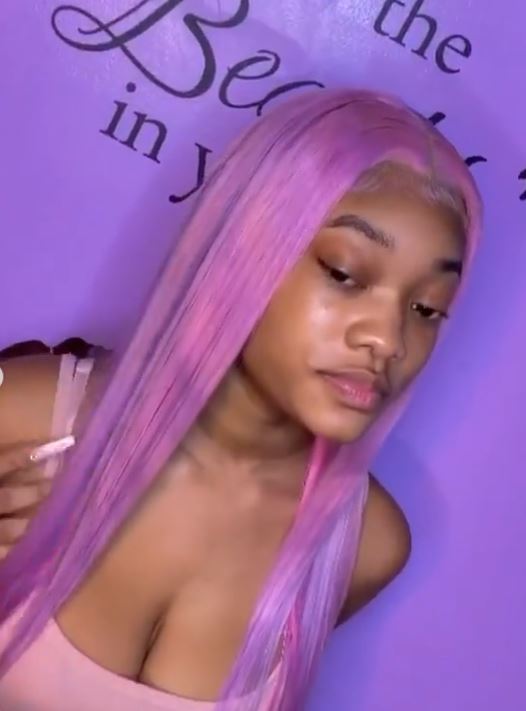 Image by @hairmeplease via Instagram
Purple Hair with Pink Highlights
If you're mainly looking for purple hair color ideas but want to keep your style from looking too monotone, bright pink highlights are the obvious choice!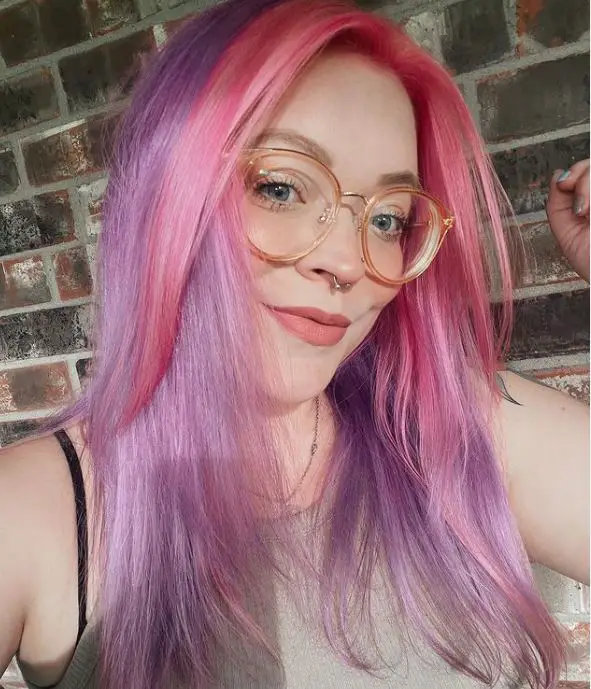 Image by @_duhlaykneeee via Instagram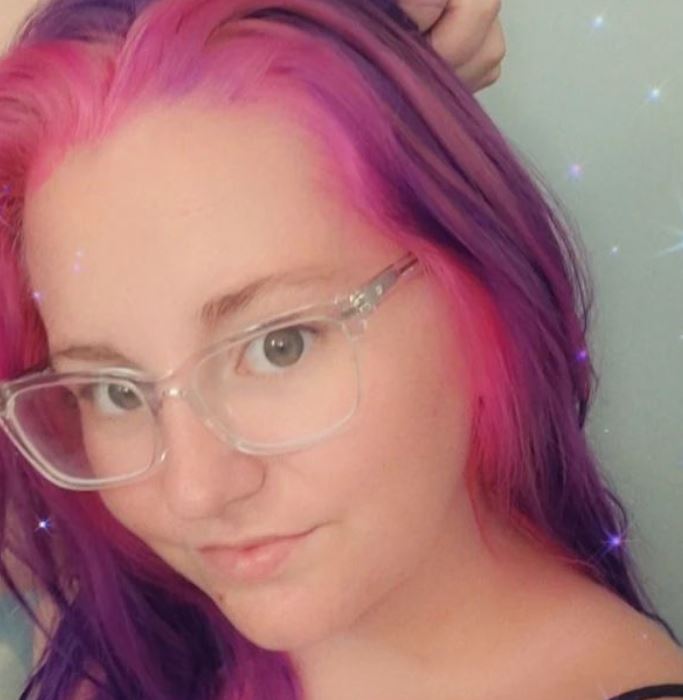 Image by @sami.marie93 via Instagram
Pink Hair with Purple Highlights
Prefer pink hair and would like just a dab of purple in it? This is some great inspiration! It certainly gives off fairy hair vibes.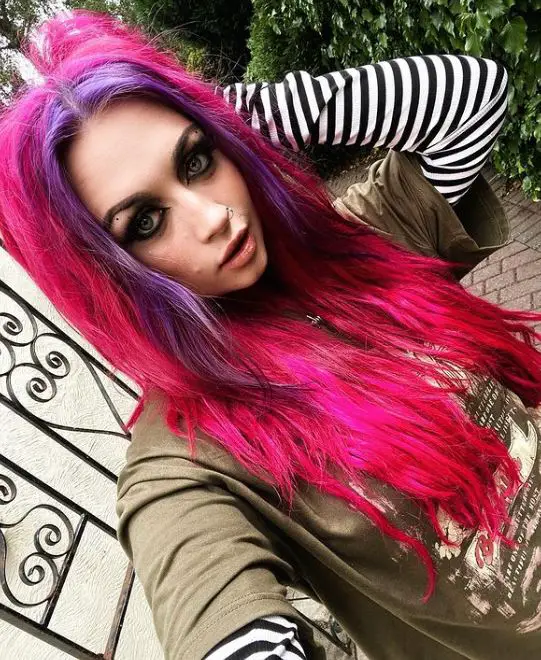 Image by @bronniemusic via Instagram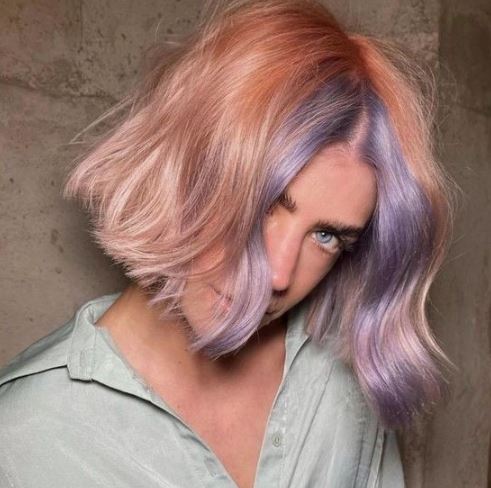 Image by @prettyandplastic via Pinterest
Pink and Purple Split Color Combo
This is definitely a bold and daring look but one that definitely pays off.
The key is to make sure that the shades complement each other. For instance, if you are going for a light purple on one side, the other side must consist of light pink hair. If one side will be a bold pink, you have to go with a similarly bright colored purple.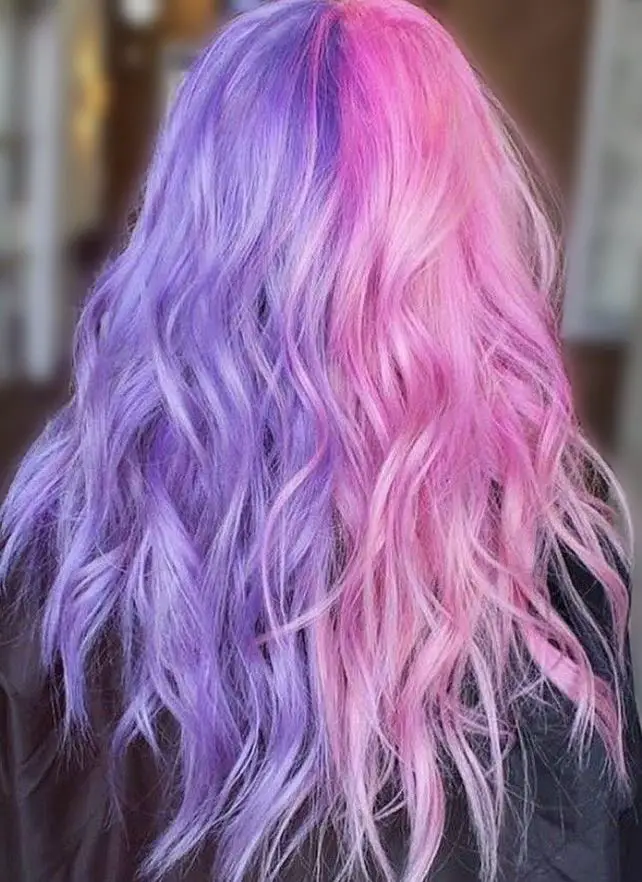 Image by @beautytrendspics via Pinterest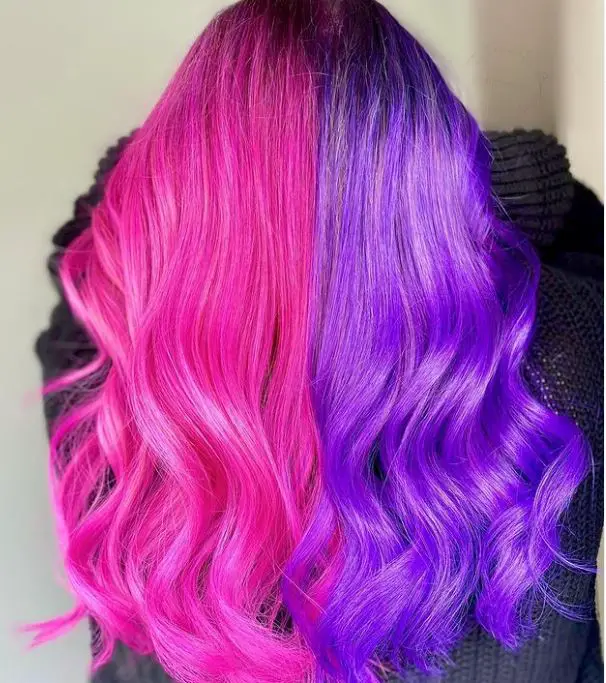 Image by @supvalerie via Instagram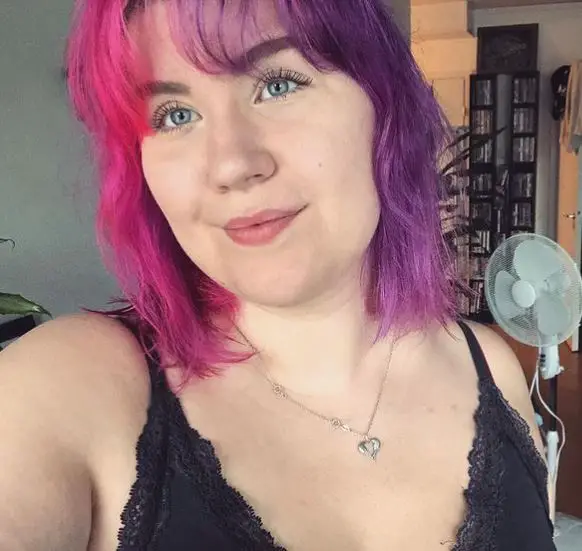 Image by @lolainetta via Instagram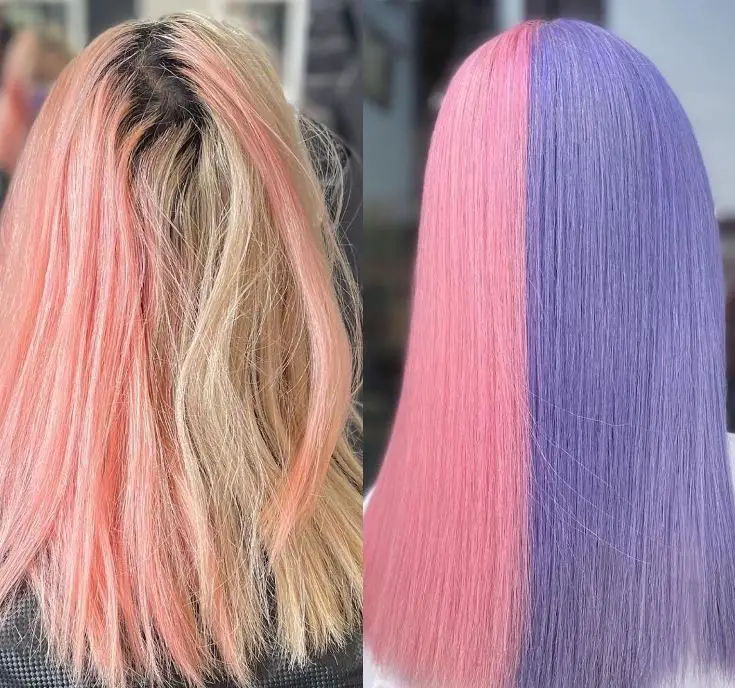 Image by @beautylaunchpad via Instagram
This trend looks equally as gorgeous on short, curly hair: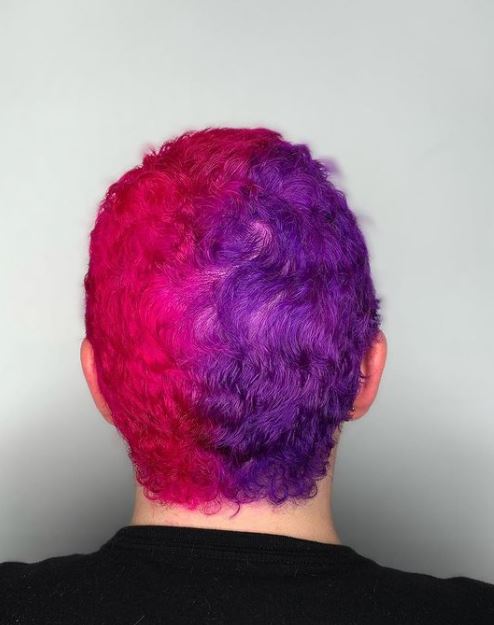 Image by @sabrayna_ via Instagram
Semi Split Color Combo
The split hair combination is absolutely gorgeous but it can be a bit too daring for some. If you don't want to make such a drastic change, there is an alternative.
Here, the roots and most of the hair shaft are brown and only the lower sections are made of purple and pink hair. You still get that bold effect but it is a bit more muted.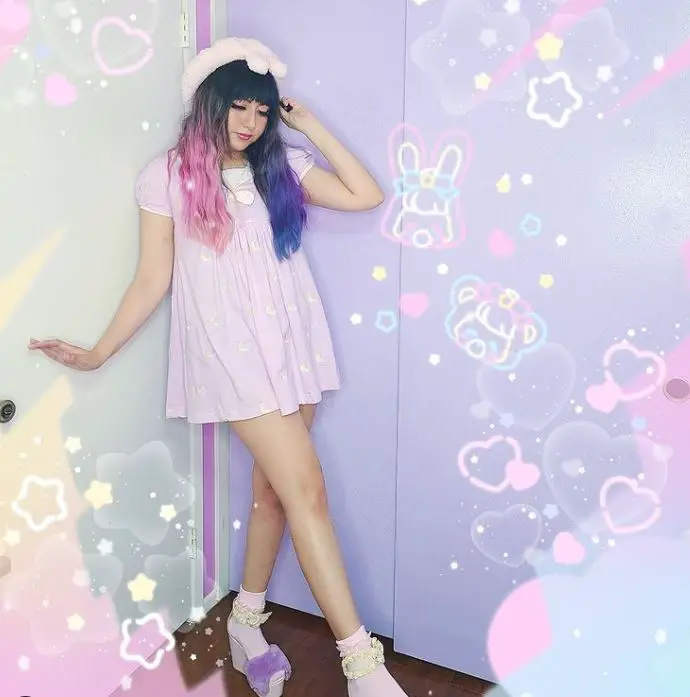 Image by @x_haro_x via Instagram
If you want an even more subtle look, you can have only the ends of your hair done up in purple and pink.
Two Tone Pink and Purple Hair
This is a slightly different take on the split pink and purple hair effect. Here, the look isn't quite so contrasting. The top half layers of your hair are dyed either purple or pink and the bottom layers are done in the other shade.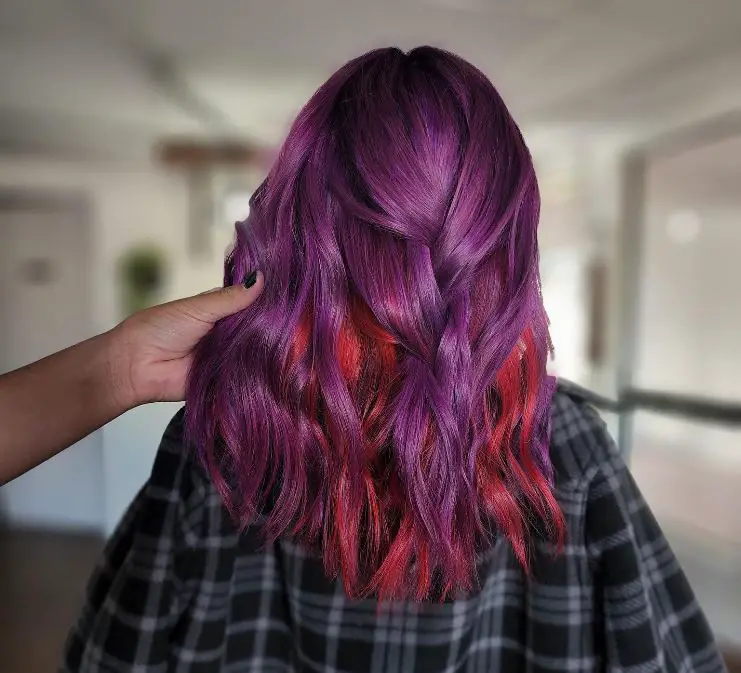 Image by @abbydoesbeauty via Instagram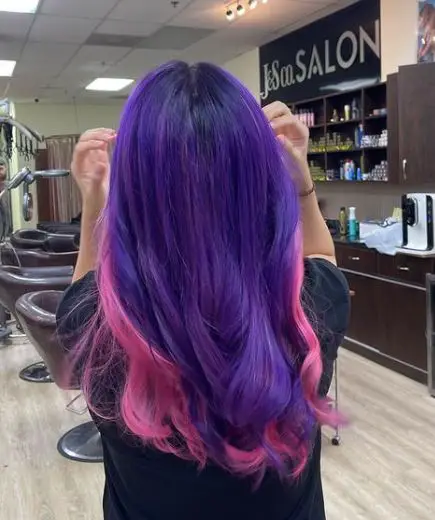 Image by @jnssalon via Instagram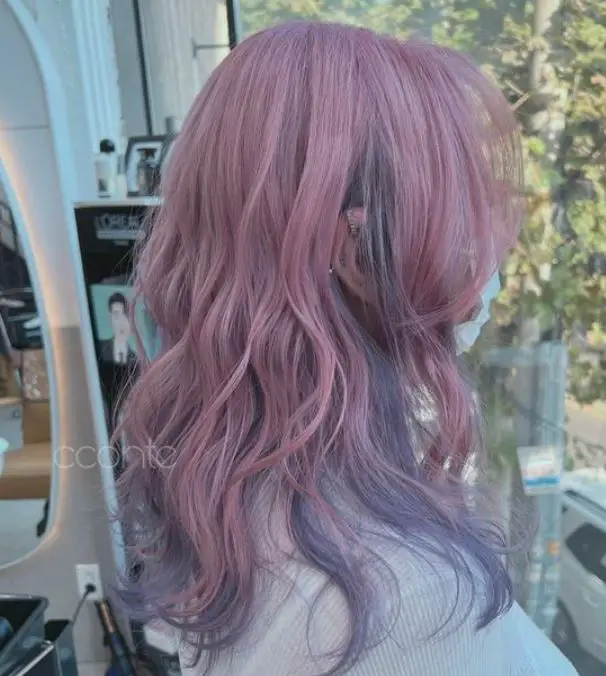 Image by @milkystrayberry via Pinterest
This look works especially well with long hair. Now, as with the split effect, you have to make sure that the two shades of purple and pink hair complement each other. This means matching bright with bright and light with light.
Peekaboo Color
While purple and pink hair is a gorgeous combination, dyeing your entire head can be a big commitment. For one thing, it is a lot trickier o match outfits with these shades. Furthermore, bright and bold colors may not be suitable for your specific workplace.
This doesn't mean you can't have any fun, though. The peekaboo look is perfect for when you want a smidge of color but don't want to go overboard.
Want to fly way under the radar? This is great inspiration for you. Just a small section of the hair is colored but the pink to purple gradient keeps things interesting. Note how the purple and pink hair suit this particular shade of brown: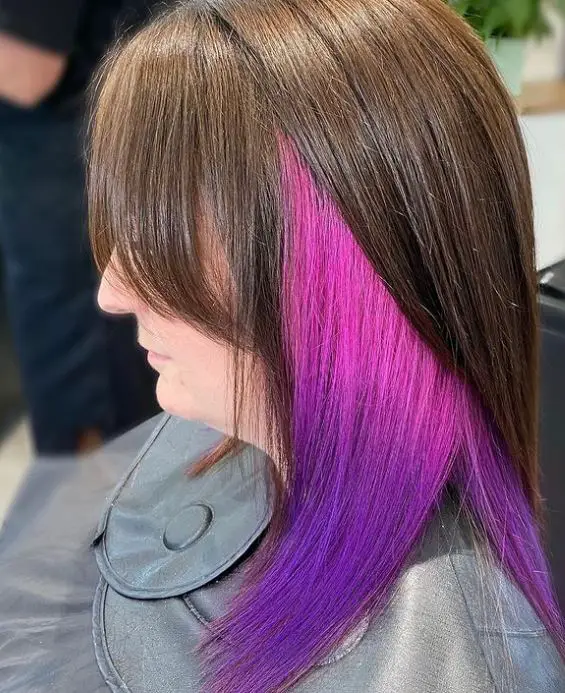 Image by @amberpace_hai via Instagram
This look consists of alternating sections of purple and pink, creating a bold pattern. If you look closely, you will see that the peekaboo pattern is limited to the back of the head. As such, the dyed section will not be visible at all times: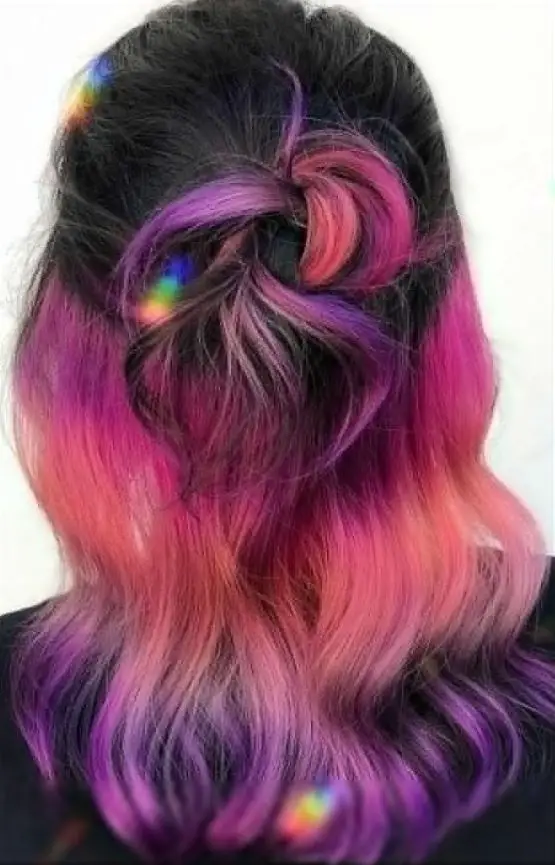 Image by @beautytrendspics via Pinterest
The peekaboo effect doesn't just have to be about hiding your purple and pink hair, however. This trend is great for spicing up an existing look. Check out how these purple and pink highlights take this platinum blonde hair to the next level: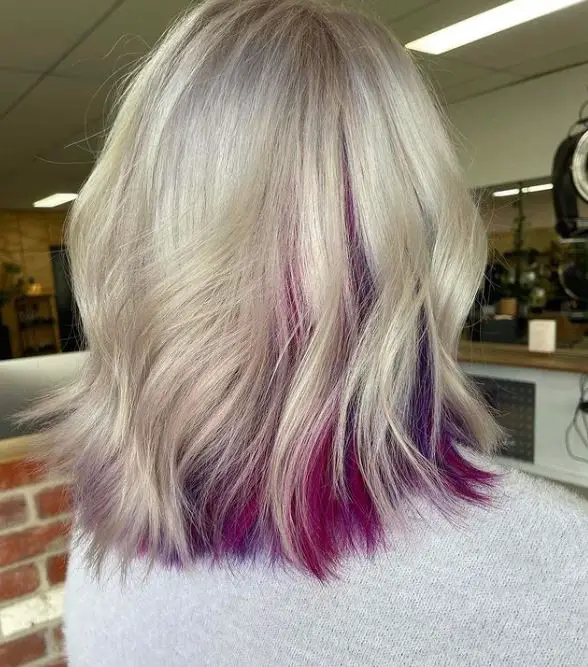 Image by @fridayco.salon via Instagram
Purple Hair with Pink Ombre
There are different levels to this look.
If you want purple roots and the shaft to be hot pink, this is great inspiration for you: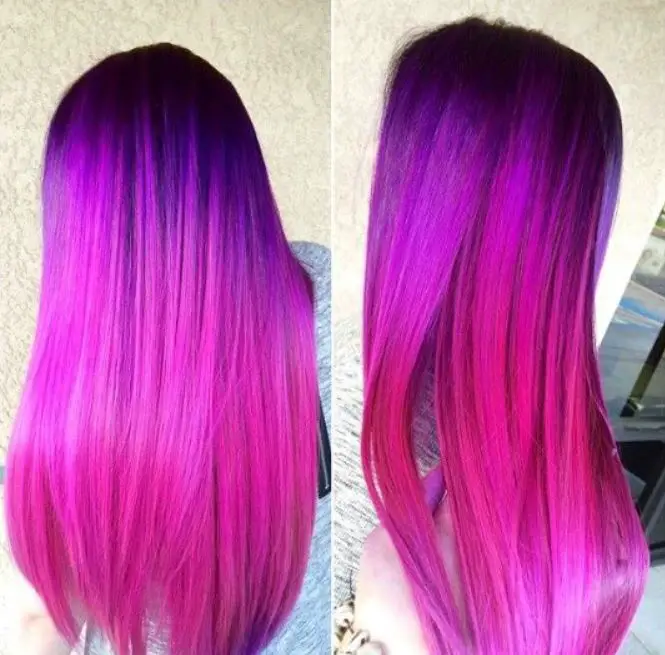 Image by @jassywright via Pinterest
If you want the purple and pink sections to be more or less equal, here is the effect you should go for: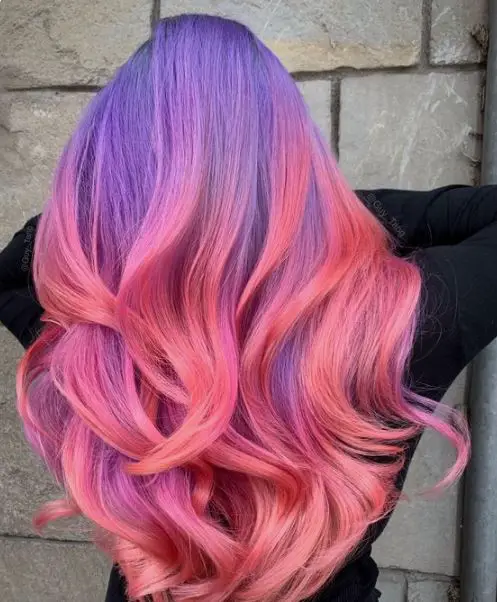 Image by @modernsalon via Pinterest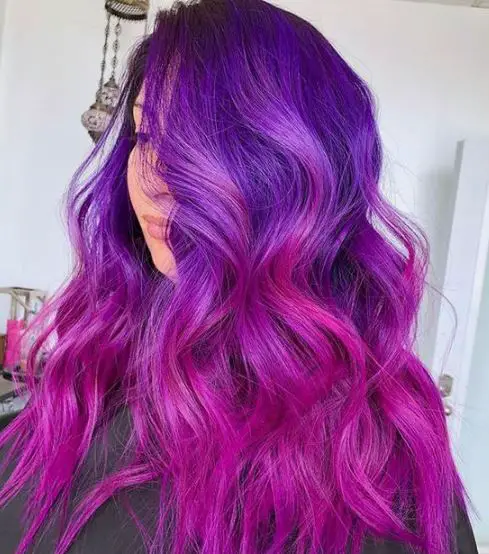 Image by @hannaheblanton via Pinterest
For a more subtle and ethereal look, consider how the colors are blended together here. Much of the hair is done up in a light lilac but the pastel pink hair is woven through delicately, making it difficult to tell where one shade begins and the other ends: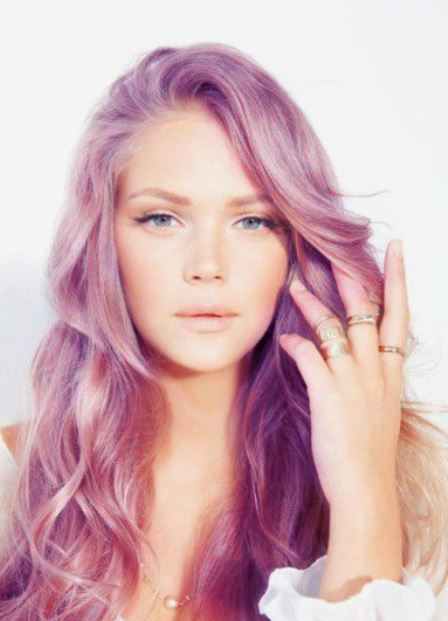 Image by @paulmitchelluk via Pinterest
If you want a more mermaid feel to your hair, you may want to throw a little blue into the mix. Here, you have purple, blue, pink, and blonde.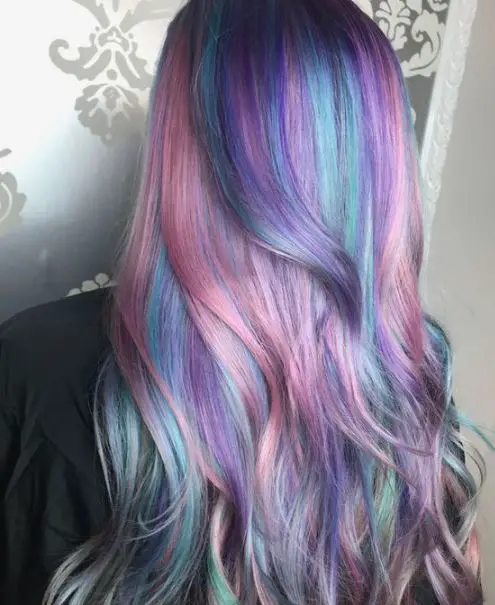 Image by @tesstwiss via Pinterest
Pink Hair with Purple Ombre
Having pink at the root and purple for the rest of the shaft is certainly a bold look. Purple tends to be similar to black and brown, so having it close to the scalp doesn't create such a contrasting effect. With pink at the root, this effect is far more noticeable.
Want to go all in on this look? Then here are the pink hair with purple ombre options to consider: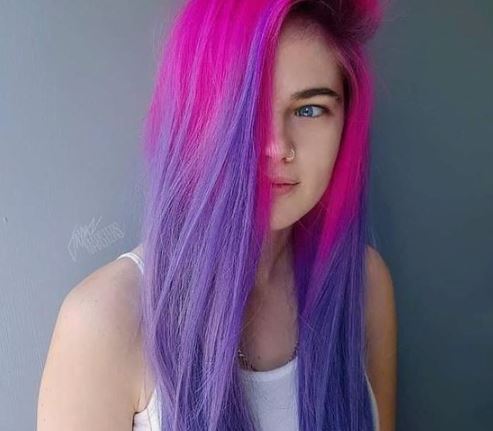 Image by @INDIANAGIRLONAINDIANANIGHT via Pinterest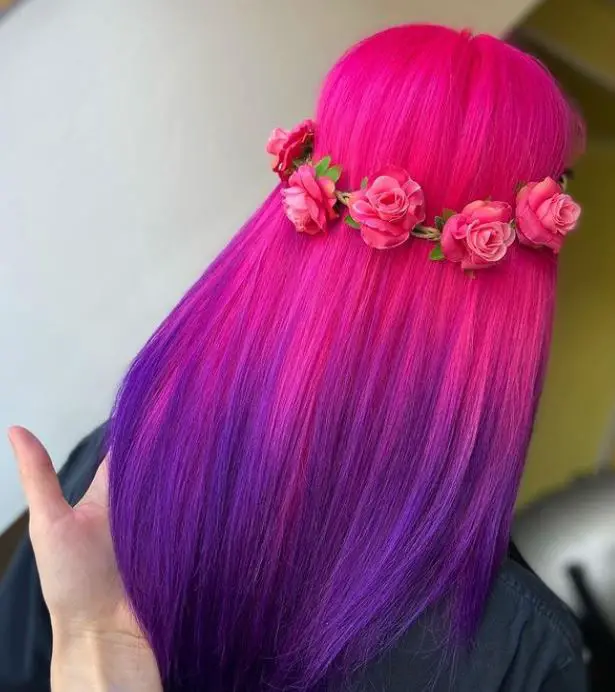 Image by @raznoglazaya_hair via Instagram
Although this look is just as bold, the gradient creates a softer effect. It goes from a very bright pink to almost a black. As such, the sharpness of the hot pink is balanced out by the depth of the shade near the tips of the hair.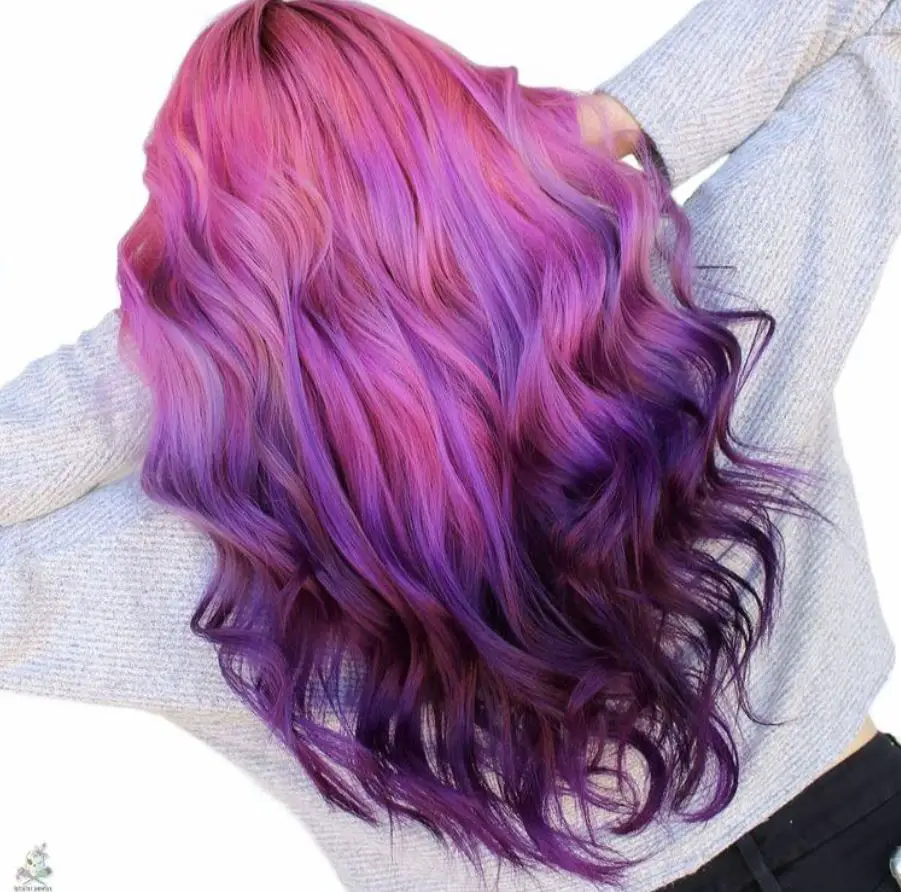 Image by @kiralovelie via Pinterest
This is a great option when you want a hint of boldness but don't want the effect to be over the top. The hot pink is quite bright but the cool tones of the lavender even it out.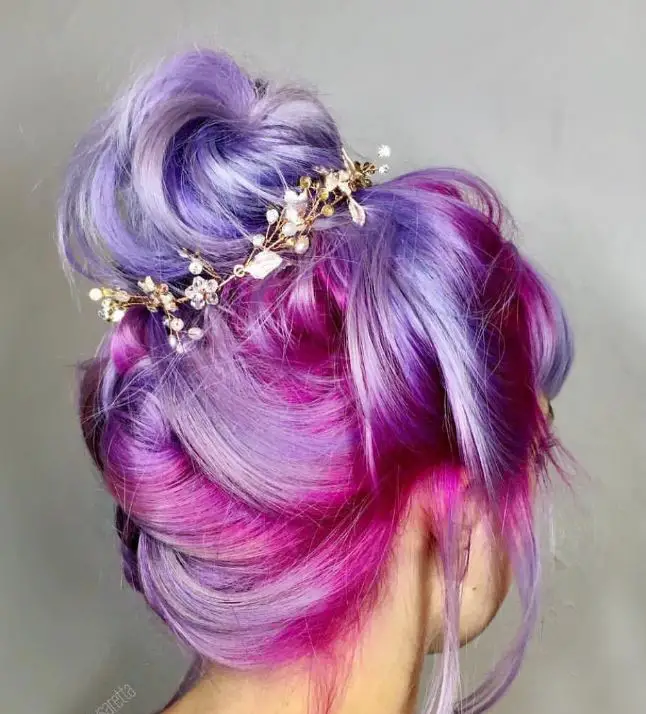 Image by @hotonbeauty via Instagram
Pink and Purple on Short Hair
If your hair is really short, you are likely going to need to take the pink or purple to the root. This allows this look to really stand out.
If you think that having short hair limits your hair color options, think again! Just take a look at the creative ways people have incorporated these shades: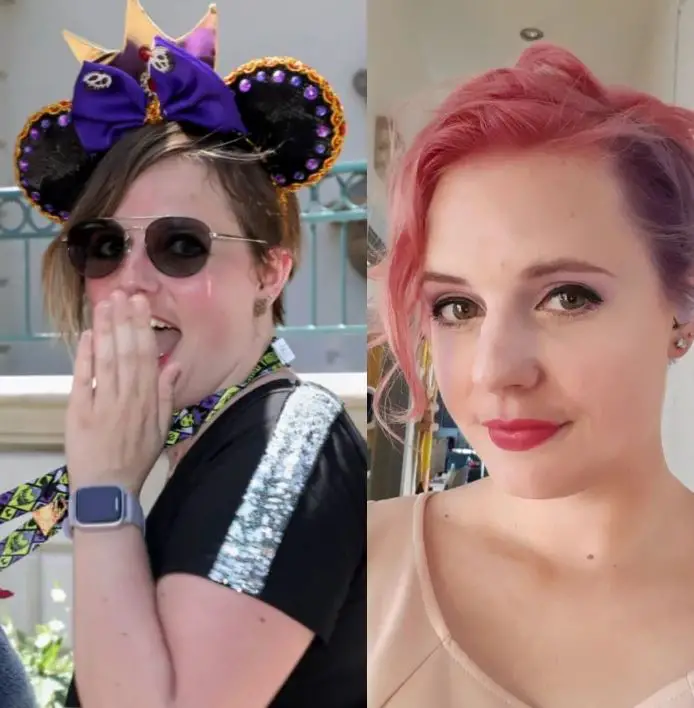 Image by @lizzy_b_cosplay via Instagram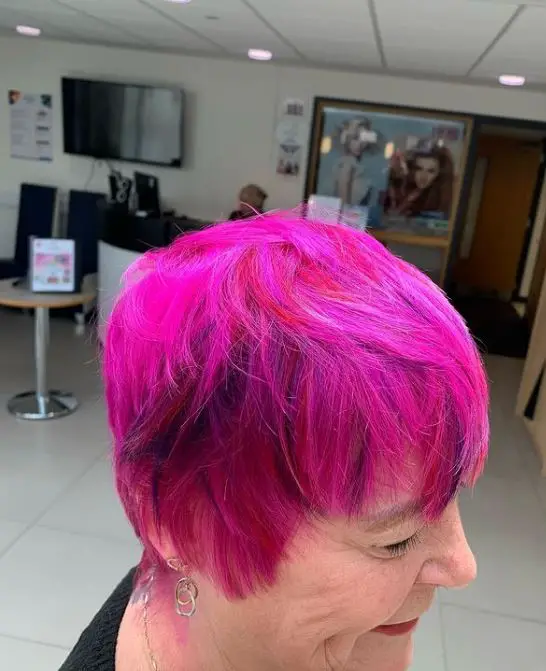 Image by @hair_emmak via Instagram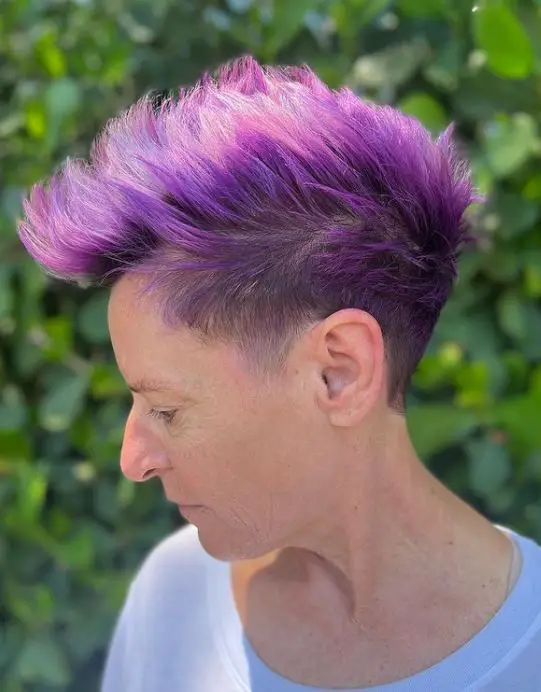 Image by @deeadameshair via Instagram
Purple and Pink Bangs
If you have bangs, dyeing your hair any combination of pink and purple needs to be given special consideration. Fortunately, there are lots of options available.
Here, purple and pink bangs are woven into dark hair. This is such a great look because while it's bold, the darkness of the hair balanced out this effect, making it a style that practically anyone can pull off: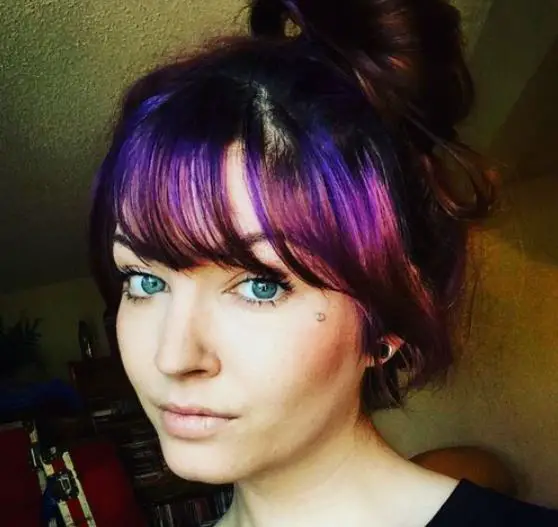 Image by @brittanydanielles1417 via Pinterest
This is a great option for parted curtain bangs: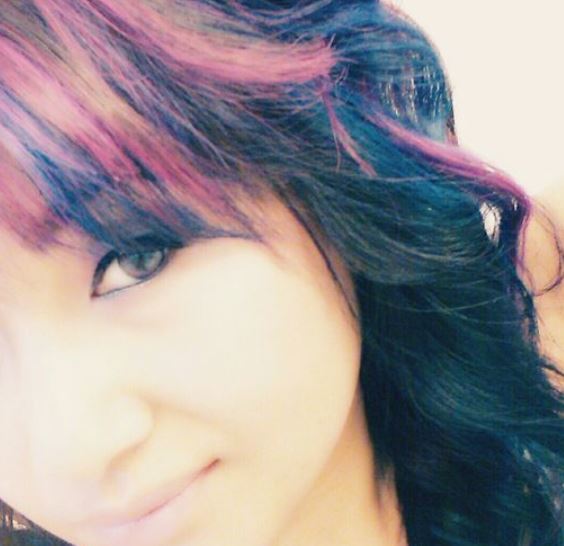 Image by @thyzzer via Pinterest
These are good ideas if you are keeping the roots purple - having the bangs in the same color softens the contrast: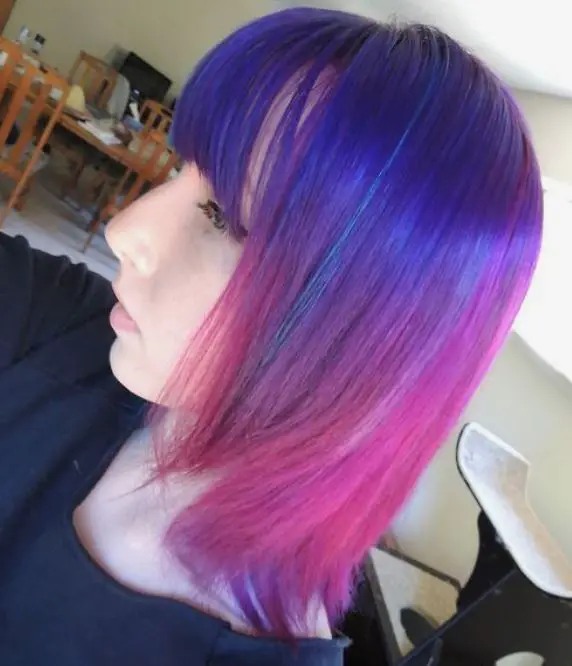 Image by @AterHater via Pinterest
Here the gradient effect is woven into the bangs, offering an ultra chic look: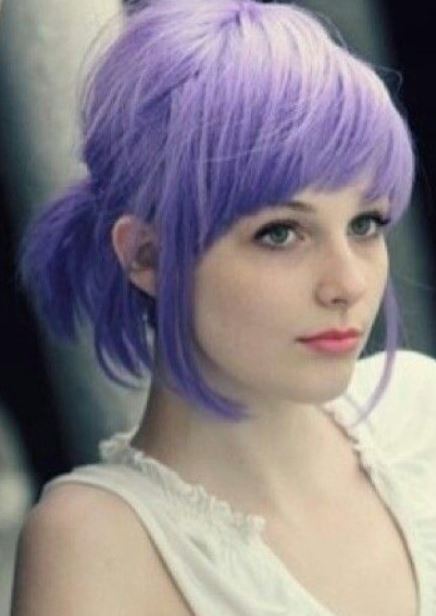 Image by @jediriece via Pinterest
The pop of pastel pink in an otherwise purple mop is the absolute icing on the cake for this style: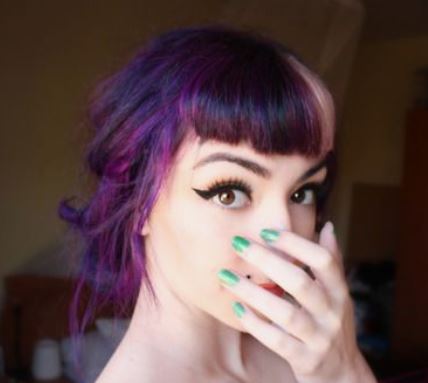 Image by @holdonletgo via Pinterest
Unicorn Hair
You are never too old to look like a unicorn. Just be warned that this isn't an easy purple and pink hair color combination to pull off. You need a talented stylist on your side and rather long hair.
This trend does look best on platinum or baby blonde hair but you can certainly pull it off with any shade. The key here is to intertwine pale or pastel hues together to create that iconic unicorn mane and tale look.
You can absolutely get this look with just pink and purple. However, if you want to stay true to the traditional trend, you may want to work in some blue and yellow into the mix as well.
If you only want to dip a toe in this trend, here is how to do it by touching up just a few of your strands: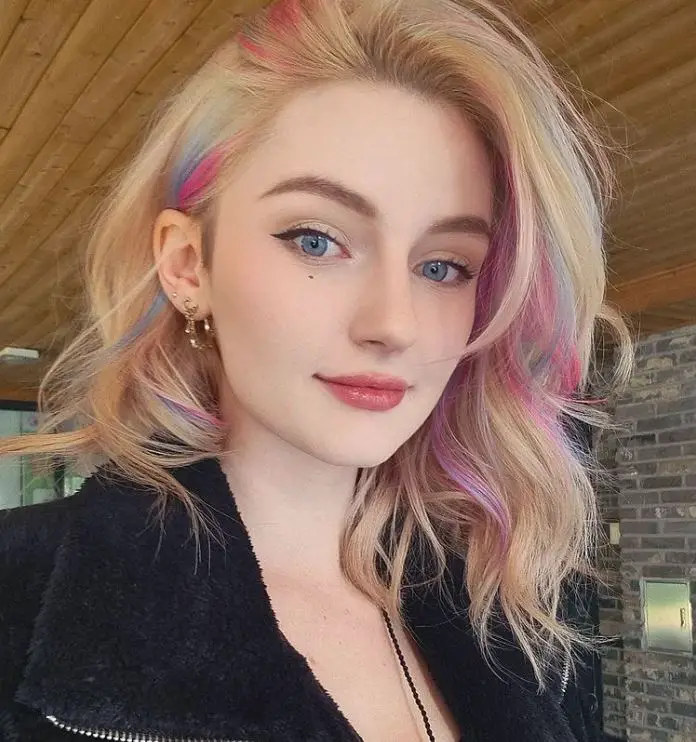 Image by @saiamoon via Instagram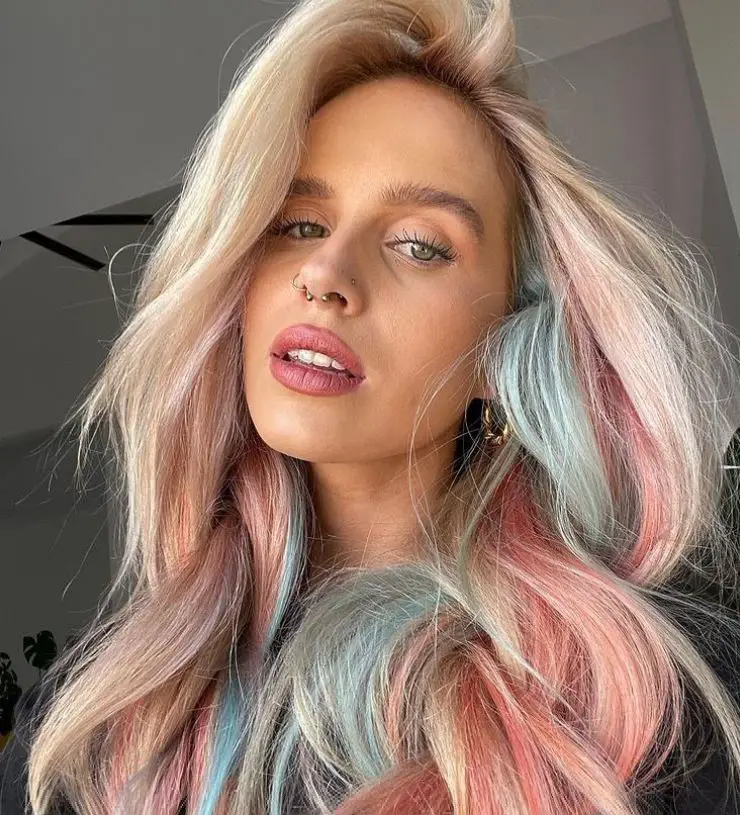 Image by @JayLaHuNniiBuNz via Pinterest
In case you don't mind going all in, here are some great ideas: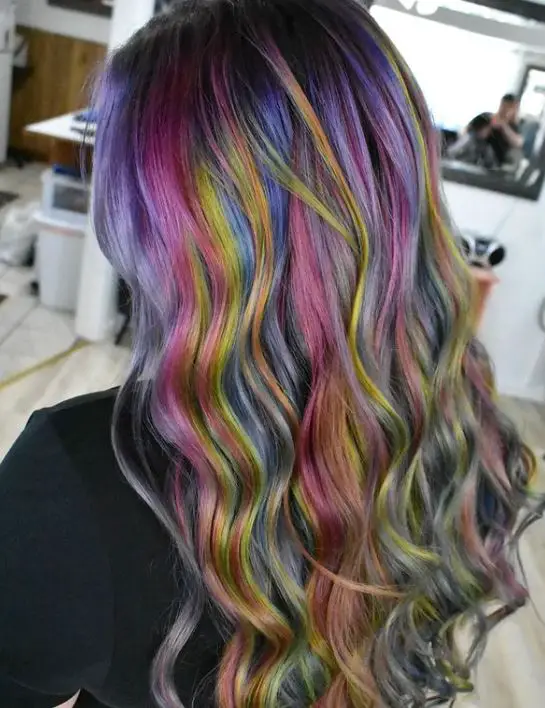 Image by @sammiedoeshair_ via Instagram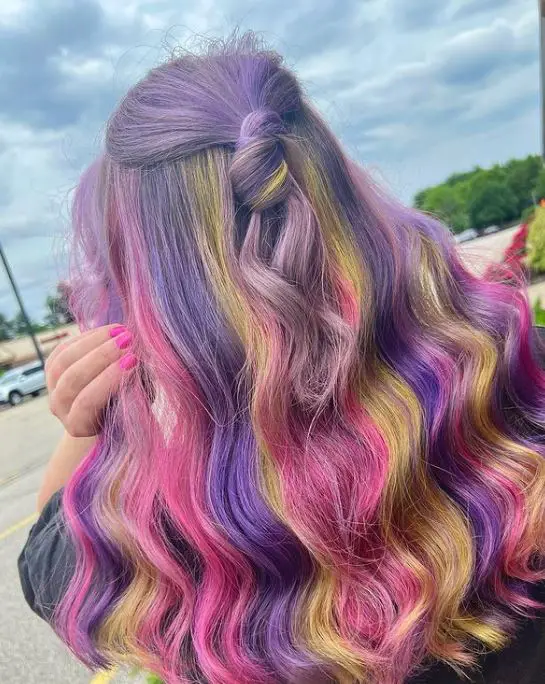 Image by @meganrosecolors via Instagram
If you prefer a more magical effect, consider this style. What pulls this look together is that you have sections of silvery blonde hair peeking through the other colors. This gives the hair a shimmery effect.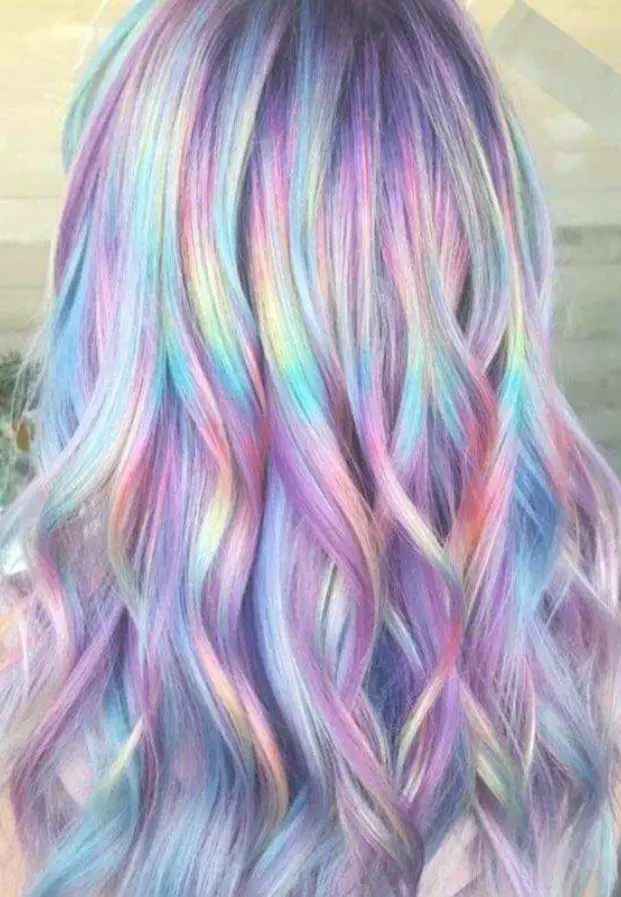 Image by @heatherjean1991 via Pinterest
The unicorn trend doesn't mean you have to go with pale or muted colors. Here is some inspiration if you want to keep it bold: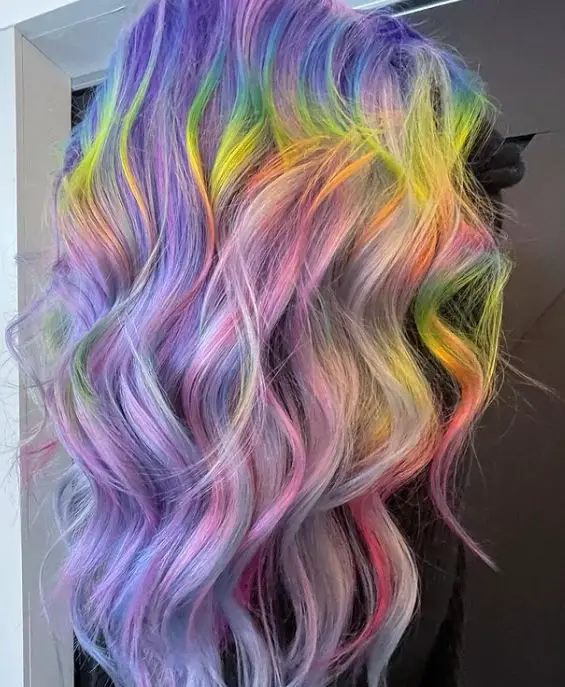 Image by @crybabyhairartistry via Instagram
Deconstructed
If you're tired of the same old pink and purple ideas, here is a look to spice things up. The darker shades are at the root with pastel tips. Of course, what makes this style so compelling is that you are pairing pink roots with purple tips and vice versa on the other side.
What I really like about it is that it's completely unique but still works, with the shades complementing each other perfectly.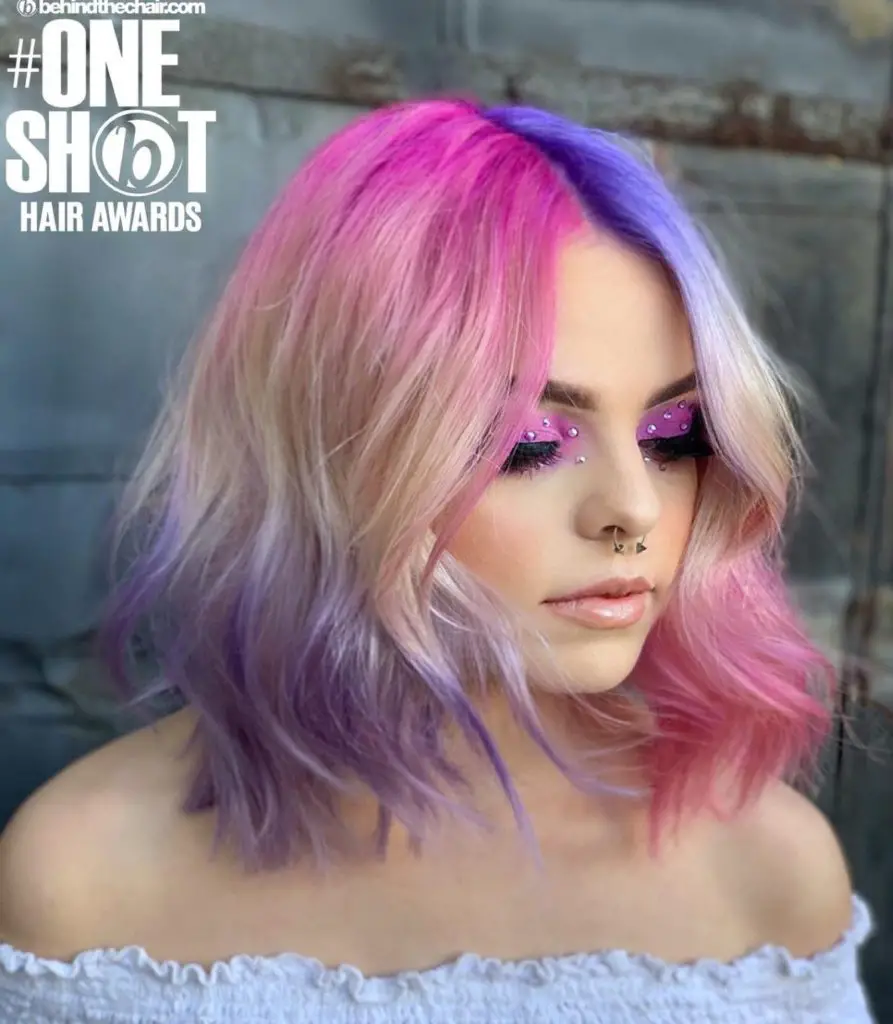 Image by @mcgregld via Pinterest
Frequently Asked Questions
1. How Do You Mix Purple and Pink Hair?
There are lots of ways to mix these colors. This includes highlights, two tone effect, split color effect, ombre, and more.
2. Can You Mix Pink and Purple Hair Dye?
Yes, you can but the result will depend on the exact shades you use.
3. What Color Does Pink and Purple Make?
Pink and purple will usually create magenta or plum. Light or pastel colors will produce lighter versions, though.
4. Does Purple Hair Fade into Pink?
It's more likely to fade to either red or blue but this does depend on the shade you chose as well as the type of dye. In some cases, you may notice pink tints in your hair once the purple has faded. 
From subtle and chic to bold and daring, these are all the pink and purple hair ideas that you could possibly need to inspire your own look. All that's left to do is pick out the one that suits you the best!