As someone on a mission to get all the colors of the rainbow on my hair, I've found the balayage technique to be a holy grail between hair color transitions.
After I detransitioned from yellow to my natural brown hair, I was craving a pop of color. My hair stylist recommended balayage to help me curb the color pop craving and let my hair relax between complete hair color transition.
While on the search for the perfect balayage, I came across awesome red balayage ideas. Since I couldn't choose between the ginger or copper red balayage, I decided on blending both colors and they created a magical look together.
If you would like to try out red balayage, here are the 32 hottest red balayage hairstyles I came across.
Red Balayage For Inspiration
1. Wine and Burgundy Red Balayage
The black roots of the hair fade down to a stunning wine and burgundy red balayage here. The soft waves of the hairstyle work well in letting both shades of red stun.
This is a bold and fiery look for someone who would like to make the world aware of their fire personality.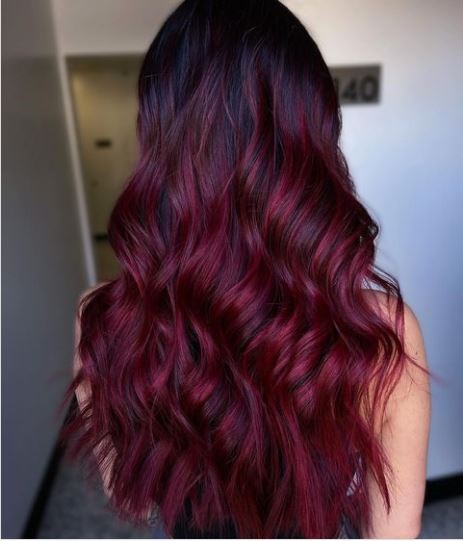 Image by @samihairmagic via Instagram
2. Chocolate Brown and Vermillion Red Balayage
I love the gentle mix of red and chocolate brown hair in this red balayage hairstyle. Red hues are in between the brown, creating a color pop that is perfect for people with fair skin tones.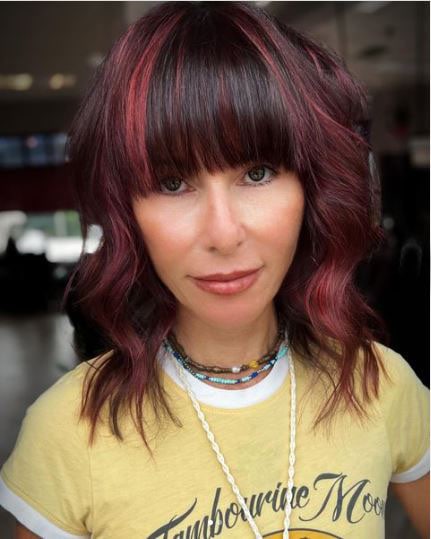 Image by @hairbylisamathews via Instagram
3. Fire Red Balayage
The color combination here is out of this world. The burgundy roots blend into scarlet, hibiscus, ginger red, and purple at the middle part down to the tips.
The sweet blend is sure to have you turn heads wherever you go. If you have thick hair, this color combination will look great.
Image by @samihairmagic via Instagram
4. Dark Auburn Red Balayage
If you want to add color to your hair in a subtle way, you should try this red balayage. The brown base of the hair fades into a dark auburn color creating a nice charming glow that will enhance your facial features in a subtle way.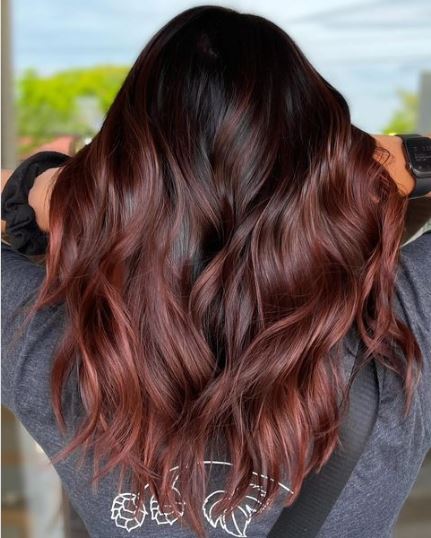 Image by @live_love_dohair via Instagram
5. Ruby Red Balayage
Make the whole world aware of your burning passion by getting a blend of black hair and ruby red balayage. The black base of the hair becomes ruby red at the middle part and gets brighter towards the tips.
This hairdo is sure to have you looking bougie as you step out the door.
Image by @meganrosecolors via Instagram
6. Sangria Red Balayage
Here, dark brown root fades into sangria red creating the perfect shade of cherry cola. This red balayage will look great on people with dark hair and cool skin tone, since it will look almost like their natural hair color, but enhanced.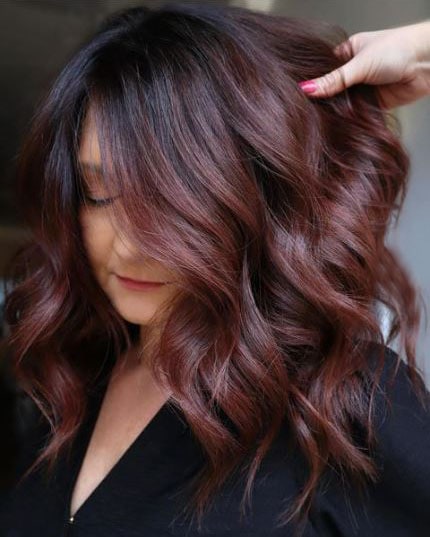 Image by @rileypaintsribbons via Instagram
7. Copper Red and Blonde Balayage
Copper red balayage is becoming a trend and I'm loving it. It has been spotted on Hollywood stars like Sydney Sweeney, Doja Cat, Kendel Jenner, and others.
There's so much fuss over copper red hair because regardless of your hair color, it has a way of making you look like a natural redhead.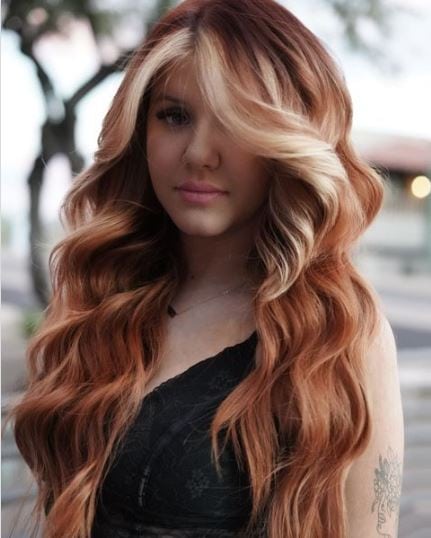 Image by @the.blonde.bar via Instagram
8. Plum Red Balayage
This features a deep red base that is overlapped by plum red balayage. If you need a bold and fun look, you should consider getting this done.
The hair length is great and the red balayage would look great on both straight hair and curls. You can decide to get a paler shade of red or add ginger to the mix to spice things up a bit.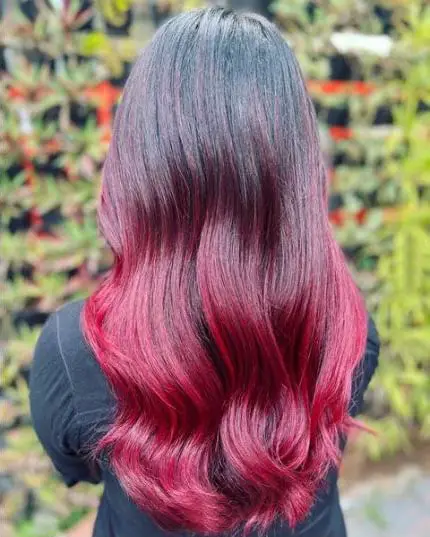 Image by @jaisangita via Instagram
9. Cherry Red Balayage
This red balayage is so hot, it's melty like the mount Vesuvius volcano in southern Italy. The fiery hair color is one that will keep people talking even while you are long gone.
If you want to be the center of attention and would like to turn heads as you go about your daily adventures, you should opt for this hair color.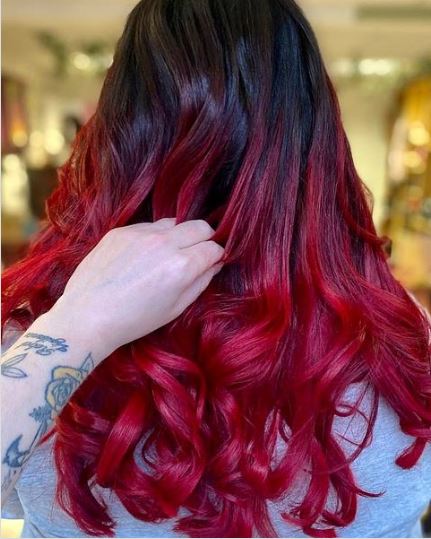 Image by @pixalrose_vegansalon_sw via Instagram
10. Mahogany Red Balayage
There is no limit when it comes to red balayage hairstyles. You can go all out with the red, like in this case where there is a complete transition from ginger shoulder length hair to mahogany bob hairstyle.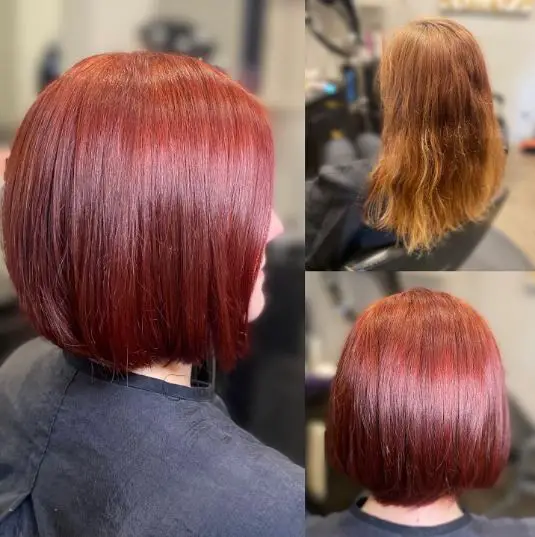 Image by @hairbykelcey via Instagram
11. Ginger Red Balayage Hair Color
Dark brown hair blends into ginger tresses in this red balayage hair color. The thick hair has an amazing appearance that will help add fun to your look without going too crazy.
If you have a corporate engagement, this hairdo will help you stun while at it.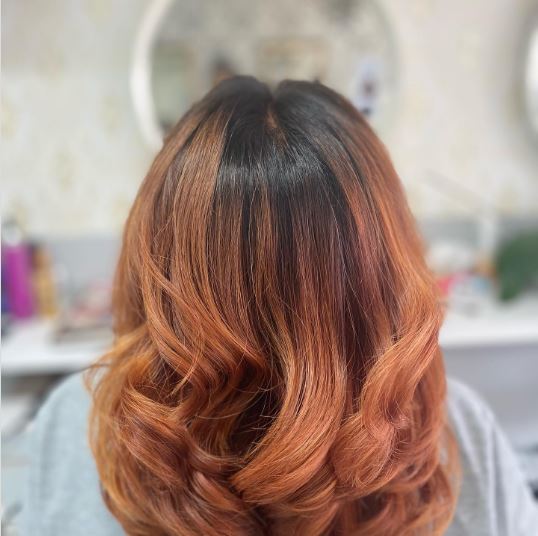 Image by @by_ayten_c via Instagram
12. Brunette and Copper Red Balayage
Natural brunettes are known to be smart and trustworthy. Why not add stunning to your repertoire by getting a copper red balayage on your brunette undertones?
The red hair is subtle yet astonishing, creating an effortlessly stylish, and sophisticated appearance.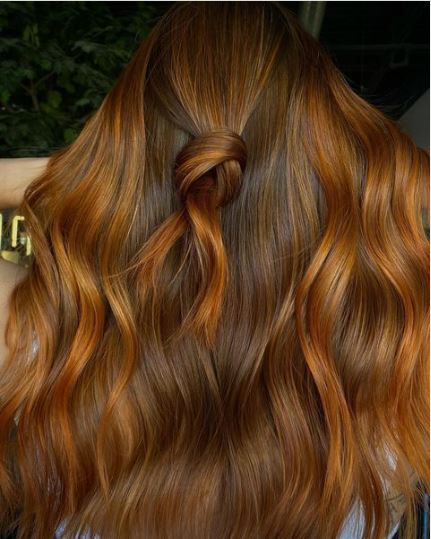 Image by @cutandlaced via Instagram
13. Flaming Hot Red Balayage
If you are new to red balayage, the flames of this red hairstyle might be too hot to handle. It is a great option for the daring baddies that don't care about what the world thinks about them as long as they feel good.
To maintain the shine of this, use cooler water to wash your hair to prevent it from fading and you can visit the salon every 5-6 weeks to have your red hair refreshed.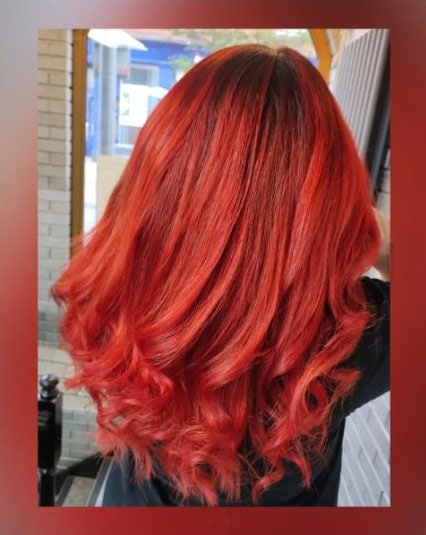 Image by @hairbyalisonmarie via Instagram
14. Brunette To Auburn Ombre Red Balayage
I love the contrast of colors in this hairdo. The dark hair slowly blends into the bright auburn red color at the tips creating a vibrant and beautiful effect.
You can decide on adding highlights of different red shades if you want more pop of color.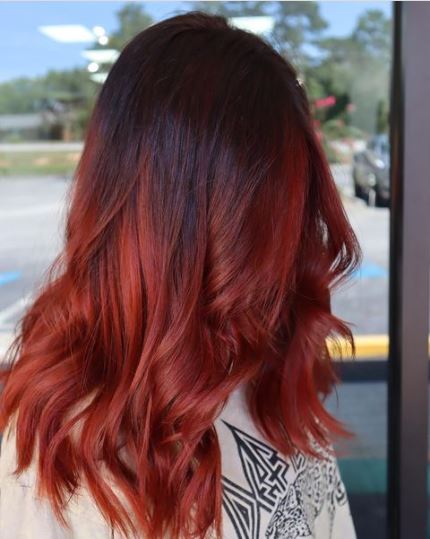 Image by @balayagebeauty706 via Instagram
15. Strawberry Blonde and Hibiscus Red Balayage
This red hair has strawberry blonde highlights in between the red undertones that I can't get enough of. The black root area blends into the red in a seamless manner.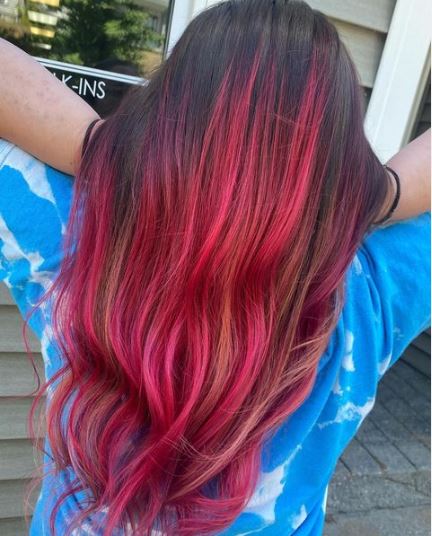 Image by @thebeautycallma via Instagram
16. Natural Red Head
This red balayage hairstyle is giving black widow vibes. The dark brown tresses have a low-maintenance color combination that requires less attention and time, to keep them looking fabulous for a long period of time.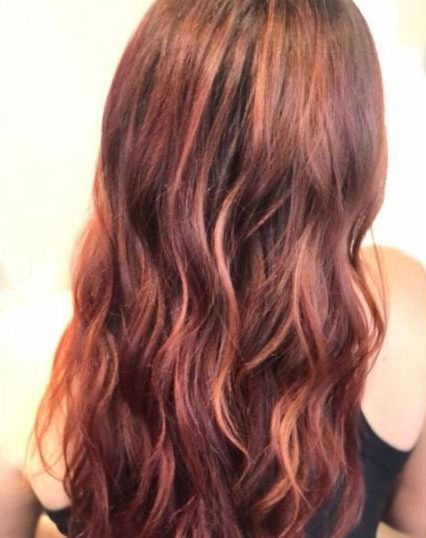 Image by @viasalonclt via Instagram
17. Cinnamon Spice Reverse Balayage
In need of a glow-up? You should consider trying this hairstyle out. Cinnamon spice lowlights and darker strands are added to the red balayage hairstyle to create a nice dimension and depth to the hairstyle.
It has light tips that create an overall glow to the whole look.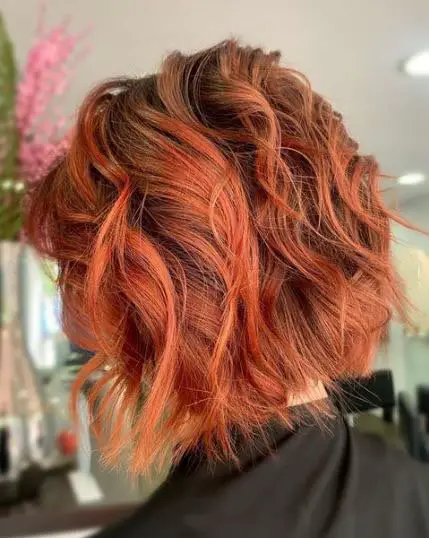 Image by @rhiannedoeshair via Instagram
18. Auburn Red Balayage With Blonde Strands
This hairdo is a beauty to behold. The hair features complete auburn red hair with blonde balayage at the front. Adding blonde to your deep red hair is a way to show your fun and outgoing personality.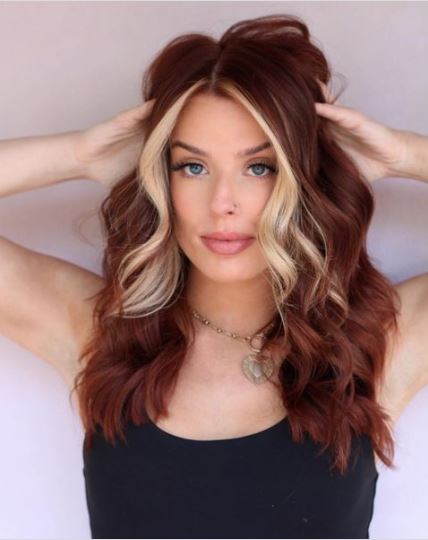 Image by @beachwavesandbalayage via Instagram
19. Light Brown Hair and Copper Balayage
The lighter copper balayage here has a natural look that would work really great if you are in need of a subtle change.
If you get this done, you are sure to have people puzzling over your overnight glowy look due to the subtle change the copper balayage will provide.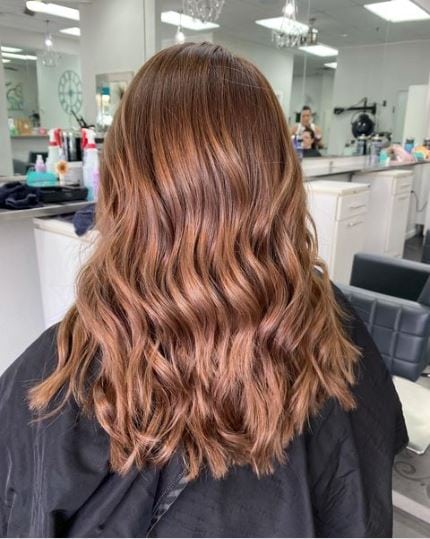 Image by @salonblissful_medspa via Instagram
20. Dark Amber Red Balayage Hairstyle
From the soft waves to the dark amber highlights, this red balayage hairstyle is a stunner. It's giving an independent lady vibe.
If you want a hairstyle that will give you a bolder look in an effortless manner, this is perfect for you.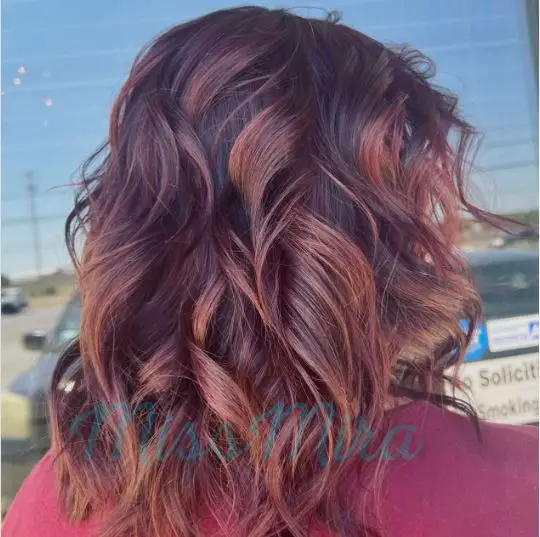 Image by @missmira via Instagram
21. Auburn and Copper Blend Balayage
Paint the town red with this incredible red balayage hairstyle. The warm reds blend to form a magical shade of cinnamon spice that I am obsessed with. To get yours done, you would need a hair stylist with experience.
The stunning color of the hair requires a lot of maintenance to keep the glow going. You will need a sulfate-free shampoo and gentle conditioner to keep the nice color alive between your hair maintenance sessions with your stylist.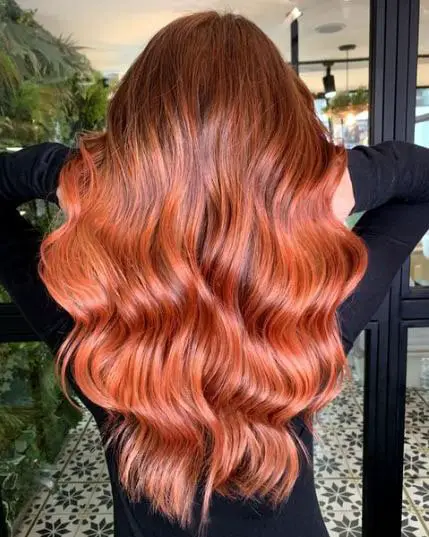 Image by @javierduquepeluqueria via Instagram
22. Ginger Magic With Copper Highlights
Ginger hair has a way of placing one in the spotlight. This curly ginger red balayage hairstyle is no different.
What makes it even better are the copper highlights added to different layers of the hair, making it bright and vibrant.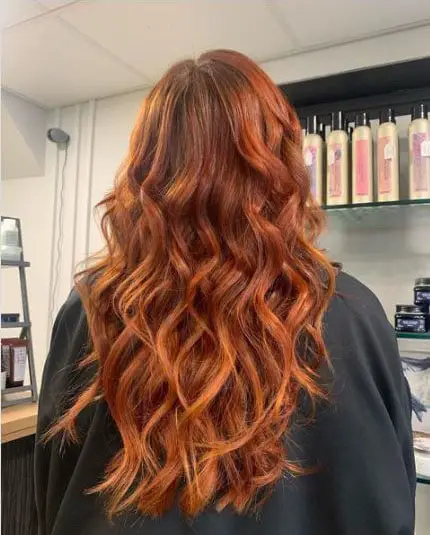 Image by @hairbylibby_jane via Instagram
23. Auburn Base and Strawberry Blonde Roots
Bangs have a way of making one feel youthful and vibrant. The hairstyle has an auburn base which fades down to an amazing strawberry blonde color that is lovely.
Everything about the red balayage hairstyle is a yes for me, especially the texture of the hair.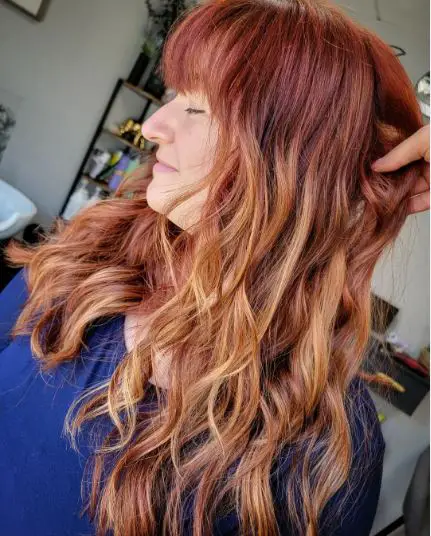 Image by @jwhairdesign via Instagram
24. Burgundy Red Balayage Hairstyle
This is your sign to get that shoulder-length hair if you were in any doubt. The burgundy hair has streaks of wine red, which is a perfect addition if you are a wine lover. If you love wine, why not add a wine red to your hair?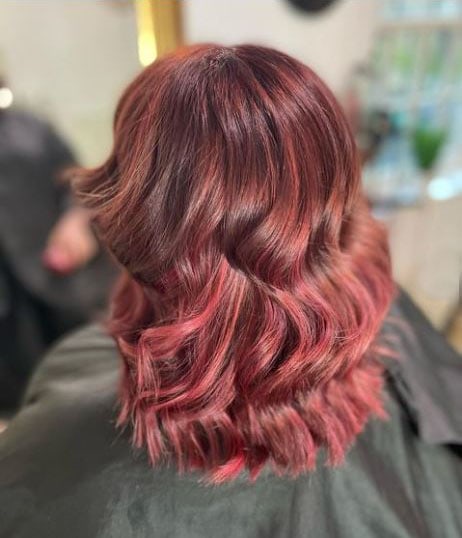 Image by @louise.hairitage via Instagram
25. Chilli Red Balayage With Maroon Highlights
The curls of this hair have a bright red color that is sure to announce your presence from miles away. Maroon highlights add dimension to the hair that you can't help but fall in love with.
If you would like to take the world by storm and have eyes on you, look no further because this is the perfect red balayage hairstyle for you.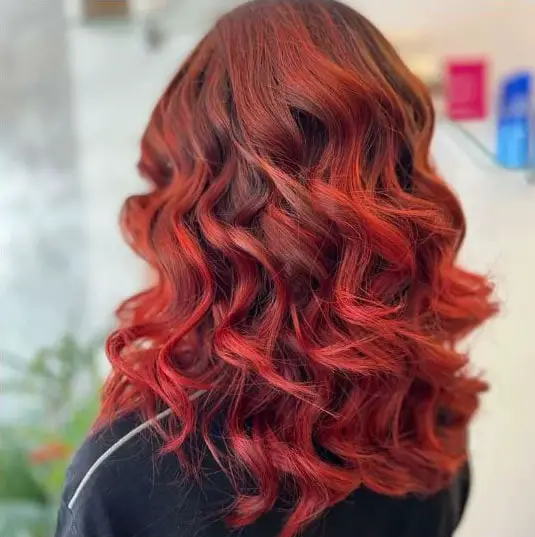 Image by @aed_acconciature_caraglio via Instagram
26. Blonde and Red Balayage
Want to spruce up your brown hair a bit? Try this copper and ginger red balayage on brown hair undertones to achieve your goal. The medium texture hair is placed in amazing beach waves giving the hairstyle a fun vibe.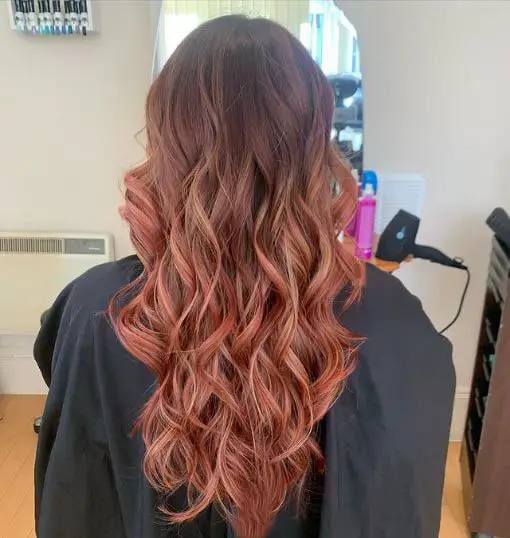 Image by @hairbyannalarrington via Instagram
27. Brown Hair With Deep Red Highlight
Reverse balayage is always a bomb. This red balayage hairstyle features lighter tips of burnt orange color that become deep red as it goes upward.
The brown hair at the base is perfect for the deep red that follows because the undergrowth of the hair can easily go unnoticed due to the blending ombre formed by the two colors.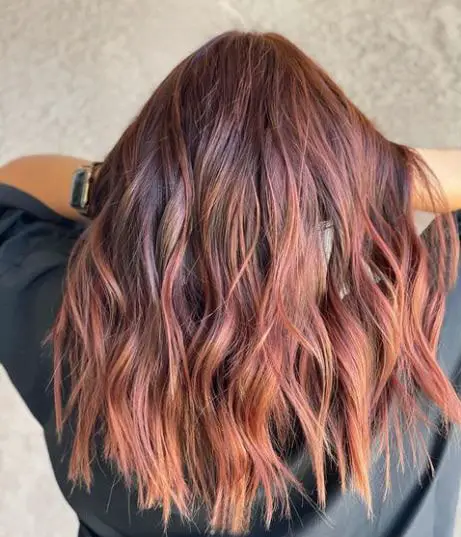 Image by @bayarea_hair_color_925 via Instagram
28. Blonde Tips and Red-Based Balayage
There's no better way to get ready for summer than switching up your hair game. The hairdo features the prettiest shade of red at the base with a nice gradient of brown hair and then blonde as it descends. The red hues of the hairstyle increase the fun level a whole lot.
Image by @hair_by_tayzilla via Instagram
29. Brown Hair With Auburn Balayage
Everything about this red balayage hair is just perfect. From the brown roots to the curls and waves, the slightly bright contrast of the brown undertone and auburn balayage.
The shade of red looks natural and would be great if you are new to the red balayage game.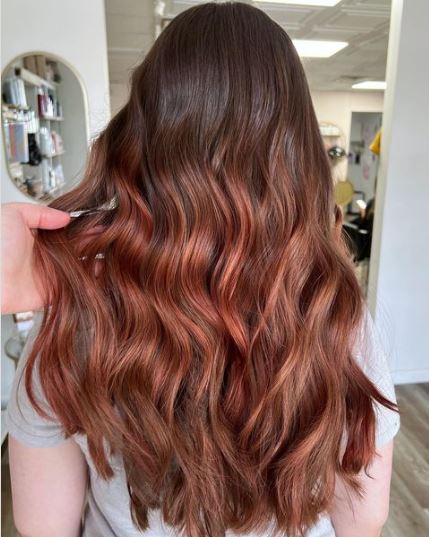 Image by @sarahgearhart.hair via Instagram
30. Shoulder Length Red Balayage Hair
This hairstyle has warm color red balayage. The red hue creates bold flashes of color that are enough to give an extra glow to your face and brighten up your days.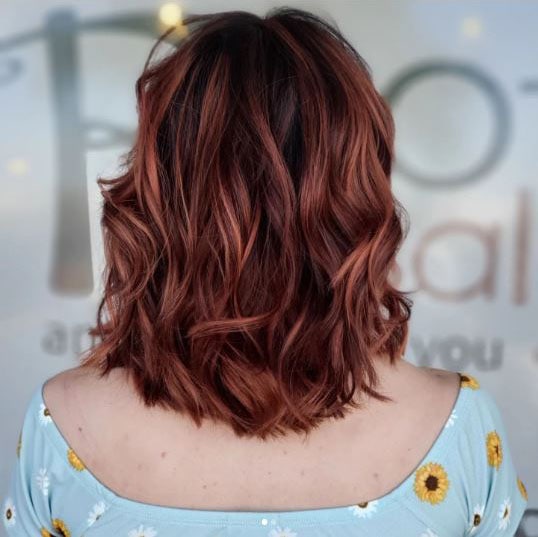 Image by @sydney_atrootssalon via Instagram
31. Half Blend Of Ginger and Copper Red
Can't decide on the red balayage hair colors to use? You can blend two or more colors together. Here, ginger is used on one part of the hair and copper is used on another and I haven't seen a more gorgeous outcome.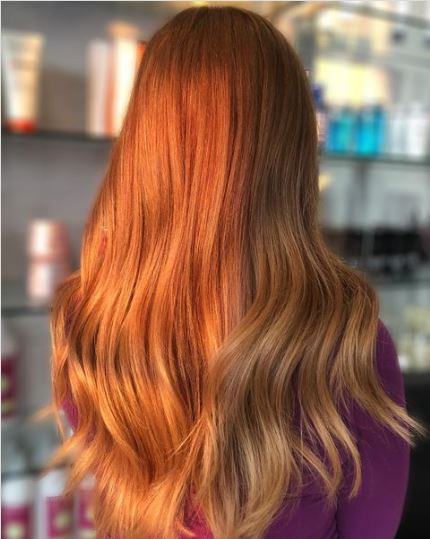 Image by @claire.yyc via Instagram
32. Straight Hair Red Balayage
It is well-known that straight hair is the go-to hair type if you want to look serious and sophisticated. The straight hair here is giving a boss babe vibe.
The black and red combination are a nice contrast that creates a calm and lovely shine together in the hairdo. This is the perfect hairstyle if you would like to change your work appearance.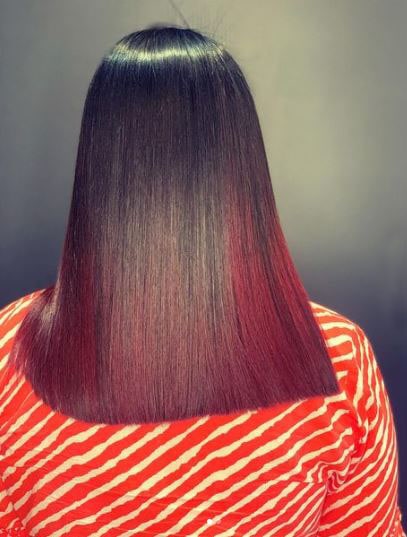 Image by @hairfriction via Instagram
The french coloring technique (red balayage) has proven to be the go-to hair color choice if you need a fresh look that will compel people to have a double take as you go by your daily activities. Tons of amazing pictures have been shown here to serve as inspiration. What are you waiting for? Get your red balayage hair color done.