Stitch braids have recently grown in popularity. They include a range of hairstyles from ponytails and buns to the skinny goddess, top knots, and more. However, ponytails are my favorite! They are elegant, define facial features, and are great for any event.
As a certified hairstylist, I have worked on stitch braids for over a decade. In fact, I have become very good at braiding various styles.
For this reason, I have decided to compile some cool stitch braids ideas in this guide. Stay tuned to determine which style grabs your attention.
Let's get started!
1. Double Stitch Braids With Curls
Double stitching is a perfect way to add more length and volume to your hair. Instead of braiding hair down, pull out bouncy natural curls to create an elegant look.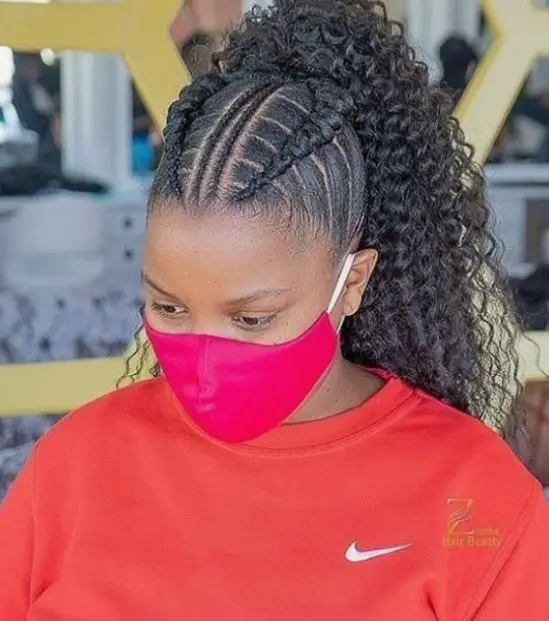 Image by @cicikiz1999 via Pinterest
2. High Ponytail Stitch Braids
This is the way to go if you're looking for a fierce look that is easy to recreate. Bomb-looking ponytail stitch braids match every outfit and occasion.
Stitch braid the hair upward and leave box braids of the same size hanging at the back.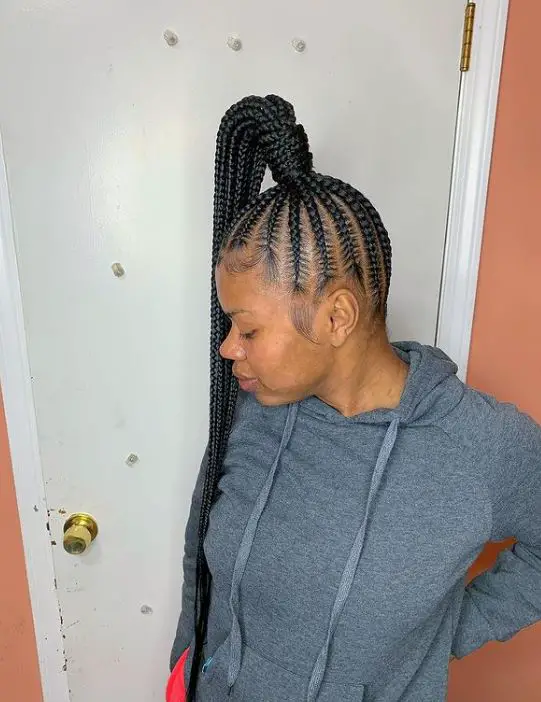 Image by @shay_braidz_317 via Instagram
3. Honey Blonde Stitch Braids
You can't go wrong with this pretty look. Ebony women generally go for honey blonde stitch braids. Besides, you can pull this style during summer.
Employ blonde hair to create streaks into natural black hair and arrange them into a chic ponytail.
Image by @u_niqueflair via Instagram
4. Stitch Braids With Zigzag Parts
Here is a twist to the classic straight-back cornrows. For a perfect zigzag parting, you will need a skilled hairstylist. For an eye-catching finished look, this style does the trick.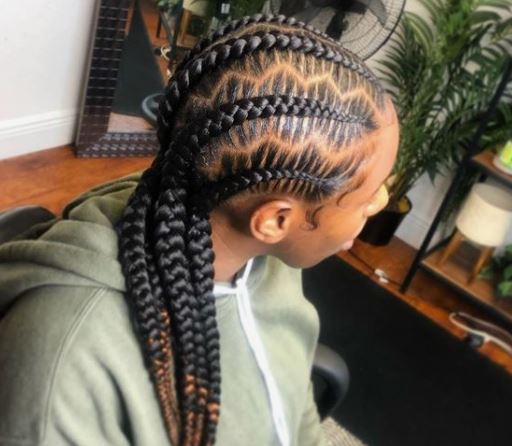 Image by @aishadhoskins via Pinterest
5. Ombre Stitch Braids
Ombre hair is a trending style for most women. A better way to achieve an ombre braid involves using two different colors. Get long braids, then feed in different color extensions at the bottom for a natural flow.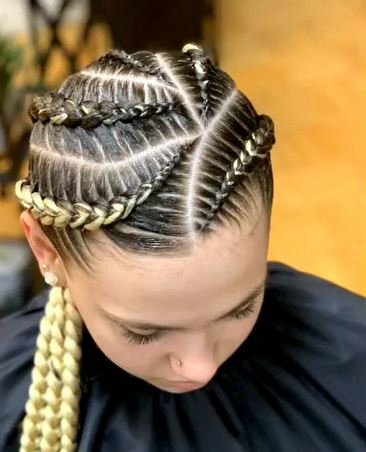 Image by @nique_lynn via Pinterest
6. Stitch Braided Mohawk
Give your hairstyle a funky twist and get creative with Mohawk styles. Creating Mohawk stitch braids would take about 1-2 packs of hair. However, this depends on your hair volume and preferred length.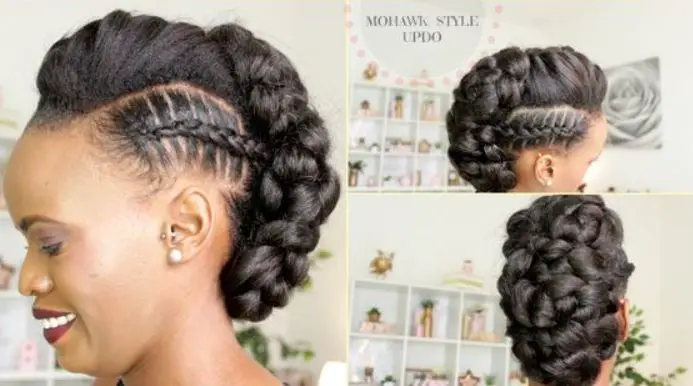 Image by @blackhairinfo via Pinterest
7. High Bun Stitch Braids
Buns don't always need much upkeep. Hair doesn't fall over your face and holds tight enough to get you through the day. Go ahead and gather the skinny ends of the cornrow stitch braids.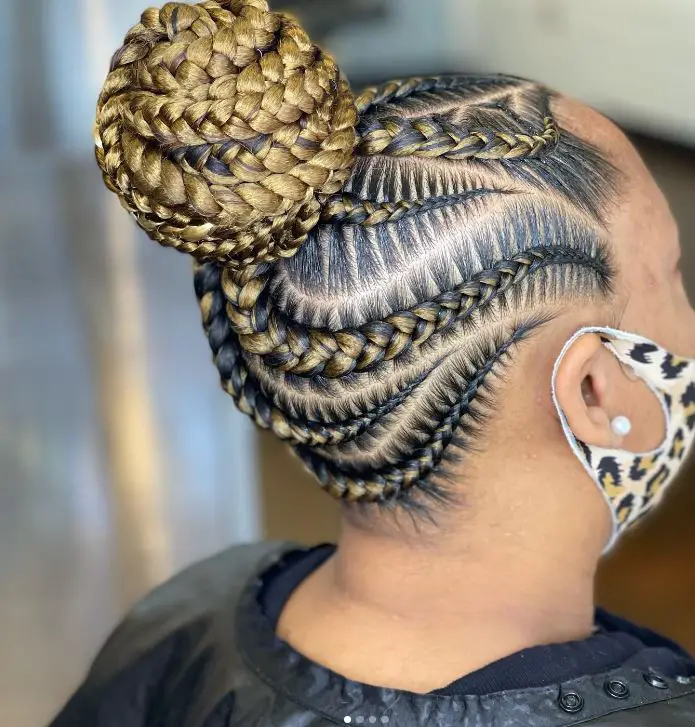 Image by @precisionbraids901 via Instagram
8. Super Long Stitch Braids
If you like very long stitch braids, this is a good option for you. You can finish with sleek edges using your baby hairs.
The style adds more drama to your appearance. See the photo above and note how mesmerizing the hairstyle is.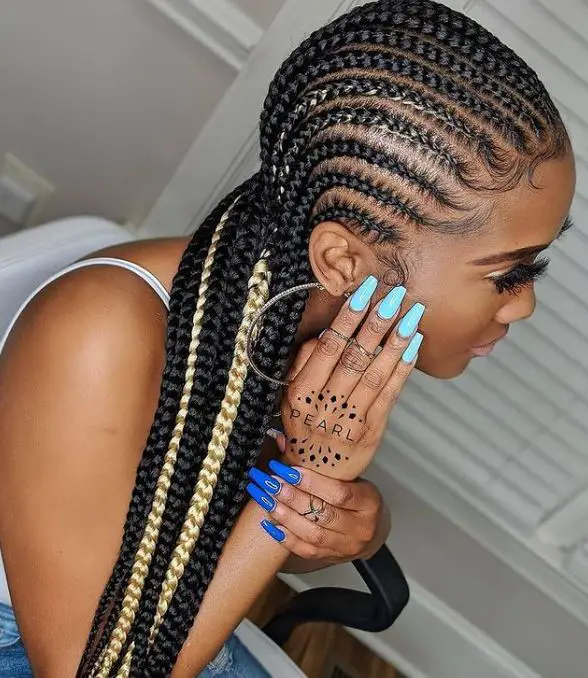 Image by @ghanabraidstyles via Instagram
9. Red Stitch Braids
Hairstylists achieve red stitch braids by braiding red synthetic hair into natural hair. Using bold colors goes hand in hand with a striking look. The color itself would make you look elegant and complement your outfits.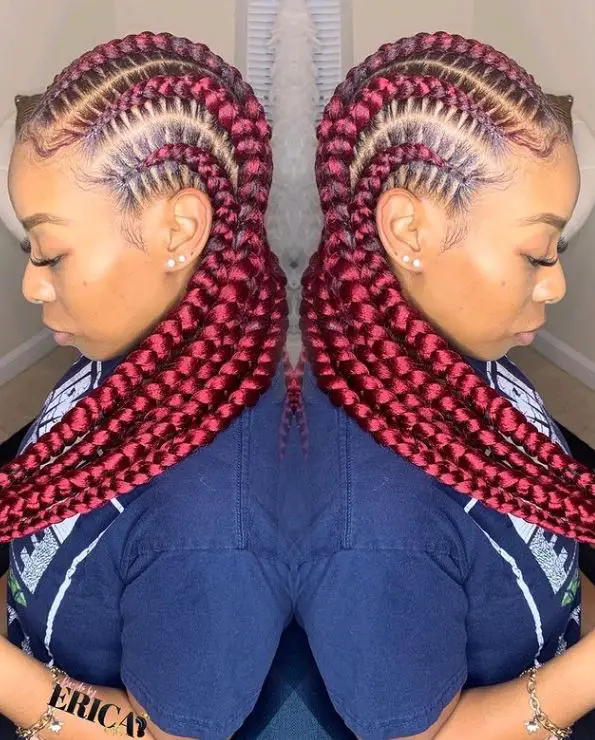 Image by @hairbyericalatrice via Instagram
10. Curved Stitch Braids
Using curves is an intricate technique of stitch braiding. This styling is the rage nowadays and would be amazing for any occasion. It gives you a cute and sporty appearance at the same time.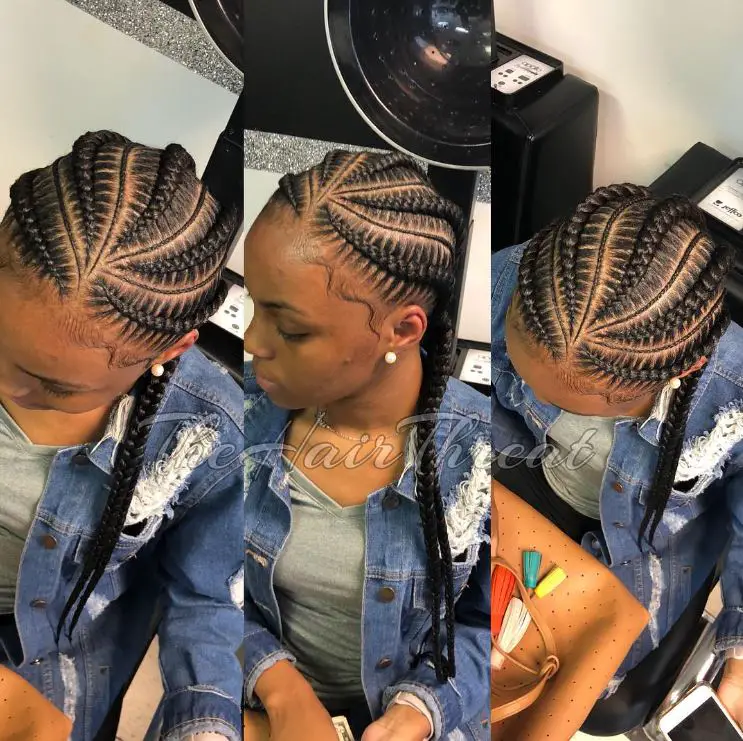 Image by @thehairthreat via Instagram
11. Stitch Braids With Colored Ends
Consider adding a small pop of color to your ends. If you can't decide on a single color, add 2-3 complementary colors to create an ombre effect. You don't need brighter colors, as simple ones look better.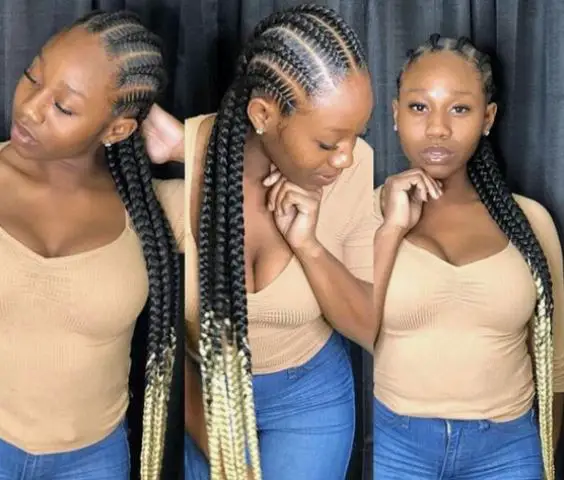 Image by @tyquiesha71 via Pinterest
12. Criss Cross Stitch Braids
The crisscross stitch braid trend is taking over the fashion world. It is also popularly known as the double helix pattern. This overlapping pattern is another creative way to flaunt stitch braids.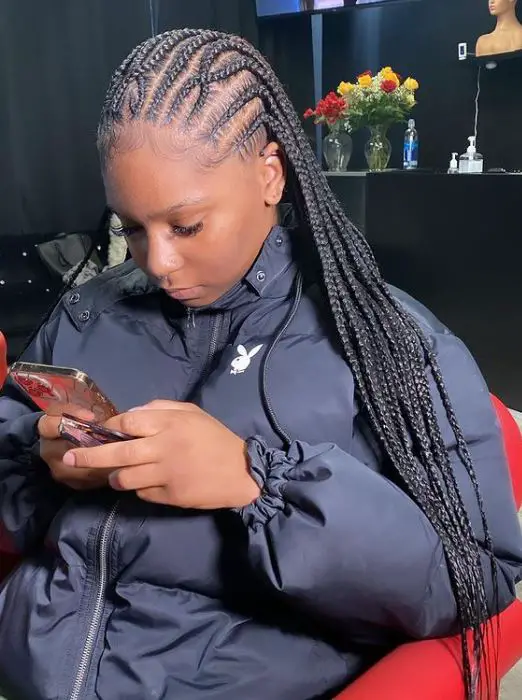 Image by @_braidsbydaja via Instagram
13. High Ponytail Stitch Box Braids
You can emulate this style for a gorgeous and reserved final look. A high ponytail stitch braiding with box braids makes you stand out.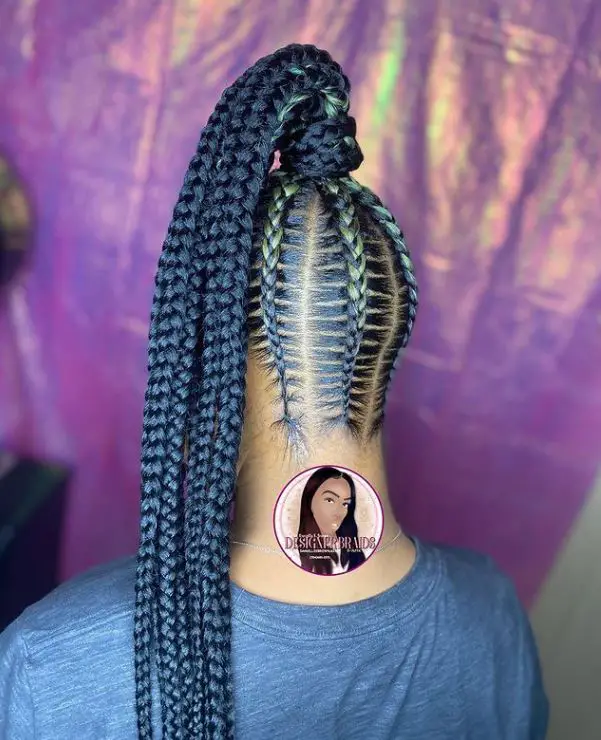 Image by @daniieehb via Instagram
14. Stitch Braided Bangs
Create clean partings and braid at the front of your head. You can adorn the bangs with white cords and beads to give them that sexy appeal.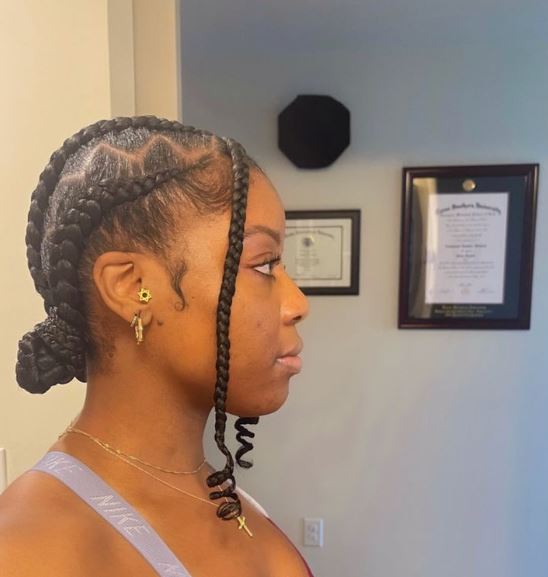 Image by @heatherikejiani via Pinterest
15. Curved Stitch Braided High Bun
Create this elegant style to give the classic braids a more striking look. Curvy braids with a bun are modern, playful, and look amazing.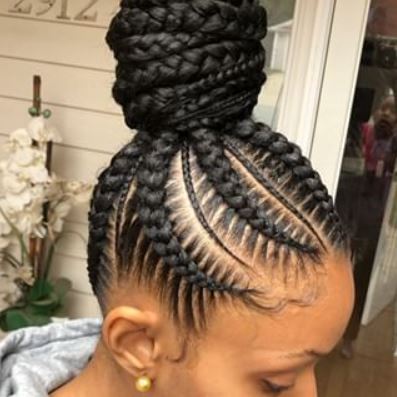 Image by @MONEYISPRETTY via Pinterest
16. Zigzag Stitch Braids
These zigzag patterned cornrows will make your stitch braids creative and sharp. Also, it does not tighten your scalp. The styling is practical, neat, and very comfortable.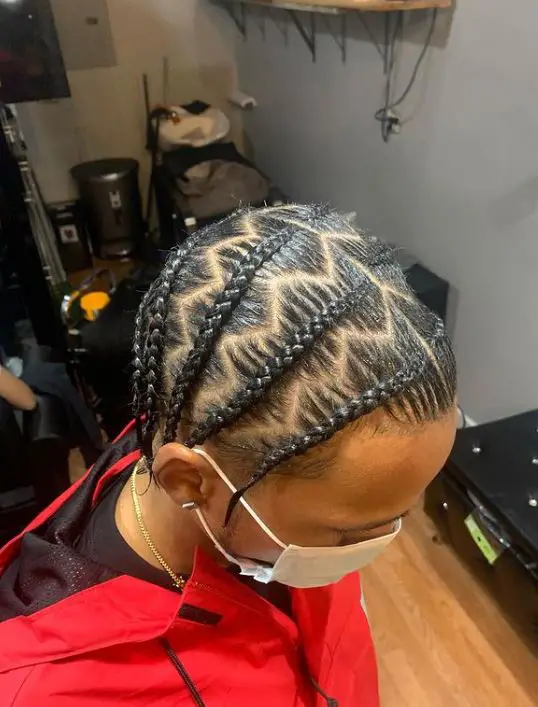 Image by @braidedbycarolina via Instagram
17. Chunky Straight Back Style Stitch Braids
To create this beautiful style, you can make two chunky stitch braids. The stitch parts end up looking even more prominent with the large-sized braids.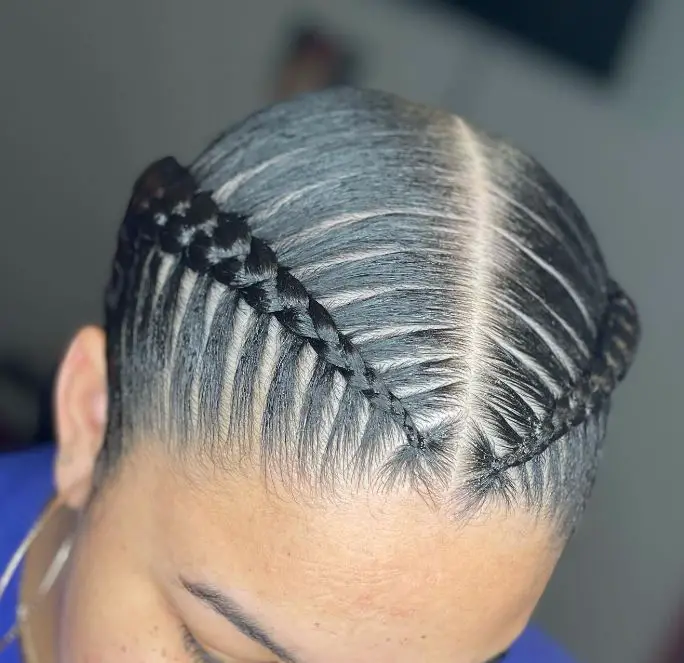 Image by @daniieehb via Instagram
18. Top Knot Stitch Braids
The style makes a statement, so it would be best if you stay low-key on your hair accessories and color. Complete your carefree look with a graphic tee and fancy earrings.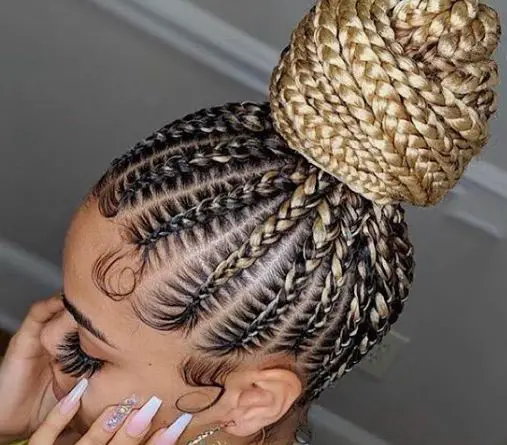 Image by @naturallycurly via Pinterest
19. Stitch Braids With Beads
This is an attractive way to design stitch braids. You can use beads to style thin-to-medium plaited braids.
Beads look good on extensions of all lengths. You can mix up the bead colors for a brighter look.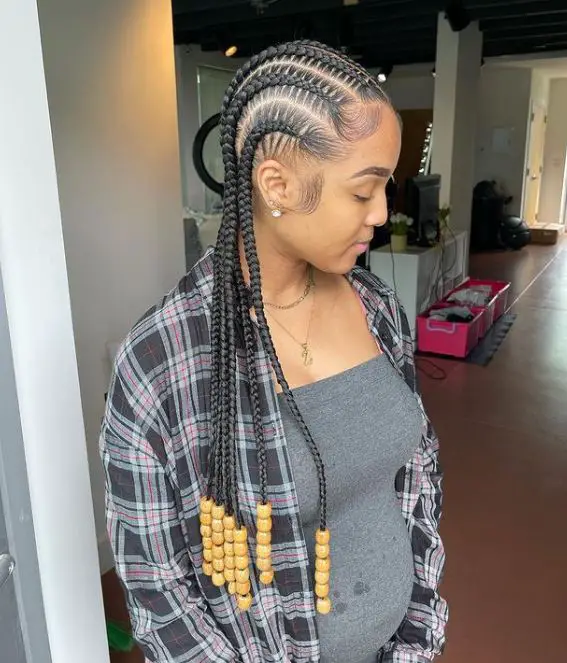 Image by @laidbylanaaa via Instagram
20. Curly Half Ponytail
Sometimes, we want a hairstyle that adds volume to our hair. Curly half ponytail stitch braids are a wonderful option if you are not into buns.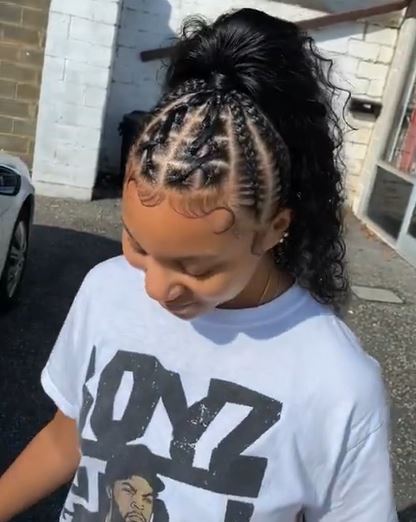 Image by @daniieehb via Instagram
21. Pink Appeal
These stitch braids are amazing because they go with every casual event. If you have never tried bold colors, go for a light pink shade. You can combine a natural color with pink extensions.
Image by @mlmccloe via Pinterest
22. Multi-Size Stitch Braids
You can braid uneven large to thin stitch braids. Use long braids to let them fall to your back or shoulder. Set the braids and hold them using a clip.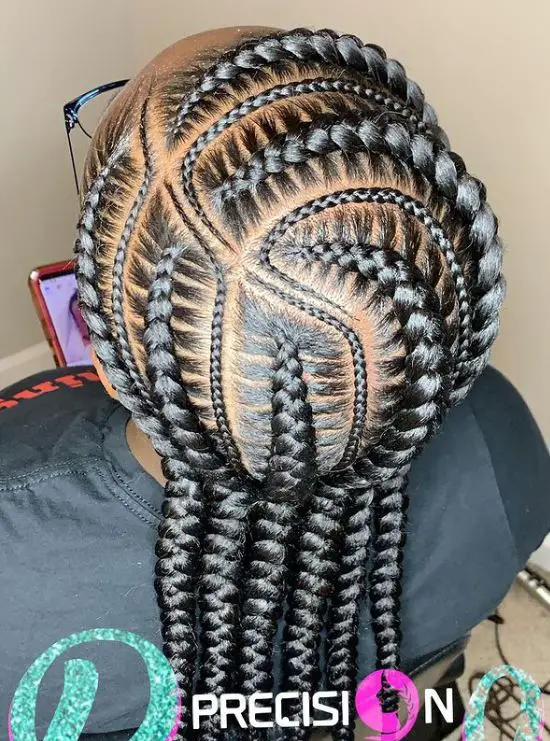 Image by @precisionbraids901 via Instagram
23. Low Messy Bun With Sleek Edges
It's a good choice when enhancing your appearance using baby hair. If not, you can wear this style without them. Rest assured that the outcome will flatter your skin, leaving it looking flawless.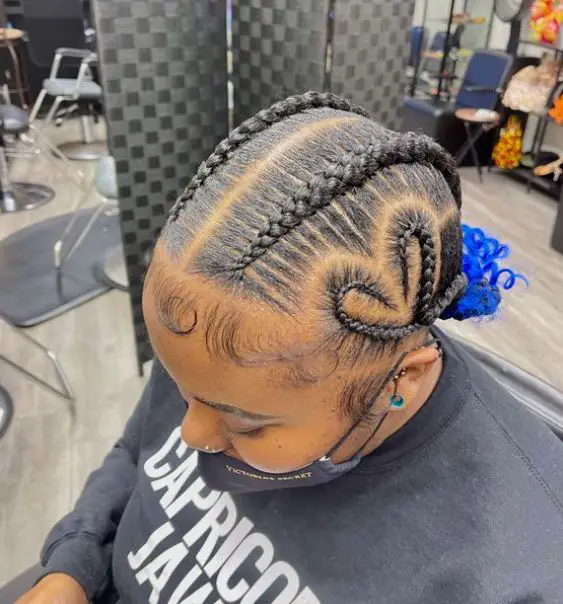 Image by @feleshasycospy via Pinterest
24. Skinny Goddess Stitch Braids
Skinny goddess stitch braids are more durable than traditional cornrows. What makes this hairstyle a must-try is the precise stitch braids parts.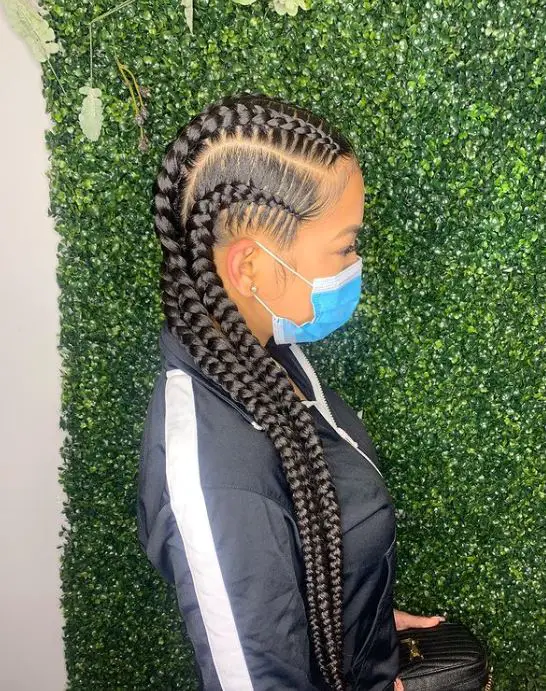 Image by @braidedbycarolina via Instagram
25. Braided Half Up Ponytail Stitch Braids
With this approach, you can be creative with your partings and plaits. This style requires you to pull half of the braids into a ponytail and then add hair extensions.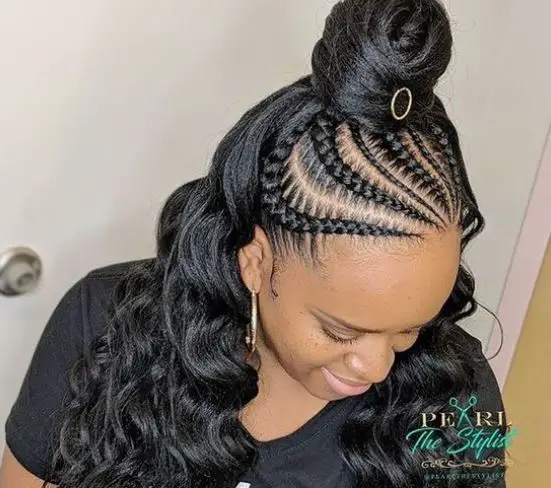 Image by @amourrejanae via Pinterest
26. Straight Back Zigzags
Straight-back zigzags rely on accurate partings. They are pretty with intricate designs and would make any lady stand out in a crowd.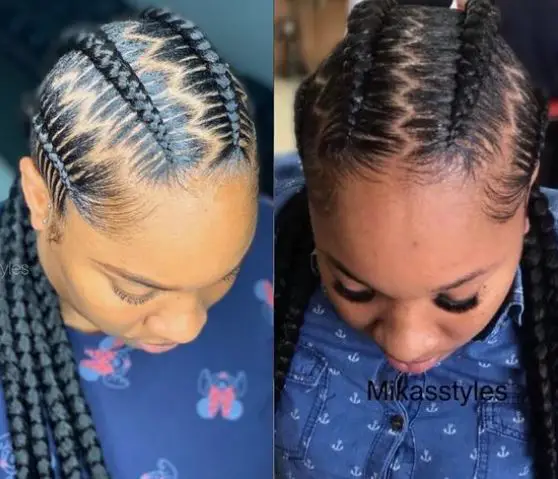 Image by @mikasstyles via Pinterest
27. Curly Ponytail Stitch Braids
This style is suitable for ladies of all age groups. Curly ponytail stitch braids keep your look simple and sophisticated. Go ahead and braid the strands in diagonal lines rather than straight ones.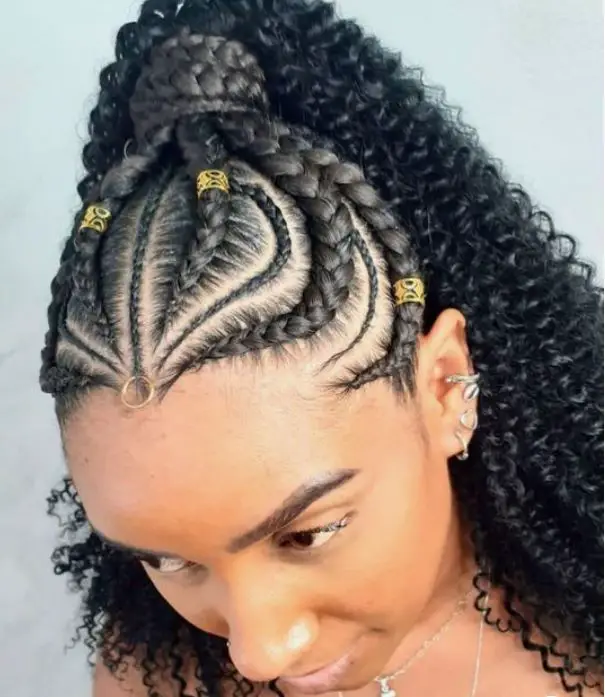 Image by @brsennas via Pinterest
28. Blonde Feed in Braids
Think of blonde hues to add life to your style. The resulting streaks will make everything chic, seamless, and savvy!
Add blonde extension into natural black hair to have more natural-looking braids.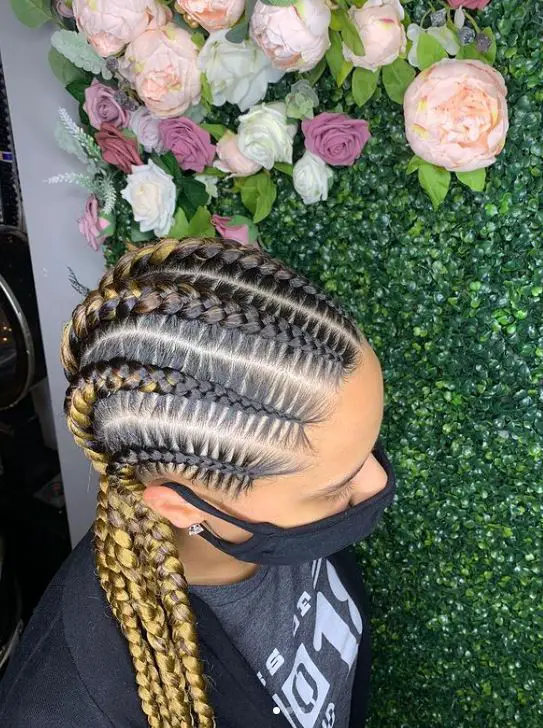 Image by @braidedbycarolina via Instagram
29. Stitch Braided Low Buns
Arrange the braids into a chic low bun for a polished look. You will end up looking sexy and elegant for any event. Just style the braids into a simple, low bun.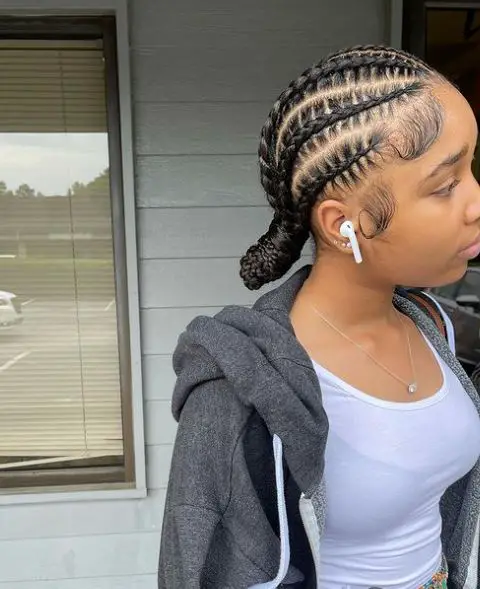 Image by @finestbeautyhairco via Instagram
30. Two-Toned Stitch Braids
This combination gives a more subtle pop of color. This style is best incorporated in bun stitch braids, as seen in this photo.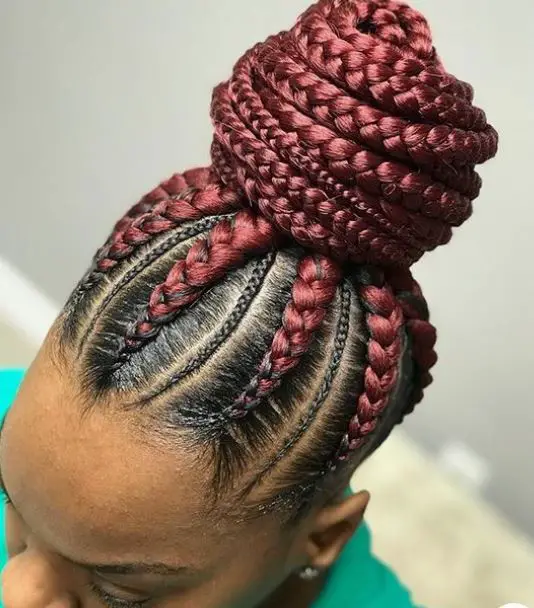 Image by @Halibeautie via Pinterest
31. Stitch Braids With Designed Baby Hairs
Edge styling can add a more dramatic or elegance to your stitch braids. As shown in this picture, you can sculpt or swoop the baby hairs into curlicues. Apply edge control gel to lay down the hair for a cute detail.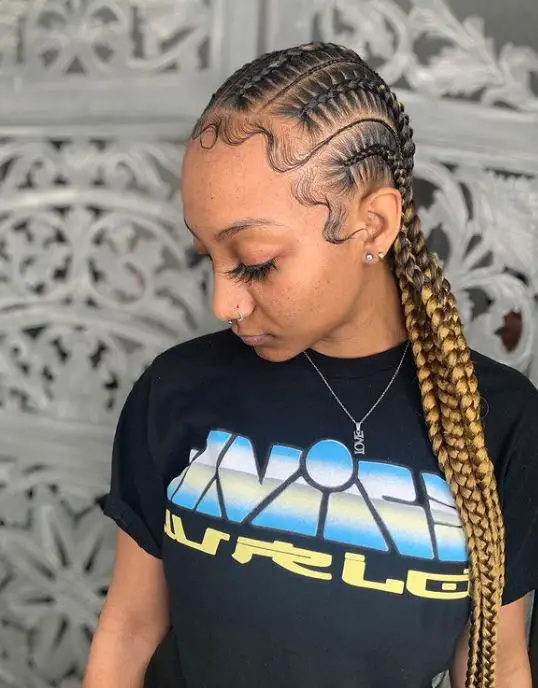 Image by @__gorrjussstyles via Instagram
32. Side-Parted Stitch Braids
Explore this stunning style if you want more noticeable stitch braids. The hairstyle involves stitch braiding hair towards the nape. The sectioning is precise to get clean parts.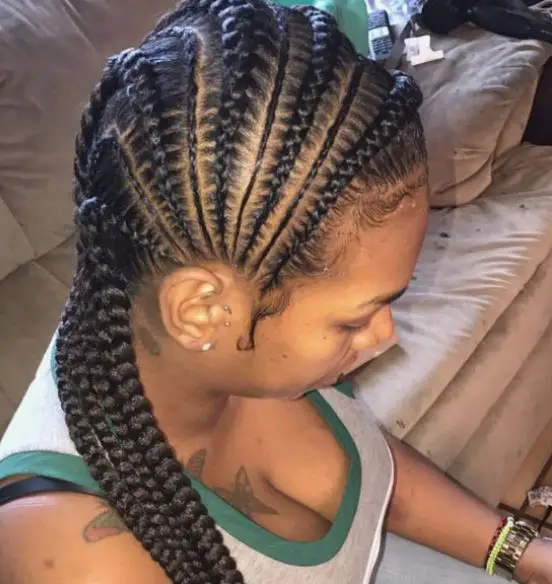 Image by @Rayniece93 via Pinterest
33. Small Arrow Parts
Stitch braids allow hairstylists to perfect their artistic skills and creativity. Creating these fantastic small arrow parts is an excellent way to show off. These stitch braids are incredibly stylish with edgy outfits.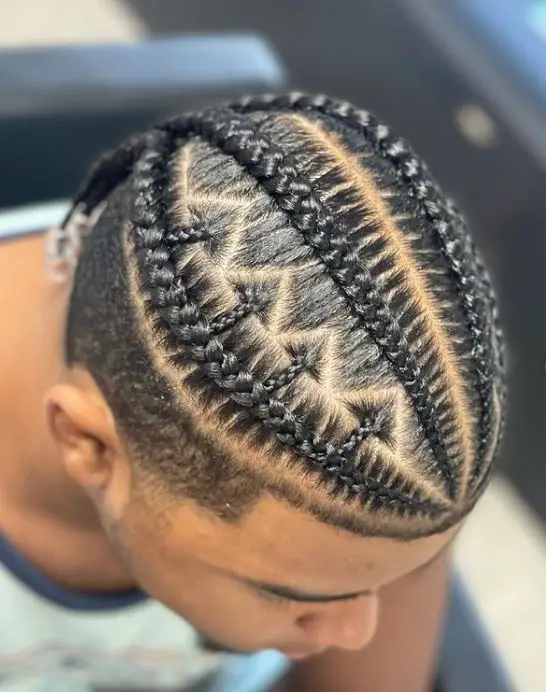 Image by @braidedbycarolina via Instagram
34. Reverse Braid Bun
This style might look complex, but it's quite simple once you know how to braid it. The final look is bold and unique.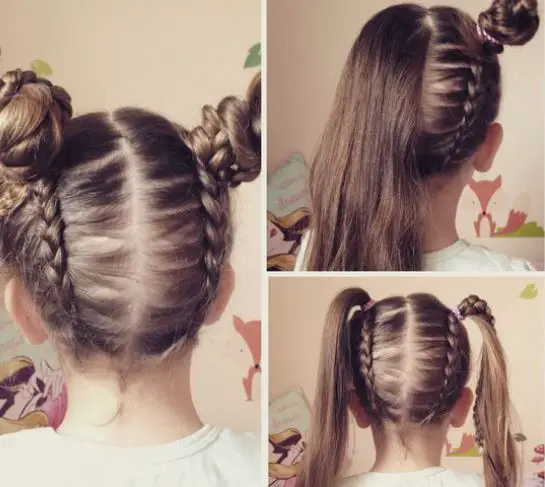 Image by @harriethyoung via Pitnerest
35. Red Stitch Braids With Bun Box Braids
Consider adding red color strands for a whimsy style. A combination of dark hair and red appeal is captivating. You can allow them to fall back for an even more dramatic effect.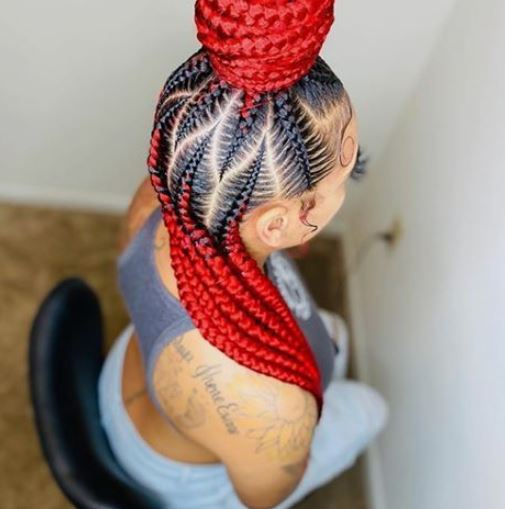 Image by @slim6878 via Instagram
36. Uneven Part Stitch Braids
You don't have to keep the partings precise and uniform all the time. Using the alternating braiding technique on straight back rows can be eye-catching.
They can be zigzag, classic straight backs, slightly curved, or cross stitch braids.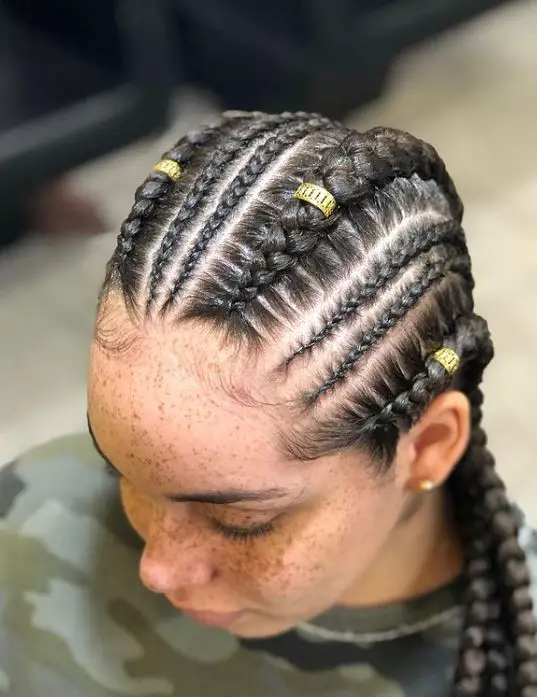 Image by @braidedbycarolina via Instagram
37. Stitch Braids Updo
This is one of the hottest stitch braid hairstyles for women. Braid the hair to the crown of the head, then secure the ends with black rubber bands.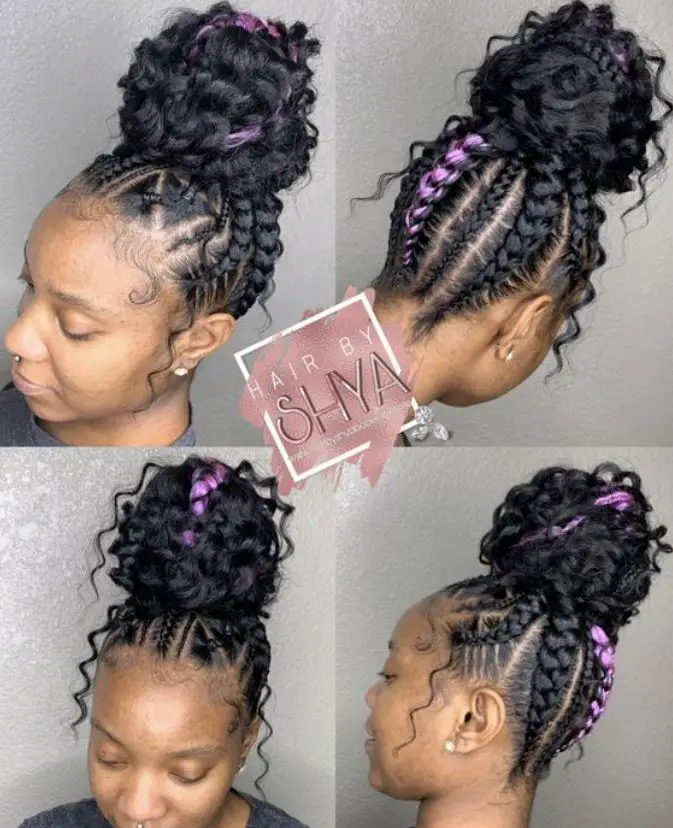 Image by @2iceE1996 via Pinterest
38. Straight Cornrow Stitch Braids
If you want luscious length for your natural hair, go for long braiding hair. Begin by making precise partings. Then weave hair and watch it grow from a thin start to a full and natural-looking braid.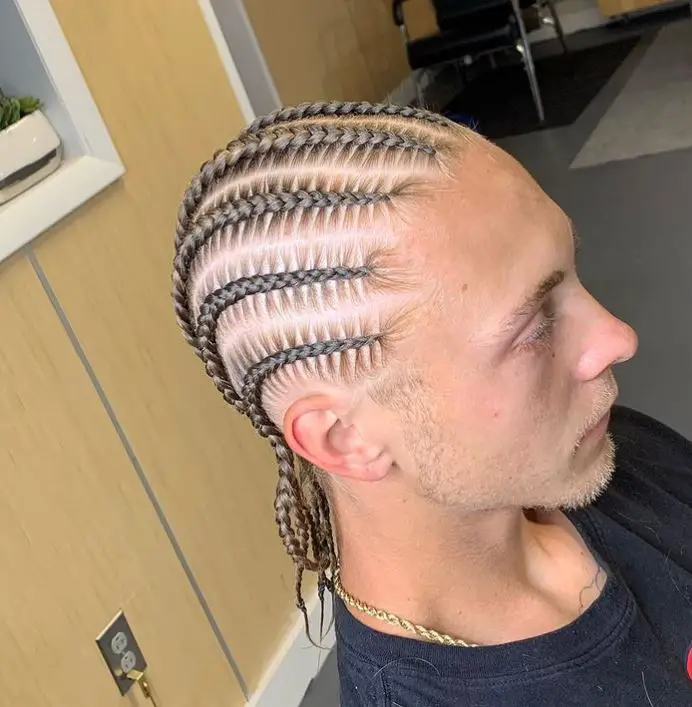 Image by @haydenbraids via Instagram
39. Small Bun Stitch Braids
Keep your stitch braids straightforward for a romantic approach. Making a small bun adds glamour and elegance to the look. It is a classic hairstyle you can rock for events, night outs, and dinner parties.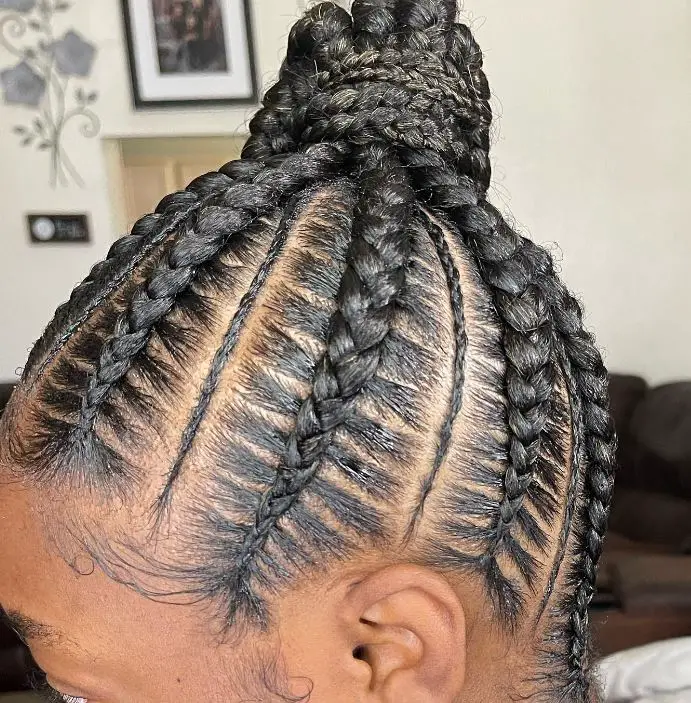 Image by @getbraidedby_jess via Instagram
40. Stitch Braids With Curved Parts
Opt for a curved line pattern instead of a straight one to give your stitch braids an unusual turn. The curves distinctively combine the look of braids with vertical and horizontal lines.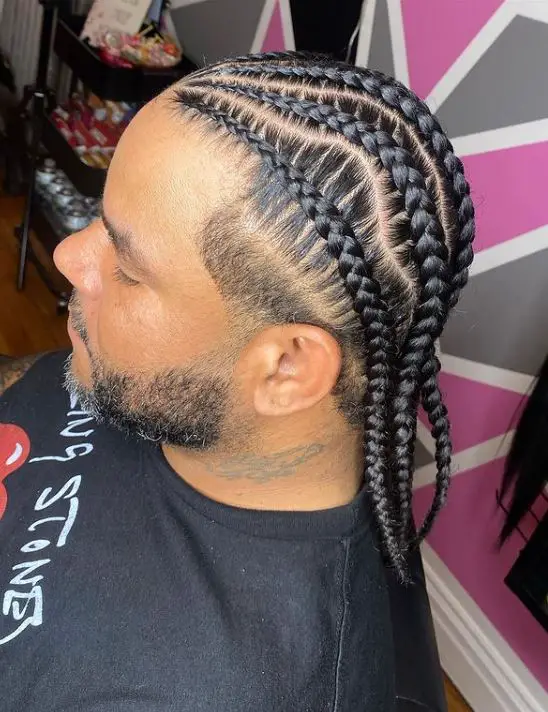 Image by @shay__styles__ via Instagram
41. Chunky Low Bun Stitch Braids
This hairstyle works with long, thick, and curly natural hair. The stylist divides the hair into large sections and braids them to the nape of the neck. The style fits any occasion.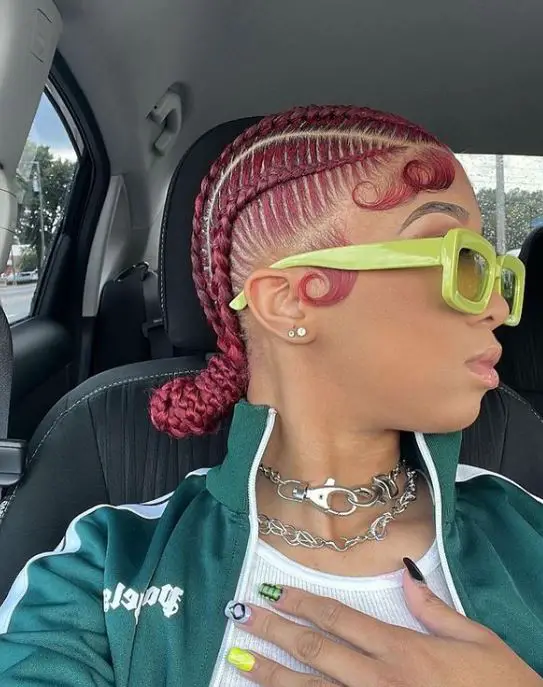 Image by @beautybytammy_ via Instagram
42. Purple Straight Backs
Purple is a color that has recently grown in popularity. The vibrant purple hue takes the straight-back braids to the next level. Creating these stitch braids involves the feed in braiding technique.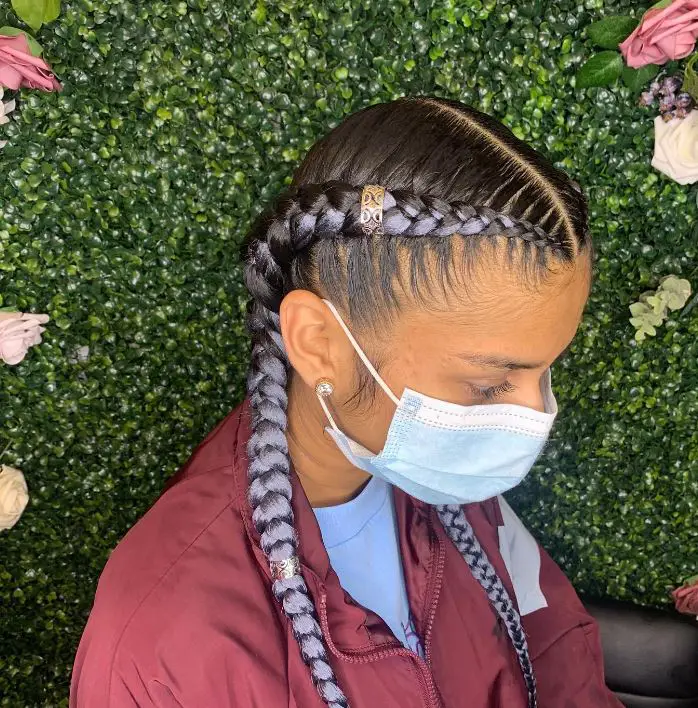 Image by @braidedbycarolina via Instagram
43. Stitch Braided Heart Design
This style requires accuracy, so you will need a skillful stylist. It adds an eccentric and flamboyant look.
The heart design is classy and adds a twist to boring regular stitch braids. It helps to create horizontal lines for a brighter look.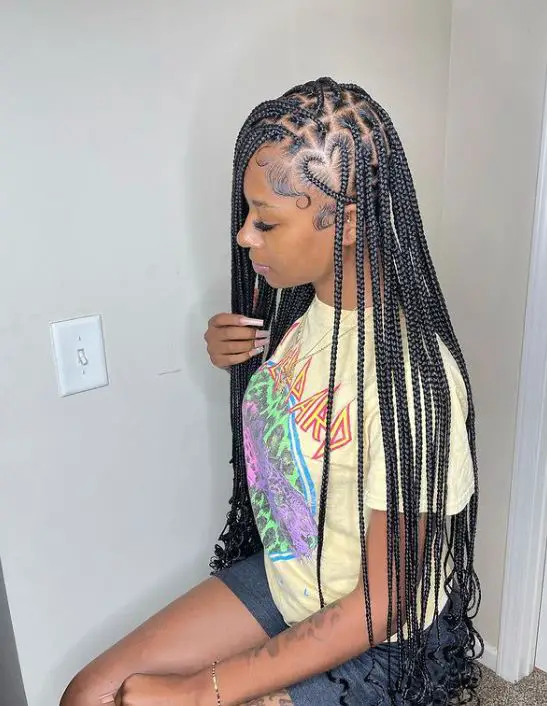 Image by @_touchedbyjae via Instagram
44. Half Up Double Bun Stitch Braids
Achieve this style by sectioning your hair into two parts. Create cornrow stitch braids and gather them into two buns. They can be messy or clean. That's your choice!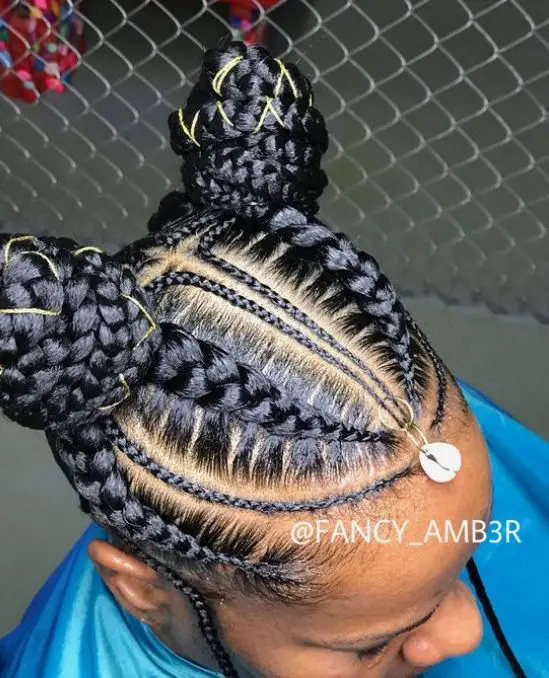 Image by @fantasia0138 via Pinterest
45. Stitch Braided Star Part
Young women love these star shapes on the parting. This hairstyle relies on precision and sharp lines for a more artistic look. Just stay away from those bold colors.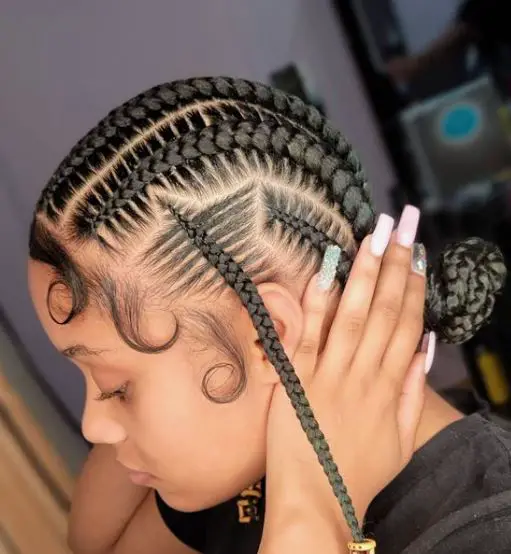 Image by @SavvyRebel via Pinterest
46. Side Swept Stitch Braids
Unlike traditional straight backs, these dramatic-sided braids are great for outgoing women. Consider using an extension to add some volume.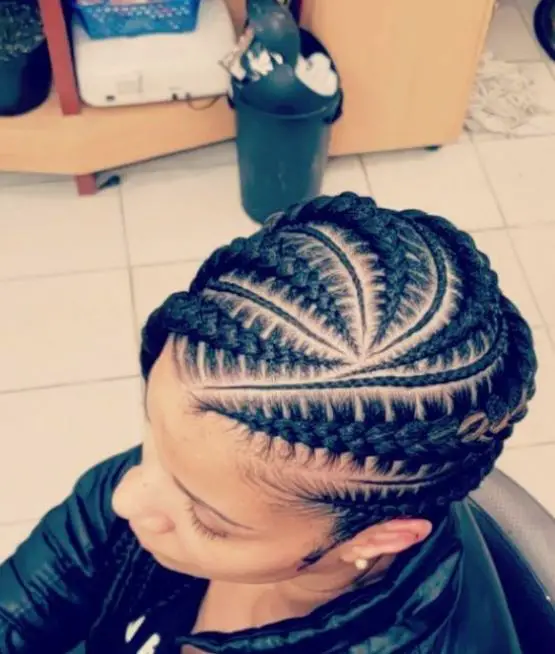 Image by @teri2552 via Pinterest
47. Double Bun Stitch Braids
Double bun stitch braids are sporty and suitable for various events. After braiding hair, split the ends of the braids into two and then wrap each to create double buns.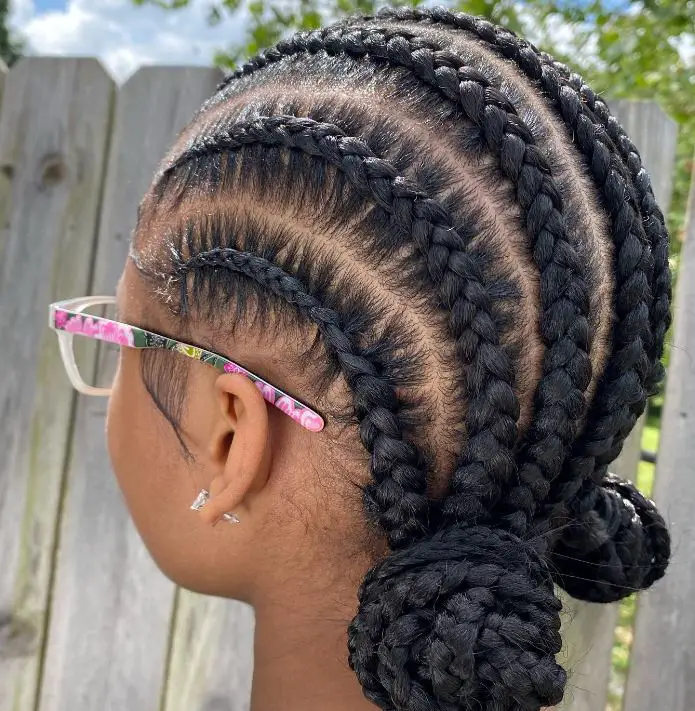 Image by @stitchedbydrea_ via Instagram
48. Curly High Bun
Lofty buns are trendy ways to wear stitch braids. The hairstyle enhances facial features by taking the hair away from your face.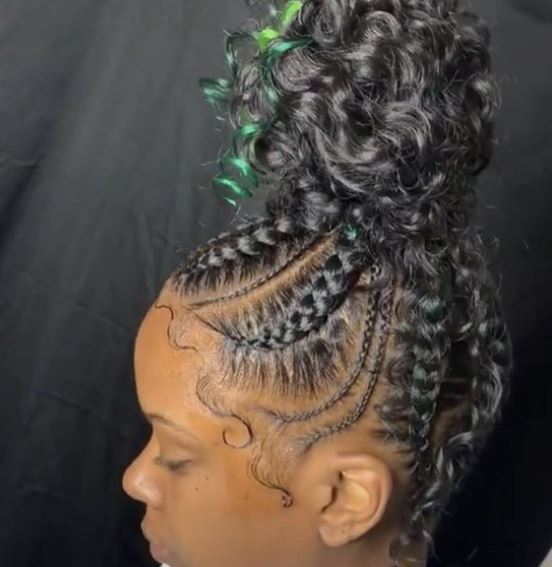 Image by @paaris18 via Pinterest
49. Half Up High Bun Stitch Braids
Want a style that provides length? This look can be pulled off by women of all ages. Go ahead and cornrow from the front towards the crown of the head.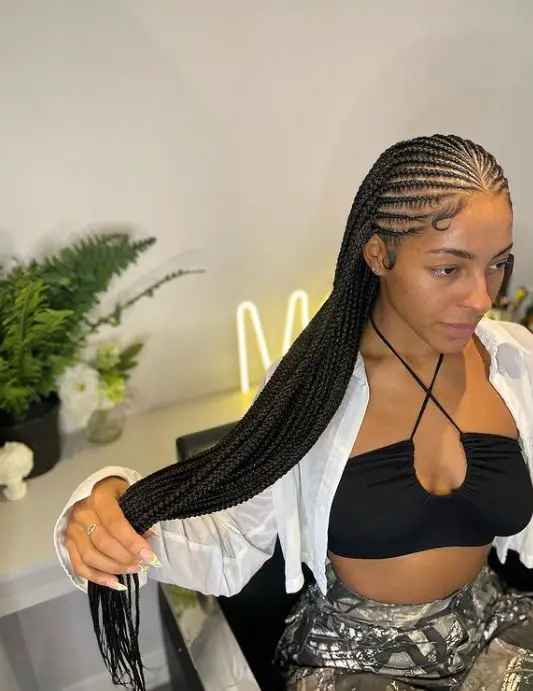 Image by @mcrbraids via Instagram
50. Double Buns With Curved Parts
This is an ideal protective style for any time of the year. The result is incredibly sleek, clean, and beautiful. Make curved partings, create braids, and set them into double buns.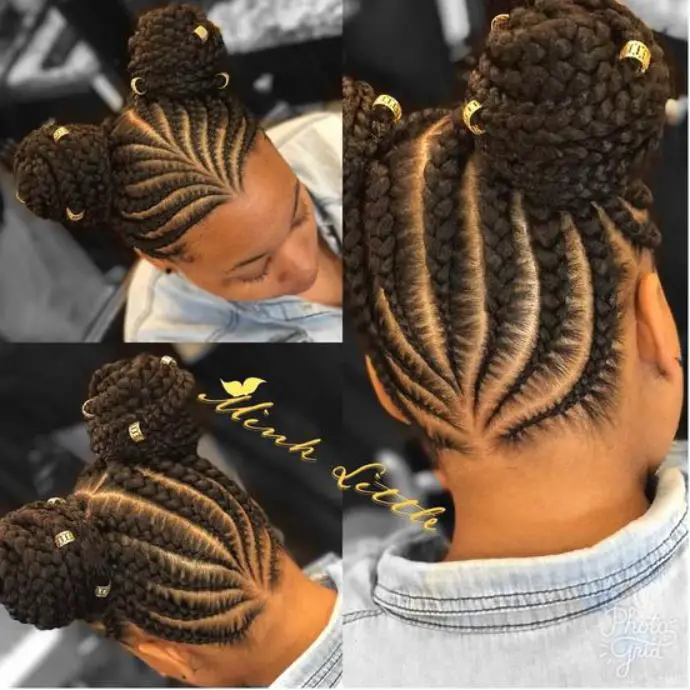 Image by @larondaellison via Pinterest
51. A Hint of Gold Stitch Braids
This is a great style for different outfits or occasions. Stitch braids with a gold appeal will do the trick for you. Make your hair stand out by adding a few touches like golden cuffs and rings.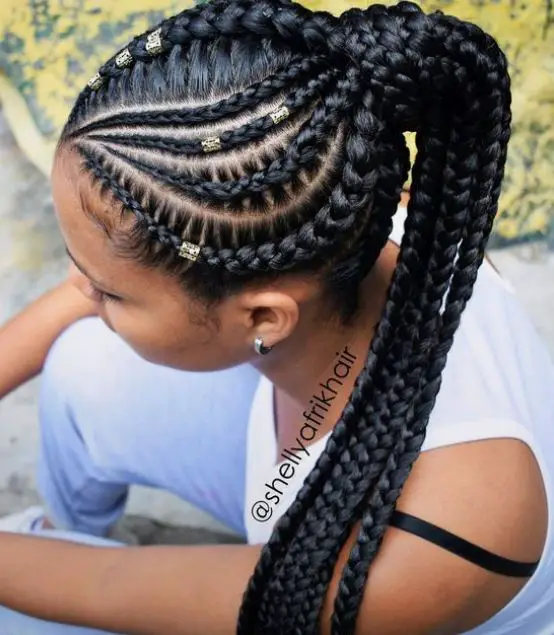 Image by @bela_vl_01 via Pinterest
52. Thick and Thin Stitch Braids
You can create this hairstyle by alternating between chunky and thin stitch braids. Adding thinner cornrow stitch braids between larger ones gives it a sporty look.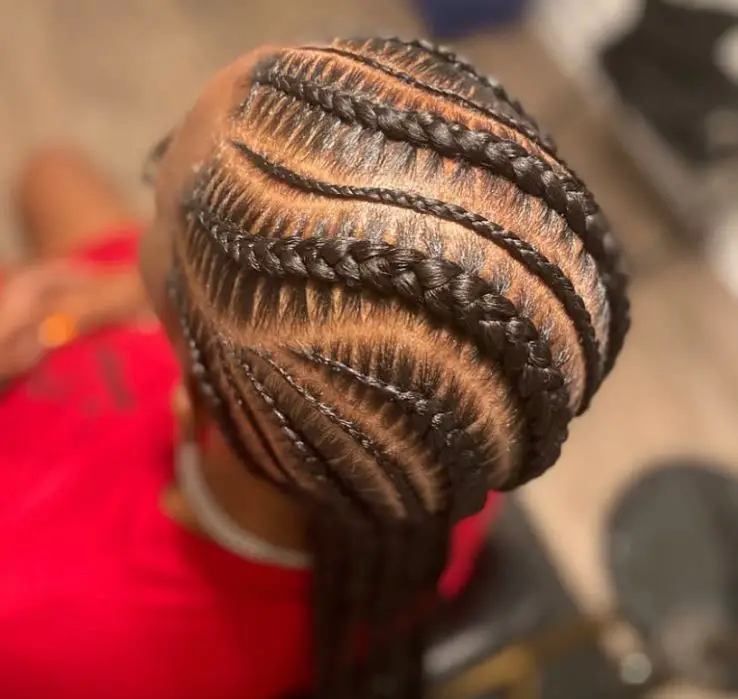 Image by @j_and_a_bbq_ via Instagram
53. Updo Ponytail Stitch Braids With Curls
This is a cool stitch braids idea for natural hair enthusiasts. You can use perm rods or flexible rods to add curls. Consider using a short weave for more defined details.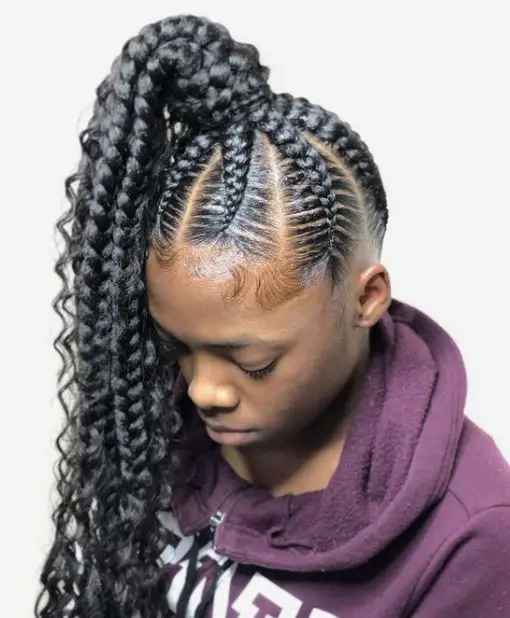 Image by @ebonysalaamnjc via Pinterest
54. Half Up Half Down Stitch Braids
This hairstyle is both relaxed and carefree. It offers the advantage of protecting the shorter hair from damage. They make you appear fierce and sleek at the same time.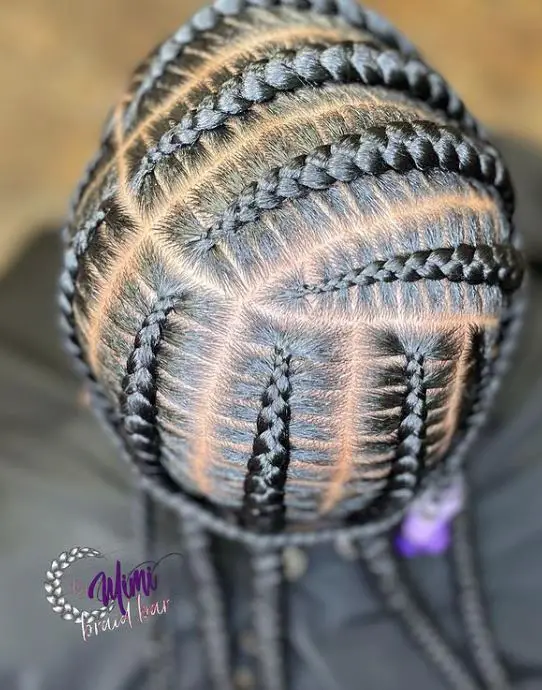 Image by @cbymimi via Instagram
55. Triangle Part Stitch Braids
Switch up the usual straight line to triangles and take your style to the next level. The pattern is not that complex, and any hairdresser can do it.
The precise parting adds more detail to your look.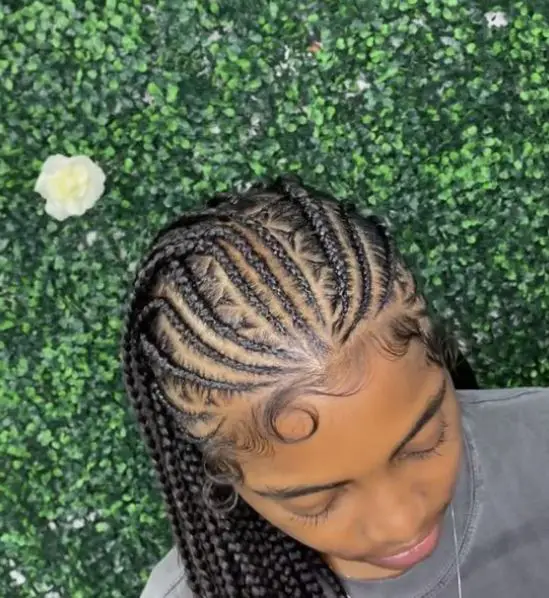 Image by @tyeshiaspikes1 via Pinterest
FAQs
What Is a Stitch Braid?
Stitch braids are created by sectioning the hair into horizontal lines. A thin line of hair is then cut out and used to braid parallel to the major one.
What's the Difference Between Stitch Braids and Traditional Cornrows?
Stitch braids require precise partings. You will have to use your fingers to create a stitch-like appearance. With traditional cornrows, you braid the hair in an underhand, upward motion to make a raised row.
How Long Do Stitch Braids Last?
Stitch braids can last anywhere between 1-2 months. The period depends on your hair texture, maintenance routine, and how fast your hair grows out.
What's the Difference Between Stitch Braids and Feed in Braids?
Stitch braid requires using your fingers to create lines and a stitch-like appearance, while feed-in braids require using your index and middle fingers. Use them to apply hair extension to your natural hair gradually.
Final Thoughts
Finding the right stitch braid idea is not as hard as you may think. The hairstyle offers a wide scope of styles to suit everyone's options. However, if you want more details, consider going to an experienced hairstylist.