The swoop ponytail hairstyle trend has been on since the 90s. This is thanks to celebrities like Ariana Grande (I call her the queen of swoop ponytails), Nicki Minaj, and TikTok. It's safe to say that swoop ponytail hairstyles will be hitting our timelines more often than not.
Swoops with a curly ponytail base or curly flowing bangs are loved by most people since it adds a fun flair to the style. I've also noticed that a great way to elevate the look of your swoop hair is by adding highlights to your hair. You can do this by adding blonde highlights or rose pink to the ponytail.
The versatility of the hairstyle is out of this world. You can always find a suitable swoop ponytail hairstyle to rock regardless of the occasion.
Still not convinced about swoop ponytail hairstyles? Here are 52 hair ideas to change your mind.
Best Swoop Ponytail Ideas For Inspiration
Swoop Ponytail with Straight Base
Swoop with straight ends is probably the most popular type of ponytail. It is also called a 'barbie ponytail' since it keeps you looking snatched like a pretty barbie doll. They are also the most popular, since compared to other types of swoop ponytail, it is the most versatile.
The straight ends allow for different styles. You can leave it straight if you like. If you have a formal event where you want to look all corporate, placing it in a bun is easy to do. Take a look at some amazing swoop ponytails with straight base and you'll understand why I love them.
This article wouldn't be complete without swoop ponytail ideas from Ariana Grande. It's almost impossible to catch Ariana with a different hairstyle. Probably because like me, she knows that a swoop hairstyle can help anyone slay regardless of the occasion.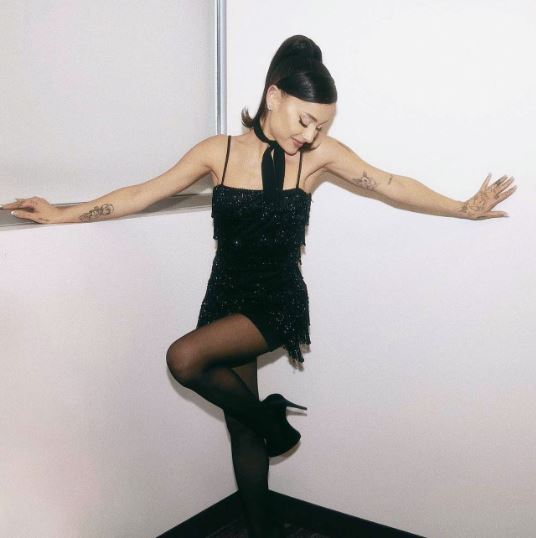 Image by @arianagrande via Instagram
Where are the baddies? This one is for you. The sleek swoop ponytail has extra long hair extensions that are just perfect.
This is not a hairstyle that you can wear on a regular. It's a style you keep on your phone until you've got a special occasion to attend.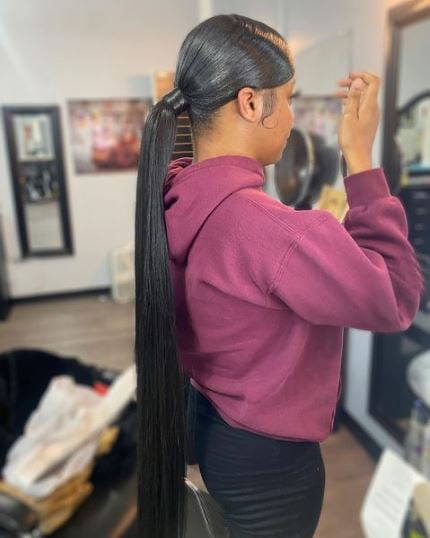 Image by @flossyluxxe_co via Instagram
Medium hair lengths not your thing? No worries. This long ponytail with straight hair at the base is perfect. The base of the ponytail is curled to perfection and the swoop bangs are swept to the back in a stylish way.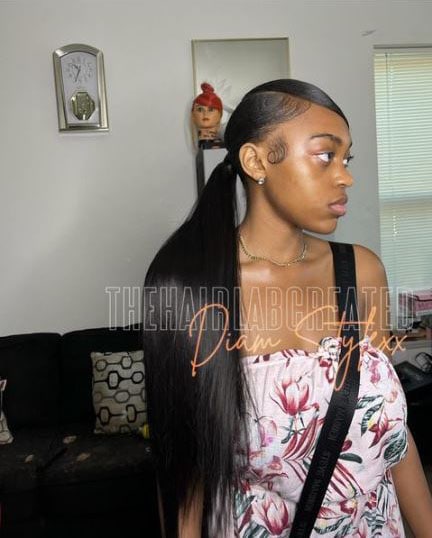 Image by @diamstylexx via Instagram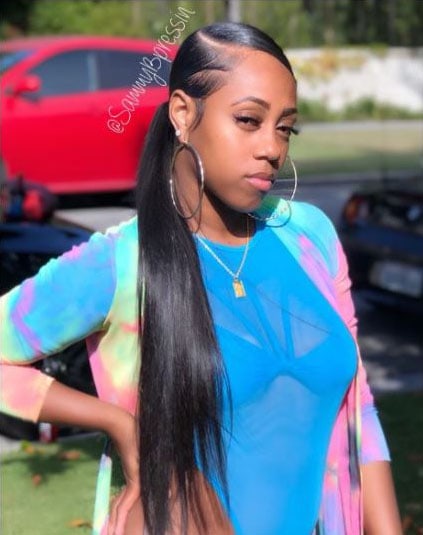 Image by @sammybpressin via Instagram
Sometimes, simple is better. The swoop ponytail has a parting at the center and the rest of the hair is placed in a ponytail that looks super precious. The low-maintenance ponytail will look awesome if paired with the right accessories.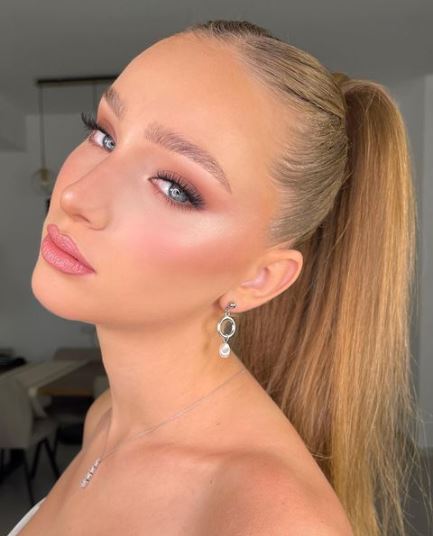 Image by @noy_azulai_makeup via Instagram
Ombre Swoop Ponytail Ideas
Ombre hair is great if you're in need of a hairstyle that goes well with most outfits. This ponytail hairdo with a curved parting has a nice ombre look of black and blonde paired with a long, straight ponytail.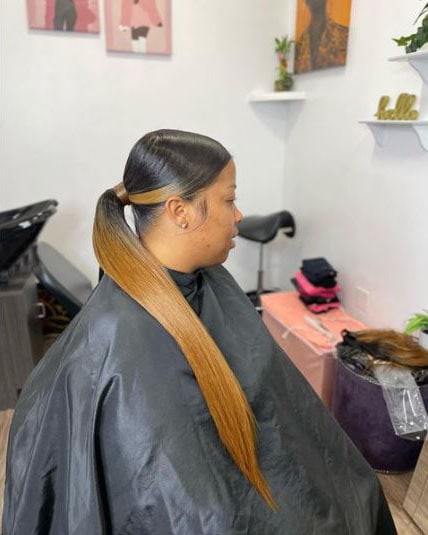 Image by @hairbyjasmine via Instagram
This swoop has a nice ombre at the base and I am obsessed with the combination. The hair is placed in a low ponytail, sleeker than ever with the black ending as honey blonde at the end. The transition of the color is just so smooth and awesome.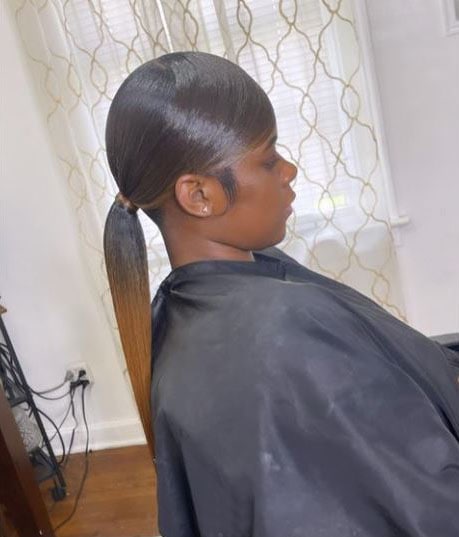 Image by @angelreneestyles via Instagram
Swoop Hairstyle With Double Ponytail
The swoop ponytail trend with double pony is popular among Instagram baddies.
It has also been seen on Ariana Grande, and Harley Quinn in Suicide Squad.
Here, Ariana dazzles with dark brown and copper double ponytail hairdo. Don't you just love everything about this look?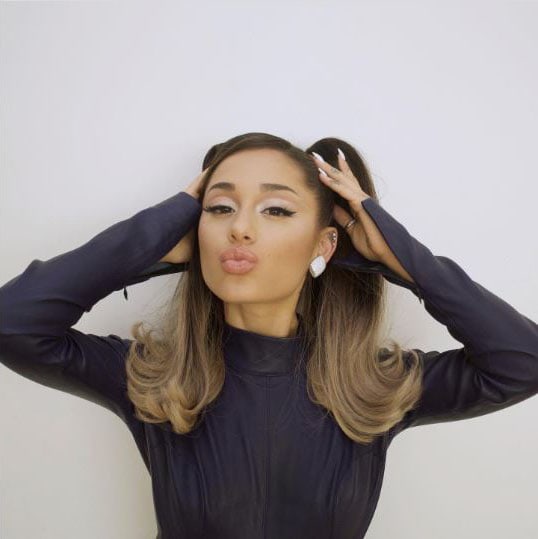 Image by @arianagrande via Instagram
Double ponytail in blonde; this is unique and pretty. The two ponytails are separated by a zigzag-shaped parting and placed in nice ponytails. You can get this hairstyle done regardless of your hair length or color.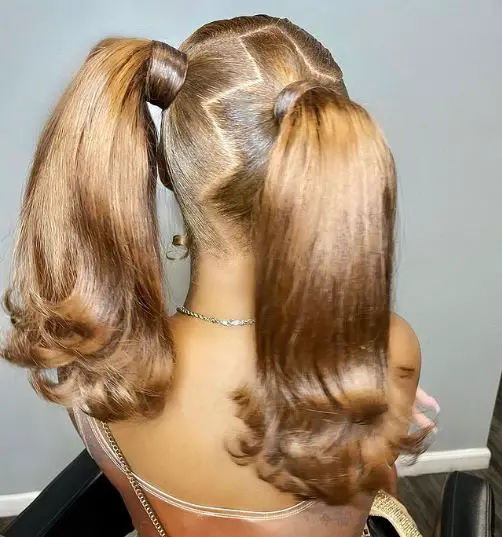 Image by @theblendboss via Instagram
High Ponytail With Blunt Cut
This swoop ponytail with a blunt cut is nothing short of stunning. It's placed high up with the swoop bang sliding back into the pony of the hair.
If you've got naturally straight and thick hair, you're at an advantage because blunt cut looks stunning on a thick mane.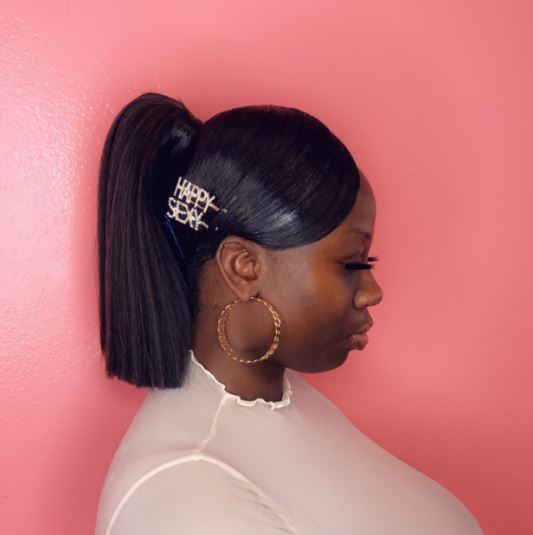 Image by @slayyybytayyy via Instagram
When you see a combination of black and red, you should know that the hairstyle will definitely be amazing.
The red hair has highlights of black at the swoop part with plain red placed at the end and in a high ponytail. This colorful swoop style is a nice way to express your fiery personality.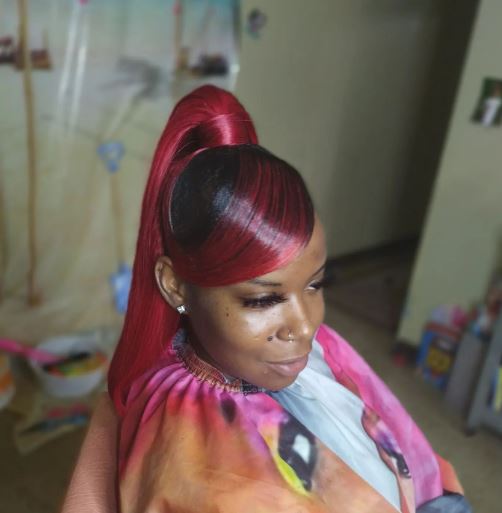 Image by @kay_fingazwaved via Instagram
High Ponytail With Swoop
Doesn't she look all glowed up? Step out looking like you got an invitation to the Met with this gorgeous blonde swoop ponytail look. The swoop has black highlights, with a few highlights on the bangs to make things uniform.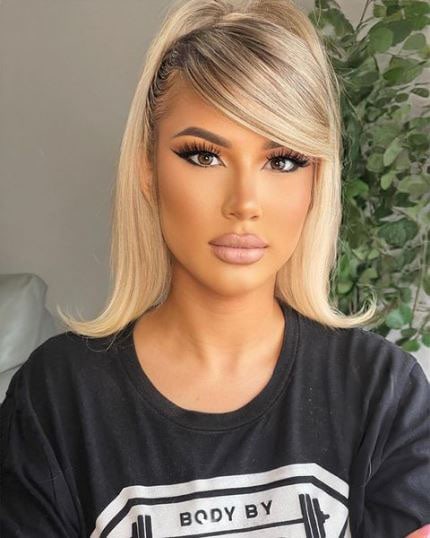 Image by @allthingsglam_byjee via Instagram
Here you've got two options of swoop ponytail hair to try out. You can decide to go with the first blonde hairdo that features swoop bangs in a high knot bun.
Or, you can go with black hair that has curly bangs and a high-up bun with its ends falling in lovely curls.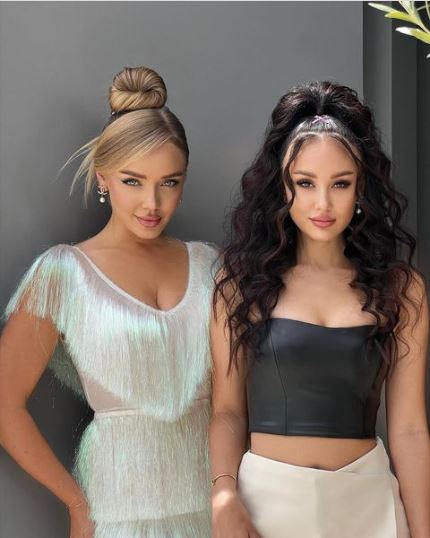 Image by @hamzahairdresser via Instagram
The edges of this black and blonde ponytail are spectacular. The swoop is perfectly laid with a gel. The shiny look is achieved by blow drying the gel to form a perfect high pony.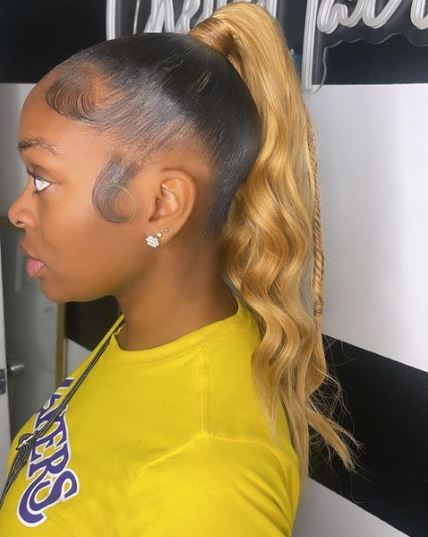 Image by @chellehairflair via Instagram
Swoop Ponytail With Buns
Swoop ponytail in buns is a personal favorite, especially for formal and official events. It gives you a chic and classy look.
The queen of the KUWTK show (now called "The Kardashians" on Hulu- PS you're welcome), Kim Kardashian dazzles in the 2022 met gala in this Marilyn Monroes dress.
What gives the whole look that extra charm is the matching blonde swoop in a bun.
Don't you just love the elegance of the whole appearance? Now imagine this outfit with any other hair type. Yeah, you've seen it right, it definitely won't look this good.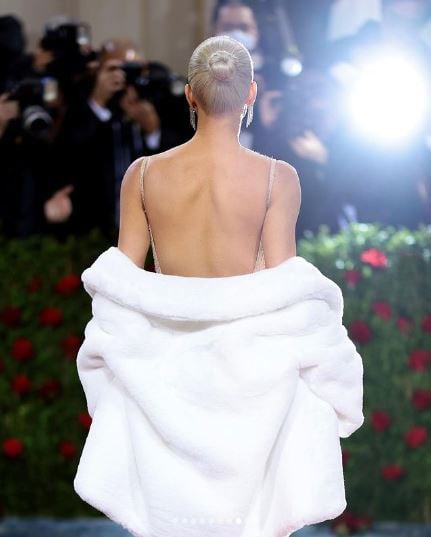 Image by @kimkardashian via Instagram
Another charming hairdo with a low knot bun this time. Play 'Take me to church' by Hozier because this hairstyle is giving me the wedding jingles.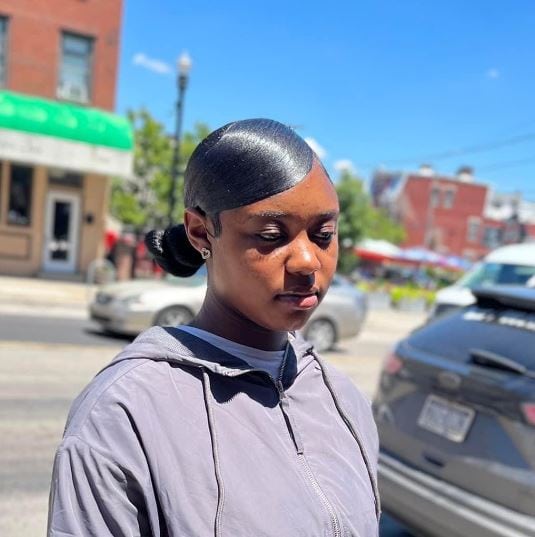 Image by @smfhairstudio_ via Instagram
This swoop ponytail with a braided bun is a classic. The waves of the swoop bang are on another level. The swoop bang is tucked into the braided bun at the back of the hair creating a dramatic swoop.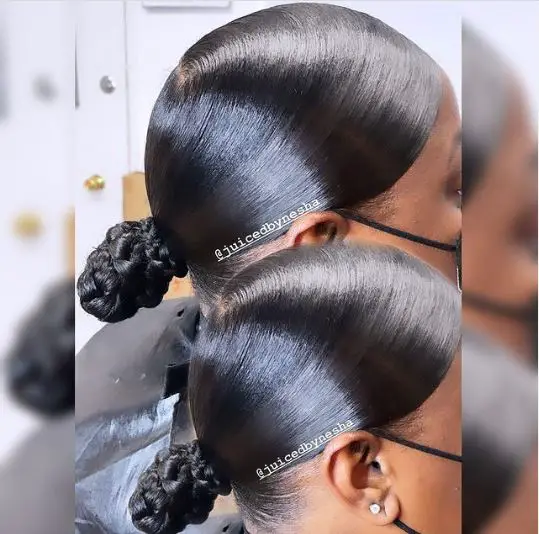 Image by @juicedbynesha via Instagram
In a world where curly edges are taking over, you can do you by getting simple, nicely styled edges without curls. What elevates the whole appearance is the neat bun the hair is styled into.
A swoop pony in buns looks perfect on both corporate and casual outfits. You can decide to get multiple buns to add a fun twist to your polished look.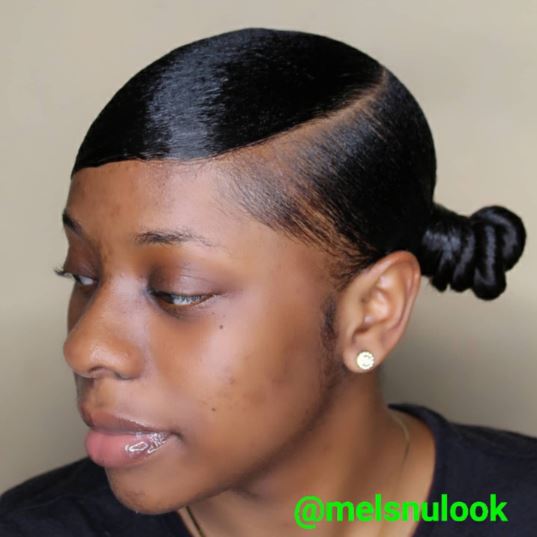 Image by @melsnulook via Instagram
Straight black swoop ponytail in a knot bun. Turn up looking like a boss babe in this.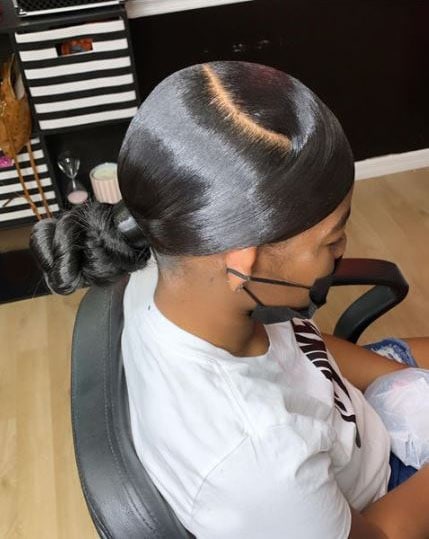 Image by @kazaislayedit via Instagram
Placing your hair in a loose bun is a great way to rock buns casually. This look is inspired by Megan the stallion from the cover of her hit song with Cardi B 'WAP'. This has a slight twist to it by adding slight waves on the bangs.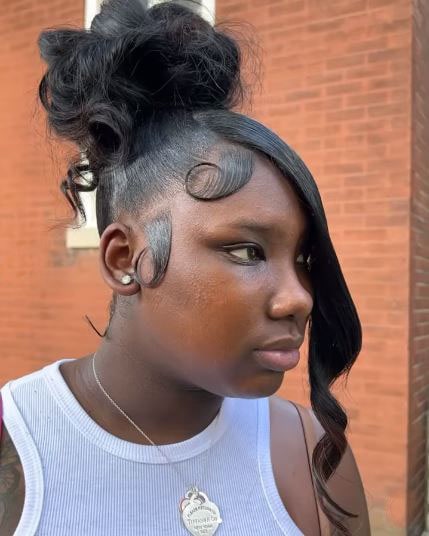 Image by @kayy3z via Instagram
Swoop With Low Ponytail
I really don't know what I'm more in love with. Is it the amazing heart-shaped parting of the hairstyle, the shiny slicked ponytail, or the low bun with plaited ends?
I guess everything about the hairstyle just comes together to make my heart beat faster just thinking about recreating it.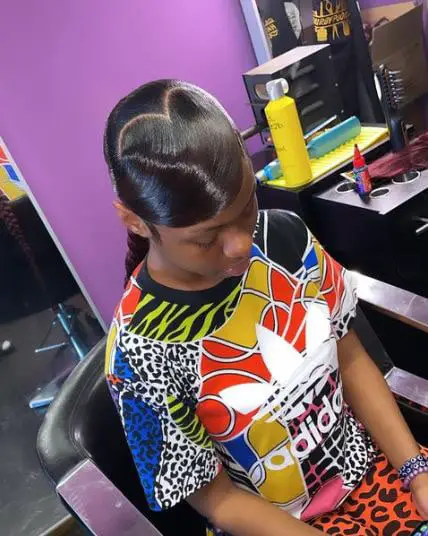 Image by @hairbypookah via Instagram
Not sure if it's the dashing look, the length, or the red/burnt orange color of the hair, but this hairdo reminds me of Rapunzel.
The extra length of the hair is capable of making people jealous. No worries if your hair is not as long as this, you can achieve the same look by using hair extensions.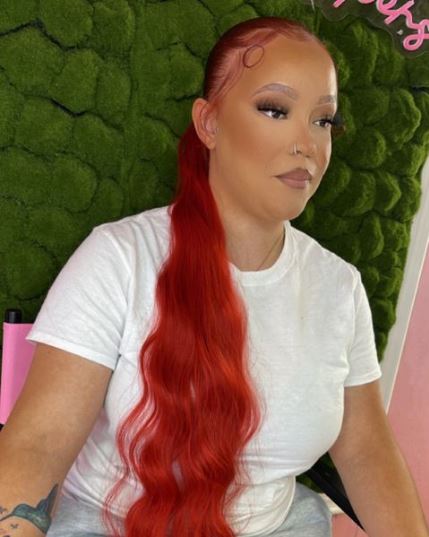 Image by @sculptedbylove via Instagram
It's a well-known fact that blondes are noticed, but redheads are never forgotten. So if you would like to leave an impression that's gonna last, you should go for this red hair with slight waves at the end for a classic look.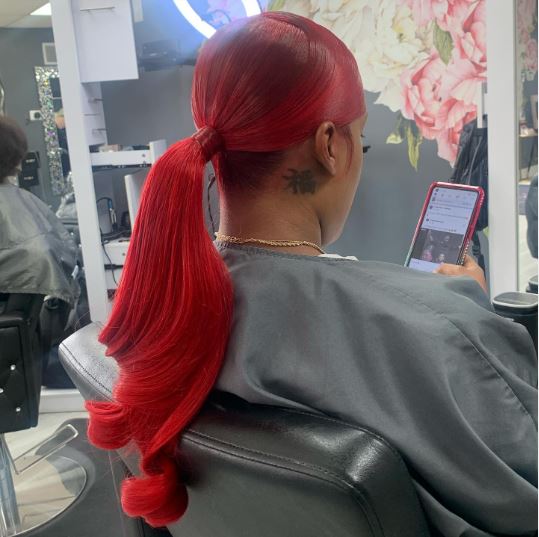 Image by @brown_npretty via Instagram
It's impossible to look anything less than classy and refined with black hair. This low ponytail hair is even better due to its slight brown highlights at the front.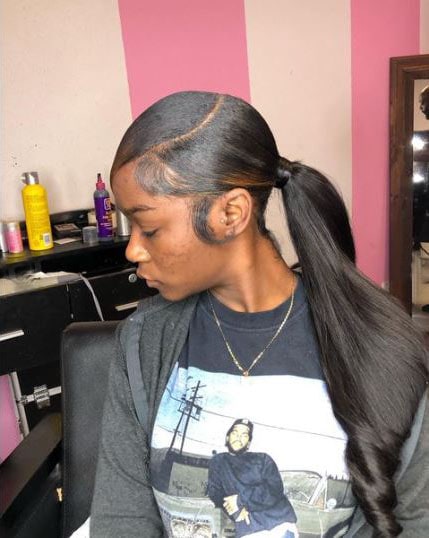 Image by @snatchedhair__ via Instagram
The edges on this style have a barbie girl vibe. A lovely curved parting has been done here, showing the neat scalp in all its glory. The swoop goes from the front to the back part of the hair, placing the pony low and in braids.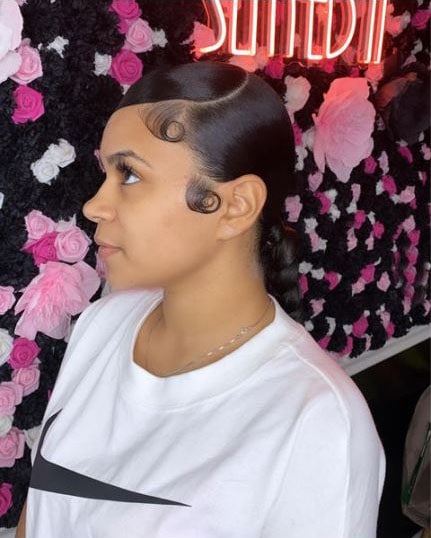 Image by @kazaislayedit via Instagram
Haven't you heard? Orange is the new black. You can stimulate a jarring effect on the crowd as you stun with your orange swoop.
With just the right length to create the "wow" factor, and amazing black and orange highlights in the swoop part, this style is the bomb.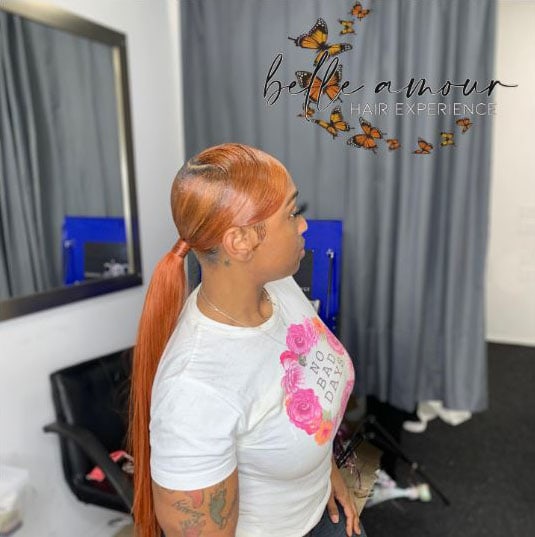 Image by @belle.amourhair via Instagram
When it comes to swoop hair, the parting can be used to form a pattern. Here, the parting is made in a side V-pattern that is both creative and beautiful.
The edges are laid neatly, and the black hair ends via an ombre into amazing maroon hair that you can't help but love.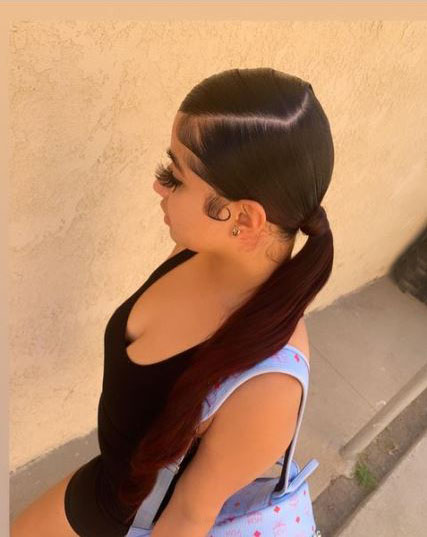 Image by @hairbykiyaah via Instagram
Black is classy, and wearing black or having black hair can help you make an amazing fashion statement. The swoop ponytail hair is placed in a low ponytail with long and slightly wavy hair at the end. This hairstyle suits most face shapes for a super attractive look.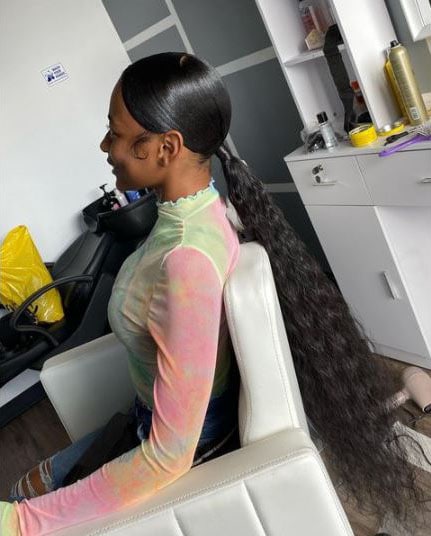 Image by @jaschair3.0 via Instagram
Side Weave Ponytail
Need a polished and refined hairstyle? Here you go. This gorgeous hair features a single braid at the sides with the hair placed in a slightly high ponytail. The ponytail is blonde creating an amazing contrast with the remaining black swoop part of the hair.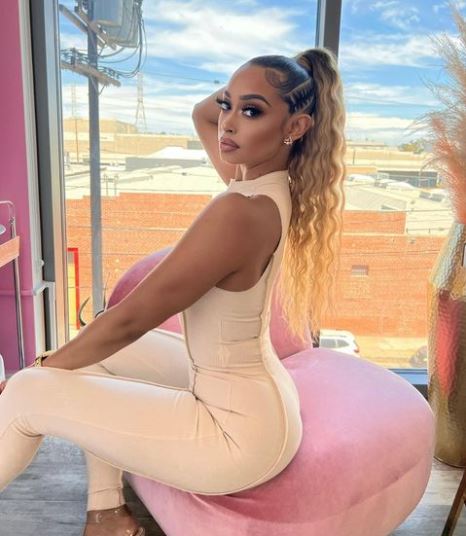 Image by @ashleymariie__ via Instagram
Swoop ponytails with side braids are becoming a trend. This features baby hairs that are curled to perfection with a single feed-in braid at the side of the hair. The swoop ends in a curly ponytail that completes the look.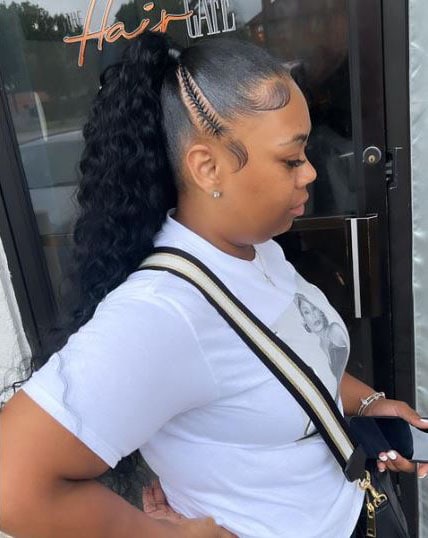 Image by @hairstylesby_raven via Instagram
This is a swoop ponytail style you can rock with your natural hair. The swoop part is done with natural hair. It has 2 straight-back braids and one feed-in braid at the side.
A bubble ponytail extension is attached to the knot of the hair to complete the look.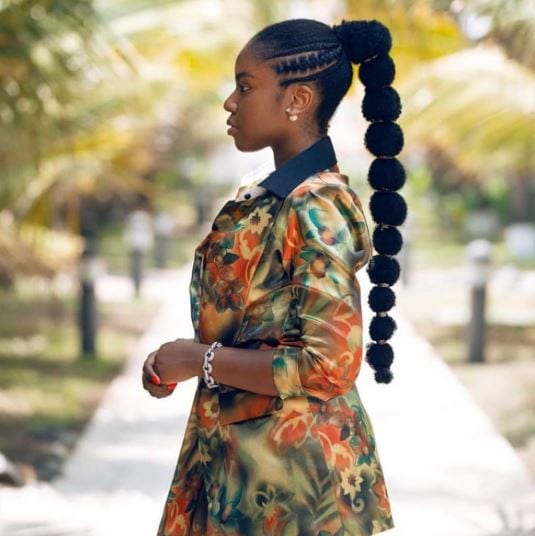 Image by @lillys_hairextensions via Instagram
For a dramatic and statement-making look, go for a very high ponytail like this one. The edges are styled in simple curls with a single feed-in braid at the sides.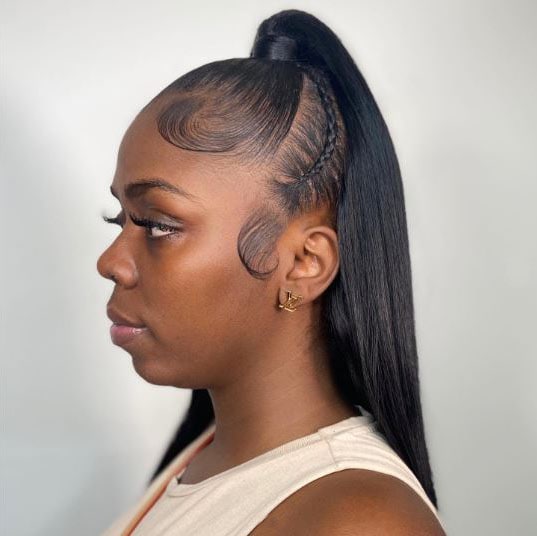 Image by @sheezifancy via Instagram
Swoop Ponytail With Curly Ends
Curly hair has a way of keeping you in fun mode. The ponytail here is placed in a low bun with amazing curls at the end. This is a nice hairstyle that you can rock to both day and night events, while turning heads in the process.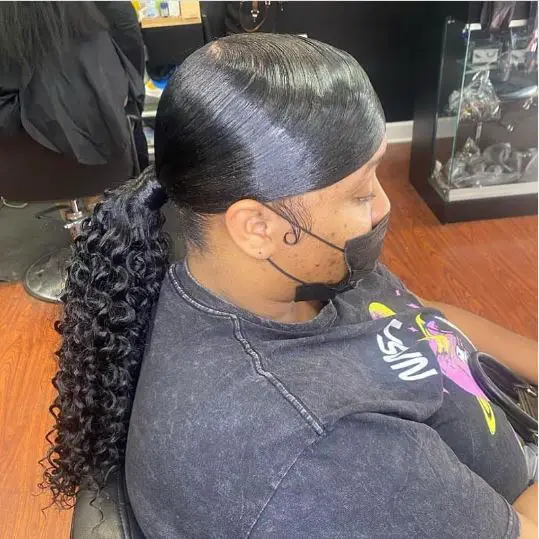 Image by @jrochair_ via Instagram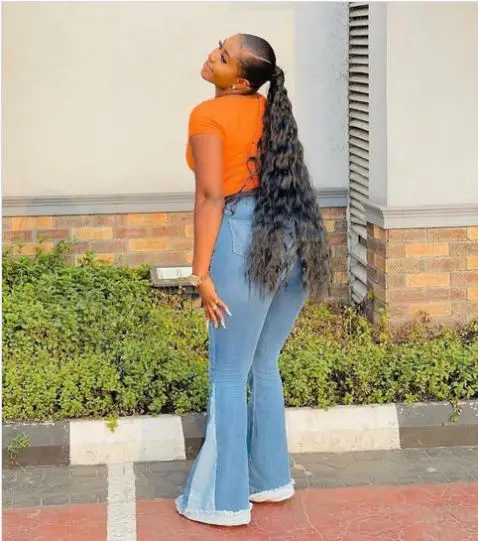 Image by @hbn_ponytails via Instagram
This style has a slight twist that I'm in love with. It has straight ends with slight curls in the pony. If you find it hard to choose between straight or curly ends for your swoop hairstyle, you should get both done.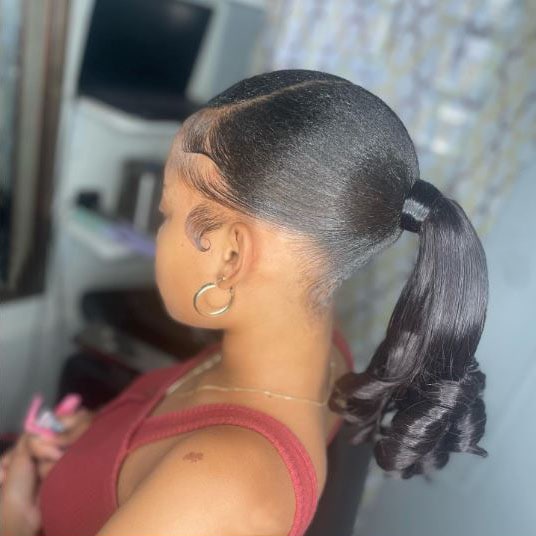 Image by @thehairlairsalon via Instagram
Wild curls, Yess!! The curls of this sleek ponytail are just amazing. If you've got natural, curly hair, you can try this hairstyle. You'll need to do a lot of straightening to get the swoop part but after that, your wild curls will handle the rest and help you achieve this look.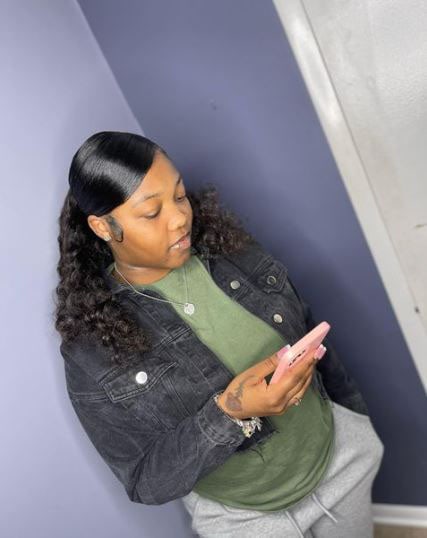 Image by @jkbeautebar via Instagram
Black and blonde combined always turn out beautiful. Add wavy hair to the mix and you've succeeded in creating magic.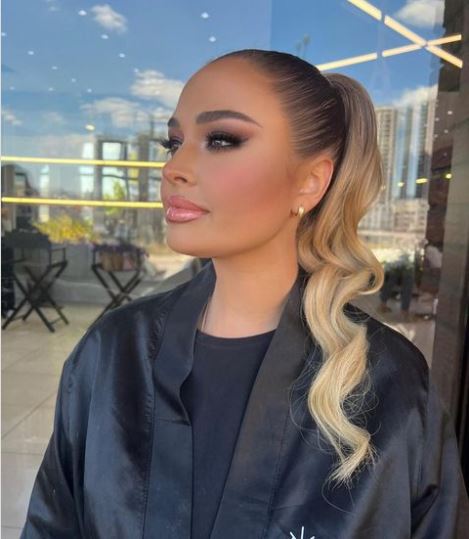 Image by @beatrashehu and studiogoddess_ via Instagram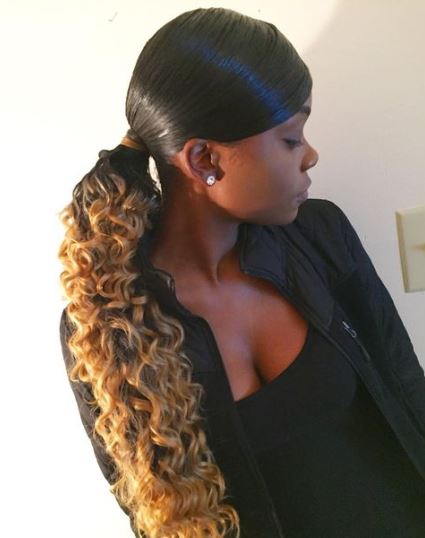 Image by @finessedyourhair via Instagram
Blonde + curls, you're in for maximum fun. So get ready for a fun-filled summer by getting this swoop hairstyle with long curls.
You can decide to get shorter extensions depending on your desired look.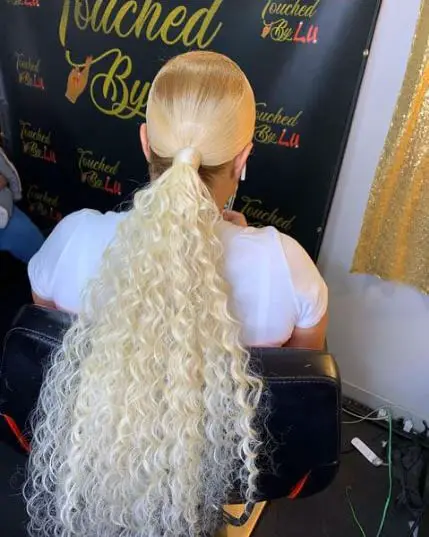 Image by @touchedbylu via Instagram
The style of this swoop ponytail is top-notch. The parting is close to the center, letting the swoop bangs flow forward with its soft curls. The silky ponytail is slightly high and ends in soft curls that give the hairdo a more natural look.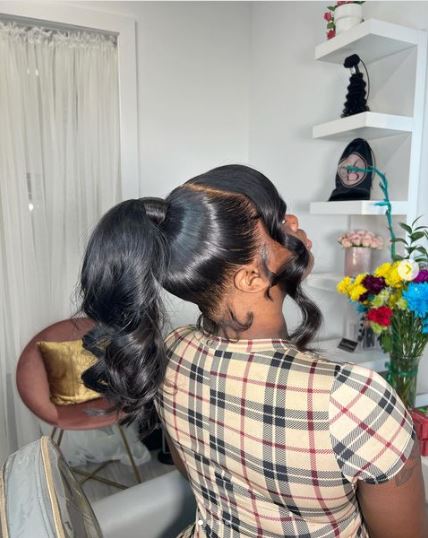 Image by @asiakendra via Instagram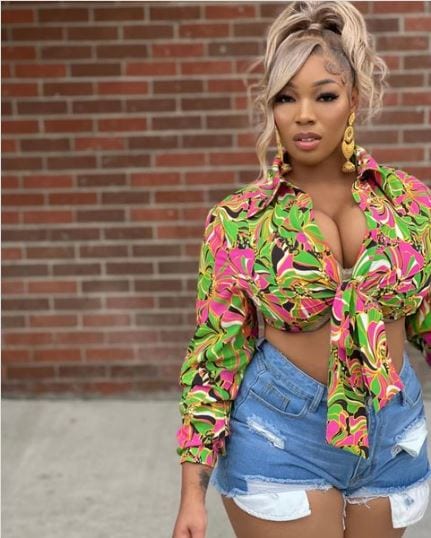 Image by @hairbynbbeauty_ via Instagram
Swoop ponytails always look great. You can get a simple swoop hairstyle with slight curls at the ponytail base for a charming look.
Swoop ponytail with curls is popular among girls because it has a way of making you look cute and cool at the same time.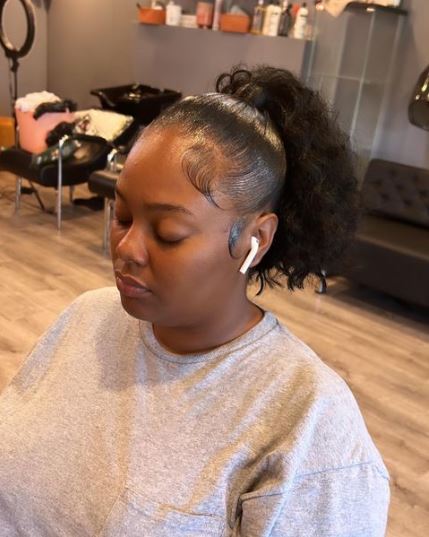 Image by @hairstylesby_raven via Instagram
Cornrows Swoop Ponytail Ideas
Weave ponytail is unique and stunning. Braiding your hair in place of the swoop of the usual hairstyles is a nice way to get a protective hairstyle done. You can add the swoop part at the back, or not. Regardless, your hair is sure to turn out pretty.
These feature feed in braids at the front. I love the nice color combination of the ponytail. It allows the beauty of the weave to appear better due to the contrast between the base color and the added highlights.
Image by @gordee_braider via Instagram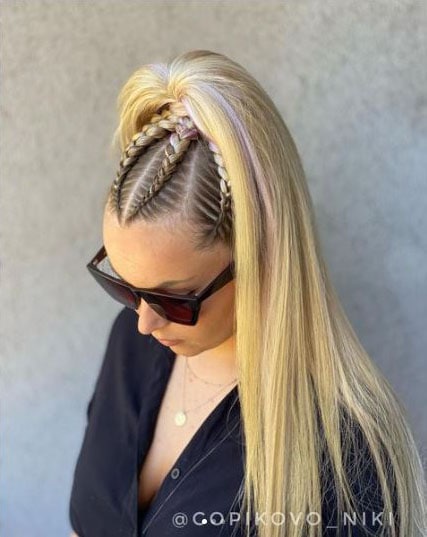 Image by @copikovo_niki via Instagram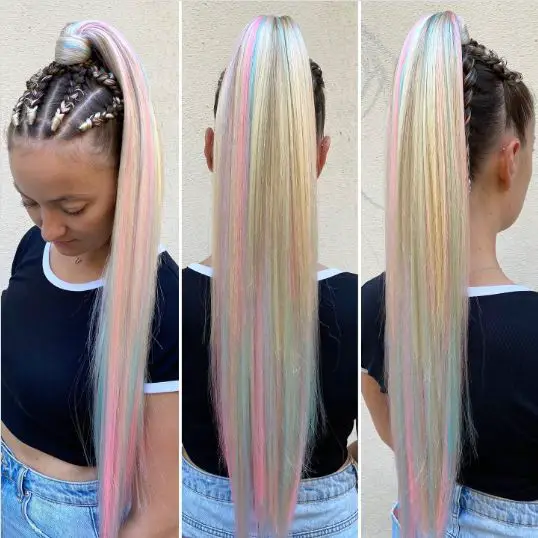 Image by @maresovamonika via Instagram
This ponytail with braids in front is everything you would want and more to look good for whatever occasion you attend. The hair has 3 shades of ombre, starting with dark brown, and light brown and ending in copper tips.
It has 3 straight back braids at the front, to show that you're not just a plain Jane, but have an adventurous side too.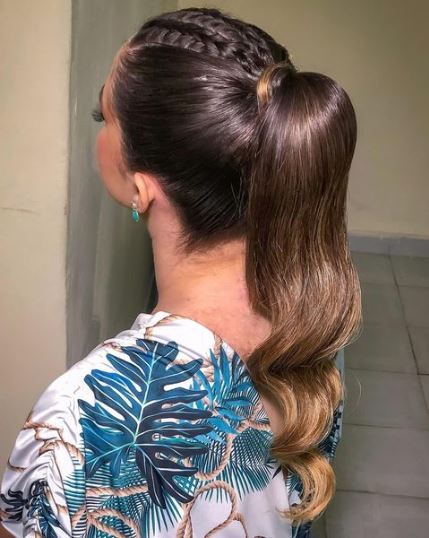 Image by @kamilaribeiro_makeup via Instagram
Braided Ponytail Base
Want to get noticed as you go about your day? Then you should get this hair done, extra length and all. It has prominent edges and a slick swoop that has a nice glow to it.
The high ponytail is braided all through, to prevent the extra long hair from flying around. You can switch things up by adding highlights of different colors.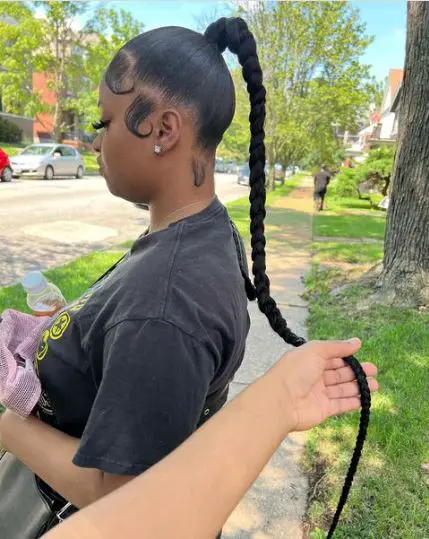 Image by @kayy3z via Instagram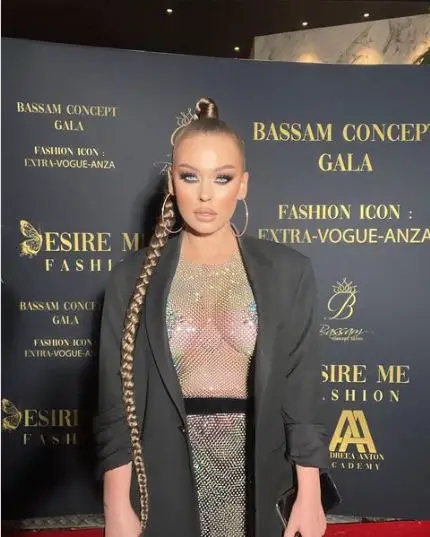 Image by @misha.is.me via Instagram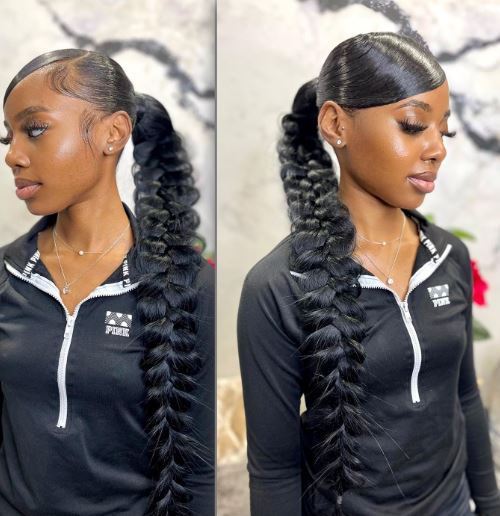 Image by @londonlaidit via Instagram
Braids and Bubbles
The creativity of this high ponytail hairstyle is up there. The style looks like it has been done by a professional. It features a nice simple swoop. All the magic of this hairdo takes place at the ponytail base. The base starts with complex braids, and is then tied into a single bubble which ends in slight curls.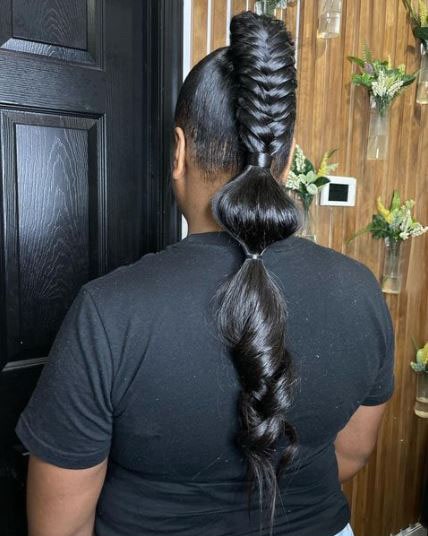 Image by @hairbyameche via Instagram
Swoop Ponytail For Natural Hair
If you've got natural hair, you won't be left out. You can get a swoop ponytail hairstyle too. And yes, it's going to look lovely. This charming hairdo looks comfortable and easy to rock. A small twist section is made at the front of the hair to look more stylish.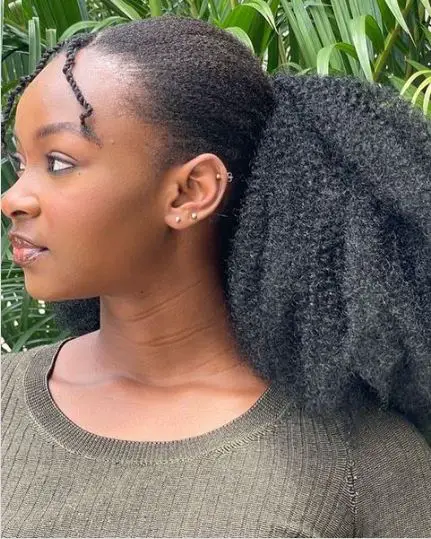 Image by @lillys_hairextensions via Instagram
Swoop Ponytail Hairstyle With Double Bangs
Wavy bangs like these serve to add dimension to your face and help you create that flawless look.
You can achieve an amazing look with bangs regardless of your hair length. It looks especially great in medium and long hair. If you have short hair, opt for a fringe instead.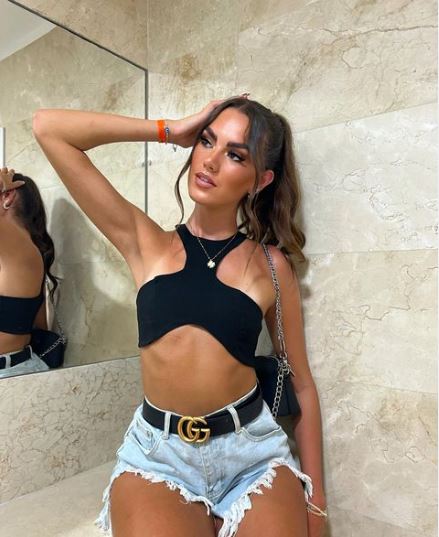 Image by @orlabrain_ via Instagram
Swoop Ponytail FAQs
How Long Does A Swoop Ponytail Last?
Depending on your maintenance routine, your swoop ponytail should last for at least 2 weeks. To help your swoop ponytail last longer, use a hair band to tie the hair and keep it in place when you sleep. Also, pin the ponytail part to prevent it from tangling while you sleep.
Does Wearing a Ponytail Damage The Hair?
Swoop ponytails can damage your hair if it is done too tightly or if you keep it on for too long. To avoid this, try a less hair-straining hairstyle afterwards to allow your hair to relax.
Does The Position Of Your Ponytail Affect The Comfort Level Of The Hair?
Yes, it does. Ponytails at the center are more likely to disturb your sleep when compared to a low ponytail or very high ponytail.
What Face Shape Does Swoop Ponytail Look Best On?
The swoop ponytail is a versatile hairstyle that looks great on everyone, regardless of face shape. Just ensure that you get your swoop hair done by an experienced stylist for the best results.