Tribal braids are so fashionable and trendy right now. The tribal braids with cornrows and beads are my favorite. They are also favored by tons of customers and braid frequenters. Cornrows tribal braids hairstyles have been hitting my Instagram timeline quite frequently.
Despite tribal braids with cornrows and beads being the most popular, the most convenient tribal braids are the jumbo braids with how easy they are to create and maintain.
To help you select the dopest tribal braids to keep you looking all stylish and elegant, here is a list of 62 tribal braids hairstyles for inspiration.
62 Best Tribal Braids Hairstyles
1. Long Complex Half Cornrow Tribal braid
These neat honey blonde tribal braids have a lot going on, with the heart on one side and criss-cross on the other.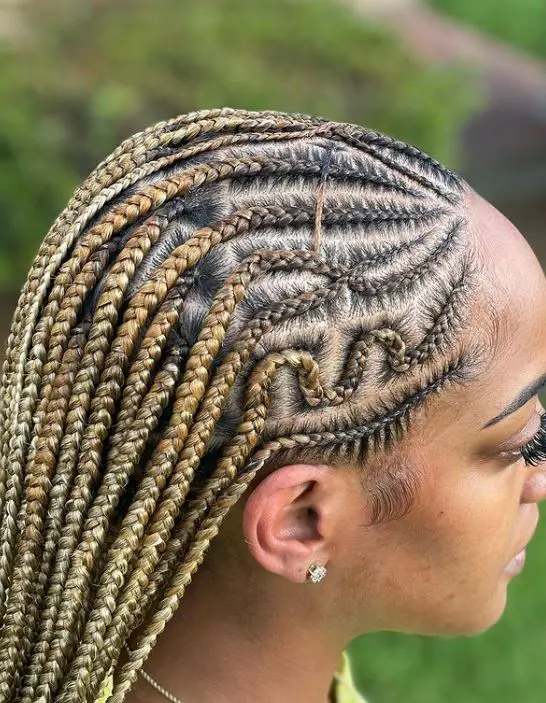 Image by @iamcreation_of_beautyyy via Instagram
2. Back 12 Stitch braids
This will surely make a statement with its length, the feed-in tribal braids are neat and made to perfection, giving an overall clean and classy appearance despite the extra length.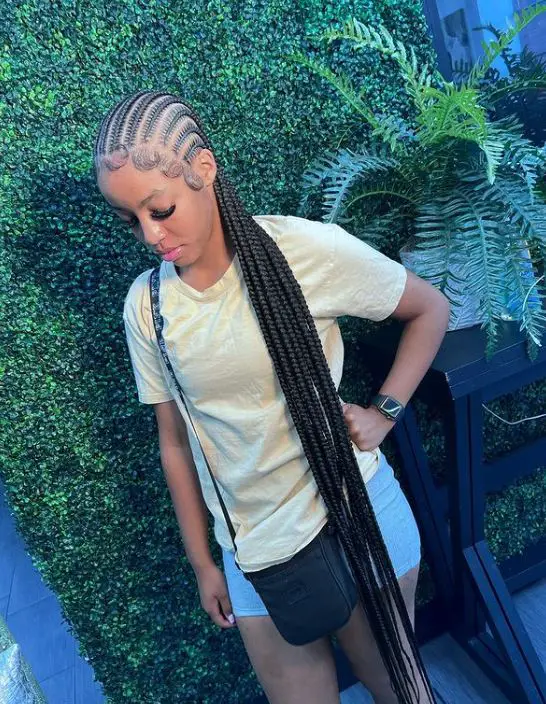 Image by @hairbydemyaa via Instagram
3. Small Tribal Braids
These stunning thigh-length Fulani tribal braids have a simple pyramid outline at the center, the 2-step nature of the braids is sure to make them more comfortable.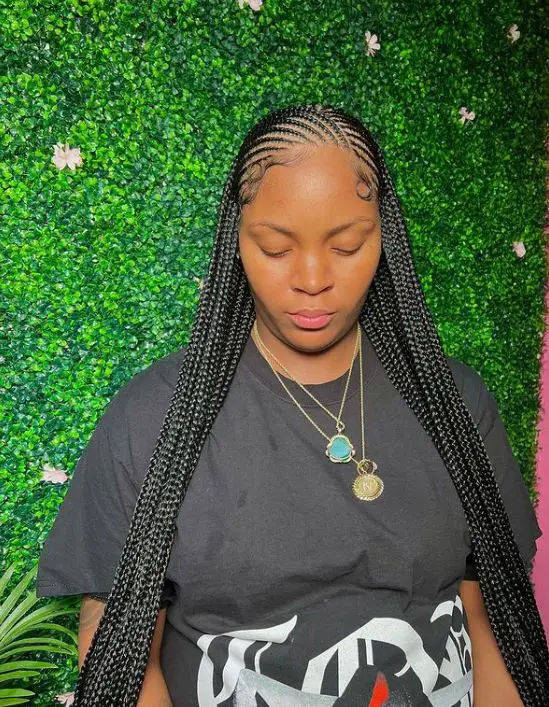 Image by @_queennyah via Instagram
4. 2 Layered Tribal Braids
Middle part tribal braids are loved because they are breathable and comfy. These Fulani braids have a middle parting with 2 layers that will enhance the balance of the style.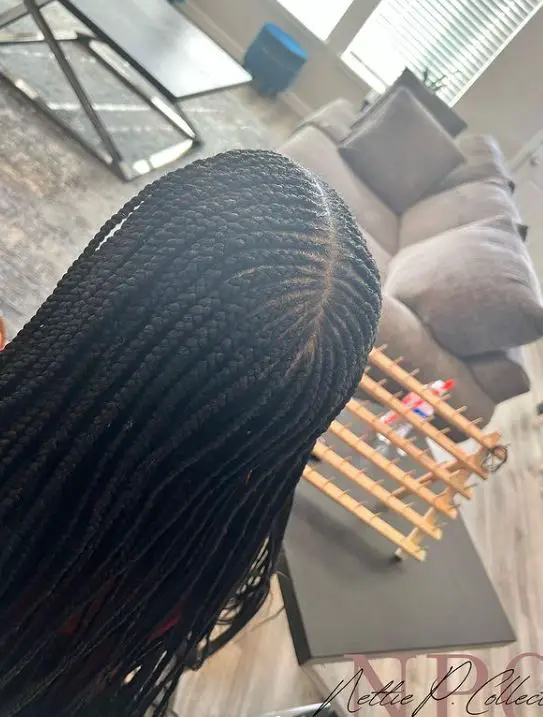 Image by @thenettiepcollection via Instagram
5. Knotless Jumbo Tribal Braids
Let's give it up for uniqueness... this hairstyle is simple yet outstanding with the added caramel blonde extensions that make the whole look pop.
Image by @kerri_braids via Instagram
6. Straight Back Cornrows
The blend of honey blonde and black here is creative. The love at the side shows the expertise of this braider and elevates the look completely.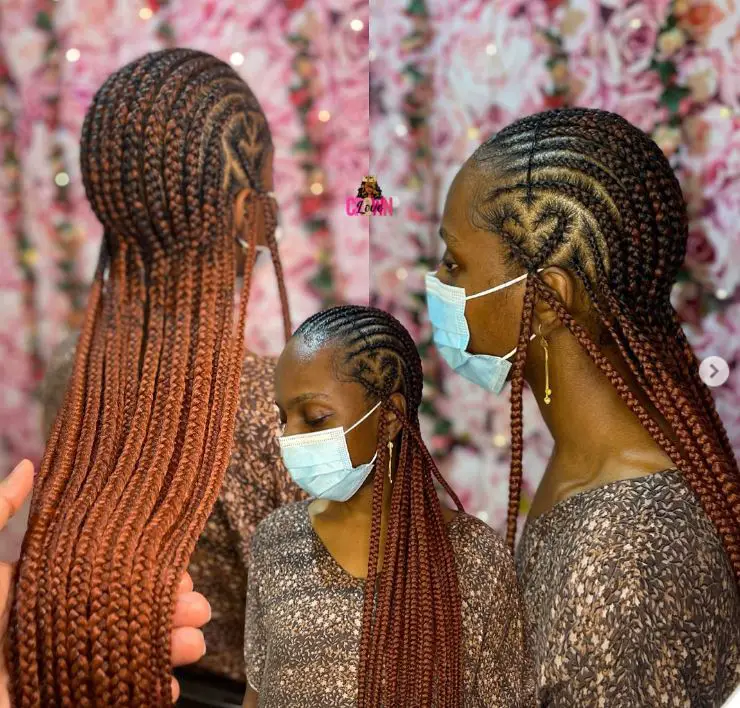 Image by @crownlovebysofiya via Instagram
7. Wavy Cornrow braids hairstyles
Tons of people love Fulani braids. What's not to love about them? This is a wavy braid with cornrows in the front section and box braids behind.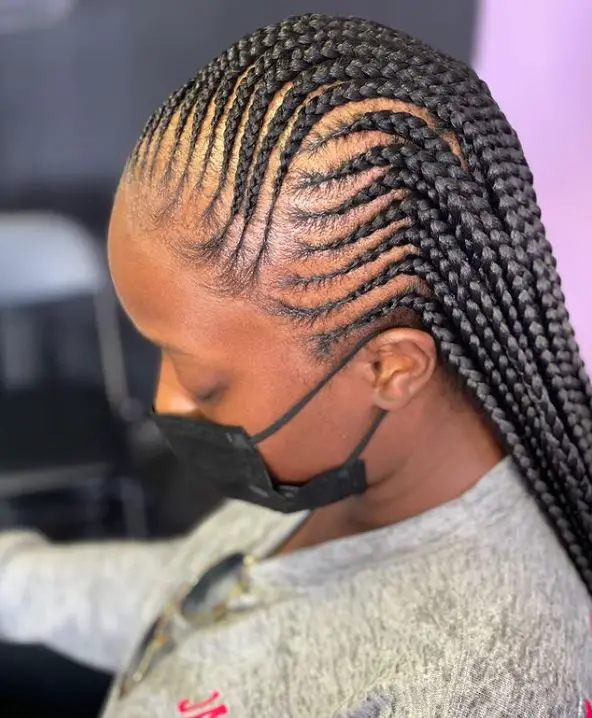 Image by @braidsbylexii via Instagram
8. Short Knotless braids with beads
Glass beads at the tip of this simple knotless braid style are giving a fun vibe and I'm all about it. Get this done to spice up your look a bit.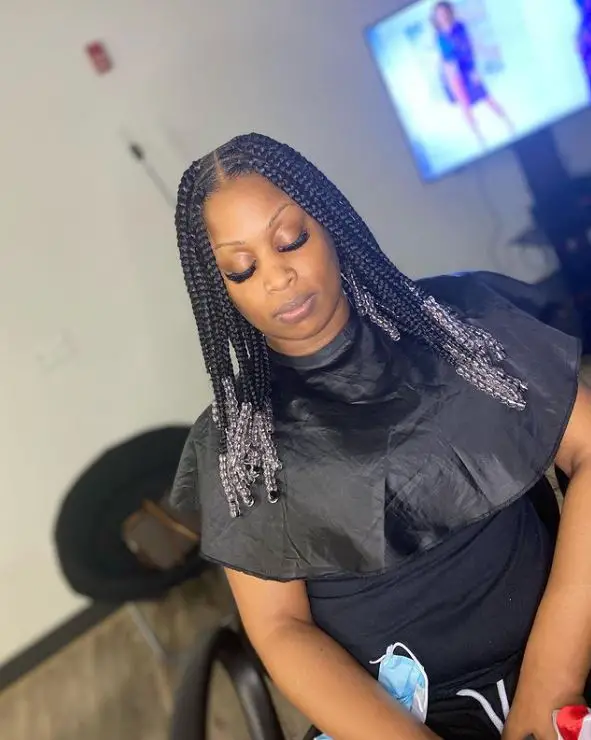 Image by @nadabraider_ via Instagram
9. Classic Box Braids
This hairstyle is represented in both caramel and honey brown. The simplicity of the style makes it suitable to use for several occasions including work, if it is worn in a bun.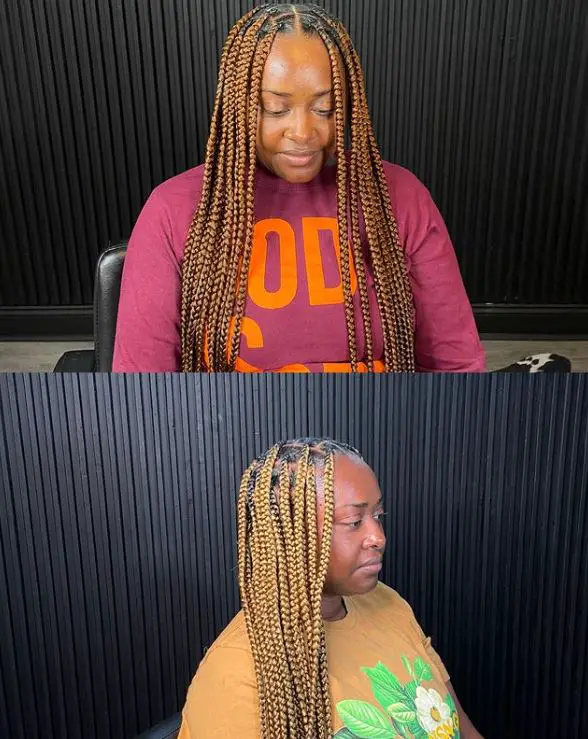 Image by @caymoneistyles via Instagram
10. Goddess Tribal Braids
Braiding hair in smaller braids gives you the advantage of styling it in various methods. The curly ends of this hairstyle are a fun way to show elegance.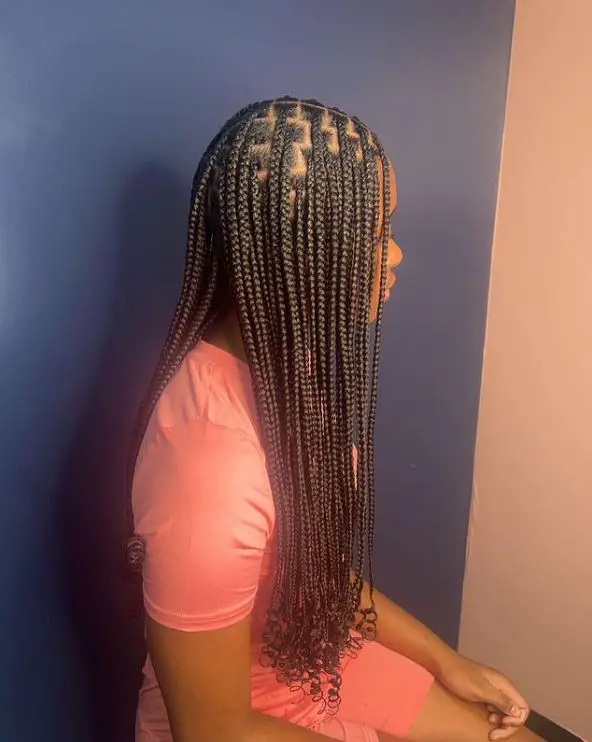 Image by @amazing_braids334 via Instagram
11. Platinum Blonde Fulani Tribal Braids
These long tribal braids are not something I saw coming. Who would've thought tribal braids would look this cool in platinum blonde color? You can try yours in different colors. I'll be getting mine in gold blonde.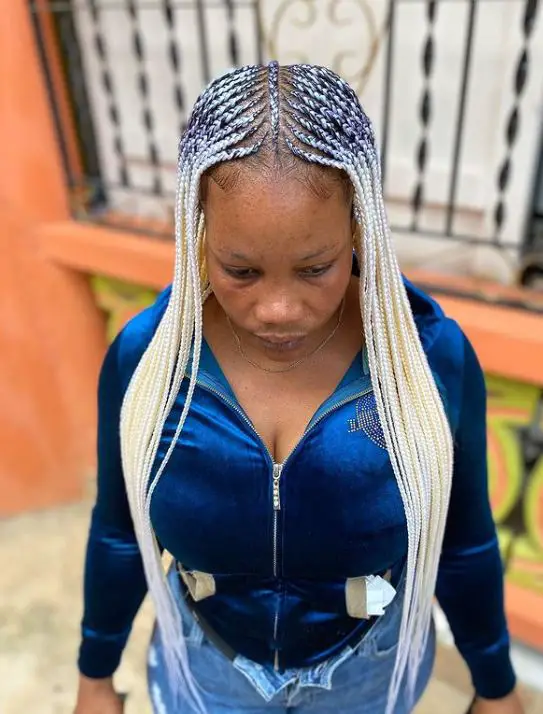 Image by @reenabraids_ja via Instagram
12. Boss Babe Fulani Tribal Braids
These medium tribal braids cost a pretty penny, no wonder they look this gorgeous. It has a minimal but classy look which screams boss lady.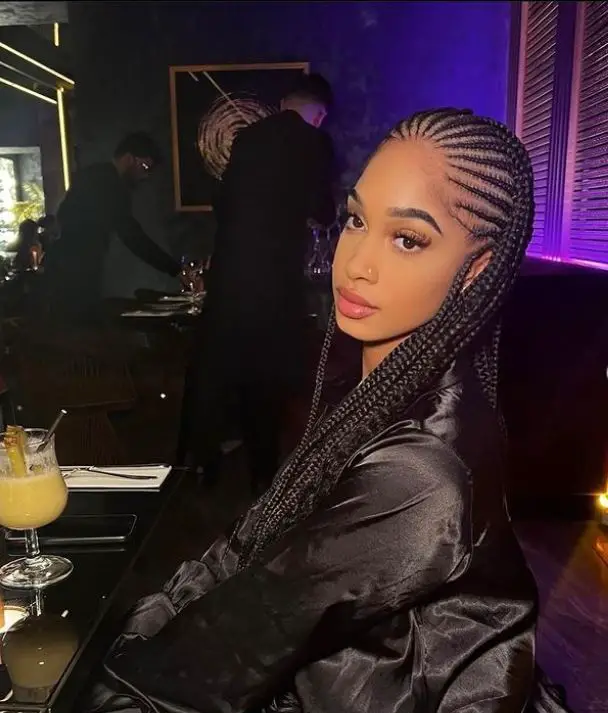 Image by @mpinge_beautyparlour via Instagram
13. Creative Traditional hairstyle
Well, this wins the battle of creativity. This features blonde tribal braids with a style similar to caduceus on one side, and a heart on the other side. These creative ways of making tribal braids have been burning up my IG timeline lately and this is a sign to get mine done.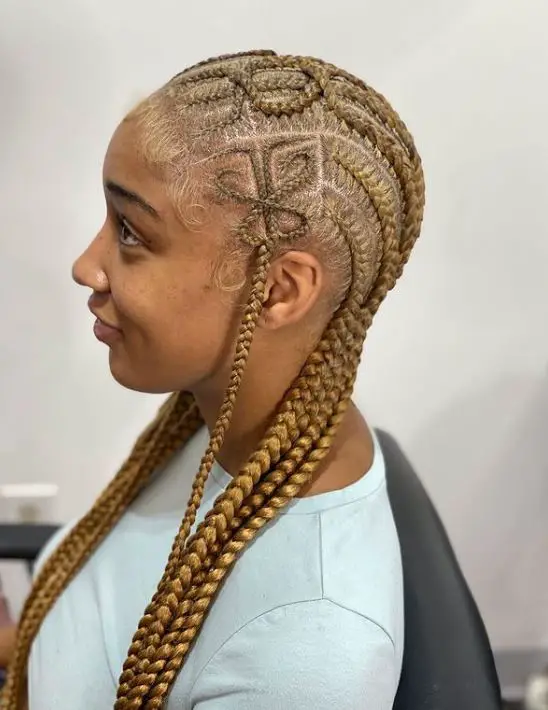 Image by @hair_by_paxx via Instagram
14. Currant Red Box Braids Hairstyles
This protective style is hot. The tribal box braids' color is flattery, making it pop with any outfit.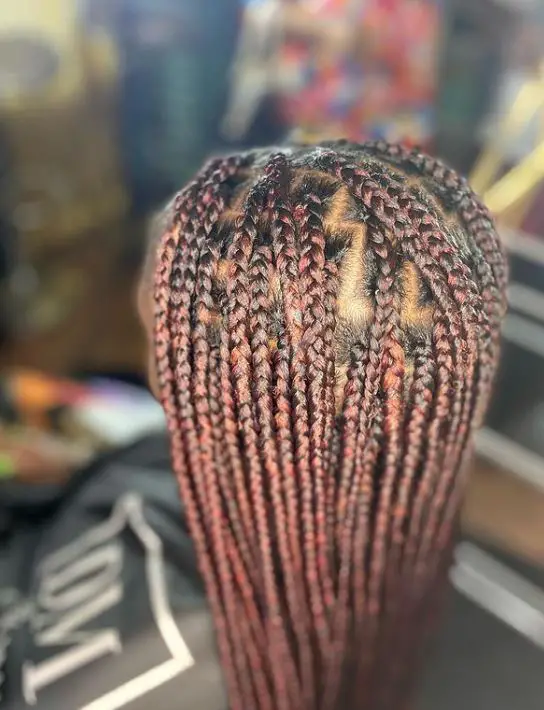 Image by @the_real_braiding_specialist via Instagram
15. Bohemian Tribal braids
With blonde loose hair at the bottom, this look is rightfully called goddess braids. The blonde curly ends are a nice contrast to the dark roots of the hairstyle which makes the cute tribal braids pop.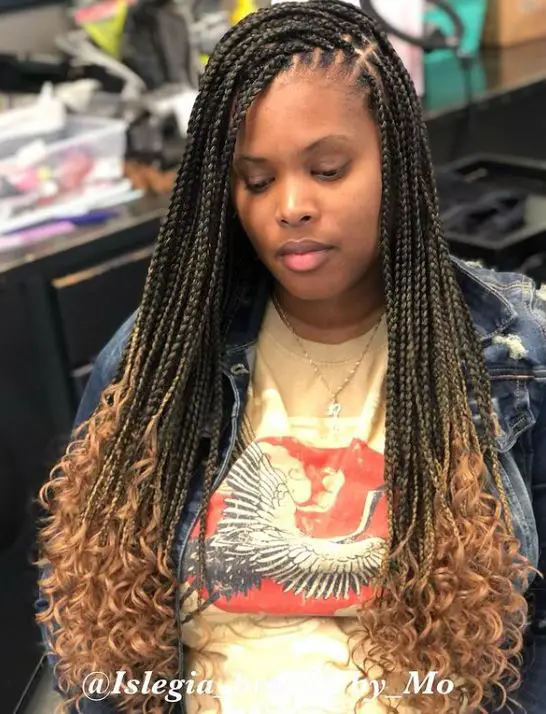 Image by @islegia_braids_by_mo via Instagram
16. Rose Edges and Ponytail Braids
What is the first thing that comes to mind when you see this glamorous hairdo? I thought about rose flowers due to those rosy-looking edges. The hairdo looks better with the high ponytail with curly ends.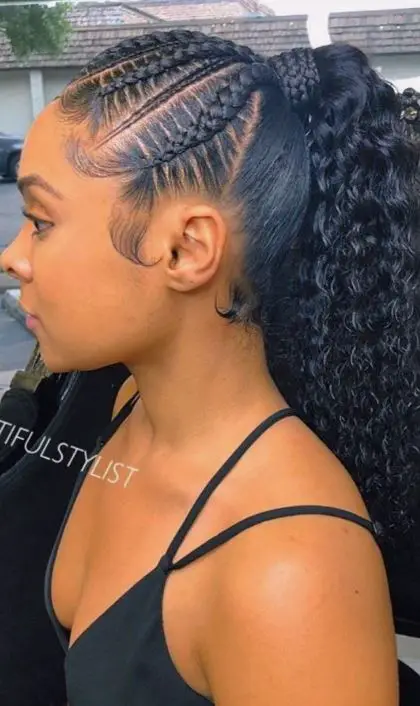 Image by @LALASHAYSHAY via Pinterest
17. Middle Part Fulani Tribal Braids
This features a middle part with some braids plaited to fall to the side and a few are made as straight back cornrows.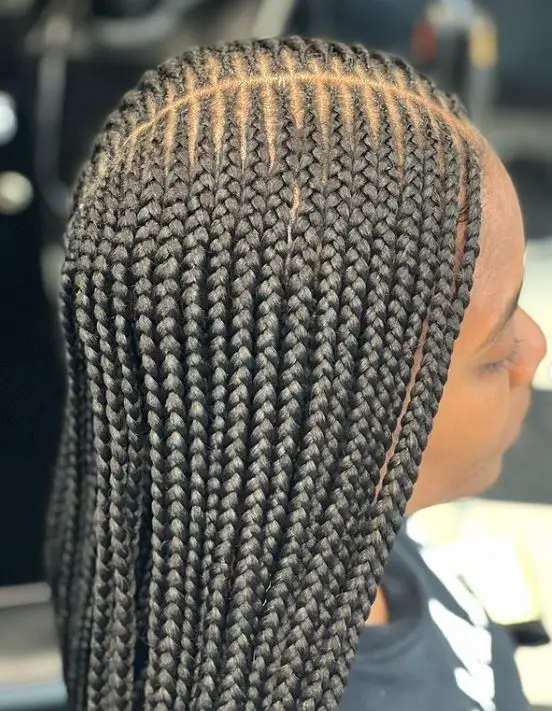 Image by @islegia_braids_by_mo via Instagram
18. Large and Detailed cornrow braids
Okay, this is creativity at its peak. These astonishing tribal braids will probably cost a pretty penny but it's oh so worth it. This wild hairstyle is sure to give you a tribal look that is both bold and beautiful.
Image by @islegia_braids_by_mo via Instagram
19. Lemonade Braids
Black and maroon hair extensions are used in equal sections in this hairstyle to give it the versatility to be worn to any special occasion.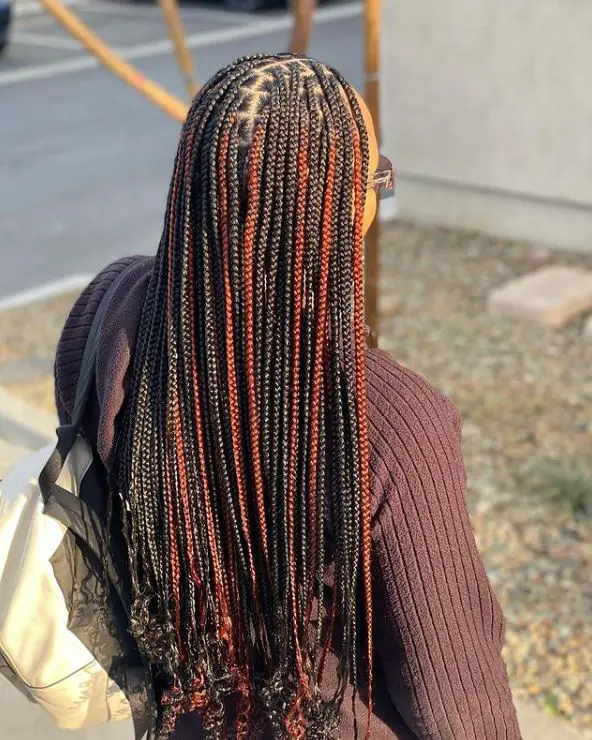 Image by @hanniesworld1 via Instagram
20. 8 Stitch Fulani Braids
These black straight-back cornrows are gorgeous. The braiding patterns used in each section are neat, giving a clear view of the scalp, which makes this type of style quite easy to maintain.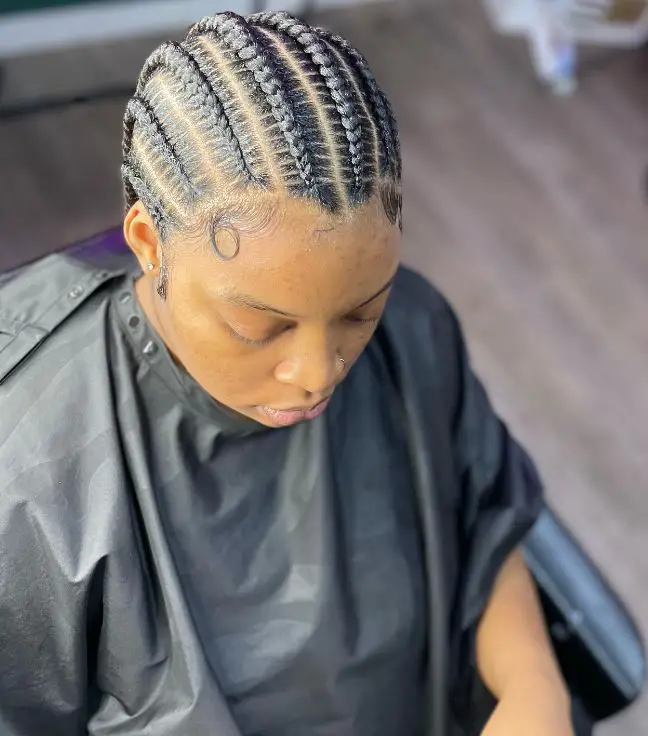 Image by @1lexiah via Instagram
21. Clean Cornrows
This style has got to take an A for being so organized, clean, and detailed. Most of the braids are straight feed-in braids, with 2 larger braids forming an X right at the center of the hairstyle.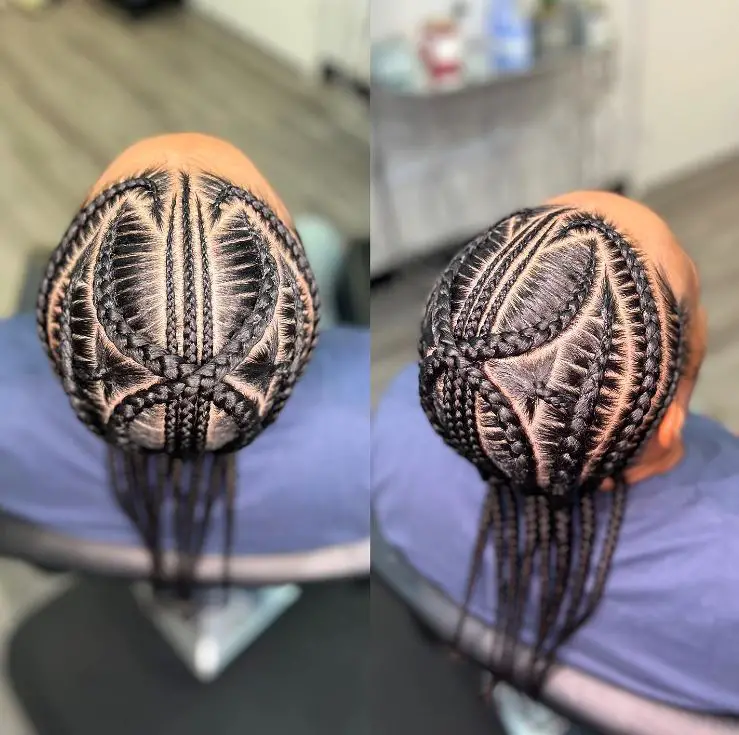 Image by @jades_braids via Instagram
22. Tribal Braids in a Bun
With how large these are, you don't have to spend an eternity to recreate them. The blonde braids in a high bun are giving a boss ladies vibe and that's what we stand for.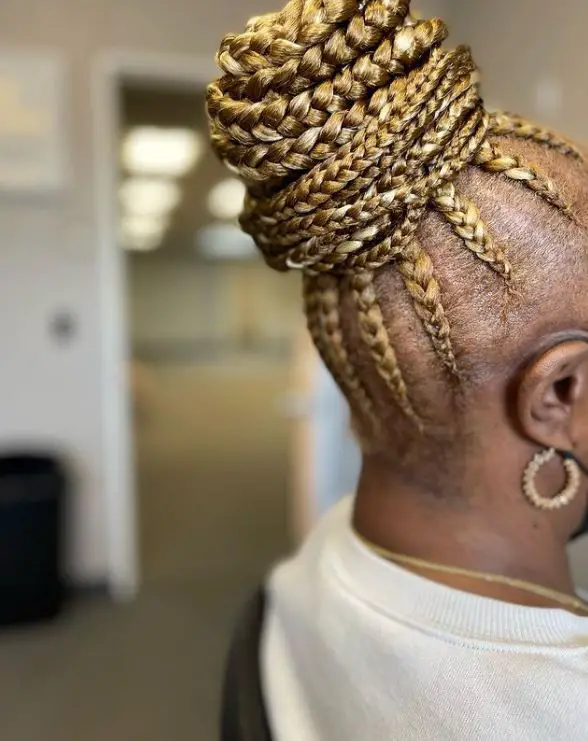 Image by @braid_beauty93 via Instagram
23. Blue and Black Fulani Braids
These long tribal braids contain trendy highlights of blue and black. The roots of the hair are the same as the owner's hair color, making the side part tribal braids blend almost perfectly, creating a natural look.
Image by @braidsby_naegoddess via Instagram
24. High Black with Blonde streak Ponytail Tribal Braids
With black and blonde long braids creating a stunning style, the ponytail looks like one that'll remain intact if you maintain it well enough.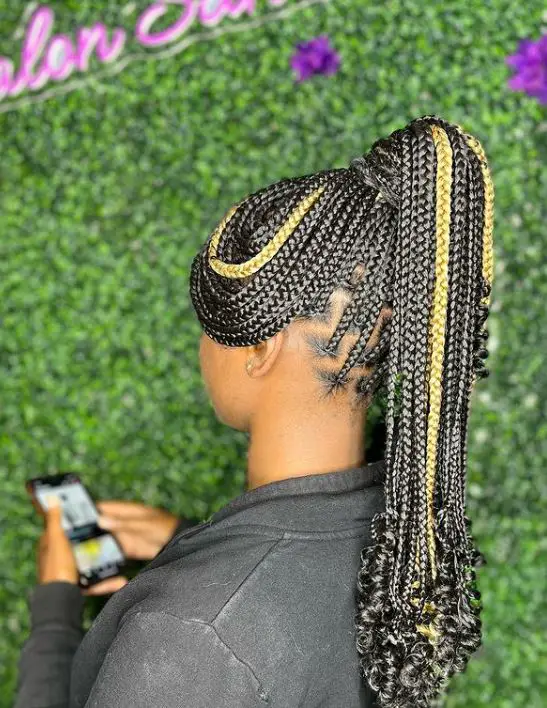 Image by @stylesnsmiles.byk via Instagram
25. Criss Cross Fulani Tribal Braids
Okay, the baby hairs on this mid-length style deserve a standing ovation. The braided strands of blonde under the cornrows add an edge to the look that is adventurous.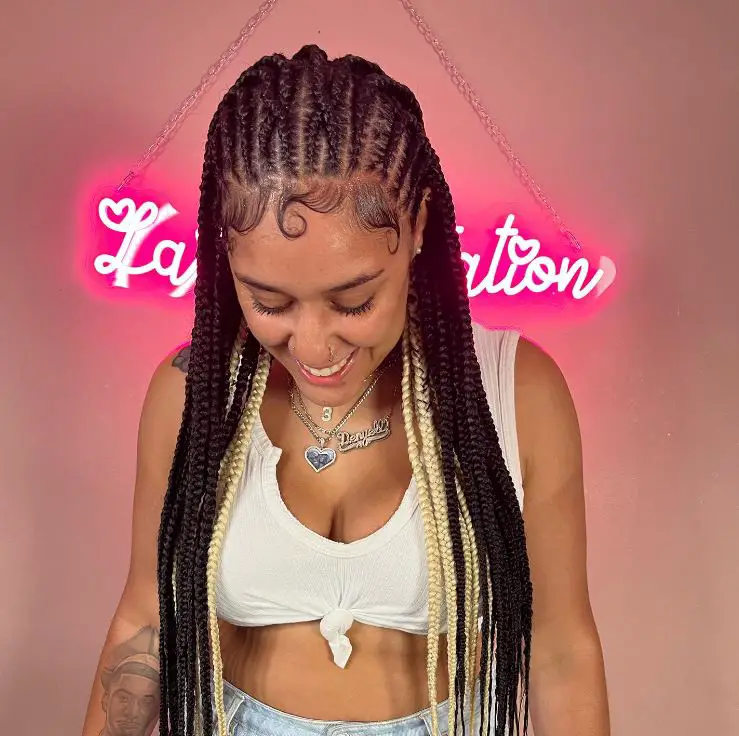 Image by @zarislaystation via Instagram
26. Fulani Tribal Braids With Natural Hair
Natural hair might be tricky to plait with hair extensions, but it is done to perfection here, with the trendy heart on the side of the head.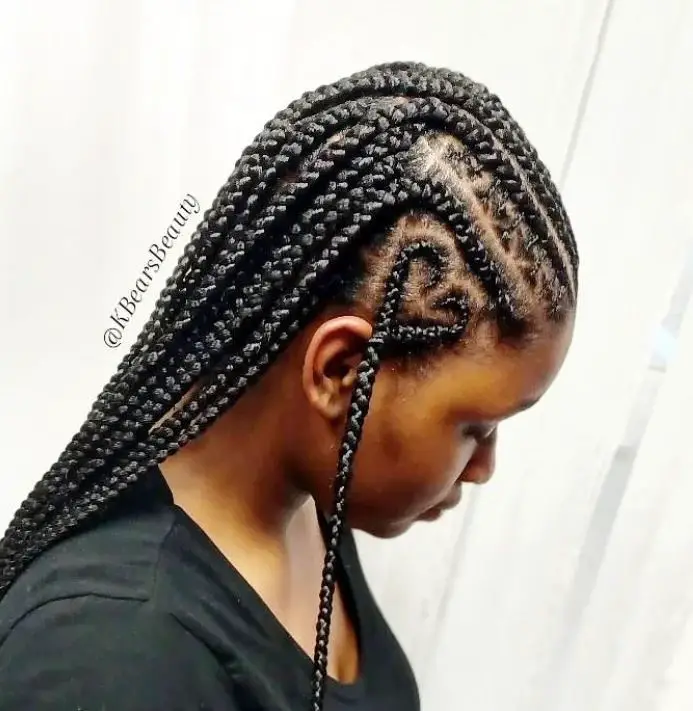 Image by @kbearsbeauty via Instagram
27. Medium knotless Tribal Braids
The protection box braids hairstyles offer is just top-notch. Here, this tribal braid hairstyle is made with a mixture of black and brown hair extensions that gives the hair a nice, neat look while standing out at the same time.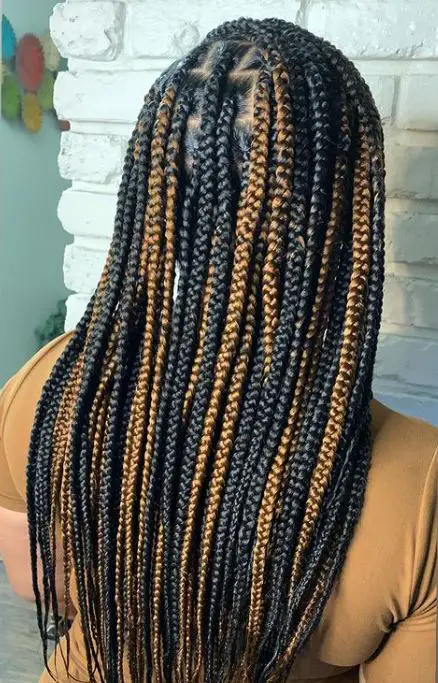 Image by @morganreneestyles via Instagram
28. Half Top Bun
This gorgeous black Fulani tribal braid is styled beautifully with a half-top bun and the remaining half of the hair left free. The front section is picked so well and it suits the face shape making it more stunning.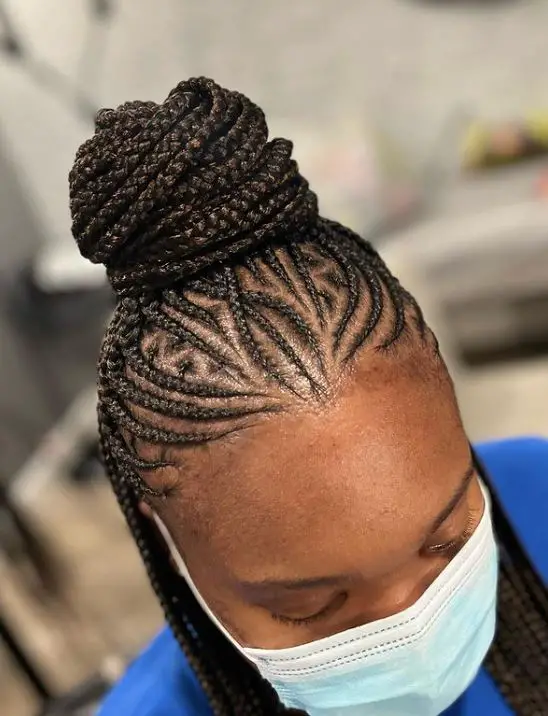 Image by @braidsbyty__ via Instagram
29. High Ponytail Tribal braids
Need something simple you can make to look peng while chilling? Well, stop the search, because this is it. This is a great choice for expecting mothers due to its ease to create since it has thicker braids.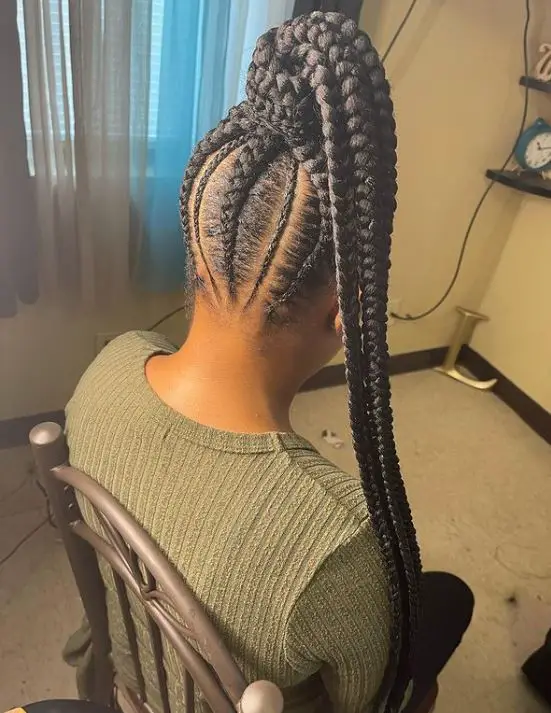 Image by @_darealbossladi via Instagram
30. Butterfly and Lemonade Tribal braids
You should get this done if you need to achieve a low-key sophisticated look. The braids have a normal thickness that is just the right size. The butterfly is made in the right place since it serves to complete the lemonade braid on the other side.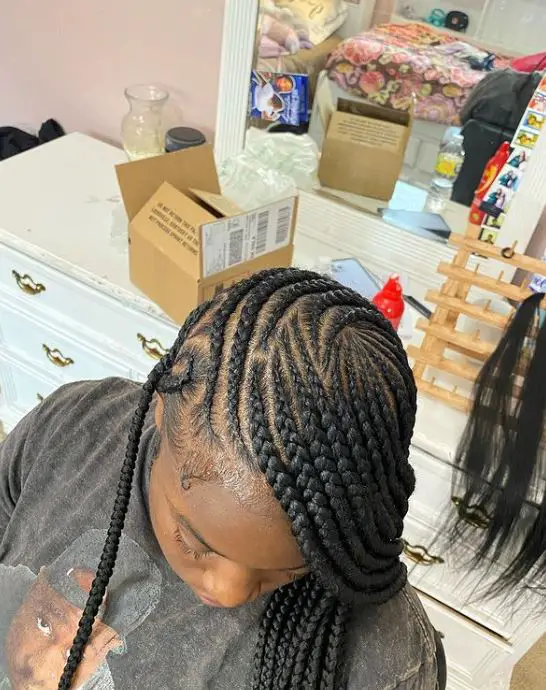 Image by @braidsbygk via Instagram
31. Lemonade Zig-zag Braid
This medium sized black braid with few brown streaks in front is beautiful with its neat zig-zags in front giving it a fun and pretty twist.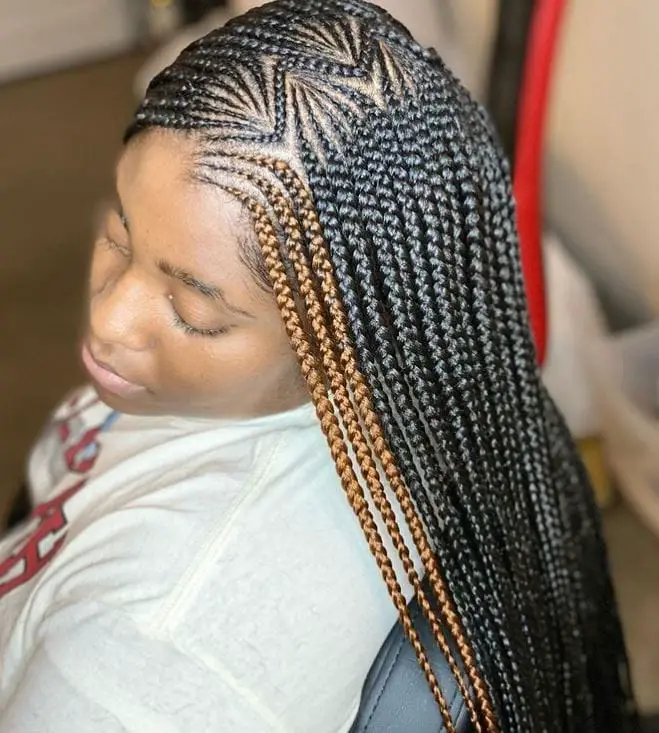 Image by @styles_bymillz via Instagram
32. Triangle Knotless Tribal Braids
The large triangle shape division of these jumbo braids is attractive, showing off the neat shiny scalp, creating a super fun look that is every braid lover's dream.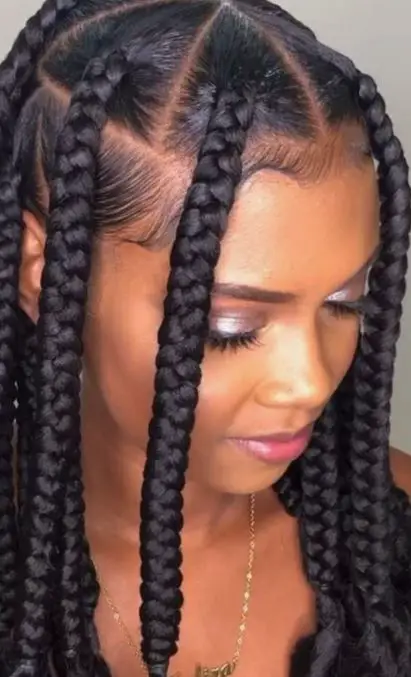 Image by @BrazilianGirly via Pinterest
33. High Ponytail Tribal Braids
In West African cultures, this hairstyle is known as 'shuku' and it signifies royalty. It is basically feed-in braids parked in a high ponytail, giving a bold queen vibe.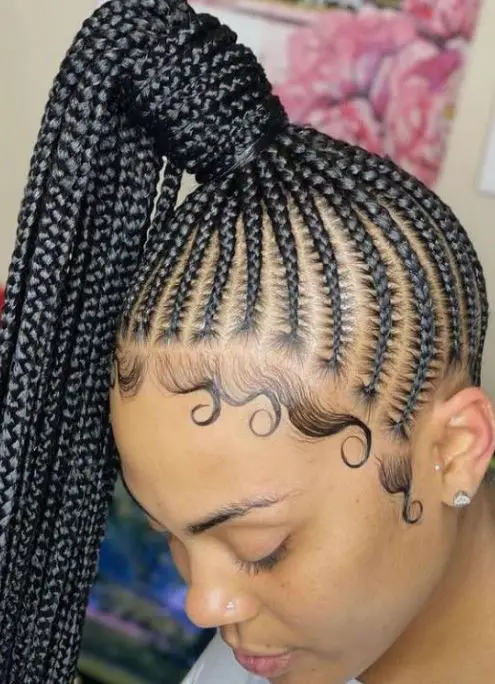 Image by @elif99 via Pinterest
34. Long Bohemian Tribal Braids
Are you tired of boring hair and would like to up your hair game a bit? Then these boho braids are what you need to add the oomph to your style.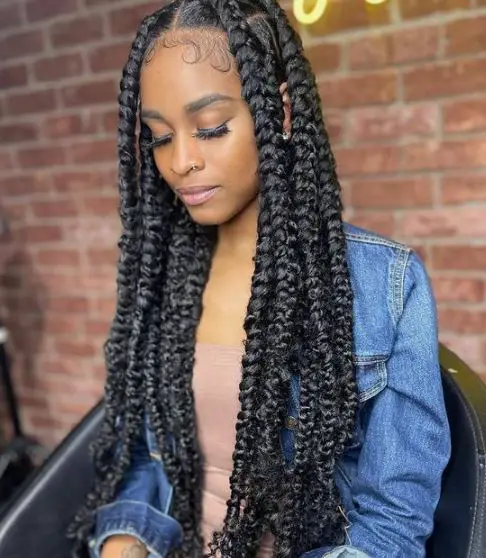 Image by @gabianderlayne_ via Pinterest
35. Short Fulani Tribal Braids
Well, this short Fulani tribal braid has a lot going on. It has brown beads and gold hair cuffs that add color to the otherwise completely black hairdo, making the style pop.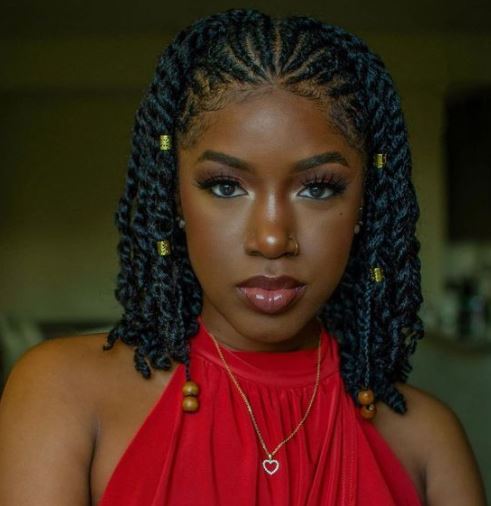 Image by @dhatgirlbecca via Pinterest
36. Short Cornrows With Beads
These Fulani tribal braids are for bead lovers. The short stylish cornrows are straight and simple, reassuring us that simple is elegant.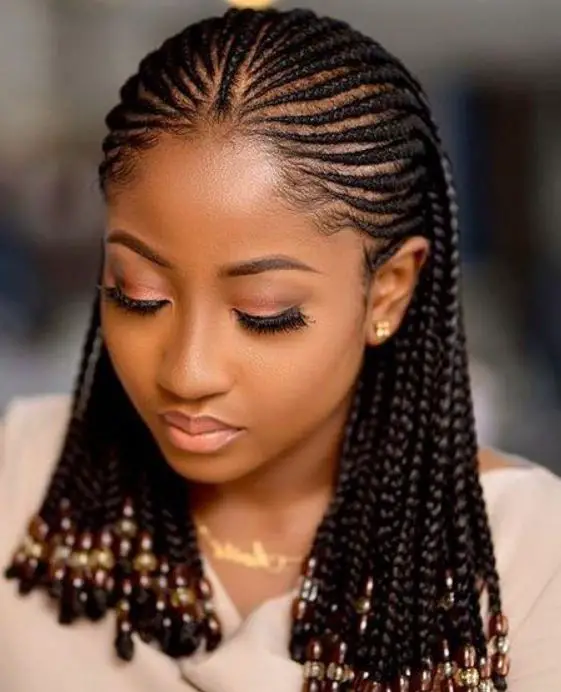 Image by @kendraaurelus via Pinterest
37. Senegalese twists
Yes, you guessed it right, these twists originate from Senegal. This stylish tribal braid with baby hairs to die for is a personal favorite. Creating it is so easy since it only involves twists. If it gets rough, you can easily loosen the twist and remake it to lengthen the life of the braid.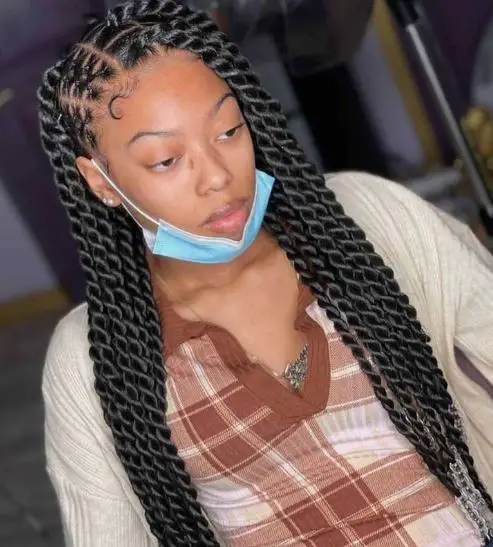 Image by @ramirodelastunas99 via Pinterest
38. Thin Fulani Braids
This thin Fulani tribal braid is a classic that can be manipulated to create intricate and multiple styles. You can tie in a bun, a high ponytail, or a low ponytail depending on the outfit you want to put on.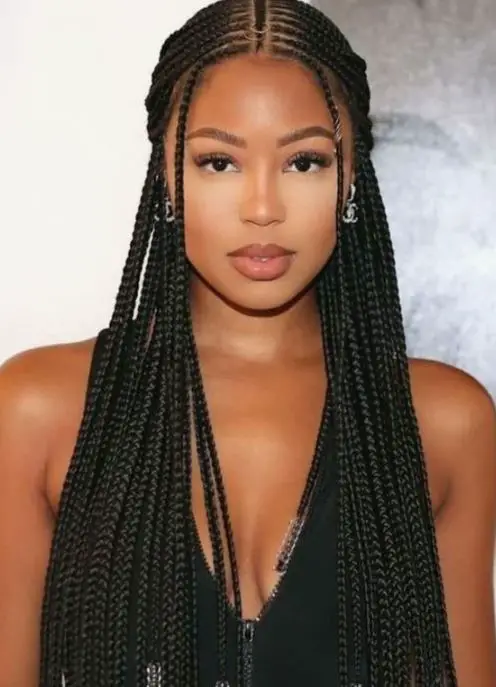 Image by @amidala891864 via Pinterest
39. Cornrows With Half Top Bun
There is no occasion you can't attend with tribal braids. Rock tribal braids to a wedding, baby shower, or rehearsal party, and get there looking classy. These cornrows braids with half top bun are one that is ideal for any occasion.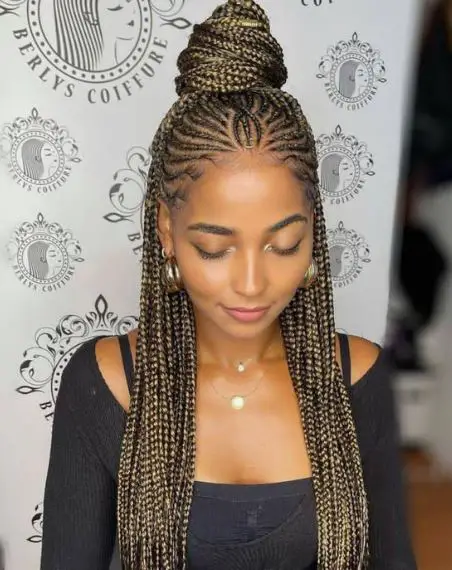 Image by @etsy via Pinterest
40. Yellow Long tribal braids
Want to take a walk on the wild side? Then this yellow tribal braids with beads is what you should start with. The look is daring and wild and will definitely make you stand out in the crowd.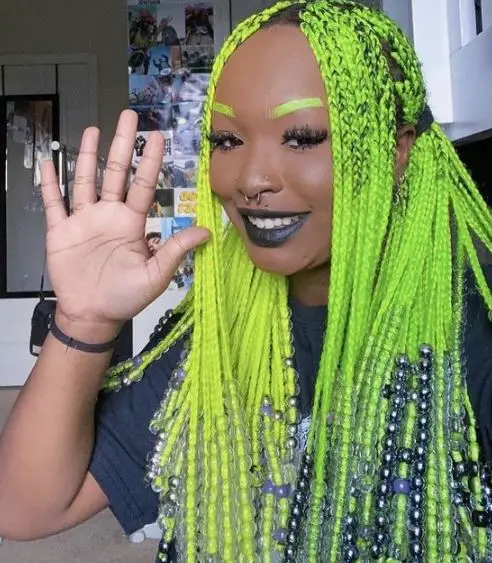 Image by @faithr398 via Pinterest
41. Fulani Braids With Front And Beads
This hairdo is a heritage of the western Fulani clan. The cornrows are done perfectly, with some braids dropping on the forehead, add beads and cowry shells to give the look a slightly edgy appearance.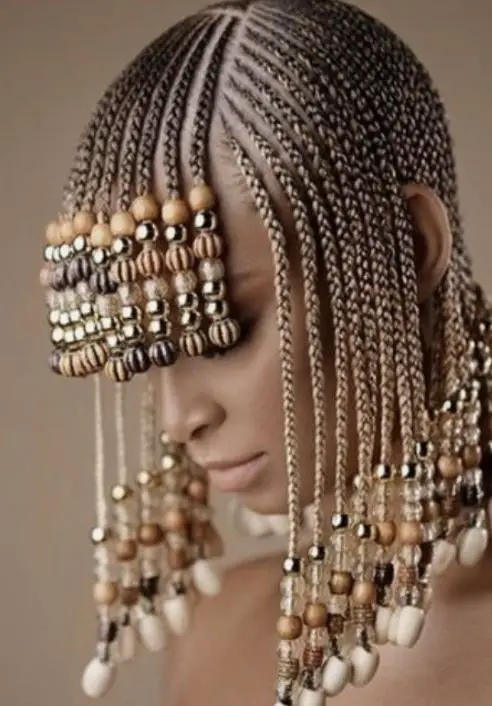 Image by @ARCHANGEL2020 via Pinterest
42. Blonde Fulani Braids With Beads
Need a really classy baddie look? Here you go. The blonde braided hairstyle is done to perfection. Incorporate long cords of clear beads to make a presence that is not going to be forgotten easily.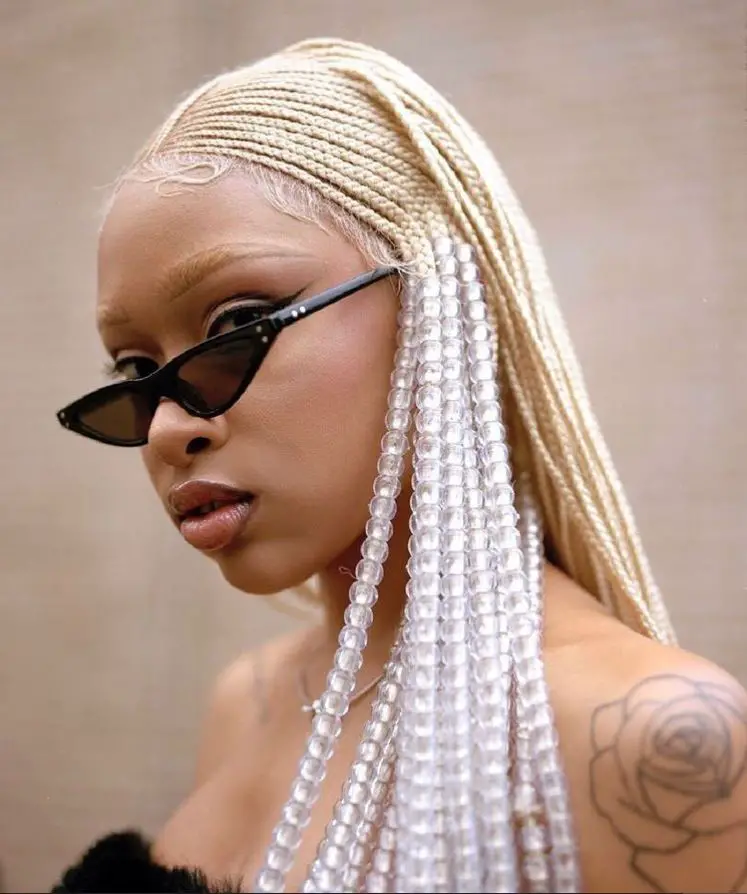 Image by @timodelle via Pinterest
43. Cornrows and Afro
Why choose between a Fulani tribal braids or Afro when you can do them both? The braided hair is at the front the rest of the hair is left loose to form an Afro. Pretty hair cuffs are added to make things hotter than it already is.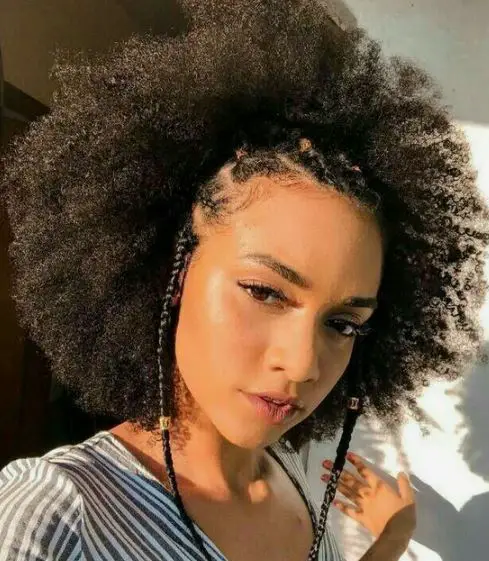 Image by @tlw312 via Pinterest
44. Elegant Fulani Braids
The beauty and intensity of these tribal braids give me chills. The little springs used to slightly beautify the Fulani braids are interesting and draw attention in a subtle way.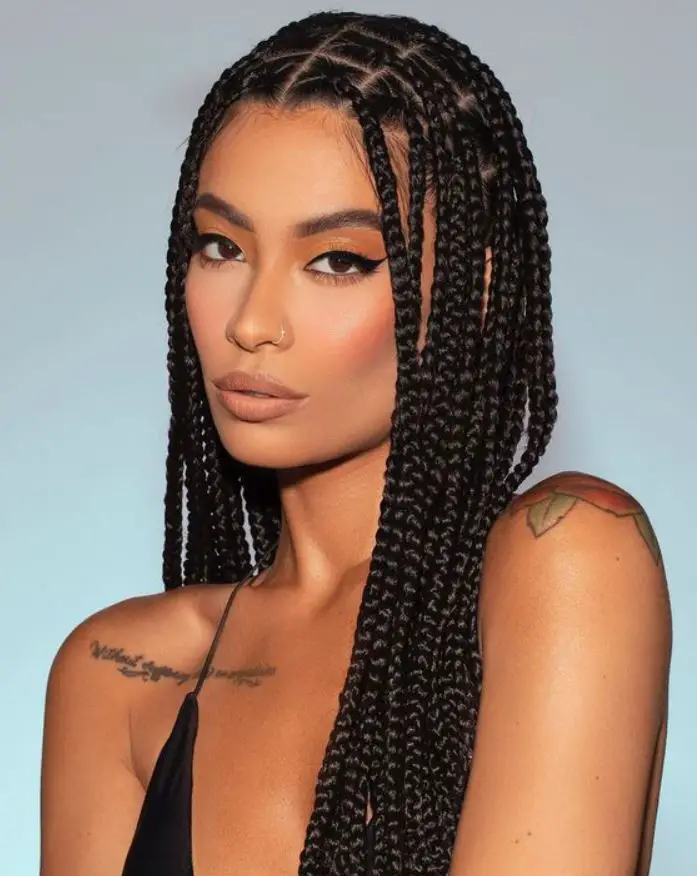 Image by @angelablogan via Pinterest
45. Goddess Jumbo tribal braids
These cute tribal braids are pretty and elegant. I prefer blonde but I'm not sure it would turn out to be as elegant as this black.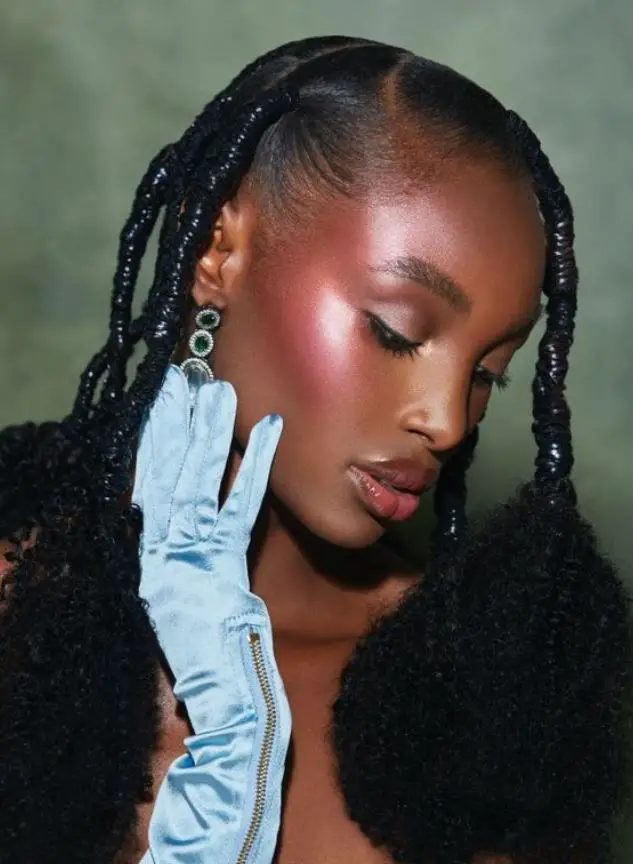 Image by @foundfilms via Pinterest
46. Fulani Braids on Kids
Fulani tribal braids are not limited to adults alone. They are also loved by kids when it is plaited with beads since they love to play with the beads. The stylist did a great job here with the clean details of the feed-in braids' hairstyles.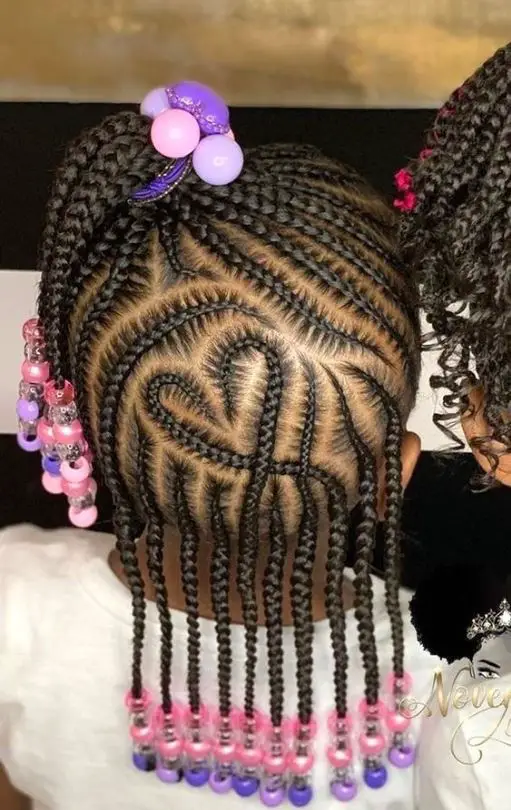 Image by @kaayrs_ via Pinterest
47. Blue Fulani Braids In Half Bun
If you're a blue lover, hop on these blue Fulani braids. It's unique, bold and elegant to be spotted with. Blue is flattering on most skin tones so get this done if you want to appear polished and command attention.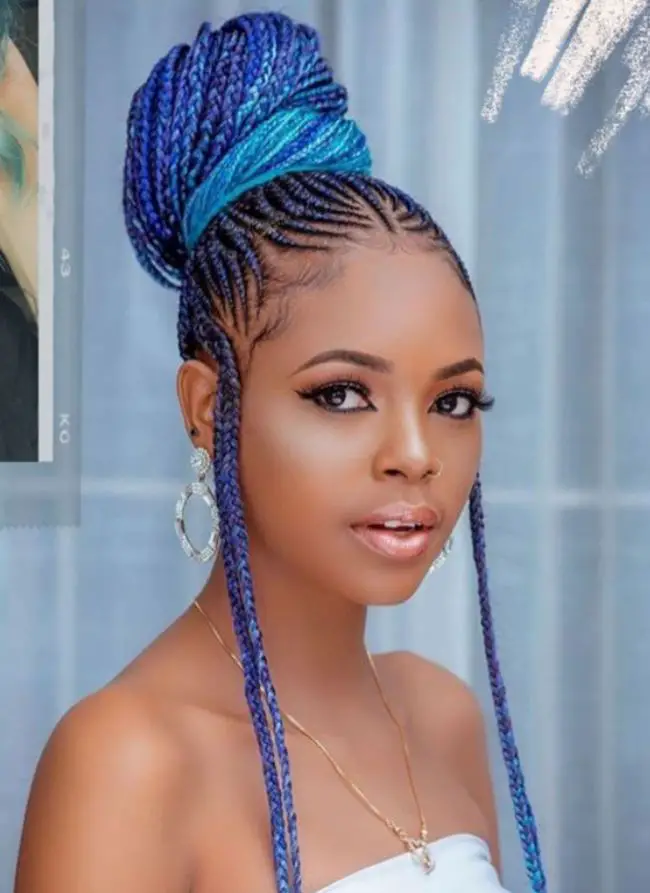 Image by @KISSESFROMBTS via Pinterest
48. Charming Fulani braids
Don't you just love how charismatic Taraji looks in these charming Fulani braids? These simple tribal braids are an iconic style. Can't wait to get mine done.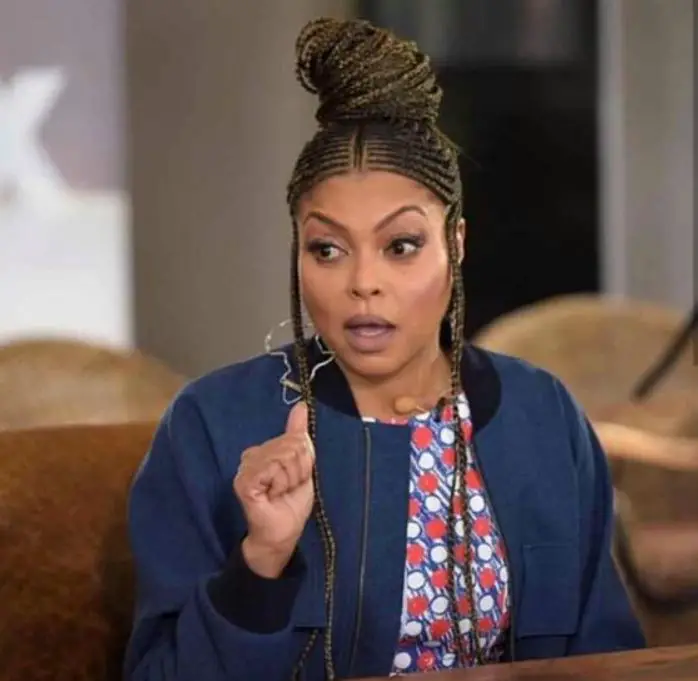 Image by @brucpalmeira via Pinterest
49. Summer Fulani braids
These Fulani braids scream fun and they give summer vibes with the maroon extensions and big brown beads and clear beads in between.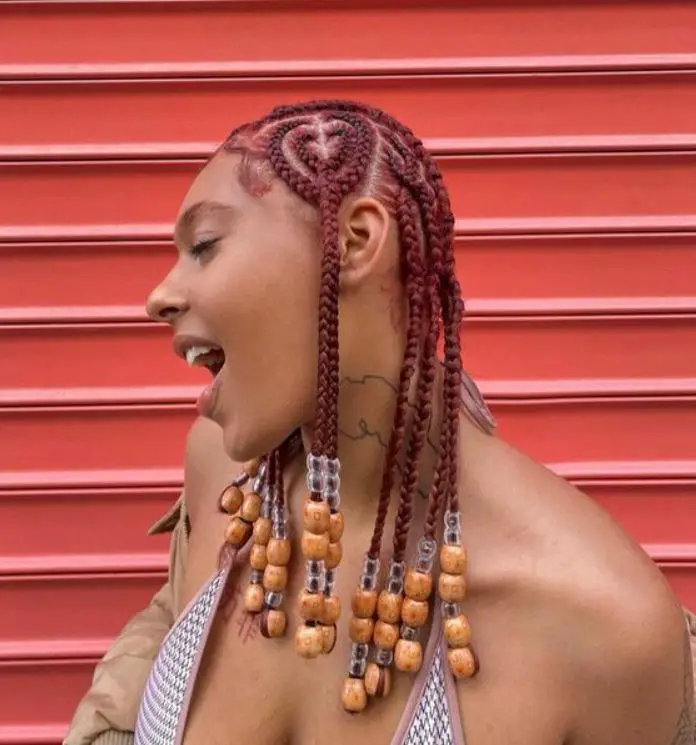 Image by @khumokolokoto via Pinterest
50. Fulani Braids In Knots
Would a list of tribal braids be complete without including tribal braids inspired by Queen B? Not even slightly. The Queen slays once again with these brown ombre Fulani braids with a top knot that signifies royalty.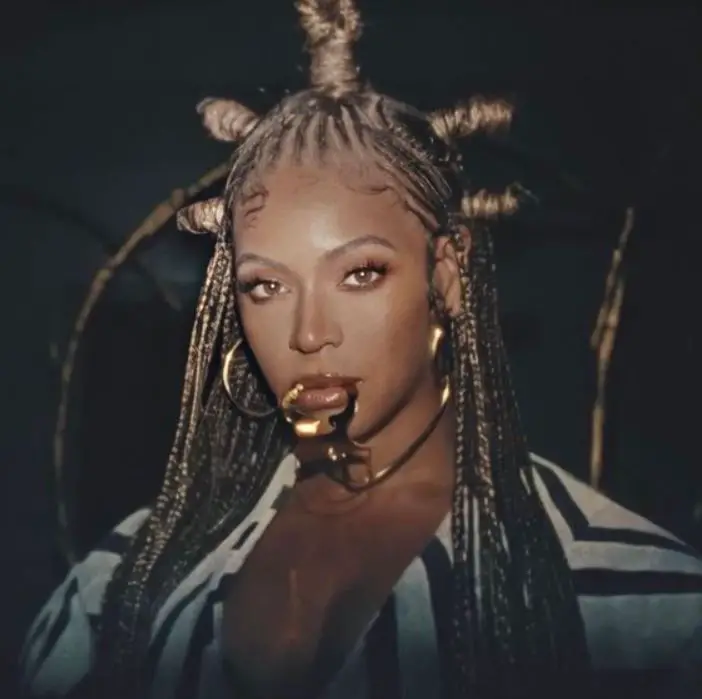 Image by @brownsheronda via Pinterest
51. Straight Back Feed in braids
Feed-in Fulani braids are always modish and these straight-back feed-in tribal braids are proof of that. The tribal braids are placed in a knot at the lower end to make it shorter hair. This style is popular in West Africa.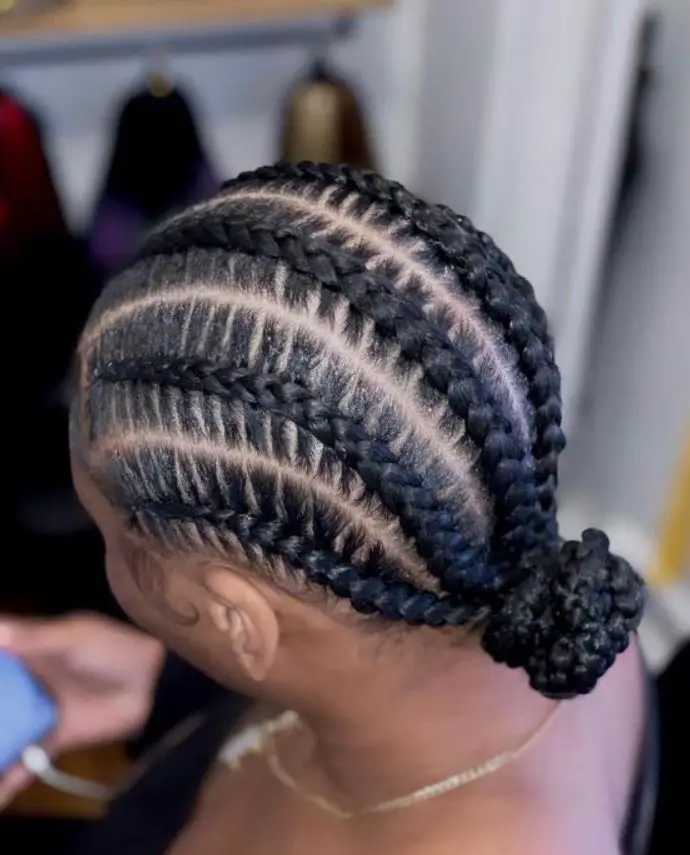 Image by @manithasteppa via Pinterest
52. Short tribal braids
If you're not a fan of long hair, you can add a unique twist to your tribal braids by making short tribal braids that are filled with adornments. In this case, white beads on all of the hair parts.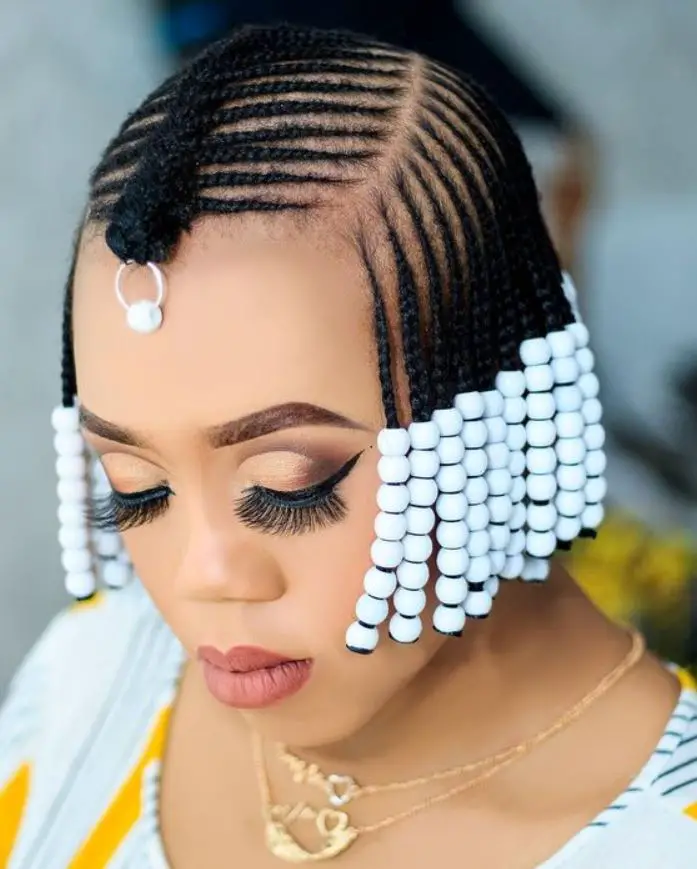 Image by @P_odu via Pinterest
53. Ghana braids hairstyles
The waves of these tribal braids are a perfect example of a classic wave. The small braids in between the big ones are glamorous. I'm going to be rocking this for spring, what about you?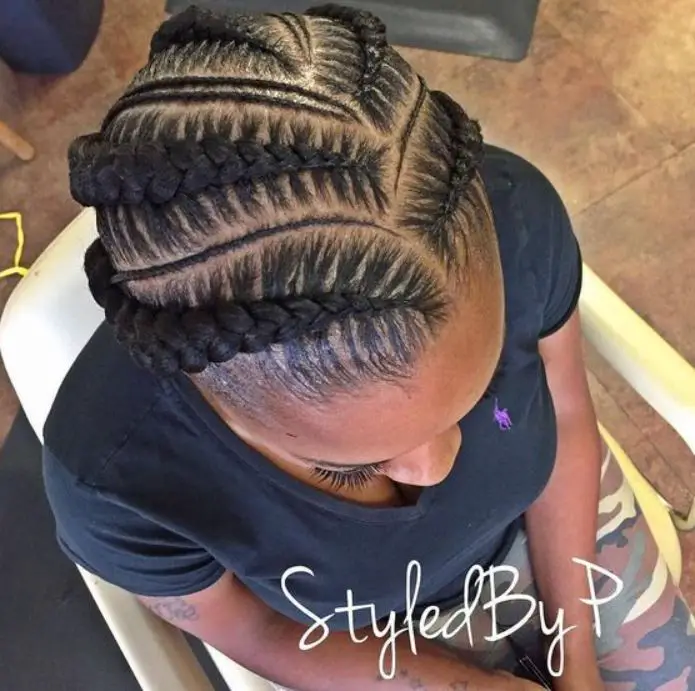 Image by @camix_alejandra via Pinterest
54. Regal Fulani Braids
Talk about audacious. These lightweight Fulani braids are famous due to their beautiful and easy pattern. You can also incorporate beads as adornments to get an interesting look. This expresses a daring personality and commands respect and I'm all for it.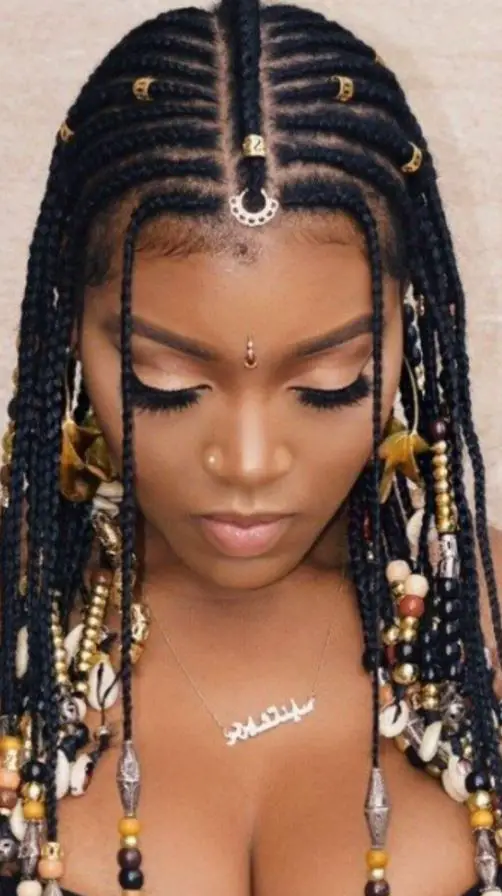 Image by @babeedoll21 via Pinterest
55. Lion Tail Box braids
Switch up your mood with these lion tail box braids. This is suitable for natural hair and will give you amazing curly ends when you loosen the braids.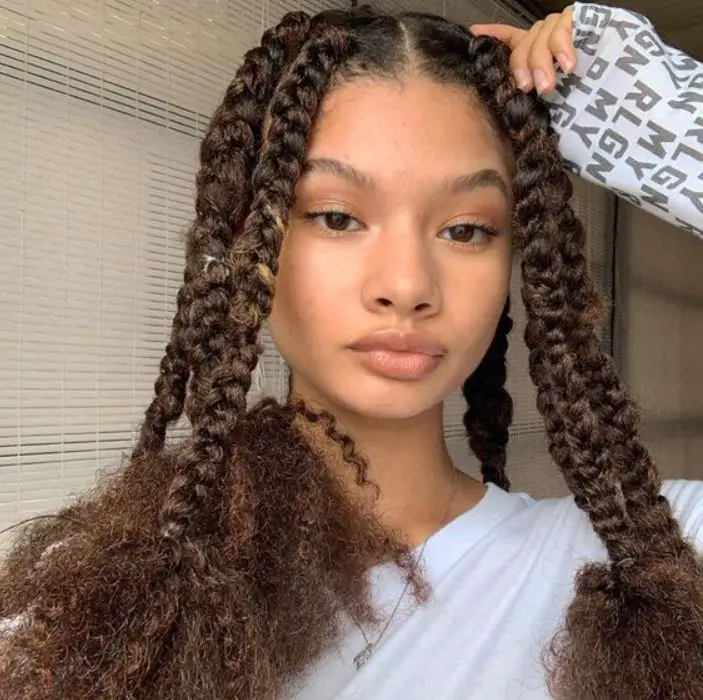 Image by @ruckerroots via Pinterest
56. Extra Long Fulani Braids
Queen B appears once again with these extra-long Fulani braids with a short front. The thin braids look like they took a lot of effort. If you like to join the league of queens, then get these Fulani braids done.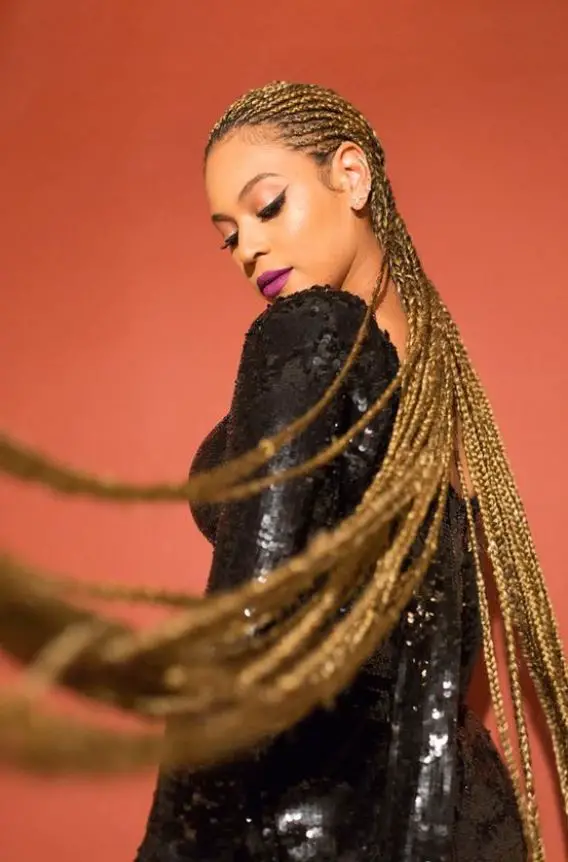 Image by @popsugar via Pinterest
57. Blonde Bohemian Box Braids
These blonde tribal braids feature curly hair strands with some of the box braids fully plaited. The curls adds a fun vibe to the hair to show you just how much fun you'll have with the braids.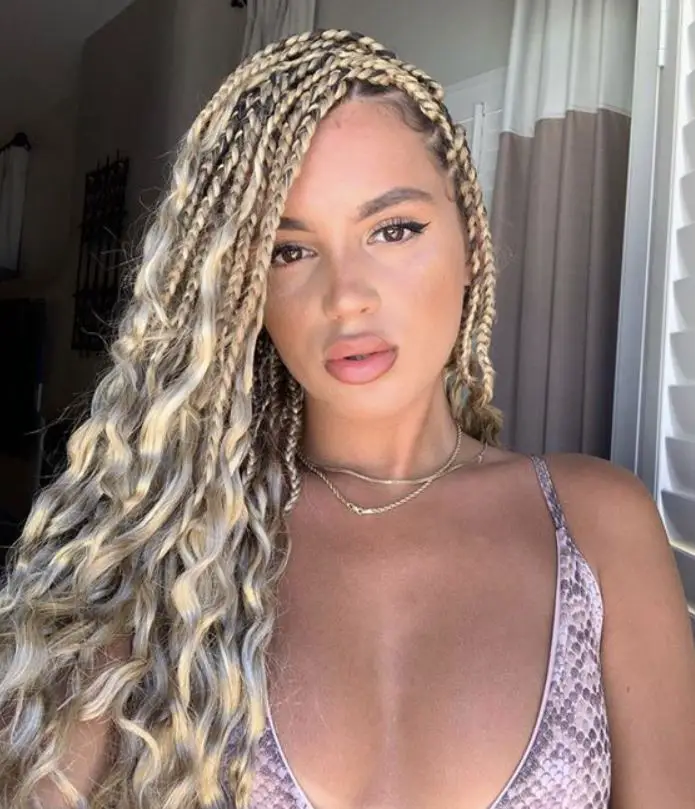 Image by @aejulzz via Pinterest
58. Platinum Blonde Fulani Braids With Red Beads
Solange dazzles as always here with these platinum Fulani braids with full-length red beads. This is a daring look and I won't be surprised if persons new to braided style shy away from it.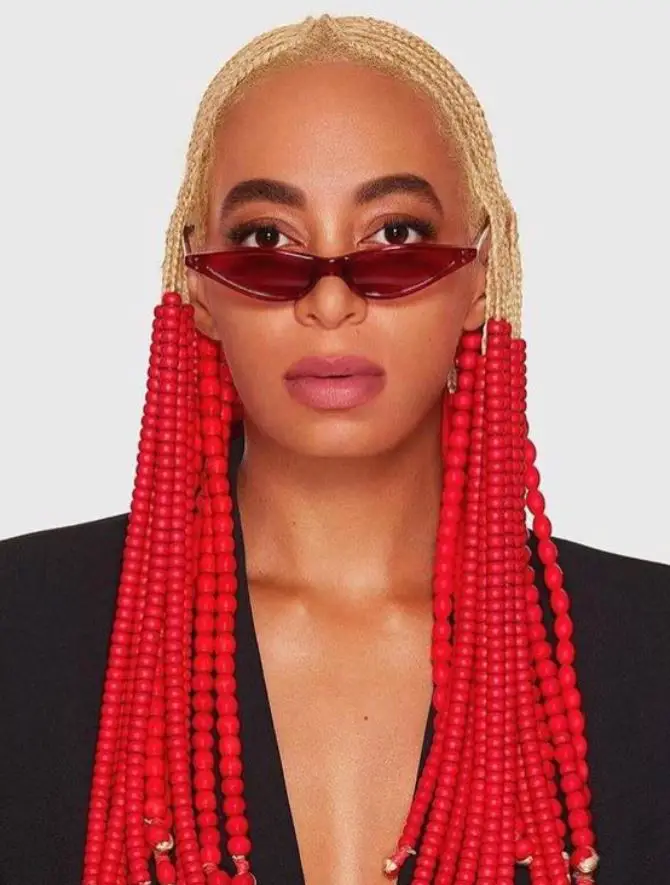 Image by @aphrochic via Pinterest
59. Straight Back Tribal Braids With Pearls
Here is how you can rock natural hair braids with style and glamour. Feel the natural hair will look too blah for you? Add pearls to spice things up.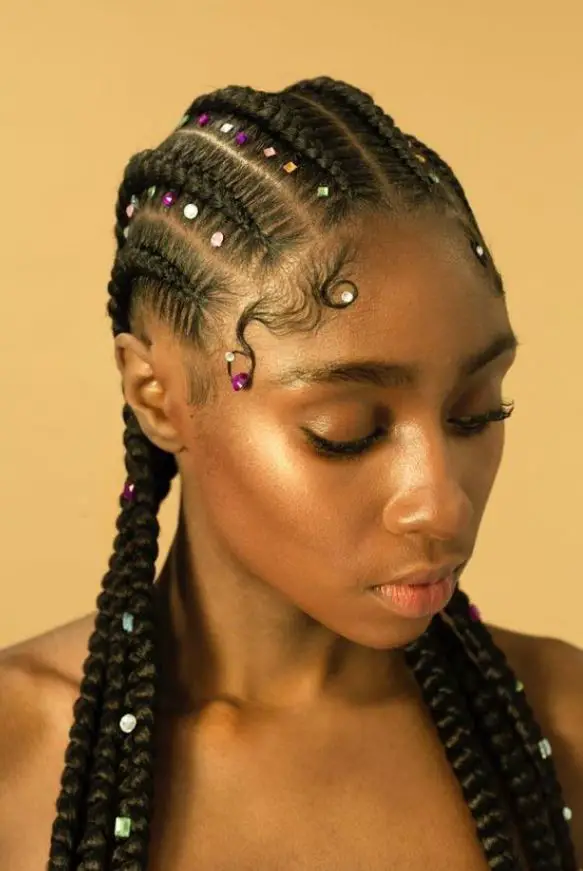 Image by @jjjooxmin via Pinterest
60. Tribal Box Braids In Complete Knots
Willow Smith is serving us hairspiration with these simple box braids in several knots.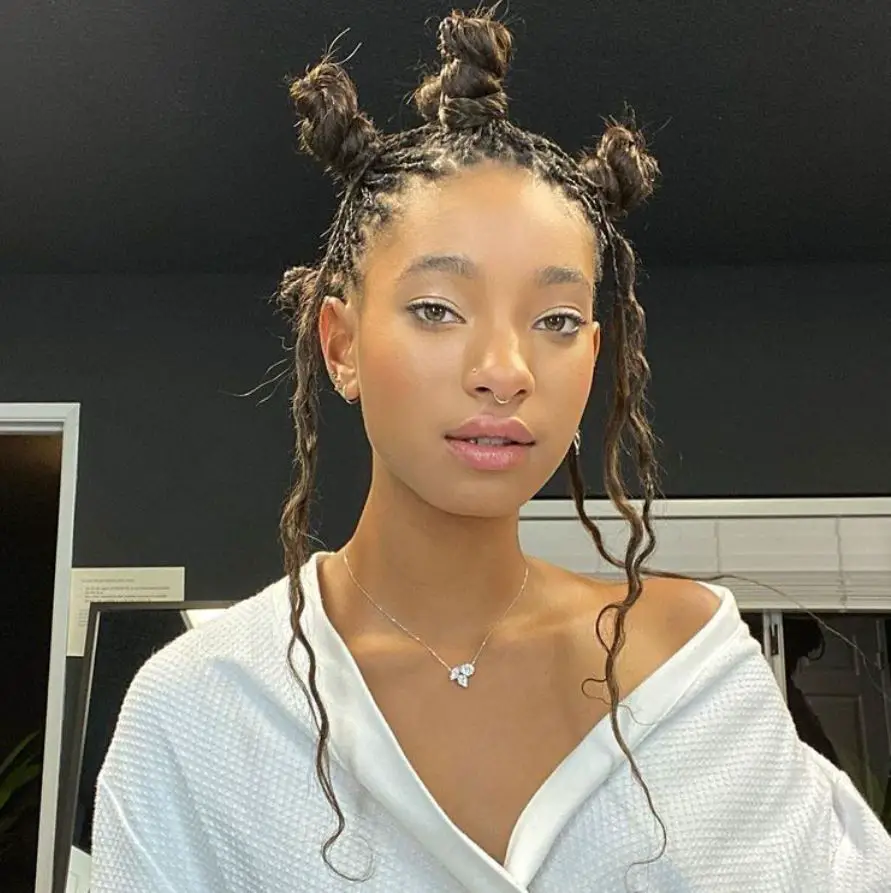 Image by @claire_fish via Pinterest
61. Large Fulani Tribal Braids
These simple and unique Fulani tribal braids are cute with just 4 braids on each side. The middle part tribal braids have nice edges wrapping the top of her head like a little crown, making this look fit for a queen.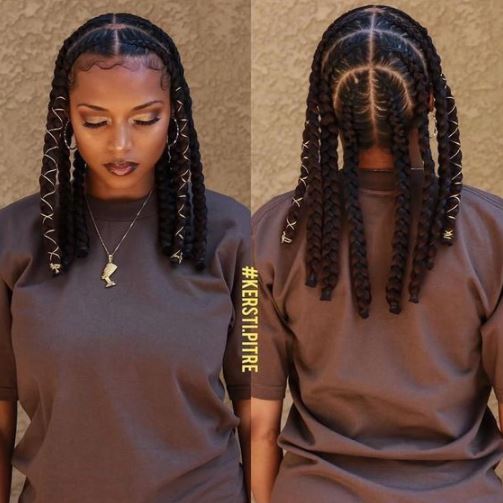 Image by @ecmbaysanerbjk via Pinterest
62. Rainbow Jumbo Tribal Braids
We are ending with these stunning and creative jumbo braids that features some lovely colors. Who would've thought pink and orange would be this alluring? Well, they look really good here.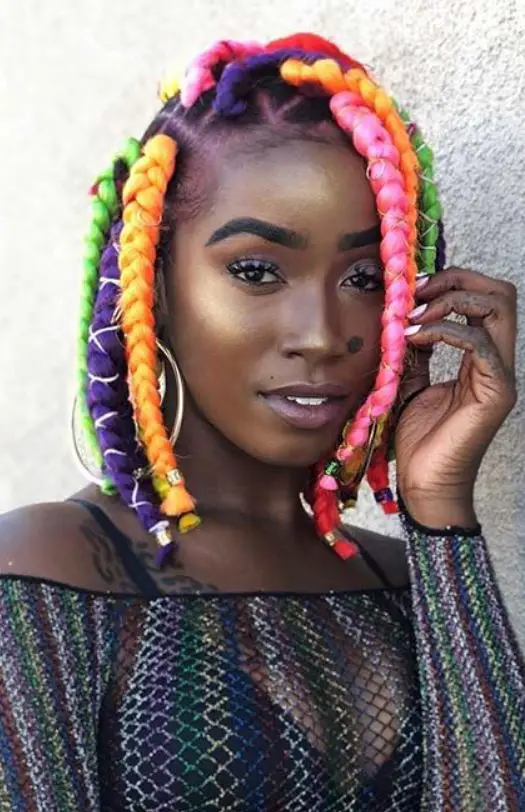 Image by @QuinteciaChaa via Pinterest
I'm sure you're left with one less chore of picking your next tribal braids thanks to all these delightful braid styles. Pick one of them and keep Queening.