The super spiky and short stacked wedge haircut that was a signature style in the 80s has had a makeover and is now replaced by the layered wedge haircut with spikes. Wedge hairstyles with long fringes are now switched up with bangs that don't get in the eyes.
Most people who come to my salon for a hair transition or makeover go for the pixie wedge haircut with long front. Others who want a subtle touch go for the lob wedge haircut.
Wedge cuts have had a major upgrade from the usual looks we were familiar with. Keep scrolling to discover modern wedge haircuts. You should probably stop here if you're not ready for a hair transition, because at the end of this article, you'll be convinced that you need one.
Wedge Haircuts For Inspiration
1. Inverted Wedge Hairstyle
This wedge haircut is ideal for people with uneven hair. The thin hair has two layers of different colors. The shorter bob layer is a dark brown that is overlapped by the longer layer that is dyed to a lovely shade of blonde with brunette highlights. This short wedge haircut incorporates 3 colors that are almost indiscernible.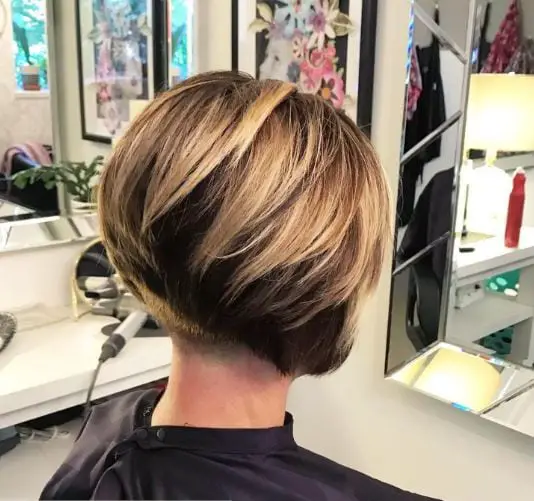 Image by @planetofthenapes via Instagram
2. Curve Wedge Haircut
A classic wedge haircut like this is ideal for a statement-making look. The hair features a shaved round cut which is overlain by platinum blonde hair with curvy ends. The base of the blonde hair is dyed pink and brown to add a slightly feminine aura to the bold look.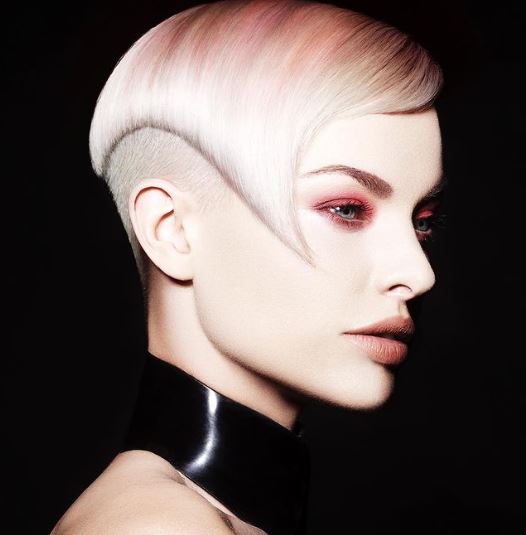 Image by @smartest73 via Instagram
3. Burnt Orange Purdy Wedge Hair
It's weird how we dreaded purdy hair as kids as it can actually look good. Purdy hair is making an astonishing comeback and is usually done with edgy colors, resting on a clean shaved haircut as seen here. I've seen purdy haircuts in purple and deep red and I can assure you that it looks just as good, or even better.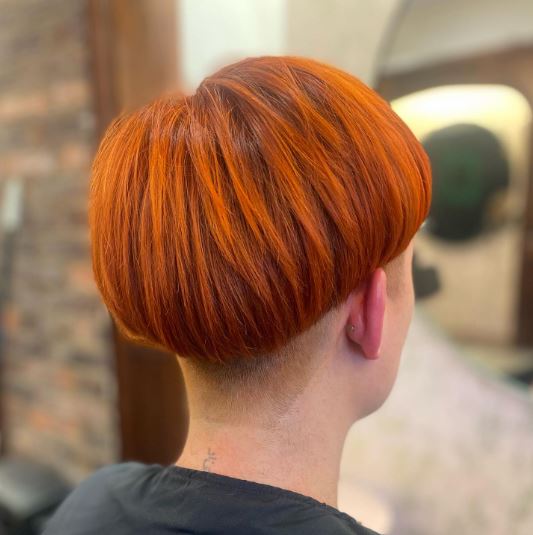 Image by @rewindshelly via Instagram
4. Pink and Black Wedge Haircut
This purdy hair takes a lovely twist from the usual. The black hair is almost completely covered with bright pink slightly wavy hair. This hair is a versatile style that can be rocked effortlessly by both girls and boys.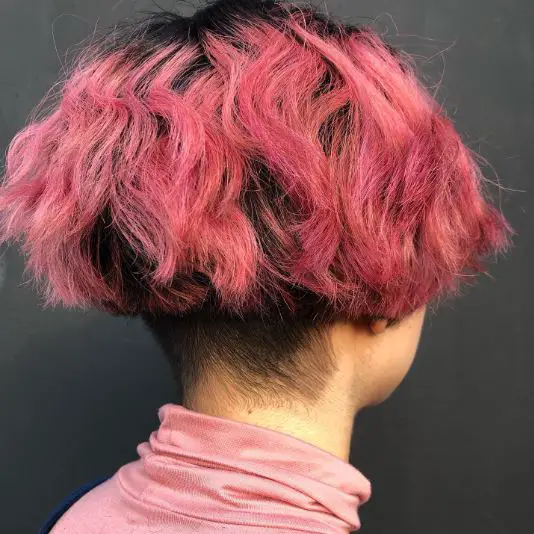 Image by @rebecca.clough.hair via Instagram
5. Layered Wedge Haircut Ideas
Layered wedge haircuts like these are one of those hairdos that work well with all face shapes. The stylish haircut will look especially great on people with thick hair. I suggest adding blonde highlights to get rid of the 80s vibe the hair has going on.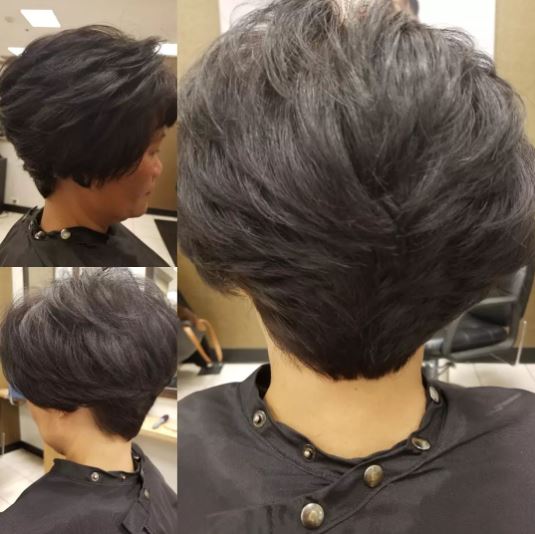 Image by @mariapacerappaport via Instagram
6. Long Wedge Haircut
If you want to rock the wedge hair with a slight edge to it, you should consider getting this hairstyle done. The wedge hair has a nice A-line that suits those with a heart face shape, with the longer part of the hair going straight down below the shoulders.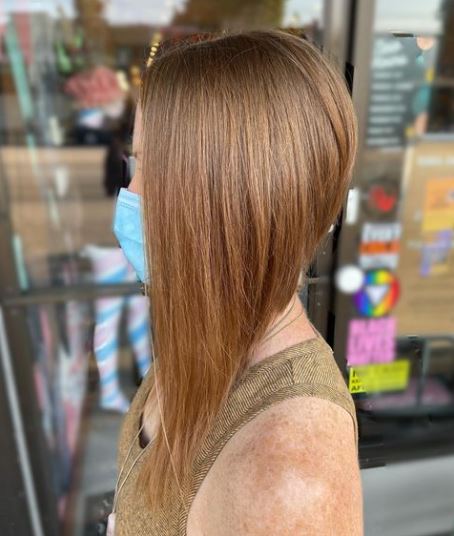 Image by @goodjobjill via Instagram
7. Hamill Wedge Haircut
Dorothy Hamill could give anyone a run for their money with her awesome wedge haircut. This hair is inspired by her. The simple hairdo is dyed to a charming shade of burgundy with nice scanty bangs added at the front.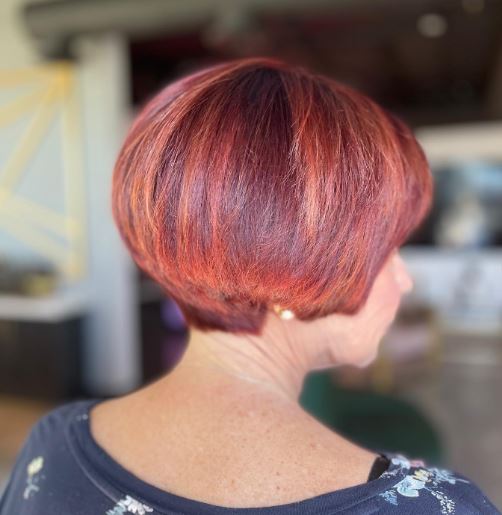 Image by @hairbyhall via Instagram
8. Wedge Bob Haircut
Short blonde strands rest just at the chin level in front with a classic wedge at the back portion of the hair. This wedge style is for women who like a classic vintage effortless look.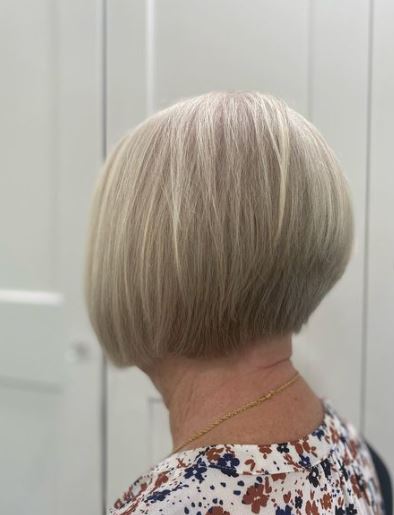 Image by @emily.a.hair via Instagram
9. White Curly Wedge Haircut
This wedge cut will make you look like you just stepped out of the salon even if you just rolled out of bed. This is due to the tousled curls of the wedge hair.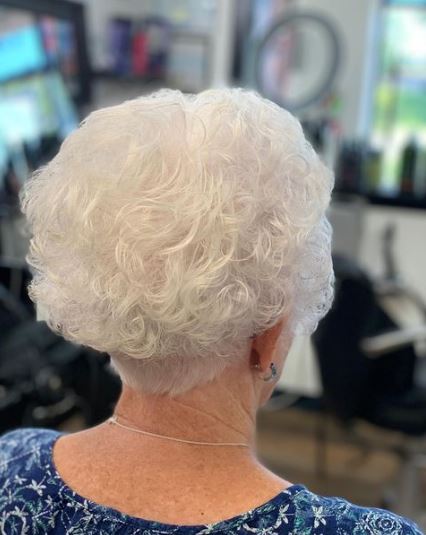 Image by @newstylesdavenport via Instagram
10. Short A-line Wedge Haircut
The color blend of this hairdo is beautiful to say the least. The front is dyed to a deep red color which transitions into purple the lower it goes. The wedge hair has a slight A line that lines with the jawline. If you have a thin hair texture, this wedge hair is a great option.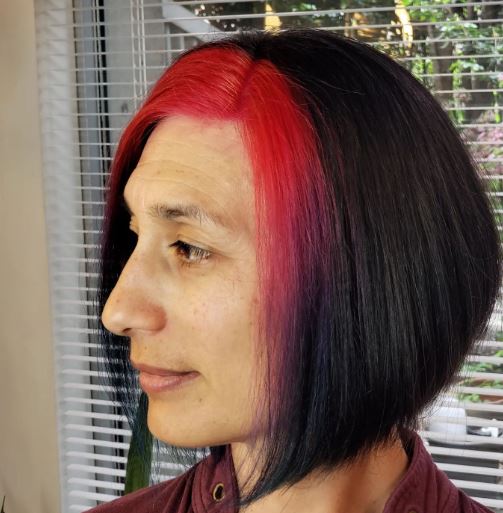 Image by @benshumart via Instagram
11. Red Messy Wedge Haircut
Tousled curly hair is a way to show you've got a funky personality. The hair has thick locks on the stacked bob that will give you that "right outta the salon look" even when you just rolled out of bed. Pair this with a bright monochrome outfit to look awesome as you go about your day.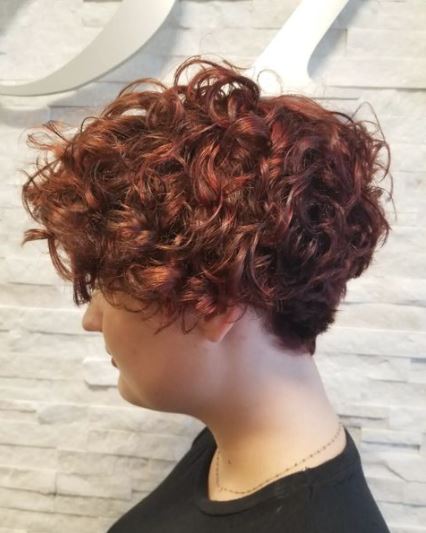 Image by @vivid.hair.dreams via Instagram
12. Blonde and Black Wedge Hairstyle
Anyone who's been involved in the hair industry for a while will know that Vidal Sassoon-inspired haircuts boost your confidence and give you a sense of personal freedom. This is one of his styles, done in sleek black and platinum blonde at the front for a stylish look.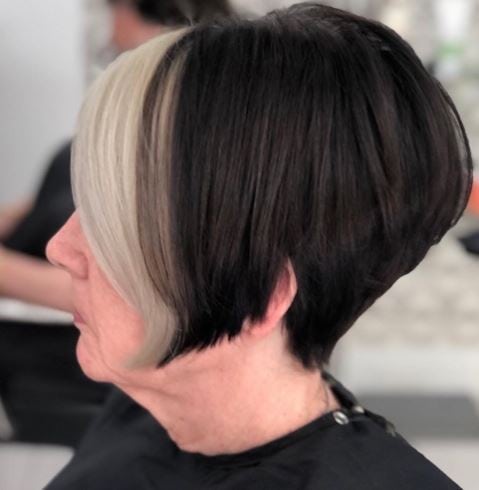 Image by @gabriela_mej1a via Instagram
13. Short Layered Hair
An unpopular fact about layered hair is how it gives the illusion that you've got thick hair even if you don't. I love how the hair is arranged in gradual layers from the top section to the ends of the hair.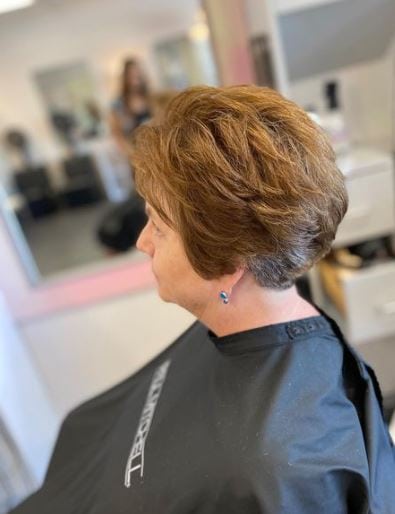 Image by @glitterhairsalon via Instagram
14. Wedge Haircut With Blonde Highlights
This is a classy take on wedge hair. The brown hair is overlapped by blonde, highlighted short layers at the top of the hair.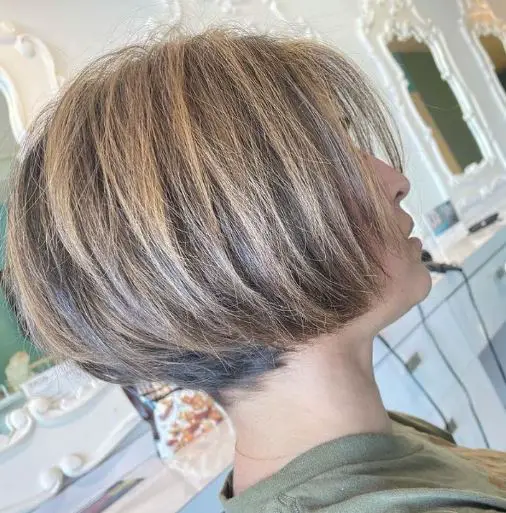 Image by @candipayne1 via Instagram
15. Sleek Angled Bob Haircut
Straight hair has a way of exuding class regardless of length. The sleek hairstyle has short hair at the back that gradually increases in length with the longest part in front.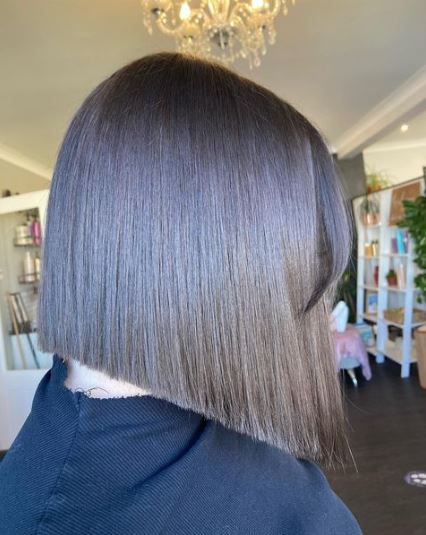 Image by @hairbymollies_ via Instagram
16. Curly Wedge Hairstyle
Naturally curly hair is great for a wedge haircut because it adds volume and movement to the wedge hair. This 90s-inspired hairstyle is a classic one that has a chic, vintage feel.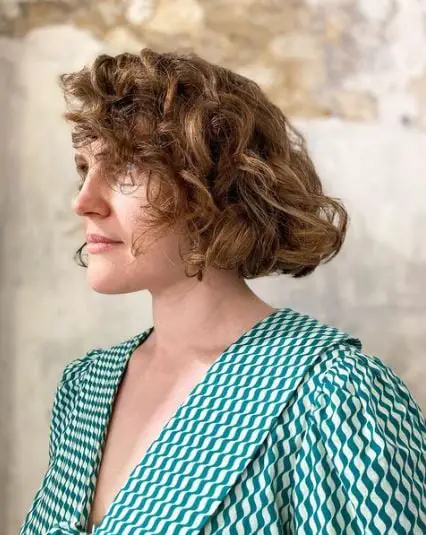 Image by @lionandfoxsalon via Instagram
17. Face Framing Stacked Wedge Haircut
Stacked hairstyles are a classic wedge style since they look smoother and more aligned. The sleek hair has a lovely curve at its side, formed by the bangs blending into the other parts of the hair. This hairstyle is perfect for working women and casual outings.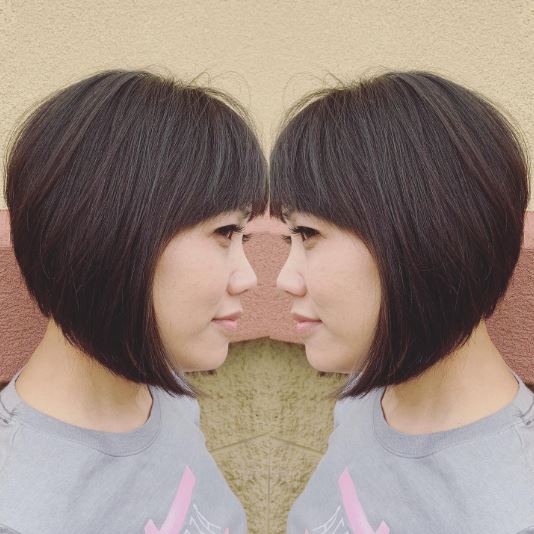 Image by @blacksheepsalonaz via Instagram
18. Heavily Layered Wedge Cut
This vanilla blonde hair has layers that graze the chin. Slight waves are added to the hair giving the look extra volume and depth. You can get this style done regardless of your hair type.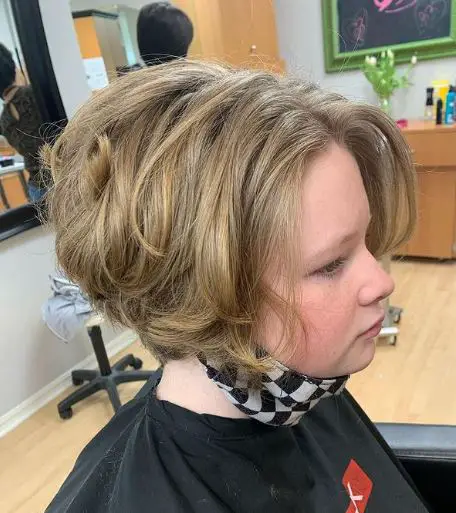 Image by @_shear_savage via Instagram
19. Pink and Purple Wedge Bob
The waterfall of colors in this wedge bob haircut is simply stunning. The dark hair at the base becomes a deep purple which becomes hot pink as the hair sweeps further down.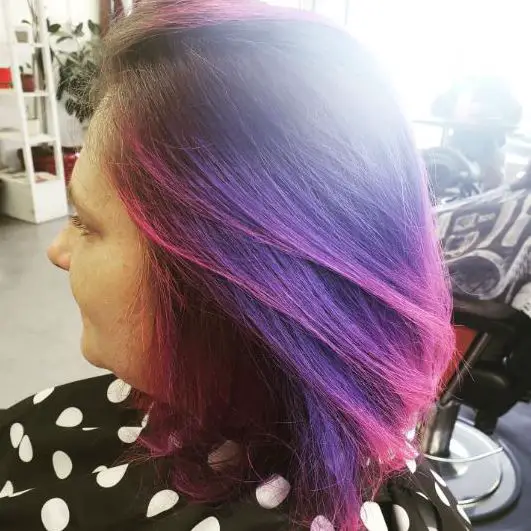 Image by @chopchopchelsea via Instagram
20. Asymmetrical Wedge With Stacked Layers
The slightly cool nature of this blonde and copper mix hair gives fall vibes. The stacked haircut lengthens from back to front. Pair this with a dark evening gown to enjoy the glow of the haircut.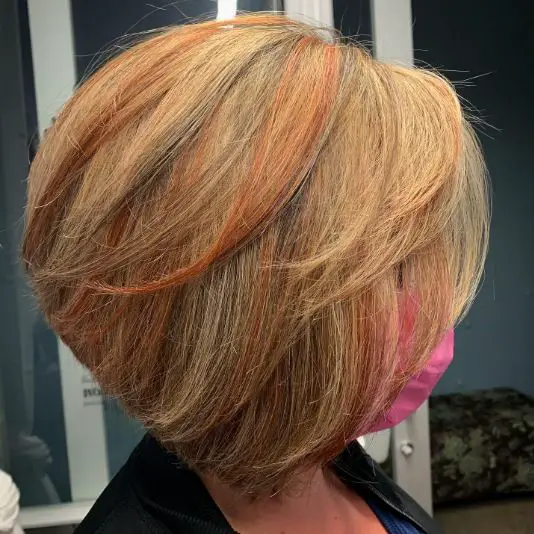 Image by @grooms_hairstyling via Instagram
21. Wedge Shaggy Cut With Layers
Dark burgundy colors with black lowlights is used to create this magical hair look. Minimal styling is done here, creating choppy ends and textured layers that are asymmetrical. The hairstyle has a carefree vibe that I'm all about.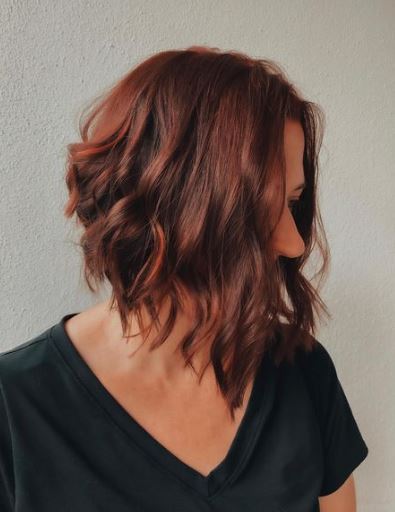 Image by @hairby.chena via Instagram
22. Wedge Lob With Green Highlights
If you're feeling classy and want to go for a vintage look, you should get this done. The lob hair has short soft bangs in front with a brunette short lob overlain by green highlighted hair.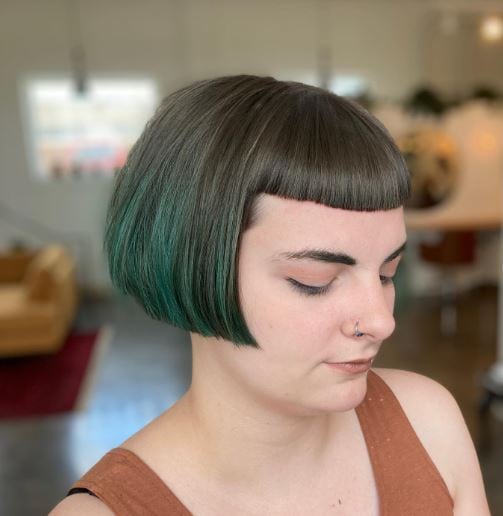 Image by @schylerdoeshair via Instagram
23. Wedge Bowl Cut
I love how this hairstyle brings back the 70s bowl cut but with a modern twist. Unlike the completely shaved undercut of bowl hair, this is left with some hair that ends in a sexy V shape at the back.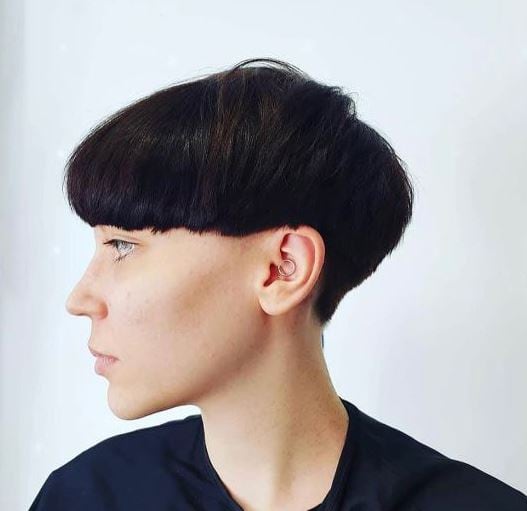 Image by @ruthmaddenhairstylist via Instagram
24. Copper Blunt Wedge Bob Haircut Ideas
Beam back to the 90s with this short haircut with blunt bangs. The hair color looks flattering on most skin tones and will no doubt look great on you.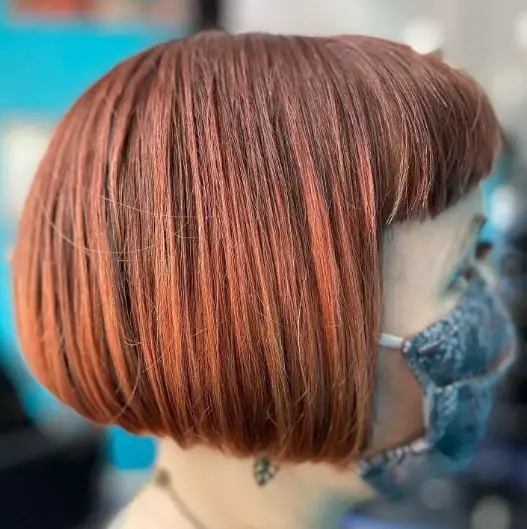 Image by @blondes.not.bombs_avl via Instagram
25. Short Layered Wedge Haircut
The colors used here will draw people in due to its unique shade. It has copper blonde hair covered by cerulean blue hair on top. This hair color is a bright one and will have more dimension when paired with darker outfits.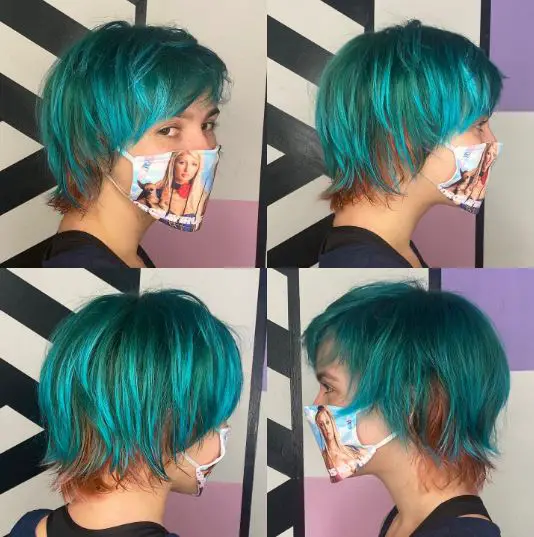 Image by @acute_stylist via Instagram
26. Long Asymmetrical Layered Hair
For women who like both a classic and modern spin on a wedge haircut, this is a lovely style to try out. The brunette's hair has a long length with longer layers as the hair moves from the back to the front portion.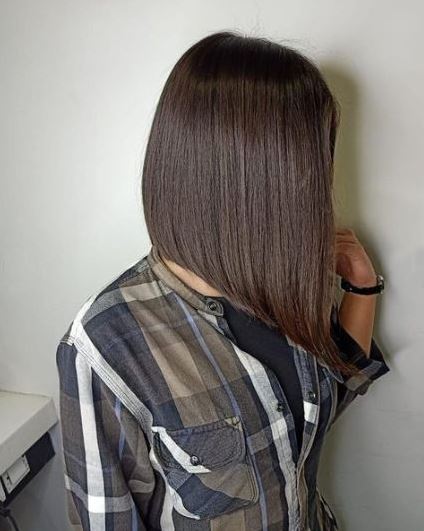 Image by @alittletooextra_ via Instagram
27. Dorothy Hamill Wedge Haircut
Olympic champion Dorothy Hamill gave us different styles of wedge hair for a confident look. This style is inspired by her and was all the rage back then. This is a modern-day version of the style with side-swept bangs and shorter layers of brunette hair at the back.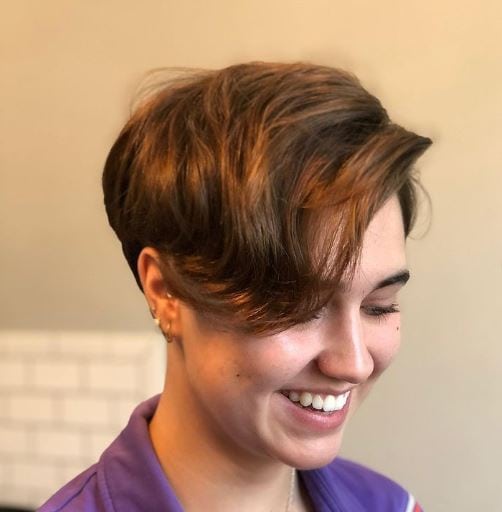 Image by @studioradiate via Instagram
28. Touch Of Black On Short Wedge Haircut
This hairstyle exudes class and style. The short wedge haircut is like a pixie cut but with more volume at the front and soft layers at the side. This is a chic look that will look great in a formal setting.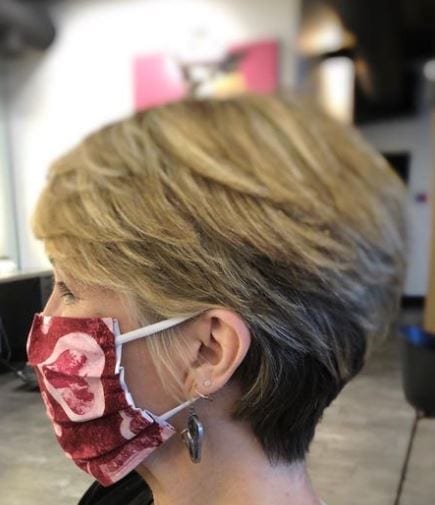 Image by @felix.lynn via Instagram
29. Wedge Bob Haircut With Color Melt
Am I the only one that feels the color melt of this hair? The fine texture is a perfect melt of blonde and brown. This wedge haircut will suits all face shapes and can be rocked seamlessly regardless of your age.
Image by @matthews_co_salon via Instagram
30. Wavy Modern Wedge Haircut
This short wedge cut has a bold look complemented by high contrast highlights. I love the hassle-free sweep of this wedge style from back to front of the head with slight waves all over the hair.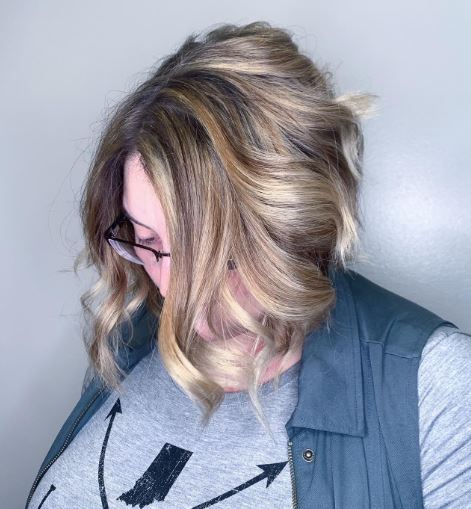 Image by @brookedghair via Instagram
31. Bowl Short Wedge Haircuts
The precision with which this short wedge haircut is done is marvel-worthy and will definitely draw attention. The bowl cut has a slightly longer front portion that frames the face perfectly.
The undercut has a nice V end and is separated into two sections, making it double. This hair is stylish, to say the least.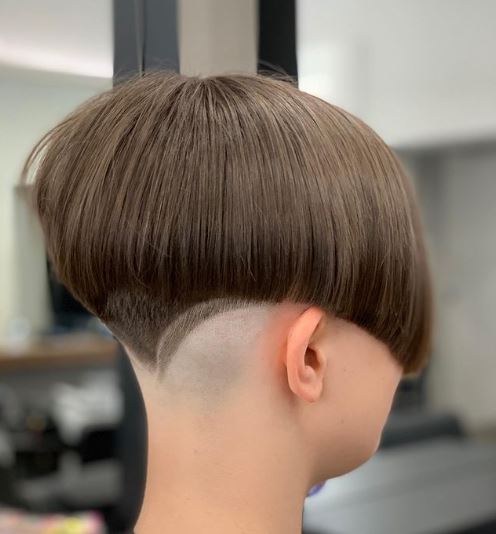 Image by @sarahwall_industries via Instagram
32. Burnt Orange and Pink Wedge Hairstyles
This textured wedge hairstyle pulls a slightly full pink undercut perfectly. Burnt orange hair on pink creates an edgy and sophisticated wedge look. This is a superb wedge hairstyle for those who like bright colors.
You might want to start with blonde or lighter highlights before you go for a more daring wedge hairstyle like this.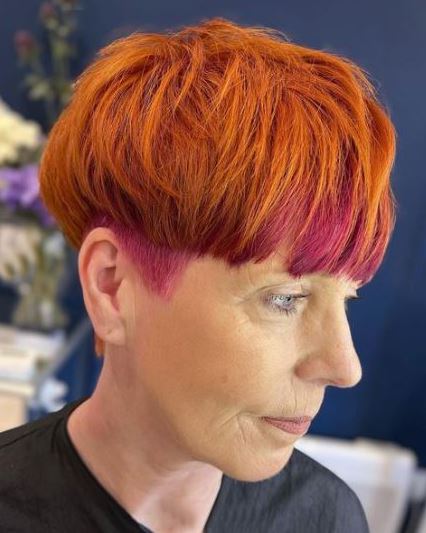 Image by @kelly_fisher_hmua via Instagram
33. Retro Asymmetrical Wedge Hair
I love the modern vibe that this retro hair exudes. The hair is shorter on one side and lengthens on the other. The shorter end exposes the burgundy undercut while the longer part features green highlights on the purple hair.
Rock this at a retro party as you sway to your favorite retro songs.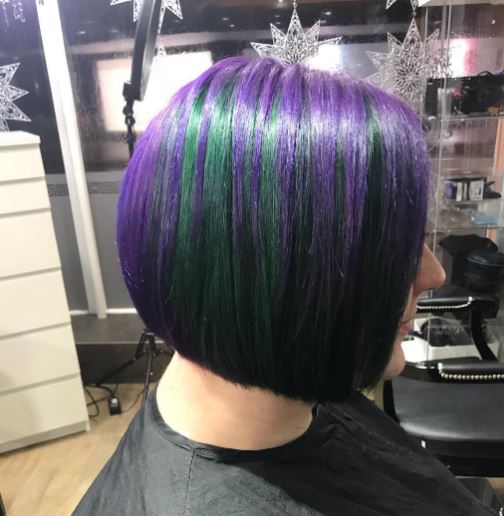 Image by @medusa_hairdressing via Instagram
34. Red Accent On Short Bob Wedge
Enhance your natural hair color by adding red highlights at the front of your dark hair as done here. This fine hair has a layered undercut with face-framing side swept bangs. You can recreate this look regardless of your hair length.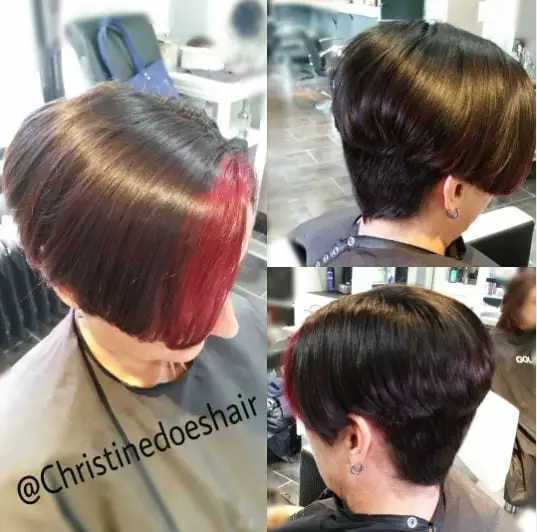 Image by @puresalonny via Instagram
35. Pixie Wedge Cut
Thick hair is best for a pixie hair since volume works well to make it look chic.
The hair is parted, forming nice wispy bangs with blonde highlights that serve to make her skin pop. This hairstyle will also look great with longer bangs which will add a flattering twist.
Image by @coloredbyericcanez via Instagram
36. Wedge Haircut With Candy Opal Hair Colors
People with warm skin tones look exquisite with bright hair colors like this. The blonde hair features a blend of pink, yellow and blue in the bowl section that combines perfectly.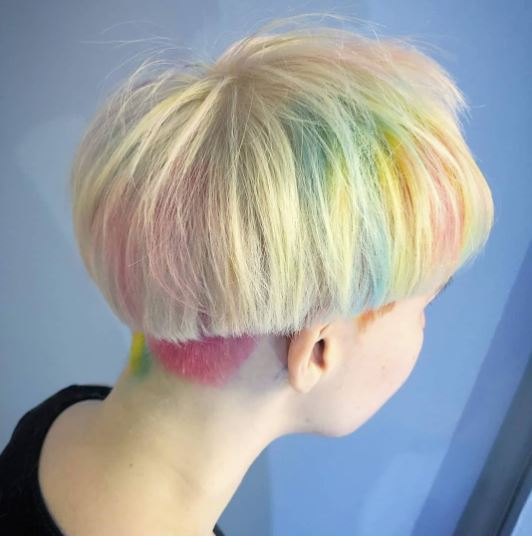 Image by @rockabelles via Instagram
Frequently Asked Questions
1. What Is A Wedge Haircut?
A wedge haircut is a short layered haircut that is similar to a bob cut. Wedge cuts do not have a uniform length. They usually have shorter hair at the nape of the neck which gradually lengthens as the hair sweeps from back to front.
2. What Is The Difference Between A Wedge Haircut and A Stacked Haircut?
Wedge haircuts have shorter layers which give your hair a slightly rugged or edgy appearance, while a stacked haircut has smoother and longer layers, especially at the front which gives the hair a more voluminous appearance and movement.
3. What Is A Pixie Wedge Haircut?
The pixie cut has generally short layers at the back and sides of the hair with very short bangs or no bangs. A pixie wedge haircut has a very short back with longer sides and an even longer front. A pixie wedge usually comes with long bangs. It's the best wedge haircut for women that want to rock the pixie cut but want a little length or hair movement.
4. What Is A Karen Haircut?
A Karen haircut is a popular one within the community of entitled and elite women. It is shorter at the back than it is at the front, might have spikes, and is usually blonde, giving it that bold 'I run the world look'.