No color signifies calmness and serenity like baby blue. Thanks to how easy it is to create intricate designs with acrylic, this is a style that you should attempt (let's not forget that extra strength and durability that comes with acrylic nails).
Baby blue acrylic nails create a combination of beauty, strength, and serenity waiting to happen right on your nails.
Whenever I have tons of work to get done but want nails that will keep me looking chic and classy, baby blue acrylic nails are my go-to.
Get onboard as we explore these 60 different baby blue acrylic nails that you can rock every season.
60 Baby Blue Acrylic Nails Designs To Choose From
1. Cute 3D butterflies baby blue acrylic nails
Let's start with these heavenly baby blue acrylic nails, designed with jewel-shaped rhinestones and 3D butterflies. This nail design is a beautiful look for spring and summer and is sure to brighten up your day.
Image by @jeehns_nails via Instagram
2. Ombre baby blue acrylic nails
Don't you just love how the nude color at the root of the nail matches the skin tone perfectly, creating a blend that goes up to the lightest shade of baby blue? I can't think of an occasion this nail design is not perfect for, so rock on queen.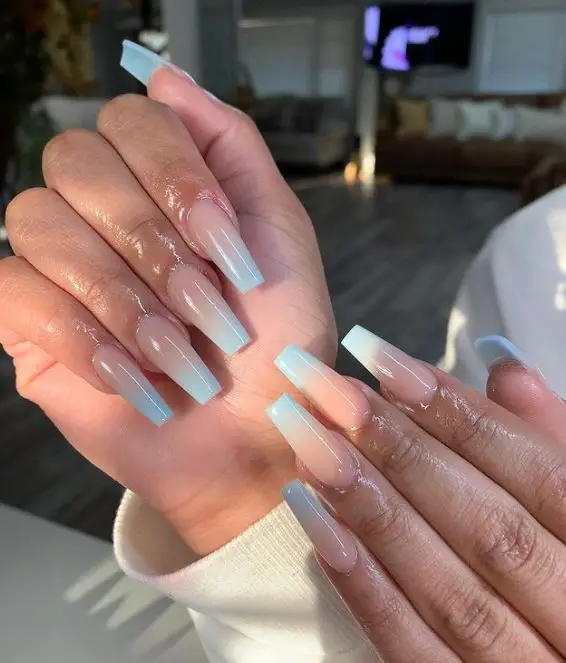 Image by @roxanysnails via Instagram
3. Long baby blue acrylic nails
These long, square baby blue nails are gorgeous, but the two light pink accent nails added with cute gold decals take the whole look to another level. Get this done if you're aiming for that subtle, yet eye-catching look.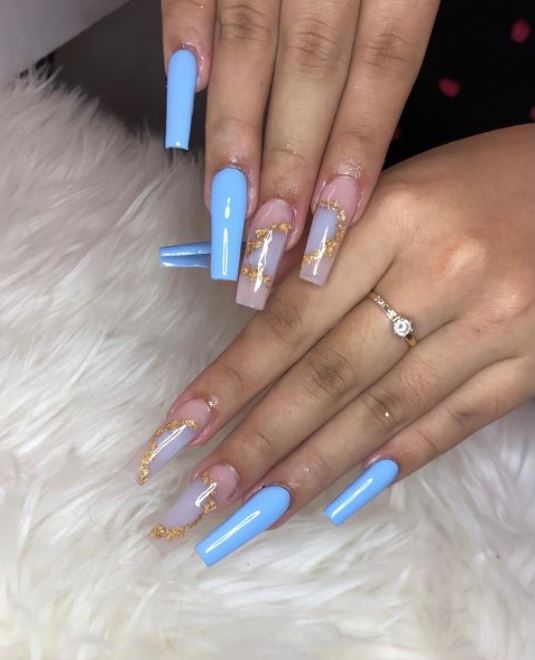 Image by @filedbyixn via Instagram
4. Simple baby blue acrylic nails
Baby blue is a color you can't help but love. This plain baby blue acrylic nail is a classic that is far from basic. This nail look is suitable if you want to add a basic touch of color to your work wear.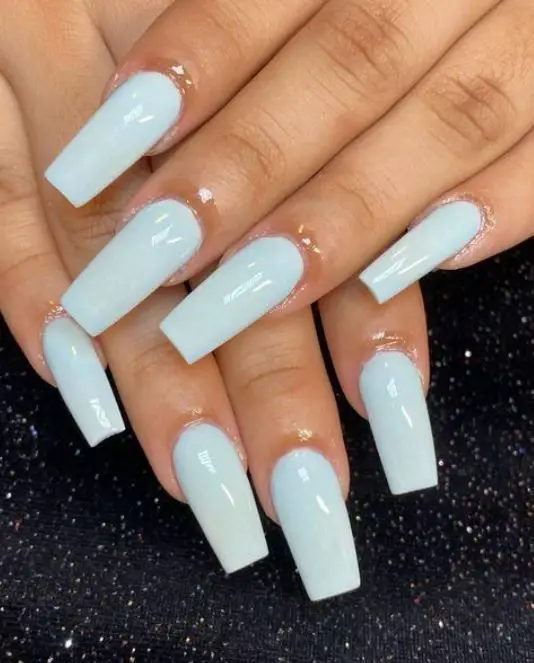 Image by @hairlauranails via Instagram
5. Square tips with flecked glitter
Need a stunning nail look for a little outing with some friends? This baby right here has got you covered.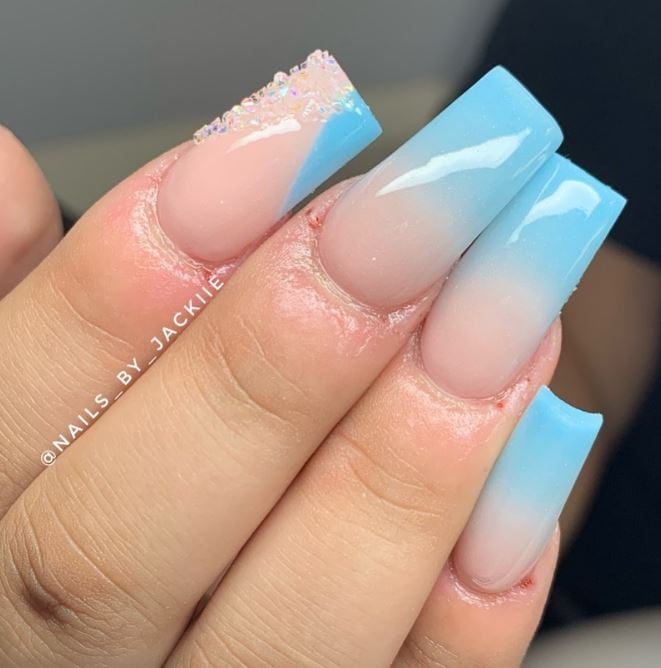 Image by @nails_by_jackiie via Instagram
6. Long baby blue butterfly set
Got a party this winter, and want to show up looking like a queen? Then, this awesome winter look is pure pleasure. The accent nail with rhinestones and a butterfly transforms it into something magical.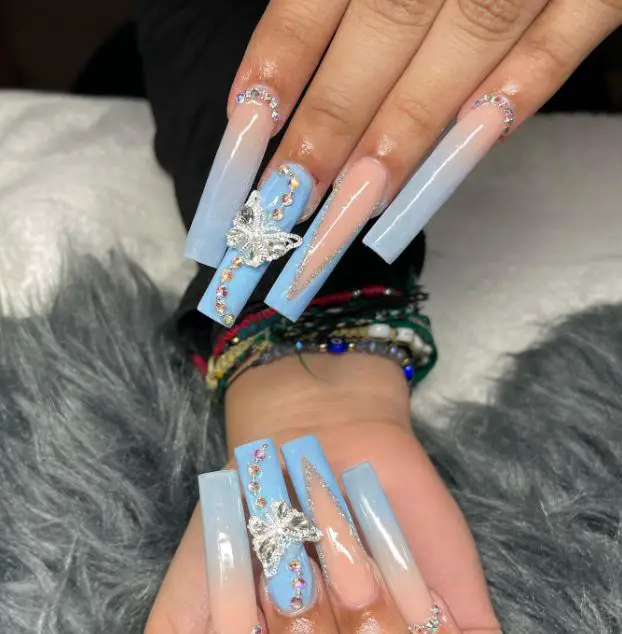 Image by @beau_nails_mg via Instagram
7. Boss lady baby blue acrylic nails
The softness of this nail design will evoke feelings of calmness. The good length of the nail is just right to insinuate boldness and class.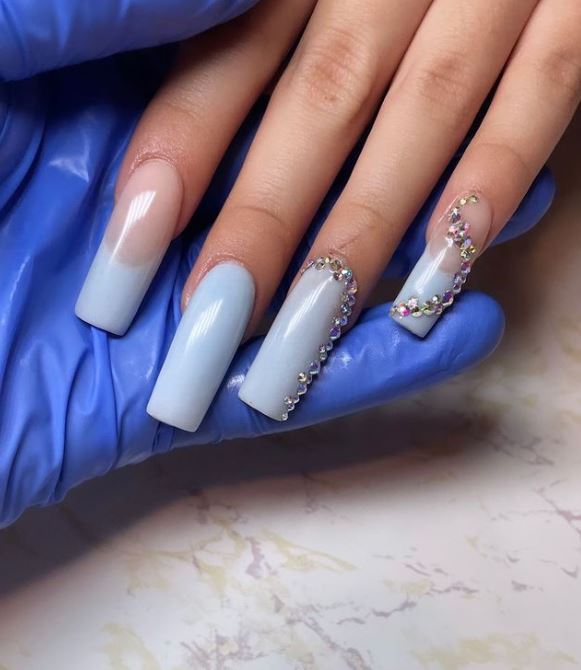 Image by @nails.byy.vianeyy via Instagram
8. Long square tip with flowers
The extreme length adds flair to this cute nail, and since I'm all for very long nails, this baby blue nail is a fantasy come true. The cute little flowers on the index nail add a fun element to the nail.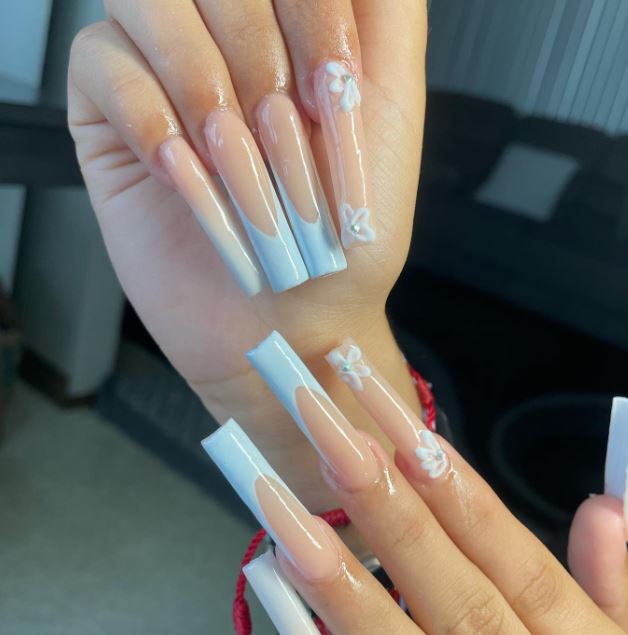 Image by @nailsbymia.r via Instagram
9. Baby blue acrylic nail with marble effect
Take a look at that accent nail with gold fleck decals that transforms this beautiful blue nail art into an alluring nail design. This baby blue coffin nail look is elegant to wear if your aim is to look polished.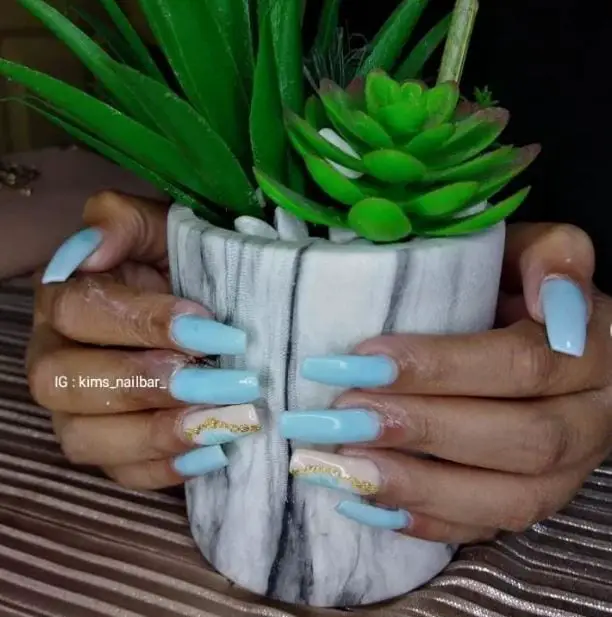 Image by @kims_nailbar_ via Instagram
10. Short cute square baby blue nails
Need a cute simple day-to-day nail look that will last, while having you looking peng? Then, this lovely baby blue acrylic nail here is the style for you.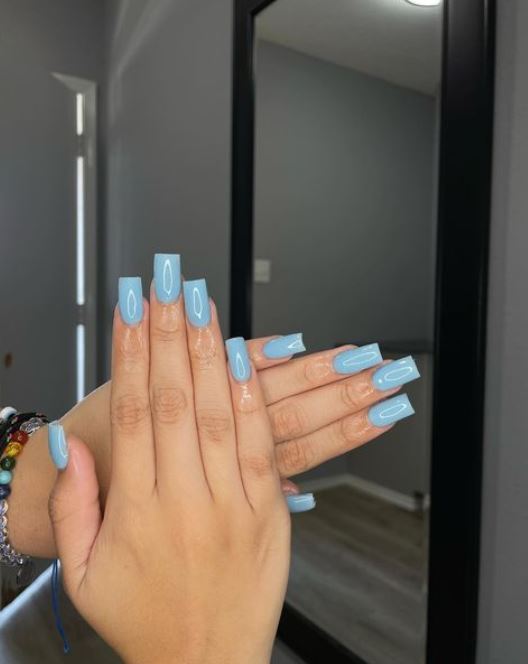 Image by @nailsbyleynaa via Instagram
11. Baby blue acrylic flowers nail idea
Rhinestones, glitter, acrylic flowers, and a touch of purple... just wow. Look no further if you want to make a bold statement and create an unforgettable presence with your nails.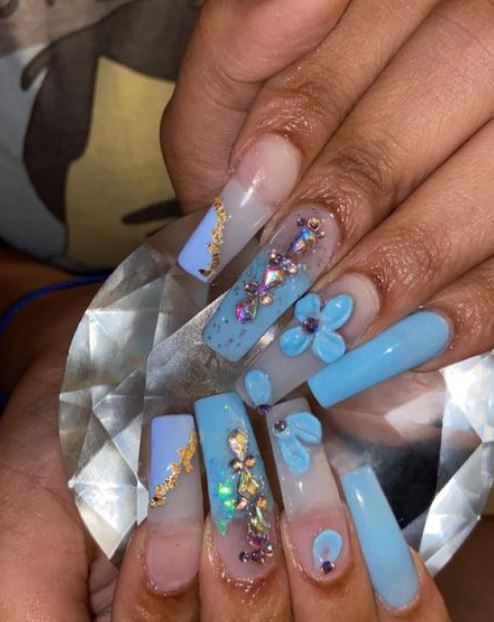 Image by @fancystylez_90 via Instagram
12. 3D crocodile prints baby blue acrylic nails
Crocodile and alligator print nail designs are making a comeback this year and I'm all for it. This fun and adventurous nail look is unique and cool for summer.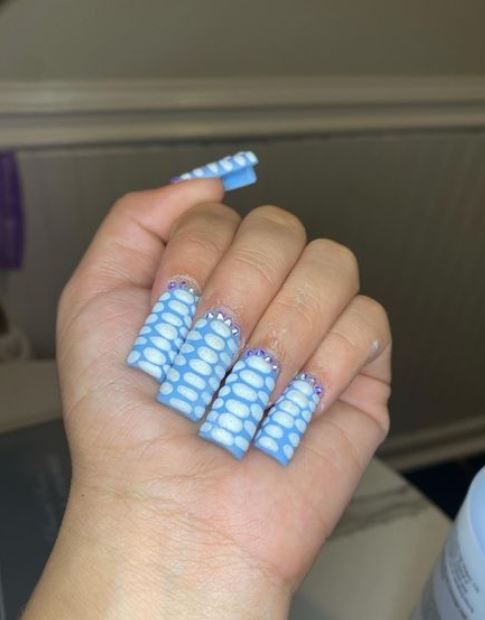 Image by @stefstyless via Instagram
13. Butterfly tips blue acrylic nails
This exciting nail art can be worn with a variety of outfits due to the glitter, butterfly silver edges, and baby blue tips that are flattering on the skin tone.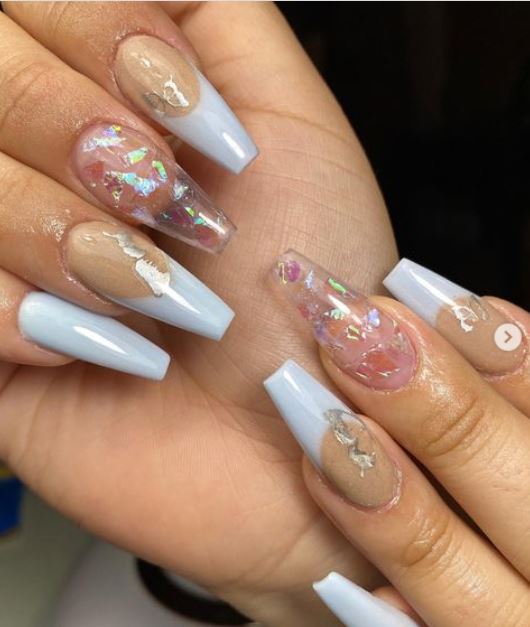 Image by @fsnaildit via Instagram
14. Glitter accent nail
With everything going on here, this design is reminiscent of galaxy nails. The silver glitter that crosses the middle nail seamlessly blends with the baby blue background. The rhinestones give the whole look a more defined appearance.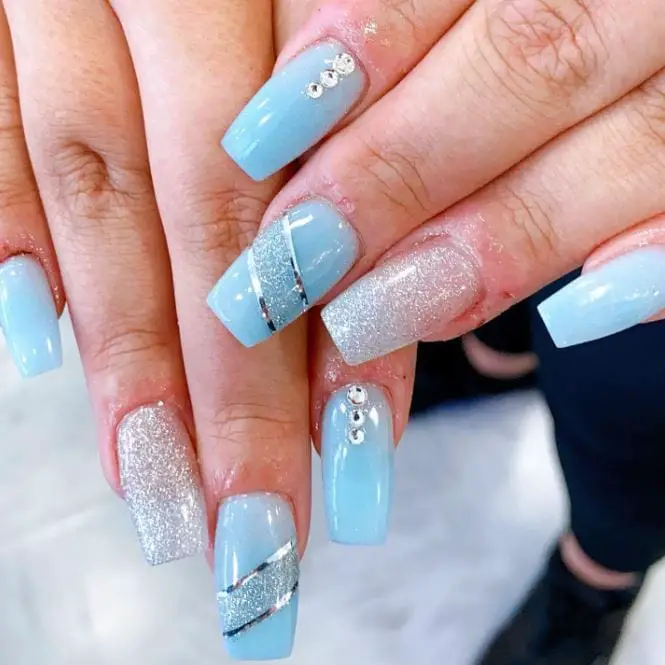 Image by @nailaddict39 via Instagram
15. Baby blue and transparent acrylic nails
A coffin nail look usually creates a stunning effect and this nail delivers just that. The mix of baby blue acrylic on one nail and transparent silver glitter on the other is a design that comes together perfectly. I would have preferred a longer nail with this design but if you love short nails, then you're good to go.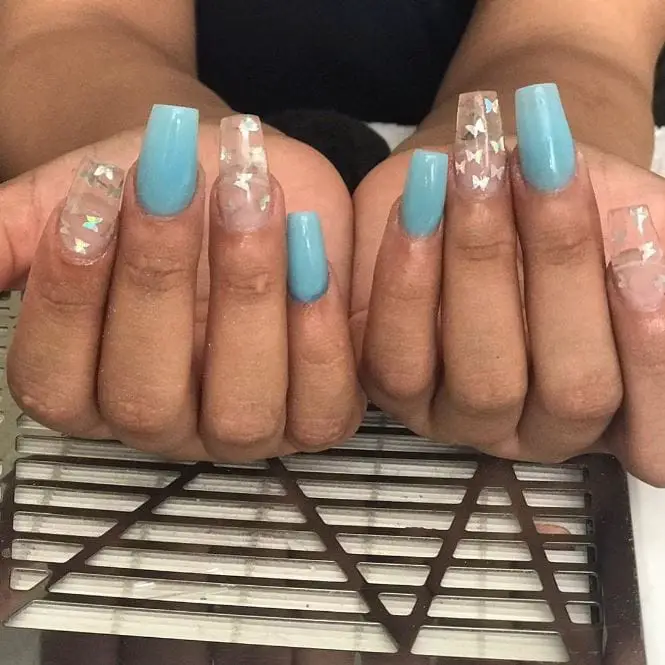 Image by @k.i.znails_uk via Instagram
16. White lines on baby blue acrylic nails
The versatility of baby blue to create both a mature and fun look is an attribute that not every nail color has. Here, the plain baby blue nail is just the right length and the white lines added close to the tip give it a timeless look that will never go out of style.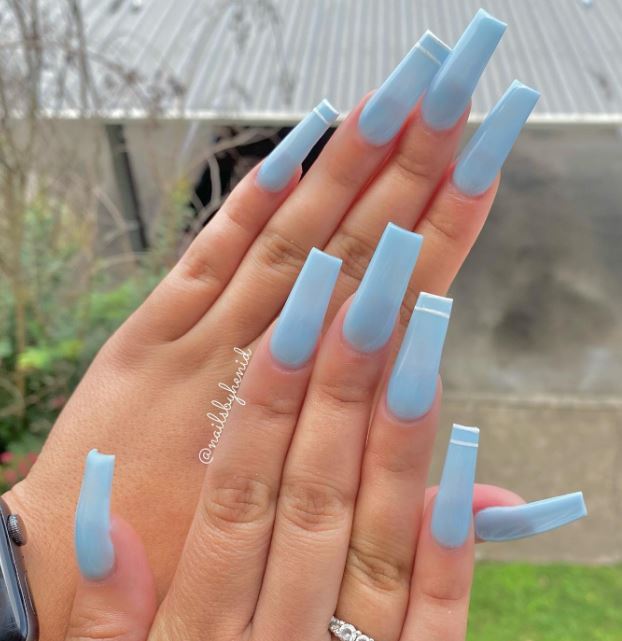 Image by @nailsbyhenid via Instagram
17. Baby blue acrylic nails with silver and gold rhinestones
I love nails that have a subtle pattern. This baby blue design is perfect if you want to change your regular nail design and want to switch up your look a bit.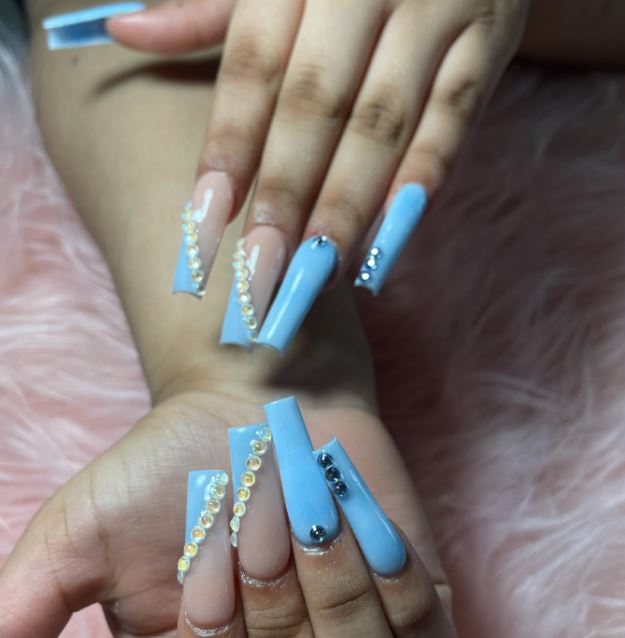 Image by @nailsbynardii via Instagram
18. Baby blue ombre acrylic nails
This long square tip nail is literally breathtaking, and it looks like it was put together by an experienced professional. The butterfly created with white acrylic and rhinestone is amazing, and the wings that are a perfect match. The hints of a wing on the index and little finger take the look up a notch.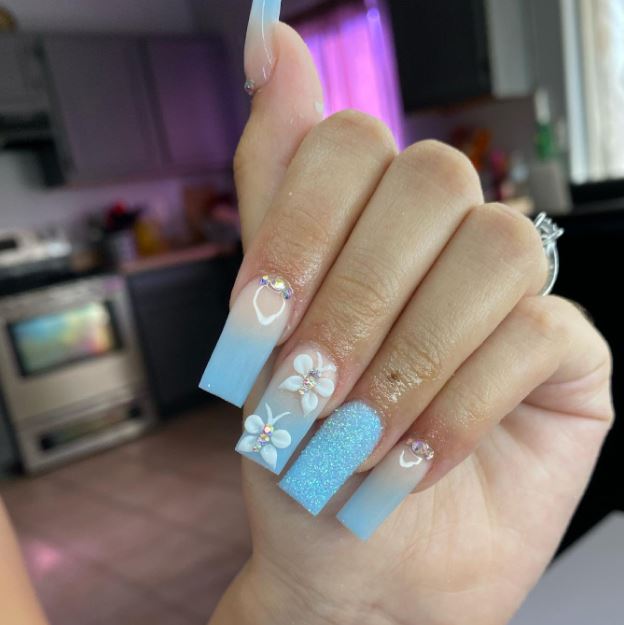 Image by @unas_by_la_tatis via Instagram
19. French manicure
The simplicity makes this a great choice for a concert or casual date. Nude root and baby blue tips are a perfect blend that is pretty and brilliant.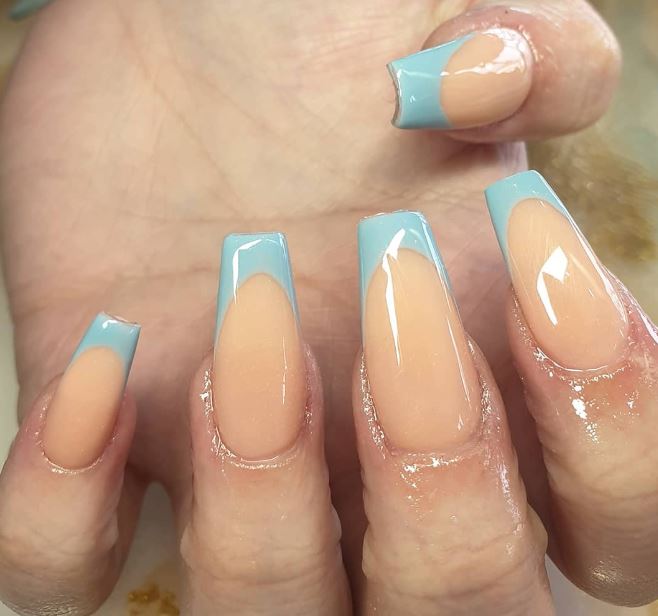 Image by @eknailsx via Instagram
20. Baby blue on a budget
This cute baby blue acrylic nail design won't break your bank thanks to how simple it is. You can use it to spice up your daily look a bit.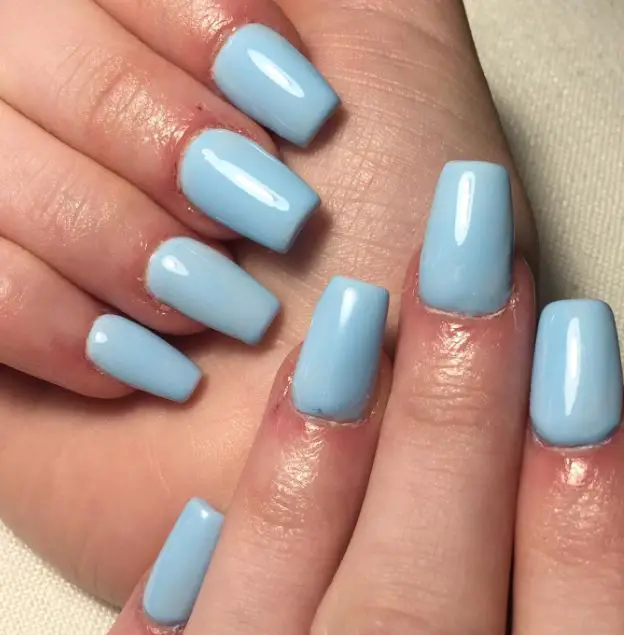 Image by @fsnaildit via Instagram
21. Sugar effect baby blue nails
Not sure whether to get a stiletto or coffin nail? Well, you can get both. This nail design features stiletto nails on the index and little nails reinforced by sugaring which gives it glitter and texture.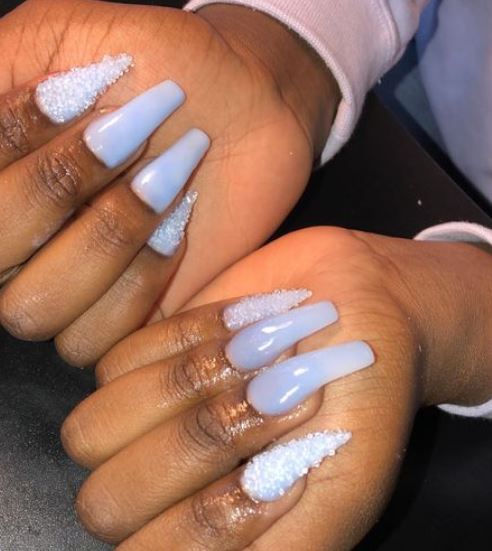 Image by @nail_lux_factor via Instagram
22. All color acrylic powder nail
This design incorporates multiple techniques: baby blue and white rhinestones, glitter, ombre and blue glitter between pink and baby blue that makes the nail shimmer. If you're trying to choose between a particular nail design, why not do them all?
Image by @latinas_touch via Instagram
23. Baby blue nails with holographic glitter
This fire nail design features accent nails with holographic glitter on the index and ring nails, and a simple nude and baby blue ombre nail on the rest. Complete this look with a cute outfit and you will look like a knockout.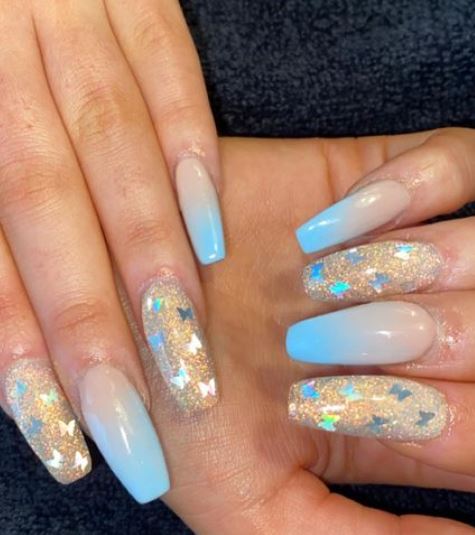 Image by @glamedby_gee via Instagram
24. Beautifully designed blue butterfly nail
This is a direct Disney's frozen reference. One look at this and Elsa's dress is the first thing that comes to my mind. The details on this nail are awesome; clear nails with glitter on two fingers and transparent nails with dark blue butterflies, acrylic flowers on 2 nails that match perfectly to give that princess vibe.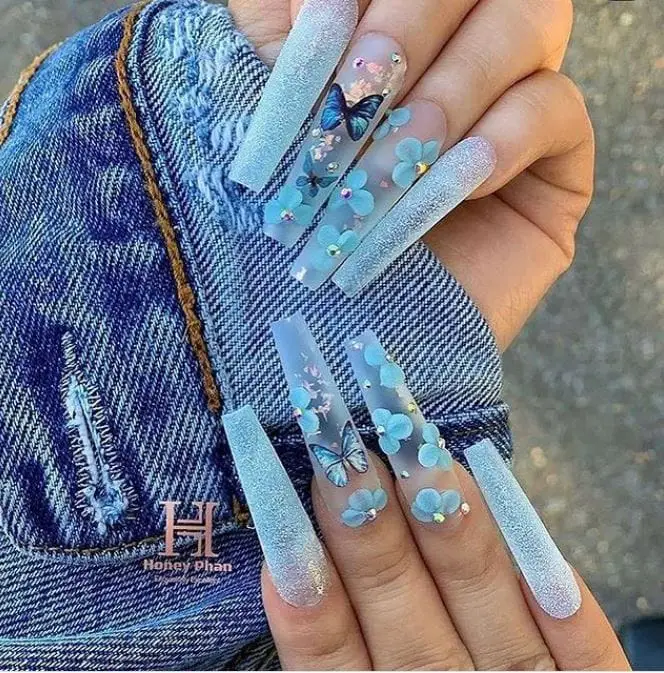 Image by @nails.galor3 via Instagram
25. Short baby blue acrylic nails
Butterflies on nails are the in trend now. This design has a typical cloud look on the index finger, and a butterfly accent nail that creates a refined and sparkly blend. There's literally no outfit this wouldn't be bomb with.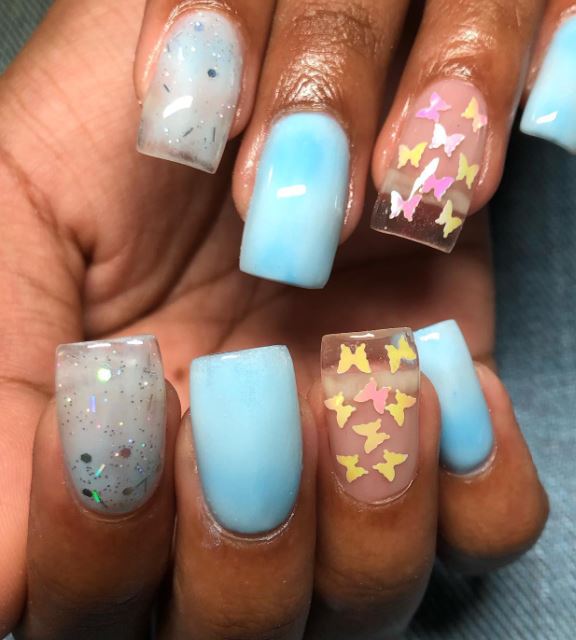 Image by @saydenails via Instagram
26. Long coffin nails
Yet another long simple and classy nail design that portrays a restrained elegance. This baby blue look suitable for a bridal shower if you want to look pretty and feminine.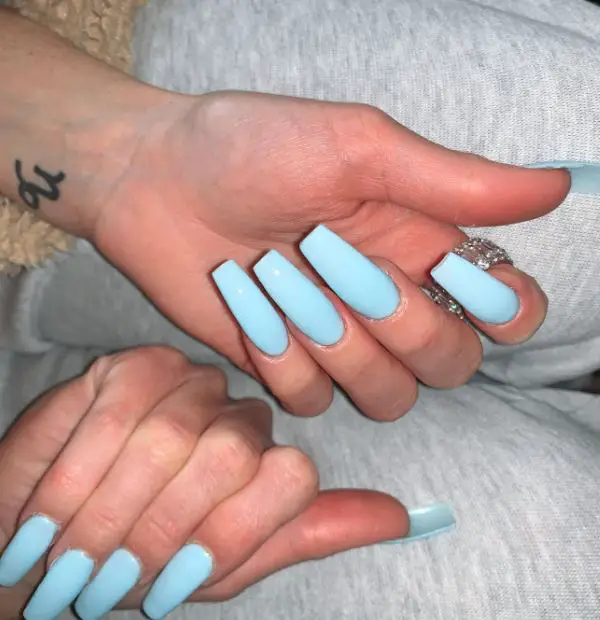 Image by @nailsbylors_ via Instagram
27. Pink and baby blue acrylic nails
Tired of the same look? Just shake things up with coffin nails of different colors. If you want to go the extra mile, add silver accent nails on each finger to complete the look.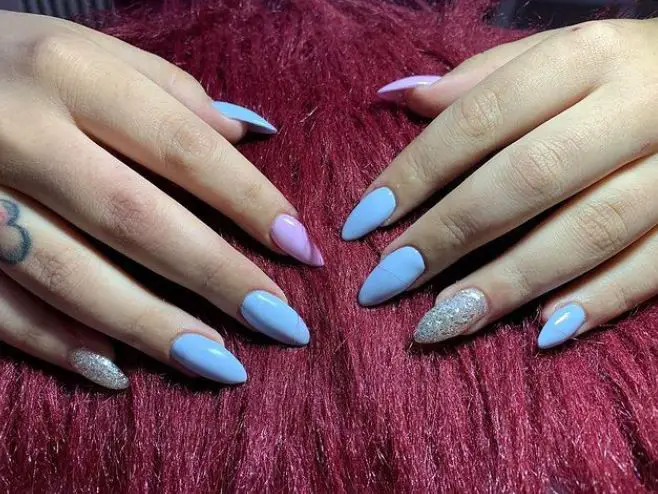 Image by @d.d_beautysalon via Instagram
28. Sugar and rhinestone goodness
Got a bling party to go to? Well, get this head-turning glitter and rhinestone design to create a look that will dazzle everyone even when you're long gone.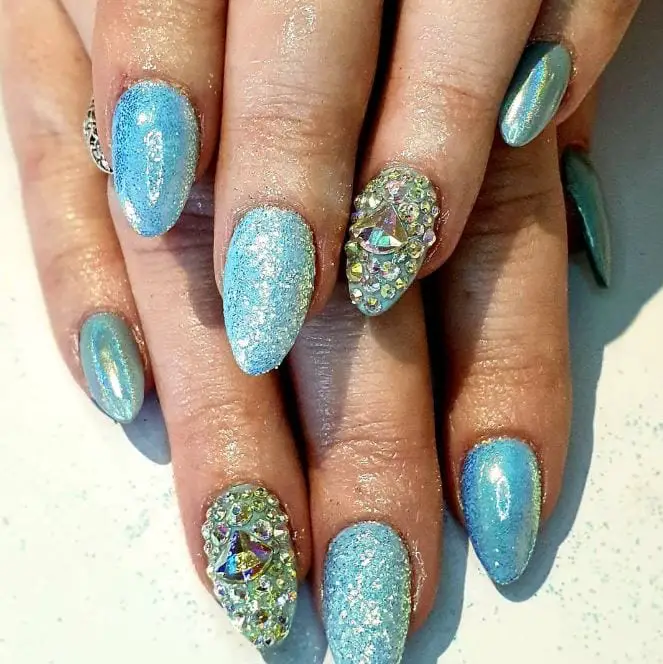 Image by @nails_by_ola_harrogate via Instagram
29. Icy, winter nail designs
This daring look with crocodile patterns, pearls, and rhinestones might be intimidating for first-timers. Don't you just love how all the details of this nail art are clear despite everything going on here?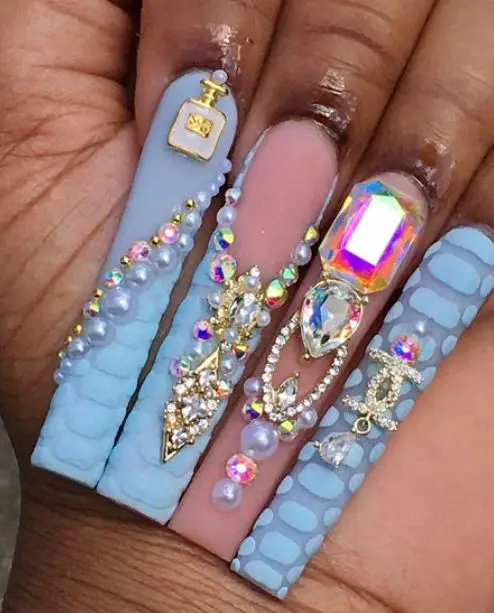 Image by @porchenailedit via Instagram
30. Long square with clouds
Look no further for your next nail design, because these square nails with a little bit of everything has got your back. It has a bomb ombre on the middle finger, baby blue clouds, and a blend of nude and baby blue.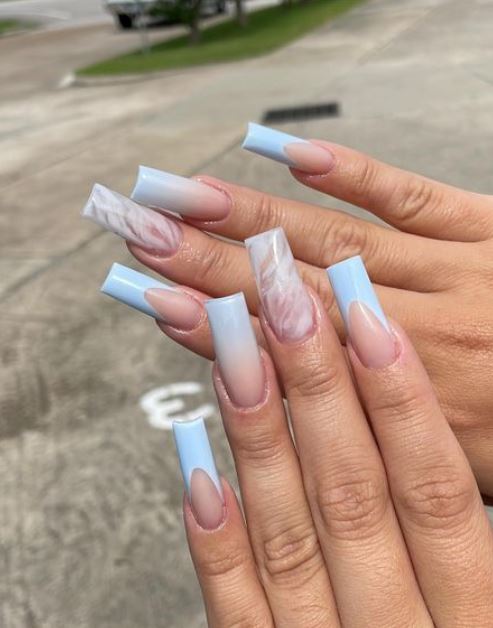 Image by @iiselarodriguez via Instagram
31. Spring nails
The flowers on these nails make me think of springtime. The softness of the colors makes this design calming to look at. The single accent nail between the plain baby blue acrylic nails makes the nail design feminine and amazing.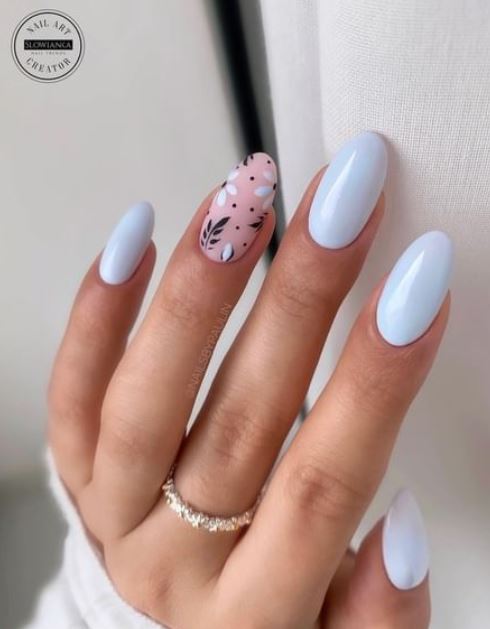 Image by @nail_art_club_ via Instagram
32. Square, short nail
I love the vibe of this nail; the simple baby blue tones and the cool way the butterfly is drawn on the ring finger complements the vibe of the whole design, making it great for summertime.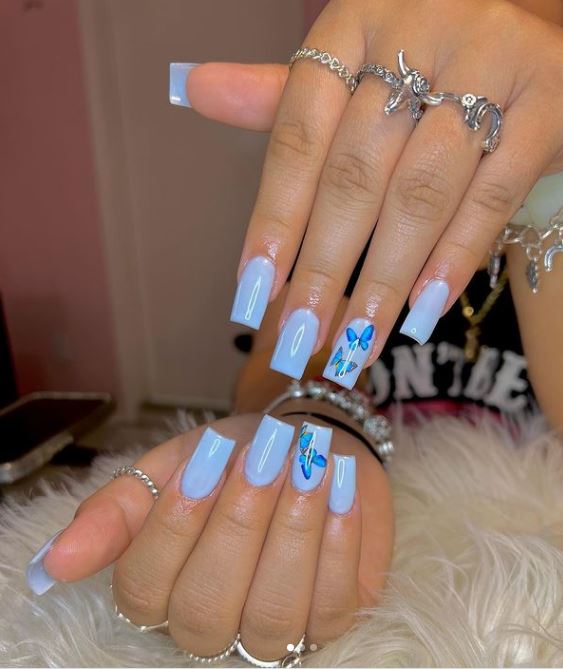 Image by @nailzby_kaayy via Instagram
33. Angel's nails
The jewels, rhinestones, butterflies, and glitter makes this nail design seem like it was made for a character from Frozen. If you've imagined how life would be if you were Elsa, just add this nail design to your wish list. This style right here was made for a real-life princess.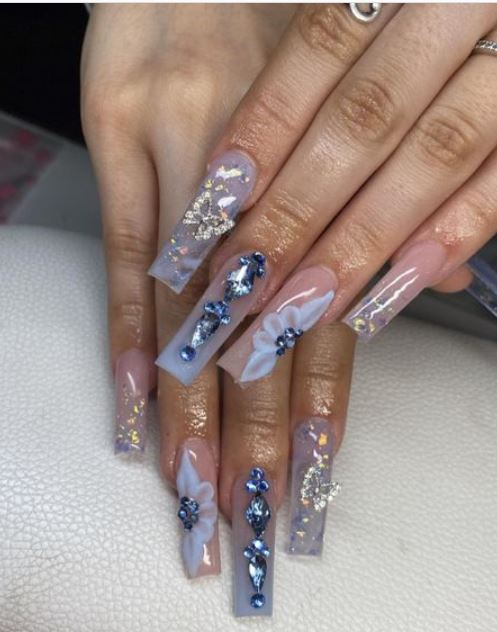 Image by @nailedbylizzz via Instagram
34. Medium coffin nails
With just two baby blue nails and 3 nude nails adorned by bright flowers, this coffin nail idea adds a fun element to your spring holiday.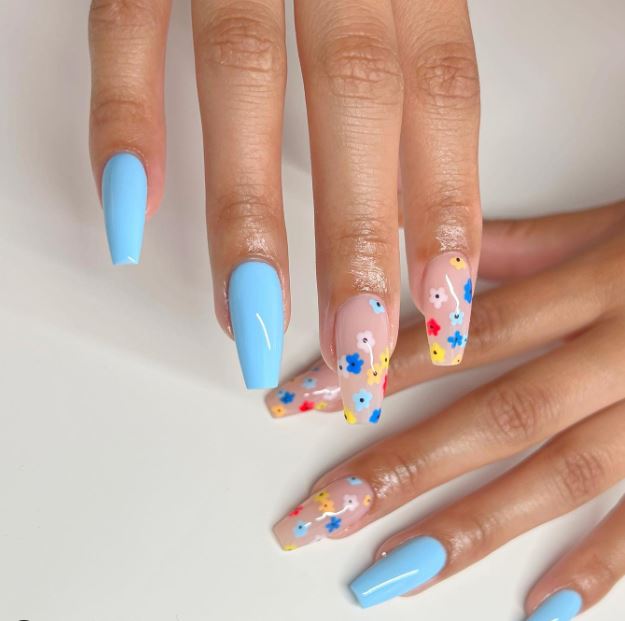 Image by @nailsxgoldenhour via Instagram
35. Short baby blue almond nails
This is a simple look: pretty blue nails with a nude accent nail adorned with flowers and glitter. I'll recreate this look with the addition of glitter that will increase the shimmer. However, this is also great if you want a subtle design.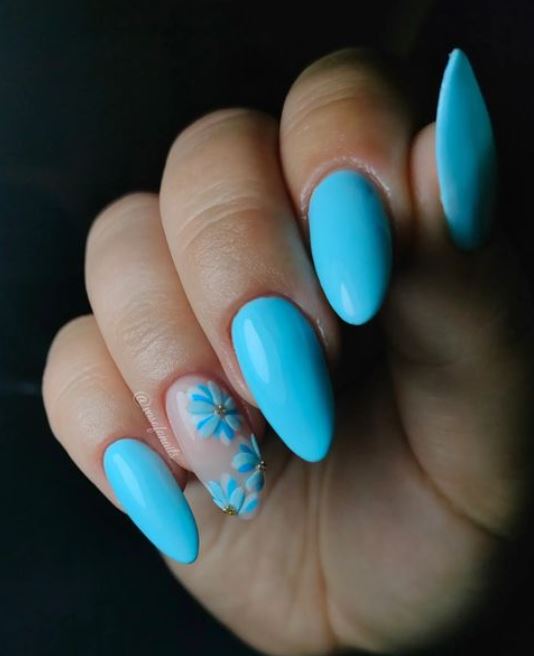 Image by @vasofonails via Instagram
36. Simple manicure with clouds
These short baby blue acrylic coffin nails with white stripes form a cloud pattern. The bright clouds add a delightful touch to the nail design. This look will pop when combined with a simple monochrome outfit.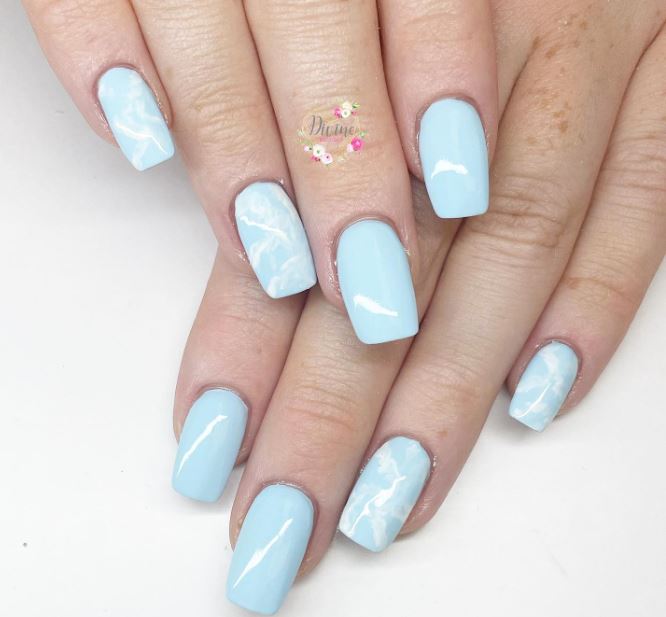 Image by @nailsbynorthyx via Instagram
37. Baby blue acrylic nails with flames
Its generally known that the hottest flames burn blue, and this nail design takes flames on nails to a whole new level. A simple and beautiful blue wild flame on the ring nail elevates the nail look from simple to classy.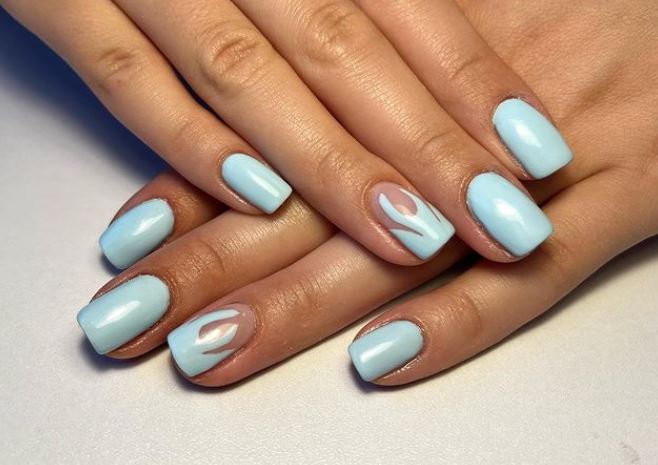 Image by @nailsbyildiko via Instagram
38. Short blue summer manicure
Here is a cool nail idea that is perfect for summer. There's no doubt that it looks amazing as a short nail, but adding length to the designs shakes things up a bit. The baby blue nails with a different color on the ring nail gives it a cute look.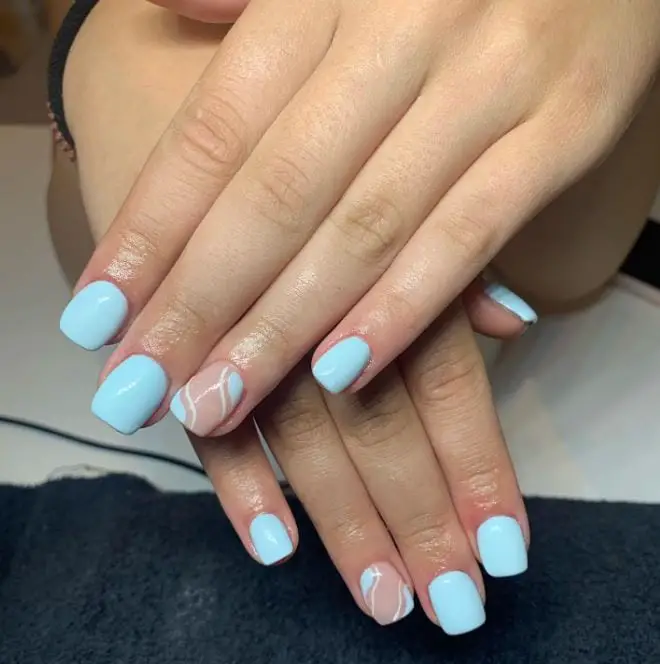 Image by @_justnails_e via Instagram
39. Baby blue nails for summer
Blue is usually associated with winter. So, who would've thought there would be a baby blue nail that reminds you of summer? Well, this does. Go get this done and happy tanning.
Image by @azranailsss via Instagram
40. Something blue or something pink
Remember that the hottest flames burn blue right. Well, these amazing coffin nails were done for a gender reveal. The nails on one hand are pink; with pink nails and a pink leopard print to signify a baby girl. The other hand featured blue nails, with each finger having a single nail with crazy glitter on it.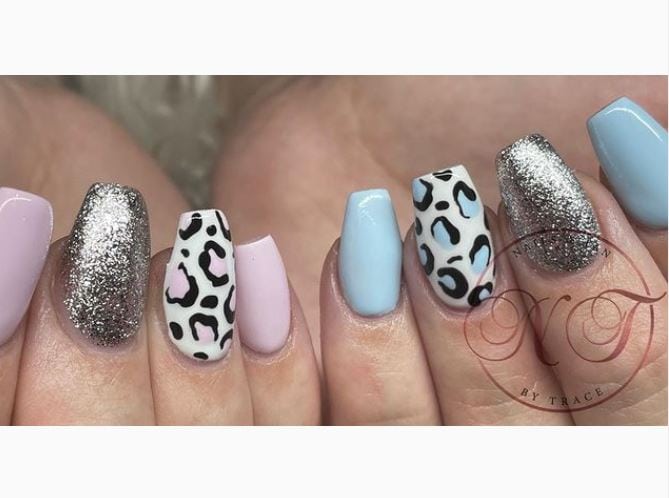 Image by @nails_and_tan_by_trace via Instagram
41. Coffin nails with leaf design
Neat cuticles and cool baby blue acrylic nails designed with little white leaves on the ring nail. The simplicity makes this nail idea amazing and easy to pair with a variety of outfits.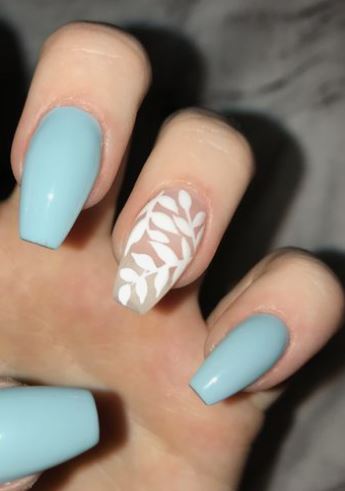 Image by @megzmeggi via Pinterest
42. Glitter nails
This is no ordinary nail, it is daring with its crazy glitter. I would wear this for any occasion.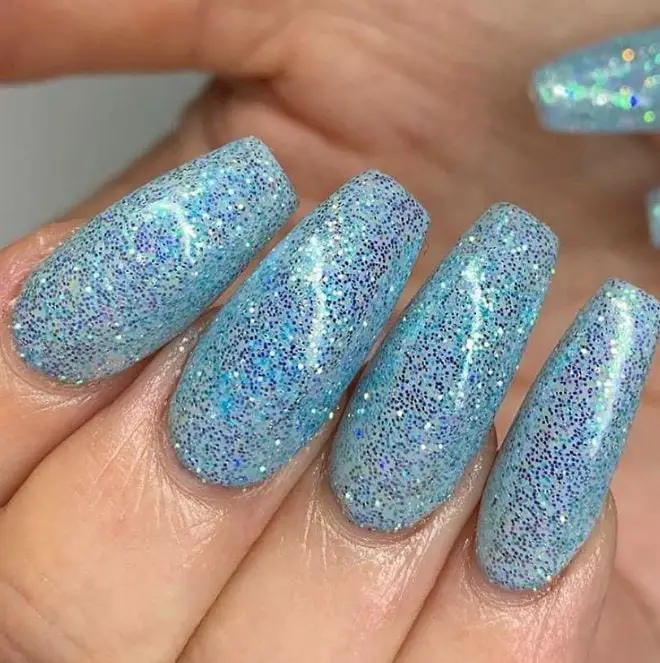 Image by @gcs_beauty_ via Instagram
43. Baby blue acrylic nails with a touch of pink
Another baby blue acrylic coffin nail. The color choice used for the flowers is the best among the different shades of pink. It elevates the whole design, creating a bright style with a look that makes you think of the sky.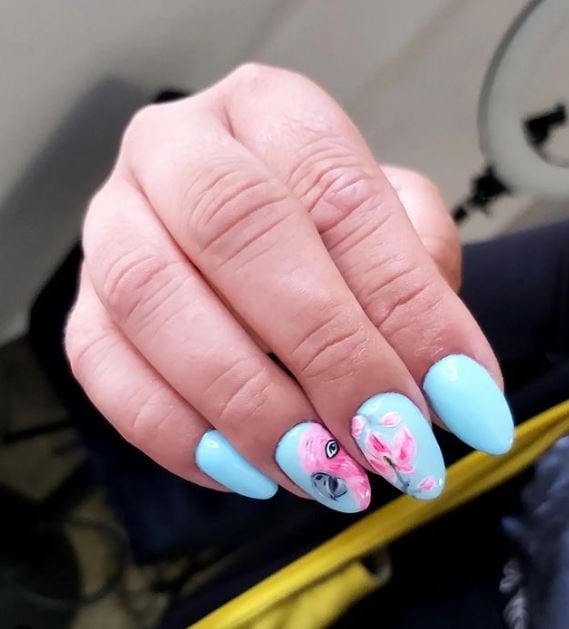 Image by @gleamingcloud via Instagram
44. Summer loading
Let's not focus on the really great baby blue acrylic nails. Take a look at that accent nail with gold fleck and fine little blue leaves. This is a great nail idea to spice up your daily look.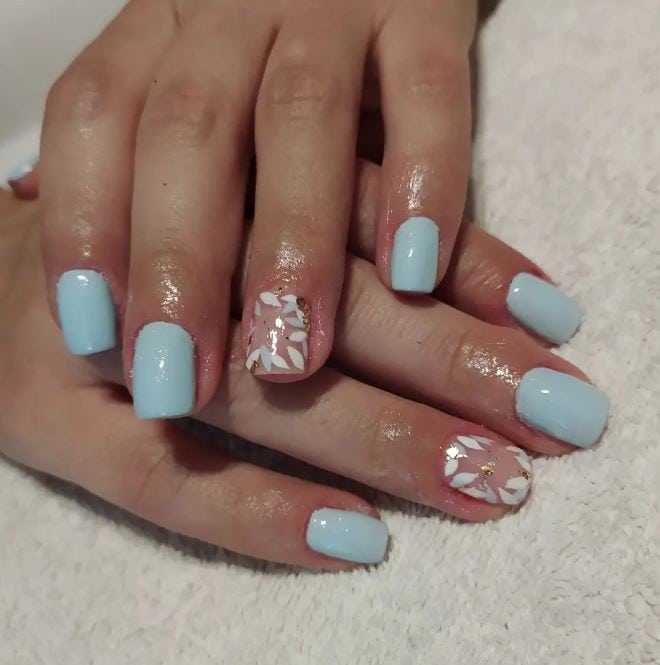 Image by @christie_stavrou via Instagram
45. Hybrid Manicure
The nude and light blue hybrid manicure is subtle and easy to create if you want that awesome winter look. The nude nails feature a half baby blue tip and unequal blue stripes.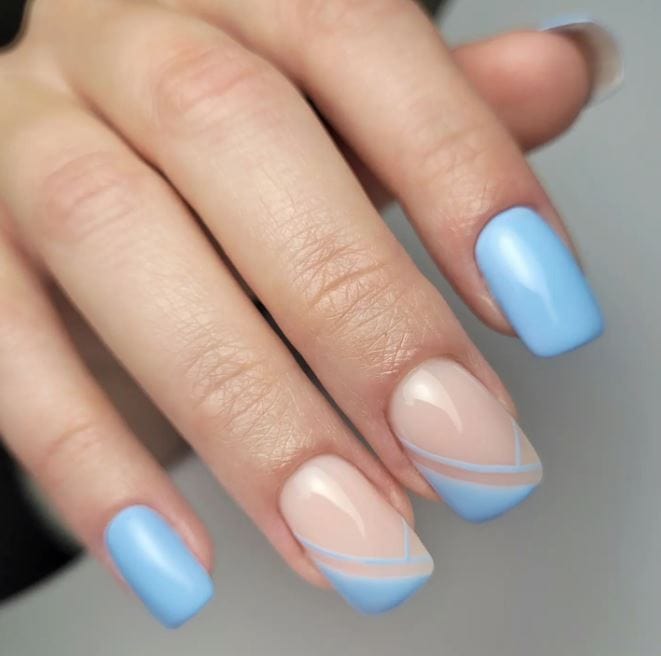 Image by @dominika.jagodzinska.nails via Instagram
46. Dip powder baby blue acrylic nails
Yet another easy look that doesn't need to match a particular outfit. These are unadorned baby blue acrylic nails with a single silver nude nail dipped in glitter.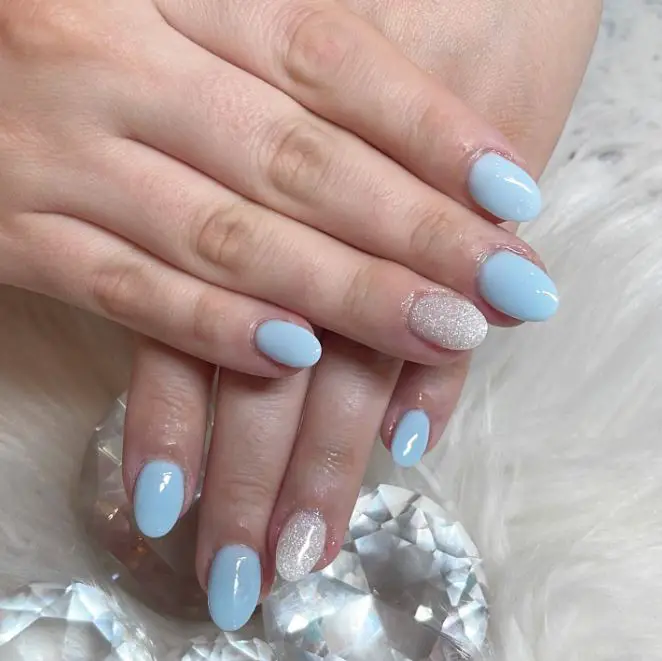 Image by @liana.artdipping via Instagram
47. Unornamented baby blue acrylic nails
Who says you have to go all out to look chic and fancy? These unadorned baby blue nails are effortlessly classy, giving you an upscale appearance. Get this done if you want to make a statement effortlessly.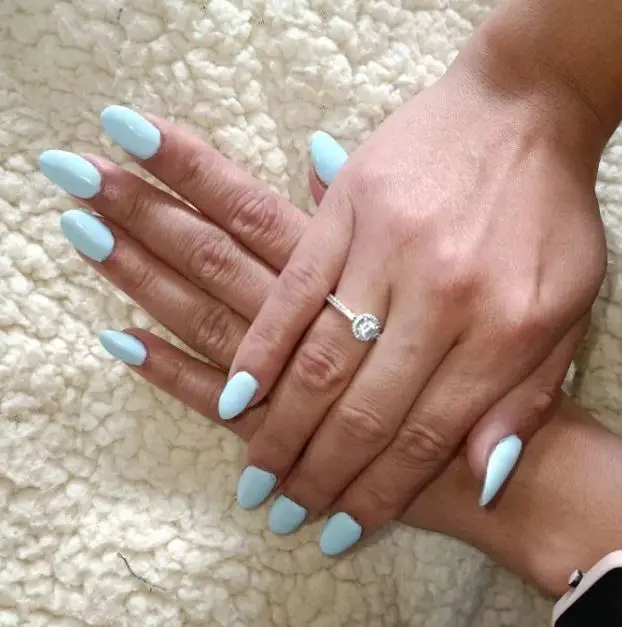 Image by @studioannasouzabeauty via Instagram
48. Baby blue glitter nails
This short nail with a square tip doesn't feature crazy patterns but has a glamorous silver glitter-filled nail. The same design will look really great on a longer nail as well.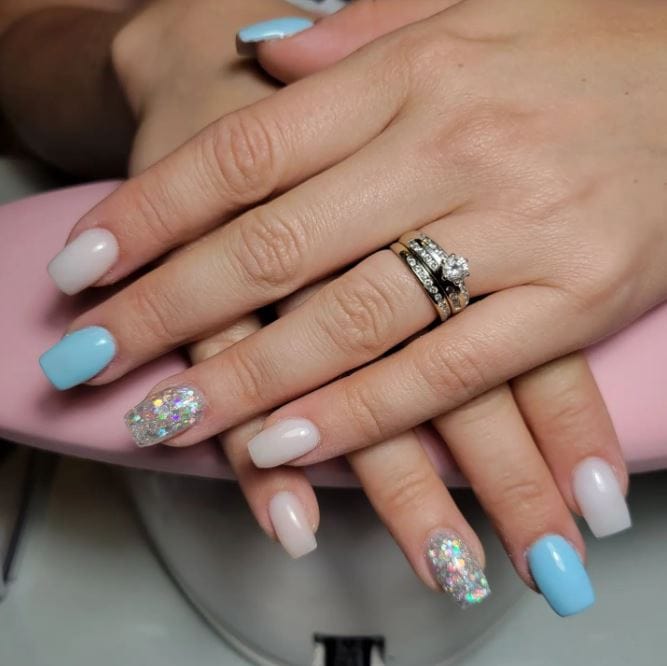 Image by @instantnails_by.melina via Instagram
49. Wildflower nails
This pleasing set of nails features baby blue acrylic on the index and little finger and wildflowers on the others with contrasting colors that blend well. Look no further because you've found the perfect look for spring.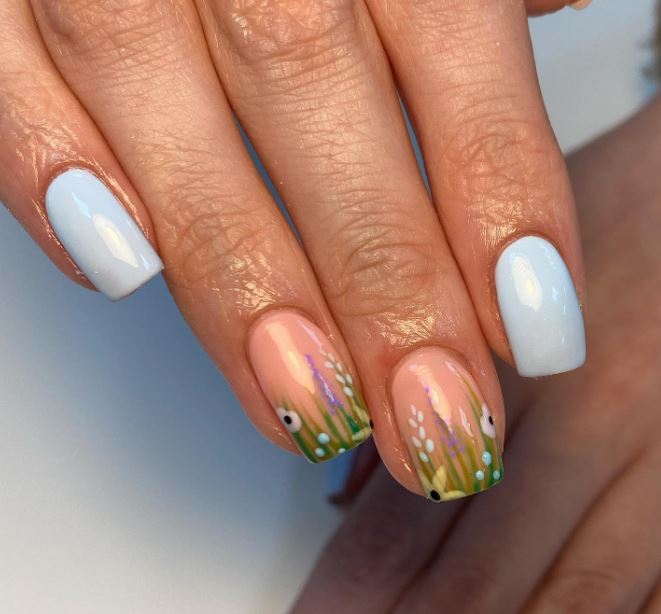 Image by @jessica_thea_nails via Instagram
50. Unembellished baby blue acrylic nails
Go into any nail salon to get this done on a budget. This is a great nail design to keep you looking good as you go about your daily adventures.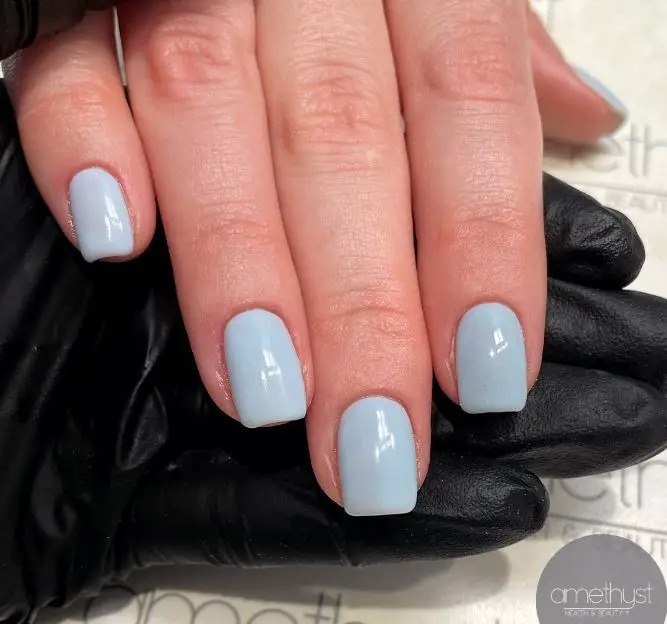 Image by @amethysthealthandbeauty via Instagram
51. Nude with baby blue ombre tips
The baby blue tones used at the tip of these nails give the whole nail a cool and classy look that is really fun regardless of the season. This is great if you want to switch up your look a bit.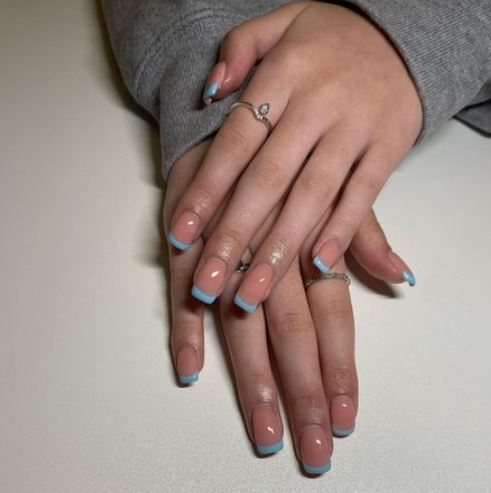 Image by @_nails.bykacey via Instagram
52. Neon on baby blue acrylic nails
White provides a timeless look, so no wonder it makes a statement here. The neon rhinestones give the otherwise plain look a touch of glamour and I'm all for it.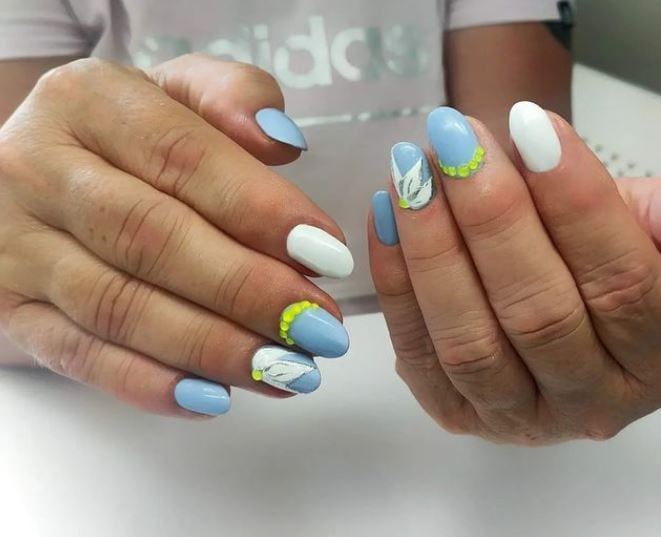 Image by @czarpaznokci via Instagram
53. Regal baby blue acrylic nails
The nail artist went all out with this nail and I'm a big fan of it. It features two nails with deep nude at the base and a baby blue color at the tip. It has a nude and baby blue ombre on the little finger with rhinestones, and one nail filled with glitter. All the details on this nail make me want to steal inspo for my next mani.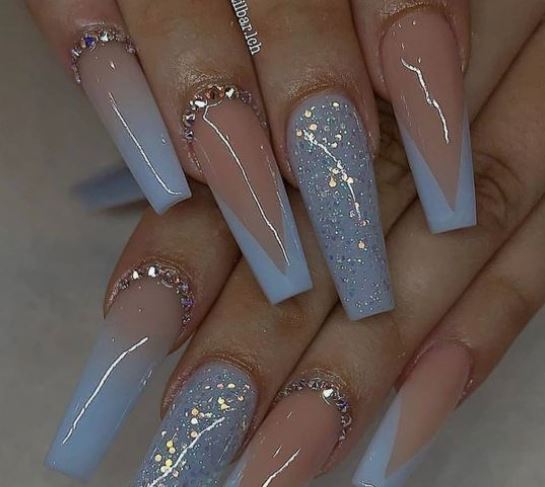 Image by @Alivasss via Pinterest
54. Baby blue french manicure
Make your monochrome outfit pop with these baby blue acrylic nails. This is quite plain except for the ring nail that goes from nude to baby blue at the tip.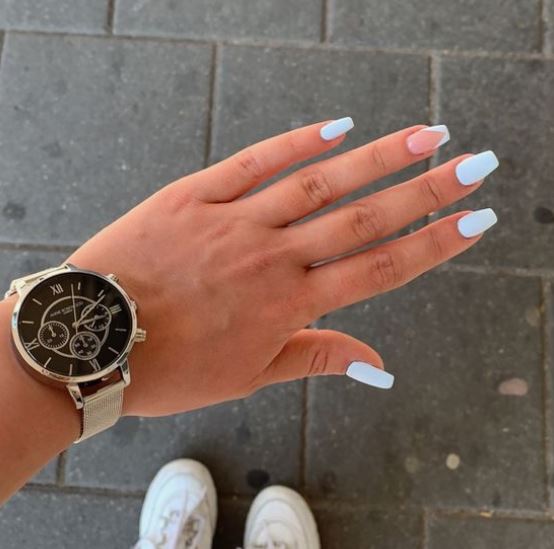 Image by @mirandaaliciaa24 via Pinterest
55. Baby blue acrylic nails with blue & white flowers
It's probably just me, but the length elevates this by a solid 80%. The flowers on the long nail give it a delicate yet eye-catching appearance.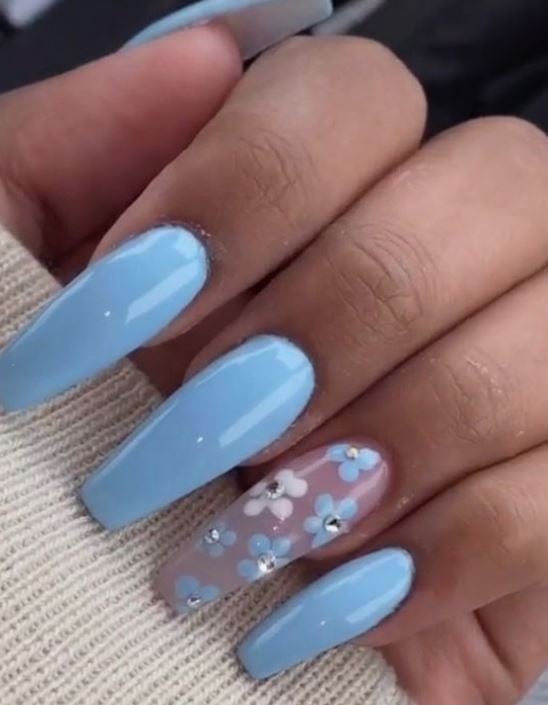 Image by @joonsmaze via Pinterest
56. Majestic baby blue acrylic nails
Alexa play majesty by Nicki Minaj. In Nicki's voice 'I am the queen in any room that I stand in'. This nail design isn't one that just blends in, it'll definitely make you stand out in a crowd. That's no surprise with the blue ombre tips on nails adorned by flecks of the gold decals.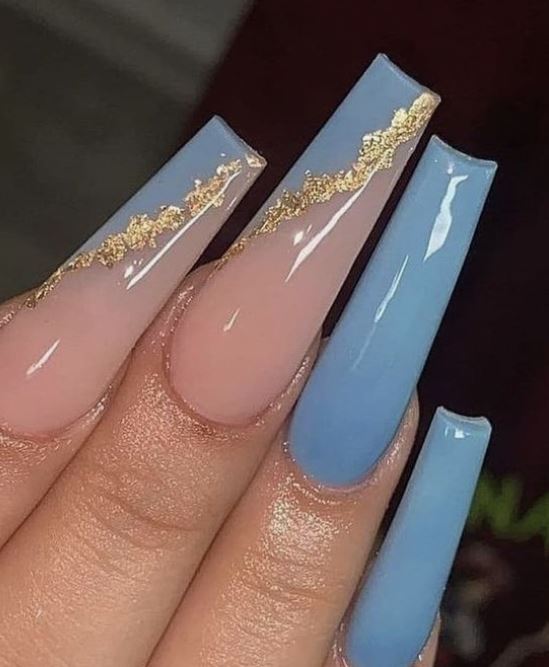 Image by @angelicaimbrogno via Pinterest
57. Baby blue nails with little flowers
What is not to love about these long baby blue acrylic nails? The coffin nail is neat and irradiated by the little white flowers and tiny jewel rhinestones.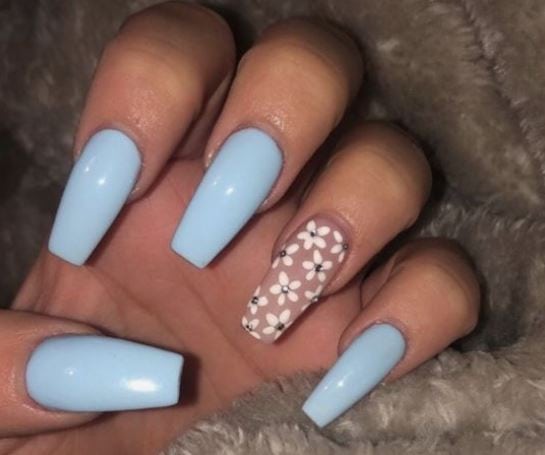 Image by @caitwat50n via Pinterest
58. Baby blue acrylic nails with yellow flowers
This baby blue acrylic is completed with little yellow and white flowers, making it flattering and chic. Put on a cute outfit and you can head out the door looking as fresh as a daisy.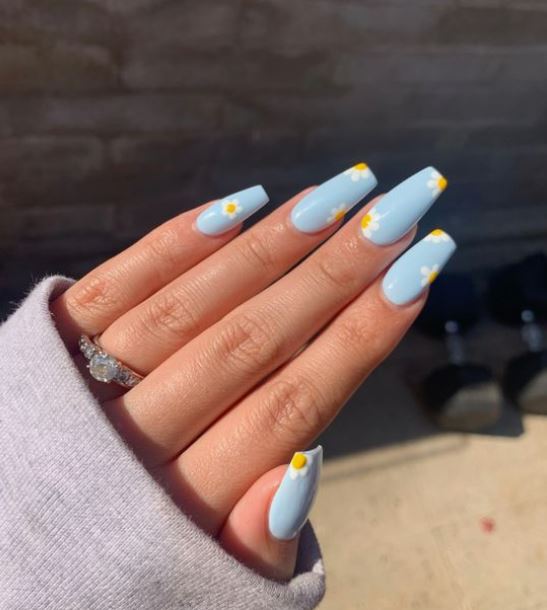 Image by @deeroobz via Pinterest
59. Hottest flames
Pop out looking like a knockout with these hot, long nails. The almost perfect baby blue flames give it a daring look. How can something this hot look so cool? Can't wait to recreate this.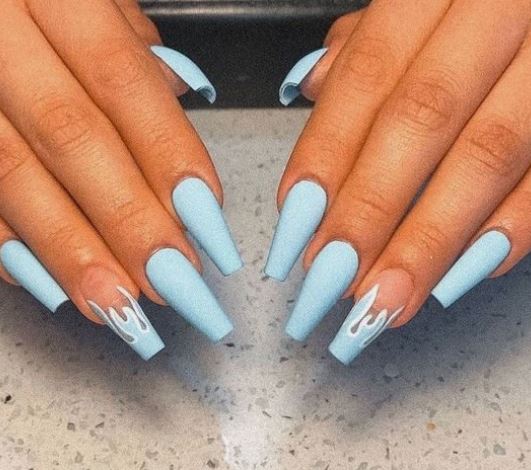 Image by @whossassy via Pinterest
60. Rhinestones and butterflies
These breathtaking nails are capable of evoking positive vibes thanks to how stylish they look paired with any outfit.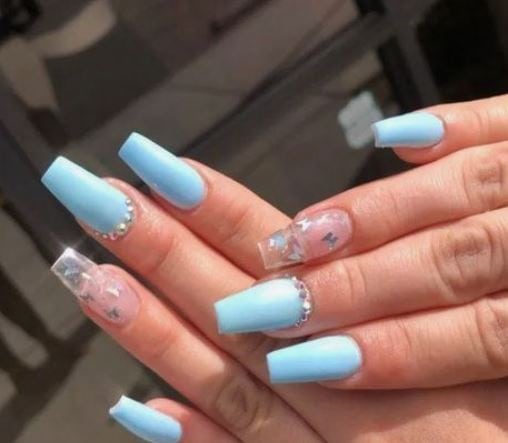 Image by @embevin572 via Pinterest
Are you torn between selecting your next nails because they're all so pretty? Welcome to the club of indecision. When I finally find one, I'll take the inspo picture with me to the salon.