Welcome to the world of classic nails! if you are looking for a way to spice up your black nails, we'll show you just how. Black nails are beautiful and easy to style. It looks especially awesome when styled with gold or silver glitter, regardless of the shape and length.
Black glitter nails are my go-to nail color whenever I want to create a bold and sophisticated look. What's even better, you can wear your nail art with any outfit, color regardless.
Whether you're going to an official meeting, or outings with family and friends, these 43 black sparkly nails will help you look amazing as you go about your day.
Black Glitter Nails To Try
1. Black Silver Glitter Nails
If you want to make a statement, black nails designed with silver accents are all you need to stand out from the crowd.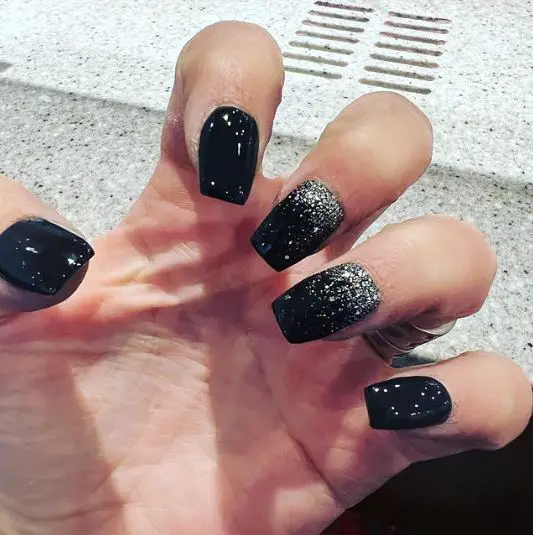 Image by @jess_lynn_presley via Instagram
2. Black With A Sprinkle of Glitter
If you're looking for something a little more subtle but stylish, search no further! This nail art design with a sprinkle of glitter is perfect for you.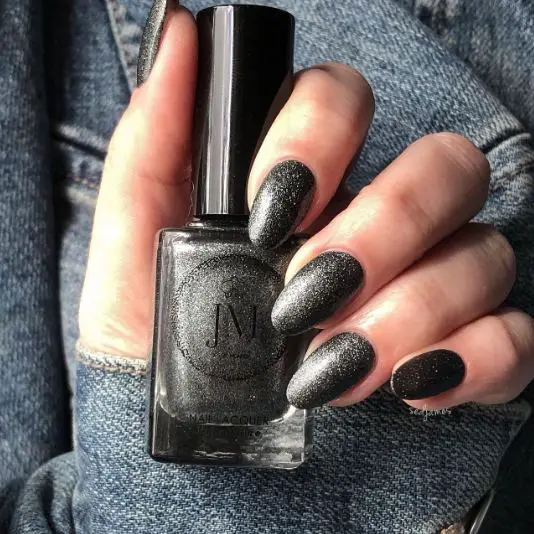 Image by @jessiemonroenailcare via Instagram
3. Black and Gold Glitter Nails
Most people feel that black nail polish is too gloomy and dull, so why not brighten the look with neutral and touches of gold glitter?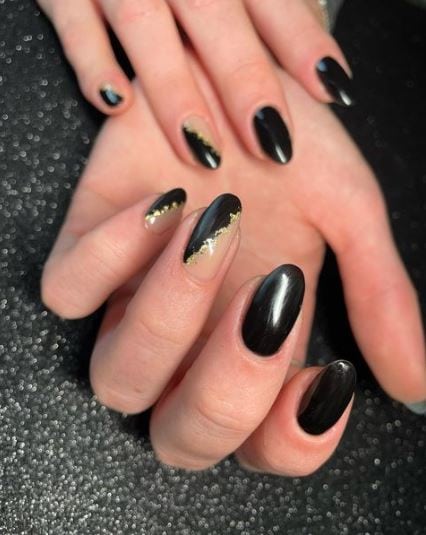 Image by @niqueonfleek_pro via Instagram
4. Sparkling Black Nails
Here we have a gorgeous long square nail. Some of the nails are plain black nail polish with glitter and two accent nails. The accent nails have a transparent base and are decorated with glossy black at the tips with silver glitter.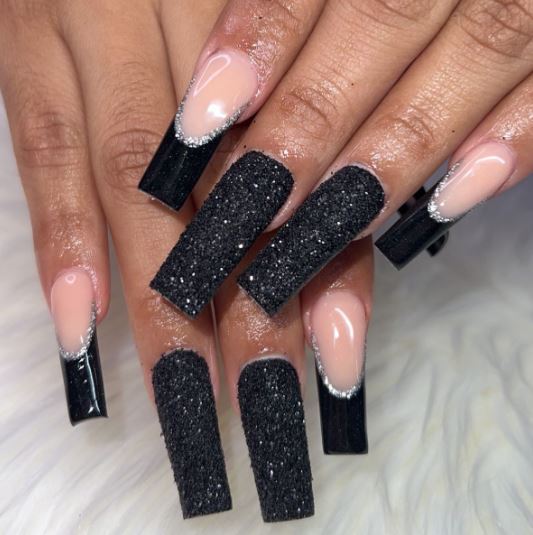 Image by @laimy_nails via Instagram
5. Black Nails Stiletto
Do you fancy sparkly nails? Then take a look at these stiletto black nails designed with different-colored glitter. These nails are perfect for high-profile events.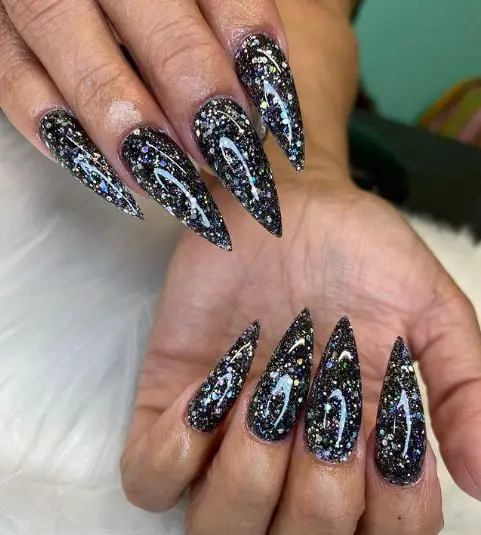 Image by @flo3_nails via Instagram
6. Nude And Black Glitter Nails
Upgrade your nails this season with these beautiful black glitter nails featuring glitter polish on two nails and nude nails decorated with moon and star.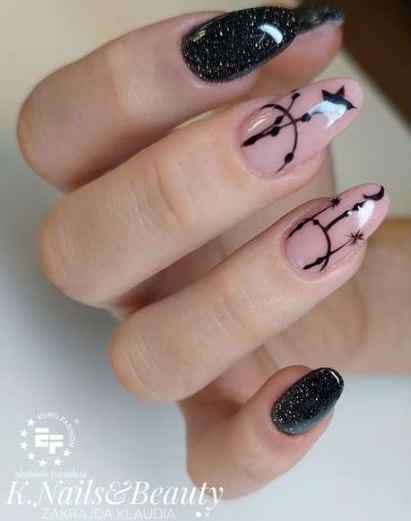 Image by @k.nailsandbeauty via Instagram
7. Black French Nails
Make your manicure sparkle with glittery and glossy black nail polish. Black and silver glitter nails are glam and this manicure is so amazing. It features silver glitter at the base and glossy black on the tips.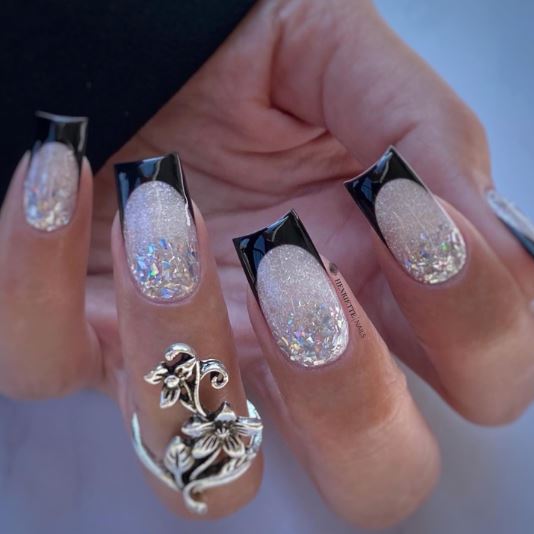 Image by @henriettenails via Instagram
8. Glossy With Black Glitter Nails
Black and neutral nails with silver glitter are a match made in nail heaven. This color combo gives your manicure a bold and vibrant look.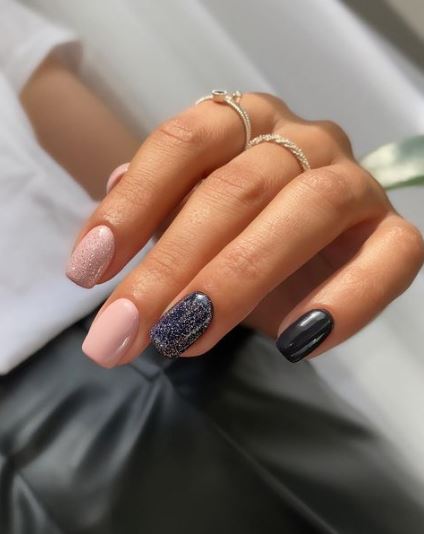 Image by @semilac_ie via Instagram
9. Gold Star With Black Glitter Nail Art
Make your manicure shine with this glitter nail art. Rock these gorgeous glitter nails decorated with golden star designs for a work dinner to steal the spotlight.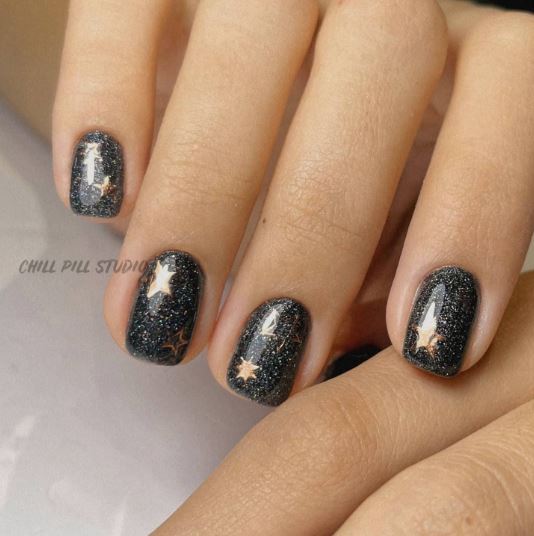 Image by @chillpillhanoi via Instagram
10. Black and Gold Glitter Nails
Pair black polish with transparent nails, and a sparkly gold foil accent to look chic.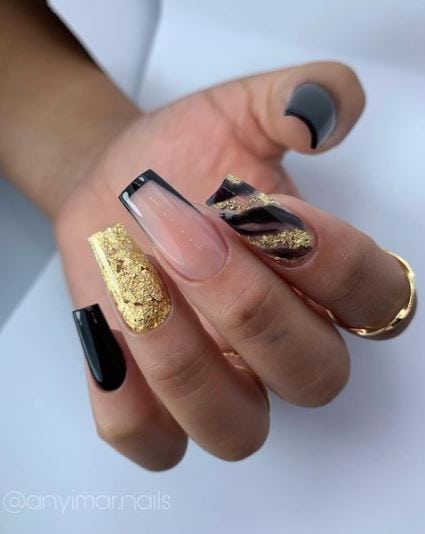 Image by @anyimar.nails and anyinailsacademy via Instagram
11. Night Sky Star Nails
I love this design which pairs a black background with black polish detailing silver glitter and stars.
Image by @kreepsherwood via Instagram
12. Silver Swirls Glitter Nails
This glam square-shaped manicure has glitter and a hint of silver swirls on the natural nails. Wear this to look stunning any time, any day.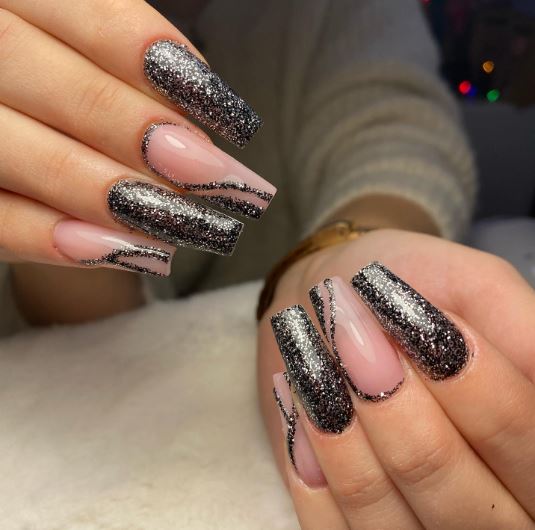 Image by @loungeesthetic_ via Instagram
13. Matte And Glossy Black Glitter Nails
Here is a nail polish idea you could easily recreate at home. The index and the little fingers are painted with black glitter polish, and the middle and ring fingers are painted with glossy and matte polish.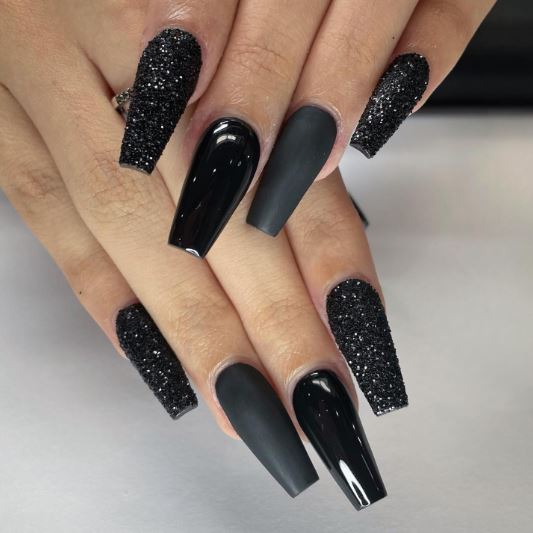 Image by @clarissalynnstudio via Instagram
14. Short Black Glitter Nails
These sparkly nails are easy DIY and will give you the glam and sparkle you desire. This short black glitter nail design uses 1-2 coats of glitter in a clear base. It is simple, cute, and easy to do.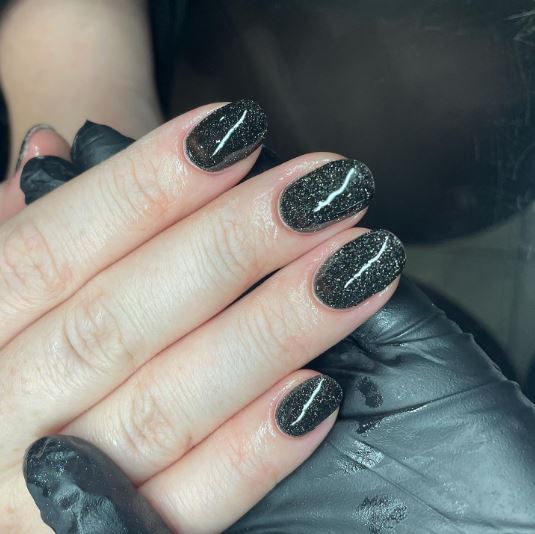 Image by @beautyby_ellawhitehouse via Instagram
15. Love Shape And Black Glitter Nail Art
Are you looking for beautiful nail art to wear for a romantic date? Search no more, all you need is this nude with love shape and black mani that is simple and chic.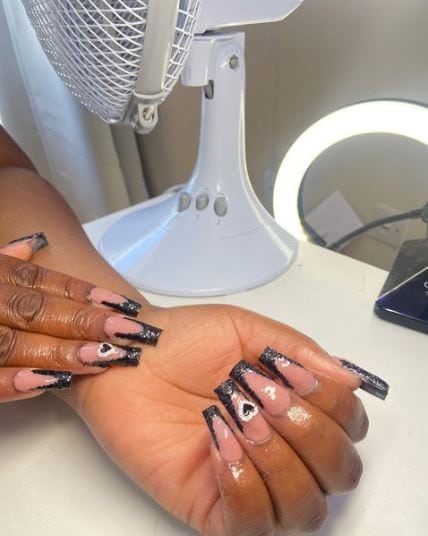 Image by @naileddiit_ via Instagram
16. Black Matte And Glitter Nails
Do you love shiny nails? Then this is your manicure. Glam nails painted with a glitter topcoat and a full matte design on one of the nails. You may have to use 2-3 coats of glitter to get this type of shine. The glitter will make the mani sparkle and bring out the shimmer in the glitter.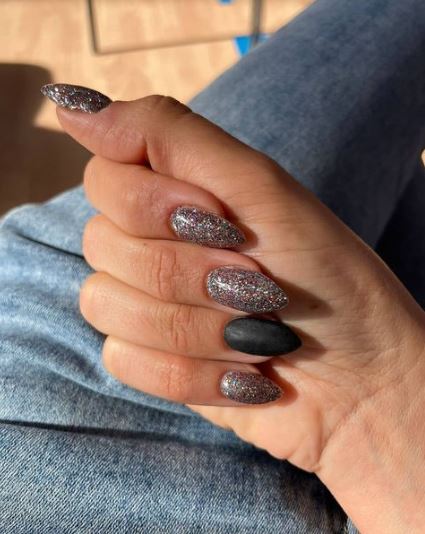 Image by @dile.etta.mua via Instagram
17. Short Coffin Nails
These black sparkly nails are charming. You probably won't be able to resist these glitter nails if you're a fan of short nails. It features an accent on the ring finger nail which has half nude and black separated by gold flakes.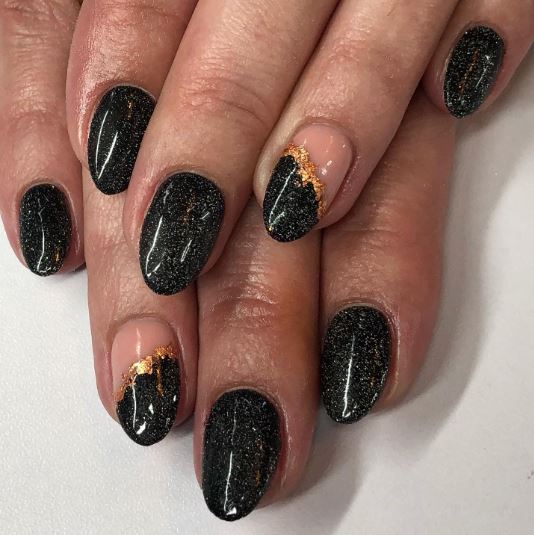 Image by @thebeautyboxbyrhi via Instagram
18. Elegant Black Glitter Nails
Do you like simple and unique nail designs? Then you should get this nail which features an hourglass nude nail polish surrounded by black glitter nail polish.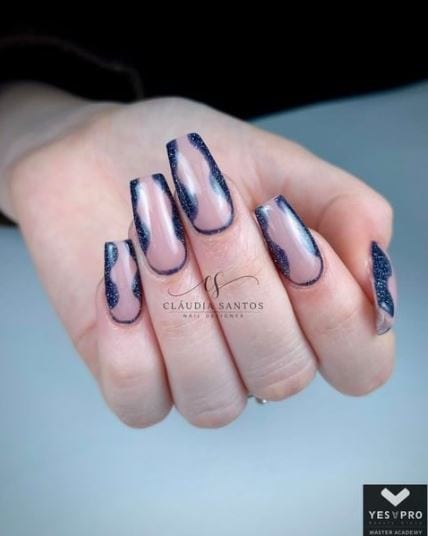 Image by @claudiasantosnails via Instagram
19. Glossy Black And Brown Glitter Nail Art
Like a little gloss and glitz? If yes, then this nail idea is perfect for you. Here, we have trendy square shape nails designed with black and brown glitter at the base and tips, with the index and small finger painted with black glossy polish.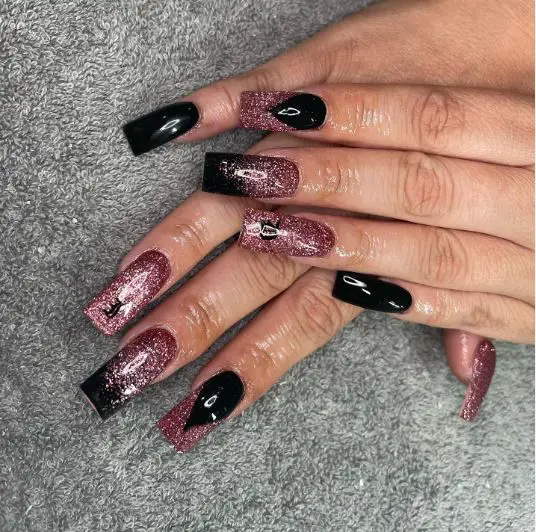 Image by @nails_by_raquel95 via Instagram
20. Charming Ombre Glitter Nails
Get those charming tips! All you require for this look is natural nails with some dense glitter polish to apply on the tips and you're good to go.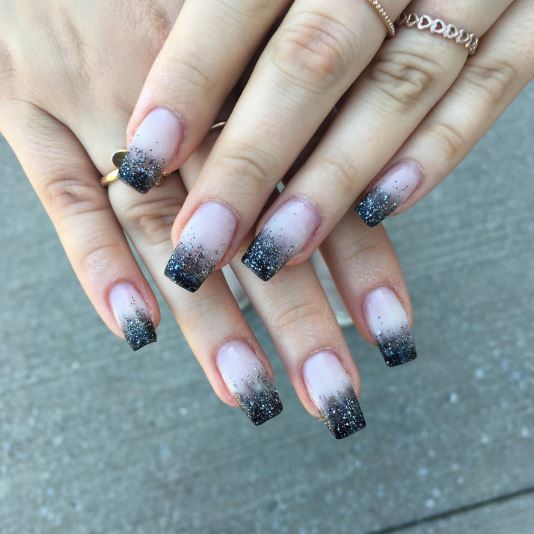 Image by @professionalnailss via Instagram
21. Snake Art On Black Glitter Nails
Sometimes, you don't need to combine multiple colors to look sexy. You can use one color to create a bold nail design. This snake art nail design is perfect for clubbing.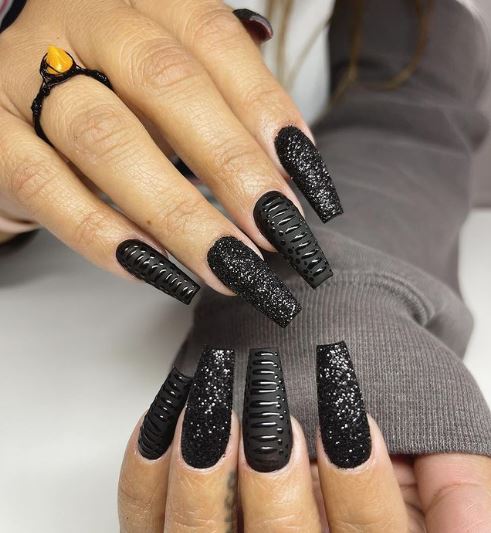 Image by @daisienailedit via Instagram
22. Fabulous Black Glitter Nails
If you're tired of fulll black glitter nails, spice it up with neutral color and add gemstone at the base to make it glow.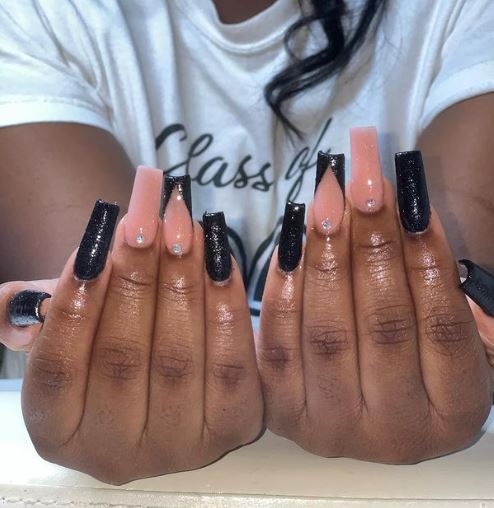 Image by @alluring_nailz via Instagram
23. Gold Glitter With Black Glitter Nails
Who said you couldn't apply different colors on each nail to look classy? These glossy nails designed with flowers and gold glitter on the little and index fingers. It looks unique and attractive.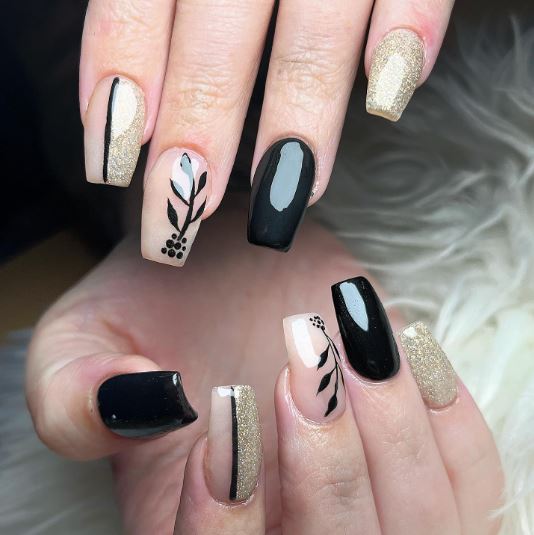 Image by @dahlia.nails.519 via Instagram
24. Glossy Black With Silver Designs
You can never look boring with this glam nail design! Three of the nails are glossy black while one has silver glitter.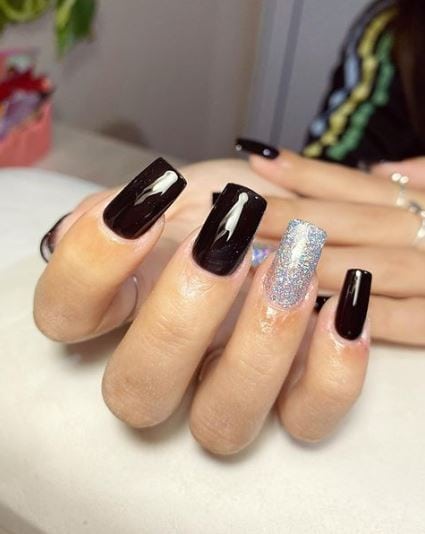 Image by @byludminails_ via Instagram
25. Glam And Glitz Nails
This glam nail design features a glossy black background, but one of the nails has a silver glitter design on the tips and rhinestones at the base. It's perfect for a formal event.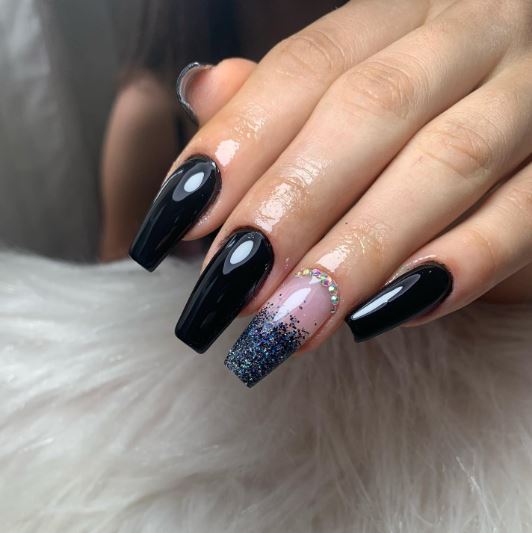 Image by @_elinailsdesign via Instagram
26. Marble And Black Glitter Nails
Marble and glossy nail design looks stunning when paired with black glitter. This nail design is suitable for casual outings or birthday parties.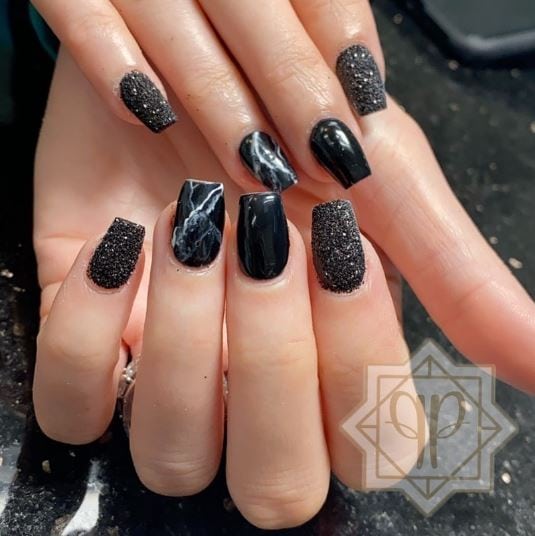 Image by @polishing_is_passion via Instagram
27. Burgundy And Black Glitter Nails
Sometimes, the most sophisticated nail design is the easiest to create. These burgundy and black glitter nails are classy and can easily be done at home.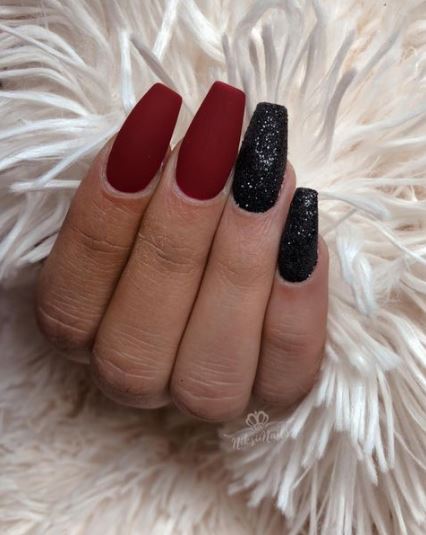 Image by @nailsbyniksii via Instagram
28. Colorful Black Glitter Nails
Black nail designs are known for being bold and vibrant. Sometimes, though, we just need colors like pink and blue to make them appear fun and colorful.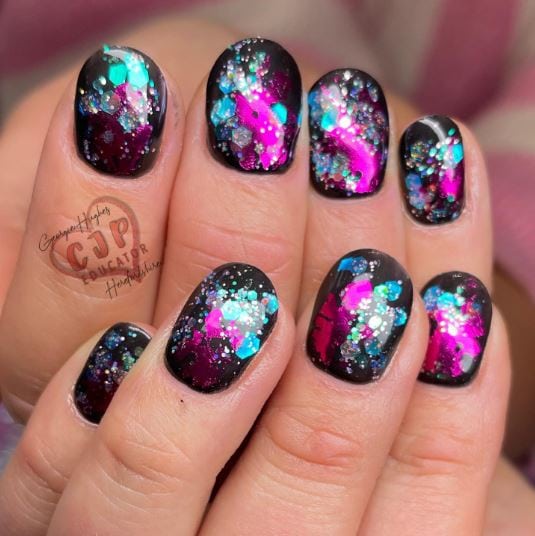 Image by @georgiehughes_nails via Instagram
29. Pink And Black Almond Shaped Nails
This glam nail idea is one of my favorites because it is stunning and glitzy. The mani features almond-shaped nails and each nail has a different glitz design.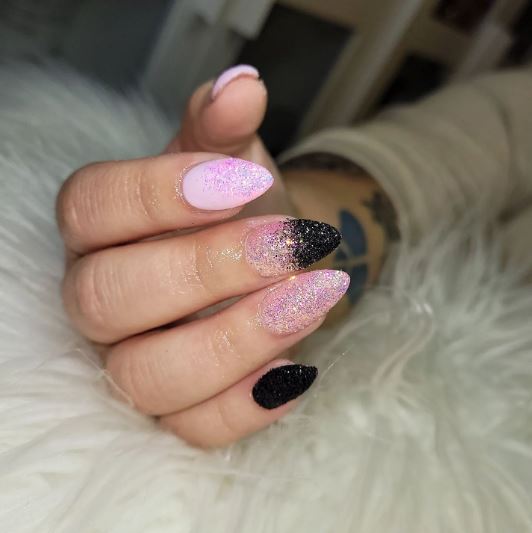 Image by @the_little_pink_place via Instagram
30. French Glitter Nails
This swirly black glitter french tip manicure looks gorgeous. Keep the base neutral to balance the design.
Image by @beautyby_ellawhitehouse via Instagram
31. Glam Stiletto Nails
These nails are accessorized with a gold glitter teddy bear holding heart-shaped crystals and black glitter swirls.
Image by @virginladycollections via Instagram
32. Black Stilleto Nail With Glitter
For this look, I have a sharp stiletto black nail. One nail is glossy, the next glitter swirls, the ring finger has black crystal and the last one is designed with glitter. It is a classic mani and is great for a night out.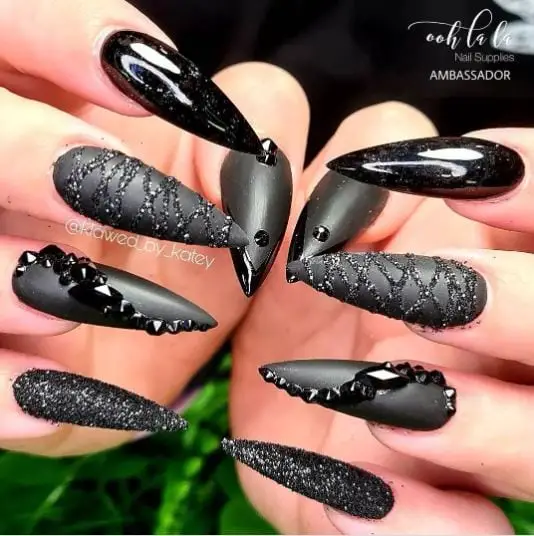 Image by @klawed_by_katey via Instagram
33. Glitter Nails With Moon And Stars
This nail design is the definition of elegance. Some lovely decorations are used here, including gold glitter swirls, with moons and stars.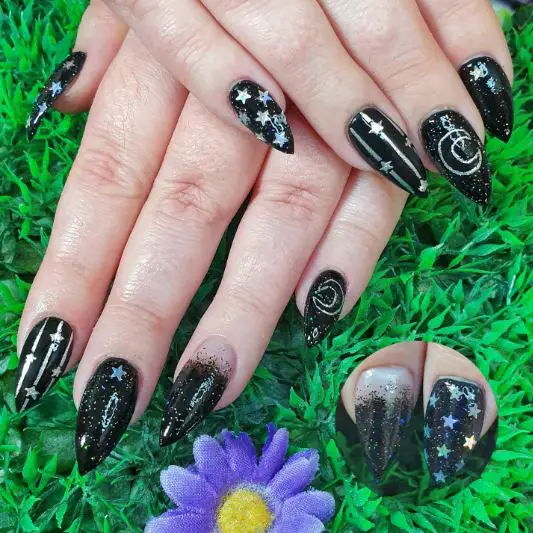 Image by @kawaiiklaws via Instagram
34. Fabulous Black Glitter Nails
Here I have a glam mani that is also elegant. The first is a transparent nail topped with heart glitter, the next one has a black glossy tip, and the little finger features a full glossy polish with rhinestone at the base.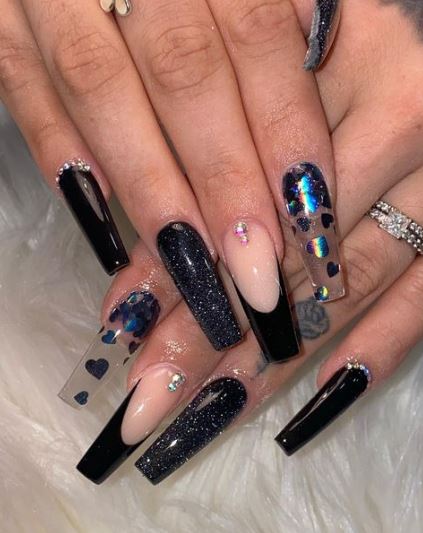 Image by @jasminenails_southampton via Instagram
35. Classic French Glitter Design
If you want your mani to glow, add black glitter to the tips and leave the rest of the nails neutral.
Image by @rochanails via Instagram
36. Sassy Black Glitter Nails
Do you fancy stylish nail designs? Then check this out. This is a natural color nail topped with black glitter swirls and black glitz on the tips. This is an excellent, fun, and glam nail idea for special occasions.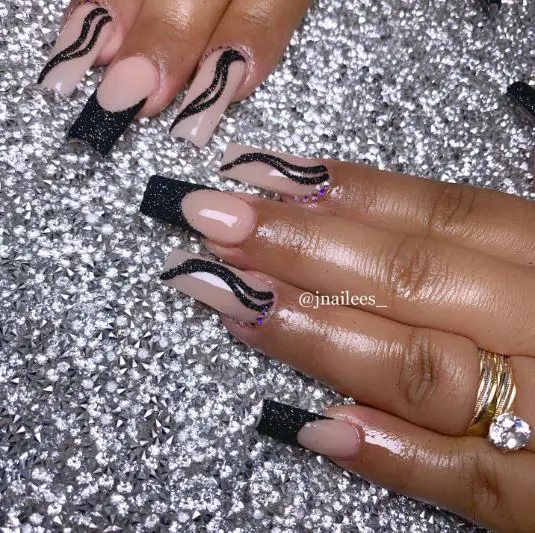 Image by @jnailees_ via Instagram
37. Bling Nails
This simple glitter nail design is my favorite and is perfect for nursing mothers who want to look chic but don't want long nails.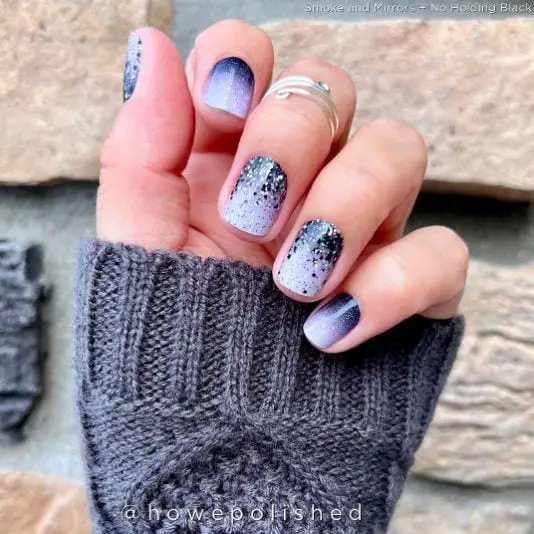 Image by @howepolished via Instagram
38. Glossy Pink And Floral Nails
The pairing of pink and black glitter with bright daisies is the definition of beauty.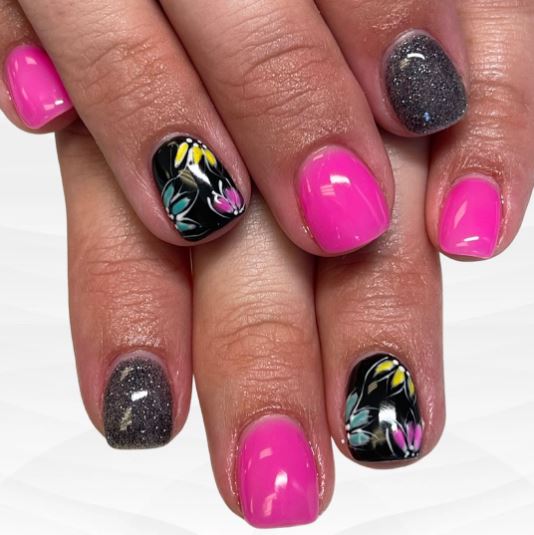 Image by @convoitenails via Instagram
39. Black And Silver Accent
This is a cute, trendy nail design that has become pretty popular. It's one of my favorite nail ideas. It has glitz and a black pattern.
Image by @beauticleslk via Instagram
40. Shiny And Ghosties Designs
Take your glitter nails to another level by incorporating horror elements. This nail art is suitable for Halloween.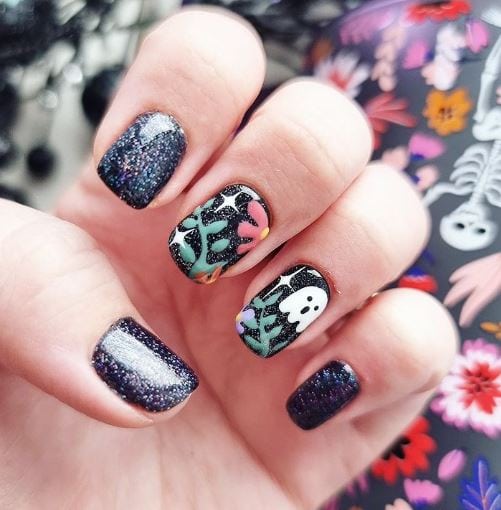 Image by @scrambledmegdesigns via Instagram
41. Reflective Glitter Nails
These brilliant black glitter nails with swirls on the neutral nails are one of my favorites. I could rock them every day.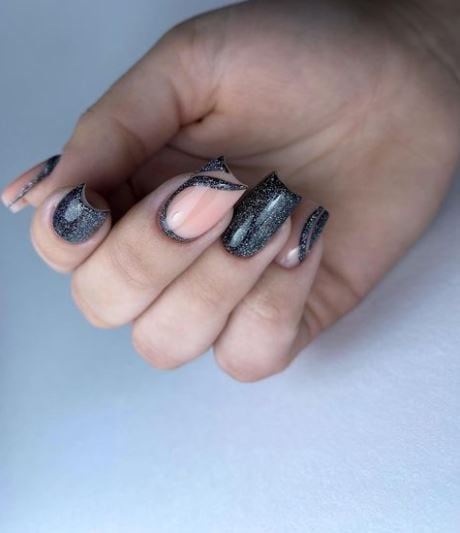 Image by @andratheodoranailartist via Instagram
42. Green Galaxy Glitter Nails
Look extra classy and stunning with these long, square nails. This is an amazing way to create a special mani for a wedding, anniversary, or event.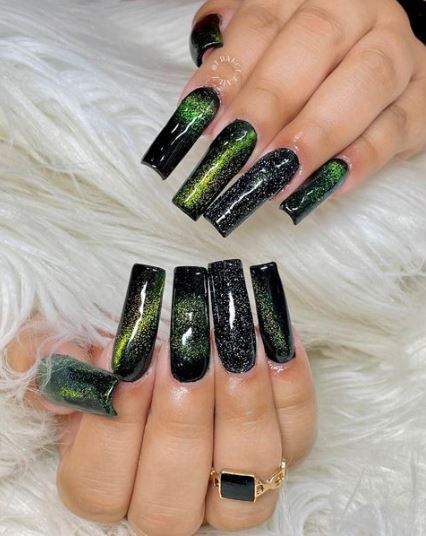 Image by @france_nailz via Instagram
43. Marble Black And Silver Glitter Nails
Achieving an elegant nail look doesn't require using the same design for all the nails. Here, there are stunning marble designs on three nails and glossy nails with rhinestones on two.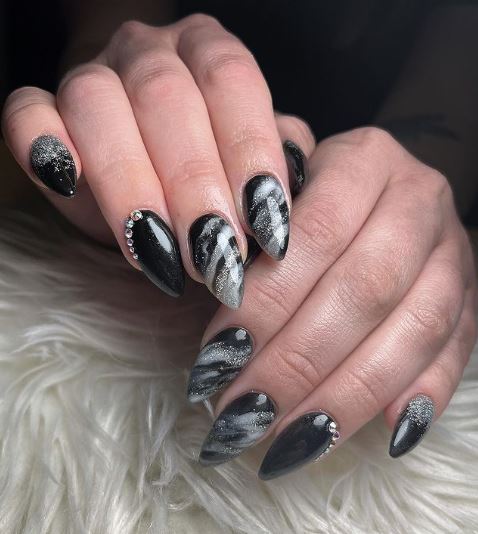 Image by @dahlia.nails.519 via Instagram
44. Black White Marble
Don't you just love the cute glitter V-tip of this nail art? It has a cool effect against the vibrant marble color effect.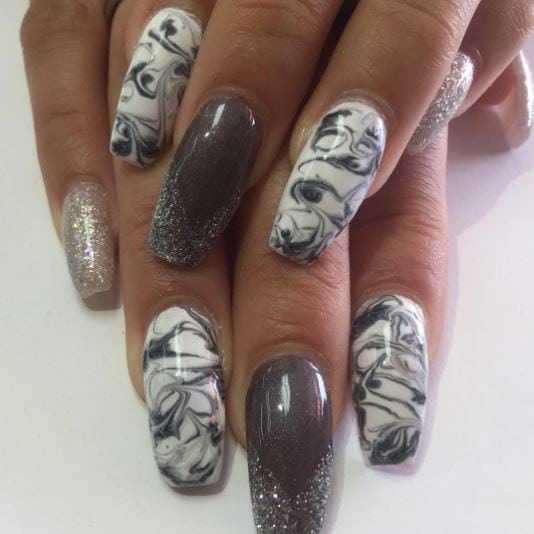 Image by @bricknails via Instagram
Now that you know how to rock black glitter nails, go ahead and explore these glam and classic nail designs. Save the image you like the most for your next nail appointment.