Mint green nails are the best choice if you plan on refreshing your mani. In case you are looking for cool, unique nails, mint green is a popular color for the season.
There are many variations in the styles that you can choose from for your mint green nail art. My personal favorite has to be the matte mint green tips with a touch of gold. The design is so chic and sophisticated.
Your search has brought you to the right place if you're looking for the most amazing styles to pick from for mint green nails.
Solid Mint Green
If you feel like going for something straightforward, these solid mint green squared nails are for you. Pick a length that suits you best. Bonus: they don't even cost that much.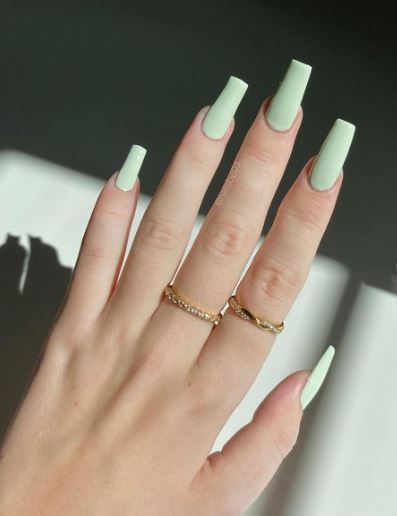 Image by @nailsbyj03 via Instagram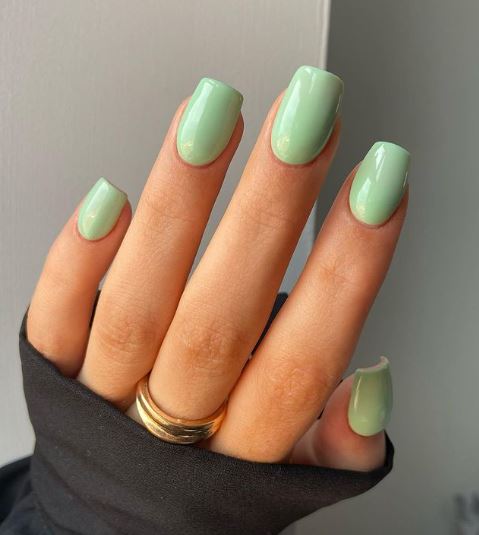 Image by @allnailss._ via Instagram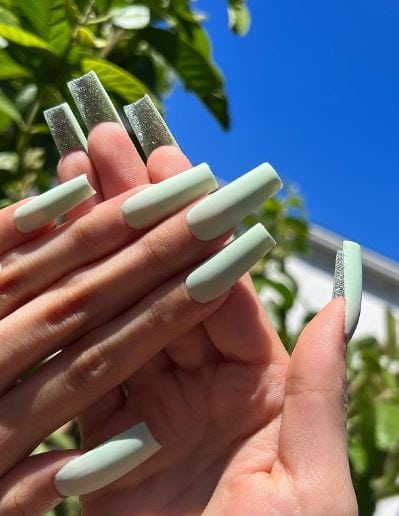 Image by @geldbysaaaraaay_ via Instagram
Keep it simple yet stylish with combinations of solid mint and blue or purple color nails on each hand.
Image by @beautybykleppe via Instagram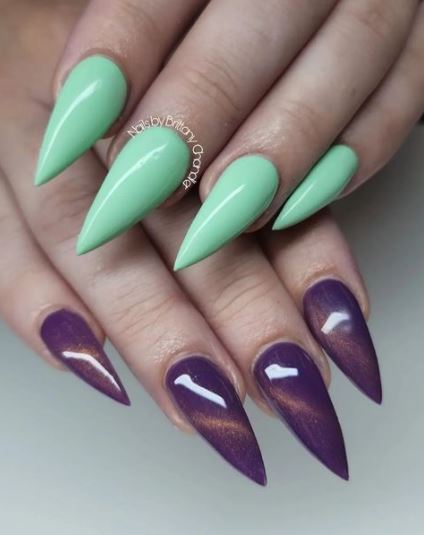 Image by @nailsbybrittanychandler via Instagram
These rounded Tiffany green-inspired or peppermint mint green nails are great for women in search of ideas for any occasion or everyday summer looks.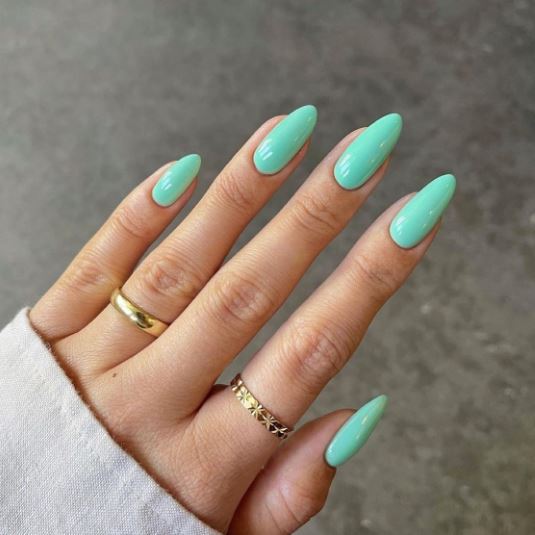 Image by @the_gelbottle_poland via Instagram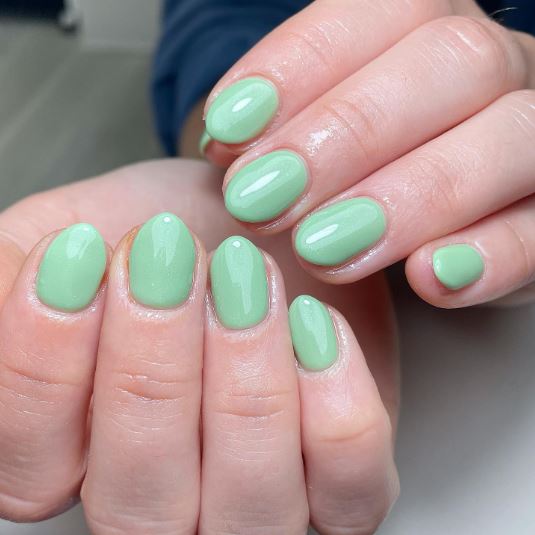 Image by @sdsnailsandbeauty_x via Instagram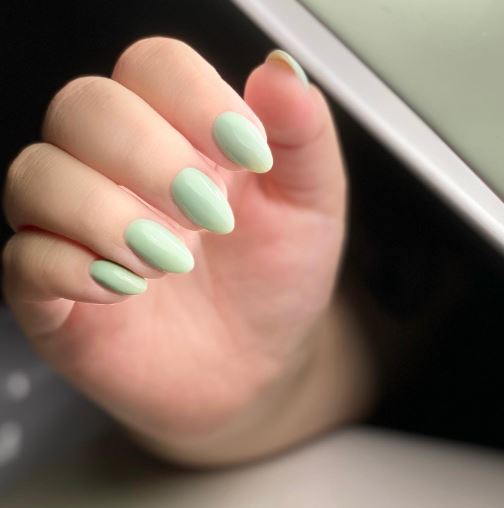 Image by @ohana_nails_and_beauty via Instagram
Add a bit of sparkle to your solid mint green nails with similar tone glitter.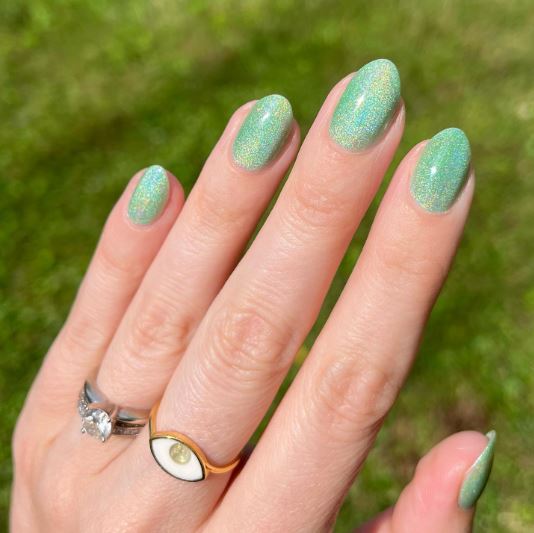 Image by @thebusynails via Instagram
Side French
These side mint French tips with gold outline on short square nails are a classy and simple design.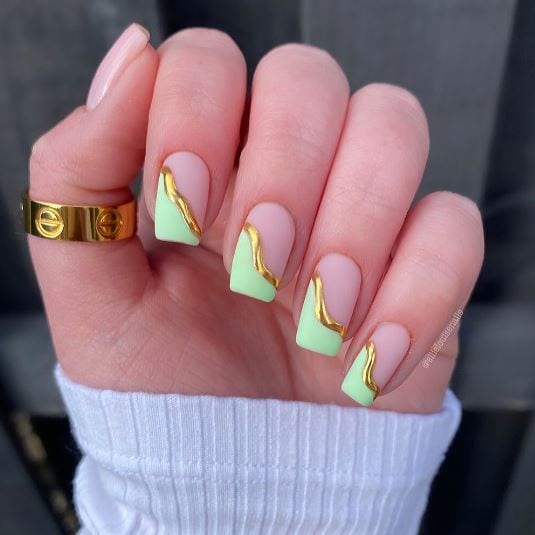 Image by @ellielouisenails via Instagram
You can recreate the side French style with white outline for the chic spring nails.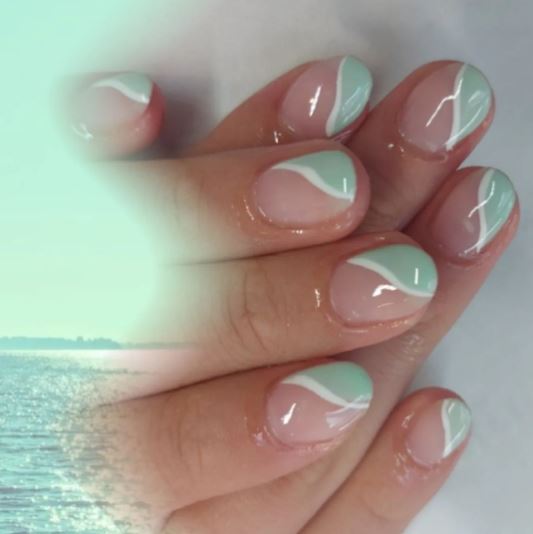 Image by @mirrabel_mirrabel7 via Instagram
Tips and Abstracts
If you love longer lengths on nails, you can get these mint green long tips with two beautifully abstract mint, gold, and, gray clear nails on each set.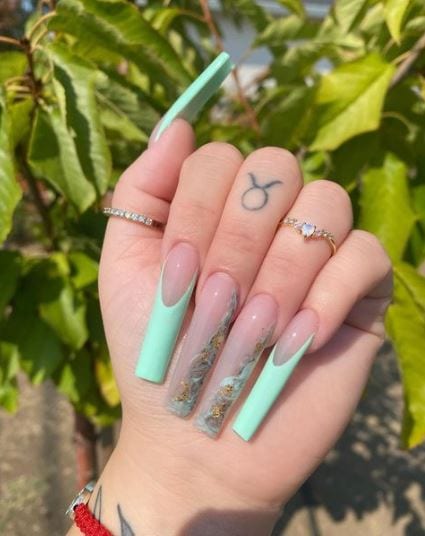 Image by @nailedbybb via Instagram
This combination of orange and mint green is a beautiful one for accent nails with mint tips.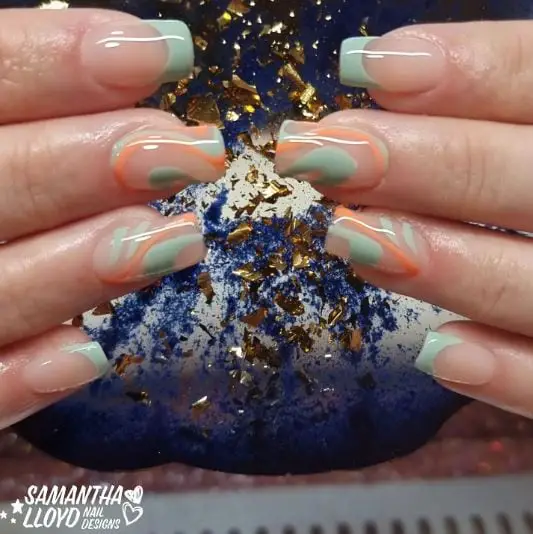 Image by @samanthalloydnaildesigns via Instagram
This design is the perfect setting of dark and light mint green tones in tips and patterns.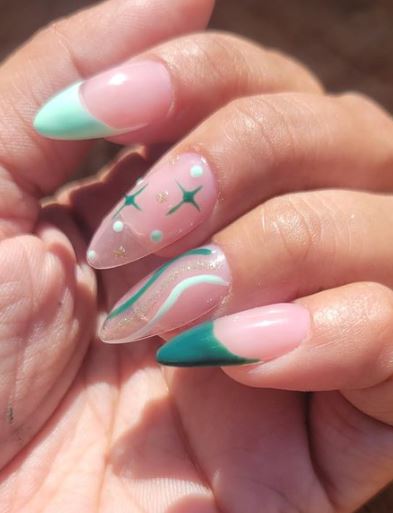 Image by @sya.nail.artist via Instagram
These are such lovely, and simple designs if you prefer neat and traditional nails styles.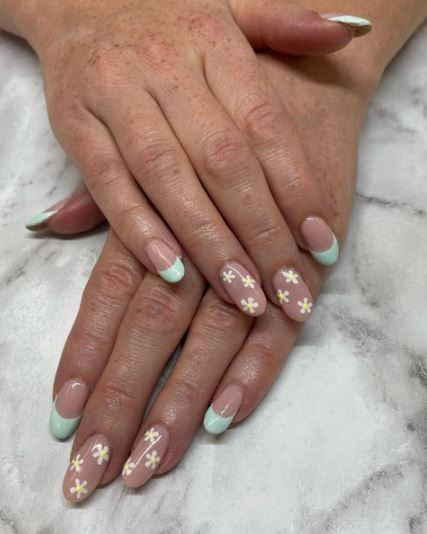 Image by @lucy.felangisalon via Instagram
Image by @_sculptedbysg via Instagram
Mint with Accent Nails
Here's to keeping things minty with just a touch of sparkle with one mint, gold, and silver glittered accent nail.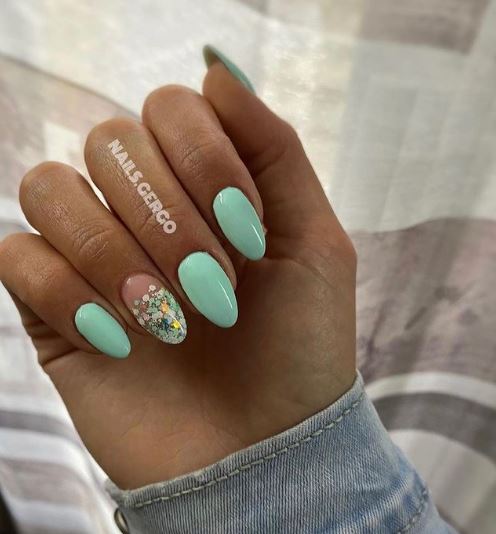 Image by @nails_gergo_bp via Instagram
Mint green nails can be really fun with cute characters for accent nails along with solid green color ones.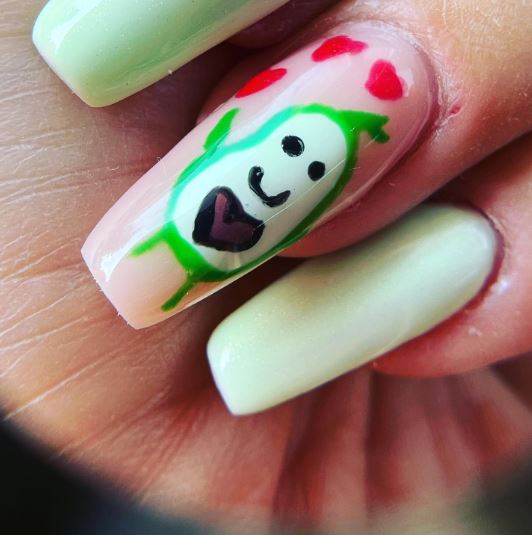 Image by @julis_na1lz via Instagram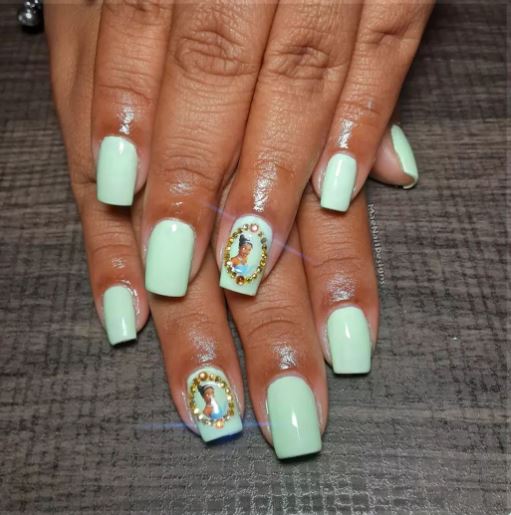 Image by @maenaildesigns via Instagram
This is a great idea if you want to mix in some blue to your mint green nails for the season.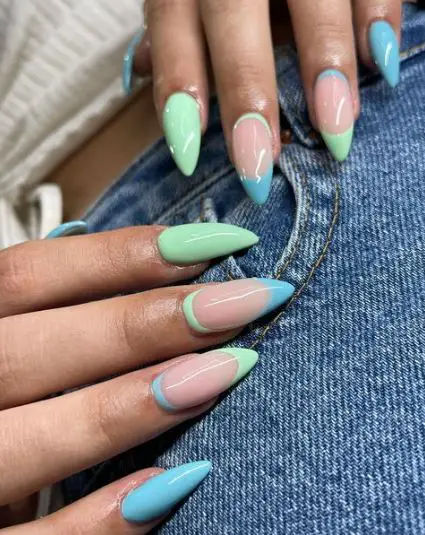 Image by @drenanails via Instagram
This floral design for the accent nail with solid mint is perfect for that everyday workplace look.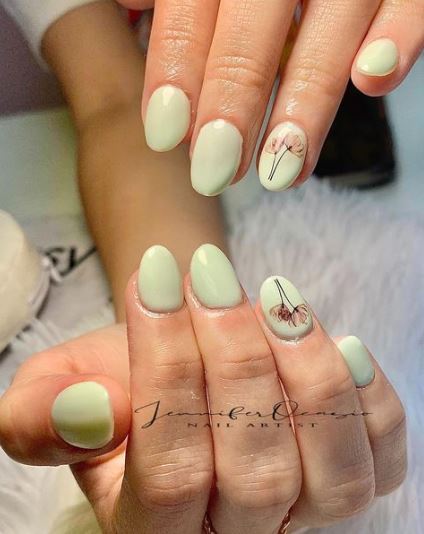 Image by @jennifer.o.nails via Instagram
This is another exciting pattern with the addition of gold glitter polish that you can ask your nail artist to recreate.
Image by @leily.nailz via Instagram
In case you're looking for something simple yet beautiful, these are just the nails for you. You can create subtle yet exciting nail sets with these, floral, zebra stripes, or marble mint nail accents.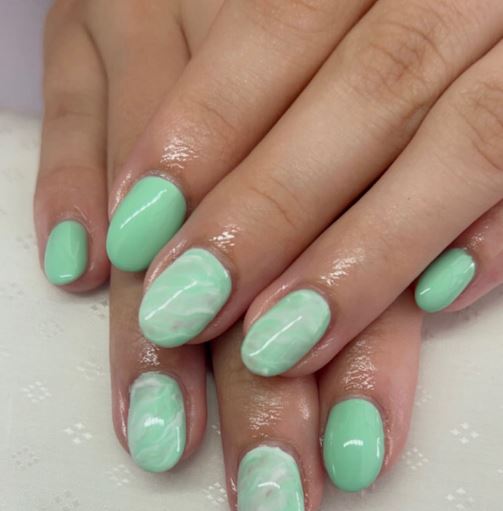 Image by @nataliewilliams1981 via Instagram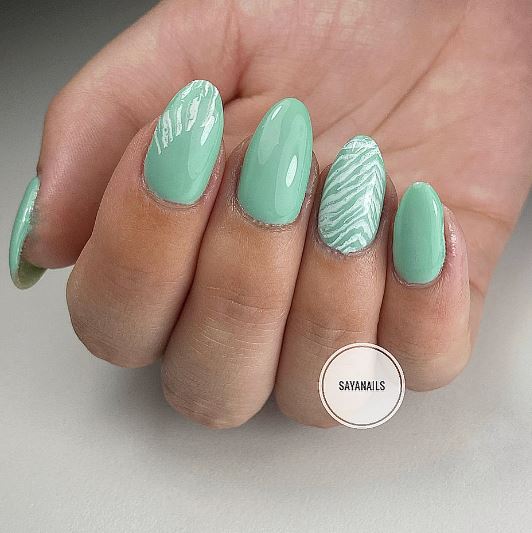 Image by @sayanails via Instagram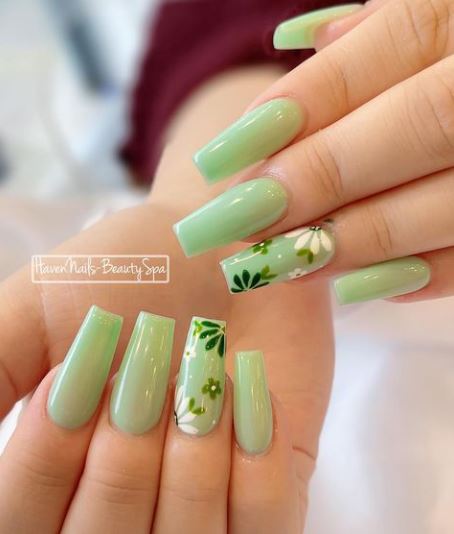 Image by @havennails_beautyspa via Instagram
These polka dot accent nails will never go out of fashion.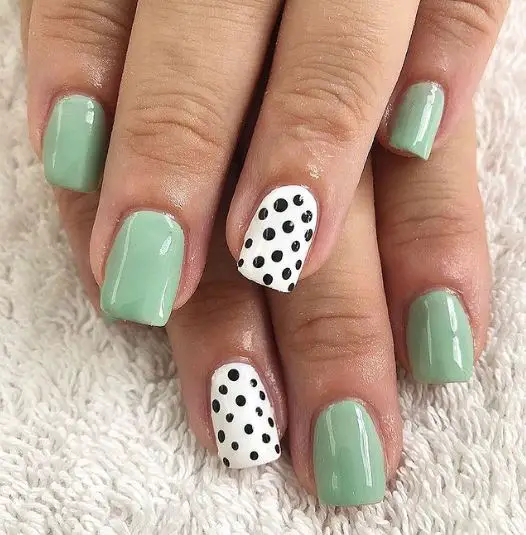 Image by @nailed_itbyclaire via Instagram
Jeweled Minty Hues
If you want to go fancy with your nails, try these jeweled and glitter mint green paints with nude and silver add-ons.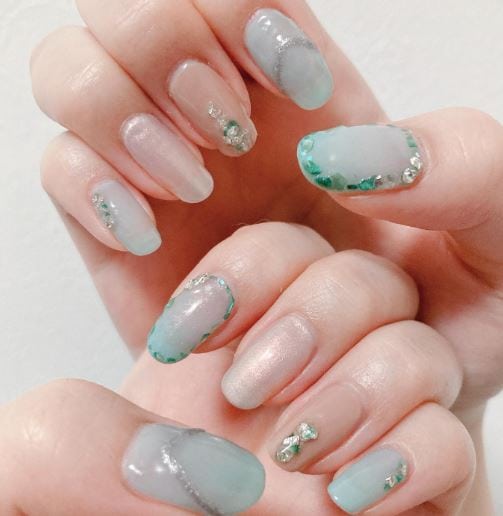 Image by @kaede_selfnail via Instagram
Enhance your mint green sets with a touch of white and pink to your jeweled mint, mix and match nails.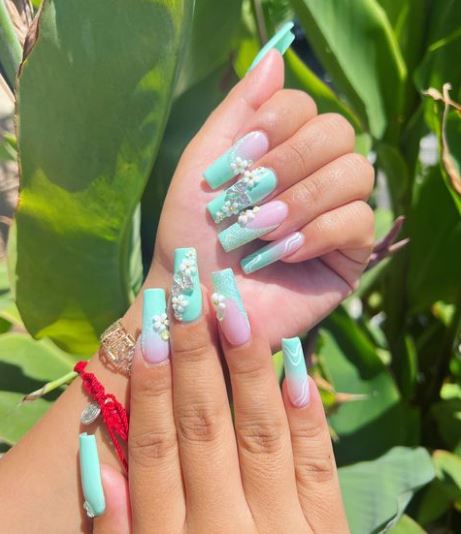 Image by @tulipartistnailspa via Instagram
If you prefer keeping nail embellishments to a minimum, you can try these light mint green tips with pearls.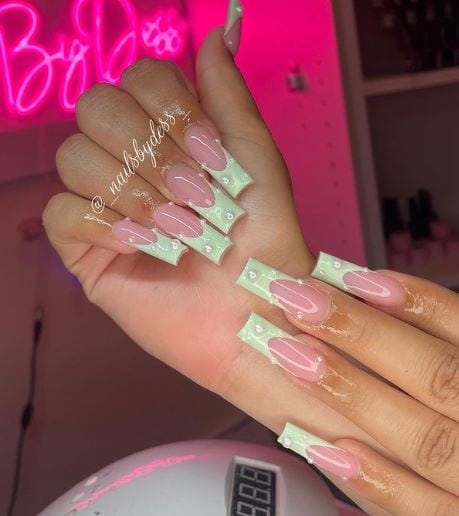 Image by @nailsbydess via Instagram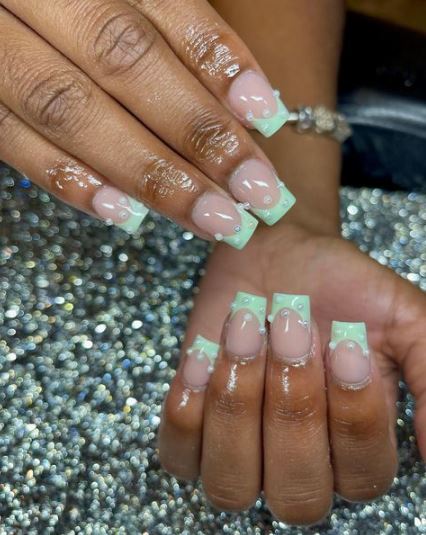 Image by @creationsbyamsi via Instagram
Or you can go with just the one nail embellished on the set.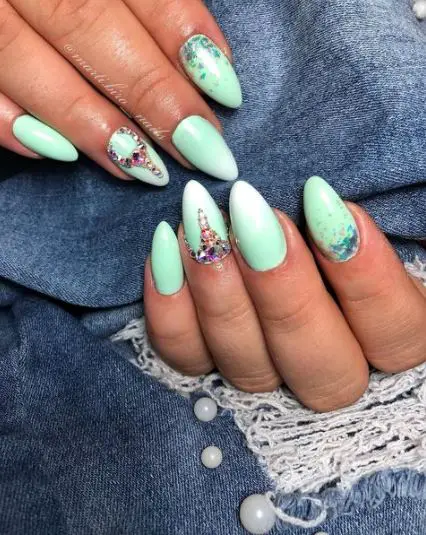 Image by @marti.biro_nails via Instagram
Mint Ombré
Mint Ombré nails are such a great pick for the summer season. Women love getting floral patterns with ombré nails and rhinestone or pearls details.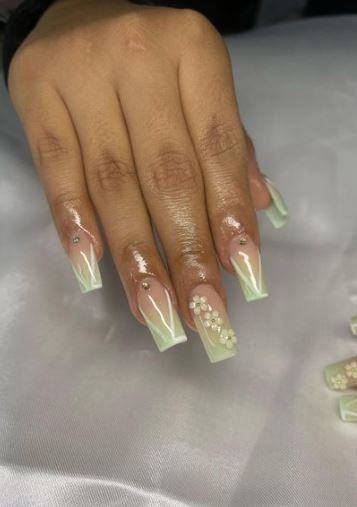 Image by @acrylicsbyapril via Instagram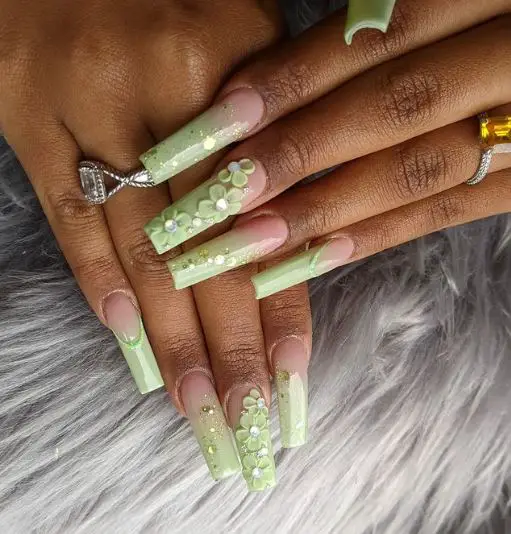 Image by @zonailss via Instagram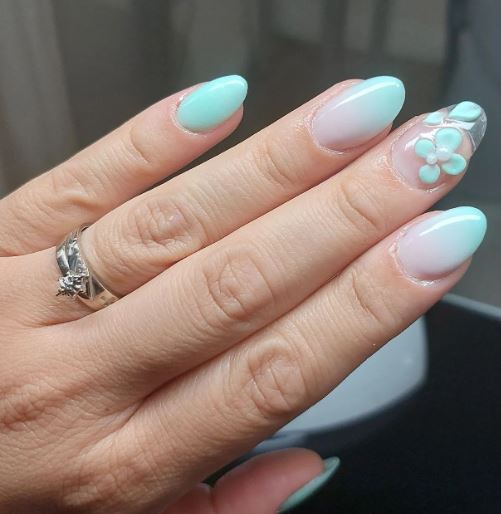 Image by @nailed_by_susyq via Instagram
A bold, heavily embellished ombré mint green nail design, perfect for those tattooed fingers set to make a statement.
Image by @nailedbynaeee_ via Instagram
These are the designs to go for if you're looking for minimalistic mint ombré nails.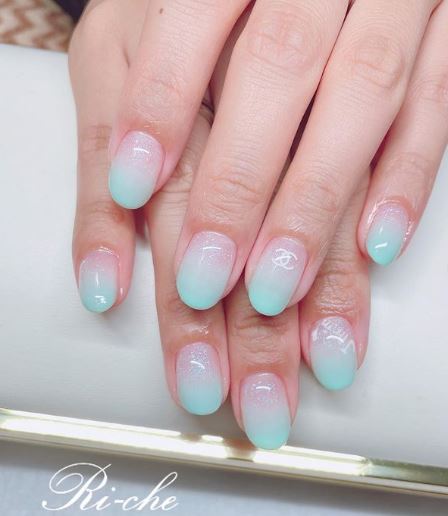 Image by @nzm.1017 via Instagram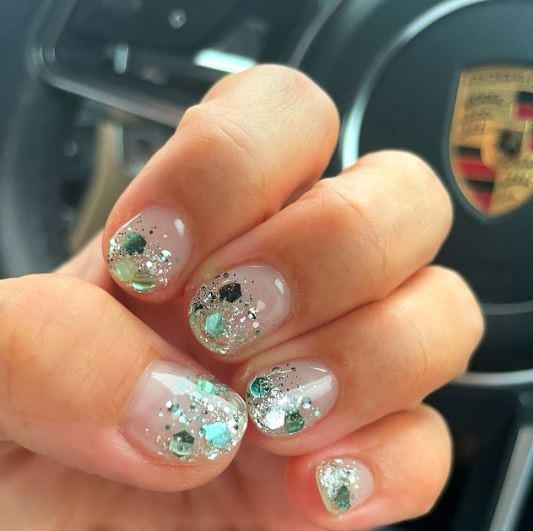 Image by @remipe0801 via Instagram
If you're in search of cool ombré mint nails for upcoming pool parties, these statement nails are just the right pick for a photo on the Gram.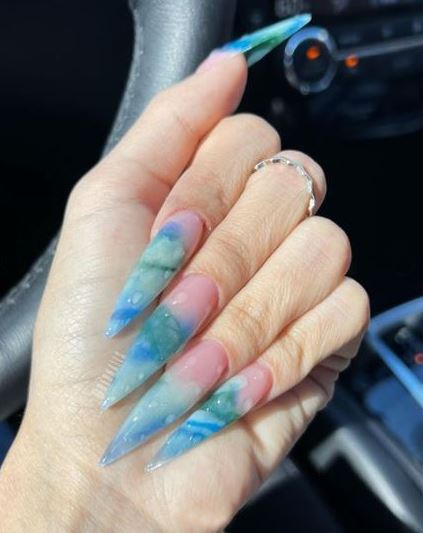 Image by @rxrnails via Instagram
This is a unique light mint green ombré nail design with swirls and light embellishments; perfect for an upcoming formal event.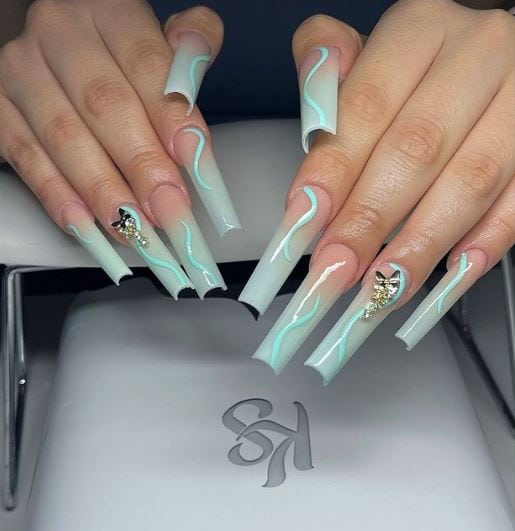 Image by @adoseofbeauty__ via Instagram
The same patterned nails for all fives can never go wrong. This cute grid pattern with hand- painted peaches is a simple yet pretty design
Patterned Mint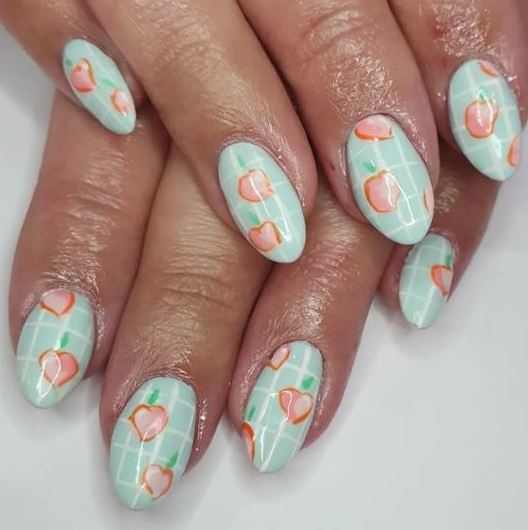 Image by @thenail_pixie via Instagram
This colorful polka dots pattern with a combination of minty solid nails and tips is the perfect summer design for you.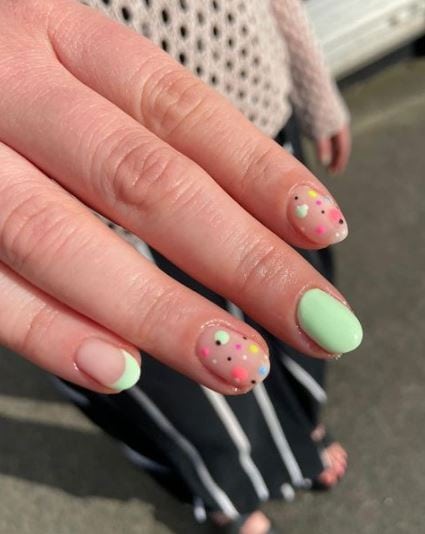 Image by @no29naillounge via Instagram
There is a vast variety of designs that you can choose to get on your patterned solid mint green nails. The options are just endless.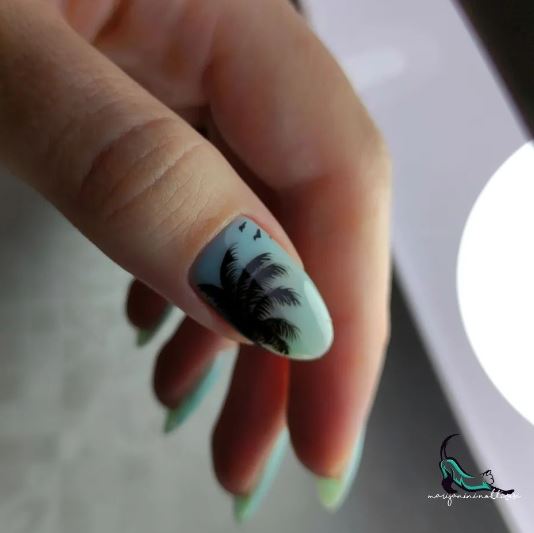 Image by @marijanininokticosi1 via Instagram
For multiple styles on one set, these patterned, solid, and glitter nails are a great look.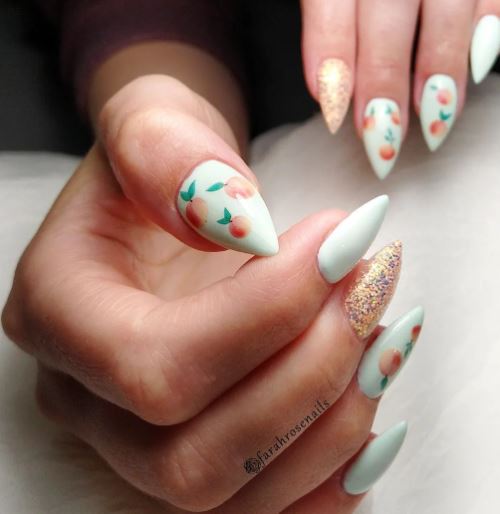 Image by @farahrosenails via Instagram
These purple and mint with hearts are another cute summer nails idea.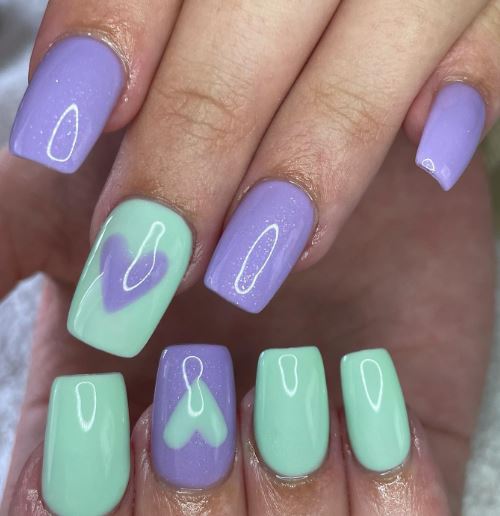 Image by @kathrynemcgrathnails via Instagram
Swirls and Patterns
Swirls are a hit among women when it comes to getting different nail art designs. This combination of shaded swirls and heart patterns on medium-length nails look amazing.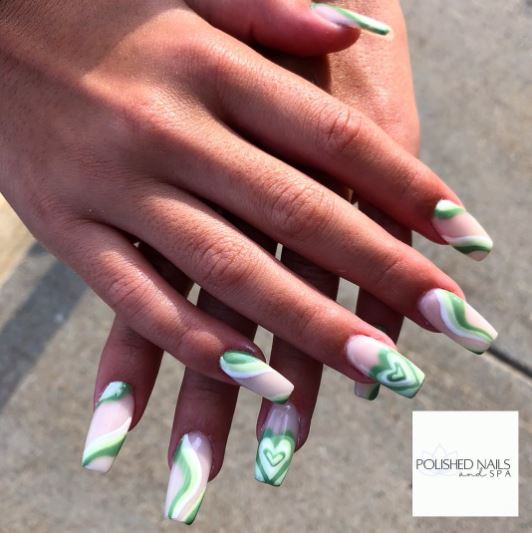 Image by @polishednailsandspa_milford via Instagram
These assorted tips, and swirl nails with glitter are a subtle choice.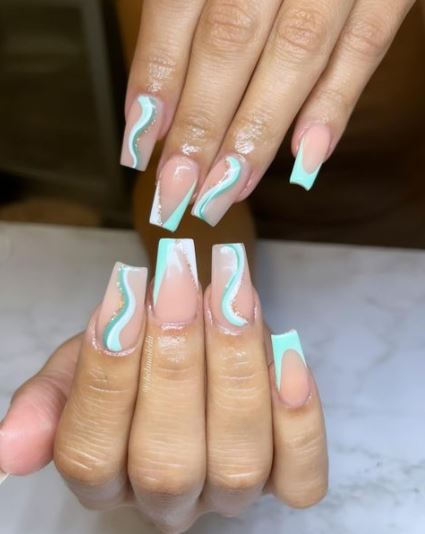 Image by @chelsnailedit_ via Instagram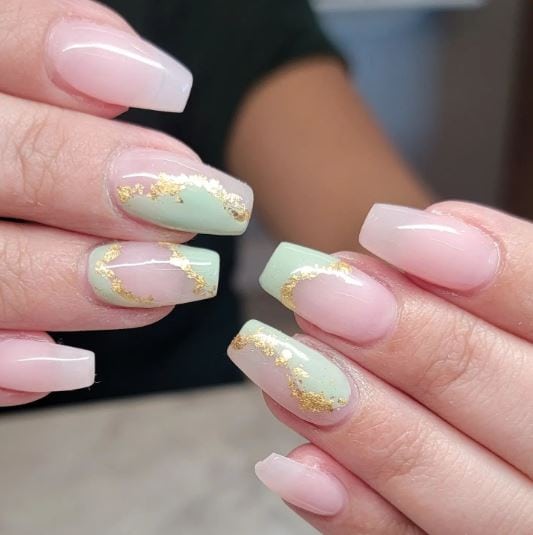 Image by @_nailsbykaycee via Instagram
Mint green is always a great pick to go with unicorn-themed nails.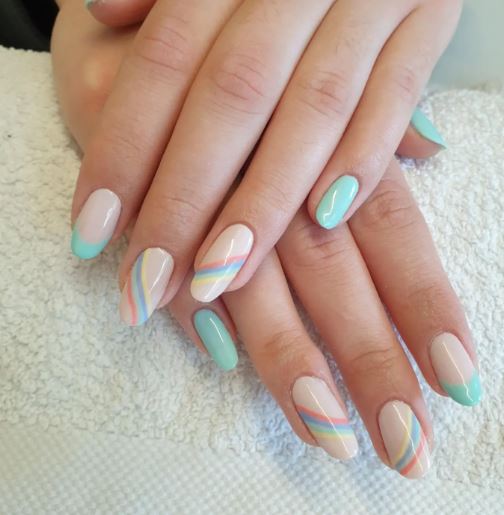 Image by @terrific_nails_by_terri via Instagram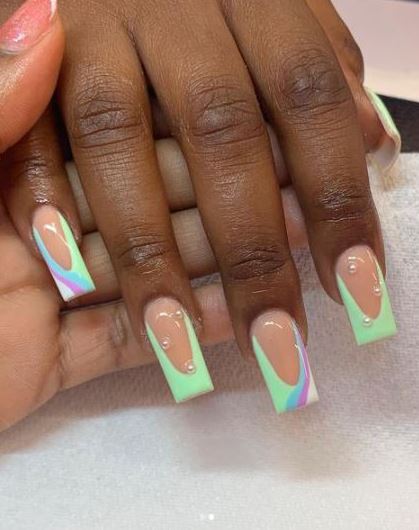 Image by @dollies.addiction via Instagram
Mint Mosaic
This is great choice if you're inspired to get a soft mint mosaic sprayed on white nails.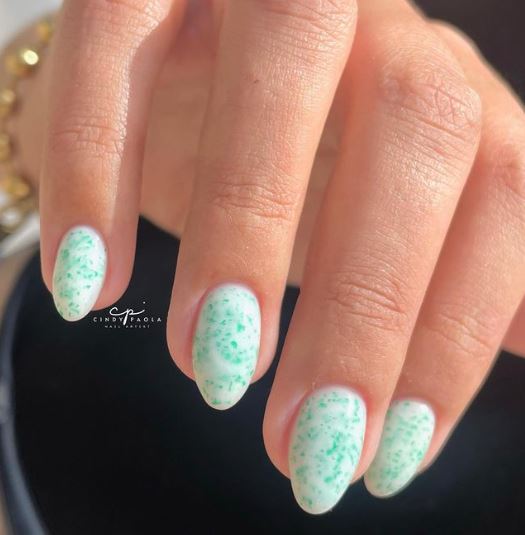 Image by @cindypaola.nails via Instagram
What Colors Go with Mint Green Nails?
You can create mint green nails with a variety of shades for different occasions. Mint green is a beautiful color that goes nicely with many other pastel shades. Your mint green nails will look beautiful with blue, lavender, pink, white and nude.
Getting the Perfect Mint Green Mani
Mint green nails are the ideal pick for spring and summer manicures. The color is refreshing for the eyes, looks amazing on women of all ages, and goes well with other shades or even just by itself, matched with different designs. Mint green is a great choice for any special occasion or even if you simply feel like getting your everyday nail art refreshed.