Prom was a really big deal for me in high school. My friends were voted prom king and queen and I didn't want to be the ugly duckling that hung out with the cool kids.
So I decided to slay. From the dress to the nails, everything had to look stunning. I went for extra bling. I used plain nails with rhinestones and I'm glad I did. Some of my friends used matte nails with 3d flowers and rhinestones. Others went for ombre nails with glitter and they all looked stunning.
From subtle to not-so-subtle to extra loud prom nail ideas I came across, here are the 50 most amazing prom nails for inspiration.
Prom Nail Ideas For You
1. Nude and White Ombre Prom Nails
Nude and white nail acrylic with glitter is a lovely prom look.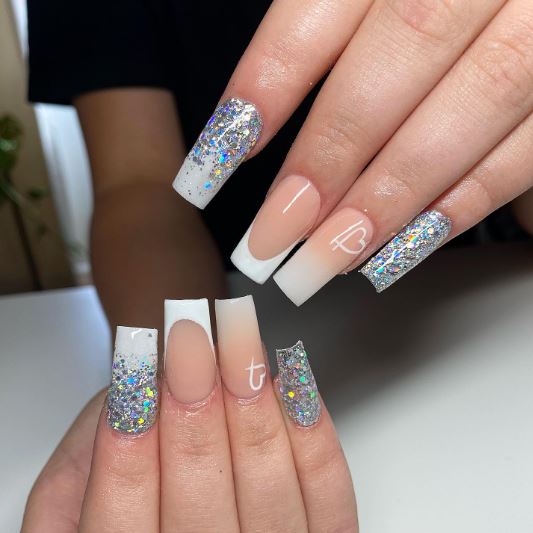 Image by @nailsbysabrinax via Instagram
2. Floral Rhinestone Nails
This is a cute pink Frenchie decorated with glitters, rhinestones, and flowers that will make you look gorgeous.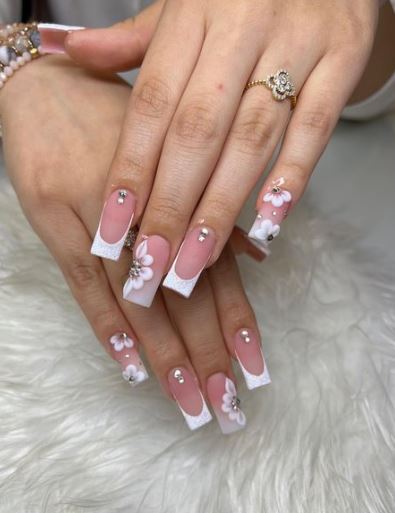 Image by @pretty.nails.by.claudia via Instagram
3. Extra Bling Glitter Nails
This extra long nail design will go with any dress you choose to wear to prom. The silver stone and glitter are both classy and chic.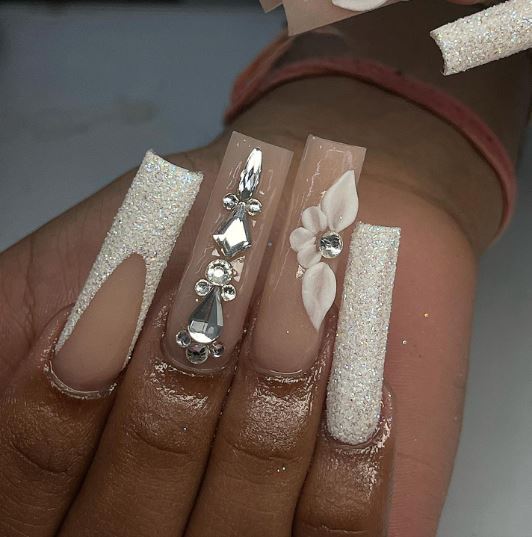 Image by @ennysglamroom via Instagram
4. Butterfly Nail Art
Nude and glitter nail art are a big trend on their own, but adding butterflies to the design makes them even better and fit for special occasions.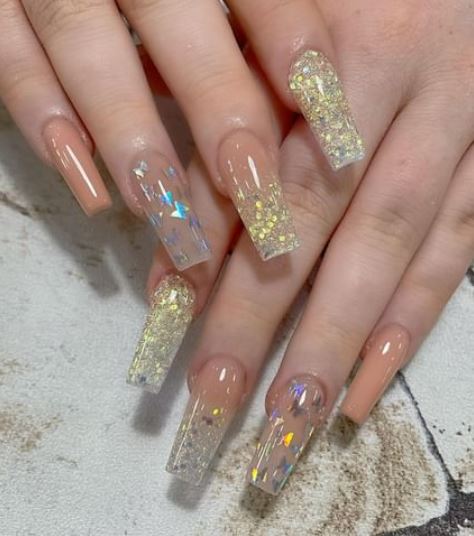 Image by @anyanails1006 via Instagram
5. Negative Space V-Tip Nail Designs
Clean nude nails like these are your go-to if you want a sophisticated look. The silver glitter is just ideal to make your prom mani pop.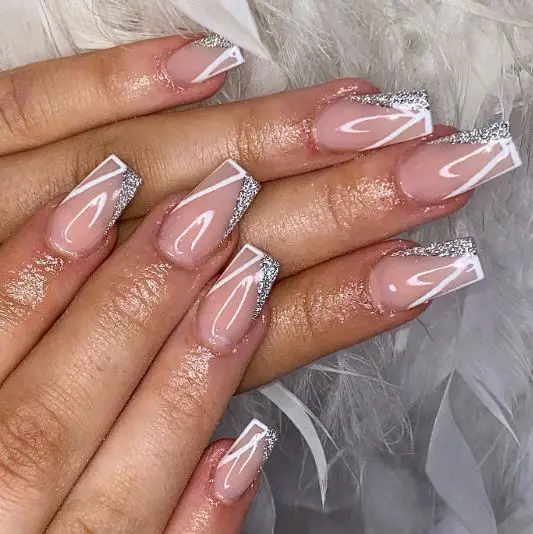 Image by @houseofhamadi via Instagram
6. White Nail Polish
White nails are a prom classic, as they will go with any outfit you choose to rock.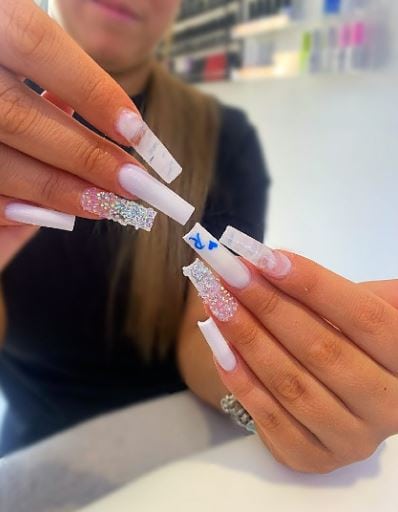 Image by @beau.tybyree via Instagram
7. Black and Nude Nails
Not a fan of acrylic? Paint your natural nails with nude polish, and add a lovely dark accessory like this for an awesome appearance.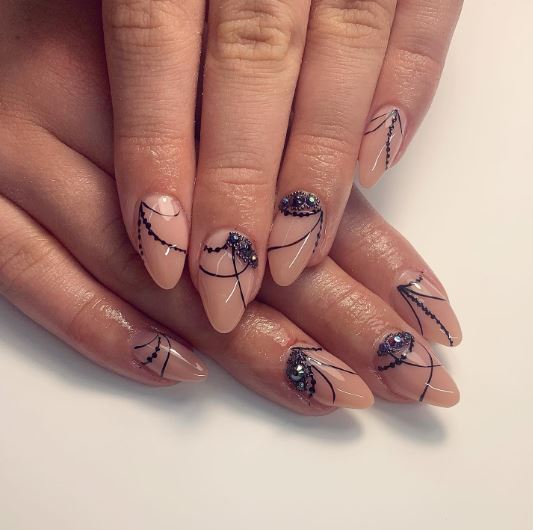 Image by @nailsatno8 via Instagram
8. Gradient Nude Almond Nails
We can't think of anything more classy for prom than this amazing color combo with glitter.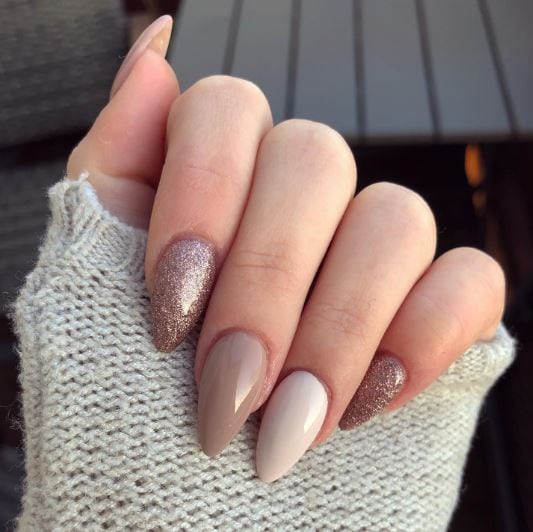 Image by @nailbeauties.le via Instagram
9. Glamour Nails
This floral nail design, with a touch of white at the tips, looks classy. It is a lovely nail option if you would like to look elegant for prom.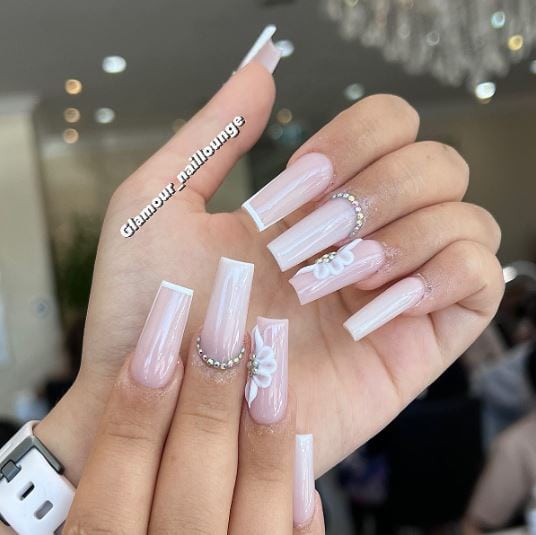 Image by @glamour_naillounge via Instagram
10. Glitz And Rhinestone nails
The rhinestone and flower design on this long square-shaped nail art gives it a shiny finish and creates a beautiful sparkle that will make you stand out on your prom night.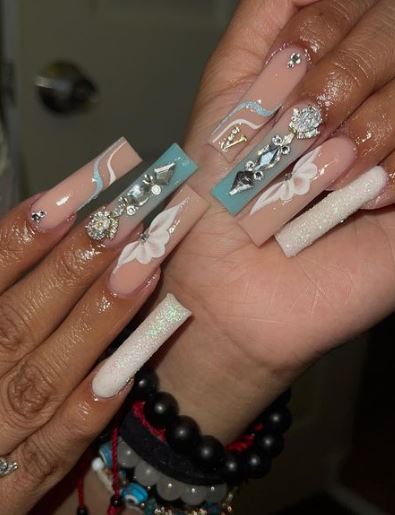 Image by @nailssbyleoo via Instagram
11. Blue Tip French Manicure
If you're searching for a fun nail design, you should go with this. It has polka dots and animal print tips. These nails will look better if your prom dress has a touch of blue.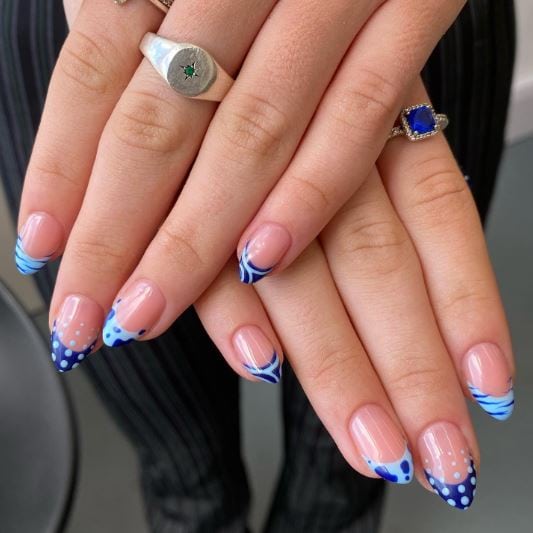 Image by @__formechloe via Instagram
12. Prom Nails With Gold Glitter
For a fancy and stunning look that will look awesome in pictures, wear these classic white nails with rubies.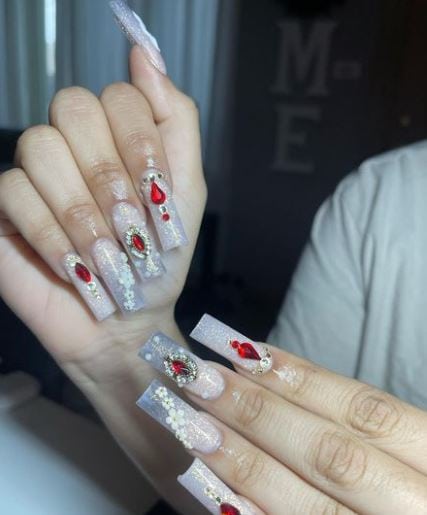 Image by @michelle.cosmeticss via Instagram
13. Pink Glitz Nails
You can't go wrong with shiny pink and white nails for prom.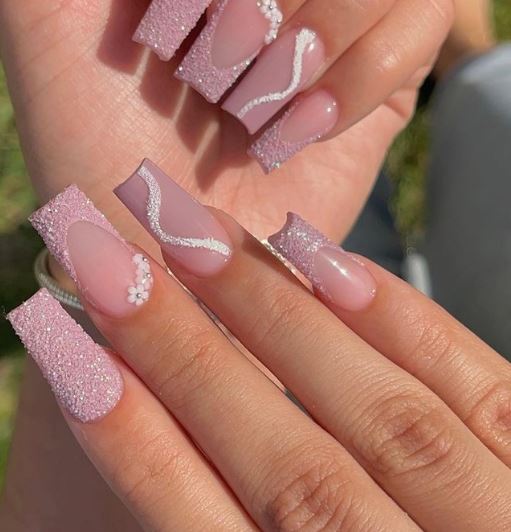 Image by @.j.nailz via Instagram
14. Bright Pink Nails
The long vibrant nails look like extensions of your real nails and the touches of glitter bring out the natural beauty of your skin.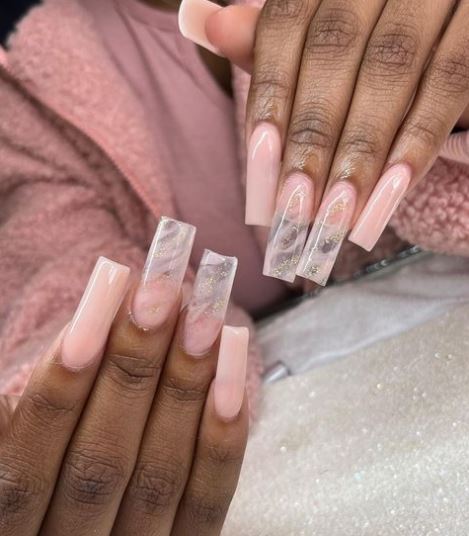 Image by @glammedbybeauty via Instagram
15. Glam Nails
You may want to try out this look if you love to match your earrings and bracelets with your nail accessories.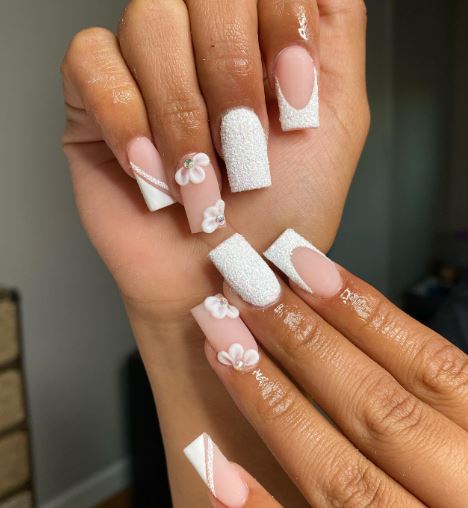 Image by @_glambyjulia via Instagram
16. Burnt Orange Nails
Looking for colorful and chic prom party nails? These long sparkling prom nails with an angle pattern and rhinestones are all you need to look chic.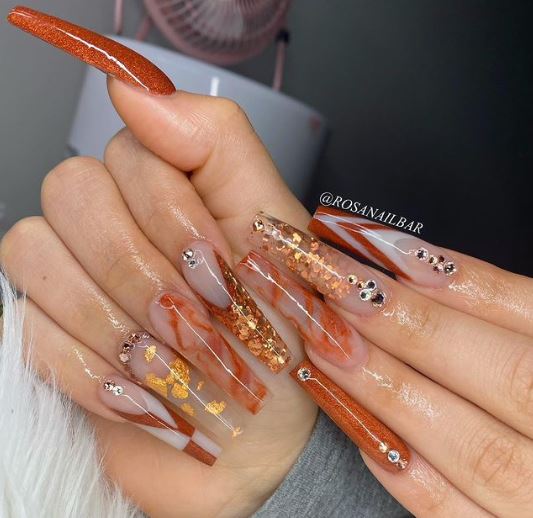 Image by @rosanailbar via Instagram
17. Royal Blue Nails
These royal blue and transparent acrylics with crystal blue sapphire carefully placed on the nails look elegant.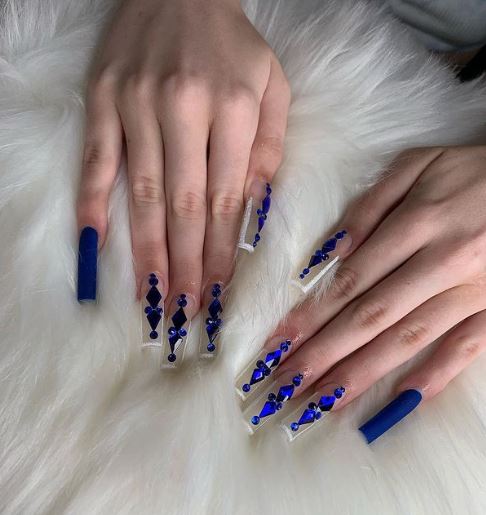 Image by @nailsbyarieyxdiorblinks via Instagram
18. Nude Nails With Rhinestones
Shine bright like a diamond with these stylish nails accessorized with floral and butterfly designs at the tips. The little fingernails are covered in gold glitter.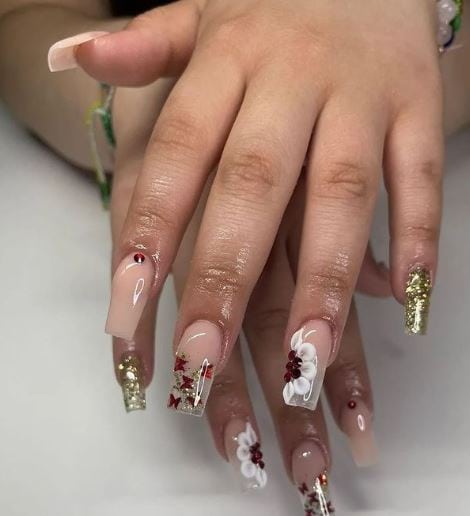 Image by @bellas_nails007 via Instagram
19. Elegant Prom Nails
If you think plain nude nail polish is dull, spice it up with yellow to make it appear more stylish and chic.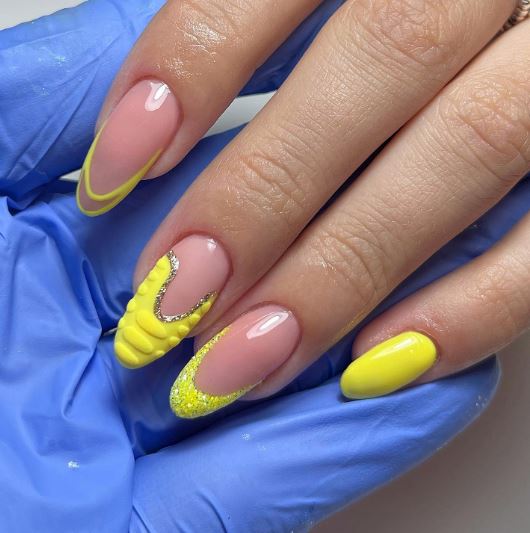 Image by @thehouzofbeauty via Instagram
20. Blue Prom Nails With 3D Flowers
Want to wear a royal blue gown for prom? This trendy nail design will be a perfect match for you.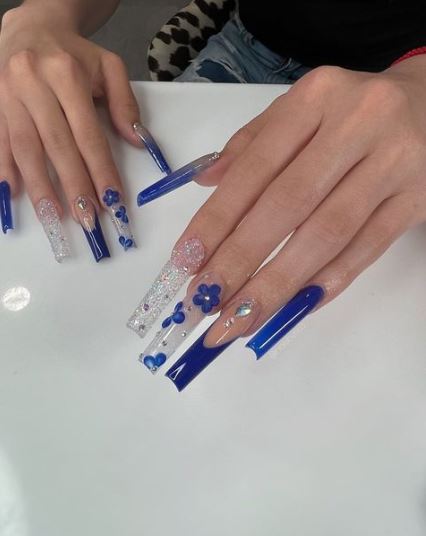 Image by @nailsbyrico via Instagram
21. Nude and Black Prom Nails
For girls who aren't fond of bright colors, these nude and black tip nails with rhinestones are a great option.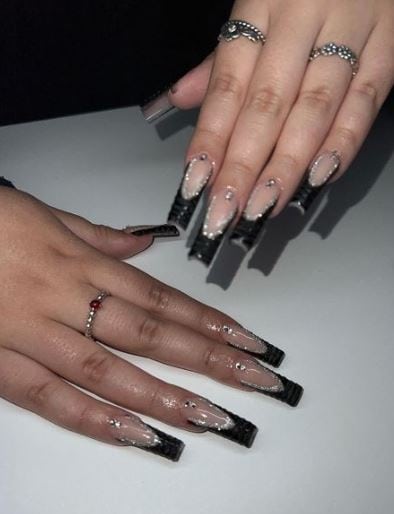 Image by @sergynailedit via Instagram
22. Gold Accessories On White Base
Canary or golden diamonds are simply astonishing on white nails. Pair with a lovely white gown for an elegant look that will have tongues wagging on prom day.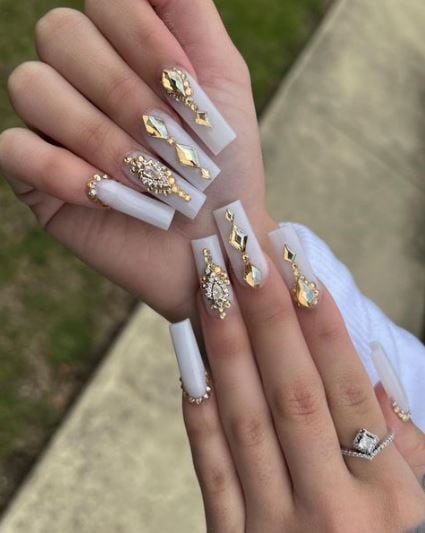 Image by @jocyssnails via Instagram
23. Matte Beige Nails With Gold Glitz
These stiletto nude nails are everything you need for a perfect prom look. It features two accent gold glitter nails that add a subtle shine to the gorgeous matte nail design.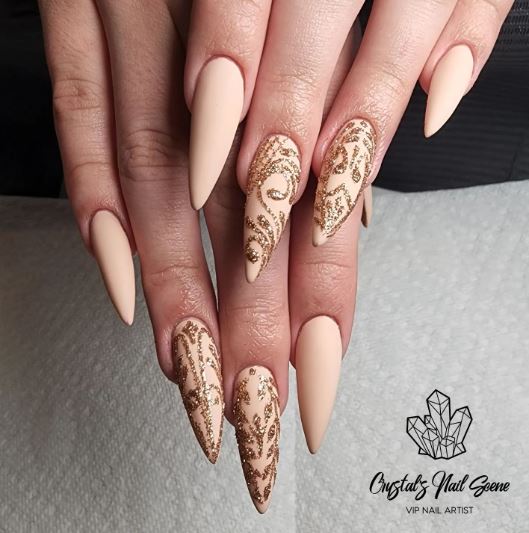 Image by @crystalsnailscene via Instagram
24. Light Blue Tip Frenchies
Here are fantastic color combos you can wear to steal the show on your special day. They have beige and light blue floral designs with stones at the base and tips.
Image by @l1beautybox via Instagram
25. Ombre and V-Tip Prom Nails
These pretty pink nails with a french tip pattern and rhinestones at the base are the definition of elegance.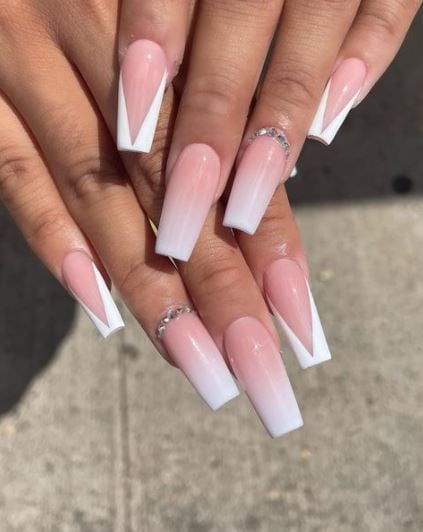 Image by @beautynails_brows via Instagram
26. Beaded Glitter Nails
You don't have to worry about nail colors to rock for prom. These lovely glossy nails with beads and stones can go with any color dress you choose to wear.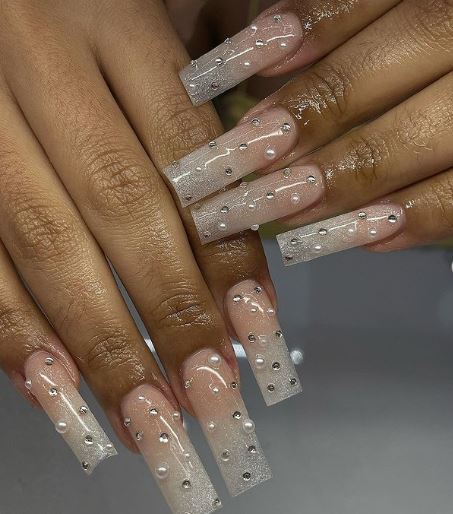 Image by @ennysglamroom via Instagram
27. Crystal Glitter Nails
Look extra beautiful with these elegant nails. I'm in awe of the royal blue french tip and rhinestones with amazing crystals on the middle finger.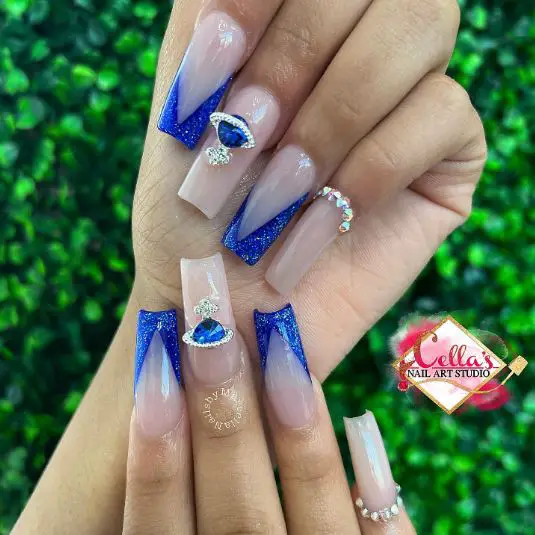 Image by @cellasnailart via Instagram
28. Love Marble Nails
These designs are works of art. The love shape of the stones and the marble design elevate the entire look.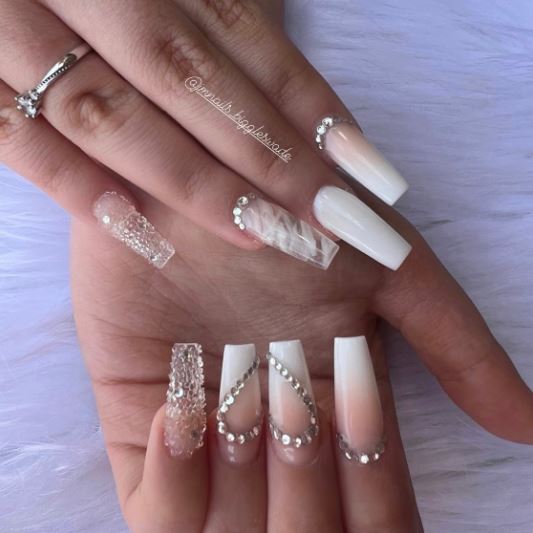 Image by @jmnails_biggleswade via Instagram
29. Nude Maroon Nail Art
If you need an easy maroon mani with a bit of gold, I suggest you recreate this.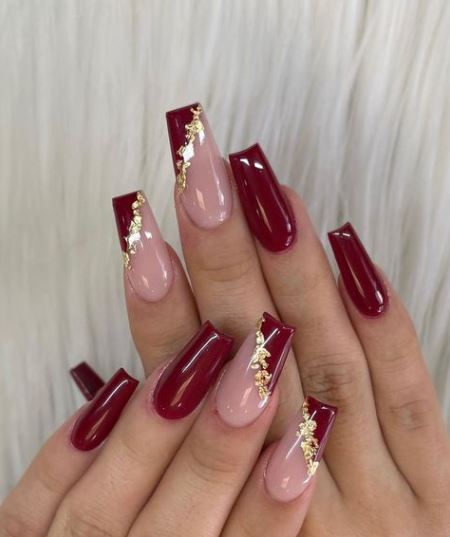 Image by @beautynails_brows via Instagram
30. Orange Ombre Nails
Interesting and beautiful ombre nail art. You can use press-on nails like this for prom night.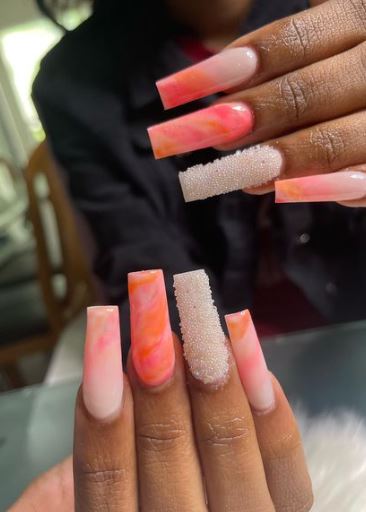 Image by @nailsbyaleee via Instagram
31. Sparkling Nails
Command attention with this sparkling nail design topped with lovely crystal.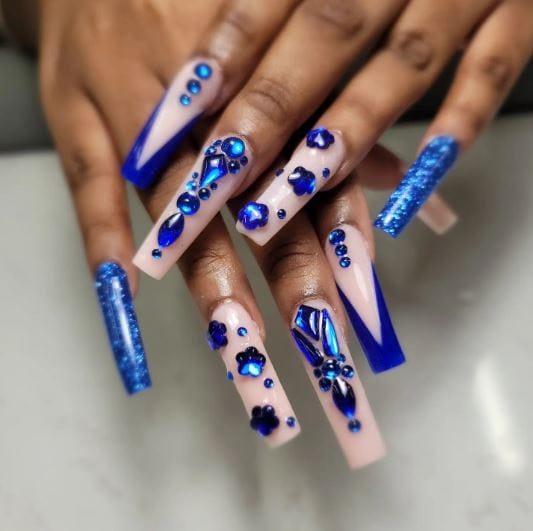 Image by @nick_lotusnails via Instagram
32. Beige and Black Nail Art
These simple beige nail designs with vibrant black stripes will look great for prom and other special occasions.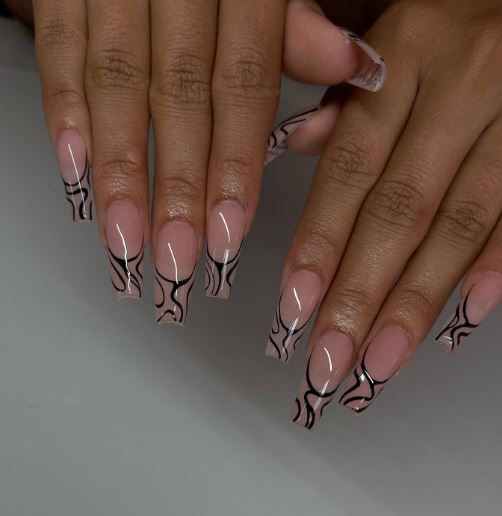 Image by @mayleidoesnails via Instagram
33. Silver Ombre Nail Art
Simple nail art with a silver design you can create at home.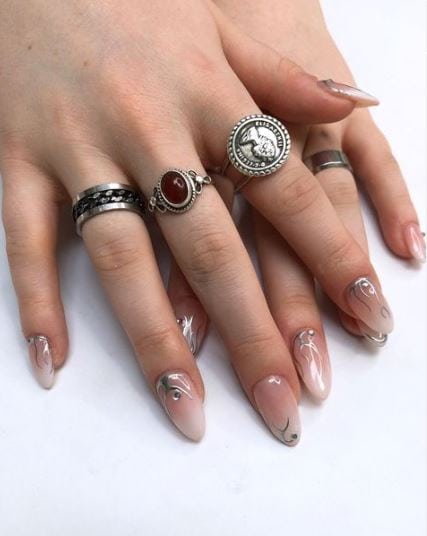 Image by @aprildeaustin via Instagram
34. Glowy Manicure
This is a pretty manicure, especially the glossy royal blue design.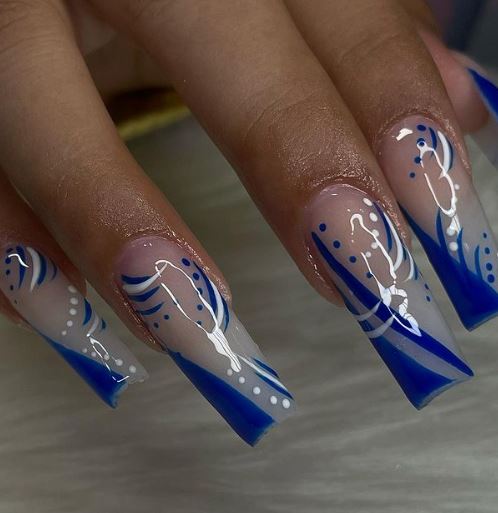 Image by @naildriprv via Instagram
35. Lovely Beige Prom Nails
Don't you just love these lovely nude nails decorated with white and silver glitter? If you do, then you've got your perfect prom nails. Screenshot them and show them to your nail tech for inspiration.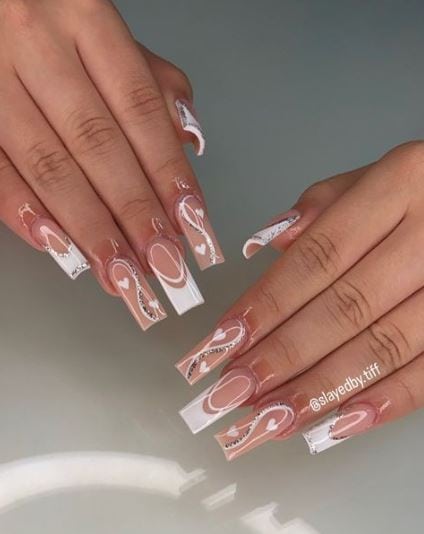 Image by @slayedby.tiff via Instagram
36. Maroon Butterfly Prom Nails
Spice up your manicure by making different designs on each finger.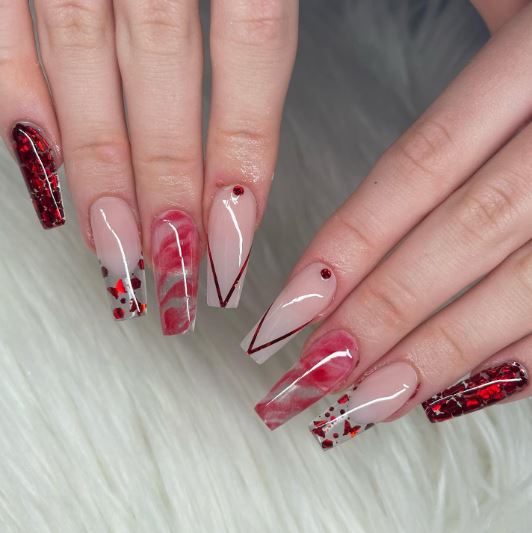 Image by @janailsupplies via Instagram
37. Beauty Prom Nail Designs
You can never go wrong with nude manicures and white swirl designs.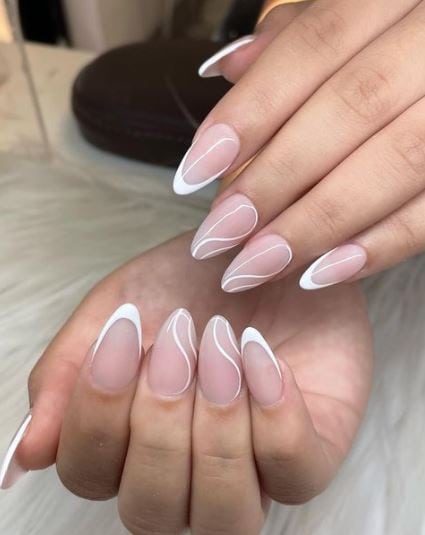 Image by @beautynails_brows via Instagram
38. Gold Glitter Prom Nail Designs
With the gold flecks and nude nail polish, you can recreate this design at home for your big night.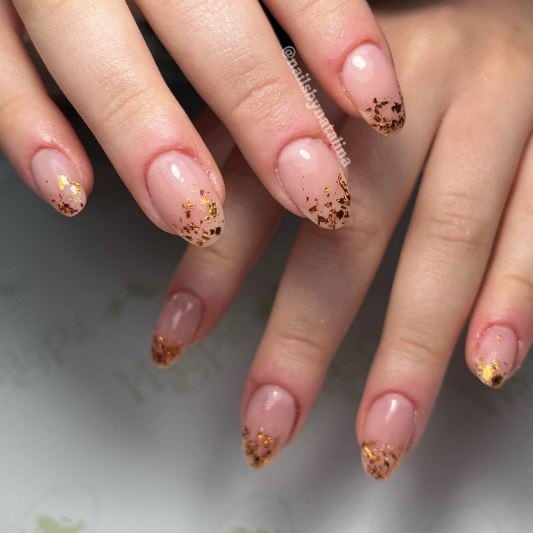 Image by @nailsbynatalina via Instagram
39. Glossy Black Nails
Glossy black paired with rhinestones for a shiny finish instantly grabs attention.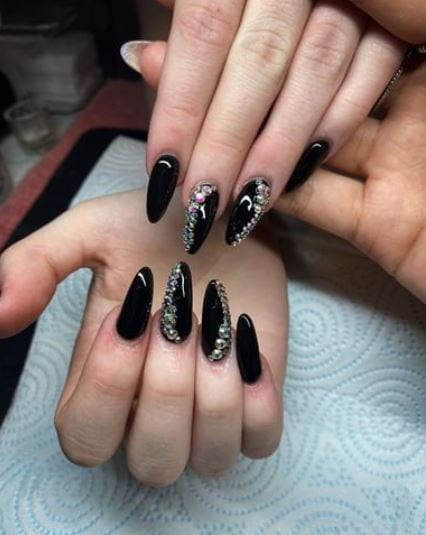 Image by @nails_before_males123 via Instagram
40. Marble Floral Combo
This is a colorful and bold floral nail design that's perfect for girls who love blue.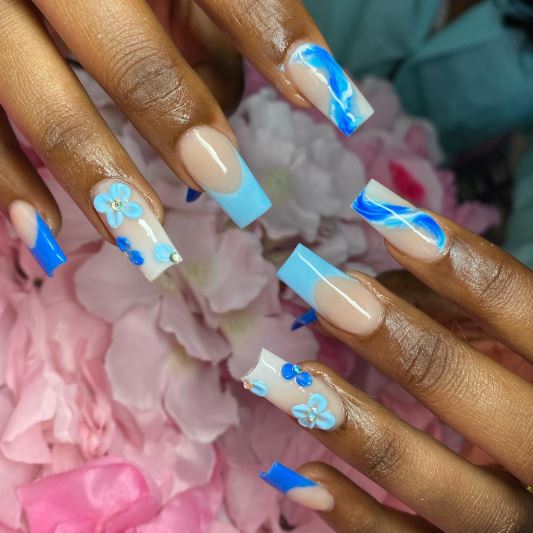 Image by @cloud9claws via Instagram
41. Neutral Nails With Pink Flowers
Colorful trendy nude nails that look even more interesting with a pink flower design at the tips.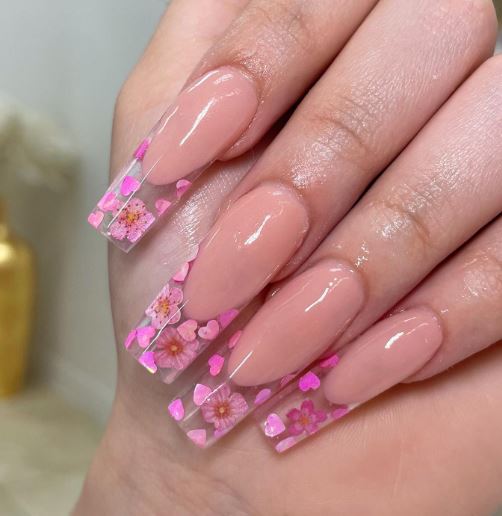 Image by @golden_filenailsalon via Instagram
42. Neutral Shades With Slight Red
You don't have to go the extra mile for a stunning look. Aside from the exaggerated length, this is a simple mocha and red nail design. If you prefer short nails, you can recreate this with a shorter length.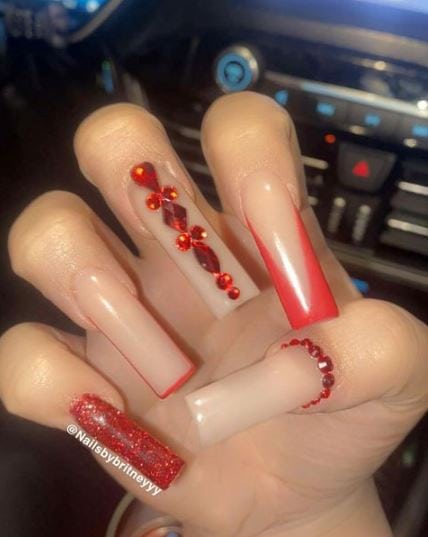 Image by @glamnailsbybritneyyy via Instagram
43. Matte Butterfly Glitter Nails
This is definitely one of the most stunning manicures on this list. If you like glitter, gemstones, and butterfly art, then try this beautiful prom-inspired manicure for great results.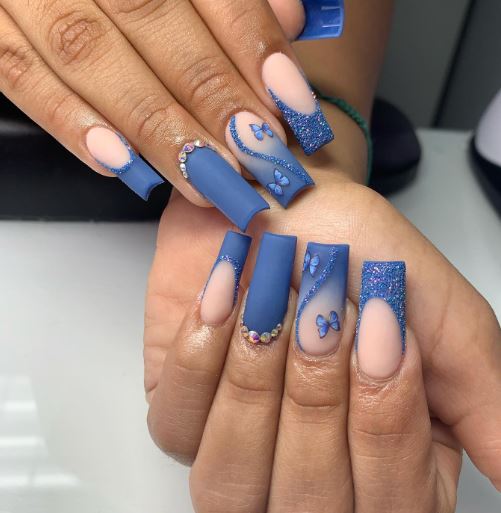 Image by @nailsby.alex via Instagram
44. Black Craft Prom Nails With Crystals
If you want to make a statement, this long rare black mani decorated with crystal is what you need to feel like a celebrity on prom night.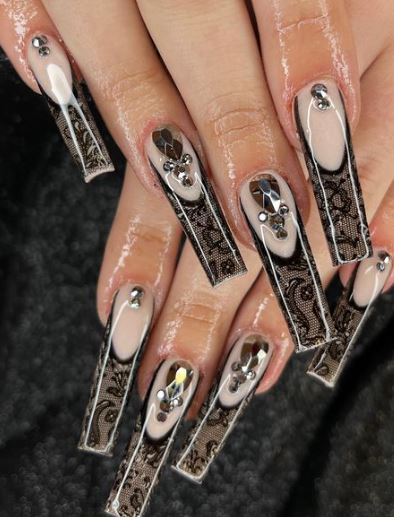 Image by @polishedbyneena via Instagram
45. Floral And Butterfly Design
These ombre manicures are charming on their own. Add colorful florals, and gemstones with butterfly details and you have insanely cute prom nails.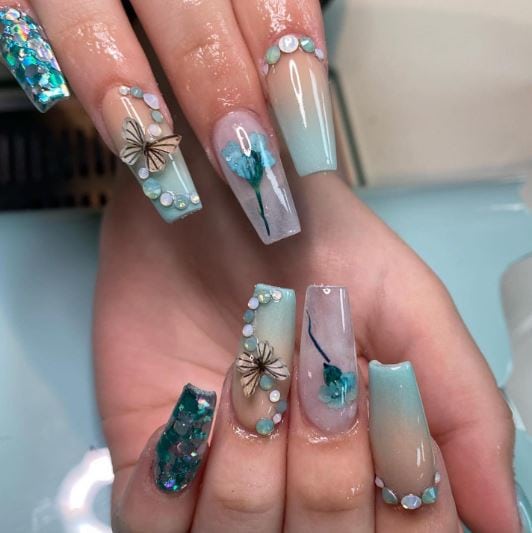 Image by @salonfabulous via Instagram
46. Floral French Design
For a simple feminine appearance, a neutral shade is always a good choice. You can add glitter and flowers to make it sparkle.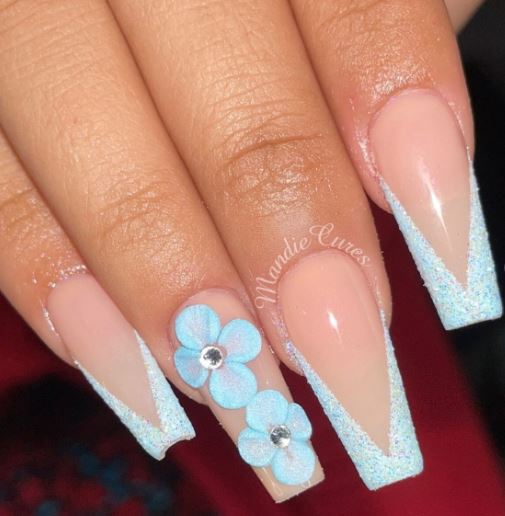 Image by @mandiecures via Instagram
47. Croc Frenchies
A creative prom nail option is to go for extra long french nails with crocodile nail tips and large golden rhinestones.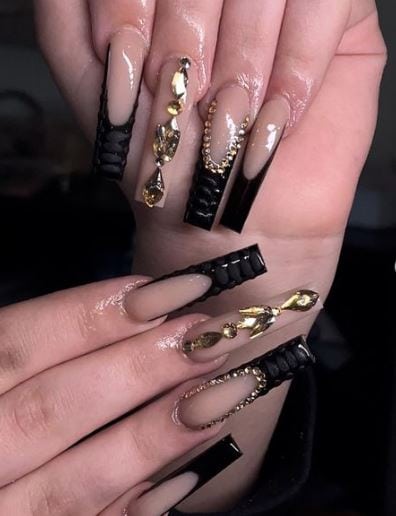 Image by @nailsbyyshyy via Instagram
48. Ombre Glitz Design
This gorgeous mani features mocha and purple ombre with two accent nails on the index and middle fingers.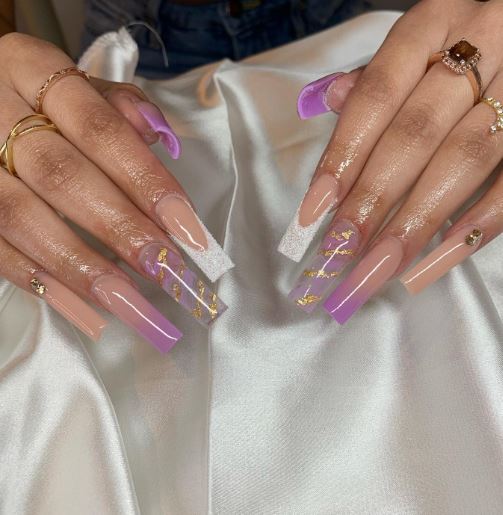 Image by @nailsbymari.ibel via Instagram
49. Neutral And Maroon Glitz
The 3d flowers and petals on the ring accent mani gives a rich, baddie vibe. If that sounds like you, this is a great mani option to opt for.
Image by @_valsnails via Instagram
50. Glitter White Polish On Beige
These pretty beige nails mixed with white encapsulated glitter are gorgeous. The glittery rhinestones make the look extra ravishing.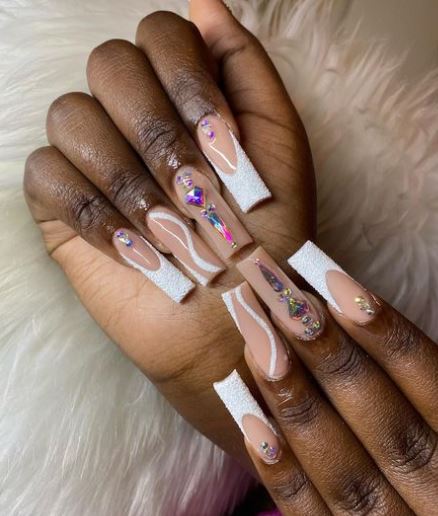 Image by @yai.nailedit via Instagram
Rhinestones, glitter, and flowers are trendy nail designs for prom this season. Pick your favorite design and get ready for your prom nail appointment.