Cotton candy nails are full of gorgeous tones and textures. They have a fun and friendly vibe.
You don't have to go the extra mile for a beautiful nail look with candy nails. All you have to do is mix bright colors either by adding swirls, Frenchies, or accent nails for a lovely cotton candy manicure.
But if you've got a big event coming up, you can go all out on your nails by adding glitter or rhinestones.
Cotton candy nail art is unique. Here are some nail polish ideas to have you slaying everywhere you go.
Cotton Candy Nail Ideas
1. Cotton Candy Dreams
Long candy nail art with glitz, stars, and clouds. One of the best cotton candy colors to rock for summer.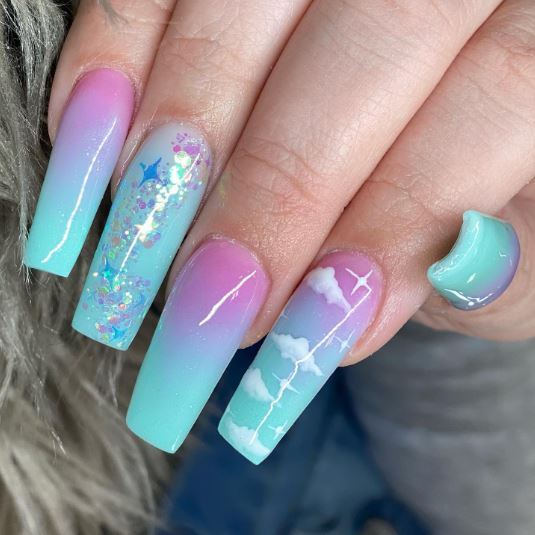 Image by @amrr_xo via Instagram
2. Ying And Yang Nail Polish
This is a subtle nail design you can wear on Valentine's Day.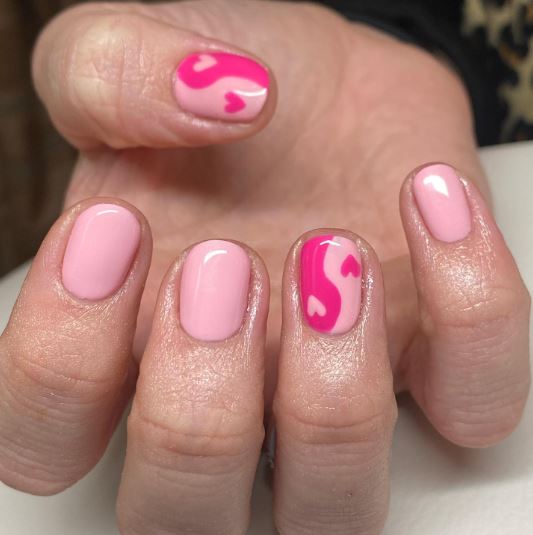 Image by @eimearkelly_nails_and_beauty via Instagram
3. French Tip Cotton Candy Nail Art
Cotton candy nails can be transformed into playful french tip manicures. You can wear this colorful nail art for your birthday.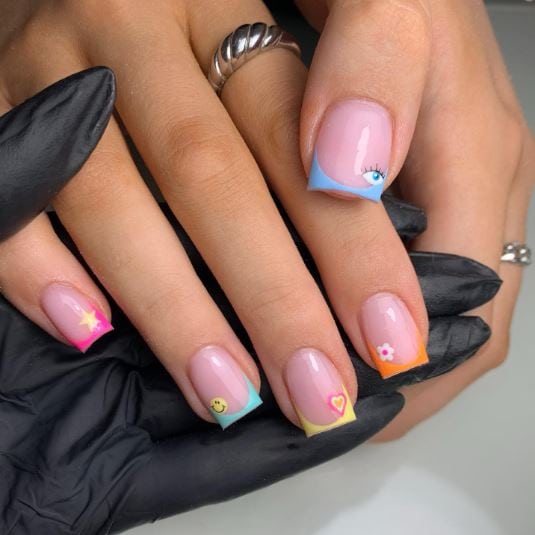 Image by @glamnails_bymeg via Instagram
4. Candy Floss Nails
Some women love short nail art. If you're one of them, this is a lovely candy floss nail to try.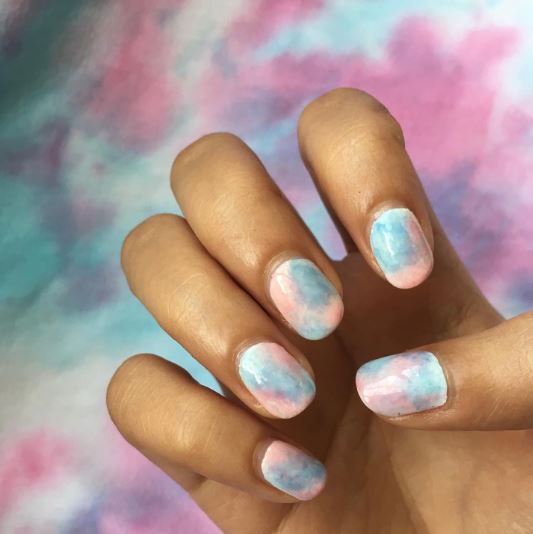 Image by @nams_nailart via Instagram
5. Ombre Candy Nails
These lovely cotton candy ombre nails look like they were made in nail heaven.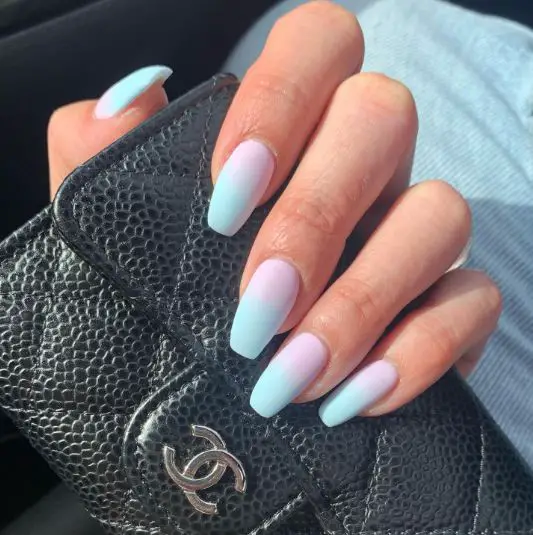 Image by @inventivenails via Instagram
6. Pink Cute Cotton Design
This simple manicure with pink on the tips is a favorite because it is stylish and convenient.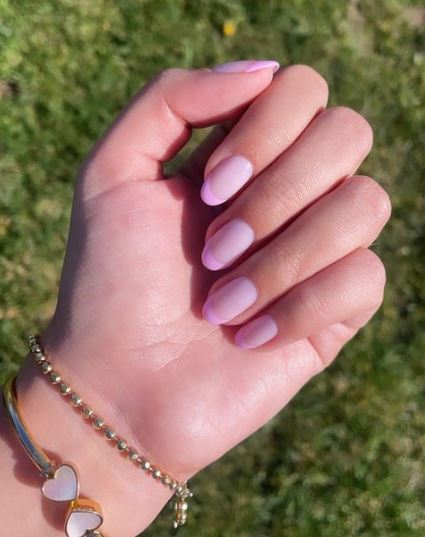 Image by @sugarnailsalon via Instagram
7. Stilleto Candy Nails
This mani looks classy and interesting. It features nude at the base, and blue on the tips, with black swirls and dots.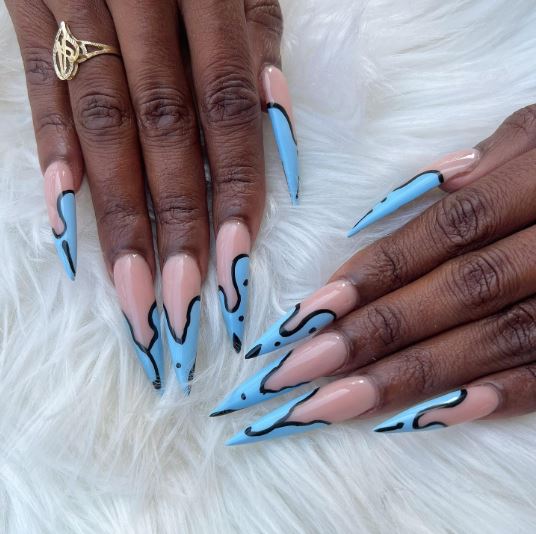 Image by @thelittlenailshopsd via Instagram
8. Marble Candy Manicure
Classic pink mani which features gold foil on the marble manicure, with gold lines and flakes.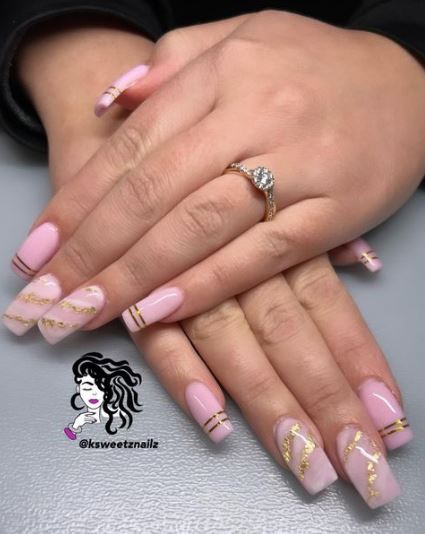 Image by @ksweetznailz via Instagram
9. Coffin and Stiletto Cotton Candy Nails
Ombre blues and yellows with 2 pink accent nails. This makes me want to eat candy.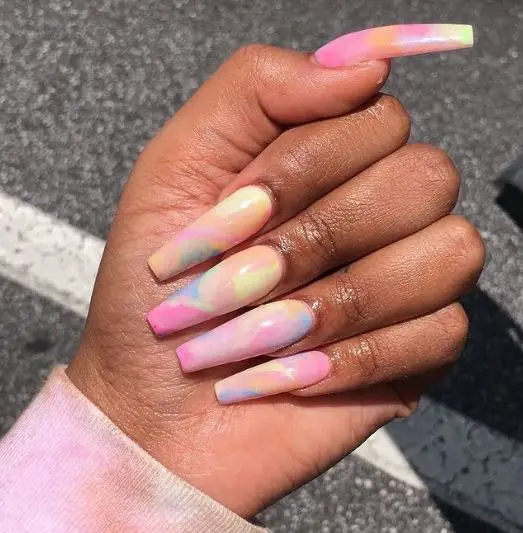 Image by @surin_allurenailbar via Instagram
10. Sugar Swirl Cotton Candy Nails
Use amazing cotton candy tones to recreate this nail art.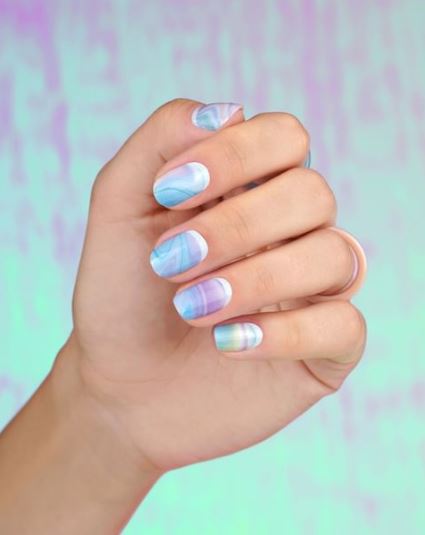 Image by @miss_sophie_official via Instagram
11. Candy Nails With Rhinestone
Add glam and glitz to your manicures with glitter on the tip and rhinestones at the base.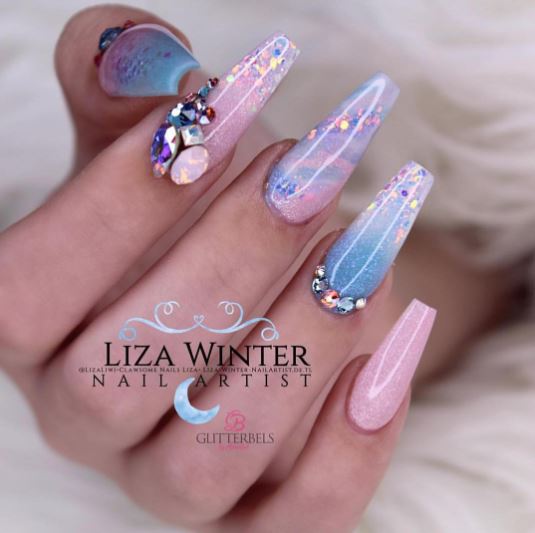 Image by @bombnailz_ via Instagram
12. Cotton Candy Skies
I love the rainbow candy vibe in this cotton candy nail art.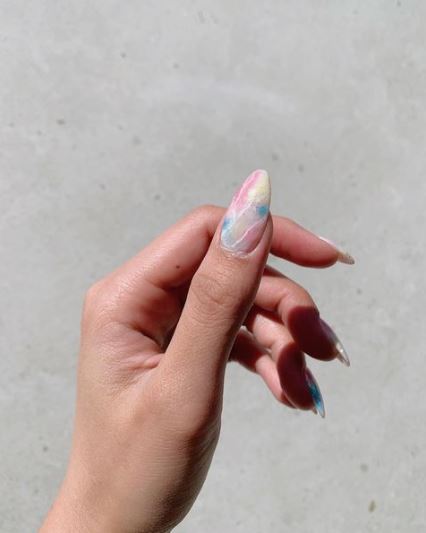 Image by @thenaildetails via Instagram
13. Cotton Candy Nails With Sugaring
If you want to look sophisticated, these candy nail arts with rhinestones at the base are a great choice.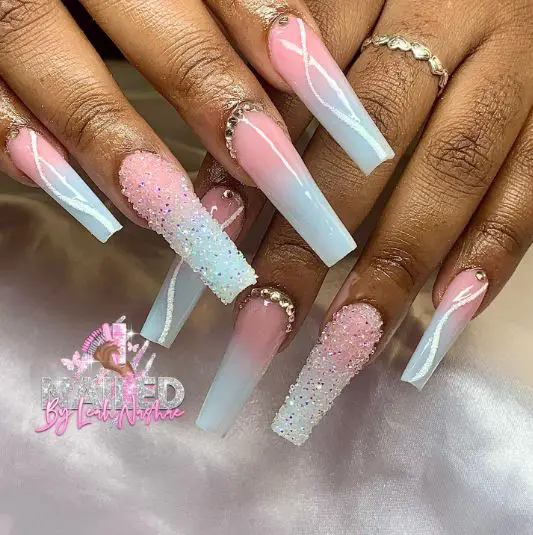 Image by @nailedbyleahnashae via Instagram
14. Chanel Cotton Candy Nails
Vibrant and shiny blue and rose pink cotton candy nails for ladies that love Chanel.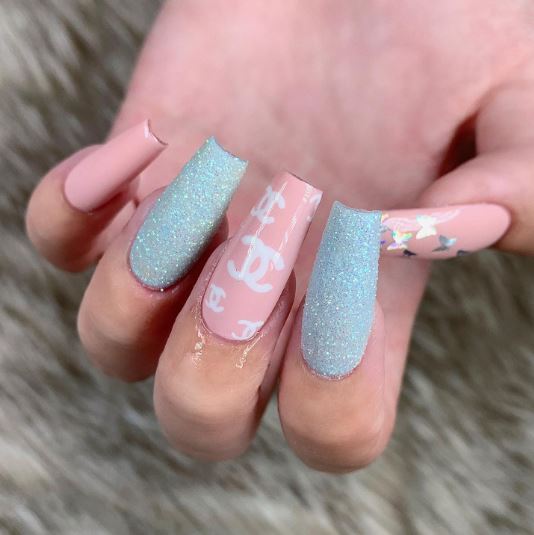 Image by @amys.clients via Instagram
15. Floral Cotton Candy Nails
This nail art features floral designs and swirls. It's the definition of simplicity.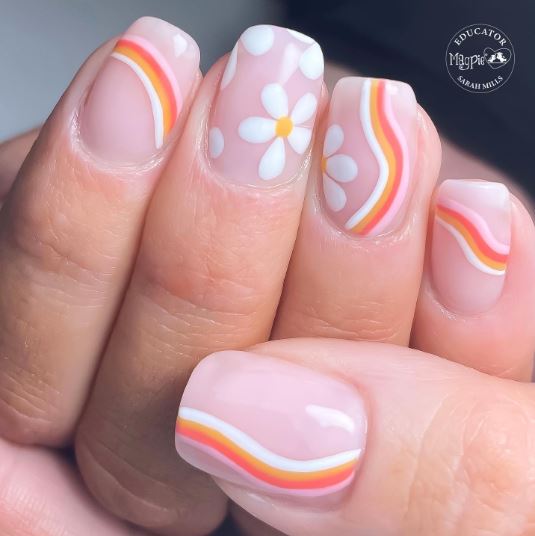 Image by @bysarahnailartist via Instagram
16. Metallic Cotton Candy Nails
Elegant pink and blue metallic cotton candy nails.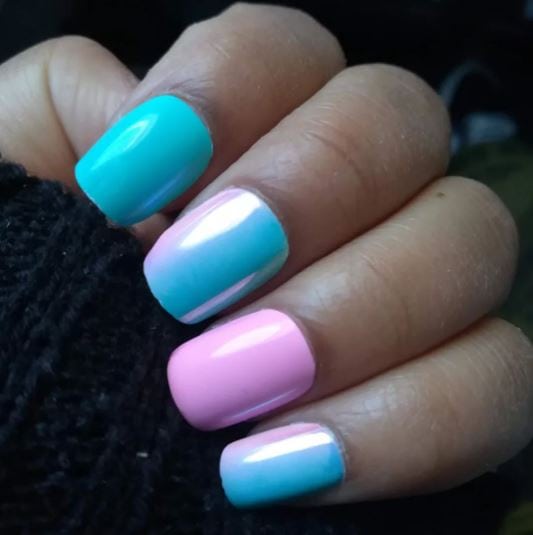 Image by @beauty.by.b. via Instagram
17. French Tip and Swirls
Blue and pink are combined seamlessly here to form a gorgeous cotton candy design.
Image by @bylucyalana_x via Instagram
18. Delicate Cotton Candy Nails
This is a cute cotton candy mani for summer. The hue is stylish and fits any skin tone. I suggest adding glitter to create a fun manicure.
Image by @thecolorpink via Instagram
19. Ice Cream Cotton Candy Nails
The coffin mani features a mix of blue and pink cotton candy gradient colors. The ice cream design at the base looks pretty and unique.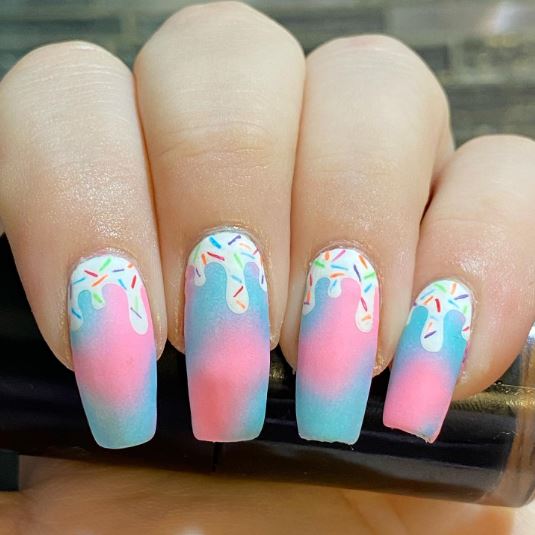 Image by @nailsbykimmiexo via Instagram
20. Hot Pink Cotton Candy Nails
A combination of hot pink on square nails is the ideal baddie cotton candy design.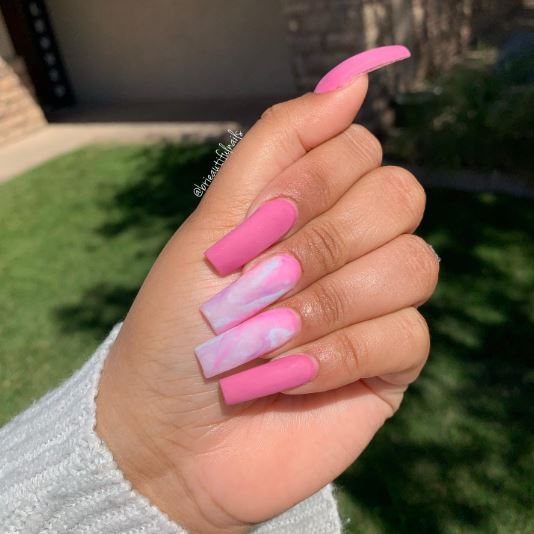 Image by @brieautifulnails via Instagram
21. Cotton Candy Skies
For a unique cotton candy look, try different cloud designs on each nail.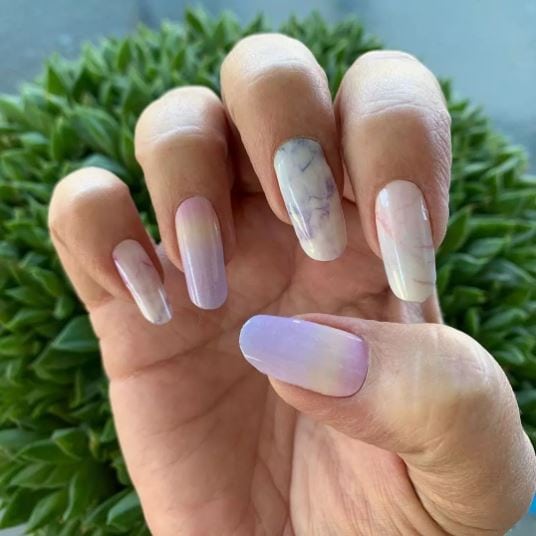 Image by @beyondpolish via Instagram
22. Long Cloudy Cotton Candy Nails
This cotton candy look will have heads turning.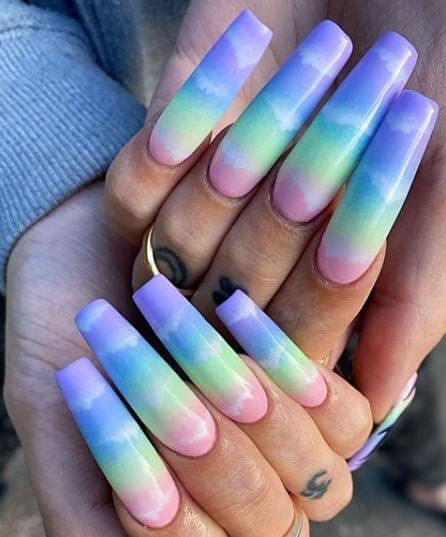 Image by @luxapolish via Instagram
23. Crystal Candy Nails
This classic mani accessorized with crystal accents, glitz, and rhinestones are super attractive. If you want to be the center of attention wherever you go, this mani is perfect.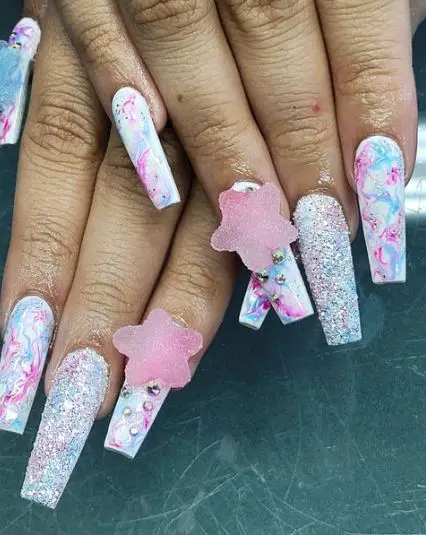 Image by @jessika_nailedit via Instagram
24. Almond Cotton Candy Nails
These short nails with pastel colors look really cute and will suit any outfit.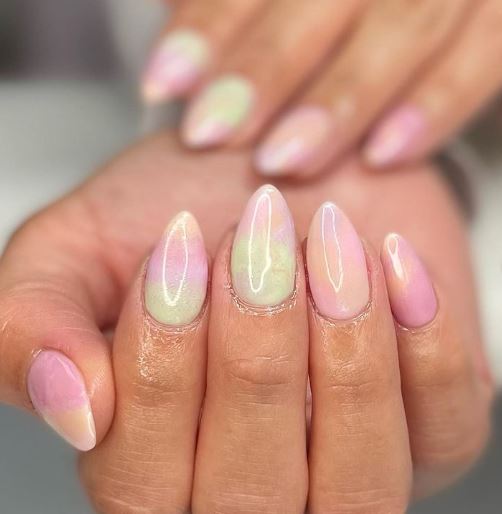 Image by @thecolorpink via Instagram
25. Cotton Candy Chrome Nails
Shine as you step into a room like you own it with these adorable metallic candy nails.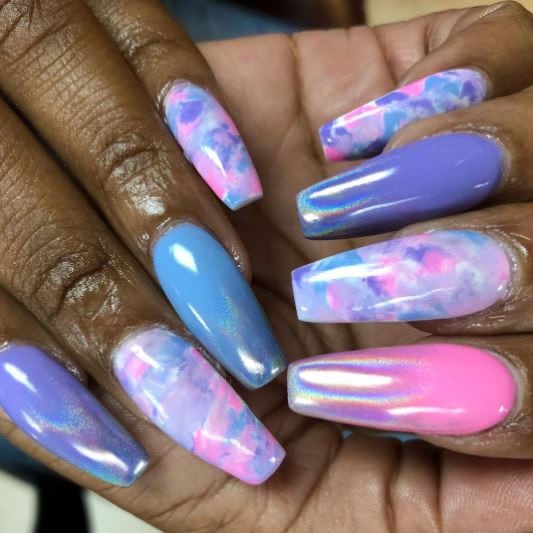 Image by @jade_nailspa via Instagram
26. Ombre Cotton Candy Nails With Star Accent
The ombre nails feature an accent with rhinestones and stars.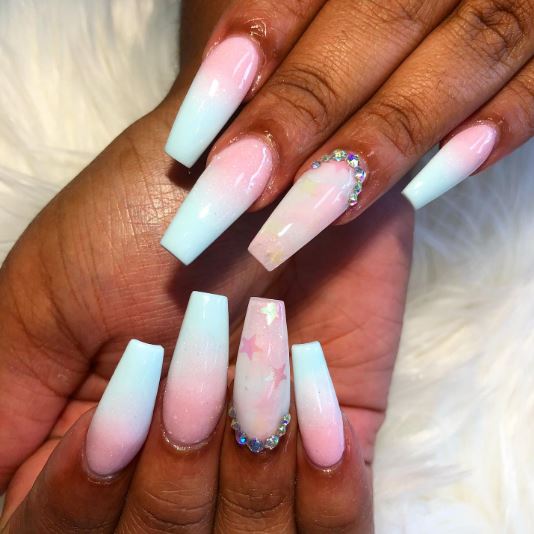 Image by @chnnail via Instagram
27. Pastel Cotton Candy Nails
Wear pastel cotton candy nails to brighten your day.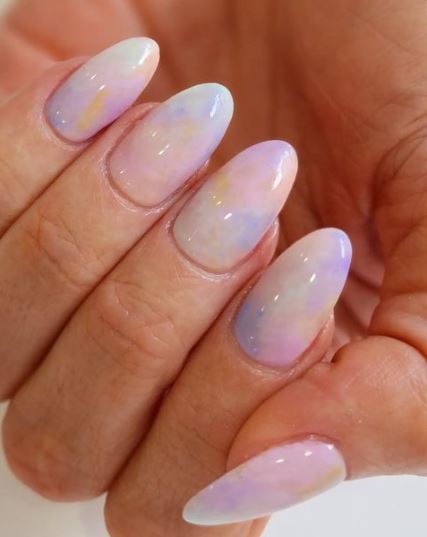 Image by @__spanails via Instagram
28. Nude Cotton Candy Nails With Swirls
These nude nails feature swirl and gold foil on one finger.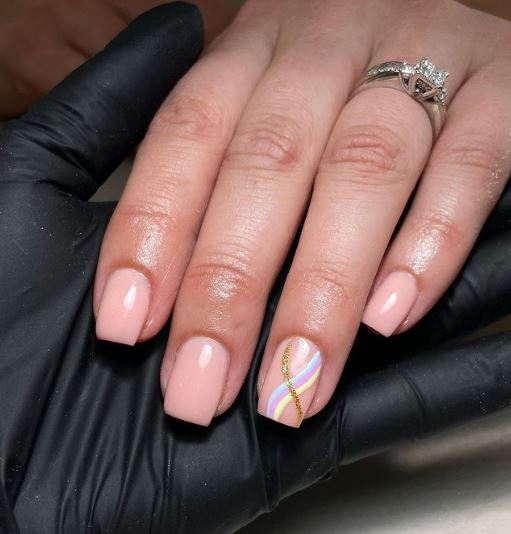 Image by @gmfnails via Instagram
29. Glitter Cotton Candy Nails
The vertical blend of colors with glitz looks fantastic.
Image by @niftygalnails via Instagram
30. Baby Pink Acrylic Nails
Wear this beautiful manicure if you want to make a fashion statement.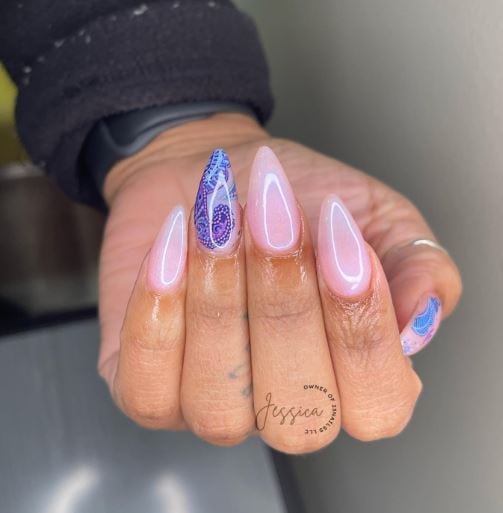 Image by @23nailss via Instagram
31. Half Marble Cotton Candy Nails
Fan of pink? This cotton candy mani will look fabulous on you.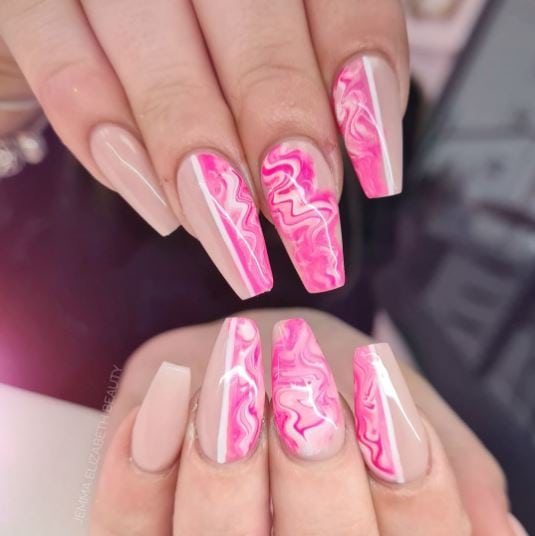 Image by @jemmaelizabethbeauty via Instagram
32. Cotton Candy Ombre Nails
Get this ombre cotton candy gradient mani for a subtle yet eye-catching look.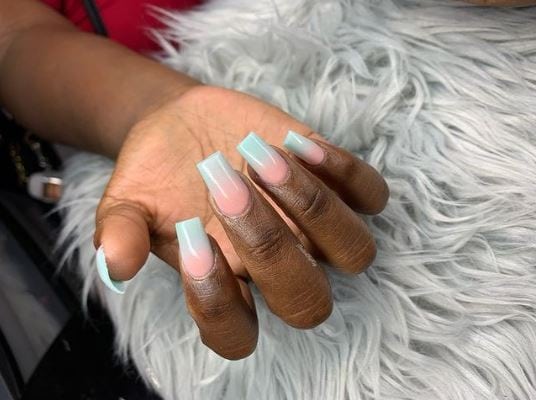 Image by @nailedbykiy via Instagram
33. Ornamental Candy Nails
Rhinestones, 3D flowers, and glitter is a nice idea for a sweet birthday or prom nail look.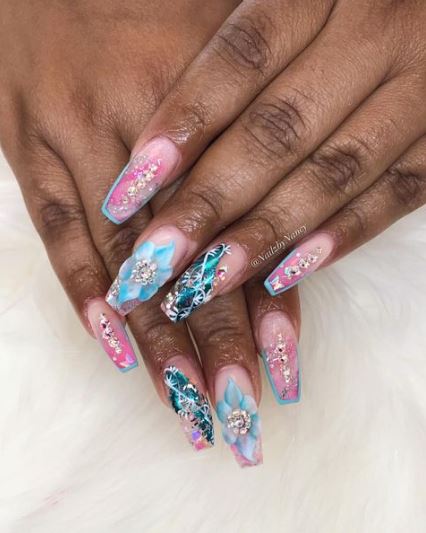 Image by @nailzbynancy via Instagram
34. Purple Candy Nails
This manicure with swirls, topped with gemstones is super cute an fun.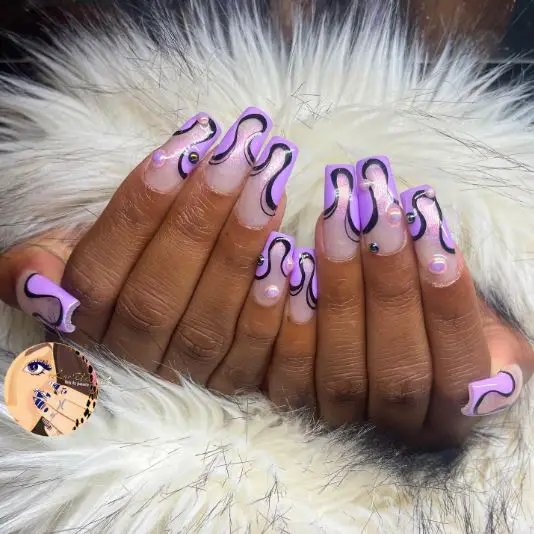 Image by @iluvurnailz via Instagram
35. Floral Glitz Nails
Steal the spotlight with this charming mani style.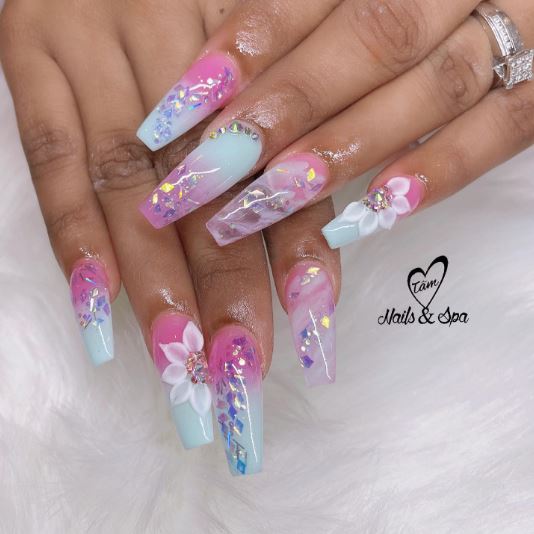 Image by @tamnails_spa via Instagram
36. Watercolor Candy Nails
Watercolor cotton candy nails have a natural glow.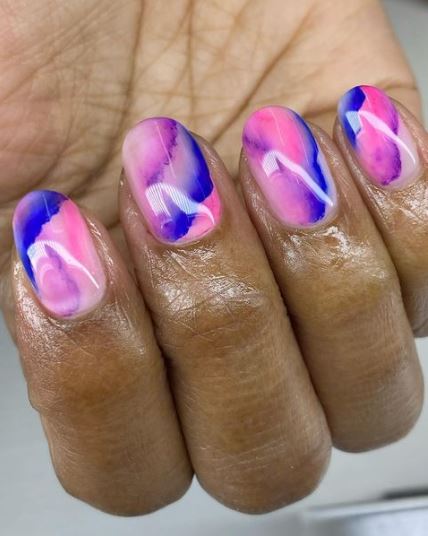 Image by @milkokc via Instagram
We have shown you several amazing cotton candy manicure ideas. So which design will you try this season?