Am I the only one that has been noticing the burst of brown nails on all my social media platforms? Not that I'm complaining because wow. Gone are the days when I thought brown nails could only be rocked during fall. I've seen amazing brown nail ideas for winter, spring, and even summer.
Nude and brown tip Frenchies are the most popular, but in my opinion, gradient brown nails are the OG. Animal print brown nails also look stunning, especially when added to the brown nails as an accent nail.
If you want to get ideas for unique and super-gorgeous brown nail ideas for all seasons, keep scrolling. You'll be glad you did.
Brown Nail Designs For Inspiration
1. Chocolate Spring Brown Nails
I know acrylic is taking over, but this is done using natural nails. With your nail polish and neat cuticles, you can recreate these cute and creative floral brown nails for spring.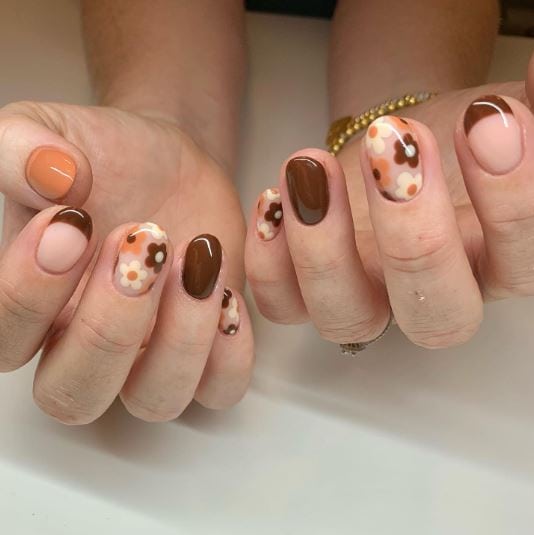 Image by @meganrnails via Instagram
2. Square Nude and Brown Nails
Nude nails are pretty, but the added brown makes it even prettier.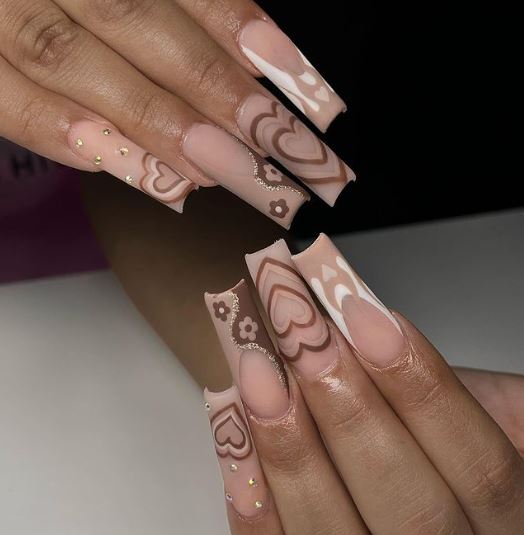 Image by @briisnailsss via Instagram
3. Leopard French Tip Accent Brown Nails
Minimal nail ideas are trendy and I'm loving them. This features glossy brown nails with a leopard french tip on the ring finger nail. The most subtle perfect fall nails I've seen so far.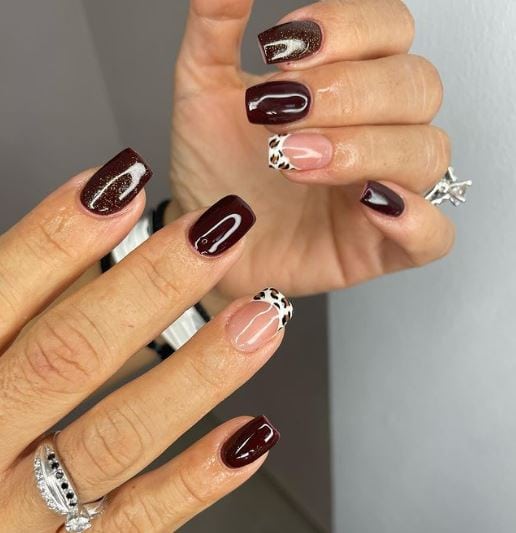 Image by @aesthetica.tzouma via Instagram
4. Nude and Brown Nails With Gold Glitter
These are the best brown nails for a celebration like a wedding. Two nude accent nails are added done with gold glitter for extra glitz.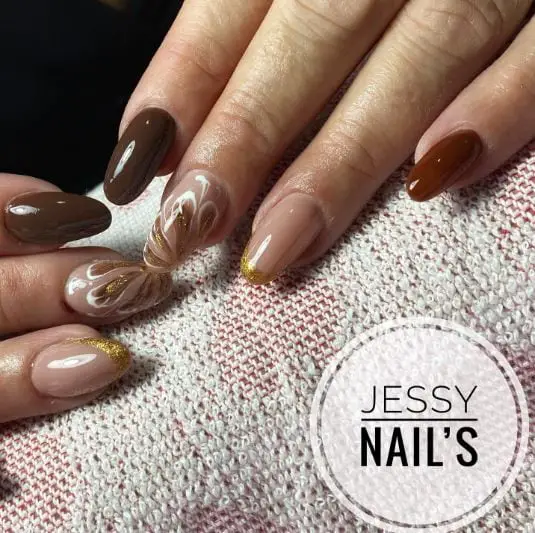 Image by @thejessygram via Instagram
5. Matte and Glossy Tip Brown Nails
Elegance at its best! The short square nails feature a brown matte base with glossy brown tips.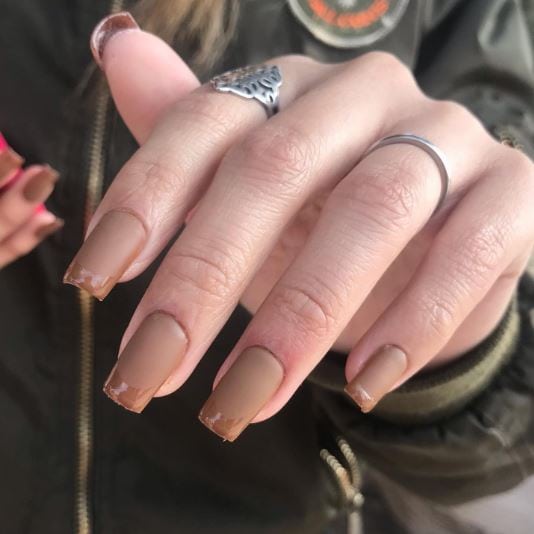 Image by @nailsgiulioscari via Instagram
6. Deep Glossy Brown Nails
If you're looking for a nail that suits every occasion, from the most casual to formal events, then you've found it.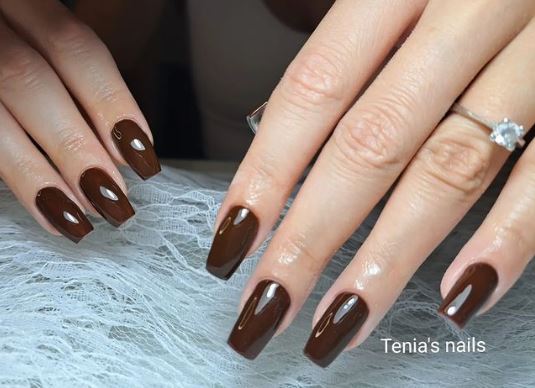 Image by @tenias_nails via Instagram
7. Two Shades Of Brown Nails
Combining matte and glossy nails is the new trend. You can use two similar shades of brown nails as done here, or you can freestyle and use contrasting colors.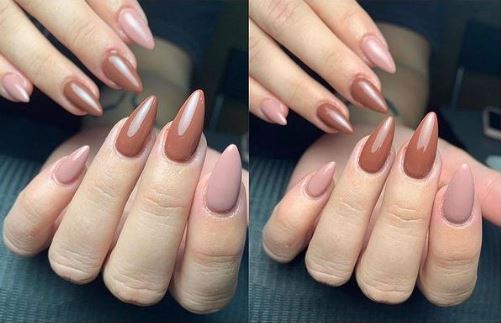 Image by @llopnails via Instagram
8. Negative Space With Brown Tips
A glossy neutral gel is used to coat the base of her nails to make it sparkly, while the tip has lovely brown swirls that are creative and perfect.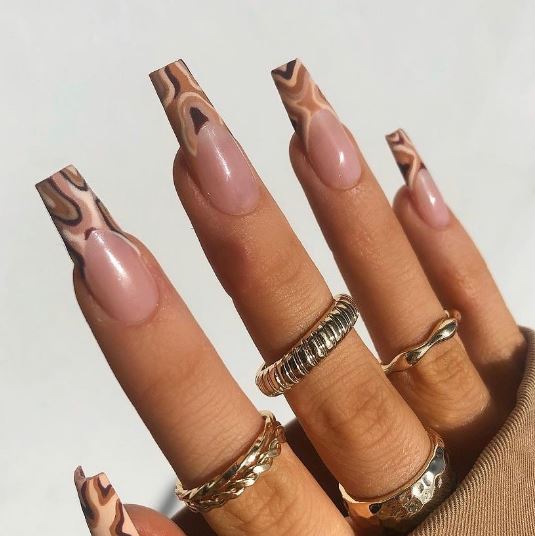 Image by @misstiqeclothing via Instagram
9. Face Silhouette On Brown Nails
When your nail tech is also an artist, you get to rock gorgeous nail art like this.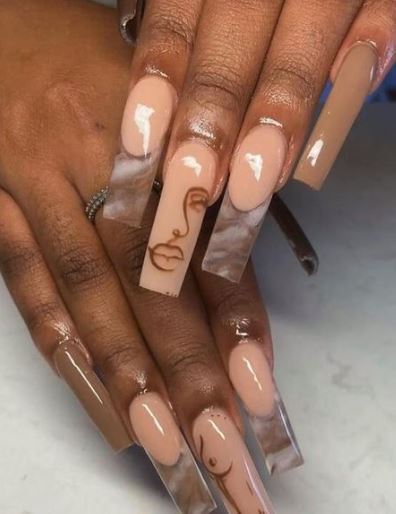 Image by @prettygirlsgalorex via Instagram
10. White Nails With Brown Whirls
New to brown nails? You can slowly introduce brown nails to your nail game by adding it as swirls.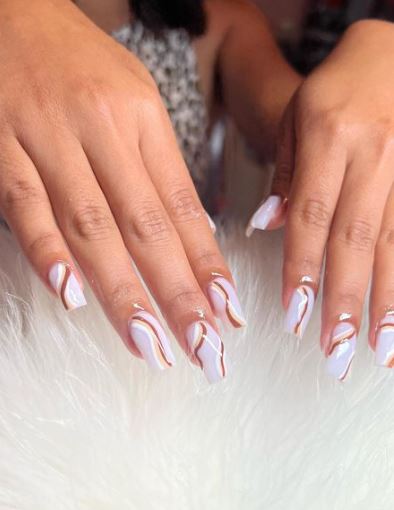 Image by @nailsbyashley.yy via Instagram
11. White and Brown Nails
Another way to enhance your brown nails is by adding a contrasting color like white to your nail design.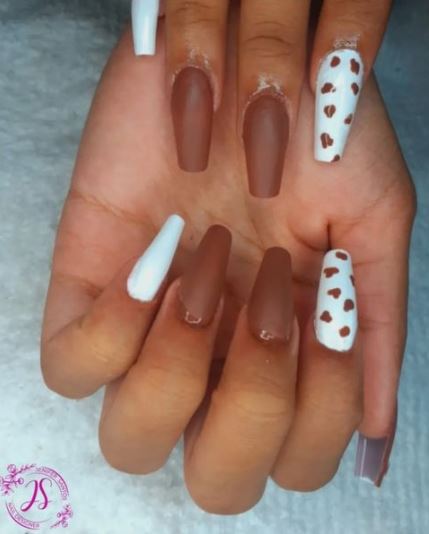 Image by @jenifers_naildesigner via Instagram
12. Rose Brown and Dark Brown Nails
Spot the french and reverse french nail art going on in this nail art.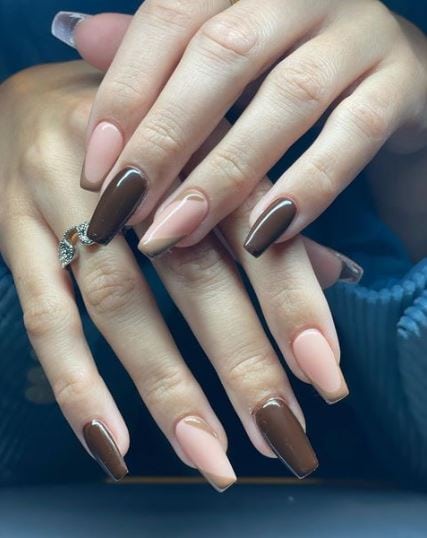 Image by @institut.naturally_ via Instagram
13. Gold Accessories On Brown Nails
Need nails you can wear to luxurious events? This nail has several styles that are made extra glamorous by the gold added to it.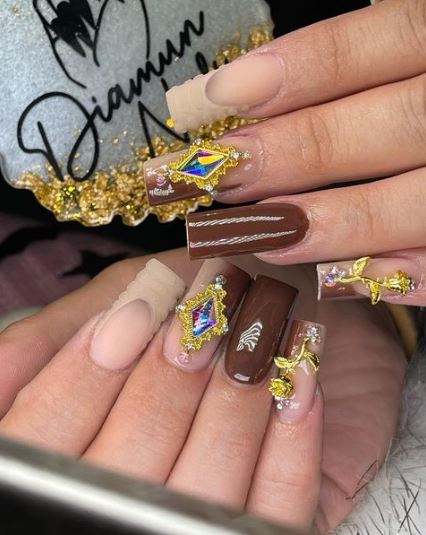 Image by @_diamunnails07 via Instagram
14. Mocha and Brown Nails
In search of nails that look adorable on medium-fair skin tone? This is perfect.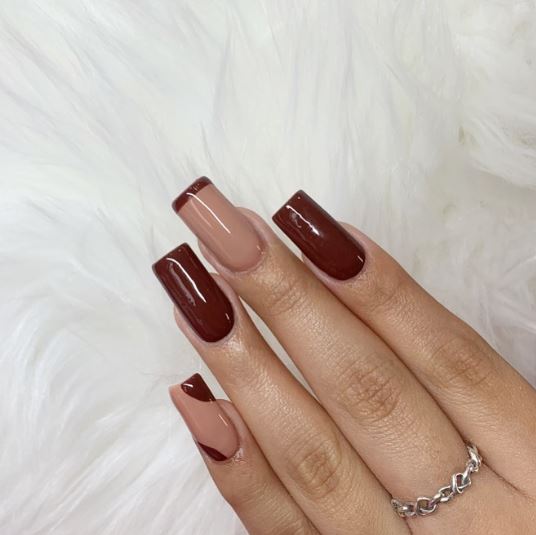 Image by @glam_nails_nlashes via Instagram
15. Mustard Yellow and Brown Nails
Brown nails are slowly becoming the most popular nail style for spring.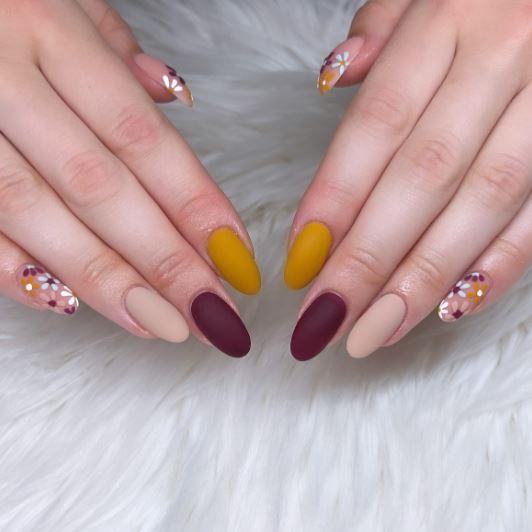 Image by @nails.by.kimberlee via Instagram
16. Nude Accent With Heart
The cute heart on the accent nail here helps create a charming nail design.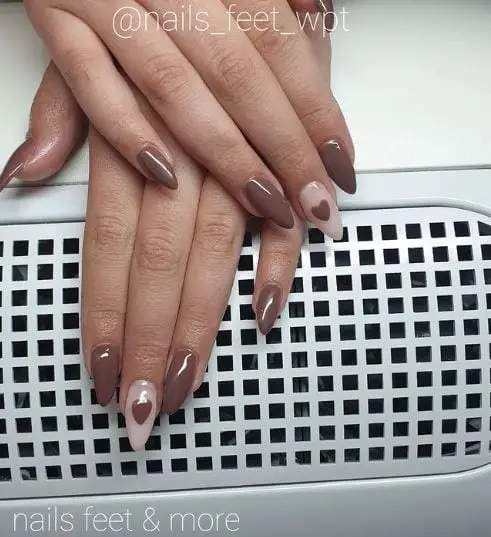 Image by @_se_beauty via Instagram
17. Check and Hearts
This is a fun manicure that features fun nails, hearts, flowers, checks, and Frenchies. A versatile nail design if you are in search of one.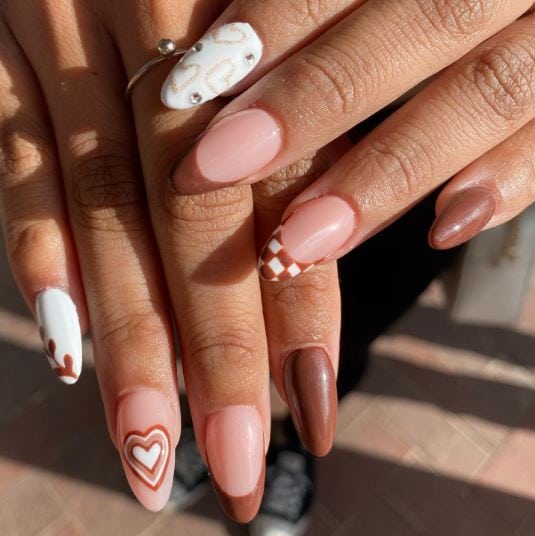 Image by @nails_bycourtney_ via Instagram
18. Different Brown Nails
Three shades of brown and mocha are used on different nails here. This is a nail design you can wear all year round, especially with neutral colors.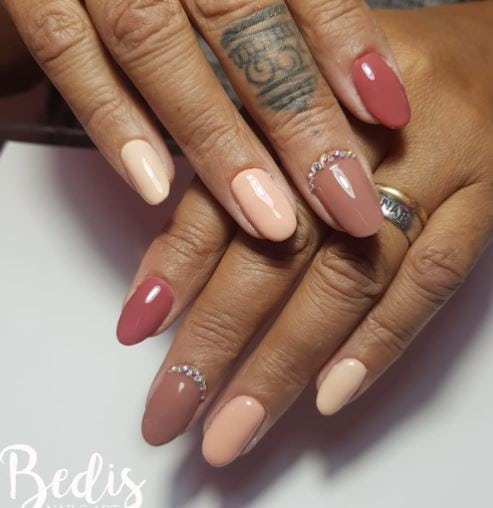 Image by @bedisnailsart via Instagram
19. Silver Glitter On Brown Nails
Light pink, glitter, and brown tips combine seamlessly to form this perfect nail image.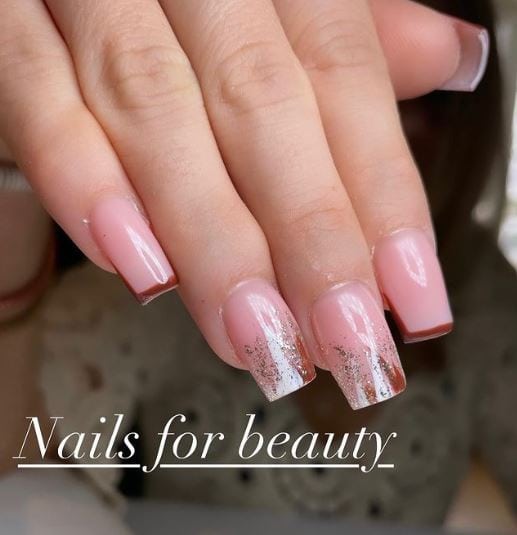 Image by @nailsforbeautyy via Instagram
20. Animal Print Acrylic Gel Brown Nails
Brown nails provide a subtle way of wearing animal print nails and you just gotta love it.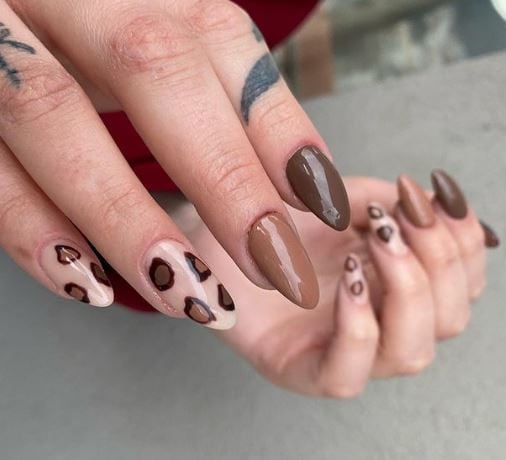 Image by @ealemdar_nails_mua via Instagram
21. Orange and Brown Cow Print
The lovely design of these fall nails is beautiful, to say the least.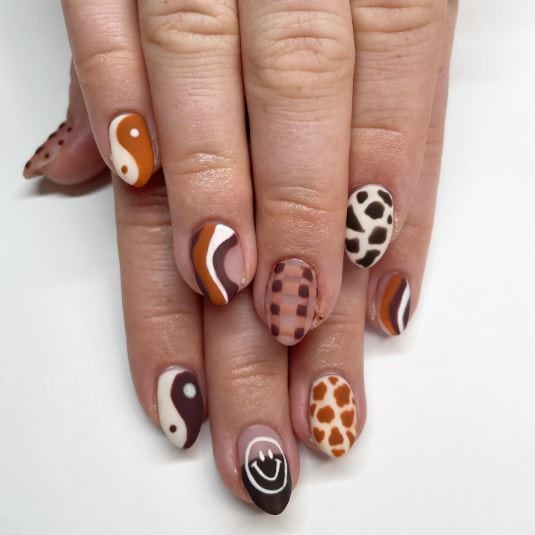 Image by @naileditbyshelby via Instagram
22. Double Swirl Chocolate Brown Nails
Each nail has a bold and thin swirl here. Pair these nails with a matching or light monochrome outfit to have you looking chic as you go about your day.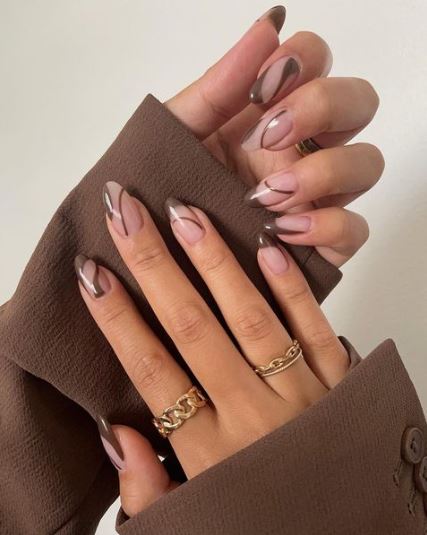 Image by @chloezhaang via Instagram
23. Neutral Style Brown Nails
Almond nails are lovely, but brown almond nails are stunning.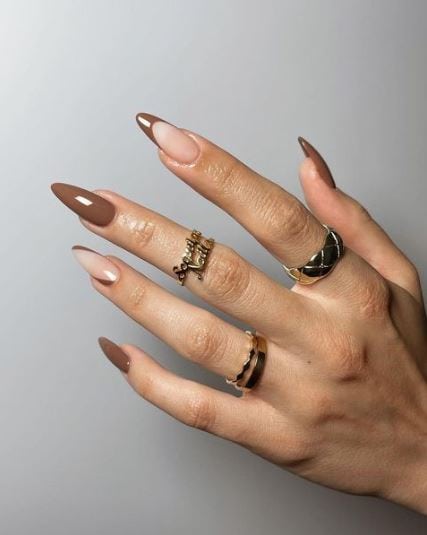 Image by @nailsartclips via Instagram
24. Marbles and Iridescent Glitter
These baddie brown nails feature a unique marble design with iridescent glitter. You can get press-on nails with this design.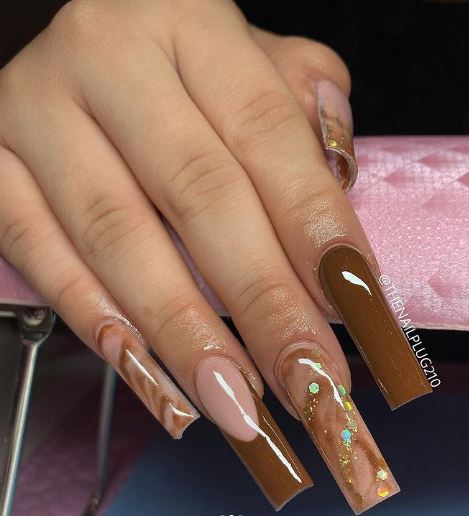 Image by @thenailplug210 via Instagram
25. Gold Overdose
You have to be bold enough to be able to rock these gold chrome and gold glitter nails. The brown nails on two fingers tone down the brightness of the gold.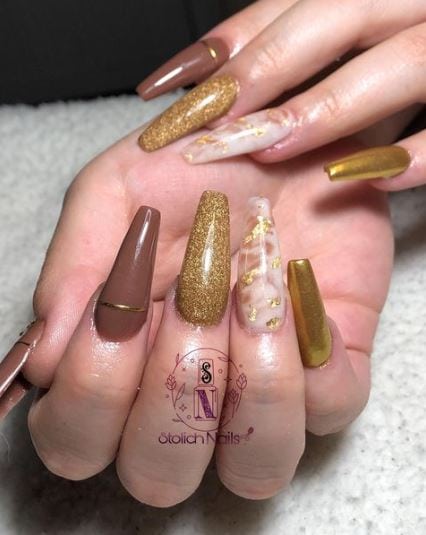 Image by @tatyana_stolich_danzka via Instagram
26. Smiley Chocolate Brown Nails
Nothing screams 'I'm all for having fun' than smiley nail art.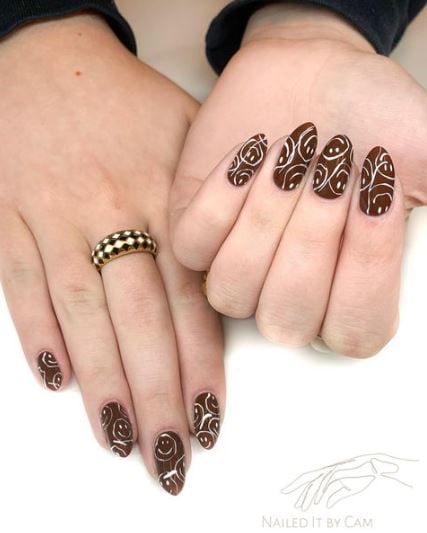 Image by @naileditby_cam via Instagram
27. Black Florals and Glossy Brown Nails
The calm tone of these brown nails creates a gorgeous effect that'll have you looking chic.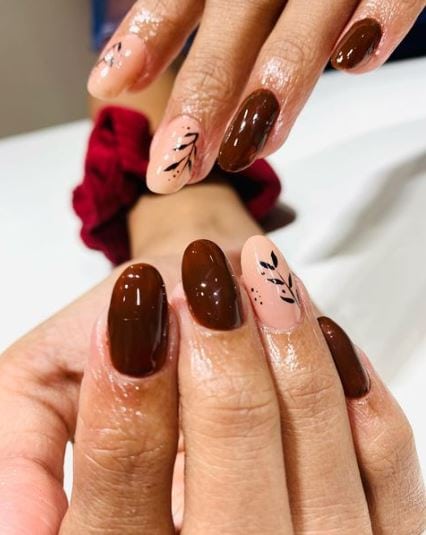 Image by @avani.nailart via Instagram
28. Apricot and Chocolate Brown Nails
Ombre, marbles, and Frenchies: just wow. This is a lovely nail art that will look spectacular for summer.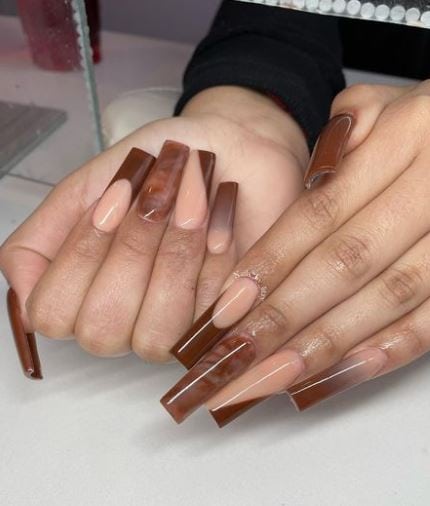 Image by @nails_by_litzy via Instagram
29. Galaxy Glitter Brown Nails
The brown glitter polish used here creates a scattered constellation.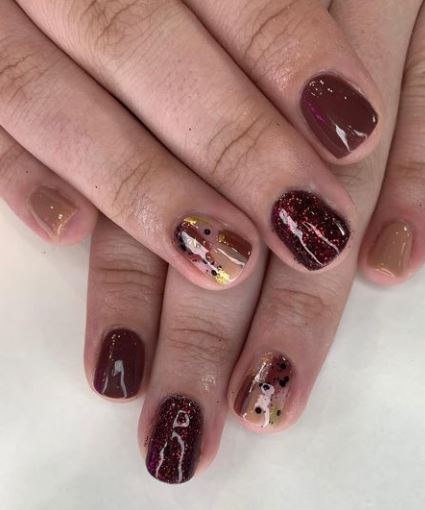 Image by @nailedit_by.bethany_ via Instagram
30. Varying Brown Nails
Varying nails are just brilliant because the different colors work well with different outfits.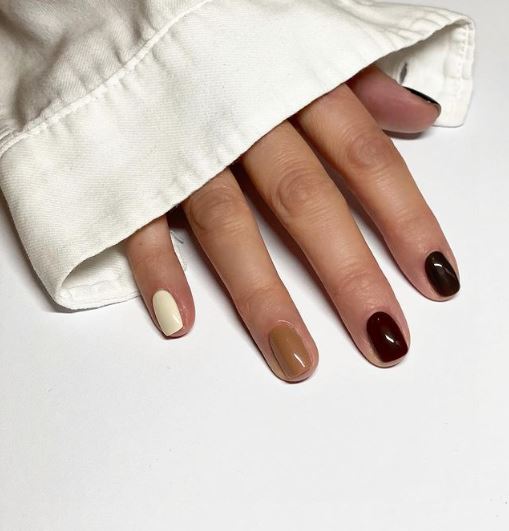 Image by @anouknailedit via Instagram
31. Orange and Brown Nails
Brown and gold mix always create a lovely contrast. Add orange to the mix and you have unique and splendid nail art.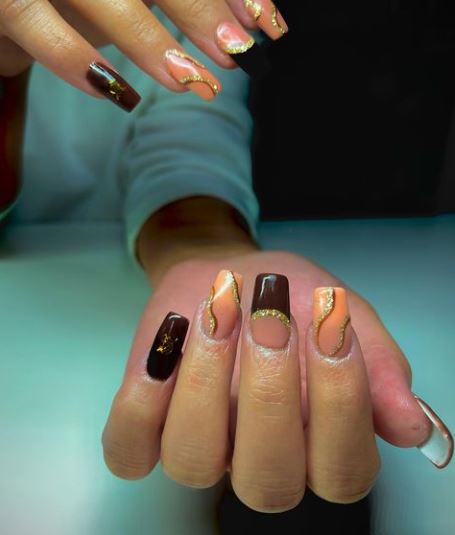 Image by @tweeza_nails via Instagram
32. Chocolate Happy Brown Nails
This nail art is the perfect blend of subtle and fun. The chocolate brown goes well with her skin tone and would be a great option for winter.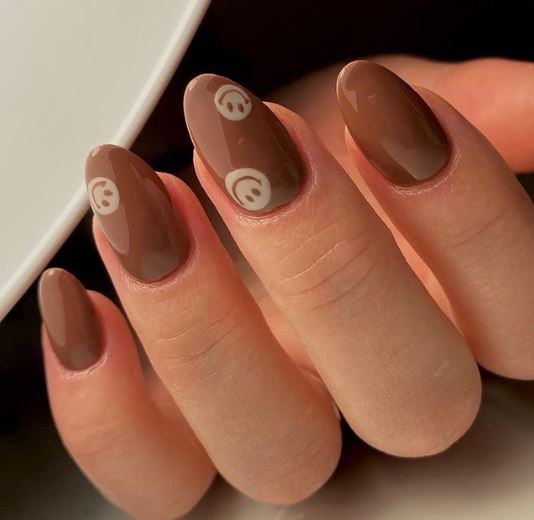 Image by @nail_harmony_by_inga_waterford via Instagram
33. Animal Print With Varying Brown Nails
Why settle for one color when you can get different colors that work so well together?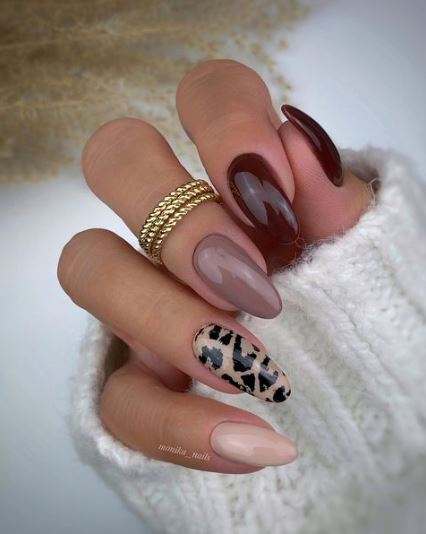 Image by @monika__nails via Instagram
34 Glitter Tips
Need cute and simple nail designs that'll keep you looking fab? Here you go.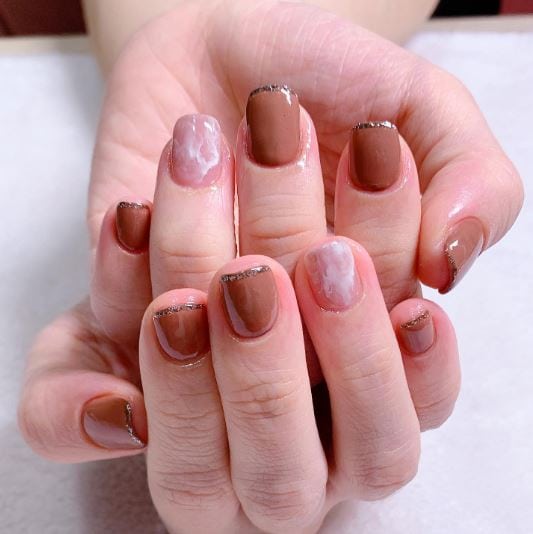 Image by @littlefloralcat via Instagram
35. Geometric Pattern
If you prefer a more complex pattern on your nails, you should get these press-on nails done.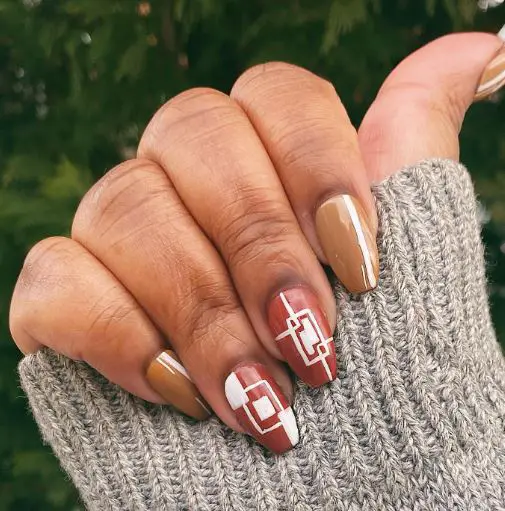 Image by @sadiahyasmeen via Instagram
36. Cow Print Accent
Matte nails are the go-to nail art if you wanna look classy. Add a contrasting print nail like that for an attention-grabbing look.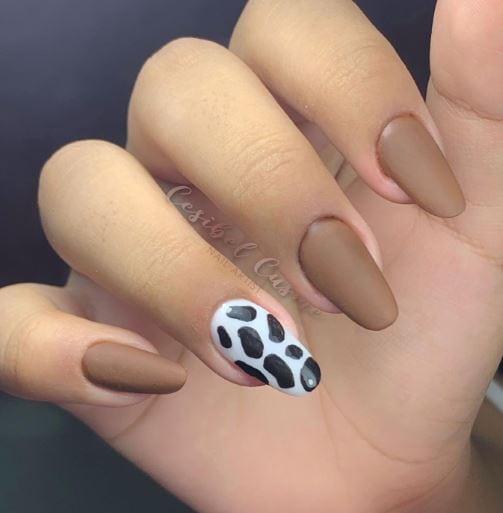 Image by @cesibelcusme_academy via Instagram
37. Long Gradient Brown Nails
The matte brown nails feature matte marbles and a sugaring effect. Just stunning.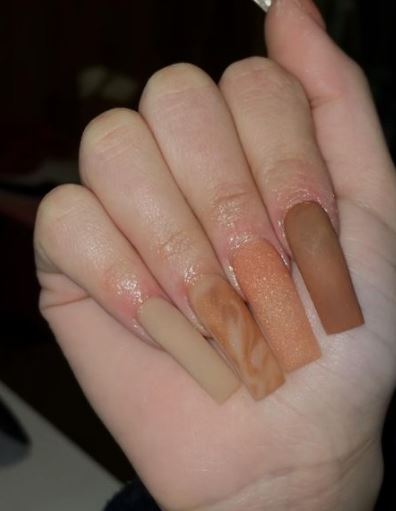 Image by @alexathenailartist via Instagram
38. Long Almond Brown Nail Designs
Almond nails look really pretty in a brown shade, what do you think?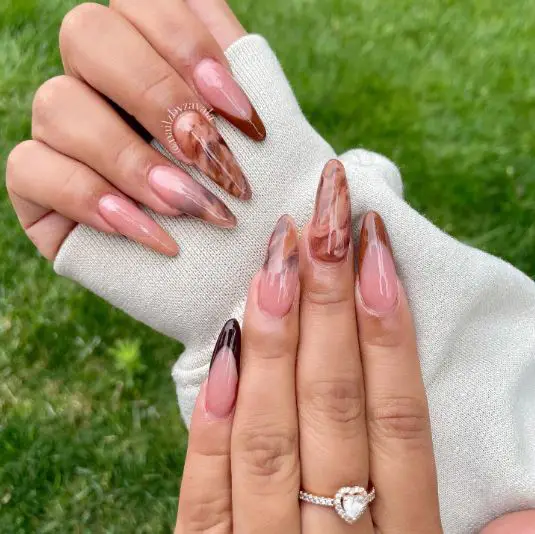 Image by @nailzbyzavala via Instagram
39. Chocolate Brown Nails With 2 Accents
Accent nails allow you to display your creativity on otherwise plain nail art. The marbles and gold glitter nails here are proof of that.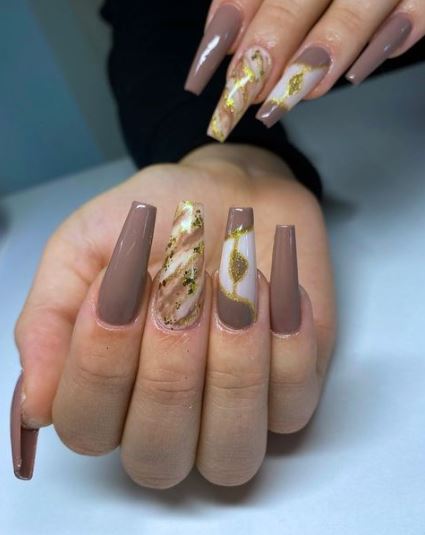 Image by @ongles_peenails via Instagram
40. Brown Accent Nail Designs
White nails with gold and brown stripes and brown accent nail. Show me a more gorgeous nail combination.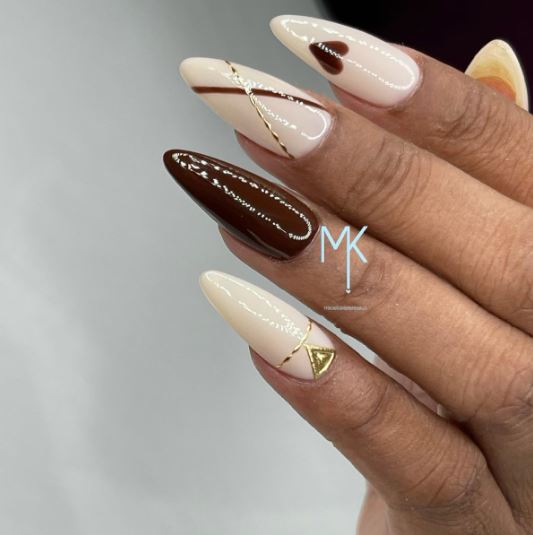 Image by @mikaeliakrisstennailco via Instagram
41. Layered Tips Brown Nails
The creativity of this nail art is mind-blowing. I'll definitely take this to the salon on my next appointment.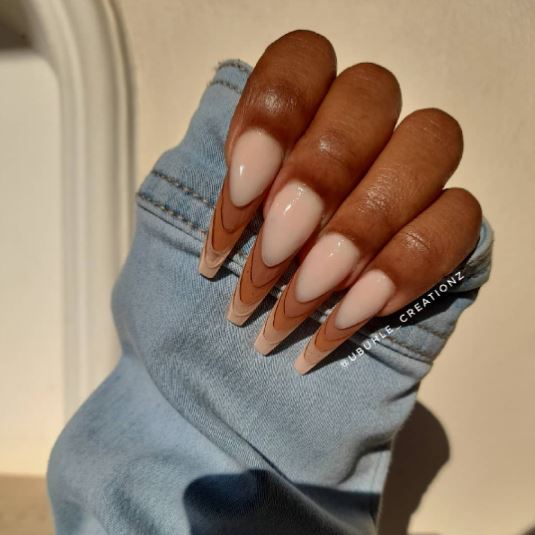 Image by @ubuhle_creationz via Instagram
42. Triple Color Cow Print Brown Nails
Deep brown, chocolate, and white are used to create this unique cow print nail idea.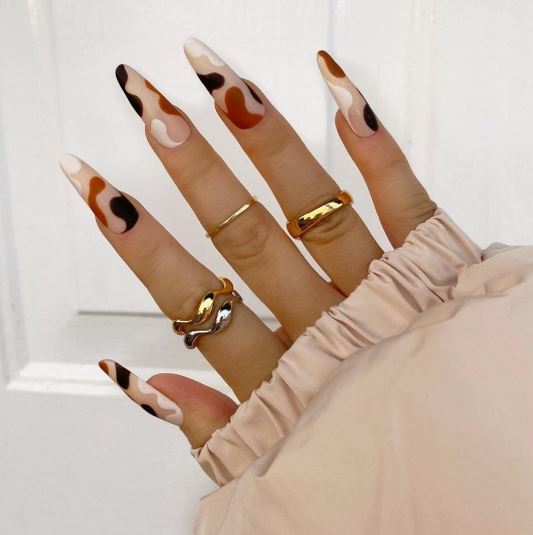 Image by @thenailconnection via Instagram
43. Ying and Yang Chocolate Brown Nails
Brown nails and beige are combined to create this lovely yin and yang symbol. The french nails have a light pink base and thin double tips.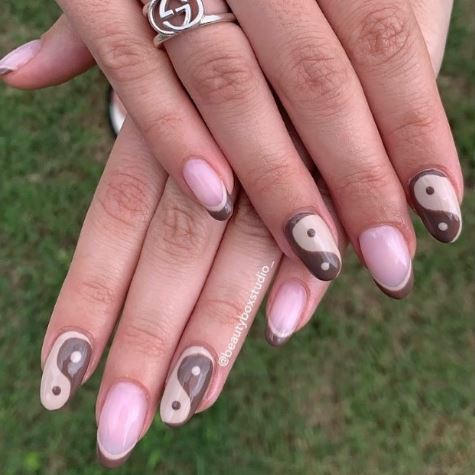 Image by @beautyboxstudio_ via Instagram
44. Short Gorgeous Brown nails
I've never seen a more stunning yet subtle swirl nail design before. This is a gorgeous nail look that will have you basking in compliments wherever you go.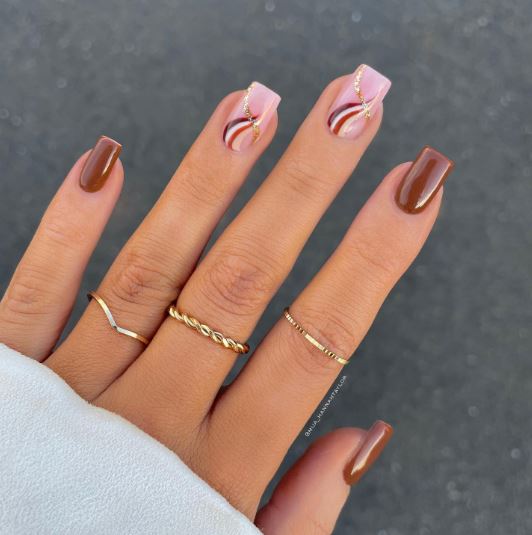 Image by @mua_hannahtaylor via Instagram
45. Extra Glamourous Brown Nails
These chocolate brown nails are perfect for any luxury event.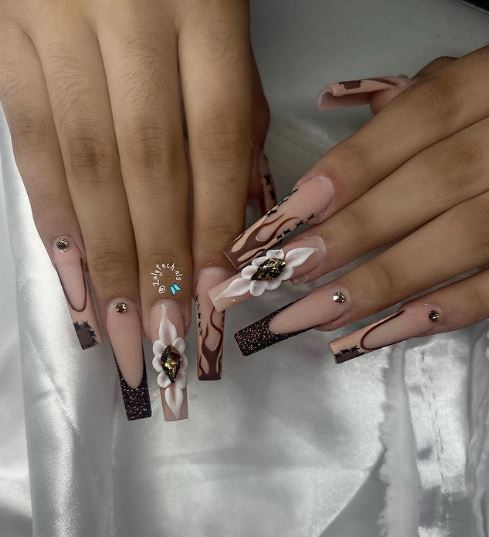 Image by @zulytech.nls via Instagram
46. Short Stiletto Brown Nails
Stiletto nails with V-tips. Not gonna lie, I didn't see that coming. But damn, it looks amazing.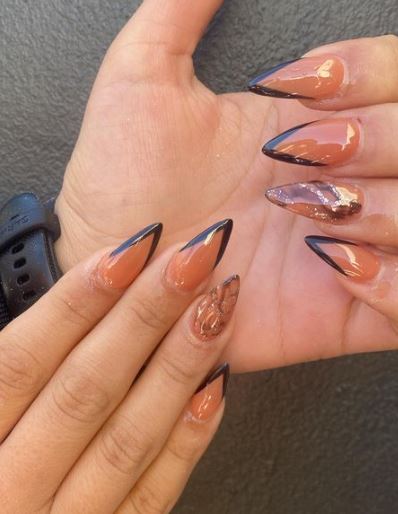 Image by @tinatrinhh via Instagram
47. Square Chocolate Brown Nails
The hearts featured on these lovely brown nails makes them the perfect fall nails.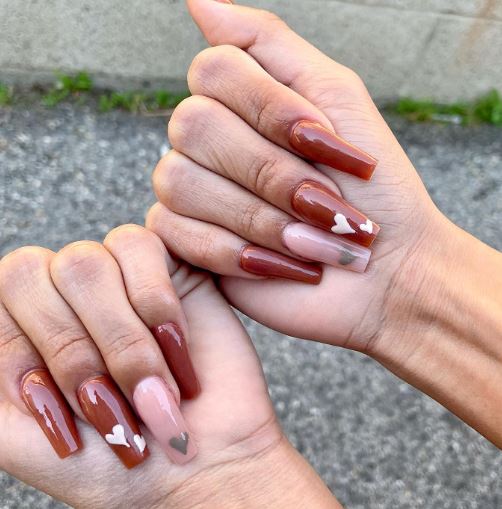 Image by @nailsbyaze via Instagram
48. Light Tips Brown Nails
Pink base and light brown tips work so well together.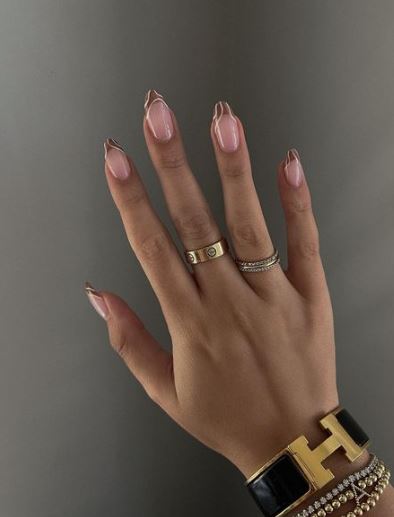 Image by @alexafayy via Instagram
49. Gold Flakes On Brown Nails
The gold flakes placed on these brown nails take it to a whole different level in the glow department.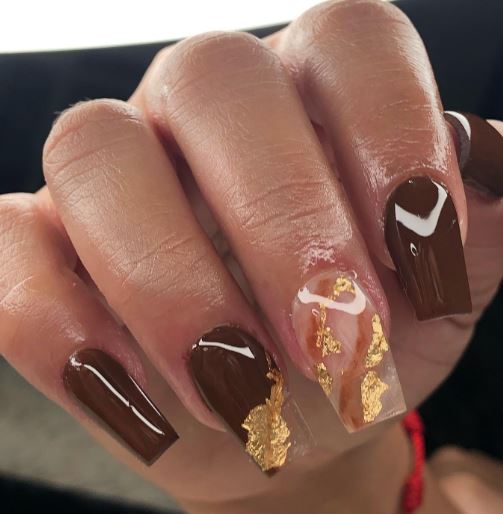 Image by @fashionails_ec via Instagram
50. Brown Nails and Glitters
Glitter-filled brown nails are the best brown nails to get if you've got a high-class party to attend.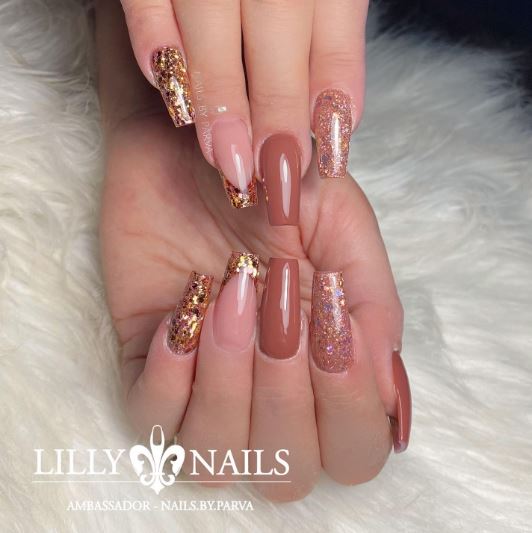 Image by @nails.by.parva via Instagram
51. Brown Nails With Rhinestones
Rhinestones are a lovely addition to any nail art. You can get press on nails of this if you are too busy to get the nail fixed.
Image by @designingwithsophia via Instagram
52. Tortie Brown Nails
Two shades of brown are used on these tortie nails and they look extra stunning together.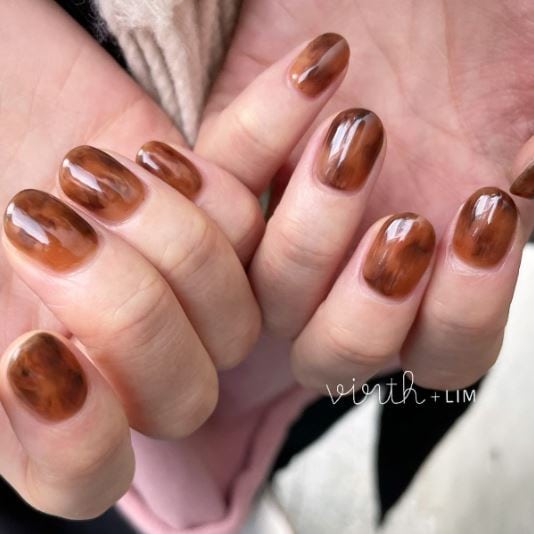 Image by @virth_lim via Instagram
53. Light Brown Nails With Butterflies
Adding butterflies to your brown nails gives it a magical, fairytale vibe.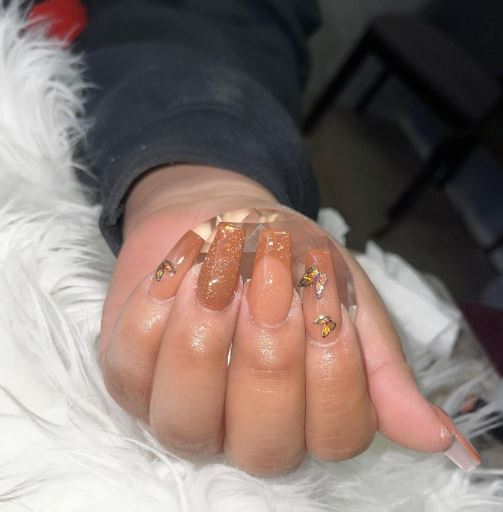 Image by @valleybeautyclub via Instagram
54. Long Matte Brown Nails
Matte nails are as classy as they come. You can pair these nails with any bright-colored outfit for a stylish appearance.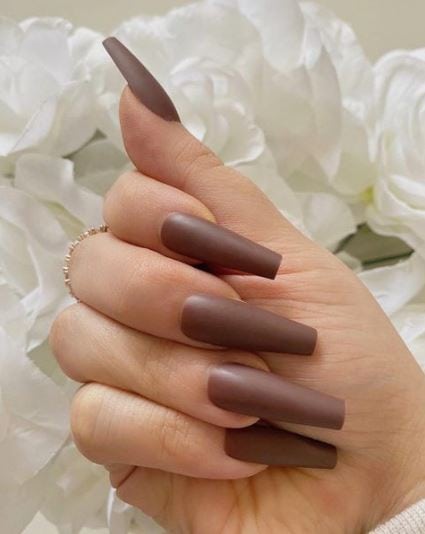 Image by @fatima.a.merheb via Instagram
55. Pink and Gradient Tips Brown Nails
You can recreate these brown nails with more contrasting colors to go with whatever season you like. Regardless, the nails look stunning.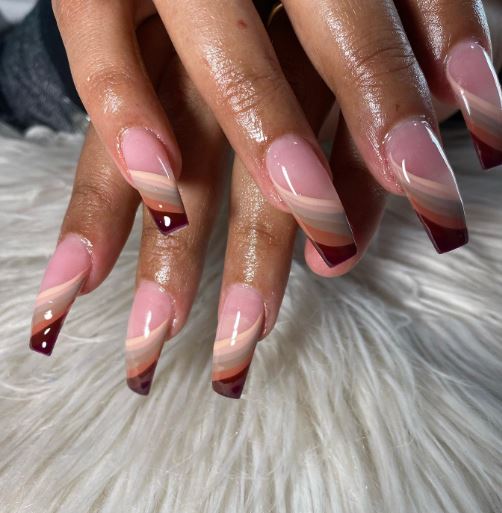 Image by @crismarie_nails via Instagram
56. Intense Marble Brown Nails
Marbles are a trendy nail idea, but intense marbles are for the baddies. You can't help but love the slightly daring and complex nail art idea.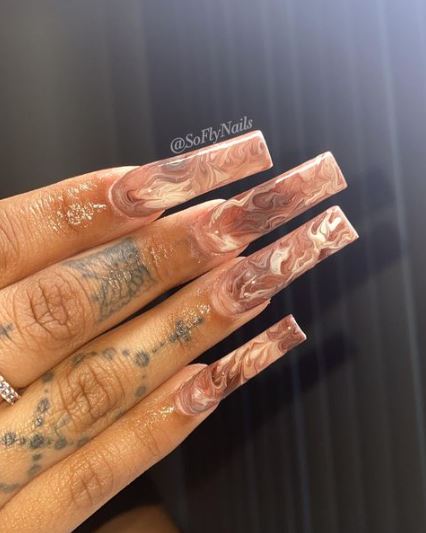 Image by @soflynails via Instagram
Brown nails are trendy all year round. If you want to rock your brown nails for winter, opt for a shade that goes well with your skin tone. For summer, you can add gold glitter or rhinestones to brighten things up. For spring, floral accents or designs will do the trick. And for fall, you can't go wrong with brown because it's the perfect shade.