When I saw a lady slay in a stunning pink and purple outfit, the thought of combining the two colors on nails came to mind and I've never done a more satisfying nail polish combo.
I did a pink purple swirl design and it had a charming and seductive appearance. Pink and purple glitter nails with rhinestones also look heavenly. But nothing beats the ombre combination due to its versatility and classiness.
These two bright colors always combine to form an amazing and versatile nail design. I've screenshotted and saved lots of nail ideas to try out soon. Here are 85 stunning images among them for inspiration.
Pink and Purple Nails For You
1. Pink and Purple Nails on Different Hands
The mocha helps the bright colors pop.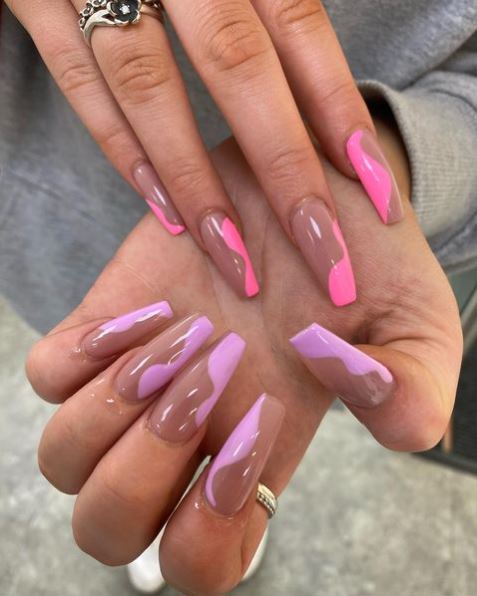 Image by @venusnailswakefield via Instagram
2. Short Almond Pink and Purple Nails
Get this perfect nail art for spring.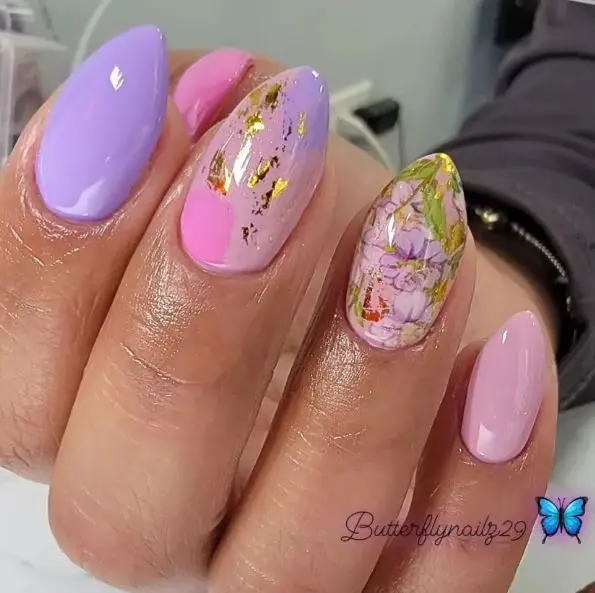 Image by @sleekbeautystudio via Instagram
3. Alternating Pink and Purple Nails Combo
The slight glitter of this pink and purple polish is everything.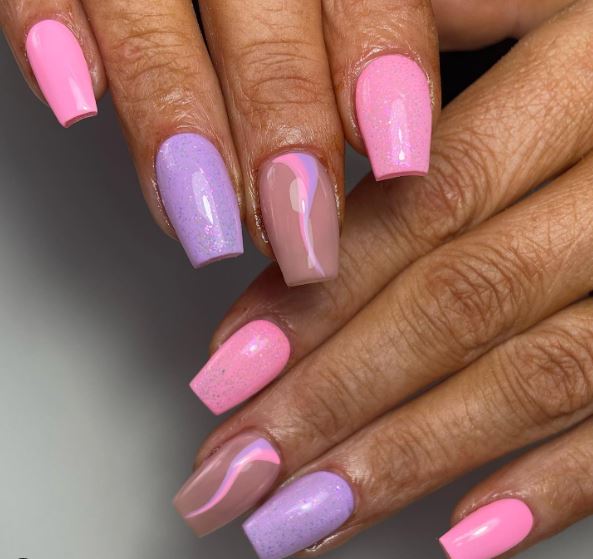 Image by @_nails_by_megan via Instagram
4. Four Parts Pink and Purple Nail Designs
A fun and creative nail art for you.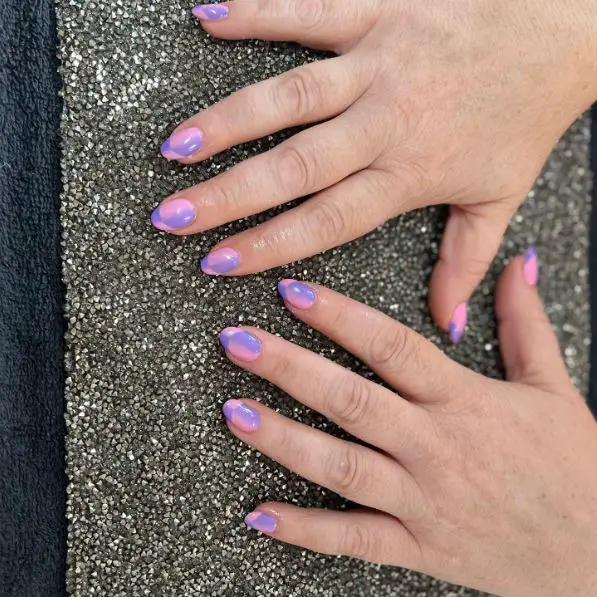 Image by @more_beauty_and_hair via Instagram
5. Dreamy Pink and Purple Nails
The glitter and butterflies make this nail art look like it's straight out of a fairytale.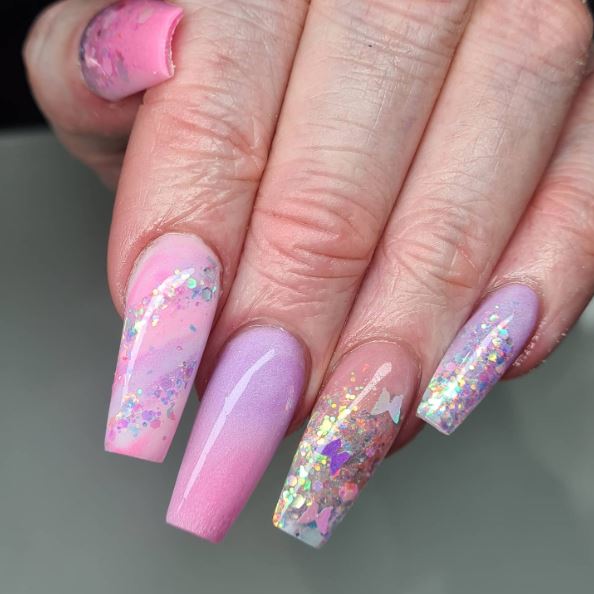 Image by @karenmbrownnailartist via Instagram
6. Deep Pink and Purple Acrylic Nails
Got a cold skin tone? You should try this out.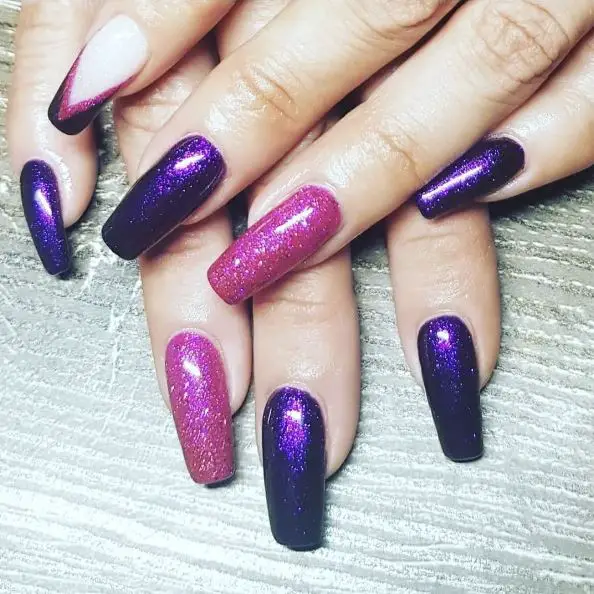 Image by @glazesetgo via Instagram
7. Pink, Purple, Orange, and Glitter
Versatile nail art that'll go with all your outfits.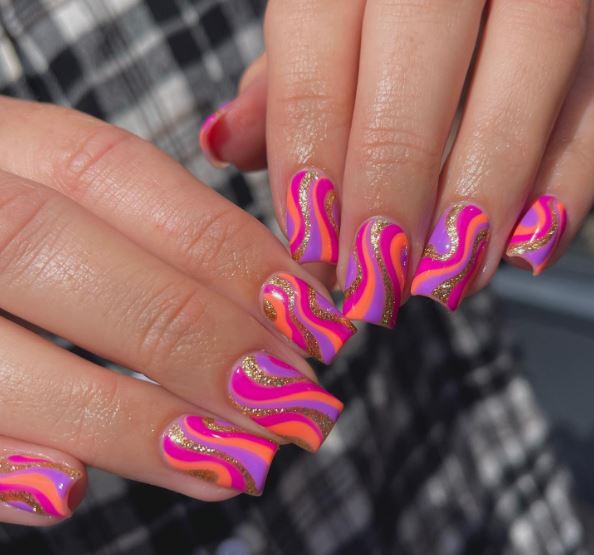 Image by @manisbyannie via Instagram
8. Pastels With Dot Accents
For lovers of soft colors.
Image by @nails.by.erica.lincoln via Instagram
9. Negative Space With Glitter
The negative space makes these acrylic nails seem more natural.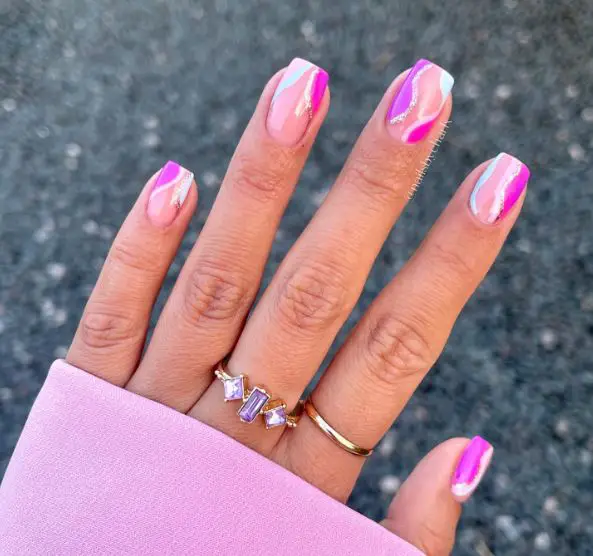 Image by @nailsbycharlx via Instagram
10. Matte Purple and Pink Nails
Want a look classy for spring? Here you go.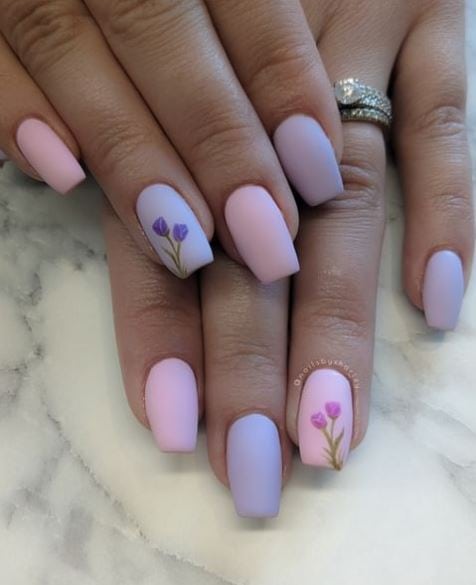 Image by @nailsbysharley via Instagram
11. Nude Base With Swirls
A simple take on pink and purple nails.
Image by @flairstudiou via Instagram
12. Vertical Pink and Purple Nails
Most combinations are horizontal, which makes this vertical blend of pink and purple nails unique.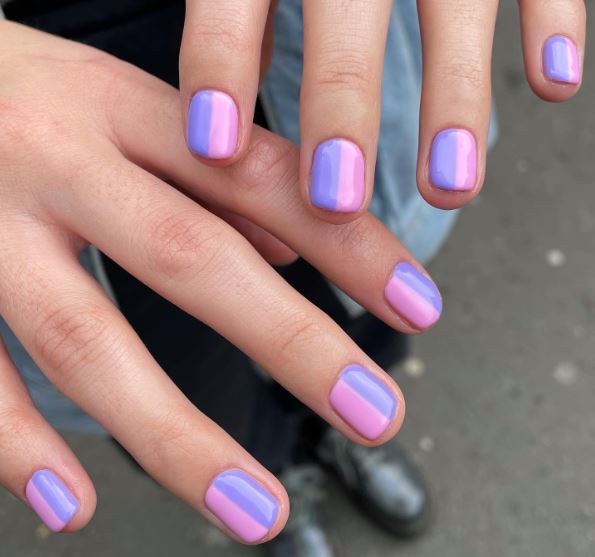 Image by @its.a.nailthing via Instagram
13. Barbie Pink and Purple Talon
Long coffin nails with the perfect pastel and deep pink and purple colors.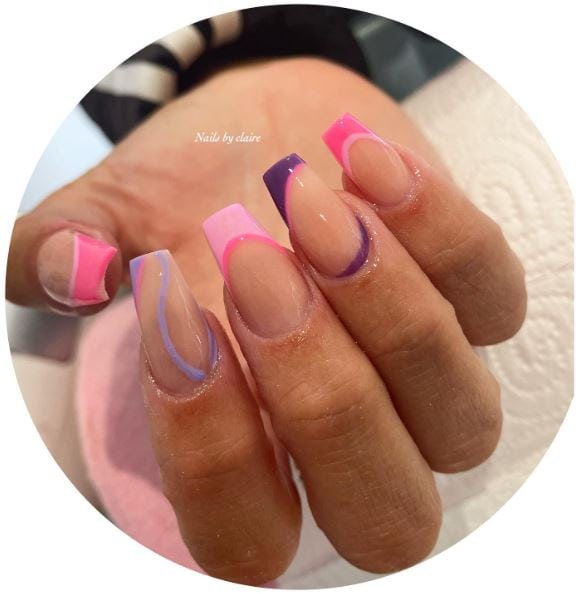 Image by @nailsanbeautyclaire via Instagram
14. Holographic Glitter Nail Art
Holographic glitter has a way of looking extra magical.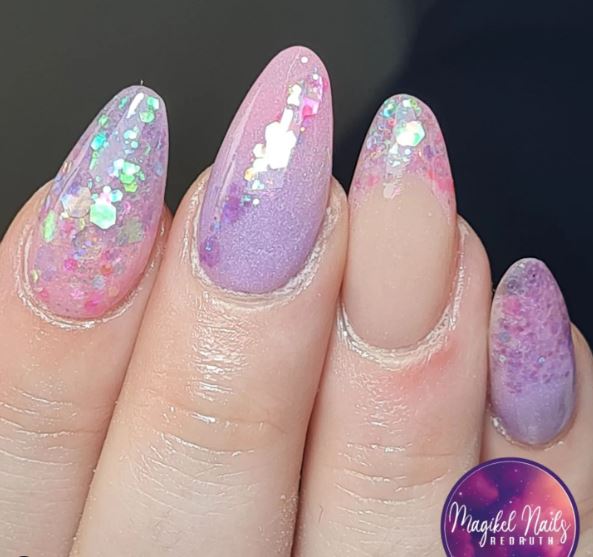 Image by @magikelnails via Instagram
15. Deep Purple On Pale Pink
The deep purple swipes make a dramatic statement against these pale pink nails.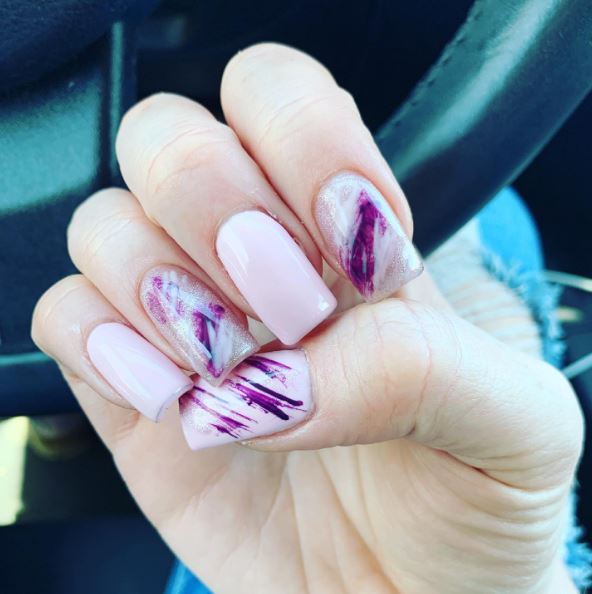 Image by @decoratedbeauty via Instagram
16. Wavy Nails
Am I the only one feeling the wave of this short nail?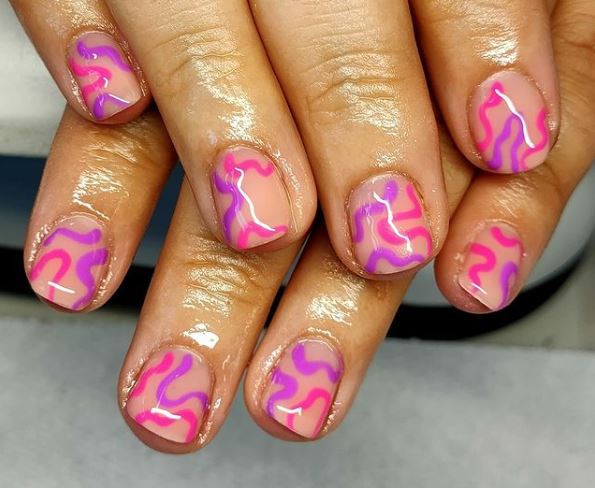 Image by @dolled_up_nailsandbeauty via Instagram
17. Accent Heart Nails
A lovely way to rock pink and purple for Valentine's day.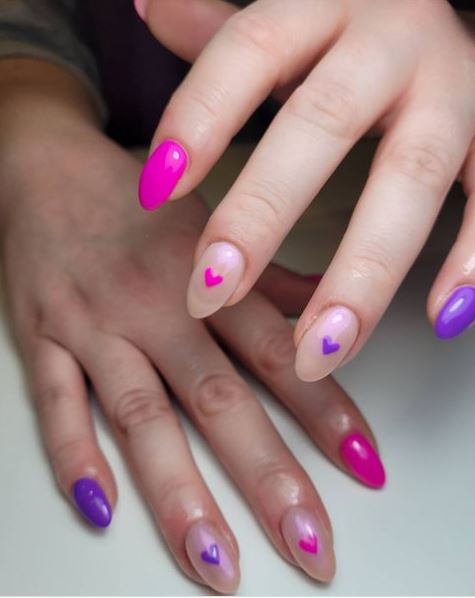 Image by @made_by_rachel_burns via Instagram
18. Glitter Ombre Nails
Ombre and gorgeous V-tips are just ravishing.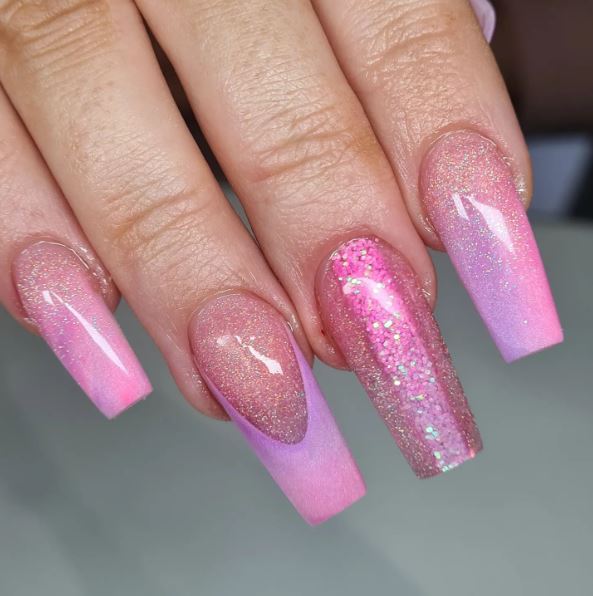 Image by @karenmbrownnailartist via Instagram
19. Hearts and V-tips
Another set you can use for Valentine's day.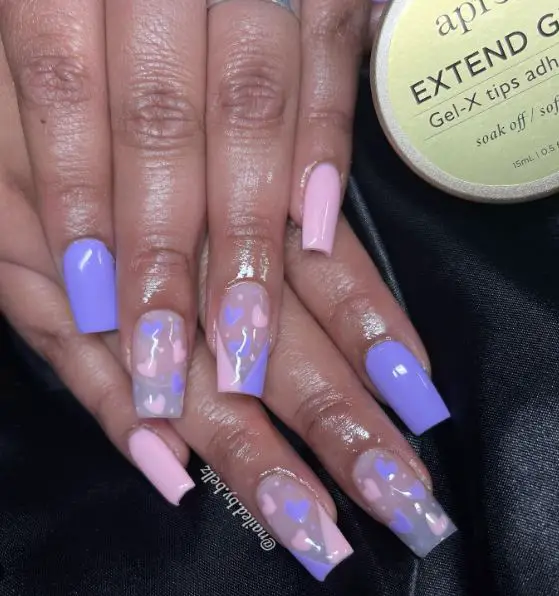 Image by @nailed.by.bellz via Instagram
20. Neon Ombre Shades
A lovely manicure that can brighten things up.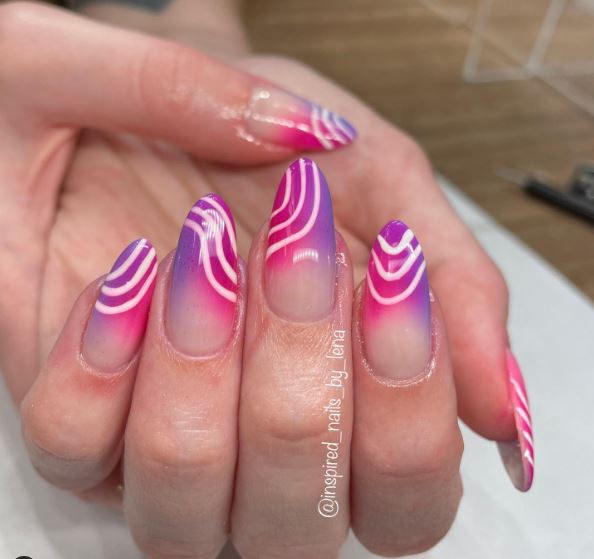 Image by @inspired_nails_by_lena via Instagram
21. Stiletto Animal Print
This is for those with a wild side.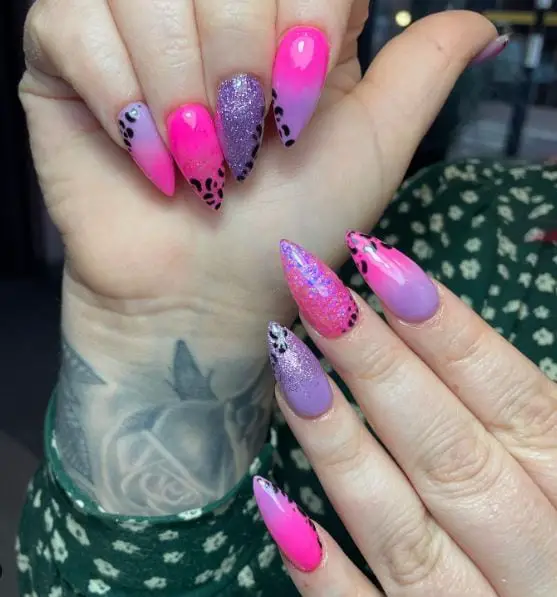 Image by @nailswithmelissa_x via Instagram
22. Pink and Purple Gradient
Simple and amazing plain nails to try.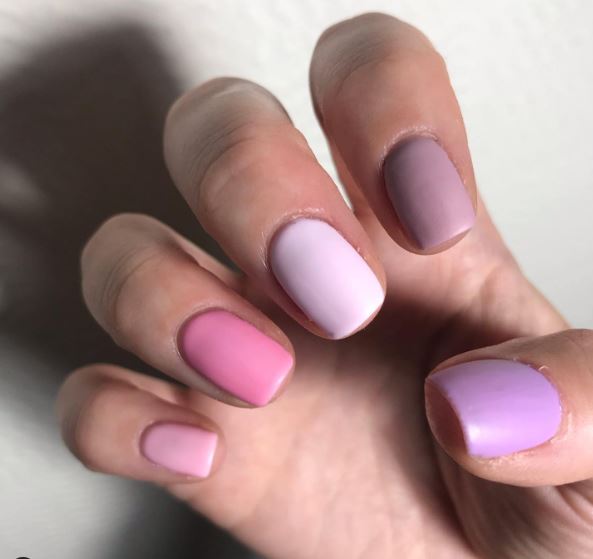 Image by @curlz_salon via Instagram
23. Creative Pink and Purple Manicure
Leopard and zebra print with stars, these ones for the baddies.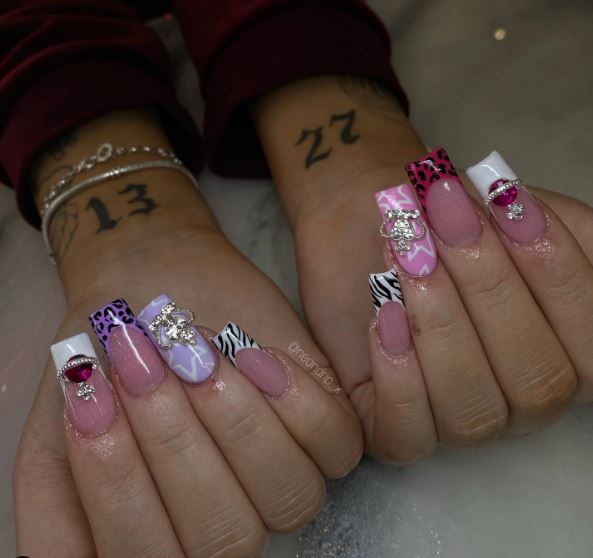 Image by @neondrip_x via Instagram
24. Pale Pink and Deep Purple
Want to stand out from the crowd? This will help.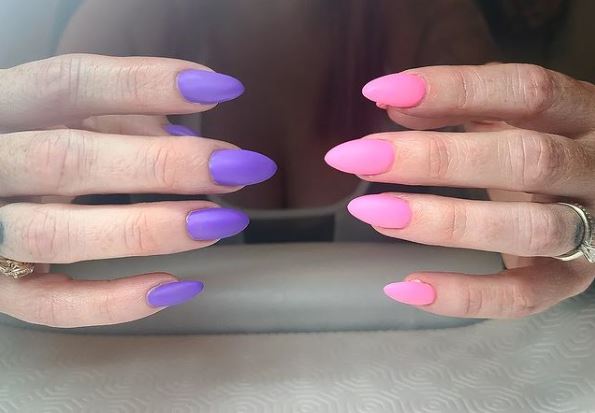 Image by @prettynpolishednailz via Instagram
25. Butterfly Purple and Pink Nail
The cute details of this nail set are mind-blowing.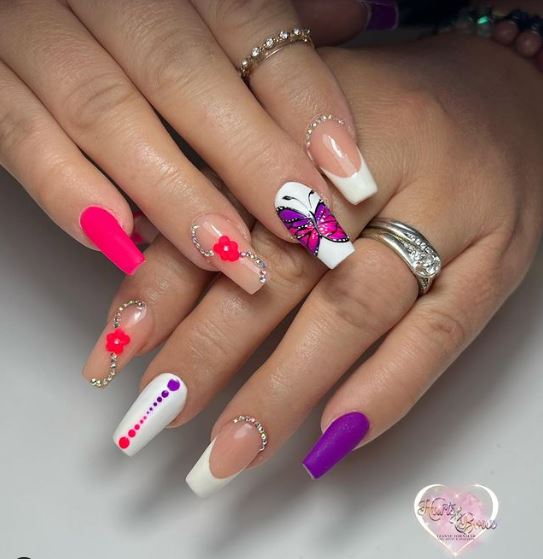 Image by @leannehartsandbows via Instagram
26. Stiletto Rose Nails
Get this done to bask in compliments wherever you go.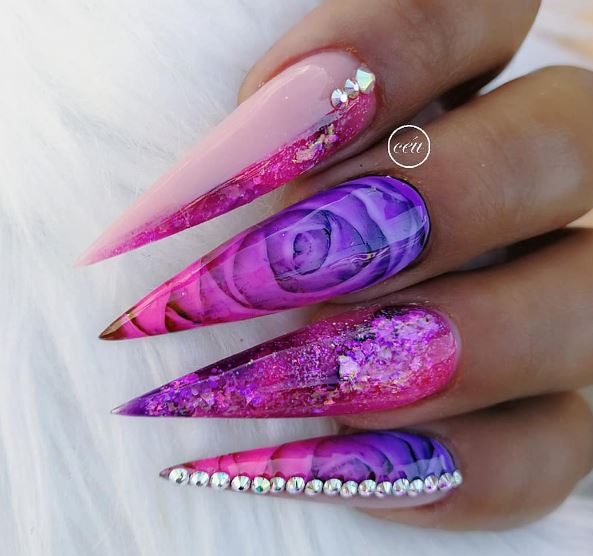 Image by @ceunails via Instagram
27. Summer Glitter Nails
A simple nail to slay this summer.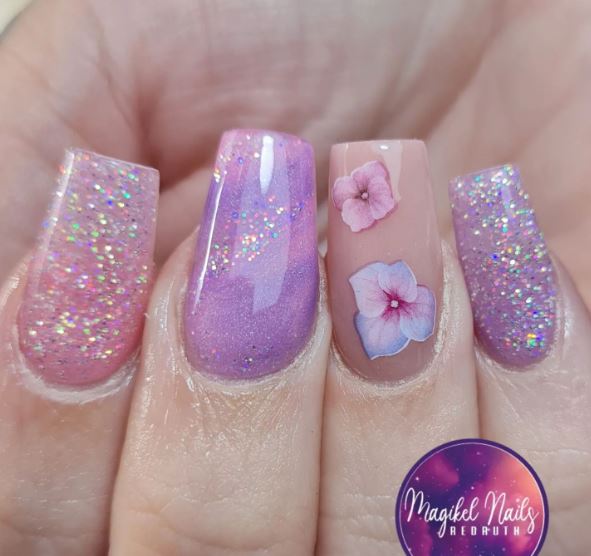 Image by @magikelnails via Instagram
28. Snake Pattern Ombre
The display of creativity is just astonishing. I love the rhinestones on the ombre designs that give it a glamorous touch.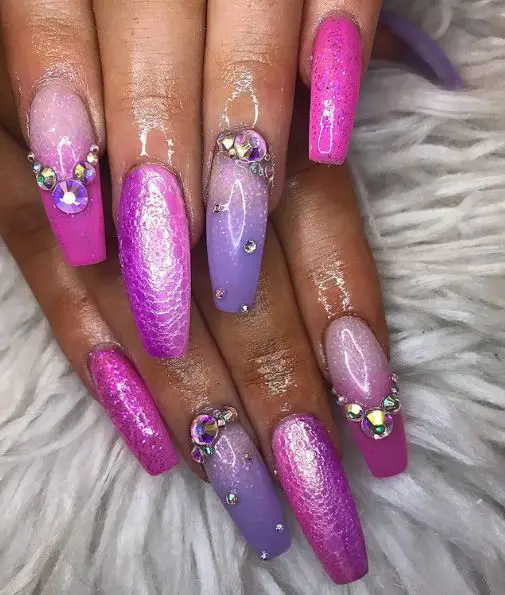 Image by @pixienaiils via Instagram
29. Pink and Purple 3d Flowers
You can't go wrong with V-tip nails and 3d flowers for any occasion.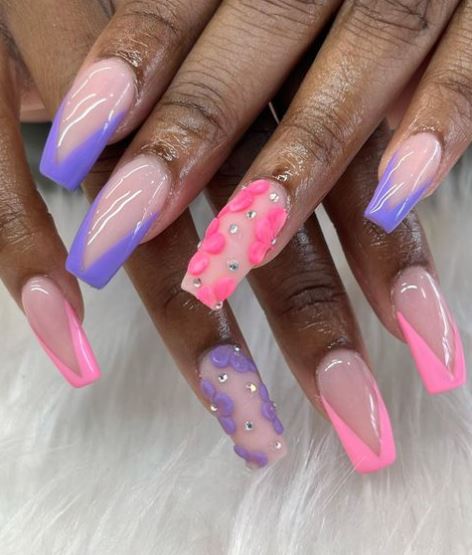 Image by @inspired__nailart_studio via Instagram
30. Silver Glitter Demarcation
The silver here separates the pink and purple nail varnish used.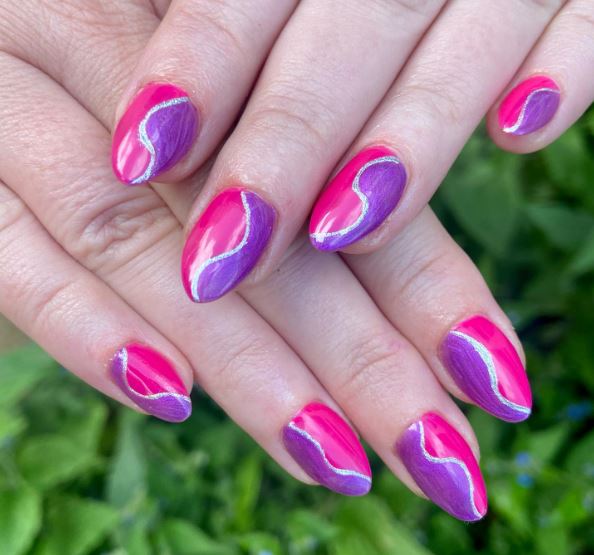 Image by @beaut_nails_by_emma via Instagram
31. Marble and Butterfly
Another dreamy pink and purple design to help you dazzle.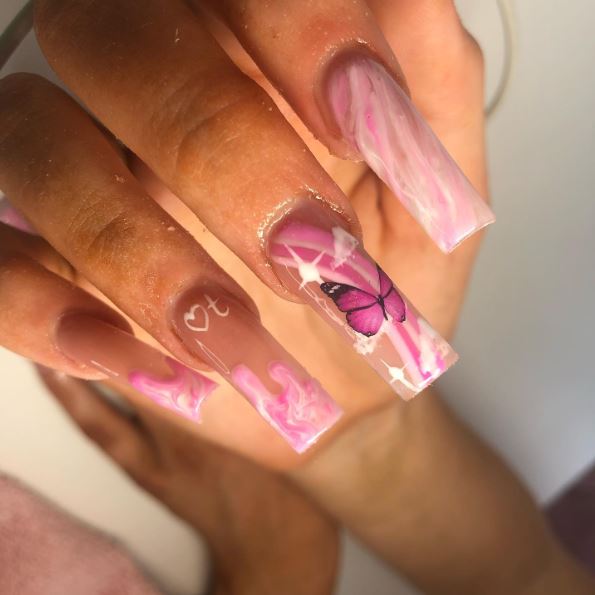 Image by @nails_by_eden__ via Instagram
32. Neon Gel Nails
These purple and pink nail designs with glitter stripes are astounding.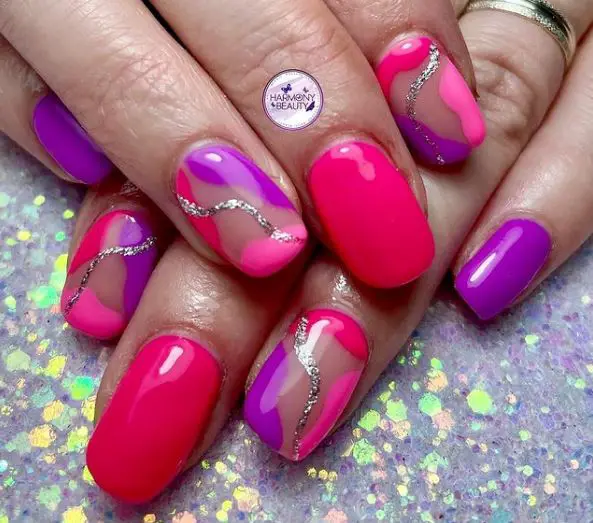 Image by @harmony_beauty_holistics via Instagram
33. Pastel Hearts
Cute nail design for acrylic nails first-timers.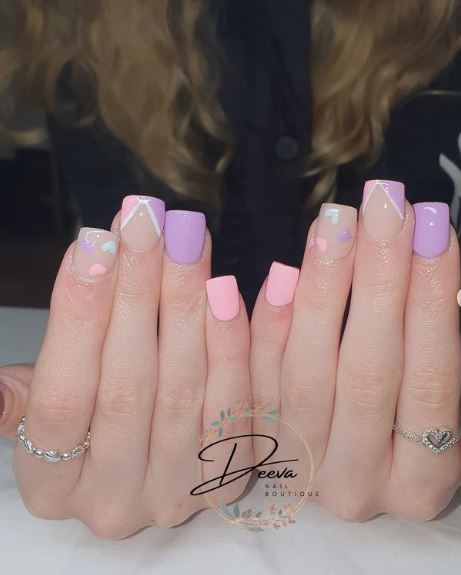 Image by @deeva_nail_boutique via Instagram
34. Pink and Purple Galaxy Nail Ideas
Stars and sparkles, with pink and purple backgrounds. Just incredible.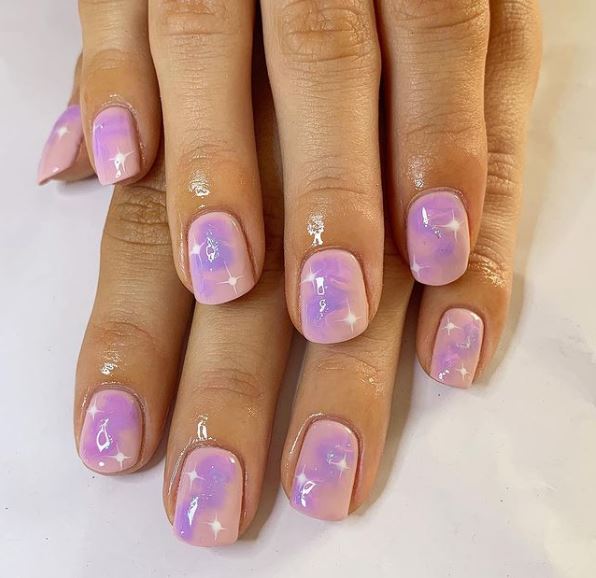 Image by @nailsby_sianalexandra via Instagram
35. Extra Long Pink and Purple Nail Ideas
Fan of extra-long nails? The color and pattern of these cute nails are charming.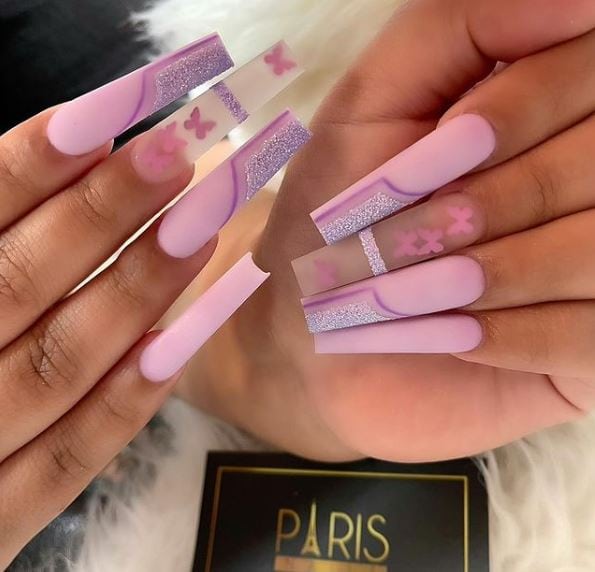 Image by @parisnails123 via Instagram
36. Small Gold Flakes Accent
Sometimes a touch of gold is all you need to complete your nails.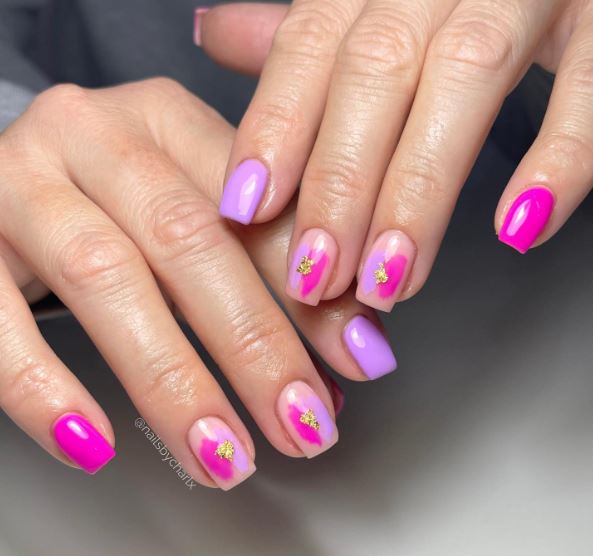 Image by @nailsbycharlx via Instagram
37. Hot Pink and Purple Acrylic Nails
The chunky pink and purple glitter under this polish looks stunning.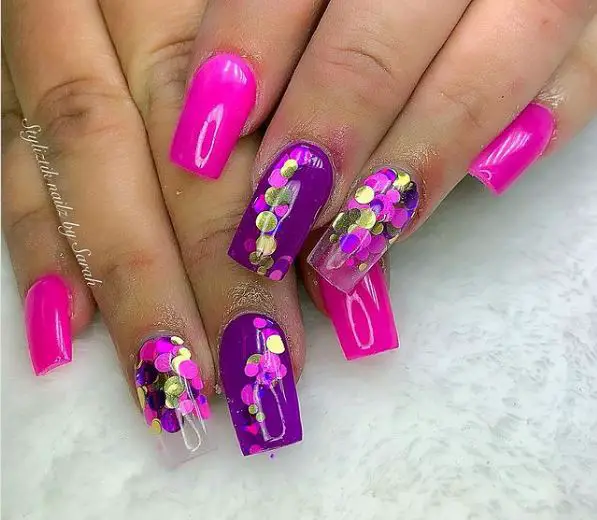 Image by @styliztiknailz via Instagram
38. Iridescent Pink and Purple Nails
Vertical pink and purple ombre with glitter nail varnish.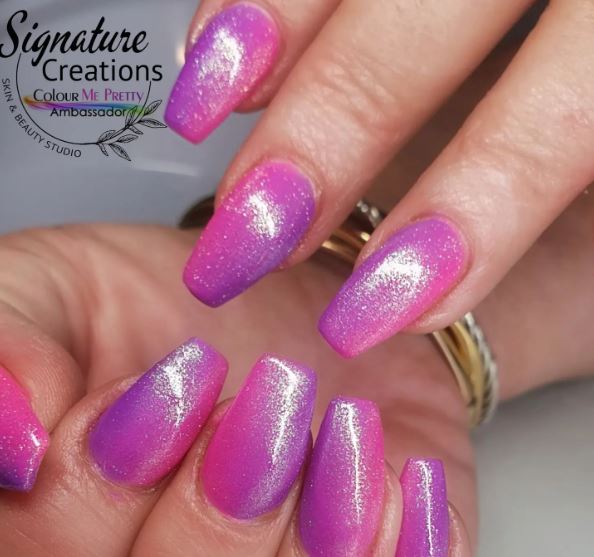 Image by @gem_signaturecreations via Instagram
39. Pink and Purple Ombre With Sparkle
Take this cute ombre design to the salon on your next appointment for a sexy look.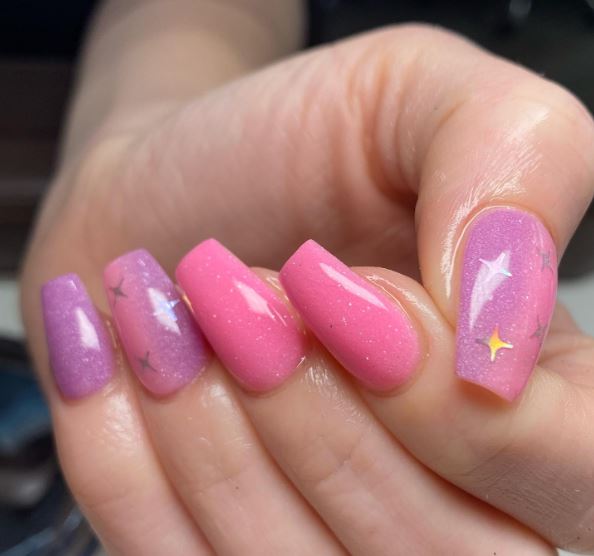 Image by @nails_by_jenny956 via Instagram
40. Butterfly and Glitter Ideas
I adore the soft purple ombre design and color pairing of these long nails.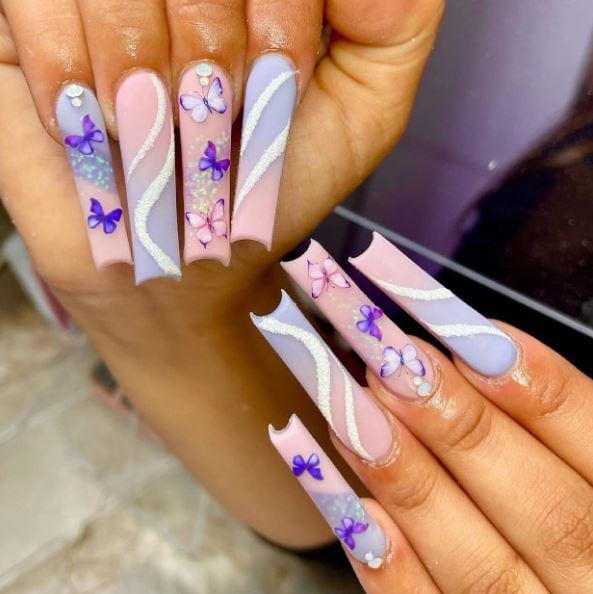 Image by @elegancenailsupply via Instagram
41. Pink and Purple 90s Nails
This is an easy 90s-inspired style that has a lovely pink and purple tip.
Image by @kmnailstudio_ via Instagram
42. Long Animal Print Nails
A fun take on animal print in black, pink, and purple.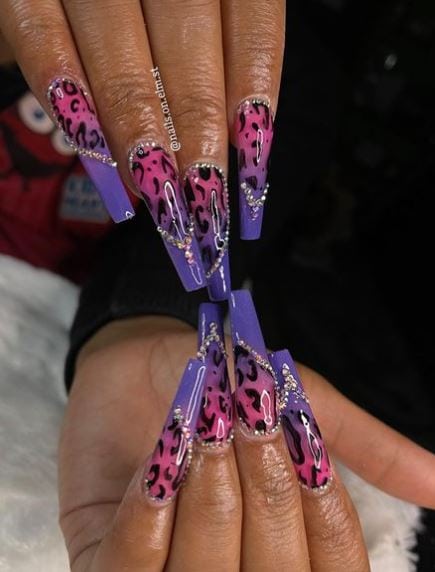 Image by @nails.on.elm.st via Instagram
43. Pink and Purple Pastel
The waves of this pastel nail design make me think of the rainbow.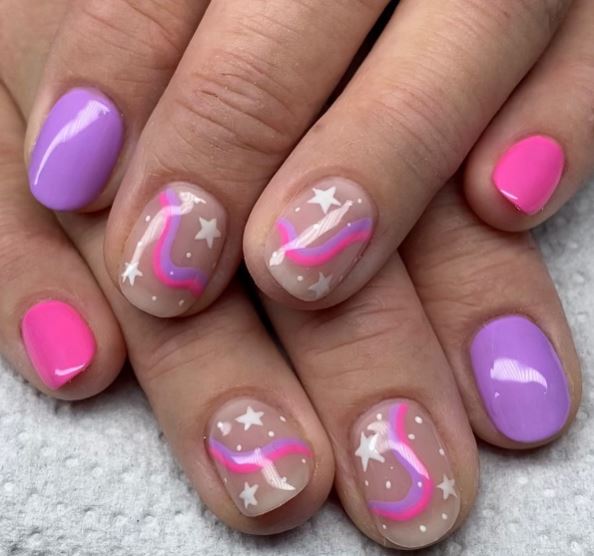 Image by @kimmotte.nailartist via Instagram
44. Deep Purple Accent
Deep purple is the accent nail of these pink pastel nails.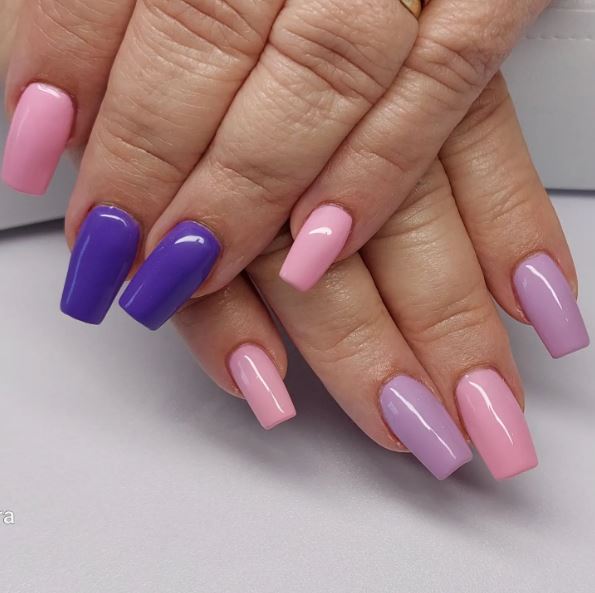 Image by @nails.by.erica.lincoln via Instagram
45. Silver Glitter
The pale nails are given a shiny quality by adding silver glitter.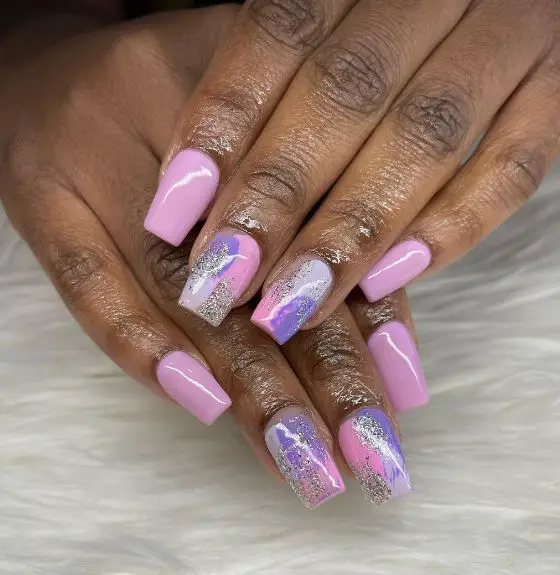 Image by @pinknailsbyevy via Instagram
46. Rose Pink and Purple Nails
Reverse french and french tips are featured here.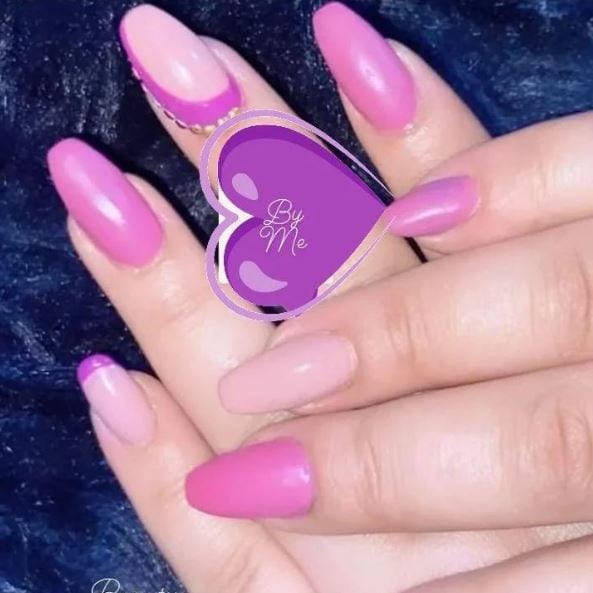 Image by @saracoiffure7 via Instagram
47. Purple and Pink With White Swirls
Simple yet splendid.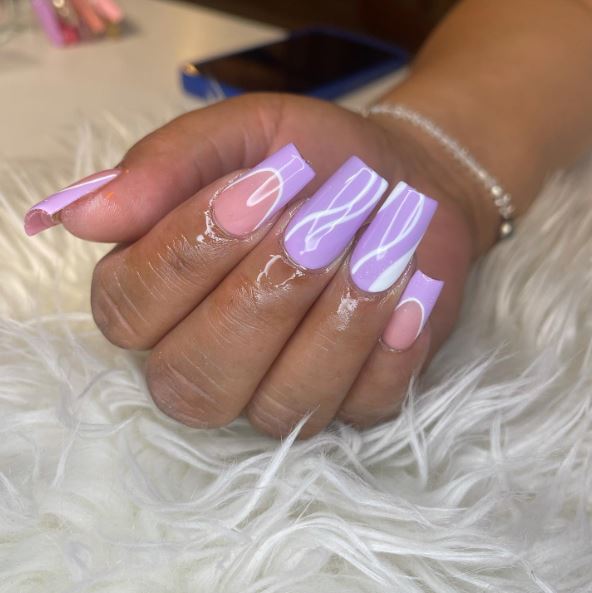 Image by @yulysnailss via Instagram
48. Pink and Purple Crocs
This Croc manicure is one of a kind.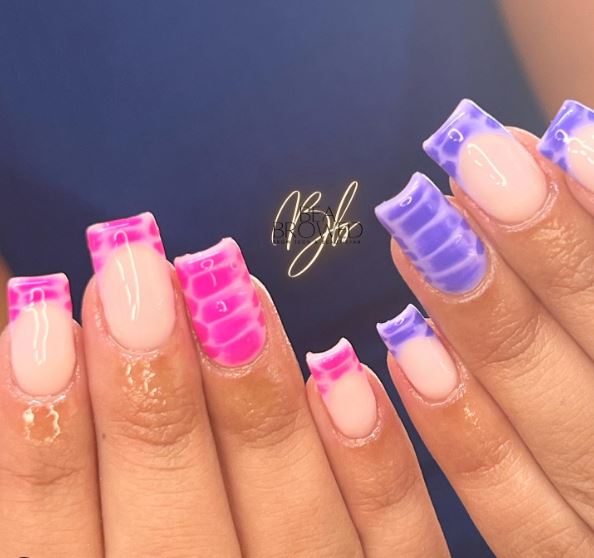 Image by @beabrowed via Instagram
49. Orange Swipe
A touch of orange can elevate your entire nail look.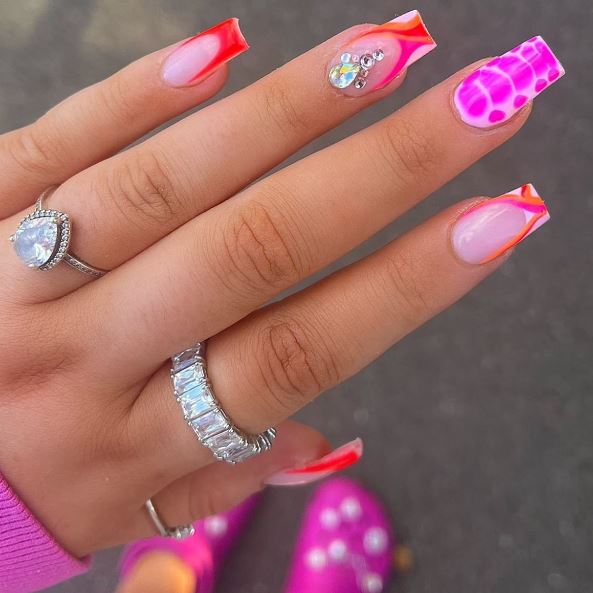 Image by @nailsbychantelle__x via Instagram
50. Almond Pink and Purple Swirls
Glitter will make this look so much better.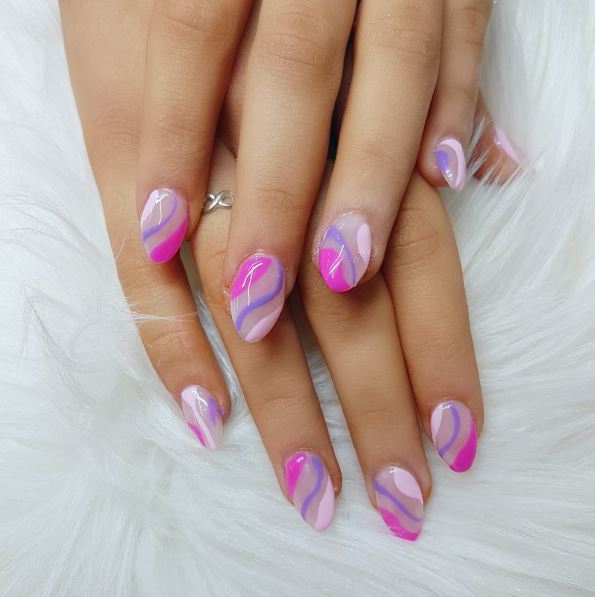 Image by @autumnnails.au via Instagram
51. A Little Blue
The blue tips with smiley make this so lovely.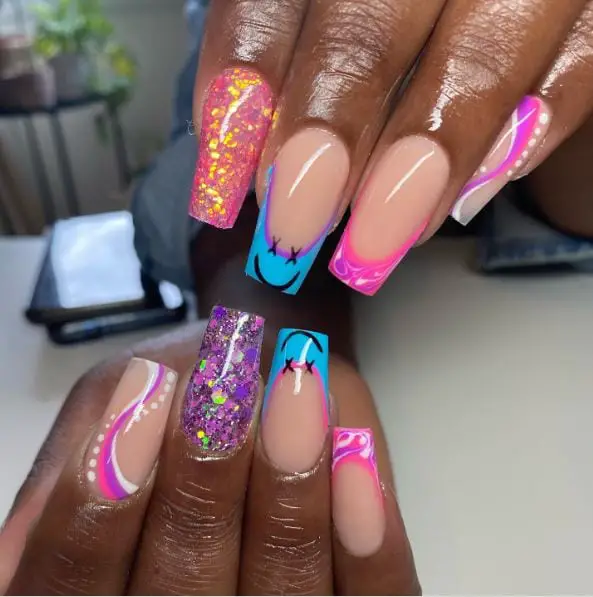 Image by @nailsbysabrinax via Instagram
52. Summer Pink and Purple Nails
Cute nails are ideal for summer.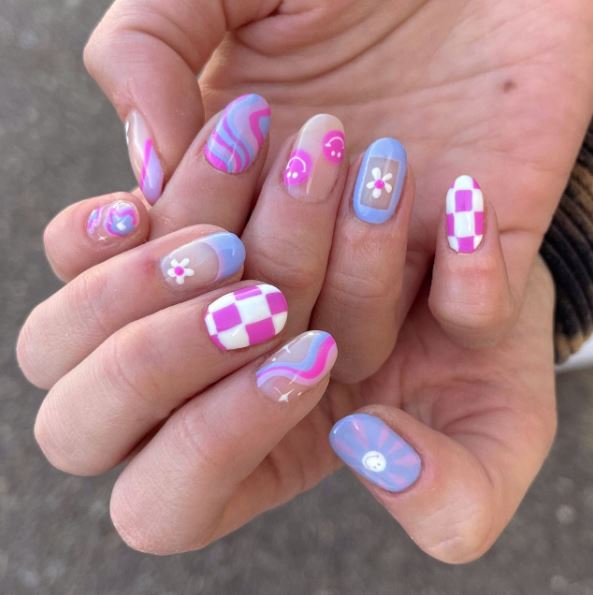 Image by @tamaminails via Instagram
53. Triple Ombre
The shades used here are so pretty.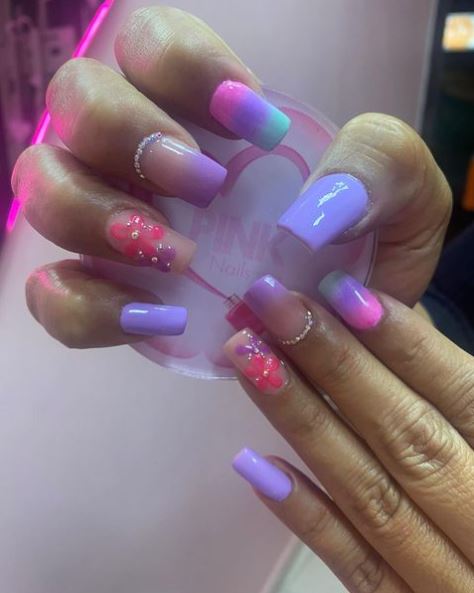 Image by @pinknails_12 via Instagram
54. Oval Ombre
Watermelon pink and purple ombre is an amazing color blend.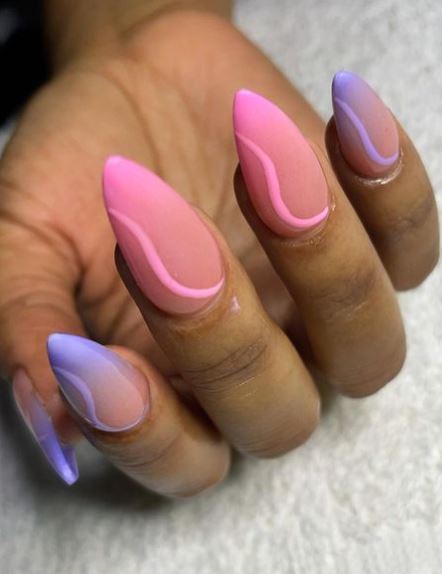 Image by @purebeautenailbar_ via Instagram
55. Touch Of Black
Blackheart, sparkle, and a smiley face.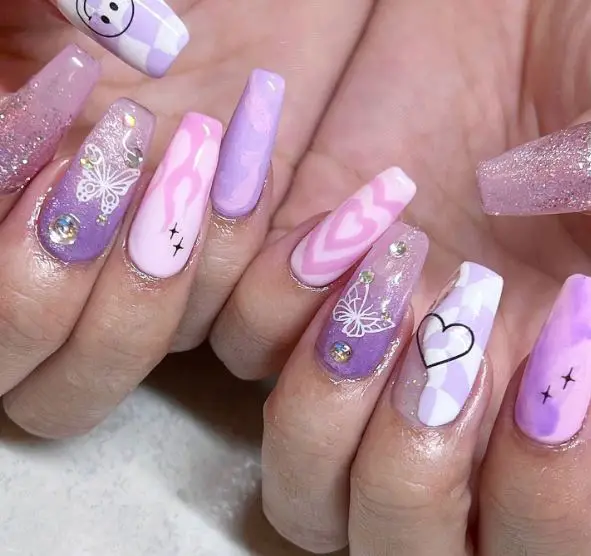 Image by @nailsalon_artbyyou via Instagram
56. Glitter Pink and Purple
Spectacular glitter pink and purple varnish.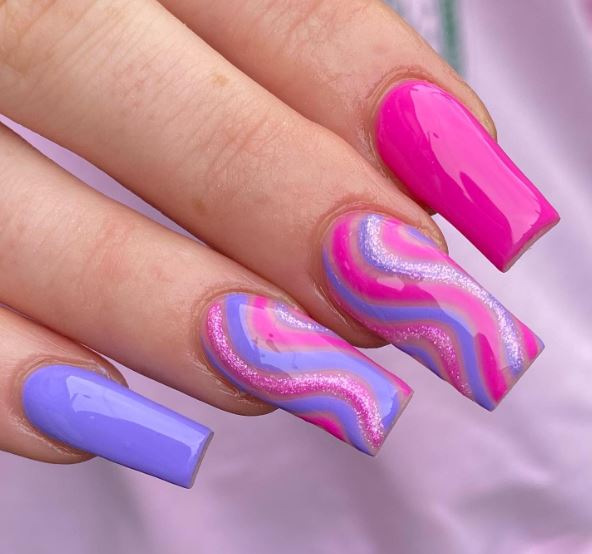 Image by @elliegantnails.x via Instagram
57. Ombre Matte Nail
Amazing right?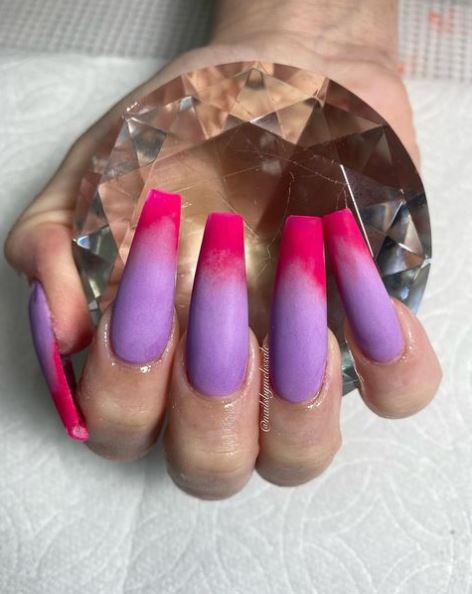 Image by @nailsbymelissale via Instagram
58. Gloss and Matte Gradients
A single Frenchie to make things fun.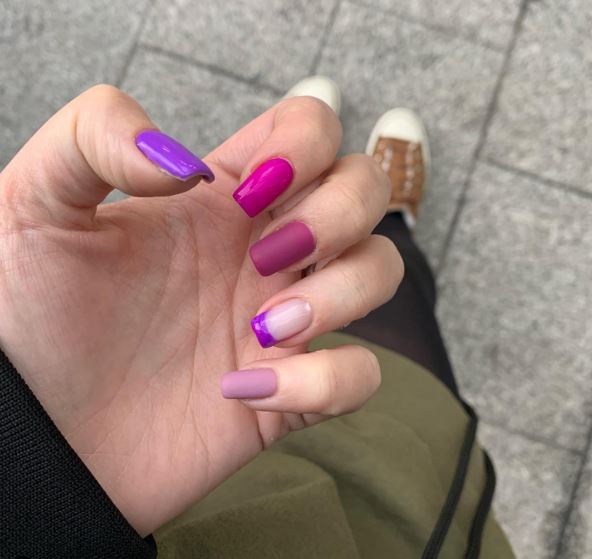 Image by @_chloeblanes via Instagram
59. Sparkle Pink and Purple Nail
For those in search of a sparkly nail.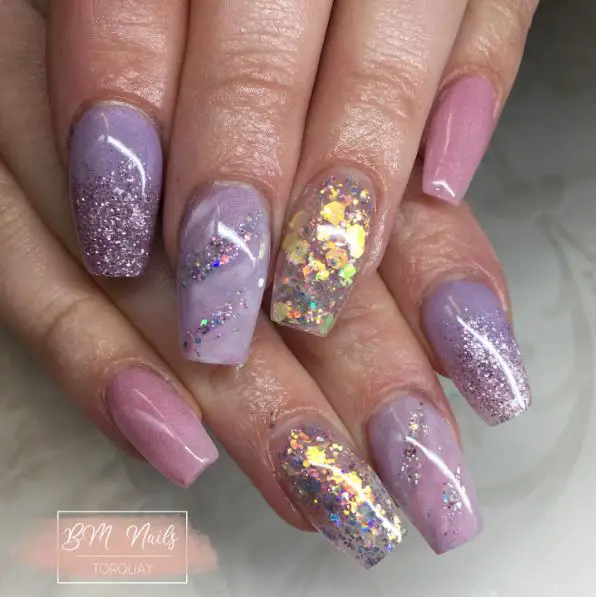 Image by @bridiemoorenailartist via Instagram
60. Fancy Diamond Nail
Diamond nail ideas for inspiration.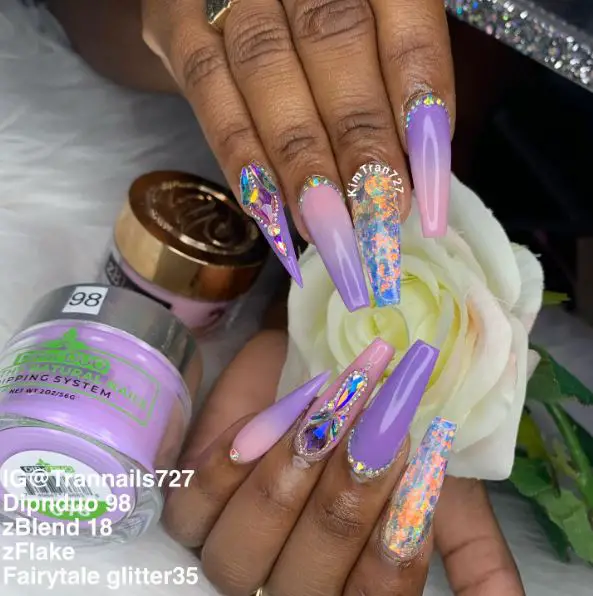 Image by @trannails727 via Instagram
61. Pinks and Purples
Short nail design inspiration you can create at home.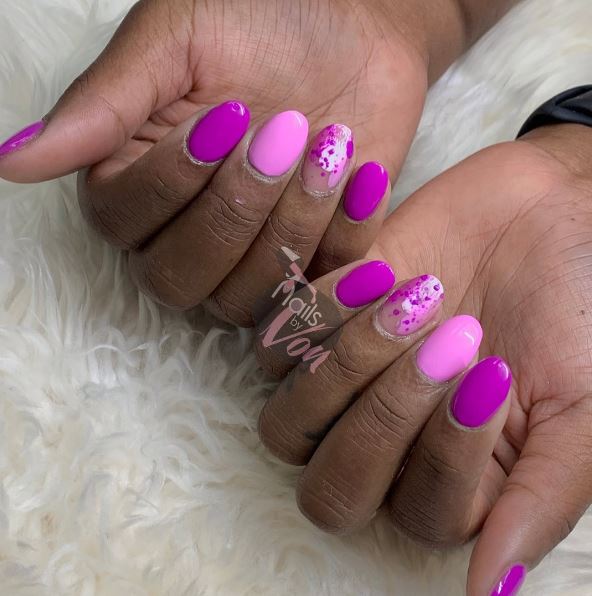 Image by @nails_by_von via Instagram
62. Short Square Nail Design
A nail design that will go with all outfits.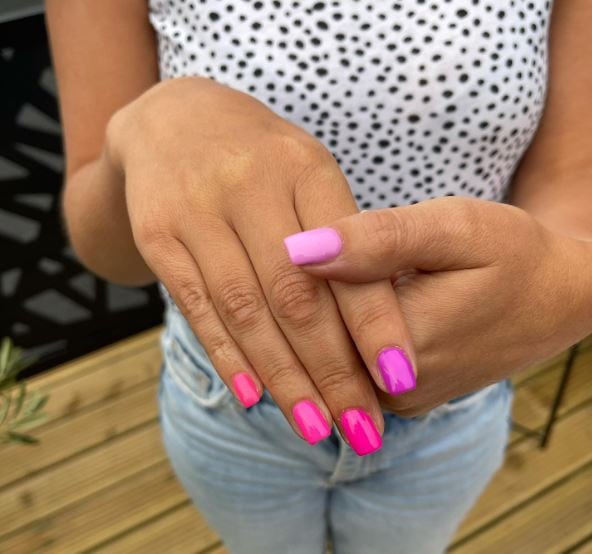 Image by @nailsbyemmaelizabeth_ via Instagram
63. Rhinestones, Glitter, and Marble
A lovely color combo for inspiration.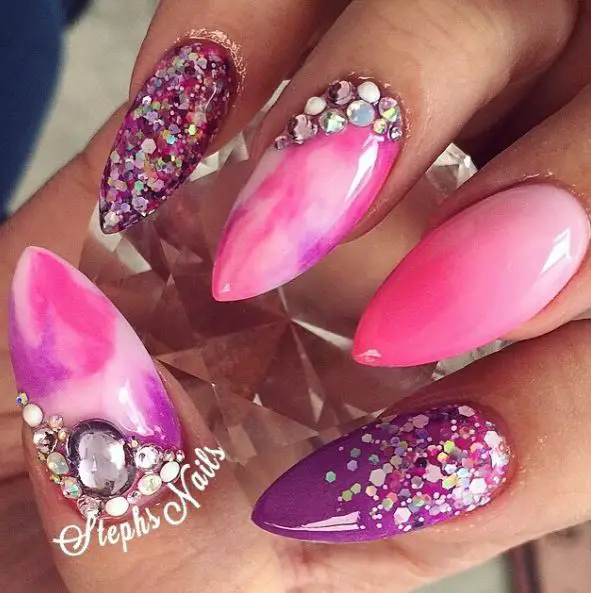 Image by @_stephsnails_ via Instagram
64. Ombre With Accent Icecream Nail
Choose this if you need a fun nail design.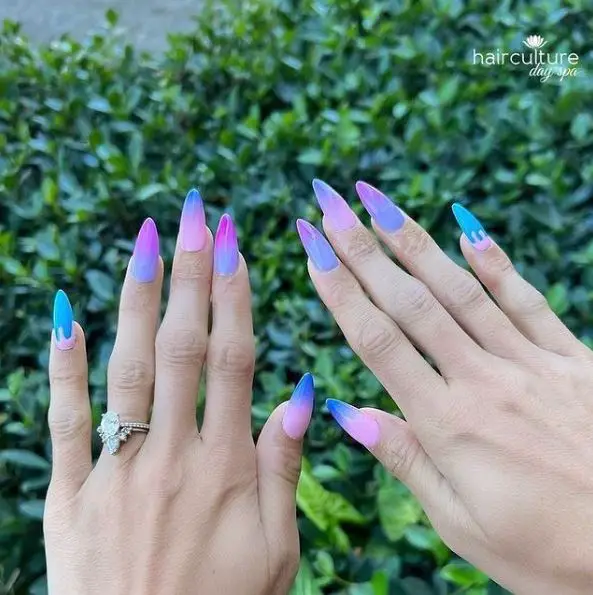 Image by @hairculturedayspa via Instagram
65. Blue Tip Frenchies
Stunning colors are used to bring this design to life.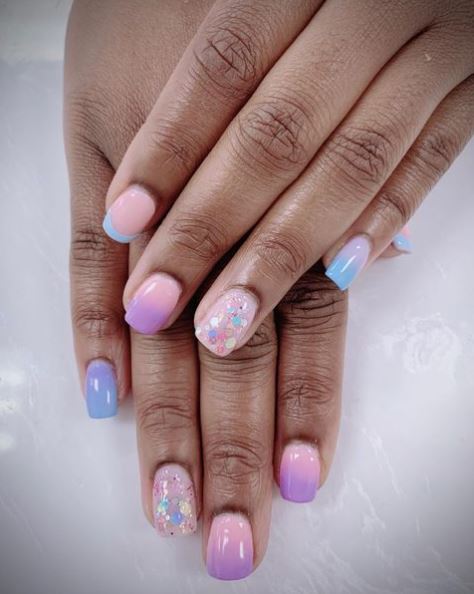 Image by @kela_stl via Instagram
66. Kiss Design Ideas
A great seductive nail design to try.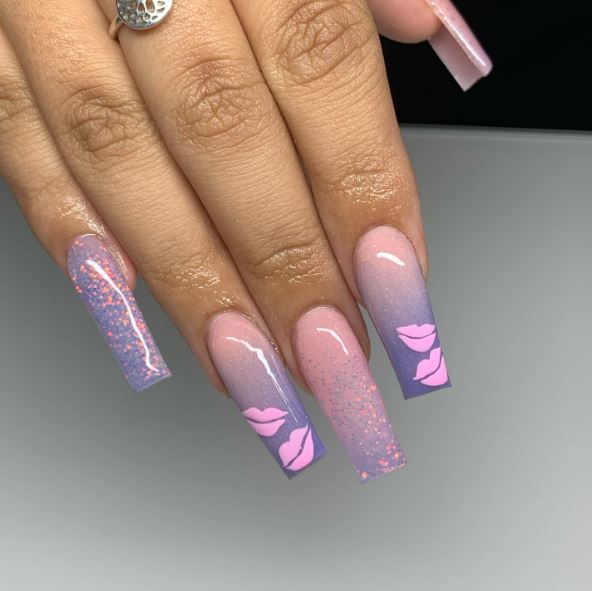 Image by @vanesbeauty_ via Instagram
67. Chunky Triangle Glitter
A lovely design for dark skin tones.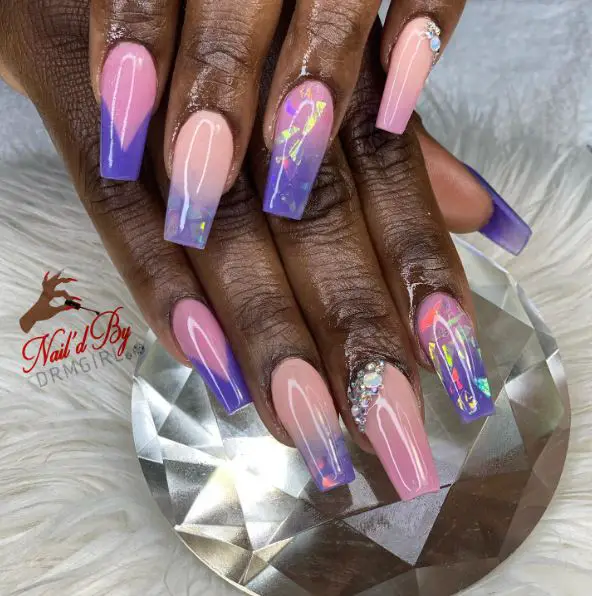 Image by @naildbydrmgirl via Instagram
68. Ombre and Marble Combination
Hot pink, violet, and royal blue tips. A creative combo to help you stand out.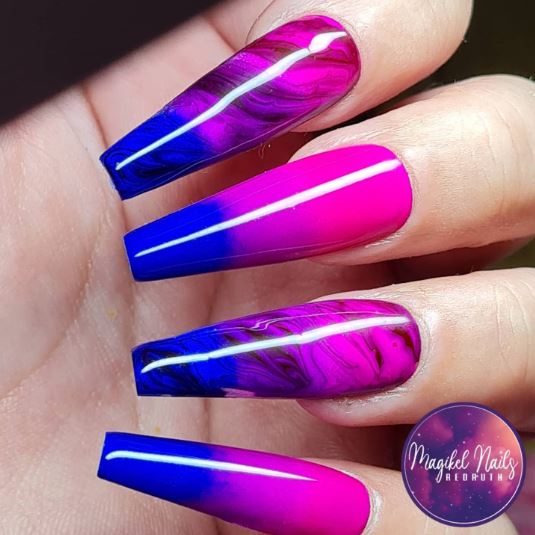 Image by @magikelnails via Instagram
69. Faint Pink and Purple Nail Design
Soft nail design for an elegant look.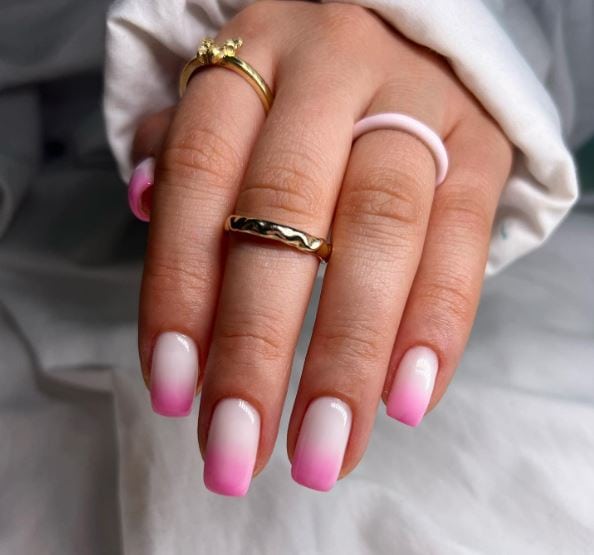 Image by @olifiianails via Instagram
70. Lavender Tips With 3d Flowers
Nail inspiration for weddings or any special occasion.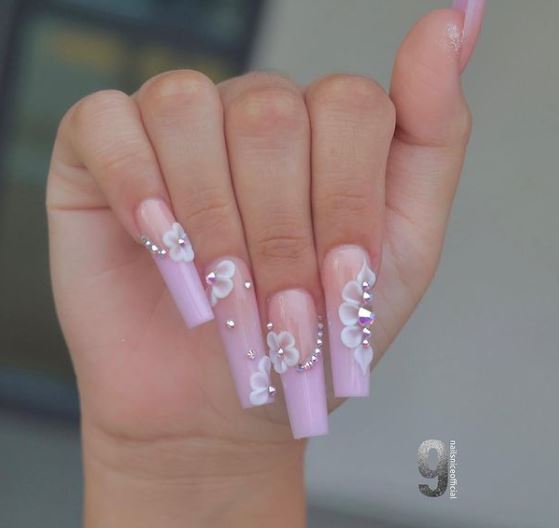 Image by @nailsniceofficial via Instagram
71. Black Leaf Outline
The black on this bright matte nail design is charming.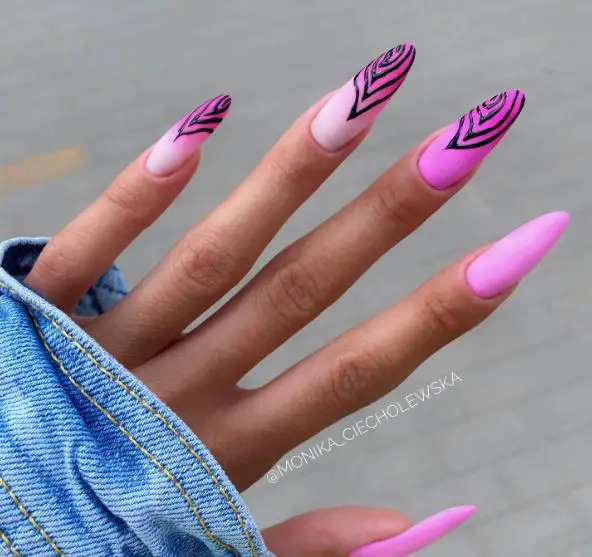 Image by @monika_ciecholewska via Instagram
72. Princess Ombre
Pink purple nails with glitter base. Super stunning.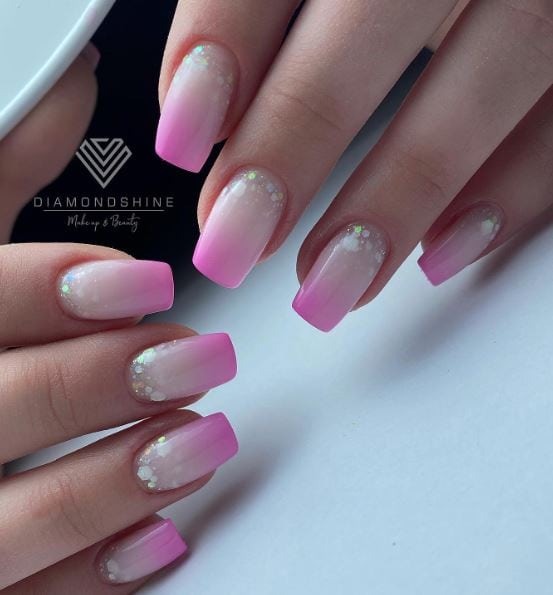 Image by @diamondshine.beauty via Instagram
73. Flower Accent Nail Design
Pink purple ombre made gorgeous by 3d flowers and stones.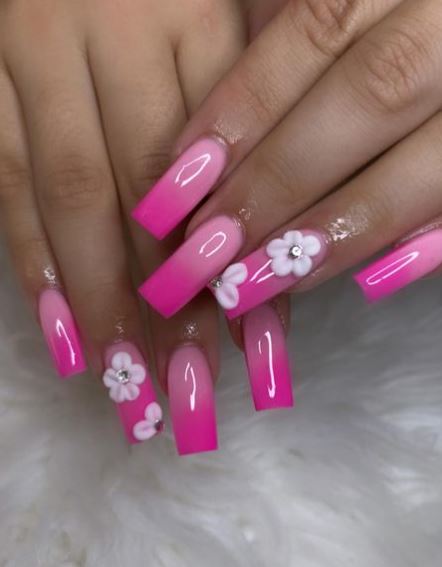 Image by @nailsbylahna via Instagram
74. Butterfly, Glitter, Flower
A nail design you can rock for both spring and summer.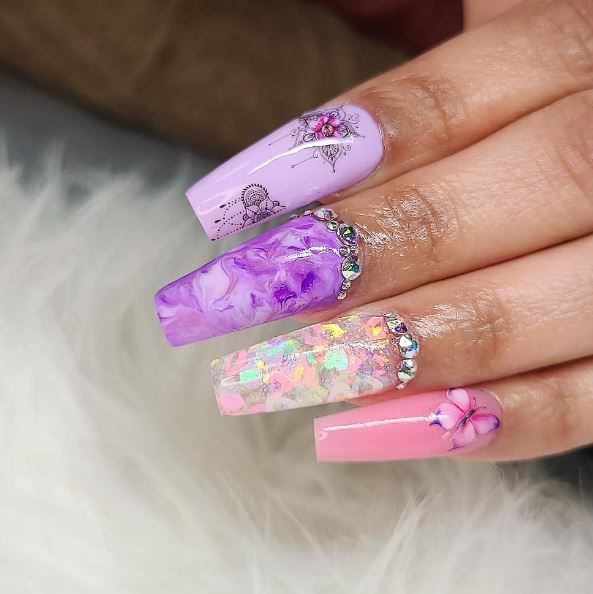 Image by @nailsbycamilany via Instagram
75. Sugaring Accent
Ombre pink purple design ideas with a sugaring effect.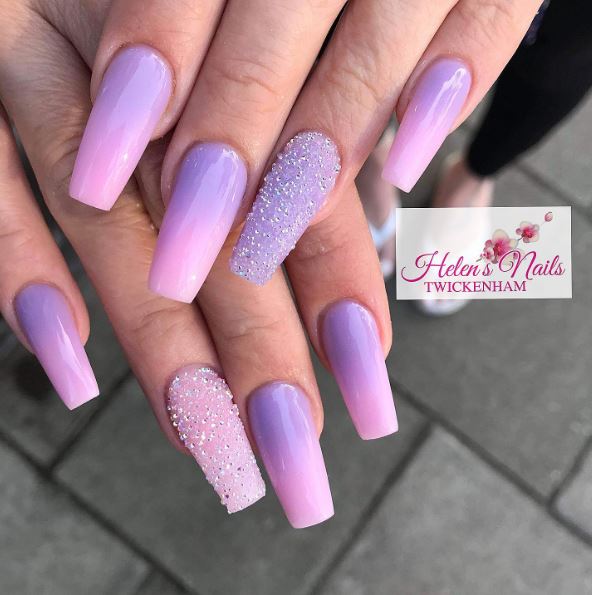 Image by @helensnails_twickenham via Instagram
76. Pink Purple Chrome Design
Command attention with this lovely chrome design.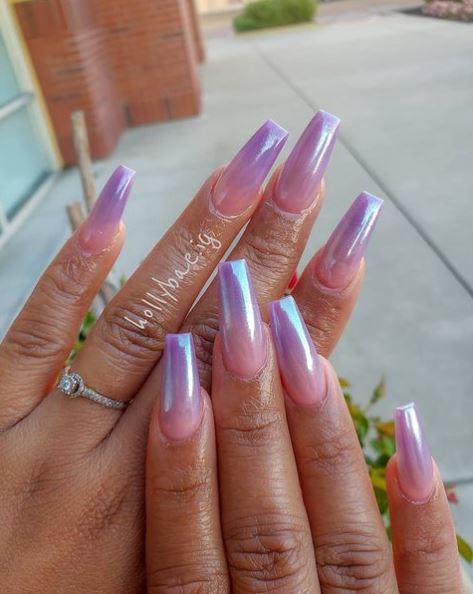 Image by @kristinnailspa via Instagram
77. Mandala Pink Purple Design
If you love the mandala trend, this pink and purple mandala design is a great option.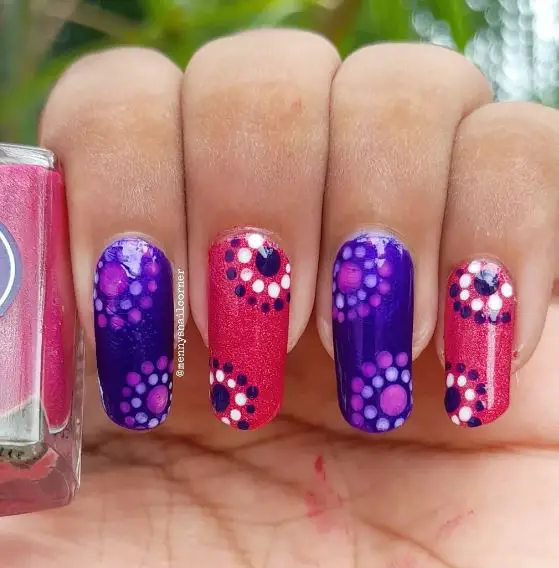 Image by @mennysnailcorner via Instagram
78. Extra Long Neon Design
This long nail design is for the baddies.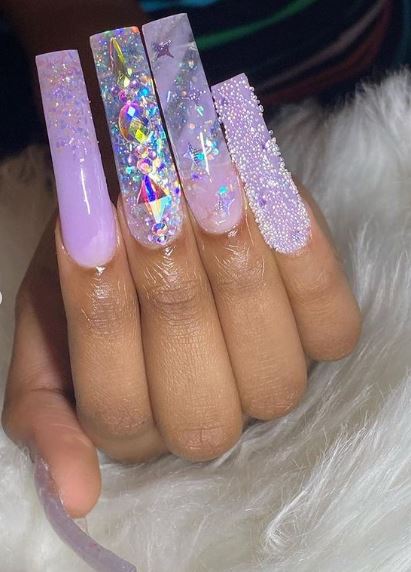 Image by @lit.fashion.trends via Instagram
79. Glitter Pastels
Another soft design option.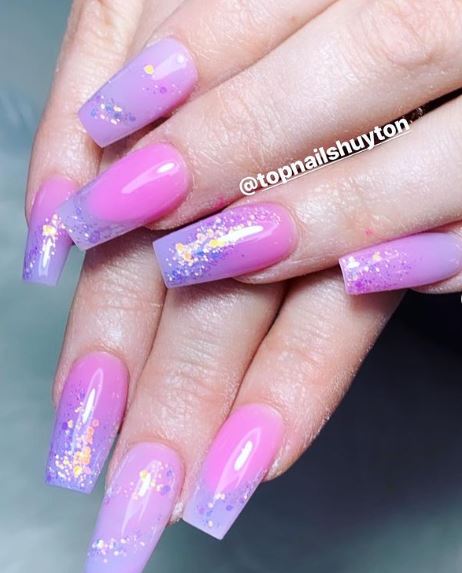 Image by @topnailshuyton via Instagram
80. Purple Gradient Ombre
Match your nail design and eye makeup for a ravishing appearance.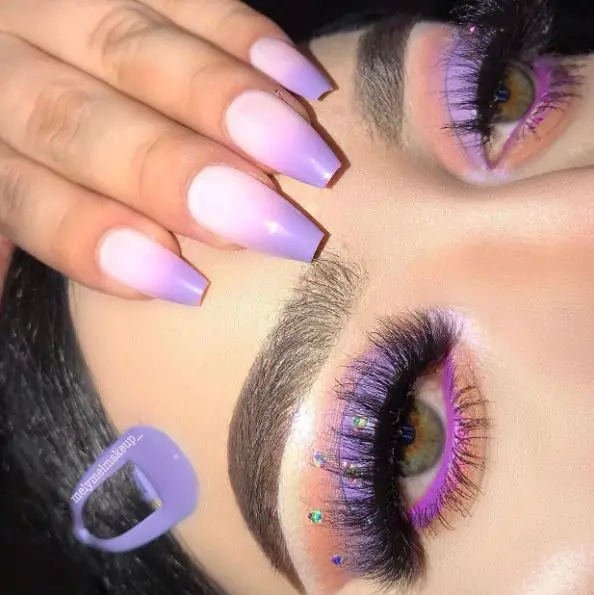 Image by @luxxinails via Instagram
81. Hearts and Butterfly Shadows
This is a unique pink-purple nail design to copy.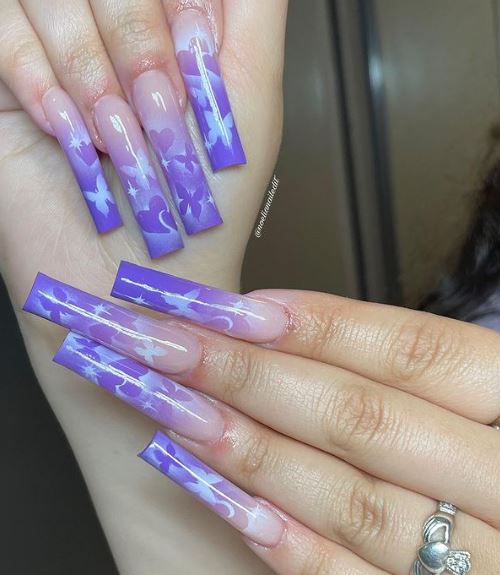 Image by @noeliathenailplug via Instagram
There are several ways to rock the most amazing pink-purple nail designs. Pick your favorite, and make a few changes if you like for an amazing appearance.