Noticed your timeline has been going crazy with trendy baddie acrylic nails? They are usually square-shaped nails, long, and have a daring and captivating color. Girls love them due to how they help bring out their wild side.
Baddie acrylic nails are the number 1 choice for girls that want to switch up their looks or transition from being a softie to a baddie.
Baddie nails put you in a new light that commands respect and express confidence. That's why I love them so much. Take a look at these 35 baddest baddie nails I came across on nailspiration. Hop on that baddie train and let's go.
35 Lovely Baddie Nails
1. Pink Baddie Nails With Jewels
Starting with these long square shape nails that have a lot going on. It has jewel-shaped rhinestones arranged on the index nail, with glitter on the thumb and middle fingers. The ring finger has a wave-like sweep of deep and light shades of pink that is a pretty blend. The little fingernail has long french tips that bring the whole look to life.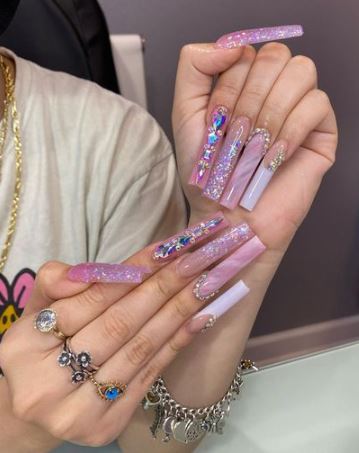 Image by @nailsbybayleigh via Instagram
2. Rainbow Ombre Acrylic Baddie nails
Well hello, gorgeous. Get ready for spring with this amazing ombre acrylic nail design. It has a nude root combined with yellow, orange, blue, and purple nail polish on different nails, creating beautiful baddie acrylic nails.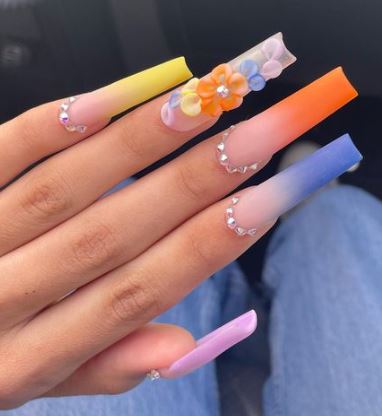 Image by @setsbyvia via Instagram
3. Pretty Acrylic Baddie Nails With Pink Butterflies
Long nails, gold decals, glitter, and butterflies. Show me a badder baddie nail, I'm waiting. This baddie acrylic nail design checks all the baddie nails requirements with everything going on here. This classic nail art is sure to make you stand out.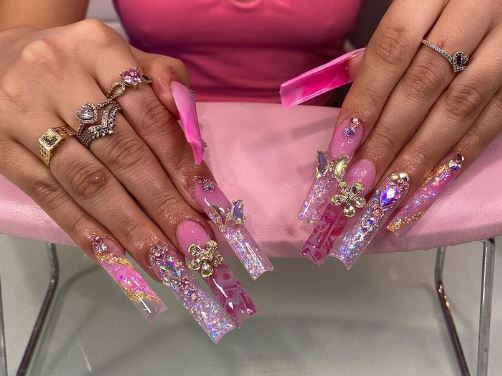 Image by @nailsbybayleigh via Instagram
4. Red Cruciform Baddie Acrylic Nails
This look must have been created in nail heaven. The neutral polish on the root blends well with the skin tone. I want to say the red ombre and french tips red acrylic nail design on different nails take the crown here. Nothing beats the red and black cross added to the nails.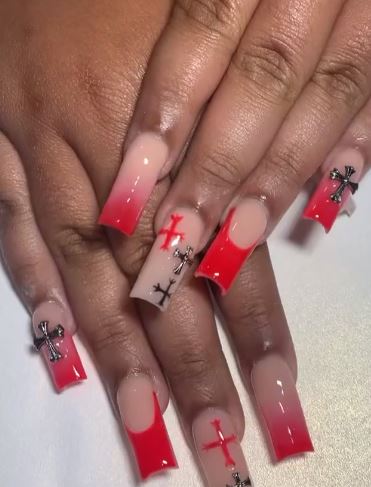 Image by @clawsbyclarkk via Instagram
5. Glam Baddie Acrylic Nails
Nude and white are a timeless classic. These amazing baddie nails have the right length. The nude and white ombre are flattering and the bubbles added to the ring nails are fun.
The flowers and small rhinestones are placed on the acrylic nails so perfectly. You'll need a good nail technician if you hope to recreate this.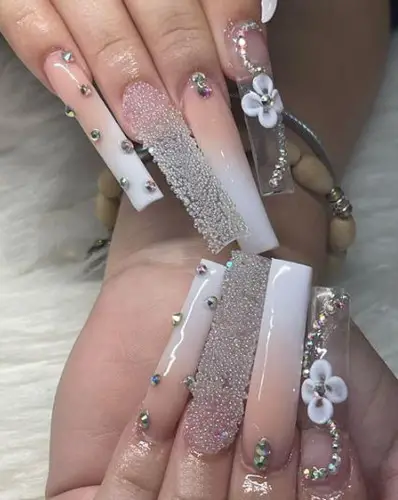 Image by @nailssbynancy via Instagram
6. Glow in The Dark Baddie Acrylic Nails
This long square shape nail art is just magical. This look can only be achieved with durable false nails to allow the nail tech to decorate this extensively.
They went all out with intense silver glitter on the little nail, and a perfect angel feather design on the middle finger nail. I think pink silver will work well here but this also looks great. This is the perfect acrylic nail design for a birthday party.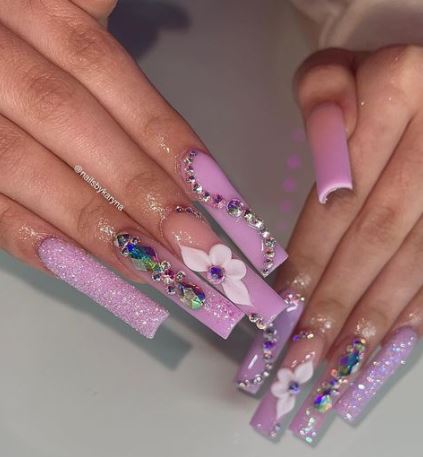 Image by @nailsbykaryna via Instagram
7. Wild 90s Acrylic Baddie Nails
This nail art has been spiced up a bit by the addition of stiletto nails to the set. The long false nails are a perfect blend of white and black leaf details and dots. The combination creates a wild look that is edgy and captivating.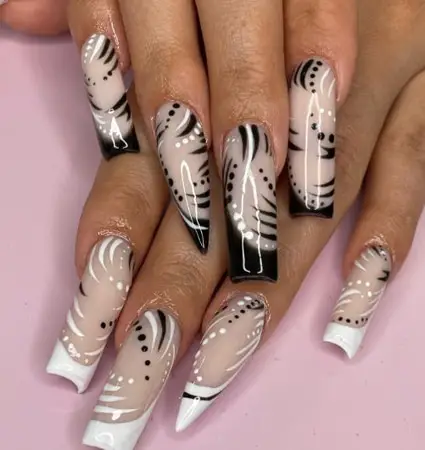 Image by @nailswithniko via Instagram
8. Classic Beige Baddie Nails
Where are my classy baddies at? You don't always have to go extra to create a baddie nails look as proven in this simple acrylic nail design set. It has beige coffin nails with jewels and acrylic petals on it, along with a white accent nail on the little finger.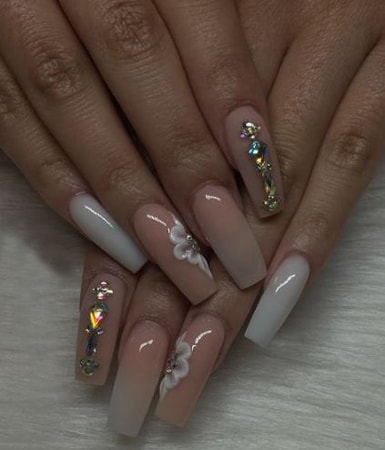 Image by @billionnails.jum via Instagram
9. Unique Colorful Baddie Nails
I've never seen a colorful acrylic nail design like this before. It is unique with green, pink, light purple, and yellow flowers on long nude nails. This is a fun acrylic nail design to add a delightful touch to your baddie adventure.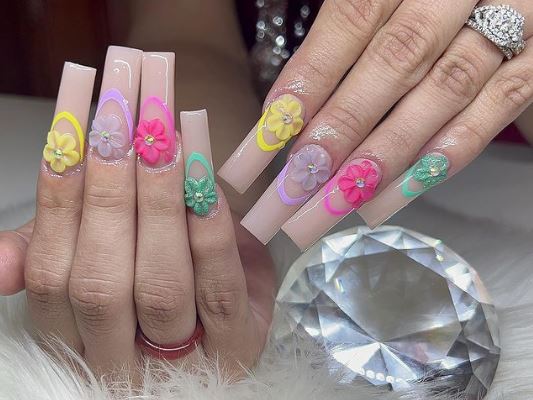 Image by @tippedoff_by_jes_ via Instagram
10. Glass Tips Dior Baddie Nails
These acrylic nails exude pure class and I'm loving it. The Dior nail tip added gives this nail set an expensive and classy look. If you feel the nails don't draw as much attention as you want, you can add a large jewel to create a look that won't be forgotten easily.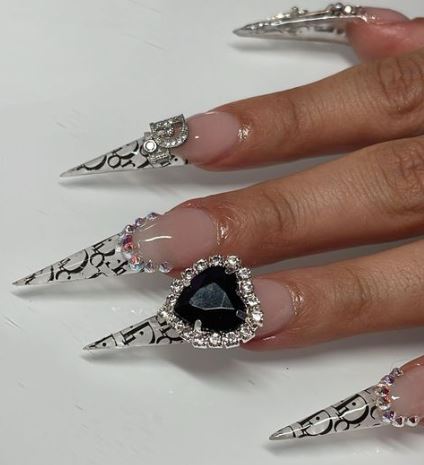 Image by @nailedbypalma via Instagram
11. Green Marble Acrylic Nails
Selected a nail for your next nail appointment? If not, well you're lucky, since you can get this baddie nails done as soon as possible. This features long, square marble nails created by a sweep of light and a darker shade of lemon green. The nude tones added on two nails are cute and the perfect choice with that shade of green.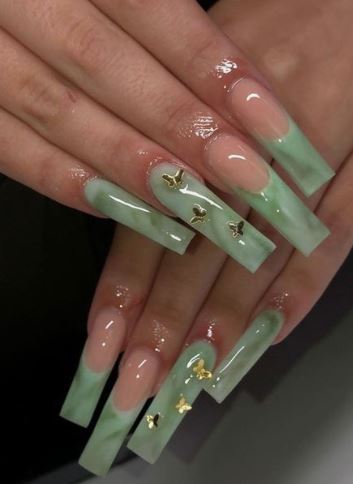 Image by @neivissarabia19 via Pinterest
12. Goddess Acrylic Baddie Nails
This acrylic nail design was probably inspired by Nicki's Ganga burn due to the placement of the gold rhinestones, creating a royalty-inspired look that is stunning. You can never go wrong with gold rhinestones which is why I'll recreate this with heart embellishments.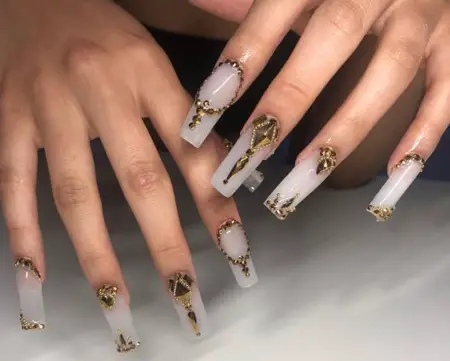 Image by @thephoenixeffectt via Instagram
13. Neon Trendy Baddie Acrylic Nails
The glow we're getting from this neon color coffin baddie acrylic nail design is unique. The nude blends perfectly with the skin tone, making the nails look elegant and fancy. The acrylic nail design is classic and is sure to brighten your mood just by looking at them.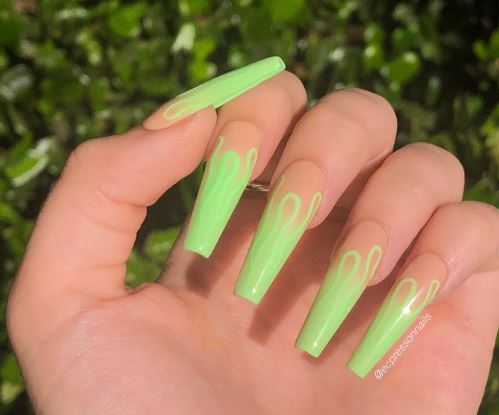 Image by @ecpressonnails via Instagram
14. Baddie Acrylic Nails With Pink Details
You can't get this work of art in just any nail salon. You need to get a superb nail tech to successfully recreate this stunning nail design. The ombre effect is achieved easily with the different shades of pink used from blush to hot pink. The glitter added turns it into a seductive high fashion look.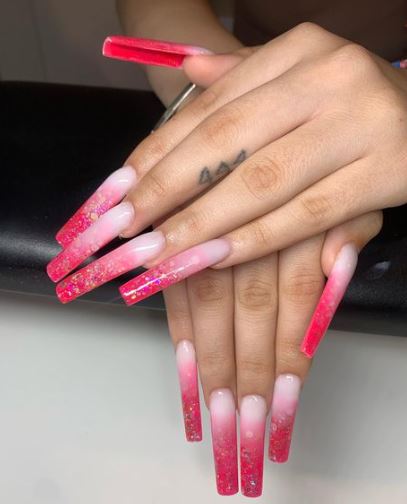 Image by @china_nailedit via Instagram
15. Cute Baddie Acrylic Nails
Need to take a little break from the always bold baddie nails look? Well, hop on this trendy baddie acrylic nail that has white flowers with little sparkling stones. The fake nails have a natural look and a dreamy finish that we just can't help but love.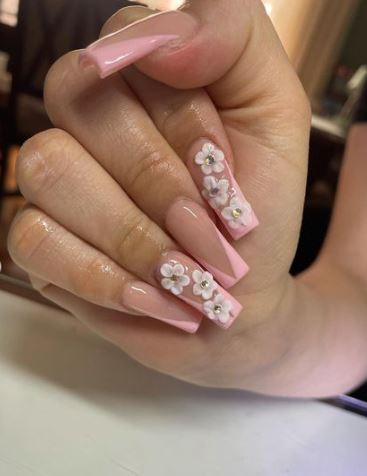 Image by @nailsbyandrea___ via Instagram
16. Dark Marble Baddie Acrylic Nail Design
Who knew marbles could look this chic and fancy? This baddie nail is a dark and elegant design that elevates your look. This style is aesthetically pleasing and perfect for bold design lovers. The cool vibe of this baddie nail is perfect for a date night.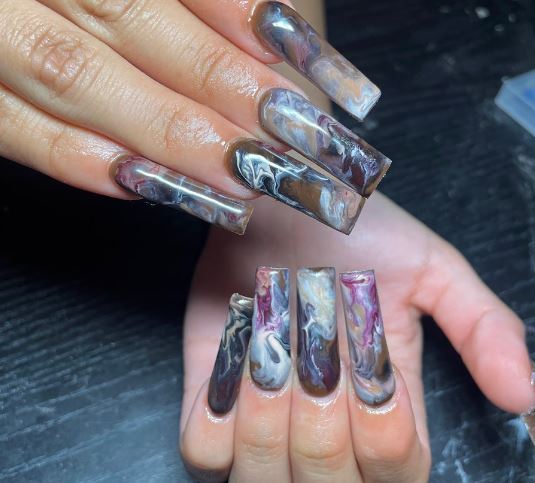 Image by @nailzbyperlz via Instagram
17. Color Bomb Acrylic Baddie Nail
The acrylic nail design used for this nail set is simple. The nail's look is elevated by the rhinestones and colorful sticks added to the nail. This look is fit for a festival where you need to stand out with a host of colors.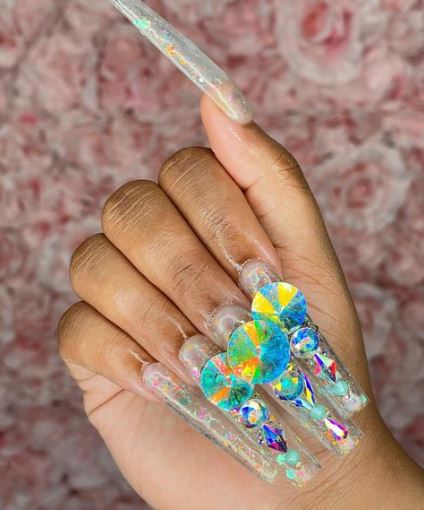 Image by @thedyzrdesign via Instagram
18. Clear Acrylic Baddie Nails
This is another simple everyday acrylic nail design to keep you looking high-toned as you go about your daily adventures. It is made with clear medium-length nails with white flowers and little stones used to add some shimmer. The ombre is just an extra because this style is still pretty with or without it.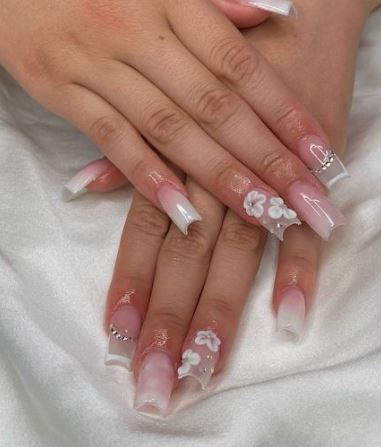 Image by @nailedbykiley via Instagram
19. Sculpture Coffin Baddie Acrylic Nail Design
Talk about classy. This expensive-looking nail design is a high-quality salon-style nail. It has different nail styles on each nail, mainly red and black, and the matte grey color nail design on the ring nail elevates the whole look.
It is also slightly muted by the nude transparent nail on the little finger. The glossy style nail is perfect for those who want to look bold.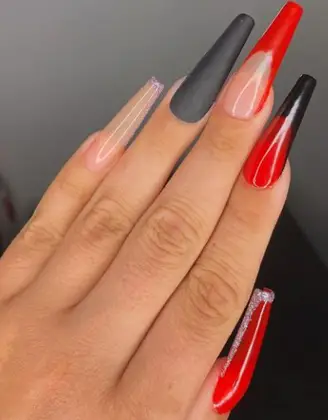 Image by @nailsbysuchan via Instagram
20. Instagram Baddie Nails
Well, this nail look has a unique twist and has been banging on my Instagram timeline. It has nude at the center, and a black and white creative design that completely surrounds the nail. This is an abstract art nail that looks daring and cool. Only the real baddies can pull off this look.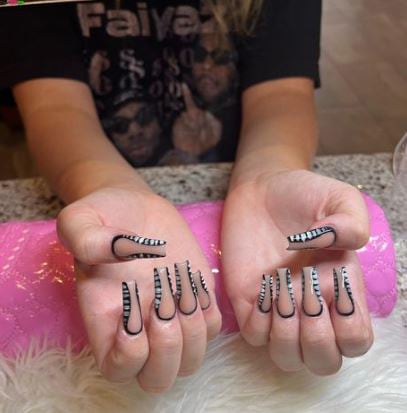 Image by @sudiornails via Instagram
21. Hand Painted Baddie Nails
This matte hand-painted nail design is too cool not to make this baddie nail list. The details on the nail are just perfect. The nail features both stiletto and coffin baddie nails with bright yellow and green paint that makes it look adventurous and breathtaking.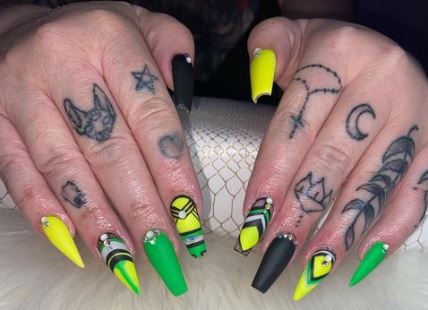 Image by @j.eennyxbeauty via Instagram
22. Nude and Teal Acrylic Nail Design
Nude and teal are an amazing blend that I've never given a second thought to till now.
This nail makes a statement that is sure to pop against a whole host of colors. The lines of glitter and rhinestones added add shimmer to the whole design. This will go well with any monochrome outfit, especially black.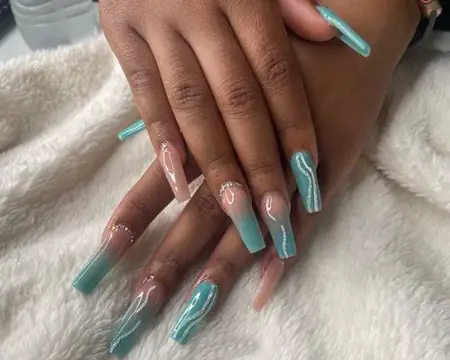 Image by @nailedbyrayven via Instagram
23. Magical Purple Nails
This fairy tale-looking baddie nail is just out of this world. It has silver star-like stickers with rhinestones on some nails. The green leaf added on the index nail gives the nails an underwater-like appearance that is just too cool to handle.
This baddie nail is apt for a wedding party or baby shower.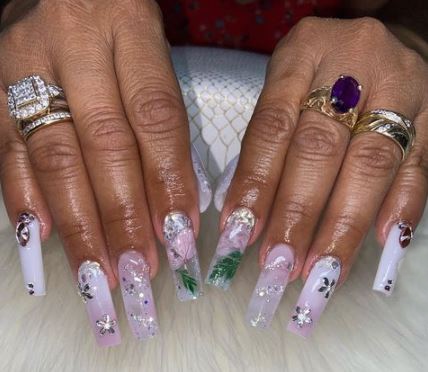 Image by @j.eennyxbeauty via Instagram
24. Hello Kitty Theme Nails
There's an overdose of cuteness on this kitty-theme nails with the embellishments used to complete the beautiful nail design. The little kitties are fixed on the middle fingernail, there's a star on the index finger, rhinestones on the thumb, and cruciform stones on the little fingernail. This style passes the baddie nail test even though it looks so adorable. Save this for your next appointment.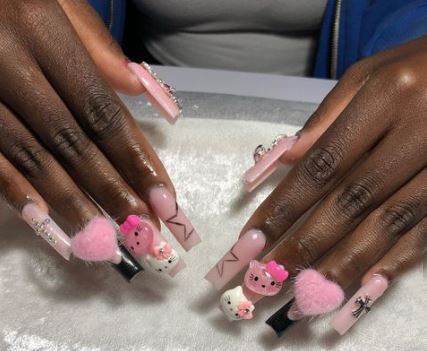 Image by @clawssbys via Instagram
25. Long Square Purple And Green Nails With Pearls
The pearls on this baddie acrylic set are enough to generate good feelings when you look at it.
The large lollipop and heart embellishments added increased the fun level of this nail by 70%. There's no such thing as too much fun, right? The purple and green tips are just superb together, creating a great contrast.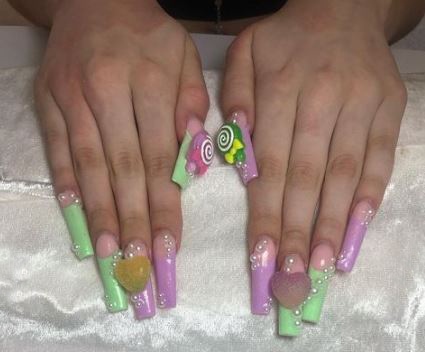 Image by @clawssbys via Instagram
26. Nude and Magenta Acrylic Nails
Get this baddie nail design done if you want to look bold while maintaining a glossy look. The nude accent stiletto nail makes the baddie aesthetic complete with the gold decals and rhinestones added to it.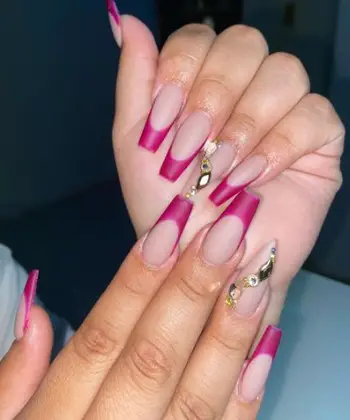 Image by @j.eennyxbeauty via Instagram
27. Boss Lady Baddie Nails
Aren't you just obsessed with this black and nude wonder? The nail is a combination of calm and daring.
The little fingernail is beige with black flowers that are pure mystery, and gold decals attached to the index fingernail. The black of the square nail creates a perfect oval for the beige color that is just enchanting.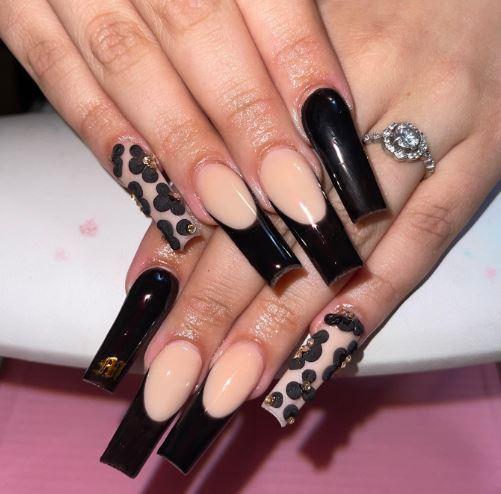 Image by @alo_nailedit via Instagram
28. Medium Length Horoscope Nails
Where are the Libra baddies? This is specifically for y'all. The pink and nude nails go hand in hand to create a subtle blend. The simple jewel rhinestones added incorporate a shine to the nail design, making it perfect for baddies that want to up their neutral styles game a bit.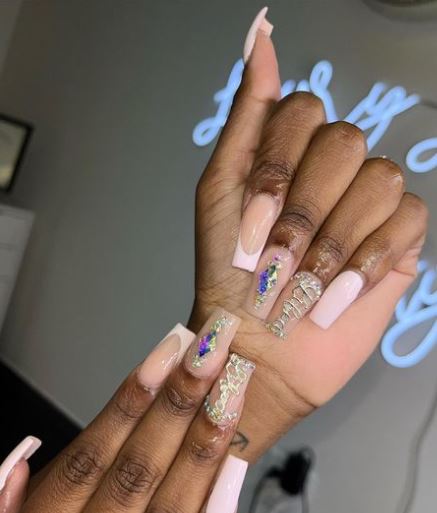 Image by @lexxurylounge via Instagram
29. Gel Baddie Nails
Another simple and stunning baddie nail to recreate. This is pretty, with little stones and pink glittery tips that make it shimmery. I have several ideas for this baddie set and I prefer longer lengths.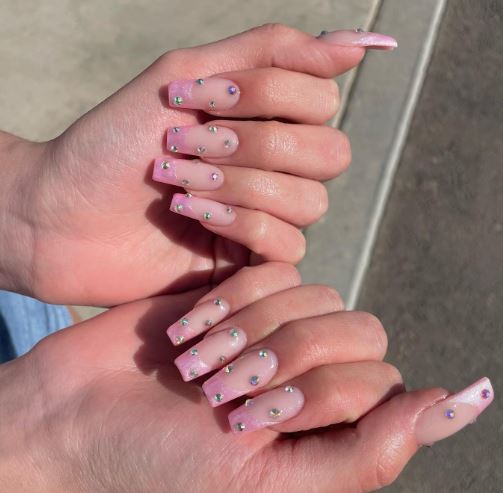 Image by @garak_nails via Instagram
30. Bling Gel Plasticine Nails
With just the right length to express its perfection, this nail remind me of the milky way. The green glitter gives the look a dreamy finish. The silver stones added are not necessary in my opinion but it still works well here.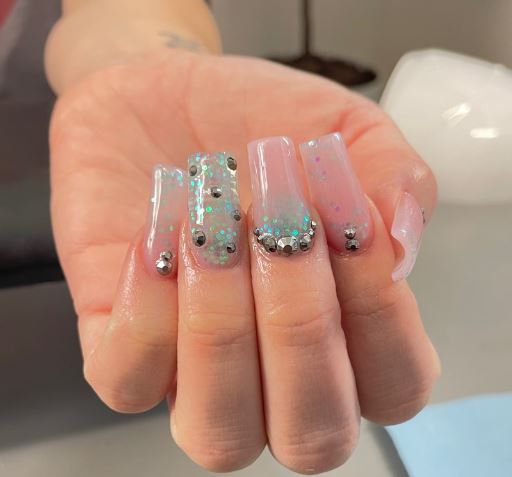 Image by @garak_nails via Instagram
31. Summer Baddie Acrylic Nails
Do these pretty nails not remind you of summer? The look has an amazing yellow and nude combination that makes you wish summer was here already. Pair it with any outfit and step out looking bright as a daisy. You can dazzle em with the glow from these nails even from distance away.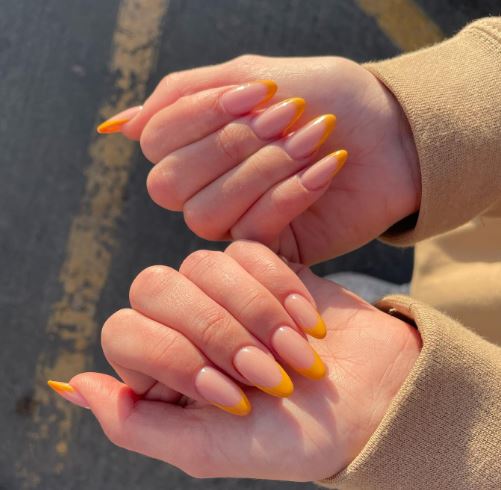 Image by @garak_nails via Instagram
32. Colorful Baddie Nails With Silver Glitter
This colorful nail is spectacular; each nail has a different color, with yellow, purple, turquoise blue, pink, and white talons. The silver glitter added is barely there but gives the nail appearance a subtle glow that looks bright and fun.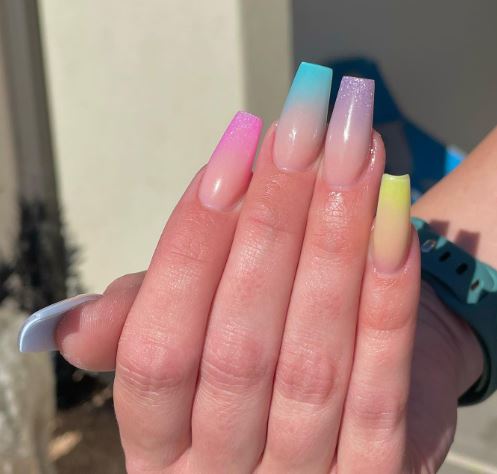 Image by @garak_nails via Instagram
33. Crocodile Acrylic Nails
We knew crocodile acrylic nail design was making a comeback but who knew they'd look this hot? The acrylic nail design reminds me of summer with its blue and green patterns on the right hand and the pink lavender vibe on the right.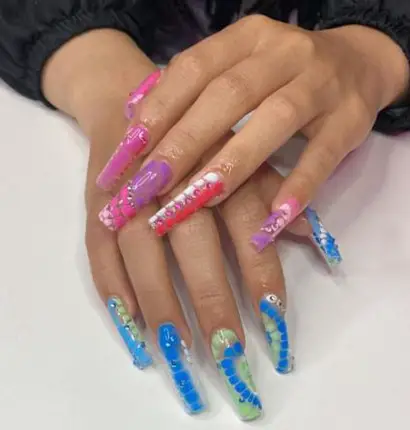 Image by @nailzzbylilzz via Instagram
34. Green Acrylic Nail Design
This shade of green will make you wish the world was a greener place. The acrylic nail design took a different twist I didn't see coming because who would've thought green and nude despite their contrast would work this well together?
Image by @spicedup.nails via Instagram
35. Red French Tips
Red acrylic nails? Is this hot or what? This acrylic nail design is a work of art, but the transparent stones added on the red Frenchies take mastery to recreate.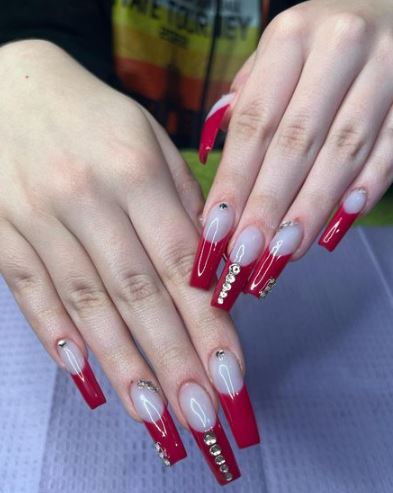 Image by @euphoricnailshop via Instagram
Ready to get your baddie nails done? I promised to deliver the baddest baddie acrylic nail designs and I hope I succeeded.