Noticed your timeline has been going crazy with trendy baddie acrylic nails? They are usually square-shaped nails, long, and have a daring and captivating color. Girls love them due to how they help bring out their wild side.
Baddie acrylic nails are the number 1 choice for girls that want to switch up their looks or transition from being a softie to a baddie.
Baddie nails put you in a new light that commands respect and express confidence. That's why I love them so much. Take a look at these 35 baddest baddie nails I came across on nailspiration. Hop on that baddie train and let's go.
35 Lovely Baddie Nails
1. Pink Baddie Nails With Jewels
Starting with these long square shape nails that have a lot going on. It has jewel-shaped rhinestones arranged on the index nail, with glitter on the thumb and middle fingers. The ring finger has a wave-like sweep of deep and light shades of pink that is a pretty blend. The little fingernail has long french tips that bring the whole look to life.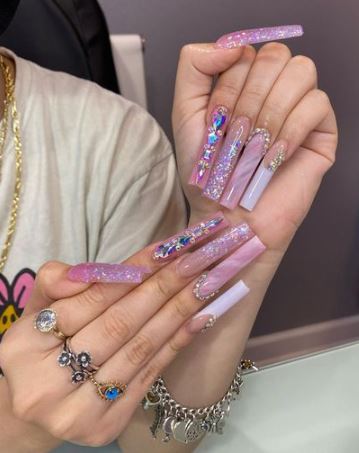 Image by @nailsbybayleigh via Instagram
2. Rainbow Ombre Acrylic Baddie nails
Well hello, gorgeous. Get ready for spring with this amazing ombre acrylic nail design. It has a nude root combined with yellow, orange, blue, and purple nail polish on different nails, creating beautiful baddie acrylic nails.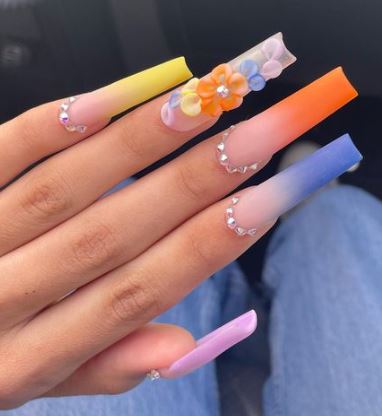 Image by @setsbyvia via Instagram
3. Pretty Acrylic Baddie Nails With Pink Butterflies
Long nails, gold decals, glitter, and butterflies. Show me a badder baddie nail, I'm waiting. This baddie acrylic nail design checks all the baddie nails requirements with everything going on here. This classic nail art is sure to make you stand out.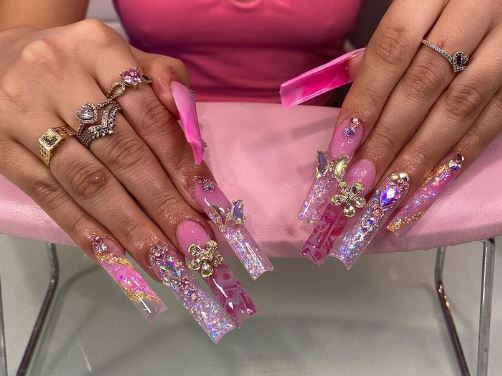 Image by @nailsbybayleigh via Instagram
4. Red Cruciform Baddie Acrylic Nails
This look must have been created in nail heaven. The neutral polish on the root blends well with the skin tone. I want to say the red ombre and french tips red acrylic nail design on different nails take the crown here. Nothing beats the red and black cross added to the nails.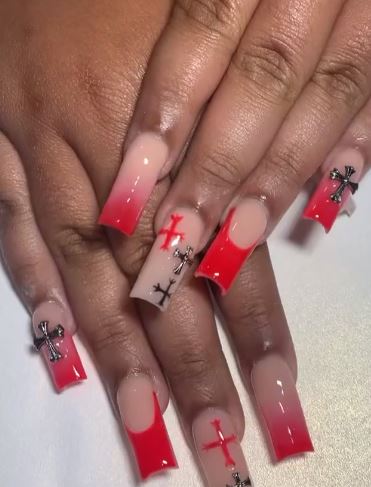 Image by @clawsbyclarkk via Instagram
5. Glam Baddie Acrylic Nails
Nude and white are a timeless classic. These amazing baddie nails have the right length. The nude and white ombre are flattering and the bubbles added to the ring nails are fun.
The flowers and small rhinestones are placed on the acrylic nails so perfectly. You'll need a good nail technician if you hope to recreate this.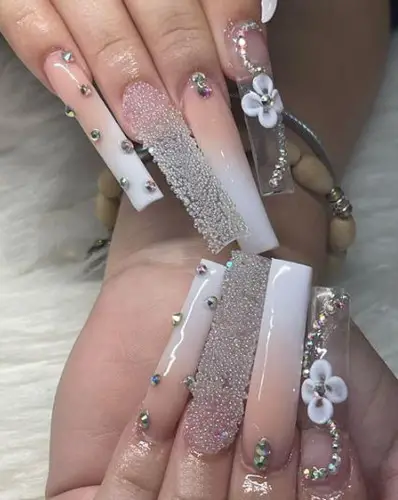 Image by @nailssbynancy via Instagram
6. Glow in The Dark Baddie Acrylic Nails
This long square shape nail art is just magical. This look can only be achieved with durable false nails to allow the nail tech to decorate this extensively.
They went all out with intense silver glitter on the little nail, and a perfect angel feather design on the middle finger nail. I think pink silver will work well here but this also looks great. This is the perfect acrylic nail design for a birthday party.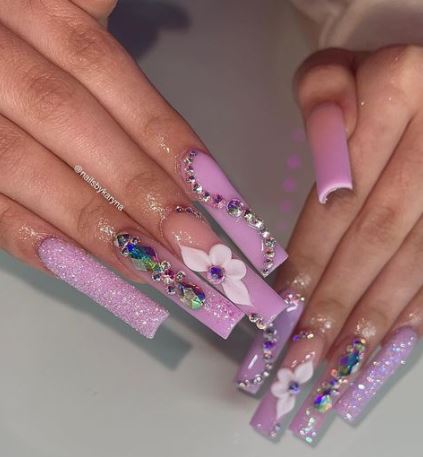 Image by @nailsbykaryna via Instagram
7. Wild 90s Acrylic Baddie Nails
This nail art has been spiced up a bit by the addition of stiletto nails to the set. The long false nails are a perfect blend of white and black leaf details and dots. The combination creates a wild look that is edgy and captivating.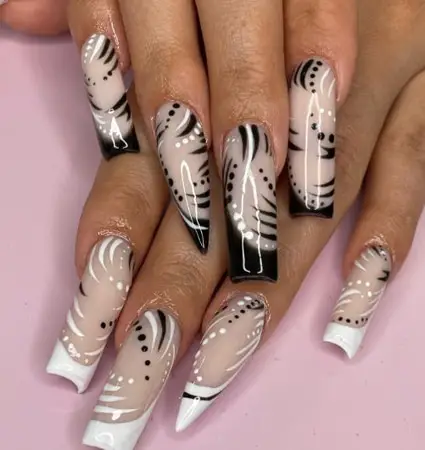 Image by @nailswithniko via Instagram
8. Classic Beige Baddie Nails
Where are my classy baddies at? You don't always have to go extra to create a baddie nails look as proven in this simple acrylic nail design set. It has beige coffin nails with jewels and acrylic petals on it, along with a white accent nail on the little finger.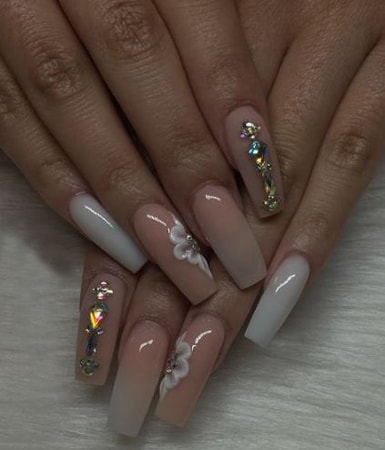 Image by @billionnails.jum via Instagram
9. Unique Colorful Baddie Nails
I've never seen a colorful acrylic nail design like this before. It is unique with green, pink, light purple, and yellow flowers on long nude nails. This is a fun acrylic nail design to add a delightful touch to your baddie adventure.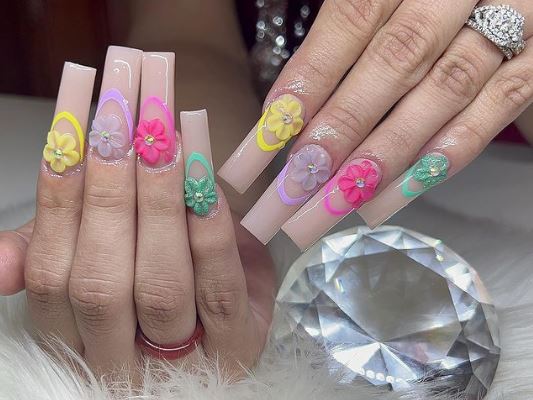 Image by @tippedoff_by_jes_ via Instagram
10. Glass Tips Dior Baddie Nails
These acrylic nails exude pure class and I'm loving it. The Dior nail tip added gives this nail set an expensive and classy look. If you feel the nails don't draw as much attention as you want, you can add a large jewel to create a look that won't be forgotten easily.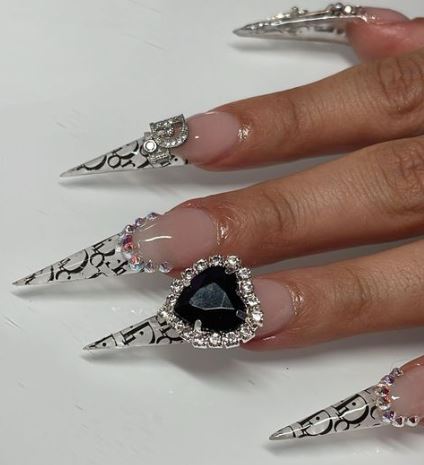 Image by @nailedbypalma via Instagram
11. Green Marble Acrylic Nails
Selected a nail for your next nail appointment? If not, well you're lucky, since you can get this baddie nails done as soon as possible. This features long, square marble nails created by a sweep of light and a