I know how tough it can be to find the perfect black and silver nail design that suits your style.
Black and silver nails have a way of making you look bold and classy all the time, which is why I am a regular when it comes to fixing nails with a touch of black and silver.
Scroll down for a list of 62 elegant black and silver nail designs inspiration for your next nail appointment.
62 Stylish and Unique Black and Silver Nails
1. Acrylic Nails with Black Tips
This acrylic nail design with glitter and rhinestones is nothing less than amazing! It's both fun and simple.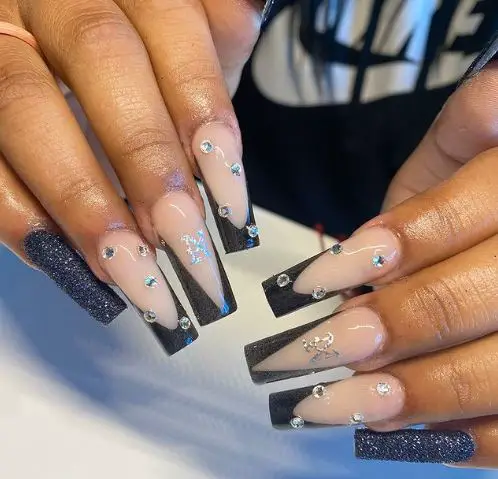 Image by @nailed.by.claraa via Instagram
2. Black and Silver Chrome Nails
Perfect short silver and black monochrome ombre nails.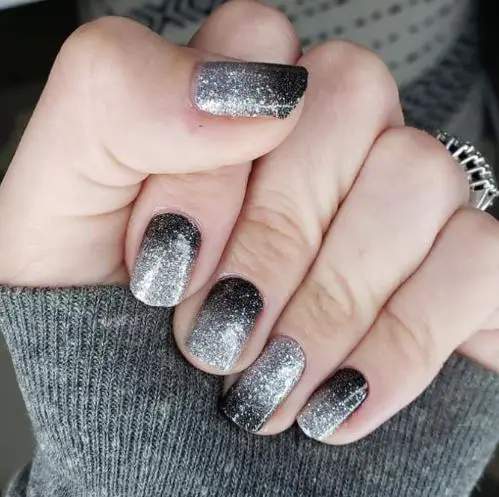 Image by @nikkis_fab_nails via Instagram
3. Black Nails with Silver and Gold Glitter
Medium-length acrylic nails with silver and gold glitter. Gives a classy appearance.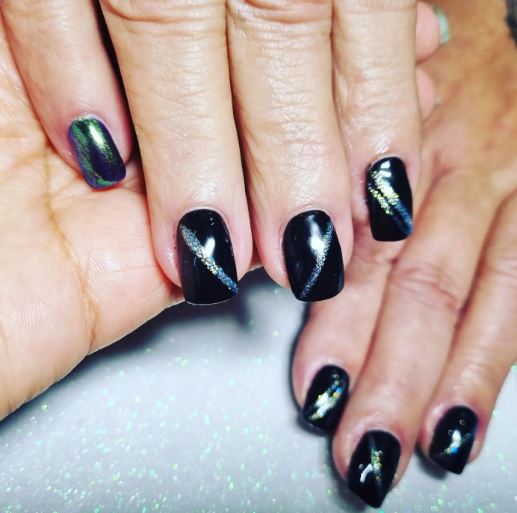 Image by @nailcessitybyjillian via Instagram
4. Elegant Black And Silver Manicure
This has the best black shade with an elegant marble silver design, making it perfect for any occasion.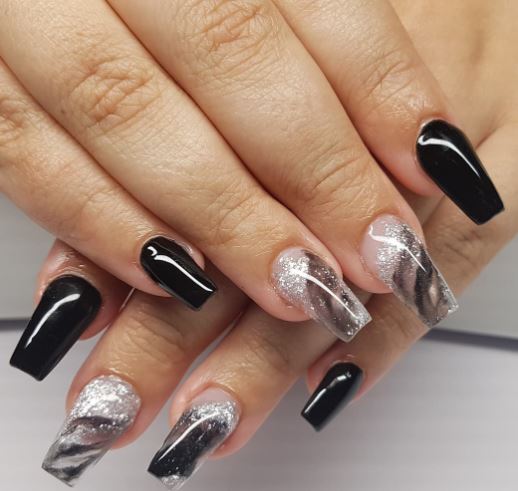 Image by @nails.by.erica.lincoln via Instagram
5. Short Black and Silver Coffin Nails
If you're looking for something exciting, this incredible nude manicure with black and silver paint will impress anyone.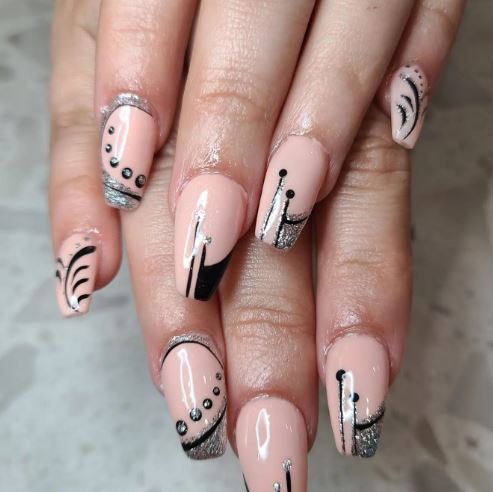 Image by @jt_justin via Instagram
6. Black Nails with Glittery Silver Details
This glamorous stiletto nail design with gold stones is one you should try. It is subtle yet eye-catching.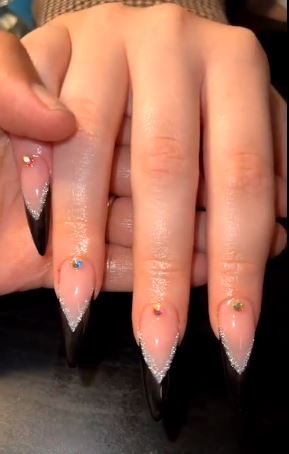 Image by @heavenlynailzbymaria via Instagram
7. Black and Silver Stiletto Nails
Take a look at this cool and minimal black stiletto nail design with a neat line of silver glitter.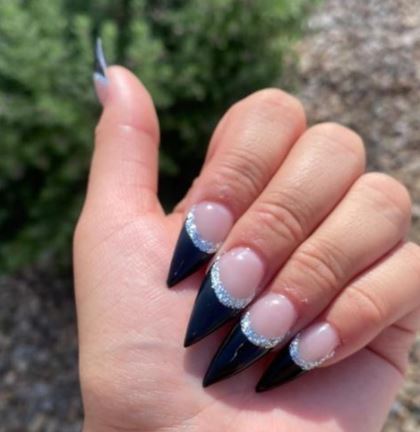 Image by @eunicesanchez.lc via Instagram
8. Black and Silver Striped Design
Black nails with sliver stripes never go wrong. This black and silver nail design is modest, bold, and breathtaking.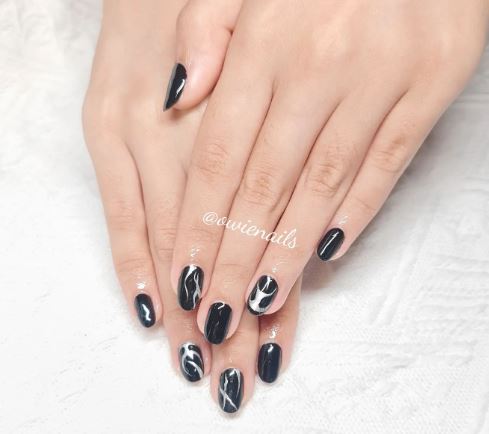 Image by @owienails via Instagram
9. Black and Silver Nails with Rhinestones
This nail art design screams elegance! The rhinestones on the ring fingernail make the design more amazing.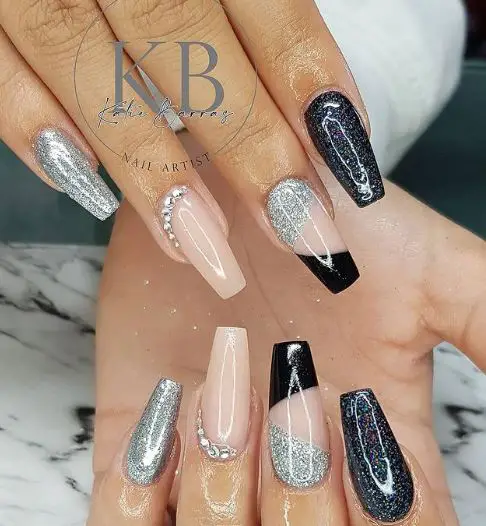 Image by @nailsby_katie_b via Instagram
10. Glittery Geometric Nails
Step out looking like a queen with these glitter-filled geometric nails.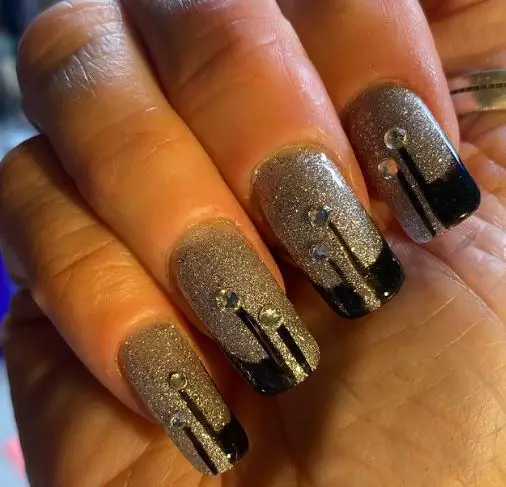 Image by @tlc_dezine via Instagram
11. Silver and Black Acrylic Manicure
Want to add glamor to your look? Then this black acrylic nail with silver glitter on the nude is all you need.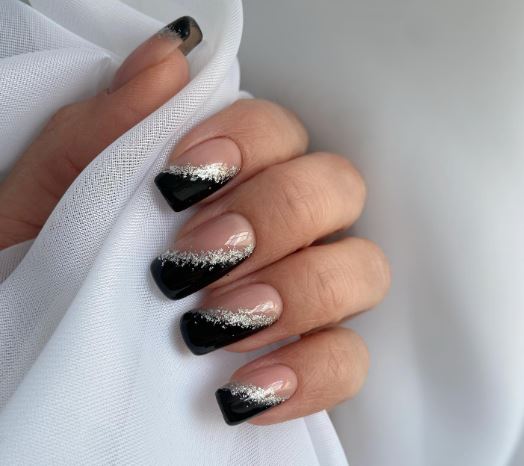 Image by @kasiia_naills via Instagram
12. Short Simple Black and Silver Swirls
This simple manicure has a peach base with stunning swirls of black and silver, with glitter on it that gives the look a brilliant glow-up.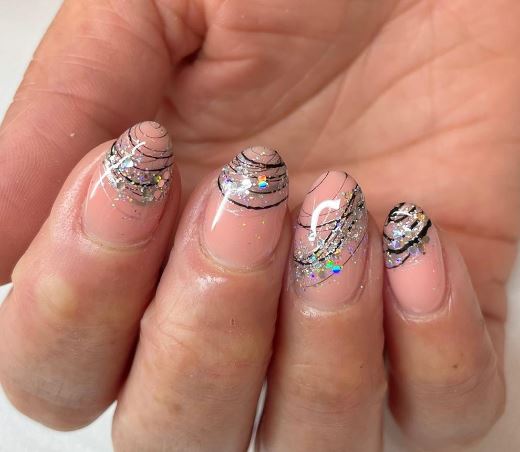 Image by @enailshuddersfield via Instagram
13. Easy Stylish Black and Silver Nails
Don't you just love this creative nail art? The fin-like silver pattern added to the black nails makes me love it more.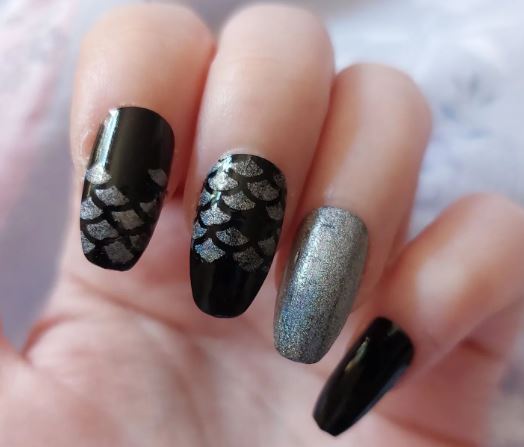 Image by @alexrosecanoe via Instagram
14. Black and Silver Acrylic Nails Construct
This black and silver design with black/silver french tips and silver glitter is making me feel good just by looking at it.
Image by @nailartbytamsin via Instagram
15. Silver Nails with Glossy Black Nail Polish
Super glossy black nail art with silver nail design and stones, ain't this cute?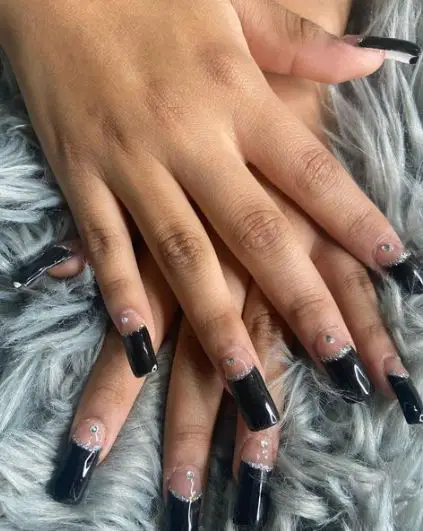 Image by @a1_beautystudio via Instagram
16. Black Frenchies
Square Frenchies with silver separating the nude and black. Show up ready with this beauty for that special event.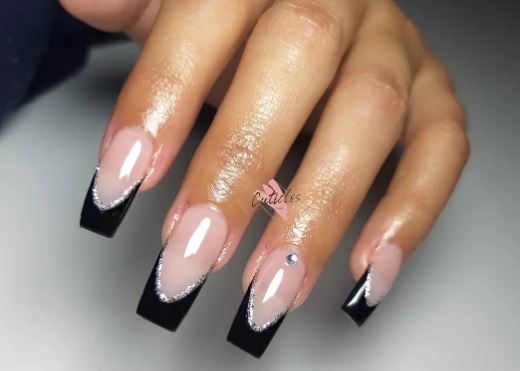 Image by @cuticles_01 via Instagram
17. Silver Stars
Sparkly silver nail art design with black glossy nail polish. Perfect!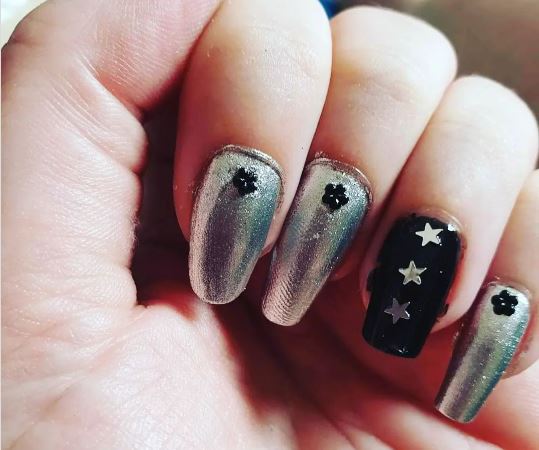 Image by @nail_bop via Instagram
18. Black Nails with Metallic Silver Base
Black nails with metallic chrome polish. This silver chrome nail is a perfect manicure for any girl.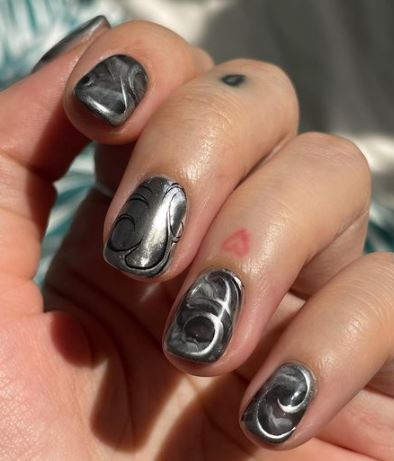 Image by @evilstudios.isla via Instagram
19. Elegant Black Matte Nails
Try out these astonishing matte black nails with silver glitter.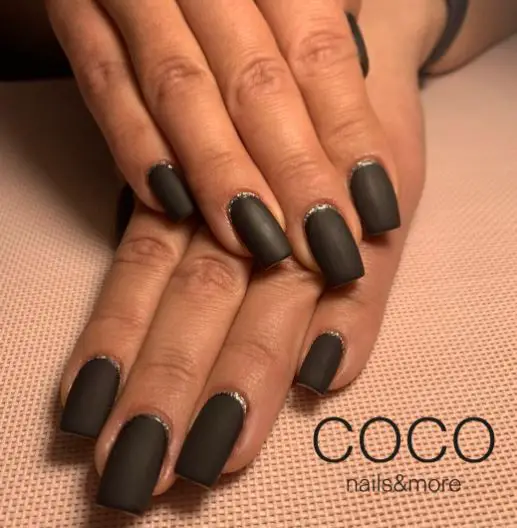 Image by @coconailsandmore.szeged via Instagram
20. Black Nails with Silver Gradients
This eye-catching black and silver nail design has silver-gold at the tips with defined black lines.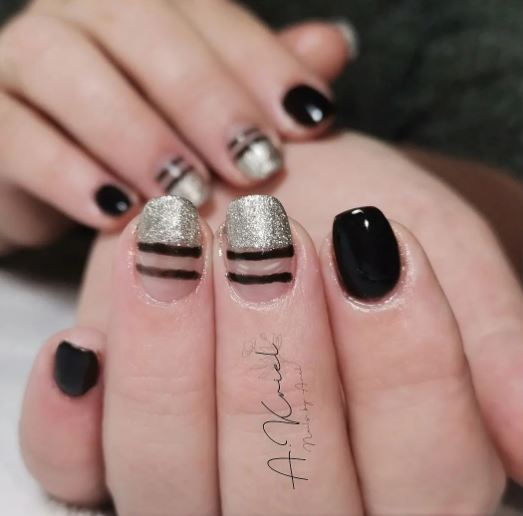 Image by @akriel_youngnailtech_lephalale via Instagram
21. Stylish Nails with Black and Silver Nail Design
Add this design with silver on one hand and black on the other to your list of nail designs to try out at home.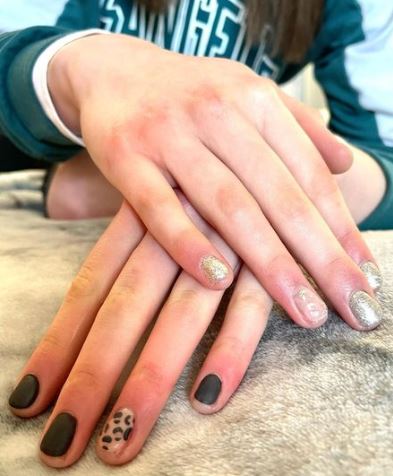 Image by @dreamanicure_uk via Instagram
22. Attractive Nails with Black Polish
Black nails with shiny black nail polish and silver tips designs, hello glamour.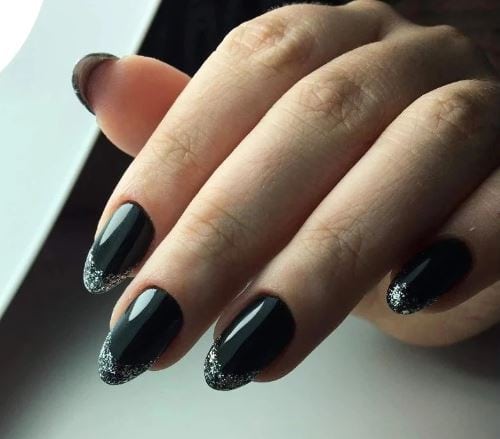 Image by @nails_emilia__ via Instagram
23. Matte Black Nails with Silver Glitter
This particular nail makes a statement and gives a modern appeal to your style. The silver glitter and rhinestones make the look shine.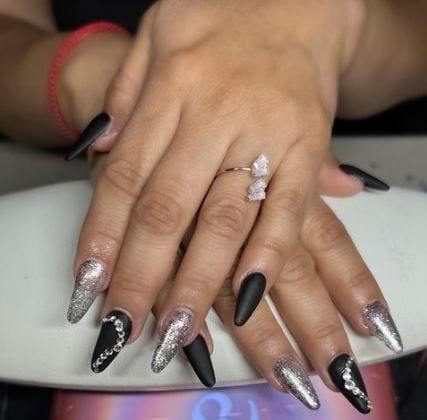 Image by @nailzzbydaniella via Instagram
24. Long Squared Nails with Shimmery Silver
Long squared nails with shiny black polish and colorful glitter and rhinestones. Beautiful, isn't it?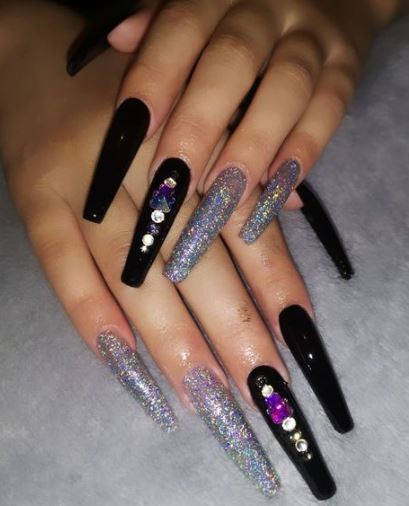 Image by @nailzbydes_ via Instagram
25. Black Nail Polish with Silver Glitter
This glitter-infused black manicure is a great choice for prom. It's going to make heads turn.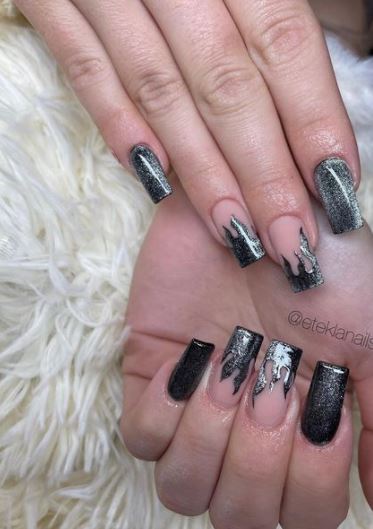 Image by @eteklanails via Instagram
26. Black Silver Nails with Elegant Design
I can't get enough of this black and silver nail art. The glitter, stones, and glossy nail polish work well together.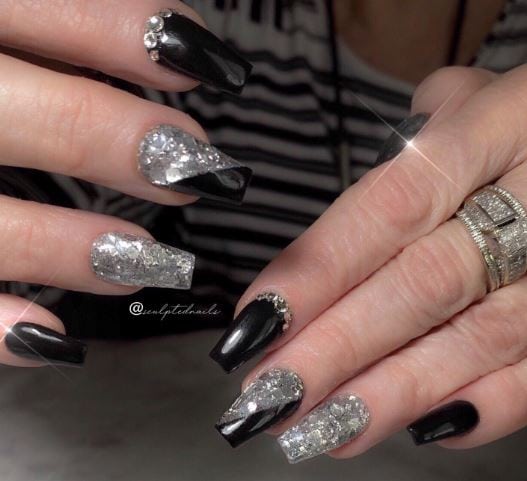 Image by @sculptednails via Instagram
27. Loose Glitter
Think natural nails are not attractive? Well, this nail design will work well on natural nails with all the glitter going on here.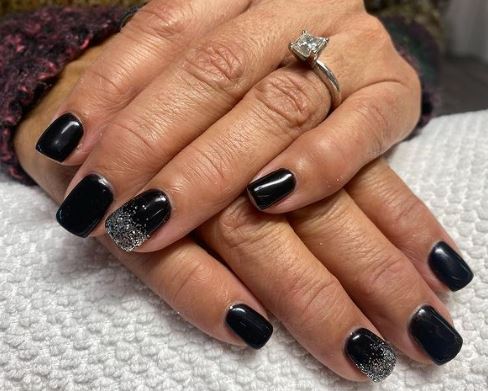 Image by @nailsbymikayla.w via Instagram
28. Black and Silver Glitter Nail
This manicure is just plain gorgeous. The lovely silver glitter stripes add a glamorous feel to the black nail polish.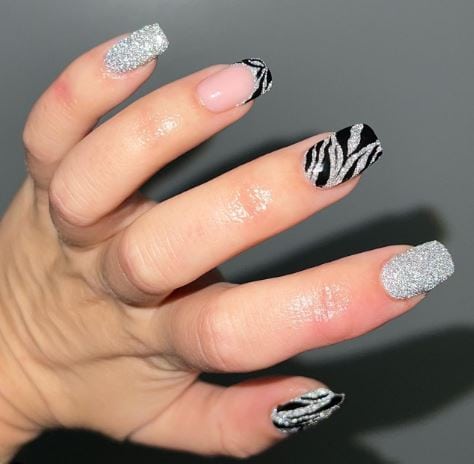 Image by @domnaileditt via Instagram
29. Silver Chrome Nails With Rhinestones
Creative black nails with silver patterns, rhinestones and glitter.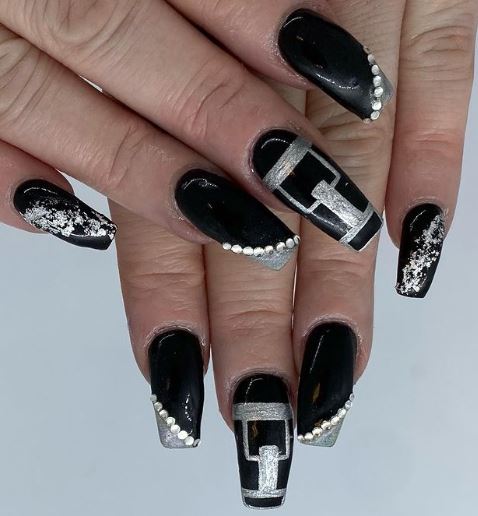 Image by @nailtrixcliftonpark via Instagram
30. Elegant Nails With Black Frenchies and Charms
This charming nail art has a nude base with black Frenchies beautified by cute butterfly and heart charms that can make you feel good at a glance.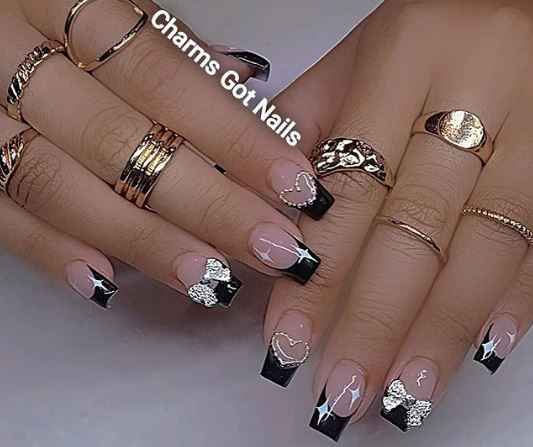 Image by @charms_got_nails via Instagram
31. Black Nail Design with Silver Stripes
These glossy black and silver nails with silver foil and a silver stripe on the third nail look incredible.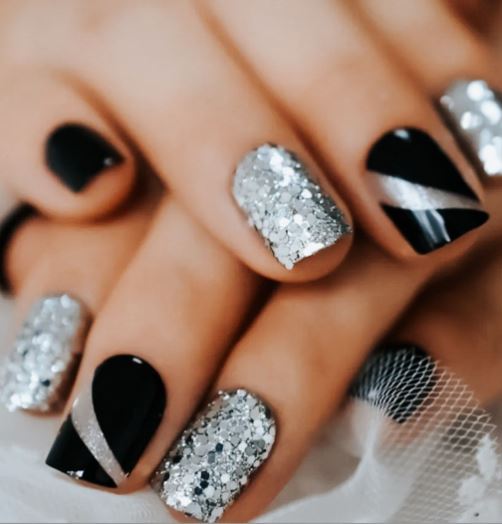 Image by @dvora_institut via Instagram
32. Black Nails with Bold Accent Silver Glitter
You can never get a boring nail design and these short coffin nails with black and silver designs on nude are proof of that.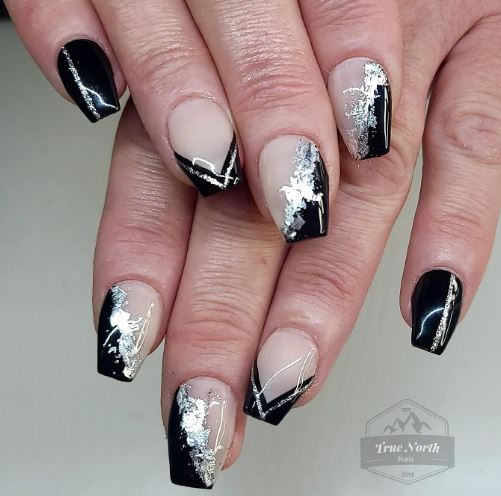 Image by @truenorthnails via Instagram
33. Black and Silver Nail Art
This cute glitter tip nail with a floral pattern on the third nail is the inspiration you've been looking for.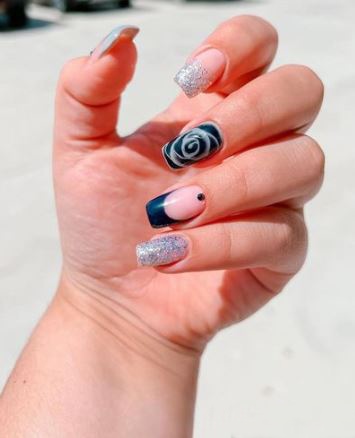 Image by @pamperedbeautybarspa via Instagram
34. Silver Nail Design with Acrylic Gel
Acrylic long silver nails with a butterfly on the third finger, and black designs at the tips... so pretty.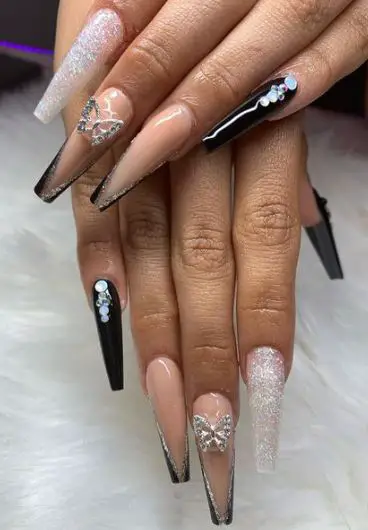 Image by @nailsby_niidiia via Instagram
35. Silver Glitter Nails
Looking for ideas for prom? Try these lovely silver glittery nails.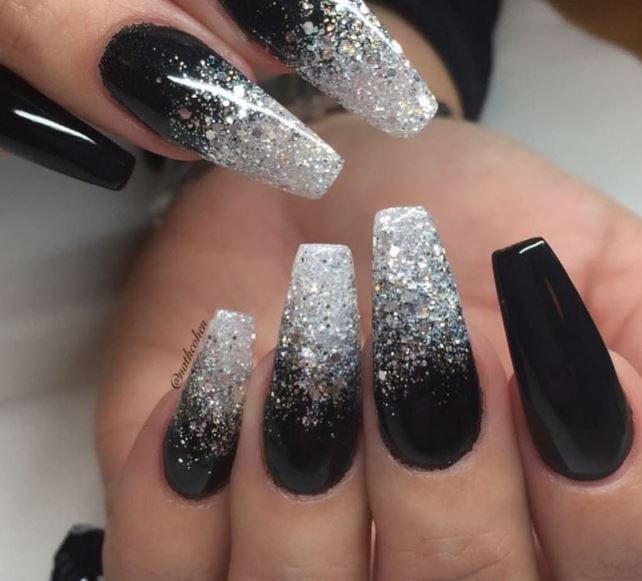 Image by @xoBriarRose via Pinterest
36. Attractive Silver Nails
These clean silver nail designs with glitter tips are bomb!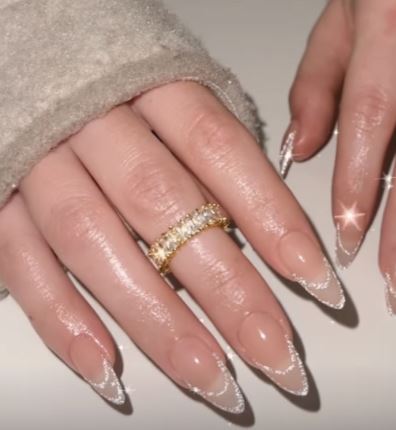 Image by @labellavita29 via Pinterest
37. Simple Coffin Nails with Black Polish
Glossy nails with black polish and silver glitter-infused line.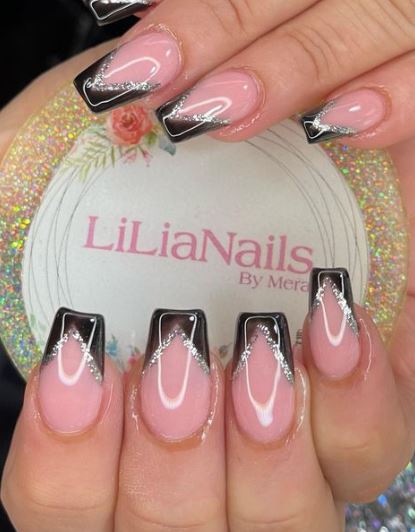 Image by @lilianails956 via Instagram
38. Silver and Black Nail Art
This has a lot going on, but the marbles make the biggest statement.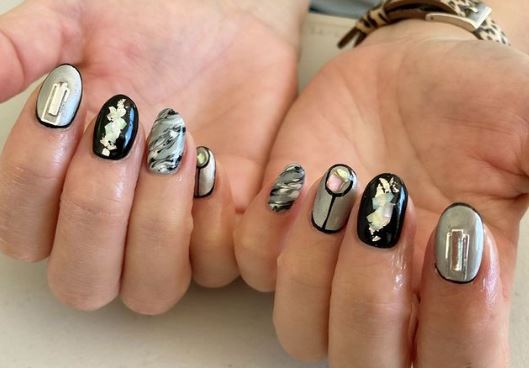 Image by @nails_rhodes_sydney via Instagram
39. Black and Silver Chromed Nails
Clean nude stiletto nails with black tips and silver lines.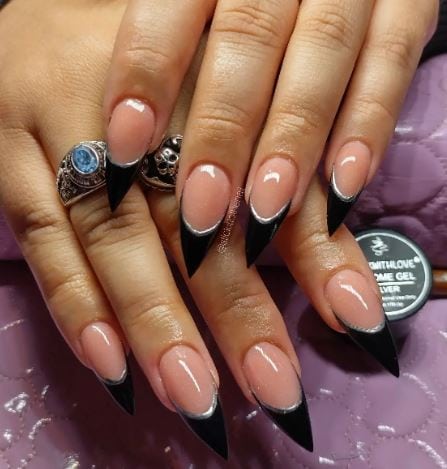 Image by @stickittothenail via Instagram
40. Black and Silver Nails with Simple Coat
The black silver nail designs on one nail elevates the whole look.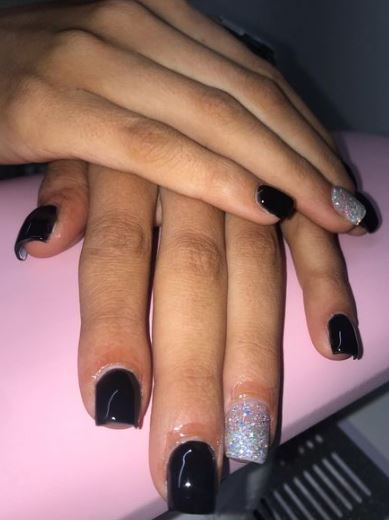 Image by @nailsbyaysiah via Instagram
41. Short Black and Silver Nails
Flowery and shimmery, this is pretty cute.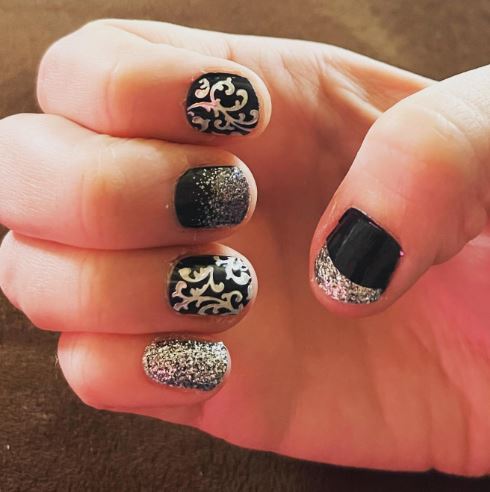 Image by @mrsashfiller via Instagram
42. Black Long Nails and Silver Tips
Black long stiletto nails with silver foil details.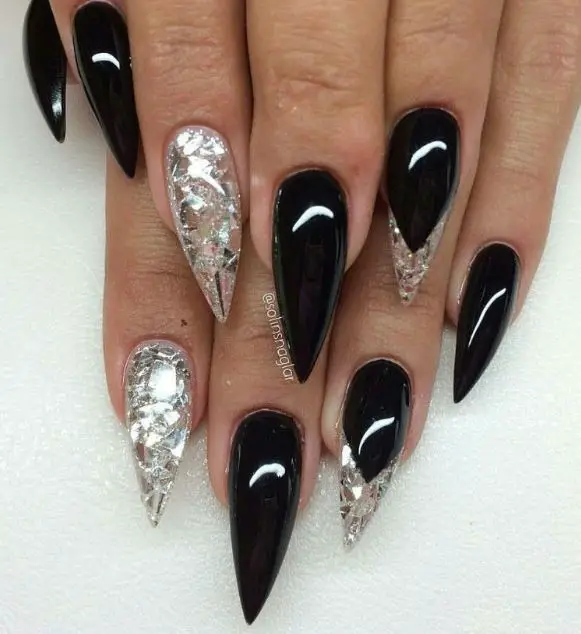 Image by @bkwalker993 via Pinterest
43. Unique French Manicure
Nude manicure with wavy black and silver lines. Can't wait to get this.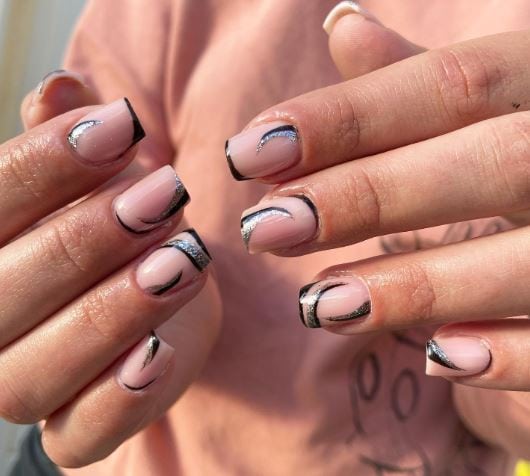 Image by @charlene_nails_and_co via Instagram
44. Cute Black Nail Design
The bee-like silver nail designs added to this nail is both fun and creative.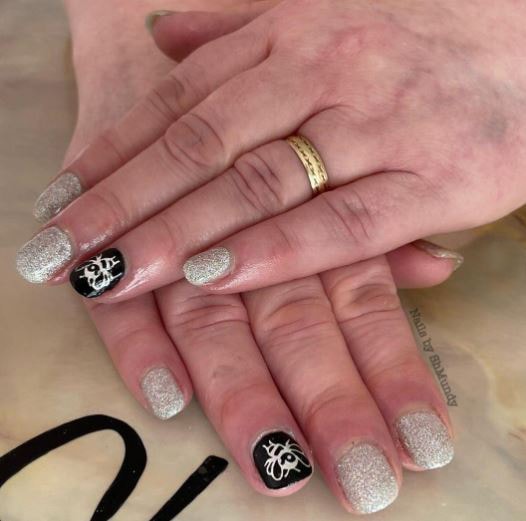 Image by @nailsbyshmundy via Instagram
45. Caviar Black Designs
Get these black caviar stiletto nails to stand out.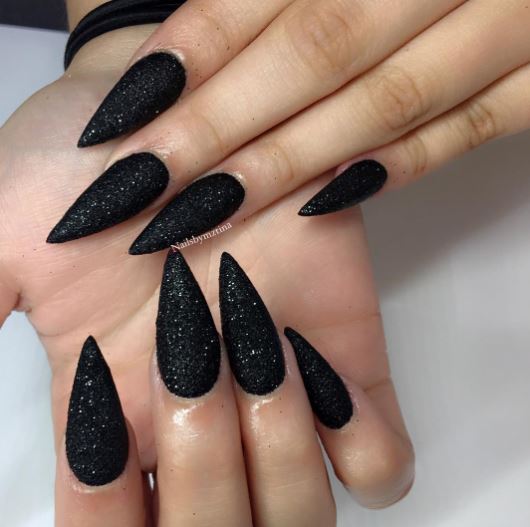 Image by @nailsbymztina via Instagram
46. Black and Silver Nails with Glitter
This is a creative look. The polka dots on the black and silver nail looks beautiful.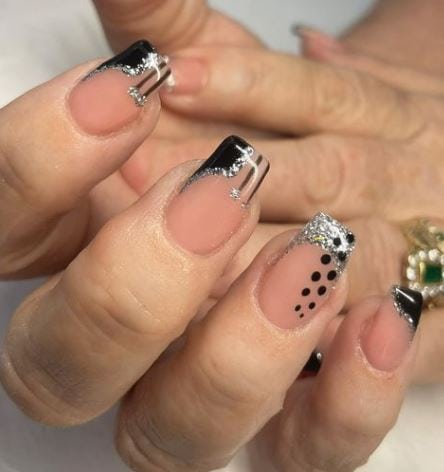 Image by @demijenkinsnailsandbeauty via Instagram
47. Shiny Black and Silver Nails
Black and silver nail designs on a nude layer with stars and stones.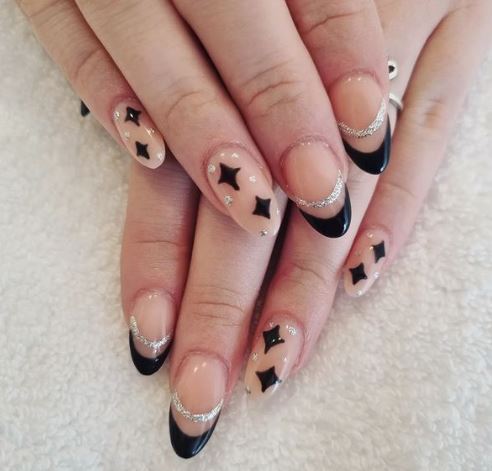 Image by @polisheddundee via Instagram
48. Black and Silver Accent Nail
Look classy with this silver nail design and its combination of leopard pattern and gold glitter.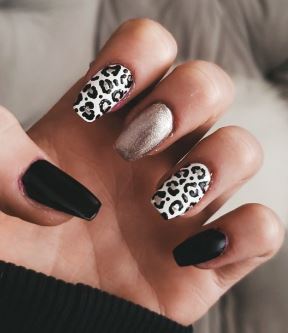 Image by @shalae_vantasse via Pinterest
49. Plain Black Coffin Nails
These plain long coffin nails with black chrome polish are less dramatic and provide a glossy black shade.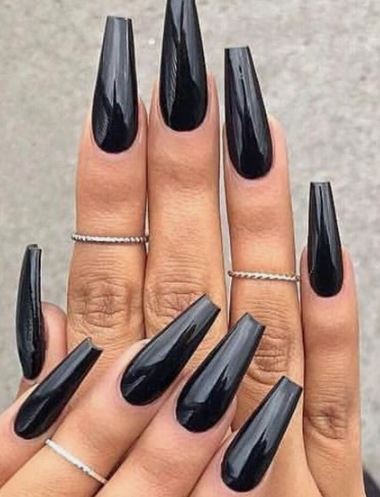 Image by @wattpad via Instagram
50. Bold Black and Silver Nail Art
The black nail polish used for this look is shiny and glossy and would go perfectly with any outfit.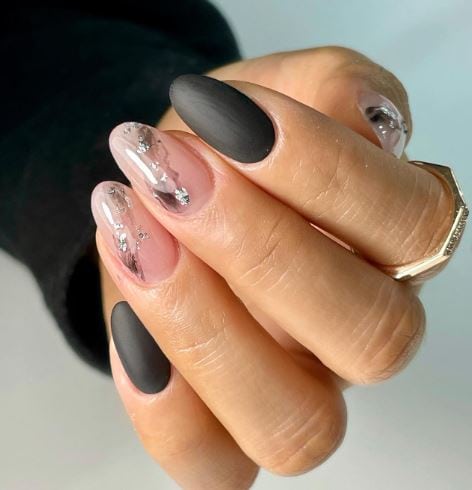 Image by @beautybyfrauline via Instagram
51. Best Black and Silver Nail Color Mix
These white and black nails with center-lined silver stones would be my go-to whenever I want to create that baddie look.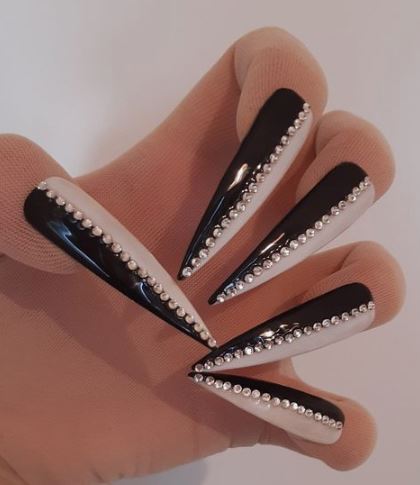 Image by @Etsy via Pinterest
52. Classy Manicure with Diamond Details
Long tapered square nails with diamond rhinestones details. Pick or pass?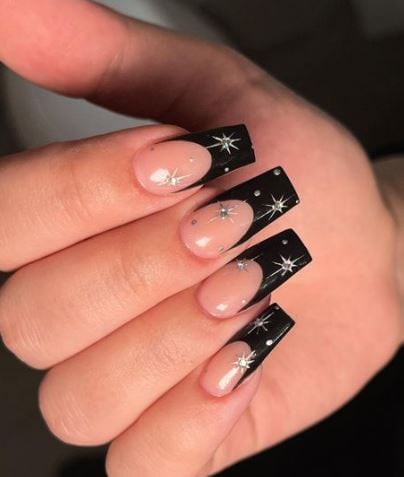 Image by @alyshanailartist via Instagram
53. Glitter Infused Mani
Wow. The silver nail designs here are everything. This look is daring, edgy, and captivating.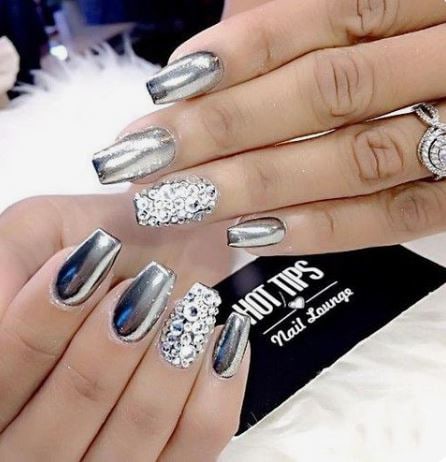 Image by @robynrihanna623/flickr.com via Pinterest
54. Black Chrome Nails for Work
This amazing manicure is minimal and perfect to stun at work.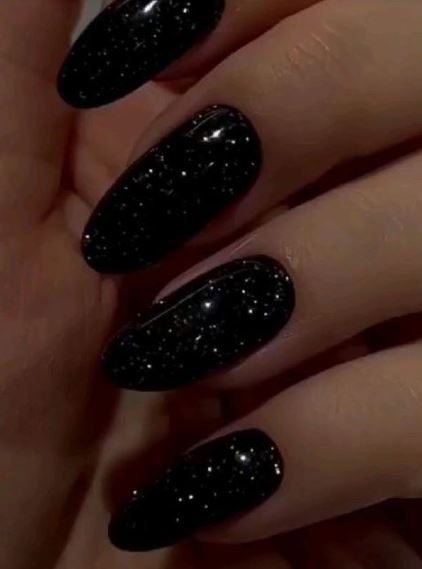 Image by @chachanaya06 via Pinterest
55. Amazing Black and Silver Nail Art
Check out these amazing black and glitter silver nail designs.
Image by @micheline248 via Pinterest
56. Galaxy Black and Silver Nails
This black and silver nail reminds me of the milky way with all the glitter going on.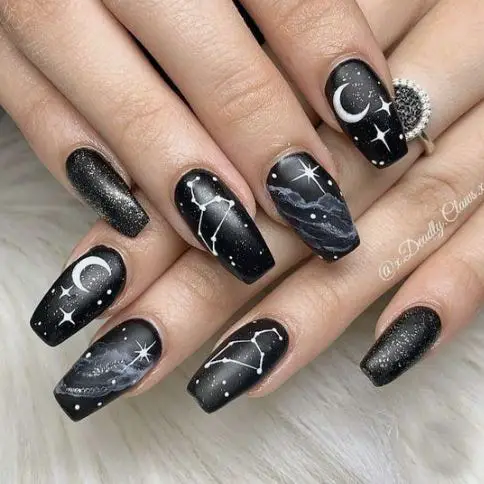 Image by @claudianicolebeauty via Pinterest
57. Silver Nail Designs for Working Women
Silver nail designs with faint black leopard pattern. Gives a comfortable and professional look.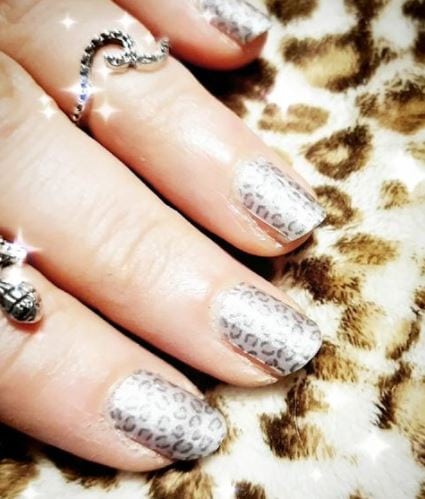 Image by @bethechange1974 via Instagram
58. Black Nails With White Paint
This black nail design with white and silver lines is a good choice if you want to add some color to your black and silver nail designs.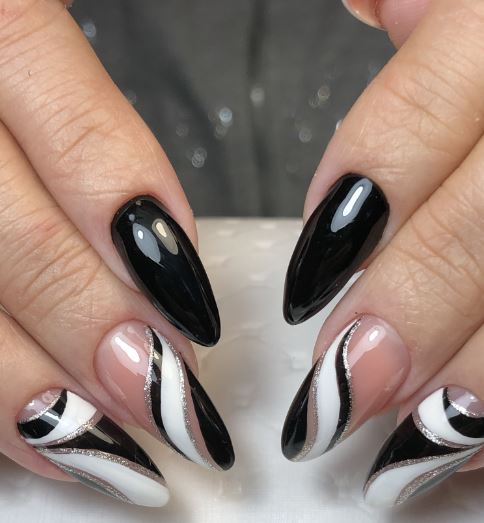 Image by @Leyla1976Aksagova via Pinterest
59. Silver Ombre Nails
The pink and white ombre nails are beautiful and the silver accent nail makes the look pop.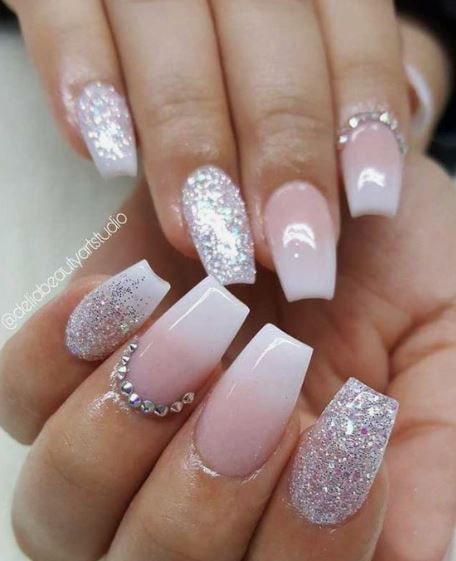 Image by @itakeyou via Pinterest
60. Silver Stamped Black Nails
Black chrome nails with glitter on the sides, perfect for a formal date.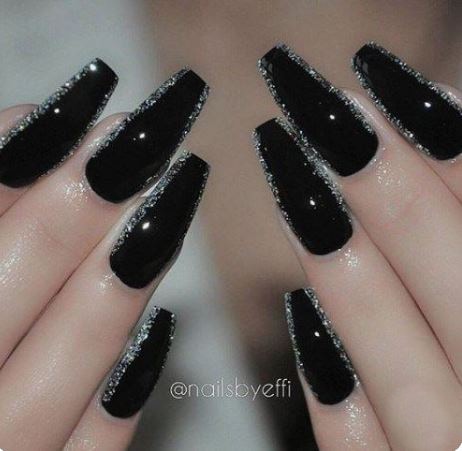 Image by @Coffee_Ecstasy via Pinterest
61. Long Nails With Shiny Black Nail Polish
These long stiletto nails with shiny black polish look so good.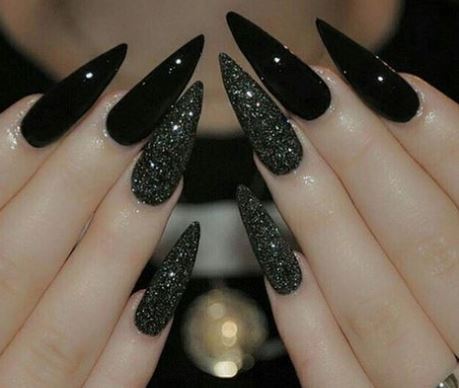 Image by @ShopStyle via Pinterest
62. Black Stiletto Nails With White Polka Dots
Love these black stiletto matte nails. The polka dots and butterfly makes the look stand out.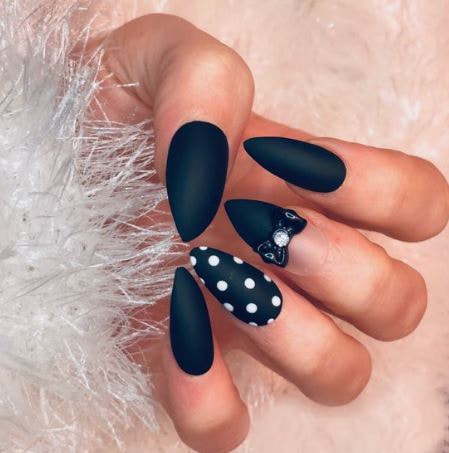 Image by @etsy_UK via Pinterest
Do you want the perfect balance of black and silver for your next nail appointment? Just pick a style and tweak some details if you like, and you're good to go.