If you're as obsessed with cats as I am, then you know that everything about cats exudes cuteness. From their little paw prints to their cute whiskers, they are a delight to have around. What's even better? their cute features look just as good on nails.
I've done plain black nails that have been made extra cute just by adding little paws, and kitty whiskers. After that, I had to go the extra mile with a complete cat outline on my nails. And boy, am I glad I did.
Cats have so many cute details, which makes nails with cat designs always stunning. From little paw prints to complete facial features, here are 55 feline nail designs for a cute and striking appearance.
Cat Nail Designs For You To Try
1. Nude and Black Cat Nail Art Designs
Nude and black always look awesome. The nude nails feature black tips with one cat accent nail on each hand. One finger has a design of a squatting cat, while the other has two paw prints on the ring finger nail.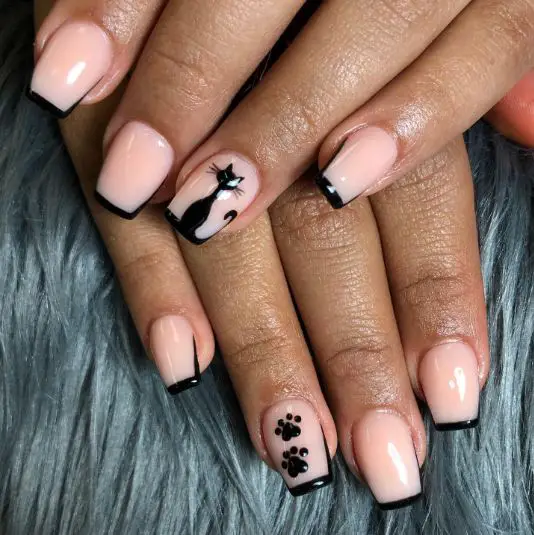 Image by @sassysglam_ via Instagram
2. Lilac Cat Nail Design
Lilac has a calmness to it. If you add a drawing of your cute kitty to your lilac nails, you've succeeded in creating a nail design that is capable of brightening your day with just one glance.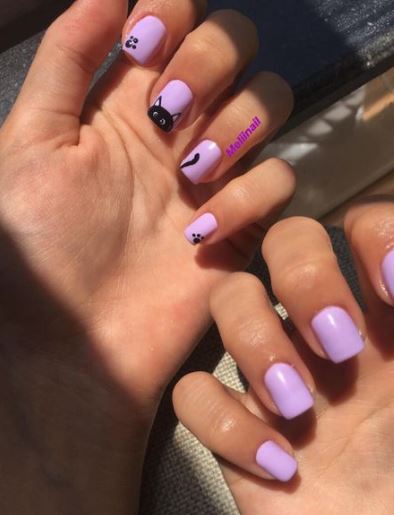 Image by @meliinail via Instagram
3. Cute Coffin Meow Cat Nail Art
This is the cutest thing I've seen all day (sniffs in cuteness). The pastel pink nails have two cat nail designs added. One nail has a single cat with pink bow, while the other nail features the cutest triplet cats with large dark eyes. This will remind you of when your kitty was a baby.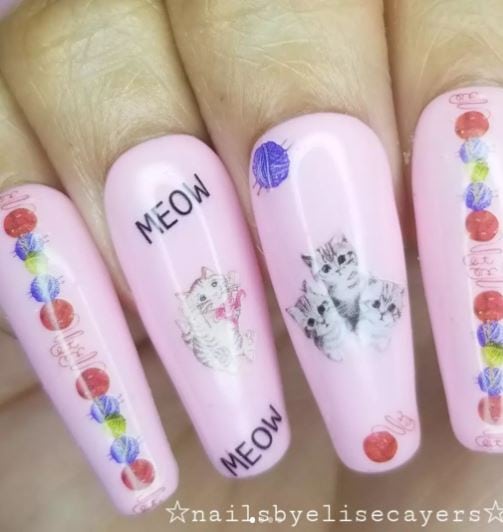 Image by @nailsbyelisecayers via Instagram
4. Nude and Green Cat Nail Designs
Cats are very curious creatures, hence the expression, "curiosity killed the cat". This nail design features a peeking cat on a nude background, and it looks super cool and chic.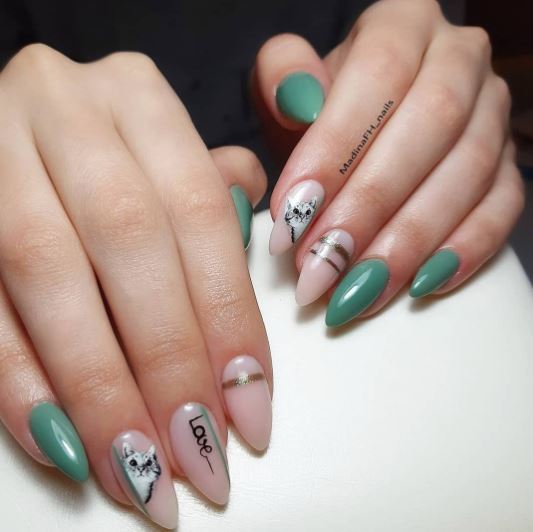 Image by @madinafh_nails via Instagram
5. Ash Accent Cute Cat Nail Designs
If you're not a fan of acrylics, this is a nice nail inspiration for you. The natural nails are painted with nude nail polish. The thumb has an ash accent nail with nude-colored paws on it.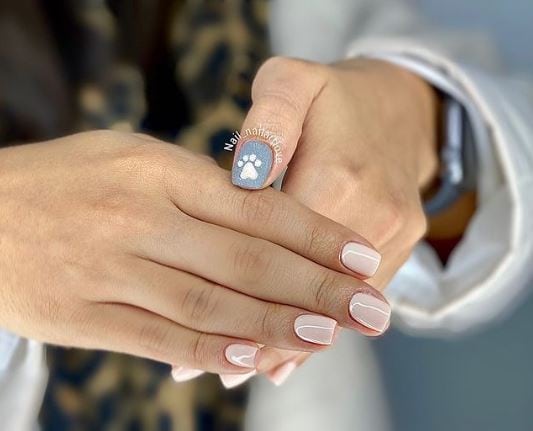 Image by @nail_nailartlove via Instagram
6. Pink Shimmer Cat Nail Art
The cat on this pink shimmer nails looks like it just stepped straight out of Disney land. The happy cat is done on white background. The little paws will make the cat nail art look better than it already does.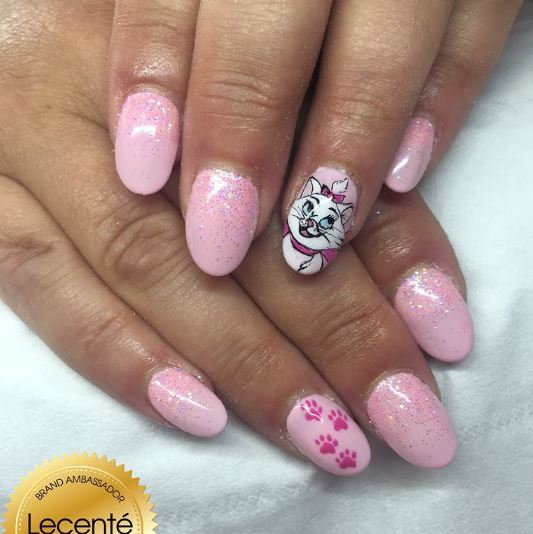 Image by @amandatrivett via Instagram
7. Minimalist Cat Nail Designs
With your white and black nail polish, you can DIY this cat nail design. All you have to do is carefully paint your nails white, then draw your cat using a thin brush and black polish.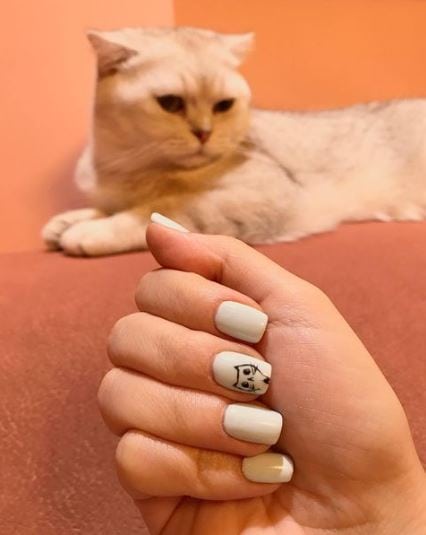 Image by @chilli.and.sushi via Instagram
8. Cute Kitty Nail Art
This cute kitty nail art is done with pink and white nail polish. I love the detail and the heart accent nails added to the nail art.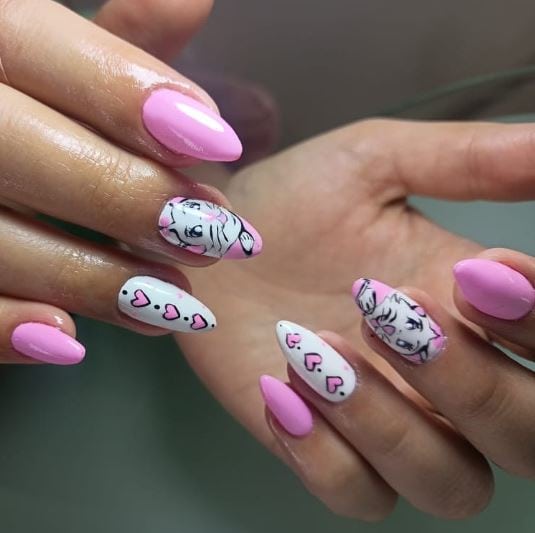 Image by @maysbeautyspa via Instagram
9. Black and White Cat Nails
Since cat nail designs look really cute, this makes them suitable for kids' nails. This cute kitty nail has white and gold kitties that are pretty beyond words.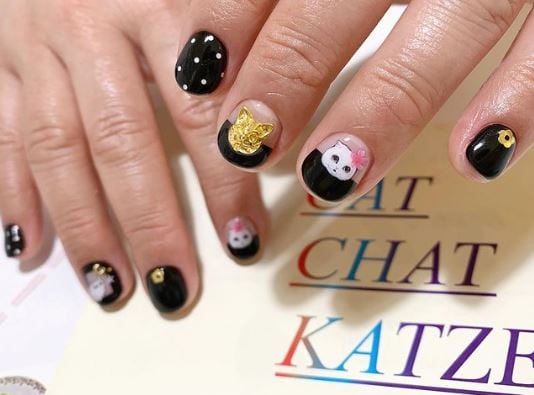 Image by @nail_lab_toronto via Instagram
10. Black and White Speckled Cat Nail Designs
Three cats are depicted in this cat nails with different patterns. One black cat is drawn with zig zags, the other is done with dots, and the last is done with black thick lines.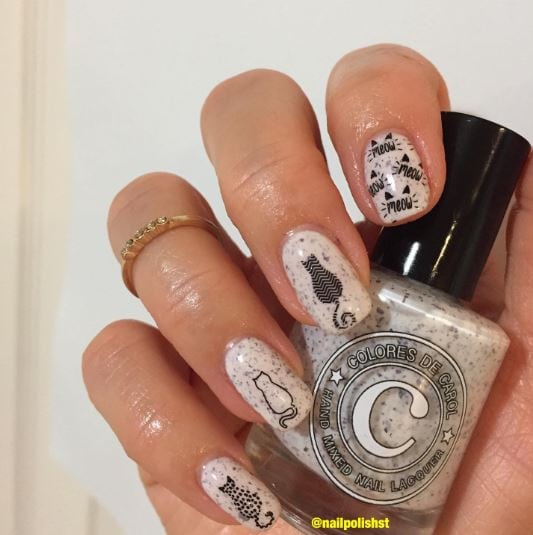 Image by @nailpolishsts via Instagram
11. Night Stamped Kittens
Need cat nail designs for Halloween? This nail features different black cats that are stamped on a snowy white background.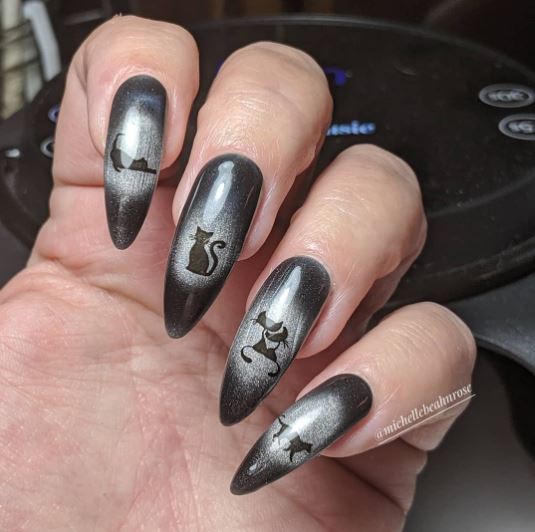 Image by @michellebeahnrose via Instagram
12. Varying Kitty Cat Nail Designs
If you're a cat fanatic, you should get this done. The cute cat nail designs feature different cats. I love the contrasting colors of the cats and how they work together in bringing these pretty nails to life.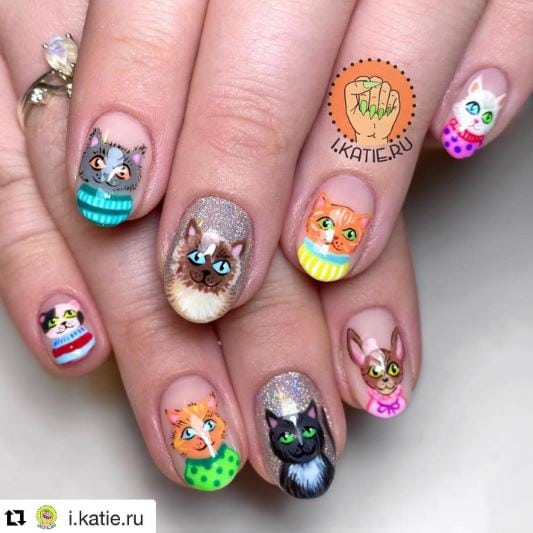 Image by @scratchmagazine via Instagram
13. Elegant Cat Nail Designs
Pink nails with an elegant black cat on them: this is super simple and cute. The cute cat nail is a versatile one you can rock to any occasion and would look absolutely stunning for a lovely day-to-day look.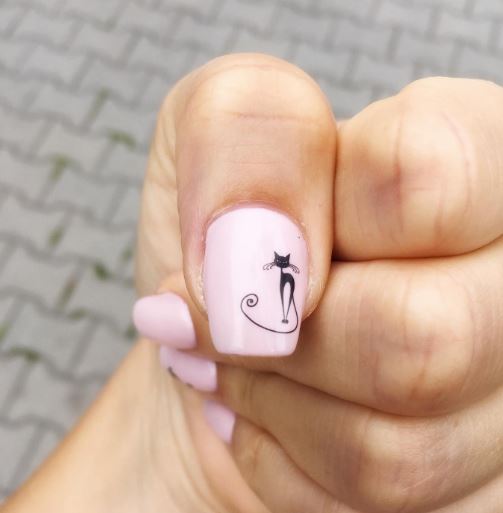 Image by @sir_blueberry via Instagram
14. Cat Nail Design With Green Eyes
This is a fun nail art that features a nice french manicure on nude nails. The index nail has lots of shimmer with paws, while the ring nail has a slightly scary kitty cat with green eyes. If you're tired of always rocking gloomy nails for Halloween, this is a great option to try.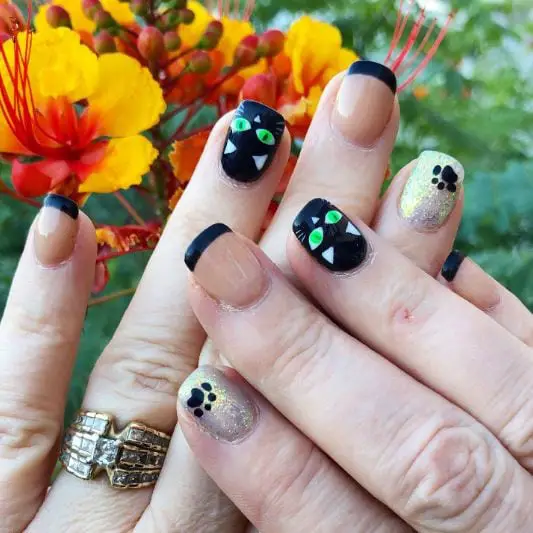 Image by @pediloungenails via Instagram
15. Halloween Kitten Idea
This cat nail has a dark background with a white cat resting on a spooky pumpkin. Want to rock cat nail designs for Halloween? Go with this.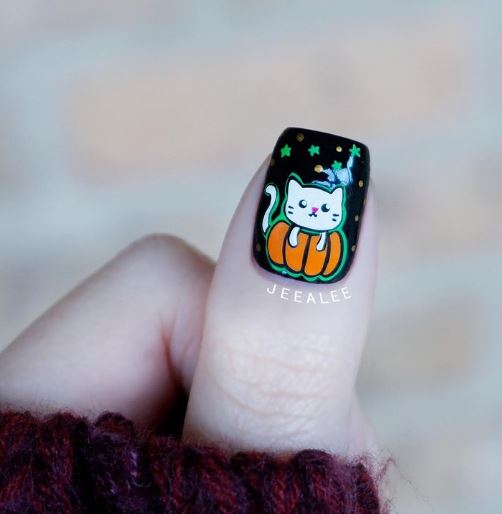 Image by @jeealee via Instagram
16. Pastel Cat Nail Designs
I love the paws and whiskers party going on in this kitty nails. The thumb has a kitty cat outline, the other fingers are filled with paws and whiskers. Don't have time to get into the detail of these nails? You could use nail wraps instead.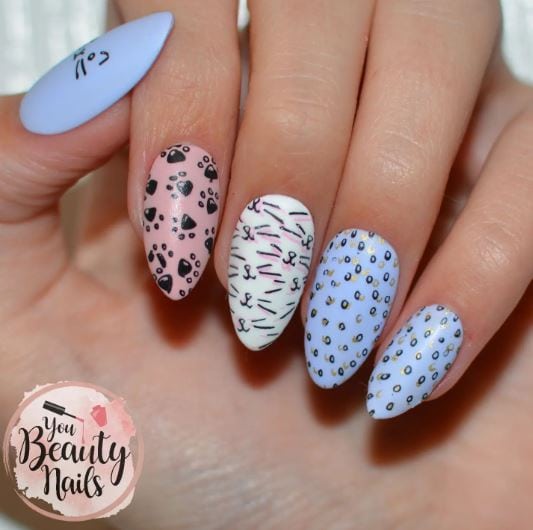 Image by @youbeautynails via Instagram
17. Emerald Metallic Cat Nail Designs
The bearded cat nail designs on these metallic nails are so cool and unique. This is a lovely manicure design for the celebration of saint Patrick's day.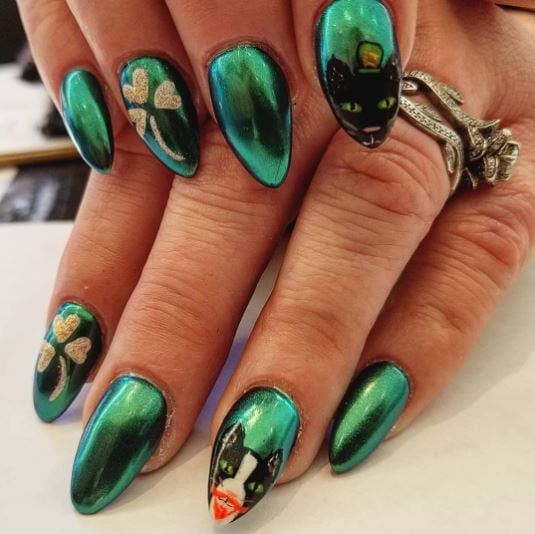 Image by @nikmonroee via Instagram
18. Pink and Orange Cow Print Kitty Nails
Hello kitty cat nail designs are making an astonishing come back and I'm all for it. Cow prints are added to the cute cat nail design and it looks prettier than ever.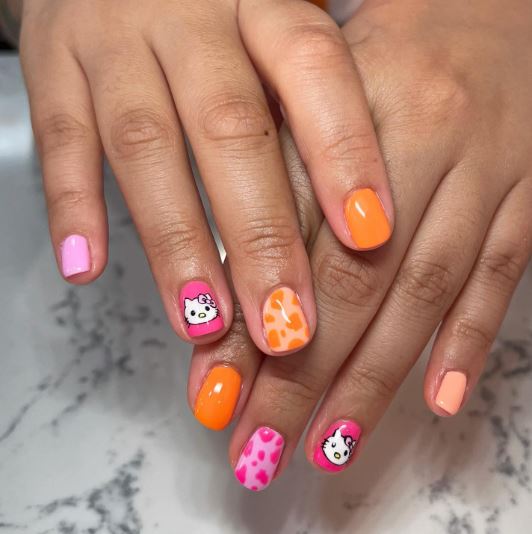 Image by @marnaenaenails via Instagram
19. Kawaii Cat Nail Art
These long nails scream baddie. So if you're a baddie that loves cats, you should try this out. The nail design is devoid of a cat drawing but cute kittens are placed on the nails in form of accessories.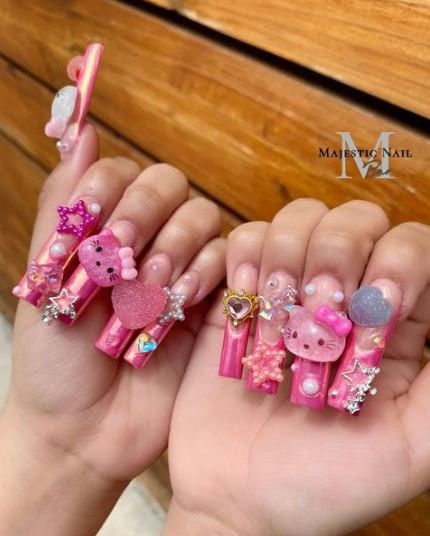 Image by @majesticnailbar_ via Instagram
20. Hot Pink Cat Nail Art
Hot pink nails are the best nail color if you want to make attention-grabbing nails. A kitty accent nail design is added to one hand, while the other has a heart you design on it.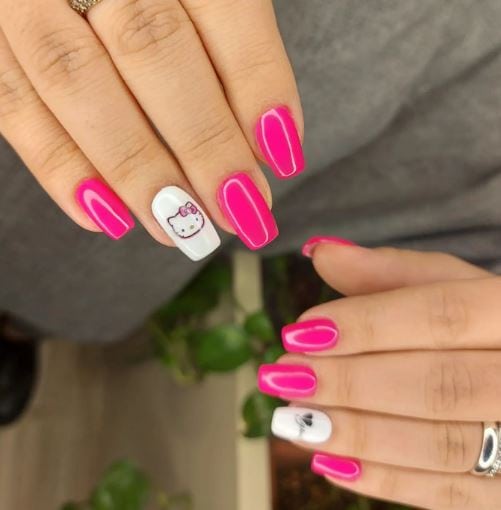 Image by @mahsaa_nail.designer via Instagram
21. Transparent Cat Nails
A transparent acrylic nail set is used to bring this cat nail art to life. It features nude nails at the base with cute cats on two fingers. The white and black cat nail art is beautified by red rhinestones that look gorgeous, to say the least.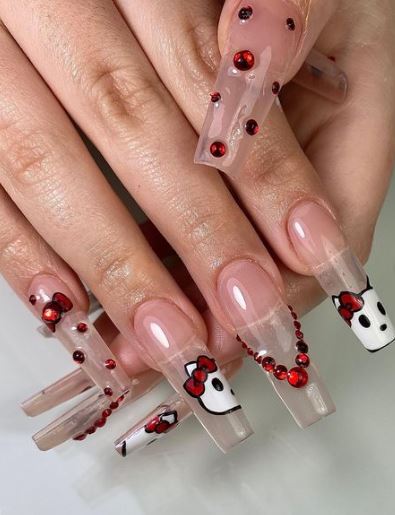 Image by @fsnaildit via Instagram
22. Kittens Tip Cat Nail Designs
Except for the black cat added to the tip of this pale yellow design, this is a pretty subtle nail art. The middle fingernail is the lightest shade of pink and it features cute pink paw prints.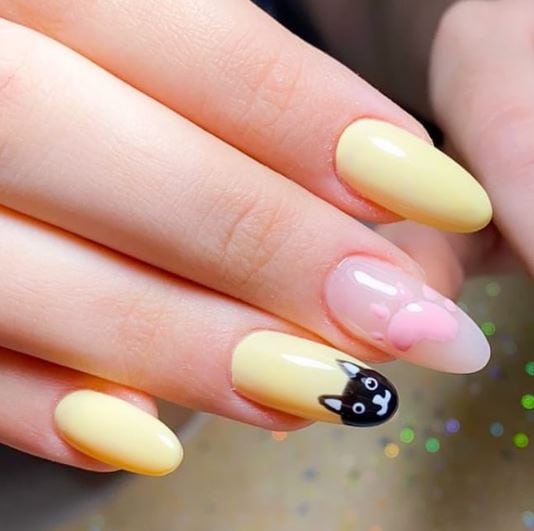 Image by @chaledasunhasoficial via Instagram
23. Pastel Blue Cat Nails
These pastel blue cat nails look dreamy. Each nail features a different design, but my favorite is the design on the middle finger which depicts a black cat sitting on the moon. Blue, black and white work extremely well together here, and I can't wait to get myself a similar cat nail art.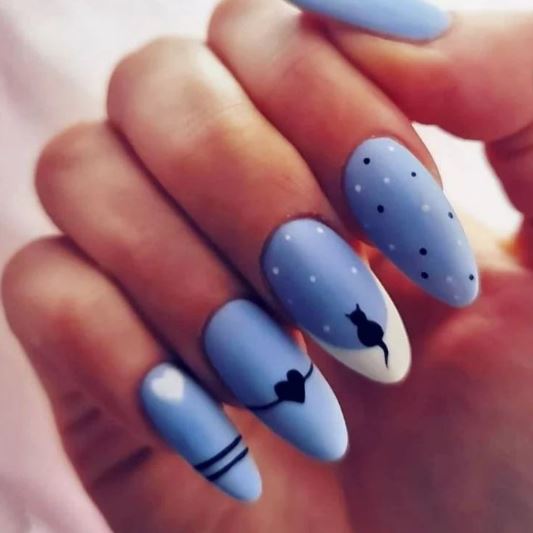 Image by @houseofbeautyofficial via Instagram
24. Spider and Cat Nail Design
The iridescent shimmer of this nail polish is out of this world. The nail has images of black cats chasing spiders. This is a creative and fun nail design to try out if you're big on spookiness.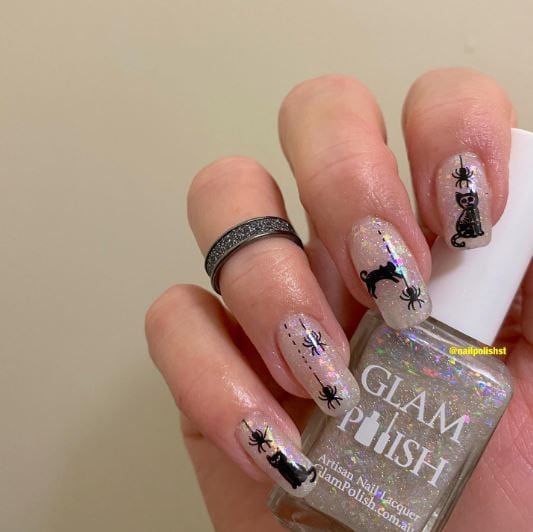 Image by @nailpolishsts via Instagram
25. Rainbow Cat Nail Design
I love this cute and delightful cat nail art. A curious wide-eyed cat is drawn on the ring fingernail, with rainbows and clouds on the other nails.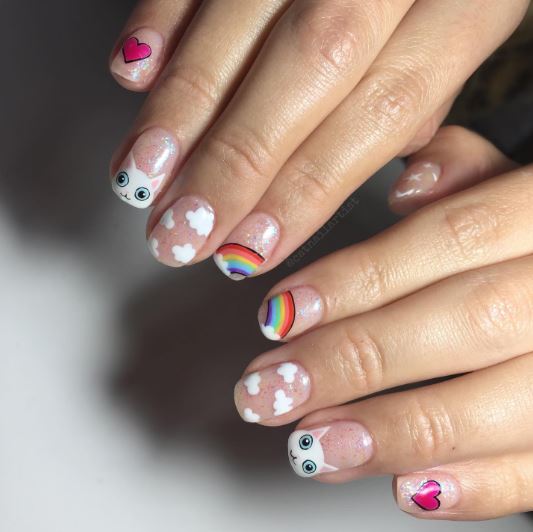 Image by @catnailartist via Instagram
26. Long Pastel Paw Nails
Your cat nail designs can be made to look chic and classy. Doubt that? Take a look at this. These long nails look extra chic, the ring fingernail has cute tiny paws all over that are just too purr-fect for words.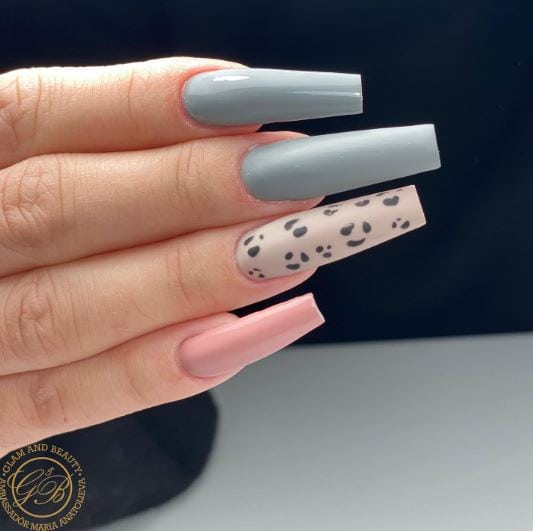 Image by @nobrandbeauty via Instagram
27. Peach Cat Nails
One way to create cat nail designs that exude pure beauty is by adding cat legs and paws to your cat nails. This features cat legs on two nails with two cute little cats on the other nails.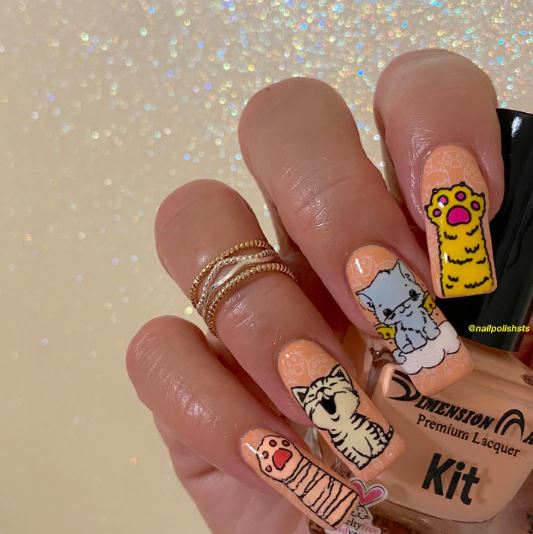 Image by @nailpolishsts via Instagram
28. Deep Mint Cat Nail Designs
Is this the prettiest shade of green or what? The mint green nail designs have a beige accent nail with the silhouette of a cat at rest on it. Want to make these cat nail designs look even better? Add a little glitter for extra shimmer.
Image by @avaanail via Instagram
29. Yellow Cat Nails With Ginger Cat
Don't you just adore the chubby cat drawn on these white base nails? If you need fun and sweet cat nail ideas, look no further because this is the best you'll get.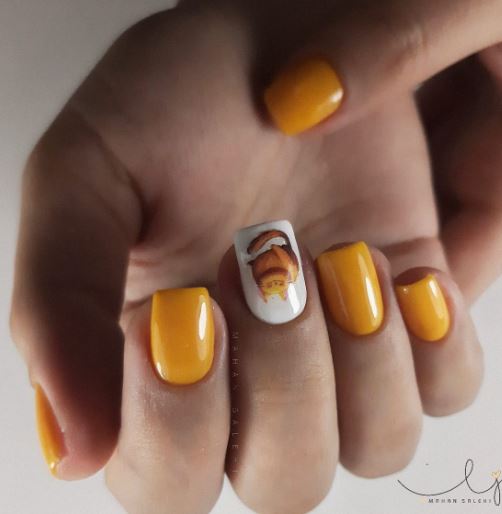 Image by @mahan.nailartist via Instagram
30. Grumpy Cat Nail Art Designs
Have you noticed that the grumpier they are, the cuter the cat is? A grumpy cat design is done on these blue nails and it looks super cute and charming.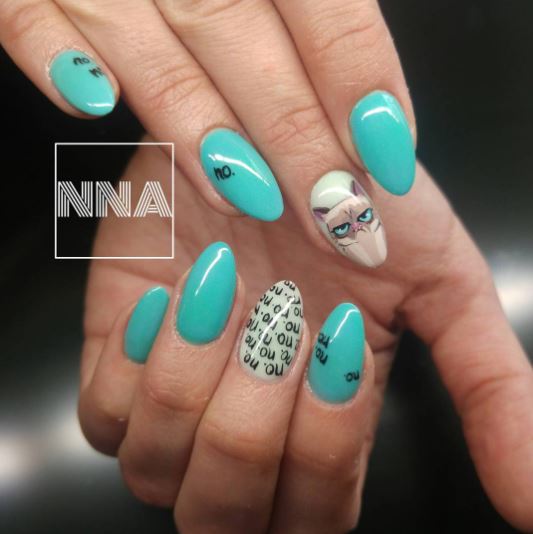 Image by @nna_naomynailart_official via Instagram
31. Blue and Pink Gel Polish
The gel polish used here make this paw print look fresh and fun. I love the subtle vibe going on here.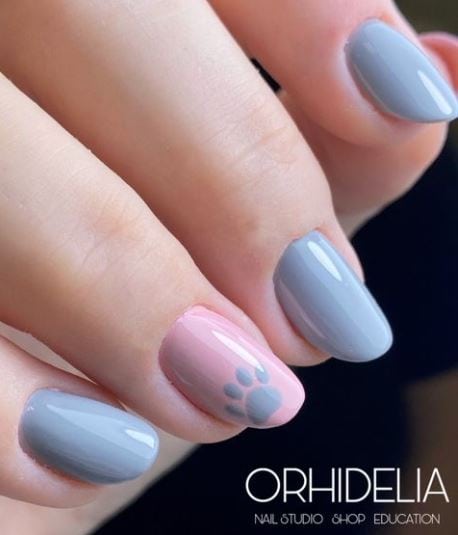 Image by @nails_by_orhidelia via Instagram
32. Purple French Manicure Cat Nail Designs
I didn't see this nude nails with purple combination coming, but it works so well here. The paws have a heart at the top, which means that our kittens leave a footprint in our hearts forever.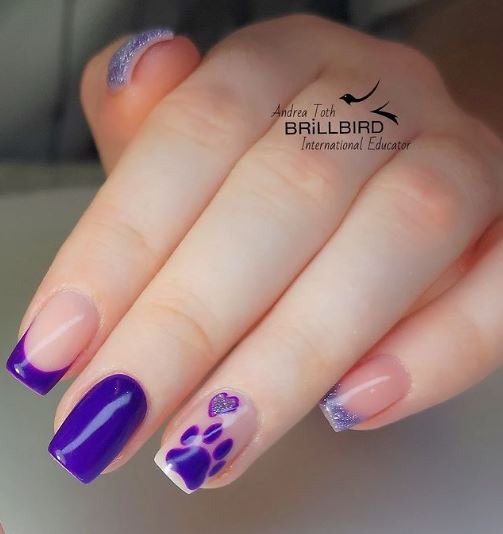 Image by @velvetnailsbyandy via Instagram
33. Glitter Paws Cat Nail Designs
This is a simpler take of paw on nails. The navy blue plain nails have a glitter-filled nail on the ring finger that looks extra lovely.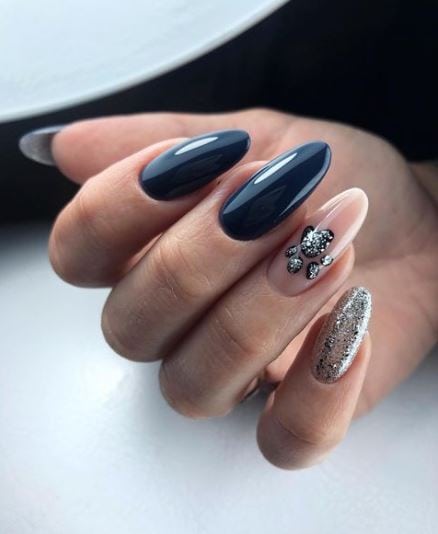 Image by @nailed.it.by.kk via Instagram
34. Print On Wet Cement Cat Nail Art
The black prints on the shimmery ash background make this nail design look like a cat has stepped on wet cement. Love the sunset design on the thumb? You can get a similar design on nail wraps.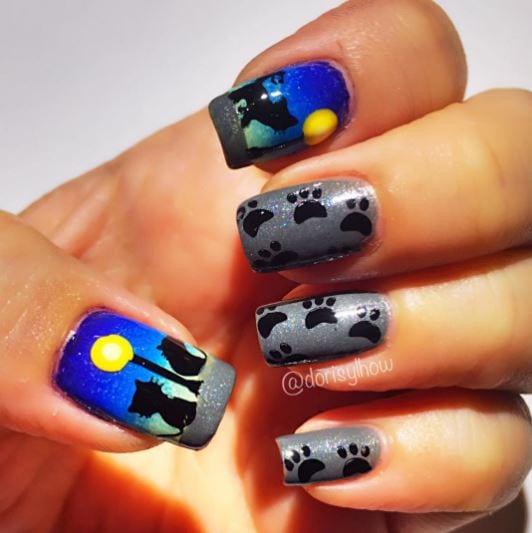 Image by @dorisnailsdiary via Instagram
35. Shimmery Cat Nail Art Designs
Want shimmer like this? Mix gold and pink glitter polish for a similar effect. Add paws to the mix to make things super gorgeous.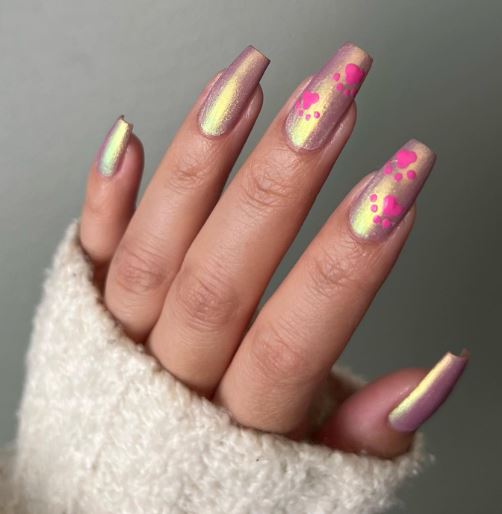 Image by @avmasnails via Instagram
36. Beige Cat Nail Art
Don't you love how these beige nails blend with her skin tone? A little cat with its paw is added to the base of the nail for extra fun.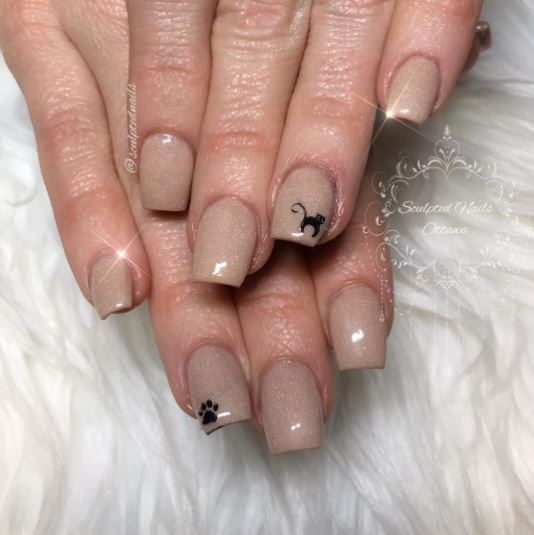 Image by @sculptednails via Instagram
37. Kitten Fever Nails
One look at this nail design and you know this person is obsessed with cats. If you've got a healthy obsession with kittens, this is a great kitten nail to try.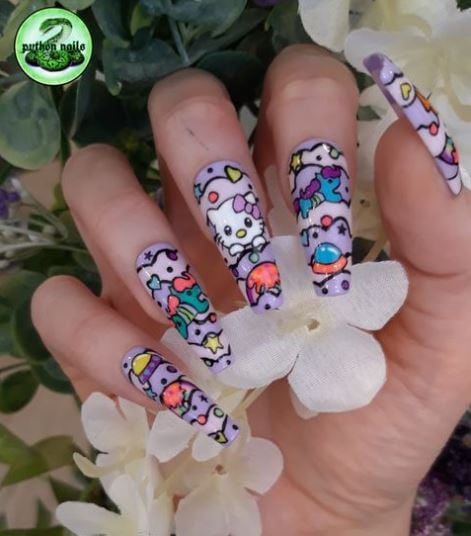 Image by @python_nails via Instagram
38. Alien Cat Nail Art
The iridescent glitter of these cat nails makes it look like something straight out of the galaxy and I'm loving it.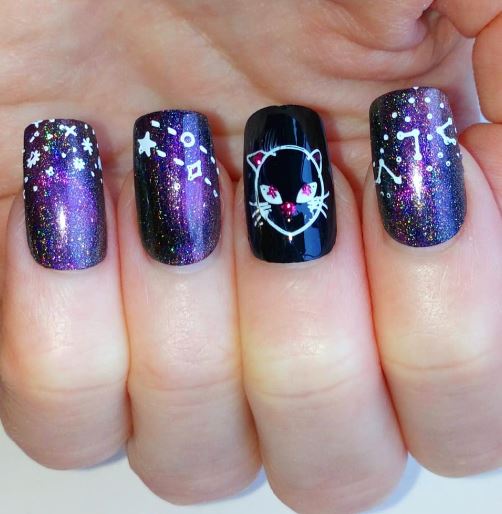 Image by @swordsandspoons via Instagram
39. Minimalist Black Cat Nail Art
Do you know what's better that a cute little cat design? A cute little minimalist cat design. Just take a look at that cutie on the ring nail.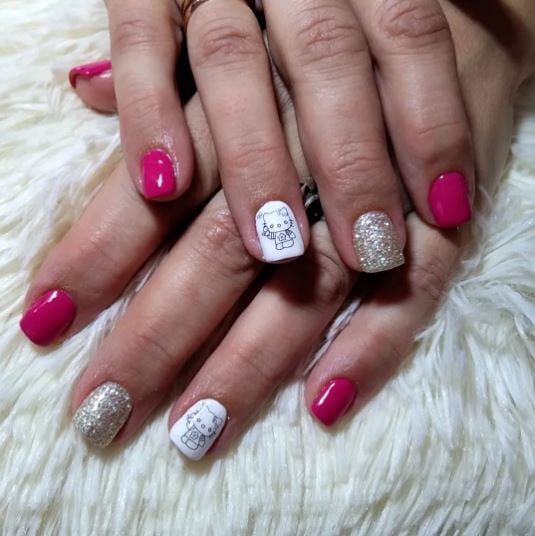 Image by @celesteramosnails via Instagram
40. Extra Long Hello Kitty Cat Nails
The pink glittery heart on this nail design is everything you could want and more. The little hello kitty is added to make the whole look pop.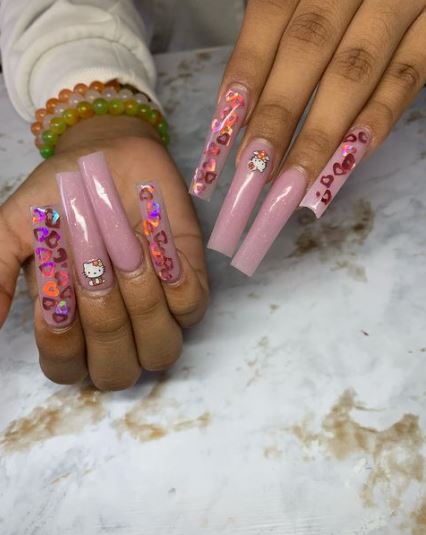 Image by @nailsby.leeah via Instagram
41. Blue Paws
Hand-painted paws always look amazing. Take a look at this.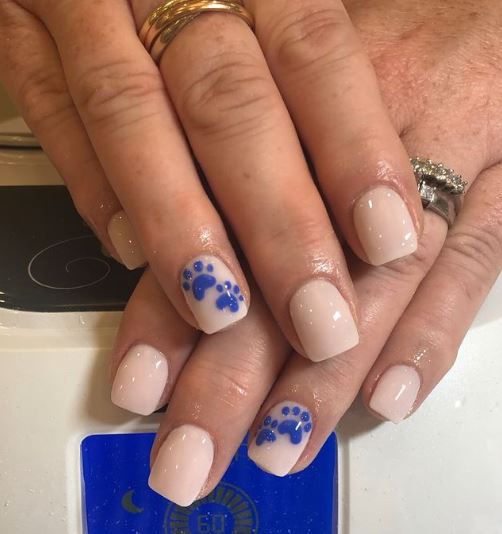 Image by @nailsbynikole_ via Instagram
42. Little Kitties
Got a cool skin tone? Get this kittens cat nail design for a charming nail appearance.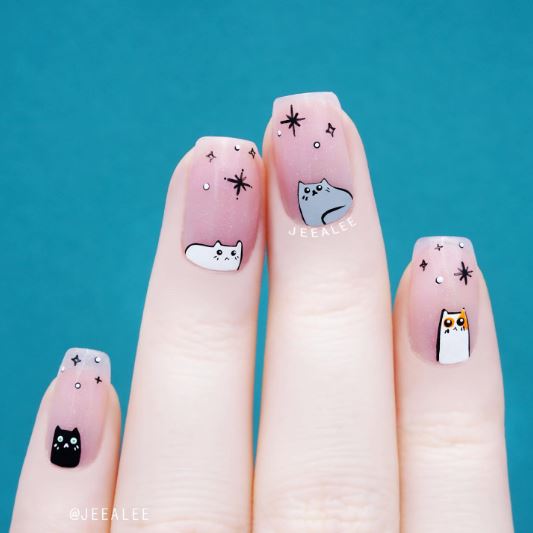 Image by @jeealee via Instagram
43. Almond Cat Nail Design
If this isn't creativity at its peak, I don't know what is. Just take a look at those sparkles added. It gives the kittens a dreamy appearance.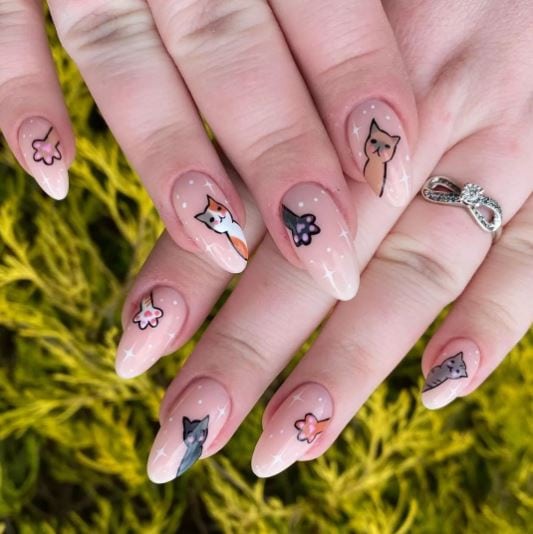 Image by @luminary_nail_systems via Instagram
44. Ginger and Green Cat Nail Design
The cats are the only element of color in this cream-colored cat design.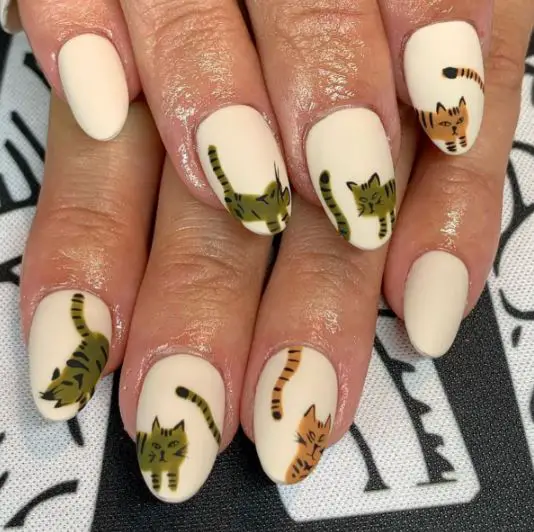 Image by @nailninjaminneapolis via Instagram
45. Kittens French Manicure
Need a classy take on cats' nail design? Here you go.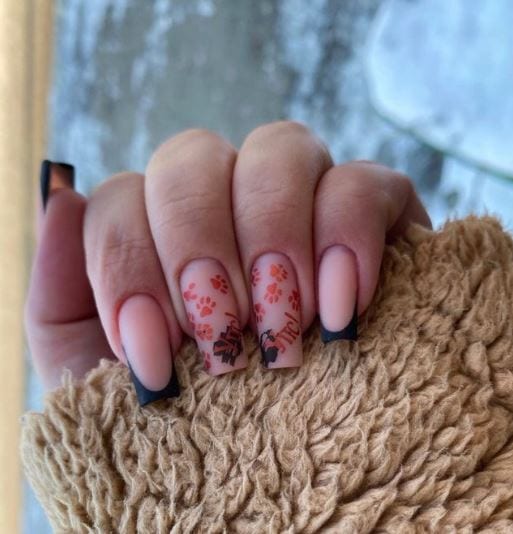 Image by @tiffany_nails_kraljevo via Instagram
46. Princess Cat Nail Design
Is your little girl obsessed with your furry buddy? Get this done to put her in a delightful mood.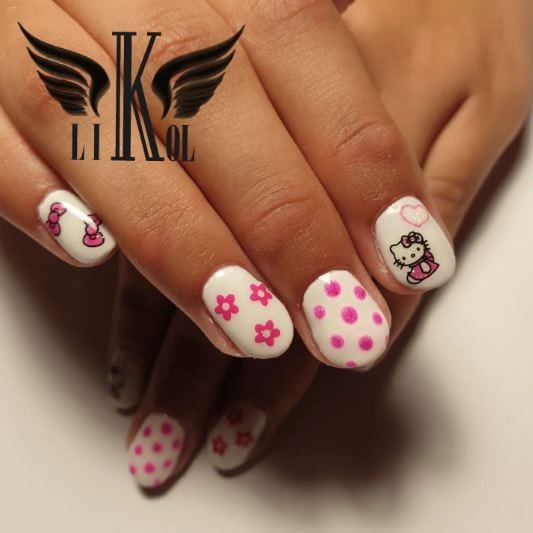 Image by @nailsbylikol.leicester via Instagram
47. Simple Peach Nail Idea
The shades of the base of this nail design are bright and dope. The cute nose on the kittens makes them adorable.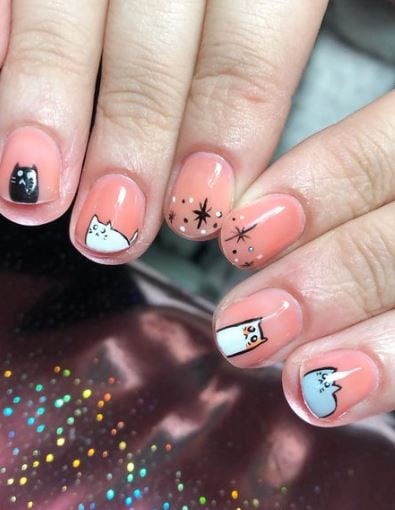 Image by @delux.claws via Instagram
48. Matte Pink Nails With Kitten
I love how these matte nails display the kitten image in a clear form as opposed to gel and sparkly nails.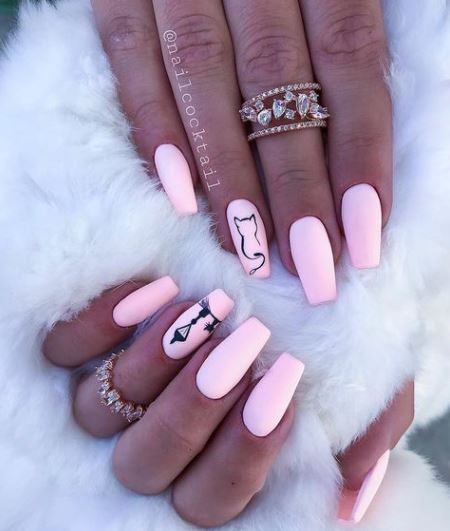 Image by @nailcocktail via Instagram
49. Christmas Kitten Nail Manicure
The soft Christmas vibe going on here is really great, even though the dare horn is in the wrong spot.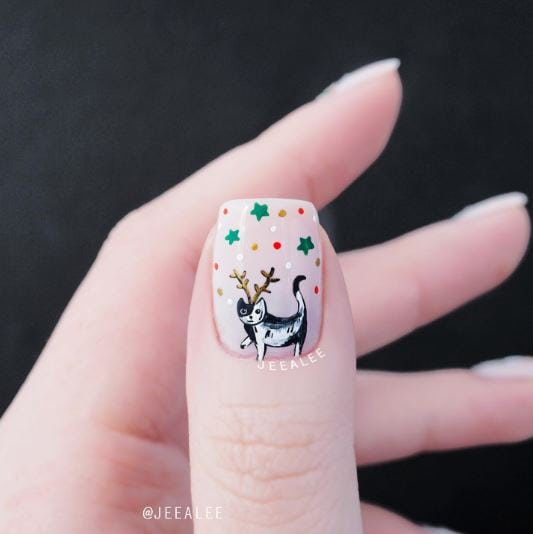 Image by @jeealee via Instagram
50. Orange Cat Manicure
These exaggerated Frenchies have an orange accent cat nail that looks just perfect.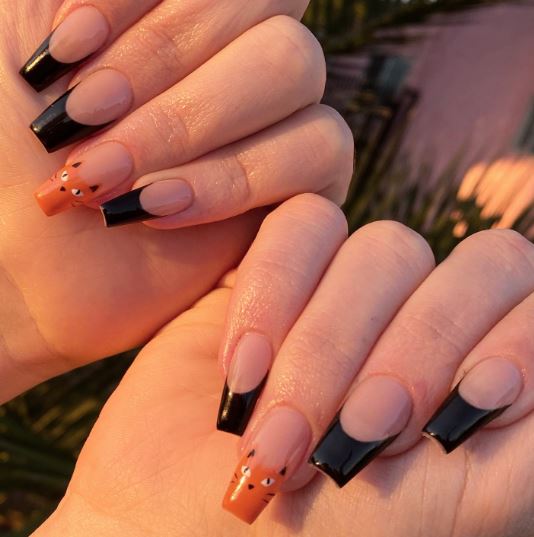 Image by @nailsbykirstenchanel via Instagram
51. Kitten Outline
This is a subtle yet utterly stylish take on cats' design. The nails have a negative space with a kitten outline. My favorite part of the nail design is the cute ears at the tip of the nails.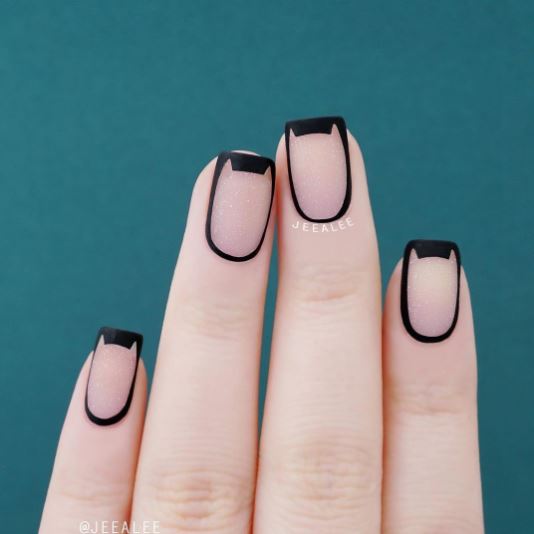 Image by @nailitmedia via Instagram
52. Grey Cats On Nails
If you need a cute nail design that will have you basking in compliments, try these subtle nails.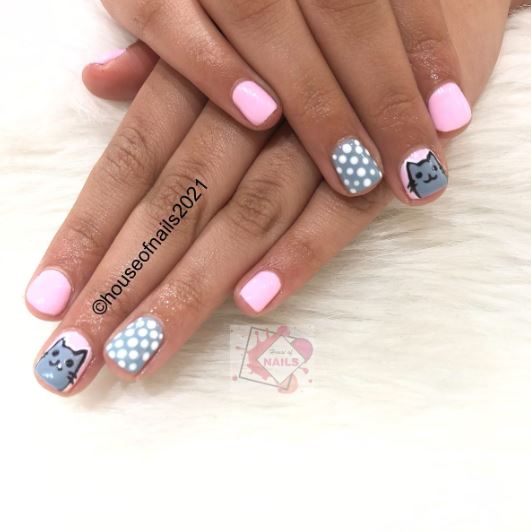 Image by @house_of_nailss_2021 via Instagram
53. Black Paw Stain Manicures
This is a versatile cat nail design that will go with several outfits.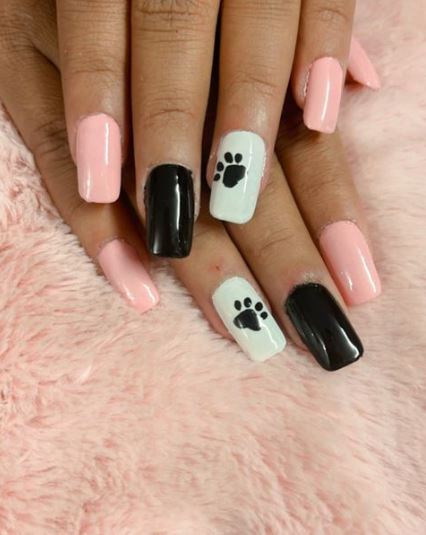 Image by @the_polish_nails76 via Instagram
You can never go wrong with cat nail designs. Whether you decide on paws, whiskers or the whole cat face outline, your cat nail design will look amazing.