As someone who wears a variety of outfits to take trendy Instagram photos, a single nail colour doesn't work for me. However, blue ombre nails are my holy grail since they go with most outfits perfectly.
You can never go wrong with blue ombre nails, so I created a list of unique and remarkable blue ombre nails to nudge you in the right direction. If it's worth doing, it's worth doing right.
25 Blue Ombre Nails For Inspiration
1. Stylish Belle Simple French Manicure
A long square nude blend with light blue ombre on two fingernails, complete with an almost full nude with bright blue tips, these are the perfect nails for a girls' outing or party.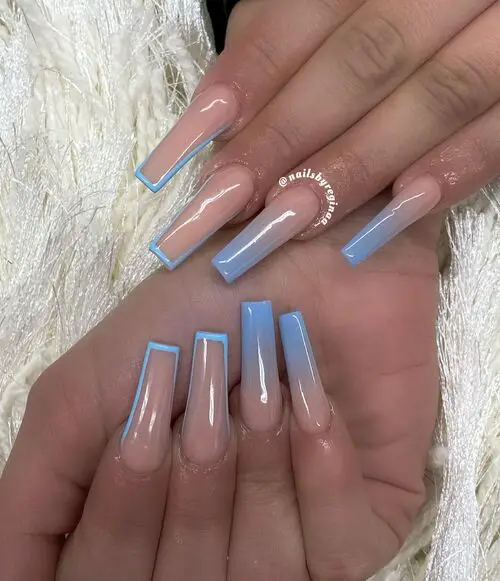 Image by @nailsbyreginaa_ via Instagram
2. Refined With a Little Glow
I'll recreate this for when I need to make a statement without being too obvious. The ombre effect is seen clearly in the blue and nude ombre on two nails. With accent nails beautified by shiny decals, don't get me started on the wave-like mingle of nude, blue, and gold, creating a look that exudes pure class.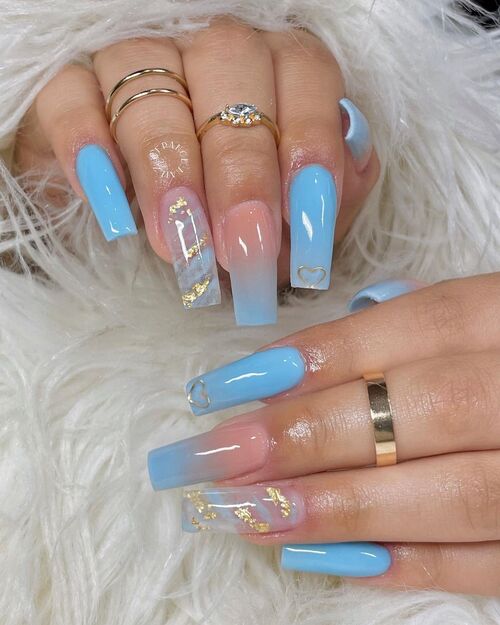 Image by @france_nailz via Instagram
3. Rhinestone Goddess
Lemonade pink and baby blue ombre nails with rhinestones: is there a wand somewhere, because this screams magical! The gems used to decorate the nails suggest high maintenance. Got a party with em billionaires? Wanna go chill on a yacht with your friends? Get this baby done.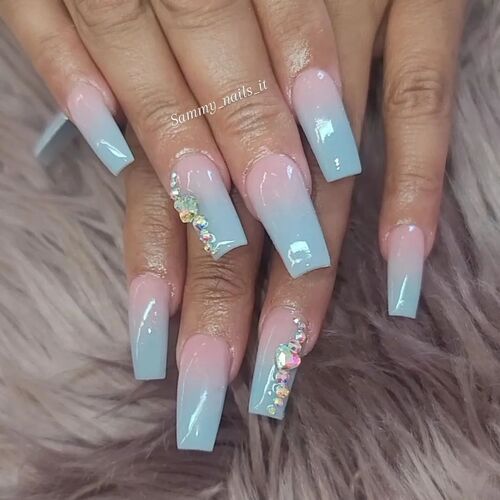 Image by @sammy_nails_it via Instagram
4. Pretty Blue on Blue Ombre Nails
Who says ombre nails need different colors? With over 15 different shades of blue from light to dark blue, achieving the ombre effect is quite effortless. Does the turquoise blue and cyan gradient ombre from light to dark blue seem too simple for you? Add two nude accent nail art with simple black and white flowers, and this creates a nail look that is suitable for a daily look and elevates your mood just by looking at them.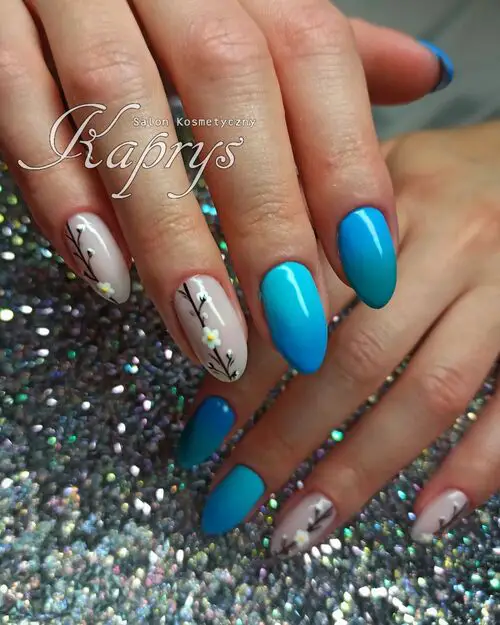 Image by @salon.kaprys_dziubeq via Instagram
5. Geometry and Ombre nails
I don't know about you, but geometry has always been fun (at least to look at). This navy and electric blue ombre nail design with black geometric art creates a dramatic statement that may be a little intimidating for first-timers. This slightly edgy and captivating nail art is perfect for nights or evenings outing, or anywhere you need to stand out in the crowd.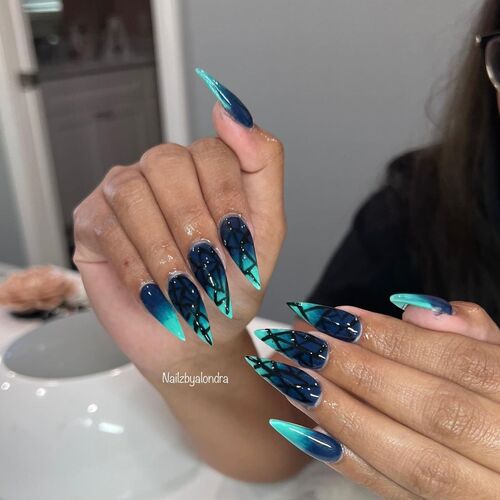 Image by @nailzbyalondra via Instagram
6. Bold and Wild
Talk about unique. Who knew yellow and blue could blend so well? The leopard pattern on the ring nail enhances the bright manicure by adding coolness to the ombre design. This gel nail polish is sure to keep you looking chick for a while. Complete with a cute outfit, you can go out the door feeling fresh like a daisy.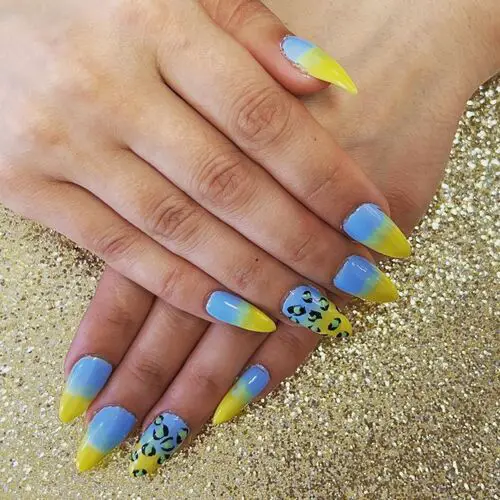 Image by @beautysparklesla via Instagram
7. Butterflies
Just wow, these coffin nails are gorgeous! Inspired by Elsa, they are perfect for winter. From dark blue and white ombre on the index and ring finger nails to the light blue and white ombre nails on the middle and little ones, don't get me started on the 3d butterfly art on the ring fingernail. It enhances the whole look.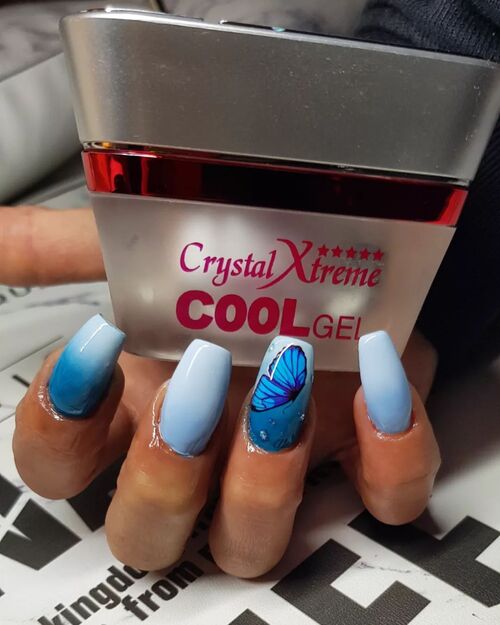 Image by @nohtki_kamnik via Instagram
8. Royalty
With a perfect cuticle like that, no wonder this looks really great. The light pink and blue ombre nail art with little rhinestones is delicate yet eye-catching. The accent nail with jewels and glitter gives the nail a creative finish. This is no ordinary nail design. You can wear this to a special occasion and go there looking like a spec.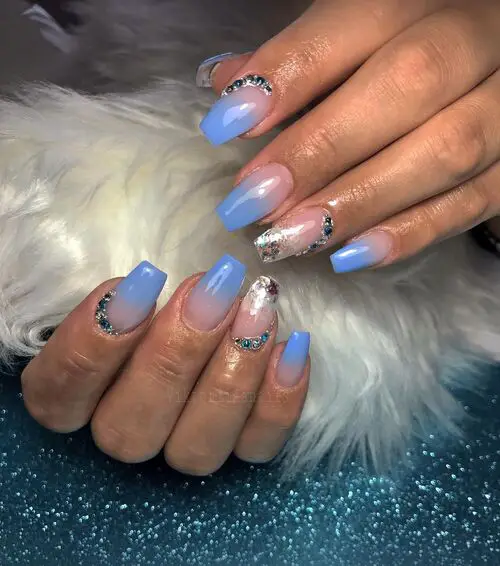 Image by @viktoriiaanails via Instagram
9. Miss Luxury
Want to elevate your look from basic to brilliant? Then you should try this pink and royal blue french mani with blue glitter. This combination is flattering on most skin tones and perfect for enhancing your favourite monochrome outfit.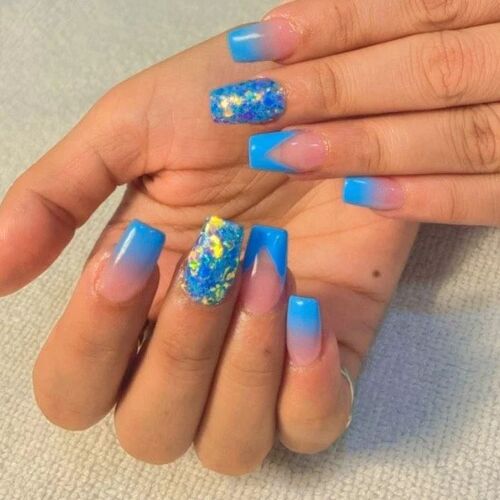 Image by @nailstory116_by_mohit via Instagram
10. Baby Blue Ombre Nails
Want to go all out? This classic baby blue ombre nail art is what you need. Long square nails that are seductive and cute with rhinestones and silver glitter; this is a pure pleasure to look at. The rhinestones work well with both the ombre and single colors, the white flower covering the light blue nail polish is timeless classic. Go to a party looking like VIP.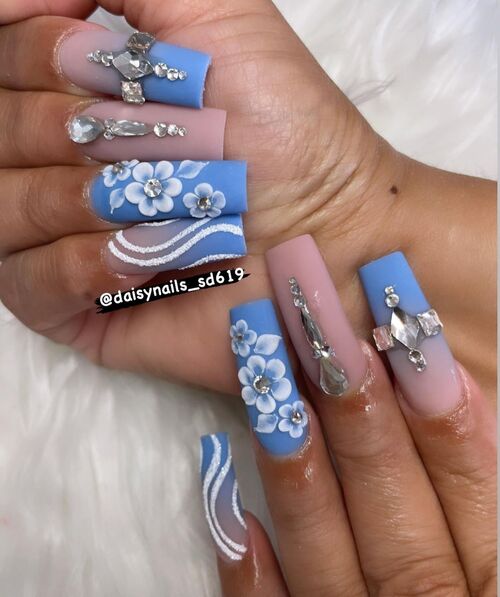 Image by @daisynails_sd61 via Instagram
11. Cute Mani
Want an easy cute manicure? Then this is perfect. This bright blue and pink ombre nail is stylish but the soft sparkle added gives the tone a new definition, taking the nails from simple to trendy in three simple stripes.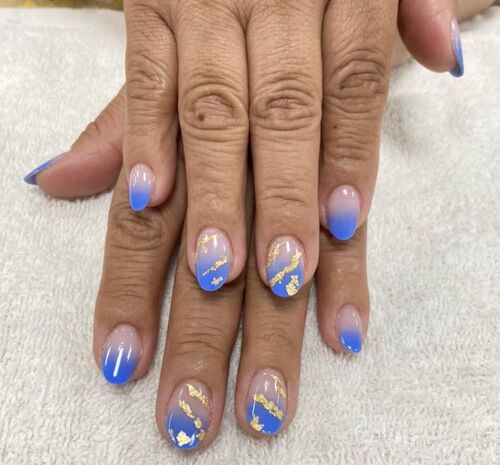 Image by @nova_nails_corp via Instagram
12. Great for Non-Girly Girls
If you are not a girly girl but would like to test the waters without going too deep, this blue ombre nail art with just a