Summer is the season of all things bright. Neon acrylic nails are a great option for summer because they provide the right amount of glow to match your beautiful sundresses.
Bright ombre nails are also a great choice since you can combine 2 or more stunning colors to create an amazing ombre design that goes with any summer outfit.
After perusing tons of images in search of bright nail inspiration for summer nail requests, here are the 52 best summer nails I came across.
52 Summer Nails For Inspiration
1. Dragon Fruit Nails
Take a look at this bright summer nail with amazing swirls of hot pink, yellow and white. It reminds me of surfing and waves.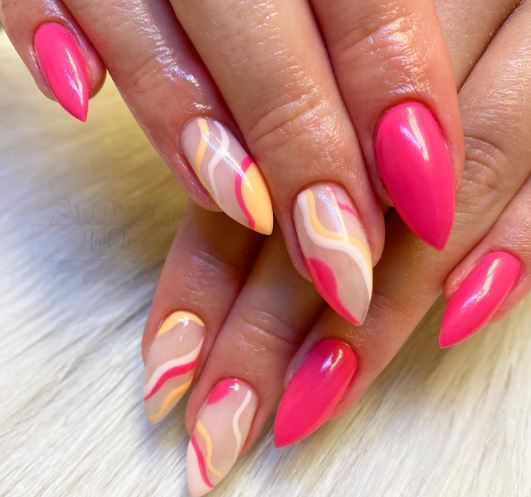 Image by @naillovebykylie via Instagram
2. Neon Bright Summer Nail Designs
These medium-length nails are stunning. The beige leopard print accent nails on the ring fingers are an amazing contrast to the lovely neon nails.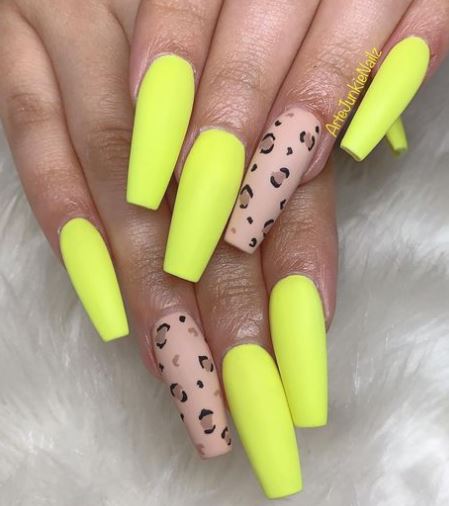 Image by @artejunkienailz via Instagram
3. Red and Flowery Nail Designs
Be prepared for summer with these cute summer nails. Red acrylic nails on one hand and a fun nail design with flowers and cute green hearts on the other.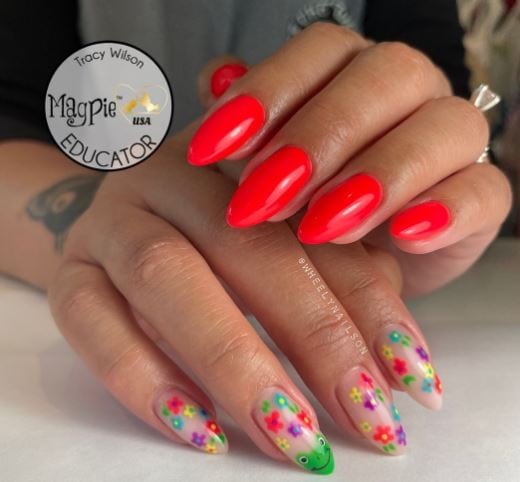 Image by @wheelynailson via Instagram
4. Animal Print Summer Nail Ideas
The simple summer nails of neon yellow took a lovely twist with the added animal print on two fingers.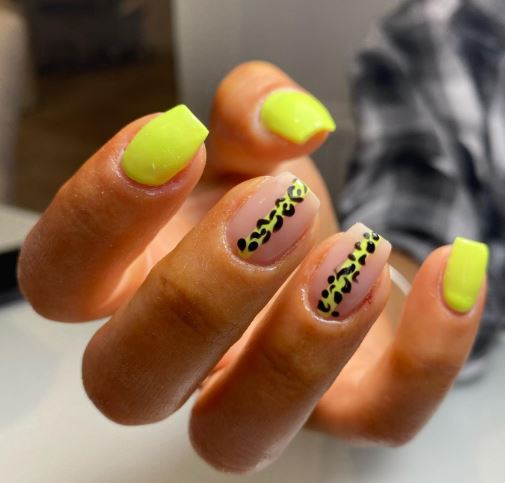 Image by @the_nail_lounge_rossett via Instagram
5. Pink and Pastel Orange
Bright summer nail designs are far from boring and this pink and pastel summer nail art is proof of that.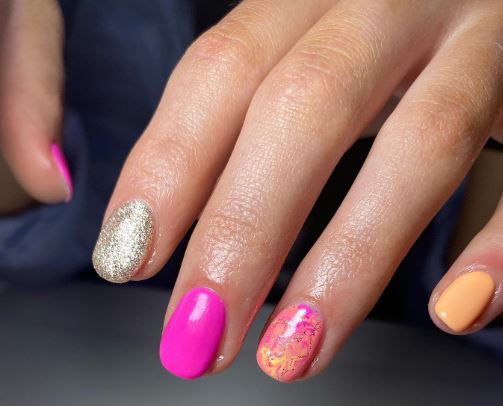 Image by @rmnailtech via Instagram
6. Short Summer Nails
Polka dot nail ideas are among the top nail trends of summer. With a nude base, the black and white polka dots and blue hues on these nail designs are captivating.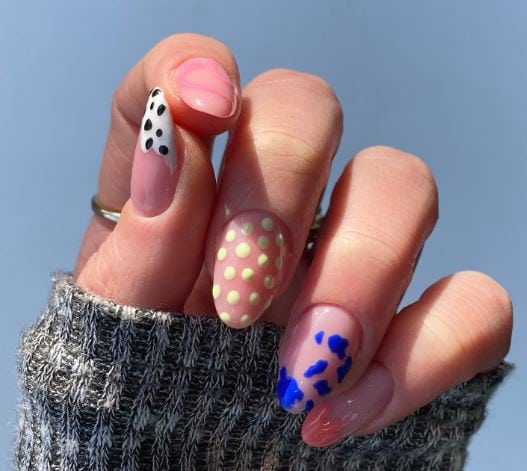 Image by @rosieharpernails via Instagram
7. Different Color Nails
Don't worry about selecting a particular color for your summer nails, just use all of them on different nails and enjoy your summer.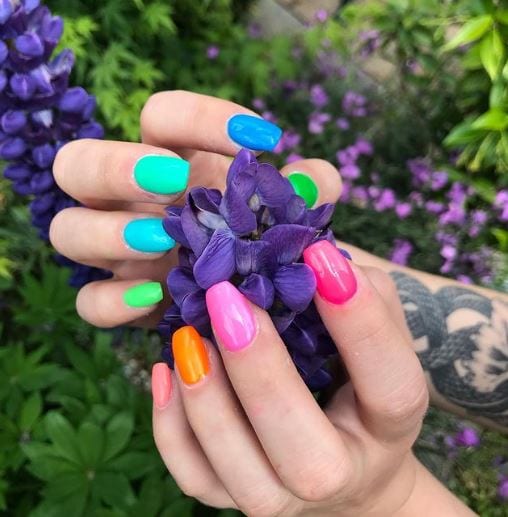 Image by @abby_nails_77 via Instagram
8. Orange Tip Nails
You can't go wrong with french tip nails. They can be used to spice up a nail design like here, where the tips brighten up the nude background.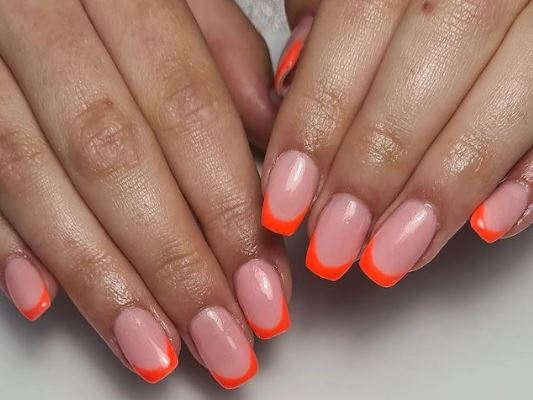 Image by @rb_nails_x via Instagram
9. Fun Summer Nail Ideas
Do you love cartoons? Get these bright summer nails done to evoke a feeling of happiness and fun.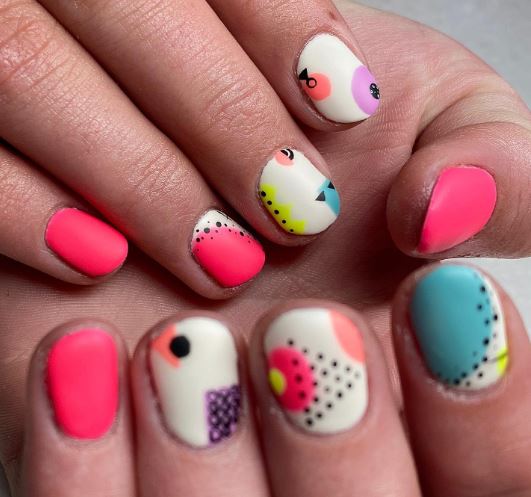 Image by @shelby.does.nails via Instagram
10. Neon Yellow and Pink Ombre Nails
The transition of these bright summer nails from neon to rosy pink is exquisite. The flawlessly contrasting ombre nails on the middle finger serve as the transition spot.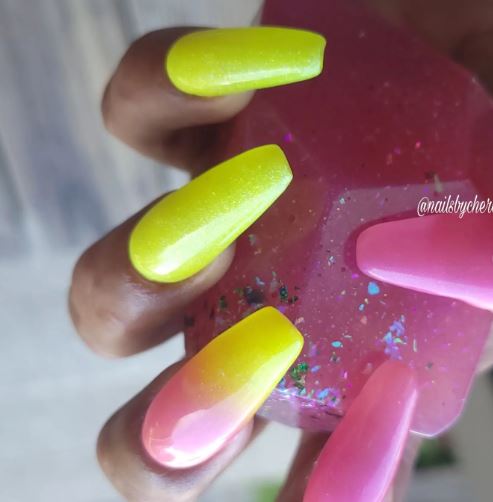 Image by @nailsbycherette via Instagram
11. Glossy Stilleto Pastel Nails
Welcome summer with these nude and pastel blue summer nail designs. The color combinations are perfectly arranged. Glossy pastel blue with slight glitters on the index nail, pink hearts and dots on the middle nail and an accent nail of nude nail polish on the ring nail.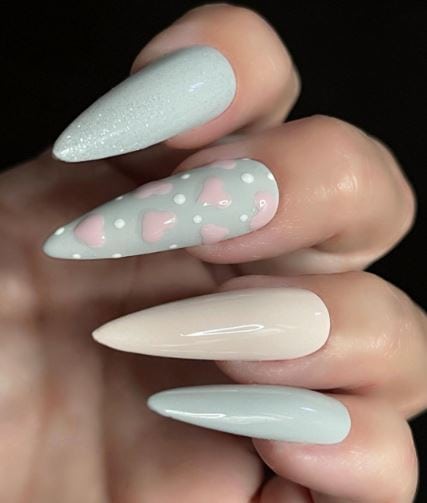 Image by @meninasnailsart via Instagram
12. Red and Yellow Summer Nail Designs
This is an easy nail art that can be recreated at home with red and white nail polish. The acrylic nails look great on darker skin tones.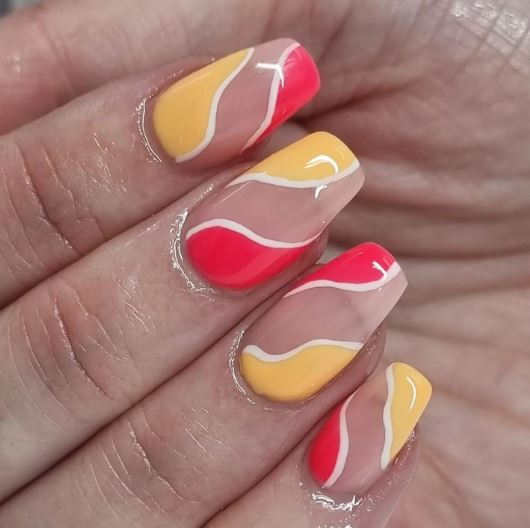 Image by @michelleatblushnailsandbeauty via Instagram
13. Dip Powder Summer Nail Designs
This design uses green dip powder glitter that sparkles on the reddish nail design. This is a true work of art. The green blends into the red seamlessly, to give a subtle bright summer nail design.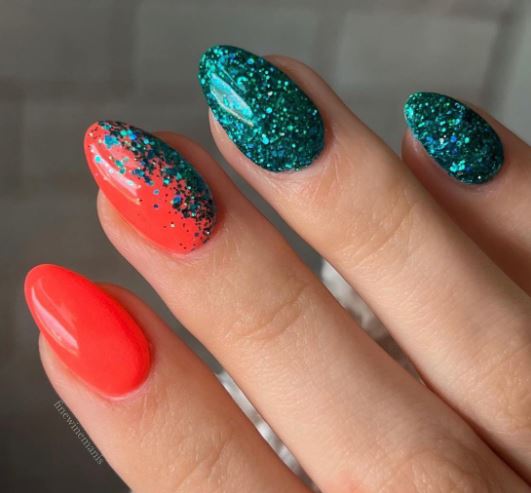 Image by @colorwavenails via Instagram
14. Neon Red Bright Summer Nails
Stun this summer with a single color of bright summer nails. This will also look good on long nails if that's your thing.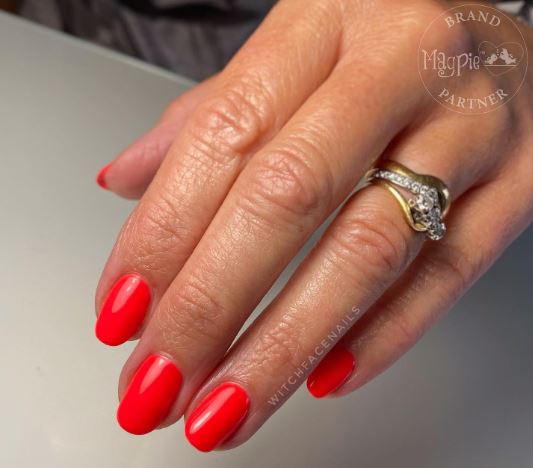 Image by @witchfacenails via Instagram
15. Pink and Orange Square Bright Summer Nails
These square nails are simple yet stunning. The orange and pink are a refined, sparkling blend.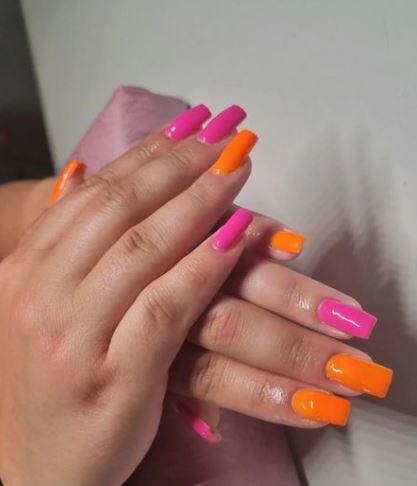 Image by @nu_youbeauty via Instagram
16. Almond Bright Summer Nails
Bright summer nail designs are never boring. This features glossy pink and orange nail design ideas with a nice pattern of pink, orange, and white on two fingers.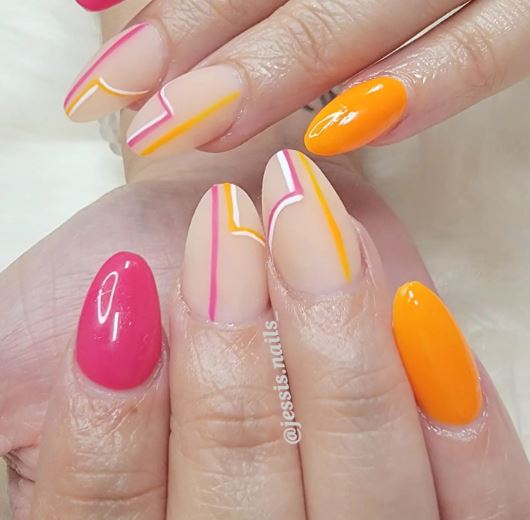 Image by @jessis.nails_ via Instagram
17. Bold Gel Nails for Summer
These short, cute summer nails have pretty waves of navy blue, light blue, and orange nail polish.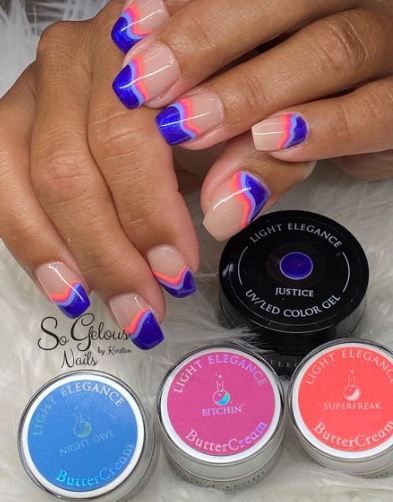 Image by @sogelousnailsbykersten via Instagram
18. Creative Bright Summer Nails
You can never run out of summer nail ideas because of how easy it is to play with your favorite bright colors. This features pink, red, and yellow with an added twist of yellow and white on the ring finger.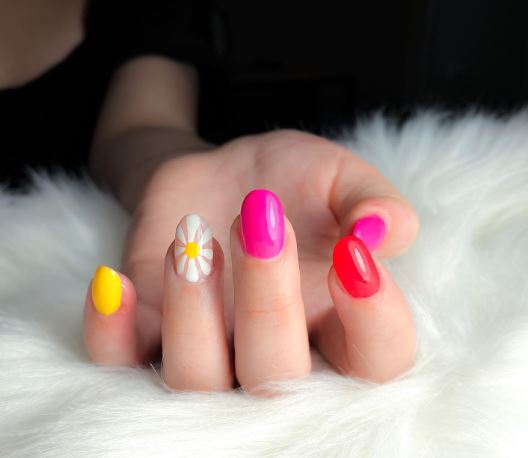 Image by @all.polished via Instagram
19. Coral Waves Nail Designs
These cute summer nails are perfect for fair skin tones. It has different shades of coral from light to dark, creating a wave-like effect. The coral waves on two fingers are slick and elegant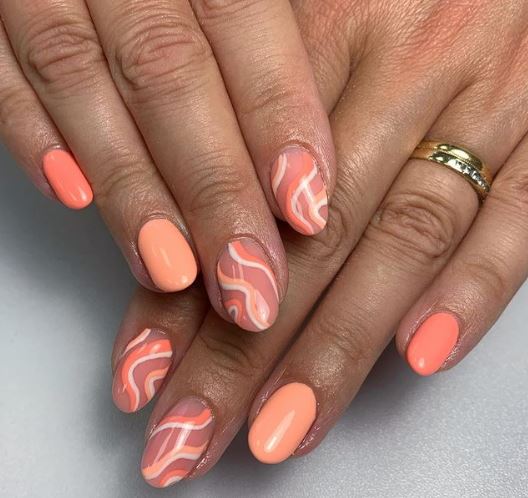 Image by @summernailsandbrows via Instagram
20. Apress Coffin Shape Bright Summer Nails
These are the perfect cute nails for summer with their monochrome bright red. It's sure to make your nails pop in any outfit.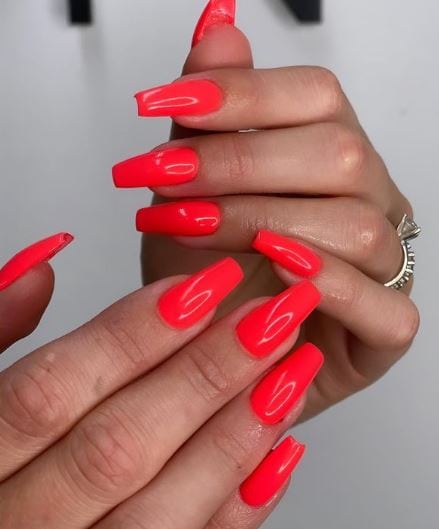 Image by @instylebsalon via Instagram
21. Cow Prints Bright Summer Nails
Don't feel like fixing false nails? No problem there. You can get this pretty polish that features a deep burnt red color, cow print, and a nude/cow-print background.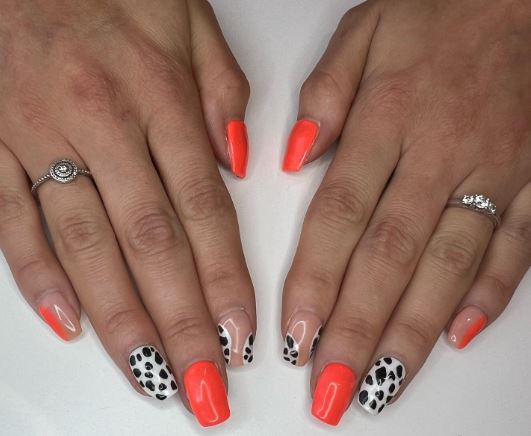 Image by @beautyby_paigecrombie via Instagram
22. Burnt Red Goodness
These bright summer nails are simple and fun. The dark burnt red flowers added to give it an interesting finish.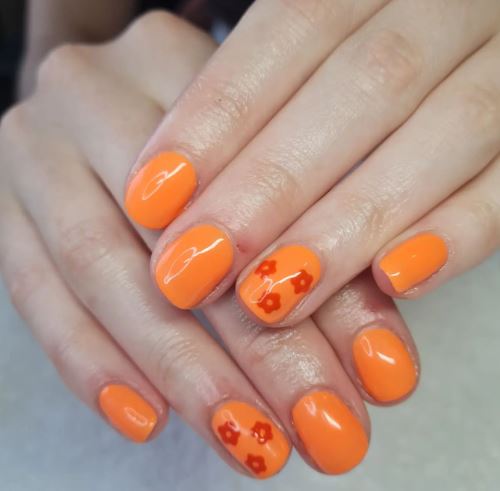 Image by @nails__bycara via Instagram
23. Neon Summer Nail Ideas
Wanna sparkle at a beach party? Well, get these bright nails of neon purple, neon green, lemon, blue, and red, and you're summer ready to go.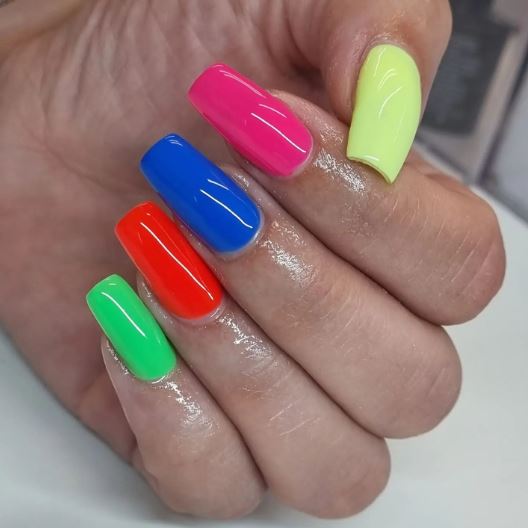 Image by @michelleatblushnailsandbeauty via Instagram
24. Turquoise Summer Nails
It's no surprise that these subtle nails look stunning. Turquoise has a way of demanding attention in a subtle way that is just classic.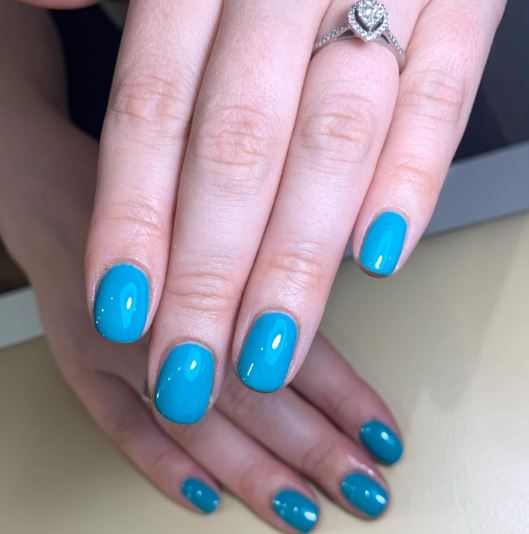 Image by @_linesbeauty via Instagram
25. Pink and Orange Ombre Nail Designs
Two sparkly colors blend seamlessly in these simple summer nails to create a breathtaking look.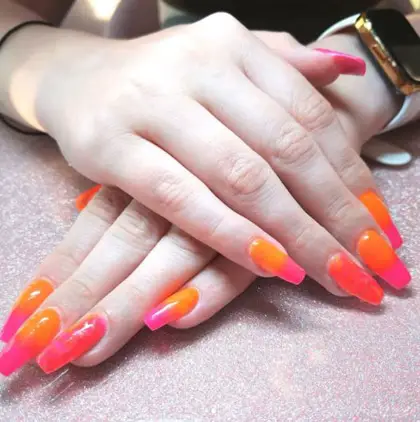 Image by @the.nailcottage via Instagram
26. British Manicure
One thing the Brits can do is slay with class. They deliver just that with these classy and bright summer nails.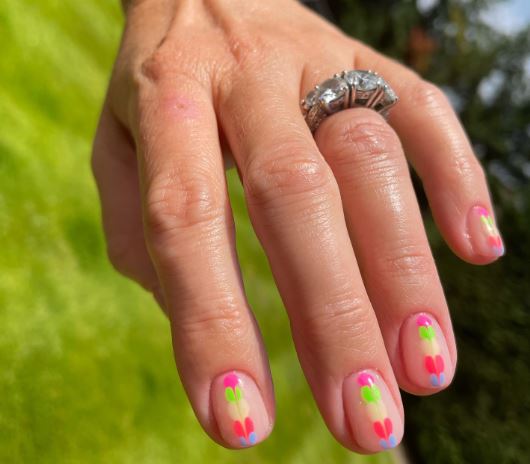 Image by @hanlouisenails via Instagram
27. Rosy Cute Summer Nails
This eye-catching design is a summer acrylic nail with a wavy pattern of pink, yellow, and orange to create a beautiful blend.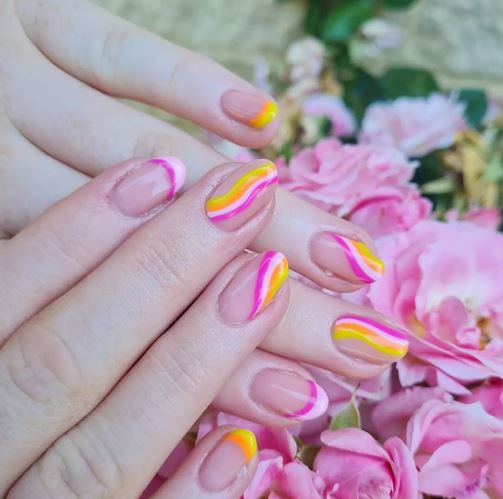 Image by @nails__bycara via Instagram
28. Red and Green Nail Designs
It's summer, and bright colorful nails are a must, as seen here with these red and green nails. The french tips on nude and glitter finish off the look.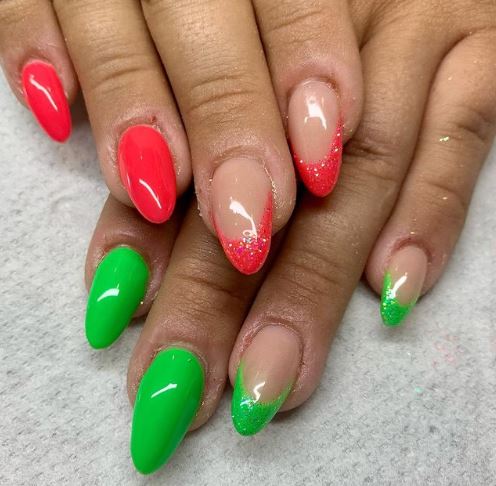 Image by @atyourfingertipsmontrose via Instagram
29. Wild Bright Summer Nail Ideas
Animal prints are a personal favorite but this design gives it a unique twist. The summer vibes and colors create a wild, bright look.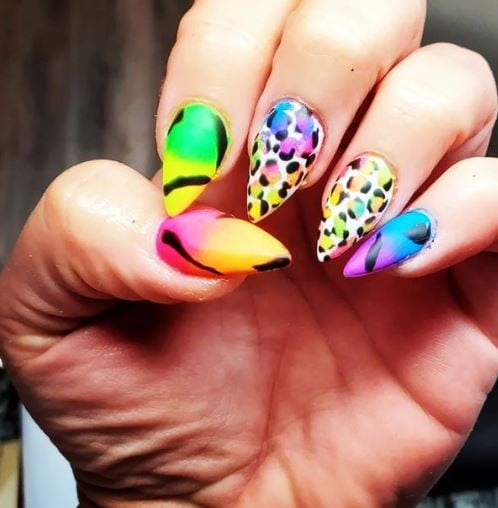 Image by @nailnursehatz via Instagram
30. Cow Print and Bright Color Shimmer
This long bright nail design is one of the hottest trends this summer and I'm not even surprised. This look will go with any sundress you choose to wear.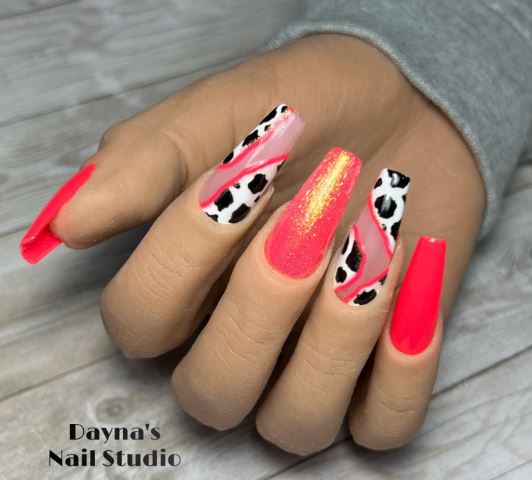 Image by @daynasnailstudio via Instagram
31. Glowy Bright Color Summer Nail ideas
Isn't this gorgeous? The french tips and waves are drawn to perfection. You will need a professional to get this done.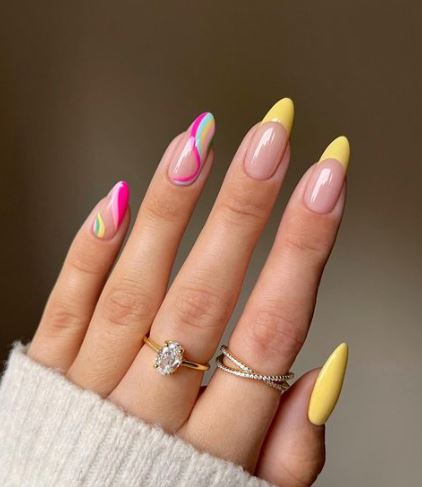 Image by @tiffanyabbigailebeauty via Instagram
32. Short Square Bright Summer Nail
It's summer, so have fun with your favorite colors and create nail designs like this that you can rock with any outfit.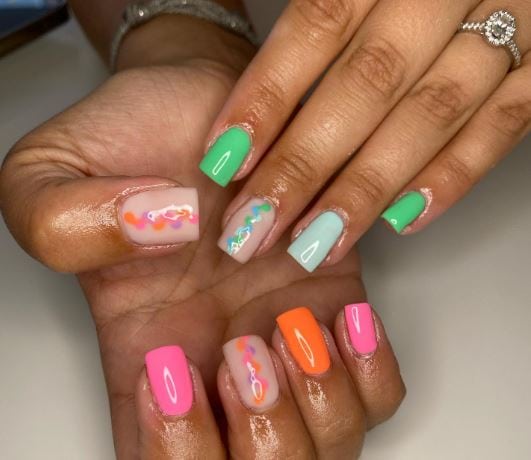 Image by @thenailandlashbarr via Instagram
33. Rainbow Bright Nail Design
Turn up your fun level by getting these rainbow nails with different colors on each finger, creating a bold, trendy appearance.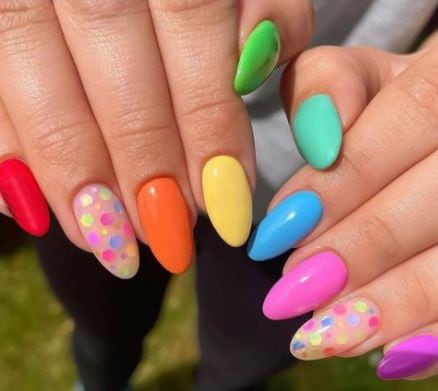 Image by @runningyogagirl8 via Instagram
34. Summer Floral Nail Polish
This perfect floral nail look will pair perfectly with any bright sundress you wear.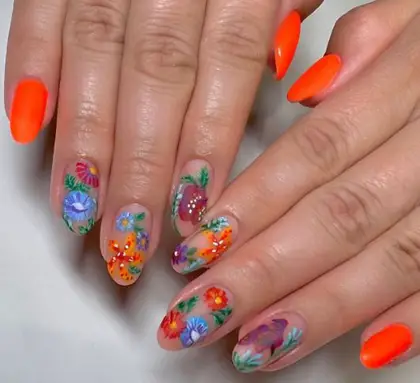 Image by @karlasoriginailkolors via Instagram
35. Summer Acrylic Nails
The unique textures of these bright nails are vibrant and perfect for a colorful summer.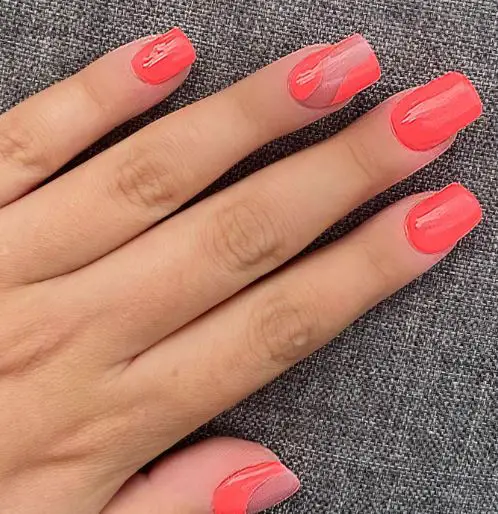 Image by @e.o.sbeautyx via Instagram
36. Yellow Frenchies
No color screams summer as yellow. It delivers a summer vibe here with nude nails and bright yellow Frenchies.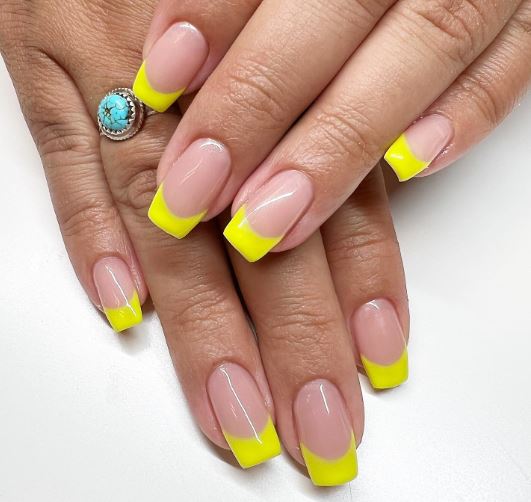 Image by @nailed.by.falysia via Instagram
37. Checker Bright Summer Nails
This bright, vibrant, almond manicure is cute and creative with its checkered swirls and pastel nails.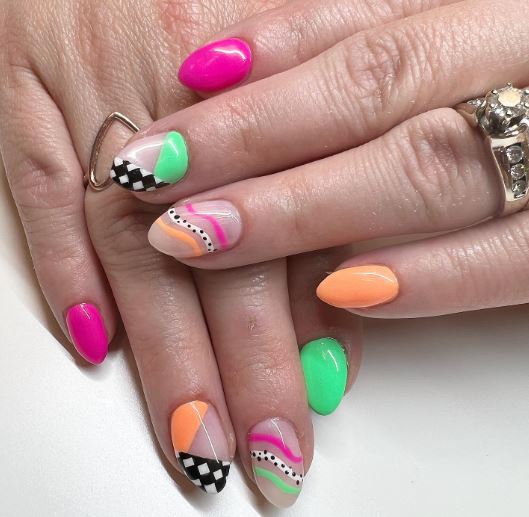 Image by @nailed.by.falysia via Instagram
38. Trendy Beach Nails
Don't you just love the creativity here? This is a great way to show your personality as a lover of bright colors in the most subtle summer-friendly way possible.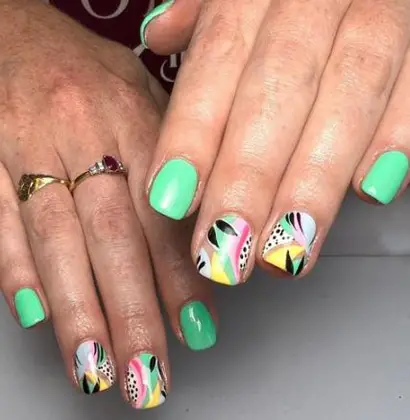 Image by @aejnails via Instagram
39. Lemon Green and Glitter Polish
Butterfly, lemon green, deep green glitter. This is perfection.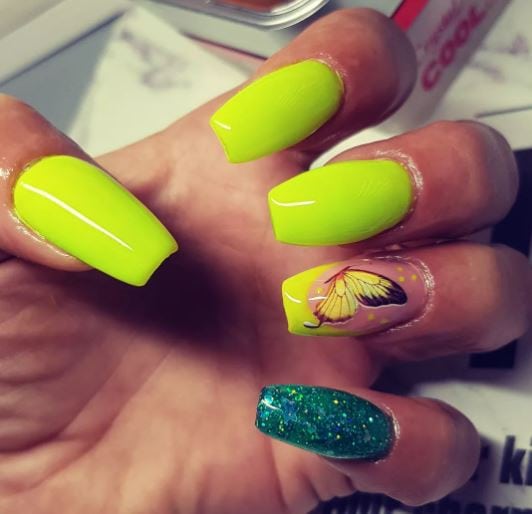 Image by @nohtki_kamnik via Instagram
40. Red Summer Floral Bright Nail
This bright nail art is mostly red with flowery accent nails for summertime.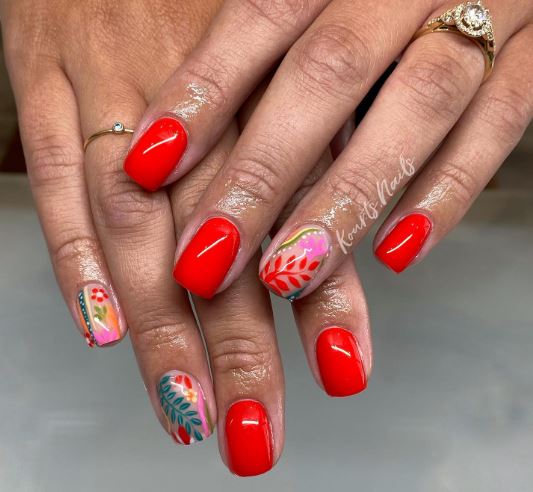 Image by @kourts.nails via Instagram
41. Flames and Smiley Faces
This fun nail image has cute smiley faces with purple and white flames. The flames can look even better if done in a nail salon.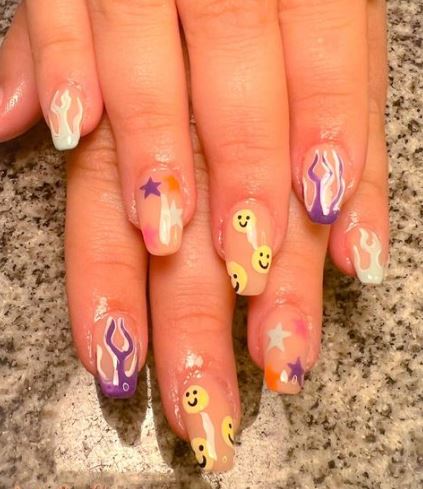 Image by @nailzdesignzc via Instagram
42. Strawberry and Crystals Mani
Aren't you impressed by how picture-perfect these nails are? The best part of the nail design is the added strawberries, glitter, and rhinestones.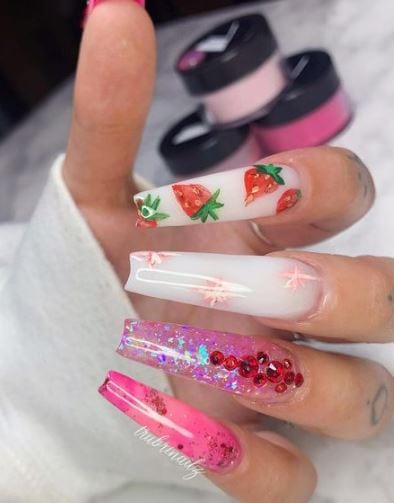 Image by @trubrinailz via Instagram
43. Cute Cheetah Acrylics
This colorful animal print nail is a whole mood to keep you glowing all summer.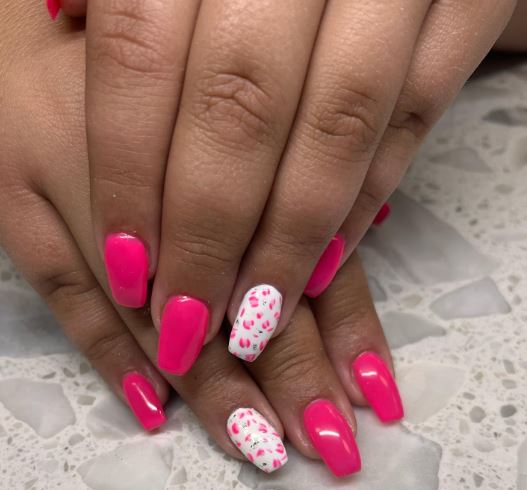 Image by @nailsby.amyjo via Instagram
44. Neon Coral and Milky Nails
Lovely, bright nails with leopard print, coral black swirls, and gold foil for a fun look.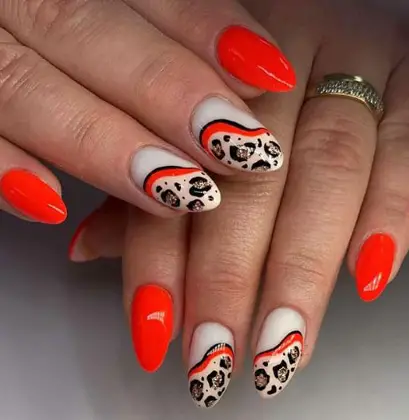 Image by @monika_emonails via Instagram
45. Magenta Bright Nail
This simple summer manicure is done by neatly painting the nails. You can easily do yours at home.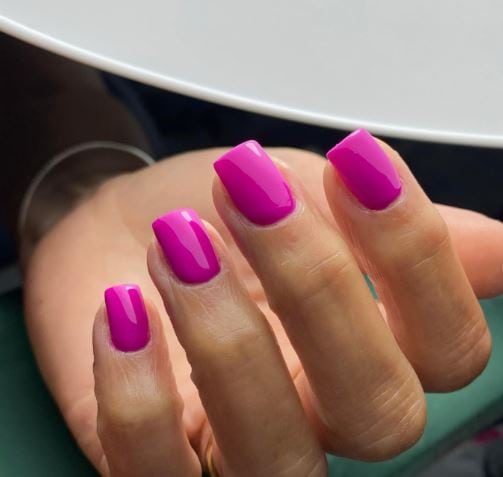 Image by @mbeauty__x via Instagram
46. Rainbow Frenchies
Chill on the beachside by pairing these amazing summer nail colors.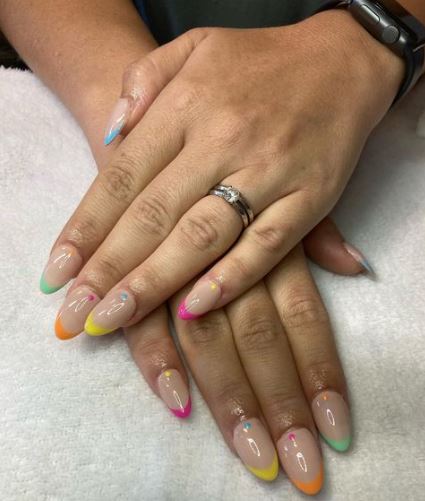 Image by @definevanitynails via Instagram
47. Bright Gel Polish Ideas
The mix of lavender and blue on this nail is magical. The delta-like designs in the middle are just right for the season.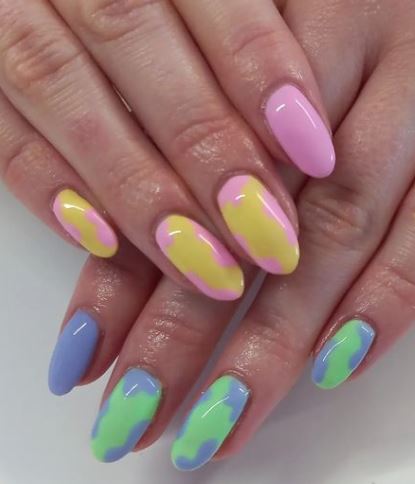 Image by @natalie_x_beauty via Instagram
48. Lemon Bright Nail
Step out looking as bright as a daisy with these yellow nail ideas.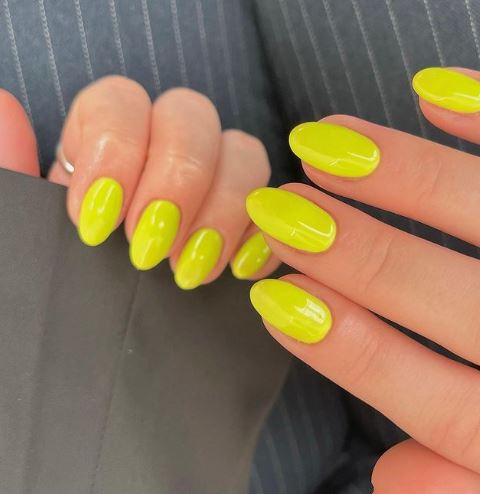 Image by @bygraceeva via Instagram
49. Square Neons
Square nail ideas are always stunning and these neon corals with white swirls are no different.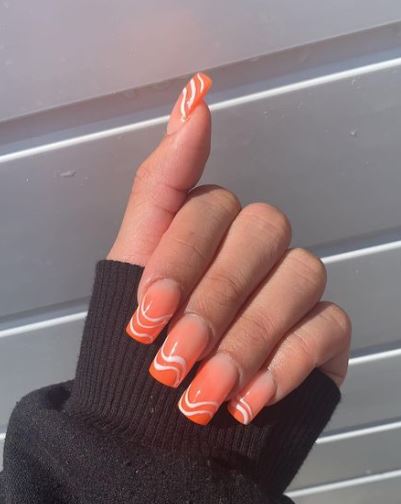 Image by @revernails__ via Instagram
50. Matte Ice Cream Nails
These long, matte ice cream nails are for sugar lovers.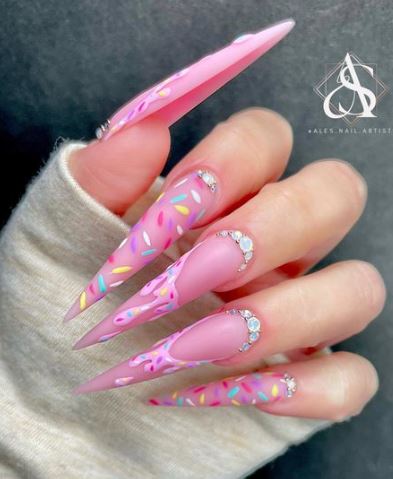 Image by @ales.nail.artistry via Instagram
51. Watermelon Nails
Express your love for watermelons with this creative look on your nails.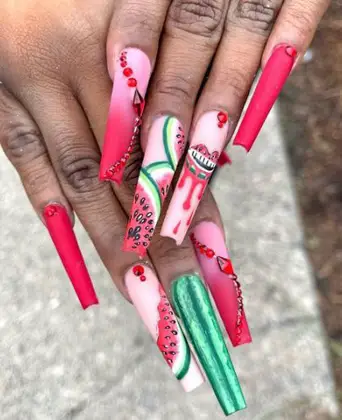 Image by @ayn_nailart via Instagram
52. Square Lemons
This is for the daring baddies that want to stand out with extra-long, square lemon nails.
Image by @poshhairandbeautyheswall via Instagram
Take your pick from these summer nail ideas and look great all season.