It's graduation season! Students have been trooping in to get their nails done in the most elegant way possible. Most like to go all out (no surprise there, it's graduation) with long nails, pretty wave patterns, marbles, and jeweled rhinestones.
Others like to keep it simple by getting a single-color nail design and spicing things up with an accent nail or cute color french tips. Tons of people lean towards bright colored nails with jewels and rhinestones since they pair perfectly with the usually bland cap and gown.
Take a look at these 45 stunning graduation nails cataloged just for you to help you look your best and slay on graduation day.
45 Incredible Graduation Nail Ideas
1. Shimmery Goodness
Why shouldn't you go all out for graduation? The extra-long square nails are definitely going to make a statement with how shiny and shimmery they are. A lot of people will be slaying for graduation, so you have to go the extra mile if you want to stand out.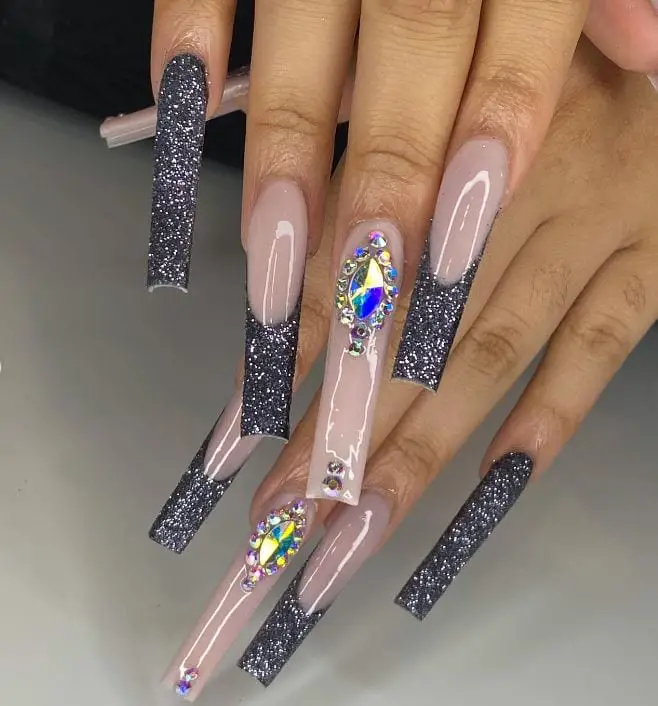 Image by @klawzbykota via Instagram
2. Nude Nails with Flowers
Need a calm and high class for graduation day? Well, here you go. This classy graduation nails is a blend of nude and white in the most perfect way possible.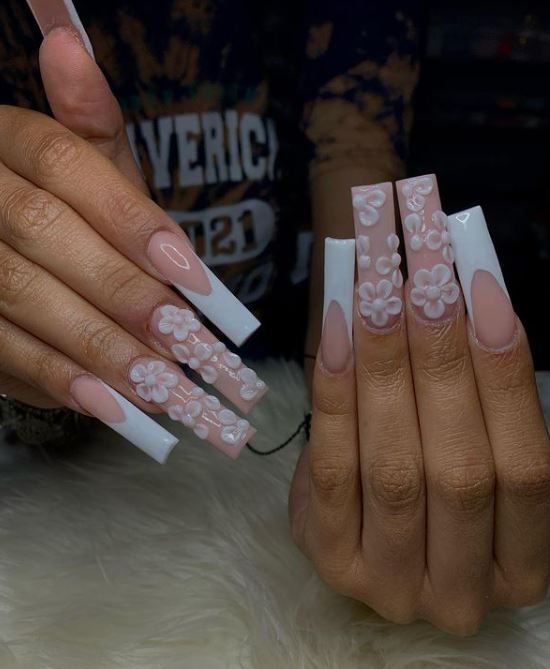 Image by @nailsby_vivianaa via Instagram
3. Black and Nude Nails
The gorgeous gold rhinestones added on the accent nail here are just on another level of astonishing, the nude and black contrast so well to create a subtle and elegant look.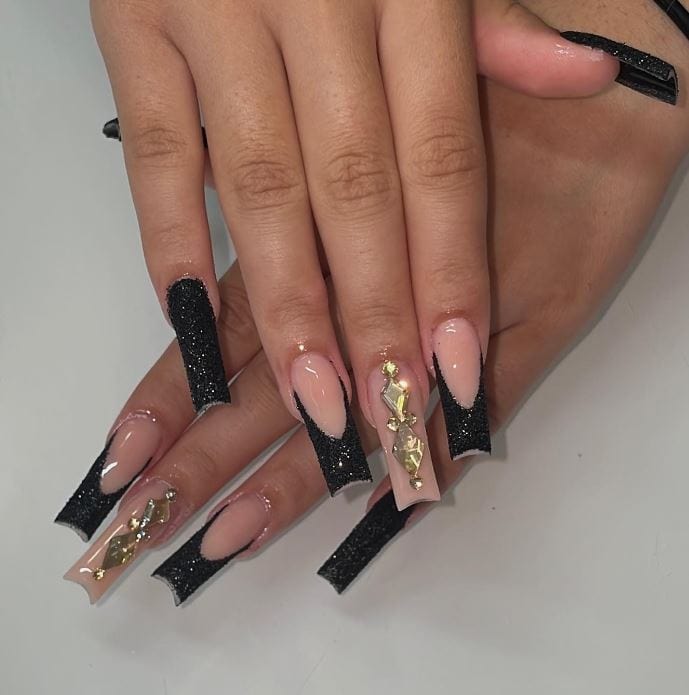 Image by @flawlesstips_liz via Instagram
4. 3D Flower Graduation Nails
These graduation nails are just spectacular. The 3D flowers and shining stones add extra glam to the graduation nail design's appearance.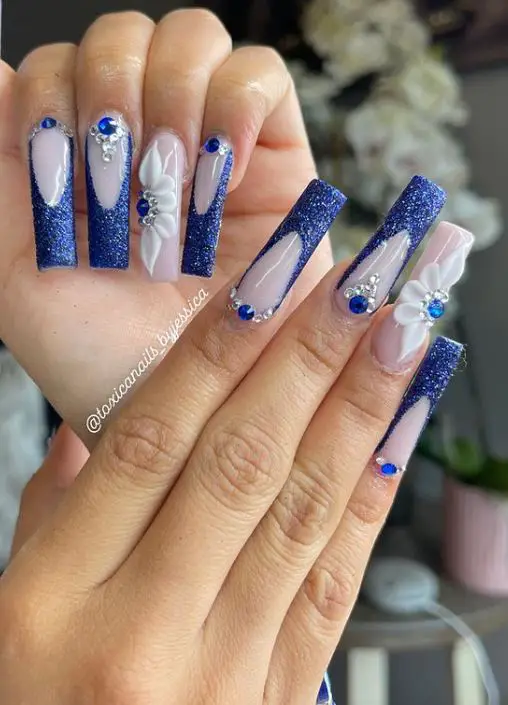 Image by @toxicanails_byjessica via Instagram
5. Nude Ombre Graduation Nails
Searching for a cute graduation nail idea? Well, call off the search party. You're welcome. The ombre of this nail art goes almost unnoticed because of how nicely it blends. What takes the crown though is the gold rhinestones and 3d flowers added.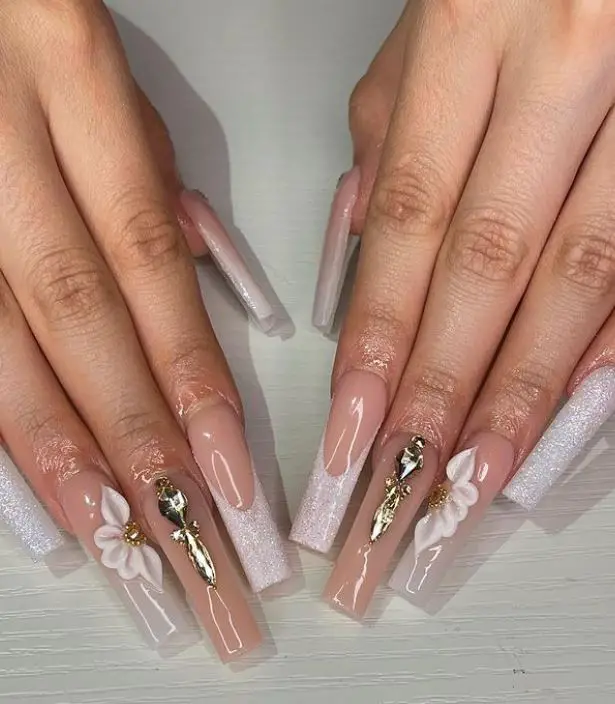 Image by @clawsbyylea via Instagram
6. White Graduation Nails with Rhinestones
Why look simple when you could look phenomenal? Go all out with these long nude and white graduation nail to create a nail look that will give you butterflies whenever you see the pics.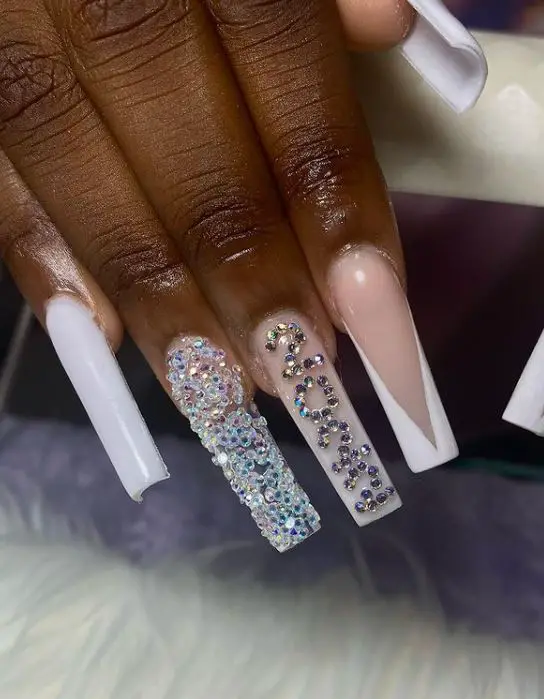 Image by @nailssbymiranda via Instagram
7. Cute French Tips with Pearls
Show me a more perfect manicure to use on your special day. This simple nail art idea is unique and subtle for your graduation day.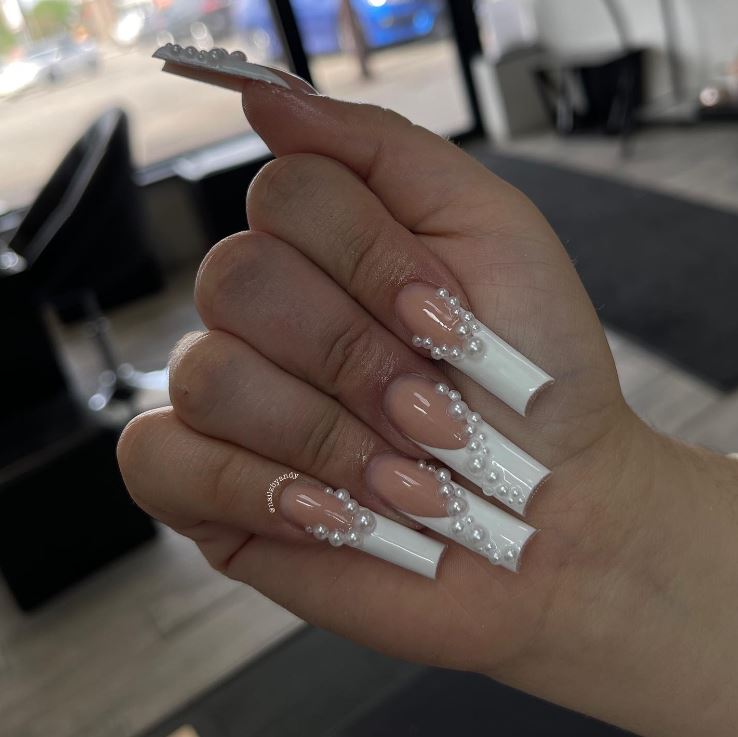 Image by @nailzbyandy via Instagram
8. Pointy Glamorous Stiletto Nails
This rare nail art is stylish and feminine. It will go with any outfit you choose for graduation since it's a transparent nail with white outstanding rhinestones.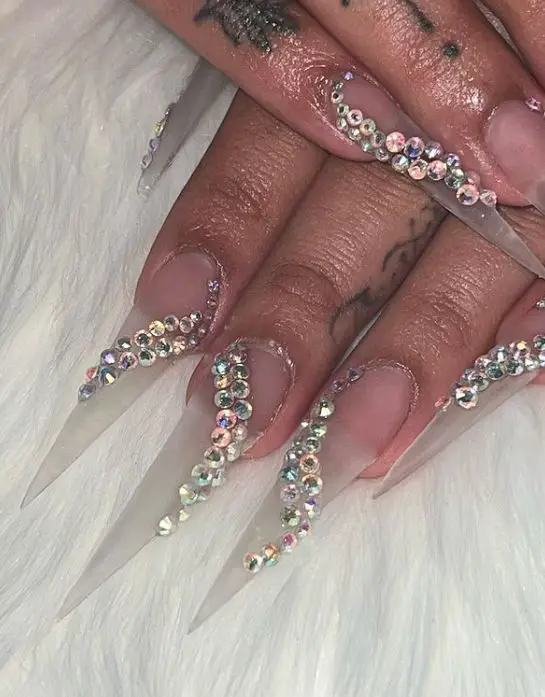 Image by @pocanailedit via Instagram
9. Spring Graduation Nails
This is an elegant nail art inspired by spring. The flowers look so real and the shiny gel polish is all you need for adding that sophisticated and subtle glamorous look for your big day.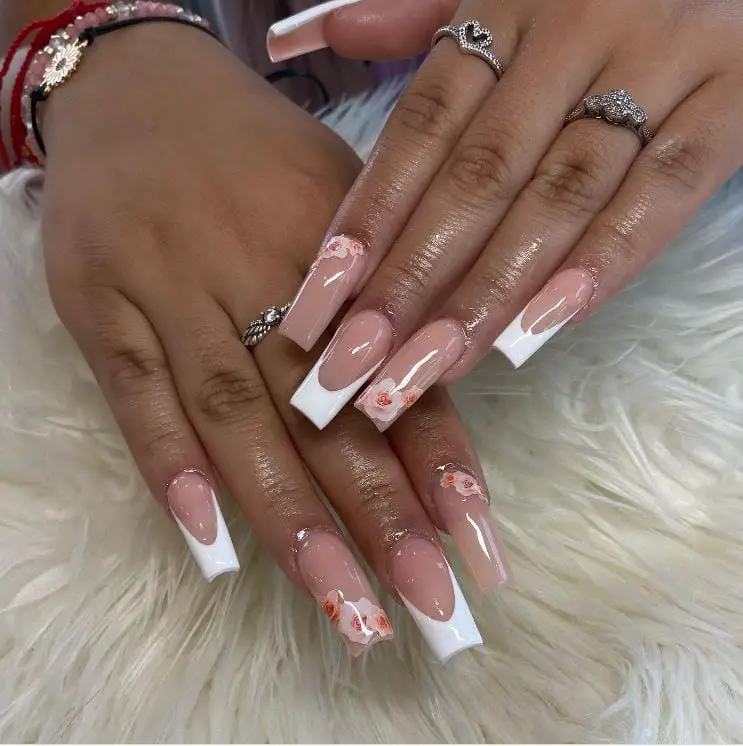 Image by @yaneryxnails via Instagram
10. Beige Graduation Nails
A simple nail design with an ombre of beige and light nude nails. The added stones complement the nail art in the best way possible.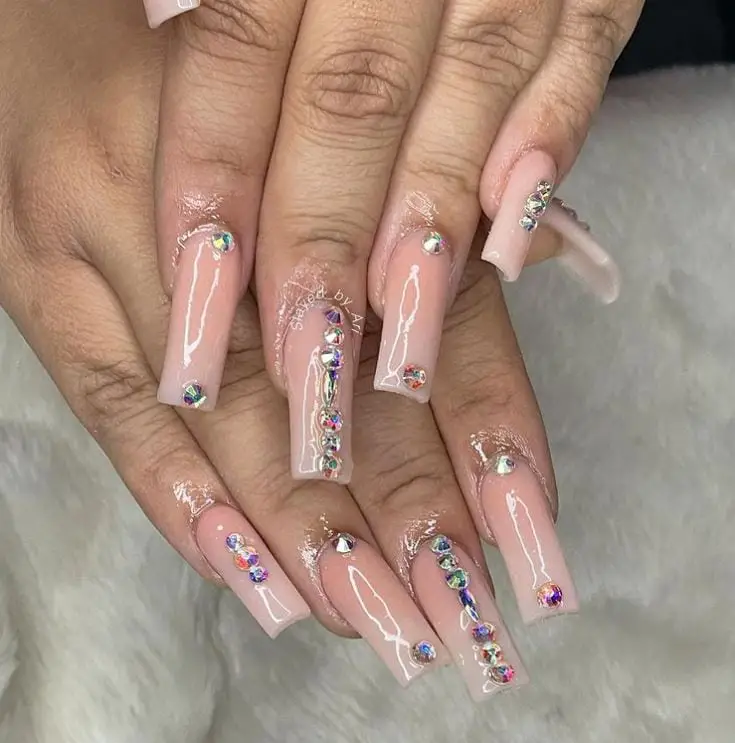 Image by @slayed_by_ari via Instagram
11. Glow in the Dark Graduation Nails
Have fun with your graduation nails by getting a beautiful manicure with red lettering that creates an absolutely amazing look. You could also use your school colors to make it more fun.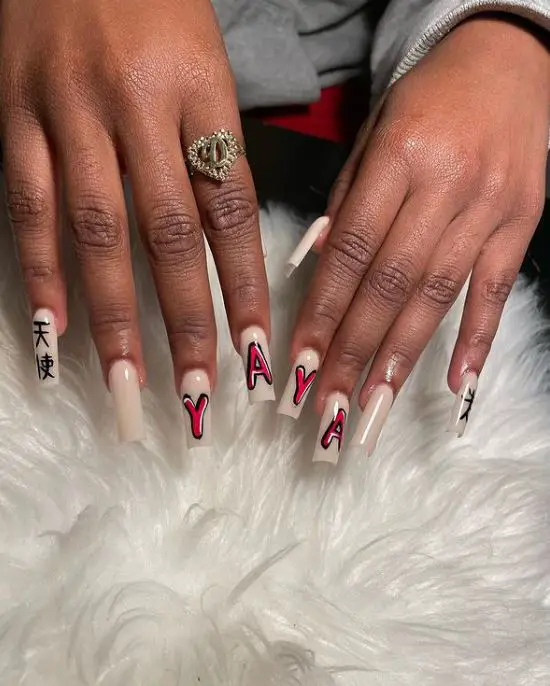 Image by @nailsbyxvmena via Instagram
12. Short Gel Manicure
More proof that you can't go wrong with a nude manicure. The short nails are glowy and elegant. The whole blue-green vibe going on here is something I'm loving.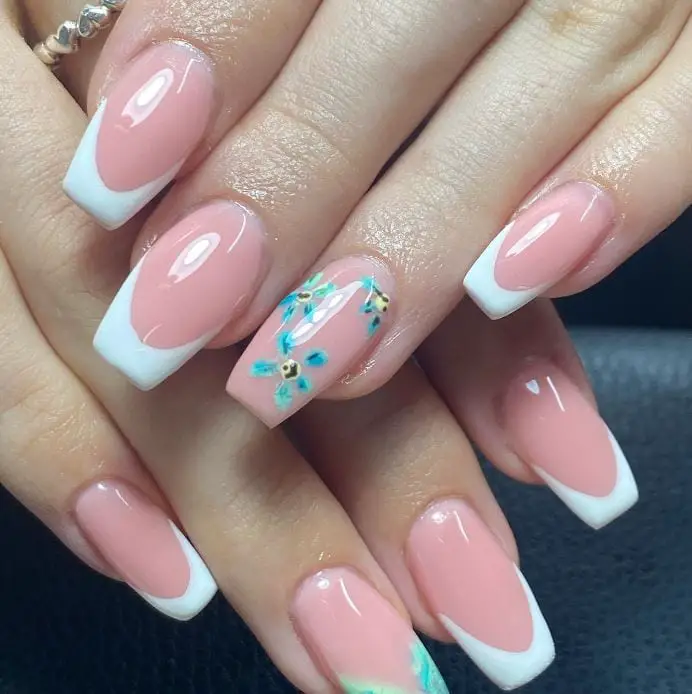 Image by @nailsbykcb via Instagram
13. Graduation Cap Nail Art
These classy graduation nails feature navy blue coffin nails with a graduation cap. The graduation nail is cool and lowkey and would be loved by baddies that love single nail color.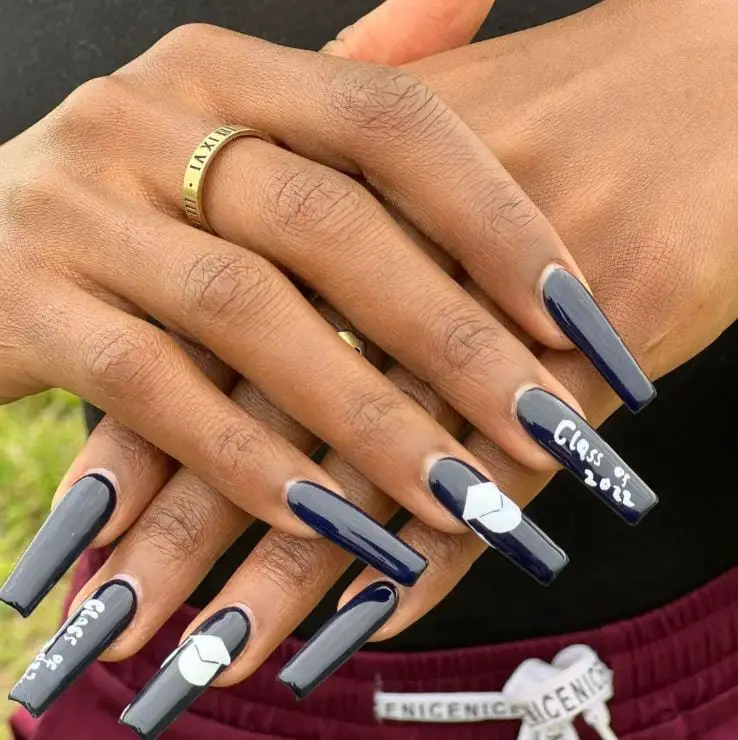 Image by @keikomusoga via Instagram
14. Red Gel Overlay
Keep your graduation nails simple with this red gel overlay. This is quite subtle, except for the small stones and flowers added to the ring fingernails.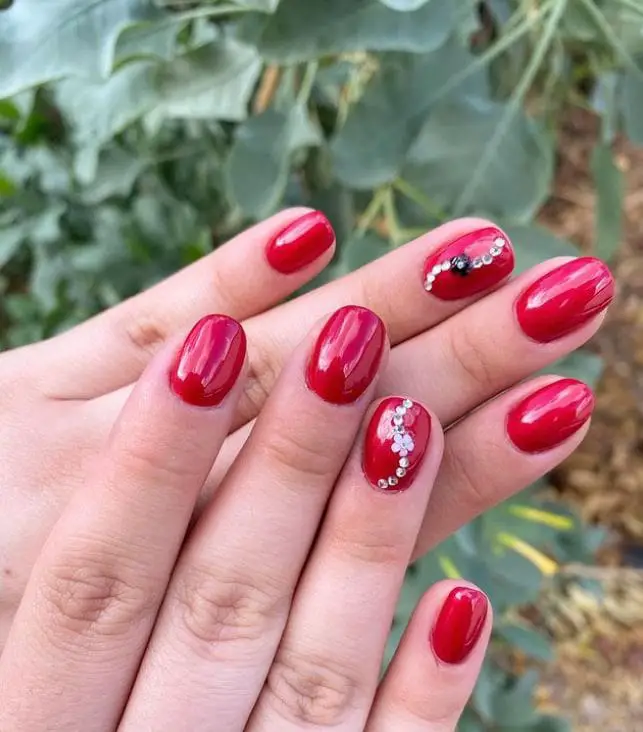 Image by @k.bnailedit via Instagram
15. A Hint of Gold
Stun on graduation day with these long square graduation nails with gold foil. Recreate this splendid look without being too extra.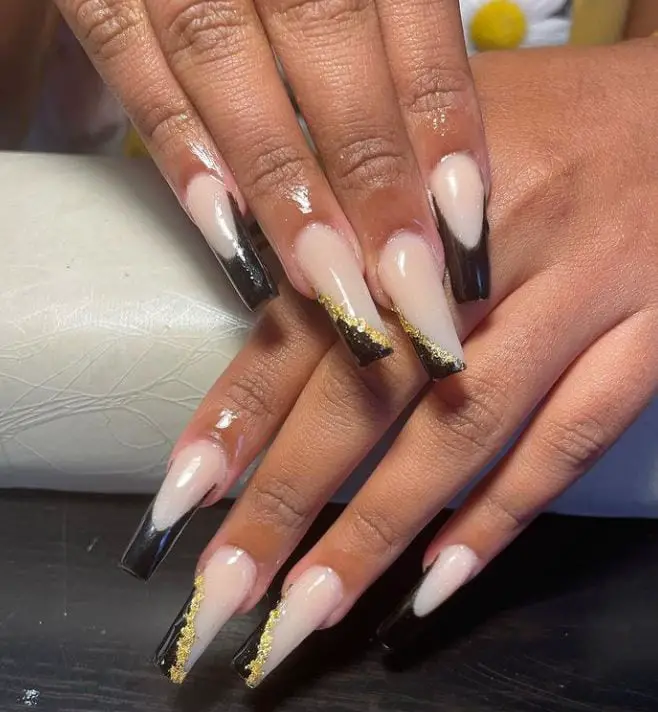 Image by @crispenvisions via Instagram
16. Simple Grey
Just take a look at that accent nail, it makes the whole look refined with restrained elegance.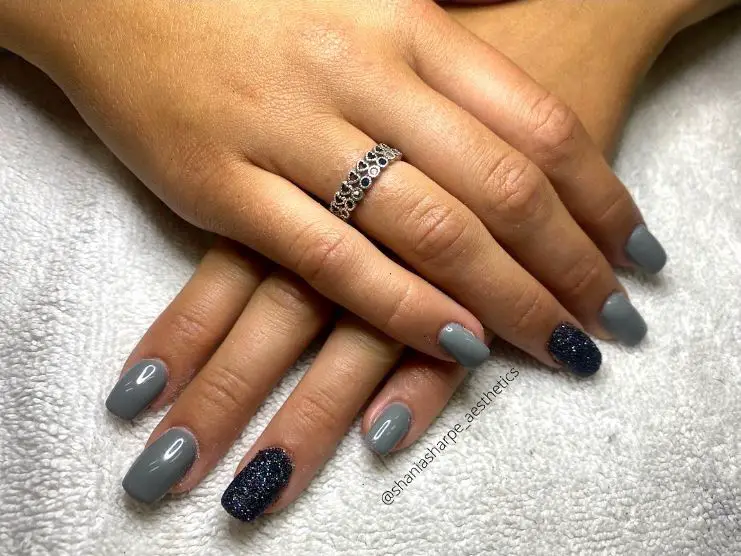 Image by @shaniasharpe_aesthetic via Instagram
17. Marble Graduation Nails
This coffin shape beauty took a lot of hard work. Add your school graduation year if you wanna top up the fun.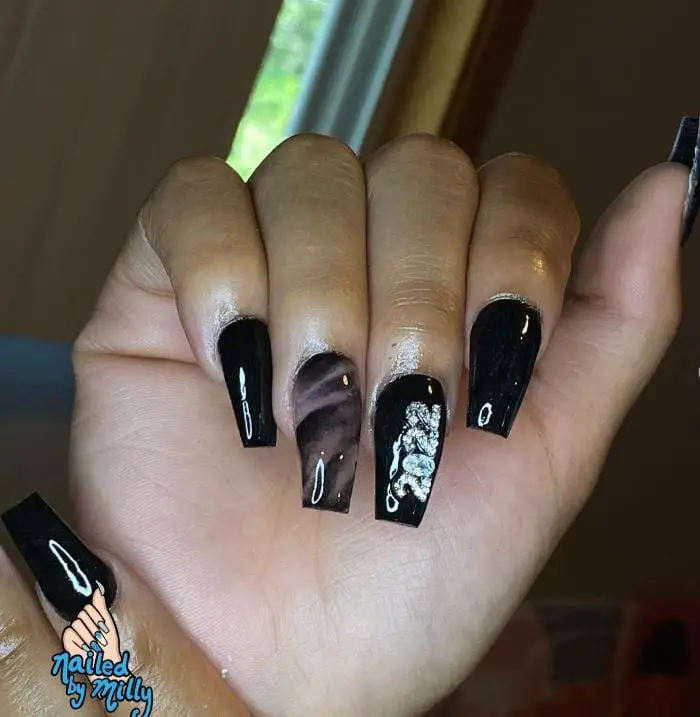 Image by @nailedbymilly via Instagram
18. Reflective Glitter Graduation Nails
Need a classic french tip manicure to wow everyone? Here you go.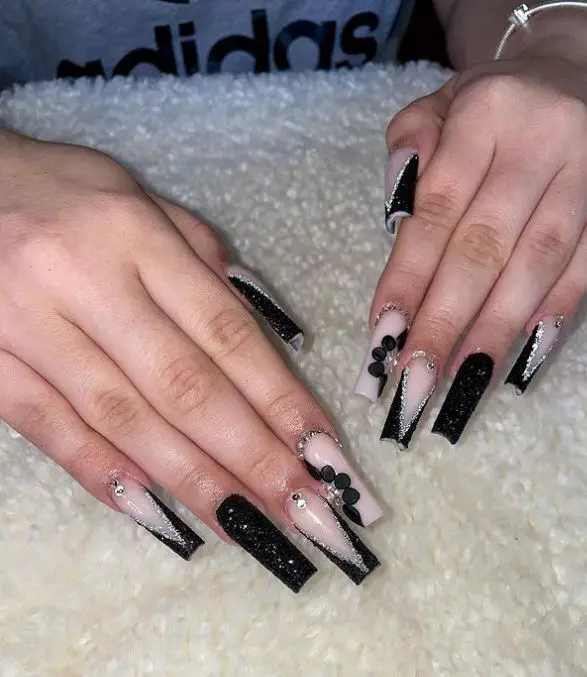 Image by @diamonddripnails via Instagram
19. Pink Classy Graduation Nails
Do you love this creative light pink and square nail art with a bow? Well, that makes two of us.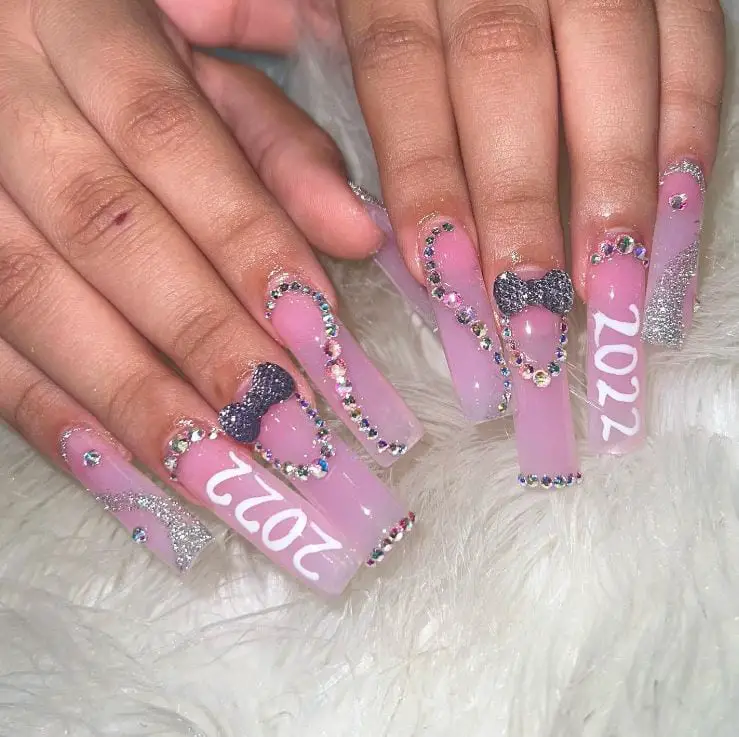 Image by @whosnext_byanaryh via Instagram
20. Graduation Nails with Red Crystals
Seen a badder graduation nail art? I doubt. The classy red crystals on the pink and silver glitter nails make it look expensive and classy. Recreate or not?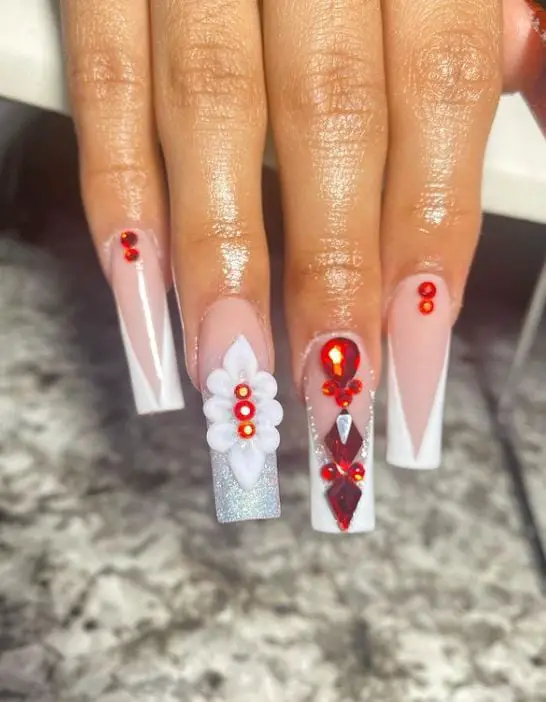 Image by @nails_by_kathyyy via Instagram
21. Cool Color Graduation Nails
Use cool colors on your nails as shown here to match your graduation cap and gown.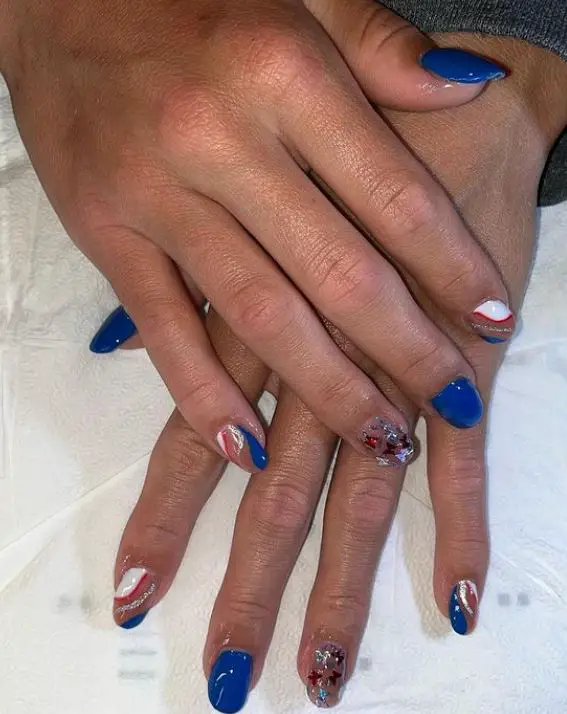 Image by @sydds_nails via Instagram
22. Pink V-cut Graduation Nails
V-cut nails are a trendy style at the moment. No surprise there, since they are so cute and perfect for a near-summer graduation celebration.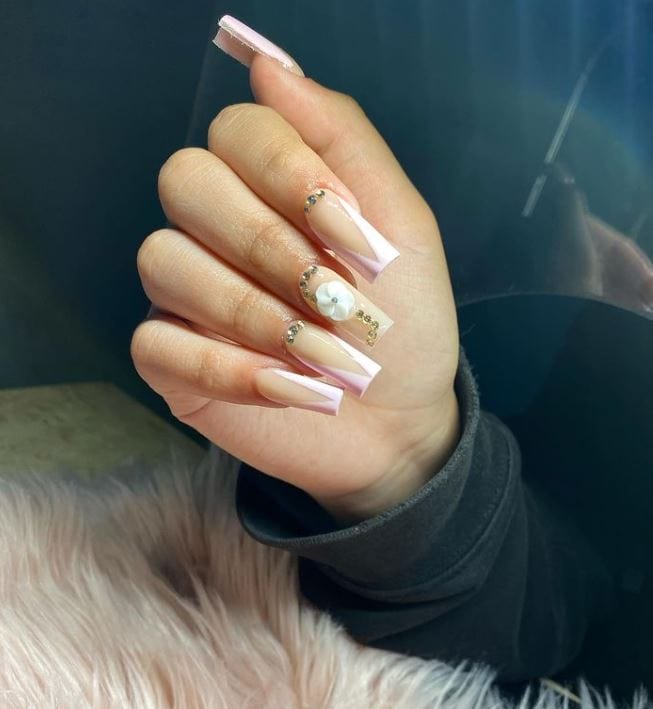 Image by @nailsby_luz25 via Instagram
23. Ombre White Graduation Nails
3D graduation nail ideas are becoming popular and I'm all for them. The blue crystals on the long nails are just what you need to compliment your graduation year outfit.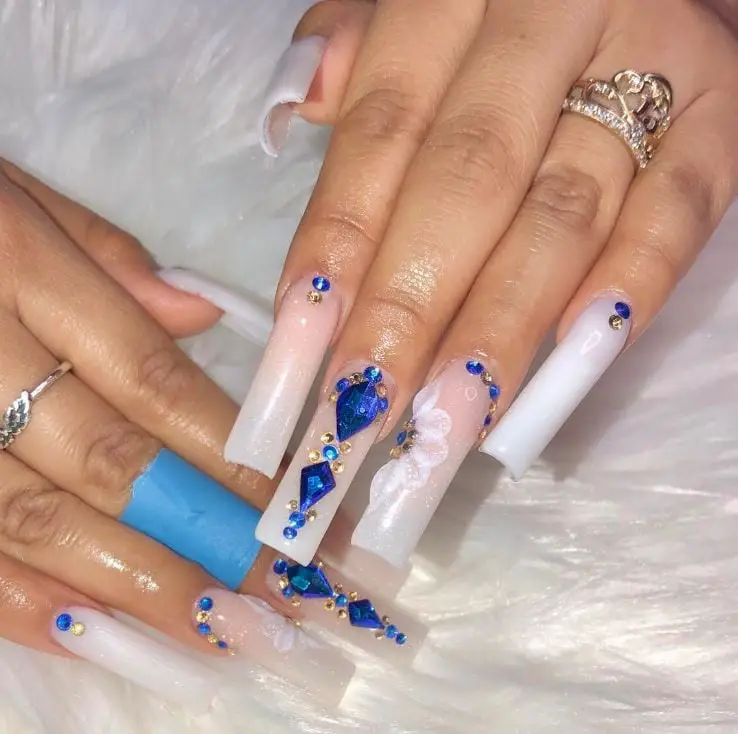 Image by @fany.s_nails via Instagram
24. Gold Graduation Nails
Get your classy graduation nail in gold if you're all about the bling. This is giving the right amount of it.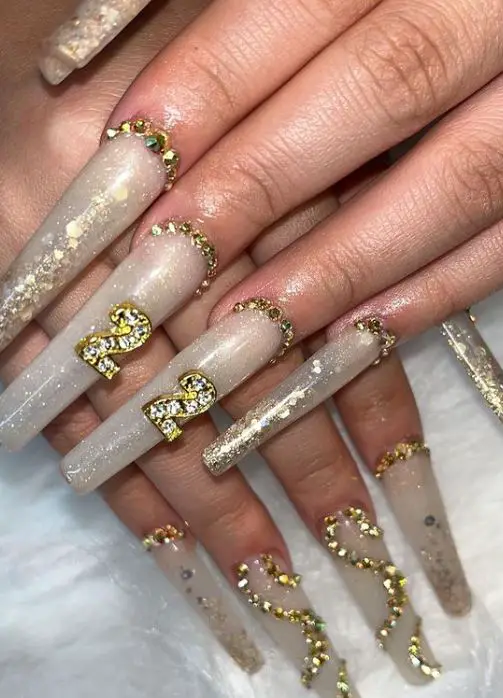 Image by @ronnies_nail_dsire via Instagram
25. Simple Coffin Graduation Nails
Take a look at these almost-white nails for graduation. This classy graduation nails design is minimal and would go well with a white dress.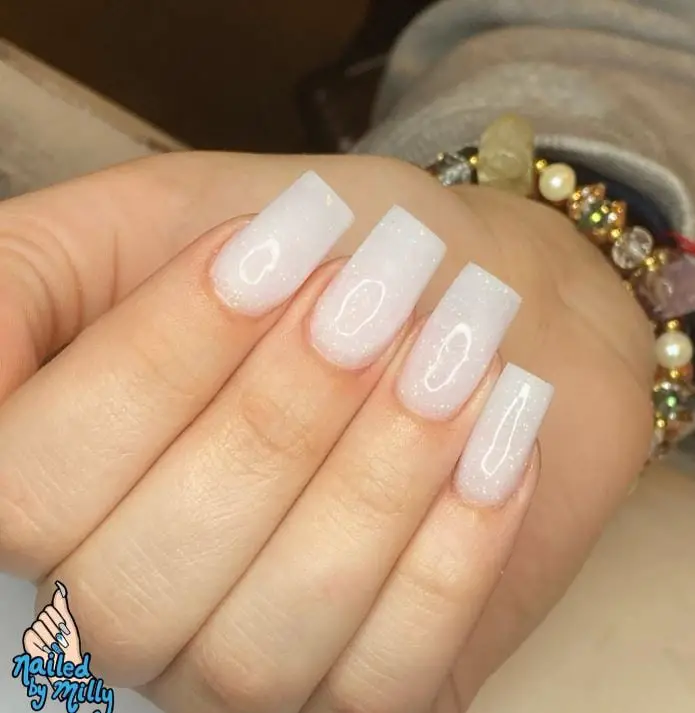 Image by @nailedbymilly via Instagram
26. Pink and White Graduation Nails
Who wants to look boring at graduation? Not me, which is why this fun-filled graduation nail design looks so appealing.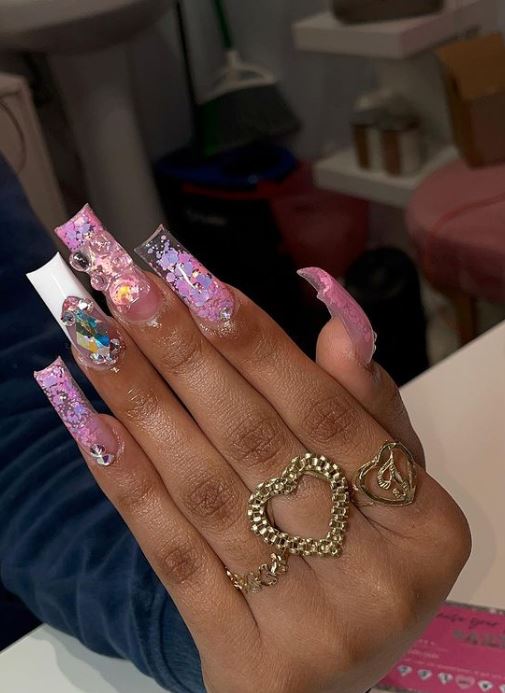 Image by @naildbyjade via Instagram
27. Nude Classy Graduation Nails
Nude graduation nail ideas are a timeless classic. These nails with jewels represent this really well.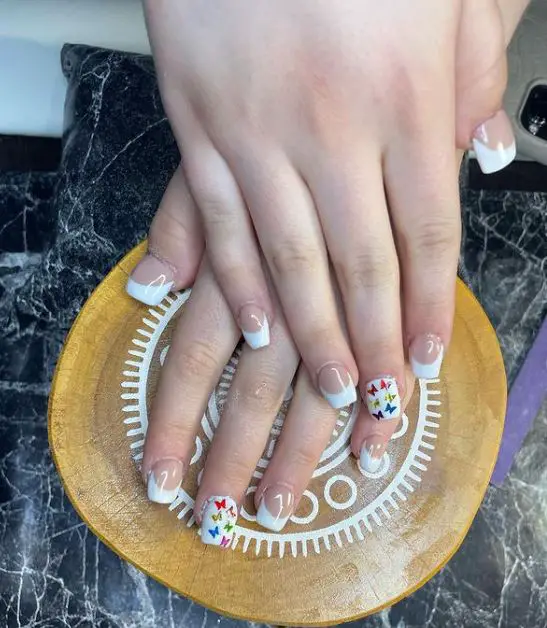 Image by @jaimetucker_aesthetics via Instagram
28. French Tip Nail Design
These nails are simple to recreate and flawless. The shiny top coat seals the deal, and the white is such that you can wear with any choice of clothing on your big day.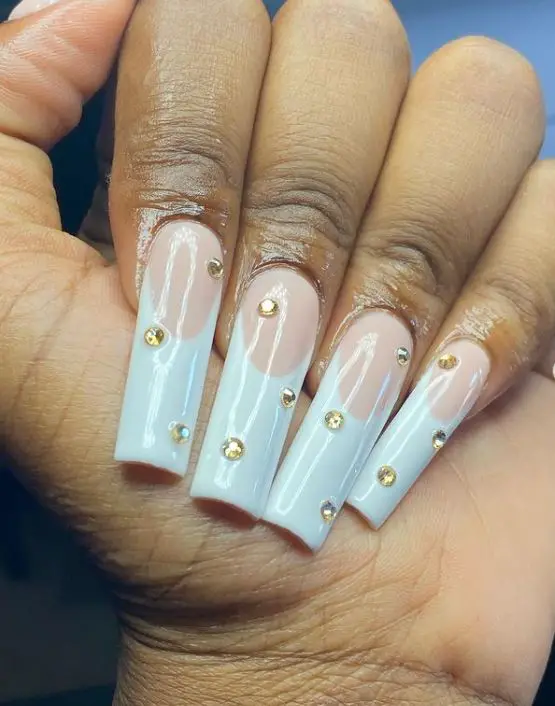 Image by @miahxnails via Instagram
29. Simple Nude Nails
If I don't have a lot of time, this would be my go-to nail idea for my big day. The nude base makes the trendy silver glitter stand out beautifully.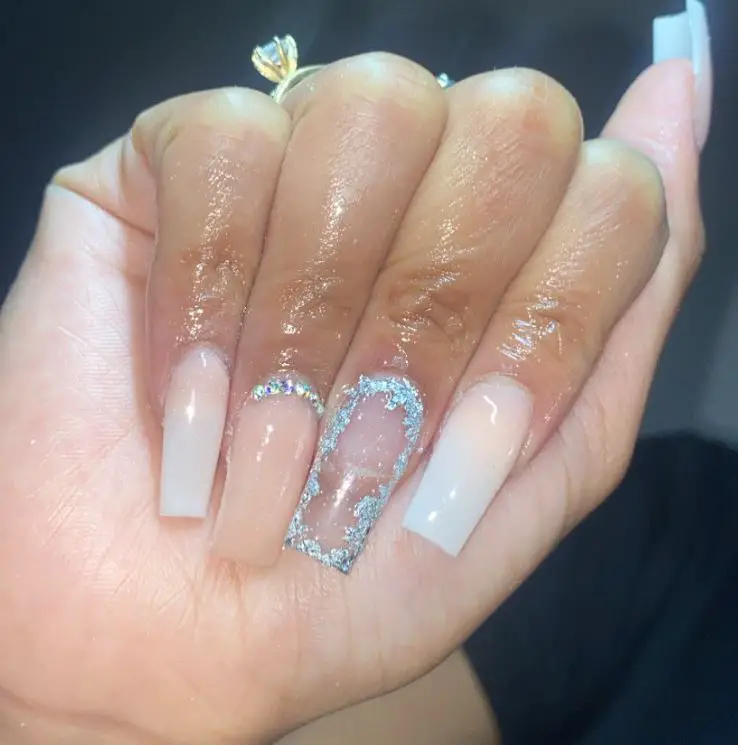 Image by @sassysetz via Instagram
30. Cream Nails For Graduation
Nail designs look stunning in cream and this is no different. The white nails with pearls and flowers are sure to capture everyone's attention.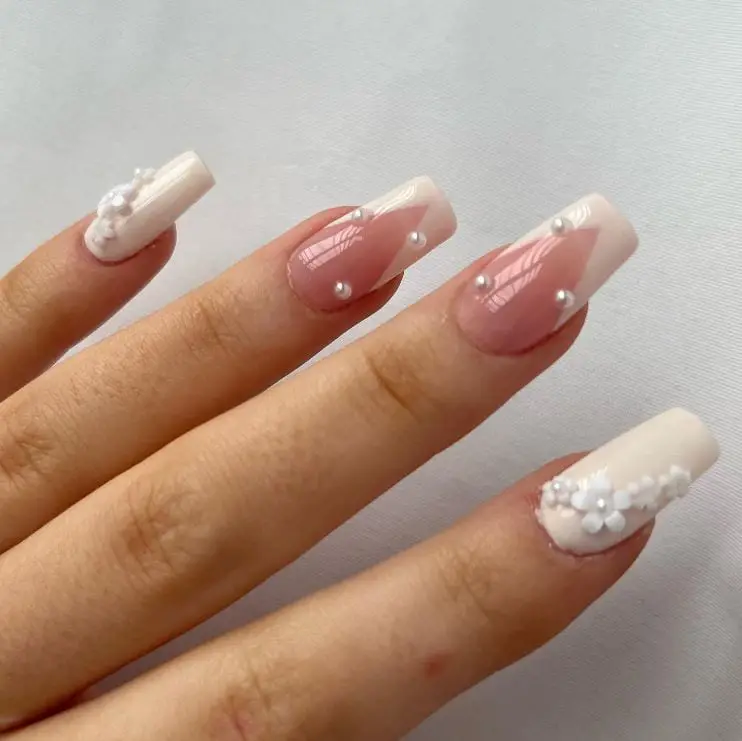 Image by @ciara.dunne.beauty via Instagram
31. Butterfly Rhinestones
These nails take the award for most classy graduation nails because it exudes pure class. The ombre and silver glitter blends well to create a stunning effect.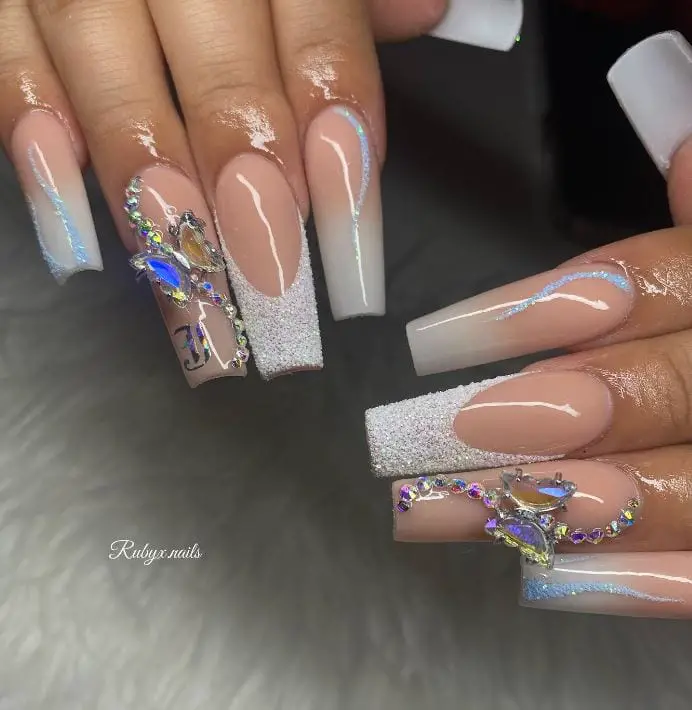 Image by @rubyx.nails via Instagram
32. Hint of Purple
Noticed that purple has a way of blending with almost any color or outfit? That's why a touch of purple is always nice on nails for graduation.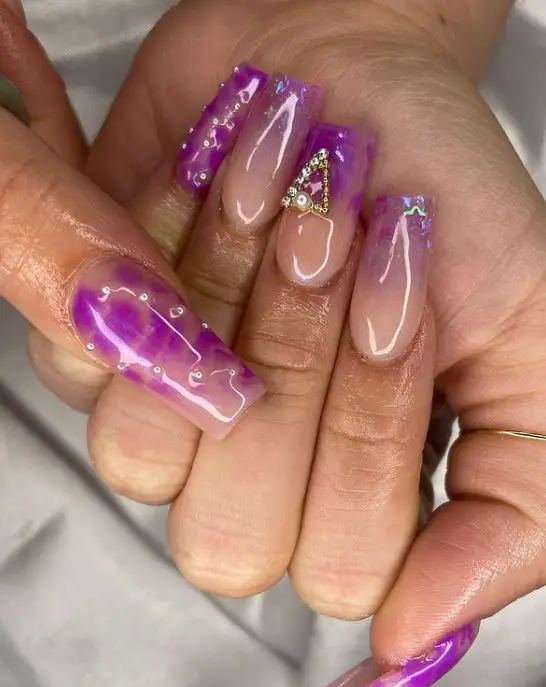 Image by @nailsbyjjj via Instagram
33. Black Acrylic Nails
I'm obsessed with black, and it's no news that black is a classic. This makes it the most classy graduation nails you could go for. The shimmer going on here is just magical.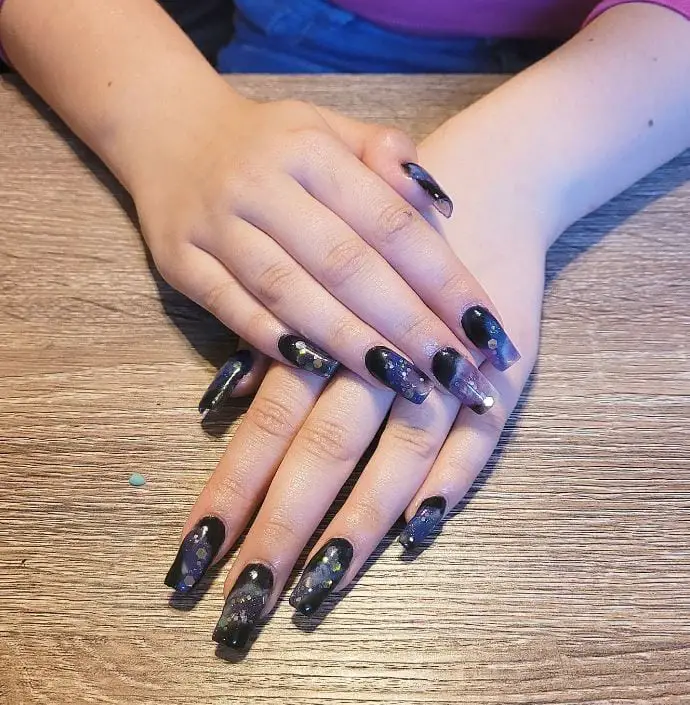 Image by @nailsby__crystal via Instagram
34. Lavender Manicure
Lavender is a nice idea for nails, and this will also look nice in soft pink. Show that you're a queen among your friends by adding a silver adornment to match your grad gown.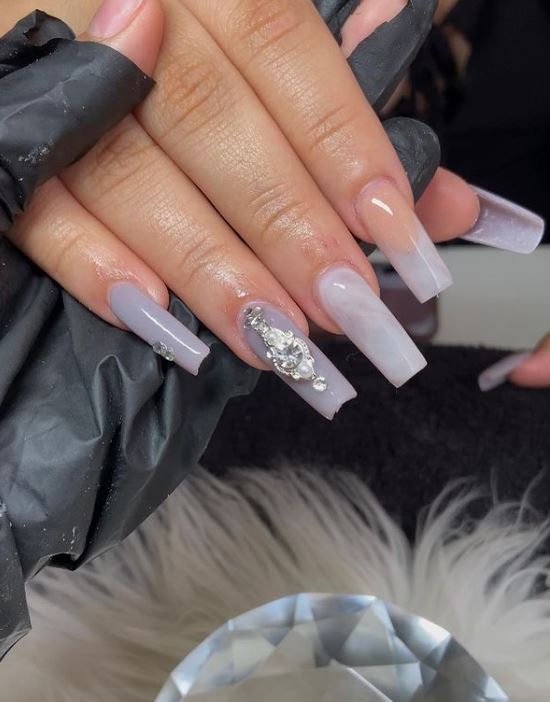 Image by @nailsby.illy via Instagram
35. Blue and Silver Nails Idea
Keep things simple and celebrate with these minimalist nails of bold blue nail polish and silver glitter.
Image by @gelsbyrenae via Instagram
36. Fiery Red Nails with Glitter
Let out your daring side a tad bit with these red glitter-filled classy graduation nails, with 3D flowers and little red rhinestones.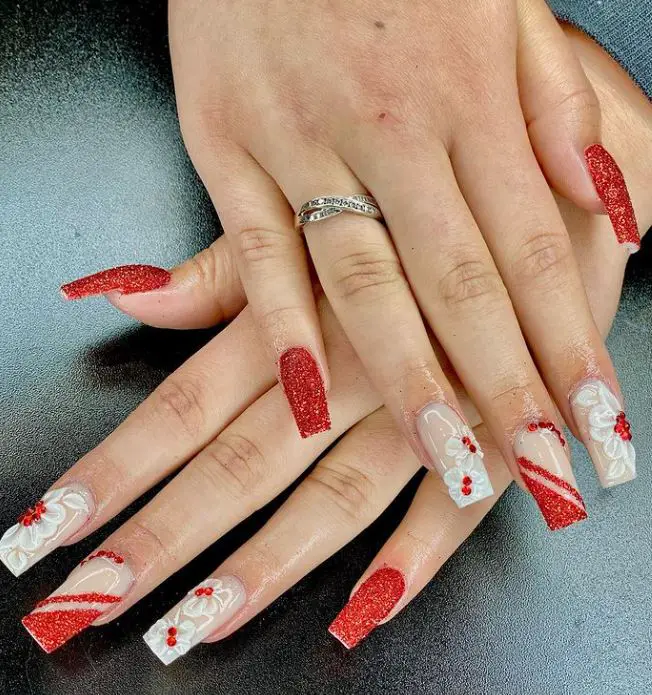 Image by @aishas.beauty via Instagram
37. Blue Boss Babe Nails
Recreate this to take a stroll on the wild side with these short elegant navy blue nails filled with gold foil to dazzle the audience on your graduation occasion.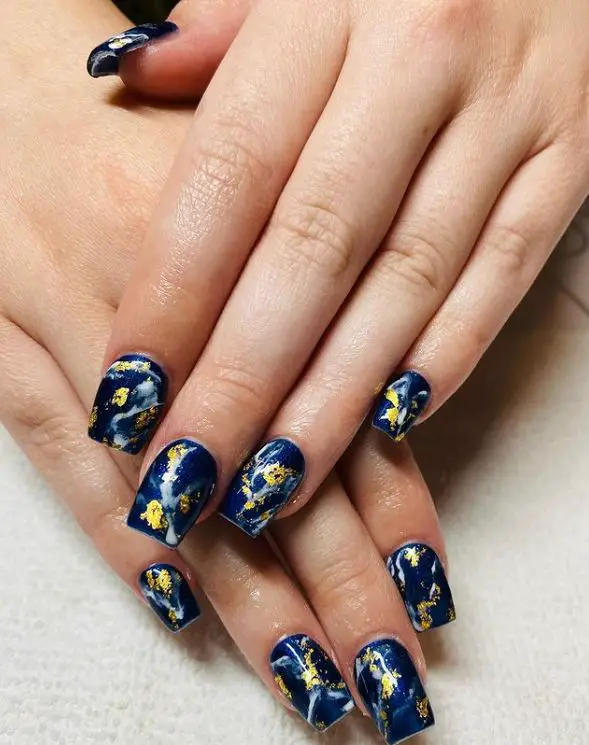 Image by @glamournailsbyruby via Instagram
38. Nude, Black, Silver, Glitter
Stop your search for elegant ideas for classy graduation nails by getting these nude and black nails with a white line of silver glitter.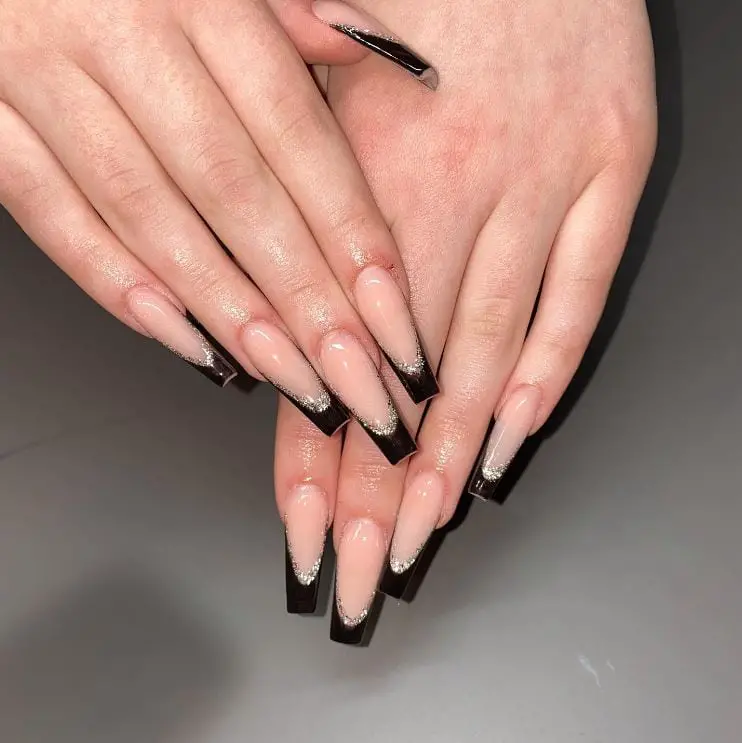 Image by @lilysnails.xo via Instagram
39. Gothic Graduation Nails
This one is for the gothic girls. The monochrome and red nail art is dark as the gothic girls like it with a touch of gold decals and white to make the nail suitable for graduation.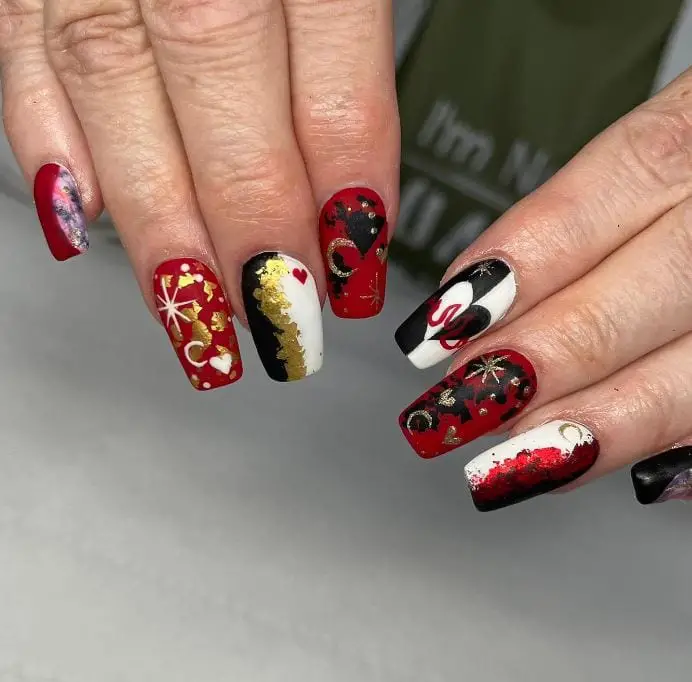 Image by @zestebeautyhamilton via Instagram
40. Yellow and White Mani
Shine bright with this design of yellow and white waves that only a professional can achieve.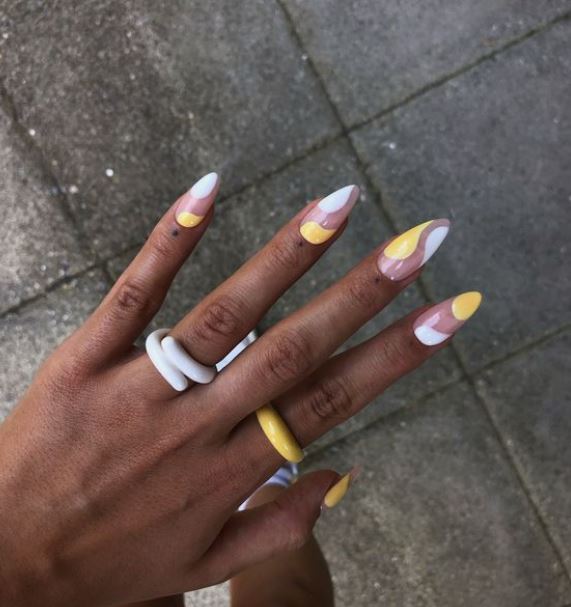 Image by @etsy via Pinterest
41. Beige Mani with Black Swirls
These swirl abstract nails are very trendy right now. The sparkle of this mani is festive, making it great for graduating.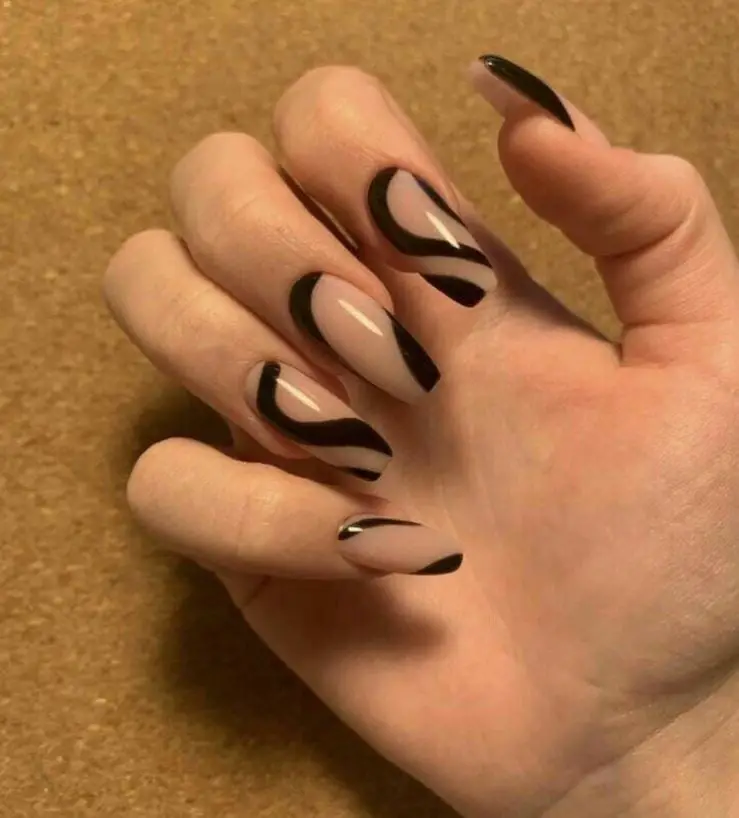 Image by @milenakarganova via Pinterest
42. Gold Stiletto Mani
Glow like the queen you are as you rock this amazing nail design for graduation. The vibrant gold foil is trendy and adds glamour.
Image by @cinthiamagana27 via Pinterest
43. Brown Marbles
Marbles are so cute and the soft colors used to create the effect makes it suitable for matching it with several outfits. Can't wait to recreate this.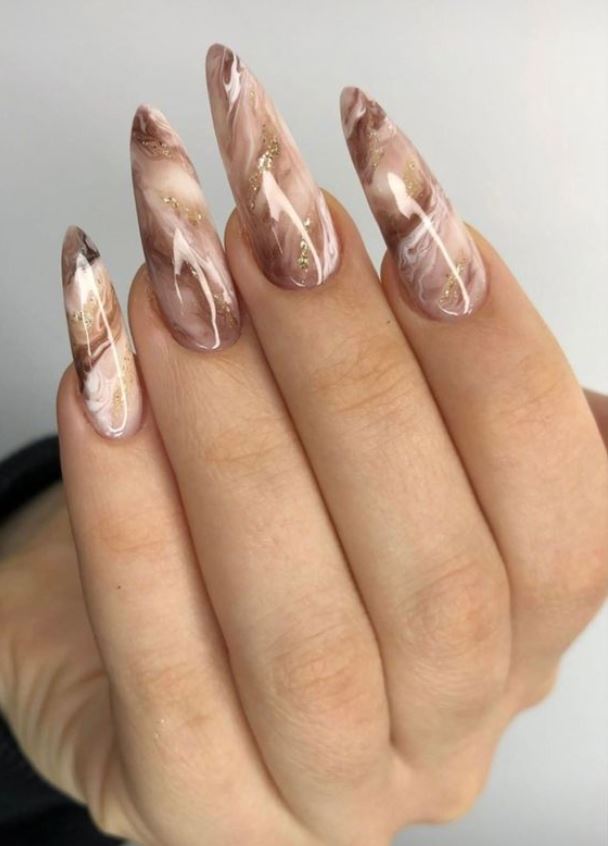 Image by @irinairisskii via Pinterest
44. Neon Leopard Print
Only neon green lovers can pull off this interesting design. The leopard print transforms this into a cute graduation look.
Image by @lusterlacquer via Instagram
45. Multicolor Nails
Can't decide on a single nail color? Well, combine all of them to create an interesting look capable of generating envy.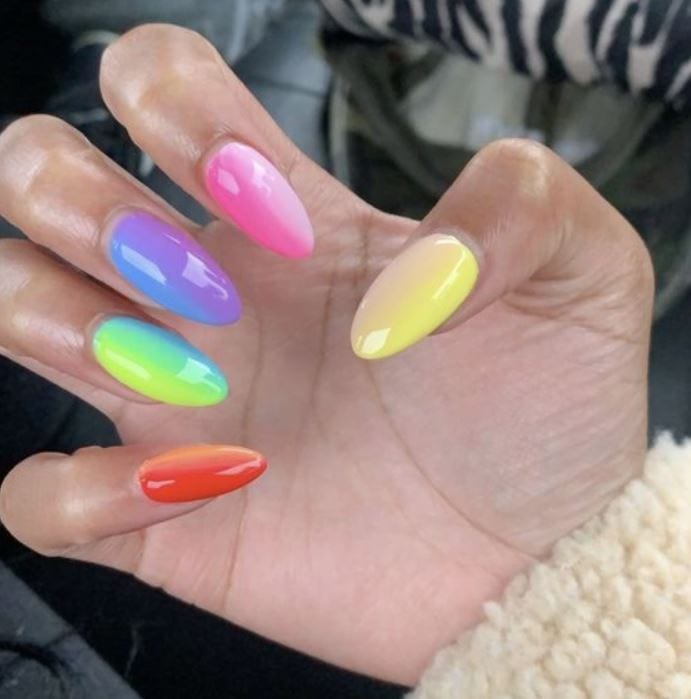 Image by @hayanoda via Pinterest
Seen a nail design you want to recreate? I'm not surprised, with how amazing all these graduation nails look. Get one done and collect your diploma looking stylish and elegant.