Hearts represent love and affection, and it is quite easy to create hearts on nails if you've got the time. Start by drawing 2 dots close together and joining them at the top and bottom, and you've got a perfect heart. 
Heart nails are a personal favorite because of how they subtly express your femininity. I personally love the first design on the list with pale pink nails. I think it's simple and elegant.
As a heart nail patron, here are 47 of the best gorgeous and unique heart nail designs I've come across, for your next appointment. 
47 Heart Designs You're Sure To Love
1. Gorgeous Pale Pink Hearts
The first nail art on our list is these romantic pale pink nails with endearing little red loves close to the cuticles, spiced up by a red accent nail with a pale pink heart at its base.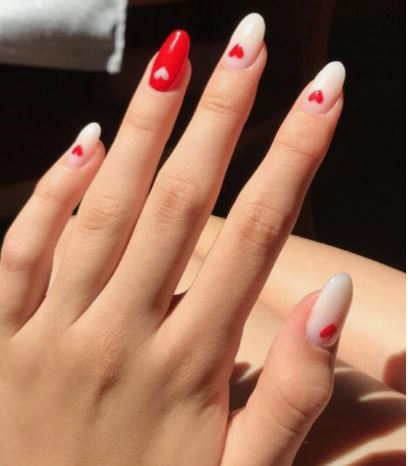 Image by @bibkaxxc via Pinterest
2. Beige and White Heart Nail Art
With just the ideal length, this romantic nail design features white and beige nails, the ring and index nails are beige with perfect hearts. This is a classic that is suitable to wear on a date.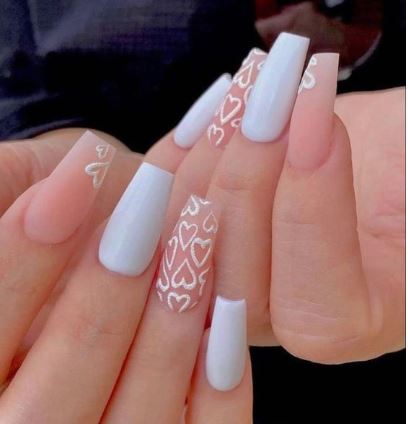 Image by @stegasaurio via Pinterest
3. French Manicure With Hearts
This adorable heart nail design has a nude base with pink tips, and the little hearts close to the cuticles of the nail looks chic and feminine, perfect for valentine's day.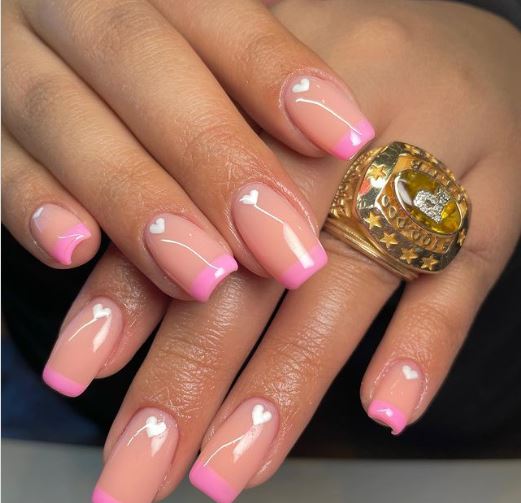 Image by @danis.manis via Instagram
4. Simple Manicure
Who says you have to go all out for a cute heart nail design? This simple nude heart nail design with red hearts is a basic manicure that is ideal for first-timers or those that want to taste the waters with heart nails.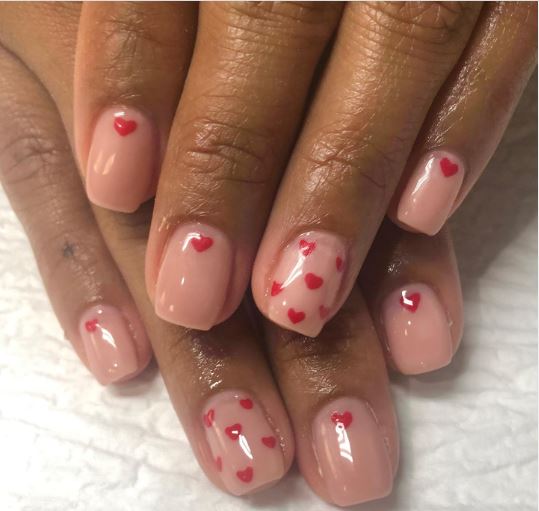 Image by @confessionailswithstephanie via Instagram
5. Matte Ballet Pink Nails
If you are on the search for valentine's day heart nail art, then you've found the one. This is easier to recreate than it looks. It features ballet pink at the base with a bold red heart at the tip of the nails, with little red glitter surrounding each red heart.
Image by @charlylouisebeauty via Instagram
6. Long Coffin Shape Heart Nails
This is your sign to get that long heart nail design. Long coffin nails with a single red heart, this heart nail design will suit every outfit due to the softness of the tone.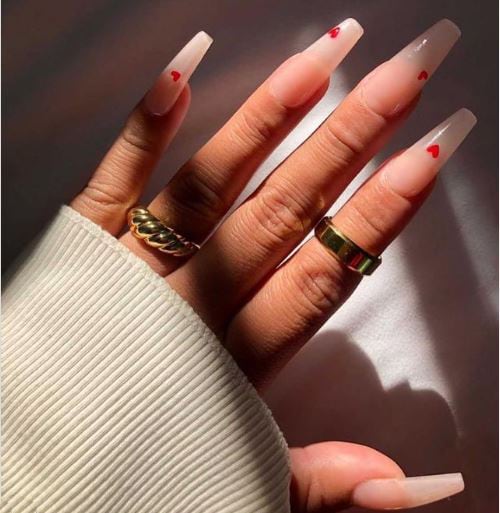 Image by @jay.rosebeauty via Instagram
7. Summer Heart Nail
Ombre, hearts, glitter, and butterflies... yum. This trendy heart nail design looks like it was done by a pro. The girly ombre heart nail design is formed with light pink and lavender and I've never seen a more perfect match. The accent nails feature a transparent nail with heart and butterfly stickers. This nail screams fun and I can't wait to get mine done.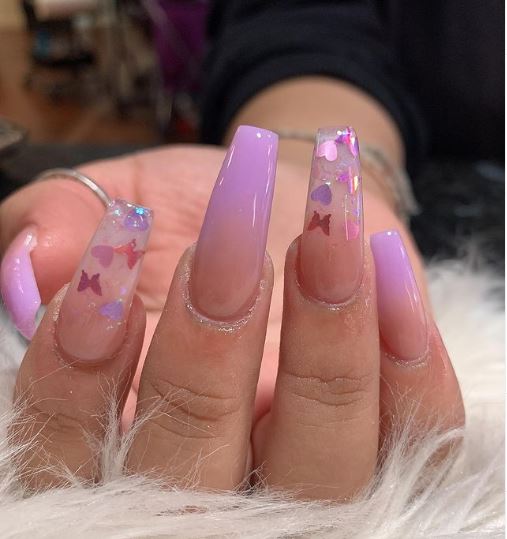 Image by @solarnails.keizer via Instagram
8. Hand-drawn Love Heart Nails
Simple gel nail design with hand-drawn hearts are trending and I'm loving it. These pretty nude nails are simply stunning and will make you smile.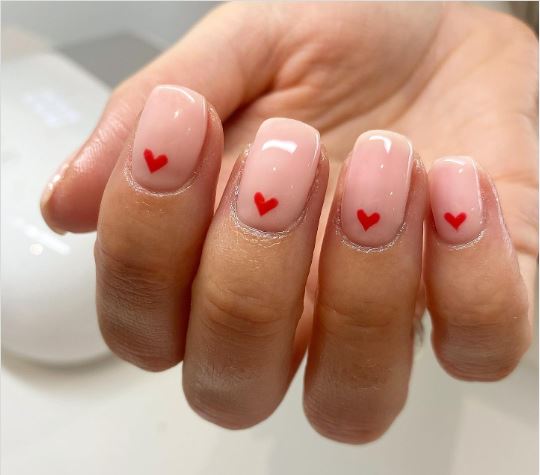 Image by @lucyjanesbeauty via Instagram
9. Black and White Heart Nails
Who wants to look basic when you can look stunning? These are two colors you can never go wrong with, and this monochrome heart nail design is proof of that.
Image by @smooch_nailsandtraining via Instagram
10. Dark Hearts
Look no further for your romantic heart nail designs. This lemonade pink long nail design with black hearts on a single nail is pretty and feminine. You can wear this to add color to your favorite monochrome outfit.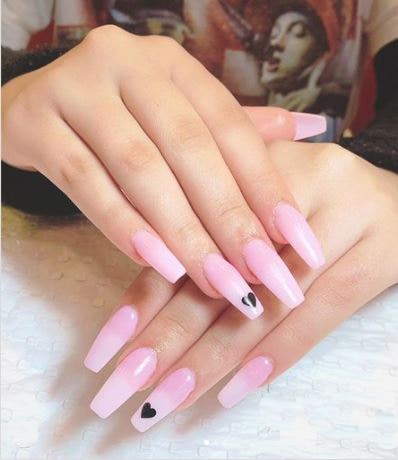 Image by @beautinabeautystudio via Instagram
11. Beige Heart Nails
Opt for this heart nail design if you want to show yourself some love by switching up your look. I'll add little red polka dots to make them look more fun.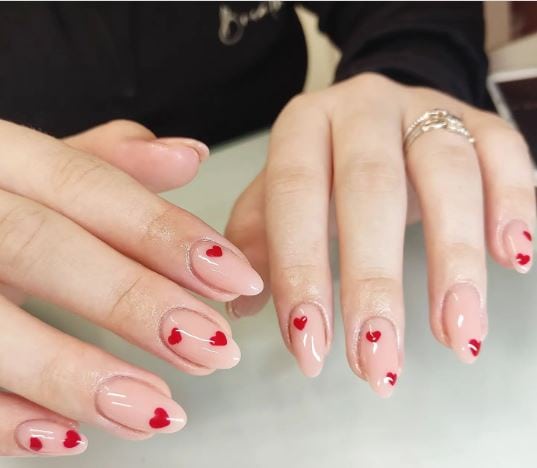 Image by @lotus_beauty19 via Instagram
12. Gel Extensions With Glitter
The gold glitter on this nude heart nail design makes it colorful and adds a little sparkle to the otherwise plain nude nail art.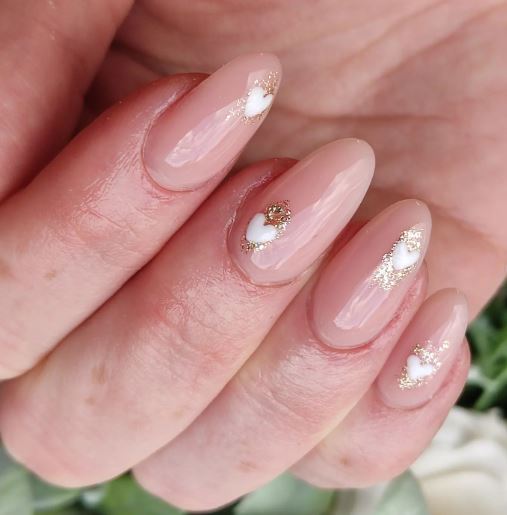 Image by @lotus_beauty19 via Instagram
13. Gothic Heart Nails
If you're not a girly girl, then this nail design is great for you. The heart nail design has black nails on one hand and nude nails with a small heart shape on the other hand. This is the perfect definition of pretty goth heart nails.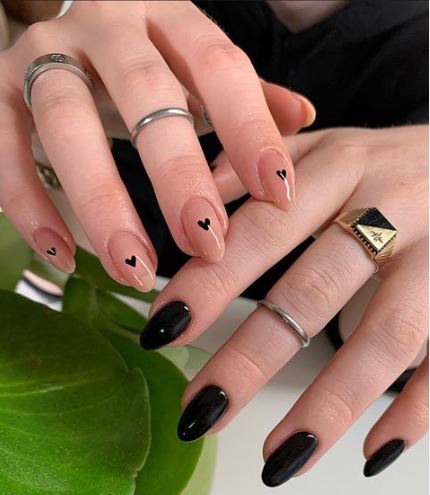 Image by @silkbeauty.uk via Instagram
14. Fun French Tips Nail Design
This super fun heart nail design looks like it is inspired by the rainbow. The contrasting shades blend better than expected to create a bright, colorful look.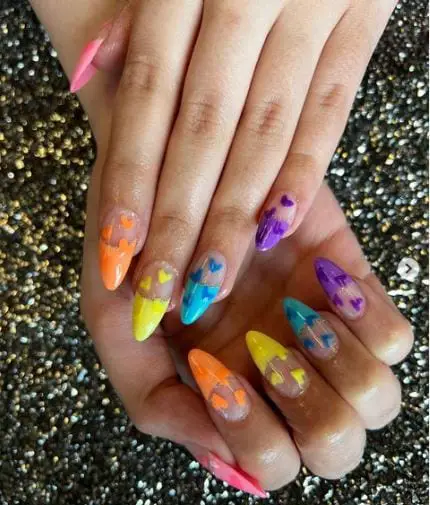 Image by @danih_tricociuniversity via Instagram
15. Milky Heart Nails
This heart nail design is a work of art, with the perfect love and the glitter added beneath the nail polish. It will remind you of the galaxy and milky way.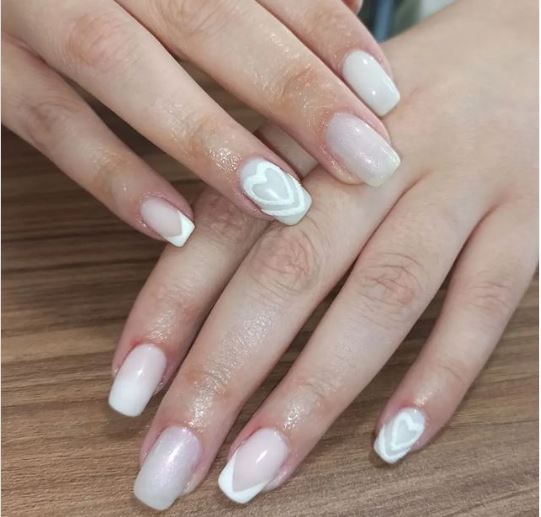 Image by @queen_nails_greece via Instagram
16. Spear To The Heart
Another unique heart nail design that shows a heart pierced by a spear, the glitter added completes the look.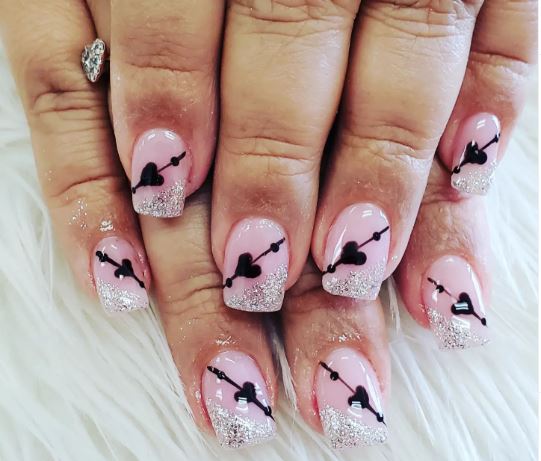 Image by @nailartbc via Instagram
17. Long Gorgeous Heart Nails
This romantic heart nail design is truly delightful. The heart is drawn to perfection, and the length is just right.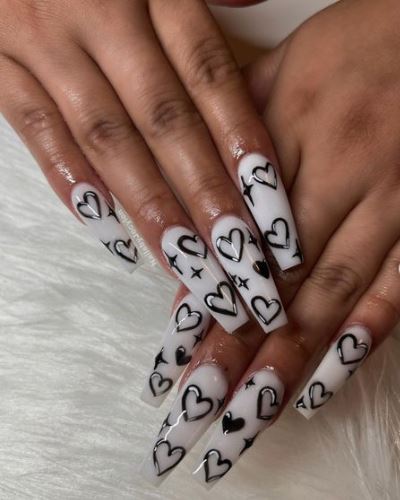 Image by @_nailsbyjocylen via Instagram
18. Hot Pink Heart Nails
The symbol of love on hot pink nails is pure magic. This heart nail design is great but the heart elevates the appearance, making it sexy.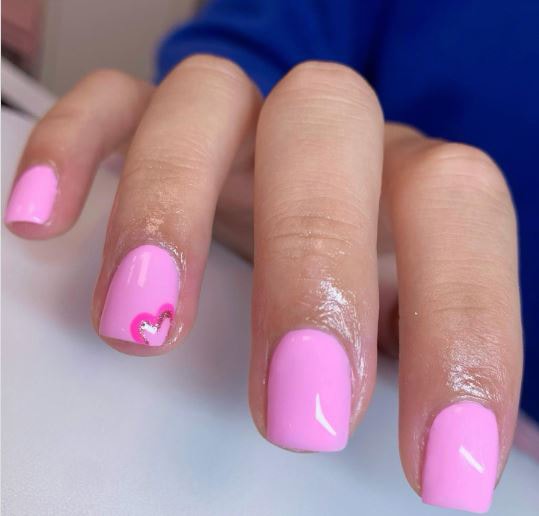 Image by @byashleighlavelle via Instagram
19. Colorful Heart Nails
Want to create a pretty heart nail design that is far from basic? Well, here you go (you're welcome). The hole punch heart on the nail extension is delicate yet eye-catching.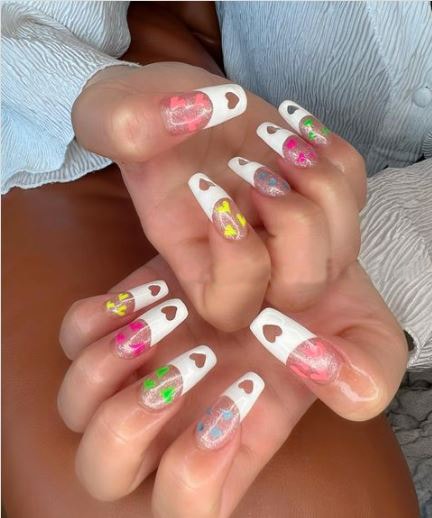 Image by @akeyshia_nails_tokyo via Instagram
20. Hot French Tips Nails
A simple heart nail design of nude and white tips that also features a heart on the ring nail.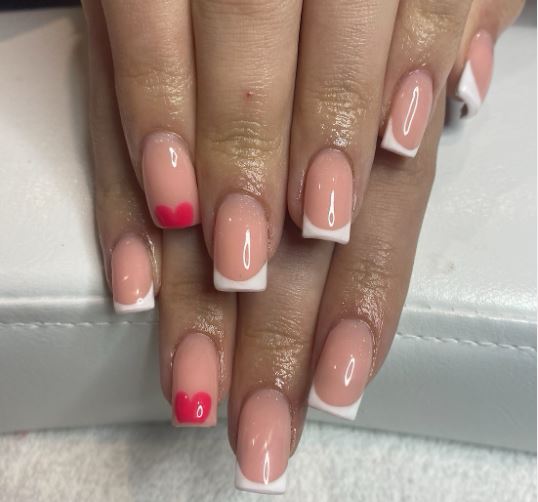 Image by @summerhouse.beauty via Instagram
21. Mocha Coffin Heart Nails
Mocha is a shade of nude that is bold and classic. This heart nail design is cool and a great fit for Valentine's day.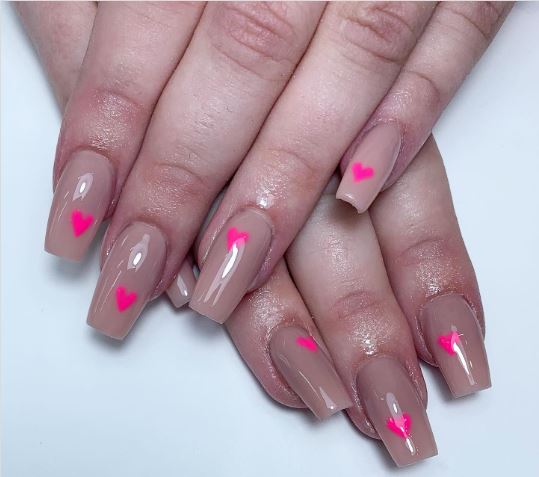 Image by @blissnailsbeauty via Instagram
22. Mint Gel Heart Nails
You should choose this easy heart nail design if you want to try a bright color to elevate your daily look.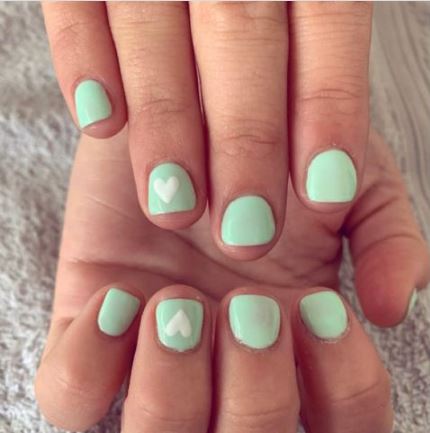 Image by @luxebeautybychloe via Instagram
23. Crimson Red Heart Nails
It's hard to not want to recreate this heart nail design. It features bright crimson red nails and an accent nail with glitter and abundant hearts. Perfect for summer.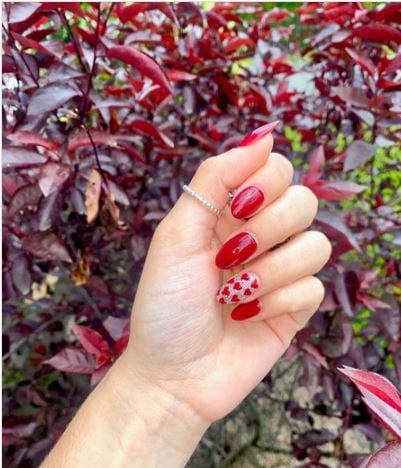 Image by @11suitesalon via Instagram
24. Multicolor Heart Nails
This is an undemanding heart nail design with natural jelly neon as the main color, with multicolored hearts on the index and ring nails.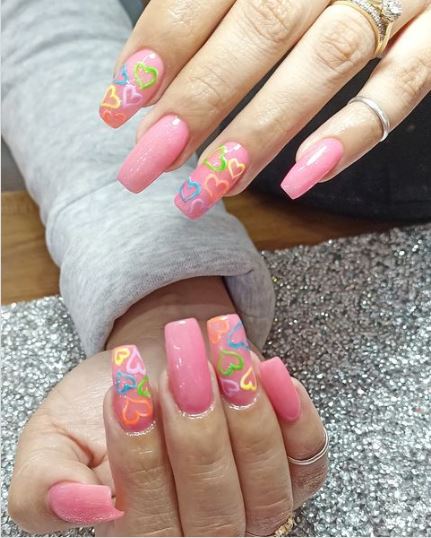 Image by @lizi.nails.puebla via Instagram
25. A Touch Of Black
Glitter has a way of adding style and capturing attention. It does just that on this nude heart nail design with a black heart.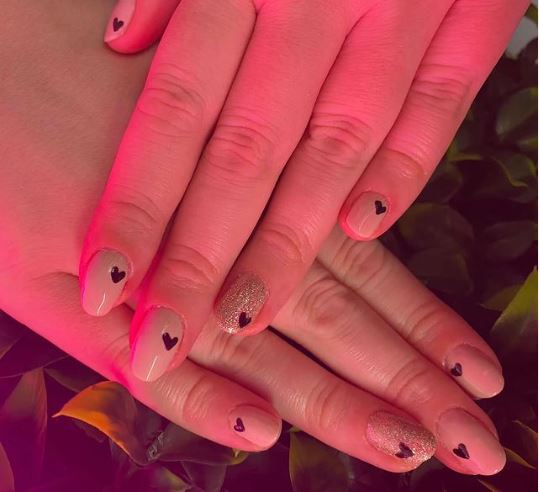 Image by @beautifulbybeth_ via Instagram
26. Heart Nails + Frenchies
Am I tripping out or is this soft colorful heart nail design a vibe? These frenchies feature lavender and ivory hearts on nude nails.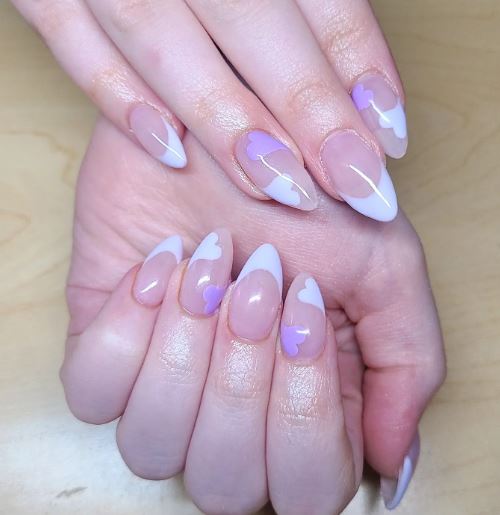 Image by @luxenails_by_lex via Instagram
27. Blush Pink Heart Nails
This heart nail design has a sweet little heart that you can paint on easily. It's pretty and can be worn for any occasion.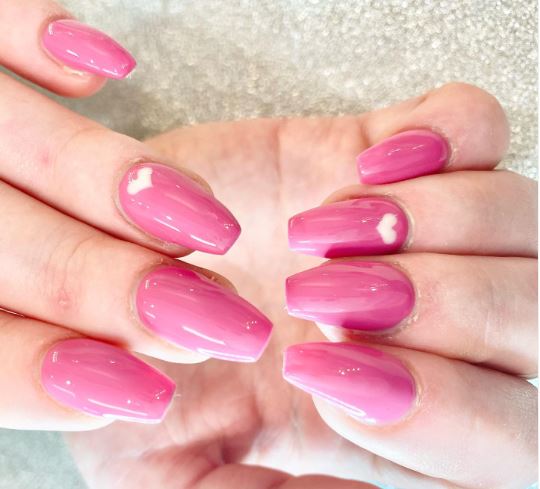 Image by @deebensonnails via Instagram
28. Grey Heart Nail Design
Who would've thought grey hearts could be this adorable? Well, it is stunning, and the heart is extended by a line ending at the cuticle.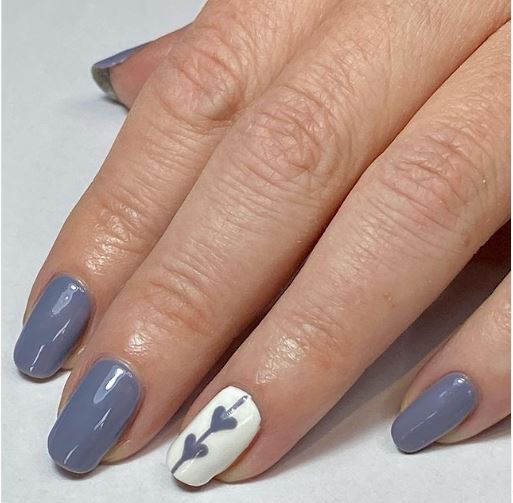 Image by @simplygels_allesley via Instagram
29. Pretty Colorful Nails With Heart
This heart nail design is proof that you don't need to stick to red hearts. The versatility of this nail design is an inspiration to try out with its cute pastel colors.
Image by @originalnailstudio via Instagram
30. Rhinestone Heart Nails
You're sure to draw attention with this pretty heart nail design, with gold hearts and jewels on nude nails.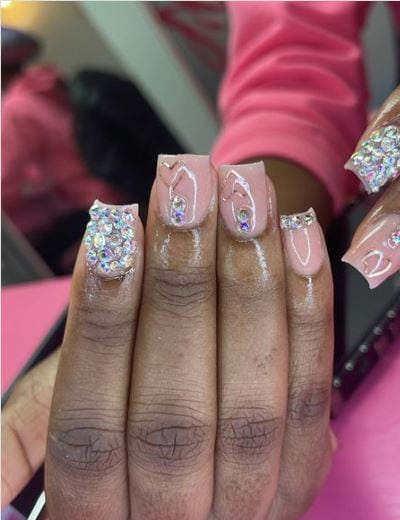 Image by @__klawsbykay via Instagram
31. Purple Encapsulated Nails
You should save this encapsulated heart nail design for your next nail, because why not? The creativity here is just out of this world with heart stickers and glitter dots.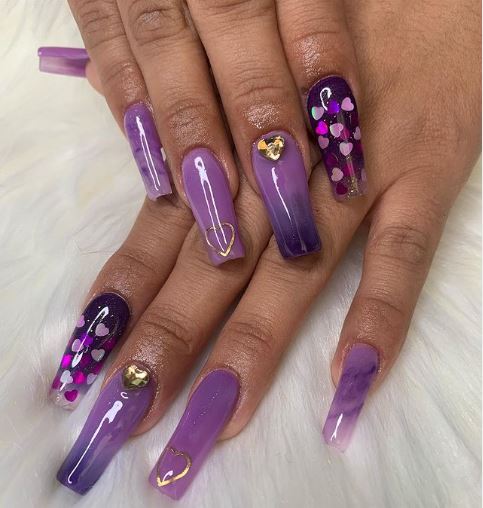 Image by @lulus.beauty.blossom via Instagram
32. Heart and Lines
This should be first on the list when you're talking about classic and elegant, with a pretty pattern of heart and lines.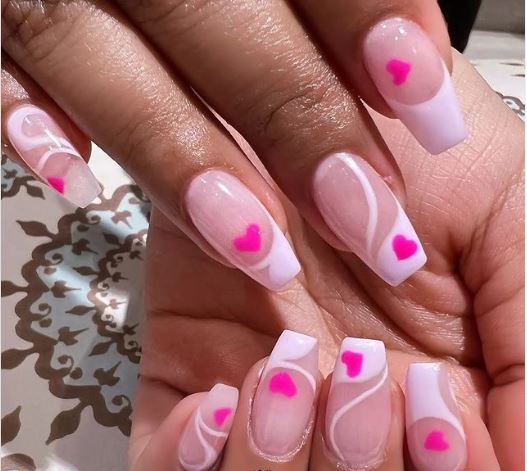 Image by @ananeke_beauty_salon_and_spa via Instagram
33. Love and Nails
Need a cute low-price gel manicure? Well, here you go. This heart nail design is simple and pretty easy to do on your own.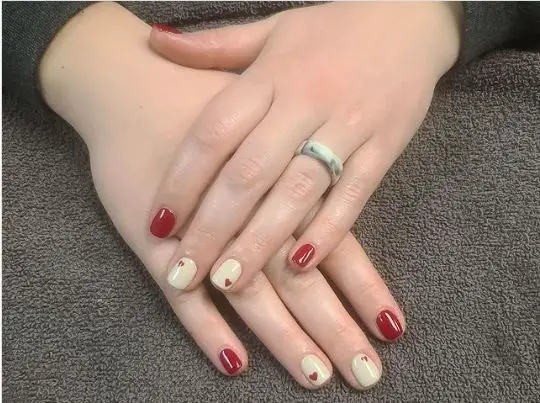 Image by @mk_nails_1 via Instagram
34. Orange Hearts
I don't know about you but this right here is my fave. Square, extra long, and extra pretty. That's what I'm all about. I bet the orange heart nail design is something you didn't see coming but look how amazing it is.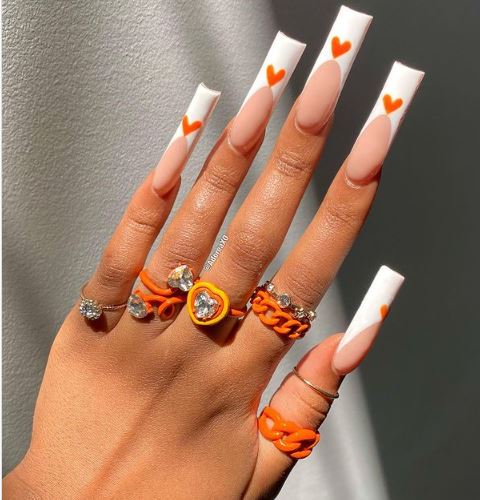 Image by @adoreaxo via Instagram
35. Monochrome Hearts
You don't have to wait for Valentine's day to get a heart nail design. Just embrace your beauty and feel romantic and in love with yourself every day. This is great for that.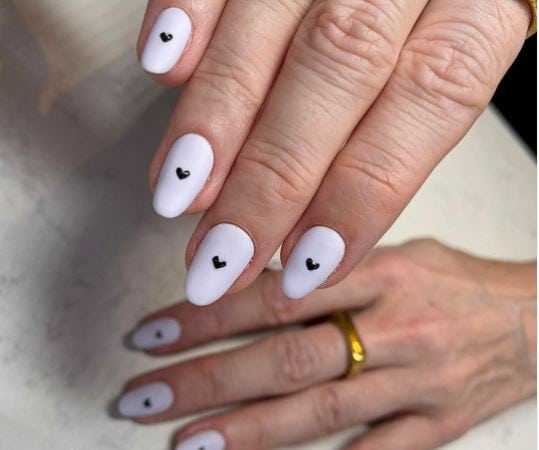 Image by @aribeauty_vancouver via Instagram
36. Cute and Classy Heart Nail Design
This heart nail design is a cute and refined blend of green and pinks. It is elegant to wear and classy enough to make a statement.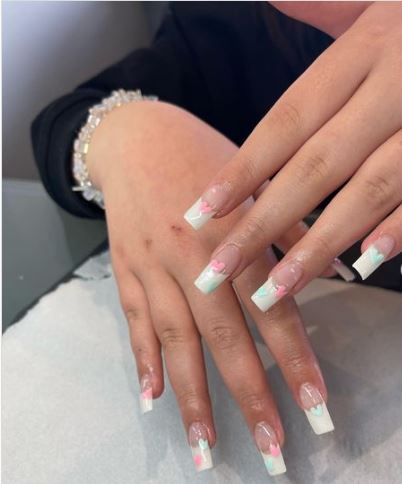 Image by @___nailsbysoph via Instagram
37. Japanese Heart Nail Design
The Japanese display their expertise by creating this magical heart nail design that looks good enough to put other nails to shame. Stunning for shogatsu or hanami celebration.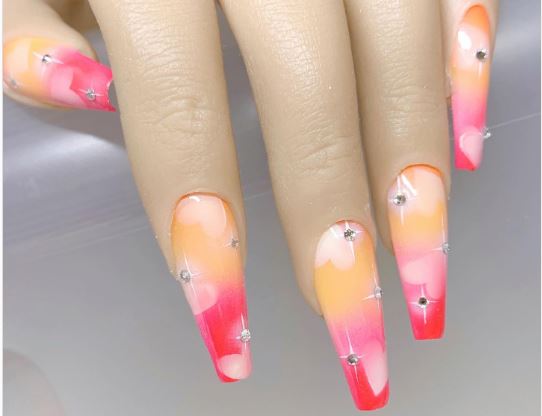 Image by @ykc2712 via Instagram
38. Phenomenal Hearts
Every girl loves a cute Valentine's day nail design inspiration to look cute for their significant other.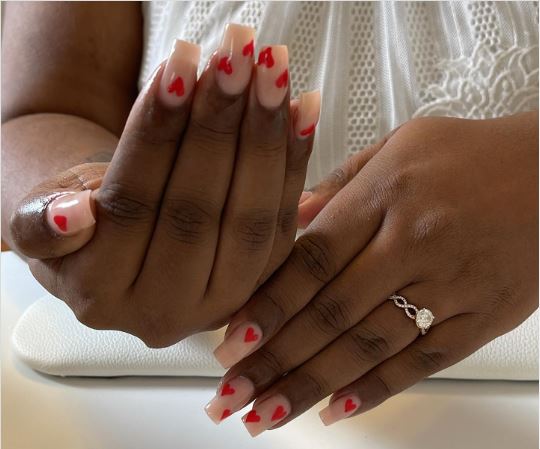 Image by @blessedbyness__ via Instagram
39. Ivory and Glitters
Okay hold up, this is just stunning, and the soft sparkles are unlike anything we've seen before.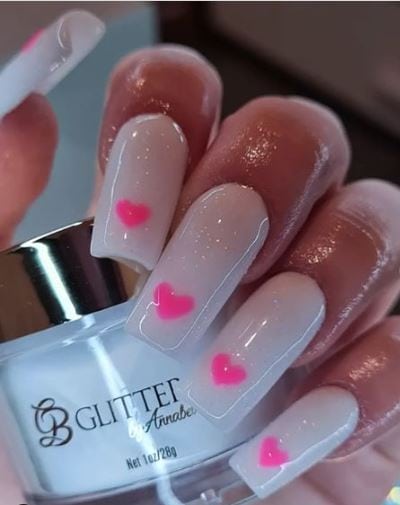 Image by @harajuku_nails via Instagram
40. Flowers and Heart Nail Design
Get inspired by this heart nail design if you want to make a dramatic statement. It has everything you could possibly want... glitter, rhinestones, flowers, and hearts.
Image by @nailsbykeeta via Instagram
41. Cards Inspired Hearts
Step out looking like a queen with black hearts on your nails. This heart nail design is unbeatable.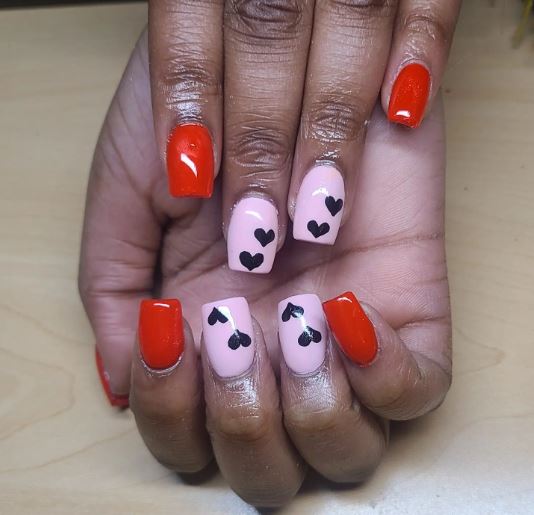 Image by @luxenails_by_lex via Instagram
42. Medium Square Heart Nail Design
Want to go all out on Valentine's day? Well, put your search on hold because you should settle for this over-the-top and classy heart nail design.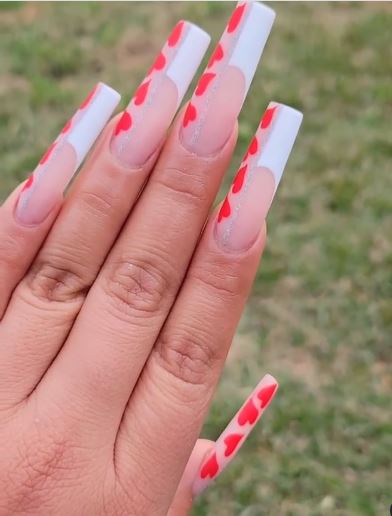 Image by @nailsbymoniihtx via Instagram
43. Pretty Coffin Nails
This features coffin nails with a red heart alternating between base and tip on each nail. This will look pretty with a whole host of colors.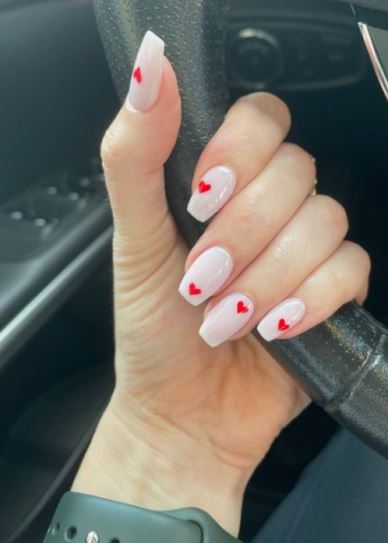 Image by @alinafrigerio via Pinterest
44. Spring Heart Nail Design
Get ready for spring with this astonishing heart nail design. Complete it with a cute outfit and step out looking like a whole vibe.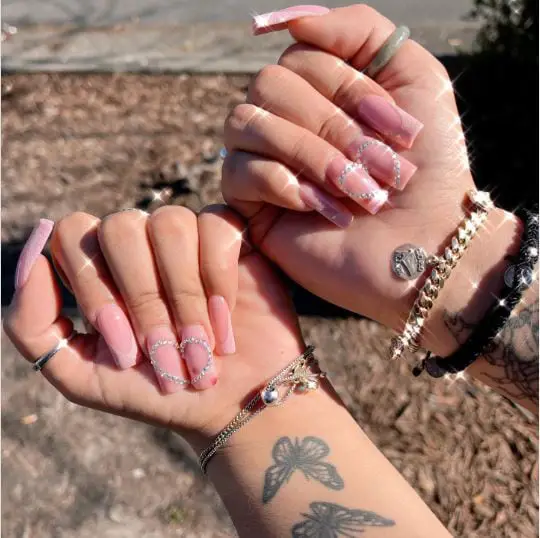 Image by @tiarasalonrohnertpark via Instagram
45. Red and Black Heart Nail Design
This is another Valentine's day classic. It has black and red heart-shaped tips that we can't get enough of.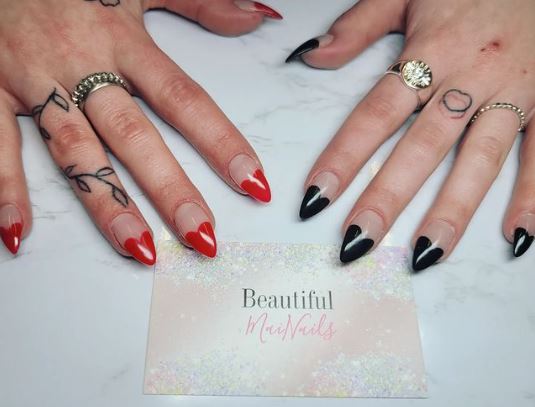 Image by @its_mainails via Instagram
46. Square Wavy Acrylics
You can't go wrong by pairing this heart nail design with any monochrome outfit due to the subtlety of its tone.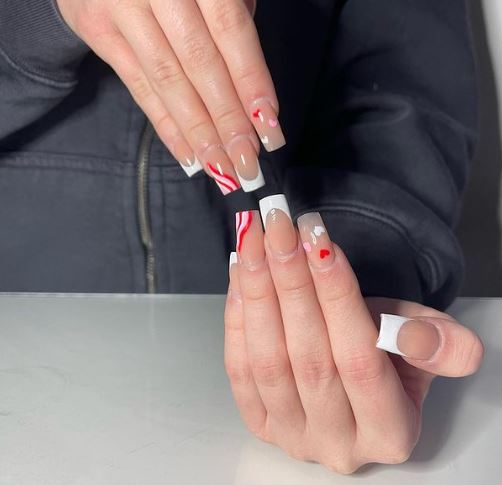 Image by @livs.nail.lounge via Instagram
47. Grey and Glitters
This color combination is made in nail heaven. Get this heart nail design done to add a delightful touch to your outfits.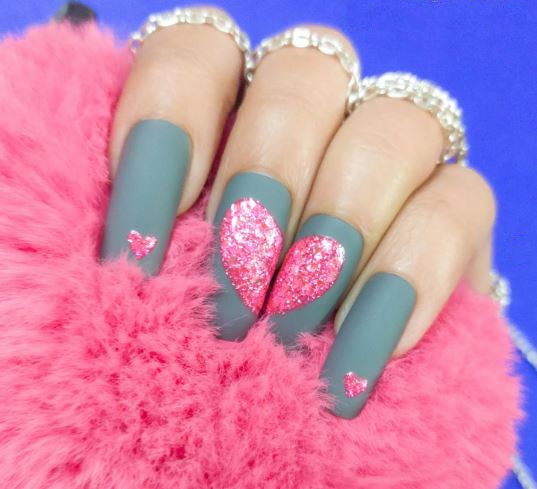 Image by @nailsinsanity via Instagram
Aren't you a little more in love with heart nail design just by seeing all these beautiful nail ideas? Well, that's not surprising. Take your screenshots and go get your favorite nail done.