For a fun and glamorous look, You should consider going all out on your hot pink nails. You can do this by adding different patterns or accessories like rhinestones, glitter, gold or silver decals, and butterfly charms to your mani.
For a more subtle look (which is what I'm about), I've found that the best option is to get hot pink and nude ombre nails. You can also use your hot pink nail polish in combination with pastel color polishes to look high-class and elegant.
Still feel like hot pink nails might be too bright for every season? Keep scrolling for 30 trendy and charming hot pink nails that are sure to change your mind and nail game completely.
30 Hot Pink Nails For Inspiration
1. Pink Nails with Crystals
The crystal pieces on these nails make the pink nail art stand out. It has glitter and a unique lizard skin-like texture, making it a great option for prom.
Image by @luxurynailsbyliz via Instagram
2. Simple Pink Nails
These short nails with glossy pink polish and pink glitter are simple yet stunning. Glitter adds a lively look to your manicure and will make you feel like the queen that you are.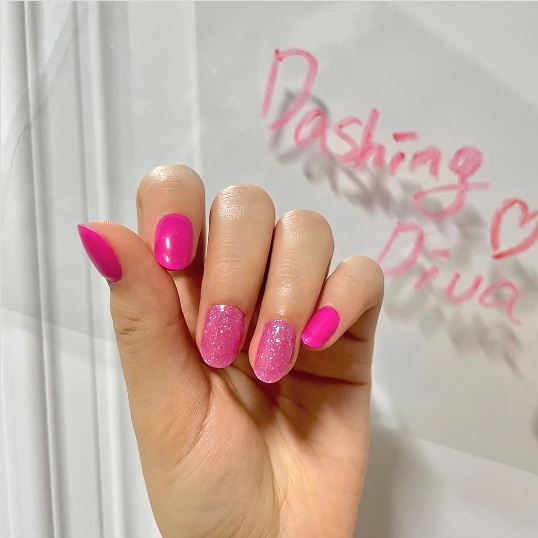 Image by @dashingdiva_usa via Instagram
3. Hot Pink Nails with Black Designs
This shade of pink looks lovely and mature. It's deep and closer to crimson. The black lace and heart designs make the long acrylics look jaw-dropping.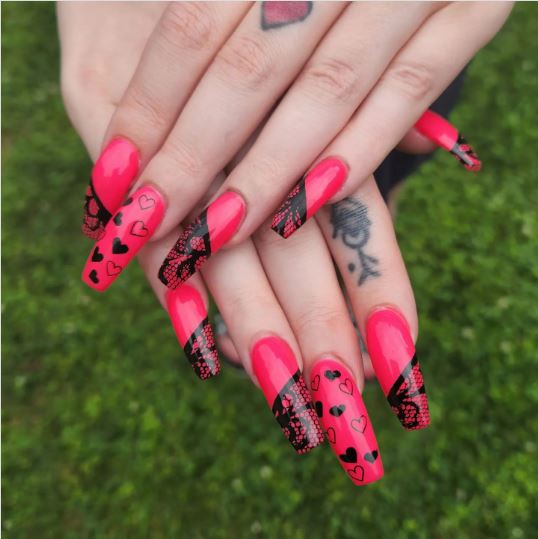 Image by @xbeautybyalisha via Instagram
4. Hot Pink Almond Nails
I love the look of these hot pink nails with checkers design, polka dots, and stripes. The nails have a nice combination of peach.
Almond nails suit almost anyone. You are sure to look chic and classy with this nail design.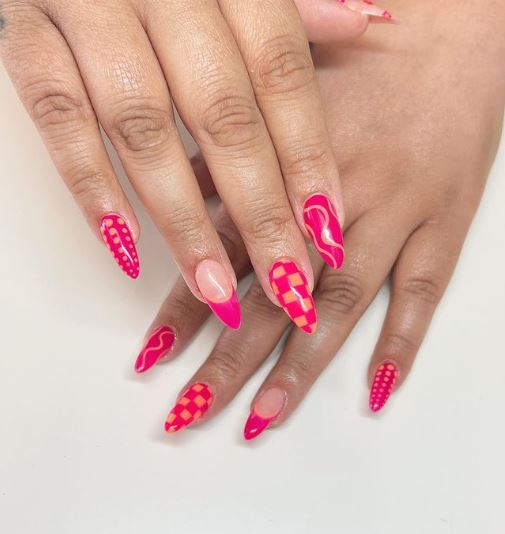 Image by @makailasmanis via Instagram
5. Short Pink and White Nails
These cute pink nails with white tips, silver glitter, and lovely design on the accent nails look beautiful and feminine. The pink nail art on the accent nail is a cute floral painting.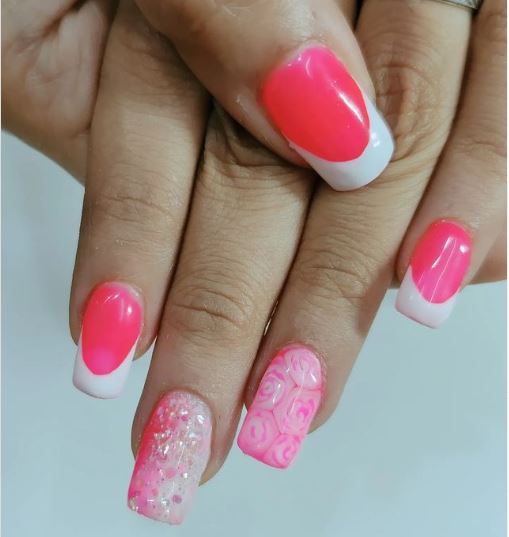 Image by @nailsbynainz via Instagram
6. Pink Flower Nails
Here's a subtle way to incorporate the color yellow into your pink nail pattern. These hot pink nails have two shades of pink with a cute flower pattern.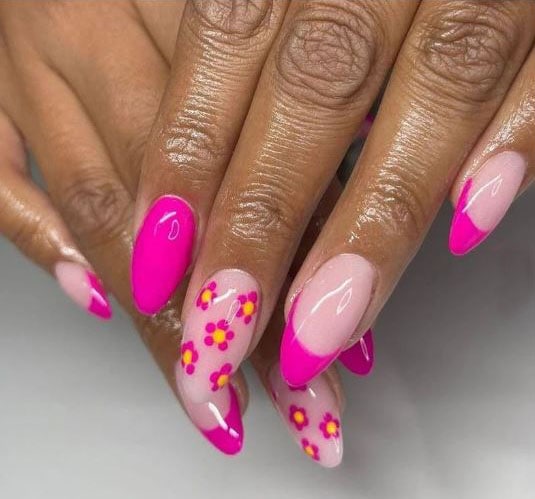 Image by @bellas_nails007 via Instagram
7. Hot Pink Coffin Nails
If you're a coffin nail lover, you'll adore this one. It has hot pink nail designs on the nude which make the coffin nails look even prettier.
The disco gel has an interesting effect that gives the nails a new shade under different lighting.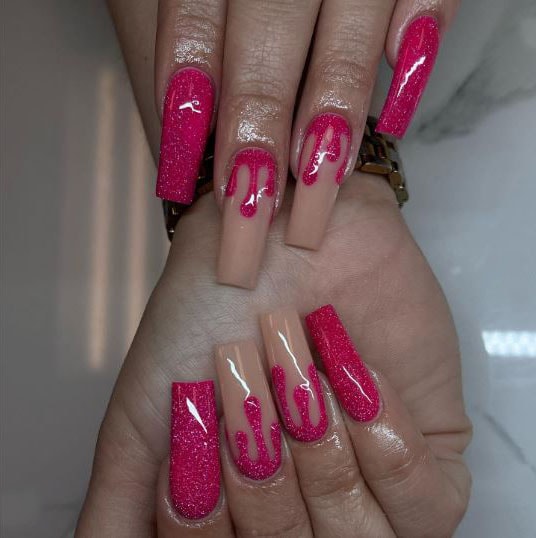 Image by @blessedbymeghan3 via Instagram
8. Pink Matte Mani
Pretty long pink nails with silver stones and rhinestones on the accent nail. The lovely matte polish gives the manicure a bold and daring look.
I love how the stones are neatly arranged near the cuticles.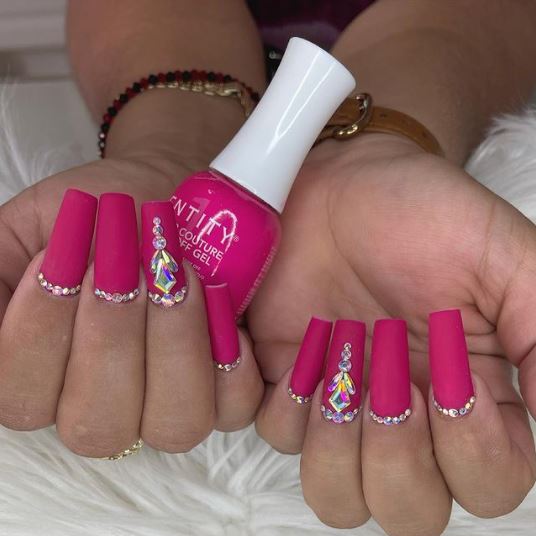 Image by @entitybeauty via Instagram
9. Baby Pink Nails
Take a look at these hot pink nails with red stripes and a heart design. The nail design makes the manicure pop on another level. You can wear this to casual events like a house party.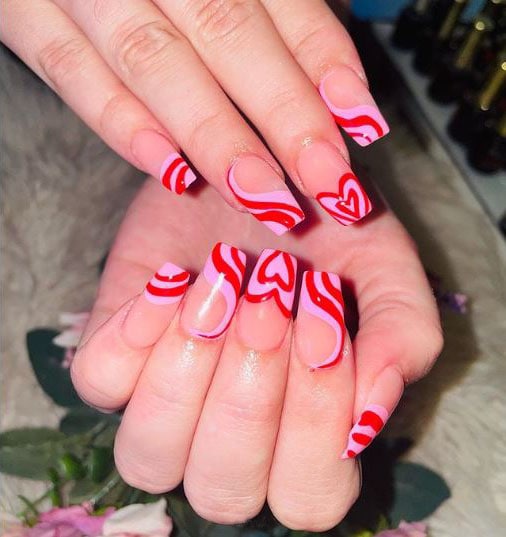 Image by @bellarose_nails via Instagram
10. Hot Pink Nails with Stunning Designs
This hot pink nail design is extremely creative. The nails are finished off with thin gold stripes.
The third fingernail is polished with silver glitter and a flower design on the accent nail. These nails will have everyone staring when you step into a room.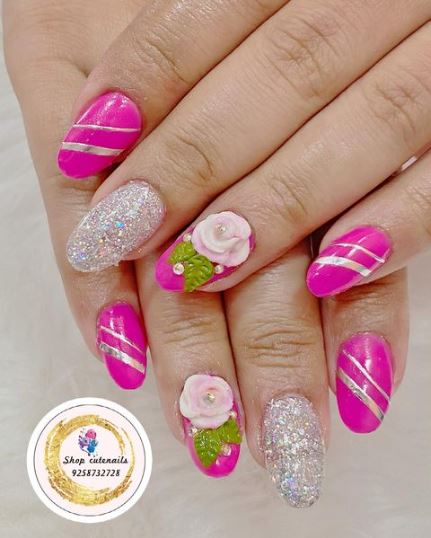 Image by @puja_cutenails via Instagram
11. Hot Pink Ombre Nails
Solid, long pink coffin nails with a glossy finish. Long nails give you a confident, bring-it-on look. This shade of pink is so hot and lovely. It's simple but the overall look is mesmerizing.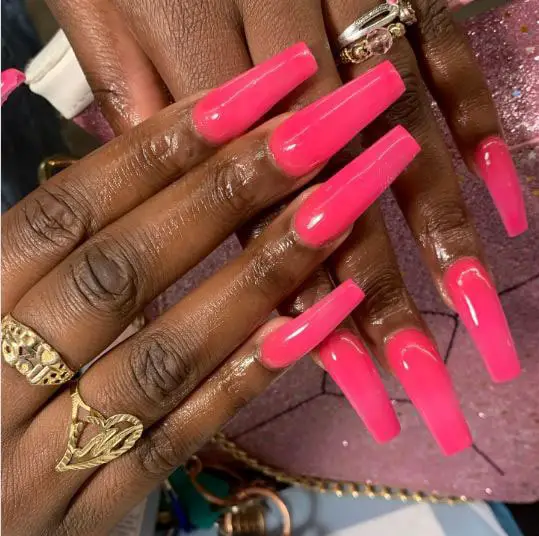 Image by @that_bomb_nailtech via Instagram
12. Hot Pink Gucci Nails
These hot pink matte nails are gorgeous. It has a Gucci design pattern with flowers and rhinestones on the accent nail.
If you're in search of something unusual, you should try these Gucci nail designs.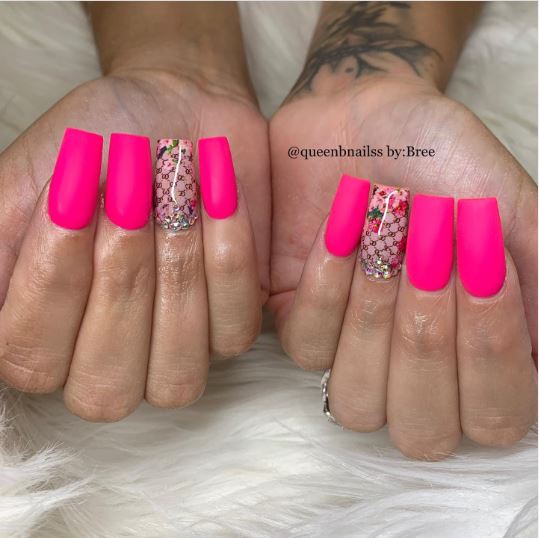 Image by @queenbnailss via Instagram
13. Hot Pink Stiletto Nails
Hot pink stiletto nails are always a hit. I love this pink nail art due to its neatness and stylish appearance.
Each fingernail has lovely silver stones and silver glitter on the little fingernail. The lovely gem on the accent nails makes a statement.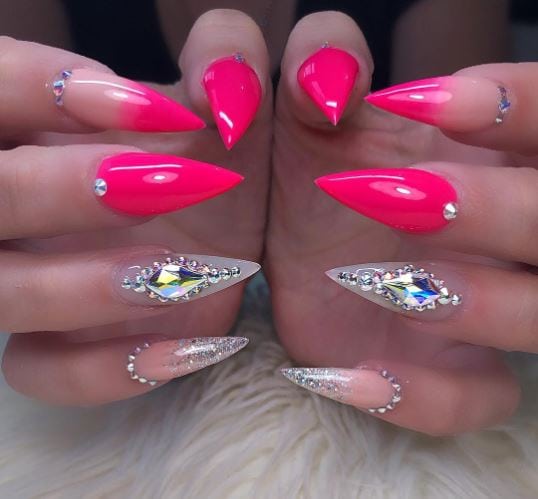 Image by @glitzbeautybar_naominails via Instagram
14. Hot Pink Gel Nails
These short nails are beautiful and fashionable. Short nails are often considered more professional and suitable for work.
The pink and light purple matte gel will make you look peng in your corporate outfits.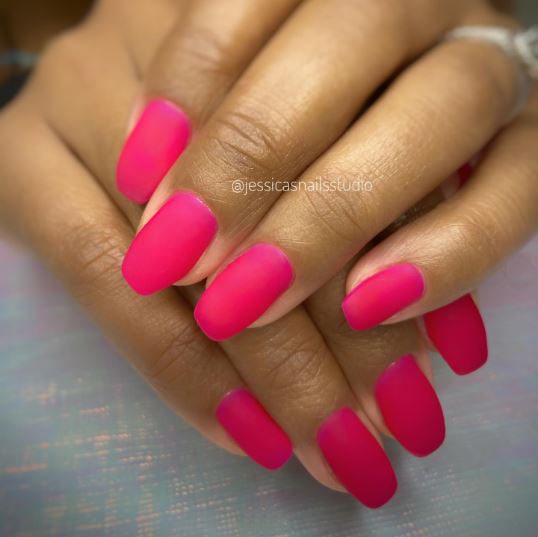 Image by @jessicasnailsstudio via Instagram
15. Pink Rhinestone Nails
Having colorful Swarovski crystals on your manicure is a great way to add some excitement to the look.
These long, pink French nails are replete with colorful gemstones and glitter on the middle fingers.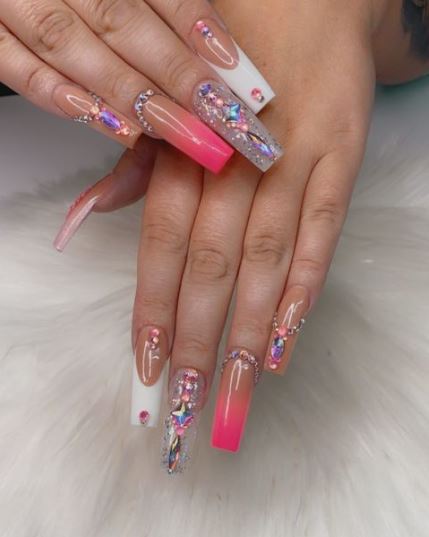 Image by @nailsbyjwiin via Instagram
16. Hot Pink Ombre Nails
I love the beautiful design of these hot pink nails. The pink gradient gives an amazing effect that looks classy.
The stiletto nails are perfect for prom. You can also wear them to a wedding ceremony where the color code is hot pink.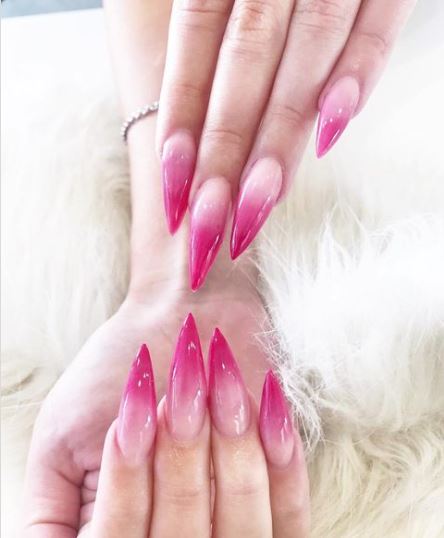 Image by @glamournailbar via Instagram
17. Baby Pink Tie-Dye Nails
Pink nails with a beautiful tie and dye design on each accent nail. The tie-dye design has sky blue and hot pink combined.
These coffin nails also have colorful glitter and rhinestones that give the nails a sparkly finish.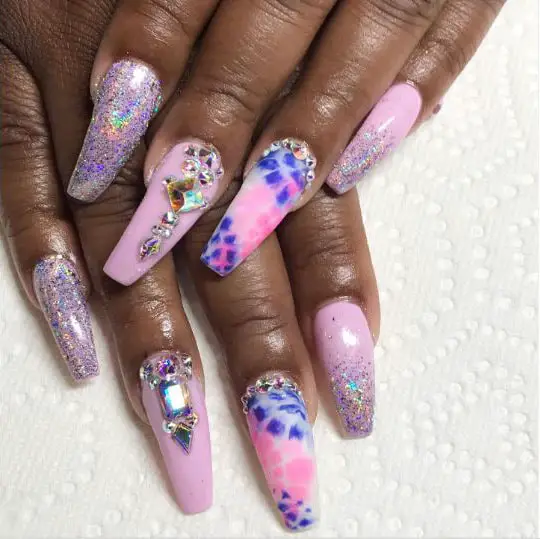 Image by @fefethecreator via Instagram
18. Hot Pink Nails with Gold Glitter
These long nails are gorgeous. I love the butterfly and heart designs with the artistic gold leaf look on the index fingers. The gold glitter makes the entire manicure sparkle.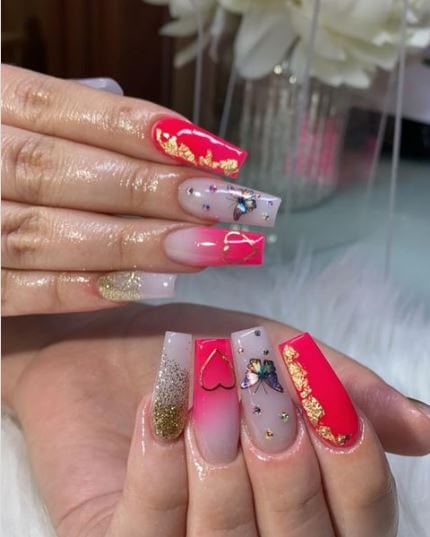 Image by @blancasnailz85_ via Instagram
19. Short Hot Pink Gel Nails
Short nails are usually stunning and these pink nails will have you looking glam in no time. Most businesswomen and professionals prefer nail lengths such as this.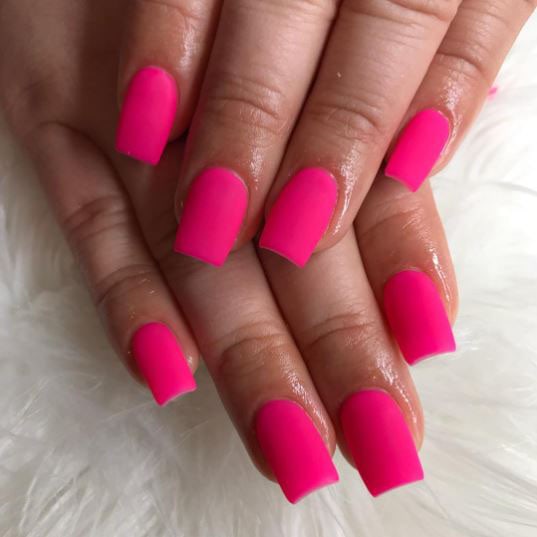 Image by @naiilsbyana via Instagram
20. Blinged Out Hot Pink Nails
These long pink coffin nails are the perfect look for a party. Long nails are great for a girly, flirty, and confident vibe.
If you think the bling is too much, you can recreate this without the rhinestones for a more subtle look.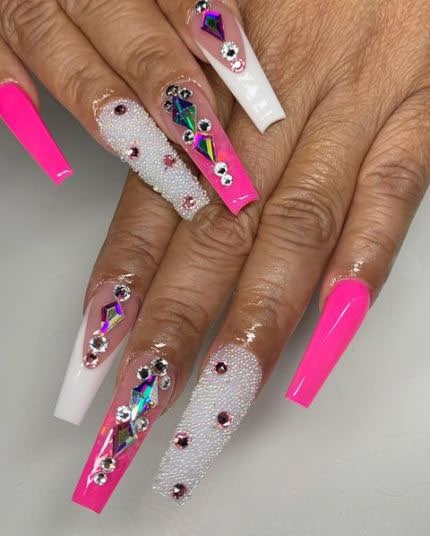 Image by @dlc.nails via Instagram
21. Hot Pink Nails with Colorful Patterns
If you want to have some fun with pink nails, just add some exciting colors. These hot pink nails have lovely patterns that combine white, orange, and black.
The energy emoticon design on the middle fingernail is unique. You can try this out to spice up your look.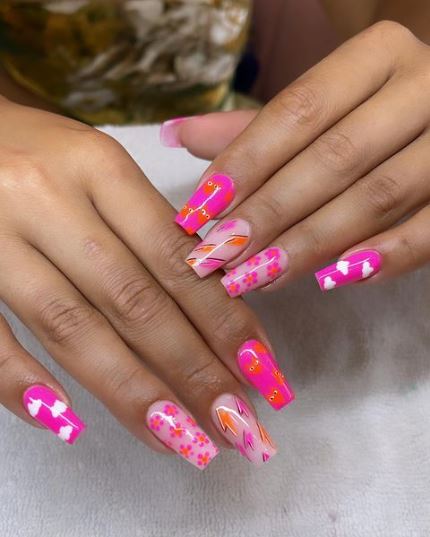 Image by @lasvegasnailshammersmi via Instagram
22. Hot Pink Nails with Heart and Cross Design
This long, hot pink manicure has a light pink polish with a deeper shade of pink used to create heart and cross designs. The glossy finish makes the overall look perfect.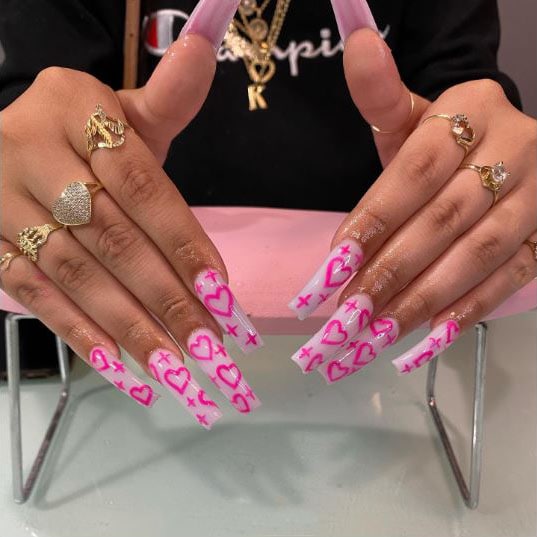 Image by @nailsbybayleigh via Instagram
23. Pink Glitter Nails
This hot pink manicure looks gorgeous. I love the progression from nude to pink. The colorful glitter makes the manicure sparkle. It also has a good length for baddies that are all for long nails.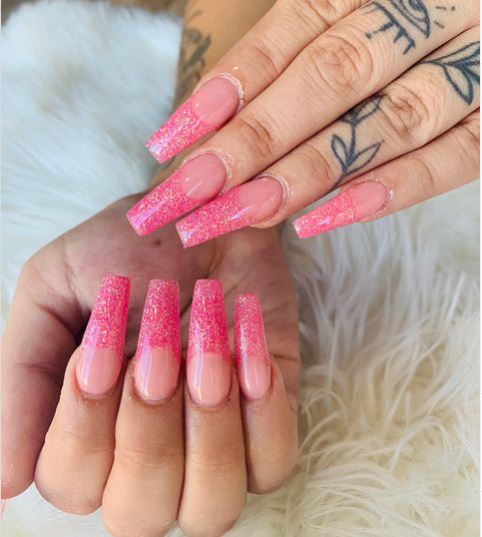 Image by @ellenailswestsac via Instagram
24. Hot Pink and Silver Nails
Silver nails always look gorgeous for any event. Here, two hot pink accent nails with cute stars are added to the lovely nails creating a magical effect. The nail combo will look good with both dark and bright outfits which is why you should consider getting this done.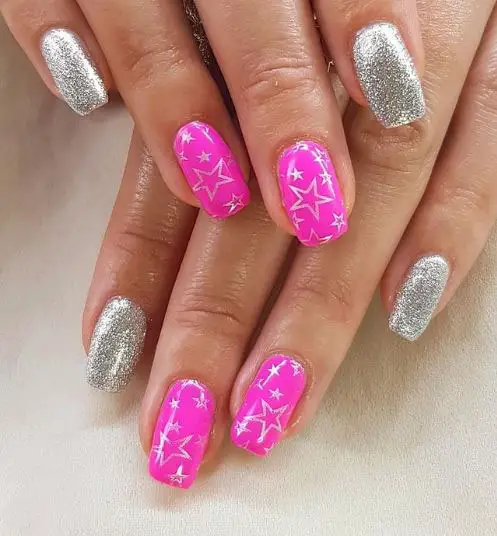 Image by @blossomnails4u via Instagram
25. Hot Pink and Nude Nails
Lovely nude nails with pink tips and hot pink accent nails. Adding gemstones and shimmer will take this design up a notch.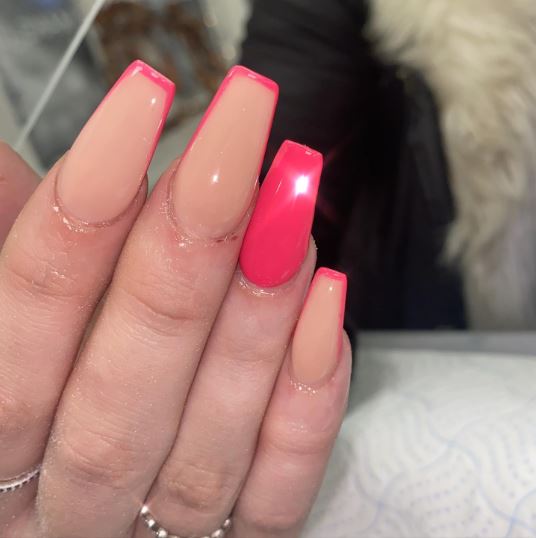 Image by @amylouisenails via Instagram
26. Long Pink Tapered Square Nails
Gorgeous, nude square nails with purple and hot pink nail designs. Nude always has a trendy, modern vibe. These purple and hot pink on nude polish is a hit that is sure to have you basking in compliments.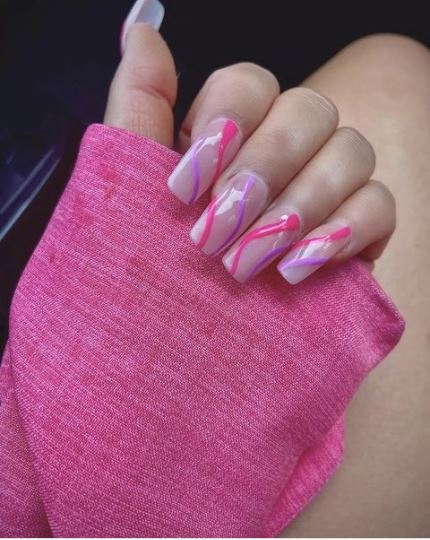 Image by @now_nails_uk via Instagram
27. Short Pink Almond Nails
These hot pink nails are unique and stylish. The white, gold and pink design on the middle and ring finger make the entire manicure appear classy and luxurious.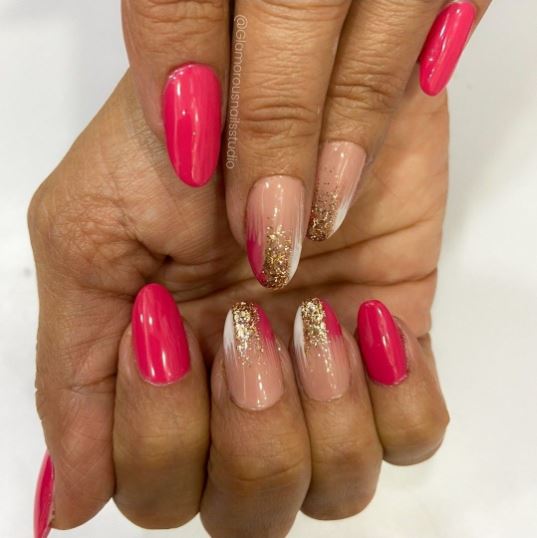 Image by @glamorousnailsstudio via Instagram
28. Hot Pink Nails With Glitter and Gemstones
Long, hot pink nail design with pink glitter, Swarovski crystals on the ring fingernail, and stones on the index fingernail. Spectacular!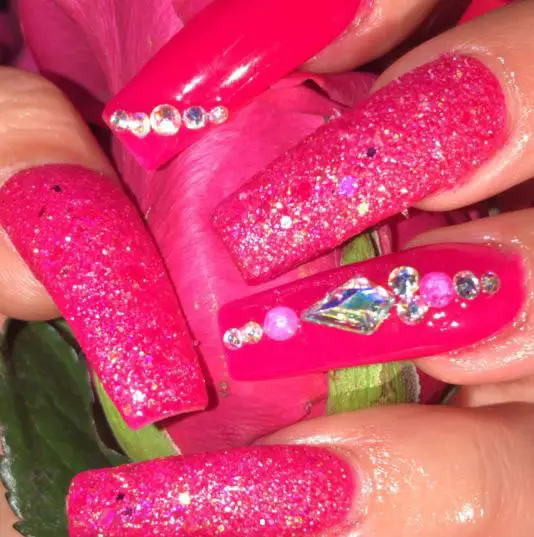 Image by @hair_makeup_by_cynthia via Instagram
29. Hot Pink Matte Nails
These long, hot pink nails are what you need to glam up. I love how the gemstones are creatively arranged close to the nail cuticle on the ring fingernail.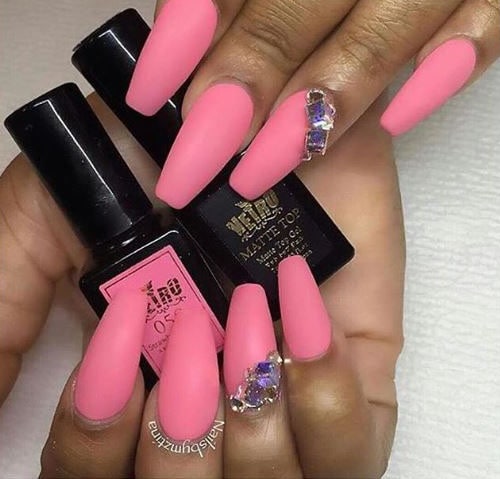 Image by @vetro_international via Instagram
30. Short Hot Pink Talon
This shade of pink is so hot. The beach nail design with a palm tree motif on the accent nail is creative. This hot pink design is a perfect idea for summer.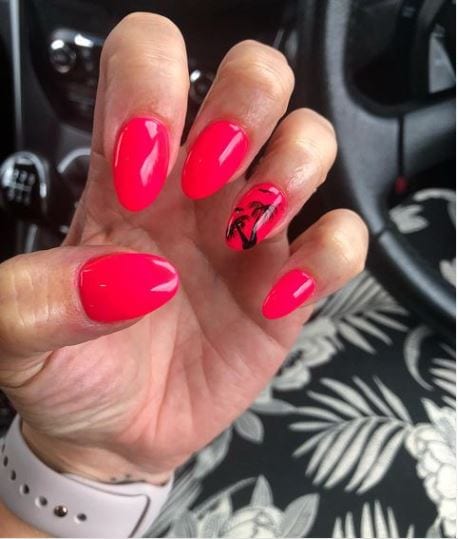 Image by @natascha.ashford via Instagram
You've probably developed an obsession for hot pink nails thanks to these designs. Not to worry if you are confused about a particular nail to pick. Start with your favorite and try them all one after the other. Make sure to have fun while you're at it.