Maroon and gold nails are my favorite nail combination, especially during fall. The maroon color matches the leaves as they change from green to red, orange, or brown. The gold gives a lovely sparkle that looks like the faint sunlight which is characteristic of fall.
I usually get my maroon and gold nail art with more maroon and a touch of gold because gold nail design is statement-making and loud. However, during the holidays, I like to indulge in the gold to add extra glitz to my appearance as I spend time with my family.
If you're still in doubt, keep scrolling for beautiful nails that'll tempt you into changing your nails ASAP.
Maroon And Gold Nails For Inspiration
1. V-tips Gold Glitter
It's no news that matte nails are as classy as nails can get. The matte burgundy nail designs have nude accent nails with cute gold v-tips.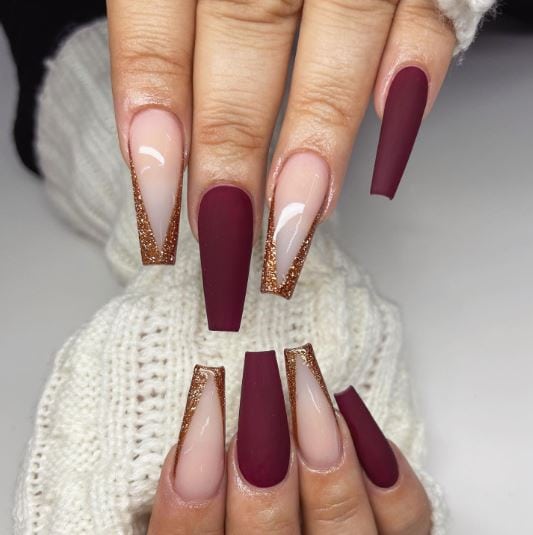 Image by @daisienailedit via Instagram
2. Leopard Print Acrylics
Variety is the spice of life, which is why it's always a good idea to get different designs on each nail as done in this burgundy and gold nail design.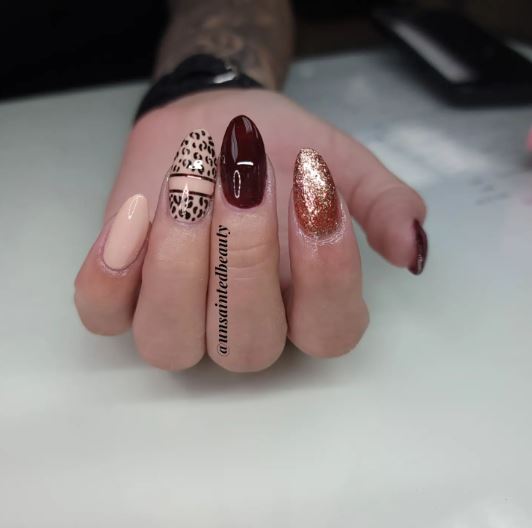 Image by @unsaintedbeauty via Instagram
3. Marble Accent
If you're looking for a bold take on maroon and gold nails, this will do. The white marble is a perfect contrast with the burgundy and gold nails added.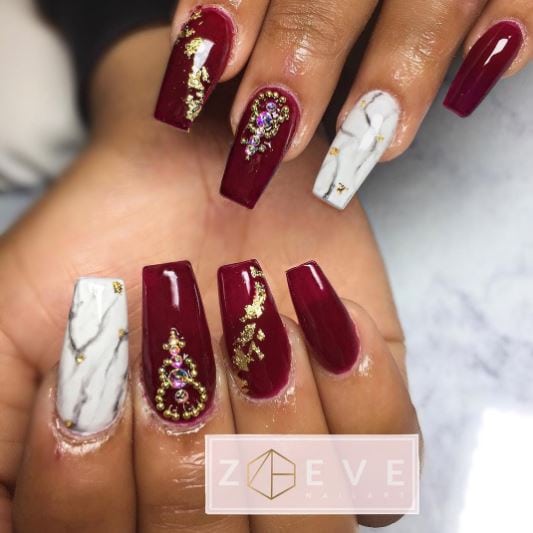 Image by @zoevenailart via Instagram
4. Burgundy Nails With Gold Stones
These burgundy nails with gold stones exude pure class. This is an amazing nail design for women regardless of makeup styles.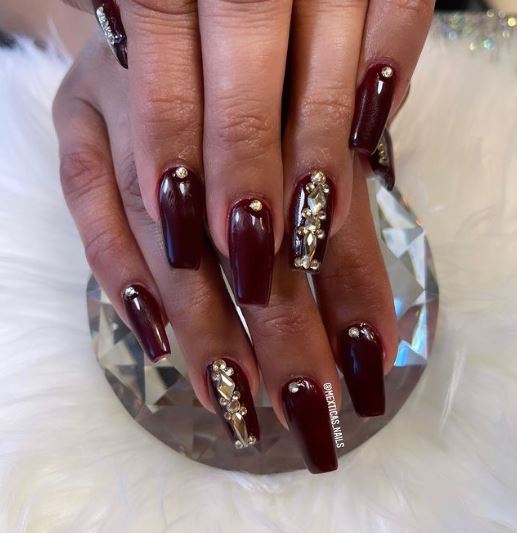 Image by @mexticas_nails via Instagram
5. Glittery Gold Base
The nail shapes on this nail design are absolutely breathtaking and will look stunning for a wedding.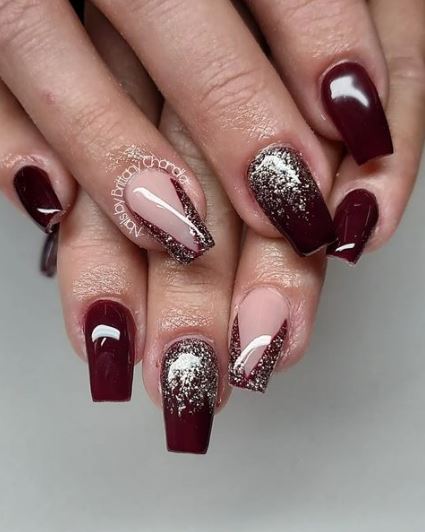 Image by @nailsbybrittanychandler via Instagram
6. Stunning Floral Nails
Fan of nature? Get this cute floral nail design with slight gold glitter for an amazing appearance.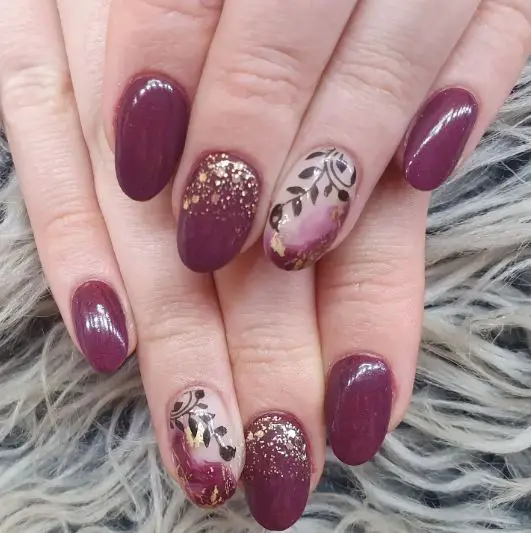 Image by @pnbsupplies via Instagram
7. Long Maroon and Gold Design
As a baddie on a mission to slay regardless of the season, these long nails are a stunning nail art inspiration for fall.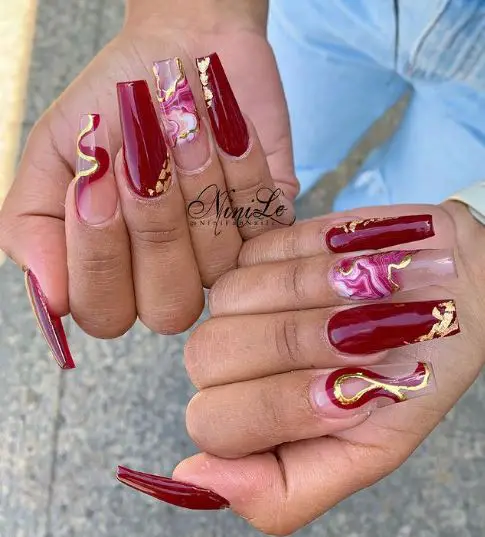 Image by @ninisfabnails via Instagram
8. Sugar Accent Maroon and Gold Design
For extra glam, apply a layer of sugaring that look like beads on your nail design.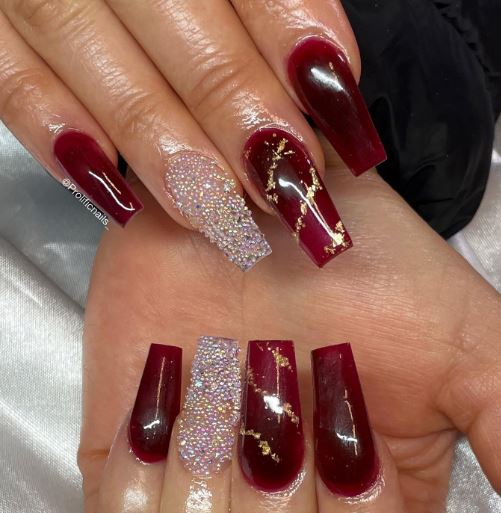 Image by @prolificnails_ via Instagram
9. Glam Maroon and Gold Acrylics
For a chic and youthful appearance, go for shiny maroon nails with gold glitter.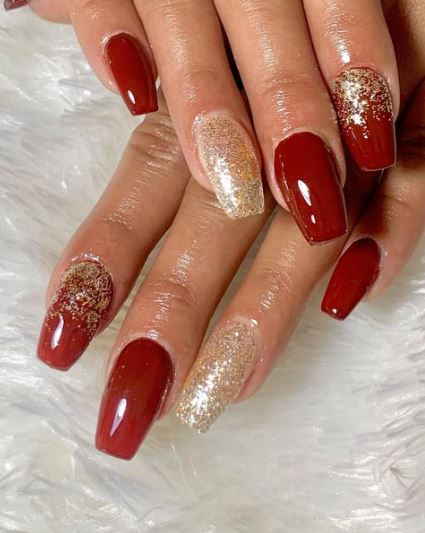 Image by @benju_beauty_studio via Instagram
10. Mocha Maroon and Gold Nail Design
Never thought I'd see the day these completely contrasting colors will be made to work this well.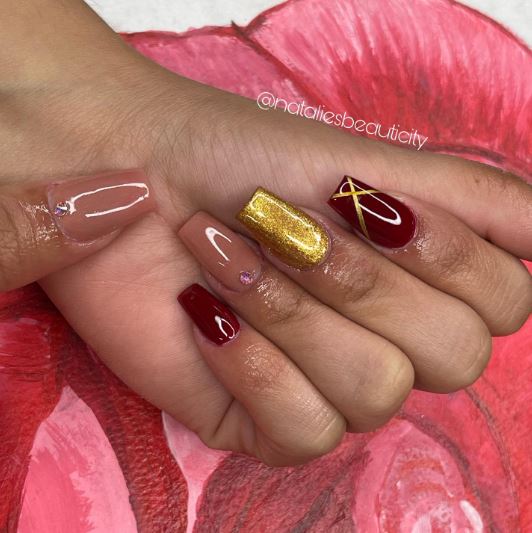 Image by @nataliesbeauticity via Instagram
11. Matte Nails With Gold Flakes Accent
This is proof that you don't need acrylics to slay. The matte maroon nails look super charming and are made even better by the nude accent nails with gold glakes on top.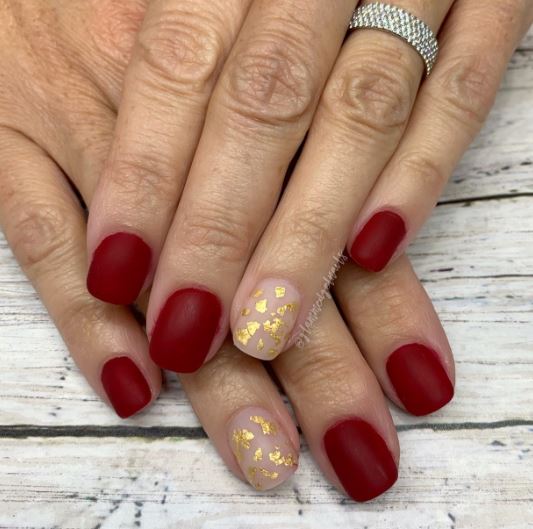 Image by @glammedgelnails via Instagram
12. Brown and Burgundy Nails With Gold
This amazing almond shape nail design looks amazing and is unique enough to wear to any occasion.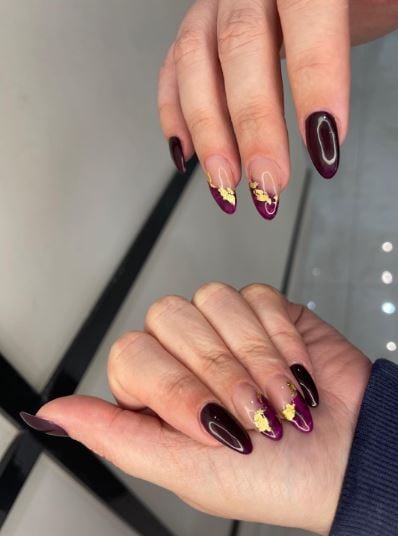 Image by @dnaillounge via Instagram
13. Subtle Marble
If you're looking for a seductive yet subtle nail design, consider this creative nail art with touches of gold.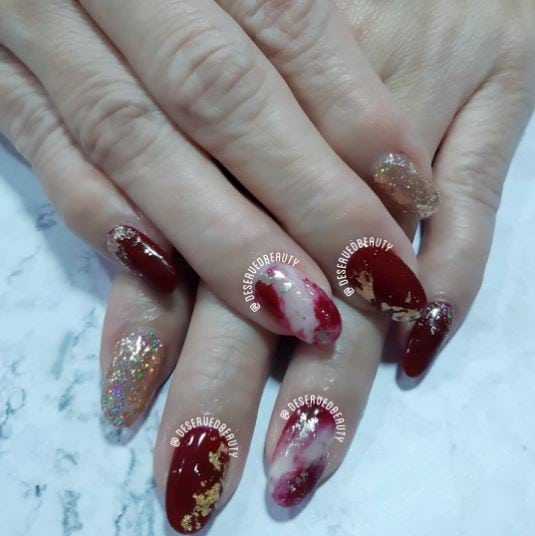 Image by @deservedbeauty via Instagram
14. Maroon With Encapsulate
When the intention is dressing to impress, this perfect maroon color nail is all you need to steal the show.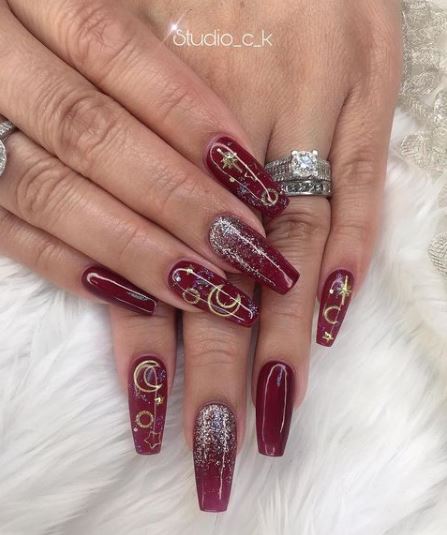 Image by @studio_c_k via Instagram
15. Accent Nude and Gold Nail
The maroon polish used here is gorgeous. The sparkly gold polish is placed in a slant form on the nude nails which creates a royal appearance.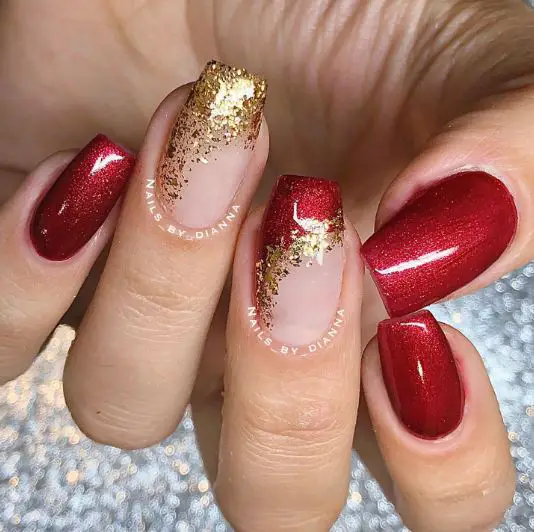 Image by @nails_by_dianna via Instagram
16. Gucci Burgundy Nail Design
This short coffin nail design has a golden Gucci logo on two fingers. Add the Gucci logo on all your nails to brighten up your skin tone.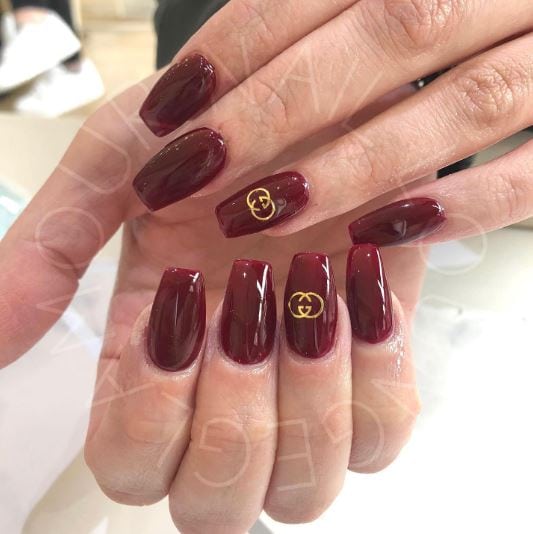 Image by @_glamournaillounge via Instagram
17. Matte Maroon With Pink and Gold Accent
Maroon and light pink nails have never looked more stunning, so why not apply gold to the tip of your nails for extra appeal?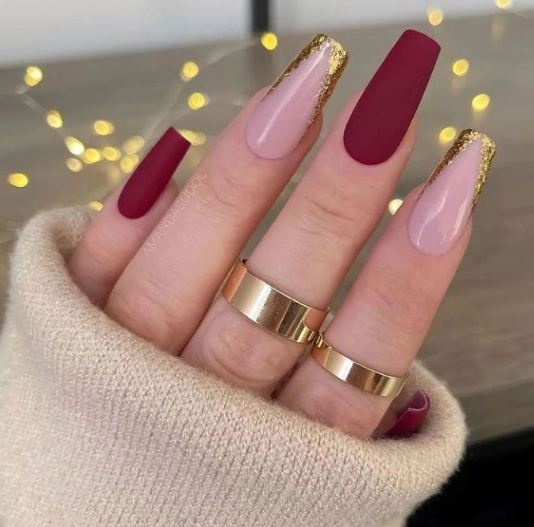 Image by @nailsbynishtha via Instagram
18. Burberry Maroon and Gold Nail Art
Burberry-like accent nail design on this nail art adds fun to the otherwise simple nail art, giving it a chic appearance.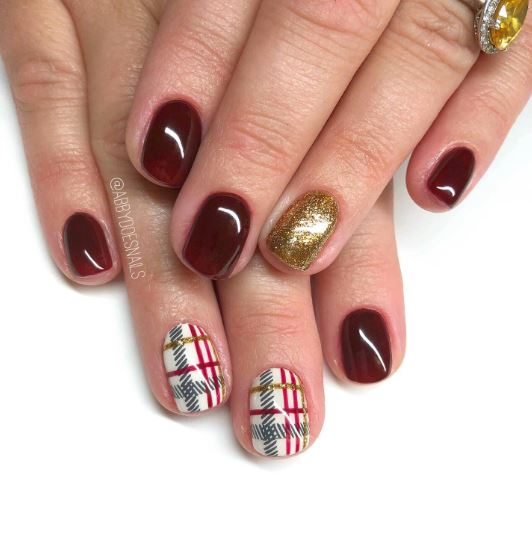 Image by @abbydoesnails via Instagram
19. Ombre Maroon and Gold Nail Art
If you need a sophisticated nail design to attend a high-profile event, search no more because this is perfect.
Image by @annasacrylix via Instagram
20. Wavy Maroon and Gold Nail Art
As if the sparkle and glitz of this nail art were not enough, small stones are added to the base of the maroon and gold nail design.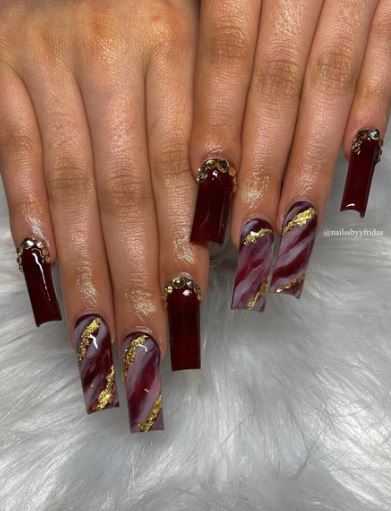 Image by @nailssbyyfridaa via Instagram
21. Sparkle Acrylic Nails
The shade of maroon and gold nail polish here creates a magical holographic nail design you can't help but love.
Image by @laimy_nails via Instagram
22. Leaf Nail Design
This maroon and gold nail art screams fall. Get this done for a loving holiday nail appearance.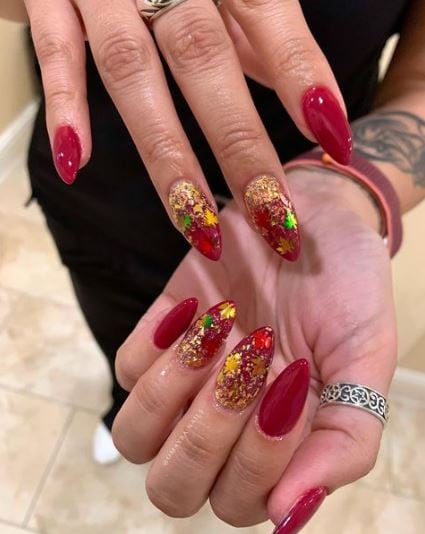 Image by @omayra.nails via Instagram
23. Accent Gold Nail Art
Here, a single nail is done with gold glittery polish, creating a sophisticated look that blends with the maroon.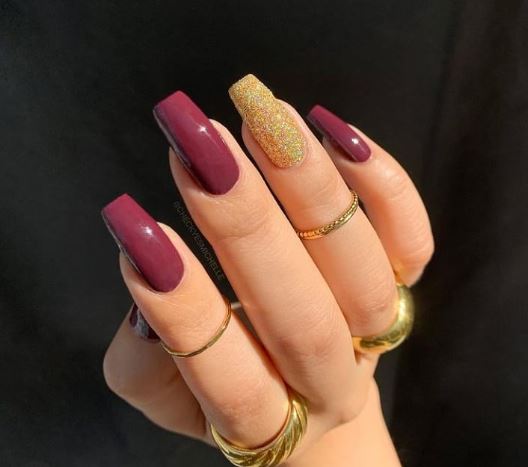 Image by @nailartbyeman via Instagram
24. Stiletto Nails For Fall
A style that incorporates both maroon and gold is used here. The shades make the yellow look cute in the nail art design.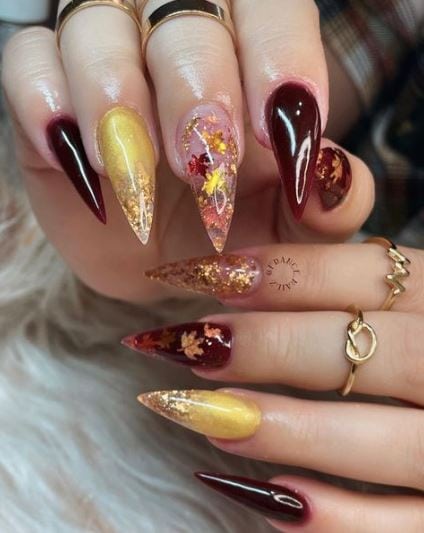 Image by @france_nailz via Instagram
25. Freestyle Maroon and Gold Nail Art
Wedding coming up? Try this freestyle nail design that incorporates large diamond studs and rhinestones to create an astonishing maroon and gold nail look.
Image by @naildbyval via Instagram
26. Elegant Stiletto Nail Design
If you want to be the center of attention as you step into the room, combine this nail design with any classy outfit.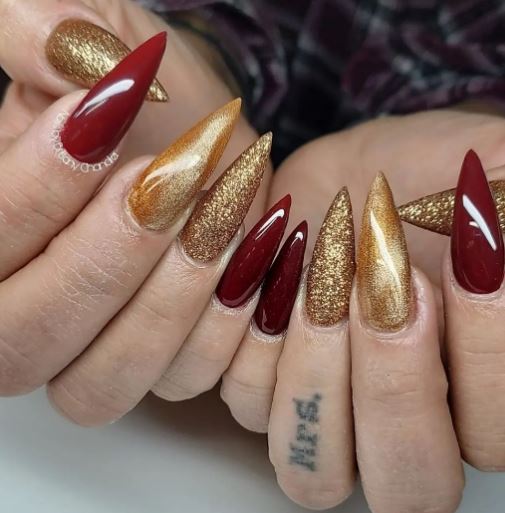 Image by @nailsbybrittanychandler via Instagram
27. Glossy Burgundy Nails
The slightly pointy nails have 2 accent gold flakes nail art that gives the whole look a lovely shine. The design will look great on both natural nails and fake nails.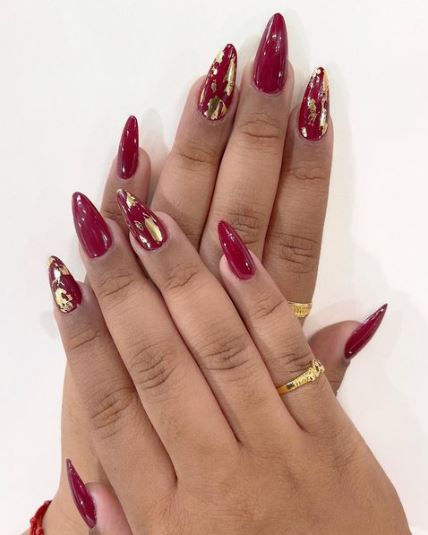 Image by @empirenailandspa via Instagram
28. Tortie Maroon and Gold Nail Art
The tortie nails are added to the middle and ring fingernails with gold strips in between. This unique nail art is charming to say the least.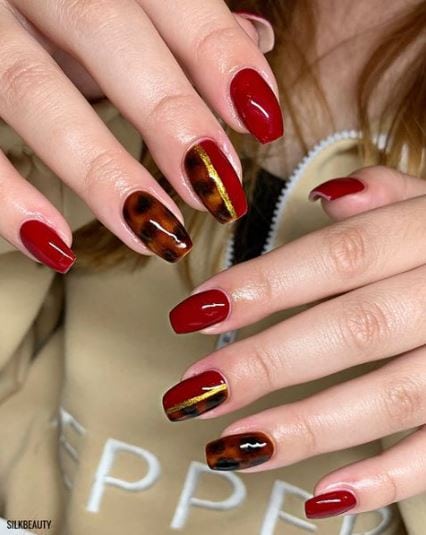 Image by @silkbeauty.uk via Instagram
29. Gold Leaves
Another simple way to spice up your manicure is by decorating one nail with a gold leaf.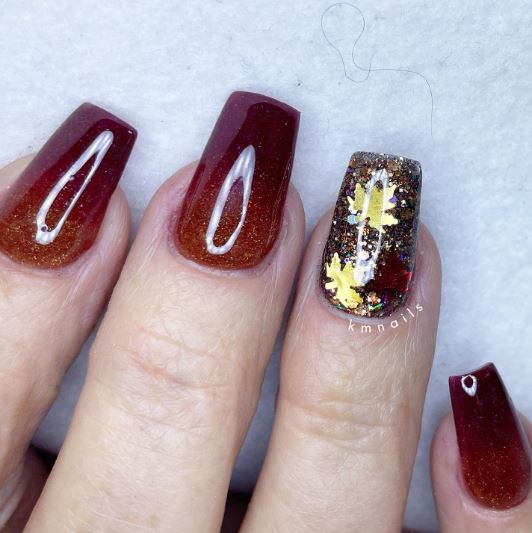 Image by @kmnailstudio_ via Instagram
30. Gold Glitter and Heart
Got a romantic date coming up? Get this nail with gold hearts at the tips to spice up your night.
Image by @marinails20 via Instagram
Maroon and gold nails look so good together, especially with glitter or rhinestones. You can't go wrong with this nail design, so pick your favorite for your next appointment.