When you hear of diamonds, the first thing that may come to mind is glitz, but at a price. Don't let the cost of diamonds be a turn-off. You can enjoy the glitz (even if you can't afford diamonds) by getting nails with diamonds.
You can go all out with your diamond nail design by applying large diamond studs on your nails. If you're new to the world of sparkles and glitz, you can start by adding little rhinestones and work your way to getting more bold designs.
Selecting a particular nail design might be hard since tons of stunning nail art ideas are available. Not to worry. Keep reading for the most unique nails with diamonds on your next nail appointment.
50 Nails With Diamonds For Your Next Appointment
1. Mint Green and Pink Nails
The gorgeous combination of mint green and pink here is beautified by nice diamond studs. The pink and green ombre nails are filled with diamond rhinestones and silver glitter that serves to elevate the look of the nails.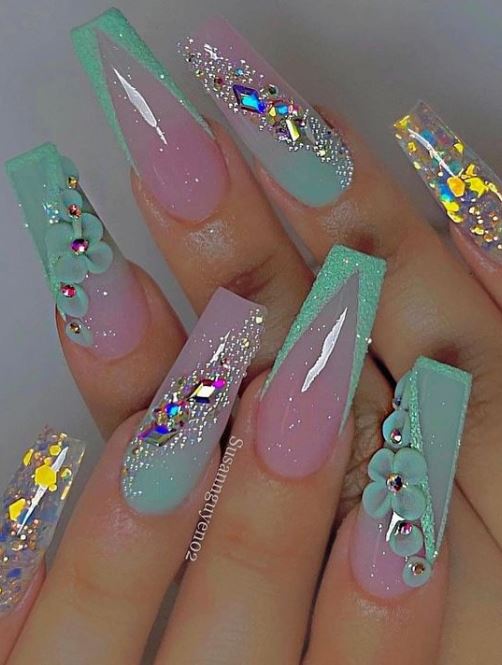 Image by @beauty_and_nails101 via Instagram
2. Neutral Pink Nails with Small Diamonds
You don't have to go the extra mile to look classy. Here, small stones are placed on the pastel pink nails which give the whole appearance a charming feel. This nail design is minimalism at its finest.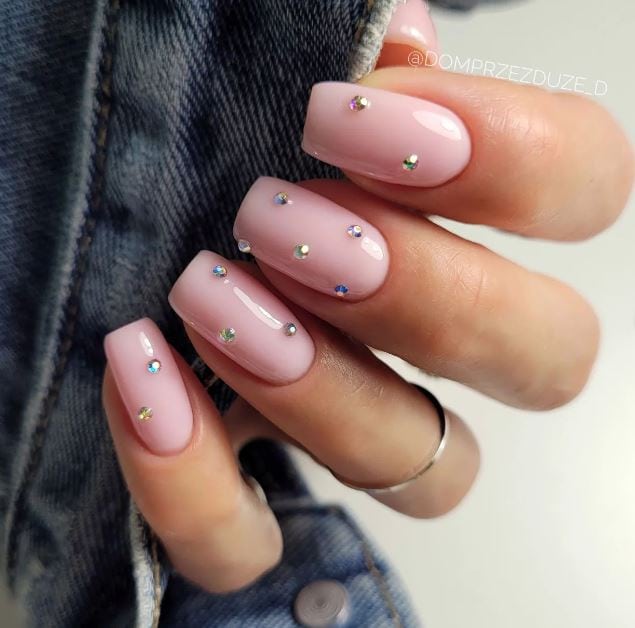 Image by @domprzezduze_d via Instagram
3. Nude Nails with Single Stud
If you've got an occasion where you are required to appear polished, nude nails are the best option. Shine is added to the nail look by adding single rhinestones at the base of each nail.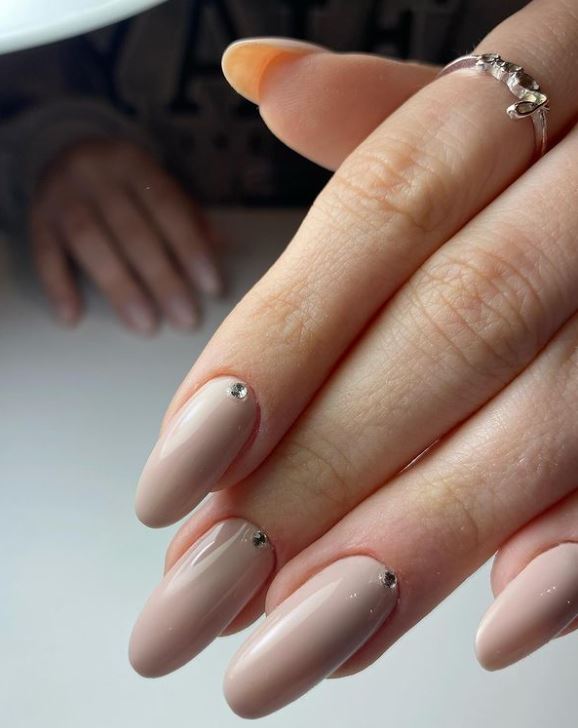 Image by @_nails_by_nikola_ via Instagram
4. Ombre Pink and White Nails
This nail art design features a sugaring effect and diamond nails to create a cute, feminine nail look.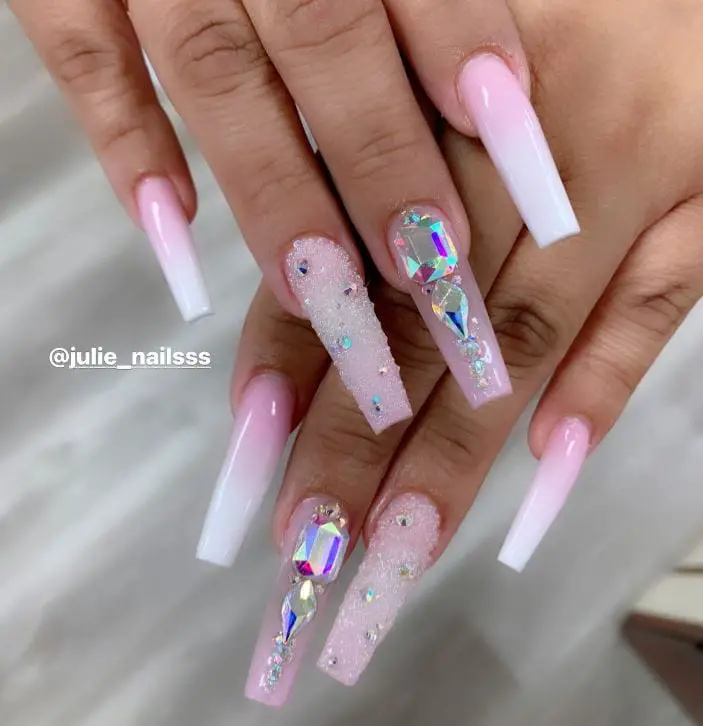 Image by @julie_nailsss via Instagram
5. Golden Glitz
One look at this is sure to have 'em mesmerized. The transparent, long nails with square tips have gold glitter at the ends. Golden diamonds are used on most of the nails, creating a jarring effect.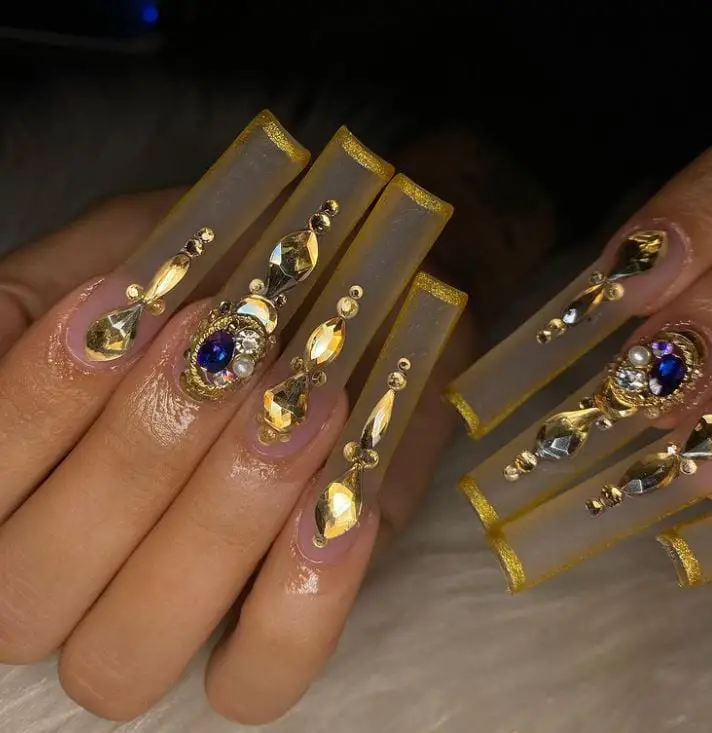 Image by @nailswithkira via Instagram
6. Halloween Diamond Nails
Halloween is around the corner, so save these black nails with red diamonds for a chilling appearance.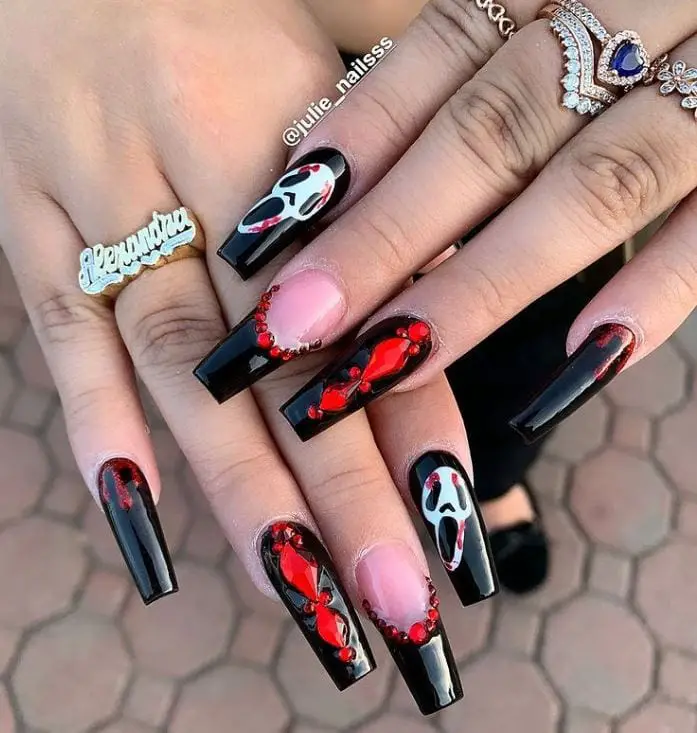 Image by @julie_nailsss via Instagram
7. Short Hot Pink Nails
Spice up your daily look (especially during summer) by getting bright colorful hot pink nails with little diamonds on them. The design has a silver glitter stripe on the index finger that goes with the small diamonds attached.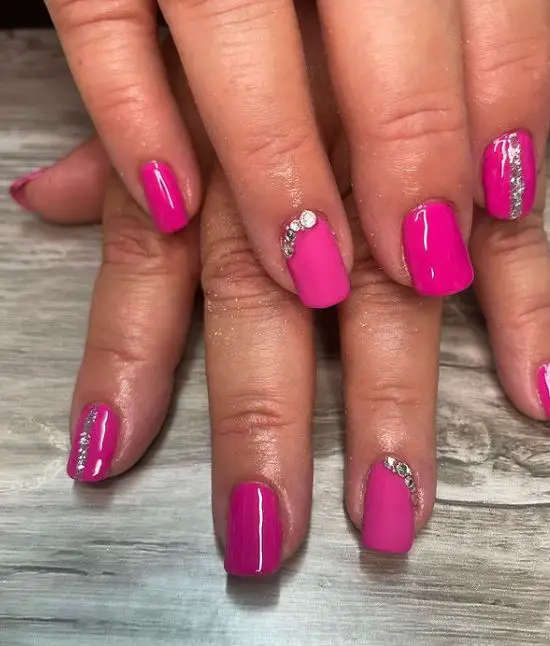 Image by @miimate_belleza_nails via Instagram
8. Purples and Marbles
Eggplant purple and a marble design are combined to get this amazing manicure. 3 shiny diamonds are placed on the middle finger with a chain-like accessory to accentuate the purple gel nails.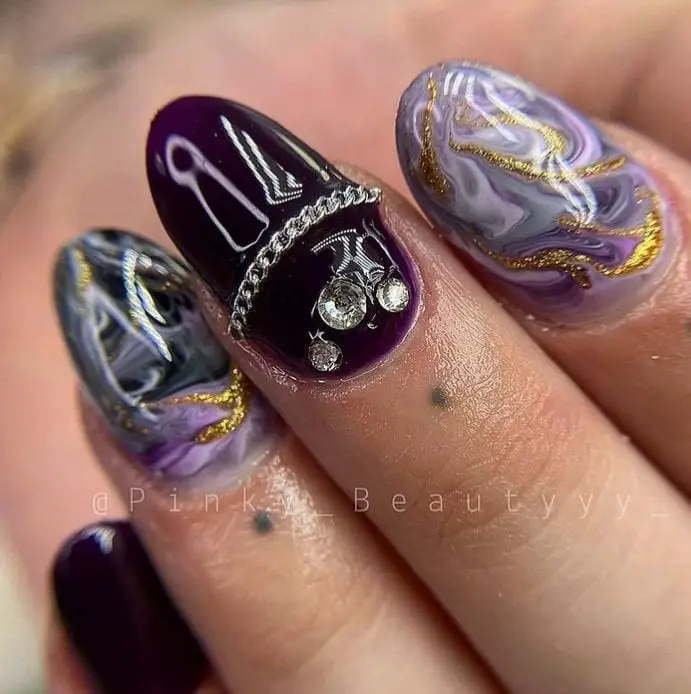 Image by @l_prxsse via Instagram
9. Nude Acrylics with Butterflies
I love the soft feminine aura that this nail art gives. The medium-length nails have a combination of nude, pink, and white. The diamonds of the nails are placed in a slanting way to follow the swirls of white and pink on the middle finger.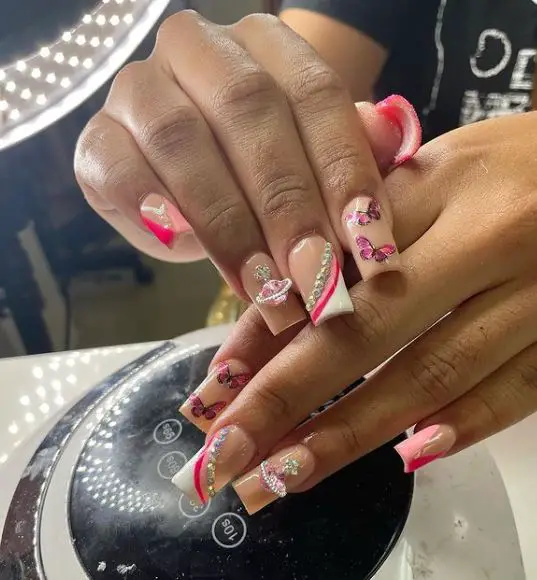 Image by @clawsbyniaa via Instagram
10. Pink and White French Nails
The French manicure trend shows no sign of slowing down. No surprise there. The simple pink nails with white tips are brought up to the bling level by the addition of jewels and diamonds on the ring finger. Accentuating your ring finger nail is a great way to draw attention to your engagement or wedding ring.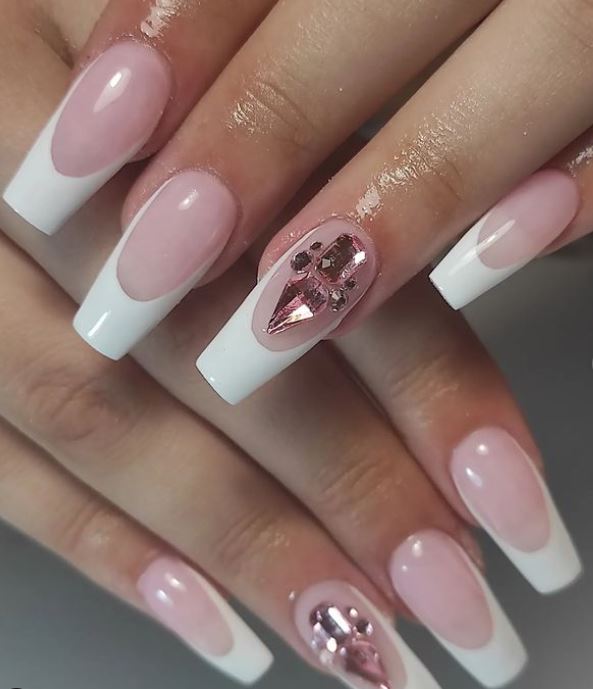 Image by @penvatnails_art via Instagram
11. Mint Green and Pearls
Summertime? Go to your manicurist and have them do these long nails for you. 2 accent nails with a nude base coat with flowers are added to the nails, making it summer-perfect. Pearls and diamonds are placed on all the nails giving them additional elegance.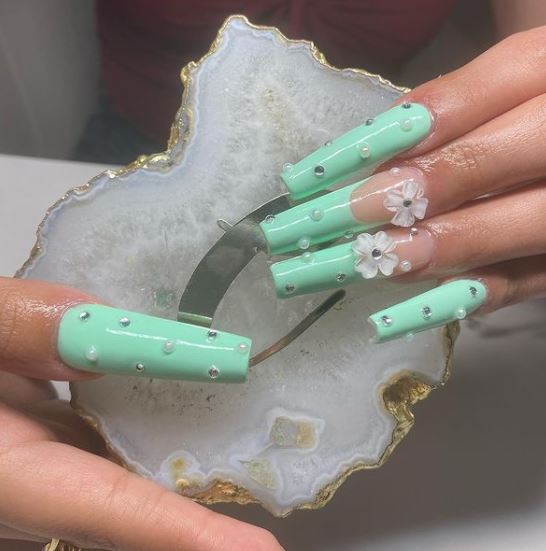 Image by @nailzbyee via Instagram
12. Chocolate Brown With Diamonds
Choco nails are great for creating that subtle, clean nail look. You can get this done and step out looking like you've got a party to attend.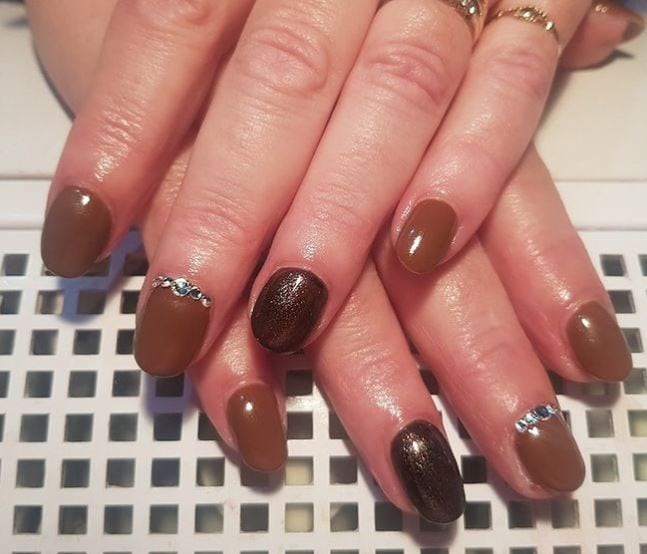 Image by @sogel_nails via Instagram
13. Peach and White Nails With Diamonds
This is elegance at its finest. The peach-colored nails have white nails on two fingers that are embellished with diamonds for a bling look.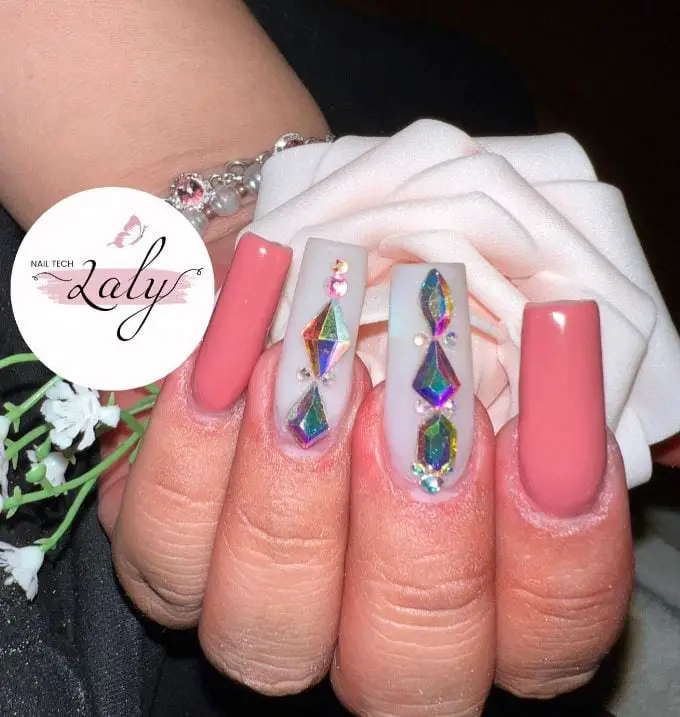 Image by @idhaly_nails via Instagram
14. Diamonds on 3D Flowers
Everything about this nail look is just superb. From the length to the 3d flowers and diamonds placed in the middle makes me think of a crown just by looking at it. This is a statement-creating look that is sure to keep the stares coming your way.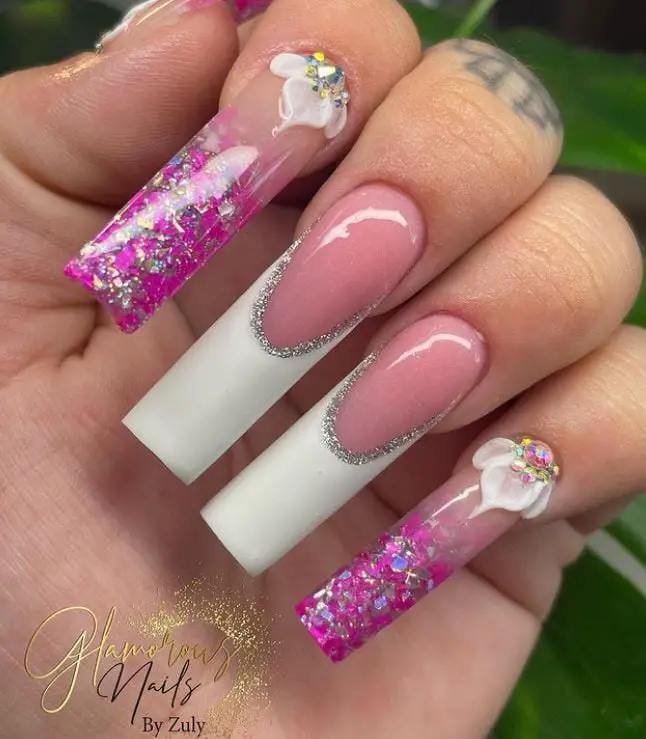 Image by @glamorousnailsbyzuly via Instagram
15. Mocha Gradient Nails With Diamonds
The diamonds placed on the nail take the daring shape of the Eiffel tower.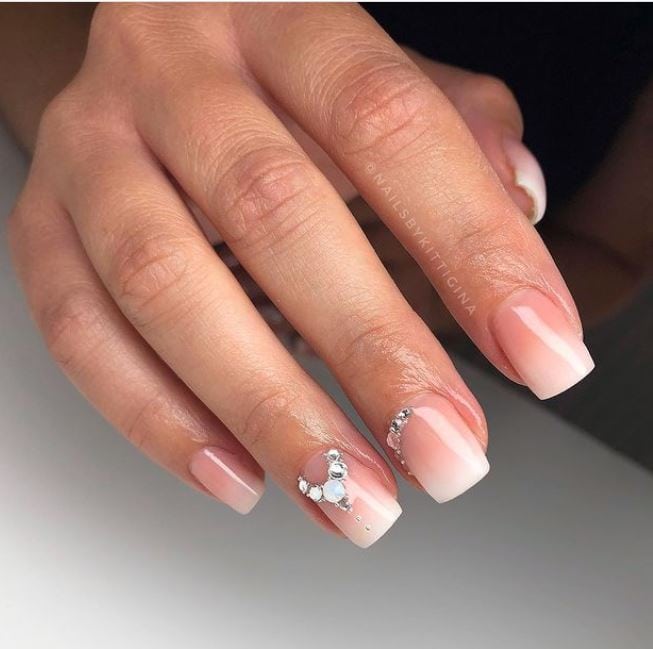 Image by @nailsbykittigina via Instagram
16. Croc Nails With Emerald Stone
Green and white are two contrasting colors that blend seamlessly to give you a perfect manicure, regardless of the shade of green involved. The nail art design is not too daring; it features croc nails with plain white nails suitable for everyday wear.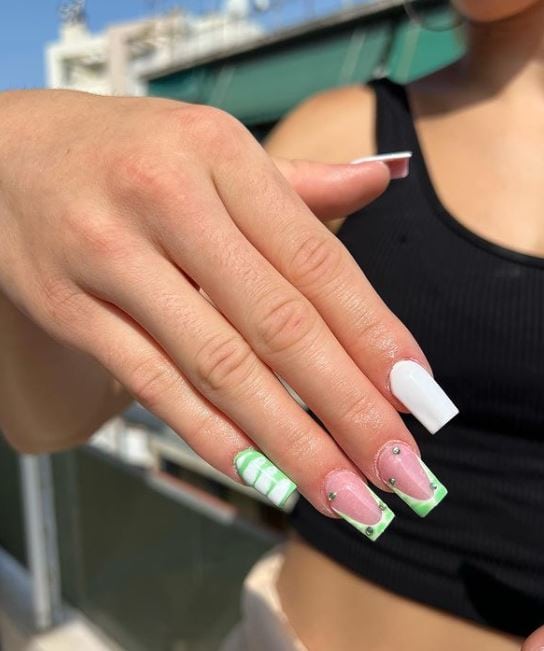 Image by @natalias.nailsath via Instagram
17. Beige and Gold Coffin Nails
Nail lovers know that coffin nails are for when you want to look elegant. Here, the medium-length coffin nails feature vertically arranged diamonds surrounded by gold glitter.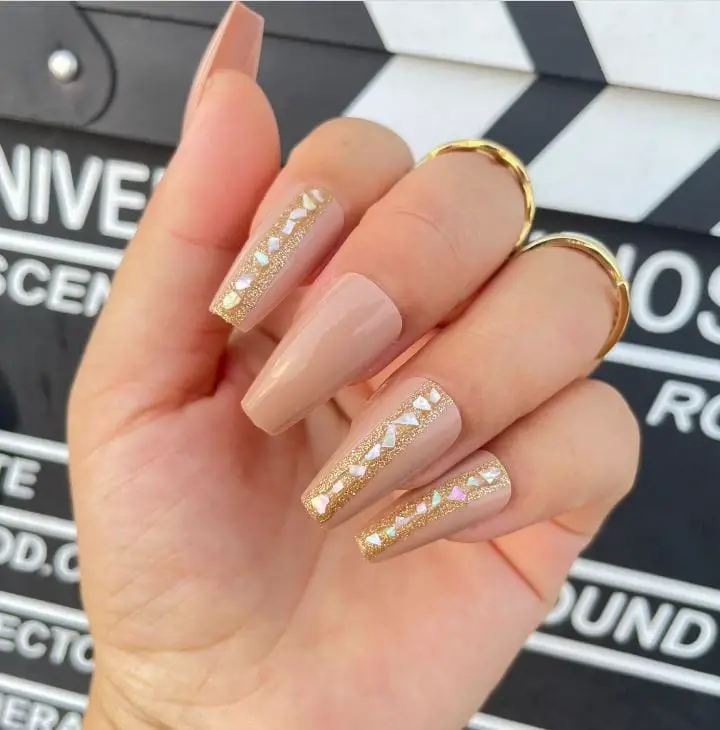 Image by @ji.icey via Instagram
18. Diamonds and Iridescence
When you want to feel like a princess, treat yourself to diamond studded nails. To make things even better, add iridescent nails to the twist. This nail look is suitable for a wedding because it features neutral colors with a subtle glow.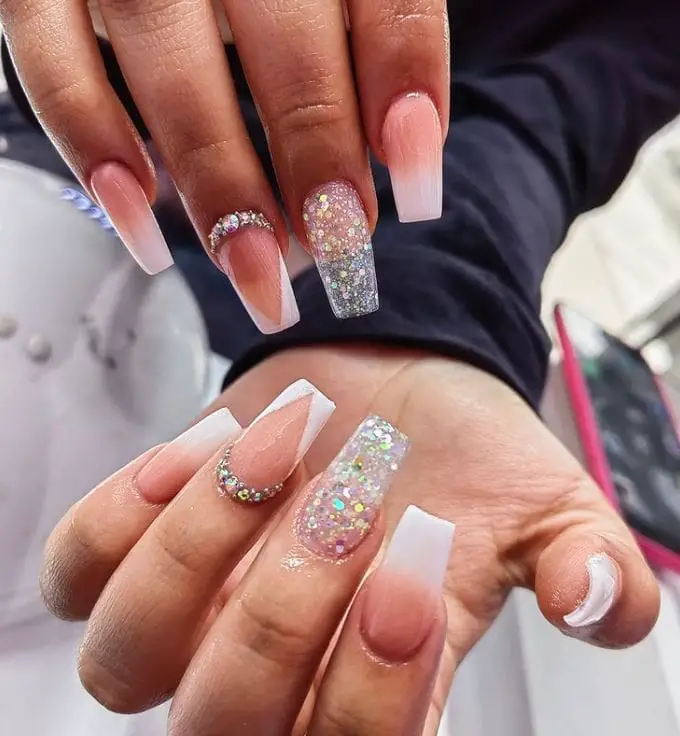 Image by @nails.cyom via Instagram
19. Nude Ombre With Diamonds Nail Design
If you need lovely nails for spring, consider getting these nails with diamonds. A holographic accent nail is added on the ring finger to make it all glowy and suitable for a special occasion.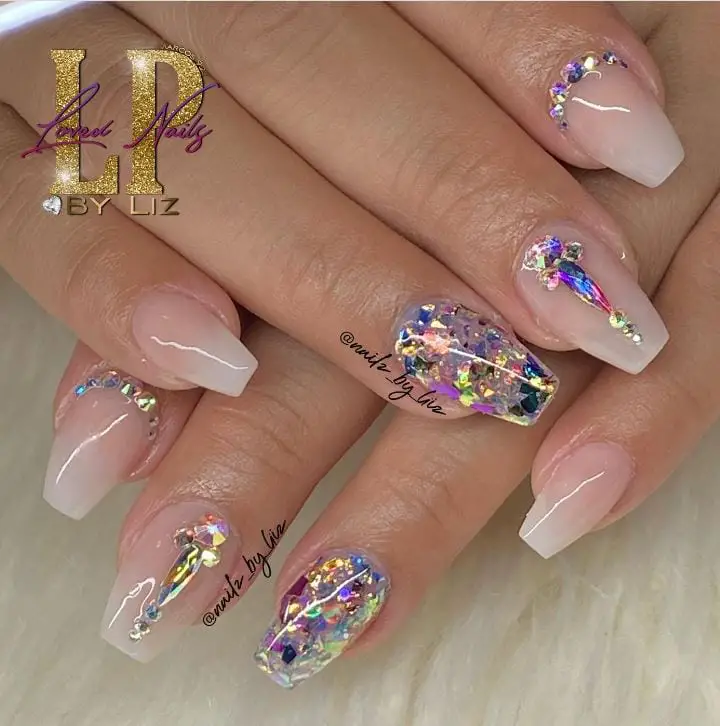 Image by @nailz_by_liiz via Instagram
20. Pink Nail Designs With Diamonds
You're sure to have heads turning as you stroll around with this cute nail art. From the long square nail shape to the large pink diamonds added, this looks like something straight out of a fairy tale.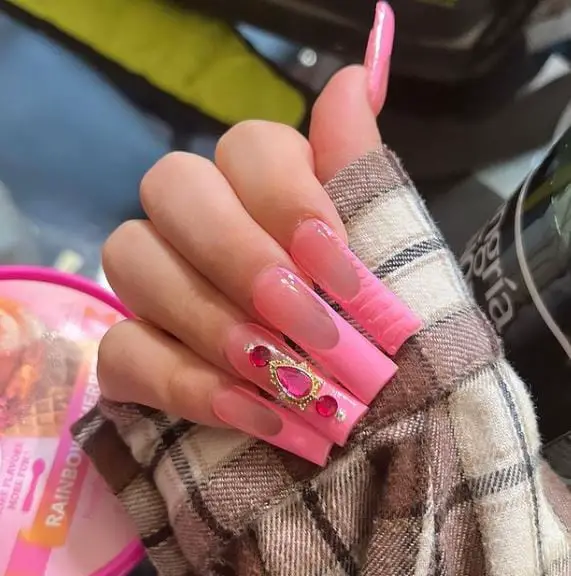 Image by @dazzledby_diamondd via Instagram
21. Purple Tips French Nails
Step out looking bold with this purple tip French manicure designed with small purple diamonds. You can get this design if you've got fairly long natural nails.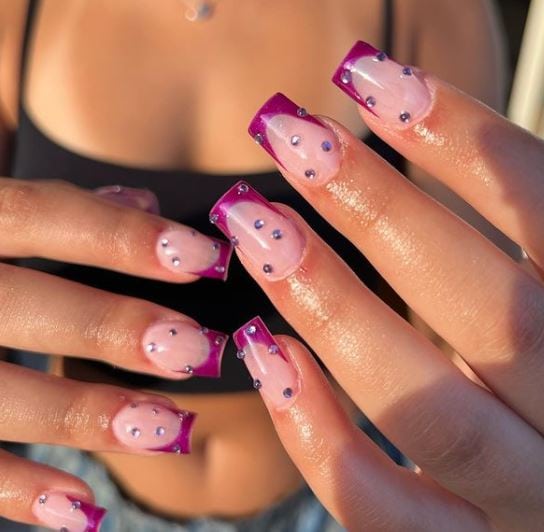 Image by @natalias.nailsath via Instagram
22. Baby Boomer Nails With Rhinestones
Baby boomer nails are a new beauty trend that I'm becoming obsessed with. You can't blame me because who wouldn't love the stunning combination of white, beige, and baby pink combined to create the subtle ombre? The charming baby boomer nail art is given extra glitz by adding rhinestones to the base of the middle finger and the ring fingernail.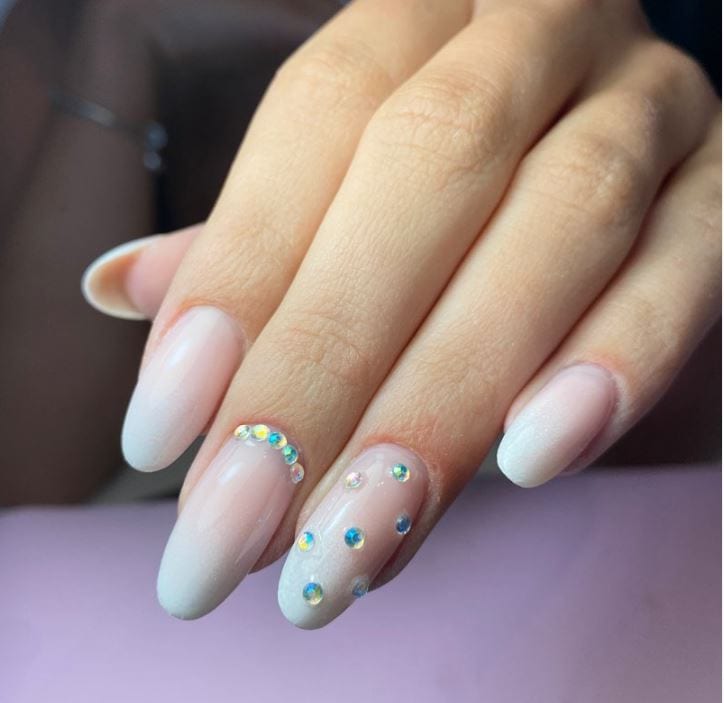 Image by @_nails_by_nikola_ via Instagram
23. Iridescent Diamond On Light Pink Nails
This nail design screams royalty and class. The plain light pink nail is decorated by a pyramid-shaped diamond surrounded by smaller diamonds which accentuates the ring on the finger.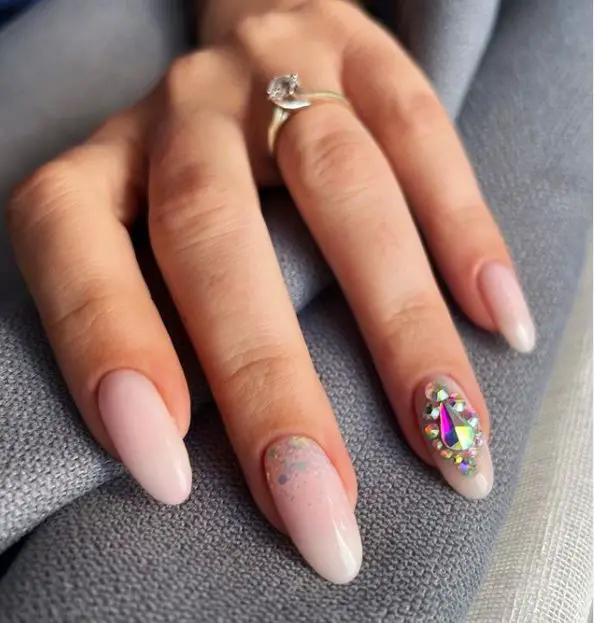 Image by @mania_nailartist via Instagram
24. Orange Swirl Nails
Fire acrylic nail designs like this are sure to make you the center of attention in every room. Extra glitz is added in form of 3 vertically arranged diamonds at the base of each nail.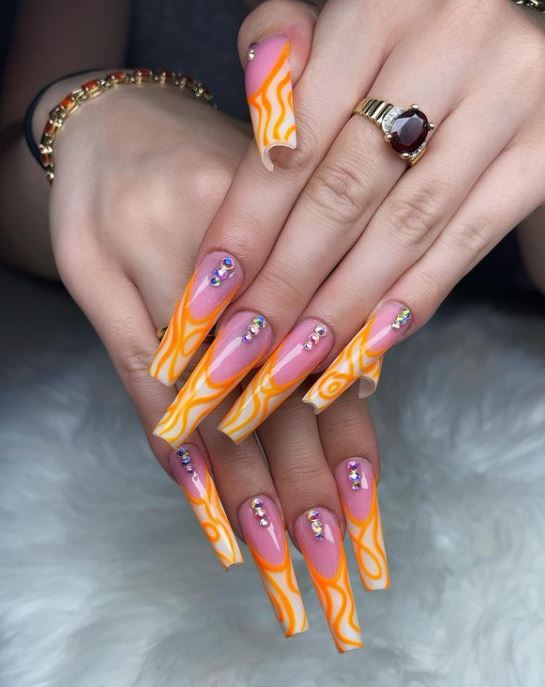 Image by @v_nailbox via Instagram
25. Dark Green Nail Art With Flower
Two shades of green are combined here to form a serene nail design. The nail has simple flowers drawn on them with small diamond studs placed at the center of the nail art to brighten things up.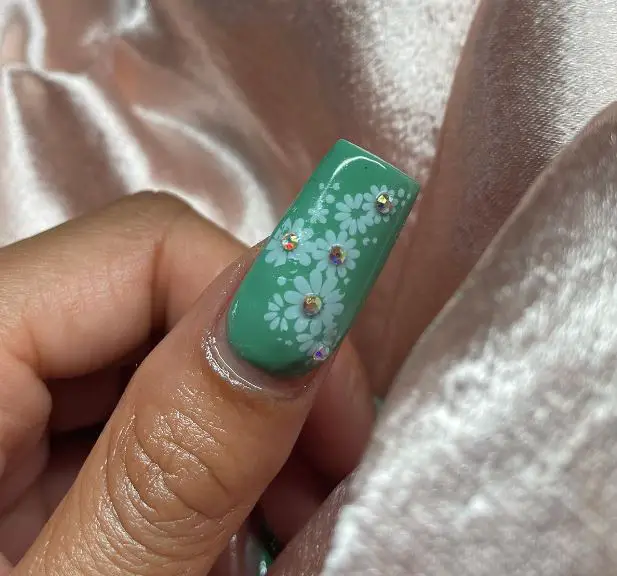 Image by @theacrylicsbar via Instagram
26. Pink Stilleto Nails
Stiletto nails are the signature nail shape if you want to achieve a high-fashion, seductive look. Vertical diamonds are used to decorate the nails which serve to make things look even hotter.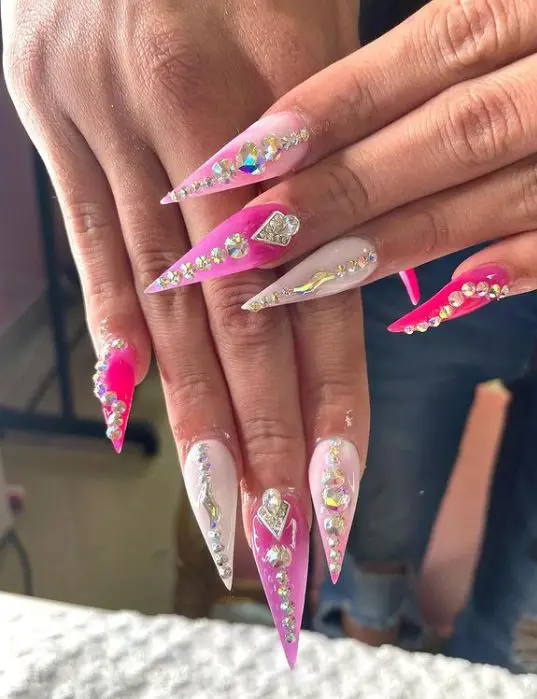 Image by @clawsbyniaa via Instagram
27. White Nails With Diamond Flowers
Get creative with your diamonds by arranging them to form a pattern. Here, colorful, small diamonds are arranged in a flower-shaped pattern to add color to the plain white nails.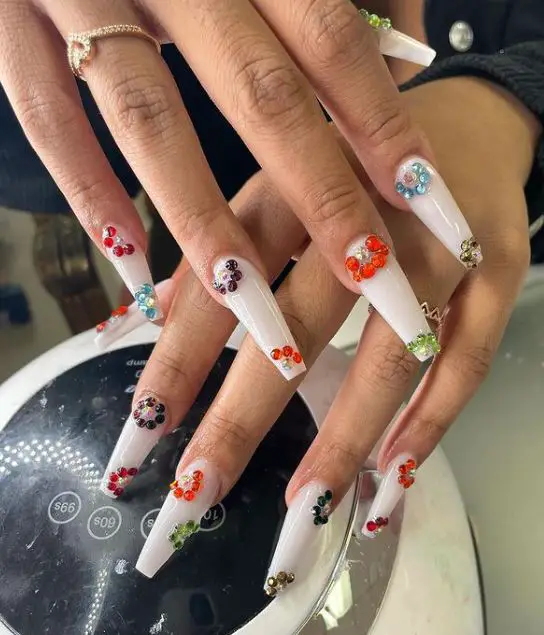 Image by @clawsbyniaa via Instagram
28. Baby Boomer and Peach Nails
Here is a darker take on the baby boomer nails. The nail design has neutral colors that are made to sparkle. It has small rhinestones added close to the cuticles of the ring fingernail.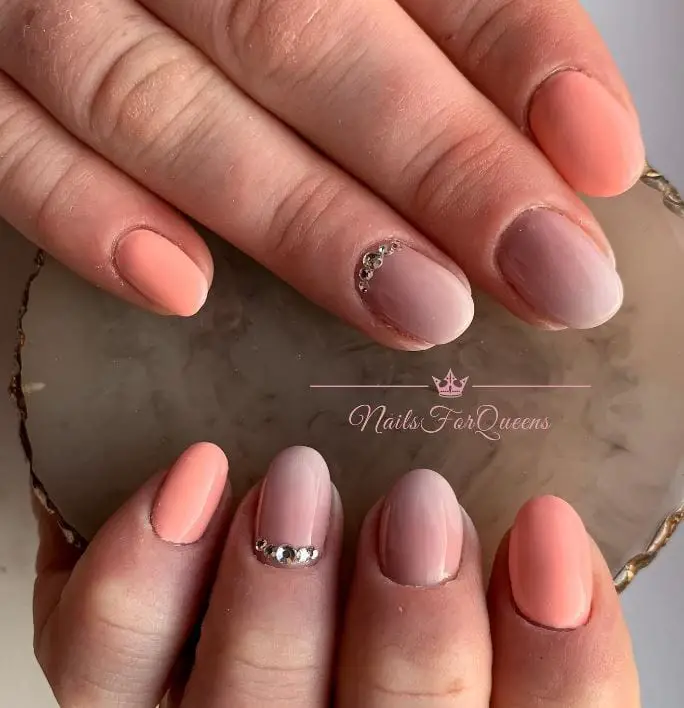 Image by @nailsforqueeens via Instagram
29. Mint Green and Transparent Nails
Long nail lover? Here is a chic and stylish nail design for you. The mint green nails have 2 transparent accent nails in between them. One finger has tons of diamonds on it while the others have just a touch.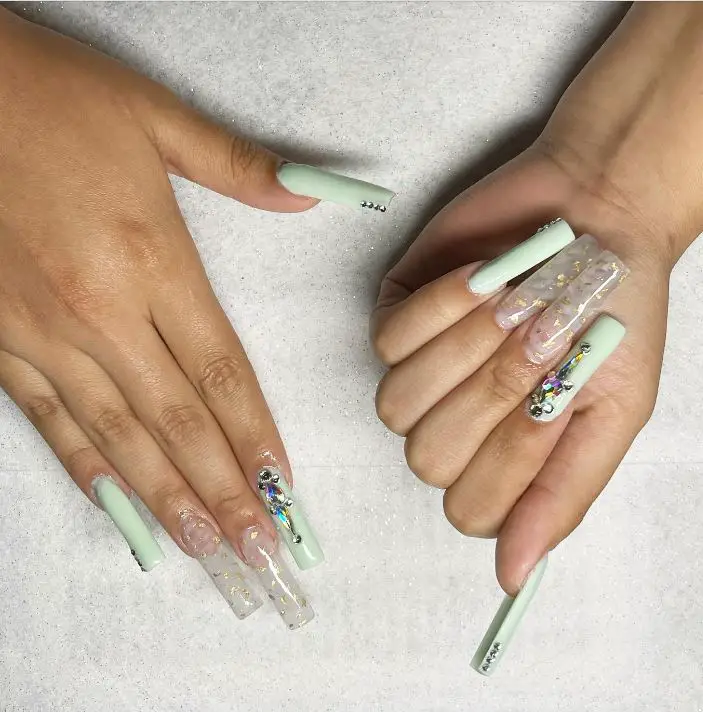 Image by @eunicesnails_ via Instagram
30. Rosy Nails With Emeralds
You can't go wrong with this gorgeous and stylish manicure. The plain rosy nail is designed with a stunning 3D flower and an elegant pattern of gold diamonds and emeralds. The stylish nails can be worn with an emerald green dress to pop.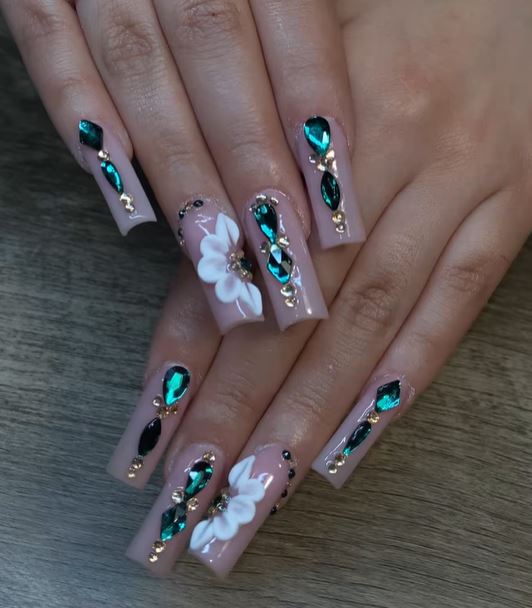 Image by @asnailsxo via Instagram
31. Fire Red and Orange Nails
The fiery nail art has gorgeous black gemstones. Rock these fiery nails with a darker monochrome outfit to tone things down a bit.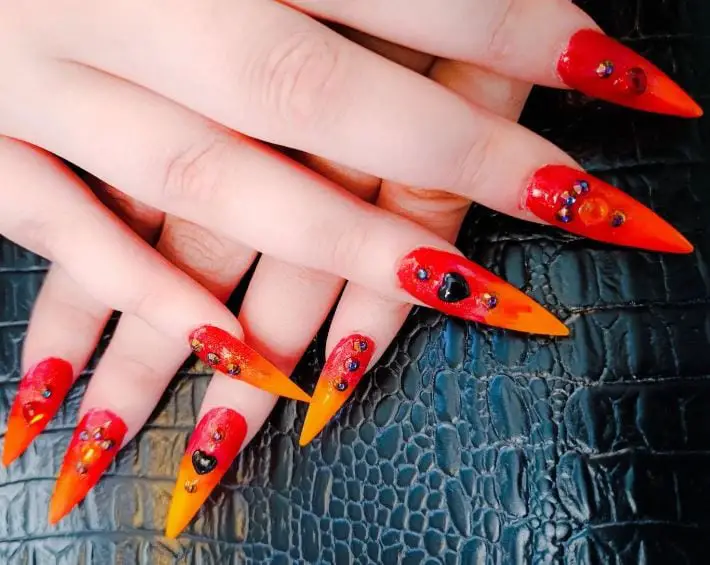 Image by @_trixena_ via Instagram
32. Pearls and Diamonds
Look stunning as you saunter around your home, soaking in the rays of sunlight with this beauty. The elegant diamond nails will have you looking like a princess as you go about your day.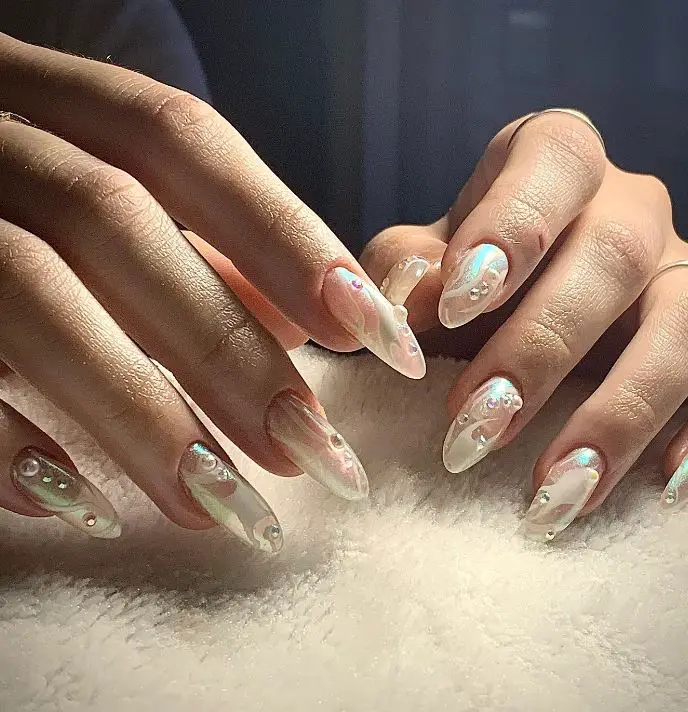 Image by @nailsroom_bitches via Instagram
33. Milky Nails
You only need a good nail polish to achieve this look. The nails are made prettier and fashionable by single gems placed at the base of the nail.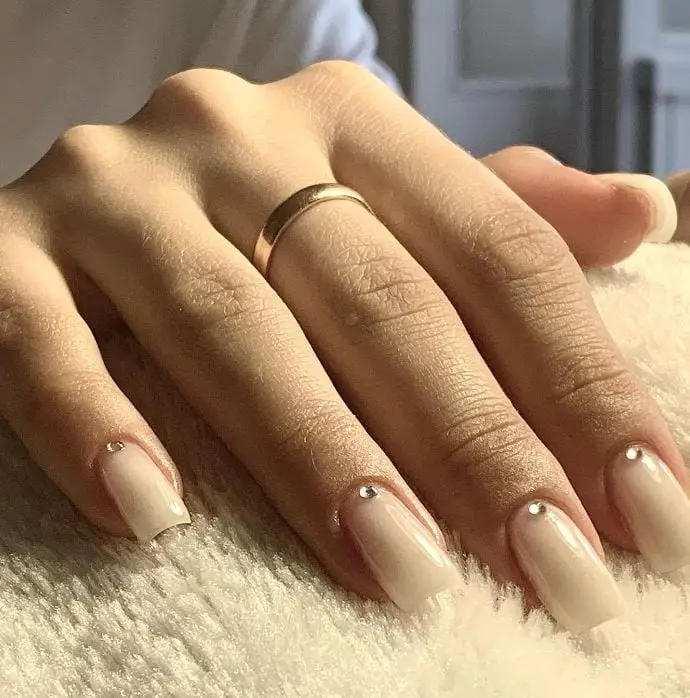 Image by @nailsroom_bitches via Instagram
34. Bling Salmon Nails
Increase the glitz of your plain nails by scattering small rhinestones all around them.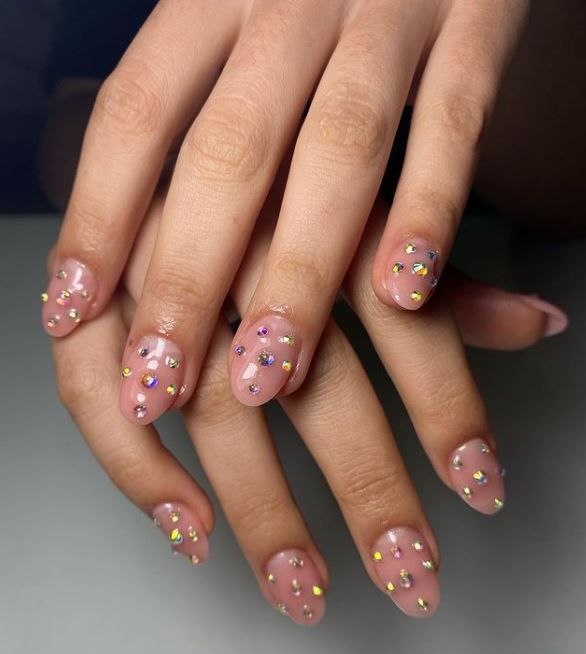 Image by @floweerlashes via Instagram
35. Lovely Peach
Peach is a nice color that adds a warm feel to your appearance. Nail designs with diamonds and 3D flowers like this are suitable for traditional weddings or other special occasions.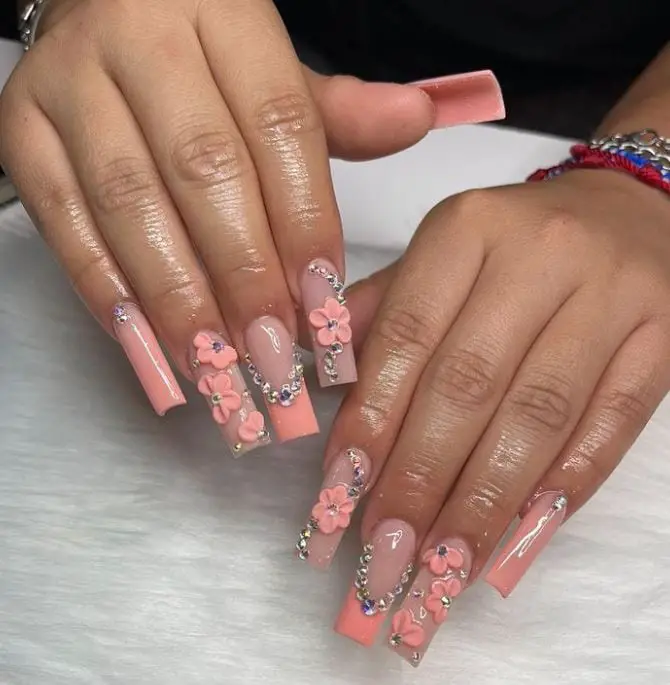 Image by @nailedbymelyyy via Instagram
36. Cute Lilac Nail Designs
The short, almond nails are decorated with small silver diamonds spread on the lilac nails. A cute silver butterfly is drawn on the ring fingernail.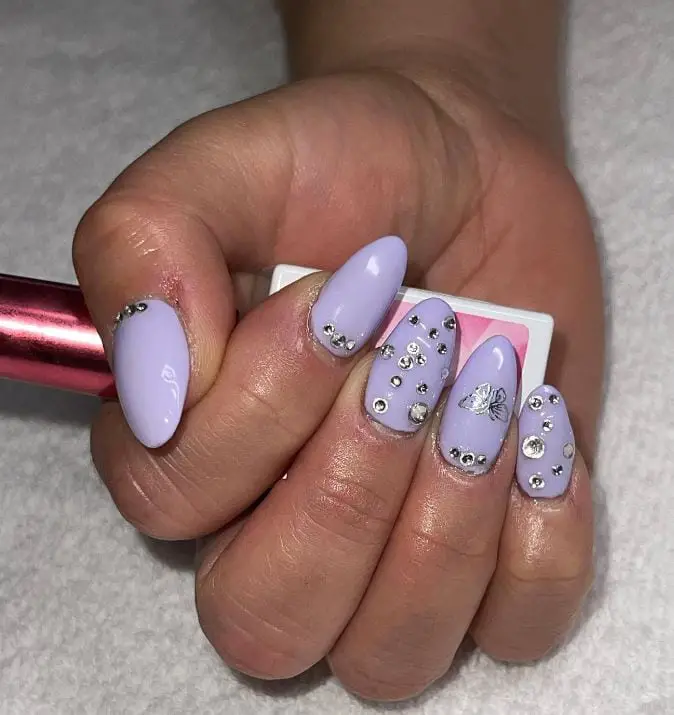 Image by @cosmelunaaa via Instagram
37. Plain Almond Nails With Gold Diamond
Getting nail colors that blend with your skin color is an easy way to make you look classy. The diamond is placed here for a stunning finish.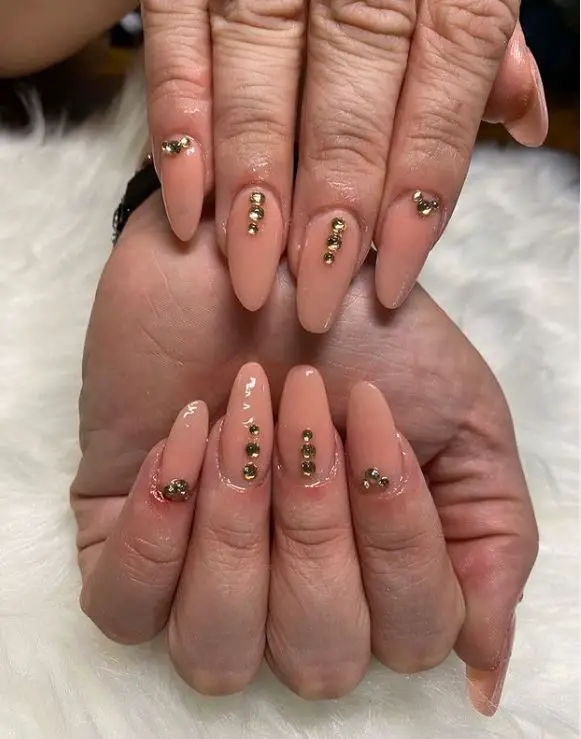 Image by @nailroomjae via Instagram
38. Yellow and Marble Nail Art
Step out looking bright as a daisy with these long glowy yellow nails. The shine is achieved with the diamond added on the middle nail.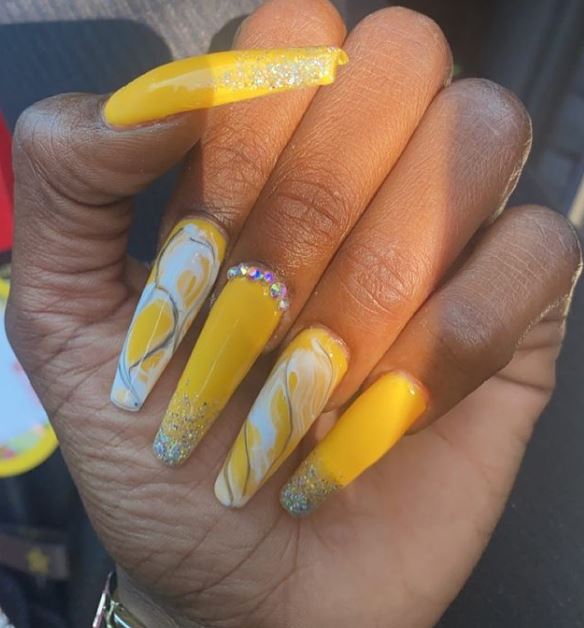 Image by @badandboujee.nails via Instagram
39. White Swirls
Nude and white nails with unique white swirls and tiny diamonds. Stunning!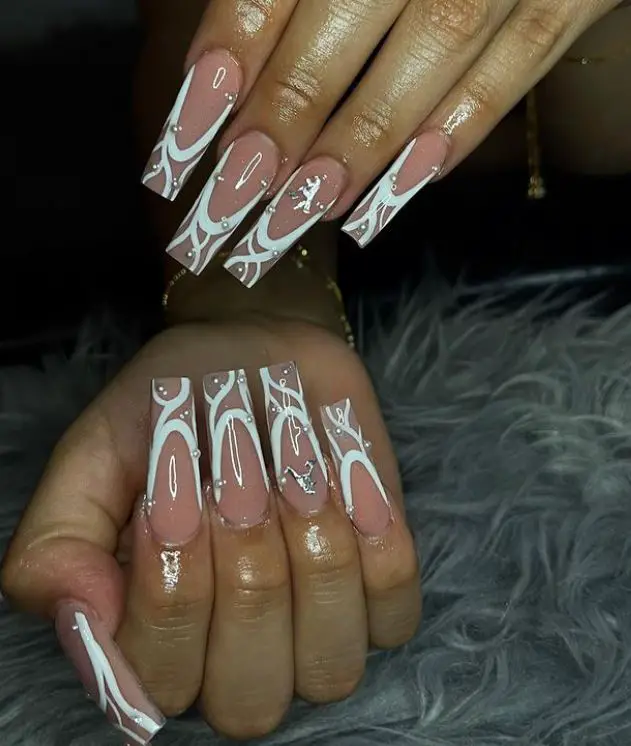 Image by @nailsbylucii_ via Instagram
40. Ombre Nails With Gold Diamonds
This takes chic and elegant to a whole different level. The simple ombre nails are made prettier by the style of the diamond placed on them.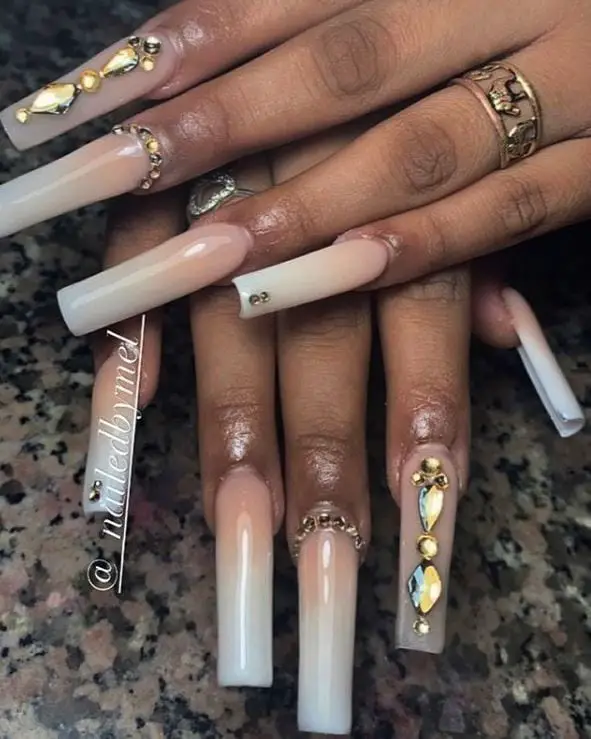 Image by @_nailedbymel_ via Instagram
41. Stunning Short Nails
Enhance the appearance of your hands with this cute nail look. You can add more diamonds to make the look more attractive.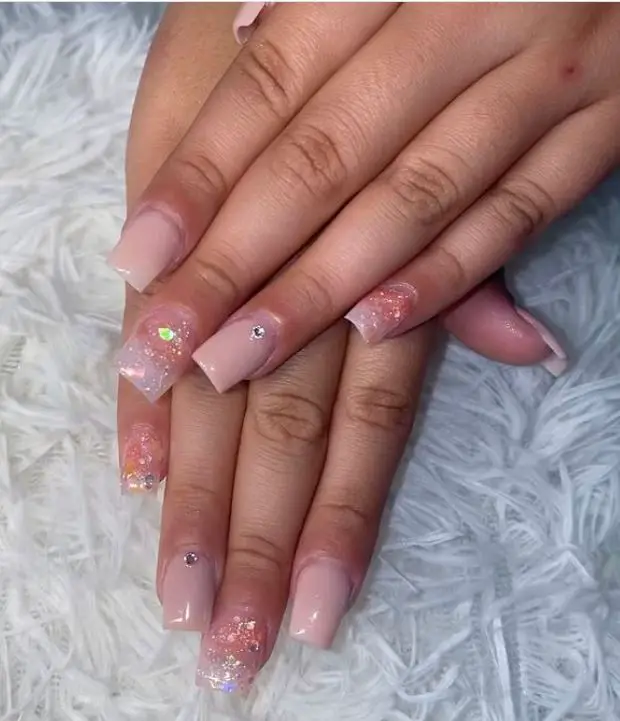 Image by @beautylab209 via Instagram
42. Beautiful Beige Nails
Add an accessory to your nail to spice up your look. These plain nails are great for formal events due to their simplicity and elegance.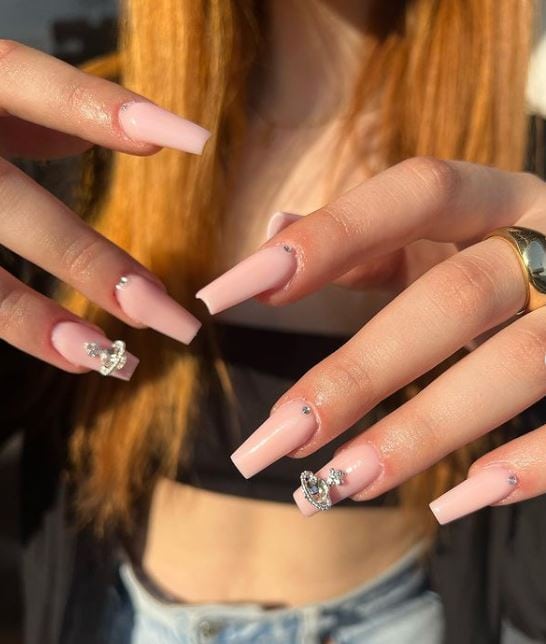 Image by @natalias.nailsath via Instagram
43. Stiletto Diamond Nails
For those who like loud nail designs with diamonds, this is for you. This nail set is absolutely magical with all its glitz and glamour.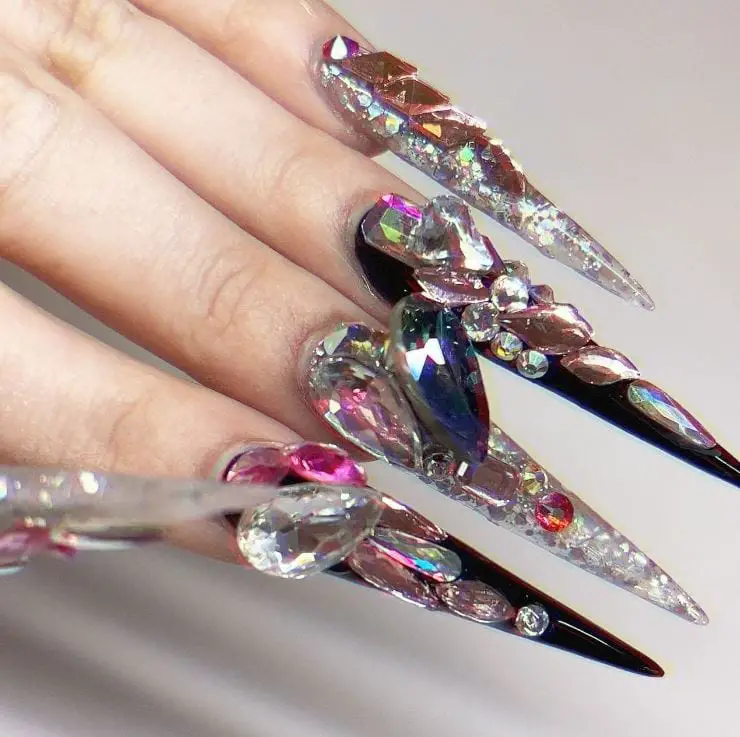 Image by @madsbymadeline via Instagram
44. Fun Gummy Diamond Nails
These nails are cute and whimsical. They will bring out the little girl in you.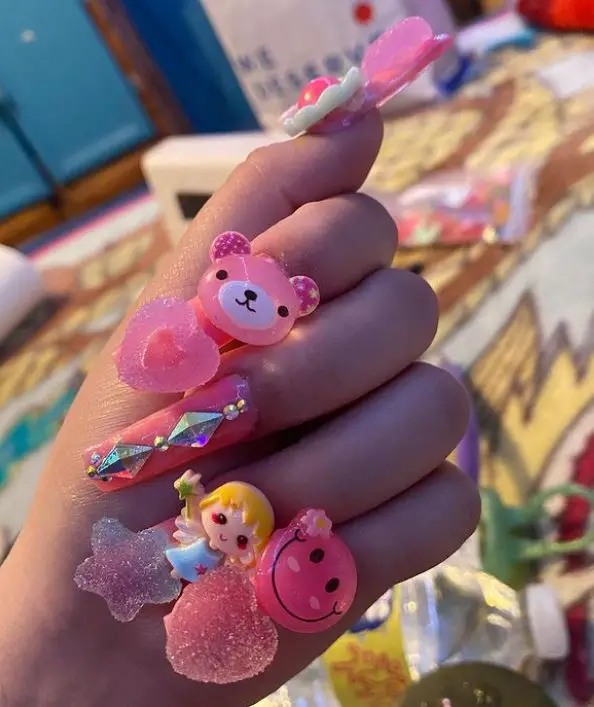 Image by @nailsbycinni via Instagram
45. Mocha Diamond Nails
A beautiful diamond pattern like this is what you get when your nail stylist is also an artist. This is sure to have you swimming in compliments as you go about your day.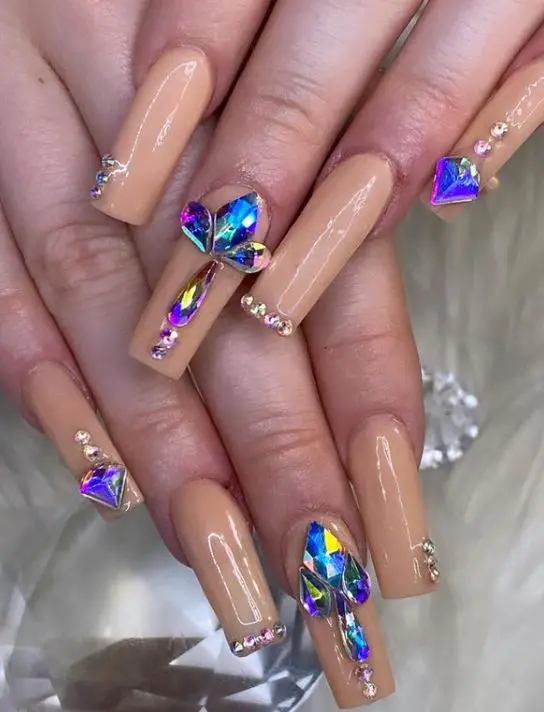 Image by @nailroomjae via Instagram
46. Studded Flowers On Frenchies
Express your love for colors by getting these pink and white nails with studded flowers.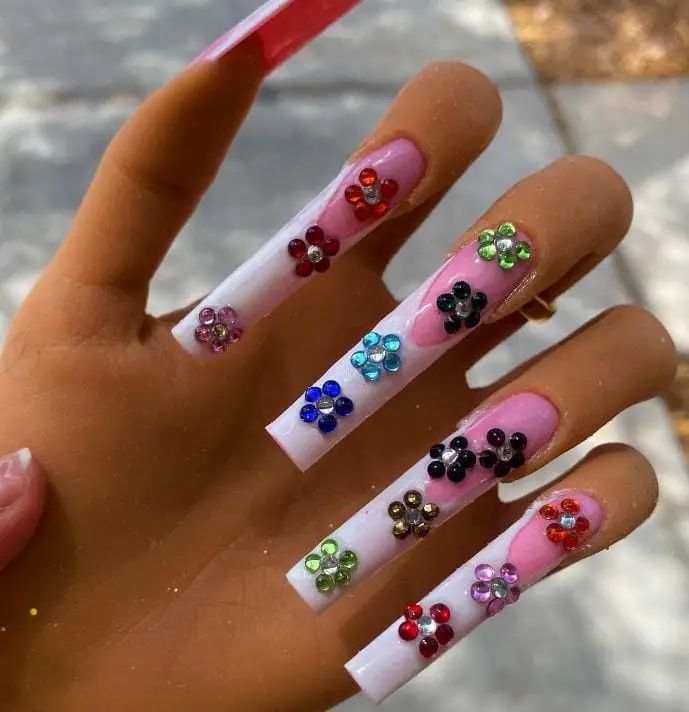 Image by @nail.sbyque via Instagram
47. Sky Blue Diamond Nails
This baddie nail might be intimidating for first-timers since it has extra glitz, with a dollar sign diamond added on the middle finger.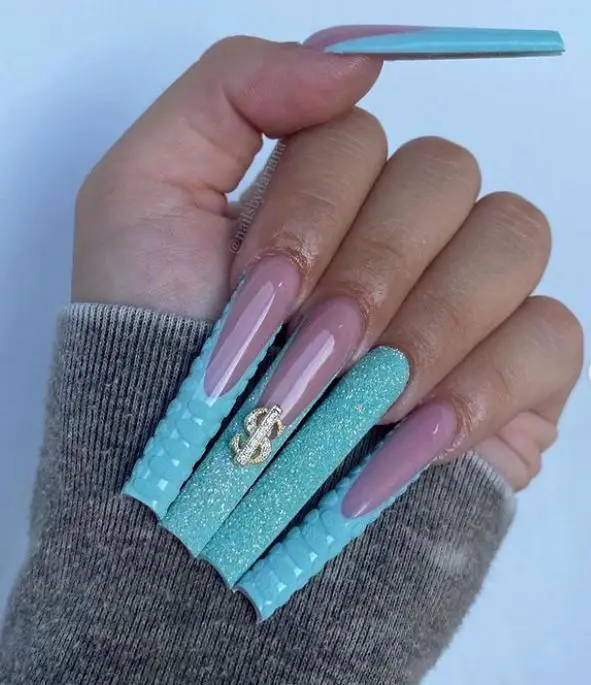 Image by @beauty_and_nails101 via Instagram
48. Pink Strawberry Diamond Nails
Step out looking like a Gen-Z princess with these extra pretty nails.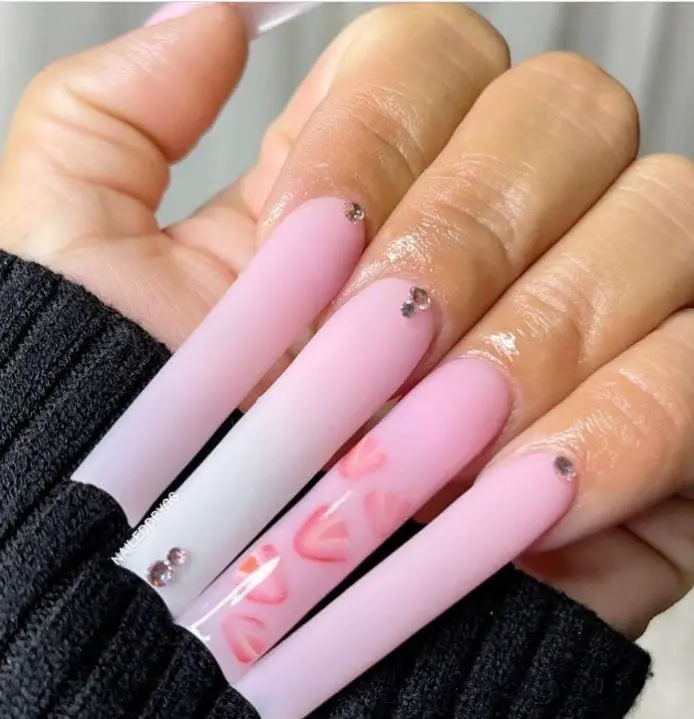 Image by @beauty_and_nails101 via Instagram
49. Iridescent Diamond Nails
The vertical, curved pattern of the diamond placed on these nails is just beautiful. Get these winter nails to shine even on the coldest nights.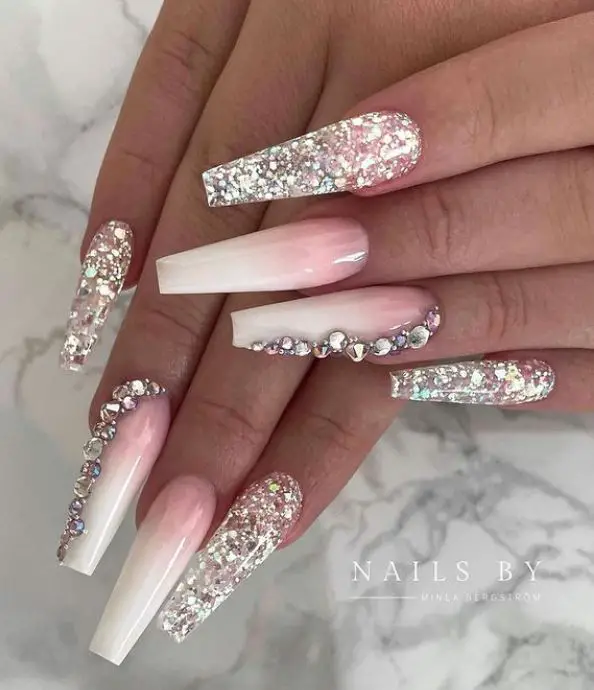 Image by @beauty_and_nails101 via Instagram
50. Clean and Classy Diamond Nails
One thing these nails are not is regular. The butterflies are drawn to perfection with diamonds added in the perfect place and right proportion to make things look more classy.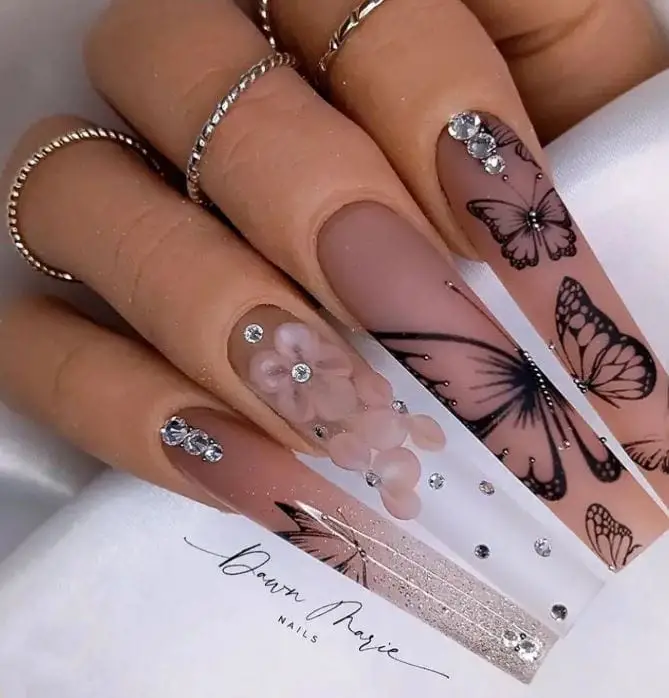 Image by @beauty_and_nails101 via Instagram
It's almost impossible to go wrong when it comes to getting nails with diamonds. Seen a nail design you love? Great! Go get your nail and dazzle.